Armenia is a true rarity for the collectors of off-the-beaten-path destinations. I know, I know, calling something an underrated gem is a travel writer's cliché, but I'm itching to attach that title to Armenia because it's true!
Many travellers combine a hasty weekend in Yerevan with their visit to Georgia, the country's northerly neighbour, but this is a mistake – Armenia deserves way more love than that.
Partly due to its small number of international visitors, the tourism infrastructure is still underdeveloped. Transportation is arranged in crowded minibuses, attractions are not clearly pointed out, and often a language barrier springs up as soon as you open your mouth.
Exciting, isn't it?
Still, backpacking Armenia is not overly difficult. It is a safe (well, unless you get mowed down by a crazy driver) and beautiful country full of lovely people. Located in the seam between Asia and Europe, no one is quite sure where it belongs to, but everyone can be sure of a few things: its mountains are gorgeous, its history fascinating, and its wine delish.
This Armenia travel guide has everything you need to know about backpacking Armenia – and why you shouldn't miss it.
Why Go Backpacking in Armenia?
Is Armenia worth visiting, then? This land of foreign-language-speaking, crazy-driving, wine-loving people?
You're probably questioning that only because you have no idea how cool backpacking Armenia is. If you only know the country as the homeland of the Kardashians, I'm about to blow your damn mind. In no time at all, it will be the crown jewel of your Eastern European backpacking trip!
The first – and let's be honest, the biggest – reason why I spent more time in Armenia than most tourists is the hiking. With just under 3 million people, the country is full of beautiful, rural wilderness. Trails for dayssss, son!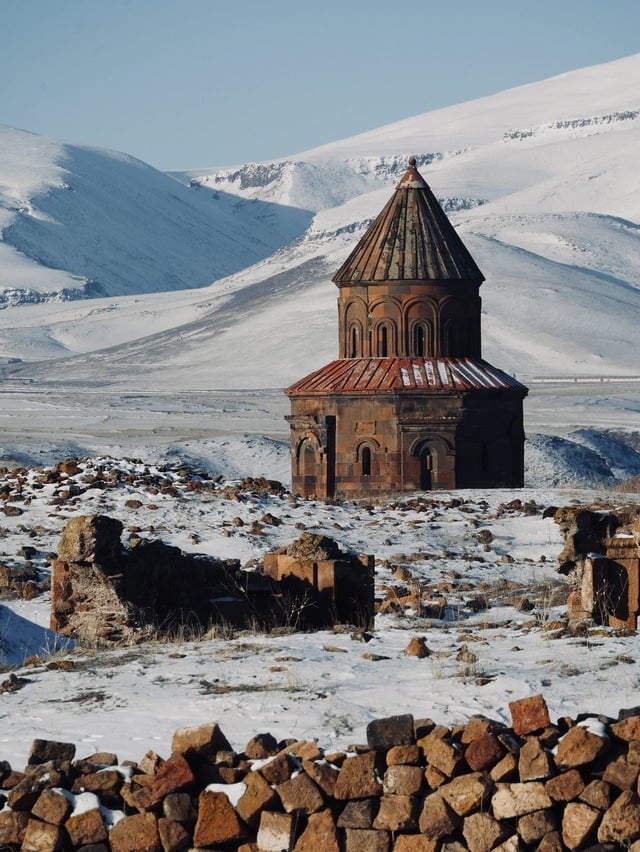 On top of trekking experiences that easily rival those in the Alps, there are also plenty of less explored pathways if you enjoy hiking in peace and quiet.
Attractions in Armenia also carry a fascinating history. They were the first country ever to adopt Christianity as the official religion. Which makes sense, considering that they believe that Mount Ararat – the symbol of Armenia, now located entirely over the Turkish border – is the place where Noah landed his ark. This is also the home to the oldest found shoe in the world.
They were also the first in something else – wine. Armenia was home to the first winery and winemaking there goes back thousands of years, so you know that when you order a glass after a hard day of hiking, it's going to be top-notch quality. You're only allowed to drop wine tasting from your bucket list of activities in Armenia if you don't drink at all. Sorry, I don't make the rules.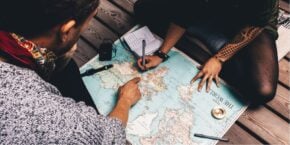 Heading Off-Grid? • Download This Guide as a PDF!
Sign up to The Broke Backpacker's EXCLUSIVE VIP AREA below and download our top backpacking guides as PDFs – go offline with peace of mind!
Best Travel Itineraries for Backpacking Armenia
Now that I've got you convinced that this is the IT place to be, what to see there, then? Here are three itineraries to help you plan your trip and get the most out of your time. They should give you a pretty good idea of what to do in Armenia.
I'm assuming you're starting all these trips from Yerevan. Even though the capital is never the only thing to see in a country, that's your most likely port of entry.
3 Days in Armenia: Yerevan and the Surrounds
Listen, I can't tell you what to do… IMHO, you shouldn't stay only in/around Yerevan: there are so many amazing things about backpacking the Caucasus. But you're most likely to take this itinerary, so let's go. There's no shortage of things to do in Yerevan.
Our journey starts from the dazzling Yerevan. The capital is extremely walkable, so pack some good shoes! Stroll around Republic Square, visit some free art galleries, and grab a quick coffee in a roadside café.
Top off your fantastic day of sightseeing with a sunset at the most iconic location in Yerevan: The Cascade and attached open-air statue park. The Cascade is a giant stairwell with views over the city and, in clear weather, Mount Ararat, where locals and tourists alike go to hang out.
The second day – the one full day of this trip – get ready for a roaaaaaad triiip! The simplest way to check off all these spots on your list is to take a day tour or hire a driver.
Any great itinerary will include Khor Virap, the most important of the many monasteries in Armenia. Then, travel south to the town of Areni for some excellent wine-tasting and historical cave-exploring. You'll also get to check out the nearby Noravank Monastery. Return to Yerevan for the night or head straight to Garni – you'll find some good accommodation options there.
On the third day, explore the village of Garni that is home to a beautiful gorge and a unique basalt pillar formation known as the Symphony of Stones. Garni also has the last pagan temple in the country – one of the coolest attractions in Armenia. A short way down the road, pay a visit to Geghard Monastery before returning to Yerevan.
7 Days in Armenia – A Little More Than Just Highlights
Ready to go slightly more hardcore? Spending a week backpacking Armenia ensures you get the most out of your visit. You've come this far, right?
Spend the first days of the trip in Yerevan. You can tour the capital for one day and take one of the day trips from the previous itinerary on the next. I recommend the one with Khor Virap, you don't want to miss it!
On the third day, grab a marshrutka minibus to the town of Dilijan. You can easily spend a couple of days here just enjoying the awesomely crisp mountain air and what is called the Alps of Armenia. The Dilijan National Park is hugely beautiful.
Take a day hike (or a taxi, if you're boring) to Jukhtakvank monastery west of the town.
Spend the second day on a hike around the mountains in Dilijan. There are many to pick from. There are also two other prominent monasteries in the national park, Haghartsin and Goshavank, but they're only reached by a longer drive or a 1-2 day trek. I do recommend hiking to them – even if you're sick to death of monasteries, it's about the way, not the destination. And the way is gorgeous!
For the last couple of days of the trip, I'm giving you two equally cool places to pick from. Of course, you could do both and expand the itinerary by two more days.
Option A: Travel down south to Goris. You'll have to connect through Yerevan again (all roads lead to Yerevan) but Goris has some naturally and historically awesome attractions to check out.
Option B: Check out Sevan Lake. Bored of cities? Spend the last days of the trip relaxing by the biggest lake in the Caucasus.
10 days in Armenia: Hiker's Holiday
Look, whatever you do, you can't skip Yerevan, so just go and do the first two days of Itinerary #1 once again.
From here, we travel down to the town of Yeghenadzor (I recommend skipping this if you want to shorten your itinerary by two days – but if you're on unlimited time, it's a nice place to hike). Spend one day hiking to Smataberd fortress and Tsakhatsqar Monastery. Both are centuries old, abandoned, and have awesome views over the surrounding countryside.
The next stop is Armenia's highest mountain, Mount Aragats. Camp or stay at a guest house overnight at Lake Kari, or stay in Buyrakan and take a taxi/hitchhike there in the morning. The hike in Aragats could be one or two days, depending on whether you plan on conquering the highest peak.
Still got feeling in your legs? Good, because now we're headed to Dilijan, the heart of hiking in Armenia. Make sure to spend at least two days here to really make the most of it. If you want to keep the town of Dilijan as your base, you can do two day-hikes: one to the Jukhtakh monastery, and one to the Gosh Lake.
There is also an awesome hike that you can do as a horseshoe or loop, in four days (without a tent) or five days (with a tent). The loop starts from the town of Khachardzan, ending in the town of Hovk.
Places to Visit in Armenia
While most tourists are content to stay and just travel Yerevan, there are plenty of other places to see. Whether you love hiking, cities, or history, there'll be something for everyone.
You should note, though, that the way public transportation and road networks are set up, you'll probably have to go through Yerevan most of the time when you travel between cities.
Here are some of the best places in Armenia.
Visiting Yerevan
Without a doubt, the most popular place to visit and one of the best things to do in Armenia is to see its dazzling capital. It's known as the Pink City thanks to the pink stone many of its buildings are made from. Yerevan is surprisingly cool, pretty, and artsy, with hints of its Soviet past melting together with the city's modern elements. The best part? There are SO MANY free things to do in Yerevan.
When it comes to things to do in Yerevan, the raddest of them all is The Cascade. This giant stairway is the best place to catch a sunset in the city (I loved it so much I went twice!) and it's where locals gather to drink, chat, and hang out as well.
The area leading to the stairs, known as the patio, is an open-air statue garden featuring art pieces from famous, international artists. You can spot Colombian Fernando Botero's voluptuous figures, among others. The stairs also host multiple art galleries, some of which are free to visit.

Take a stroll around Republic Square which, for the lack of an Old Town, is the heart of the city. It's a great place for a cup of coffee and people watching during the day. Evening-owls can gawk at a light show at the square's Dancing Fountains after dark.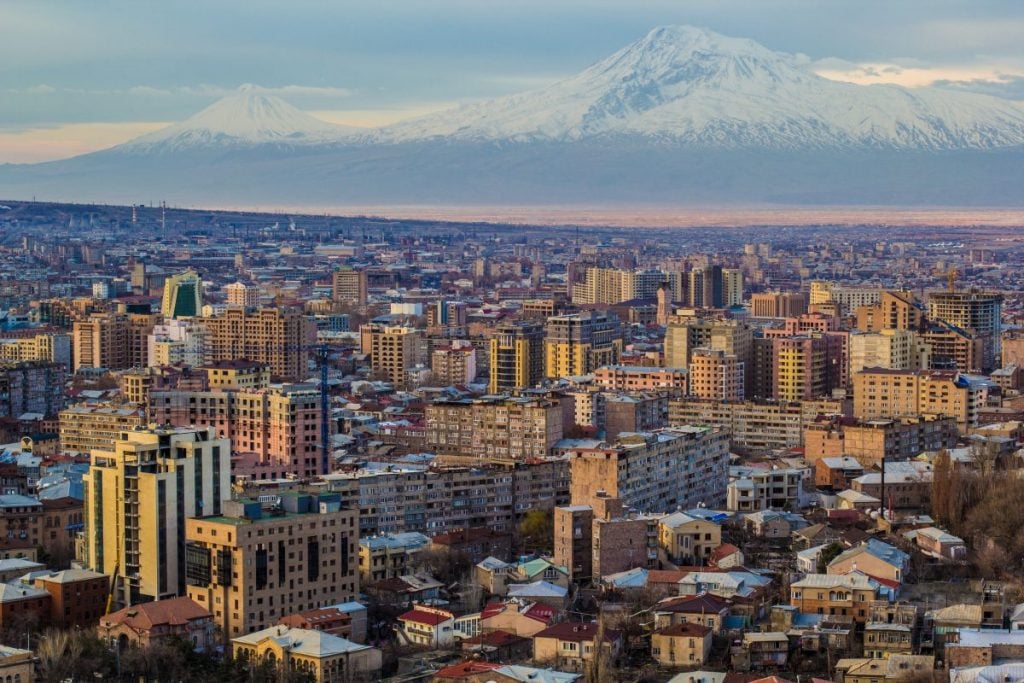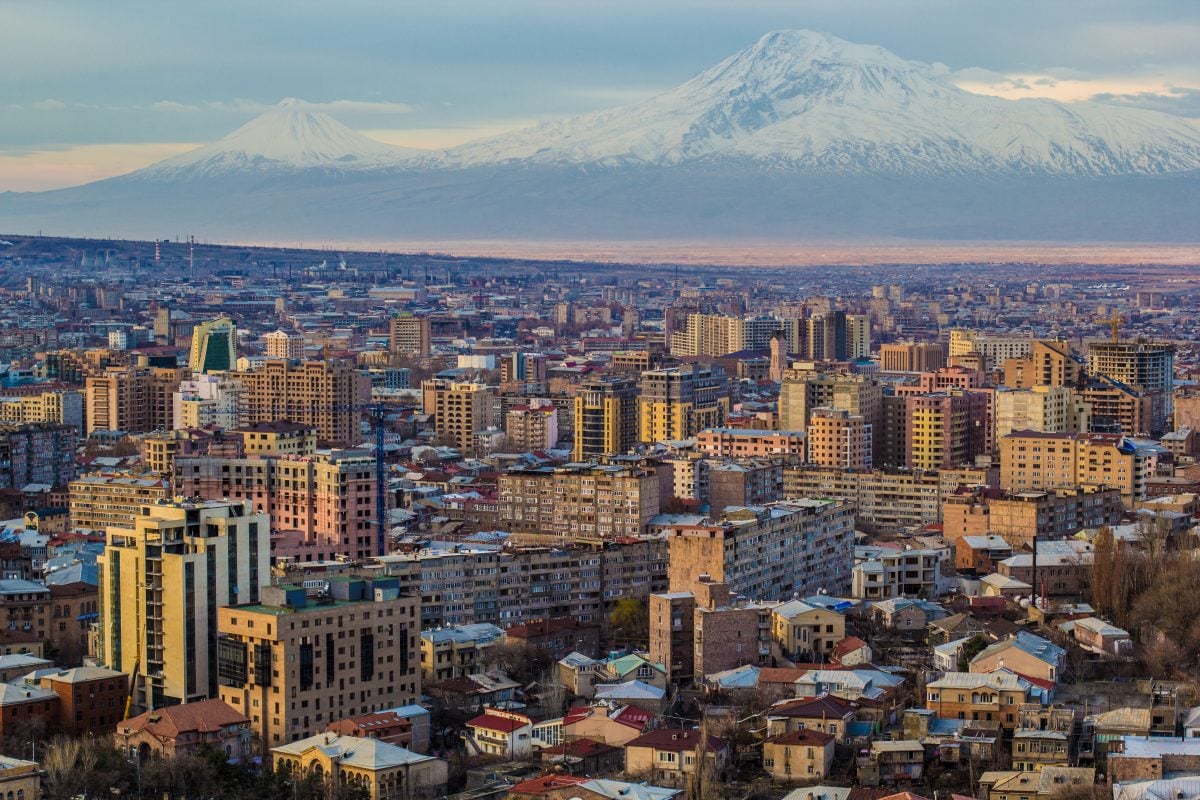 Shop at Vernissage market, Yerevan's biggest outdoor market selling antiques and handicrafts side-by-side.
And as grim as it is, you shouldn't miss the Armenian Genocide Museum and Memorial. Located on top of a hill above the city, it's a great vantage point over Yerevan, and a very important place to learn about the dark history of the country.
Yerevan is very pedestrian-friendly, so pack a pair of comfy shoes. I highly recommend taking advantage of the free walking tour as well to get the most out of your visit!
Popular day trips from Yerevan:
There are plenty of important historical places in Armenia, and many of them are spread around Yerevan. You should take a day or two to see them while you're in the area.
The best way to see everything is to hop in on a day tour that you can arrange through your hostel. You can also rent a car (if you dare – the traffic in the Caucasus is crazy) or hire a driver.
I would NOT recommend trying to self-direct this tour through public transportation – the connections are pretty bad AND sporadic, and leaning on busses will easily stretch one day of sightseeing into three.
The most significant points of interest around Yerevan are: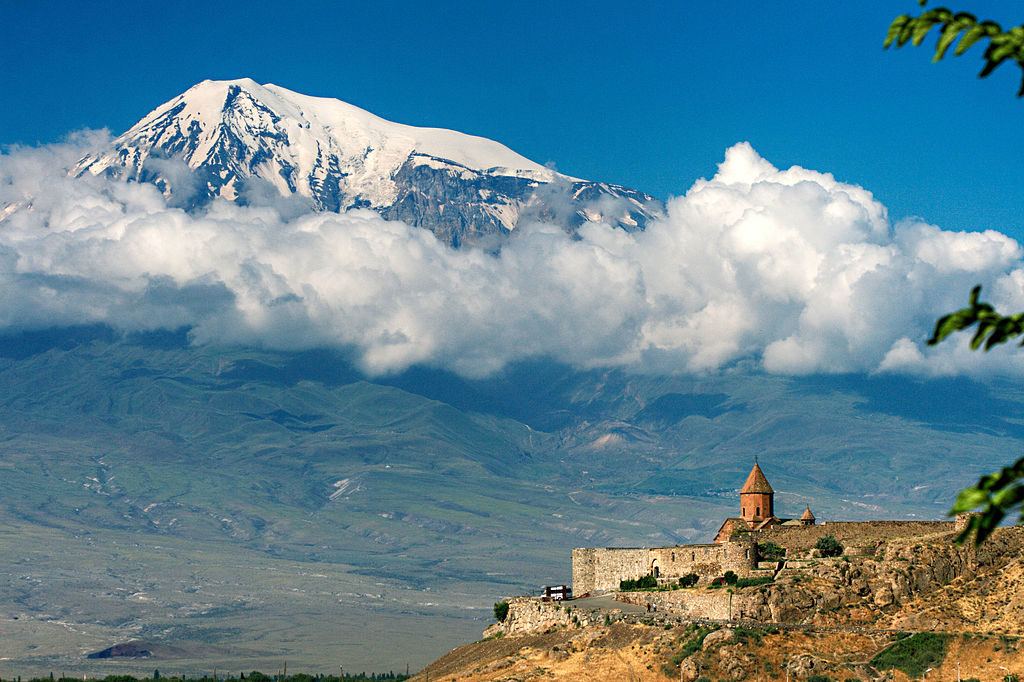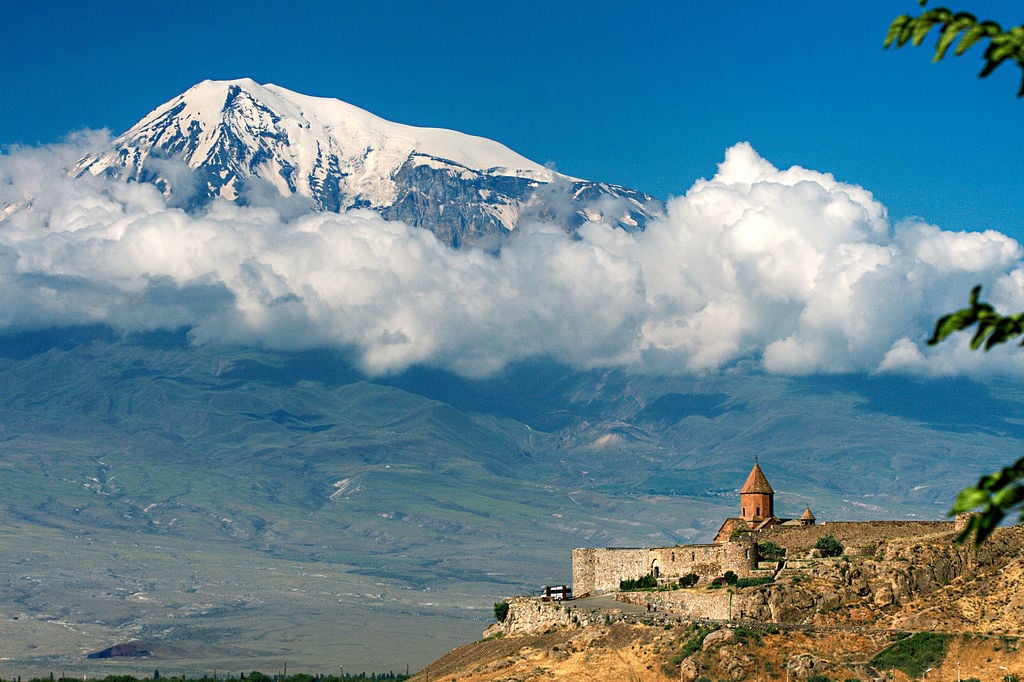 Khor Virap – this 17th century monastery is the birthplace of Armenian Christianity and easily the most famous thing in the entire country.
Saint Hripstine Church – 7th century church which is one of the oldest surviving churches in Armenia.
Geghard Monastery – yep, it's another monastery, which was carved partly out of the rock around it and named after the spear that was used to stab Jesus.
Garni Gorge – on the way to Geghard Monastery, make sure to check out this awesome view.
Zvartnots Cathedral – an awe-striking 7th century cathedral.
Visiting the Dilijan National Park
Known as the Armenian Alps, the Dilijan National Park is surely one of the prettiest places to visit in Armenia. Try to come in the autumn – I can't tell you how amazing the colours are in October!
The Dilijan National Park has a host of amazing hikes, which are the reason almost everyone goes there. Some of the best things to check off your list are:
The Parz Lake and the Gosh lake (it WILL make you say 'oh gosh, it's so pretty').
Haghartsin monastery. You can stay overnight at the Vanatun monastery next door.
Jukhtakh monastery, which at 7.5 km from Dilijan could easily be done as a day hike.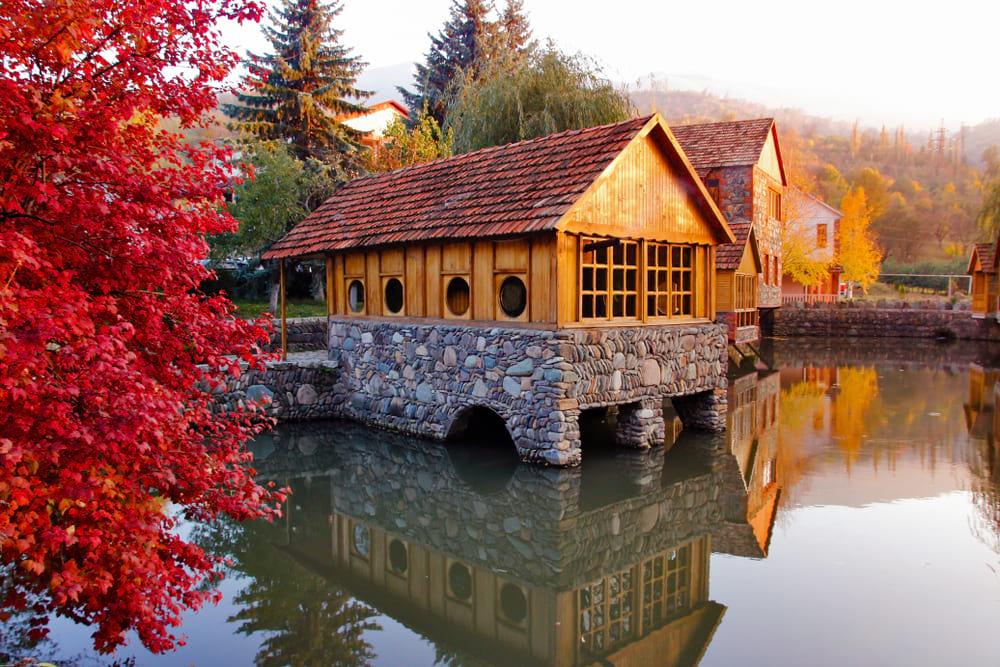 The best way to visit is to get a minibus from Yerevan to Dilijan, the eponymous small town nestled inside the park. You could stay at any of the other little towns around the park, too, since most of them offer some sort of an option for accommodation. Still, Dilijan has the best accommodation and restaurant options.
I highly recommend TAVA restaurant for your evening dining sesh. The design of the restaurant is cool enough to compete with the best Instagrammable cafés, and it has some of the BEST food I had while backpacking Armenia on a budget.
Dilijan also has a couple of small museums, including a folk art museum and a local lore museum.
There is an awesome hike that you can do as a horseshoe or loop in 4 days (without a tent) or 5 days (with a tent). The loop starts from the town of Khachardzan and goes through the Gosh and Parz lakes, Dilijan town, Jukhtakh monastery, and Haghartsin monastery, ending in the town Hovk. You can download the GPS for the route here.
Visiting Yeghenadzor and Areni
Many tourists visit the sights around Yeghenadzor as a day trip from Yerevan, but there is so much cool shit to see that you'd be wrong to not stay for a few days.
Yeghenadzor itself is a pretty unremarkable (but pretty) little town. It's a great base for exploring the sights around it.
Areni is a town just 15 km from Yeghenadzor. There you'll find the Areni-1 cave (Bird's Cave), the discovery site of the oldest shoe in the world, AND the oldest winery in the world. Unfortunately there's no wine there – you'll have to visit one of the many wineries in the town of Areni instead!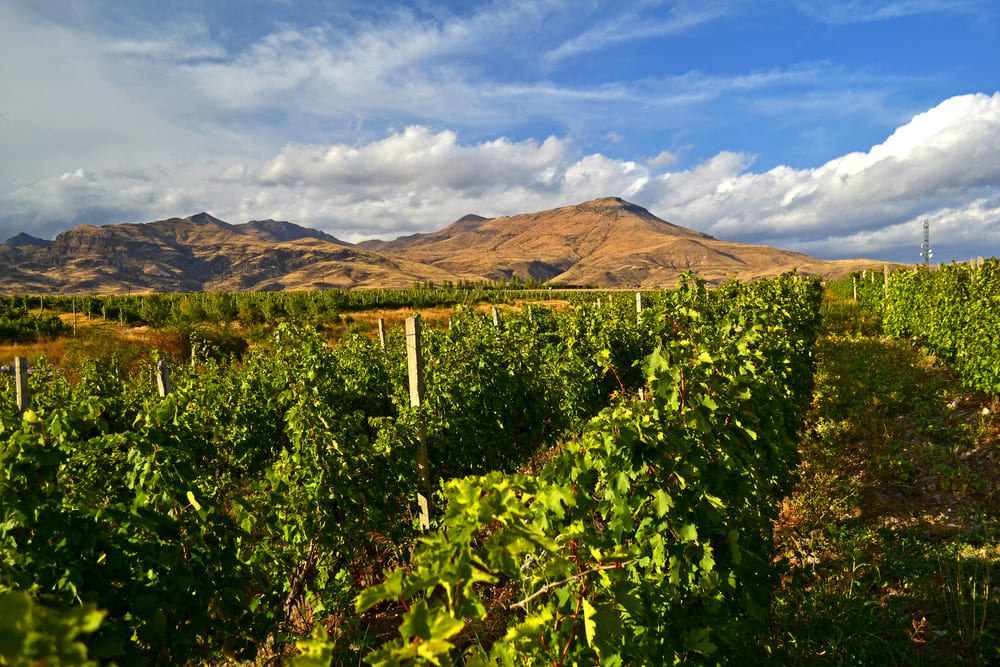 From Areni, it's also pretty easy to get to the Noravank Monastery, dubbed the "pearl of Armenian medieval architecture".
Another awesome day trip from Yeghenadzor is the Smataberd fortress. Make your way to the town of Artabuynk, where it's a fairly easy uphill climb to the castle in ruins. Smataberd probably existed already in the 5th century, but the castle is thought to date back to the 10-11th century. If you've ever dreamed of exploring an abandoned castle with epic views over the surrounding countryside, this is your chance!
From the castle, you can continue on to the equally abandoned Tsakhatsqar Monastery. Surrounded by centuries-old graves, the spot is both extremely creepy and extremely cool. (If you worry about potential spirits, light one of the traditional thin candles in the chapel to appease them.)
Visiting Goris
Goris is a small town located in the south of Armenia. It's probably way off your radar unless you're coming from Iran or going to Nagorno-Karabakh.
Sure, there isn't all that much to see in Goris, but if you're planning to transit through anyway, it's fully worth spending one night or day there.
The best thing about Goris is the field of strange rock formations known as "Old Goris" just above the town. It's an easy walk of a couple of kilometres so no need for an extensive hiking experience, just make sure you've got comfy shoes and water. If you have the time, it's also possible to extend the walk into a small loop-hike.

My favourite place to grab some grub in Goris is Takarik Tavern. Not to exaggerate, but the potatoes are almost life-changingly delicious.
Another place to visit is the Old Khndzoresk village. In ancient times, up to 15,000 people inhabited dwellings carved straight into the rock. These days, the historical cave village doesn't have any more human inhabitants, so you'll have to grab lunch in the New Khndzoresk. The most fun part of the visit is the rickety (but sturdy, I'm told) suspension bridge connecting the two parts of town.
And if you're STILL not sick to death of monasteries, the nearby Tatev Monastery has something extraordinary to see. It's a 1,000-year-old stone pillar "Gazavan" that was used to determine the intensity of earthquakes.
It's obviously not used anymore (that's a pretty bad earthquake detection system anyway), but you can ride to the monastery on the world's longest nonstop double-track cable car called Wings of Tatev. Is that cool? I'm not sure, but every time I see anything described as "the world's most something", I get a strange craving to see it.
Travel CHEAP and Make a Difference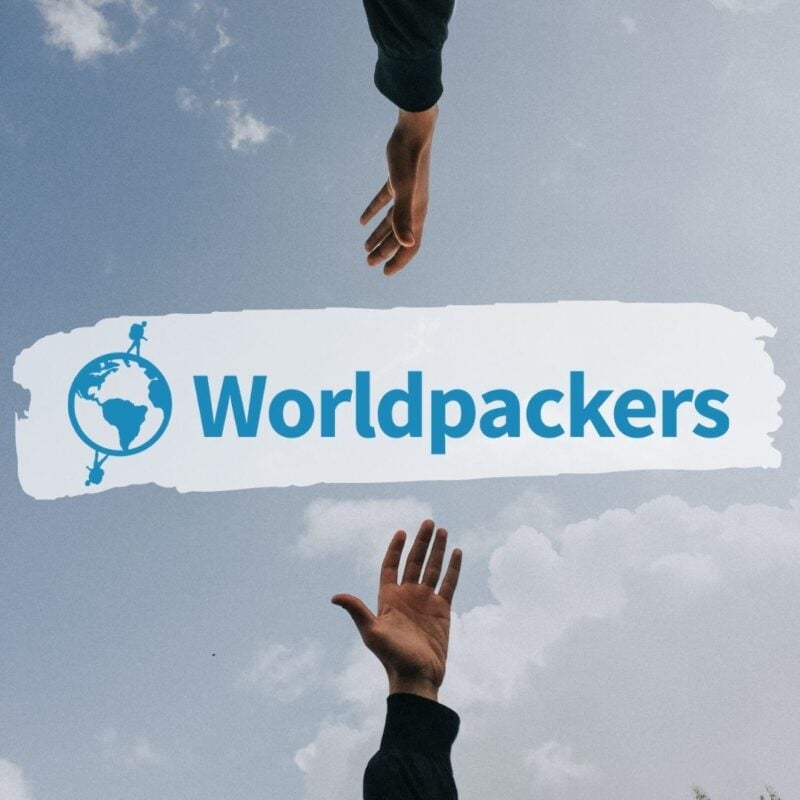 Worldpackers connects travellers with hostels, schools, NGO's and many more. Get free accommodation in exchange for volunteering a few hours a day. You won't just save serious $$$, you'll experience a different culture, cool projects, meet new people and integrate into the community in a different way.
Broke Backpacker readers get a $10 discount when you sign up. Use the discount code BROKEBACKPACKER. Plus, get 3 free months on your membership during their summer promo!
Travel well with Worldpackers
Visiting Sevan Lake and Tsaghkadzor
Since attractions in Armenia unfortunately don't include a sparkling seashore, this is the closest you can come to a beach holiday. Despite the name Sevan translating as "Black Lake", the area does get a lot of sunshine. Don on your sunhats and grab a beach towel!
Lake Sevan is Armenia's (and the Caucasus'!) largest lake, and its biggest non-natural attractions are – can you guess it? – more monasteries! The most famous is Sevanak Monastery that stands at a very picturesque spot right on the shore of the lake.
The lake area is also popular for windsurfers (who would've guessed?). If your knees are already aching from all the hiking, you can just chill and enjoy more traditional beachside activities: sunbathing, swimming, and gorging on seafood.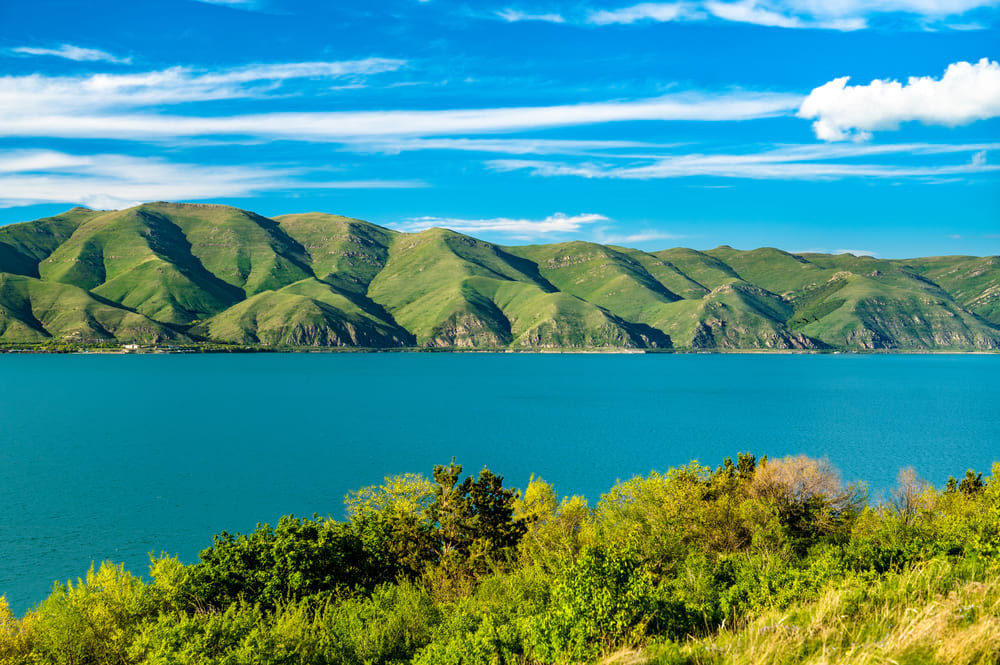 Other things to see and do around the lake include:
Check out Hayravank Monastery.
Wander the Noratus Cemetery, the biggest and oldest khachkar (Armenian tombstone/memorial stone) cemetery in the world.
Visit the nearby town Tsaghkadzor – a popular ski resort in the winter.
The best way to get to the lake is to take a minibus or a local train from Yerevan to the town of Sevan. Most of the accommodation options are in Sevan or Gavar. One cool stay-over option is at Sevan Writer's House. This brutalist building looks like a tongue sticking out of the hillside, and it has now been turned into a cheap hotel. The nearby town Tsaghkadzor also has a backpacker hostel which is a bit of a rarity in the country.
Visiting Lake Kari
Lake Kari is located north of Yerevan and it's the base if you want to hike Mount Aragats, the highest peak in Armenia.
There should be a small guest house at the lake but you can still bring your own camping gear.
From Lake Kari, you can do a day hike to the Southern peak, the lowest and easiest peak to hike at 3,900 km. You could also camp overnight en route and ascend the highest summit at 4,090m the next day – this option is only for experienced hikers!
There are also plenty of things to check out on the way in or out of the mountain. Amberd Fortress – a.k.a "The Fortress in the Clouds" – is located at 2,300m and is the oldest still-standing fortress in the country. You should definitely add this mystical place to your list of things to do while backpacking Armenia now! The impressive castle is well worth a day trip from Yerevan if you don't want to go all the way to the mountains.

You'll also be passing through the town of Byurakan which is the location of a whopping two strange attractions. (It's a village, hence "whopping" – most villages don't get even one!) First is the Armenian Alphabet Monument, a field occupied by the 39 Armenian letters carved in giant stone to commemorate the creator of the alphabet. You can also visit the Byurakan Observatory which was established during the Soviet Era.
Visiting Garni
Garni is so tiny and close to Yerevan that most travellers just visit it as a day trip. However, there's also loads to see and do in the town and surrounding area, that it deserves its own subheading.
The most dope thing around Garni is definitely the Garni Gorge. You could always be boring and just gaze at it from above, but the best way to enjoy the whole bizarre beauty of the formation is to walk down to the bottom of the gorge. (You could also take a taxi).
The gorge walls are covered in basalt columns. I'm not much of a music expert but even I can tell they look EXACTLY like a stone-carved organ. No wonder the formation is known as the "Symphony of Stones".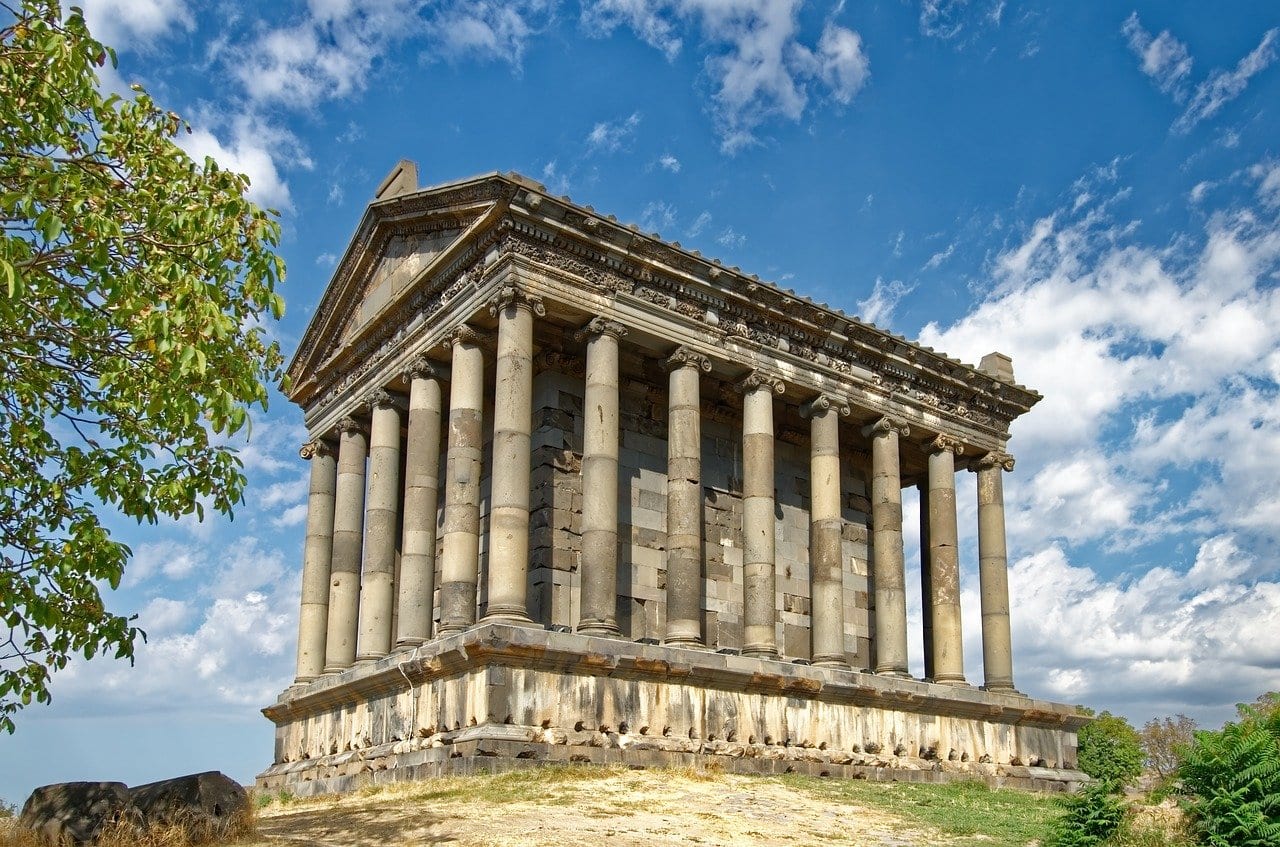 Another remarkable thing to see in Garni is the Garni Pagan Temple. Back when Christianity was taking a foothold in Armenia way, way back, most pagan temples got systemically destroyed. The temple in Garni is the last one still standing – instead of hacking it to pieces, ancient Armenian Christians just built a bigger and badder church right next to it. (From what I can find, I don't think the church is standing anymore.)

A little way down the road from Garni, you can also find one of the more interesting monasteries in Armenia. Geghard Monastery was built into the rock, so it blends into its surroundings like it just spontaneously grew out of the stone. On top of the beautiful surroundings, the monastery also gets originality points for being named after the spear that was used to stab Jesus, which is just metal as hell.
Visiting Gyumri
If you're starting to get sick of all these monasteries and mountains, here's a good option: Gyumri, the second-biggest city in the country.
Gyumri was actually once known as the most beautiful city in the country. (I mean, that was during the Soviet times so I have to feel like the bar was probably pretty low, but we'll let that slide.) It got badly destroyed in an earthquake in 1988, but now that the city is back to life, Gyumri is among the prettiest places to visit in Armenia.
The heart of the city is Vartanants Square, which is a great place to start exploring the architecture around the town. Gyumri has a totally different look to Yerevan since its houses were built mostly using volcanic rock, giving the buildings a darker, almost black appearance. This is a great place if you just want to enjoy some casual city life: pretty streets, cool cafés, and cultural museums.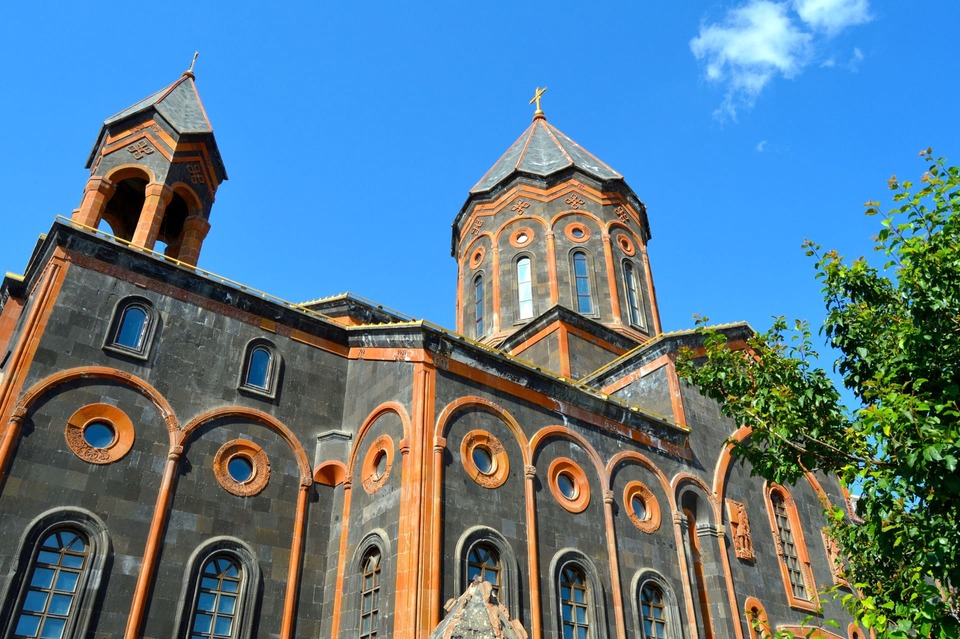 Don't miss:
Yot Verk Church, a charcoal-coloured church and its next-door neighbour Amenaprkich Church, an apricot-and-black church.
Mother of Armenia statue and the attached Victory Gardens.
Sev Berd (the Black Fortress), a massive old military compound with a drawbridge as its only access point.
Kumayri Historic District, the oldest part of the city.
You can get to Gyumri from Yerevan in a few hours. It's also got a teeny international airport, and many people stop there on their way to Georgia. If you make your way to Gyumri, it's a great launching pad for adventures around the lesser-explored northwestern parts of the country, like Lake Arpi.
Getting Off the Beaten Path in Armenia: Nagorno-Karabakh / Artsakh
Note that currently foreigners cannot visit Nagorno-Karabakh, so bookmark this section for better days.
There is probably no destination as off the beaten path in Armenian travel than Nagorno-Karabakh, the country that technically doesn't exist.
Nagorno-Karabakh, or as it's known in Armenian – Artsakh – is a region wedged between Armenia and Azerbaijan. It's also the reason for a decades-long murderous feud between the two countries. You should find out more about the conflict – peek ahead at the history section to get a clue of what's going on.
While Artsakh is legally considered a part of Azerbaijan, it is under Armenian control. This means that the only way to visit so far has been from the Armenian side.
Artsakh is definitely an interesting place to visit, and one I'd recommend if you have a few days loose in your itinerary. The capital Stepanakert has a few small museums and some decent restaurants.
The main attraction is the monument We Are Our Mountains, also known as the Grandma and the Grandpa. The two face-shaped statues stand on the edge of the town in honour of the mountains of the region. (The name Nagorno-Karabakh translates pretty much to "black mountain garden".)
If you want to spend a few days in the region, there are some great hiking routes around. From the nearby town Shusha, you can visit a gorgeous valley and see the Umbrella waterfall. It's not quite Bali, but it's still pretty cool.
The small, historical town of Tug is also worth an overnight stay.

Decide for yourself if you should visit. I'd definitely recommend it as long as it's safe. Right now, the situation is flammable, but hopefully in the future travellers will be able to get back in again. Just one note: DO NOT VISIT Artsakh if you're heading to Azerbaijan afterwards – it will get you into huge trouble since Azerbaijan considers that visit an illegal entry into their country.
Is This the Best Backpack EVER???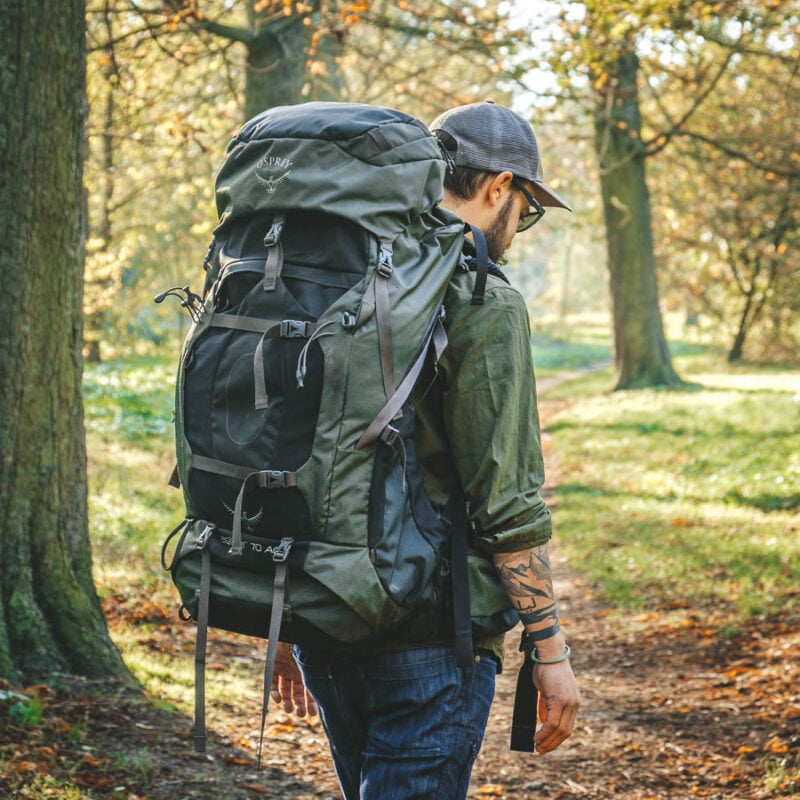 Top Things to Do in Armenia
Travelling in Armenia can keep you entertained for weeks. Here are some of the best tips on what to do while backpacking Armenia.
1. Visit the Khor Virap Monastery
Khor Virap is easily the most important (and maybe the best) out of all the attractions in Armenia. While the current church was built in the 17th century, the original chapel dates back a thousand years earlier than that. Most of the original structures have obviously been destroyed, but you can still descend the ladder down to the claustrophobic cave where Saint Gregory, the OG Christian in Armenia, was imprisoned for 14 years.
Even if you're not interested in the religious history, you can just come for DEM VIEWZ. With the snow-capped Mount Ararat as the backdrop, you can't help but feel like you're in a postcard.
2. Watch the Sunset from the Top of Yerevan
My favourite experience during my whole trip was watching the sunset from the Cascade, a giant stairway in Yerevan. I liked it so much that I went there every night when I was staying there!
This is where tourists and locals mingle; you get amazing views over the city and in clear weather, Mount Ararat. And don't miss out on the sculpture garden leading up to the steps. There are many art pieces from internationally renowned artists, and it's truly one of the best spots in the city.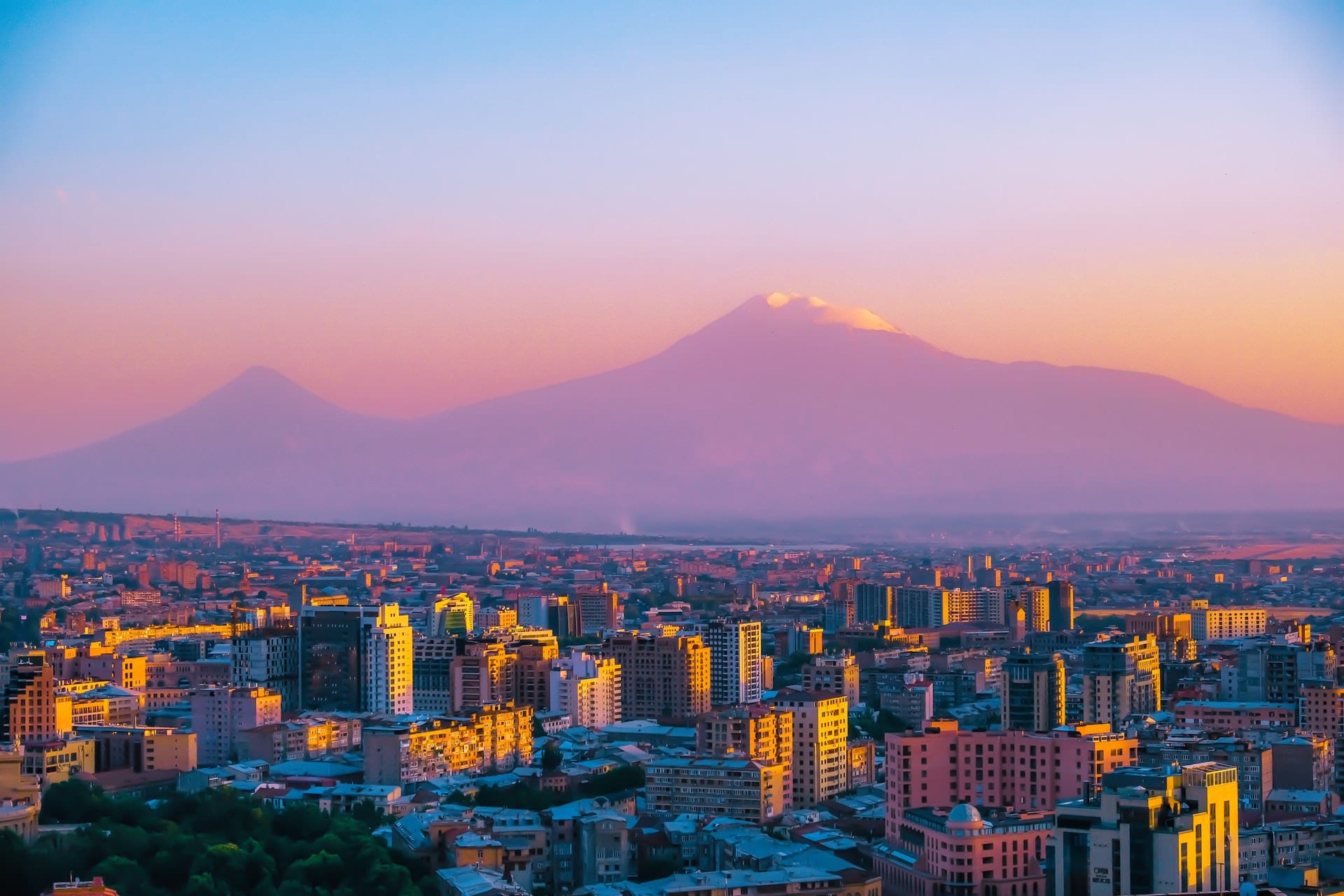 3. Hike the Transcaucasian Trail
The absolute best way to explore the country is through hiking in Armenia. And the ultimate way to do that? The Transcaucasian trail.
The trail is supposed to connect Armenia and Georgia into one long, cross-borders hiking trail. So far, the trail is still mostly underdeveloped, but the first real through-hike path was finished in summer 2021. If you'd like to help future hikers, you can also volunteer your time and help build the trails.
4. Polish off Your Boots in the Dilijan National Park
Okay, so you might not be down for a gruesome cross-country hike. Checking out the Dilijan National Park is still worth it. Time magazine actually named Dilijan as one of its top 100 places to visit in 2019.
There are plenty of day hikes in the area, cute accommodation options, and famous monasteries to explore. You can even stay overnight in a monastery for an added holy experience!
5. Drink All the Wine
Georgians and Armenians are in a bit of rivalry over who actually invented wine first… Whatever the truth is, Armenia is still one of the oldest wine regions in the world and has some damn excellent wines. And, they pair perfectly with the tasty local food. (As if you needed any more excuses to pour a glass.)
6. Admire the Garni Gorge
Just a short-ish drive from the capital, the town of Garni is home to a unique natural attraction: stone pillars that seem to form the shape of an organ. The formation is known as the Symphony of Stones. As an added bonus, you can find the only remaining pagan temple in Armenia on top of the gorge.
7. Get Wet at a Huge Water Fight
Every July, the country erupts into watery chaos as it celebrates Vardavar, which is essentially a huge water fight. The festival was originally celebrated in honour of Astghik, the goddess of water, beauty, love, and fertility.
When Armenia went full Christian mode, the holiday got adopted by the church. Now, it's one of the most fun ways you could spend a stifling hot summer day in Yerevan.
8. Visit the Armenian Genocide Memorial & Museum
This impressive monument sits atop the city, dedicated to the Armenian lives lost in the genocide a century ago. There is an eternal fire burning inside the monument, and a museum filled with stories from the genocide. It's not a pleasant place to visit but very important for understanding the history of the country.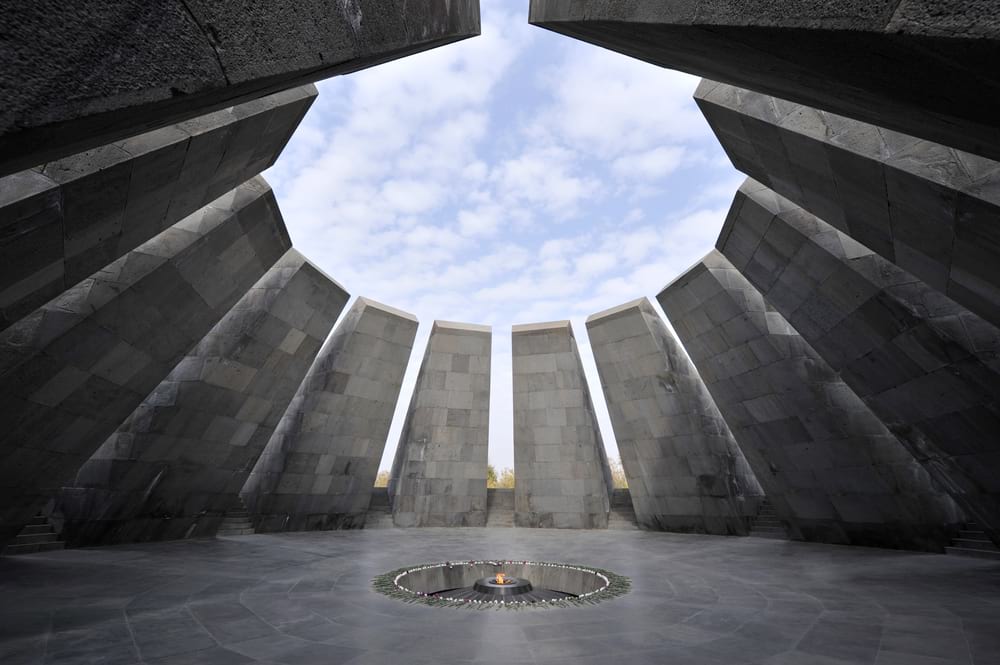 Small Pack Problems? 😉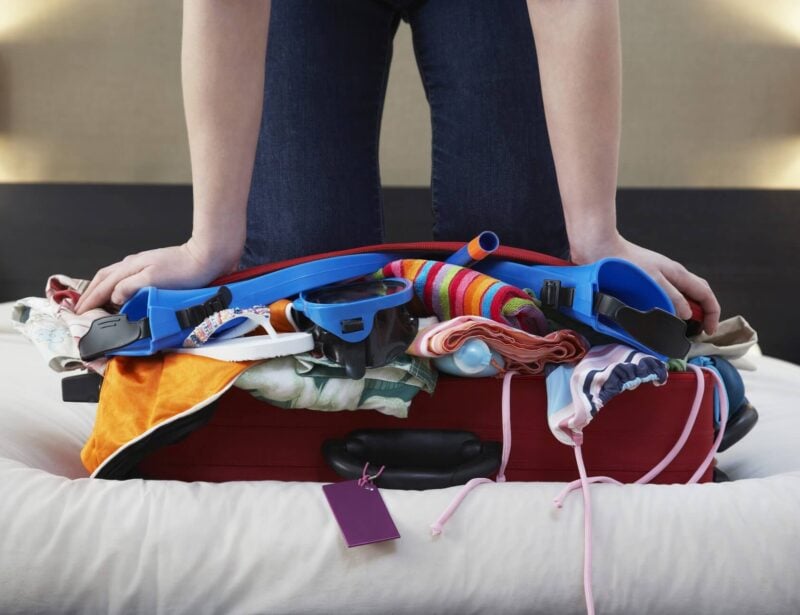 My missus travels with all her clothes in ziplock bags: don't be like my missus. UP YOUR PACKING GAME!
Packing cubes for the globetrotters and compression sacks for the real adventurers – these babies are a traveller's best kept secret. They organise yo' packing and minimise its volume too so you can pack MORE.
Or, y'know… you can stick to ziplock bags.
View Our Fave Cubes
Or Check Out the Sacks!
Backpacker Accommodation in Armenia
Even though Armenia is only starting to climb its way onto the backpacker map, there is no shortage of great – and ultra-cheap – accommodation in the country.
Most of the best backpacker hostels are in the capital. If you're a solo traveller, pick an amazing hostel in Yerevan and you'll be on your way to meet other cool vagrants. The capital is also a good base when you're deciding what to see in Armenia. What surprised me, though, is that it's not super hard to come by backpacker-style accommodation elsewhere in the country either.
Many accommodations offer shared dormitories, essentially the same as a normal backpacker hostel, even if they don't necessarily advertise themselves under that title. Unfortunately, this doesn't mean you're guaranteed to run into other backpack-folk. After all, Armenia is still an under-the-radar destination. But hey, at least shared rooms and lounge spaces make it easier to mingle if you do happen to meet any.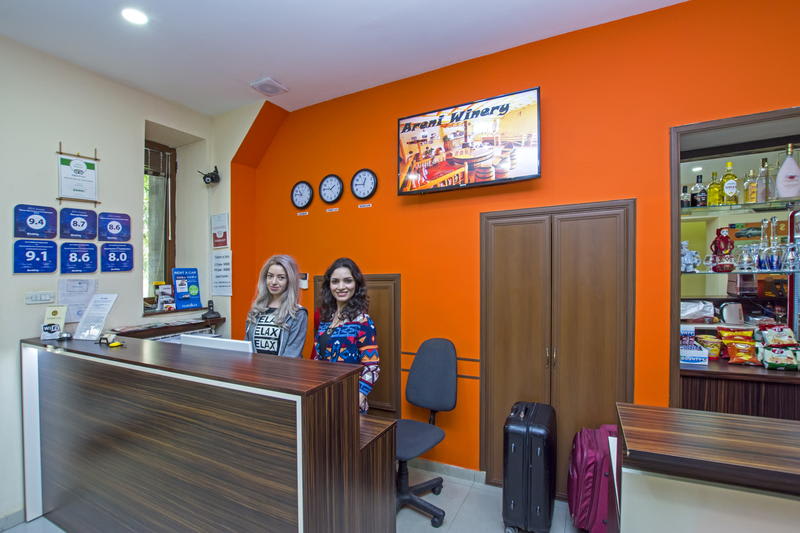 Otherwise, you really can't go wrong with a cosy guest house or a mid-range hotel. Getting your own room almost anywhere in the country is incredibly cheap, and most of the guest house options are very comfortable. They're often run by a local family, which gives you the chance to meet some locals and feel almost like you're staying with your long-lost Armenian great-aunt. In a word – at home.
AirBnB is also an increasingly popular option. You'll find the most apartments offered are in Yerevan (who exactly is surprised by that) but there are some sprinkled across the country, too.
The Best Places to Stay in Armenia
Where to Stay in Armenia

| Location | Accommodation | Why Stay Here? |
| --- | --- | --- |
| Yerevan | Envoy Hostel | Cheap, well-located, and one of the more social hostels in Yerevan – what more could a weary traveller want? The hostel offers tours which is golden for an attraction-hungry backpacker with a limited schedule. |
| Tsaghkadzor | Hostel Tsaghkadzor | A budget option for passing backpackers, the hostel is close to all the town has to offer. A great place to stay if you're coming for the ski season! |
| Sevan | Sevan Writers House | A budget hotel located in a unique-looking Soviet brutalist building by Lake Sevan. Every room has a balcony, and they offer bike rentals. |
| Dilijan | Basecamp Dilijan Hostel and Camp | Dilijan is filled with cheap and cozy guest houses, so their only dorm-style accommodation rises from the ranks with your best chaces to run into other backpackers! The best part? The shared bathrooms have bath tubs. |
| Goris | Lovely Goris | The staff is so warm and welcoming that it's hard to imagine a better welcome to Armenia. The hostel also has a lounge and a terrace area where you can meet other backpackers. |
| Gyuemri | Guest House LUSI | This cheap and comfy guest house gets a perfect ten for its location, but even better than that and its comfortable beds is the unbeatable family atmosphere. |
| Garni | Chez Yvette | Chez Yvette is staggeringly cheap for all the fantastic facilities that you get: accommodation in a beautiful house, incredible staff, and even a pool. Pasts guests describe the place as "simply perfect". |
| Yeghenadzor | Guest house Nataly | A home away from home. Guest House Nataly gets raving reviews from travellers time and time again. Maybe its due to their delicious (and free) breakfast? |
| Areni | Areni Wine Cellar | You're staying at a winery town, so… when in Rome, right? This adults-only hotel is CHEAP and comes with garden views AND a free, exceptional breakfast. (Unfortunately the story doesn't tell if wine is included in that breakfast… I hope so!) |
| Byurakan | B&B Byurakan | Great location for hikers headed off to Aragats. Clean, comfy, friendly, and offers a free breakfast. |
Camping in Armenia
As you would expect from such a wonderland for hikers, wild camping in Armenia is allowed! (And safe, which should give my fellow solo female hikers something to cheer about!!) This is awesome, considering camping and hiking are THE activities in Armenia people go there to do. So check off the stuff on your camping packing list and get out there.
There aren't really any wild animals that you'd have to worry about. Sure, there are wolves, but they are usually so shy that you're very, very unlikely to see one. Stray dogs are more of a problem than actual wild animals, but they're pretty chill, too.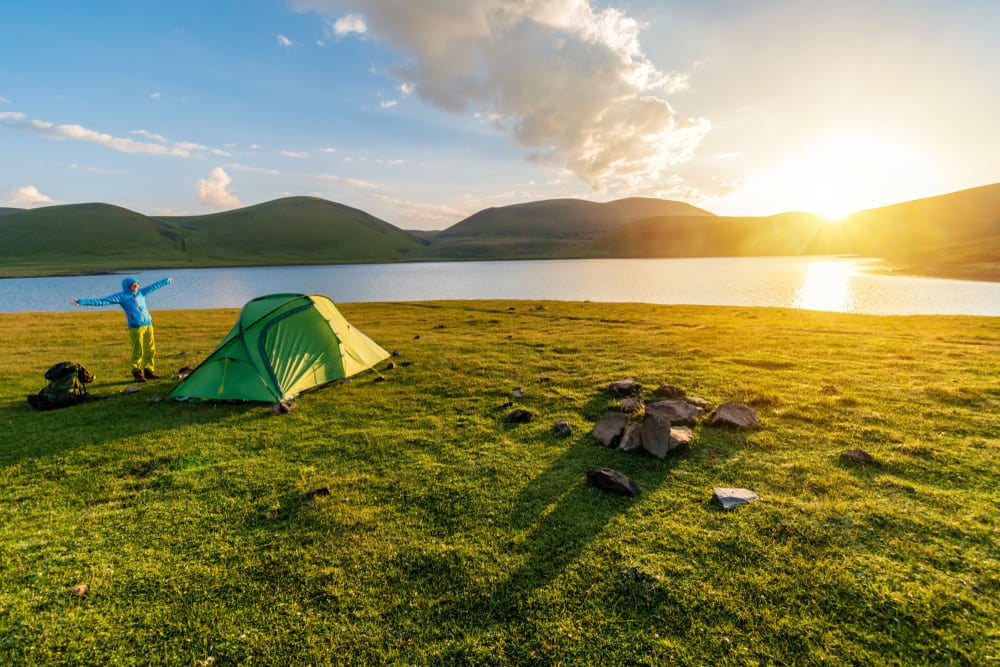 Armenian countryside is also famous for its hospitality – maybe because people in rural areas really don't see many foreigners. Don't be surprised if you get invited for a cuppa or two. People in rural areas are not likely to understand English, so polish off your Russian or download an offline Armenian phrasebook on your phone.
If you're planning on camping in Armenia, you'll need to bring enough stocks with you since water can be hard to find. And of course, common courtesy goes a long way. If it looks like you might be setting up camp on someone's property, ask for permission first.
Armenia Backpacking Costs
Is Armenia expensive? Does Taylor Swift suck? The answer to both is obviously a big, fat, NO. Backpacking Armenia on a budget is as cheap as Taylor Swift's repertoire is emotionally evocative.
Prices might go up during the summer (high season), and Yerevan is in general more expensive than the rest of the country, but there will rarely be moments when you'll have to count your pennies. This is a wonderland for anyone practising the holy art of budget backpacking.
Staying in Armenia is VERY cheap. A bed in a hostel dorm sets you back about $5 dollars at cheapest a night. Five dollars! Even the more expensive hostel rooms only got up to about ten bucks a night. That's Southeast Asian prices, baby.
A private room in a mid-range hotel or guest house can be as cheap as 10 dollars a night, or even slightly less outside of Yerevan. If you fancy something a tad more fancy, a double room in a boutique hotel or a small apartment is about $25-35 per night.
Even the nicer options hardly break the bank. A bigger apartment on Airbnb or a room in a hotel sets you back $50-70. You COULD splash and spend $200 a night for a suite at a real fancy hotel in Yerevan, but there really is no need.
If you want to cut your budget down to the bones, bring a tent and camp for free. You probably won't find a spot to pitch a tent in Yerevan, but in most other places around the country it shouldn't be a problem. For example, the Dilijan National park has a lot of beautiful spots for camping.
If you REALLY want to go cheap, you can always shop at supermarkets, but backpacking Armenia is so cheap (and delicious!) eating-out-wise that why would you want to? Grocery shopping is cheaper than in the US, in either case.
A fast food meal costs about $2-3, and a meal in a cheap restaurant maybe $5.
In a mid-range restaurant, you can easily get a meal for $7-15 including wine and an appetizer.
A cappuccino costs about $2, and a glass of wine in a restaurant about the same (you knew I had to include it, didn't you).
Within Yerevan, you can travel around cheaply with a combo of metro and local taxis. A metro ticket is 100 dram (about $0.2), and a taxi ride is a couple of dollars.
Between cities, the cheapest options are the local trains (about $1-2 per ticket) but they're slower and run less routes than buses. Here are some examples of prices for a trip on a  marshrutka bus:
Yerevan – Dilijan: $2 (90 mins)
Yerevan – Gyumri: $3 (3 hrs)
Yerevan – Goris: $5 (4 hours)
If you're REAL broke, hitchhiking is always an option – and it's totally free.
You could opt for a shared taxi between cities which is a more comfortable option than minibuses, but slightly more expensive. A taxi between Yerevan and Tbilisi, Georgia, is about $35-40, and between Yerevan and Dilijan $22. I mean… expensive is relative, right?
The best nightlife in Armenia is in Yerevan – it's the biggest city, so that's to be expected. Partying out in Yerevan can get expensive if you only crawl through the biggest clubs. But like, Armenia-expensive.
Unless you're hell-bent on a massive night out, a better option would be one of the many pubs and bars that can also stay open till the wee hours of the night and where drinking is cheaper.
A domestic beer in a restaurant would typically cost about $1, and an imported beer $1.5-2. 
A glass of wine might be about $2 apiece. A bottle from the supermarket (for pre-gaming or a civilised picnic in a park) is about $6, in a restaurant a little bit more.
The great news for the brokest of backpackers is that touring Armenia with very little money and still seeing the best of it is very easy. There are tons of free things to do! Yerevan has a free walking tour, open-air art galleries, and free art exhibitions to check out. Even the Genocide Museum is free to enter but donations are welcome.
And hiking, of course, is always free of charge.
Culture freaks have tons of cheap museums to choose from. An admission ticket is about $2-3 dollars. 
The biggest expense might come from tours. If you're on limited time and trying to see as much as possible, I'd definitely recommend joining a day tour from Yerevan. A tour in a shared taxi is not expensive – maybe $20-30 for the whole day. Usually you pay for the car and split the cost, but if you hire a guide, the cost might be slightly more.
A Daily Budget in Armenia
A Daily Budget in Armenia

| Expense | Broke Backpacker | Frugal Traveller | Creature of Comfort |
| --- | --- | --- | --- |
| Accommodation | $5 | $25 | $60 |
| Food | $7 | $15 | $25 |
| Transport | $2 | $5 | $25 |
| Nightlife | $2 | $10 | $30 |
| Activities | $0 | $5 | $20 |
| Total per day: | $16 | $60 | $160 |
Money in Armenia
The currency used in Armenia is called dram. The denominations are pretty big but once you get an idea of them, the maths is easy enough. You can count roughly that 500 dram = 1 USD.
You shouldn't run into any trouble getting money out since there are ATMs in every city and town. (Well, maybe with the exception of the tiniest villages, but that was kinda expected anyway.)
Using your bank card abroad can get expensive especially if you're withdrawing money in a foreign currency. Prepare for the trip by sorting out your travel banking and getting a travel card like Revolut or Wise that can reverse ATM fees and literally save you hundreds of dollars in the long run. That's gotta be enough money saved for tens of glasses of wine!
Travel Tips – Armenia on a Budget
Your wallet won't hurt much from your trip, especially when so many things to do in Armenia are completely free. However, if you want to learn some tricks to save even more cash money, try these tips:
Carry a portable stove. Cooking your own food saves a pretty penny but having a lightweight stove with you is a grand idea anyway. A great backpacking stove saves your ass in hostels that don't have a kitchen, and especially when you're touring the more remote parts, you gotta provide for yourself.
Grab a tent. I feel like I might've mentioned that Armenia is great for hiking. Oh, I have? Then definitely pack a lightweight backpacking tent to save on accommodation or to get more familiar with the Armenian wilderness.
Surf a couch. Couchsurfing is a fantastic way to get to know locals and local life while saving money!
Do some volunteer work. If you've got a week or a few to spare, check out some volunteering opportunities around the country. The Broke Backpacker recommends going with Worldpackers because it's simply awesome! As Armenia is a bit of an avant-garde destination, though, Worldpackers might not always have many placements available, so check out other work exchange sites.
Travel with a water bottle. The sexiest travellers help combat the world-wide plasticapocalypse. Get a reusable bottle and fill up anywhere – Armenian tap water is safe to drink.
Why Should You Travel to Armenia with a Water Bottle?
Plastic washes up on even the most pristine beaches… so do your part and keep the Big Blue beautiful!
You aren't going to save the world overnight, but you might as well be part of the solution and not the problem. When you travel to some of the world's most remote places, you come to realise the full extent of the plastic problem. And I hope you become more inspired to continue being a responsible traveller.
STOP USING SINGLE-USE PLASTIC! If you'd like some more tips on how to save the world.
Plus, now you won't be buying overpriced bottles of water from the supermarkets either! Travel with a filtered water bottle instead and never waste a cent nor a turtle's life again.
Save $$$ • Save the Planet • Save Your Stomach!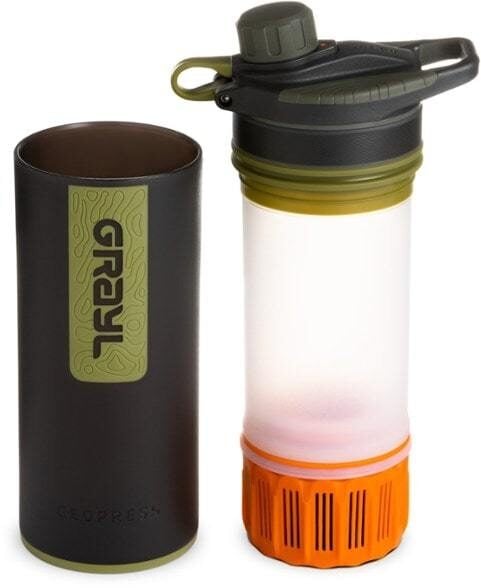 Drink water from ANYWHERE. The Grayl Geopress is the market's leading filtered water bottle protecting your tum from all the waterborne nasties. PLUS, you save money and the environment!
Single-use plastic bottles are a MASSIVE threat to marine life. Be a part of the solution and travel with a filter water bottle.
We've tested the Geopress rigorously from the icy heights of Pakistan to the tropical jungles of Cuba, and the results are in: it WORKS. Buy a Geopress: it's the last water bottle you'll ever buy.
Buy a Geopress!
Read the Review
Best Time to Travel to Armenia
Every season has its own sides, but the best times to visit Armenia are the spring and the autumn. April-May and September-October have pleasant weather, and you avoid the crowds of the high season.
If I were you, I'd go backpacking in Armenia in the autumn, especially if you're headed there for hiking. The temperatures are mild so it's perfect hiking weather, the trees are changing colours which is just bananas pretty, and it's far enough into the year that you won't be facing too many snow-related problems in higher altitudes.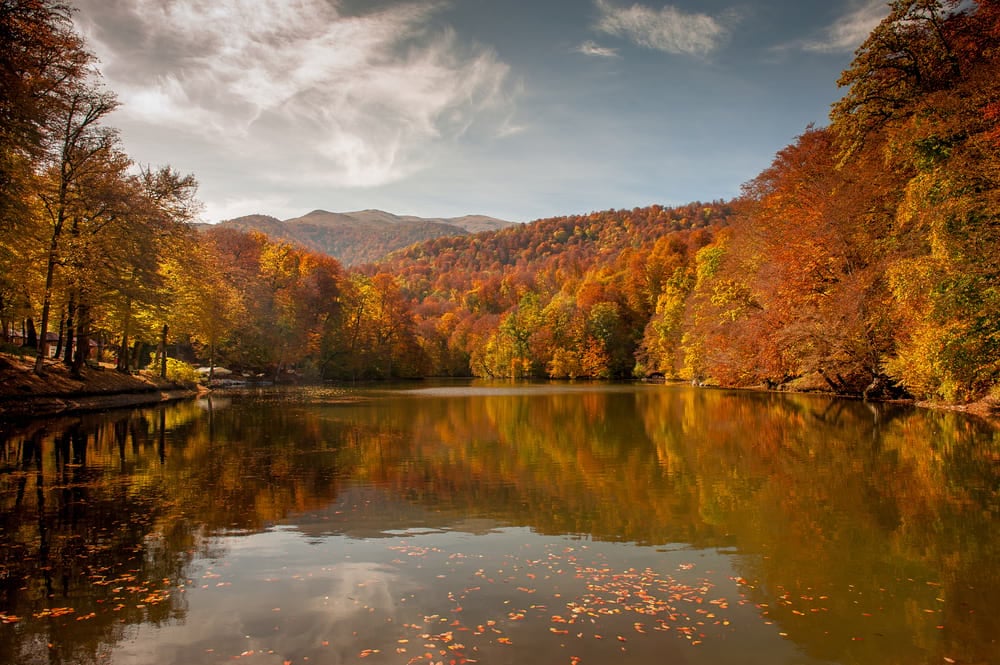 Summer isn't too bad for visiting either and, in a country like Armenia, crowds are rarely a problem in the same way they are in other European destinations. The summer months (June through August) can get stifling hot, though, especially in Yerevan, and prices might rise as well. The upside is that the summer is when most of the festivals around the country take place. (If you're too hot, the Vardavar festival should help – keep reading…)
The winter is pretty mild in Yerevan and the temperature rarely dips below zero. If you're into skiing, the winter is also the time to check out the ski resorts in Tsakhkadzor, Jermuk, or Hayastan. For obvious reasons, winter is not optimal for hiking travellers.
All in all, while Yerevan is decently nice all year round, visiting in September or October will guarantee the best experience if you want to explore the rest of the country. When you're deciding what to see in Armenia, autumn colours should seriously be considered a full attraction.
Festivals in Armenia
Armenian Easter (April) – As the earliest Christians, Armenians take Easter seriously! It is mostly a family holiday so befriend a local family and enjoy all the special foods prepared for the festivities.
Yerevan Wine Days (May) – What else would you expect from the cradle of wine? The 2-day event presents wines from 15 wineries around the country together with concerts in the capital.
Dolma festival (May) – The Dolma Festival takes place in the Hnaberd village, and is the best place to stuff your face with more kinds of dolmas than you could imagine.
Syunik Mulberry Festival/Gifts of Syunik (July) – Ah, more food… If you're headed to Goris, don't miss this event where each community of the Syunik Province presents their own mulberry dish (yes – there's also mulberry vodka).
Vardavar Festival (July) – Basically a huge water fight. It's celebrated country-wide but for the best splashes, make sure you're in Yerevan!
Golden Apricot International Film Festival (July) – Apricot is a true Armenian symbol and lends its name to the biggest international film festival in the country.
Barbeque Festival (August) – A plethora of chefs gather in the town of Akhala to compete on who grills their meat the best. Armenians LOVE their barbeque so this is sure to be one delicious celebration.
What to Pack for Armenia
There are a few trusty things I always add to my backpacking packing list.
Somewhere to hide your cash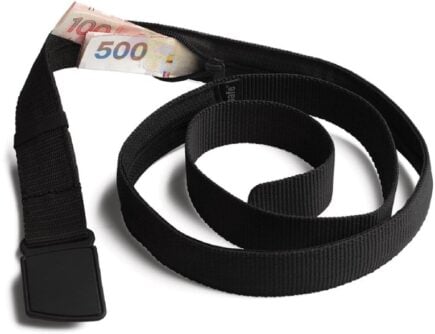 Somewhere to hide your cash
Travel Security Belt
This is a regular looking belt with a concealed pocket on the inside – you can hide up to twenty notes inside and wear it through airport scanners without it setting them off.
A travel water bottle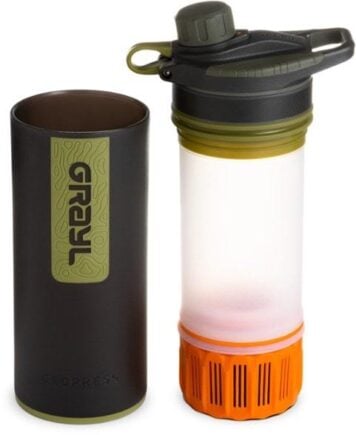 A travel water bottle
GRAYL Geopress Filtered Bottle
Having a filtered water bottle means you can drink from just about any source. The GRAYL Geopress is hands-down the most effective one we've ever used as well!
For those unexpected messes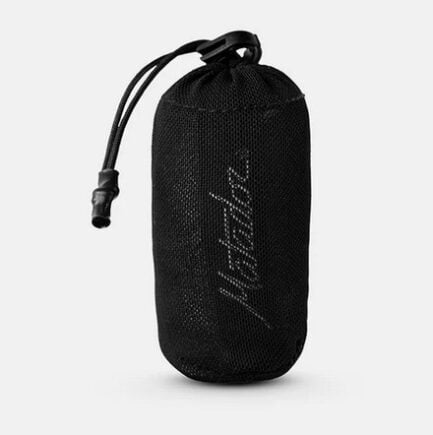 For those unexpected messes
Microfiber Towel
Hostel towels are scummy and take forever to dry. Microfibre towels dry quickly, are compact, lightweight, and can be used as a blanket or yoga mat if need be.
When the power goes out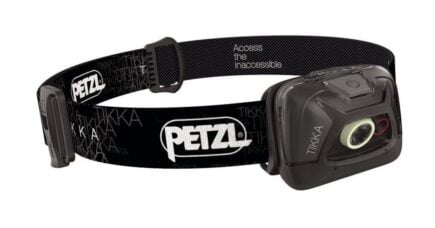 When the power goes out
Petzl Actik Core Headlamp
A decent head torch could save your life. If you want to explore caves, unlit temples, or simply find your way to the bathroom during a blackout, a headtorch is a must.
Sleep anywhere
Sleep anywhere
Camping Hammock
Taking a tent backpacking is not always practical but hammocks are lightweight, cheap, strong, sexy (chicks dig hammocks), and allow you to pitch up for the night pretty much anywhere.
To stay a clean backpacker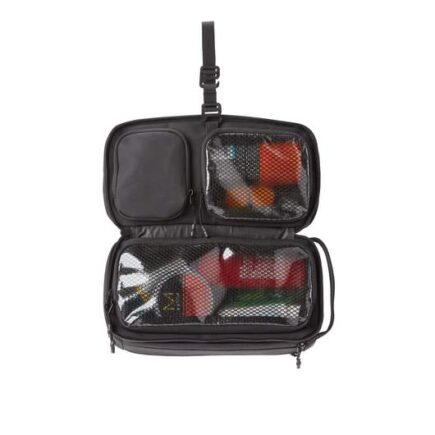 To stay a clean backpacker
Hanging Toiletry Bag
I always travel with a hanging toiletry bag as it's a super-efficient way to organize your bathroom stuff. Well worth having as it helps to have quick access to all your stuff.
Staying Safe in Armenia
Is Armenia safe?
Armenia has a bit of a bad rep because of the whole having-an-active-warzone thing. In truth, though, travel in Armenia is very safe, as long as you stay away from border areas with Azerbaijan. (There might be landmines – yikes.) For more detailed safety stuff regarding Nagorno-Karabakh, scroll to the next section!
In Yerevan, like any city, keep an eye on your stuff for pickpockets (although petty crime isn't as bad as in other European capitals). There can sometimes be demonstrations that usually go nicely and calmly, but there is a possibility for escalation, so it's best to avoid them.
Traffic in Armenia is CRAZY. Your biggest danger is getting mowed down by an erratic driver more than anything else.
Since I've mentioned Armenia being a hiking country already about a thousand times, you can guess that you need to take certain wilderness savviness into account when you head out into the boonies. Most trails are luckily good even for beginner hikers.
There are no big wild animals that you would need to be super worried about. However, since many of the hiking trails are not very well-trafficked, you're in trouble if you get hurt with no way to inform someone of where you are.
Always carry enough water, make sure you have maps (maps.me is an excellent friend for hiking in Armenia!), and tell someone where you're going for the day. Weather on the mountains can also be capricious so keep track of possible shelters along the way. While hiking in the Dilijan National Park, I got caught in a massive thunderstorm out in the open and had to hide in a cave for an hour.
Safety in Nagorno-Karabakh
The conflict with Azerbaijan doesn't affect safety in other areas of Armenia that are outside of border areas and the actual region of Nagorno-Karabakh.
Nagorno-Karabakh used to be fairly safe to visit. In late 2020, the conflict reared its ugly head up again and boiled up to a full-blown war.
Russia mediated a cease-fire to the war in late 2020, but Nagorno-Karabakh remains pretty unstable. Right now, foreigners can't enter the region at all. When (if?) it finally opens up again, make sure it's actually good to visit.
Most government advisories would probably tell you to get the fuck out of there but as an offbeat destination collecter, I tend to read those kinda selectively. The best way to assess the safety situation would be to keep an eye on current news. You can also talk to business owners in Goris or Yerevan since they might have more up-to-date info on whether visiting is actually safe or not.
Sex, Drugs, and Rock 'n' Roll in Armenia
The Daily Mail is a trashy magazine, but when they called Armenian women the most beautiful in the world, they might've been onto something. (My Tinder was tightly tucked away while in Armenia so I had to do some research on the local dating culture. The first search result I got was straight-up porn which must be a confirmation of the beauty of Armenian women but a very, very awkward experience to have in a shared co-working space.)
Armenian girls tend to be pretty reserved and traditional so you might not find the holiday fling of your dreams while on your trip. You can expect to get introduced to the family pretty soon into the relationship, though!
As to Armenian men? They're also handsome but seem very adamant to cut their hair into cool-girl short bangs. Is this a flattering look? I'm not sure. Proceed with caution.
As much fun as taking drugs on the road might be, it's very much illegal in Armenia, including cannabis. Having it on you could result in heavy fines and a short jail sentence (as a foreigner you'd probably be able to bribe your way out but… probably best if you don't put yourself at that risk in the first place). Actually, even finding weed might be a task if you were hell-bent on breaking the law: Armenians are at the bottom of the list when it comes to smoking weed in Europe.
Luckily, Armenians are not all too saintly. You might've already noticed a continuous thread through this guide – wine. Ah, the wine… local wine is delicious, tasting like something your grandma brewed up in her basement but with world-class quality.
Armenians are also no strangers to hard liquor. The signature hard spirit is oghi, a vodka made with fruits and berries, and oh boy – it's strong.
Travel Insurance for Armenia
No matter where you are or what you do, you're always at risk to slip in the shower or throw out your back from partying too hard in a nightclub in Yerevan.
A savvy backpacker never leaves home without comprehensive travel insurance. Here at the Broke Backpacker, most of the team uses and trusts World Nomads. One of the best insurances out there for travellers, World Nomads covers you from little boo-boos to 127 hours-style predicaments.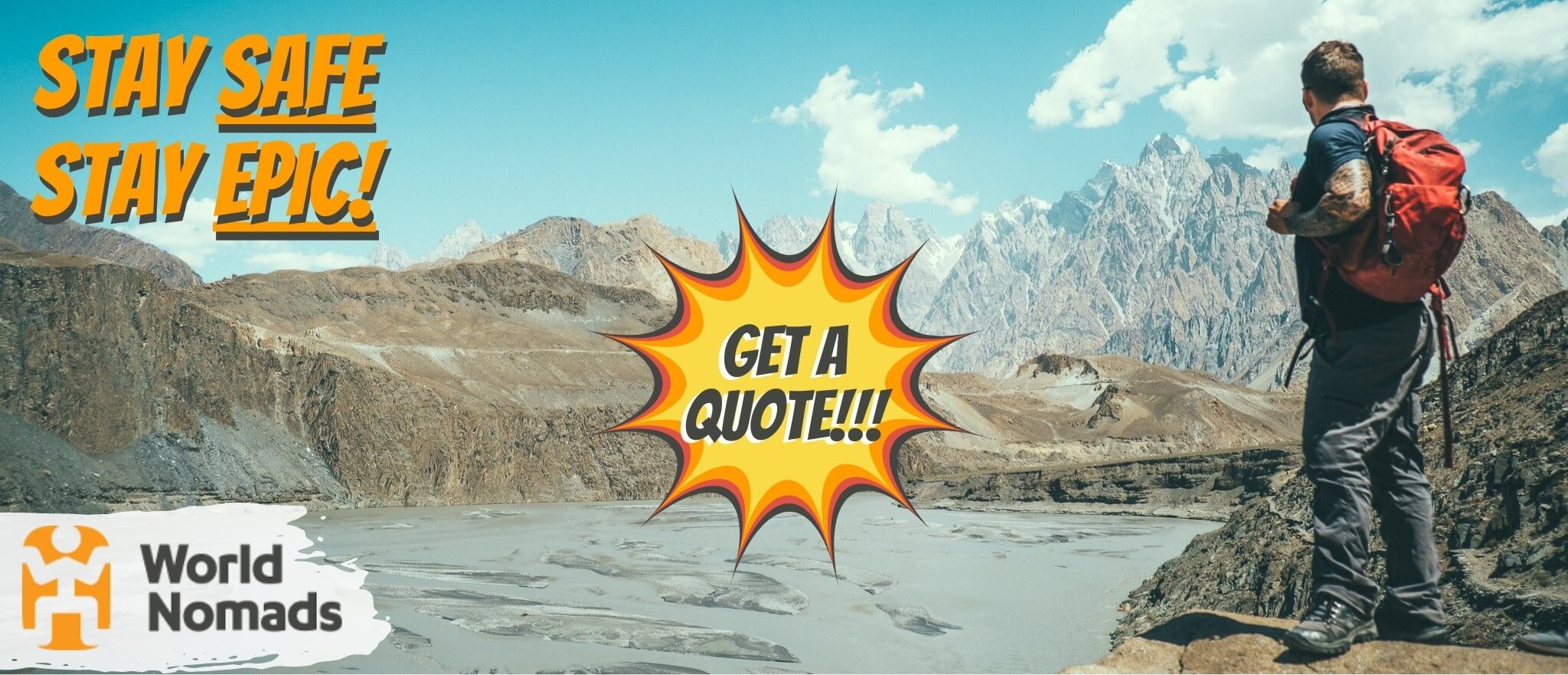 World Nomads' mission is to support and encourage travellers to explore their boundaries. They offer simple & flexible travel insurance, and safety advice to help you travel confidently.
They've been doing it since 2002 – protecting, connecting, and inspiring independent travellers just like you.
Get a quote below or read our in-depth review!
World Nomads provides travel insurance for travelers in over 100 countries. As an affiliate, we receive a fee when you get a quote from World Nomads using this link. We do not represent World Nomads. This is information only and not a recommendation to buy travel insurance.
Getting into Armenia
Getting to Armenia is pretty easy, considering how much beef it has with the surrounding countries. Many people choose to fly to Yerevan but overland travel is also possible.
From Georgia – There are regular bus and train services between Yerevan and Tbilisi, Georgia. You can also take a taxi for the journey that probably sets you back a ridiculous $40 (Armenia is cheap, yo). Just be prepared that the driver is most likely to drive like a maniac. That's the noble Caucasian way.
From Iran – You can take an overland bus from Tehran or Tabriz all the way to Yerevan.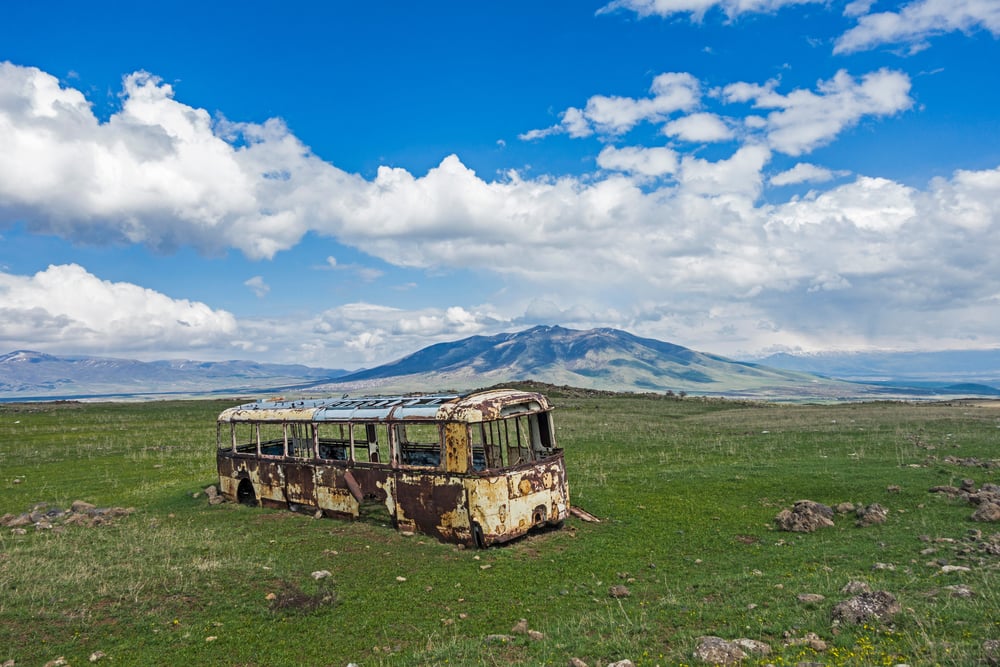 From Azerbaijan – This is what we in the industry refer to as a hard-core no-go, amigo. The border between Armenia and Azerbaijan has been closed for decades and doesn't seem like it might open any time soon. The good news is that an Azeri stamp on your passport is not a problem when entering, though it might be the other way around. If you're planning to visit both Azerbaijan and Armenia, I highly recommend visiting Azerbaijan first, then Armenia.

From Turkey – Also not BFFs with Armenia, Turkey closed their borders in the 90s in solidarity with Azerbaijan because of the clashes in Nagorno-Karabakh/Artsakh. You can't travel directly from Turkey but you can quite easily take a train or plane from Istanbul to Tbilisi and connect from there.
Entry Requirements for Armenia
Armenia would like to make it known that it is very welcoming and would love to make your acquaintance. That's why entering the country is pretty easy.
Citizens from 45 countries can get a free – that's right, FREE – visa when entering Armenia which allows them to stay up to 180 days in a year. These countries include most of Europe, the UK, and the US, plus a few surprise guests.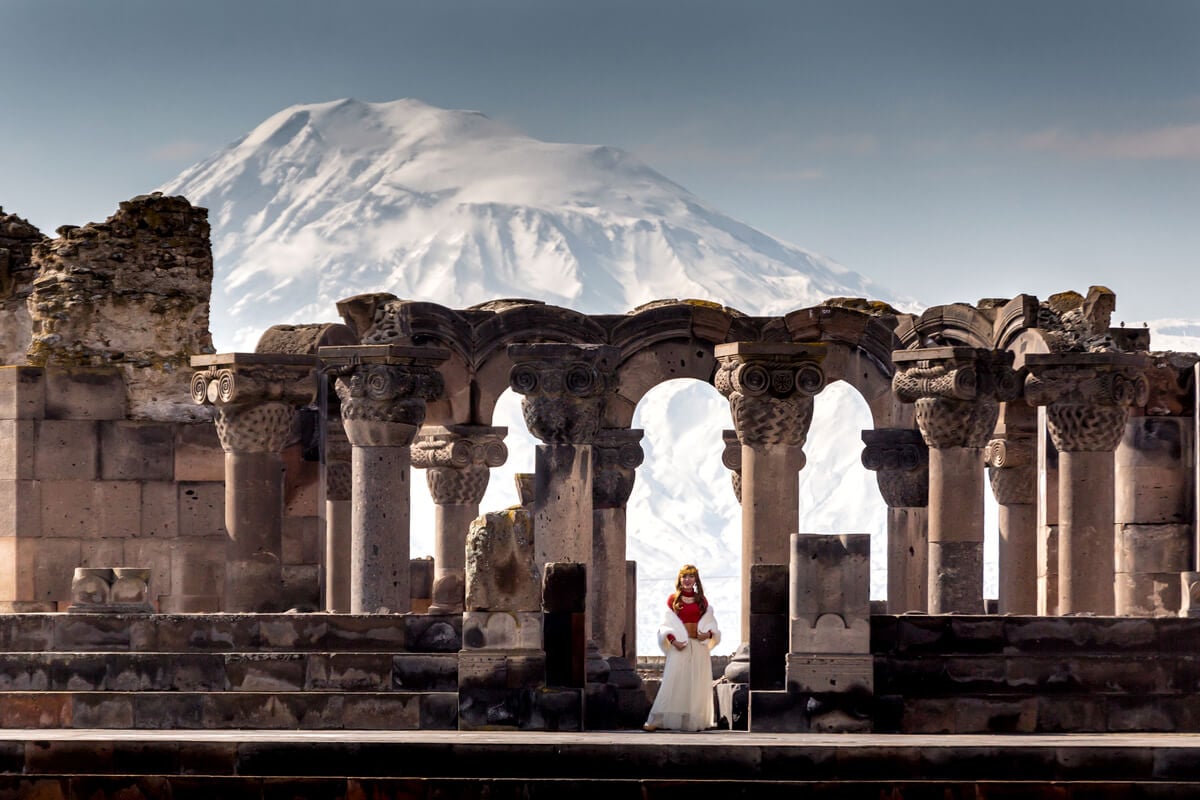 If your passport is not under the free-visa scheme, that's sad, but your trip to Armenia still doesn't have to remain a distant dream. (Canadians, there is still hope!) You can apply for a visa at a local embassy or electronically. A 21-day single-entry visitor visa costs $6, and a 60-day visitor visa that allows multiple entries sets you back just $41.
If you're unsure if you need a visa, there is some solid info on Armenian visa requirements here.
Forget boring accommodation… book yourself an EPIC STAY!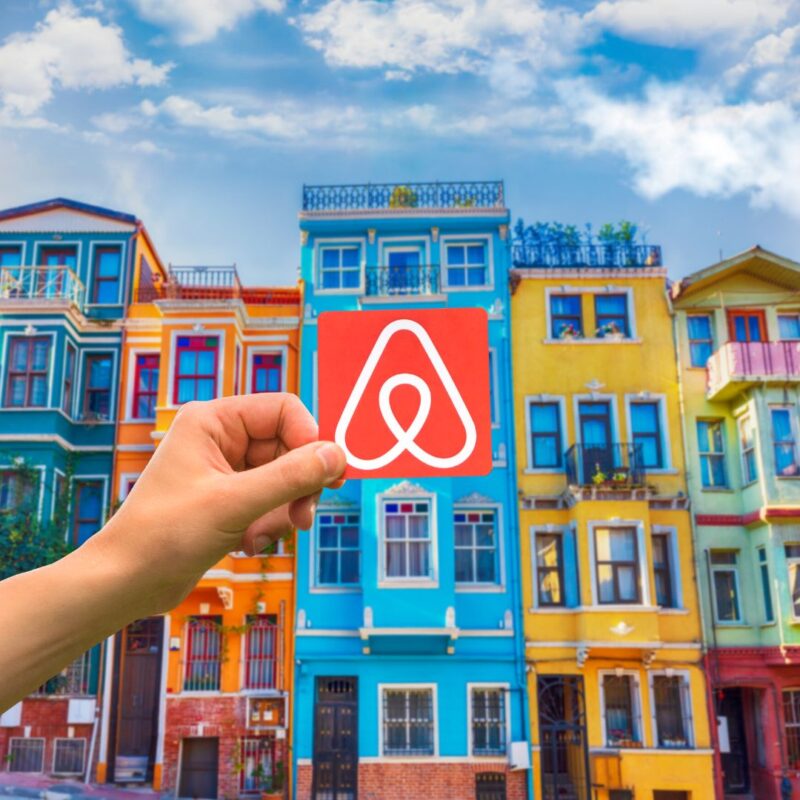 Why stay in a naff hotel when you can stay in a cosy, stylish local house instead? And for half the money too!
Stay somewhere EPIC and save your hard-earned dollars — from houses to barns to castles and caves, there is an Airbnb for every occasion!
Book an EPIC Stay
How to Get Around Armenia
Travel in Armenia is a cheap, even if not the most convenient experience. Distances are short but because of the road conditions, trips might take a little longer than you'd expect.
Because of the way the road network is set up, you're likely to keep weaving in and out of Yerevan as you travel between different cities and towns.
You won't see many "normal" buses. Instead, the trips between towns happen in marshrutkas, minibuses that share an uncanny likeness with creepy white vans.
Travelling by marshrutkas is very cheap and very adventurous. Often the vans are crammed as full as they'll go, with extra seats pulled out to fill the aisle, and luggage strapped to the roof of the vehicle. 
You can't book marshrutkas beforehand – you just gotta show up in good time.
They have approximate departure and arrival times but in reality, they only leave when they're full. If you're planning to travel by a minibus, arrive in good time and don't get frustrated if it takes a while for the bus to leave!
Against all odds, there are trains in Armenia as well! Not that I ever took one – while they're cheaper than minibuses, they're also slower. Not to mention, minibuses are already a very cheap way to travel around.
The most prominent train line is the sleeper train running between Yerevan and Tbilisi, Georgia. There are also some local train lines connecting Yerevan to the other major spots in the country (I do say "major" with a slight shrug). Local train tickets usually cost a dollar or two.
Shared taxis are a pretty cheap way to get around the country, actually! Especially if you can share it with someone, it might be a more flexible and quick way to get from city to city than wait for the reliably unreliable minibuses to fill up.
Depending where you go, you can expect to pay $5-10 for the trip. There are even shared taxis operating between Yerevan and Tbilisi, and those will set up back about $35-40.
Whether you're an experienced thumb-rider or still a little green, hitchhiking in Armenia is very easy and feels pretty safe.
Hitchhiking is actually so common that in less touristy areas, travelling by thumb is actually more usual than taking the minibus.
The same as a lot of Eastern European countries, hitchhiking was and still is a popular way of getting around even for locals since public transportation is pretty sporadic. This means that hitchhikers are a usual sight, and do get picked up pretty easily. 
Even though Armenia is a small country, its roads could use a touch of modernisation. This means that hitchhiking might not be the fastest way to get around. From my experience, many people also drive like maniacs so strap on that seat belt – if there even is one!
Onwards Travel from Armenia
Unless you fly out, there are only two land routes you can take out: to Georgia or to Iran.
To Georgia – There are buses, trains and taxis operating daily between Yerevan and Tbilisi, so travelling between the two is easy. A few other border crossing points also exist. Most nationals also get a free one-year visa on arrival to Georgia, so you don't need to sort out a visa beforehand.
To Iran – There is one border crossing point between Armenia and Iran. You can get a bus from Yerevan or Goris to Tabriz, or all the way to Tehran. Just make sure you sort out your visa before backpacking Iran! It should be as easy as visiting the Iranian embassy in Yerevan.
You don't need to have an onwards ticket when you enter so you can take your time (within your visa period, of course!) to decide what to do.
Working and Staying Connected in Armenia
Falling in love with Armenia? Perhaps you're planning to stay a little longer? Read about working and keeping connected while backpacking Armenia in this section.
Working in Armenia
Digital nomads – keep an eye on Armenia. The northerly neighbour Georgia, especially Tbilisi, has become one of the top spots for laptop workers in the past couple of years, and there is no reason Yerevan couldn't be the next big thing after hipstery nomads decide Tbilisi is too full. (I'm hearing it's already getting pretty crowded…) Soon Armenia might be one of the best countries for digital nomads.
Yerevan has got everything going for it that Tbilisi does. The only thing missing is a solid nomad community but that is likely to change soon, either from the overspill from Georgia or just by people hearing how awesome Armenia is.
If you're not a digital nomad but would like to hang around still, there are definitely options to stay longer. One of the best ways to live somewhere long term is to volunteer. For the measly price of your time and labour for a few hours a day, you get free accommodation and meals in exchange.
The Broke Backpacker loves Worldpackers, one of the best work exchange sites out there. Read our Worldpackers review and check out the volunteer opportunities in Armenia.
SIM Cards and Internet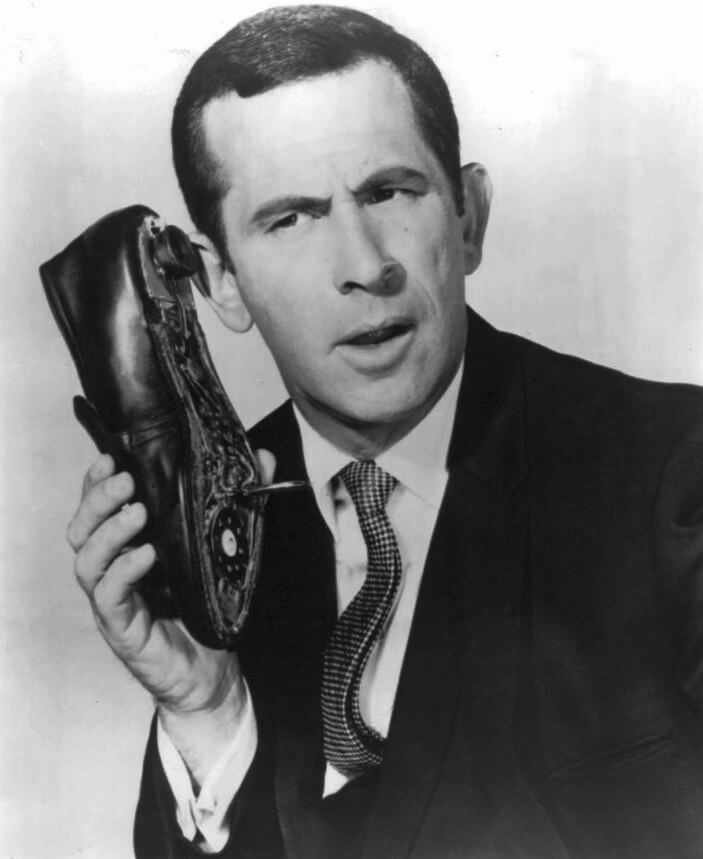 Internet in Yerevan is pretty good, I never had any trouble with it. Almost the whole country's population has access to the internet, but in more rural areas you can expect (not surprisingly) that the connection might not be as fast or as reliable.
There are three network operators in Armenia: VivaCell MTS, Beeline and UCOM.
Getting a pre-paid card costs about $6-18, and topping it up with 7GB is around $7, depending on the provider, of course. The connectivity is pretty good all over the country – except for remote hiking trails – so I'd recommend getting a SIM card!
(Note: if you visit Nagorno-Karabakh, it's part of the Azeri cell network, so don't use your Armenian data there.)
You can get a SIM card easily at a cell store. Just bring your passport with you and you're good to go!
What to Eat in Armenia
Armenian cuisine is hearty and filling – and damn delicious! Just as you might expect from a mountain nation. Eating is an important part of the local culture. It's what brings families together and turns casual dine-ins into actual feasts – and the wine keeps flowing, of course.
You'll notice a lot of crossover with the nearby countries when it comes to Armenian national dishes. Many foods are heavily influenced by Iranian, Turkish, and Azeri cuisine, so the countries follow the same footprints.
Barbequing is very ingrained in the country's cuisine. Pork, lamb and beef are popular meats to throw on the barbie, and they're rarely seasoned – Armenians think that would deflect from the natural flavour of the meat.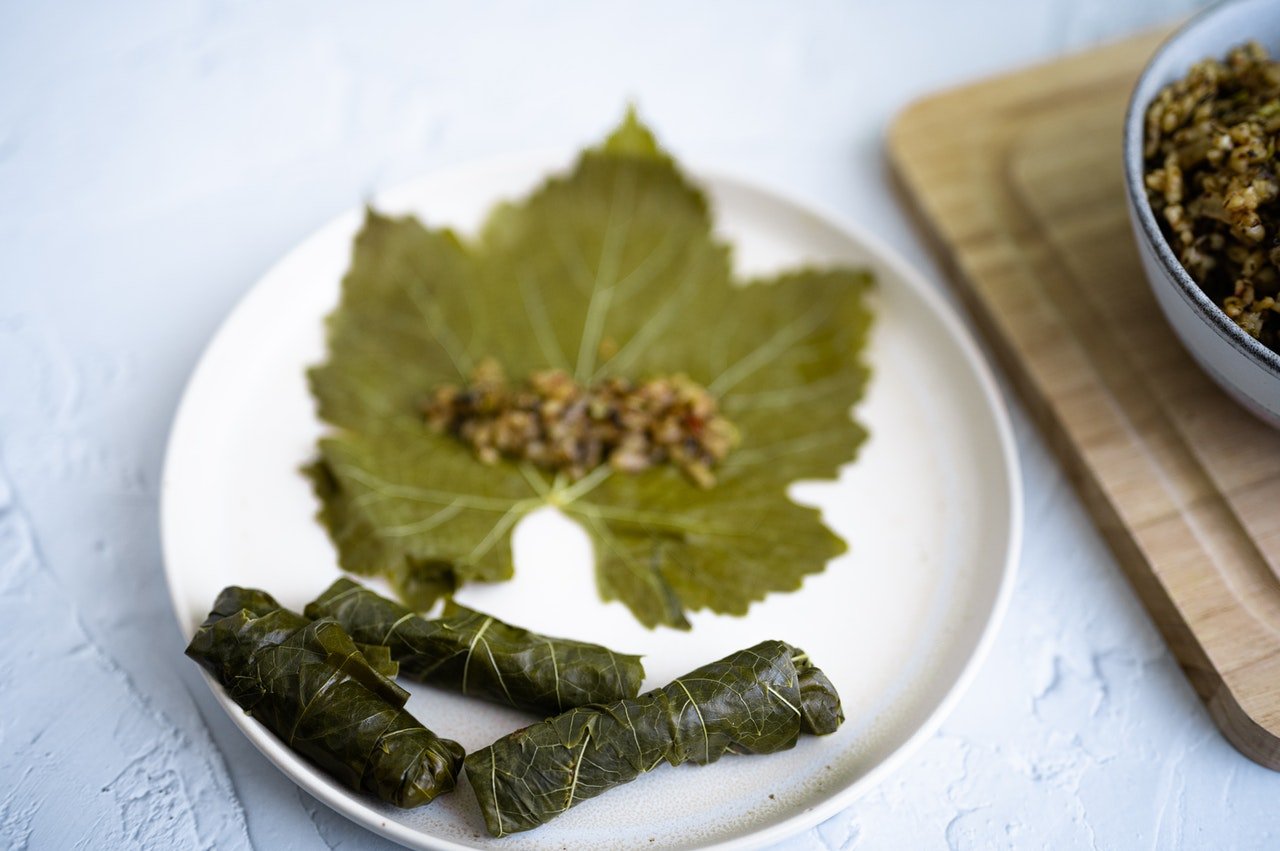 Dolmas, vine leaves stuffed usually with minced meat and rice, are a big cornerstone in Armenian cuisine. If you've spent some time travelling around the Caucasus or the Middle East, you're certainly already familiar with dolmas. But don't tell that to Armenians… They love their dolmas! In fact, they love them so much that they have an entire festival dedicated to them.
This is definitely a meat nation. It's not impossible to travel as a vegetarian or vegan either, but neither is very common, so you might get a lot of curious questions about it. Most vegan-friendly restaurants in the country are located in Yerevan.
The Best Food in Armenia
manti – Armenian take on dumplings
dolma – minced meat and rice wrapped in a vine leaf
khorovats – barbequed meat kebab
ishkhan – special trout fished from Lake Sevan and prepared in many ways
gata / katah / gada – sweet bread-like cake
boereg – (cheese) filled puff pastry; you might know it better as burek
harissa – porridge made of peeled wheat and meat, especially for Easter
khash – soup with cow or sheep feet
lahmacun – "Armenian pizza", it's thin-crusted and topped with minced beef, onions and crushed tomatoes
Armenian Culture
It's a travel writer's cliché yet again… but Armenians ARE known for their friendliness and hospitality. That's something connecting all of the countries in the Caucasus region. Whether it's welcoming visitors to their family feasts or picking up a desolate hitchhiker on the side of the road, Armenians are known to welcome travellers with open arms.
Armenia is a very religious country – I mean, just look at all the monasteries! There are about 4,000 churches and monasteries, and 97% of the population are members of the Armenian Apostolic Church.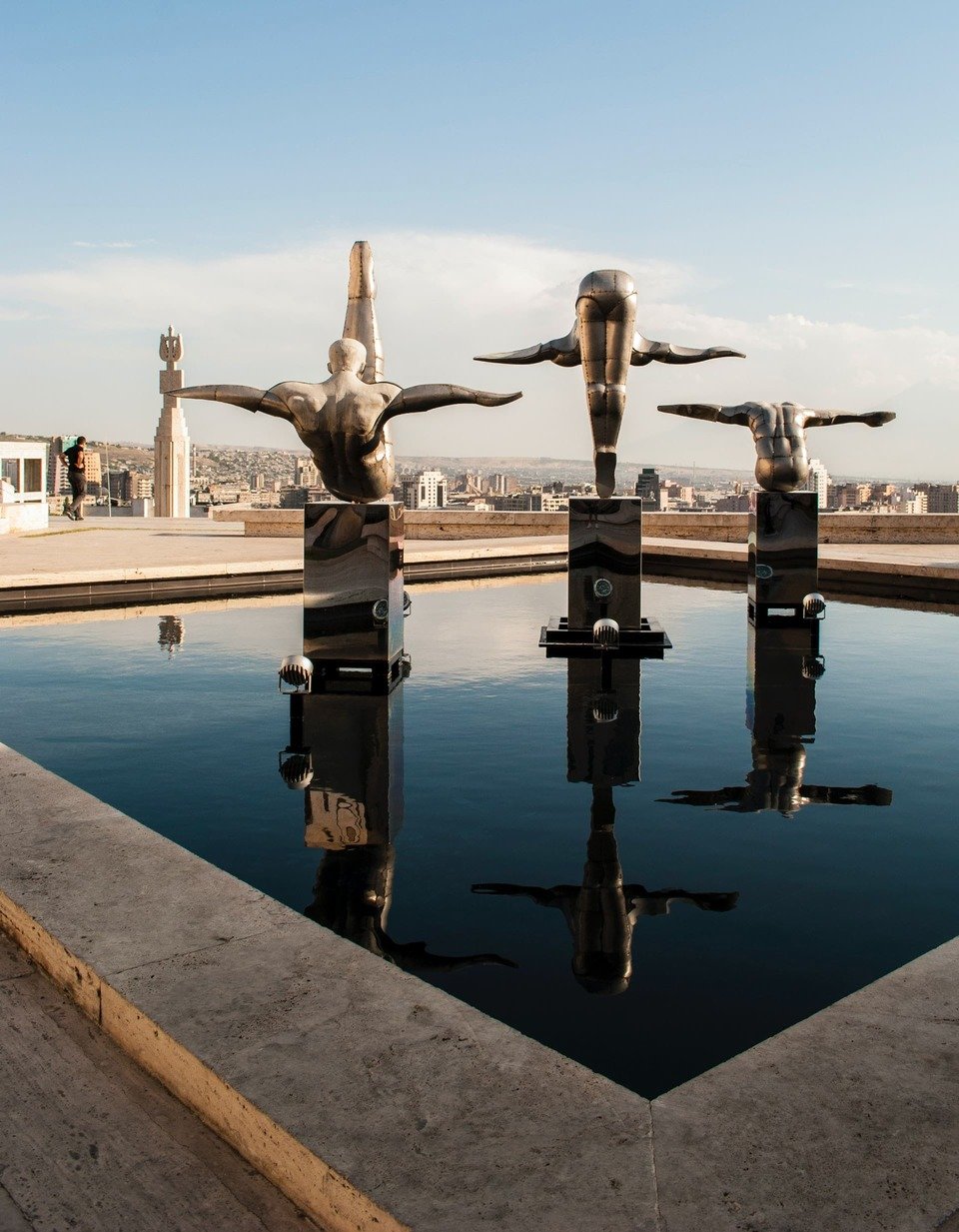 Maybe it's because of all the religiousness, maybe their long history, but most people there are quite traditional. This doesn't only show in the form of some stiff conservativeness, though, but more as respect for old traditions and festivals. Not to mention a healthy dose of love for their little country.
Other than the looming omnipresence of monasteries, though, I didn't feel overwhelmed by the religion as a tourist in the country. As a solo female traveller, I took care to cover up more than I would in while backpacking Georgia, for example, especially in the more rural areas.
Families are very important in the Armenian culture (just look at the Kardashians!). Children are especially valued, often called "the light of the house". The first son often gets named after his fraternal grandfather which obviously is a huge honour.
Useful Travel Phrases for Armenia
Armenian script is squiggly and pretty hard to interpret. Oh yes – they have their own alphabet, specially made for just a few million people. But don't get discouraged! Most tourist-friendly restaurants will have their menus in English, and you could always put all your faith in Google Translate. (Or figure out how to learn a new language quickly, if you're hardcore.)
In general, English is not very widely spoken in Armenia. It's more common in Yerevan, for sure, but in the countryside, you'll have to lean on body language and keywords.
Many Armenians also speak Russian which might help you a tiny bit.
Knowing a few phrases will always get you further than knowing nothing. (Even when these phrases written-out look like I learned how to sneeze in ten new ways.) For obvious reasons, I've spelt out the pronunciation of these words and phrases here.
hello – barev
yes – ayo
no – voch
thank you – shnor-ha-ka-loo-tyoon (I know, I know – but you can do it!)
sorry – knerek
goodbye – ts-teess-uts-yun
good – lav
jhur – water
gini – wine 
Do you speak English? – Angler'en kho'sumeq?
dear – jan (in connection with your name)
You're so sweet and beautiful – mrutt utem (often said to children: literally, 'I want to eat your attractive face'
Books to Read About Armenia
The Forty Days of Musa Dagh – Franz Werfel's book takes place at the beginning of the First World War and the Armenian genocide when the people of the small mountain village Musa Dagh are trying to protect their village from oncoming Ottoman armies. The book is considered to be historically accurate and it was one of the first works that brought the genocide to the knowledge of a broader audience.
The Sandcastle Girls – Armenian genocide is involved with this one too, surprise surprise, but above all, Chris Bohjalian's book is a love story between an American woman and an Armenian man escaping from the genocide. The book spans a century and multiple countries so it definitely makes for a riveting travel read.
The Spice Box Letters – Eve Makis' protagonist follows her late grandmother's letters and diary, all written in Armenian, on a journey following her footsteps. Discovering the horrific events of your family's past is a common theme in Armenian literature, and The Spice Box Letters is no exception.
My Name Is Aram – A lot of translated Armenian literature (understandably) deals with the genocide, so if you're looking for something a little brighter, get your hands on this collection of short stories by the Pulitzer-winning author William Saroyan. The book tells the stories of an Armenian boy growing up in California so it's an interesting look into Armenian culture through an American perspective.
A Brief History of Armenia
Armenia is an ancient nation that used to span way further than its current humble borders. At its golden age, Armenian borders ran from the Caspian Sea to the Black Sea and all the way to the Mediterranean.
The country was always in the crossfire between larger, stronger foreign militias. In the 14th century, Armenia lost its autonomy and its land areas got overtaken by Ottoman and Persian conquerors.
Eastern parts were annexed into Russia in the 19th century, and the Western parts remained under Ottoman control (modern-day Turkey).
These days, under one-third of Armenians actually live in Armenia. There are some 7 million Armenians spread across the globe, with almost a million living in the US and Canada, and other big populations in Russia, France and elsewhere in the Middle East and the Caucasus.
Armenia Under Turkish Rule – That's a Bad Time
Now, the Armenian parts sitting on Turkish grounds were doing terribly. Ottomans systematically persecuted and deported ethnic Armenians, and this escalated into a full-blown genocide during the First World War. Over one million Armenians were killed.
Until this day, Turkey maintains that their actions were legal deportation and that what happened cannot be described as genocide.
Most historians strongly disagree, but as many countries are still trying to maintain civil relationships with Turkey, many nations haven't formally recognised the genocide as such. By 2021, only 31 sovereign nations have acknowledged the genocide.
So that was the Western part. Let's hop back in time a little – and go see how the Eastern parts are doing. The ones under Russian rule, remember?
Armenia and the Soviet Union, Also Not So Hot
Armenia actually declared independence in 1918 at the end of WWI but got taken over by Russian forces again two years later. At first, Armenia became a Soviet republic, then it got sucked into the Transcaucasian Soviet Federated Socialist Republic (which was the combo of Soviet Georgia, Azerbaijan and Armenia). Later, when the TSFSR dissolved (probably because its name was too long and no one could pronounce it), Armenia became a union republic in the Soviet Union.
In 1990 as the Soviet Union finally collapsed, the country got its second chance at independence, and it took it and run. But wait! Here is where we get to the Nagorno-Karabakh conflict, and it's where it gets juicy.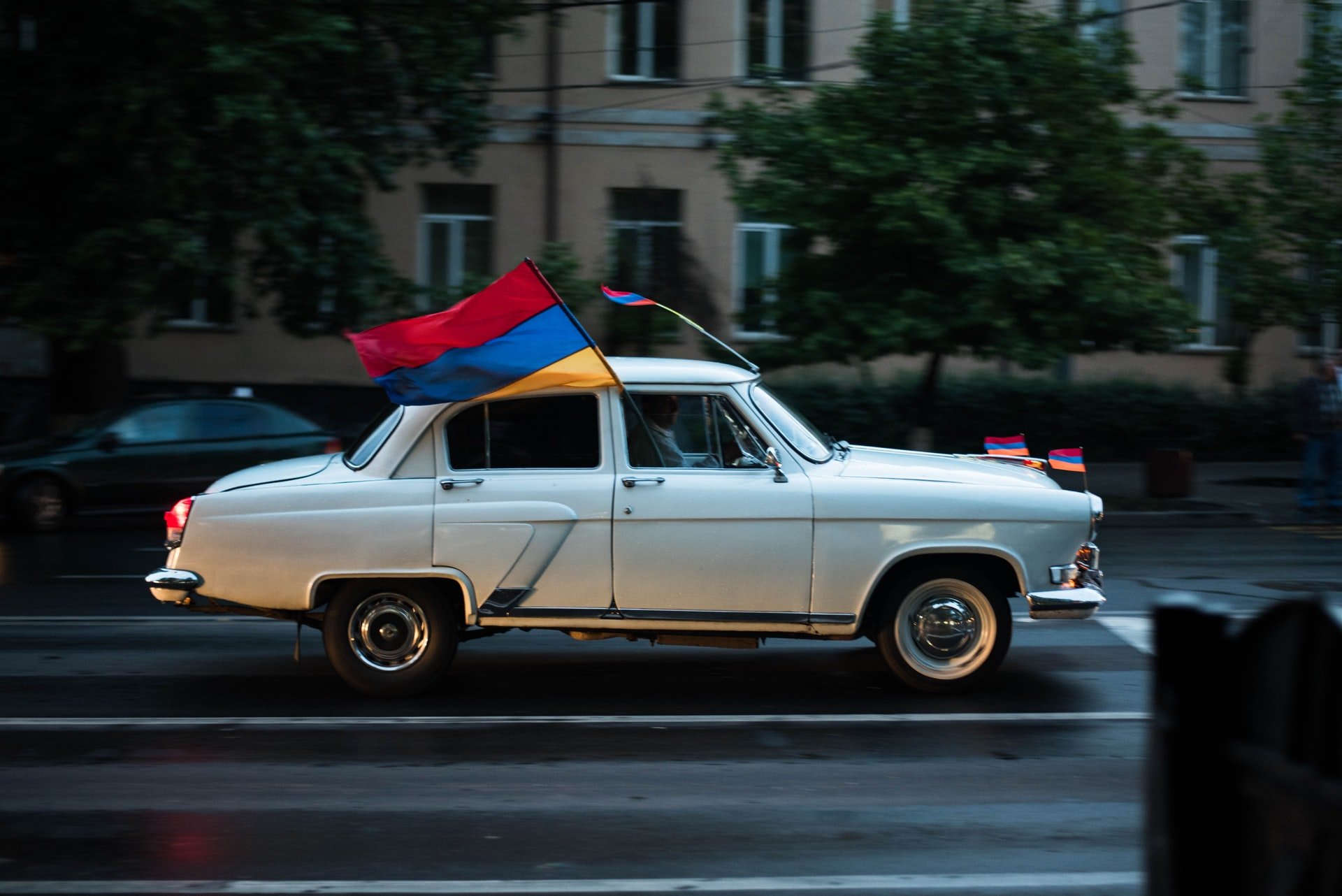 Nagorno-Karabakh (in Azeri) or Artsakh (in Armenian) is a region between Azerbaijan and Armenia, and it had long been a cause for conflict between the two because the region was inhabited by both Armenians and Azerbaijanis. Things were as all right as they could when the two countries were still under Soviet rule, but when the USSR collapsed and both countries gained independence, the dilemma of who would get that piece of land suddenly became very relevant.
The land was technically part of Azerbaijan but about ¾ of its people were ethnically Armenian, and when it came down to it, the region voted to become a part of Armenia. In 1990, the conflict sparked into a full-scale war that ended in a treaty in 1994 and resulted in tens of thousands of deaths on both sides and many people fleeing the region.
The conflict flared up again in 2020 and ended quickly in a treaty mediated by Russia. The region is still unstable now, though, and who knows if guns might start blazing soon again.
Final Advice Before Visiting Armenia
In some ways visiting Armenia was very similar to Georgia, where I'd already spent some time: traditional taverns offering hearty meals with tasty wine, and the chaotic traffic with crowded minibuses weaving in and out took me right back.
But Armenia has a very distinct character of its own. Maybe it's because of its small number of visitors, but it felt like the perfect time to visit. Travel in Armenia isn't as easy as, say, the rest of Europe, but it's by no means hard. All the stuff you need is already set up, from transportation to hostels, even if it feels a little rudimentary.
As someone who loves unique off-the-beaten-path experiences, this country still felt very untouristy but safe and comfortable.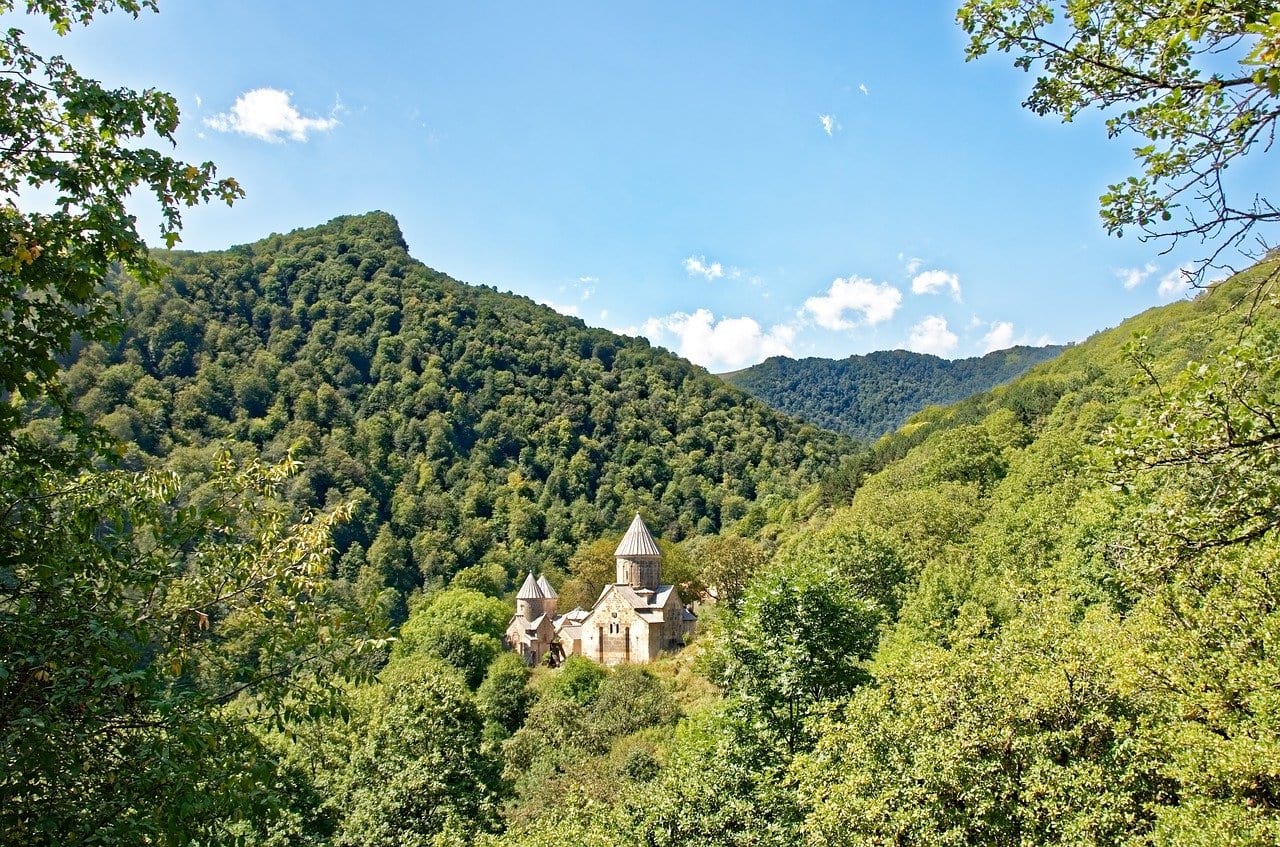 Visiting Armenia is not all rainbows and rose petals, though. The country is largely coloured by its past trauma and current conflict, and you shouldn't ignore those if you plan to travel to Armenia. Take a moment to learn about both issues. The BBC has a great article about why Nagorno-Karabakh is so strongly contested.
As for the Armenian genocide, it is still a huge scar in the Armenian consciousness. No wonder – it's barely been a century. On top of that, many countries in the world still don't officially recognise what happened as ethnic cleansing. (The US only recognised the genocide in April 2021.) The Genocide Memorial in Yerevan has planted a tree for every nation that has acknowledged the Armenian genocide, and let's just say that it isn't exactly a forest.
Armenia is a hugely beautiful country that you definitely shouldn't miss if you're around the region. Despite its history, the Armenia of today is a (mostly) peaceful, friendly country that loves to celebrate everything good in life. And the wine! You can never praise it too much.
---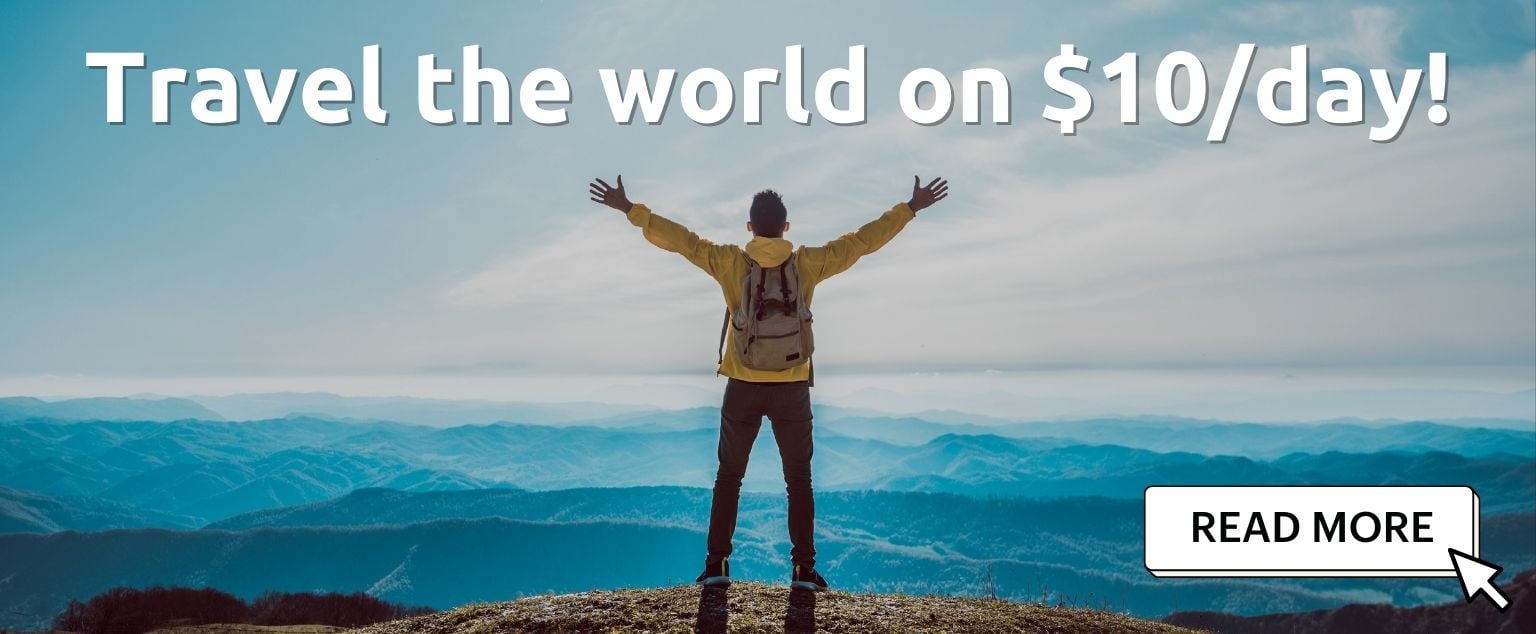 And for transparency's sake, please know that some of the links in our content are affiliate links. That means that if you book your accommodation, buy your gear, or sort your insurance through our link, we earn a small commission (at no extra cost to you). That said, we only link to the gear we trust and never recommend services we don't believe are up to scratch. Again, thank you!