I'll be the first to admit: backpacking Georgia was never something that I'd seriously considered. I'd only heard about Georgia in passing while researching the mountains of Europe. At the time, Georgia appeared to me a mysterious country, hidden away in the forgotten valleys of the Caucasus and sealed by the terror of post-Soviet civil unrest.
It wasn't until I visited Israel and happened to notice the cheap, convenient flights to Tbilisi (yes, I'll abandon any anxiety and go anywhere if I can save a buck) that I decided to give Georgia a shot…
Turns out backpacking through Georgia was an absolute blast, and soon after arriving I left all of my worries behind. The Georgian landscape is utterly breathtaking, and full of lush forests and epic mountains. The food is tasty, and the wine is some of the best in the world. Best of all: the people are some of the warmest that I've ever met. By the end of my trip, Georgia became one of my favorite countries. There is no reason not to make Georgia your top priority in 2020!
Where to Go Backpacking in Georgia
Even though Georgia is a relatively small country, there are still a lot of things to do and see. You can visit a beach on the Black Sea, go wine tasting in the Kakheti, or trekking in the Svaneti. Better yet, you can do all of these things! In a reasonable amount of time too.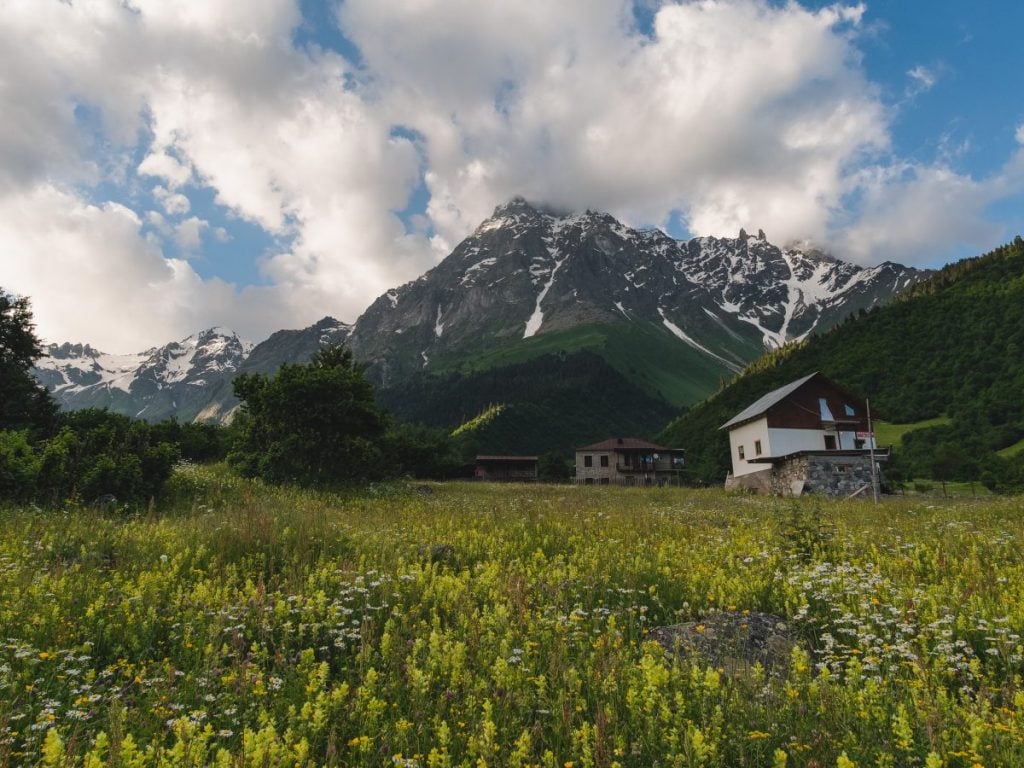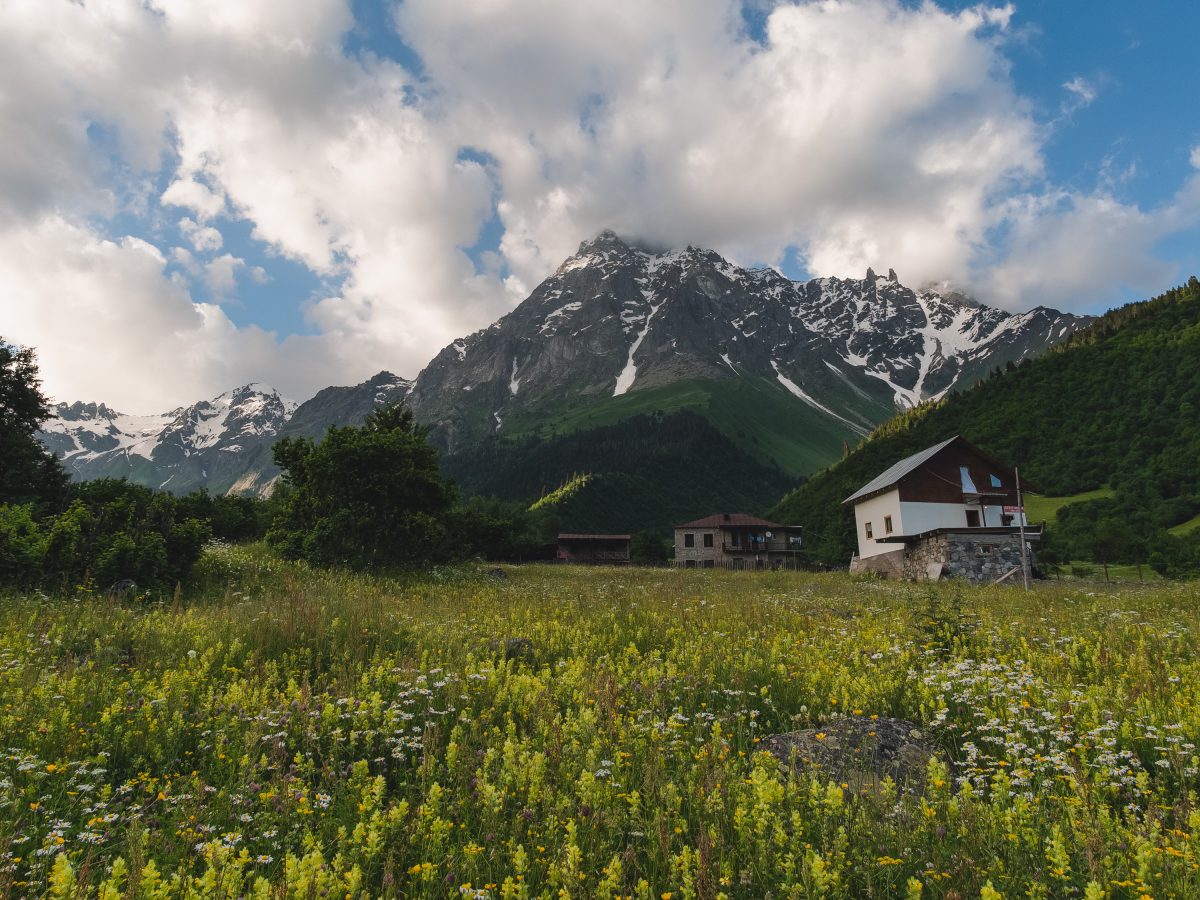 Below I have crafted four different itineraries catering to a wide variety of tastes. Feel free to pick and choose your favorite destinations though, in order to make your own perfect itinerary.
Before jumping into backpacking routes though, we're going to briefly look at your means of lodging while backpacking through Georgia. A lot of lodging in Georgia is unlike the rest of Europe, so be prepared for something different. We're backpackers though right?! New experiences are what we live for!
Best Itineraries and Routes for Backpacking Georgia
Below is a list of four itineraries that will cover most of your needs while backpacking Georgia. Note that further detail about each destination is given later in the article, so if you have questions, hang in there.
Backpacking Georgia 1-2 month Itinerary #1

1-2 months: The Ultimate Tour
Do the whole damn thing!
Seriously, Georgia's one of those countries that you want to spend as much time as possible in. Crawl, if you must, across the entire country as you sample all the local flavors: the mountains, the wine, the culture, everything!
I suggest starting in the western provinces for this itinerary. That way, you can just cross into Armenia or Azerbaijan without backtracking, and continue seeing the entire Caucasus region afterwards.
If you only have a couple weeks to backpack Georgia, check out the other itineraries below!
Backpacking Georgia 1-2 week Itinerary #2

1-2 weeks: Best Food and Drink
Food and wine lovers who are backpacking Georgia will find plenty of delights!
Start by visiting Tbilisi, and drop by one of the many wine bars offering vintages from all over the nation. Feeling a little flushed? Follow your nose, and see if you can find the best local grub in the city. Try a mandatory khinkali, but be sure and explore a little. The only things bigger than a Georgian's heart are their restaurant menus.
Next, we leave the city for wine country. The region of Kakheti is only a short drive away, and is the center of Georgian wine making. Stay in a local guesthouse, and tour the vineyards. Drink as many grape varieties as you can, but you'll never get through them all. Be sure to also try fresh churchkhelas, which are nuts dipped in grape juice.
Catch a ride back to Tbilisi, and head west towards Kutaisi. In Kutaisi, you will have the opportunity to sample more wine from other areas that aren't of Khaketi. Local wine appellations include: Imereti, Racha, Guria, and Adjara. Take note of how the food changes. Each Georgian province has it's own specialty dish, and each claims that theirs is the best. You can refer to this awesome article about every region's pride and joy.
By now, you must be feeling pretty lethargic from of all that food and wine…how about visit to the beach?! We round out this itinerary with a trip to Batumi, on the Black Sea. Lounge on the beach all day, and then try the local favorite: khachapuri. Oh wait, that's just bread, cheese and egg; that won't help much with the food coma. Oh well! Too late now!
Backpacking Georgia 2-3 week Itinerary #3
2-3 weeks: Best Outdoor Adventures
This itinerary is for those who get the mountain fever (like me) and need to run straight to the hills!
Upon arriving in Georgia, make a b-line to either Mestia (Svaneti) or Stepantsminda (Kazbegi). If your flight arrives in Kutaisi or Batumi, Svaneti is the logical first stop since all of the above is in Western Georgia. Buses and marshrutkas are widely available. If you first arrive in Tbilisi, maybe head to Kazbegi first and then the Svaneti.
Once you're in the mountains get ready for some of the best walking of your life. Trekking in the Caucasus Mountains is absolutely stunning!
In the Svaneti , you'll be beginning in the regional hub of Mestia. From there, most people find themselves slowly traveling east towards Ushguli. This is done in a number of ways, either by foot or motor vehicle. Though these towns form a rough outline of the hiking area, some bold adventurers go beyond and cross into Racha or the Lower Caucasus. This is totally acceptable because you can walk just about anywhere in Georgia!
If you're in Kazbegi: this area offers mostly day-hikes starting in the village of Stepantsminda. There are opportunities to hike into Khevsureti and Tusheti, but these trails are less-trodden and rough. Most likely, you'll have to backtrack to Tbilisi before moving on to the Svaneti.
Backpacking Georgia 1-2 week Itinerary #4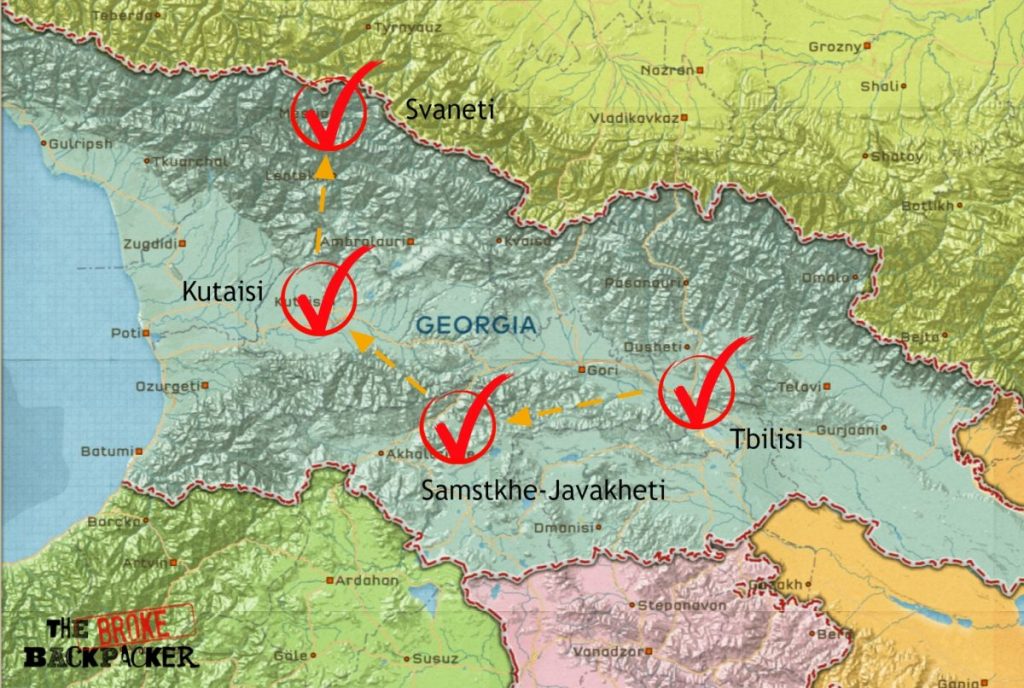 1-2 weeks: A Walk Through Time
This itinerary is for all of the history buffs out there. With this Georgia itinerary, you'll experience as much Georgian culture as possible in the course of 1-2 weeks.
Tbilisi is the starting point of this journey because it is the center of Georgian civilization and thus there's loads to do in the capital. Walk around the city and absorb as much as possible. Visit Old Tbilisi, the Holy Trinity Cathedral, and the Chronicles of Georgia. Enthusiasts may want to make a day trip out to Gareja Monastery – passing through sleepy Udabno – before moving on.
From Tbilisi, head west towards the region of Samstkhe-Javakheti. Be sure to stop by the town of Gori along the way. Gori is the birthplace of Josef Stalin, and the man is still worshipped there to this day. Upon arriving in Samstkhe-Javakheti, staying either in Borjomi or Akhaltsikhe, you will have many opportunities to visit local landmarks. A trip to Vardzia, Khertvisi, and Sapara Monastery are all musts.
Next stop is Kutaisi, the cultural rival of Tbilisi. Though smaller than Tbilisi, Kutaisi is equal in historical significance. Visit the local religious sites, like Gelati, Bagrati, and Motsameta, to get the full experience.
Finally: a quick stop in Mestia gives travelers a chance to see some medieval relics. The guard towers, which protected the region from invading foreigners long ago, are hard to miss. Not so obvious is the Svaneti Historical-Ethnographic Museum. This museum contains some of the oldest artifacts in the Caucasus, and cannot be overlooked.
Places to Visit in Georgia
Backpacking Tbilisi
Chances are you'll start your Georgian backpacking trip in its capital, Tbilisi. Tbilisi is a wonderfully charming city, full of personality and history. Over the centuries, Tbilisi has been occupied by many foreign cultures, like the Turks, and Russia. Consequently, the city is, stylistically, a mishmash of all of them.
Make sure you visit the rustic and historic quarter of Old Tbilisi with its terraced neighborhoods and thermal baths. On the hill overlooking Old Tbilisi, you'll see Narikala Fortress – a relic from the times of the Persians – which offers sweeping views of the city. On the other side of the hill you'll find the National Botanic Garden of Tbilisi, a retreat complete with waterfalls and man-made glades. To find the perfect place to crash, check out our post on the best hostels in Tbilisi.
For those looking for something more metropolitan: Tbilisi is full of modern architecture. The Bridge of Peace, the Music Hall, and the Tbilisi Public Service Hall are some of Tbilisi's most famous buildings. Walking along the Mtkvari River or up Betlemi Street is a great way to see Tbilisi's more contemporary side. When out on a walk, be sure to take a break in one of the many cafes for a glass of delicious wine!
Live like a local and know where the best places to stay in Tbilisi are!
Book Your Tbilisi Hostel Here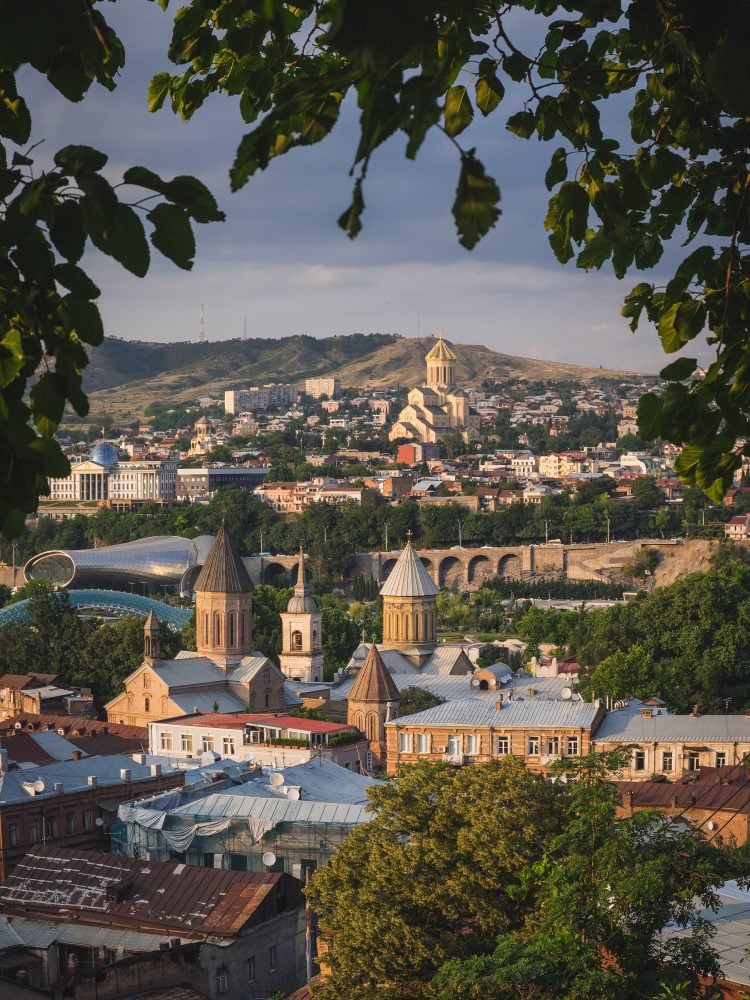 Backpacking Kakheti
Wine is a huge part of Georgian culture. There are several wine producing regions in the country, but Kakheti has to be the most desirable. Set among sprawling hills dotted by ancient castles and monasteries, Kakheti could rival Tuscany, Bordeaux, or any of the world's more famous wine regions.
The best part? You won't have to deal with the maddening crowds of wine snobs, only the overly hospitable locals. Telavi is the region's capital and a is great place to start your wine tours. Those wanting to stay in a more intimate setting would best stick to the small town of Signagi. Either will be full of charm and magic.
Book Your Kakheti Hostel Here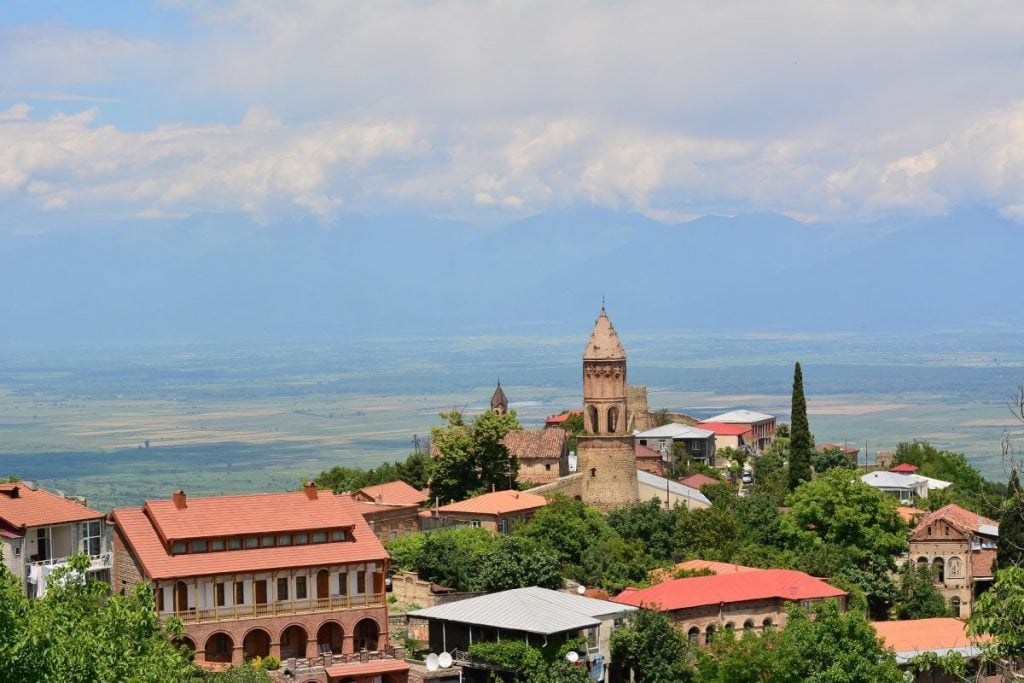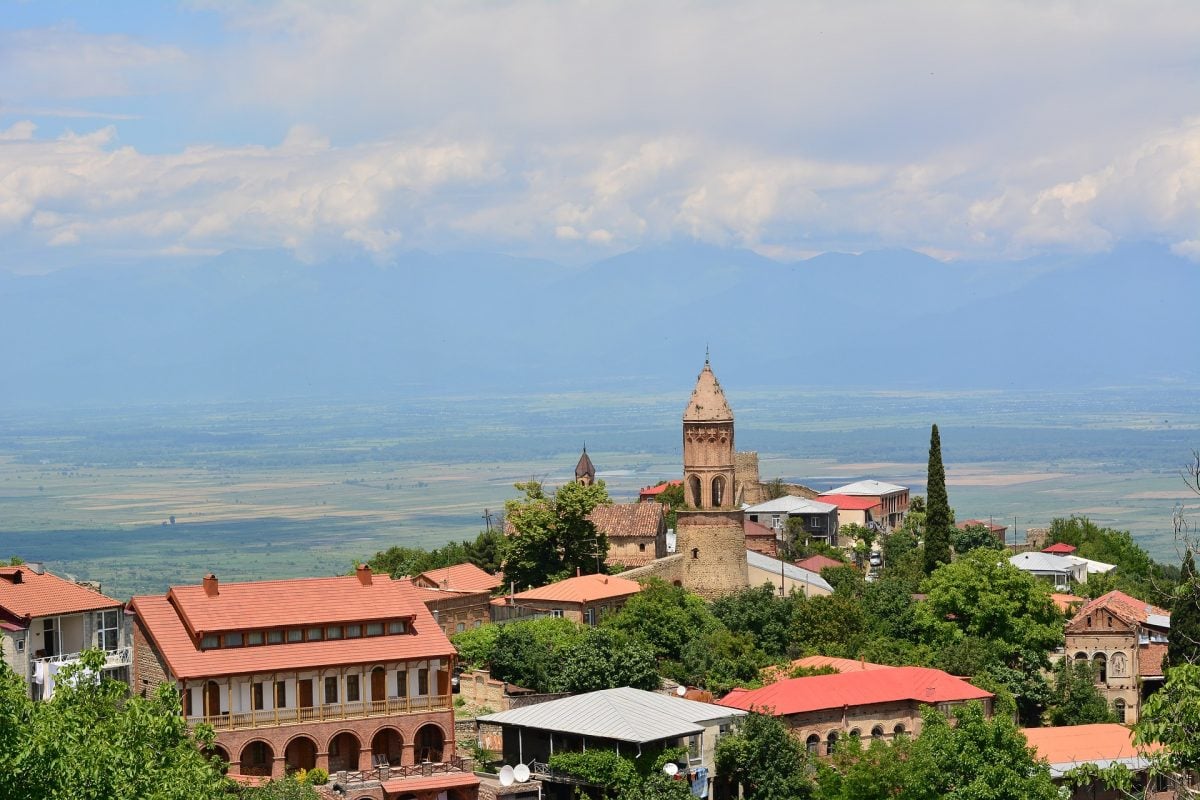 Backpacking Kazbegi
Only a couple hours drive north of Tbilisi is one of Georgia's highest and most beautiful mountains: Kazbek. Visitors to this area will arrive at the main village of Stepantsminda (formally Kazbegi) and from there have lots of adventurous opportunities. One must visit the famous Holy Trinity Church of Gergeti, a religious complex set wonderfully among the mountain scenery. Check out my friend Megan's post for more info on visiting Kazbegi.
Local hikes are countless, and a trip to Gergeti Glacier or the valleys of Juta and Truso is highly recommended. Those wanting a panoramic view of Kazbek can book a local paragliding tour. Those looking for a more intimate experience with the mountain will learn that summiting it is actually a relatively simple task.
Book Your Kazbegi Hostel Here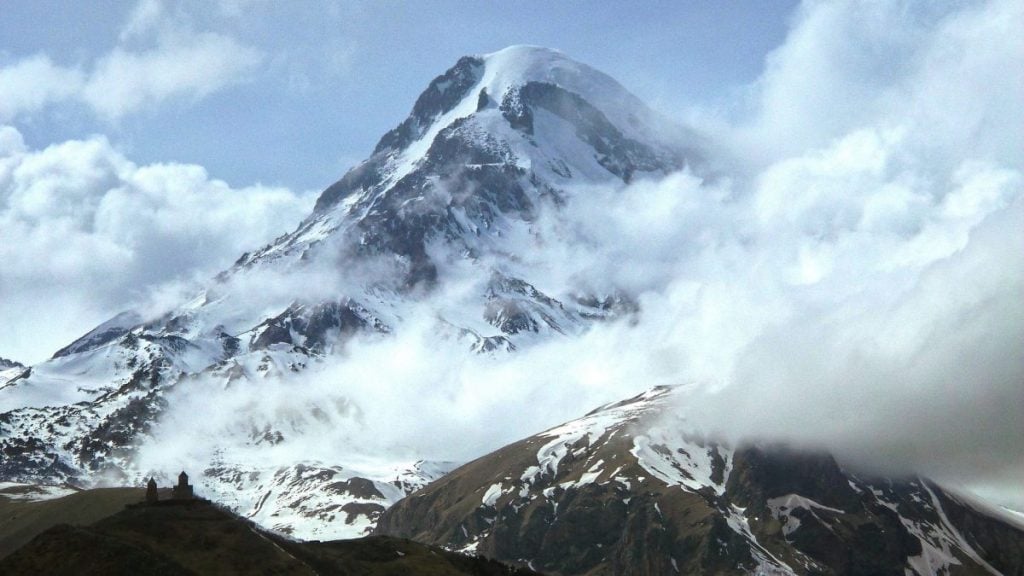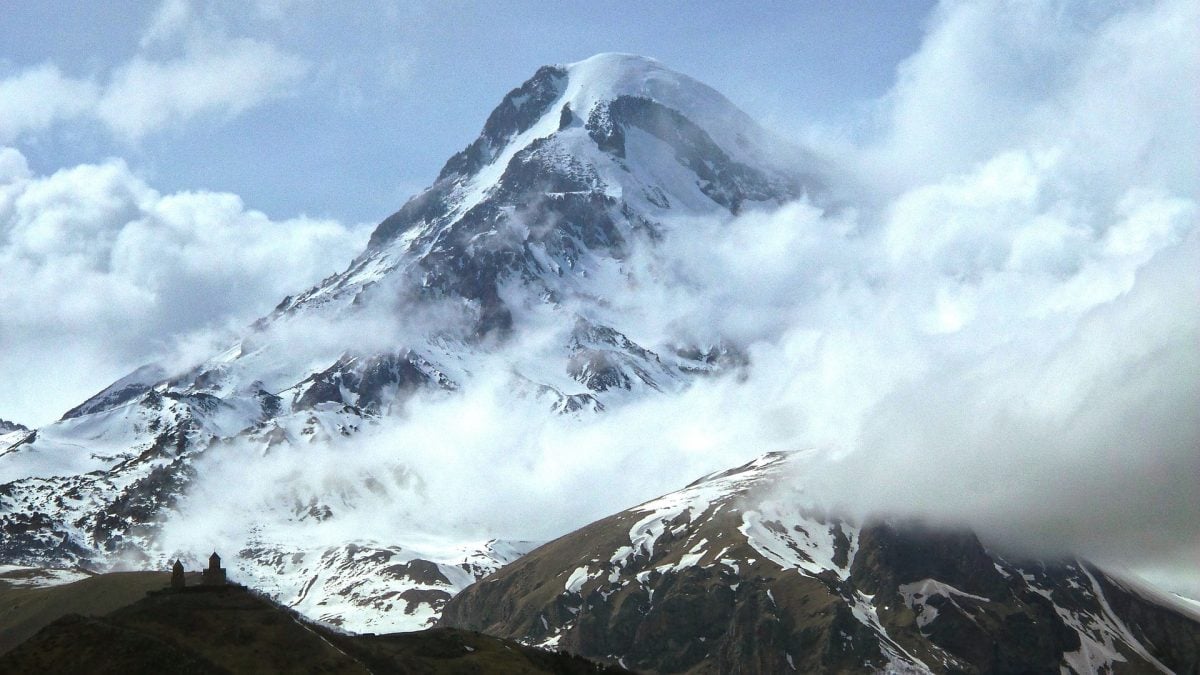 Backpacking Kutaisi
Kutaisi is the current legislative center of Georgia, and is a more traditional foil to the electric Tbilisi and booming Batumi. The city has served as the capital of several former kingdoms and is full of culture and history.
Visitors can enjoy local attractions of the usual Georgian variety, like Bagrati Cathedral or the local marketplace, and at a considerably more relaxed pace than Tbilisi or Batumi. Be sure to travel outside of the city too because that is where some of the best experiences can be found.
One of the Georgia's greatest religious complexes, Gelati Monastery, is very close to the city. The Prometheus Cave is a fantastic geological show that you can't miss. Finally, outdoorsy types will find lots to do around Okatse Canyon and Sataplia Nature Reserve, from hiking to chasing waterfalls.
Book Your Kutaisi Hostel Here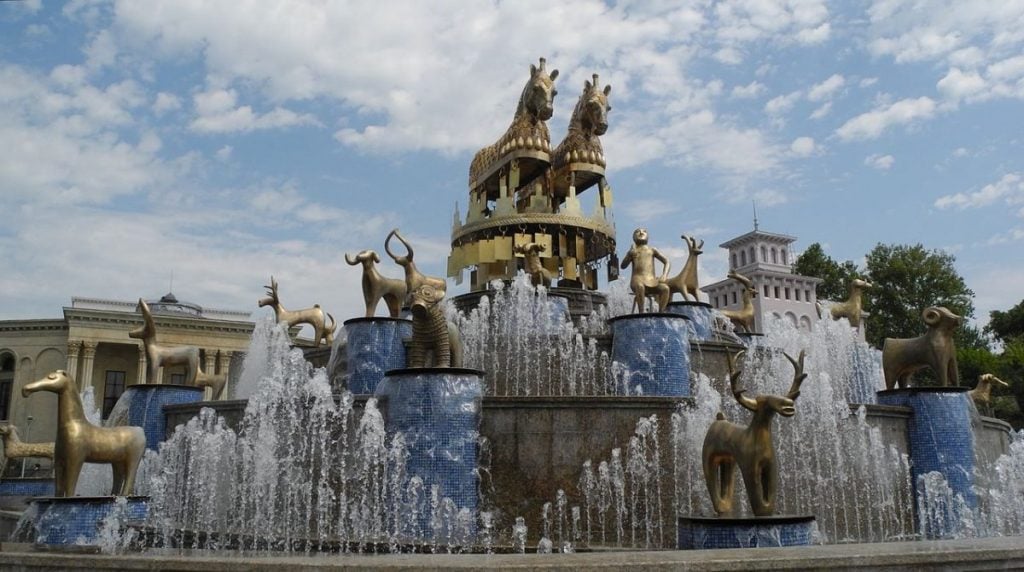 Backpacking Samstkhe-Javakheti
Georgia isn't all mountains and churches; those wanting to see a different side of the country will not be disappointed by the southwestern region of Samstkhe-Javakheti.
Travelling south from Borjomi – a nice spa town, and home to the famous mineral water brand of the same name – the climate becomes more arid and the culture more Armenian. The administrative capital of the region is Akhalsikhe and is a great place to explore.
The ancient complex of Vardzia, carved out of a cliff face, is a must-see. As always, I suggest visiting one of the local monasteries or castles during your stay.
Book Your S-Javakheti Hostel Here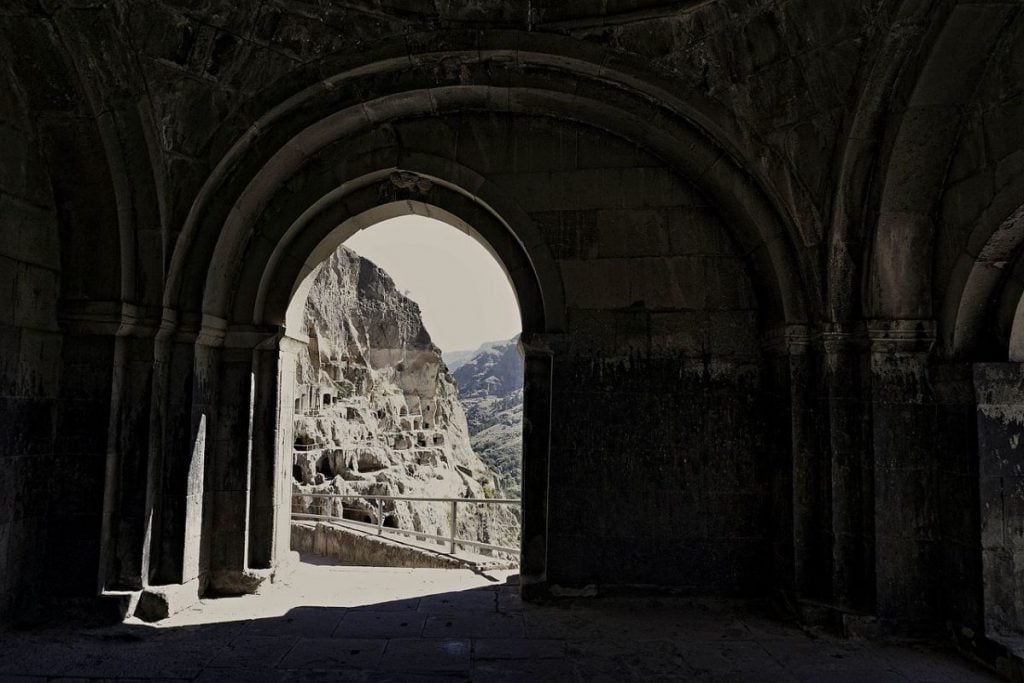 Backpacking Batumi
Located on the Black Sea, Batumi is a coastal resort city and the next "it" spot in the Caucasus. Batumi is quickly becoming one of the most upscale destinations in Georgia. In recent years, high rises have been built at an alarming rate, and the clubs have become packed with foreign party animals. You can spot famous DJs regularly at the clubs during peak season. Check out this post for some intel on where to stay in Batumi.
After a long night dancing, a trip to the beach is a good way to cure the hangover. Fair warning though: the Georgian coast doesn't have white sand or palm trees. The beaches are quite stoney and the water is murky, so be sure to grab a chair when you arrive.
Book Your Batumi Hostel Here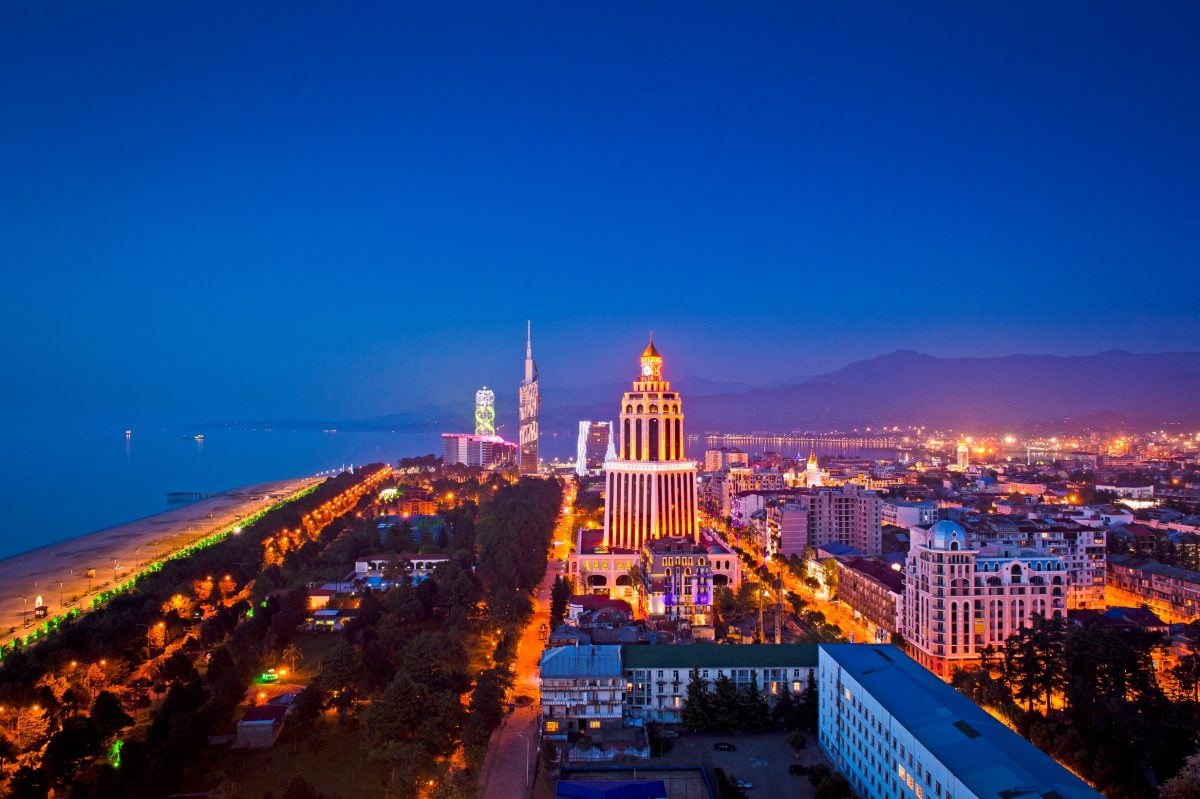 Backpacking Svaneti
Home to Georgia's highest mountains and inhabited settlements, the Svaneti region is an ark preserving some of the country's most precious histories and natural wonders. Entry is somewhat tedious – a long and bumpy road through the mountains – but once you arrive you'll be in awe.
Travelers coming from most of Georgia's larger cities will be dropped in Mestia, whose tourist economy is growing rapidly. Mestia is famous for its many stone towers that dominate the skyline and for its position in the heart of the Caucasus. From Mestia, backpackers have the option of visiting one of the many nearby villages. There's the unassuming Mazeri with the picturesque Mt Ushba standing vigil over it. Then there's Ushguli, at the base of the mighty Shkhara, which is the highest inhabited village in Europe.
One can either catch a bus to one of these villages, or hike in-between them, Nepalese teahouse trekking style. I personally suggest the latter if one has the time because you'll really get to savor the scenery and local flavors.
Book Your Mestia Hostel Here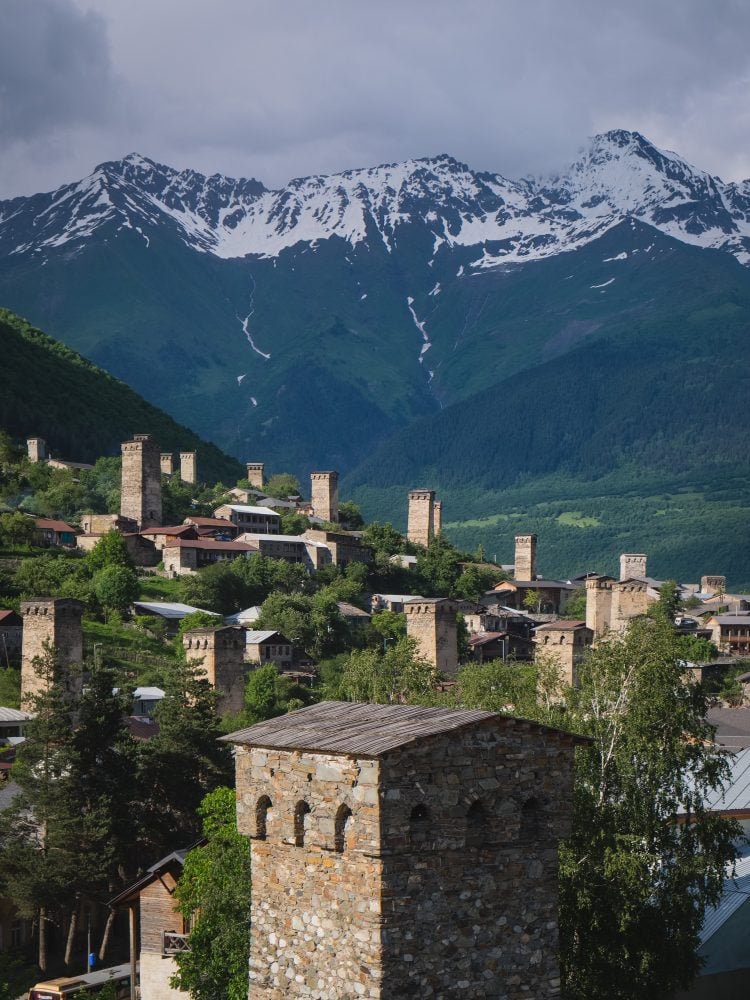 Off the Beaten Path Travel in Georgia
Fun fact: did you know that Georgia has a desert, and that there is (miraculously) a single settlement with a hostel there? Yes, Udabno exists despite our ignorance of it. Once a defense against Azerbaijani invaders, Udabno now serves as the primary layover between Tbilisi and one of Georgia's most magnificent religious complexes, Gareja Monastery.
Udabno's sole local backpacker lodge, Oasis Club, is the center of the sleepy town's tourism. The guesthouse provides internationals with a bed and plenty of potions to cure the boredom. Founded by a Pole simply named Ksawey, Oasis started as a bar, and quickly turned into a cultural center for natives and foreigners alike. Expect lots of solitude and quiet in sleepy Udabno.
Tusheti National Park, located in between the Kazbegi and Kakheti regions, is one of Georgia's hidden gems. The landscape is classic Caucasian: rolling greens hills punctuated by charming villages that seem out-of-time. Note that transport will be more difficult because of its great isolation. Expect the roads to only be open during the summer after the snow has melted, and be prepared to hoof-it more often than not.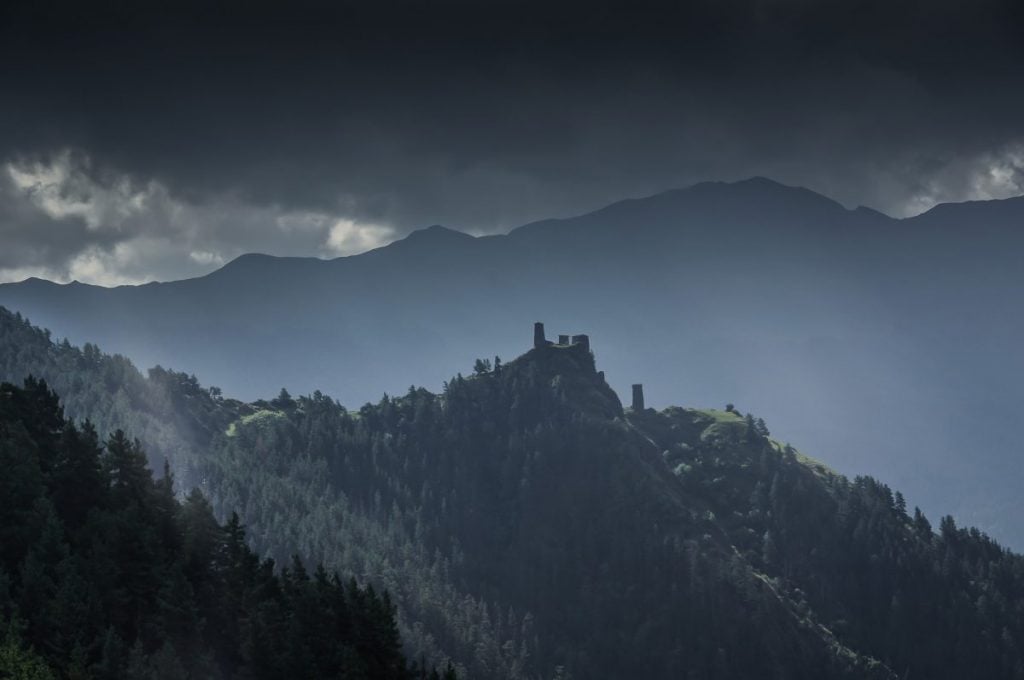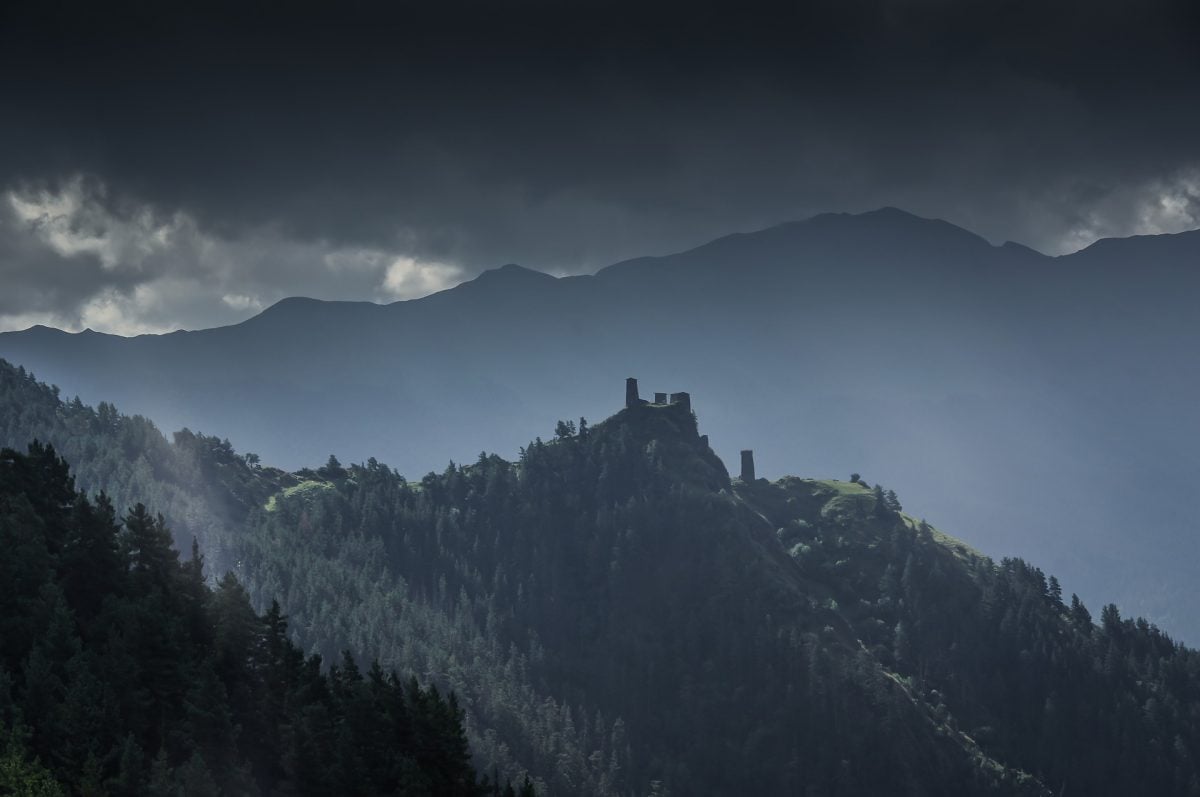 Backpacker Accommodation in Georgia
There's usually a decent amount of hostels in most of the major tourist destinations, but hostels are not as popular in Georgia as the rest of Europe. This becomes very obvious as you travel into the deeper reaches of the Caucasus Mountains. Expect only a handful of hostels in the entirety of certain regions like the Kakheti and Samtskhe-Javakheti, and none at all in the mountainous regions of Svaneti.
Most towns rely instead upon family-owned guest houses that provide room and board for a flat rate. If you've ever been on a teahouse trek in Nepal, then you'll know how this works. If you insist on staying in hostels whenever possible, I suggest booking ahead of time as selection will be very limited.
Where to Stay in Georgia

| Location | Accommodation | Why Stay Here?! |
| --- | --- | --- |
| Tbilisi | Marco Polo Hostel | Warm, friendly hostel located in a great area along a main road (Rustaveli) but is still quiet and clean. |
| Kahketi | Jeff and Julia Hostel | An artsy house located a little outside of Sighnaghi. One of the owners, Jeff, built the hostel by scratch is well-known for giving free rides and tours to guests. Wine available for purchase! |
| Kazbegi | Happy Yeti Hostel | A lively hostel that is popular with the skiers and snowboarders in the winter. Free breakfast, and other meals provided upon request. There is also a bar on-site that throws parties regularly. |
| Kutaisi | Hostel Vagabonde | Rustic hostel full of charm and comforts. Centrally located, and well managed by the very welcoming and ever-present owner, Fuat. |
| Samtskhe-Javakheti | Grimi's Villa | A nice comfortable guesthouse in the spa town of Borjomi. A good base for further exploration into the region. |
| Batumi | Hostel Medusa | Ultra modern hostel that feels more like a hotel. Can be lacking in personality but, given the amenities, a steal for the price. |
| Mestia | Nino Ratiani Guesthouse | Little pricey but a good introduction into mountain hospitality. More than enough food is offered at each meal, and be prepared to mingle with the locals! |
Top Things to Do in Georgia
1. Drink Wine!
Georgia is a cradle of wine making and offers some of the best vintages in the world! Visit a winery in Kakheti, or just chill in a local wine bar.
2. Go Trekking in the Caucasus Mountains
The Georgian landscape is jaw-dropping. Go trekking in regions like the Svaneti and Tusheti, and experience everything that the Caucasus Mountains have to offer. Be sure to bring your own tent!
3. Eat Khinkali
Georgia's favorite dish is a meat dumpling called khinkali. Foodies will enjoy scouring the country for the best khinkali and pairing them with other delicious Georgian dishes.
4. Visit a Monastery
Backpacking Georgia wouldn't be complete without a visit to an Orthodox cathedral or monastery. Religious sites are scattered throughout the country; seeing them all could be an adventure in itself.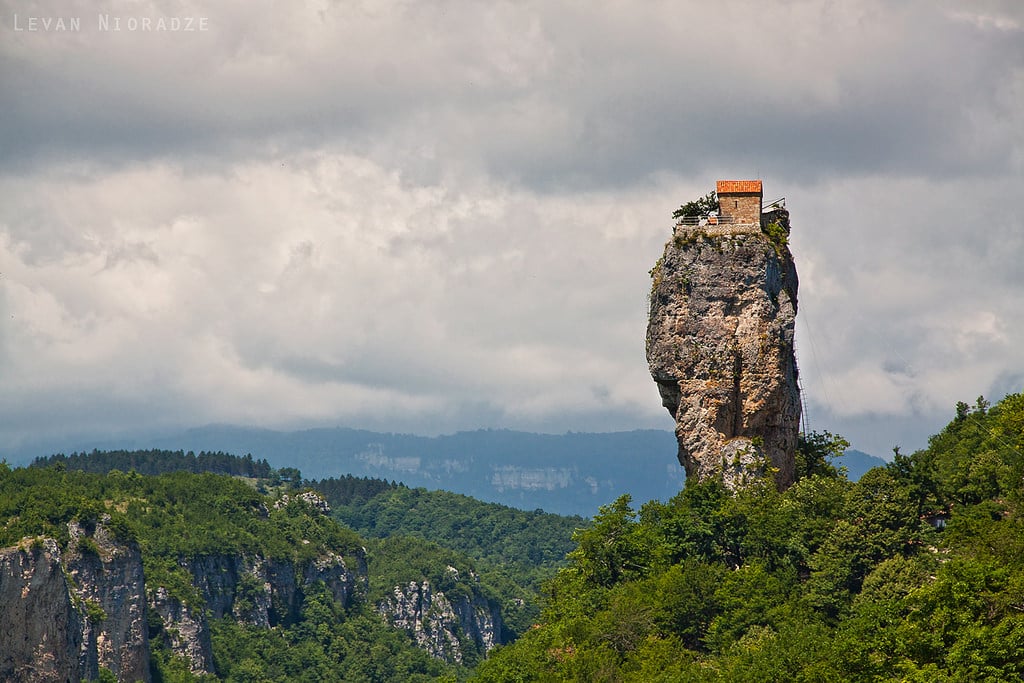 5. Stay with a Local Georgian
Georgian people are some the friendliest that I've met! Stay in a local guest house, or, if you're lucky, be hosted in a private home.
6. Party in Batumi
The Black Sea is famous for its raucous lifestyle, and Batumi is Georgia's party capital. Stay out all night dancing, and then snooze on the beach the next day.
7. Climb a Mountain
There are a number of accessible mountains to those trekking through Georgia and climbing for the first time. Acclimatize with a mountain pass first. Then see if you're ready for the 5000 meter Mt. Kazbek.
8. Go Skiing in the Caucasus Mountains
The ski industry is still developing in Georgia, which means one thing: lots of empty slopes! Hang out with powderchasers in Gudauri, or go nordic skiing in the Svaneti.
9. Explore Tbilisi
There are a million ways to get lost in Tbilisi! Go explore all the little alleyways and see what you can turn up. Maybe find a glass of delicious kindzmarauli here? Maybe find a medieval fortification there? See what turns up.
10. Learn About Georgian History
Georgia is a tableau of European and Middle Eastern history. So many great civilizations have touched the country, and their contact has made Georgia one of the most culturally rich places in the world. Learn as much as you can!
The Best Travel Backpack?!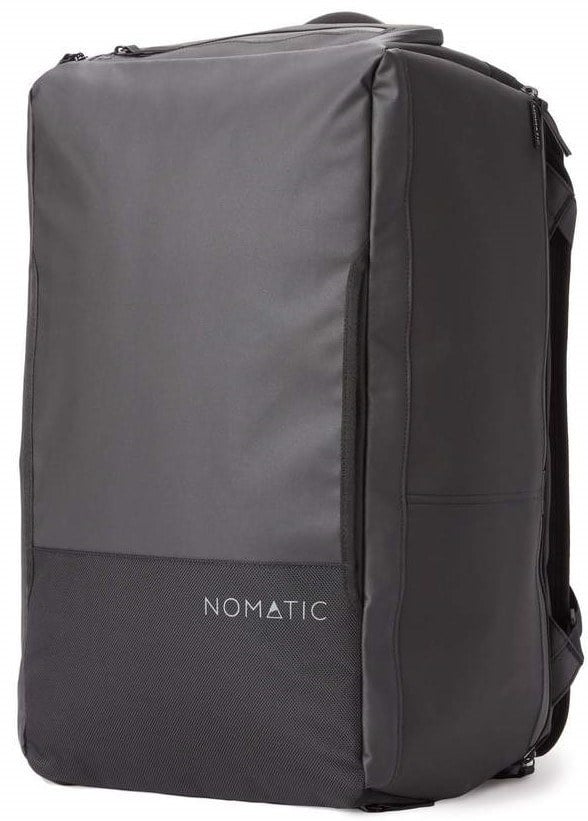 Pssssst! Not picked the perfect travel backpack yet? The Broke Backpacker team has tried out over thirty backpacks this year! Our favourite carry on backpack is the Nomatic Travel Bag.
Read our full review!
Georgia Travel Tips
Books to Read When Backpacking Georgia
Against the Compass' Guide to Georgia: A guidebook can help you immensely in the Georgia, especially for accessing off-the-beaten-track destinations. Rather than buying a Lonely Planet, follow the recommendations of Joan, who has backpacked extensively in the Caucasus. Best of all, Broke Backpacker readers get 10% off with the code tbb-georgia!
The Backpacker Bible: Get it for free! Learn how to ditch your desk and travel the world on just $10 a day whilst building a life of long-term travel with an online income. To inspire and help the next generation of Broke Backpackers, you can now grab 'How to Travel the World on $10 a Day' for free! Get your copy here.
The Knight in the Panther's Skin: Georgia's most well-known medieval epic written by one of its greatest poets, Shota Rustaveli.
Ali and Nino: Though it takes place not in Georgia but in Azerbaijan, this book does a great job of illustrating the tensions between the Caucasian and Islamic states.
Georgia Diary: A look into the separatist wars that plagued Georgia in the 1990s. This book uses first hand accounts from the conflict with Abkhazia.
Stalin: Paradoxes of Power: For those interested in learning more Josef Stalin, the demonized dictator who killed millions and happened to born in Georgia.
The Caucasus: An Introduction: Another journalist's take on the affairs of the Caucasian states, in a similar fashion to Georgia Diary.
Stories I Stole: A disillusioned English woman leaves her home for Georgia, only to caught up in the revelry and revolutions of the nation.
A Journey to Karabakh: A Georgian bestseller about a drug deal gone bad that seeks to expose the absurdity of the state of post-Soviet Georgia.
Kvachi: A heavily censored Picaresque novel from the 1920s about the exploits of a Georgian scoundrel named Kvachi Kvachantiradze.
Georgia travel phrases
The first thing you'll probably say when seeing the written Georgian language is "wtf is this?"
The Georgian alphabet is a non-Latin based system (it's closer to Greek actually) with multiple scripts. When written, it kind of looks like a cross between Russian and Thai. Though Georgian is a challenging language, it would pay to know a few phrases. No worries if you can't remember these phrases as younger Georgians are becoming increasingly proficient in English.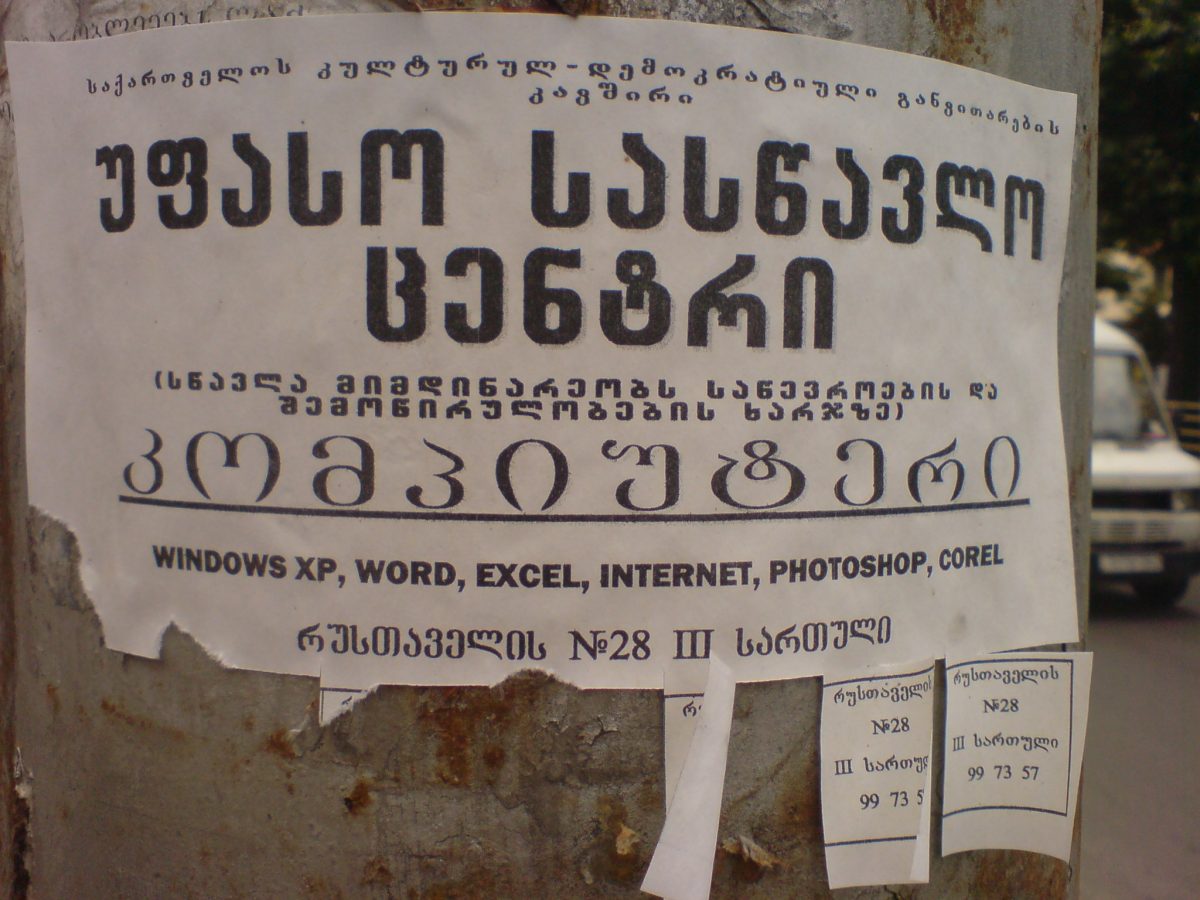 Gamardschoba – Hello
Nachvamdis – Goodbye
Dila/sagamo/game mschvidobisa – Good morning/evening/night
Madlob – Thank you
Bodischi,… – Excuse me,…
Me mqvia… – My name is…
Laparakobt inglisurs? – Do you speak English?
P'last'ik'uri chanta ar aris - No plastic bag
Araris chalis gtkhovt - No straw please
P'last'ik'uri danachangali ar aris - No plastic cutlery please
Es me ar mesmis - I don't understand
Es lamazia! - (This is) beautiful!
Ra eghireba? - How much?
Because Georgia is a former member of the Soviet Union, speaking Russian would also be a benefit when backpacking Georgia. Those who do want to take a shot at seriously learning Georgian should head to a bar and be friendly!
Staying Safe in Georgia
Check out Backpacker Safety 101 for tips and tricks to stay safe whilst backpacking.
Pick yourself up a backpacker security belt to keep your cash safe on the road.
Check out this post for plenty of ideas on ingenious ways to hide your money when travelling.
I strongly recommend travelling with a headlamp whilst in Georgia (or anywhere really – every backpacker should have a good head torch!) – check out my post for a breakdown of the best value headlamps to take backpacking.
Want to save the world? Single-use plastic bottles are a huge threat to Marine Life - Be a part of the solution and travel with a
filter water bottle
.
The GRAYL GEOPRESS water bottle is the ONLY all-in-one filter water bottle setup you'll need. Whether you need to purify the water from a hostel sink in Kathmandu or a stream trickle in the Andes, the Geopress has got you covered.
Sex, Drugs, and Rock 'n' Roll in Georgia
Georgia has some of the best wine in the world! In fact, it is one of the oldest countries to have cultivated the grape for wine making. Archaeologists have discovered wine making tools dating back as far as 8000 BC.
There are nearly four hundred grape varieties native to Georgia, and most are exclusive to the country. There are no pinot noires or chardonnays sold in the Georgian wine bars. If they are, they're for the tourists. Local favorites include kindzmarauli and mtsvane. Georgian wine does tend to be on the sweeter side. If you're into the dry stuff make sure that you clarify this with your server.
Also made from grape is chacha or grape vodka. Chacha is very similar to Italian grappa and can be quite rough. Hosts love to spoil their guests with copious amounts of chacha.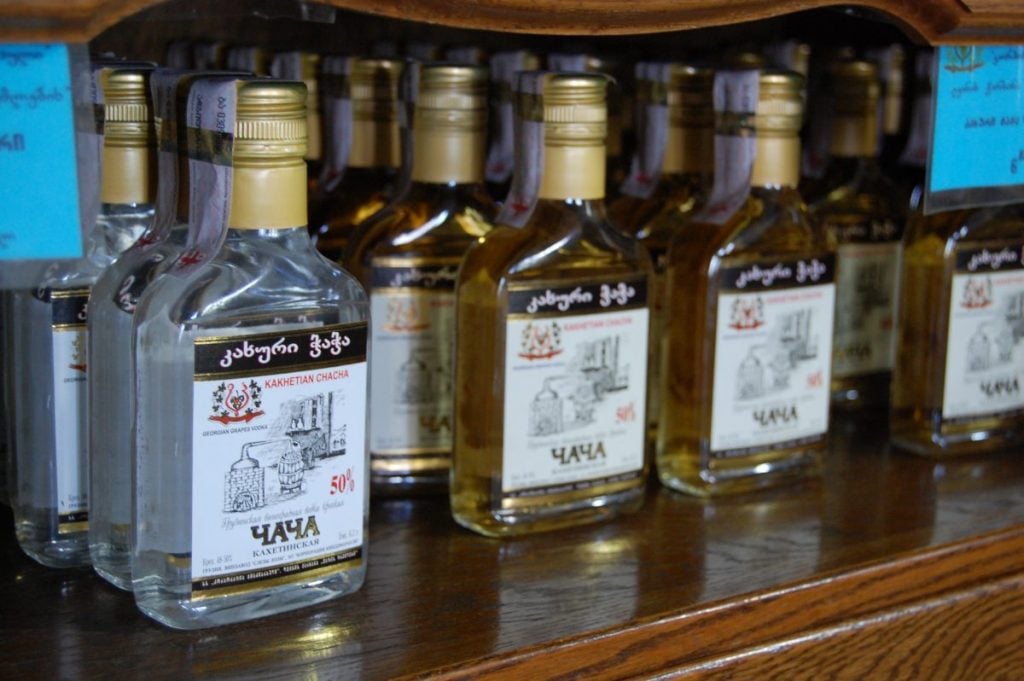 For those backpacking Georgia with crazy parties on their mind: Georgia is a little behind other Western nations when it comes to nightlife, but things are quickly changing. Georgia has been in numerous wars in recent history and its people never really had the time to party. Now that the political situation is more stable, people are actively seeking out parties and raves.
Tbilisi is quickly emerging as one the leading techno scenes in Europe. Batumi has already established itself as a beacon of debauchery. When partying, be very careful when it comes to purchasing and using drugs. Drug laws are VERY strict in Georgia. Many drug users have faced harsh punishment from the police. Maybe wait until that trip to India to go nuts, eh?
Travel Insurance for Georgia
A wise man once said that if you can't afford travel insurance, you can't really afford to travel – so do consider backpacker insurance sorted before you head off on an adventure! Traveling without insurance would be risky. I highly recommend World Nomads.
I have been using World Nomads for some time now and made a few claims over the years. They're easy to use, offer the widest coverage, and are affordable. Also, this is the only company I know of that lets you buy travel insurance after leaving on a trip.
If there's one insurance company I trust, it's World Nomads. Find out why I recommend World Nomads, check out my World Nomads Insurance review.
Getting an estimate from World Nomads is simple – just click the button or image below, fill out the necessary info, and you're on your way!

What to Pack for Georgia
On every adventure, there are six things I never go traveling without:
1. Security Belt with Hidden Pocket: I never hit the road without my security belt. This is a regular looking belt with a concealed pocket on the inside – you can hide up to twenty notes inside and wear it through airport scanners without it setting them off. This is hands down the best way to hide your cash.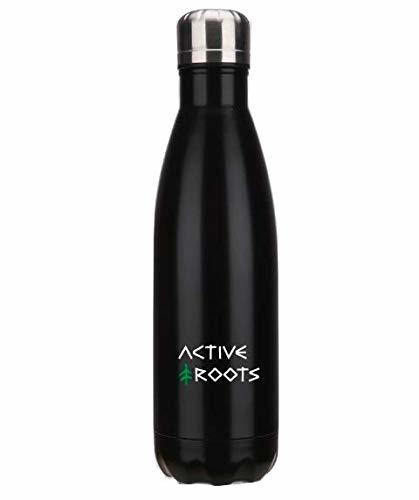 2.Travel Water Bottle: Always travel with a water bottle – it'll save you money and reduce your plastic footprint on our planet. AR bottle are tough, lightweight and maintain the temperature of your beverage – so you can enjoy a cold red bull, or a hot coffee, no matter where you are. For every AR bottle sold, we donate 10% to PlasticOceans.org – an initiative to reduce plastic in our oceans!
3. Microfibre Towel: It's always worth packing a proper towel. Hostel towels are scummy and take forever to dry. Microfibre towels dry quickly, are compact, lightweight and can be used as a blanket or yoga mat if need be.

4. Headtorch: Every backpacker should have a head torch! A decent head torch could save your life. If you want to explore caves, unlit temples, or simply find your way to the bathroom during a blackout, a headtorch is a must. Currently, I'm using the Petzl Actik Core rechargeable headlamp – an awesome piece of kit! Because it's USB chargeable I never have to buy earth polluting batteries.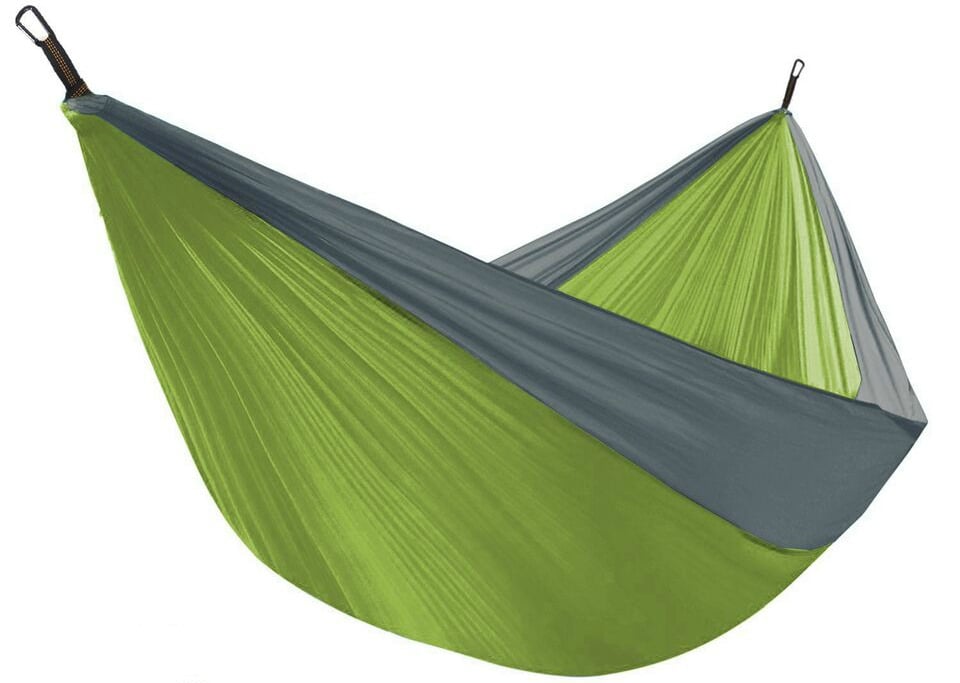 5.Hammock: Taking a tent backpacking is not always practical but hammocks are lightweight, cheap, strong, sexy (chicks dig hammocks) and allow you to pitch up for the night pretty much anywhere. Right now, I'm rocking an Active Roots parachute hammock – it's light, colourful and tough.
6. Toiletry Bag: I always travel with a hanging toiletry bag as it's a super efficient way to organise your bathroom stuff. Well worth having, whether you are hanging it from a tree whilst camping, or a hook in a wall, it helps to have quick access to all your stuff.
For plenty more inspiration on what to pack, check out my full backpacking packing list.
Look Awesome, Do Awesome!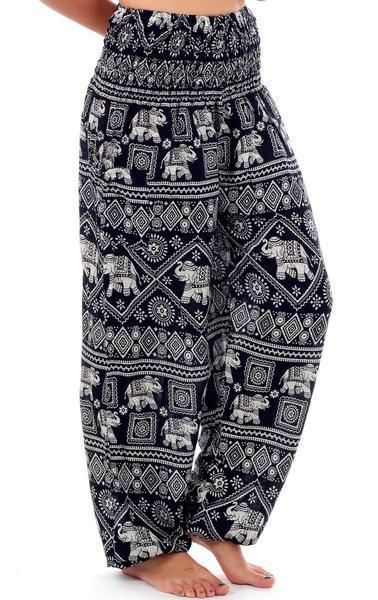 Want to embrace the hippy backpacker style and look?
Active Roots hippy trousers
are chic, comfortable and perfect for yogis, backpackers and adventurers alike. Help us
support the elephant conservation centre in Laos!
10% of your purchase goes towards saving the Asian elephant population so you can look awesome, feel awesome and do awesome - all at once. Pretty fucking awesome right?
Use the code ' TBB10 ' for 10% off your order.
Best Time to Travel to Georgia
Georgia is subject to four seasons, and can be visited almost anytime of the year. The summer is the most popular time of year as the trails are open and the beaches are warm. Note that snow will linger in the mountain passes until late-June, obstructing trails, so hikers will want to plan accordingly. Snow should be absent until late-September, but mountain weather is always unpredictable.
Autumn is a nice time to visit as the temperature and prices begin to cool. The grape harvest is also in full swing so a visit to one of the many wineries could include a hands-on demonstration of how the wine is preserved.
Winter is a spectacular time for backpacking Georgia, as the mountains are fresh with powder and the ski slopes are open.
Spring is an increasingly wet season in Georgia, with the rains peaking in May. Backpackers may want to avoid more this period.
For backpackers that like to brave the elements, a good backpack will go a long way. My first backpack was a cheap one. Though it lasted a respectable amount of time, it would eventually be held together by duck tape and carabiners, and needless to say, it was far from waterproof.
Take my advice: invest in a quality backpack because by the end of your trip you'll be wearing it so much that it'll become an extension of your own body. You want the best.
I suggest the new Osprey Aether AG 70 backpack and don't forget to consider a daypack as well. A good daypack will be just as useful during your day-to-day activities and should slide nicely into your larger backpack.
Apps to Download Before Backpacking Georgia
Maps.Me – Prone to getting lost or taking that 'shortcut' that adds another few hours onto a simple walk? This app is definitely for you. This is my favourite offline maps app. Download your map and route before you venture out to keep you on track while backpacking Georgia.
XE Currency – I used this a lot when backpacking Georgia. It is a great help while calculating expenses.
HIDE.ME – I always have a VPN ready to go on both my phone and laptop, I personally use Hide Me which is one of the fastest and most reliable options out there. This particular VPN allows for up to five connections which is handy for keeping all your devices connected without having to purchase multiple VPN packages.
Georgia travel guide to getting around
There are a myriad of ways one can enter the country and start backpacking in Georgia, via land or (most convenient) air.
Buses, both large and small, frequently ply the roads that connect Georgia with Armenia, Azerbaijan, Turkey, and Russia. Large commercial buses are available in Istanbul and Baku that lead to Tbilisi. These trips can be long, but very beautiful. E.G. Istanbul to Tbilisi can take more than thirty hours, but you'll be navigating through the rugged terrain of Anatolia and entering the Caucasus in grand fashion.
Buses are one of the cheapest methods of entering the country, but flights into Georgia are already so cheap that it'll be a matter of preference for each traveler.
Unique Border Conditions in Georgia
The only Russian-Georgian border crossing is in Kazbegi National Park and it is currently open to international travelers. The partially recognized states of Abkhazia and South Ossetia have their own set of customs and entry requirements though. Entry into either of the splinter nations will require a special invitation. Motivated travelers can still visit these areas but it will require a herculean effort to do so.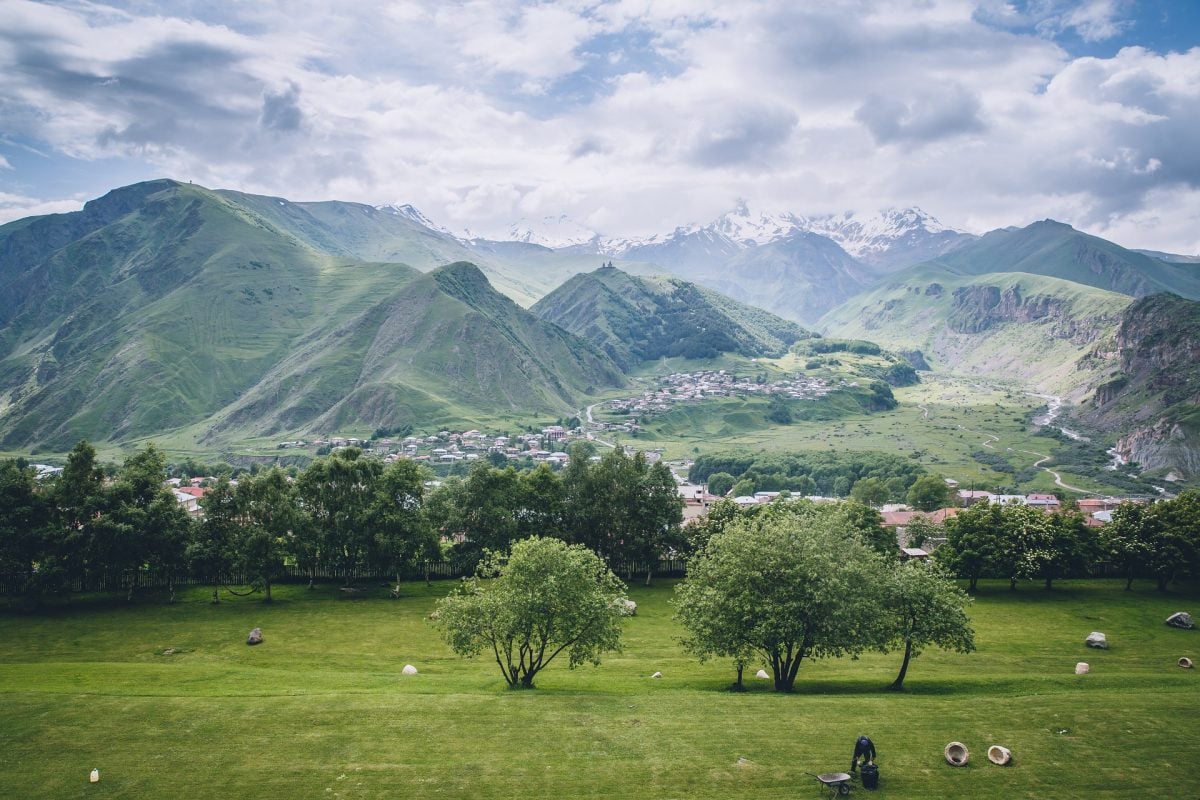 Flying Cheaply into Georgia
For a country of its size and development, there is a surprising amount of CHEAP flights in and out Georgia. There are three airports that one can use to enter and exit Georgia internationally: Tbilisi, Kutaisi, and Batumi.
Being the country's commercial capital, Tbilisi receives the greatest amount of air traffic, and has the most options. Getting to the city proper of Tbilisi from the airport is a painless affair. The airport bus only costs half a lari (18 cents American as of December 2017) and drops you right in the middle of the city.
One can enter Georgia via Kutaisi or Batumi by air if necessary. Kutaisi is the third largest city in Georgia and is generally thought to be a more laid-back, traditional version of Tbilisi. Travelers who are planning on visiting the Svaneti region of Northwestern Georgia may find Kutaisi a more convenient gateway.
Those who intend on spending more time on the increasingly posh coast of the Black Sea will find Batumi the best entryway. Since reopening in 2007, Batumi International Airport has seen significant increase in passenger traffic and new airline routes. Note that the majority of fly into Batumi are seasonal.
Entry Requirements for Georgia
Though Georgia is not an official member of the European Union, it still maintains strong political ties with the organization, and offers very convenient travel to its citizens. Holders of an EU identification card do not need a passport to enter Georgia.
Citizens of most other Western nations not from the EU need only a passport to commence backpacking around Georgia visa-free for up to a year. Visas come either in the form of a stamp at customs or an e-Visa, which you can acquire here.
A large number of countries do require visas to gain entry to Georgia. For most of these countries, an e-Visa is sufficient, but a select few will have to visit the Georgian embassy to obtain a visa. For more information regarding visa restrictions, you can visit the website of the consulate here.
How to travel in Georgia
Transportation in Georgia ranges from super convenient to rough depending on where you are. In the urban areas travel has never been easier. Modern public buses can be found in the larger cities and should never cost more than a single lari. Most buses display their routes in both English and Georgian; there is usually a brief explanation of these routes at the stop as well. Buses in Tbilisi are monitored by and registered with Google Maps so arrival and commuting times are updated live.
Train Travel in Georgia
There is an extensive railway system linking much of Georgia. Trains are best for traveling greater distances between cities, but Georgian locomotive experiences can be a mixed bag. Some routes have fast, modern locomotives while some use clunking artifacts from the days of the Soviet Union. Either way, the tickets are cheap and the journeys are scenic.
The best method for purchasing tickets is by visiting the offices themselves in the station – travelers have reported problems with the websites of many Georgian train companies.
Traveling Like a Local in Georgia
The most common form of public transport is by far the mini-bus, or marshrutka as the locals say. These can get you just about anywhere, rain or shine. Marshrutkas are cheap, ubiquitous, and sometimes your only option. If you've ever used a mini-bus in Southeast Asia or South America, expect a similar situation while in Georgia – the lack of personal space, the overly loud music, and the reckless drivers all included.
On a positive note, I found my (then seasoned) mini-bus experience while backpacking Georgia to be one of the better ones in all of my travels. Georgian mini-buses are not so uncomfortable as the ones I've used in Africa or the Himalaya.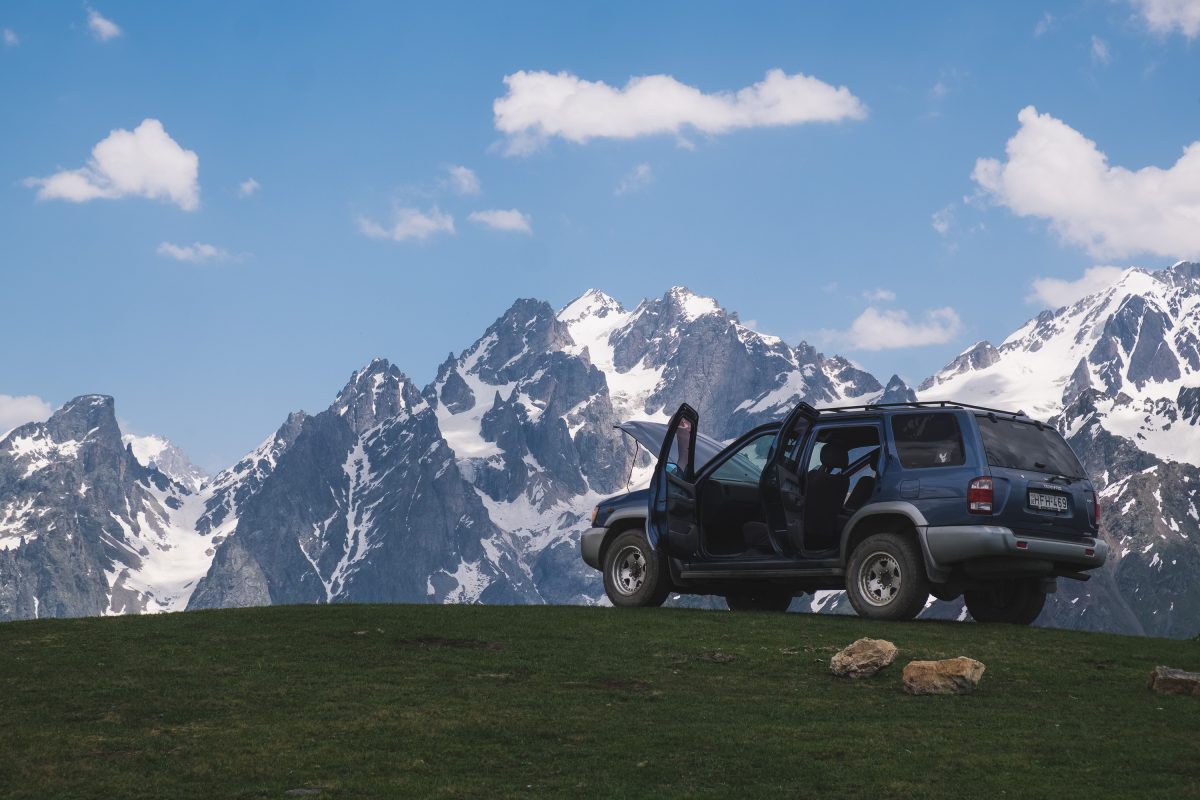 Campervan Hire in Georgia
Traveling Georgia by campervan is bound to be one of the best parts of your Georgia backpacking adventure. There are a few places in the capital where you can rent a campervan.
Parent.GE is the best company you can go with! I was lucky enough to meet and work with the owners and they were very helpful is making sure I had everything I needed for my trip. Excellent communication, professional service, quality vehicles…what else do you need?!
The campervan itself was comfortable, great to drive, and came with everything needed to have an awesome adventure in Georgia. Having wifi in the van was great too because obviosuly I work online and needed to do some emailing in the mornings. It even worked in very remote parts of Georgia! It is important to disconnect whilst on the road, but also having the option to get online was a great benefit.
The prices are very reasonable for what you get and the van has more than enough space for backpackers, a couple, or a small family. The van has excellent power, cool features, and strong tires for navigating Georgia's sometimes sketchy road system. I 100% recommend using Parent.ge for your next trip – they are the best rental company in Georgia! Good luck!
Contact Bacho the owner on Whatsapp for the best price @ +995 595 30 39 99. Tell him Chris from The Broke Backpacker sent you to recieve a healthy discount!
Hitchhiking in Georgia
Hitchhiking in Georgia is very safe, and great way to meet the local people. Georgians love having guests, and don't be surprised if a Georgian invites you to dinner or offers you copious amounts of alcohol after giving you a lift. Do not feel bashful in any way after an invitation; it is truly their pleasure. If you don't know how to act politely in a situation like this, just follow these etiquettes of hitchhiking.
Caution should still be had when riding with some Georgians because they have a reputation for being overly aggressive while driving. Don't be shocked to see the steering wheel on the wrong side of the car either. Georgians drive on the right side of the road, but some own cars with the driver's seat on the right as well. Sounds weird, right? This is because Georgia, up till very recently, was one of the largest markets for refurbished cars.
Second hand vehicles are/were purchased from all over the world by Georgian companies and then resold, either to foreigner importers or their own compatriots. Sometimes a Georgian can only afford a car from a country that drives on the left-side of the road. Long story short, driving a car with the wrong driver's seat orientation can create limited vision, which can exacerbate an already stressful situation.
Onwards Travel from Georgia
The Caucasus is a wonderful part of the world so it's totally understandable why anyone would want to explore the area further. Unfortunately, hopping from country to country isn't very easy because of ongoing political tensions. Though Georgia is a stable country with relatively easy borders, the same cannot be said about it's neighbors.
Azerbaijan and Armenia have been in numerous armed conflicts – the most recent in 2016 – and are technically still at war. Armenia and Turkey have had a hard time politically recognizing each other, the latter going so far as to deny the genocide that occurred in the former. It's all quite complicated (because: politics), but good news is backpacking in Georgia is still very safe!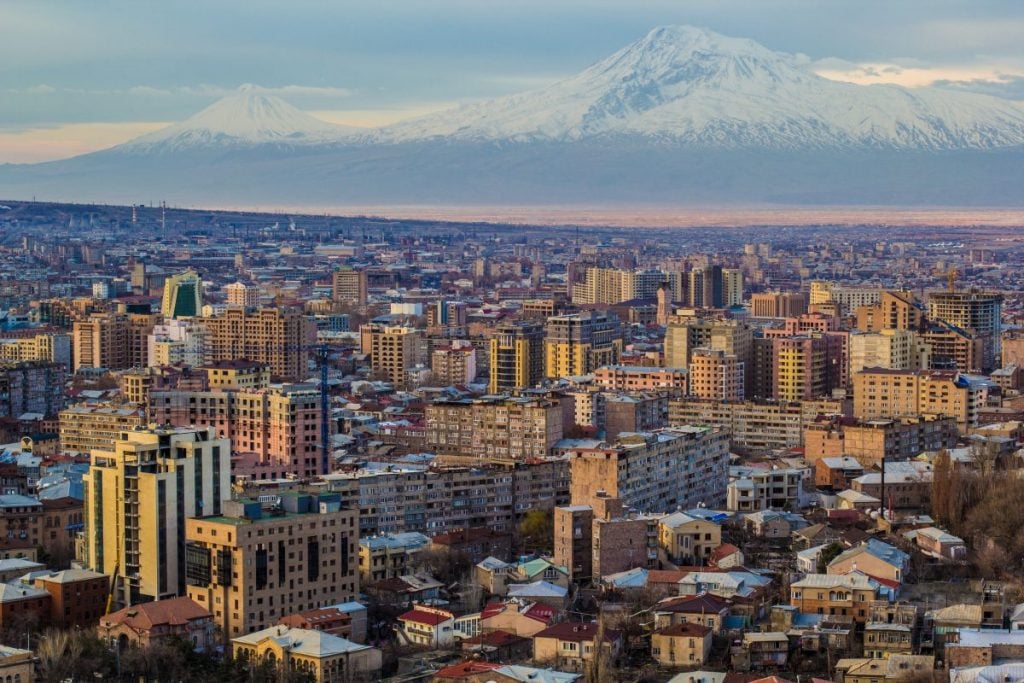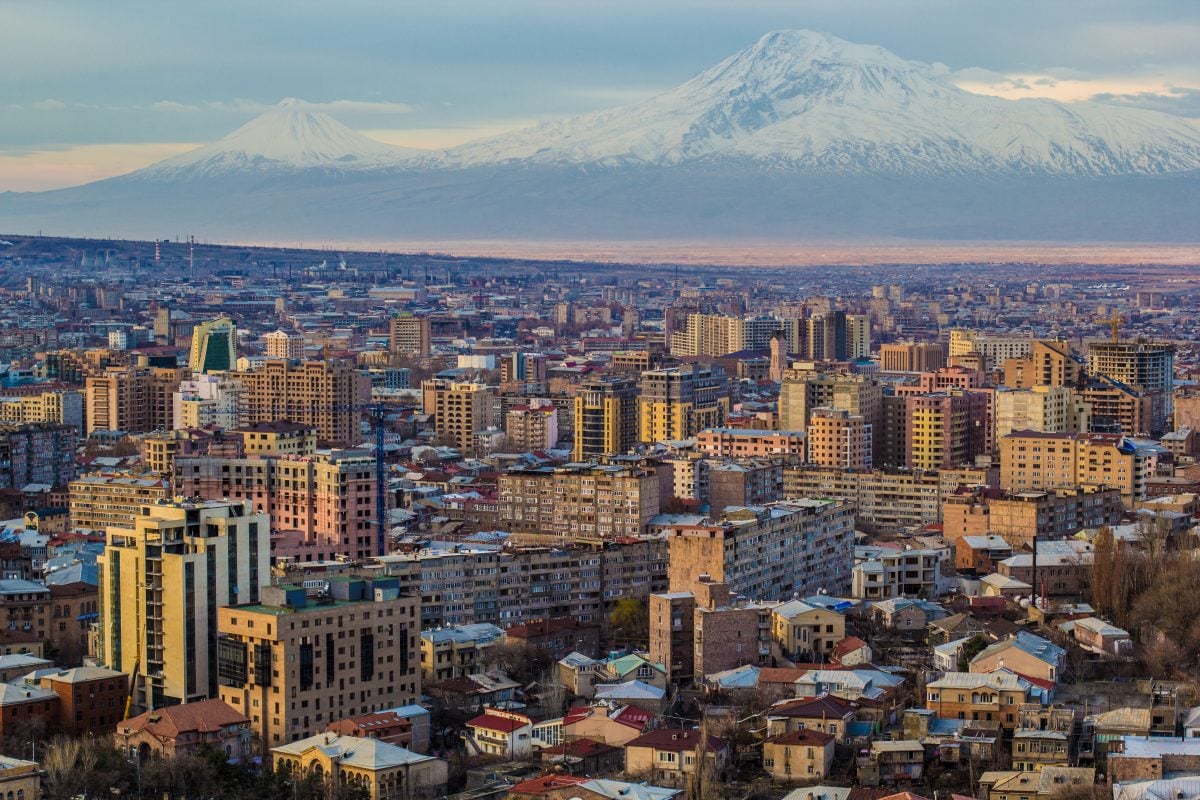 For those wanting to move on from Georgia: there are trains and buses connecting Tbilisi with Baku (Azerbaijan), Yerevan (Armenia), and Istanbul (Turkey). Note that once you cross into any of these countries, you will not be able to cross into another. You'll have to backtrack to Georgia if you want to visit all of the Caucasian nations. Starting in either Armenia or Azerbaijan, prior to backpacking Georgia, is a good idea. This way, you'll be able to see all three nations without too much of a hassle.
Onward travel to Iran from Armenia, Azerbaijan, or Turkey is a very reasonable endeavor, and I hear Iran is a gorgeous country.
Georgia Backpacking Costs
Backpacking Georgia is very cheap. Hostels will cost no more than $10-$15 tops in the cities. Mountain guest houses, including full room and board, will cost around $20-$25, though these are more negotiable. Camping is also free just so long as you do it in an inconspicuous place and not on someone's property. Most mountain guest houses will charge $5 for a tent but there's plenty of free space outside of the village. Couchsurfing is always an option, and could be a wonderful experience given the famous hospitality of Georgians.
Eating out is also very inexpensive. It can even cheaper than shopping at the market. You can buy khinkali for as low as $.25 and a full meal including a drink for around $5-$10.
Transport is also very affordable in Georgia. Long distance travel – via marshrutka – should cost very little to even the most far flung destination. I paid $16 to travel from Tbilisi to Mestia, which ended up taking almost 10 hours; that's $1.60/hour.
With some sacrifices, you could live for $10/day easily. Why suffer though when you can eat amazing food for a modicum amount of money? I ate out once a day while backpacking Georgia and ended up spending no more than $20/day for everything. I lived a very comfortable life in Georgia and many others could easily spend less.
Money in Georgia
The official currency of Georgia is the Lari. As of December 2017, 1 lari was equal to .37 USD. ATMs are found ubiquitously in every urban area of Georgia. If you plan on traveling to some remote corner of the country, like the mountainous regions of the Svaneti and Tusheti, be sure and pull out enough cash to last you a while; there are few if any banks in these places.
The mountain villages are very rural, even anachronistic in there existence, so finding someone or something that will accept a card will be difficult. Conveniently, the USD is widely traded and even dispensed at several ATMs. The "always have a few American dollars on you" precaution is apparently very applicable while backpacking Georgia. Haggling here isn't as prevalent as in the Middle East, but you can still talk down the locals a dollar or two here and there.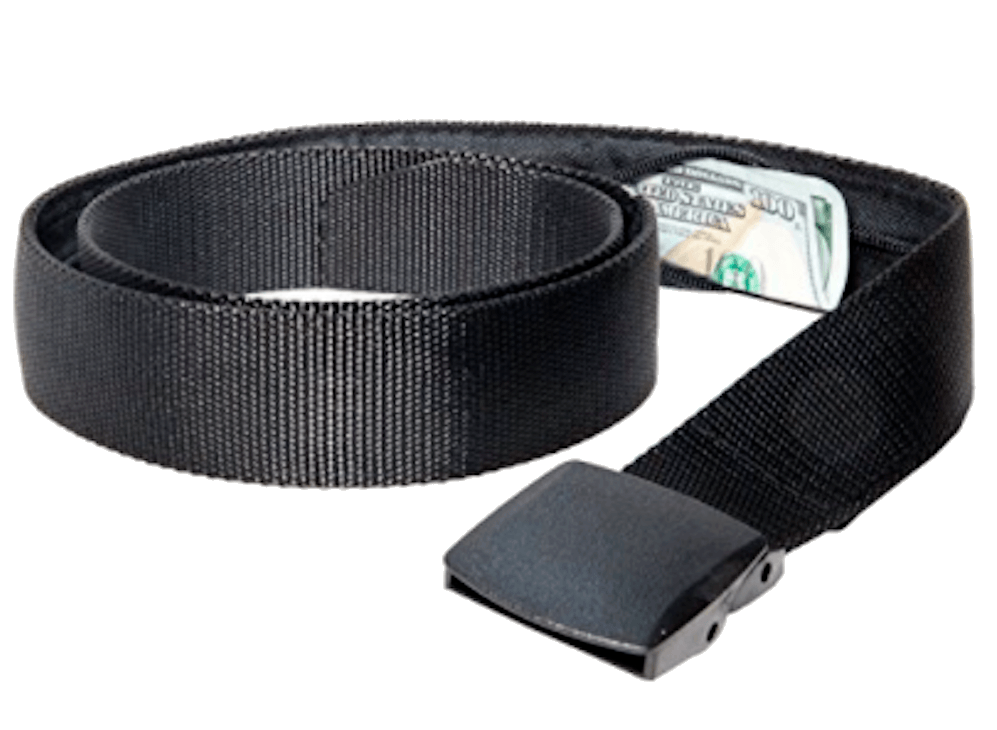 You should always have emergency cash hidden on you - pick up this awesome security belt with its hidden pocket before you travel, it's perfect for hiding money, a passport photocopy.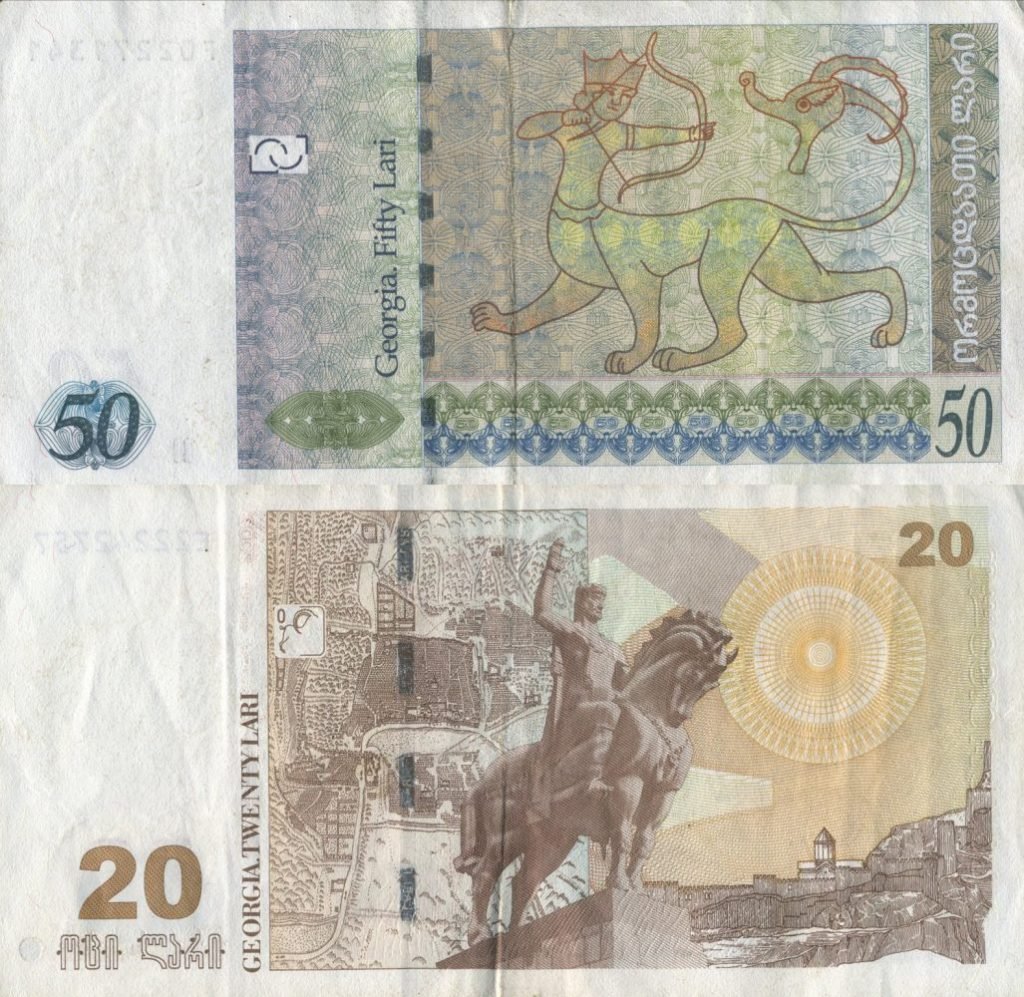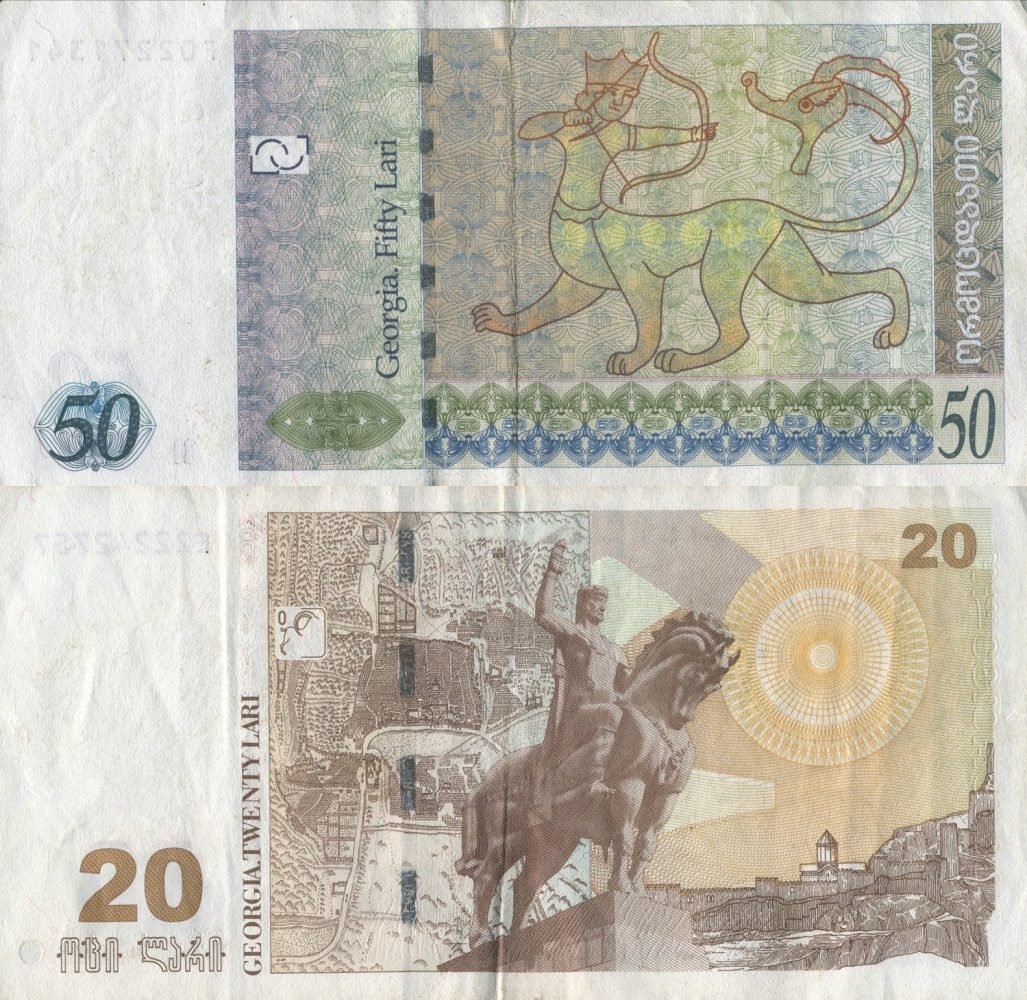 Top Tips for Broke Backpackers
To keep your spending to an absolute minimum whilst backpacking Georgia, I recommend sticking to the basic rules of budget adventuring….
Hitchhike: In Georgia, it is relatively easy to thumb a ride. Hitchhiking is an ace way to keep your transport costs down.
Camp: With plenty of gorgeous natural places to camp, Georgia is a great place to camp. You can often pitch a tent for much cheaper than staying in guest house or for free all together. Check out this post for a breakdown of the best tents to take backpacking or maybe you prefer a camping hammock?
Eat local food: You can get khinkali for as low as a quarter. If you're on a really tight budget, it's worth taking a portable stove – check out this post for info on the best backpacking stoves.
Volunteer: If done properly, volunteering is an excellent way to cut down your costs on the road. I strongly recommend Workaway – you pay just $29 for the year and then have access to literally thousands of projects all around the world where you can help out in exchange for food and board.
Pack a travel water bottle and save money every day!
To learn how to travel the world on $10 a day, check out the backpacker's bible.
Live in Georgia
Are you a native English speaker looking to earn cash whilst traveling the world? Teaching English online is a great way to earn a consistent income—from anywhere in the world with a good internet connection. Depending on your qualifications (or your motivation to obtain qualifications like a TEFL certificate) you can teach English remotely from your laptop, save some cash for your next adventure, and make a positive impact on the world by improving another person's language skills! It's a win-win! Check out this detailed article for everything you need to know to start teaching English online.
In addition to giving you the qualifications to teach English online, TEFL courses open up a huge range of opportunities and you can find teaching work all over the world. To find out more about TEFL courses and how you can teach English around the world, read my in-depth report on teaching English abroad.
Broke Backpacker readers get a 35% discount on TEFL courses with MyTEFL (simply enter the code BACKPKR), to find out more, please read my in-depth report on teaching English abroad.
Whether you are keen to teach English online or looking to take your teaching game a step further by finding a job teaching English in a foreign country, getting your TEFL certificate is absolutely a step in the right direction.
Internet in Georgia
Internet should never be a problem in the larger, more urban areas of Georgia because connections are fast and abundant. I streamed whole movies at times, which had been impossible in some places that I visited e.g. Sub-Saharan Africa. Tbilisi even has free public WiFi in many places.
Like all infrastructure in Georgia though, the internet becomes very dodgy in the mountains. There isn't much cable laid out in the Caucasus and WiFi is very limited. Many locals use their phones as a way of connecting to the web. Many shop owners purchase large data packages and offer their networks to paying customers, usually without extra charge. These mobile networks range from alright to frustrating.
If you're web reliant, it may be worth just buying your own phone plan that has coverage in the mountains. You'll probably save yourself the stress of searching for a port.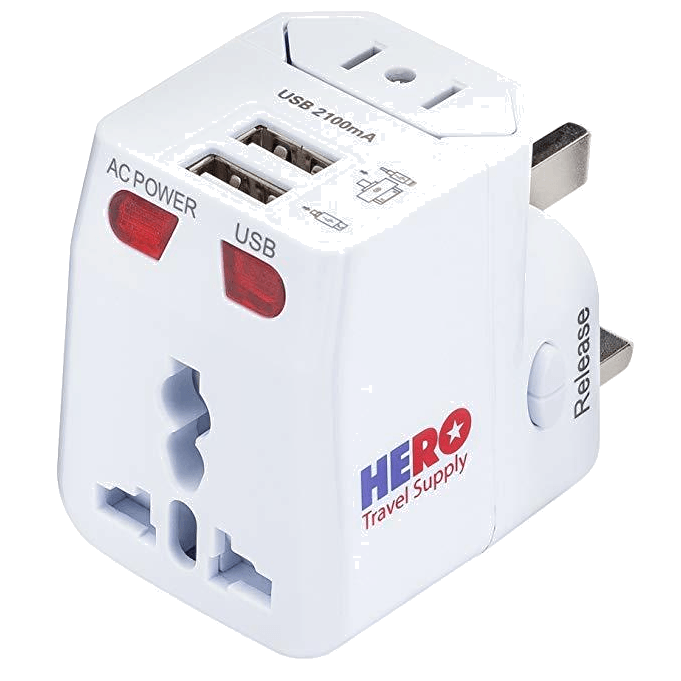 One of the best investments you can make is a
worldwide travel adapter
that will work anywhere! The one featured here is tough, reliable and a solid buy - Don't leave home without one.
GET IT HERE
Must Try Experiences in Georgia
People in Georgia
Georgian hospitality really is some of the best in the world. Hell, a common Georgian phrase is "a guest is a gift from God;" that's saying something!
Be sure and actually make an effort to speak with the locals. Rarely, IF EVER, will you be ignored. There's a good chance that your enthusiasm will be rewarded with a invitation to a solid meal, a glass of wine (or ten), and a bond that lasts forever.
If you're invited, try your best to accept. Rejecting an invitation can be offensive. If you're seriously busy and can't be bothered (which happens), your Georgian comrade will understand. If you accept, remember to always thank your host and show appreciation. Generosity, either given or received, is never forgotten. If you show respect, than you'll gain respect.
Dating in Georgia
Should you hit it off with a Georgian, congratulations! Georgians really are a stunning people. Georgians are commonly fair skinned, of medium build, and have dark hair and eyes.
The best places to meet Georgians are usually at the bars, cafes, and clubs. Should you strike out at one of these venues, there's always Tinder too, which is frequently used in Georgia. Before seeking out a relationship with a Georgian man or woman, there are a few things that you should know.
Georgian Men
Georgian men have a reputation for escalating things too quickly. Men will approach women quite hospitably (as Georgians usually do) and begin a seemingly innocent conversation. Within minutes, they'll be asking for sex. This behavior can be frustrating.
Female backpackers: if a man approaches you and you want nothing to do with him, be stern and tell him to piss off. It is important to remember though that Georgia has had a conservative mindset for a long time. To the benefit of Georgian men: many of them are adopting new, more open-minded beliefs (here's an article praising Georgian chivalry). Hopefully, these changes will lead to greater couth with the opposite sex.
Georgian Women
Men looking for a Georgian girl will have to deal with a steely defense that most Georgian women have already perfected. Expect to hear the word "no"…a lot. Supposedly, Georgian women can play hard to get, but realistically they're becoming increasingly independent as Georgia enters the modern world. Caucasian women are shedding their outdated mantels of being tied to a man and doing their own thing.
If you're going to Georgia and are expecting the women to appease you, you're going to strike out. If you're having trouble with women, just hang in there, be confident, and try not to be an asshole. Remember ALWAYS to be respectful of the other person, and never force them into something that they don't want to do.
https://www.youtube.com/watch?v=M0l6UJdp0uM
Food in Georgia
Georgian food is very hearty. Khachapuri, a bread boat filled with lots of cheese and topped with a soft egg, is a must have. The nation's most famous dish is khinkali, which is a dumpling filled with a mix of vegetables and mince meat. There are a dozen varieties to choose from but you should stick to the classic pork and greens; it's the best of them all.
A note on eating khinkali: NEVER eat the doughy "handle" of the dumpling, and try not to use a utensils. Doing so could either make you look like like a starving barbarian or a stupid out-of-towner. For those who are serious about khinkali (you should be), here's a quick video explaining proper etiquette.
Other popular Georgian dishes include:
lobiana– bread filled with beans
churchkhela – nuts soaked in concentrated grape juice
chakapuli - lamb and cilantro stew
mtsvadi - meat skewers
These are only a handful of the delicious dishes that you can find while backpacking Georgia. Any foody will have no trouble finding unique and tasty morsels in this cornocopious country.
Festivals in Georgia
Backpacking around Georgia allows you chance to attend one of many thrilling festivals taking place throughout the year. Georgian celebrations are very diverse, and range from cultural holidays to raucous music festivals.
Many Georgian towns will hold their own festival in honor of the region's heritage. These holidays usually end with the suffix "oba" e.g. Tbilisoba, Tushetoba, Alaverdoba. When attending one of these "obas," expect lots of traditional activities, including horse racing, wrestling, and (of course) wine drinking!
There are plenty of music festivals in Georgia that cater to all types of musical tastes. Folk, rock, electronic, jazz, and more are all represented in Georgia. Some Georgian festivals are even world famous. Newcomer GEM Fest was only started in 2017, but has already been recognized as one of the best electronic festivals in Europe. In short: there are plenty of opportunities to dance your ass off while backpacking Georgia!

Best Georgian Festivals
New Wine Festival (May) – a relatively new festival commemorating the unsealing of the year's new wine. Copious libations. Takes place in Tbilisi.
Tbilisi Open Air (June) – three day music festival focusing on rock and electronica. Mostly European acts.
Art-Gene Festival (July) – music festival celebrating traditional folk culture. Lasts about a week. Takes place in Tbilisi's Open-Air Museum of Ethnography.
Black Sea Jazz Festival (July) – Jazz-centric festival that offers an increasingly broad spectrum of music. Has included Funk, Rap, R&B acts in recent years. Featured guests include Snoop Dogg, George Clinton, and Lauren Hill. Takes place in Batumi.
GEM Fest (August) – four day electronic festival that is gaining a lot of attention. Takes place in Anaklia on the coast of the Black Sea. Camping festival (best kind) with local B&Bs offering accommodation as well. Party buses to and from Tbilisi.
Rtveli (late September – early October) – celebration of the grape harvest! Includes lots of drinking and feasting. Nationwide participation. Kakheti places great importance on the event, and has its own additional celebration called Alaverdoba.
Tbilisi International Festival of Theatre (September – October) – one of the chief cultural festivals of the Caucasus region. Mission: "Enhancement of the cultural life in Tbilisi and Georgia by the innovative theatre productions[.]"
Tbilisoba (latter half of October) – cultural holiday celebrating the founding of Tbilisi. Includes open-air concerts, local produce from the harvest, and even a ceremony granting honorary citizenships to Tbilisi.
Cheese Festival (November) – over 100 types of cheese from all over the Caucasus. Local honey and wine also available. Held in Rose Revolution Square in Tbilisi. Free to attend!
Tbilisi International Film Festival (December) – focuses on film from local and international directors. Seeks to expose Georgians to new art and modern styles.
Trekking in Georgia
I hope that it's clear by now that Georgia offers an infinite amount of hiking opportunities. The Caucasus Mountains are absolutely gorgeous. They are comparable to a not-so-distant geographic cousin, the Alps. Both are mighty chains and offer similar attractions, but the Caucasus are higher, wilder, and offer far more enriching experiences. Those who are sick of the tangled mess of gondolas and overpriced huts will find the Caucasus a welcome change.
There is simply no end to trekking opportunities in these mountains. New trails are constantly being set. There's even a movement to connect the bulk of the Greater and Lesser Caucasus – from Georgian to Armenia – via the Transcaucasian Trail (TCT).
Georgian hikes can range from a single day to weeks. Trekking in some areas e.g. the Svaneti will allow hikers to utilize local guesthouses for food and shelter, effectively cutting the weight of their bag. Otherwise, overnight hikers will need to pack the usual tent and wilderness stove. Consider bringing a sleeping mat as well (I always have one in my pack) or, if you want to ditch the tent all together, bring a hammock instead. Below is a brief list of some classic hikes in the Caucasus.
Trekking to Gergeti Glacier, from Stepantsminda, Kazbegi, in the Caucasus Mountains
1 day, 1600m elevation gain, 6-8 hours walking
A straight forward day hike from the main village at the base of Kazbegi to the lower termination of the glacier covering it's flanks. Greats views of the mountain.
Climbing Chaukhi Pass, from Juta to Roshka, Kazbegi-Khevsurheti, in the Caucasus Mountains
1-2 days, 1300 m elevation gain, 8-9 hours walking if starting in Juta
This is a trail that connects the Kazbegi and Khevsureti regions. It offers spectacular views of the Chaukhi Massif, aka the "Georgian Dolomites," and the tri-colored Abudelauri Lakes. Hikers can cover the trail in a day if starting in Juta but will enjoy the walk more if they overnight on the trail. Starting in Roshka is ill-advised due to steep trail conditions.
Walking the Asunto Trail, from Omalo to Shatili, Tusheti, in the Caucasus Mountains
4-5 days, 75 kms total
This is the most accessible trail that covers the Tusheti region. Connects Omalo (Tusheti) to Shatili (Khevsureti). It involves some village lodging, but wilderness camping will be necessary at times. Bring a tent!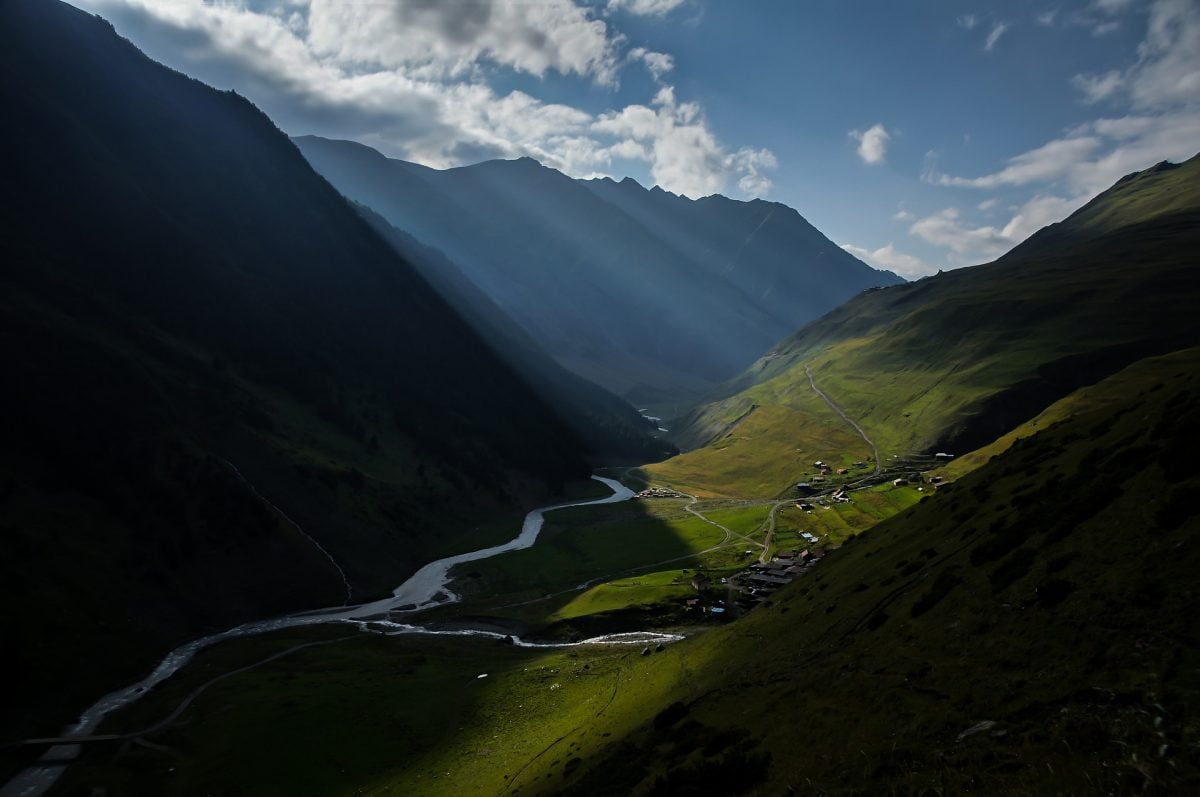 Trekking to Tobavarchkhili Lake, from Mukhuri, Samegrelo, in the Caucasus Mountains
5 days, 90 kms total
A difficult trail that crosses four mountain passes and experiences heavier than usual rainfall. Hikers will need above average outdoorsmanship and a full backpack. Those who brave the trail though will have the chance to visit "the most beautiful lake in Georgia" set among the Egrisi Mountains.
Walking from Mestia to Ushguli, Svaneti, in the Caucasus Mountains
3-4 days, 58 kms total
One of the most well-known treks in Georgia with multiple routes via Zhabeshi or Tsvirmi. This trek offers views of the highest mountains in Europe, and chances to stay with the local Svans. A tent isn't required, but without one hikers will miss out on some great wilderness opportunities.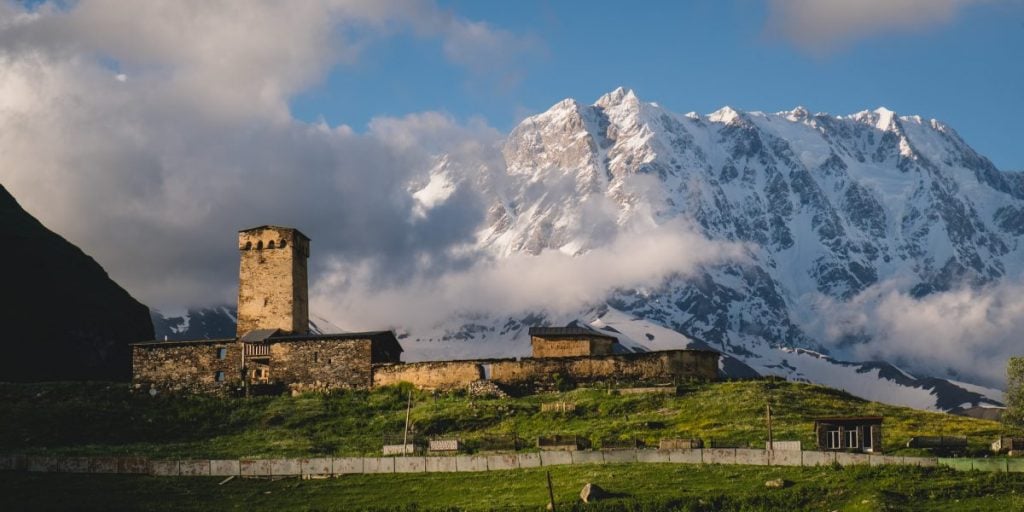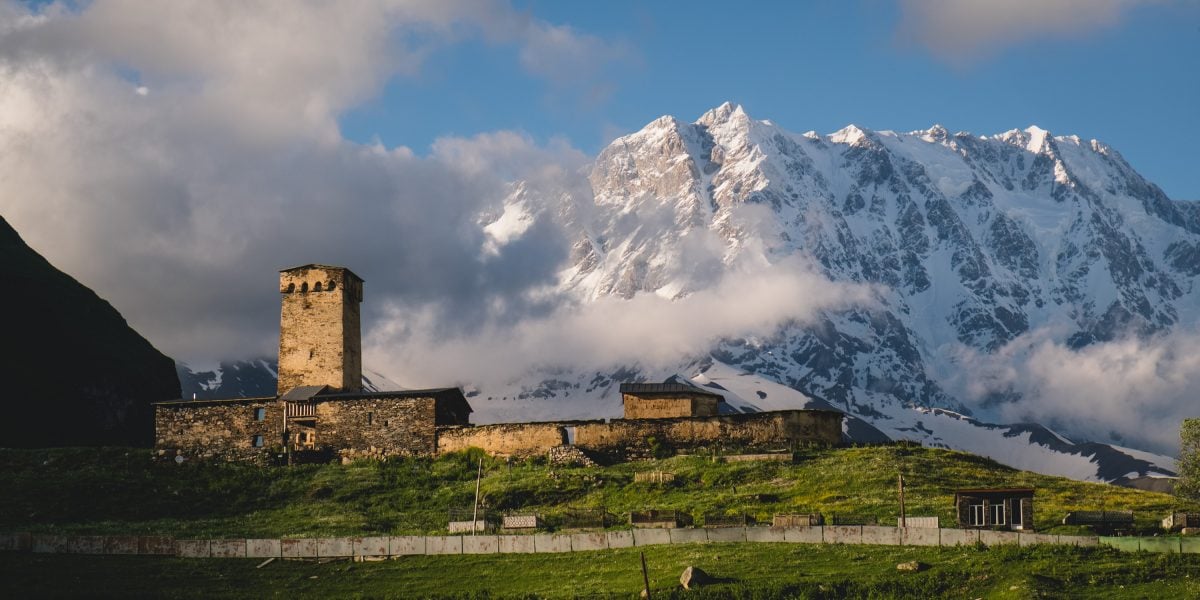 Trekking to Ushba Glacier, from Mazeri, Svaneti, in the Caucasus Mountains
1 day, 1000m elevation gain, 7-9 hours
A hike to the glacier of Georgia's most uniquely shaped mountain, Ushba, that begins pleasantly and ends steeply. Along the way, hikers can see Shdugra Falls, the highest waterfall in Georgia. Note that this hike runs very close to the Russian border so hikers will have to check-in with a (very friendly) border outpost at about halfway through. Bivouaquers will need a special permit to sleep at the glacier, otherwise they can spend the night at the outpost (if they ask nicely).
Climbing Lotpari Pass, from Ushguli (to Chvelpi), Svaneti, in the Caucasus Mountains
1-2 days, 1000m elevation gain, 7-10 hours
A panoramic trail that gives hikers a view of the entirety of the Greater Caucasus. Famous peaks like Ushba, Tetnuldi, Shkhara, and sometimes even Elbrus are visible. Can be an out-and-back trail returning to Ushguli, or as a through hike to Chvelpi. The latter is essentially a connection between the Greater and Lower Caucasus.
Brief History of Georgia
Lying at a geographic crossroads between Europe and Asia, Georgia has seen the rise and fall of some of the world's greatest civilizations. Imperial Rome, the Ottomans, and the Soviet Union all touched this land. Even the legendary Jason and his fellow Argonauts had supposedly visited Georgia, when it used to be known as the Kingdom of Colchis.
Medieval Georgia was subject to many foreign invasions. Starting around the 4th century AD the Caucasian monarchs began to convert to Christianity in the midst of these intrusions. Following the expulsion of Arab powers around the 10th century, the Kingdom of Georgia was founded, and the "Golden Age of Georgia" began. The Kingdom became a powerful entity, and controlled much land between the Black and Caspian Seas. The Kingdom of Georgia lasted five hundred years until it collapsed following numerous invasions by marauding Eurasians, and the Black Death.
During the latter half of the millennium, the Caucasus was caught between warring Middle Eastern powers. When the Russian Empire emerged, Georgian aristocrats saw it as a means to escape Persian and Ottoman hegemony. Georgia sought Russian assistance on several occasions, but these efforts proved to be pointless. Persians continued abusing region with increased ferocity while Russia did nothing to intervene, besides slowly absorb Georgia into its own territory.
Even following the collapse of the Russian Empire, Georgia barely had a moment of freedom. Fours years of the Russian Revolution, the Soviet Union took Georgia. Unsurprisingly, life did not improve for the Georgians under Soviet rule. It wasn't until the fall of Soviet Union in 1991, that Georgia was finally able to gain independence.
Being a Responsible Backpacker in Georgia
Reduce your plastic footprint: Perhaps the best thing you can do for our planet is to make sure you do NOT add to the plastic problem all over the world. Don't buy one-use water bottles, the plastic ends up in landfill or in the ocean. Instead, pack a tough travel water bottle.
Go and watch A Plastic Ocean on Netflix – it'll change how you view the plastic problem in the world; you need to understand what we are up against. If you think it doesn't matter, get off my fucking site.
Don't pick up single use plastic bags, you're a backpacker – take your daypack if you need to go to the shop or run errands.
Bear in mind, that many animal products in countries you travel through will not be ethically farmed and won't be of the highest quality. I'm a carnivore but when I'm on the road, I only eat chicken. Mass-farming of cows etc leads to the rainforest being cut down – which is obviously a huge problem.
Recently, my gear-venture, Active Roots has started to sell water bottles. For every Active Roots water bottle sold, we donate 10% to PlasticOceans.org – an awesome initiative aimed at educating people on the risk of single use plastic and helping to clean up our oceans. Help save the planet, whether you take an Active Roots bottle or not – TAKE RESPONSIBILITY for your plastic footprint, don't be a dick.
Need more guidance? – Check out our post on how to be a responsible backpacker.
Even though Georgians are a lovely people, there are still some behaviors to avoid while interacting with them. Be sure to accept or politely turn down their hospitality with respect. No one likes an arrogant backpacker.
DO NOT falsely identify Georgians as Russians or Turkish, or any other culture for that matter. Georgians are Georgians; they are immensely proud of their heritage and have every right to be. They have never dealt with conquerors without resistance. This is especially so after the events of the still recent Russo-Georgian War. Try and avoid the topic of the Russo-Georgian War unless it's brought up first by a local.
Always remember when venturing into the wilderness that nature is still a very dangerous place. Use common sense and always be prepared for what the elements might throw at you. Finally, don't be an asshole on holiday. Drink only what you can handle, be respectful of the locals, and don't be a shit stirrer.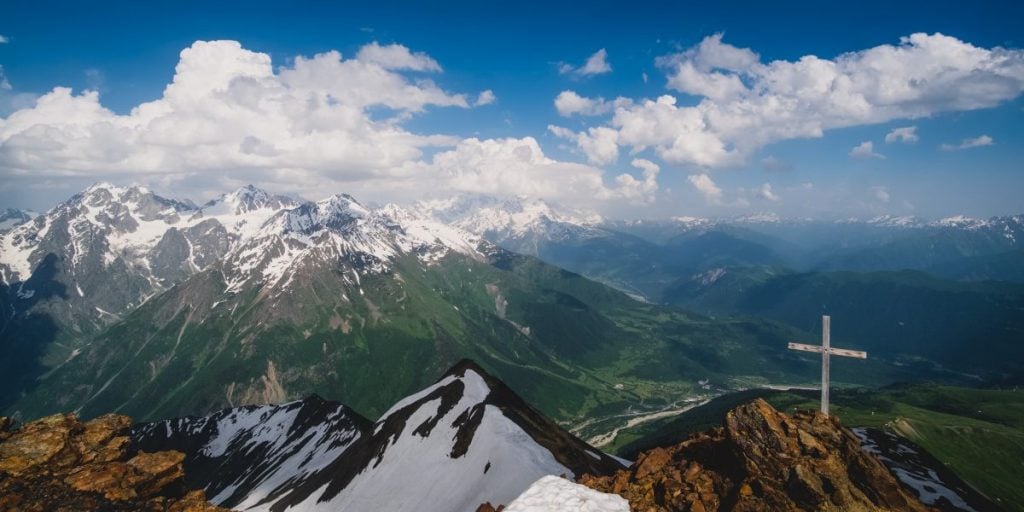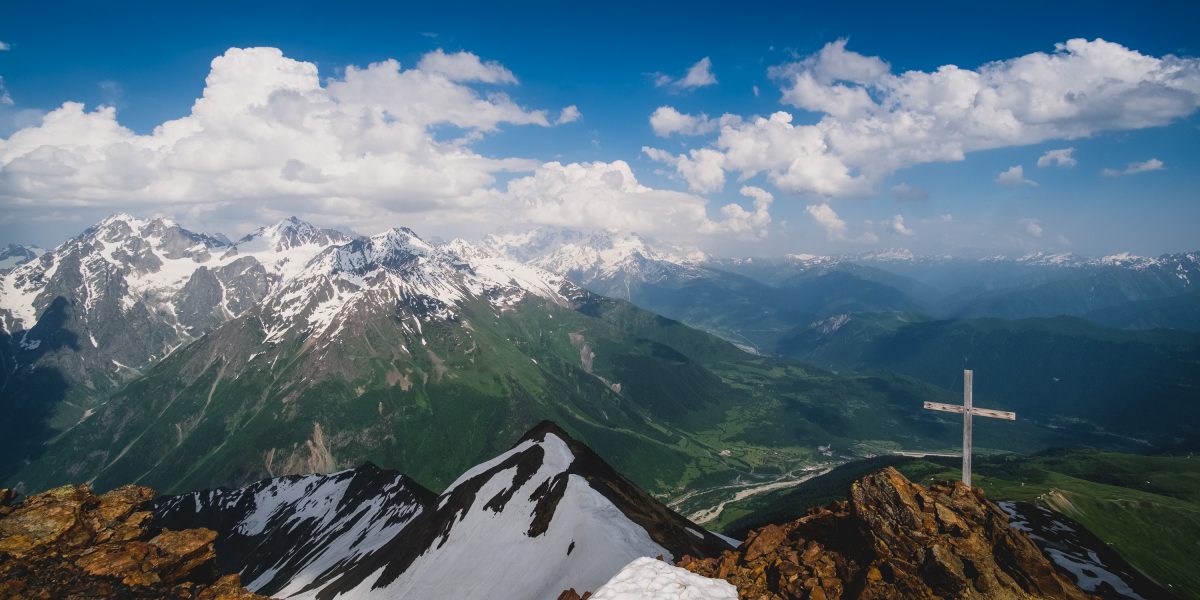 Yay for transparency! Some of the links in this post are affiliate links. This means that if you book your accommodation, buy a book or sort your insurance, I'll earn a small commission at no extra cost to you. I only link to stuff I've actually used and never endorse crap. Your support helps me keep the site going.
---
Need More Inspiration?