Why Go Backpacking in Georgia?
Georgia is a relatively small country but it packs a BUNCH of goodies in its small space. Slightly dilapidated but extensive transportation networks guarantee that you'll be able to see a lot even on a short trip.
I'd personally recommend spending at least a week in Georgia. But honestly – why not just plan that trip for two months?
Obviously, you've heard of Georgia's mountains, and they're truly something to sing odes about. Kazbegi, the mountain region closest to Tbilisi, is an easy weekend getaway, whereas Svaneti is home to the most majestic peaks in the country. Georgia has some of the best hiking I've ever experienced and I've clambered up my fair share of hillsides.
On top of that, there's a whole variety of other awesome stuff. Lounge on black sand beaches on the Black Sea, go wine tasting in the Kakheti region, or discover the mishmash of history that the many crossing influences have left on the country – the Ottomans, Soviets, and even the EU.
But more than anything, Georgia is simply lovely. This is a country that absolutely kicked my ass, from blisters in my feet to lost wallets and broken hearts, and I still find myself dreaming about it on a regular basis.
I remember watching the sun set over the clay-coloured bathhouse district of Tbilisi from a tall balcony with a glass of sweet red wine in hand and feeling the most intense happiness. I think about eating fifty-cent khinkali (yea, that's a thing) with my future best friend and taking all my Tinder dates meandering by the side of the river running through the city.
Georgia is absolutely magical and one of the best places I've ever travelled to.
Still not convinced? Fine. Backpacking in Georgia is also super fucking cheap. Packing your backpack yet, ya cheapskate?
Now that I've charmed you into falling in love with this country, let's see where your backpacking Georgia trip will take you. Here are three itineraries for backpacking Georgia for those in a rush to backpackers who are ready to explore this fantastic land through and through.
7-Day Travel Itinerary for Georgia
Tbilisi is the starting point of this journey. As the capital, it's pretty much the best entry to the country. You'll likely be in and out of there as you travel around Georgia.
Explore Old Tbilisi, the Holy Trinity Cathedral, and The Chronicles of Georgia. Make a day trip out to the David Gareja Monastery – passing through sleepy Udabno – before moving on.
Travel to north Georgia to the Kazbegi region for a weekend of epic mountains – pack some decent hiking boots! The best place to stay is Stepantsminda; you can walk straight from the village to Gergeti Trinity Church, the most famous landmark in all of Georgia.
Next, go back to Tbilisi to catch a train west to Batumi. Lounge on the beach all day, and then try the local favourite: khachapuri.
Oh wait, that's just bread, cheese, and egg; that won't help much with the food coma. Oh well! Too late now.
15-Day Travel Itinerary for Georgia
This 2-week itinerary to Georgia starts on the coast at Batumi. Chillax as much as you need since next you're headed to Georgia's mountains!
Take a minibus up to Mestia, your gateway to incredible hikes around the Svaneti region. If you've got the time (and wanna skip the next step in the itinerary), do the 4-day hike between Mestia and Ushguli for a truly epic experience.
You can take a short 40-minute flight to Tbilisi from Mestia. Alternatively, travel the land route and make a stop at Kutaisi before ending up in the capital.
Spend a few days in Tbilisi before prepping your gut for all the wine. Travel east to Telavi, the heart of the Georgian wine region Kakheti.
From there, it's easy to take a day trip (or overnight) to the absolutely adorable town of Sighnaghi. The romantic setting is especially great for couples travelling together.
From there, you can travel overland onwards to Azerbaijan or return to Tbilisi to travel out.
1-Month Travel Itinerary for Georgia
Do the whole damn thing!
Seriously, Georgia's one of those countries where you want to spend as much time as possible. Scramble across the entire country as you sample all the local flavours: the mountains, the wine, the culture, everything!
Tbilisi will likely be your axis point since it's the central point for all transportation routes in the country. So start there – then traverse up north to explore the Kazbegi region.
After a couple of days in the mountains, return through Tbilisi and head east. Stop for a night in Gori, the birthplace of Stalin, for a taste of Soviet history.
Next up: Borjomi, the locals' favourite spot for rest and relaxation. Continue to Batumi for world-class parties, then up north to Svaneti.
That's the west of the country; now get back to Tbilisi to explore the east.
Stop by in Sighnaghi before ending up in Telavi. Next, avid hikers will wanna check out the most remote part of Georgia: the Tusheti national park, with the village of Omalo at its centre.
And that wraps up our itinerary of Georgia; return to Tbilisi for further adventures.
Right-o, off to explore the best places to visit in Georgia then. Tbilisi might be the main haunt and the first point of impact for a lot of travellers to Georgia.
If you're only visiting the capital – you're missing out compadre. Let's see what the top places to see in Georgia are. (Don't worry, Tbilisi is still included!)
Backpacking Tbilisi
The capital of Georgia is the one place every backpacker goes to, and for a good reason: visiting Tbilisi is an unmissable experience. Tbilisi sightseeing is full of beautiful architecture, delicious food, and a plethora of fun things to do.
The best places in Tbilisi include the rustic and historic quarter of Old Tbilisi with its terraced neighbourhoods and thermal baths. Take the cable car overlooking Old Tbilisi to Narikala Fortress – a ruined relic from the times of the Persians – which offers sweeping views of the city.
Among the pretty places to visit in Tbilisi, you'll find the National Botanic Garden of Tbilisi, a retreat complete with waterfalls and man-made glades.
But Tbilisi is not all old things. The areas on the riverside are rife with modern architecture; the Bridge of Peace, the Music Hall, and the Tbilisi Public Service Hall are some of Tbilisi's most famous buildings.
Rike Park is a great place to glimpse some outdoor art and cuddle the street doggos of Tbilisi, which are vaccinated and neutered by the city – and love tourists.
Make sure to also explore Avlabari and Marjanishvili, the districts on the other side of the river. Both are full of cute cafés, great food and beautiful streets, and it's a little less touristy than the Old Town.
There you'll also find the Holy Trinity Church, a real landmark of the city. Some of the best places to stay in Tbilisi are also on this side of the river.
Best Day Trips from Tbilisi:
Tbilisi is a great base for explorations around the area. Here are some of the most popular day trips from Tbilisi:
Mtskheta: One of the oldest towns in Georgia is home to a few important monasteries, including Jvari Monastery with beautiful views over the town.
David Gareja & Udabno: David Gareja Monastery is one of the best monasteries to visit in Georgia but since it sits flush with the Azeri border, it's not always accessible. If headed there, makes sure to stop by at the sleepy village of Udabno, too!
Gori & Uplistsikhe Caves: Stalin's hometown complete with a Stalin Museum, combined with a detour to the old cave town of Uplistsikhe.
Backpacking Batumi
Located on the Black Sea, Batumi is quickly becoming one of the most upscale destinations in Georgia.
Clubs have become packed with foreign party animals. You can spot famous DJs regularly at the clubs during peak season. No wonder Batumi is known as the Sin City of Georgia.
I've heard a lot of Tbilisi-sided tourists talk smack about Batumi. And sure, some might think it's overrated; it's pretty small, after all, and has very little of the old town charm as Tbilisi does.
But I swear there's something in the air here; Batumi is just super fucking fun. I had an amazing time here, and I'm sure you will too!
Batumi is full of quirky, weird architecture. (Even their McDonald's looks like a weird, futuristic spaceship).
Check out the Georgian Alphabet monument, a huge tower decorated with the Georgian letters, and the strange high-rise with a miniature Ferris Wheel inserted into it. (The multimillion project was never finished and is on sale, in case you were looking for a cool but unpractical house in Batumi.) It's also worth seeing the Ali and Nino statue in the harbour which is a homage to the book Ali and Nino, an epic love story spanning through the Caucasian nations.
And if all else fails, pose yourself by the fountain in the port at 7 p.m., when the fountain spews out chacha, Georgian hard booze. If that doesn't get the party started, nothing will!
Other than that, there's not much in the city itself even though the Botanical Garden is worth a peek. Most tourists come here for the beaches but the ones in Batumi itself are stony and not great. Rather, head out of town for Ureci, Gonio, or Kvariati for awesome black-sand beaches.
Backpacking Kazbegi
A couple of hours north of Tbilisi is one of Georgia's highest and most beautiful mountains: Kazbek. The Kazbegi region is the best entry-level destination for beginner hikers in Georgia. Even if you're not much of a walker, it's a dope weekend away.
The main village in the area is called Stepantsminda. There are others where you could base yourself in, but this one's the best with the closest proximity to the best day hikes around the area.
The one unmissable sight in Kazbegi is the Holy Trinity Church, AKA Gergeti Trinity Church. You've definitely seen pictures of it – the classic Georgian church's silhouette against the imposing Caucasian mountain adorns literally.
Every guidebook cover and postcard of Georgia has it. It's a relatively easy 45-minute walk from the town; adventurous hikers can walk all the way up to the Gergeti Glacier.
Another easy, great hike is 20 minutes north of town to the Gveleti Waterfall. There are also more hikes around the nearby town of Juta, but you'll want to spend a couple of more days in the area to really tap into those.
Gudauri is another village in the region, mostly favoured by ski tourists in the winter. That's right – you can also ski in Georgia. And if you're feeling extra wild, you can book a paragliding tour for some adrenaline-inducing views of the Kazbeg valley!
This is a great region to add to your itinerary if you're planning to do a little road trip in Georgia as well.
Backpacking Kakheti
Wine is a huge part of Georgian culture. And I mean, HUGE.
Georgians claim to be the first true winemakers of the world. You'll run into little statues of gryphons everywhere – this mythical beast is said to have brought wine grapes to the country.
There are several wine-producing regions in the country, but Kakheti has to be one of the best, if not the top of the list. Set among sprawling hills dotted by ancient castles and monasteries, Kakheti could rival Tuscany, Bordeaux, or any of the world's more famous wine regions.
Telavi is the region's capital and a great place to start your wine tours. The town is pretty small but has some basic hostels so it can be a good place to meet backpackers or even find a travel buddy. There's some street art to be glimpsed, and probably the second-best examples of iconic Georgian lace wooden terraces after Tbilisi.
Check out King Erekle II Palace and pay a visit to The Giant Plane Tree, a 600-year-old giant that is said to grant the wishes of those that visit it. It's also worth making the trip to the nearby Tsinandali Estate where a Georgian military man and poet Alexander Chavchavadze lived – and where the first bottle of saperavi wine was corked.
Another notable town in the area is the hyper-romantic Sighnaghi. There are no hostels but there are plenty of cheap guest houses, and it's potentially the prettiest town in Georgia. If you only have time to visit either Telavi or Sighnaghi, I'd recommend the latter.
Backpacking Kutaisi
I'll be honest with you: I'd skip Kutaisi, if I were you. It's boring, unremarkable, and totally overrated. It's mostly great for exploring things around it that are also unremarkable.
It can be a good way to break up a journey between Tbilisi and Mestia though. It won't kill you to spend a night there.
Kutaisi is the current legislative centre of Georgia. It's a more traditional foil to the electric Tbilisi and booming Batumi. The city has served as the capital of several former kingdoms and is full of culture and history.
The Bagrati Cathedral is the best thing to see in the city. The church itself is very similar to all the other churches in Georgia – nothing special there. But the view from the cathedral grounds is pretty good.
You can visit the nearby Prometheus Cave, which is a great geological show if you've never seen stalactites or stalagmites before.
Nearby Okatse Canyon and Sataplia Nature Reserve are also worth the visit for the outdoorsy types although the biggest hiking enthusiasts are probably not gonna find satisfactory hikes around here.
One of Georgia's greatest religious complexes, Gelati Monastery, is also located very close to the city.
Backpacking Svaneti
Home to Georgia's highest inhabited settlements, the Svaneti region is an ark preserving some of the country's most precious histories and natural wonders. If you ask me, this is the absolute best mountain area in Georgia!
The road there is slow and winding and takes 9 hours on a minibus from Tbilisi. You can pretty easily fly there, too. The trip is cheap and only takes about 40 minutes.
The area is best known for its old, stone defence towers that have kept these remote mountain communities protected for centuries. Some of the towns are even UNESCO-protected.
The main town here is called Mestia which is also the only place with a bank and the most options for guest houses and hotels. I'd recommend basing yourself here for the hills and awesome hikes.
The best hike is the four-day trek between Mestia and Ushguli which is reasonably easy even for beginner hikers. You can stay in guesthouses along the way with beds and food so you don't need to lug around camping gear. The endpoint, Ushguli, is possibly the most famous small village in Georgia!
Backpacking Borjomi
Borjomi is a small town in the Samstkhe-Javakheti region southwest of Tbilisi. It's a very popular weekend getaway for local Georgians, known best as a relaxing spa town.
(If you're already in Georgia and wonder where you've seen the name – Borjomi is a popular brand of bottled water in Georgia.)
Borjomi is pretty much the only hiking area in southern Georgia and it's actually open all year round. (Try snow-shoeing in the winter!) You can take several short walks around the town, but the best way to really explore the national park is on one of its multi-day hikes.
The trails in general are well-marked and easy to hike so they're ideal for even softcore hikers. Some of the most popular (and gorgeous!) trails are St. Andrew's Trail and the Panorama Trail.
While you're based in the area, you should also take a day trip to Vardzia, a 12th-century monastery built into rock and caves.
Off the Beaten Path Travel in Georgia
Fun fact: did you know that Georgia has a desert and that there is (miraculously) a single settlement with a hostel there? Yes, Udabno exists! Once a defence against Azerbaijani invaders, Udabno now serves as the primary layover between Tbilisi and one of Georgia's most magnificent religious complexes, David Gareja Monastery.
Most people just pass through on a day trip from Tbilisi but it might be worth an overnight stay for the experience!
Avid hikers have two more remote mountain areas to explore. Racha is next to Svaneti and has very similar landscapes, just with way less infrastructure and tourists.
My favourite is Tusheti National Park. Rolling greens hills punctuated by charming villages that seem out-of-time.
This is the most remote area of Georgia and there's pretty much just one way in: a dangerous, winding mountain road with jaw-dropping views that's only open for a few months every summer. Once you survive the ride, you'll be rewarded with mountain communities, delicious food, and awesome, uncrowded hikes.
Georgia also has some contested areas. South Ossetia is definitely out of limits but you could visit Abkhazia – that is, if your visa application goes through. Mine never did 🙁
Abkhazia is legally a part of Georgia but occupied by Russia, and it's safe enough to visit. See the capital Sukhumi which is supposed to be an absolute treasure trove for urban explorers. Check out beach towns Gagra and New Athos, and the beautiful Ritsa Lake where you can visit Stalin's old summer house.
Now that you know WHERE to go, let's look at some fun stuff to DO in Georgia. Here are some highlights of the best things to do in Georgia, including a few of my favourite activities.
1. Go Trekking in the Caucasus Mountains
The Georgian landscape is jaw-dropping. Imagine snow-caps even in the height of summer, glaciers and waterfalls, bright green pastures with grazing herds of horses, and colourful alpine flowers to lead your way.
There is great trekking in the Caucasus all over – but Georgia is the best of the three countries to explore. If you're short on time, hit Kazbegi; if you want to experience the best hikes, go to Svaneti; if you want to avoid crowds, hike Tusheti or Racha.
2. Sip Wine in Sighnaghi
Georgia is a cradle of winemaking – literally, as the country claims to be the oldest winemaker in the world. The best wine region in Georgia is Kakheti, and there's no better place in the region to try local vintages than the ultra-romantic town of Sighnaghi.
3. Take a Cooking Course
Even if you're not blessed with culinary talents, Georgian staples are extremely easy to make. Take a cooking course so that you can take the art of khinkali, khachapuri, and lobiani with you back home. No better souvenir than that!
4. Stay with a Local
Georgian people are some of the friendliest that I've met! Stay in a local guest house, or, if you're lucky, find an awesome Couchsurfing host. If you're hitchhiking, is not unusual to get invited to a family dinner with your driver.
5. Visit a Monastery
Georgia was one of the first countries in the world to make Christianity their official religion, and it still shows: over 80% of Georgians are Eastern Orthodox Christian. And everywhere you turn, boom – there's a church.
Backpacking Georgia wouldn't be complete without a visit to a cathedral or monastery. Religious sites are scattered throughout the country; seeing them all is an adventure in itself.
6. Check out Batumi's Weird Architecture
The Black Sea is famous for its raucous lifestyle, and Batumi is Georgia's party capital. Most tourists come here just to party it up.My favourite part of the city is its strange architecture, from a suspiciously phallic alphabet building to a high-rise with an embedded Ferris Wheel.
7. Soak in Sulphur Springs
Tbilisi's name comes from the old Georgian word for hot water. Would you guess what the city is built on? An afternoon soak in Tbilisi's famous sulphur springs is a stinky but relaxing experience and one of the best things to do in Tbilisi.
8. Visit the Old Capital
Mtskheta is one of the oldest towns in Georgia and its old capital. The tiny village is an excellent place to check out some important monasteries and shop for great wines. It's only located some 20 minutes from Tbilisi, so it's extremely easy to visit on a day trip.
9. Explore Tbilisi
There are a million ways to get lost in Tbilisi! Go explore all the little alleyways and see what you can find.
Maybe find a glass of delicious kindzmarauli here? Maybe you'll uncover the hidden motifs painted in Tbilisi's many churches? See what turns up.
10. Explore Georgia's Soviet History
The few decades Georgia spent under Soviet leadership left its marks on the country, and now there's plenty to explore. Check out the strange Bank of Georgia building and the Chronicles of Georgia monument, and take a day trip to Rustavi – a town full of supremely grey Soviet architecture.
One of the most unique things to do in Tbilisi is to visit Stalin's underground printing house. There's a bit of a translation barrier though – better bring a local friend from point 4 with you.
As Georgia is still clawing its way to the broader backpacker map. You might find it a little, uh, lacking in backpacker accommodation.
Tbilisi, as your probable first point of contact, has the best offering. There are heaps of wonderful hostels in Tbilisi, making it pretty difficult to pick your favourite. (Except for me – my favourite is Fabrika 'cause that place is amazeballs.)
Other than that, there are just a handful of backpacker hostels around Georgia. You'll find one or two in the most popular destinations like Kutaisi, Batumi, Stepantsminda, and Mestia, but elsewhere, not so much.
While most hostels in Tbilisi are pretty much business as usual, most of the others I stayed in around Georgia were very basic. Fun, though, and crazy cheap – in Telavi, I paid just $3 for a dorm bed.
Just a tip: the best way to find dorm rooms and hostel-type accommodation is not always through Hostelworld but on Booking.com. I found that lots of hostels in Georgia didn't actually call themselves as such.
If you're not feeling super-basic hostel beds and sharing rooms, Georgia has tons of options on offer. Pretty much everywhere you'll be able to find a room in a local guesthouse for cheaper than a dorm bed would find while backpacking Europe. Affordable, private, and with the added benefit of meeting the lovely Georgian families that run these places (and often cook up a totally delicious meal to go with your room).
When it comes to comfort, Georgia hasn't quite caught up to the lifestyles of the rich and fancy. You can certainly find some modern lodgings (especially in Tbilisi) but they usually come with a more Western-European pricetag. The affordable backpacker accommodation in Tbilisi is usually a little run down with decorations straight from your grandma's living room.
Old? Yeah, sure.
Charming? Totally.
The Best Places to Stay in Georgia
Whether you're looking for a cool-ass Airbnb or cheap backpacker hostels in Georgia, I've gotchu, boo! Here are some of the best places to stay on a budget trip to Georgia.
Backpacking Georgia is very cheap. It's actually easily one of the cheapest countries in Europe. Here are some rough ideas about what Georgia travel costs to expect.
Hostels will cost no more than $10-$15 in Tbilisi, and you can find some at even 7 or 8 bucks. In smaller cities, a dorm bed can go as low as $3 – no joke.
Mountain guest houses, including full room and board, will cost around $20-$25 in the more popular routes like the famous Mestia-Ushguli trail. Elsewhere, it's definitely not out of the question to get a private room for $10-15 USD.
Camping is also free just so long as you do it in an inconspicuous place and not on someone's property. Most mountain guest houses will charge $5 for a tent but there's plenty of free space outside of the village.
Eating out is also very inexpensive. It can even cheaper than shopping at the market! You can buy khinkali for as low as $.25 and a full meal including a drink for around $5-$10.
This is one part of the budget you should keep an eye on. It's easy to find ultra-cheap meals around Georgia but it's ALSO easy to splurge your budget in touristy restaurants and copious glasses of wine. (Speaking from experience!)
Transport is also very affordable in Georgia. Long distance travel via marshrutka should cost very little to even the most far flung destination. For example, the minivan from Tbilisi to Mestia, which takes almost 10 hours, only costs $16.
City travel within Tbilisi is super cheap – one trip on the bus or the metro is less than 20 cents.
The real dirtbags can hitchhike their way around the country, which comes totally gratis.
Drink in Georgia is cheap but it's not so cheap that you could guzzle down endless amounts of spirits without your wallet suffering at all. Partying is definitely affordable here, though. What did it for me was the wine – a glass in a restaurant can run up $2-3 USD, and although this is very cheap, it's gonna add up as the night goes on.
Things to do in Georgia can be almost free, or run up a bit of a price tag, depending what you do and how. Many travellers on a time crunch end up taking tours which may cost a little bit. Museum entrances, horseback rides and trips to monasteries do cost a little.
Luckily, there are no entrance fees to national parks and hiking trails, and most attractions in Georgia are also free to see.
In a word, Georgia is very cheap. With some sacrifices, it's not impossible to spend as little as $10 USD per day. Why suffer, though, when you can eat amazing food for a modicum amount of money? I ate out once a day while backpacking Georgia and ended up spending no more than $20/day for everything.
A Daily Budget in Georgia
So, what kind of a lifestyle are you looking to lead on your trip? Here are some examples of a Georgia travel budget.
Money in Georgia
The official currency of Georgia is the Lari. In April 2022, 1 USD = 3 GEL.
ATMs are found in every urban area of Georgia. In the more remote areas, you might struggle to find a cashpoint. In Tusheti, there are no ATMs at all. In Mestia in Svaneti, there is one ATM in town but while I was there, it ran out of cash for a couple of days… Lol.
In Tbilisi, card is accepted in most places but in more rural areas, carry cash. Haggling here isn't as prevalent as in the Middle East, but you can still talk down the locals a dollar or two here and there.
For all matters of finance and accounting on the road, The Broke Backpacker strongly recommends Wise – The Artist Formerly Known as Transferwise! Our favourite online platform for holding funds, transferring money, and even paying for goods, Wise is a 100% FREE platform with considerably lower fees than Paypal or traditional banks.
But the real question is… is it better than Western Union?
Yes, it most certainly is.
Travel Tips – Georgia on a Budget
To keep your spending to an absolute minimum whilst backpacking Georgia, I recommend sticking to the basic rules of budget adventuring…. Here are some Georgia travel tips to keep your budget in check.
Hitchhike: In Georgia, it is easy to thumb a ride. Hitchhiking is an ace way to keep your transport costs down.
Camp: With plenty of gorgeous natural places to camp, Georgia is a great place to air out your trusty backpacking tent. You can often pitch a tent for much cheaper than staying in a guesthouse or for free altogether.
Surf a couch. Couchsurfing is a fantastic way to get to know locals and local life while saving money! Tbilisi has a pretty vibrant Couchsurfing scene and you can also meet people at the many meet-ups and hangouts in the city.
Eat local food: You can get khinkali for as low as a quarter. There are also many buffet-style eateries around where you can get a big, filling meal for just a few bucks. If your Georgia travel budget is very tight, it's worth taking a good portable stove.
Pack a travel water bottle and save money every day!
Why You Should Travel to Georgia with a Water Bottle
Plastic washes up on even the most pristine beaches… so do your part and keep the Big Blue beautiful.
You aren't going to save the world overnight, but you might as well be part of the solution and not the problem. When you travel to some of the world's most remote places, you come to realise the full extent of the plastic problem. And I hope you become more inspired to continue being a responsible traveller.
Plus, now you won't be buying overpriced bottles of water from the supermarkets either! Travel with a filtered water bottle instead and never waste a cent nor a turtle's life again.
Georgia does have all four seasons. Technically, you can visit any time of the year, but spoiler alert: the best times to go are summer and early autumn.
Summer: I spent most of my time in Tbilisi in the peak of summer, from June to August. This is the hottest time of the year with temperatures going up to +30 degrees. I personally loved this but a lot of others seem to find it "stifling" or whatever.
On the other hand, it's peak time – pun intended – to head to the mountains which will be cooler but not cold – perfect hiking weather.
On the other other hand, summer is the busiest tourist season which might mean higher prices and more people.
Autumn: Autumn can be an AWESOME to visit Georgia. It's generally the best time for hikers since mountains will be decked in reds and oranges, and all trails will definitely be free of snow.
The grape harvest is also in full swing so a visit to one of the many wineries could include a hands-on demonstration of how the wine is preserved.
Winter: Winter months are a spectacular time for backpacking Georgia, as the mountains are fresh with powder and the ski slopes are open. If you're coming for the hikes, then come back in the spring.
Tbilisi doesn't get all that cold. Although winter clothes are definitely needed, temperatures plunge below zero and sometimes it snows. Still, total off-season travel could be fun.
Spring: Snow will linger in the mountain passes until late-June obstructing trails, so hikers will want to plan accordingly. Spring is also the wettest season with rains peaking in May.
All in all, the best seasons are the shoulder seasons surrounding the peak of summer. In May-June and September-October, most summer crowds are gone, and the temperature is very mild and pleasant: t-shirt weather.
What to Pack for Georgia
On every adventure, there are a few things I always add on my backpacking packing list. These things will definitely also come in handy on your budget trip to Georgia!
Is Georgia safe? Stop worrying your little head before you even start – Georgia is very safe to travel. Even for solo female travellers. I traipsed through the whole country completely on my lonesome and had an epic time.
Of course, you gotta take care of all the normal travel safety precautions. Petty theft is rare. But, especially since tourism has been on a huge boom in the past few years, pickpocketing has got more common.
Due to Georgia's proximity to Russia, their relationships have been kinda on and off for the past few… well, forever. When hiking in Tusheti, there are some areas where you'll meet border patrols. Occasionally, there has been some tension between the two but it's not really expected to escalate.
There are some special precautions that you should take.
Georgian traffic: Georgians drive like MANIACS. Look both ways twice before crossing, and keep looking. There are a ton of imported cars, meaning many cars have the steering wheel on the right side. (They drive on the right.) You can imagine how this can make the experience even more hectic…
Protests: Avoid protests and parades in Tbilisi, especially if they're politically tinged. They might get out of hand although this is rare.
LGBTQ+ travel: Being gay is not illegal in Georgia but it is a very traditional place so it's probably best to keep a little hush about your sexuality. The few gay bars in Tbilisi are hidden, and the pride parades there have all got cancelled due to threats or led to chaotic protests.
Other than these precautions, Georgia is very safe.
Sex, Drugs, and Rock 'n' Roll in Georgia
Georgia has some of the best wine in the world! In fact, it is one of the oldest countries to have cultivated the grape for wine making. Archaeologists have discovered wine making tools dating back as far as 8,000 BC.
There are nearly four hundred grape varieties native to Georgia, and most are exclusive to the country. There are no pinot noires or chardonnays sold in the Georgian wine bars. If they are, they're for the tourists.
Local favourites include kindzmarauli and mtsvane. Georgian wine does tend to be on the sweeter side. If you're into the dry stuff make sure that you clarify this with your server.
Also made from grape is chacha or grape vodka. Chacha is very similar to Italian grappa and is preeetty rough. Especially since the best kinds a home-brewed and at a questionable alcohol content.
Tbilisi is quickly emerging as one of the leading techno scenes in Europe. Batumi has already established itself as a beacon of debauchery.
When partying, be very careful when it comes to purchasing and using drugs. Drug laws are VERY strict in Georgia.
Many drug users have faced harsh punishment from the police. Maybe wait until that trip to Amsterdam to go nuts, eh?
Dating in Georgia can be fucking awesome because Georgians are georgeous people (lol). I did feel like some of the men were a little too forthcoming for my comfort, and they do have a reputation for escalating things too quickly.
Men looking for a Georgian girl will have to deal with a steely defence that most Georgian women have already perfected. Expect to hear the word "no"…a lot. Supposedly, Georgian women can play hard to get.
In Tbilisi, I met a lot of young people who spoke great English, were not as conservative as I'd expected, and, do I need to mention it again, really fucking beautiful. So get your Tinder fingers swiping!
Getting Insured BEFORE Visiting Georgia
As safe as Georgia is, you never know what lurks on the road. Did you sprain your ankle on a mountain hike? Or lose your wallet moshing too hard at a techno club (may or may not be a personal experience).
Travelling without insurance could be risky, and a savvy backpacker should consider getting good backpacker insurance sorted before you head off on an adventure. As much as you're trying to save money, having good insurance will easily save you money if you get in a pinch.
World Nomads' mission is to support and encourage travellers to explore their boundaries. They offer simple & flexible travel insurance, and safety advice to help you travel confidently.
They've been doing it since 2002 – protecting, connecting, and inspiring independent travellers just like you.
Get a quote below or read our in-depth review!
World Nomads provides travel insurance for travelers in over 100 countries. As an affiliate, we receive a fee when you get a quote from World Nomads using this link. We do not represent World Nomads. This is information only and not a recommendation to buy travel insurance.
There are many ways to get into the country and start backpacking in Georgia, via land or (most conveniently) air.
By bus:
Buses, both large and small, frequently ply the roads that connect Georgia with Armenia, Azerbaijan, Turkey, and Russia. Large commercial buses leading to Tbilisi are available in Istanbul and Baku.
These trips are hella long but very beautiful. E.g. Istanbul to Tbilisi takes more than 30 hours, but you'll be navigating through the rugged terrain of Anatolia and entering the Caucasus in grand fashion.
There's only one entry point from Russia to Georgia, in the Kazbegi region. This border has sometimes been closed for international tourists so if you're planning on crossing there, triple-check that it's possible!
By train:
You can get an overnight train to Tbilisi from Yerevan (Armenia) and Baku (Azerbaijan).
By plane:
There are three airports where you can enter and exit Georgia internationally: Tbilisi, Kutaisi, and Batumi. To find the cheapest flights, you might wanna eye Kutaisi: WizzAir operates in and out of there.
Being the country's commercial capital, Tbilisi receives the greatest amount of air traffic, and has the most options. The majority of flights into Batumi are seasonal.
Entry Requirements for Georgia
Though Georgia is not an official member of the European Union, it still maintains strong political ties with the organization and offers very convenient travel to its citizens. Holders of an EU identification card don't need a passport to enter Georgia.
Citizens of most other Western nations not from the EU need only a passport to start backpacking around Georgia visa-free for up to a year. Visas come either in the form of a stamp at customs or an e-Visa.
A large number of countries do require visas to gain entry to Georgia. For most of these countries, an e-Visa is sufficient, but a select few will have to visit the Georgian embassy to get a visa.
Transportation in Georgia can be quite an adventure. During my time there, I only saw a couple of modern, big buses gracing the roads: mostly you'll be relying on small white minivans or chaotic local drivers.
In urban areas, travel has never been easier. Modern public buses can be found in the larger cities and should never cost more than a single lari.
Most buses display their routes in both English and Georgian; there is usually a brief explanation of these routes at the stop as well. Buses in Tbilisi are monitored by and registered with Google Maps so arrival and commuting times are updated live.
Hitchhiking in Georgia
Hitchhiking in Georgia is very safe, and a great way to meet locals. Georgians love having guests: don't be surprised if a Georgian invites you to dinner or offers you copious amounts of alcohol after giving you a lift.
Georgians do have a reputation for being overly aggressive while driving. Add to this the many refurbished foreign cars from abroad that have the wheel on the wrong side – meaning that the driver often has limited visibility. Yikes!
One time, I hitched a ride with a guy with his arm in a sling. He was very happy to zoom down the road at a very fast and furious speed one-handed.
A word for solo female travellers as well: as safe as Georgia is, I had a couple of uncomfortable experiences primarily with younger Georgian men picking me up. Maybe it was just bad luck but I'd recommend keeping your spidey senses at even higher alert than usual.
Onwards Travel from Georgia
Most backpackers only make it to Georgia. If you're already in the area, though, why not extend your trip and go backpacking the whole Caucasus?
The other two Caucasus countries are located south of Georgia. Armenia has similar visa regimes as Georgia, meaning that if you could travel to Georgia without a visa, you'll likely get easily into Armenia as well. Armenia is a dreamland for offbeat hikers, and visiting Yerevan is just as awesome as visiting Tbilisi.
Azerbaijan has less to see but it's still a cool place to check out, full of strange and beautiful things. You do need a visa to enter Azerbaijan but it's cheap and easy to get online.
Just note that if you're planning on travelling all over the region, it's best to visit Azerbaijan before Armenia. The two are in ongoing conflict (note – you'll still be safe travelling there!) and you might get questioned intensely if you've been in Armenia before stepping foot into Azer-B.
Another option would be to head west to Turkey. You can even get a direct bus from Tbilisi to Istanbul if your bum can take the 30-hour drive.
It is also possible to continue on to Russia through the entry point in north Georgia in Kazbegi. This is a pretty unpopular route for international backpackers but it's possible. Make sure you double-check visa requirements and triple-check that the border is open for international travellers – entering Russia is not always the easiest task.
One more idea: Iran. This fantastic, safe, cheap destination is an amazing experience for backpackers. You do need to sort out your visa beforehand and it can be a bit of a process but it's not too tough to secure it, and crossing from Azerbaijan or Armenia to there is fairly simple.
If you're flying out, lots of travellers continue backpacking to Israel since you can find super cheap flights to Tel Aviv from Tbilisi.
Fell in love with the Caucasus and now you want to stay there longer? I really can't blame you!
If you start looking for job opportunities in the Caucasus, you'll soon notice it's not exactly easy to find work as a foreigner. Both local and international companies prefer to hire Georgian employees. Even in Tbilisi – the country's economic heart – there aren't many positions available.
Some international companies and organisations do have locations in Tbilisi. Often the best way to find work at them is to directly contact them since vacancies might not be heavily advertised. If you want to work for a Georgian company, you need to get a long-term visa.
The Digital Nomad Scene in Georgia
Living in Tbilisi is one of the BEST digital nomad experiences. If you're looking for the best places in the world for digital nomads, look no further. And no, I'm not just biased! Well, not entirely.
Tbilisi for digital nomads is dope. It has great wifi, tons of nomad-friendly coffee shops and co-working spaces, heaps to do, and an affordable lifestyle. On top of that, the local nomad community is absolutely thriving.
When I was there a few years ago, the nomad scene was quite new. Now, Tbilisi constantly ranks on top of many digital nomads' favourite cities.
In addition, Georgia is actively encouraging digital nomads to move there. The Remote Georgia programme allows you to stay from 180 days to a year.
Or, you know, you can just get the free visa on arrival. Freelancers (yes, that includes digital nomads!) are allowed to work remotely in Georgia with just the basic tourist visa.
There have also been initiatives that allow digital nomads to work in the same offices as Georgians to help them integrate, international events, and other accommodations to help digital nomads feel welcome. So, if you're only taking the first steps in becoming a digital nomad, Tbilisi could be your spot.
Teaching English in Georgia
Like I mentioned earlier, finding a job in Tbilisi can be tough – unless you want to teach English.
The Georgian government is working hard to raise the level of English spoken in the country, and English is becoming more and more important in local business. This means good opportunities for English teachers who can actually earn a pretty nice income in Tbilisi.
Make sure you have your TEFL certification before travelling. Finding a job teaching English abroad is much easier with the right qualifications.
Broke Backpacker readers also get a 35% discount on TEFL courses with MyTEFL (simply enter the code BACKPKR).
Volunteering in Georgia
Volunteering abroad is an amazing way to experience a culture whilst giving something back. There are loads of different volunteer projects in Georgia ranging from teaching to animal care, agriculture and hostel work – pretty much everything!
For hikers, one of the coolest opportunities to volunteer is with the folks at The Transcaucasian Trail. This trailblazing group of trekking enthusiasts has been working tirelessly to establish and mark new trails in Georgia and Armenia. If you're planning on some hiking already, why not help them build some trails in the process?
EU citizens won't need a visa to volunteer in Georgia for less than 90 days, but most travellers are better off applying for a temporary resident permit.
There are many online platforms like Workaway for finding volunteer opportunities. At The Broke Backpacker, we LOVE Worldpackers. It's one of the best work exchange sites out there with great volunteer opportunities, a communal platform to share your experiences, and a company that actually cares about you.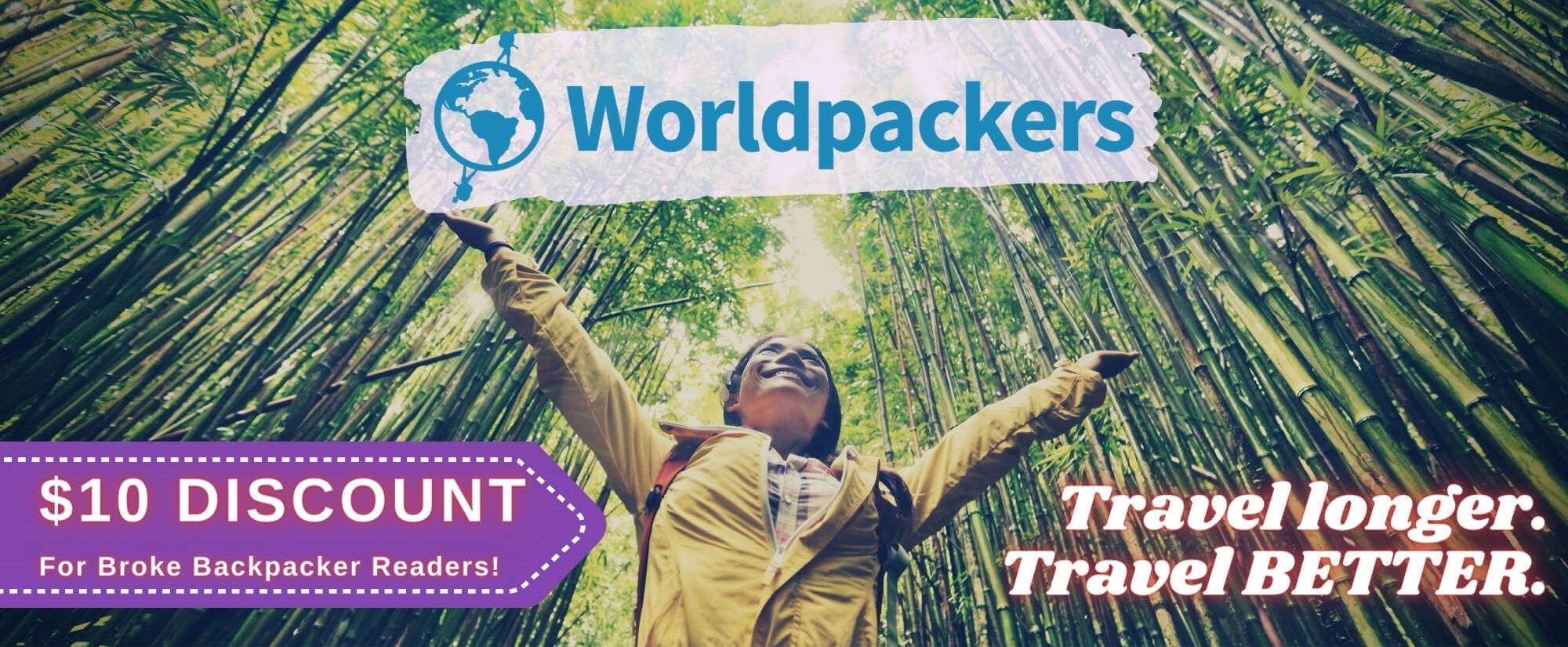 Worldpackers: connecting travellers with meaningful travel experiences.
Georgian hospitality really is some of the best in the world. Hell, a common Georgian phrase is "a guest is a gift from God" – that's saying something!
Whether it's welcoming visitors to their family feasts or picking up a desolate hitchhiker on the side of the road, people in the Caucasus are known to welcome travellers with open arms.
Especially in Georgia, you might get invited to a feast with a local family. Georgia has a very special toasting culture: there is a toastmaster at the table called the tamada. This is usually an older man of the family who leads toasts throughout the dinner.
And you're supposed to toast to everything. Good health? Friendship? Getting the pothole fixed on your driveway?
Raise your glasses, ladies and gentlemen. The word for cheers might be the most useful one in your Georgian lexicon: gaumarjos!
Traditions still play a big part in everyday lives. Maybe it's the centuries-old culture, maybe the overarching Christianity, maybe just general conservative mindsets… Outside of cities, Georgia is still pretty rural.
In large parts of Georgia, people still lead very traditional lives farming, herding sheep, and making crafts, even if tourism has somehow crept into that tapestry of old ways.
Useful Travel Phrases for Georgia
The first thing you'll probably say when seeing the written Georgian language is "wtf is this?"
The Georgian alphabet is a non-Latin based system (it's closer to Greek actually) with multiple scripts. When written, it kind of looks like a cross between Russian and Thai. I honestly think it's a very pretty script; a woman on a walking tour I took in Tbilisi said it looked like butterflies.
Because Georgia is a former member of the Soviet Union, speaking Russian also helps when backpacking Georgia.
Still, it's always nice to have a phrase or two to offer when you're travelling somewhere. Here are a few that might be useful:
What to Eat in Georgia
Oh my god. The food. THE FOOD!!! A small trail of drool starts to run from my mouth every time I think back to the food I had in Georgia…
You might actually already be a little familiar with Georgian food since Georgian restaurants have started popping up all over the place. The food is very hearty, filling, and carb-heavy.
Streets in Georgian cities are dotted by little hole-in-the wall bakeries selling cheap, greasy goodies. Meat is baked in small clay pots together with vegetables and potatoes. At dinner tables, they're served with different sauces, pickled condiments, and pomegranate seeds.
Georgian cuisine is not super veggie-friendly. Most of the vegetable-based dishes I found were eggplant-heavy so you might get a little sick of the aubergine by the end of your trip.
One thing to know about eating khinkali. These broth-filled dumplings are a staple in Georgian cuisine, and there's an art to actually eating them. Grab it by the dough nub – khinkali are not eaten with utensils – and don't eat the nub in the end. Not only because it will make you look like a total tourist but also because it's raw dough, and messing up your stomach is not the holiday souvenir you want.
Must-Try Dishes in Georgia
Georgian food is cheap so you'll easily be able to test out all the delicious, delicious Georgian meals.
A Brief History of Georgia
Lying at a geographic crossroads between Europe and Asia, Georgia has seen the rise and fall of some of the world's greatest civilizations. Imperial Rome, the Ottomans, and the Soviet Union all touched this land. Even the legendary Jason and his fellow Argonauts had supposedly visited Georgia, when it used to be known as the Kingdom of Colchis.
Medieval Georgia was subject to many foreign invasions. Starting around the 4th century AD the Caucasian monarchs began to convert to Christianity in the midst of these intrusions. Following the expulsion of Arab powers around the 10th century, the Kingdom of Georgia was founded, and the "Golden Age of Georgia" began.
The Kingdom became a powerful entity and controlled much land between the Black and Caspian Seas. The Kingdom of Georgia lasted five hundred years until it collapsed following numerous invasions by marauding Eurasians and the Black Death.
During the latter half of the millennium, the Caucasus was caught between warring Middle Eastern powers. When the Russian Empire emerged, Georgian aristocrats saw it as a means to escape Persian and Ottoman hegemony.
Georgia sought Russian assistance on several occasions, but these efforts proved to be pointless. Persians continued abusing the region with increased ferocity while Russia did nothing to intervene, besides slowly absorbing Georgia into its own territory.
Even following the collapse of the Russian Empire, Georgia barely had a moment of freedom. Four years of the Russian Revolution, the Soviet Union took Georgia.
Unsurprisingly, life did not improve for the Georgians under Soviet rule. It wasn't until the fall of the Soviet Union, in 1991, that Georgia was finally able to gain independence.
I don't dare to Ctrl + F for the keyword "mountains" in this post. I think I've made it clear enough that Georgia has mountains, and they're AWESOME.
The Caucasus Mountains are absolutely gorgeous. They are comparable to a not-so-distant geographic cousin, the Alps.
Both are mighty chains and offer similar attractions, but the Caucasus are higher, wilder, and offer far more enriching experiences. If you're sick of the tangled mess of gondolas and overpriced huts, you'll find the Caucasus a welcome change.
There is simply no end to trekking opportunities in these mountains. New trails are constantly being set. There's even a movement to connect the bulk of the Greater and Lesser Caucasus – from Georgia to Armenia – via the Transcaucasian Trail (TCT).
Wild camping is allowed in Georgia and it's easy to find a great place to camp so I would definitely recommend bringing the good ol' tent. Popular hikes do have guesthouses so you don't necessarily need it, but to go off the trodden trail at all, you'll definitely need your own camping gear.
The Best Hikes in Georgia
Here are some of the best hikes in Georgia.
Gergeti Glacier, from Stepantsminda, Kazbegi (1 day) – A straightforward day hike from the main village at the base of Kazbegi to the lower the glacier covering its flanks.
Chaukhi Pass, from Juta to Roshka, Kazbegi-Khevsurheti (1-2 days) – Offers spectacular views of the Chaukhi Massif, aka the "Georgian Dolomites," and the tri-colored Abudelauri Lakes. Hikers can cover the trail in a day if starting in Juta but the walk is way better if you overnight on the trail.
Walking from Mestia to Ushguli, Svaneti (4 days) – One of the most well-known (and best!) treks in Georgia that offers views of the highest mountains in Europe, and chances to stay in lovely local guesthouses.
Asunto Trail from Omalo to Shatili, Tusheti (4-5 days) – Connecting Omalo (Tusheti) to Shatili (Khevsureti) involves some village lodging, but wilderness camping will be necessary at times. Bring a tent!
Ushba Glacier, from Mazeri, Svaneti (1 day) – A great hike to the glacier of Georgia's most uniquely shaped mountain, Ushba, that begins pleasantly and ends in a steep climb.
Is Georgia worth visiting? Is Georgia cheap?
Should you have read the whole travel guide to Georgia before skipping to this section? Yeah, probably. But in case you still had questions about backpacking Georgia, I've got answers.
So, there we have it: the ultimate budget travel guide to Georgia!
One thing I've only briefly mentioned in this guide should be mentioned again now that I'm sending you off: Georgia's sour-ish relationship with Russia. When I was in Tbilisi a few years ago, anti-Russian protests flared up around the city, including authorities using tear gas and rubber bullets to control the crowds.
I'm not saying any of this to put you off Georgia. The opposite actually, I felt completely safe there (as long as I stayed away from the protests). It does go to show, though, how viciously Georgia is emerging from its past and rocket-launching itself into modern times.
Tbilisi is not just a town of dilapidated Soviet mementoes and rickety old houses, as the ultra-modern structures and luxury hotels along the river prove. A few years ago, the new Georgian president fired basically 90% of the police forces and replaced them with new officers, basically eradicating corruption.
Traditionally, Georgia might be a conservative nation, but its masses of young people are fighting to reform the country's antiquated attitudes. Georgia is tentatively trying to get into the EU – we'll see if that is possible or will Russia's feathers be too ruffled.
So, come to Georgia expecting old treasures and ancient beauty – but don't expect a backwards place with musty attitudes. I love Georgia with all my heart; it's easily in my top 5 countries. And if you give it a chance, you might soon feel the sweet wines and Tbilisi sunsets tugging at your heartstrings, too.
---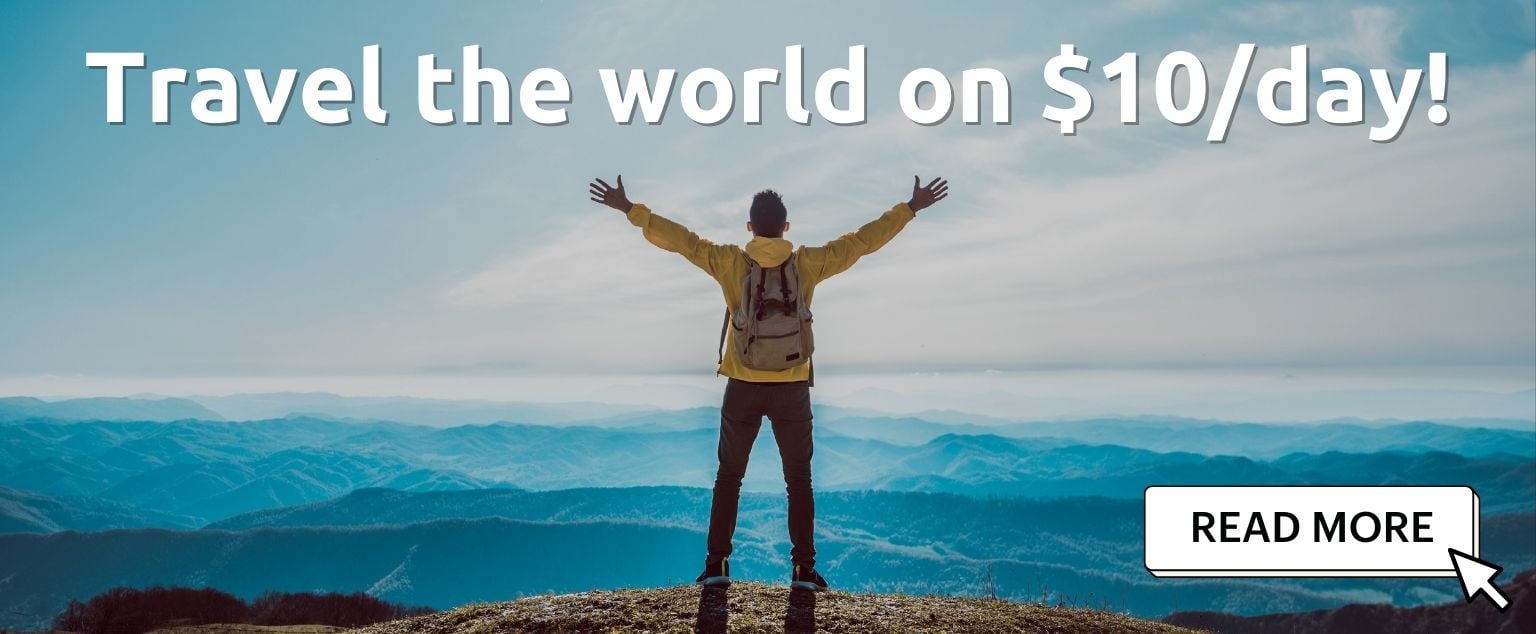 And for transparency's sake, please know that some of the links in our content are affiliate links. That means that if you book your accommodation, buy your gear, or sort your insurance through our link, we earn a small commission (at no extra cost to you). That said, we only link to the gear we trust and never recommend services we don't believe are up to scratch. Again, thank you!