The capital of Georgia is the perfect place to get to know the history and culture of this fascinating country. Almost a third of the country's population live here, so it's a great place to get to know locals too, and maybe even practice your first few words in Georgian.
Tbilisi has an envious location at the crossroads of Europe and Asia. So, you'll see examples of both Persian and Russian architecture, evidence of its long and complex history! There are more than enough places to visit in Tbilisi in 3 days, in fact, you may find there's enough to do for a week.
In this article, we'll take a look at the best places to visit in Tbilisi. Hopefully, our extensive list will be helpful when it comes to planning your trip to the Georgian capital. As well as the standout attractions that are the biggest tourist draws, we've included a few off the beaten track gems too!
Need a place quick? Here's the best neighbourhood in Tbilisi:
Of all the amazing places to stay in Tbilisi, Vake is the top pick.
BEST AREA IN TBILISI
Vake
Vake was once the area of Tbilisi that the rich and the elite called home. It was where all the politicians bought and built their huge houses.
Places to visit:
Go for a run at Vake park or just hang out on the swing set
Catch a music show at Backstage 76 located in Vake Park
Soak up some sunshine and take a dip in the Vake Swimming Pool
These are the BEST Places to Visit in Tbilisi!
Knowing what to do when you visit Tbilisi is only half the equation. There are oodles of great accommodation options just waiting for you to check-in so we've made it a little easier for you and compiled the best places to visit.

Unlock Our GREATEST Travel Secrets!
Sign up for our newsletter and get the best travel tips delivered right to your inbox.
#1 – Tbilisi Old Town – One of the most amazing places in Tbilisi!
Get lost in a maze of narrow streets and colourful houses
Duck into a bar or a kinkhali house and experience some local hospitality
Experience the charm and character of one of the most famous places in Tbilisi
Why it's awesome: The area in between the sulphur baths, Narikala Fortress, and Liberty Square is probably the most charming area in the whole of Georgia, never mind just its capital. You could spend hours, if not days, getting lost just wandering the narrow streets of the Old Town. Hidden away in this colourful and characterful district, you'll find some of the best places to eat in Tbilisi, cool coffee shops, galleries, and an awful lot of cats! There are some important religious spots in the Old Town, including Jumah Mosque – the only Mosque in the world where Sunni and Shia Muslims pray together.
What to do there: It sounds like a cliché, but just wandering around is half the fun of the Old Town. When you get tired, you're never more than a few steps from a coffee shop or a bar. There, you can experience some real Georgian hospitality! Don't miss trying speciality kinkhali dumplings either – a Tbilisi must do. Also, look out for the ateshgah, a Zoroastrian fire temple that dates all the way back to 200AD. There are some other cool historic places in the Old Town that you can read more about later in our list.
#2 – Mtatsminda Park – A beautiful outdoor place to visit in Tbilisi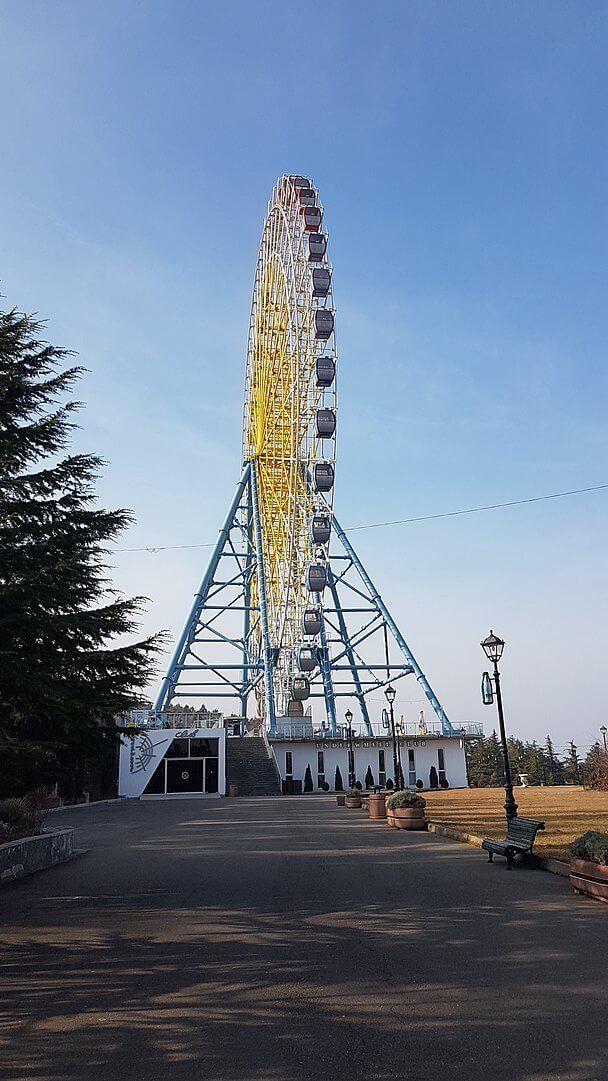 Get outstanding views of the city from the city's TV tower
Explore Tbilisi's highest point – the park's Ferris wheel
A lovely romantic place to go with your other half
Why it's awesome: This is one of the best places in Tbilisi if you want to escape the hustle and bustle without really leaving the city. The highest point of the Georgian capital, Mtatsminda Park offers lots of things to do and see and you could spend an entire day up there. As well as the TV Tower, there's also a dinosaur park and a fairground. Try the carousel, the waterslides, and the rollercoaster before rounding off your trip there on the Ferris wheel. It's the highest point in Tbilisi and has excellent views of town! In fact, you could stay in a hostel nearby to make this view a permanent fixture of your morning routine.
What to do there: Wherever you go in Mtatsminda Park, you'll get fabulous views of the city, so take some snaps! We're sure that you'll gain a few more Instagram followers with your stunning shots from here. If you're travelling with kids, the amusement park is a Tbilisi must do, as is the dinosaur park. However, if it's just you and your partner, why not surprise them with something really romantic? The Funicular Restaurant is one of the best places to eat in Tbilisi, due to the stunning views and fine food!
#3 – Tbilisi Sulphur Baths – One of Tbilisi's coolest historical sites
Relax for a couple of hours in hot baths – even in the coldest months of the year
Learn where the city gets its name from
One of the most relaxing points of interest in Tbilisi
Why it's awesome: Did you know that Tbilisi means warm in ancient Georgian? Neither did we until fairly recently. However, that name comes from the sulphur baths, which are what the city was founded on. Nowadays, they're one of the most popular attractions in Tbilisi. The brick domes on the edge of the Old Town have hot baths, saunas, and even private rooms with masseuses. One thing's for sure, they'll certainly be a relaxing escape for a couple of hours!
What to do there: If you've been on the road for a while and you feel in need of a bit of TLC, visit the Sulphur Baths! This Tbilisi must do is not only fun and relaxing, but the minerals in the water are good for your skin and overall health. You can book private rooms in the baths too. So, if you're looking to splurge, you'll get a refurbished and luxurious experience with hot and cold baths and a sauna. If you're on a budget, it can be just as rewarding, as you'll experience an old Soviet-style room.
#4 – Rezo Gabriadze Puppet Theatre and the Leaning Tower of Georgia – One of the unique places to see in Tbilisi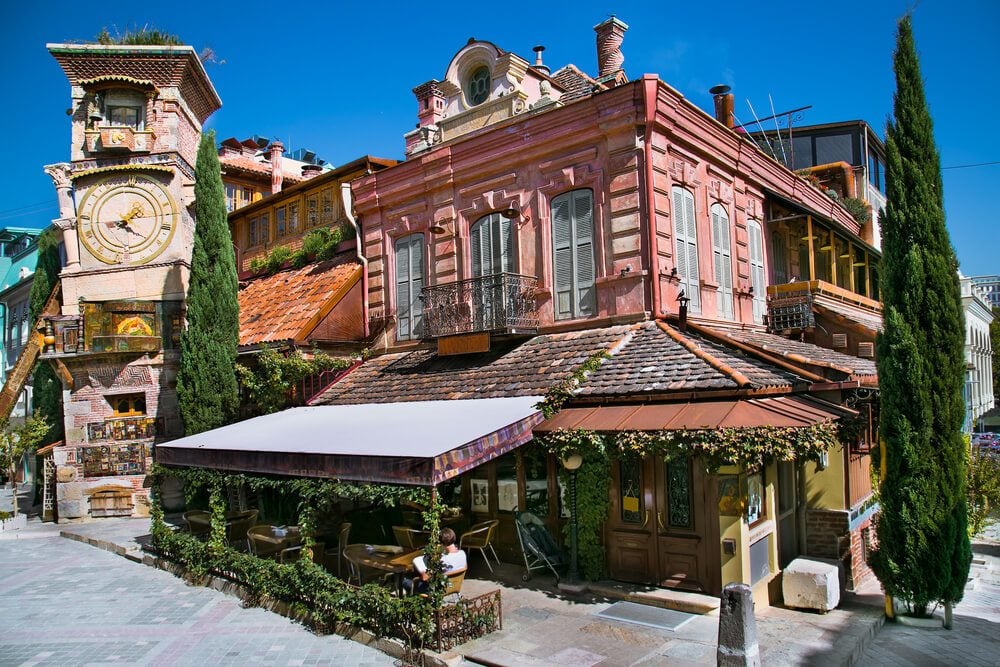 Be awestruck at the dilapidated Leaning Tower of Georgia
See a highbrow drama enacted by… puppets
One of the most unusual things to do in Tbilisi
Why it's awesome: It may only be a small venue with space for 80 people, but the Rezo Gabriadze Puppet Theatre is one of the most important parts of Tbilisi's cultural scene. The theatre is named after one of the most famous Georgian playwrights in history. He also happened to be a film director, painter, and graphic artist. Quite a busy man. On top of all this, he designed the Leaning Tower of Georgia. A part of the puppet theatre, it's actually a modern structure made up of abandoned pieces of buildings from the Old Town and buildings destroyed by earthquakes. Definitely a gem if you're backpacking Georgia or something.
What to do there: We'd definitely recommend seeing a show at the puppet theatre. Gabriadze's performances are critically acclaimed after all! Puppets were used so as not to attract the attention of Authoritarian rulers, but they tell seriously moving and historical stories. One of the most famous is the Battle of Stalingrad. On the hour every hour, the clock tower shows a Tbilisi must-see too. A screen on the clock tower shows the circle of life when an angel comes out and rings the bell. This is one of the more unusual attractions in Tbilisi, but certainly worth a few hours of your time!
#5 – Narikala Fortress
Fortress that dates back to the 4th century AD
Take the cable car up to one of the most recognizable landmarks in Tbilisi
Another spot where you can get outstanding views of Tbilisi
Why it's awesome: Wondering how to see Tbilisi from above? Well, if you find Mtatsminda Park is a little too much of a trek, here's a cool alternative. Narikala Fortress is on the edge of the Old Town, so if you've spent the day there, this is a great place to combine into that day. Dating all the way back to the 4th century AD, it used to have a Persian citadel inside! It was expanded upon in the subsequent 1500 years before being damaged by an explosion. Nowadays, you can hike to the top of the fortifications of one of the most famous places in Tbilisi!
What to do there: If you are planning to hike up to the fortress, do be careful as sections near the top can be slippery and quite hazardous. If you just want to enjoy the views, you can take the cable car up and not have to worry about any of that! For any thrill-seekers out there, you'll find undoubtedly one of the coolest attractions in Tbilisi. From the Fortress, you can take a zipline down to the botanical gardens. Without a doubt one of the coolest ways to get around town!
#6 – Mother Georgia Statue
One of the most important landmarks in Georgia
Offers panoramic views over the city
20 metre aluminium statue guarding over the capital
Why it's awesome: Turns out there are a hell of a lot of viewpoints around Tbilisi! Right next to Narikala Fortress is another Tbilisi must-see. The Mother Georgia Statue, aka Kartvlis Deda. Standing atop Sololaki Hill, the 20-metre-tall aluminium statue was designed to celebrate the city's 1500-year anniversary. It depicts a woman in Georgian National Dress holding two things in her hands. In her left, there is a bowl of wine to greet friends, while in her right there's a sword to deter enemies. One of the best Tbilisi vacation ideas if you want to learn about the national culture and get some good views!
What to do there: Well, at the statue you'll probably want to take pictures and admire the views! So, really, it's more about how you get there than what to do when you're actually there. If you're feeling fit and active, you can walk up to the city. However, if you'd prefer something more relaxed, why not take the cable car up? It only costs 1 lari, and the ride over the Old Town gives you a different perspective of one of the most famous places in Tbilisi!
#7 – Tbilisi AutoMuseum
One of the largest collections of Soviet cars in the world
Hidden away in an under-visited part of town
Take a guided tour to learn more about the vehicles
Why it's awesome: When you explore Tbilisi, it's not much fun if you don't get off the beaten track. Hidden away in a neighbourhood rarely visited by tourists, you'll find the Tbilisi AutoMuseum. If you're into cars, you can't miss this off your Tbilisi itinerary. It's the largest collection of Soviet cars in the Caucasus region! Not only will you see luxury vehicles owned by Soviet leaders, but the first Soviet pickup and many cars abandoned in small villages.
What to do there: To really learn about the cars, take a guided tour. The guides are extremely knowledgeable and enthusiastic, and while it may sound a little dull if you're not into your cars, the fact that each car has its own story of how it came to be at the museum is certainly intriguing. The private collection of cars and motorbikes is definitely one of the more unusual attractions in Tbilisi, but it's definitely worth visiting to see a different branch of Soviet history!
#8 – Chronicles of Georgia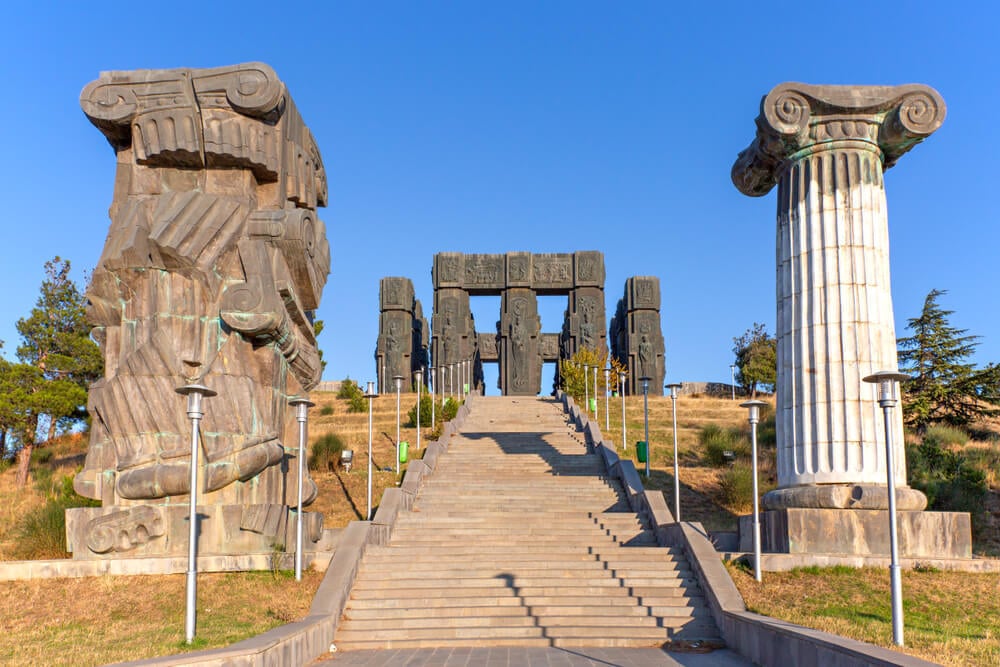 Visit the 'Georgian Stonehenge'
A 30 meter tall statue that's rarely visited by locals or tourists
A great idea for what to do in Tbilisi if you're looking for peace and quiet
Why it's awesome: It might sound like a fantasy novel series, but it isn't. No, the Chronicles of Georgia are one huge statue outside of the city centre. Often referred to as Georgian Stonehenge by the locals (the ones that have actually been to see it), the 30 metre statue is covered in depictions of Georgian royalty, myths and legends, and scenes from this country's complicated history. There are even some biblical scenes close to the bottom of the pillar!
What to do there: There's every chance you'll have one of the most incredible landmarks in Georgia to yourself, so take advantage of that. It's another spot where you'll be able to get fantastic views of the city, and also the "Tbilisi Sea". Although locals call it the sea, it's actually a lake. This is a great place to go if you're wanting some peace and quiet away from the city for a day, as you can sunbathe on its shores and swim in the waters!
#9 – Dry Bridge Flea Market – A great place in Tbilisi if you love to shop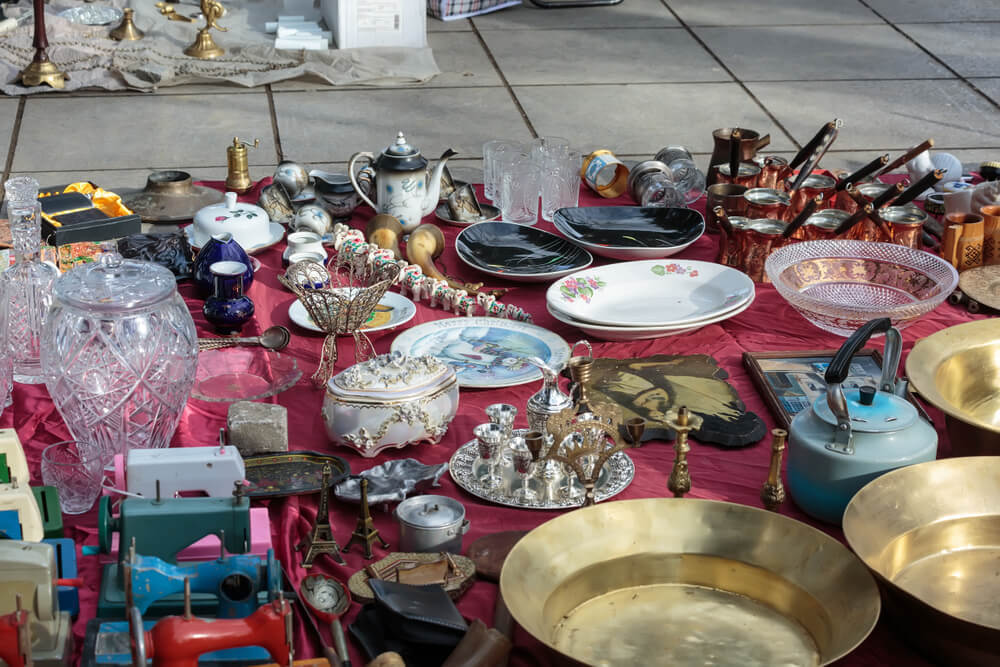 Get a totally unique souvenir for your loved ones back home
Get your haggling hat on!
Open daily but most popular on the weekends
Why it's awesome: You can go high street shopping anywhere in the world. However, if you want something truly unique, head to the Dry Bridge Flea Market. You're bound to find something that you definitely wouldn't in your home country! Whether it's vintage Soviet antiques, jewellery, or just stuff for around the house, you'll find it here at the Dry Bridge Flea Market. Although nowadays it's a cool spot to pick up some souvenirs, historically the story isn't quite so happy. People used to come here in the "days of survival" to make a little cash on their belongings.
What to do there: While you're here, it'd be rude not to pick up some cool souvenirs. Whether that's for yourself, or for friends and families back home. However, the local sellers can spot a tourist from a mile off and you'll definitely have a few lari bolted onto your price! Make sure you haggle or even better go to the market with a Georgian friend if you have one!
Is This the Best Daypack EVER???
#10 – Bank of Georgia Headquarters – A great place to see in Tbilisi if you love architecture!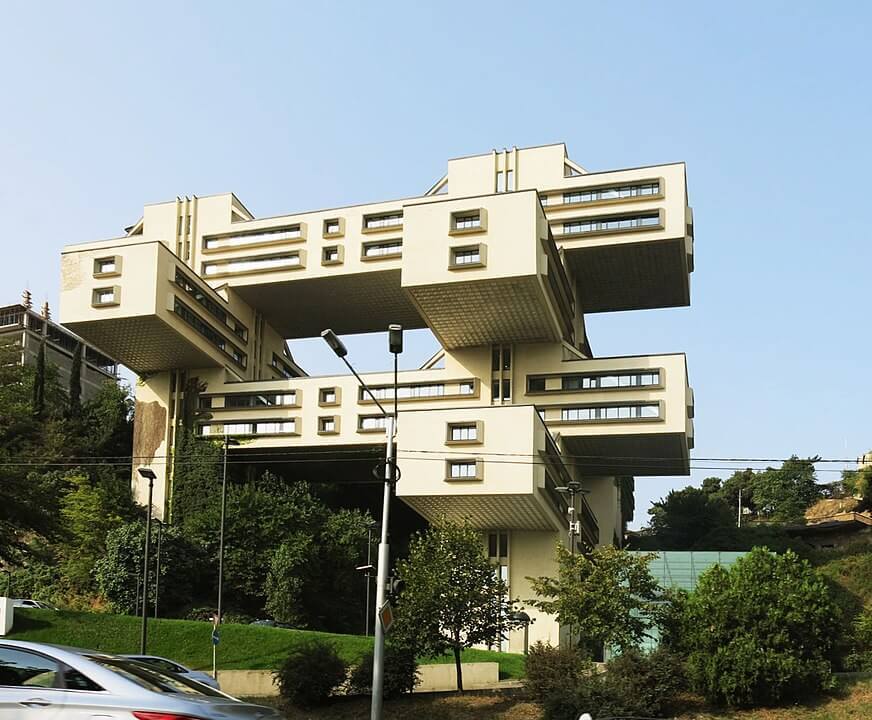 An unusual design which allows foliage to grow underneath the building
An example of Russian constructivist architecture
One of the most unusual attractions in Tbilisi
Why it's awesome: It may just look like a random collection of boxes at different angles on first glance, but there's method to the madness of the Bank of Georgia headquarters! South of the city centre, you may think this looks like an impossible Lego structure made by a child, or even a Transformer midway through the change. However, this cool and unusual building is an example of the 'Space City Method' of architecture. It allows plants to grow beneath it!
What to do there: There's really not much to go into the building for, since it's the headquarters of a bank. However, it's worth visiting just because this is one of the most unusual examples of Soviet architecture there is anywhere, let alone just in Georgia. Although it's based on ideas from the 1920s, it wasn't opened until 1975. Nowadays, opinion is split on the building. Go there and make your own mind up! One thing's for sure, it's one of the most outstanding landmarks in Tbilisi!
Get insured for your trip to Tbilisi!
ALWAYS sort out your backpacker insurance before your trip. There's plenty to choose from in that department, but a good place to start is Safety Wing.
They offer month-to-month payments, no lock-in contracts, and require absolutely no itineraries: that's the exact kind of insurance long-term travellers and digital nomads need.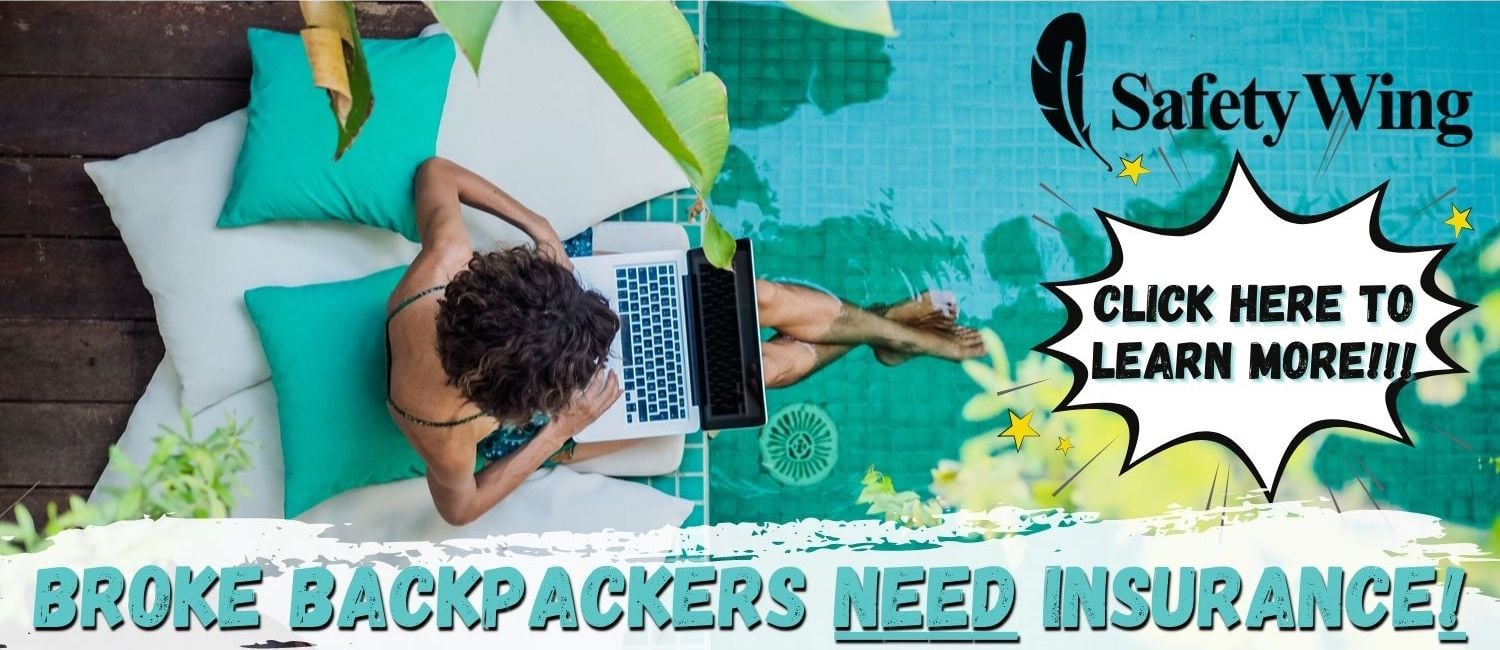 SafetyWing is cheap, easy, and admin-free: just sign up lickety-split so you can get back to it!
Click the button below to learn more about SafetyWing's setup or read our insider review for the full tasty scoop.
FAQ on the Best Places to Visit in Tbilisi
Find out what people want to know about the best places to visit in Tbilisi
Final Thoughts
So, that's all from our list of the best places to visit in Tbilisi. We hope that you've found our extensive list helpful and that you've got some ideas for your Tbilisi itinerary! The capital isn't all serious and historical monuments, it definitely has a fun side too.
It would definitely be easy to stay for a week or even longer in Tbilisi, especially if your travel plans aren't fixed. But even for the shortest trips, make sure you have our list of the best places to visit in Tbilisi at hand. It'll save you a lot of stress when you're mapping out what to do. And it'll give you a hand when picking the best places to stay too!
So, now that you know about the best places to visit in Tbilisi, let us wish you a fantastic vacation. We hope you have a great time!
---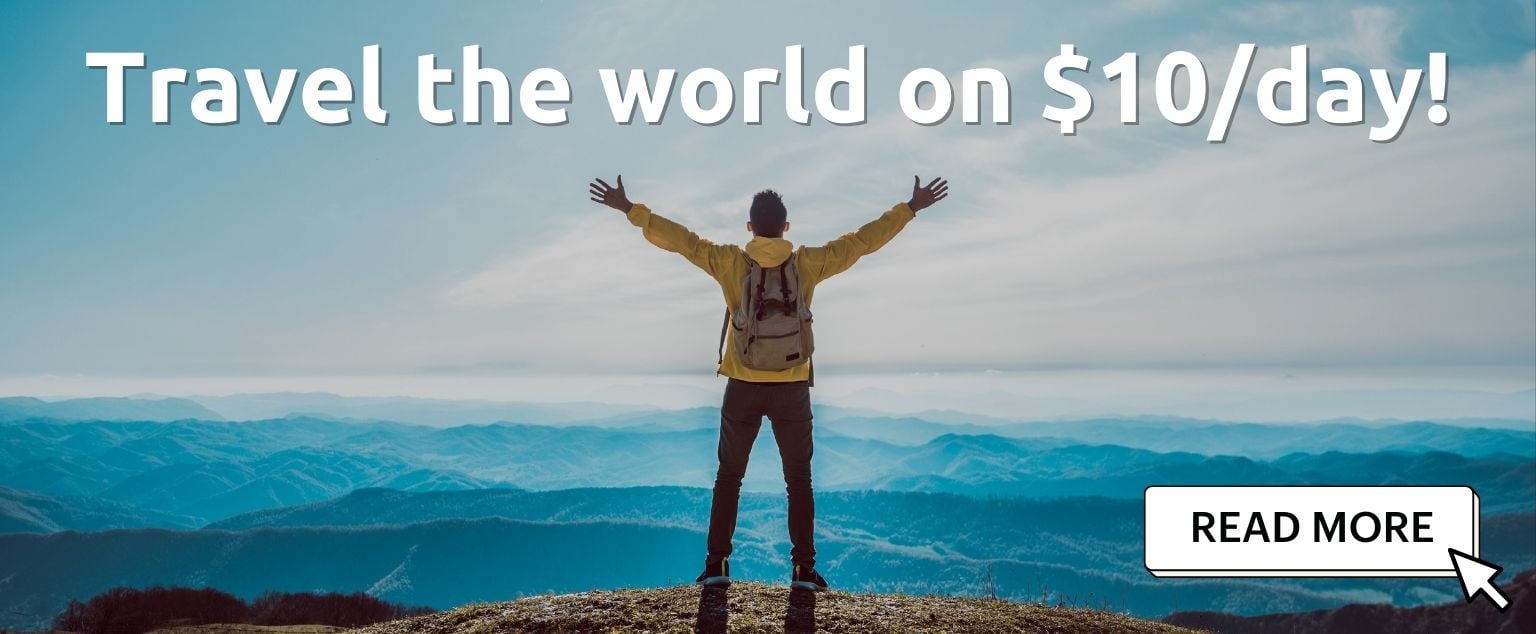 And for transparency's sake, please know that some of the links in our content are affiliate links. That means that if you book your accommodation, buy your gear, or sort your insurance through our link, we earn a small commission (at no extra cost to you). That said, we only link to the gear we trust and never recommend services we don't believe are up to scratch. Again, thank you!