There's nothing like waking up to the sound of native birds, just above the treeline. Then you fire up the camping stove and make a piping hot cup of coffee. Hiking and sleeping outdoors is something truly special. 
I have travelled for years with a sleeping bag and hammock. It opens up the world and a complete sense of freedom. But, there is a consistent problem with the great outdoors: how to get a good night's sleep? 
Well, all you need is a good sleeping system! This is simply a few pieces of good quality gear that work well together. Then you are ready to take on the sub zero alpine conditions and the furnace of the jungle.
Everyone on the Broke Backpacker team has spent many years on the road and sleeping outside. From the alpine environments of the Pakistani mountains, to the desert of Western Australia, to urban camping – we've done it all! 
We know the gear that works, and the way to get everything working together like a well oiled machine. 
So look at the great outdoors and get dreaming and get scheming. Because I've got you covered in getting you to rest easy!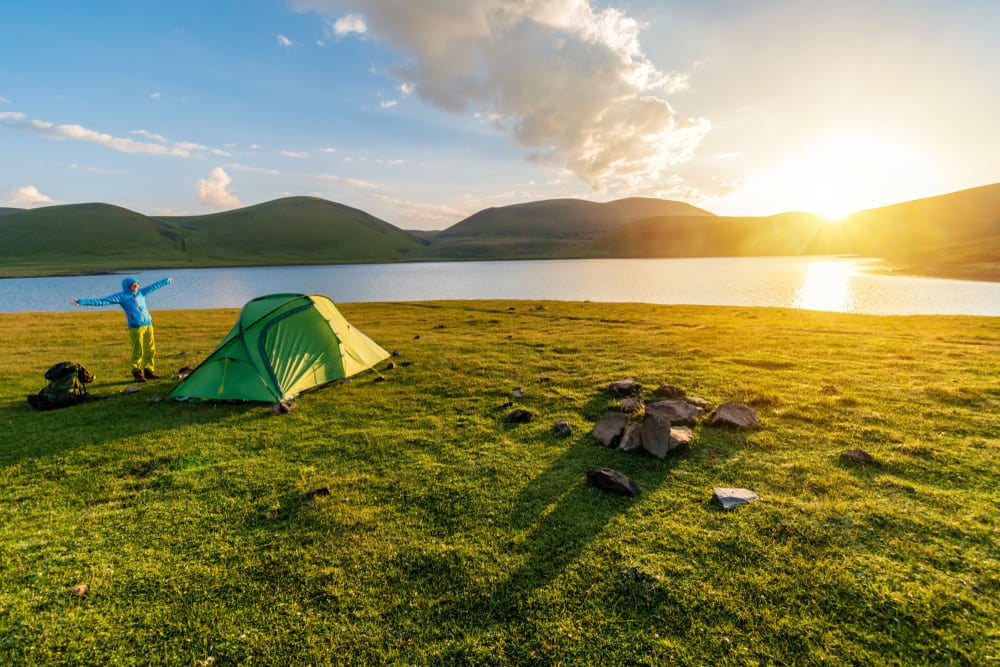 What is a Sleep System and Why Do I Need One?
When you are hiking or backpacking in the wilderness or having an epic bucket list adventure – you need a good sleep system! This refers to individual components that you use to sleep but also the way they complement each other. You need all the parts to work together to get the best effect.
Your sleeping equipment is also going to be the heaviest part of your pack. It's important that you understand what you're packing and why you're packing it.
You shouldn't skimp on a quality system. Yes, you want to be comfortable and well-rested but – especially in cold climates – it can become a matter of survival, too.
Other systems are important to backpacking: cooking, clothes, navigation, and of course, the best way to pack all your gear. But you're here to read about the best sleeping system…
So let's get into it!
Here's the best gear for your sleeping system, and the way to get it running together like a dream to give you the good zzzs!
Summer Backpacking Sleep System
Summer sleeping is easy breezy! Just swim when you get hot and sleep naked, right?
Well, it's not as gear-intensive as a winter backpacking sleep system, but you should still put some thought into it. Just because you might not freeze to death doesn't mean you don't have other obstacles! Keeping away bugs (important if you're sleeping in the jungle or areas prone to dengue) and getting your core temperature low enough to get a good sleep are essential.
It's worth having a separate summer or hot weather sleeping system. Because it is less gear-intensive, you should be able to have a lighter pack. Even the best hiking backpacks are more effective when they weigh less. But you know that!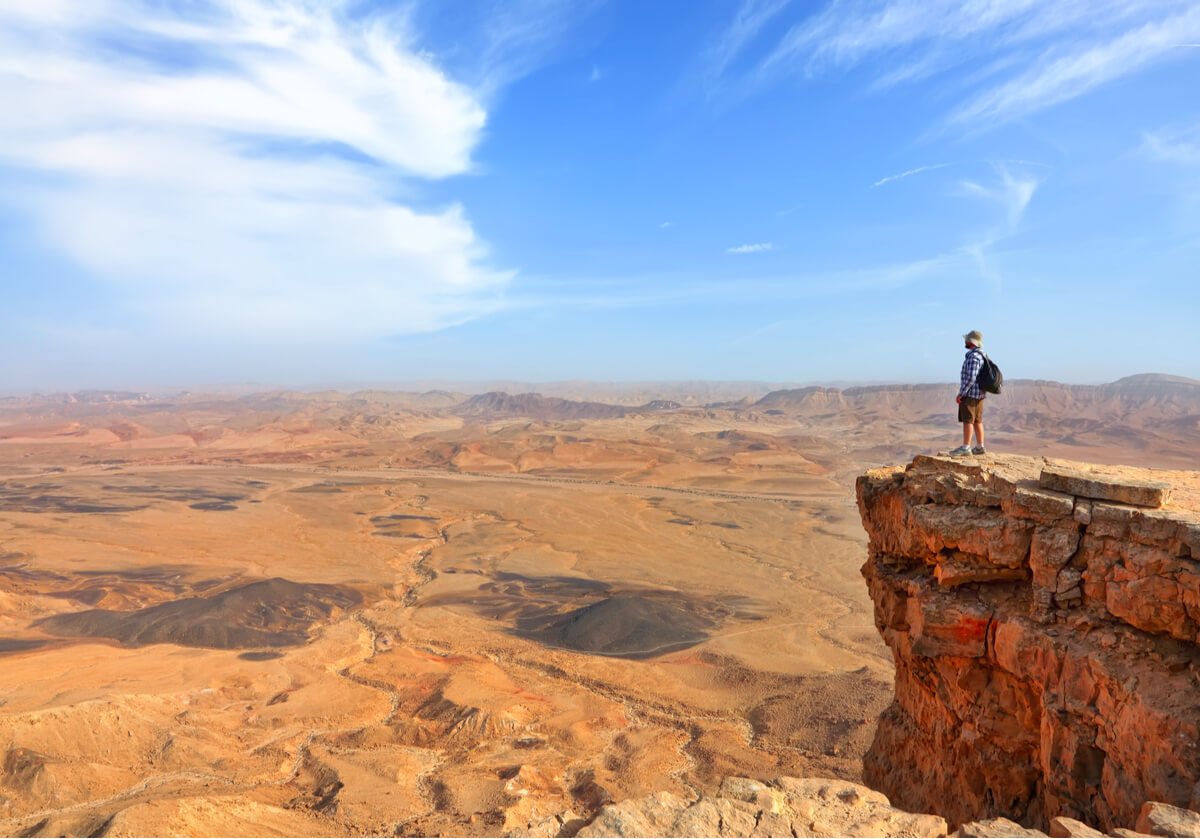 Everyone will come up with a summer backpacking sleep system that works best for them. As a beach bum who has also spent time jungle camping and desert camping, I've noticed a couple of things that help sleeping outside in summer easier.
Breathability – The worst thing about using a winter sleeping bag in summer conditions is the sweat; you need gear that is light and allows you to breathe. In the desert you might need more insulation, but you still need breathability. The main task is to limit the amount of moisture build up.
Correct insulation – There is a difference between jungle and desert camping:

In the jungle, a simple cotton or silk liner in a hammock or tent that incorporates mosquito and rain protection is sufficient. You want to limit moisture build up and allow your core to cool quickly.
In the desert, it is not uncommon for night time temperatures to approach or dip below zero. So you might have been sweltering all day, but come night time you need thermal protection.
Best Summer Sleeping Mat
Best Summer Sleeping Mat
Klymit Static
> $
> Lightweight & affordable
Summer Sleeping Bag
A good sleeping bag will be your most treasured sleeping tool. Because you don't need the same thermal protection as you do in winter, you can opt for a lighter one and reduce your pack load.
Look for sleeping bags with the ability to vent to allow more comfort while sleeping outside during summer. In some humid conditions, a light silk or cotton sleeping bag will be enough. When going through the jungle, sleeping atop your sleeping bag and under a sleeping bag liner can be a good option too.
I personally love bivvies in rain, hail, or shine. I know that this is a personal preference and that a lot of people would "rather die" than sleep in them. But for an ultra-lightweight sleeping system that is hugely versatile – that still protects you from rain and mosquitoes – I think you can't go wrong with a bivvy!
Ladies & Gents, It's Time to Step Your GEAR Game Up. 😉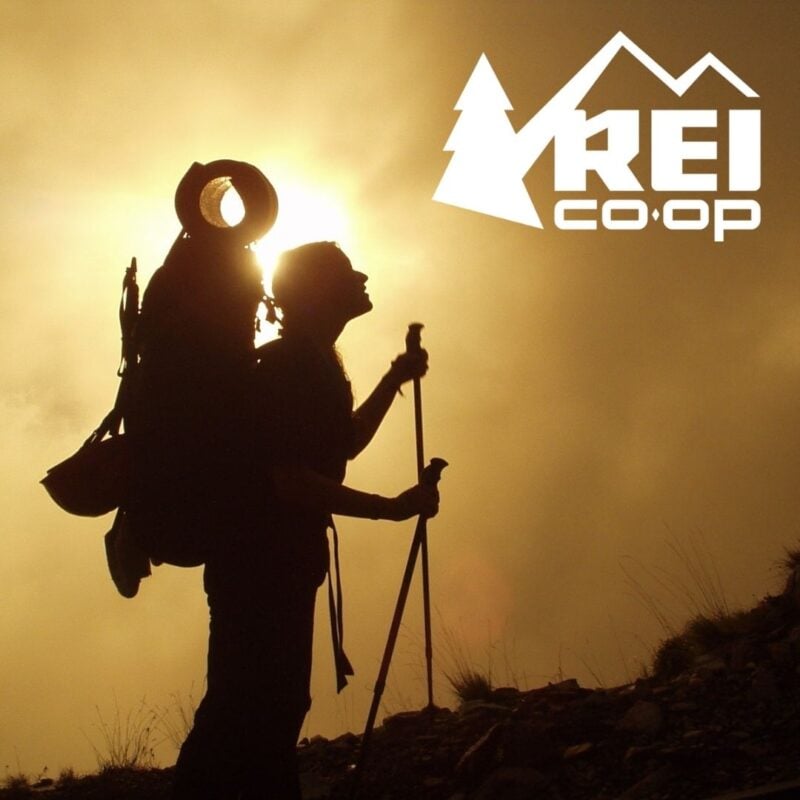 REI is one of America's biggest and most-loved outdoor gear retailers.
Now, for just $30, get a lifetime membership that entitles you to 10% OFF on most items, access to their trade-in scheme and discount rentals.
Join REI Today!
Specs
Price: $158
Weight: 2.9 lbs/1.3 kg
Pro: Affordable! That means extra dollars for hiking food (or cheeky doobies).
Con: A little heavy and made from polyester. That could make for some sweaty nights.
Summer Sleeping Mat
Sleeping mats are an important part of sleeping outdoors in summer! Even in warm conditions, you lose a lot of your body heat to the ground, so you benefit from an extra layer of insulation. This is even more important in the deserts when conditions can get chilly.
Not having a hundred and one roots and rocks poking your tush is a nice bonus too! When looking to buy a sleeping mat, consider where you are going and how much insulation you need.
If you opt for the more padded blow-up style mat, be sure to pack a repair kit. They don't survive the rocks and branches as well as the closed-cell style mats.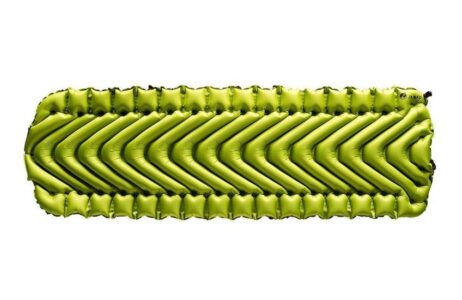 Specs
Dimensions when unfurled: 72 x 23 x 2.5 inches
Dimensions when packed: 3 x 8 inches
Pros: Super lightweight and good value for money.
Cons: Can be a little difficult to deflate.
Summer Tents
Those balmy summer nights often bring pesky, bloody bugs along with them! A good tent can reduce the number of annoying buzz buzzes.
It also makes a home. When you end up in the wilderness – whether that's the jungle or an urban sprawl – having a little feeling of home does wonders for your sense of security.
Provided you set them up correctly, they also offer great rain protection. So there's no waking up to drenched gear in the morning.
My friend who rode his bike for months through the Guatemalan jungle swore by his single man tent. Ain't no snakes getting in to say hello!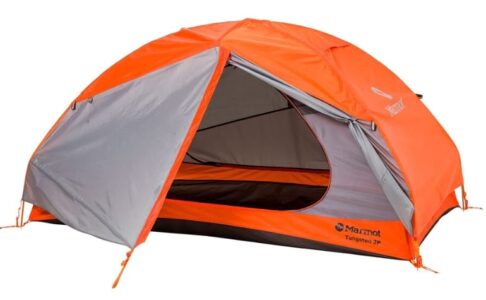 Specs
Price: $249
Weight: 5 lbs. 14.2 oz.
Pro: Very affordable and easy to set up.
Con: It's a single person tent, so there's no room to make bad jokes about f**king in tents being f**king intense.
Hammocks and Sleeping Without a Tent
Everyone who goes hiking will have their thoughts on hammocks – but me? I LOVE them.
Granted, I like to sleep on my back and I am a small person that fits comfortably in hammocks. But I think that there's no better way to enjoy the great outdoors in summer than with the ultimate hammock.
If you are in the jungle, they get you away from the creepy crawlies. They allow breathability and comfort beyond that of a tent. You can set them up with a rainfly so that you stay protected from the rain too.
They don't provide that extra sense of security and protection like that of a tent. But, they are more discreet. So, if you can find some juicy hang points, urban camping can be a lot more accessible.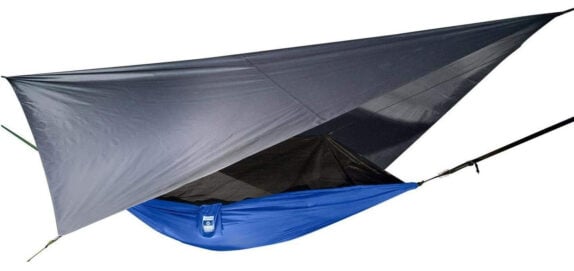 Specs
Price: $90
Weight: 1 lbs/0.45 kg
Pro: Look at that sexy rain fly – you're staying dry tonight!
Con: Lightweight material can tear easily.
Summer Sleeping Clothes
Sleeping clothes should be separate from your hiking clothes. Apart from the huge increase in comfort that you get when changing at the end of the day, it's also more hygienic!
If you've been sweating all day and you take those rancid clothes inside your sleeping bag, you have a nice sweaty sleeping bag, too. In humid conditions, this increases fungal and other infections. In desert conditions, this can result in surprising chills throughout the night.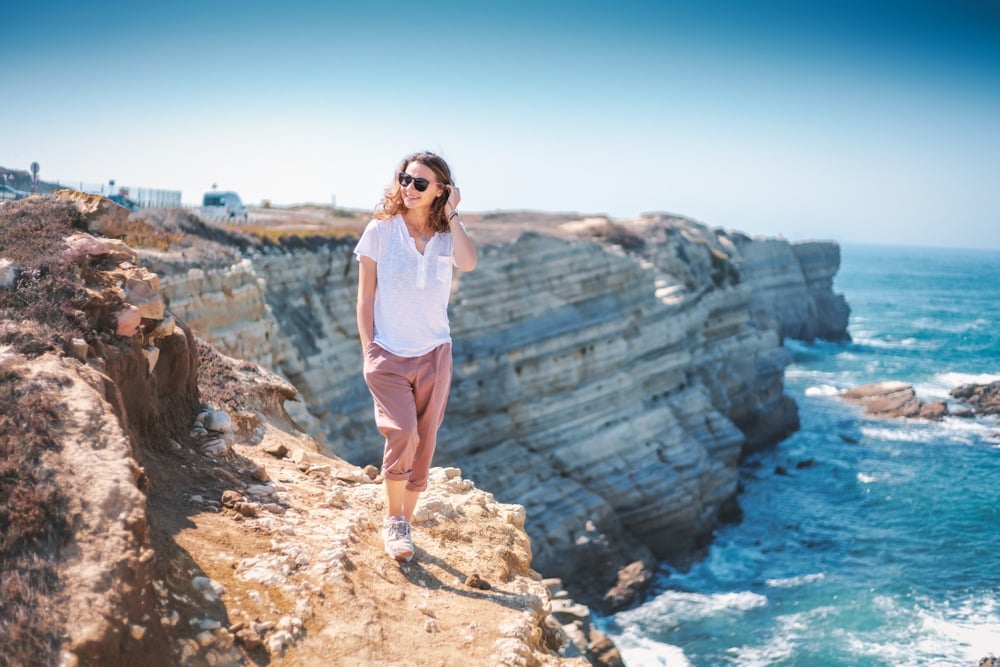 If you are fully protected from bugs and rain via your shelter, summer sleeping clothes can be deliciously minimal. I would still recommend a moisture-wicking shirt and loose long pants. Materials like wool are good; they don't smell, and they're comfortable.
Long pants add that final mosquito protection, but they also stop your skin from directly touching the sleeping bag, liner, or hammock. This is more important if your sleeping bag is made of synthetic materials as your skin and synthetics equal sweat.

Do You Want to Travel FOREVER??
Pop your email in below to get a FREE copy of 'How to Travel the World on $10 a Day!'.
Winter Backpacking Sleep System
You know what they say about body heat being the best way to prevent hypothermia, yeah? So it follows that the best way to stay warm while hiking in winter is by spooning naked. So grab your best mate and get cuddling – it's for science! 😉
If bumping booties is off the table because you are sleeping alone, never fear! There are other ways to perfect your winter sleeping system that involve less nudity.
Getting good sleep while adventuring is always important, but in winter the stakes are raised a bit. In the US, around 600 people per year die from hypothermia – or about 11 people per week.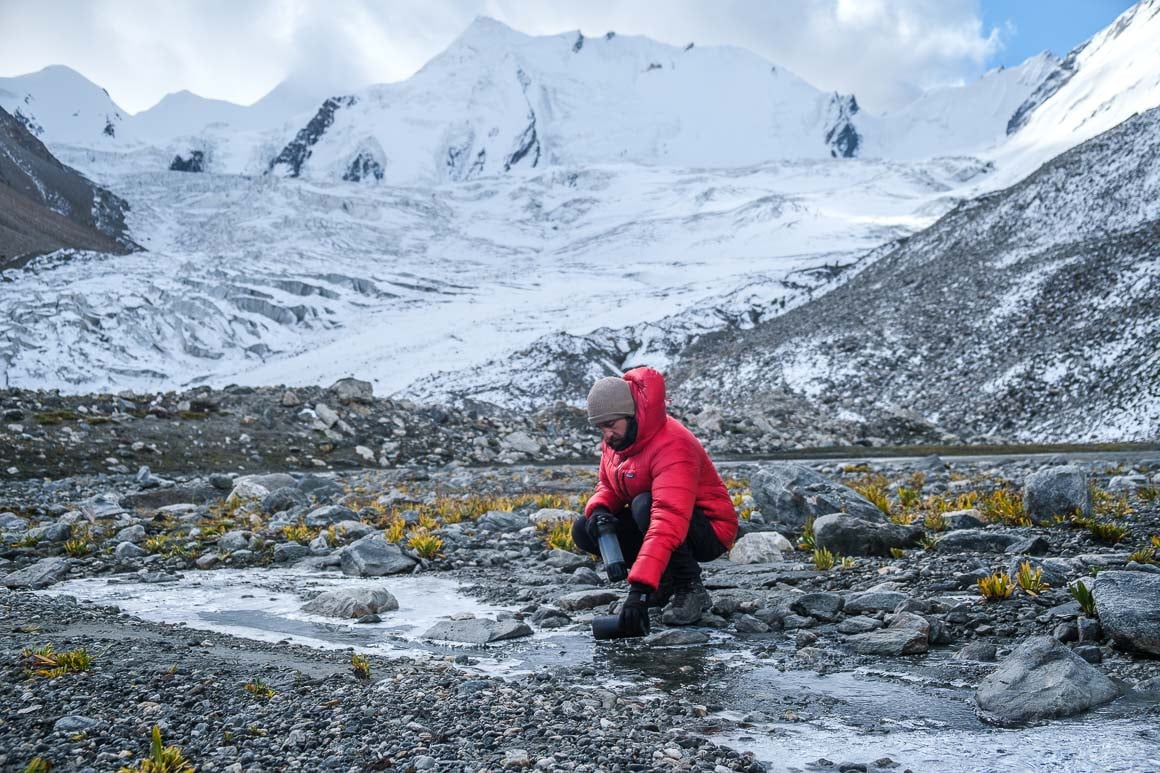 The good news is, if you invest in good quality gear and accept a slightly heavier pack, you're gonna be toasty! If you want your travel to push you, hiking in winter is the way to go. From the mountains of Pakistan to the icy shores of Tasmania, there are few things that all good winter sleeping systems have in common.
Insulation: This is about more than just the layers between your core and the wind. The layers between you and the wind need to be designed to keep the warm air close to you.
Waterproofing: There is no point being well insulated if you're wet. A wet camper soon becomes a cold (and unhappy) camper. Boo!
Best Winter Sleeping Bag Liner
Winter Sleeping Bag
The most important part of your winter backpacking sleep system is your sleeping bag. It will likely be the heaviest thing in your pack – and potentially the most expensive. But, it's an investment. You need to keep your core warm and your hair free of frost come morning time!
Whether it's synthetic or good quality down, the best winter sleeping bag should be well insulated. It also should be designed in a way that suits your sleeping style.
Your sleeping bag works by trapping air (an excellent insulator) and warming that air. If cold drafts are able to get into the sleeping bag, you're gonna get cold and sad.
In winter, it is worth adding a sleeping bag liner for extra insulation. They also prevent your skin from touching synthetic sleeping bags which can cause sweat.
Specs
Best Use: 3-season backpacking
Weight: 2 lbs 6 oz (Just over 1 kg)
Insulation: 650-fill-power ultra dry down
Temperature Rating: 18 F (-8 C)
Pro: Water-resistant down! The most exciting phrase to a cold camper.
Con: A bit on the bulky side.
A note on down vs synthetic sleeping bags:
Down: This is the layer of plumage that sits directly between the feathers and the skin of a duck or goose. It is very lightweight and very warm, and far more durable than synthetic material. However, it is more expensive and doesn't perform well wet. Provided you can keep it dry, this is a thru-hiker and minimalist's dream material.
Synthetic: This essentially mimics down's warming power. It is less durable than down but also less expensive. The added bonus is that it is warmer when it is wet. It's great for entry level hikers and those sleeping in humid environments a lot.
Even in winter, bivvies are great. When you layer up your sleeping clothes as well, you don't need a tent to sleep in while hiking. The best bivvies, like this Snugpack, are lightweight, versatile, and still keep you dry.

Winter Sleeping Mat
The best sleeping mats work in tandem with your sleeping bag to prevent the loss of body heat. This is very important in the winter as the ground can get much colder than the air and pull heat away from your body. Maintaining more air (remember that excellent insulator?) between you and the ground is essential in your quest for optimum comfort!
Consider where you will be sleeping. If you opt for the blow-up sleeping pads – which are better insulators – then bring a repair kit. Especially in the high alpine country or sub-freezing temperatures, the moisture you expel while blowing up the mat can crystallize as ice by morning and poke holes from the inside.
Closed-cell pads are heavier, and they do not provide the same insulation. However, they are the more robust option. Depending on how cold and how rough your terrain is, they may be the better choice.
Specs
Dimensions when unfurled: 77 x 22 x 2.5 inches
Dimensions when packed: 4 x 9 inches
Weight: 15 oz/0.42 kg
Pro: There is no going cold with how well insulated this is!
Con: Yikes, this will also hurt the bank account! (But well worth it).
Winter Tent
There is nothing quite like the silence of an empty campsite in winter. If you've got clear skies, the stars will be sure to put on a show and you'll feel like the luckiest person in the world. But you must prioritize staying warm and dry!
Luckily, picking a good camping spot and setting up your tent right will do exactly that. If you plan on a big winter adventure where you will be sleeping outside a lot, I would go with a four seasons tent or a steep-walled three-season tent.
Once you've set up your tent it's a bit of a game in balancing insulation and condensation. Your best bet for getting rid of condensation is to ventilate your tent. This does bring in cold drafts, but it's worth a dry tent!
Layering your sleeping clothes and cooking outside the tent is also crucial. One great way to really elevate your outdoor stay is to get a solid insulated tent. A dry tent stays warmer – and you don't have to fight the frost that results from cooling condensation.
PRO TIP!
There is always debate around single-walled or double-walled tents. If you are camping in cold, but dry, winter conditions then a single-walled tent is quicker to set up and is lighter. You can then rely mostly on your sleeping bag, mat, and clothes for good insulation. If there is to be a lot of rain, then a double-walled tent makes more sense.
Specs
Price: $279
Weight: 4 lbs 11 oz/2.12 kg
Pro: This is a roomy two person tent – so there is a good opportunity for a f**cking in tents joke. 😉
Con: Some people have had issues with poles breaking.
The best present of all… is CONVENIENCE!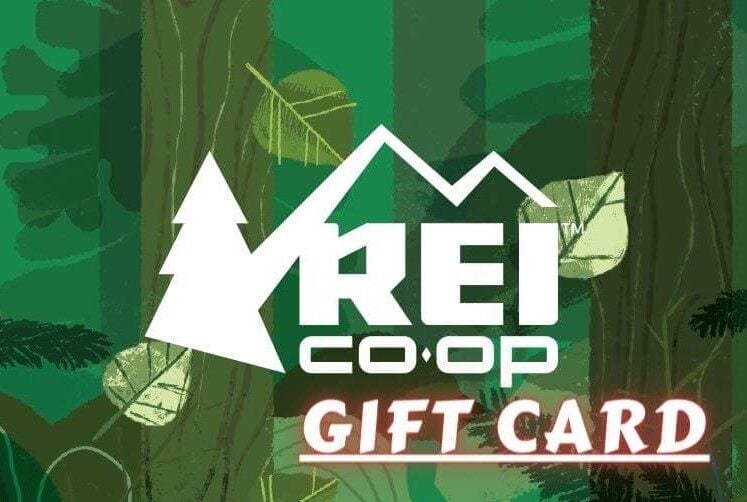 Now, you could spend a fat chunk of $$$ on the WRONG present for someone. Wrong size hiking boots, wrong fit backpack, wrong shape sleeping bag… As any adventurer will tell you, gear is a personal choice.
So give the adventurer in your life the gift of convenience: buy them an REI Co-op gift card! REI is The Broke Backpacker's retailer of choice for ALL things outdoors, and an REI gift card is the perfect present you can buy from them. And then you won't have to keep the receipt. 😉
Buy on REI!
Winter Sleeping Clothes
Layering your hiking clothes is quite well known, and is very important. But it's a separate discussion from sleeping clothes.
Sleeping clothes work in tandem with your bag and mat to ensure you're well insulated. You want to make sure you change out of your hiking/backpacking/day clothes at the end of the day.
When sleeping in cold climates, a moisture-wicking material like merino wool as a base layer is great. Next, we bring the layers: leggings and a long sleeve top, followed by a jumper and pants. A beanie, buff, socks, and gloves all help for making for a more comfortable sleep too.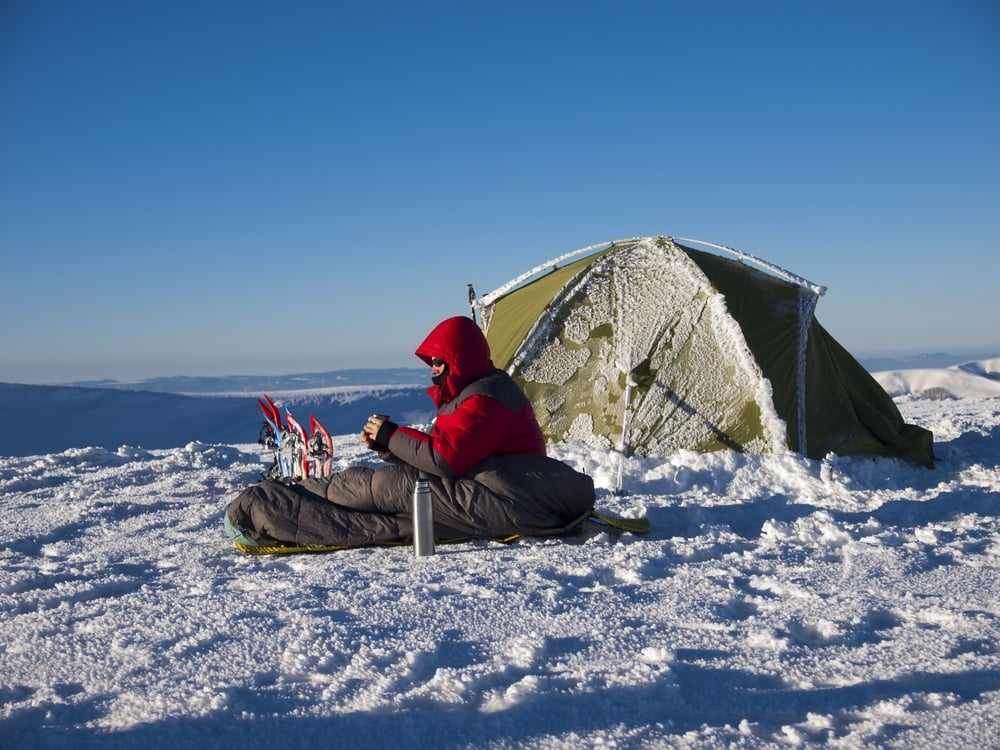 You lose most of your heat via your head and extremities. This is even more pronounced in women than in men. I wear two pairs of clean socks for sleeping and I use a sleeping bag with extra insulation around the feet. If you don't have a hood on your sleeping bag, then a beanie goes from being merely comfortable to essential.
If you have a good sleeping bag – or a bivy – and you layer up your sleeping clothes well, you don't necessarily need a tent to sleep in when outdoors. This opens up all kinds of nooks and crannies to camp in that you wouldn't have access to if you just had a bulky tent and loose sleeping clothes.
Bonus Tips to Have the BEST Backpacking Sleeping System!
Along with the individual components of your sleeping system, you need them to work in tandem together. Here are a few handy tips gleaned from years in the backcountry to get your backpacking sleep system running like clockwork!
Tools to Set up a Sleeping System
Rope: It becomes more useful the longer your trip is. Use it to tie up your hammock, secure your stuff, tie down a rain fly, or as a washing line – rope always comes in handy.
Knife or Multi Tool: This bad boy crosses over systems. It's useful when preparing food, cutting branches, and eliminating loose thread. I am very partial to a leatherman, or an opinel knife. Leatherman knives are quite well known, but the opinels are up there in quality comparison.
Sleeping Bag Liner: I already touched on this but in the heat, sometimes all you need is a liner. And in the cold, it can become an essential part of insulation.
Handy Things to Know About Sleeping Outdoors
Knot tying. It's always handy to know a bowline, rolling hitches, clove hitch, and taut line hitch knot. Once you teach yourself a few basic knots, the more difficult ones become easier to learn. Knots are essential if you want to go hammock camping.
Picking a good tent spot. This will depend on whether you're sleeping outside in summer or winter, and on the type of terrain you are in. But generally, you want to be around 60 – 70 metres away from water and well off the trail. If you can avoid the bottom of canyons, you will avoid both the coldest and most humid spots. Flat ground free of big rocks is also always a win!
Picking a good hammock spot. With a good hammock set up, there is no need for a tent to sleep outside! You want two trees – or poles, or other anchor points – about 3 metres apart. Avoid dead branches above you, secure your hammock well, and try sleeping diagonally (it helps me get comfier). Also, rig the rainfly before it rains. 😉
If you get stuck, under bridges it is always dry.
A tent is not as necessary as you might think! It's your sleeping bag (and pad to a lesser extent) that will make or break you. This goes for the heat and the cold. You want ventilation in the heat, and insulation in the cold.
A Note on Temperature Ratings!
Not all temperature ratings are created equally! Each company will test to a slightly different standard, so be sure to read each company's own metrics.
Also, women typically run colder than men and so they will find the comfort ratings a bit off. I tend to go for a colder rated bag than necessary because even 'women's sleeping bags' aren't always rated to women's body temperatures.
In general, all sleeping bags will have a comfort rating and an extreme rating.
It's good practise to buy gear that's extreme rating is greater than the minimum temperatures you will experience. For example, if you plan to sleep in 1 – 2 degree nights, then get a bag which has an extreme rating of -5 or -10. You are sure to be comfortable, and safe, should the weather take a turn for the worse.
Leave No Trace
Essentially, this boils down to don't be a dick. A less crass way of putting it is, pack in and pack out. Just be a responsible traveller.
If you can't eliminate your waste, then bring it back with you. If you can't eliminate your impact, then minimise it. Basically, just follow the leave no trace principles. This goes for campfires and picking a good place to camp.
It also goes for poop. Yup, we gonna talk about poop!
Sometimes, when you are particularly deep within the wilderness, there are no toilets. There are beautiful stars and epic vistas, but no thinking throne.
So what do you do with your dooky?
Dig a hole a good 15 – 20 centimetres deep, well away from the trail and water sources.
Do your business.
Bury it.
Sweet and simple.
Except for your toilet paper… Some people will bury their paper with the poop. I think this can work if you use plain, white, and unscented paper. You can also keep your paper in a ziplock bag and bring it back from the trail with you.
In the desert country – and this can include snowy areas with low rainfall – it's best to pack your whole poop out with you. This is because your poop doesn't break down easily in these environments. So if there are no toilets, you do your business in a baggy and ziplock it up.
Hand sanitiser is your friend in these matters. 😉
We all want to be good people, and if we're headed into the depths of a mountain range or the bowels of a jungle, then we already have a deep respect for our Mama Earth. Thinking ahead and knowing how to get rid of your (sometimes literal) shit, makes for a happy and healthier great outdoors!

Our GREATEST Travel Secrets…
Pop your email here & get the original Broke Backpacker Bible for FREE.
Final Thoughts on Backpacking Sleep Systems
Well alright, folks! That was the brief rundown on the best gear for your backpacking sleep system and how to get it working well together.
It is always worth investing in good quality gear that will last you beyond just one season. The summertime brings lighter gear and lighter packs, but you still need to keep the bugs out and have good airflow.
A winter sleep system should be well insulating and able to keep you dry! This may include some cuddling and some hot cocoa.
In both seasons, the most important part of your kit is your sleeping bag. It is your shield from the elements. Hay-yah, away with you, cold drafts! Be gone you damned mosquitoes!
Now, go on and get out there! A sky full of stars and stories is waiting to be experienced.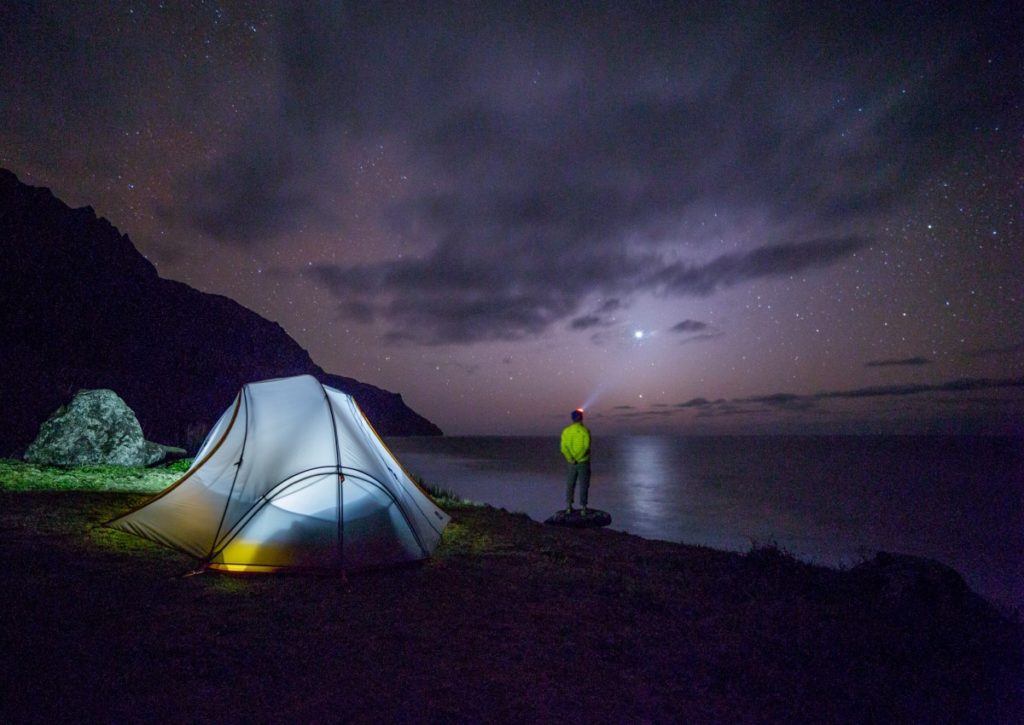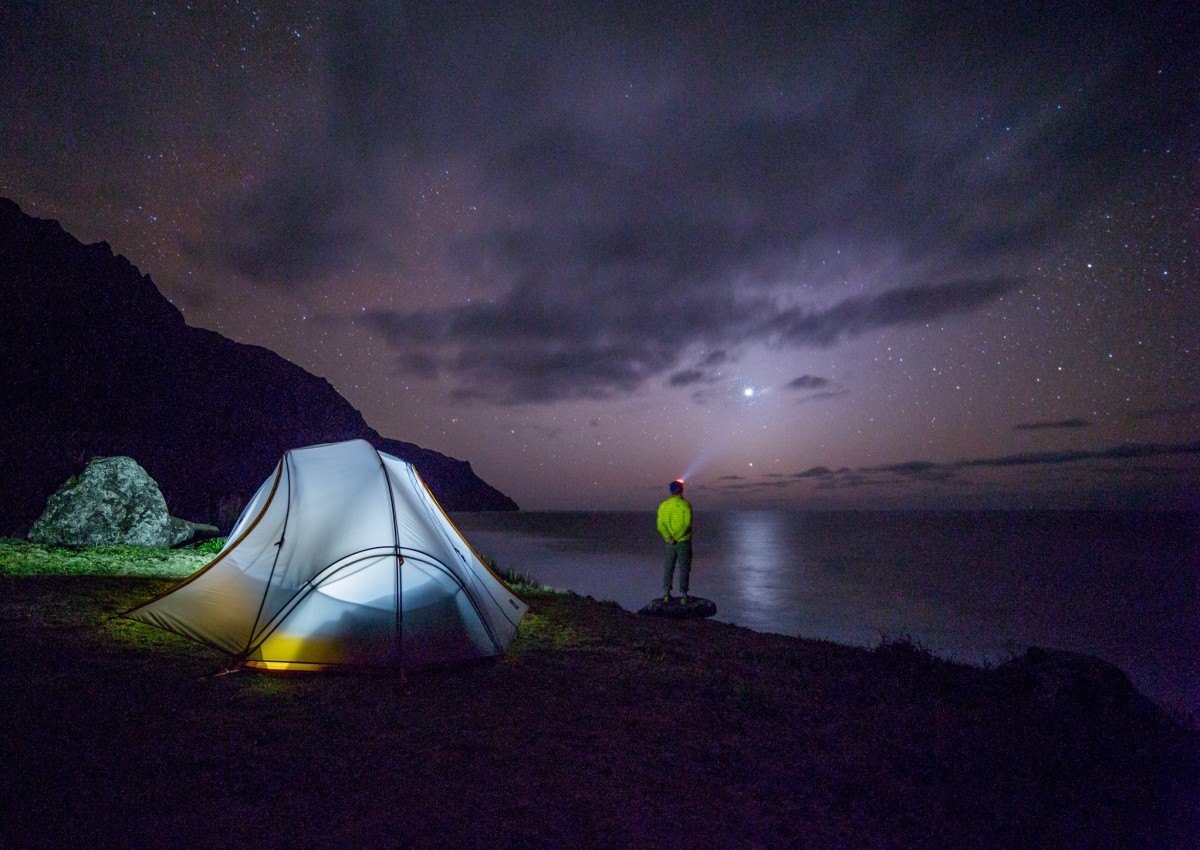 ---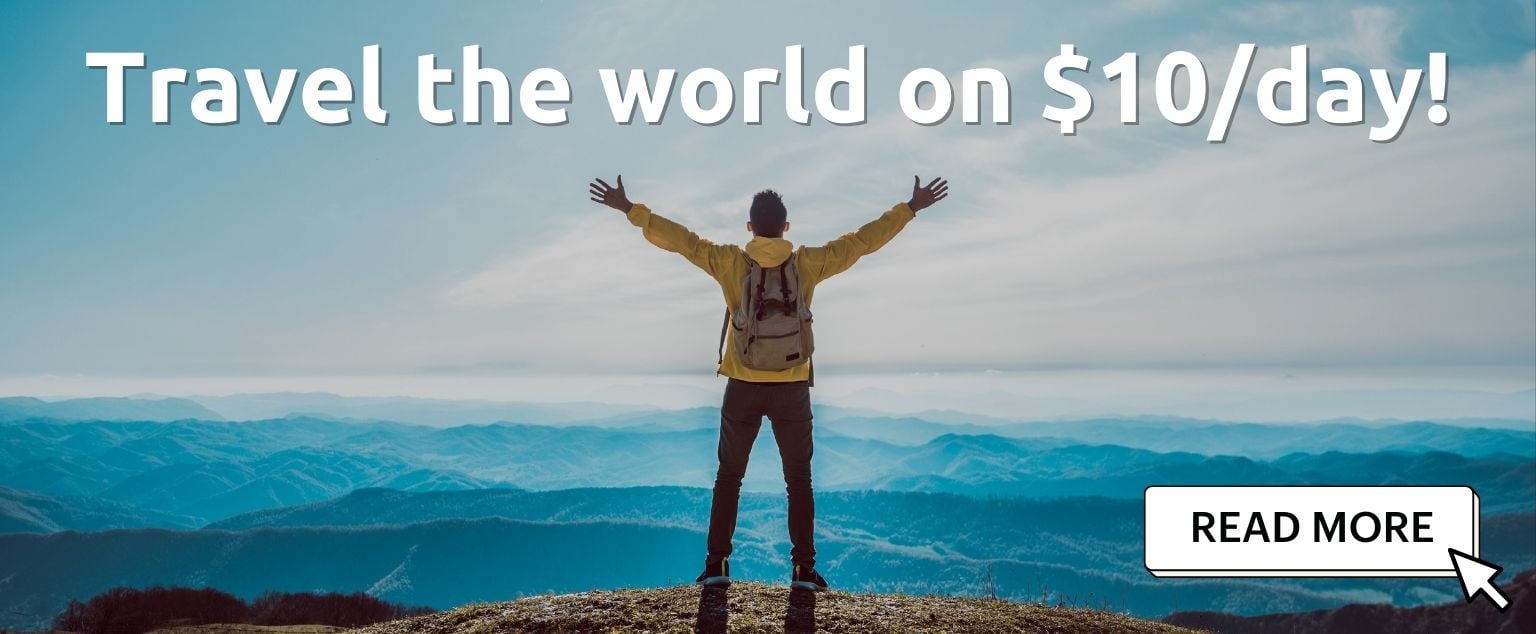 And for transparency's sake, please know that some of the links in our content are affiliate links. That means that if you book your accommodation, buy your gear, or sort your insurance through our link, we earn a small commission (at no extra cost to you). That said, we only link to the gear we trust and never recommend services we don't believe are up to scratch. Again, thank you!