Bansko is known for being a world-class ski resort nestled in between three beautiful mountains, Pirin, Rhodopes and Rila.
It offers the perfect getaway for an awesome time exploring the mountains, be it in the summer when the slopes become forested hiking trails or in the winter for epic skiing.
Apart from its adventure activities, Bansko has plenty more to offer. It's a historic town with quaint boutique stores and coffee shops, has hot spring spas nearby and, for you digital nomads out there, a whole host of affordable accommodation!
If you're thinking of visiting Bansko but the idea of a hotel seems dull and boring to you, I hear you. Why stay in a hotel when an Airbnb in Bansko is the same price, sometimes cheaper, and has a wide range of unique properties? I can't think of a reason.
If this sounds good to you, but you don't know where to start, allow me to be your guide. I have selected 15 of the best Airbnbs in Bansko for any type of traveler, whether you're traveling solo, with a family, or as a digital nomad, these are the best properties.
So, let's get started!
Quick Answer: These are the Top Airbnbs in Bansko
Overall Best Value Airbnb in Bansko
Overall Best Value Airbnb in Bansko
Spacious Studio
> $
> 2 guests
> Contains safe
> Cooking allowed
Best Budget Airbnb in Bansko
Best Budget Airbnb in Bansko
Entire Studio With Patio
> $
> 2 guests
> Coffee maker
> Patio / balcony
Best Airbnb for Couples in Bansko
Best Airbnb for Couples in Bansko
Luxury Townhouse With Mountain View
> $$
> 4 guests
> Free transport to ski cabin
> Mountain view
Best Airbnb for Families in Bansko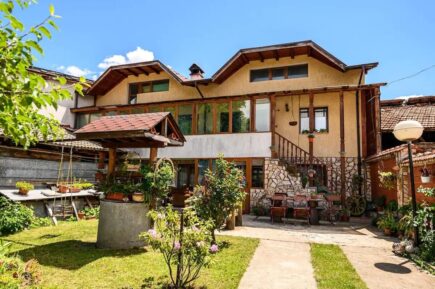 Best Airbnb for Families in Bansko
Villa House With Big Communal Area
> $$
> 8 guests
> Children playground with cottage
> Large garden with barbecue corner
Over-the-Top Luxury Airbnb in Bansko
Over-the-Top Luxury Airbnb in Bansko
Entire Villa
> $$$
> 10 guests
> 5-star Spa
> Huge backyard

Unlock Our GREATEST Travel Secrets!
Sign up for our newsletter and get the best travel tips delivered right to your inbox.
What To Expect From Airbnbs in Bansko
Before getting into the details, let's think about what you might expect during your time here. There are many reasons to visit Bulgaria, but Bansko is undoubtedly the biggest reason.
The quaint town offers direct access to the mountains, and showcases the best of Bulgaria's history, and no matter what time of year you visit, you can expect jaw-dropping nature. Why wouldn't you want to go here?
When staying at Airbnbs in Bansko, you'll find a good mix of accommodations that all come with an authentic, homey vibe. They are often in the best locations, usually within walking distance to towns or ski gondolas.
Not only that, but they are kitted out with all the amenities you are used to at home, such as fully-stocked kitchens, living areas, private entrances, and parking.
You might even have a hot tub if you're splashing out on something more luxurious. There are many types of properties to choose from, so if you're not sure which is best for you when staying in Bansko, take a look at these options.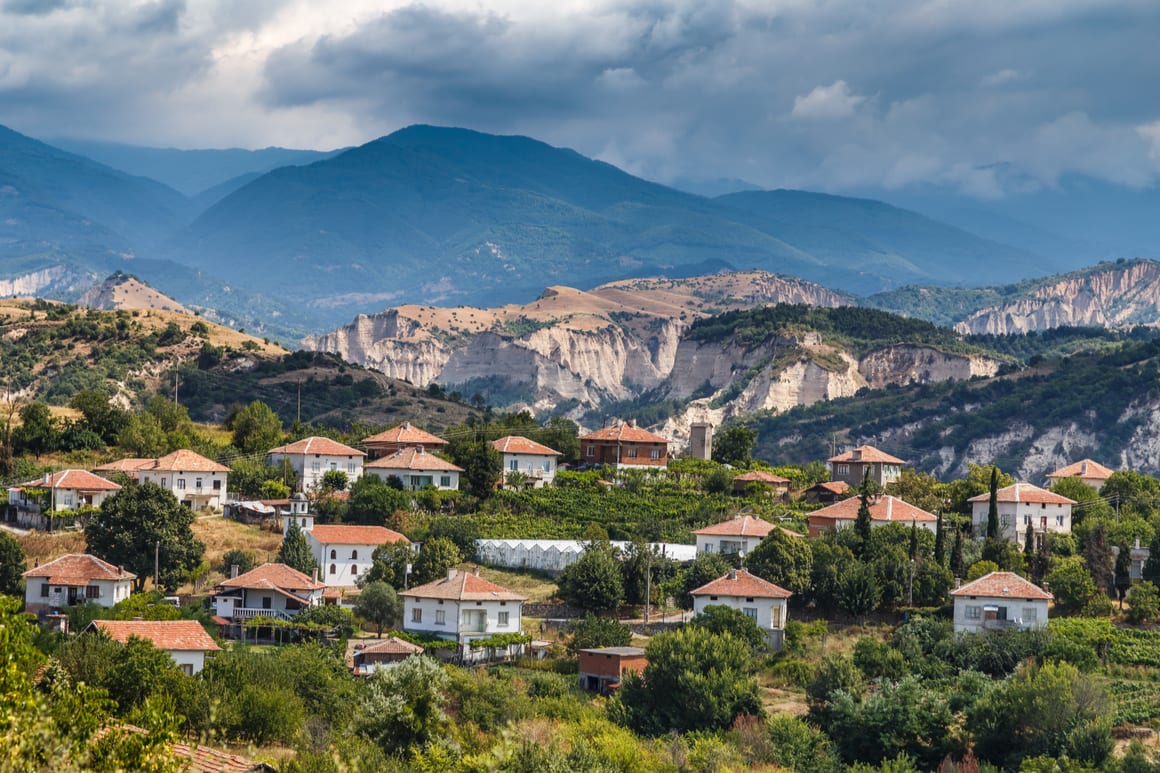 Apartments and Aparthotels
An aparthotel is a combination of an apartment and hotel. These are apartments located inside a hotel or resort that offer a cosy home to guests who don't quite want to be completely on their own. You'll have things like housekeeping, room service, and a concierge. You will usually have shared hotel facilities such as Jacuzzis, spas, and gyms. These range from budget stays to luxury cabins, depending on your budget. If you're lucky, your Airbnb comes with a stunning view of the mountains to wake up to every morning!
Villas
Villas are perfect for families or large groups and are a much more spacious environment. They tend to be much larger than apartments, and unlike aparthotels, they are usually fully self-catering. This means more privacy and you can come and go as you please. If you want more luxury though, you can get a super designer villa that comes with staff such as caterers and maid service. Some come with playgrounds, gardens, or patios, which is the perfect place for a family picnic.
Chalet
Since this is a ski resort in the winter, you will find plenty of chalets. These offer a more private stay but many are located within a resort, so you can use shared facilities such as golf courses and gyms. Some chalets even provide breakfast. They can also be self-catering and come with a full kitchen, if you want some added privacy.
Why Stay in an Airbnb
There are many reasons why you might want to stay in a hotel in Bansko, but Airbnb offers something a little more special. Here are just a few reasons why you should opt for a Bansko Airbnb instead.
Affordability: Why pay more for a hotel room when you can get an entire home for the same price, or less? Especially in local areas like Bansko, there are quality Airbnbs that can fit right within your budget.
Privacy: I get what it feels like to want your own space to yourself, and having a house to yourself means you can spread out and feel like you're at home. There's also a self-check-in feature. Nearing the date of your stay, your host will contact you with the details, and upon arrival, you can enter the home without having to do all the boring check-in procedures.
Local Experience: Sometimes when you're in a new environment, it can be helpful to have insider information on the best places to see, and great places to dine in, from the perspective of a local friend. That's the benefit of Airbnb, as usually, the hosts are kind enough to help you out with recommendations of what's good in the area.
Security: Bulgaria is pretty safe. But if you're worried at all, Airbnb hosts have been vetted by the platform and have gone through a thorough screening process, so you know that you're in safe hands. As well as this, you can chat with the host before you book, read guest reviews from previous guests, and have 24 Hour support from Airbnb if something goes wrong.
The 15 Top Airbnbs in Bansko
Now that you have an idea of what to expect when travelling to Bansko in Bulgaria. So, let's not waste any more time and find the best Bansko Airbnb for you!
$
Ski-in/Ski-out facilities
If you're looking for an Airbnb in Bansko that is simple, clean, and has all the amenities you would need at a low price, then this is it. This studio is perfect for a solo traveler or couple since it has one bedroom with a queen-size bed. There isn't a living space, but the kitchen is a good size and comes with a dining area for you to eat.
The location is also ideal, being just a short walk to the ski rental and ski school, as well as the Bansko Gondola. When you're day of skiing is done, you can warm up with the portable heater included in the price.
The host is friendly and welcoming and is ready to help guests with anything they need. What more could you ask for?
If you're looking to stay at a Bankso Airbnb on a tight budget, I've got you covered! There aren't a whole load of hostels in Bankso to choose from, this is the next best thing.
This cute little studio comes with enough supplies for a short stay. It has one bedroom, plus a pull-out sofa that turns into another bed. The living area is spacious and bright.
The kitchen is very basic but it has all you would need – a coffee maker, hot plate, fridge, and microwave. The highlight is the balcony, which overlooks a quiet street and is the ideal place to sit and drink your morning coffee.
Located in a quiet area, this quaint apartment is only a five-minute walk to the ski lifts and the main town, with other attractions in the vicinity as well.
For all the digital nomads out there, I know how difficult it is to find both a place to work and enjoy a vacation. That is exactly what this place offers. With good working wifi and a dedicated workspace, it is the perfect place to work from.
And even more exciting, there are free mountain bikes for guests to use! If you're visiting in the winter, the gondola is right there and the host is incredibly warm and welcoming. After a day hitting the slopes, you can come home and light up the adorable wood burning fire place.
Is This the Best Travel Pack EVER???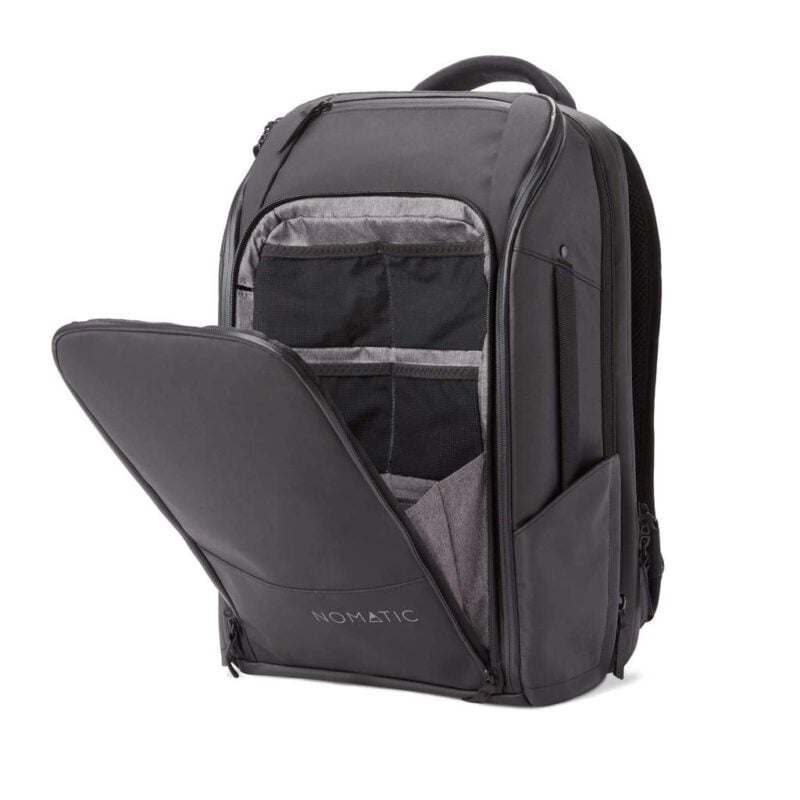 4 guests
Free transport to ski cabin
This gorgeous townhouse has more than 100 years of history but has been upgraded with fresh, modern interiors. It's the perfect place for couples on a romantic getaway to Bansko. Imagine waking up to views of snow-capped mountains, and cuddling up in front of a projector TV before bed.
The best feature is the beautiful tub, which sits in an open space in the apartment (super sexy) and there's even a sauna. To continue with the honeymoon festivities, there is a gorgeous Restobar just below the place for a delightful evening together. What more can one ask out of this rare Airbnb in Bansko?
$
5-minute walk from the ski lift
This warm and welcoming apartment has everything you need for a comfortable stay. With a fully-equipped kitchen and an indoor fireplace, this condo will help you to unwind and relax after a full day spent on the ski slopes.
If you're visiting in the winter, you'll be pleased to know it's located within 5 minutes walking distance to the slopes, as well as nearby restaurants and bars. There's a supermarket just next door so you can stock up on provisions for a cozy night in.
With huge windows and lots of sunshine coming through, this Bansko Airbnb is bright and airy, and has a quality finish to it that makes you never want to leave.
$$
Children playground with cottage
8 guests
Large garden with barbecue corner
Fancy an escape with the entire family? Look no further than this amazing and spacious villa. For starters, each room in the house comes with its own bathroom, so you have plenty of space to spread out.
You can spend quality time with the family in the outdoor dining area as you fire up the barbecue. Meanwhile, the children can have tons of fun playing on the playground on the premises.
If you're looking to bring a furry friend along, you can, as pets are allowed here. An interesting addition to the house is the large tavern and dining area, as it is great to invite friends over for a get-together session.
If you're looking for the most conveniently located Airbnb in Bansko, this is a great choice. In addition to being close to the ski slopes and gondola lift, the apartment is strategically located with easy access to bars, shops, and eateries. There's a supermarket just a five-minute walk away.
The design of this home is what really makes this home feel welcoming. With pops of colour everywhere and an electric fireplace, you'll find you simply cannot wait to return home to this place. The fully stocked kitchen is another bonus of this place.
$$
Ski-in/ski-out facilities
4 guests
Step free shower and access
If you have mobility issues, it's not always easy to find an apartment, especially one as glamourous as this! This single-floor unit in a building with a lift is the perfect apartment for wheelchair users or those with mobility issues.
With plenty of parking spaces out the front, it's easy to get in and out of the building. Plus there's a step-free shower, and spacious corridors. As well as this, it's elegant, cozy, and comfortable. This definitely ticks a lot of boxes!
10 guests
Huge backyard overlooking the mountains
Make your trip to the magical Bansko all the more memorable with accommodation surrounded by pine trees, lakes, and mountain peaks. For the best privacy and relaxation with top-notch views, this paradise in Pirin Golf and Country Club is a secret you want to keep to yourself.
The spacious living area with a designer fireplace is clearly the highlight of this property. On top of that, there are 5 bedrooms, each with a double bed, so everyone can have their own space at this place!
It offers a great deal of isolation away from crowds but is also within the vicinity of good restaurants and of course, the golf courses. Also, who wouldn't fall in love with a large backyard to just run about freely?
$
Swimming pool and spa facilities
6 guests
Free store room for skis
For a stay in a Bankso Airbnb, complete with all the luxury facilities to make a memorable stay, is this condo. Located in a luxury apartment complex, it comes with a shared steam room, Jacuzzi, swimming pool, and fitness and games room.
What's more, since it's located on a resort, you don't have to go far for meals as there is a restaurant serving local dishes all throughout the day. Even better, there is a ski hire shop located right in the building. Talk about convenience!
13 guests
Indoor fireplace
This traditional Bulgarian home has a lot of character and is perfect for large gatherings with friends in Bansko. Choose your bed among the five spacious bedrooms before kicking back in the cosy living area with an exposed wooden ceiling.
The house also comes with a cute little outdoor patio where you can share meals, or you can cuddle around the indoor fireplace in the winter.
Keeping to its authentic charm, you're in for a grand time at this rustic house with traditional furniture and a stunning balcony. There are also lots of shops to check out in the neighborhood.
4 guests
Located near hiking trails
Talk about being different from the rest! This lavish apartment is just a little outside of town near the hiking trails. It has large skylight windows that allow for a generous amount of light in, or during the evenings, a nice view of the night sky.
With this Airbnb in Bankso, you are treated to not just a city view, but also the gorgeous Pirin Mountains, which directly face this apartment. Watching the evening sunsets settle over the mountain through this apartment could not get any more romantic.
Best Airbnb in Bansko Near Restaurants | Cozy Lodge Apartment
Looking for an Airbnb in Bansko right where the action takes place? The mountain views and private hot tub aren't the only things to rave about with this cozy apartment. If you're up for a ski ride, the gondola is only 500 metres away, and there's a local market just down the street.
If you're into trying all local foods, you are a few steps away from the best bakeries in town, with restaurants, cafes, and good food all around.
From your own private balcony, you get stellar views of Todorka peak and the Yulen Nature Reserve. When you're feeling a little social, the nearest bar is a five-minute walk away.
5 guests
High speed internet
Stay in style at this modern apartment in the heart of Bansko. With a spacious living room that opens up to a terrace patio, morning breakfasts with a view get more fun when you can dine al fresco.
From complete and clean amenities to a sofa that can be stretched out into a bed, this apartment hits all the notes and more.
Staying near town means less time commuting and more time exploring the best of what Bansko has to offer. Only minutes away from Bankso downtown, don't forget to check out the aqua parks and hot spring spas within the vicinity.
4 guests
Quiet neighborhood
Enjoy what it feels like to live in an authentic Bulgarian home like a local at this cosy Airbnb in Bansko. Situated away from the hustle and bustle of tourist attractions, it provides the perfect sanctuary for a quiet and peaceful retreat.
Furnished with handmade wooden furniture pieces, it gives the home a little extra charm. The fireplace makes the space feel warm and relaxing. Since it's equipped for long-term stays, it will be difficult wanting to leave this cozy space!
Top 4 Airbnb Experiences in Bansko
There are a ton of incredible things to do in Bansko and luckily for you, Airbnb makes it easy to design your itinerary. With Airbnb 'experiences', you can explore the town with a local, like a local.
These are fun activities are designed to help tourists learn something new and get to know the best of Bansko. They can range from local cultural tours, to cooking classes, art workshops, and the list goes on!
But, here are what I consider to be the best experiences in Bansko.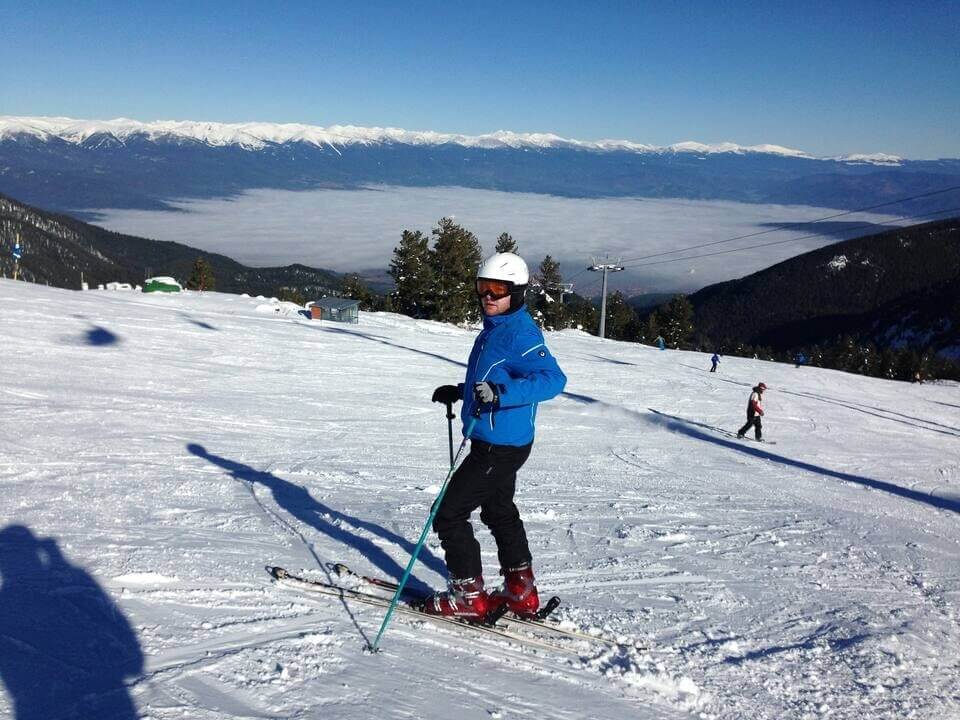 $140 per person
3.5 hours
Up to 6 guests total
Certainly, a trip to Bankso would not be complete without going on the slopes for the ride of your life!
This popular ski resort is not only a local favourite, but a global attraction as well. The slopes stretch on for miles and are great for all levels of experience, whether you're a beginner just starting out, or are already a pro.
Not only will you get a different vantage point of the historic Bankso, but also learn a few riding tips and enjoy the scenic lines.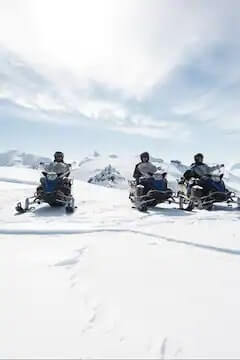 $106 per person
1 hour
Up to 8 guests total
Breeze through the forests and the slopes on an exhilarating ride on a snowmobile. Though you're descending from a higher vantage point, I guarantee that the fun and excitement only go up with this Airbnb experience.
Depending on your age, there are two options to choose from, either the non-shared mobile or sharing with a partner.
In addition, the safety gear and transfer from Bansko to the start of the tour are covered in the price. If you've never been on a snowmobile before, don't worry, as you can learn from the most experienced guides.
$33 per person
2 hours
Up to 10 guests total
Go back in time to the 18th century as you take a guided walk through the cobblestoned streets of Bansko's Old Town. The charm of this UNESCO World Heritage Site is maintained through its hundred-year-old houses and the famous old clock tower that has been chiming for the past 150 years.
This educational tour includes a guide booklet that allows you to go exploring on your own. Learn about the history and explore monuments that will bring out the curiosity in you.
$49 per person
6 hours
Up to 8 guests total
Take in the views of the most iconic site in Bulgaria, the UNESCO World Heritage Site of the Rila Monastery.
On this cultural and historical tour, you will be taken to the 1000-year-old spiritual complex and taught about its history.
The tour includes a transfer to and from the monastery caves, and a question and answer session. Whether you're coming alone or as a group, this exploration into the life of medieval Bulgaria is one not to miss.
Don't Forget Your Bansko Travel Insurance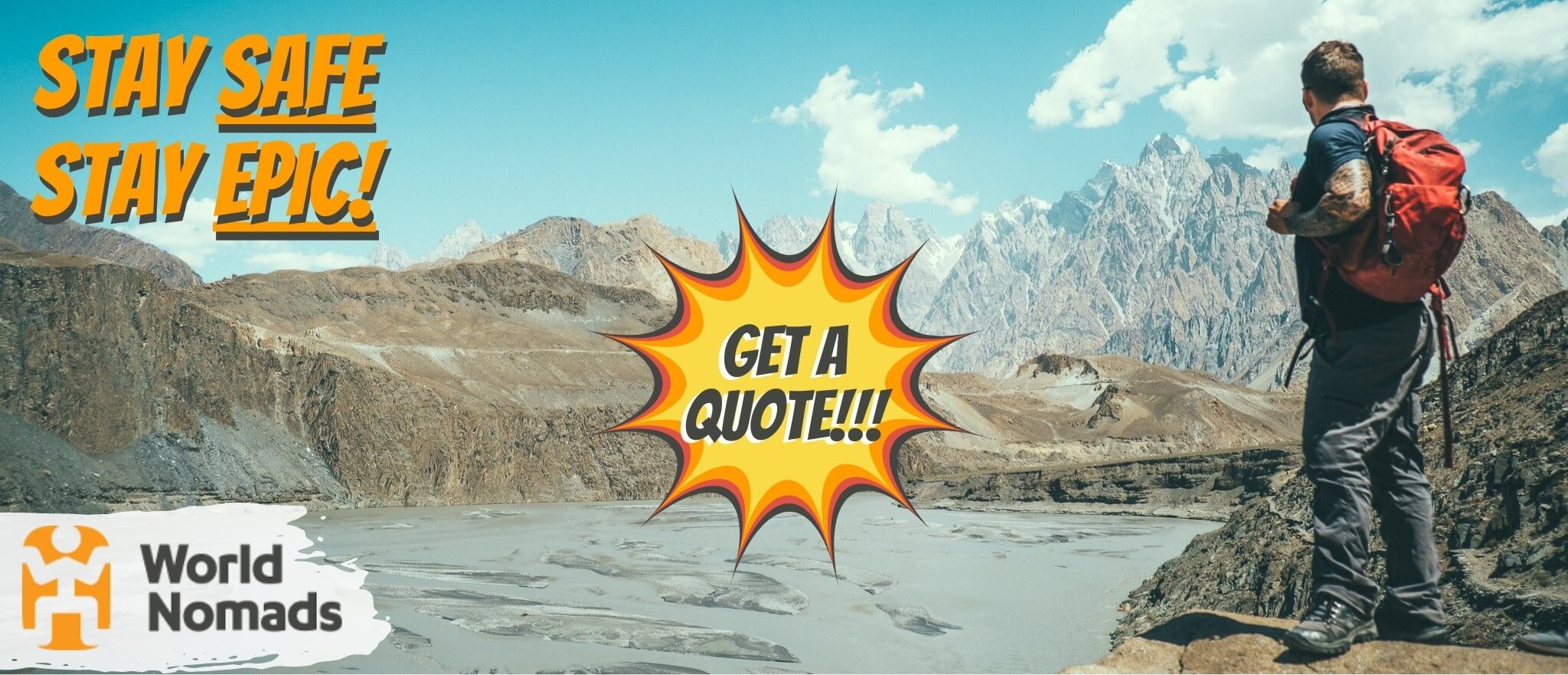 World Nomads' mission is to support and encourage travellers to explore their boundaries. They offer simple & flexible travel insurance, and safety advice to help you travel confidently.
They've been doing it since 2002 – protecting, connecting, and inspiring independent travellers just like you.
Get a quote below or read our in-depth review!
World Nomads provides travel insurance for travelers in over 100 countries. As an affiliate, we receive a fee when you get a quote from World Nomads using this link. We do not represent World Nomads. This is information only and not a recommendation to buy travel insurance.
Final Thoughts on Bansko Airbnbs
So there you have it, my top Airbnbs in Bansko! From romantic apartments to homey villas and more, I hope the many varied options for a getaway in this beautiful city make it easy to choose the ultimate Bansko Airbnb for you.
If you're still stuck on a choice, I highly recommend going for my overall favourite, this Spacious Modern Studio. It's got everything you need for a comfortable stay, an excellent location, and the price tag makes it worth every penny.
And remember, when travelling, it is always better to be safe than sorry. It is recommended you get yourself protected with travel insurance. You never need it until you don't have it…
---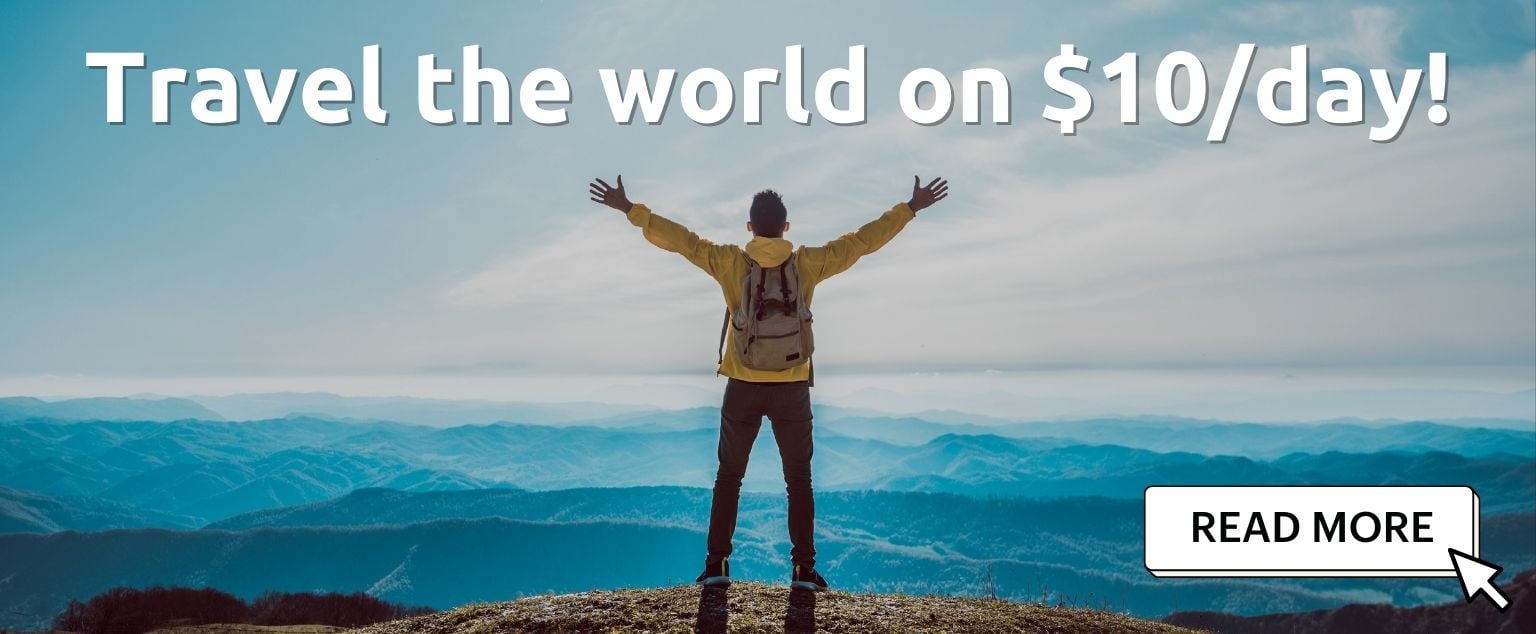 And for transparency's sake, please know that some of the links in our content are affiliate links. That means that if you book your accommodation, buy your gear, or sort your insurance through our link, we earn a small commission (at no extra cost to you). That said, we only link to the gear we trust and never recommend services we don't believe are up to scratch. Again, thank you!