Dreaming of a pleasurable and extraordinary getaway in Europe? Life is short, folks, so make your dream European vacation a reality by visiting Korcula.
With its transcendent natural beauty and Venetian Renaissance architecture, Korcula will surprise, enthrall and amaze even the most worldly travelers. What's more, this Croatian idyll bursts with fascinating experiences and adventures for everyone.
From outdoor pursuits to first-rate vinos, Korcula can put you in a state of pure bliss in so many ways.
But finding a place to stay in Korcula can be a little tricky, especially if you're not familiar with the area. That's why we've created this "where to stay in Korcula" travel guide for you.
Whether you're traveling alone or with a bunch of buddies, these tips will come in handy as you plan your trip to Korcula.
Korcula is often forgotten when it comes to planning your backpacking Croatia trip. However, the small island is a real hidden gem! With its wide streets and prolific transportation system, getting around this Croatian paradise won't be a problem for most travelers.
So, if you don't mind which area to stay in Korcula, stay at any of these handpicked accommodations.
You don't have to spend a fortune to experience a lavish stay in Korcula. At Sunset and Wine Baglija IV, you get to enjoy a 5-star hotel-like experience without the hefty price tag.
With the host's unrivaled hospitality and the condo's snug accommodations, this option will make you feel right at home – and the views from this condo are simply magnifico, too!
Majestic Apartment in Korcula: Delux Apartment
For an action-packed vacation in Korcula, book a stay at Delux Apartment. Located in the heart of Korcula Old Town, this apartment is steps away from the most iconic landmarks and attractions of the island.
Plus, the apartment is a stone's throw away from a slew of outstanding restaurants and shops.
Charming historic Hotel in Korcula: Hotel Korcula
Enjoy a piece of Croatian history with a stay at the island's first-ever hotel. Although the hotel is over a hundred years old, you'll still have a comfortable and relaxing stay at this historic cove. With its lush setting and elaborate features, the hotel is photogenic and Instagram-worthy.
Whether you're traveling alone or with your family, this hotel will surely give you tons of pleasant memories.
Korcula's tourism scene is burgeoning. With its sparkling waters, medieval treasures, and historic walls, it will soon give famous travel destination Dubrovnik a run for its money.
Although a bit underrated, this heavenly island will ultimately grace the covers of several travel magazines.
So, keep scrolling and check out our expert tips on where to stay and what to do in Korcula.
Korcula Old Town is the epicenter of culture, entertainment, and fun on the island. From its picture-perfect historic buildings to its tempting restaurants, this area overflows with tantalizing sights and colorful experiences.
Not to mention, it has all the modern-day comforts you need for your vacation, making it a great home base for your Korcula vacation.
There's no need to break the bank or sell your kidneys to experience an unforgettable beach getaway. Luckily, Croatia is relatively affordable. In Vela Luka, you can experience a world of fun and indulge in a rejuvenating beach escape for a very reasonable price.
Even better, it has an easygoing ambiance, meaning it's perfect for travelers aching to escape the hustle and bustle of city life.
Lumbarda is a haven of fun for families and beach lovers. With its pristine shorelines and mind-blowing water sports, this village offers non-stop splashy amusement and adventures.
For vino connoisseurs, this village will also appease your palate, thanks to its delightful local wine varieties.
Additionally, it's pretty close to the beloved attractions of Korcula Old Town.
Zrnovo is, hands down, one of the most underrated villages in Korcula. With access to Kocje Nature Park and numerous cycling trails, this village will definitely quench your thirst for outdoor escapades.
Likewise, beach bums will have a swell time exploring the coastal beauties near this peaceful Korcula island village.
1. Korcula Old Town – Best Place to Stay in Korcula for your First Time
Korcula Old Town is a paradise for photography connoisseurs and sightseers. Praised for its rustic charm and medieval treasures, this appealing old town has ancient surrounding walls and palm-lined streets that mirror the beauty of world-famous Dubrovnik.
Of course, the town is also dotted with historic churches and eye-catching Venetian Renaissance architecture. Just strolling around the town walls and along storied streets will give you the urge to snap hundreds of photographs.
As with the rest of Korcula, the town has fine bars where visitors can sample a variety of delightful local wines, like Postup and Dingac.
Best Apartment in Korcula Old Town: Delux Apartment
There's no lodging option in Korcula quite like Delux Apartment. Set right in the heart of Korcula Old Town, this fabulous apartment is meters away from St. Mark's Cathedral and Marco Polo's house.
While it's located in a busy neighborhood, it's surprisingly laid-back. Besides its terrace and gorgeous Mediterranean garden, the sunset views here are to die for.
Best Suite in Korcula Old Town: Diamond Suite
Diamond Suites has all the hallmarks of a memorable Korcula vacation. With its convenient central location, the suite will give you instant access to the beach, souvenir shops, grocery stores, and restaurants.
Additionally, all the town's best attractions are a short walk away from here. And did we mention that the suite exudes a rather rustic and easygoing charm?
Best Hotel in Korcula Old Town: Hotel Korcula
No list of the best hotels in Korcula is complete without its first hotel. Established in 1912, this iconic and historic hotel is positioned uniquely, offering breath-snatching views of the sea.
Guests will also find the hotel's vine-covered terrace and stone villa design romantic and charming. Not to mention, the rooms are super cushy and their service is second to none.
Things to See and Do in Korcula Old Town
Retrace the adventures of Marco through lifelike dummies in medieval costume and dioramas at the Marco Polo Exhibition. With life-sized monkeys, Chinese emperors, and camels, it's quite visually compelling.
Be mesmerized by the grandeur of St. Mark's Cathedral, truly one of the Dalmatian church architecture's finest examples. Taking over 200 years to build, this cathedral features a number of styles, including Baroque, Romanesque, and Gothic.
Channel your inner Instagrammer or photographer by visiting the town's other picture-perfect churches, including Gospojina and St. Mihovil.
In the early evening, head to any of the cocktail bars or cafes that are facing west to admire the stunning sunset views.
Celebrate Half New Years' Eve at one of Croatia's biggest festivals.
2. Vela Luka – Where to Stay in Korcula on a Budget
Truthfully, Vela Luka doesn't have the magic and appeal of the vibrant and historic Korcula town. Even so, it's a terrific village with scores of fantastic experiences and adventures for its visitors.
From boat excursions to caving, Vela Luka entertains open-minded travelers in a myriad of ways. With over 2,600 sunshine hours per year, it's one the sunniest spots in Croatia, making it an oasis of fun for sun-seekers.
While it doesn't have hundreds of lodging options, it does have some cushy and reasonably-priced accommodations. Best of all, it's a quieter and more affordable alternative to staying in Lumbarda or Korcula Old Town.
Wake up to a spectacular view of the sea from this amazing Vela Luka apartment. When the day is about to end, the apartment will enthrall you with its awe-inspiring sunset view. Of course, there's more to this apartment than its gorgeous vistas.
From its cushy beds to incredible amenities, the apartment has everything you need to make your stay convenient. More importantly, it's incredibly affordable.
Want some peace and quiet? You'll absolutely love this guesthouse in Vela Luka. With its secluded location, the guesthouse offers a relaxing experience for guests. What's more, it provides easy access to the beach.
There are also handy amenities available at this guesthouse, including an indoor fireplace and complimentary WiFi.
Villa Humac Hvar looks like a scene from a dream. Located in a picturesque and unique village, this villa will impress you with its bucolic ambiance and astonishing views. And since the village is practically inhabited, you'll have an utterly peaceful and relaxing stay here.
And, by the way, the beaches are just 10 minutes away by car from this remarkable villa.
Things to See and Do in Vela Luka
Make your visit extremely memorable with a ferry trip to the nearby islets of Osjak and Proizd.
Drop by the Cultural Centre of Vela Luka, which is housed in a beautiful Baroque building in the heart of the village. You'll find a bevvy of interesting displays here, including ethnographic collections, galleries, and excavated discoveries from the caves.
Vela Spila is a beguiling cave, known as the earliest home on the Adriatic for modern humans. With its atmospheric light at play, the cave is definitely worth a visit for anyone exploring Vela Luka.
Drive up to Hum Hill and visit its Habsburg-era abandoned fortress. While you're there, spend time admiring the bird's-eye view of the area.
3. Lumbarda – Best Area in Korcula for Families
Traveling with your family in Korcula? Want to experience a memorable beach retreat with the gang? Do yourself a favor and make Lumbarda your home base for your Korcula vacation.
Nestled on a sandy and tranquil bay, the village is serene and home to a few kid-friendly beaches. For intrepid travelers, the village features a mishmash of heart-pumping beach and water sports.
Known as the island's grape-growing epicenter, Lumbarda also beckons oenophiles with its world-famous vino varieties, especially the GRK white wine. On top of it all, the village is just a 10-minute drive from the vibrant and busy Korcula Old Town.
The bluest and clearest water in Korcula is just a staircase away from this fabulous seaside apartment. Perfect for a summer vacation, this apartment is also spacious enough to fit the whole family in three bedrooms.
Surrounded by flowers and lush plants, the apartment is also secluded. There are a few outdoor terraces and balconies where you may soak up some sunshine.
This lavish condo will make you feel like you're staying in a luxury hotel for a fraction of the cost. Upon your arrival, the host will welcome you with some generous treats, including local white wine and prosciutto.
Besides these great perks, the condo is also stunning, with sleek interiors and magnificent ocean views.
Captain's Villa Sokol is a paradise for photographers and Instagram addicts. Set in a scenic bay, this stone-made villa is surrounded by lovely pine trees only steps away from the sparkling sea.
Even better, the hotel offers a plethora of activities, including a yacht day excursion to Dubrovnik and Mljet Island National Park.
Things to See and Do in Lumbarda
Experience a wet and wild adventure by enjoying the village's exhilarating water sports, including windsurfing, paddle-boarding, sea kayaking, and boat trips.
Lumbarda is home to the island's finest and most family-friendly beaches, including Billin Zal and Przina.
Satisfy your cravings with a visit to Konoba Maslina, a beloved, honest, and no-frills eatery. Here, you'll find a smorgasbord of mouth-watering and hearty dishes, including gnocchi, homemade cheese, and pasticada.
Take a scenic hike to the summit of St. Anthony's Hill and enjoy awe-inspiring views of the island's surroundings, including the Orebic shore and islets.
Sample the world-renowned and extremely delightful GRK white wine at any of the village's wine shops or wineries.
4. Zrnovo – Where to Stay in Korcula for Couples
Looking for a more tranquil and romantic alternative to Korcula Old Town? Trust me, you're going to enjoy Zrnovo. Although it's just a four-kilometer drive from the town, this village feels like a world away from the island's tourist and entertainment epicenter.
And guess what? The village offers a wide range of activities suited to all types of travelers. Beach bums, for instance, will have a blast visiting the eye-catching coastal bays and one-of-a-kind rock formations.
Meanwhile, nature lovers will have ample opportunities for cycling and hiking. History buffs will no doubt adore the old churches and historic treasures of this Korcula village.
This cute Studio Apartment is a slice of heaven on earth. With a beautiful terrace, this apartment gives you a striking view of the sea and villages around. It's a super modern and fully equipped home, and a top base to explore the island. It only accommodates 2 people at a time, making it perfect for solo travellers or a couple.
The beach is only 150m from your doorstep and you can even get into Old Town by foot (although it'll take around 15 minutes in total).
With its scenic location and laid-back atmosphere, this stone house is amazingly romantic, making it a terrific choice for couples. From the guesthouse, you'll be within a short drive to the wonders of the historic old town, featuring cobbled streets and ancient buildings.
There's also a gorgeous garden where you can enjoy the view and relax with a drink after a day of sightseeing in Korcula.
Seascape is the perfect idyllic getaway for couples aching for some splashy fun. With its outdoor pool and beach access, this lodging option will give you endless underwater fun. For a dose of adventure, you can go cycling and canoeing in the nearby areas.
As a bonus, the rooms are super spacious and the beds are amazingly cushy.
Things to See and Do in Zrnovo
For a shot of adrenaline, hit any of the numerous walking and cycling trails that surround Zrnovo.
A visit to the Kocje Nature Park is an absolute must for anyone exploring Korcula Island. One of the protected landscapes in Croatia, this nature park wows visitors with its magical rock formations and epic scenery. In fact, the park will probably remind you of the beautiful Lord of the Rings scenes.
From the village, head south and indulge in a refreshing beach escape at any of the peddled bays, like Pavja Luka, Rasohatica, and Orlandusa. On the northern coast, you may relax and swim in the bays of Vrbovica and Zrnovska Banja.
Here's what people usually ask us about the areas of Korcula and where to stay.
ALWAYS sort out your backpacker insurance before your trip. There's plenty to choose from in that department, but a good place to start is Safety Wing.
They offer month-to-month payments, no lock-in contracts, and require absolutely no itineraries: that's the exact kind of insurance long-term travellers and digital nomads need.
SafetyWing is cheap, easy, and admin-free: just sign up lickety-split so you can get back to it!
Click the button below to learn more about SafetyWing's setup or read our insider review for the full tasty scoop.
There's no place in Croatia that's quite as magical and spectacular as Korcula Island. With its ethereal natural beauty and historical treasures, the island guarantees you the vacation of a lifetime.
All the villages and towns mentioned in this guide are perfect for anyone visiting this Croatian nirvana. But if you have to pick just one, it should be Korcula Old Town.
With plenty of options for accommodation, entertainment, and food, Korcula Old Town is suitable for travelers of all ages and tastes. It even has numerous choices for lodging and food for budget-conscious travelers.
Is there something you want to let us know? Please feel free to share your thoughts using the comment section.
Do you own an awesome hostel, hotel or apartment? Want to be featured in our list? Email [email protected] to find out how.
---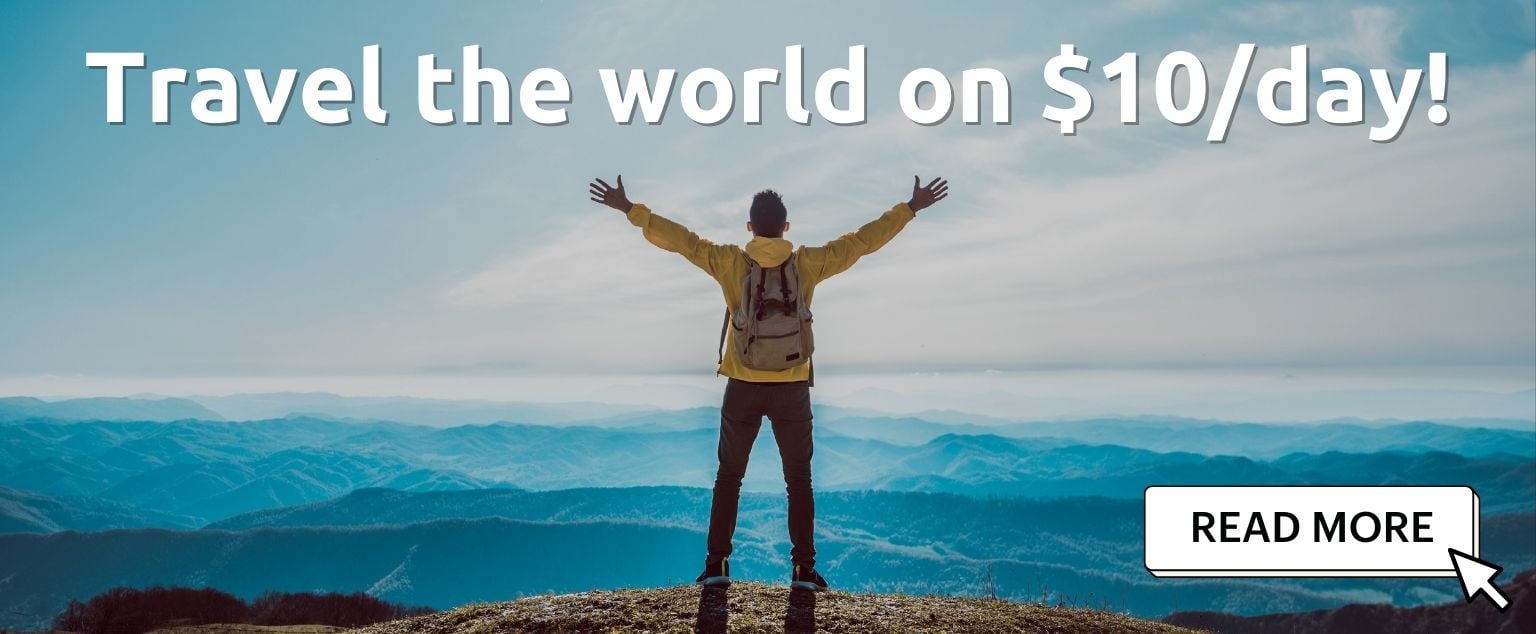 And for transparency's sake, please know that some of the links in our content are affiliate links. That means that if you book your accommodation, buy your gear, or sort your insurance through our link, we earn a small commission (at no extra cost to you). That said, we only link to the gear we trust and never recommend services we don't believe are up to scratch. Again, thank you!