Croatians are known to be big on celebrating. The newly independent country commemorates holidays and events centered around tradition, culture, and religion with tons of enthusiasm. So much so, that just about every small village and big city celebrates independently and uniquely.
With a growing tourism sector pulling hundreds of thousands of visitors (mostly young) to its shores and islands, Croatia has quickly worked its way up to being one of Europe's top summer festival destinations.
Tourists who used to visit for the food and natural beauty are now arriving with plans to attend some of the most important festivals in Croatia. With music festivals spread across the county, you're guaranteed a good time whether you settle in the capital or on a remote island.
Whether you're looking for a place to dance your heart out or spectate unique cultural traditions, there is an event in Croatia for you. So, let's take a look at the most exciting and widely attended events in Croatia.
Festivals in Croatia
From firework-loaded electronic concerts, to open-air beach festivals, to celebrations steeped in tradition and culture, here are some of the top festivals held in Croatia: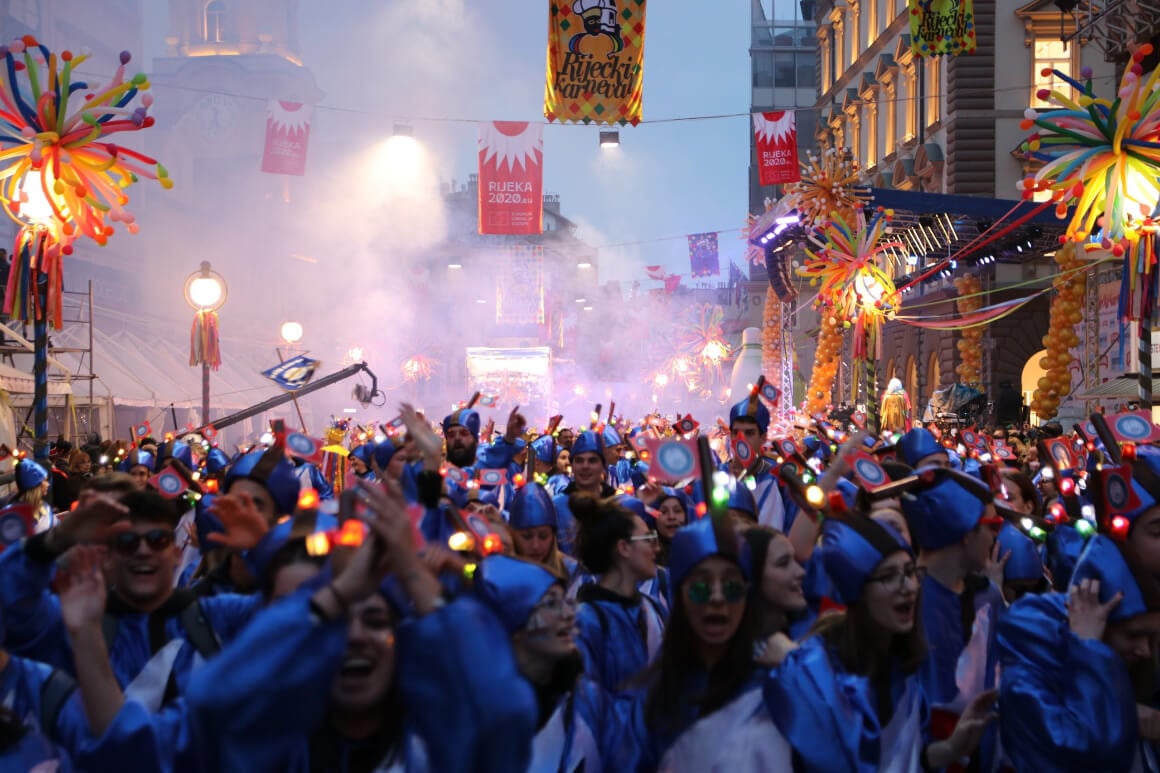 When: January / February
Where: Rijeka
Rijeka Carnival is no doubt the largest and most vibrant carnival in Croatia. Celebrations start in the middle of January and run into February, making it one of the best festivals to start the year on a positive note.
Every day is slightly different at the parade, which starts with local men dressed in traditional animal skin clothing chasing away evil spirits with loud bells. If you're staying in a hostel in Rijeka, they'll fill you in on all the details of each day.
In fact, this tradition was celebrated in the 1800s until it was forgotten about. The celebrations were revived in 1982 when a few groups of masked men walked down the main street to amuse the locals with the historical tradition.
Today, hundreds of thousands of spectators line the streets to watch a flurry of colorful floats, masked dancers, and musicians journey down the Korzo in Rijeka. There is no admission fee to watch the madness and you are welcome to join the festivities anywhere along the float route at any time.
The main (and penultimate) event of this Croatian festival is held on the last Sunday of February, with an entire afternoon filled with floats passing through the main streets towards the canal. If you're up for a party, this is one of the most sought-after nights in the city, with partying continuing well into the early morning hours.
Where to Stay:
The city of Rijeka reaches max capacity during the festival period. If you're looking for an affordable place to call home, this cozy loft apartment in the heart of the city has been refurbished with everything you might need for a short stay.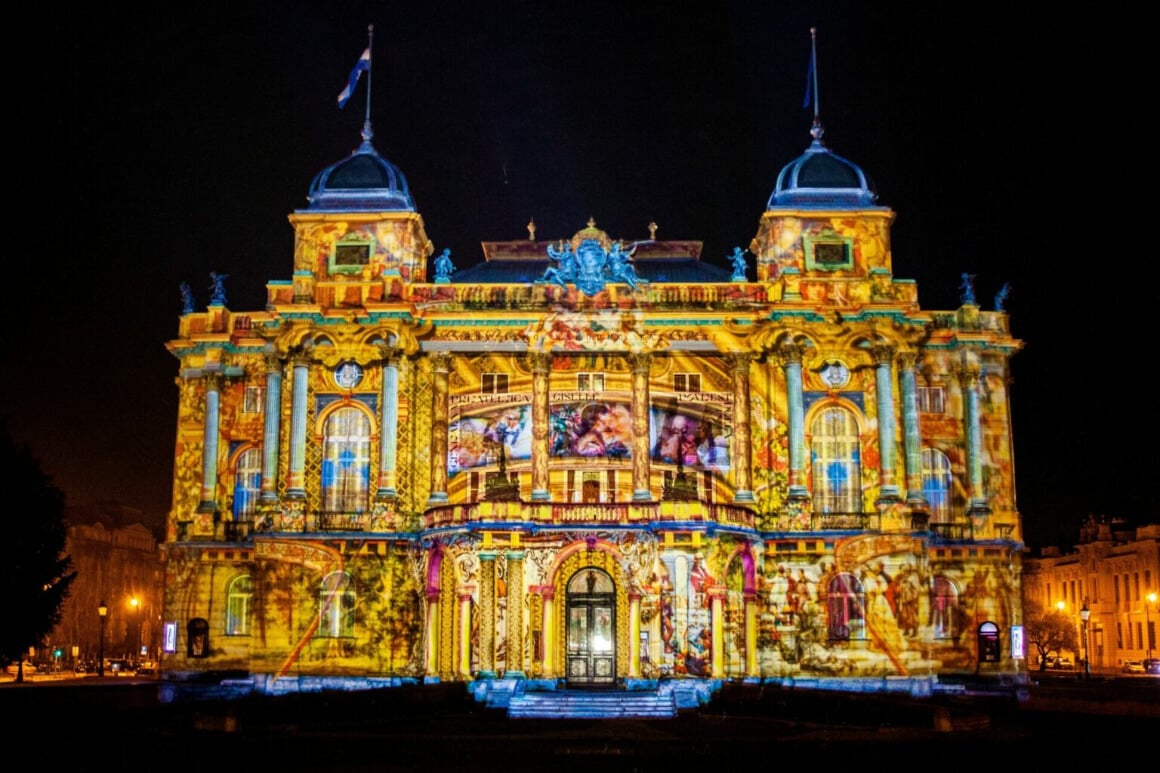 As the sun sets on spring evenings in March, the city of Zagreb is painted in light for one of the most exquisite light shows and displays you will ever see. The entire ancient city becomes a canvas for projection technologists, who design integrated light shows around the buildings.
You'll see crumbling ancient buildings swimming in colorful moving images, often depicting a quirky scene or short film accompanied by high-quality music. The city (from small streets to parks and squares) is packed with awe-inspiring light installations, including interactive displays and imaginative concepts.
The combination of art, design, technology, and architecture is one to make you believe you've entered an imaginary world of creativity, innovation, and endless possibilities.
Most installations depict images of new life, spring, and growth, which fits in with the springtime period when the event is held. After a long winter in Croatia, light artists and technicians visit from across the globe to partake in this incredible event.
The primary purpose of this festival in Croatia is to welcome locals and tourists out of their homes to experience the beginning of spring together in a friendly and inspiring atmosphere. Not to mention, this wholesome event is hosted by the Zagreb Tourist Board and is free to attend.
Where to Stay:
As the biggest city in Croatia, it's no surprise that Zagreb is bursting at the seams with exciting hotels and self-catering rentals to book. This modern apartment in the city center has its own patio and is well located to wander the streets on foot.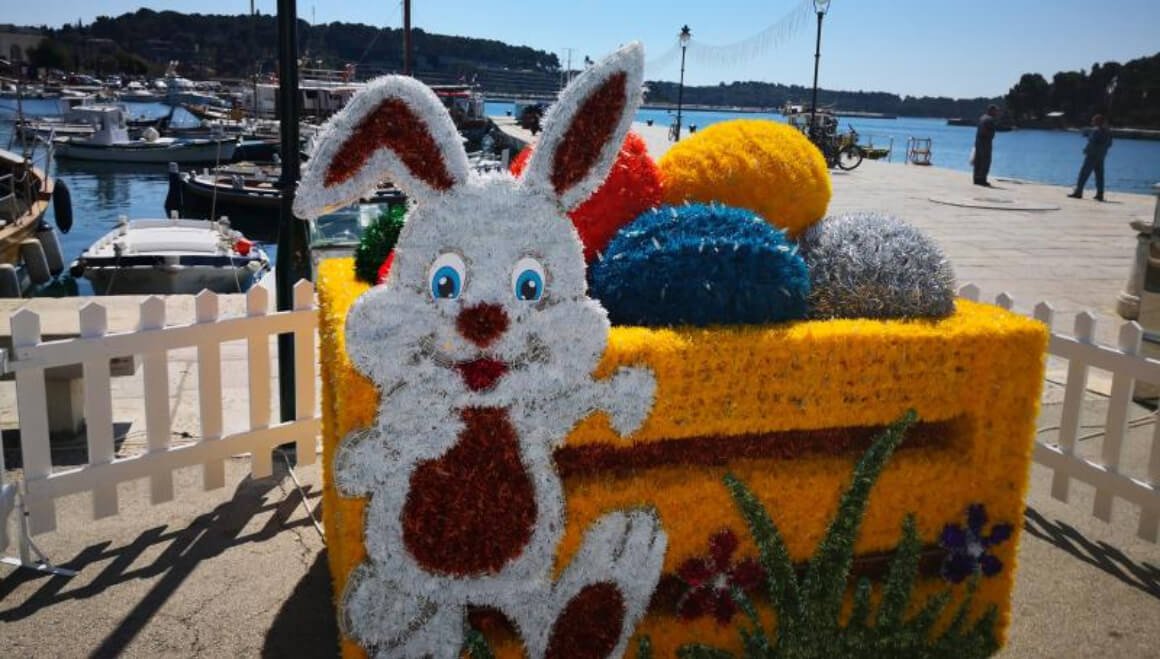 When: March / April
Where: Rovinj
Croatia is a religious country with tons of festivals celebrating Christian events. Easter is no exception, and the Croatians have combined their dedication to religion with their passion for food in this three-day Easter Food Festival.
In Croatia, easter is a holy time spent enjoying sweet treats with family. Here, easter eggs are referred to as "Pisanice" or "Uskrsnja Jaja" and are traditionally decorated with drawings made with leaves, flowers, and wax using natural plant colors from red cabbage, beetroot, turmeric, and coffee.
This event celebrates the country's most loved gastronomy and traditional foods, focusing on Croatian Easter delights like pinca, fritulica, and painted eggs. It's one of the best (and tastiest) Easter festivals in Croatia to attend, drawing locals and tourists in from across the country.
Join the three-day festivities at the Rovinj-Rovigno Square, where a well-organized line-up of events takes place from mid-morning until early evening.
Over the three days, locals, and tourists take part in some quirky traditions that take place during the festival, one of the best being the local tradition of exchanging real and chocolate eggs with others at the event.
Where to Stay:
Rovinj is a gorgeous shipping port on the west coast of the Istrian Peninsula. It boasts some of the most exquisite views, so I would always recommend finding accommodation with ocean views.
This three-bedroom home on the seaside overlooks the azure blue water.

Do You Want to Travel FOREVER??
Pop your email in below to get a FREE copy of 'How to Travel the World on $10 a Day!'.
Spring Procession of Ljelje / Kraljice
Each year, as the winter months draw to a close, the town of Gorjani blossoms into festivities with a Spring Procession of Ljelje and Kraljice (otherwise known as queens). This traditional festival was once celebrated across the Slavonia, Baranja, and Syrmia regions in north-east Croatia, but only remains in a small village called Gorjani today.
During Pentecost Sunday at this religious festival in Croatia, girls and young women are divided into 'kings and queens' groups, traditionally known as Kraljice and Kraljevi. The queens wear elaborate traditional costumes and parade through the village streets, while the group of kings wears men's clothing with hats decorated with fresh flowers.
Stopping now and then to sing and dance, the procession goes from house to house through the village. They are usually joined by singers, bagpipe, and tambura players, also known as gajde.
Legend says that the women of Gorjani would dress in men's clothing to make soldiers believe they were ghostly beings.
You can't book tickets for this event, which is more of a traditional celebration that welcomes spectators. The Spring Procession is a unique and colorful celebration worth experiencing if you're in the area.
Where to Stay:
Gorjani is a small village with a ton of charm. There are a few lovely apartments and bed and breakfasts to browse from here, and I think this cozy apartment with a patio is the perfect spot to settle into when you visit the village.
Half New Years' Eve
There is no need to wait for New Year's Eve when visiting Croatia, where Half New Year's Eve has been celebrated for the past 20 years.
Picture New Year's Eve, but with much better weather. Half New Year's Eve is celebrated on the 30th of June on the island of Korcula, exactly six months before the official New Year, in the middle of summer.
On the evening of the 30th, the streets of Old Town Korcula close to traffic and turn into a huge dance floor. The main event at this festival in Croatia happens at Plokata Square and lasts until the early morning hours of the first of July.
While the evening of the 30th is the penultimate event, loaded with all-nighter parties and rages, the entire week leading up to this evening is packed with a calendar of workshops and street performances in the vibrant town of Korcula.
What can you expect at this summer festival, other than dramatic fireworks displays, decorated streets and sidewalks, and participants dressed up in festive matching outfits? Some of the events leading up to the main evening include the 'Flavours of Korcula' where attendees can taste some of the island's best homemade delicacies, a masked group parade, and a traditional sword dance.
Where to Stay:
Korcula is a small island with a super low-key, local feel. Because of this, you won't find many large chain hotels or resorts on the island. Instead, lap up the traditional environment and book a room in this private beach apartment overlooking the ocean.
Tucked away in a gorgeous setting on an island in Lake Jarun in Zagreb, INmusic Festival is a three-day festival accompanied by seven days of camping. It's one of the top indie music and rock and roll festivals near the capital and has been successfully bringing joy to the area for fifteen years.
This music festival in Croatia takes place from Monday to Wednesday in June, in the middle of summer. It runs over two national holidays and might be the only festival not held over a weekend.
You can expect an international lineup with huge acts and famous artists flying in worldwide. For example, Florence+The Machine, Arctic Monkeys, and Billy Idol have previously graced the lakeside stages.
While most of the artists who play are well-known indie and rock musicians, the festival also holds space for some up-and-coming talent from Croatia.
Tickets are reasonably priced in local currency, costing between €70 and €100. There are also options to camp on-site (for an additional €33) and rent a kitted-out RV to take advantage of an entire weekend of camping.
Where to Stay:
If you'd prefer to retreat to a warm shower and a cozy bed at the end of the evening, you can stay in a hotel or apartment in Zagreb and travel to the festival site each day. After all, Lake Jarun is just a few miles south of the city center.
Admiral Hotel is a four-star property just a short drive from the festival site.
Have you sorted your accommodation yet?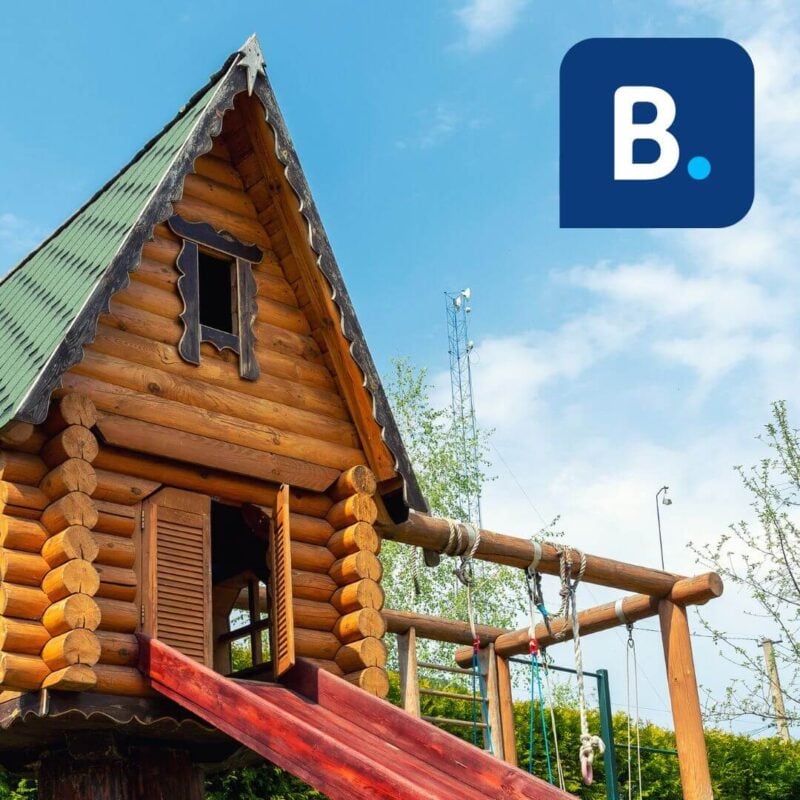 Get 15% OFF when you book through our link — and support the site you love so dearly 😉
Booking.com is quickly becoming our go-to for accommodation. From cheap hostels to stylish homestays and nice hotels, they've got it all!
View on Booking.com
Enter another dimension at Xistance Festival, one of the most highly anticipated psytrance festivals in Croatia. Not only does the festival attract some of the world's most famous trance and electronic artists, but it is also held in one of the most idyllic party locations in Europe.
Set along the iconic Zcre Beach in Novalja, this Croatian festival is designed to help you disconnect from life's problems and enter a creative world where peace, harmony, and beauty blend together as one. It's pretty much a dreamy beach vacation paired with a huge social scene and incredible music.
The beachside venue boasts its own pool, which makes for a super unique dancefloor. It's also surrounded by bars and restaurants where you can take your pick of delicious snacks and cocktails. Not to mention the stunning beach with crystal clear water.
The event runs for four days and four nights and features luxurious accommodations with hot showers and air conditioning. No more waking up cooking in a hot tent or waiting in line for a shower here… This is psytrance turned luxury!
Where to Stay:
Tickets differ in price depending on the type of accommodation you choose, and the event organizers have made sure to accommodate every budget type and group size.
They range from €167 per day at a local hotel to €540 per person for an apartment with a pool. All accommodation packages include a festival access pass.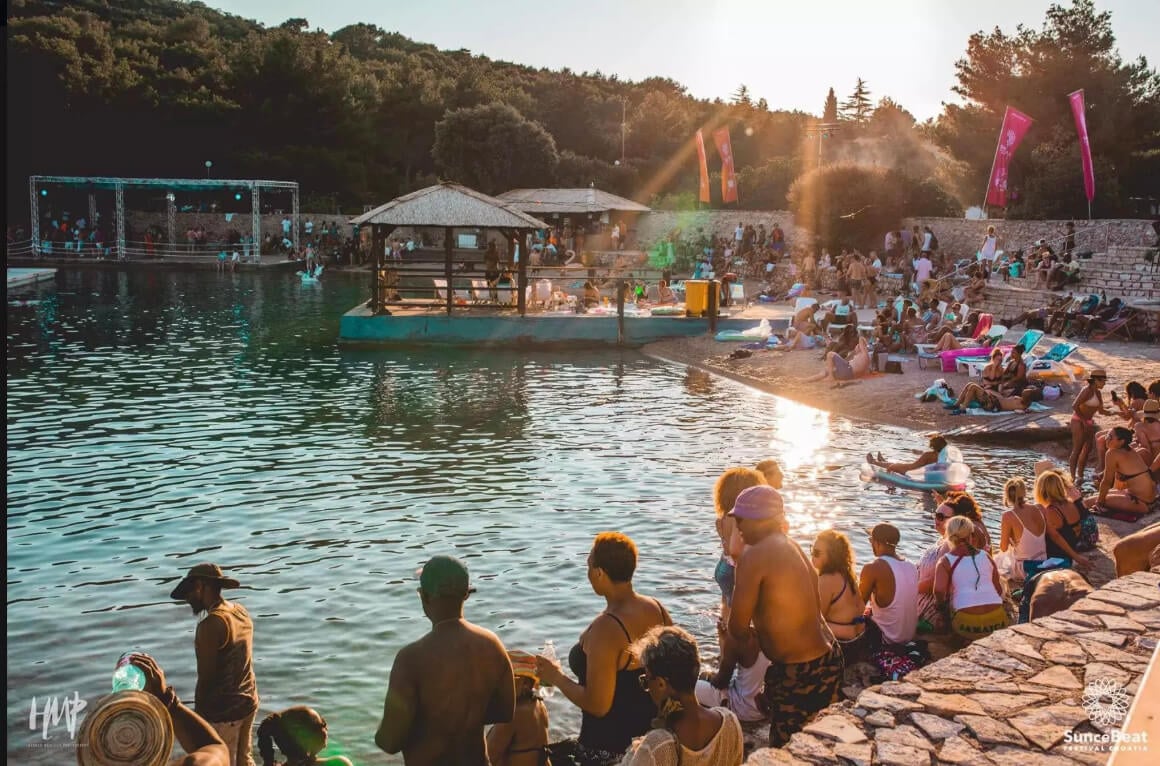 You'll be transported into another world at Suncebeat Festival, a unique carnivalesque festival designed for those with an appreciation for good music, beautiful surroundings, and friendly faces.
The festival is held at an iconic (and outright beautiful) venue known as The Garden in Tisno over a whole week in July. It has been running for eleven years and is only growing in popularity as it matures.
Considered one of the best techno, soul, R&B, and funk music festivals in Croatia, this event will have you moving and grooving for days. The lineup features incredible international DJs like Black Coffee, LNTG, Hunee and Antal, Jazzy Jeff, and DJ Harvey.
The location is enough to make your heart skip a beat, with dance floors hidden along a pristine beach shaded by pine trees. Choose to dance your heart out at the main stage, relax at the beach bar on the water, or groove at the Olive Grove.
There are even a few boat parties hosted throughout the week on the legendary Argonaughty and Arabian vessels.
Seven days is a pretty long time to spend at a festival, so there are options to book a four-day pass over the long weekend. An early bird seven-day ticket costs around £195, and a four-day pass will cost just £175.
Where to Stay:
You won't find a more affordable spot with a better ocean view than this charming apartment in Tisno.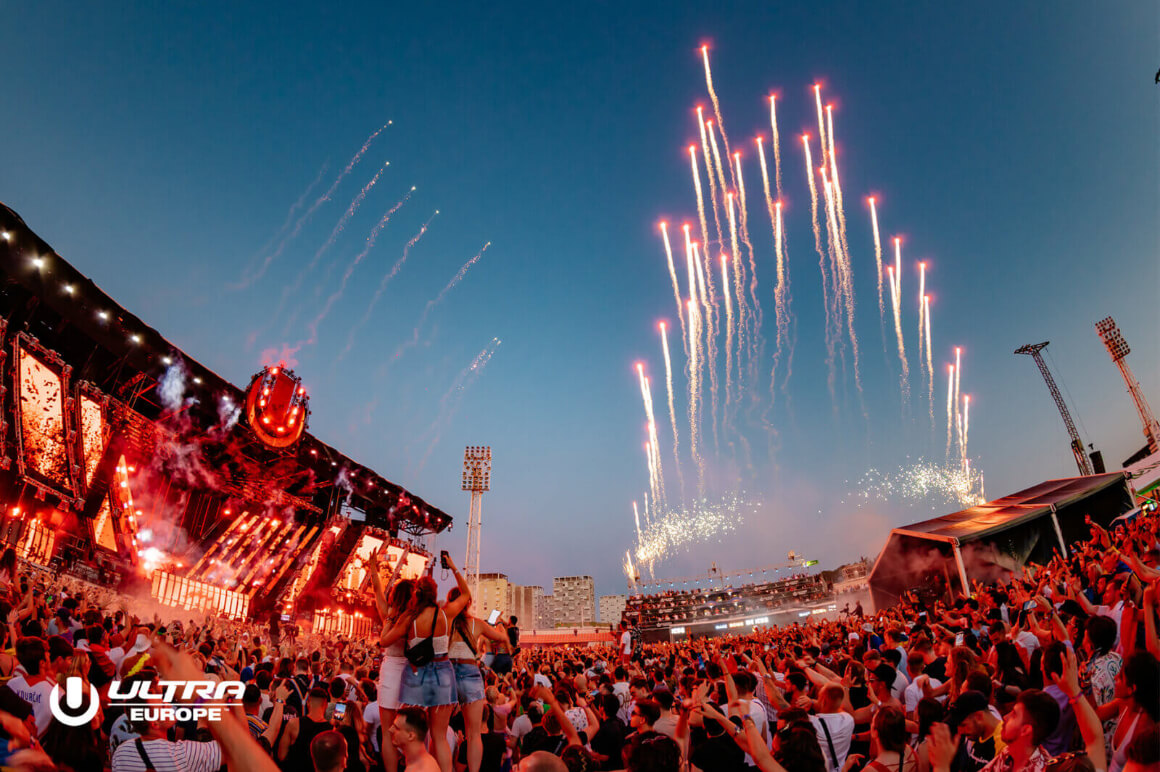 Ultra is one of those festivals that needs no introduction. It's a global phenomenon that has been raising heartbeats and energy waves since 1999, when it was founded in Miami, Florida. Today, Ultra events bring some of the top electronic, dance, and techno artists to over twenty countries worldwide.
As one of the music festival capitals on the continent, it's no surprise that Ultra Europe is held right here in Croatia. This music festival in Croatia occurs at Park Mladezi in the well-known city of Split, and it's one of four Croatian Ultra events held at several venues across the country.
Over three days in July, Ultra Europe brings a lineup with names like Alesso, Afrojack, Armin Van Buuren, Martin Garrix, Tiesto, and Steve Aoki to the small island county.
If Ultra is known for anything, it's for its wild stage sizes and pyrotechnic performances – I'm talking fireworks to make you gasp at every significant beat drop.
The massive festival has heaps of food trucks and food stalls where you can grab a bite to eat and stock up on drinks and refreshments to keep you energized.
Tickets are priced in tiers and cost between €150 and €170 for a three-day pass. VIP passes go for €370. If you feel like popping in for one day, you can save and purchase a one-day ticket for €150.
Where to Stay:
Bump up your festival experience and rent out the gorgeous Villa Galla hotel in Split. It's a short drive to the event venue and is the perfect spot to recover from a weekend of dancing in the sunshine.
Is This the Best Daypack EVER???
When: August
Where: Novalja
Once a year as summer comes to a close in August, techno fans are treated to an extravagant music festival set against a beachy backdrop in Croatia.
Imagine taking a dip in the Adriatic Sea between techno sets… Sonus Festival in Croatia takes place on the iconic Zrce Beach on the Dalmatian Coast and is known for bringing some of the world's top techno artists to the country.
The festival lasts five days and is a whirlwind event packed with over 50 electronic dance music (otherwise known as EDM) artists.
Not only can you expect a rocking lineup, including artists like Jamie Jones and Monika Kruse, but the festival is also all for giving upcoming talent a chance to shine. Who knows, you might get to see the first live show of one of Techno's most famous future artists!
The event is hosted by Cosmopop, famous for its dazzling beach, boat parties, and club events. So, you can expect an incredible production, to say the least.
A regular ticket starts at €152, while a VIP pass will cost €299. You can also buy a festival package for €659, which will include accommodation. Budget airlines even offer cheap flights into Zagreb, Split, and Zadar, especially for the event.
Where to Stay:
If you need a spot to rest your head after a weekend of raving, this gorgeous apartment in Novalja will do the trick. It even has a rooftop deck with a swimming pool overlooking the city and ocean!
When: September
Where: Pula
Heads will turn at the Visualia Festival, which takes place once a year in September in Pula. The event has been held for eight years, with a two-year hiatus over the pandemic period.
The opening of the festival in Croatia is held in Portarata Square, where ancient stone buildings are lit up in a magnificent display of light and audiovisual art. Throughout the weekend, light shows are held across the streets of Pula.
The light shows are designed by international and local lighting technicians who create impressive 2D and 3D mapping projections across real-life buildings and locations. Paired with surround sound, live music, and dance performances, it's a treat for the senses in every way.
Attendees are encouraged to start their lighting journey at the 'Light Bar' where they can collect an event program. The program follows a map of locations across the city, where you can experience some incredible lighting shows.
In the past, the following locations have been animated with light performances: Graz City Park, Kandlerova Street, Uspon St. Teodora, Riva, Tito's Park, and King Petar Krešimir IV Park. Of course, this map changes yearly.
Where to Stay:
You won't believe how amazing this modern apartment in Pula is. It has two bedrooms and a fully equipped kitchen. Not to mention its views of the central city and ancient amphitheater!
Final Thoughts
As a newly independent country with tons of natural beauty, culture, and good food to offer, Croatia has recently reinvented itself as one of the festival capitals of Europe.
Whether you're looking to spend all night dancing under the stars or are more interested in the country's cultural events, there are plenty of impressive and important festivals in Croatia worth attending.
While each festival is unique, I would have to pick the Zagreb Festival of Lights as my top festival in the country. It's a wonderful experience to see an ancient city lit up using ultra-modern lighting and technology. In fact, I left this festival with an entirely new perspective on the city and its buildings.

ALWAYS sort out your backpacker insurance before your trip. There's plenty to choose from in that department, but a good place to start is Safety Wing.
They offer month-to-month payments, no lock-in contracts, and require absolutely no itineraries: that's the exact kind of insurance long-term travellers and digital nomads need.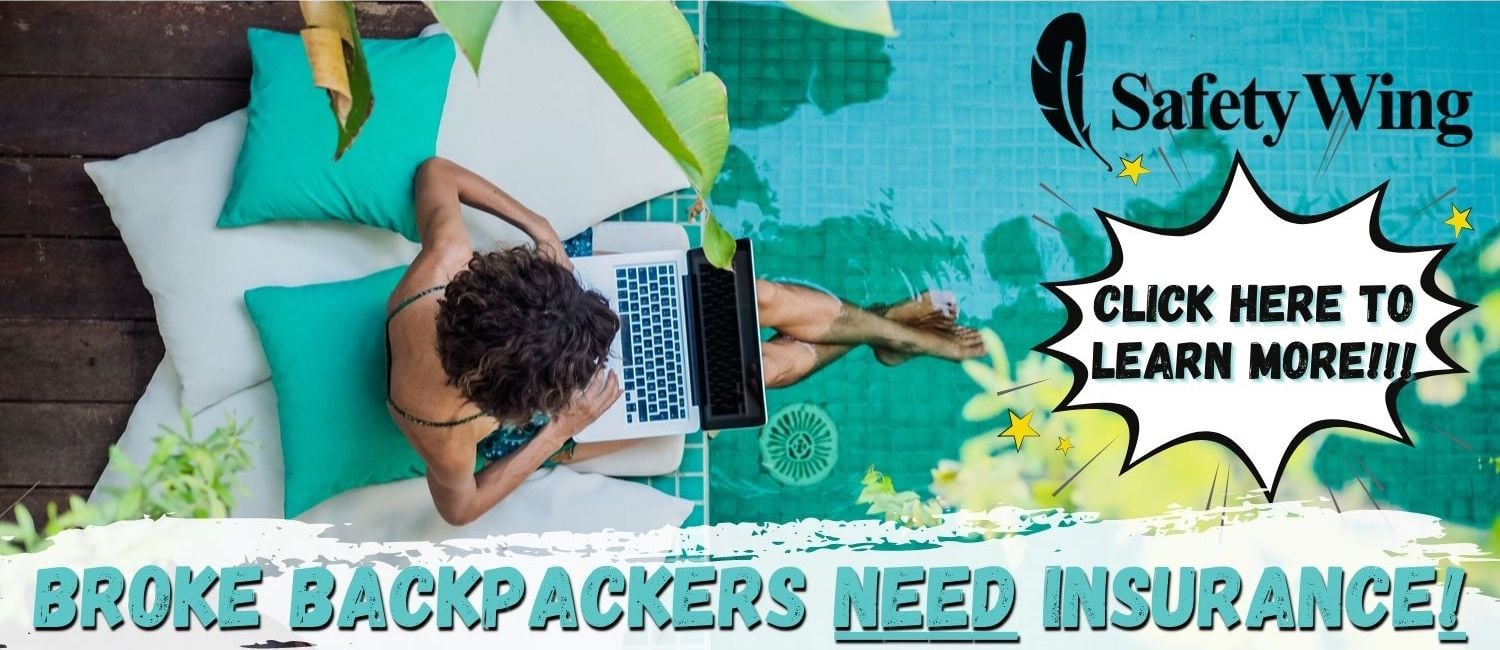 SafetyWing is cheap, easy, and admin-free: just sign up lickety-split so you can get back to it!
Click the button below to learn more about SafetyWing's setup or read our insider review for the full tasty scoop.
---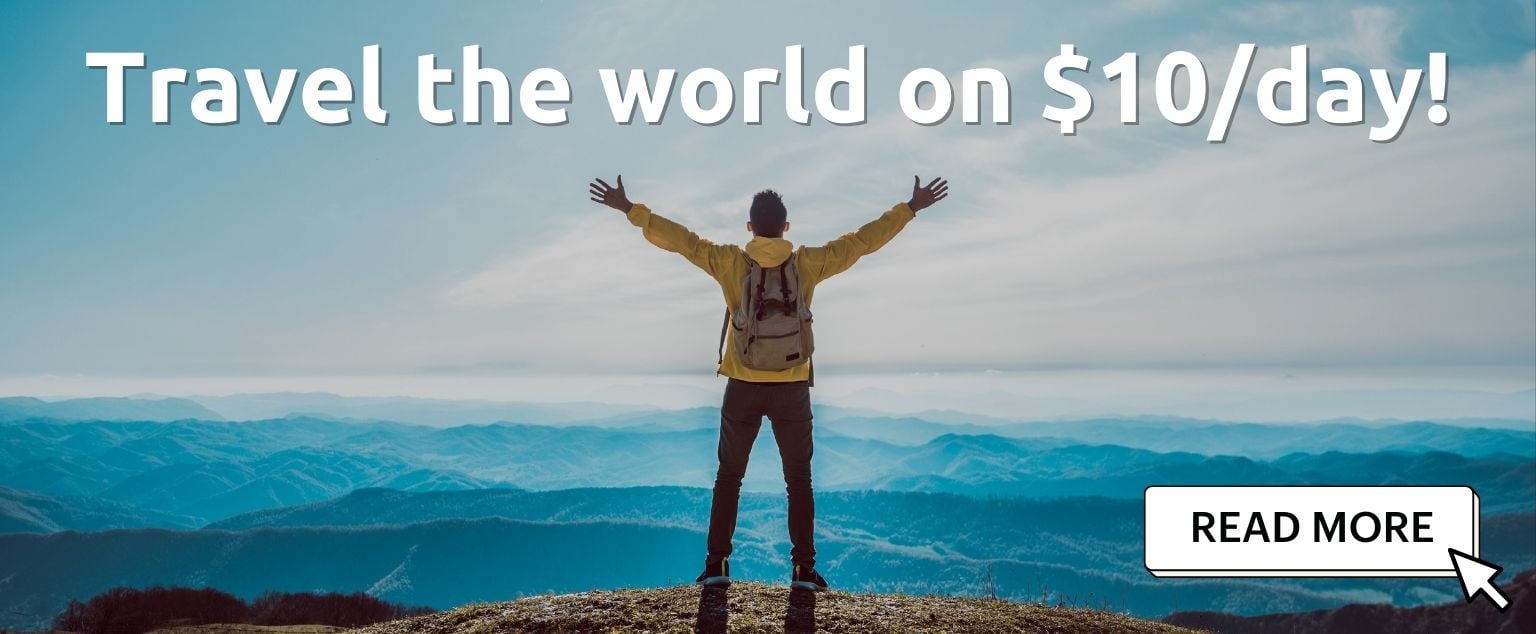 And for transparency's sake, please know that some of the links in our content are affiliate links. That means that if you book your accommodation, buy your gear, or sort your insurance through our link, we earn a small commission (at no extra cost to you). That said, we only link to the gear we trust and never recommend services we don't believe are up to scratch. Again, thank you!