As the third largest island in the Mediterranean Sea, Cyprus is a popular seaside destination! The country has so much more to offer, however, if you scratch beneath the surface. Centuries of history, unique cuisine and fascinating cultural attractions are all waiting to be discovered. It is also a major nightlife destination for young Europeans, with some of the biggest clubs on the continent.
Cyprus is, however, a divided island – meaning it can be quite tricky to navigate. For visitors, Northern Cyprus is a completely different experience from the South – though still has many attractions worth visiting. Even within the more established resorts, there are different things on offer in each city and neighborhood.
This is why we've created this guide! We figured out the six best places to stay in Cyprus, and categorised them based on what kind of travel they are best for. Whether you want bustling nightlife, ancient history or simply somewhere to kick back and relax – we have you covered.
So let's dive right in!
Quick Answers: Where is the Best Place to Stay in Cyprus?
Map of Where to Stay in Cyprus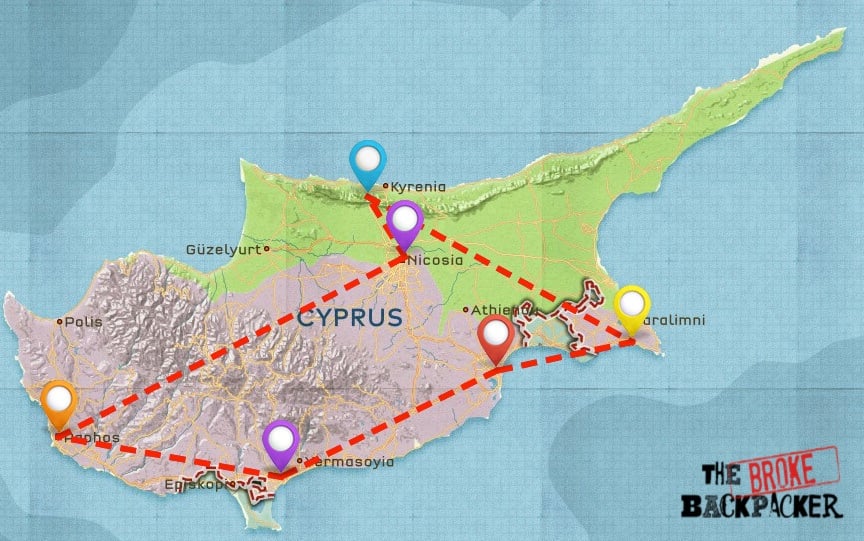 If you find yourself backpacking through Europe and you're keen on a unique adventure – why not try Cyprus? The island might not be the typical backpacker destination, but it's definitely a great place to explore. To save you some stress, we've divided the island into the best areas, which should make it a bit easier for you to decide where to stay. And if you've got enough time on your hands, why not visit all of them?
Limassol is the second-largest city in Cyprus – and due to its coastal location is the most popular destination for visitors to the island nation! The city perfectly encapsulates everything Cyprus is known for – with plenty of beaches, laid back restaurants and vibrant bars on offer. If you only have time for one place in Cyprus, Limassol will give you the best overview of the country.
Limassol is the main business centre of the country, giving it a cosmopolitan atmosphere. With the largest concentration of foreign workers, the restaurants and bars take inspiration from across the world.
The city centre is home to one of the biggest Old Towns on the island, with historic attractions dating back to the Ancient Greeks. If you're a fan of the trail, you can also use it as a base to go hiking in Cyprus' beautiful mountains.
Best Places to Stay in Limassol
Limassol has a reasonable public transport system, though is known to be quite slow. For this reason, we recommend staying close to the Beach Road or in the Old Town. The most popular attractions are generally within walking distance of each other, so opting to stay centrally will make your trip easier.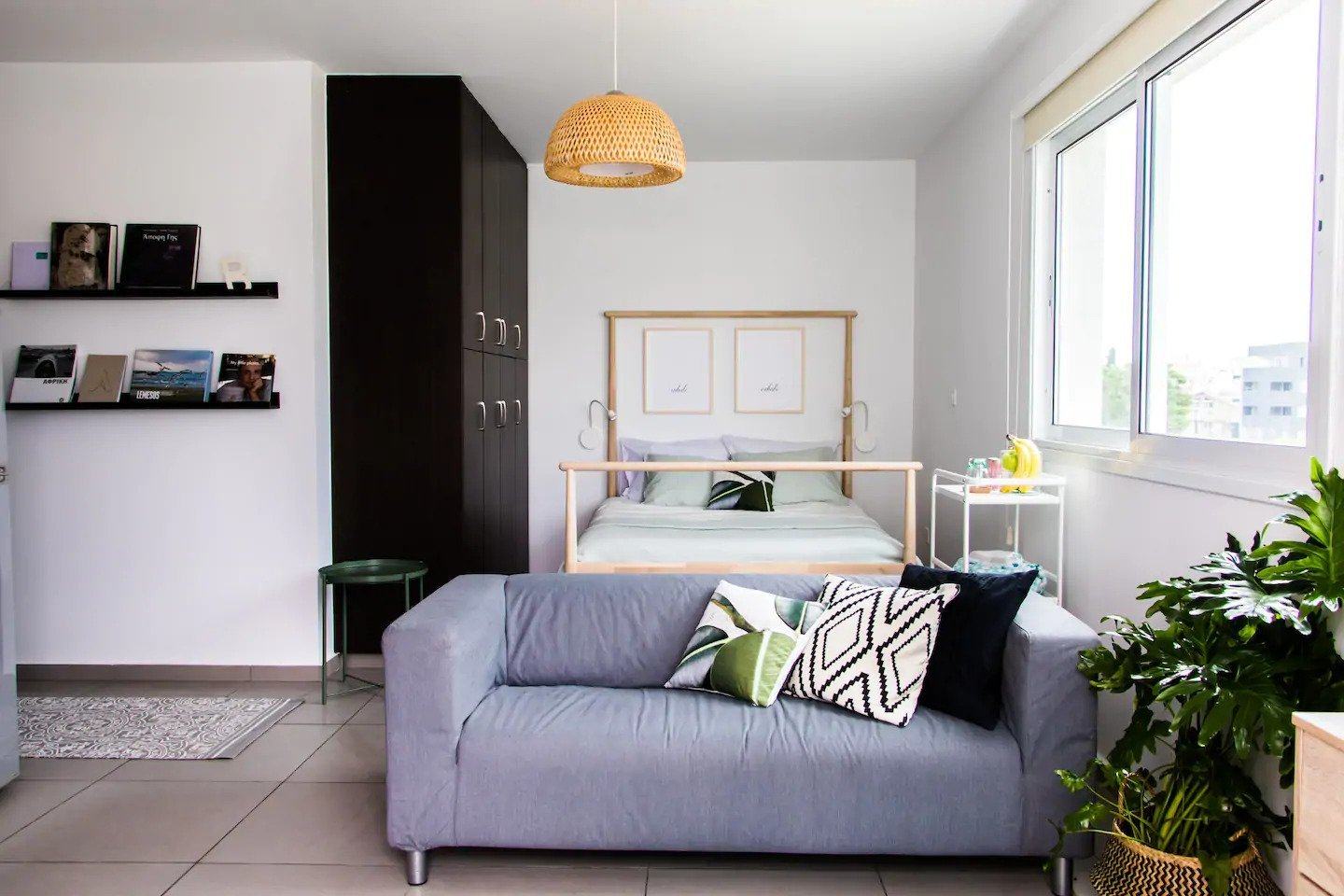 This stylish apartment is located only a short walk from the beach. The minimalist interiors create a calm and peaceful atmosphere, and the kitchen is well equipped for a short stay. This studio is particularly popular with couples and solo travellers staying in the area. They also provide a welcome tray with snacks, fruit and water for every guest.
Best Hostel in Limassol: Lemongrass
This hostel might be small, but it has a welcoming atmosphere that brings guests back time and time again. The main nightlife strip is only a short walk away, however, the neighborhood surrounding the hostel is calm and peaceful. There are plenty of excellent communal spaces, including spacious terraces where you can mingle with other guests and enjoy the Cypriot sun.
If you want a bit of an upgrade, this four-star hotel in the heart of the city is the perfect choice! It comes with a large pool, as well as extravagant spa facilities where you can unwind after a long day of exploring Limassol. All rooms come with either city or pool views. A complimentary breakfast is included every morning.
Known as the birthplace of Aphrodite, staying in the Paphos area is perfect for visitors interested in historic attractions. There are plenty of interesting archaeological sites in Paphos, including the Temple of Apollo and the Odeon. Tala Village is also a great spot for those wanting to discover authentic Cypriot traditions.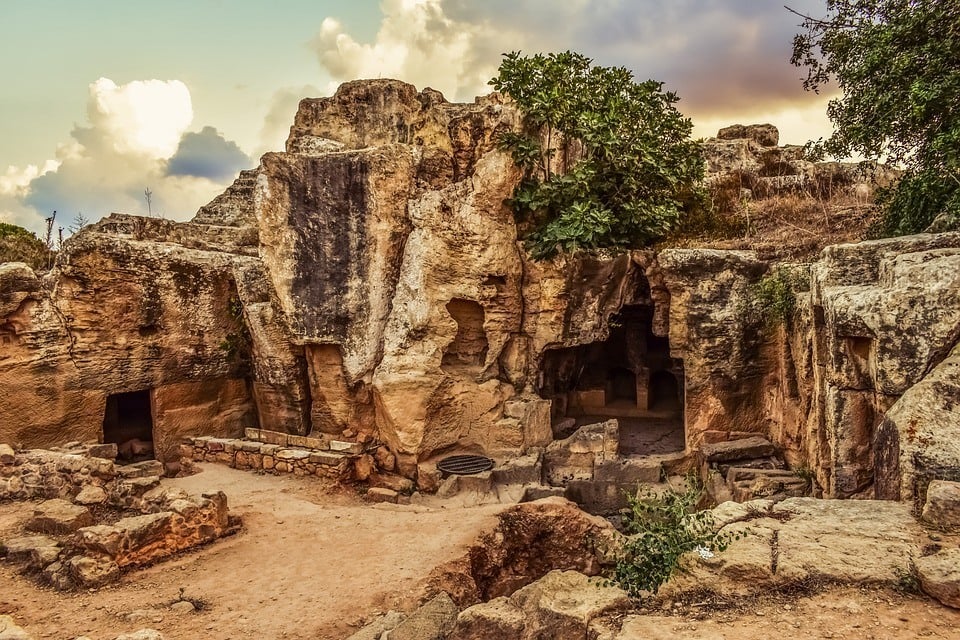 For families, Paphos is easily one of the best destinations in Cyprus! Aphrodite Water Park is a firm favourite with kids visiting the area, and the bird park is a must visit for animal lovers.
Paphos is located close to the Troodos Mountains, with plenty of day trips on offer for those wanting to check out the most dramatic scenery on the island. Its location in the far south makes it somewhat isolated from the larger resorts, but recent investment means it is now only a couple of hours from Limassol and Nicosia by bus.
Best Places to Stay In Paphos
Kato Paphos is the main tourist area. This is where you will find the best beaches, restaurants and hotels. If you want a more local experience, Ktima Paphos is the commercial heart of the city – and a great place for grabbing a bargain apartment or villa.
Airbnb Plus properties are handpicked for their stylish interiors, excellent service and unbeatable locations! This Paphos apartment is a great example, with an Italian kitchen suite and marble bathroom. It can sleep up to six guests across three bedrooms, making it ideal for groups and families. The flat also comes with sea views and is only a short walk from the main beach area.
Built by backpackers, this hostel has travel at its heart! The beach and city centre are only a short walk away, meaning you get to stay right in the heart of the action. They do have a zero alcohol policy, but this means it benefits from a calm atmosphere. Bike hire is available to guests throughout their stay.
If you want to stay right on the beach, you won't get any closer than this hotel! There is a large pool area which connects to the Blue Flag beach – and most city centre attractions are only a two-minute walk away. They have four restaurants and a tavern – with an adult-only restaurant offering Italian cuisine. It also has a kids club and extensive fitness suite.
Travel with peace of mind. Travel WITH a security belt.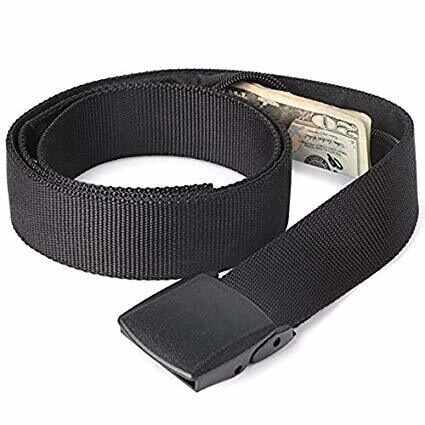 Custom-designed BY the Broke Backpacker FOR broke backpacking, the Active Roots Security Belt will keep your valuables safe no matter where you go.
It looks exactly like a normal belt except for a SECRET interior pocket perfectly designed to hide a wad of cash or a passport copy. Never get caught with your pants down again! (Unless you want to.)
Check on Amazon
Heading just north of Limassol, Larnaca is a very similar destination in many ways. It is home to a good mix of historic, cultural and nightlife attractions that provide a broad insight into everything that makes Cyprus a great destination. Where it differs, however, is that it has a calmer atmosphere – perfect for couples wanting to enjoy a relaxing getaway.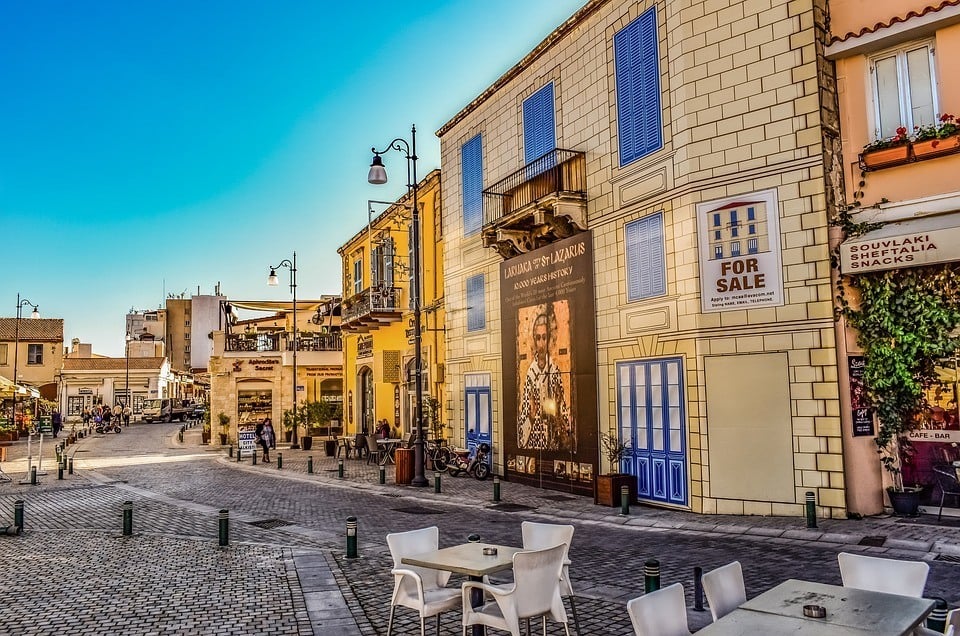 Larnaca is also an excellent destination for foodies! It can be a bit pricier here, but if you want to sample the best Cypriot Meze in the world, you're sure to find what you're looking for in Larnaca.
As the beaches are quieter in Larnaca – at least as far as sunbathers are concerned – water sports has become a popular activity in the city. There are some great shipwreck sites nearby, and if you want to get your diving certification this is a great place to do it.
Best Places to Stay in Larnaca
Larnaca is considerably smaller than most other cities on the island, so getting around can easily be done on foot. The Promenade is where you will find most of the restaurants and shopping destinations, but backpackers on a budget can head further inland without compromising on proximity to attractions.
This apartment might seem basic, but it is one of the most cost-effective ways to stay on the beach in Cyprus! Budget conscious visitors can enjoy coastal views from the dining area, and walk right onto the sand from the front door of the building. There are also two balconies in the apartment where you can admire the sunset.
Best Hostel in Larnaca: KATKA
KATKA are a hostel chain that have a number of locations across Cyprus – and their Larnaca accommodation is the best rated in the city! It is a little further out from the city centre, but KATKA pride themselves on the peaceful atmosphere. The front desk can help you get to know the local neighborhood, and Touzla Mosque is only a short walk away.
If you're planning a romantic getaway, splurging on a five star hotel is a tempting choice! The Radisson Blu in Larnaca is one of our favourite luxury hotels in Cyprus – perfect for couples enjoying a short break in the city. It comes with a huge spa facility that provides massages, facials and other holistic therapies. We also love the rooftop bar and their endless cocktail selection.
Nicosia is left off most itineraries to Cyprus, but it is a truly fascinating city that is a must-see for anyone interested in modern Cypriot history, culture and cuisine! Nicosia is a fantastic place to travel to and experience Cyprus's divided political history with heaps of unique attractions around. The only café located in a United Nations Buffer Zone can be found in Nicosia, and there are a few excellent tours describing the current situation.
Politics aside, Nicosia is also home to some fantastic cuisine. Ledra Street is the recently renovated main shopping street in the city and is known for its wide selection of cafes, bars and eateries. Both sides of Nicosia are known for their cosmopolitan atmosphere thanks to the large student population.
Heading to the other side of the Green Line, the Northern Cyprus part of Nicosia has the best historic attractions in the city. It acts as the capital of both sides of the island, so we recommend taking at least a day to explore the interesting Turkish Cypriot culture found in the north.
Best Places to Stay in Nicosia
Nicosia is surprisingly easy to get around! The south has the best public transport links, so we do recommend basing yourself here. If you are visiting from outside the European Union and wish to visit the north, make sure to request your passport is not stamped.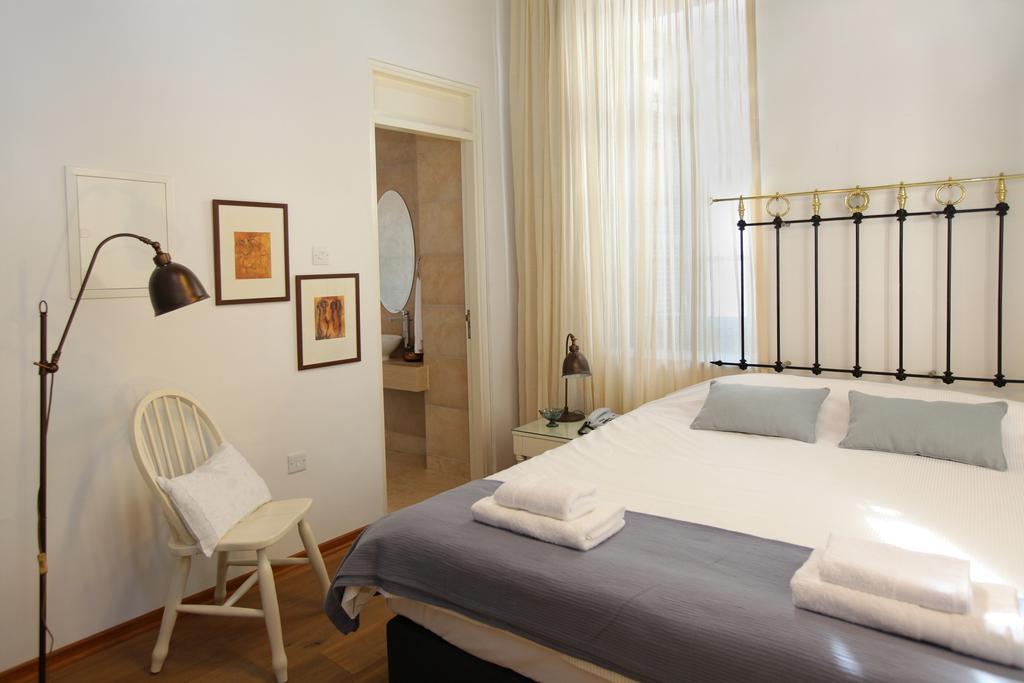 This stunning one-bedroom apartment is only a short walk away from the Green Line – giving you quick access to both sides of the city. The surrounding Old Town area is where you will find many of the historic attractions in the city, as well as some fascinating cultural sights. The apartment itself is bright, with high ceilings and spacious rooms.
Best Hostel in Nicosia: Nex Hostel
Whilst it is one of the newest hostels in Cyprus, Nex Hostel has already been named the best backpacker accommodation in the country at the 2020 Hostelworld Awards! The small hostel has a social vibe, with regular events and tours offered throughout the week. It also has a large terrace where you can soak up the sunshine.
Nicosia is a great pick for budget travellers – and this three star hotel is a great option for those that don't want to break the bank. It is located just outside the Old Town, with the crossing to Northern Cyprus only a ten minute walk away. Alongside their budget-friendly rooms, they also provide a complimentary breakfast buffet every morning.
Whilst Northern Cyprus is a bit trickier to visit, it is definitely worth your while if you want to head off the beaten path! Kyrenia is our favourite region in the north, offering stunning mountain scenery and fascinating historic attractions – including a Byzantine Castle right in the city centre.
As it is in Northern Cyprus, Kyrenia is a great city to discover Turkish Cypriot culture. In many ways, it feels a world apart from the more popular cities in the South. It is also the only city on the island with ferry links for onwards travel to Turkey.
Best Places to Stay in Kyrenia
Most tourism information (and Greek Cypriot maps) will refer to the city as Kyrenia, but do keep in mind locals prefer the Turkish name – Girne. This is a small city that can easily be navigated on foot, so staying in the city centre is your best bet.
Best Airbnb in Kyrenia: Pool House
This quaint bungalow is only a short walk from the beach! It also comes with its own pool if you want some privacy whilst cooling off from the heat. With one bedroom, it is a popular choice with couples and solo travellers heading to Kyrenia. They also offer some great add-ons – such as massages and Cypriot breakfasts.
Hostel Maxim is the best rated hotel in Northern Cyprus – making it a popular base with backpackers heading to this side of the Green Line. The Icon Museum is only a short walk away, as well as plenty of other city centre attractions. The roof terrace provides stunning views of the city as well as the Mediterranean Sea.
Located right on the side of a cliff, this hotel comes with unbeatable views of the Northern Cyprus coast! There is a small pool on the roof terrace, as well as a quaint dining area where you can enjoy the complimentary breakfast buffet. This three-star hotel provides great value for money for budget travellers wanting to stay in a coastal resort.
Want to save the world?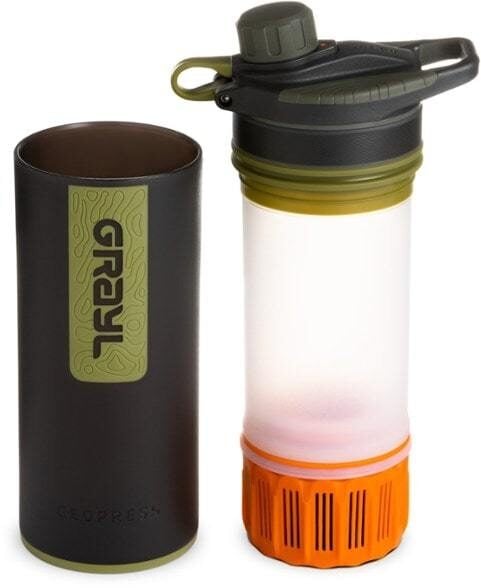 Single-use plastic bottles are a huge threat to Marine Life – Be a part of the solution and travel with a filter water bottle.
The GRAYL GEOPRESS water bottle is the ONLY all-in-one filter water bottle setup you'll need. Whether you need to purify the water from a hostel sink in Kathmandu or a stream trickle in the Andes, the Geopress has got you covered.
Read our full review of the GRAYL GEOPRESS!
Ayia Napa is the most visited resort in Cyprus! In particular, it is renowned across Europe for its bustling nightlife. The Square is home to the biggest nightclubs in Cyprus, offering DJ sets and affordable drinks throughout the week. The beach is also home to parties throughout the year – though the most popular are during the summer.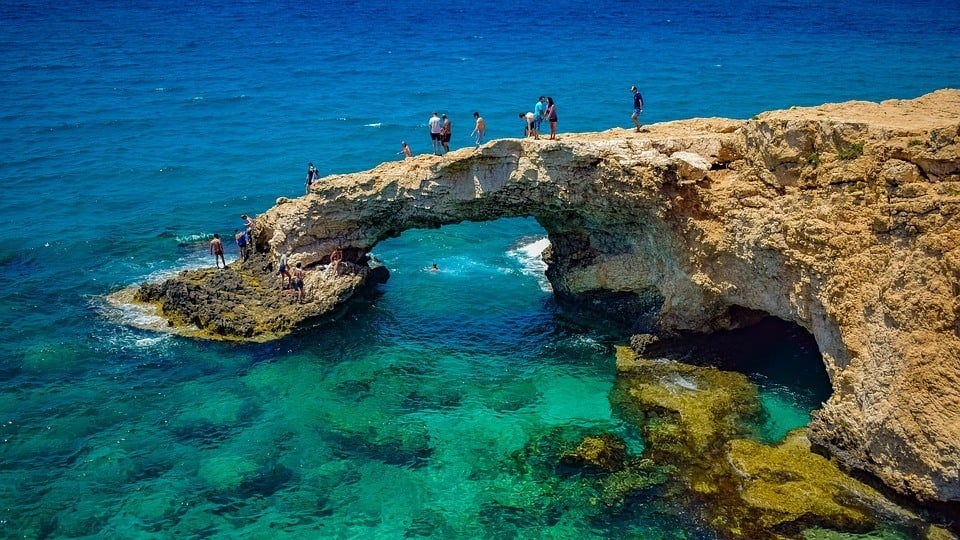 Many tourists are surprised to discover how safe and peaceful Ayia Napa is! For those taking their first steps into the European clubbing scene, Ayia Napa is the perfect introduction. It is also well connected to most other resorts on both sides of the island, making it a great base for exploring further.
Best Places To Stay in Ayia Napa
Despite its popularity with tourists, Ayia Napa is a small town and can easily be navigated on foot. If you want to head away from the endless noise, Protaras is just as tourist-oriented but much calmer. Dhekelia, the neighboring UK Overseas Territory, also has some villages with cheaper accommodations.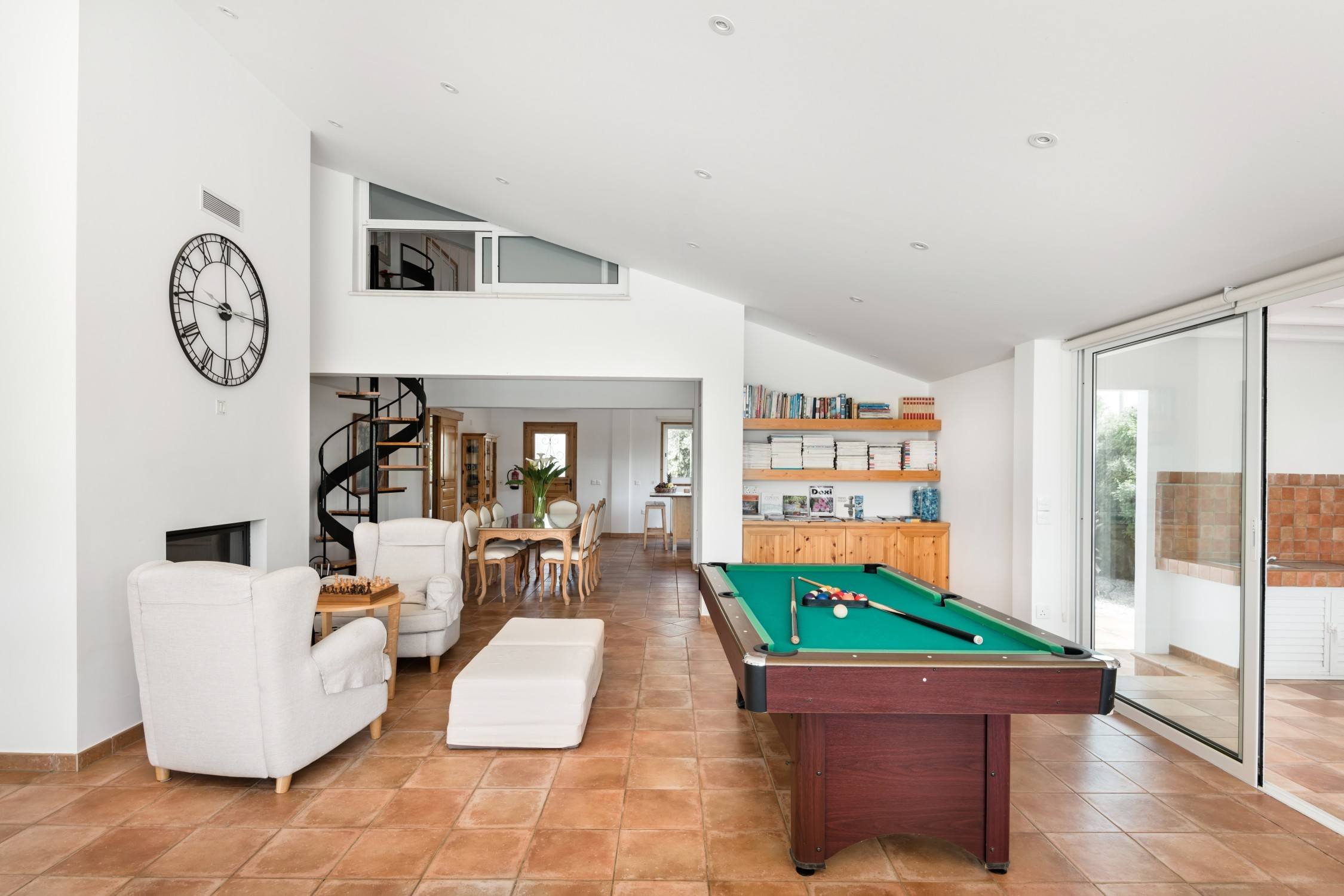 Another stunning Airbnb Plus property, this four-bedroom villa can sleep up to eight people – perfect for large groups! It is located just outside Ayia Napa, in the British Territory of Dhekelia, but is well connected to the main strip by public transport. The large pool area comes with sun loungers, and the whitewashed building is stylish and soothing.
With spacious communal areas, regular events and a barbecue area, this is the perfect place to socialise with other visitors before heading out! The large terrace outside provides a calm respite from the bustling streets of Ayia Napa. Nevertheless, the biggest clubs and bars are only a short walk from Hostel Nissus. Nissi Beach is also nearby, and bike hire is available from the front desk.
Located right on Cape Greko, this hotel is only a short walk from Limanaki Beach – perfect for hitting up all the busiest spots in Ayia Napa! There are four restaurants within the hotel offering a variety of cuisines, as well as a cocktail bar with a terrace overlooking the sea. All rooms come with either sea or pool views.
Top Places To Stay in Cyprus
Cyprus is a diverse island with plenty to offer visitors! In general, staying in the South is easier for getting around thanks to better public transport and tourism infrastructure. Those looking to visit Northern Cyprus should consider Nicosia, which has the quickest Green Line crossing checkpoint. If you don't mind which city you end up staying in, here are our favourite overall accommodation picks in Cyprus.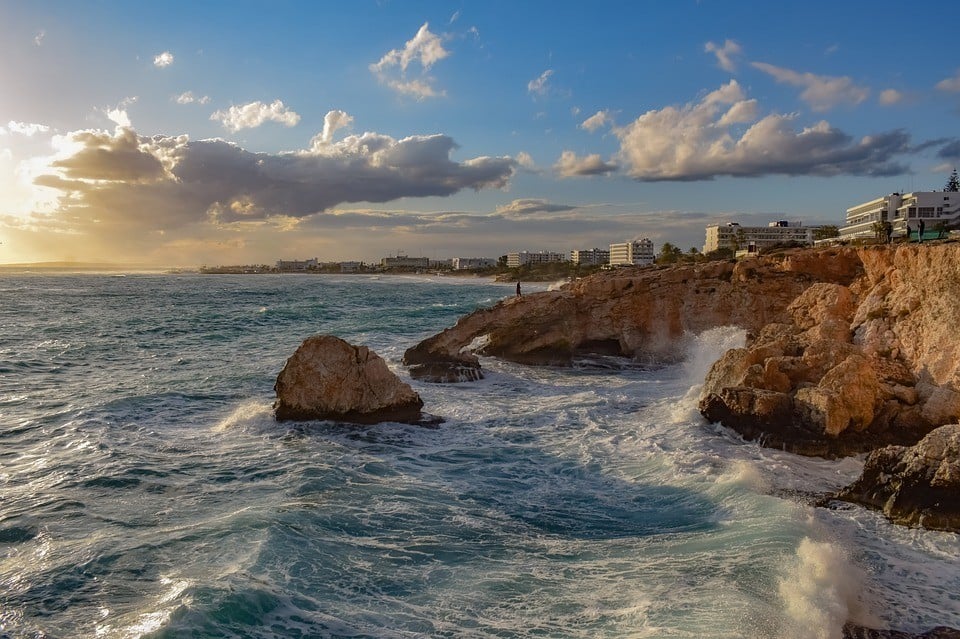 Truly one of the most unique apartments in Cyprus, this one-bedroom Airbnb overlooks the Green Line in Nicosia – meaning you can see Northern Cyprus from the balcony! The interior design is laid back, giving a calming atmosphere with plenty of sunlight throughout the day. The host also has superhost status thanks to consistently great reviews.
Best Hostel in Cyprus – Lemongrass – Limassol
As one of the best-rated hostels in Cyprus, it's no wonder Lemongrass takes our top spot for backpacker accommodation on the island! Located in one of the trendiest neighborhoods in Limassol, it perfectly combines a peaceful atmosphere with plenty of things to do nearby. Guest numbers in rooms are small, creating a cozy atmosphere. The beach is also only a stone's throw away.
This four-star hotel offers a great compromise between price and quality! It is located right on the waterfront in Ayia Napa – ensuring you get to stay close to all of the biggest nightlife venues on the island. Alongside a complimentary breakfast buffet, they also have a huge pool area where you can unwind during the day.
Final Thoughts on Where To Stay in Cyprus
Cyprus is a colourful destination with lots to offer! With gorgeous Mediterranean beaches, endless sunshine and dazzling mountain scenery, it's no wonder it attracts visitors from across the world every year. It is also home to pulsing night clubs, Ancient Greek landmarks and one of the most unique culinary scenes in Europe.
In terms of favourite destination, we're going to go with Larnaca! It perfectly captures everything that Cyprus has to offer, is located right on the coast, and isn't too far from Northern Cyprus for those seeking something a little more adventurous.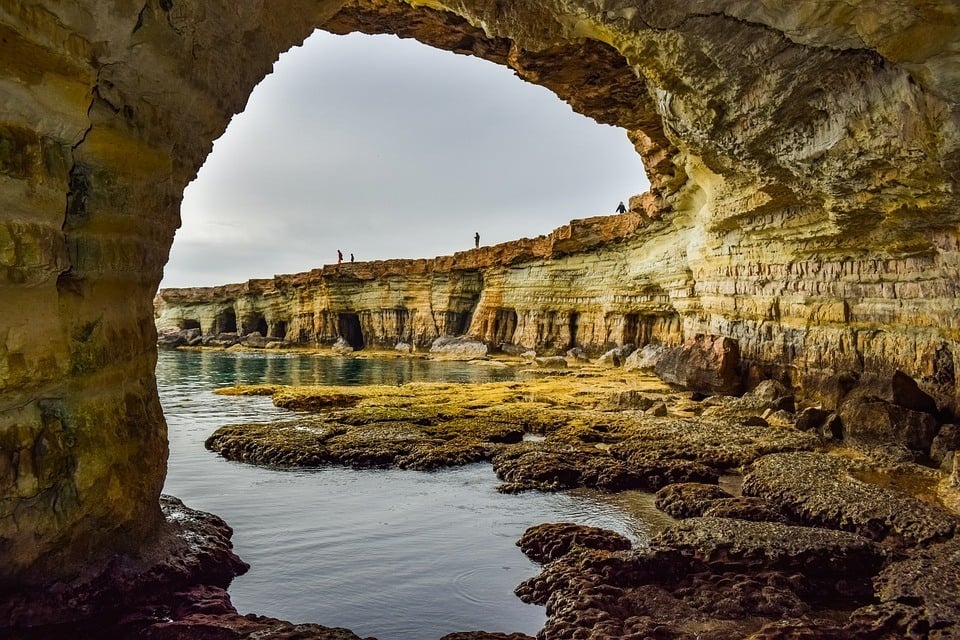 That being said, all of the places mentioned in this guide have their own unique benefits. Wherever is best for you largely depends on what you want to get out of your stay, but we hope we have at least managed to help you narrow down your options.
Did we miss anything? Let us know in the comments!
Do you own or run a kick-ass hostel? Want to be featured on this list? Get in touch at [email protected]
Travel Insurance for Cyprus
And don't forget to take out Travel Insurance for your trip! I have been using World Nomads for some time now and made a few claims over the years. They're easy to use, professional and relatively affordable. They may also let you buy or extend a policy once you've started your trip and are already abroad which is super handy.

Getting an estimate from World Nomads is simple – just click the button or image below, fill out the necessary info, and you're on your way!

---
Find out how YOU can support the site.
We work hard to put out the best backpacker resources on the web for free! It's all about helping out our tribe of awesome backpacker readers (that's you!). Please visit the link to find out how you can help keep the site going 🙂
For the sake of transparency, some of the links in our content are affiliate links. This means that if you book your accommodation, buy a piece of gear, or sort your insurance through our link, we earn a small commission at no extra cost to you. We only link to stuff that members of the Broke Backpacker team has actually used and never endorse products or services that are not up to scratch. Thanks for your support!