Cyprus excels in the holy trinity of Mediterranean destinations: good food, incredible beaches, and nice weather year-round. The country is laid-back and has plenty of nature to explore, making for a damn good trip!
This place is often touted as touristic, with plenty of family-friendly resorts, party towns, and a few crowds here and there, but there is a hidden beauty to Cyprus that many are not aware of.
Away from the hordes of tourists that flock to the island every year for sand and margaritas, the best way to explore Cyprus is hiking.
It's got it all: short nature trails, coastal walks, and more strenuous jaunts in the mountains. Multi-day sections of paths that run across Europe, and more…
But worry not, because today we're going to tell you everything you need to know before you go hiking in Cyprus. What to expect of its many, many trails, how to stay safe, and the piece de resistance — our favorite hikes.
Lace up those boots, grab a pen and paper, and let's get this thing started!
If you don't know much about Cyprus, you probably didn't think there was much to it either… You know, apart from all the beach resorts and tourist-bubble activities.
But the hiking is incredible here. Cyprus is packed with great spots to hit the trail and explore the unseen goodies of this Mediterranean island.
The obvious place to start looking is the coastline. It is an island, after all, and the coastal trails are great — from Cape Greco to the stunning Akamas Peninsula. The latter is particularly breathtaking, with its bright turquoise waters and rocky shoreline.
Cyprus has its very own Mount Olympus as well, surrounded by great trails and tracks that allow for mountain exploration. It's the highest peak in the Troodos Mountains, where you can also find the Caledonia Waterfalls.
However, the countryside has hikes too, leading you through towns with beaches and eateries. And you've got the ancient forests, if you're looking for something a bit more lush and magical.
Whatever it may be, you should visit Cyprus during winter (or more broadly speaking, between October and April). Though it's the wettest season, it doesn't rain all that much. With an average temperature of around 20ºC, it's way more pleasurable than the summer's 35ºC.
Winter can get cold in some places though, particularly in the mountains, so pack an extra layer. And if you're keen on some good ol' ski, you're in luck!
Cyprus Trail Safety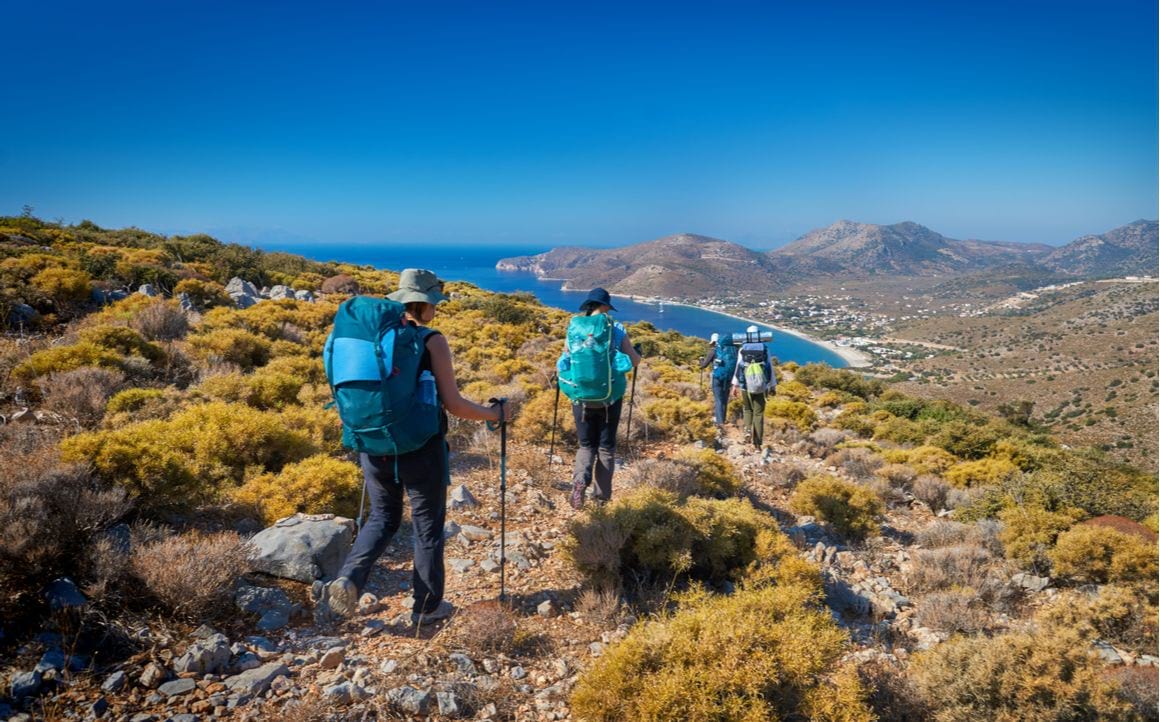 Hiking in Cyprus is great, and you're bound to fall in love with this place when you're out on the trail. There's something for all abilities and fitness levels to enjoy, from more challenging hikes to easygoing strolls in nature.
But, sometimes, there are adversities.
Cyprus gets hot — like, really hot. You need to be prepared to climb steep slopes under the blazing sun if you're coming in the summer. And with all that coastline and rugged scenery, some of the hikes have pretty hair-raising drops to watch out for.
To help you know what you're going for and keep safe, we've listed our top tips and hints for hiking in Cyprus…
Plan it out – It's fun to go with the flow, but attempting a last-minute hike is not without its risks. You might not realize what the trail entails — or what kind of shoes you should've brought. Plan ahead and avoid mishaps.
Keep to the path – You might be tempted to head off-trail and explore, but it's important to stick to the marked path. It's easy (though sometimes fun) to get lost, so watch your step and don't go anywhere you shouldn't.
Be prepared – Gear is super important when hiking. A reliable pair of walking shoes will be needed to tackle the rocky trails in Cyprus. Pack a map in case you lose signal, and a good water bottle to stay hydrated during the hike.
Check the weather – Hiking in the height of the day can be dangerous, especially without a sun hat and some sunscreen and glasses. If you're here during the winter, watch out for the rain! It fucks up the trails.
Hike responsibly- Hiking late in the day is not a good idea. Plan enough time to complete the hike before dark, because that shit is not fun. And always let somebody know of your plans if you're hiking alone.
Be kind to nature – Cyprus has a whole lot of nature, and all sorts of wonderful plants, insects and animals call it home. Respect the natural environment, and leave it as you found it.
Find the right hike for you – It's fine to push yourself to do new things, but sometimes it can be dangerous. If you don't think you're physically up to a hike, try something a little less strenuous instead. Ask for local advice if you can (either at the visitor centers or from a friendly Cypriot).
And don't forget travel insurance – Getting insured is the best way you can prepare for any trip, and it's equally valid if you're planning to hike in Cyprus. Our team loves World Nomads, but you can check which one suits you best.
A message from Will – The OG Broke Backpacker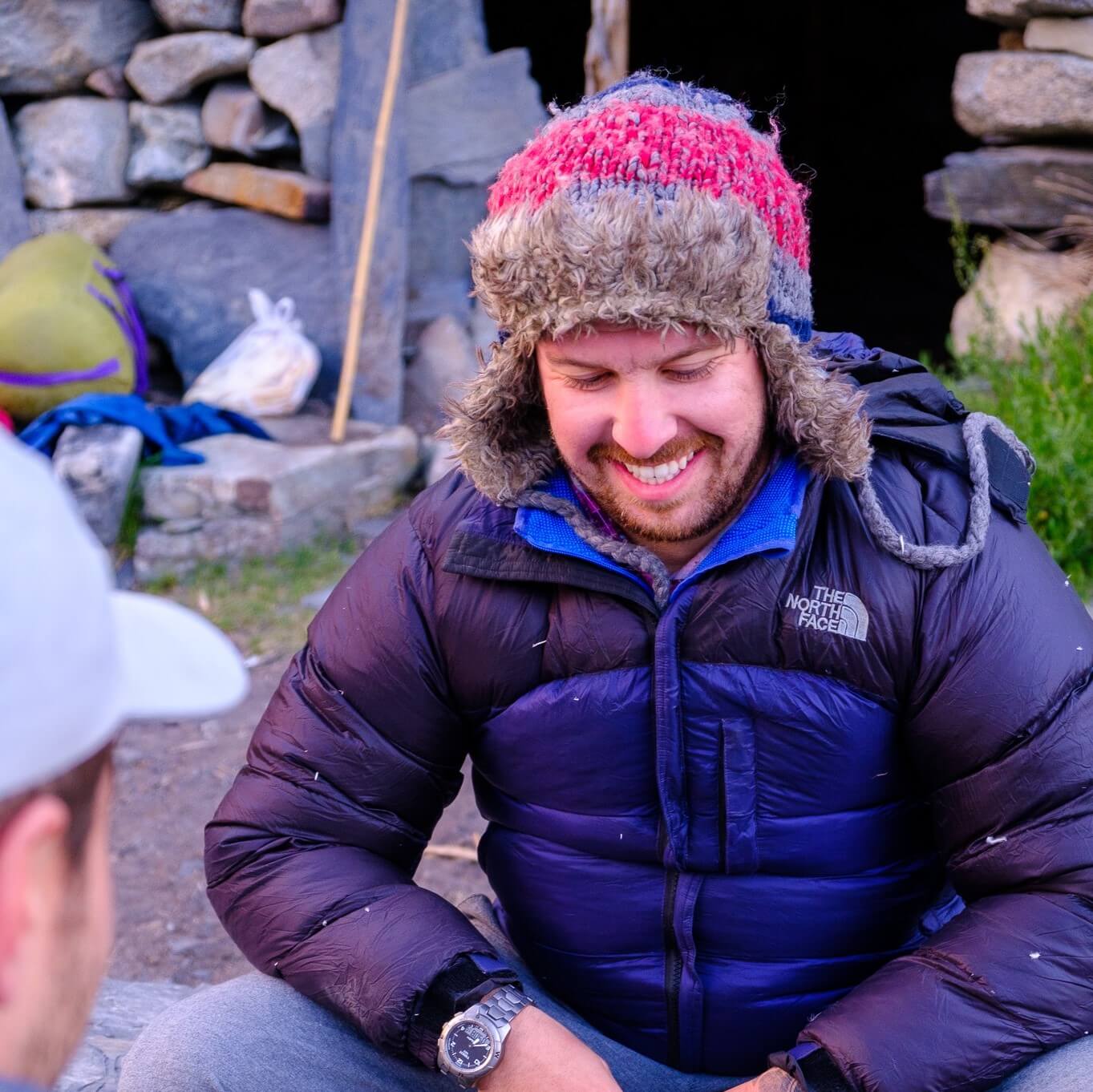 A Story on the Necessity of Travel Insurance
"Once upon a time, I almost lost my leg in a sweltering jungle…
I battled a seriously nasty infection that snaked up past my knee and by the time I made it to a local hospital they wanted to amputate. I was delirious, unable to walk, and in a lot of pain but I managed to call my insurance provider – they moved me to a much better private hospital where the doctors were able to save my leg.
I wracked up $15,000 in hospital bills, but these were completely covered by my travel insurance. Luckily, I still have my leg today, and whilst it is permanently damaged, I'm grateful every day it's still attached!
Moral of the story: consider getting travel insurance before you head out into the wilds, people!"
At this stage, it should be clear for you what to expect from hikes in Cyprus, but it's time we get to the good part… discovering which trails to add to your itinerary!
There are laid-back wanders out into nature, and there are some epically long and challenging treks. We've split them into different headings to make it easier for you:
1. Aphrodite Loop – The Best Day Hike in Cyprus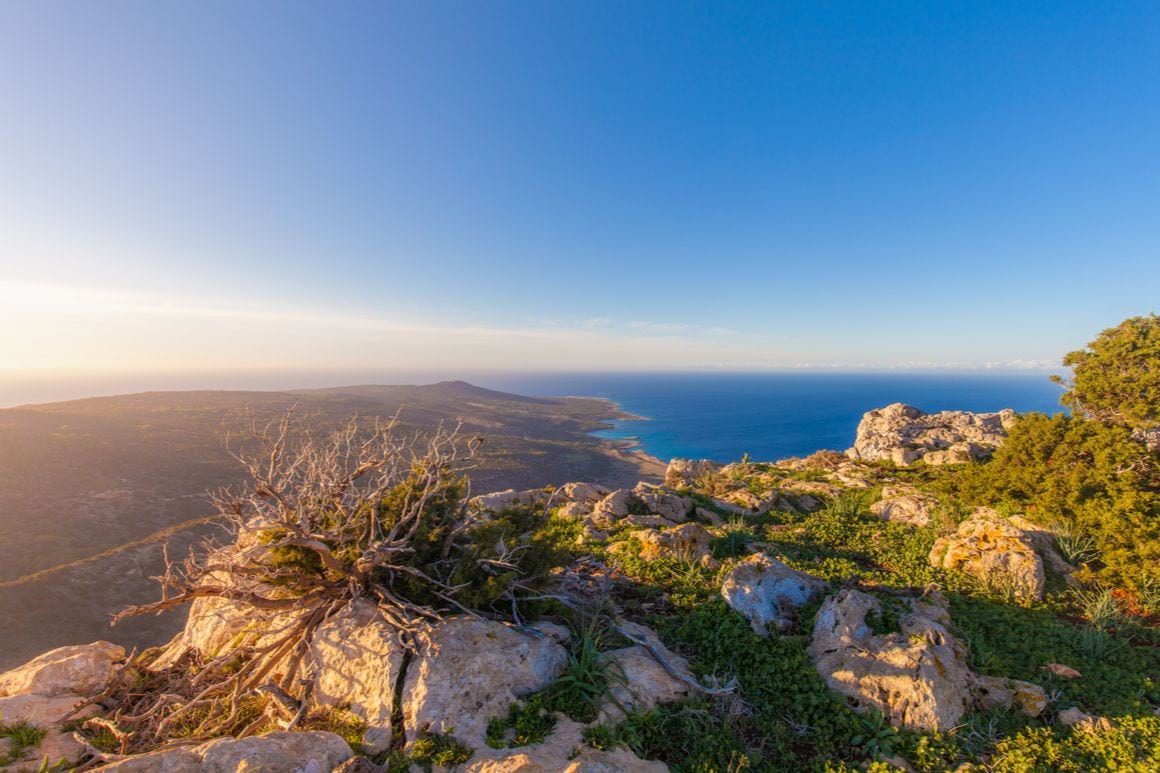 The Aphrodite Loop is easily one of the best hikes in all of Cyprus. It's certainly one of the most popular, and it's named after the start point — a set of natural pools in a grotto underneath an old fig tree.
It is said that the Ancient Greek goddess Aphrodite herself once bathed here, adding a lot of mysticism to the place.
Situated on the Akamas Peninsula, this hike takes you from the baths all the way to the top of Mouttis Sotiras (370 meters). The walking course is marked and offers great views along the way— the perfect way to ease yourself into Cyprus' hiking scene.
The first two miles are particularly steep, along a rocky limestone path and through olive groves, juniper trees, and Turkish pines. Eventually, you reach the "Queen's Tower", the ruins of a 12th-century monastery, and then an impressive 500-year-old oak tree.
Take a break, lap up the scenery, and from here, hit the series of switchbacks that descend and complete the loop. Keep an eye out for goats in this section of the trail!
Length: 7.5km
Duration: 3 hours
Difficulty: Average
Trailhead: Baths of Aphrodite (35°03'21.8″N 32°20'44.0″E)
2. Madari Circular Walk – Most Beautiful Hike in Cyprus
Let us introduce you to the beautiful Trodos Mountains! Home to Cyprus' very own Mount Olympus, and a place to enjoy some breathtaking mountain scenery.
Here is where you'll find the Madari Circular Walk. It's not the easiest hike in Cyprus, though. Some fairly challenging sections require a good level of fitness, and it's almost entirely uphill.
You start close to the village of Kyperounta and ascend to the ridge of Mount Madari. Once you're there, you'll be treated to a mountain vista of the surroundings dotted with tiny villages.
Expect to trek through a path that cuts through the rocky Mediterranean landscape. It has some shade, while you're walking through the pines, but much of it is exposed too.
Once you're out into the open, you'll eventually reach the lookout — and a bench to soak in the views and rest. You can continue on a circular loop around the peak, or descend back through the mysterious forest you've just ascended.
Length: 13 km
Duration: 4 hours
Difficulty: Moderate
Trailhead: Doxa Si o Theos 1 (34°56'43.1″N 32°57'27.6″E)
3. Cyprus Sections of E4 European Long Distance Path – The Best Multi-Day Hike in Cyprus
If you're up for a challenge — and you really want to get into a multi-day hike in Cyprus — this is the one for you. This is Cyprus' take on the longer E4 European long-distance path, and a place to enjoy some of the country's most beautiful trails.
The E4 itself starts in Andalusia, Spain, and continues through Western and Central Europe before heading south through Greece, hopping over to Crete and ending up in Cyprus.
The Cypriot section alone is over 500 kilometres long and connects Larnaca and Paphos airports, traversing the island from east to west. Along its route, hikers will pass through the stunning regions of Troodos Mountains and the Akamas Peninsula.
Depending on how long you've got, you can tackle different sections of the trail. If you're staying in Paphos, you should definitely head over to that section. It's the final part of the E4 and runs for 219 kilometers, divided into eight sub-sections.
Each day, you'll be walking anywhere between 8 and 15 hours, staying at small villages along the route. Some of the highlights include the utterly charming Venetian-era bridge in the Diarizos Valley, the villages of Lysos and Meladeia, and the stunning Agios Kononas Beach.
For a full glimpse of the itinerary, you can consult the online brochure.
Length: 219 km
Duration: 8-10 Days (85 hours total)
Difficulty: Difficult
Trailhead: Satori Mountain Hut (34°55'32.8″N 32°48'21.5″E)
4. Atalante Trail Loop – Must-Visit Hike in Cyprus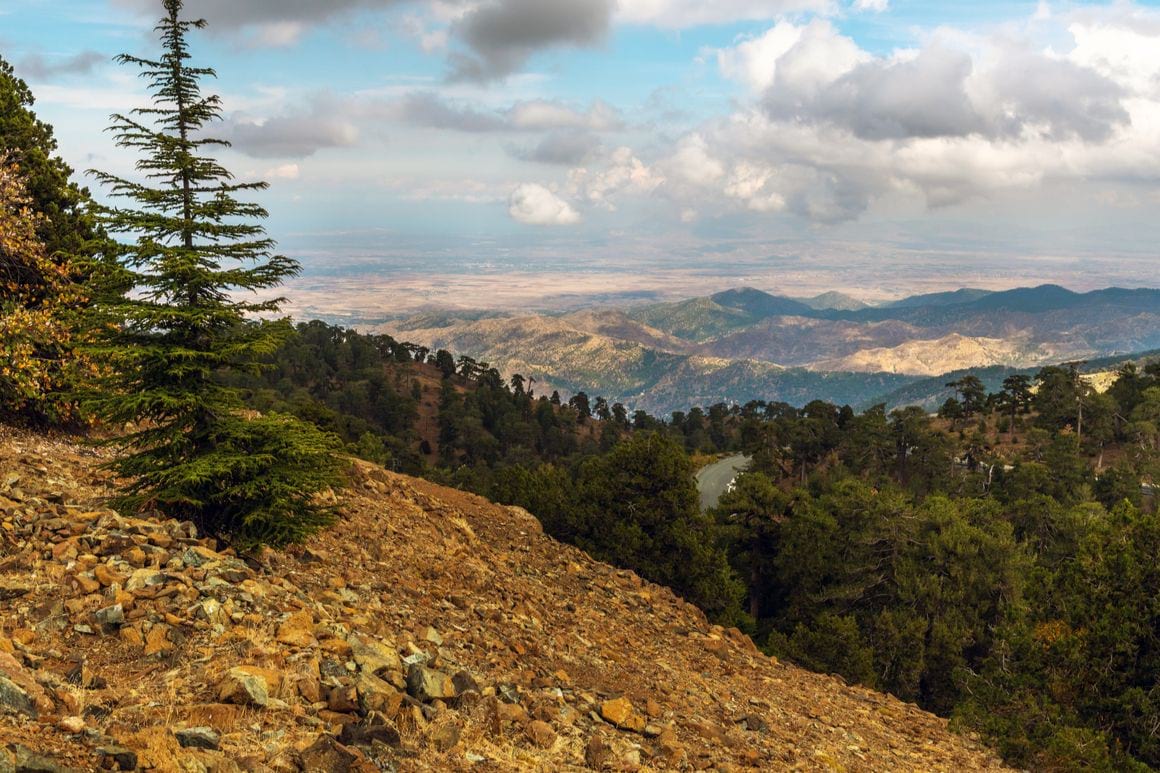 This trail is named after the mythological Atalanta — a renowned huntress and runner, and protege of the goddess of hunting, Artemis. It's located in the UNESCO-recognised Troodos National Forest Park, which its Mediterranean forests, orchards, vineyards, and rolling fields.
The Troodos Mountains were formed over 92 million years ago, and are a suitably epic place for a hike. The Atalanta Trail is pretty much a crash course in everything the landscape has to offer.
It's a circular route that loops around Mount Olympus and will have you hiking through dense clusters of black pine and juniper trees (one of them being over 800 years old!) — the route as a whole is well-marked, and there aren't too many tough slopes.
For hikers looking for some peace and quiet, this is the place to get it at.
Length: 14 km
Duration: 5 hours
Difficulty: Average
Trailhead: Atalante Trail Troodos Visitor Centre (34°55'19.5″N 32°52'38.9″E)
Want to save the world?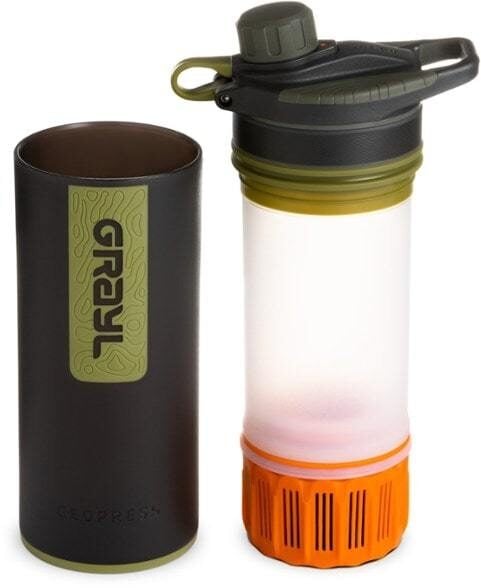 Single-use plastic bottles are a huge threat to Marine Life – Be a part of the solution and travel with a filter water bottle.
The GRAYL GEOPRESS water bottle is the ONLY all-in-one filter water bottle setup you'll need. Whether you need to purify the water from a hostel sink in Kathmandu or a stream trickle in the Andes, the Geopress has got you covered.
Read our full review of the GRAYL GEOPRESS!
5. Caledonia Waterfalls Hike – A Fun, Easy Hike in Cyprus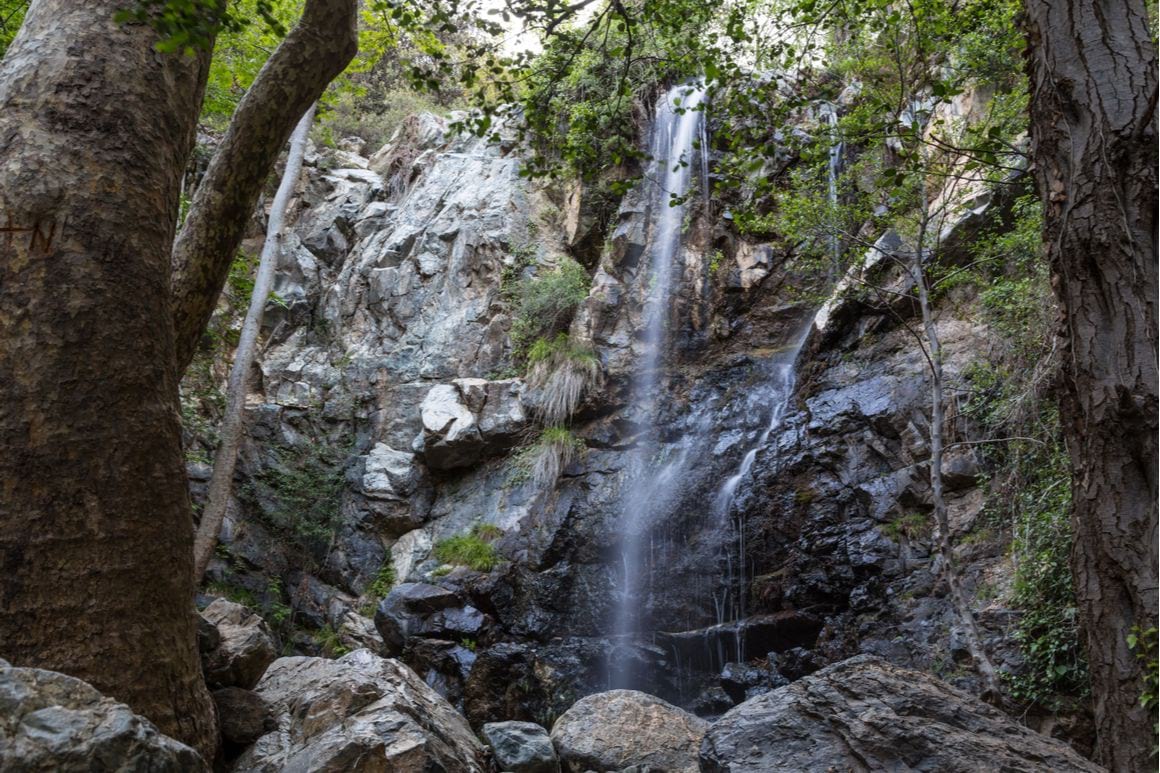 Discovered by a Scottish expedition in 1878, these waterfalls are named after the Latin name of the explorers' homeland: Scotland. The falls themselves are pretty impressive, measuring over 12 meters.
This path is pretty popular, so you should arrive early in order to beat the crowds. It's how the original expedition would've discovered them, after all!
Back at Troodos National Forest Park, your hike begins at the visitor center in Troodos Square, leading you through the forests and native flora, with birdsong flowing through the air. Soon enough, you'll reach the Caledonia Waterfalls.
The hike is not challenging at all, with only a few ascents here and there. You should be fine as long as you have a good pair of walking shoes on. Oh, and this one is a great option if you're traveling with children.
Length: 3 km
Duration: 1 hour
Difficulty: Easy
Trailhead: Caledonia FallsTrail Head (34°54'52.9″N 32°52'13.6″E)
6. Avakas Gorge Walk – The Toughest Trek in Cyprus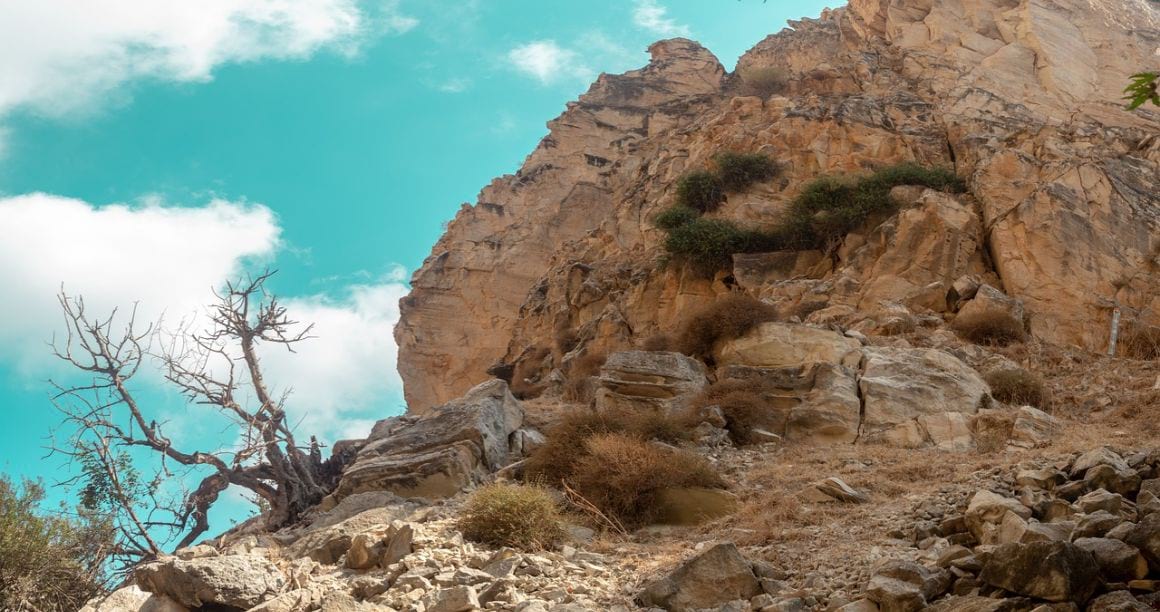 A hike for the tough ones. Make a beeline for Avakas Gorge, in the Akamas Peninsula, and you'll find one of the most challenging hikes in Cyprus.
The gorge is located 16 kilometres west of Paphos, and it's an icon of the region, but clambering around it can be pretty challenging.
It's 3 kilometers long and it was carved by a river and through the limestone for thousands of years, eventually forming the deep complex crevice you see today. The walls can reach up to 30 meters, overhung and dotted with gnarled rocks and mysterious cracks.
Walk through the gorge, scramble over rocks, and traverse the seemingly untouched countryside. The Avakas Gorge is a playground for any intrepid hiker out there.
A friendly reminder: soaring temperatures can make this hike particularly difficult in the summer, and the winter makes water levels almost impassable. Always check the weather before you come!
Length: 8.2 km
Duration: 4-5 hours
Difficulty: Difficult
Trailhead: Avakas Gorge Road (34°55'13.8″N 32°20'15.5″E)
7. Artemis Trail – Best Hike for Views in Cyprus
To prove just how epic Cyprus' hikes are, here's another one named after the Ancient Greek mythology.
The Artemis trail takes its title from the goddess of hunting herself, and circles close to the top of Mount Olympus — you can imagine the hunters of the past prowling through the landscape in search of their prey. Or, you know, don't.
The hike is flat for most of the way, but that doesn't mean you won't get the chance to soak up some impressive mountain vistas. In fact, there are numerous places where you can stop for a break and some scenery!
Part of the route will take you along the "Walls of the Old Town," which, according to the legend, are the last remains of a 17th-century Venetian fort that was built to defend against the Ottomans.
The trail also takes in many species of plant, including St John's wort, the endemic Troodos sage, and barberry, as well as a fair few intriguingly shaped geological features.
It can get challenging at times, but overall it's very doable for just about any level of fitness. Take your time and bring plenty of water.
Length: 7 km
Duration: 3 hours
Difficulty: Moderate
Trailhead: Artemis Trail Head (34°55'58.5″N 32°52'19.0″E)
8. Cape Greco National Forest Park Profitis Elias to Konnos Nature Trail – Best Off the Beaten Path Trek in Cyprus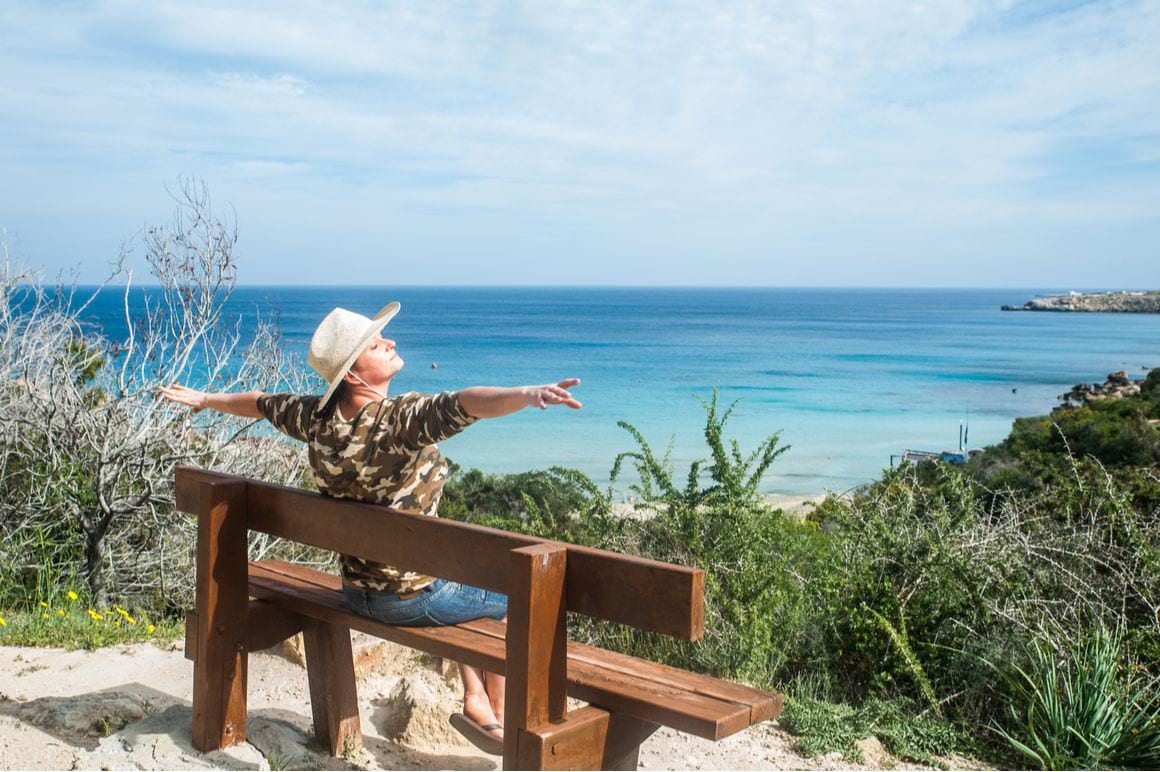 Out of all the hikes in Cyprus, this is the one that feels further away from all the crowds (and the existence of human life, in general).
It is located in Cape Greco National Forest Park, in southeastern Cyprus (between Ayia Napa and Protaras), and within this slice of land are a total of nine nature trails for visitors to embark on.
Each of them leads along varying routes, from which you can admire spectacular sea views and be wowed by miniature pine trees. We recommend the Profitis Elias-Konnoi Trail.
The hike starts at the Profitis Elias chapel and leads inland across the cape, along a truly dramatic landscape. You finish in the coastal town of Konnoi, where you're taken back to civilization for a bit and can enjoy a fresh meal.
To go back, you can opt for a different route — the Konnoi-Agioi Anargyroi Trail. It's on the coast and it's perfect for some gleaming blue seas on the way home. It feels about as far as you can get from Ayia Napa, even though it's right there.
Length: 8.5 km
Duration: 3 hours
Difficulty: Moderate
Trailhead: Profitis Ilias (35°01'06.6″N 34°02'28.1″E)
Is This the Best Travel Backpack EVER???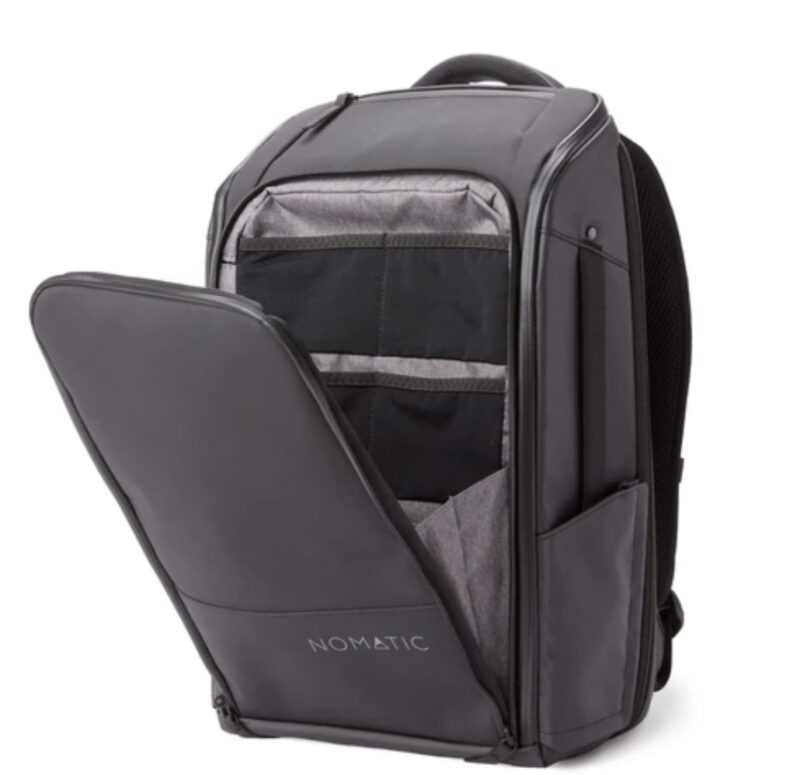 Now that we've walked you through all the hikes, it's time to figure out where you should stay in Cyprus.
Luckily for you, the country is a well-trodden tourist destination, which means there are plenty of places to stay all over the island with hiking opportunities nearby.
The most obvious places would be its largest cities: Nicosia, Larnaca, Paphos, and Limassol — all of them on the coast, except for Nicosia. You'll have a varied selection of affordable accommodation, places to eat and drink, and plenty of entertainment.
Away from the cities, you have the resort towns. Though associated with hedonistic partying, Ayia Napa offers affordable accommodation too, especially away from the main "strips".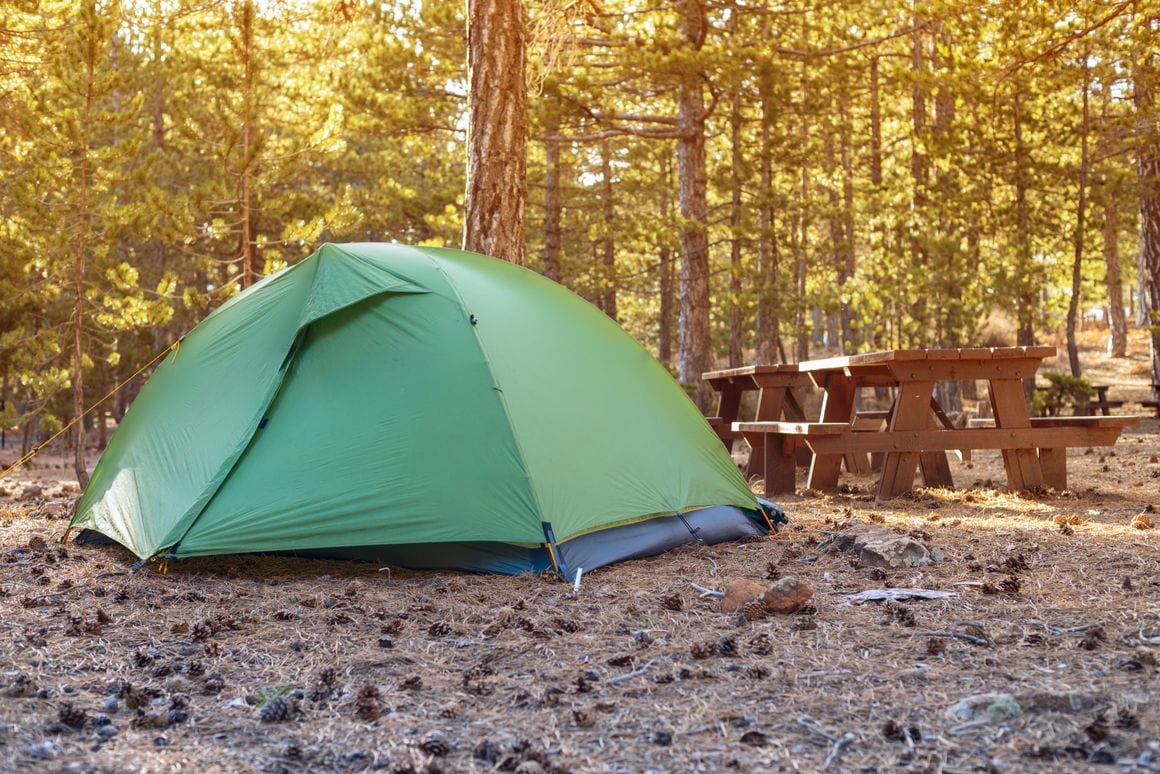 You will find plenty of small towns and charming villages that offer a much slower pace of life compared to its neighboring resort towns, and they can hide surprisingly fancy digs: Lofou is one of them, near Limassol.
For something closer to nature, however, try staying near Troodos Visitor Centre, which will be the perfect base for exploring Cyprus' mountainous interior.
Camping in Cyprus is also an option, but it's best done at the designated campgrounds — you'll find them both on the coast and the wilder interior.
This one-bedroom Airbnb overlooks the Green Line in Nicosia and is truly one of the most unique apartments in Cyprus. You can see Northern Cyprus from the balcony! The interior design is laid back, giving a calming atmosphere with plenty of sunlight throughout the day.
Best Hostel in Cyprus – Lemongrass – Limassol
As one of the best-rated hostels in Cyprus, it's no wonder Lemongrass takes our top spot for backpacker accommodation on the island! Located in one of the trendiest neighborhoods in Limassol, it perfectly combines a peaceful atmosphere with plenty of things to do nearby. The hostel is not huge, and it's only a stone's throw away from the beach.
This four-star hotel offers a great compromise between price and quality! It is located right on the waterfront in Ayia Napa — ensuring you get to stay close to all of the biggest nightlife venues on the island. It features a complimentary breakfast buffet and a huge pool area where you can unwind during the day.
In regards to what you should pack, you should firstly consider the season. Summer months bring plenty of sunshine, so bring appropriate clothing, sunscreen, and a sun hat. A roll-up waterproof jacket won't hurt either.
Secondly, you need to consider your safety on the trail. Staying hydrated is key, and there is nothing better for that than a filter water bottle — you reduce plastic waste and you can drink from ANYWHERE.
A good pair of walking shoes or trainers is absolutely vital as well, since some of the paths are extremely rocky underfoot. Get a pair with a good grip and something that allows your feet to breathe.
Our final advice is for you to not overlook a few hiking essentials: a GPS or maps, a head torch, and a first aid kit are all staples for any hiking trip and are easy to carry in your daypack.
Here's our roundup of what you should consider packing for your trip:
Trekking Poles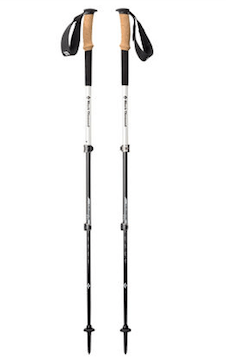 Trekking Poles
Black Diamond Alpine Carbon Cork
Price > $$$
Weight > 17 oz.
Grip > Cork
Headlamp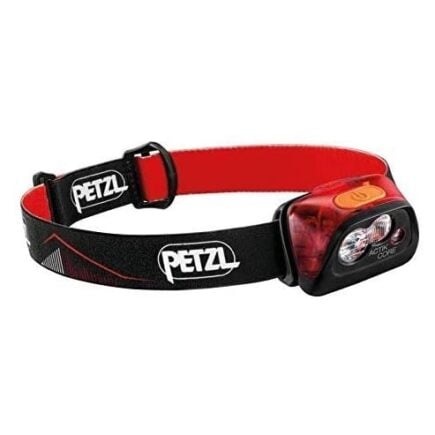 Headlamp
Petzl Actik Core Headlamp
Price > $$
Weight > 1.9 oz
Lumens > 160
Hiking Boots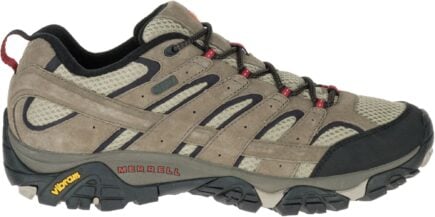 Hiking Boots
Merrell Moab 2 WP Low
Price > $$
Weight > 2 lbs 1 oz
Waterproof > Yes
Daypack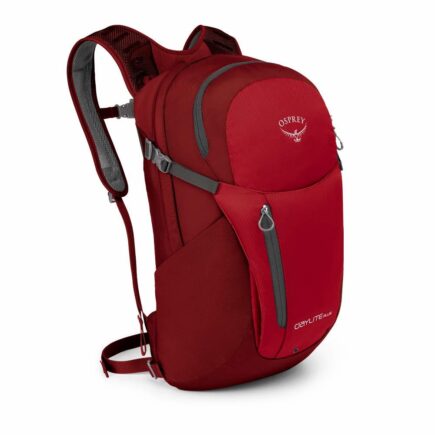 Daypack
Osprey Daylite Plus
Price > $$$
Weight > 20 oz
Capacity > 20L
Water bottle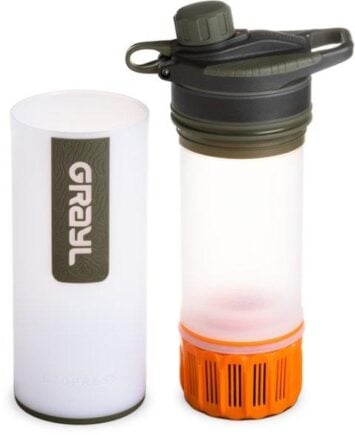 Water bottle
GRAYL Geopress
Price > $$$
Weight > 16 oz
Size > 24 oz
Backpack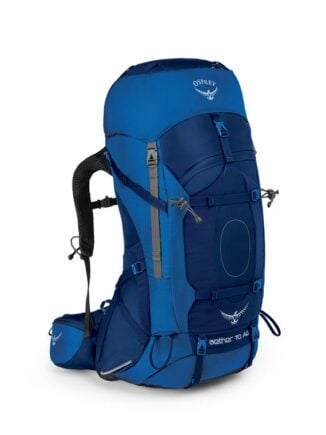 Backpack
Osprey Aether AG70
Price > $$$
Weight > 5 lbs 3 oz
Capacity > 70L
Backpacking Tent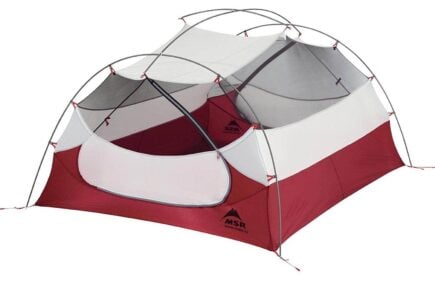 Backpacking Tent
MSR Hubba Hubba NX 2P
Price > $$$$
Weight > 3.7 lbs
Capacity > 2 person
GPS Device
GPS Device
Garmin GPSMAP 64sx Handheld GPS
Price > $$
Weight > 8.1 oz
Battery Life > 16 hours
---
Find out how YOU can support the site.
We work hard to put out the best backpacker resources on the web for free! It's all about helping out our tribe of awesome backpacker readers (that's you!). Please visit the link to find out how you can help keep the site going 🙂
For the sake of transparency, some of the links in our content are affiliate links. This means that if you book your accommodation, buy a piece of gear, or sort your insurance through our link, we earn a small commission at no extra cost to you. We only link to stuff that members of the Broke Backpacker team has actually used and never endorse products or services that are not up to scratch. Thanks for your support!