Gozo is one of Malta's hidden gems and one of our favourite spots to hit up whenever we visit. Being the smaller of the two main islands of Malta, it's got a sleepy and lowkey vibe.
Malta itself, a tiny island nation tucked away between the island of Sicily and the coastline of North Africa, is a stunning and fascinating place to visit in itself. But step off the main island and over to Gozo and things slow down a pace and more local feeling.
Gozo has plenty to offer anyone who comes here, especially those, like us, who have visited Malta many times and are looking for a different experience. Some of the highlights for me include its incredible scenery, fantastic beaches, delicious food, understated nightlife and a plethora of historically and culturally significant landmarks to visit.
Whilst Gozo is not as popular or well known as Valletta, Malta's capital city, it has been described by some as being 'What Malta used to be like'… and that is exactly why I love to visit whenever I return to Malta. It's got a more authentic feel that takes you well and truly off the tourists trail.
Whilst it might be a pretty small island on the grand scheme of things, choosing where to stay in Gozo is still pretty important. Staying somewhere close to transport links, restaurants and the main sights of the island is a must unless you truly want to get out into rural Malta.
If you're not sure where a good place to base yourself is, don't worry, because this Gozo neighborhood guide will help you out! Luckily for you, I've been and visited Gozo a number of times, so you've got insider knowledge so you can plan your perfect trip.
Looking for a place to stay in Gozo but don't have much time? Here are my top overall recommendations for the coolest places.
With an outstanding range of amenities and facilities Anthony's Luxury Maisonette is easily the best apartment in Gozo! Tucked away in the quiet village of Qala, this fabulous accommodation features an indoor lighting intelligent system, a home theatre system, and an indoor and outdoor sound system for all your entertainment needs. It also has one beautifully furnished bedroom with a very comfortable double bed, as well as two other sofa beds. While its outdoor pool also provides a welcome relief from the heat of the day. When I am looking for a bit of luxury, this is my go-to pad!
For its location, safety and comfort it's hard to beat the Ta Joseph hostel! Situated on Mgarr ix Xini Street, this quaint property provides you with all the shared facilities you need for your stay in Gozo. As well as a bathroom on every level, there is a fully-equipped kitchen and dining room for you to prepare meals. The spacious living room is also a great place to make friends with other travellers, while the bedrooms are cosy and full of natural light. As a bonus, some even come with their own private balcony too. When I first visited Gozo, this was the place that made me fall in love with the island!
What's not to love about the Santa Lucia Boutique Hotel? Located in Santa Lucija, just over a 1km walk from the magnificent Xlendi Beach, this awesome property has everything you need. A fantastic swimming pool, a terrific restaurant, and stylish, air-conditioned bedrooms with a range of modern amenities are just some of its major highlights. While you will also secure yourself a private bathroom with a shower and a balcony, as well as a delicious continental or buffet breakfast every day if you decide to stay here.
At just 26 square miles, Gozo is a relatively small island, but it is packed full of things to do and a rich and fascinating history.
Believed to be the home of the nymph from Homer's Odyssey, the mythological Calypso, it came to the public eye when Game of Thrones featured the Azure Window – a natural rock formation which sadly collapsed in 2017 – in some of its more notable scenes.
As an increasing number of the show's fans started to visit Gozo as a way of paying homage to this notable landmark, other sites on Malta's second-largest island started to gain plaudits, including the Citadel, Ggantija Megalithic temples, and the Dwejra inland sea. After many visits to Malta over the years, Gozo has become a firm favourite of mine whenever I return.
No doubt Gozo is a fascinating place to stay in Malta, so if you are wanting to visit Gozo and looking for a place to stay, there are some areas that stand out more than others.
One of them is Dwejra, which is a beautiful area to explore. Located on the spectacular west coast of the island, it is known for its fantastic spectacular coastal formations, where the sea crashes onto the rocks with such force the sheer cacophony of noise can give you goosebumps! it's one of my all-time favourite coastal regions across the world as is its raw beauty.
The area is also home to an amazing dive site called the Blue Hole, as well as the striking Fungus Rock, which is an Instagram photo waiting to happen. There is also a wonderful watchtower that dates back to 1652.
Towards the northern part of the island, Marsalforn is one of the best beach resorts in Gozo. Centered around a charming fishing village which is situated right on the seafront, it boasts a picturesque stretch of sand that you will want to spend all day sunbathing on.
Flanked by a promenade that accommodates some of the finest restaurants on the island, you will also be able to book a number of diving and boating tours here.
Towards the middle of the island, Xaghra is a delightful and historic village that is home to the magnificent UNESCO World Heritage Site of the Ggantija megalithic temples. It's also not too far from Ramla Bay which is one of the best beaches in Gozo. It's where you will find some of the cheaper accommodation options, so it's perfect for those wanting to save money visiting Malta.
When thinking about where to stay in Gozo, put some serious thought towards Xlendi too. Nestled on the south coast of the island this excellent seaside village has a number of lively bars, restaurants, and cafes, as well as a wonderful beach.
Home to just 34,000 permanent residents, Gozo is a small island that holds less than 10% of the country's population, but trust us, it's well worth the visit.
The island is very accessible to tourists, as much of the best of it can be explored on foot. It is also easy to travel between destinations within the island, either by public transport, hire car or taxi.
To maximise your time in Gozo it is a good idea to pick an area as your base that most reflects what you are interested in. Whichever you choose there are some great accommodation options in Gozo for you to choose from.
Below is a detailed guide to each area and some top recommendations for places to stay and things to do.
1. Xlendi – Best Place to Stay in Gozo for First Time Visitors
Situated on the island's south coast, Xlendi is the perfect location for first-time visitors to Gozo. It is essentially a seaside village best known for its beach. However, it does have some very notable local attractions too, including caves and tombs that date back to the Punic-Byzantine era.
There are a number of top-rated cafes and restaurants that line the waterfront here, and the water is good for swimming in. The area is also renowned for hosting some of the most beautiful sunsets in the whole of Malta and is not too far from the historic Azure Window Ruins. Whenever I am on Gozo and just want to chill out and enjoy the coast, this is where I base myself.
Located on the fourth floor, this unique seafront flat in Xlendi is a real gem! Offering sweeping views of Xlendi Bay the clean, homely and well-equipped accommodation is within easy walking distance to the beach. So you will be able to go for a swim whenever you feel like it! All the main bars, restaurants, shops and nightclubs in town are situated near it too. While you can catch a bus, that will take you all around the island, from a stop that is just 500 metres from the property.
If location is important to you, then you can't get much better than this wonderful hotel! Set amongst the jagged cliffs of the Xlendi Valley this fantastic boutique hotel in Gozo is situated right on the promenade at Xlendi Bay. All rooms here are air-conditioned and come with a private bathroom and shower for your convenience. You may even be able to see the sparkling Mediterranean Sea as you relax on your comfortable bed. If you love good food, then you will love the onsite restaurant here, which serves up a fabulous selection of gastronomic delights.
Best Apartment in Xlendi: Stylish Apartment in Xlendi Bay close to the beach
Boasting incredible views of Xlendi Bay and the Lunzjata valley you won't want to leave this large stylish apartment in Xlendi! Located within a converted, former convent school, this spacious 2-bedroom apartment places you just a one-minute walk to the beach and waterfront. Its balconies are wonderful spots to enjoy a meal prepared in the room's fully-equipped kitchen while the two bedrooms give you plenty of space to move around. With a flat screen TV, Xbox 360, wi-fi, and board games available too, boredom is not an option!
Things to See and Do in Xlendi:
Swim at the beach
Explore caves that are not far from the beach
Check out tombs that date back to Punic-Byzantine
Walk along the pleasant waterfront
See the Azure Window Ruins
Marvel at the wonderful views from the Sannap Cliffs
Peruse the exhibits at the II-Hgar Museum
Visit the Sacred Heart Parish Church
2. Xaghra – Where to Stay in Gozo on a Budget
Situated towards the central part of the island, the stunning town of Xaghra not only provides some of the cheapest accommodation and hostels in Malta, but also has some of its most impressive tourist sites too.
A historic and charming village, it serves as a fabulous base to explore the fantastic Ggantija megalithic temples, which are a UNESCO World Heritage Site. It's also not that far from Ramla Bay, which is known for being one of the best parts of the island's coastline. If you are looking for a taste of 'real' island life, this is as good a place as any to get it.
If you are looking for a quiet, private room to relax in during your stay in Xaghra then this stunningly restored farmhouse should be just the ticket! Offering three large, en-suite double bedrooms, as well as one single room, the accommodation is furnished with a terrific range of modern facilities that include a washing machine, microwave, and dishwasher. Two of the bedrooms have a balcony that overlooks the fabulous swimming pool, whilst the property also has a large terrace roof that is great for watching the sunset, or enjoying romantic, low-key drinks.
If you are looking for a Xaghra hotel that is close to the beach then The Segond Hotel presents a very good option. Just 1km from the gorgeous Ramla Beach the property provides guests with stylish, airy, and light-filled rooms that are equipped with a private bathroom and a coffee machine for your daily caffeine fix! A handy concierge and 24-hour front desk service are at your disposal, whilst some rooms also have a balcony that showcases wonderful city views.
Best Apartment in Xaghra: Ta Guza Holiday Home
After a long day of sightseeing, you are going to want someone quiet and private to relax and chill out. That is why this Ta Guza holiday home could well be perfect for you. Sitting on the fringes of Xaghra, this impressively converted three-bedroom farmhouse offers the perfect balance of proximity to the lively town, but also separation from it too. Featuring a big private swimming pool and a large deck area the rooms here come with ensuite bathrooms. For those who want to cook, there is an open plan kitchen, and the free wi-fi is a real bonus too!
Things to See and Do in Xaghra:
Visit the beach at Ramla Bay
Marvel at the Ggantija megalithic temples
Check out the Xaghra Parish Church
Go inside the Ta' Kola Windmill
Take a look around Xerri's Grotto
Venture into Ninu's Cave
Stop in at the Museum of Toys
Have a drink at Lucky Jack's Bar
See horses at the Lino Stables
Tour the magnificent Ta' Mena Estate
3. Marsalforn – Where to Stay inGozo for Families
If you are planning to visit the island with your family then one of the best places to stay in Gozo is Marsalforn. Located towards the island's northern coastline, this stunning region is one of Malta's best beach resorts. Built around a quaint fishing village that is nestled directly on the seafront, this picture-perfect stretch of sand is an excellent base for families.
Not only are there plenty of opportunities for swimming, sunbathing, and various other water-based activities here, but there is also a number of fabulous sights to see as well including historic structures from hundreds of years ago. The area is rich in diving sites too, whilst the local restaurants and cafes plate up some of the best gastronomy on the island.
If you are looking for comfortable and stylish accommodation for your family whilst in Marsalforn Bay, this fantastic studio apartment is an excellent choice. As you are situated just a few metres from the beach you will be able to head there with the kids any time you want. The property is also close to a major bus stop which makes it easy to head elsewhere on the island. Surrounded by coffee shops, restaurants, shops, and bars, everything you could need is on your doorstep. Whilst the sizeable rooms have double beds, private bathrooms with showers, a well-equipped kitchenette and a fantastic balcony that showcases magnificent sea views.
Just a stone's throw from the fabulous Marsalforn Bay, The Lantern is a very popular guesthouse that is perfectly set up for families. Featuring a range of excellent amenities that are designed to make your stay as comfortable as possible, the accommodation provides a great base for exploring the nearby beach. Each room comes with an ensuite bathroom and its own balcony. The restaurant also presents a fabulous restaurant option as well as close proximity to all the main cafes, restaurants, bars, and shops in town. Best of all, if you stay is longer than two nights, they will give you transfers from Mgarr Harbour to the property free of charge.
Best Hotel in Marsalforn: Marsalforn
Need a good-quality hotel that is right by the beach? Then take a look at La Playa Hotel! One of the best beachfront hotels in Marsalforn, you'll be on the sand in just a matter of seconds when you walk out of the lobby! The rooms here will feel like a home away from home. They are furnished with a range of amenities including air conditioning, a private bathroom that offers free toiletries, and a delicious continental breakfast too. With the main strip of cafes, shops, bars, and restaurants just a short walk away this is an excellent spot for your family to enjoy their Gozo holiday.
Things to See and Do in Marsalforn:
Go diving with certified divers at Islands Tec Dive
Stroll around Marsalforn Bay
Visit the magnificent St Phillips Church
Swim at Ghar Qawqla Bay
Check out the Gozo Nature Museum
See the fabulous statue of Tas-Salvatur
Explore the intriguing Qolla I-Bajda Battery
Enjoy a spot of sunbathing at Xwejni Bay
Take in the exhibits at the Farmhouse Gallery
Venture into Calypso Cave
Wander around the incredible Gran Castello Historic House
Avail yourself of the impressive architecture of the Citadel
4. Dwejra – One of the coolest places to Stay in Gozo
When considering places to stay in Gozo you should give serious thought to Dwejra. Nestled on the pristine west coast of the island, this area is known for its incredible coastline and rocky outcrops. An enchanting place to explore, there are lots of fascinating sights to explore here including the spectacular Fungus Rock which is something you will want to snap lots of photos of, as well as a historic watchtower that was constructed in 1652.
If you are a fan of diving, this region has an amazing dive site called the Blue Hole, while there are lots of lovely restaurants, shops, and bars to keep you occupied during your time here. It's one of the areas of the island I discovered on one of my more recent visits and I just fell in love with it's unique vibe and beautiful coastal areas.
This spectacular farmhouse has to be one of the most inspiring of all accommodation options in Gozo! Oozing character and chic bohemian charm, this property is located in St Lawerenz, one of the oldest villages on the island. Centrally located, it is only a one-minute walk to the village square, so you are close to all the best shops, restaurants, and cafes, while the stunning Dwerja is just five minutes away. While the lounge and dining area here are shared with other guests, your private rooms are very stylish and comfortable.
If you love taking in the magnificence of a glorious sunset then you will fall in love with this fabulous property! Recently converted to ensure it provides an excellent standard of comfort, the first-floor rooms showcase incredible views of the dipping sun. Something you are sure to want to enjoy over a coffee or glass of wine. The master bedroom has a private terrace, ensuite facilities, and two double beds, while the fully equipped kitchen may come in useful too. Throw in a charming courtyard and lovely swimming pool and this place really ticks all the boxes!
If you really want to treat yourself during your stay in Gozo then why not splash out on a few nights at this luxury 5-star hotel? Surrounded by over 30,000 m² of spectacular semi-tropical gardens, the Kempinski Hotel is known for its wonderful on-site spa that presents a number of excellent treatments. Once you have rejuvenated your mind and body you will be able to provide your tastebuds with wonderful gastronomy at the acclaimed award-winning onsite restaurants. You can even choose to swim in two heated indoor swimming pools, enjoy a session in the hot tub or even indulge yourself further at the Mediterranean's largest Ayurveda health centre. Oh, and the rooms here are incredibly stylish too!
Things to See and Do in Dwejra:
Head off on a hiking expedition of some of the best hikes in Malta
Venture out into the Inland Sea
Check out the area's unique geological formations
Go on an enchanting dive to the Blue Hole
Take a boat trip to tour the Comino and Blue Lagoon
Enjoy the local culinary delights on offer at the local eateries
Explore the quaint town on foot
Snap lots of photographs of the coastline
Marvel at the beautiful architecture of the town
World Nomads' mission is to support and encourage travellers to explore their boundaries. They offer simple & flexible travel insurance, and safety advice to help you travel confidently.
They've been doing it since 2002 – protecting, connecting, and inspiring independent travellers just like you.
Get a quote below or read our in-depth review!
World Nomads provides travel insurance for travelers in over 100 countries. As an affiliate, we receive a fee when you get a quote from World Nomads using this link. We do not represent World Nomads. This is information only and not a recommendation to buy travel insurance.
As you have seen,Gozo has some fascinating neighborhoods and incredible options for places to stay. No matter what you are interested in doing or seeing, and what your budget may be, Gozo caters to all.
And with year-round gorgeous weather, it's no wonder it's one of the top places to visit in Europe in the winter and it's certainly one of my go-to locations to escape the freezing conditions of the UK!
I hope that this guide has helped you decide where to stay on your next trip to Gozo.
Did you find what you were looking for? Let me know in the comments!
And while you're considering where to stay, you should also consider checking out some travel insurance too, especially if you are travelling from abroad. You never need it until you don't have it, so travel with peace of mind and look into some travel insurance.
---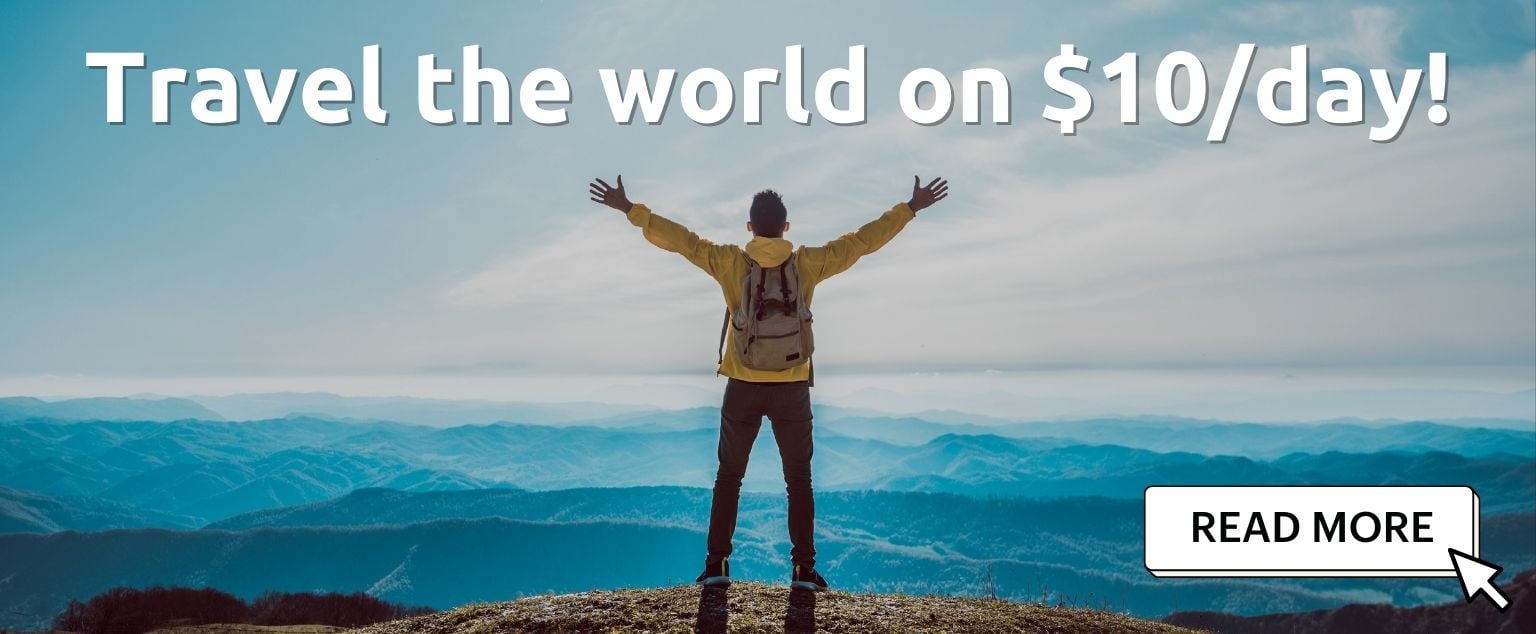 And for transparency's sake, please know that some of the links in our content are affiliate links. That means that if you book your accommodation, buy your gear, or sort your insurance through our link, we earn a small commission (at no extra cost to you). That said, we only link to the gear we trust and never recommend services we don't believe are up to scratch. Again, thank you!