Malta is a magical Mediterranean archipelago with natural and historical marvels in abundance. Its history dates back thousands of years, with glimpses of civilization that take you way back in time.
But as amazing as that might be, there's more to Malta than its many, many years of civilization. This place is a natural gem with lots and lots to explore!
With tons of cliffs and craggy coastlines, coves, and white sandy beaches with turquoise waters, setting out on foot is the best way to explore this wonderful country.
But if hiking in Malta isn't something you've considered before, we're here to show you just how awesome it can be.
This guide covers everything you need to know to explore it on your own two feet, from trail safety to our very own curated list of the best hikes in Malta.
Ready? Let's get right to it!

Do You Want to Travel FOREVER??
Pop your email in below to get a FREE copy of 'How to Travel the World on $10 a Day!'.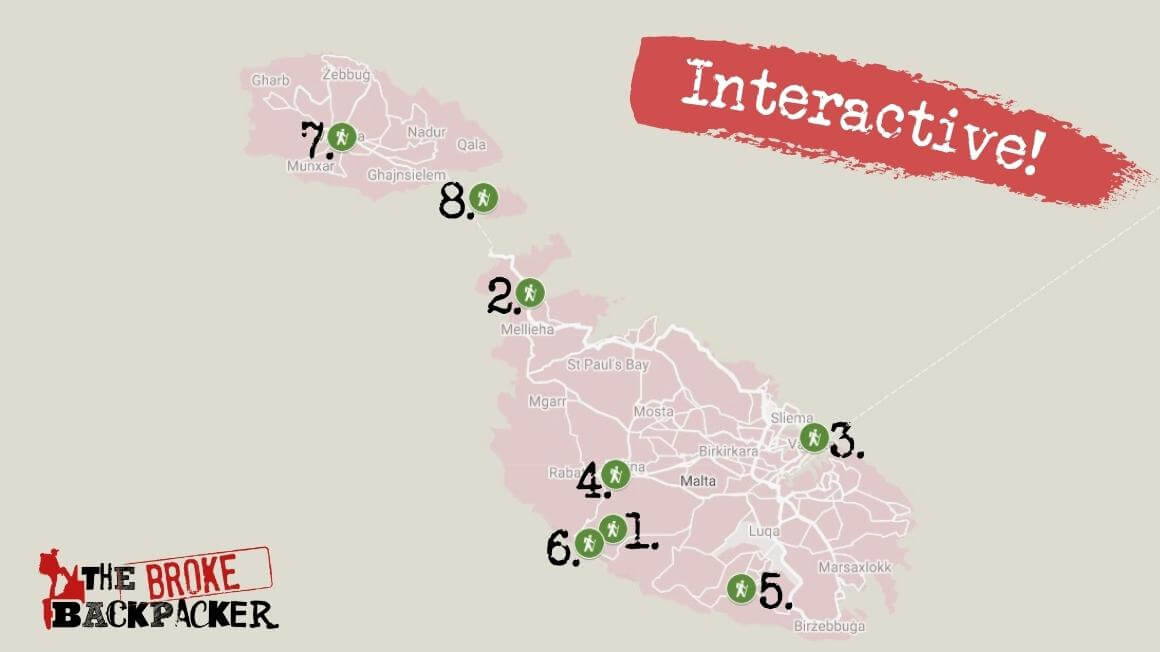 The first thing you need to know about Malta is that it's very small. Small to the point that you've probably been inside national parks bigger than this entire country!
Sitting at just 122 square miles in area, it's one of the tiniest countries in Europe and one of the smallest in the entire world. But that's not to say that hiking here isn't epic — it's exactly the opposite.
Hiking in Malta is just different than hiking in other countries. Its myriad villages and towns are a testament to its long history, much of which is still visible in the form of ruins, monuments, and amazing archaeological sites. If you're a history buff, you're gonna love hiking here.
Malta is densely populated because of its small size, but that doesn't mean everything is cramped up either. There's still a surprising amount of countryside left untouched, and you'll be mostly hiking along rocky scrubland, lush valleys, and coastlines with spectacular views.
The best time to come is right after summer — summers may be dry, but they're hot. From around mid-November to mid-May is probably the ideal time, when the land is bursting with plant life and temperatures are cool and mild.
No matter what time you come, though, nothing quite beats stumbling across a piece of history during a trail. It'll feel like walking through a living museum!
History and beauty aside, it still pays to stay safe, which is why we've got this whole section coming up…
Malta Trail Safety
With its stunning beaches, epic coastal cliffs, and endless historical monuments, there's a lot to see in this island nation. But even though hiking in Malta isn't particularly treacherous, there are still some challenges you may want to know about.
Malta is made up of islands — its beautiful coastline has not only shaped its borders, but its history, too. Pathways along towering cliffs obviously come with their own potential dangers, but you will be fine if you stick to the path.
In the height of the summer, temperatures on the islands soar. Winter brings high winds that make coastal walks riskier. Whenever you're planning to come, know how to make the most of it!
Here are our top tips for your hiking trip to Malta:
Respect the sun – Even though dramatic weather changes are rare in Malta, knowing what to expect can make a difference. It does get 3,000 hours of sunshine per year, but rainstorms and high winds occur too. Protect yo' self!
Know where you're going – Read up on what your route entails, as it can be confusing to figure out some of the hikes in Malta. We always recommend hiking with a buddy, but if you go alone: always let somebody know of your plans.
Be smart about it – Make sure you have enough time to complete the hike — leaving early means you won't have to rush. Plus, you can avoid the hottest part of the day! And bring enough water, as many of the pathways are not shaded.
Don't rely on your phone – Go old-school and pack a map, just in case. Not only can your phone run out of battery, but you might also not get service in wilder areas. This way, you avoid any potential bad news too…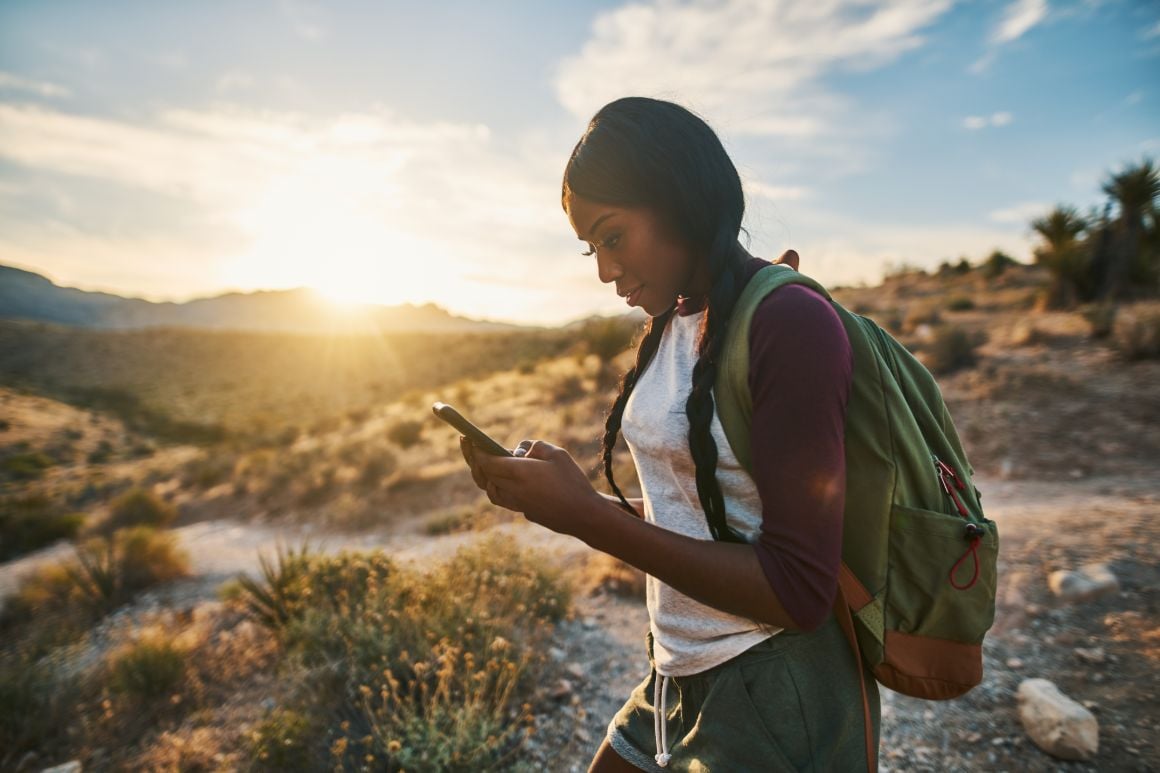 Be respectful – Of the environment and the local customs — avoid scrambling over old walls, throwing stones over the cliffs, or feeding any wild animals. Be culturally sensitive and respect places of worship.
Ask for local advice – If you have some questions or want to know more about the state of a trail, ask a local's advice. Ask at your accommodation or at tourist information to see if there's anything you should know before you set off.
Know your limits – The hikes in Malta may not be too challenging (there are no mountains to climb!) but you should still pay attention to how you feel. Never go over your physical capabilities and always keep a safe distance from cliff edges (especially after it rains or on a windy day).
Consider travel insurance – Possibly the best tip we can give. Travel insurance equals peace of mind — it'll cover your ass in case something bad happens. And as much as we don't want anything bad to happen, you're no stranger to the game of life at this point.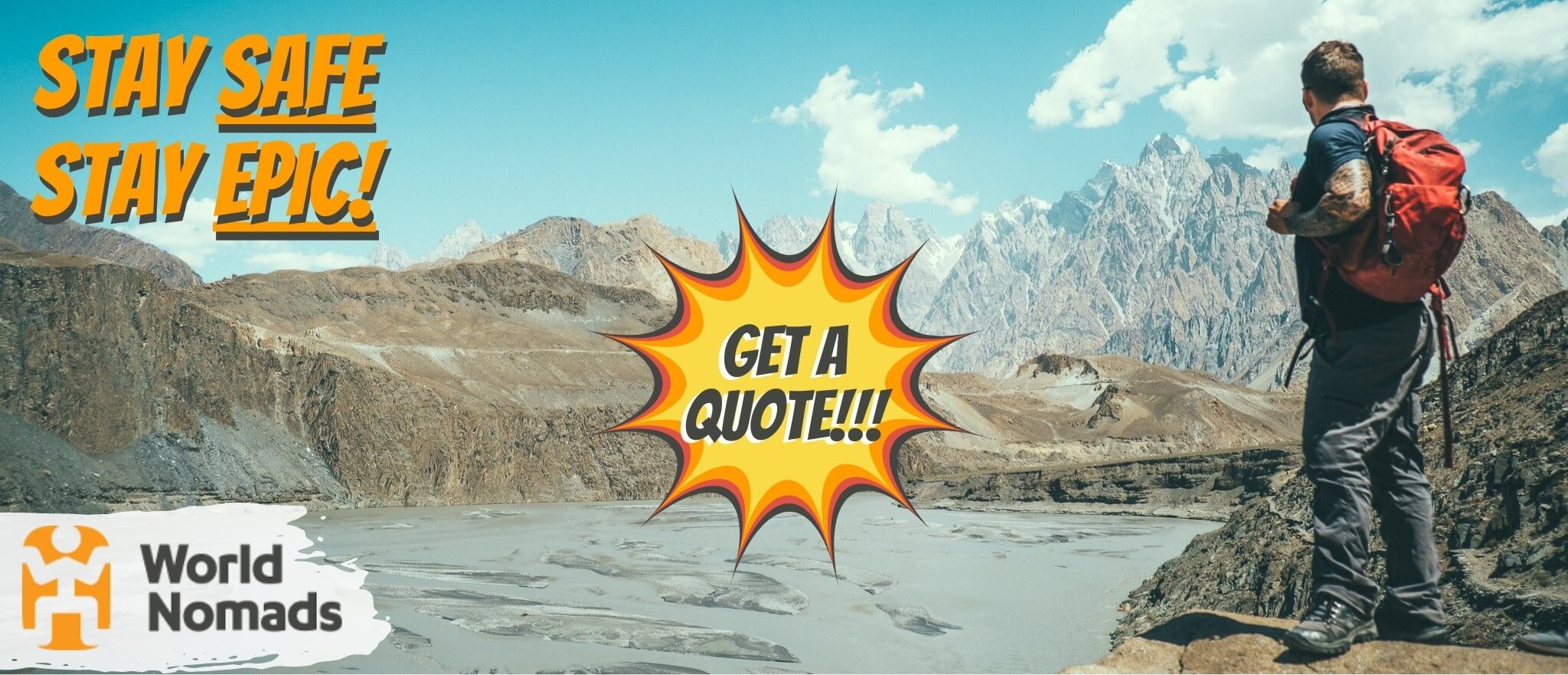 World Nomads' mission is to support and encourage travellers to explore their boundaries. They offer simple & flexible travel insurance, and safety advice to help you travel confidently.
They've been doing it since 2002 – protecting, connecting, and inspiring independent travellers just like you.
Get a quote below or read our in-depth review!
So, now that you know how to stay safe when hiking in Malta, it's time to dive into the good stuff.
We've curated a list of the best hikes in Malta to make sure there's something to suit your every need. Whether you're after a short hike or want to circle the entire coastline, there's a trail for you here.
Let's head out of town and explore this timeless Mediterranean gem…
1. Girgenti Country Trail – The Best Day Hike in Malta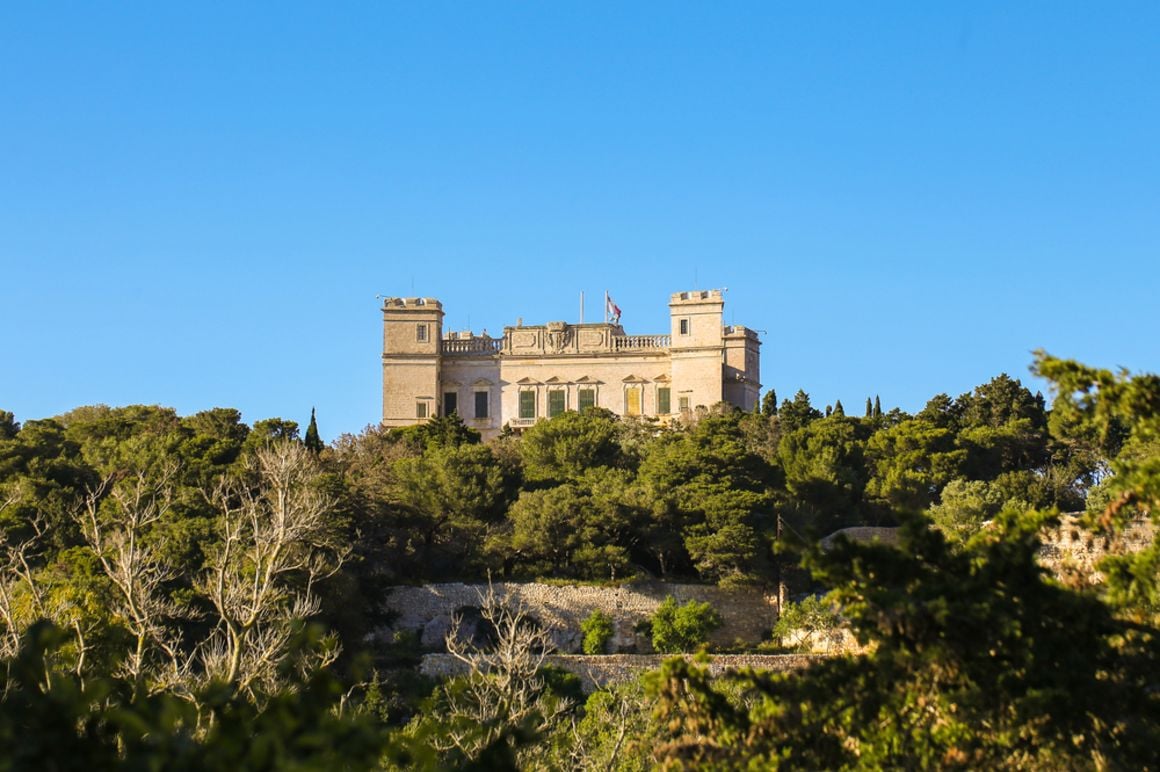 The Girgenti Country Trail will take you through the beautiful Maltese scenery with a chance to see historic landmarks along the way. There's a lot to explore and keep history buffs and nature-lovers entertained.
It starts at the Buskett Gardens, near Dingli, in the southwest of Malta. Before you even start the hike, you can explore the gardens themselves — planted by the Knights of Malta in the 16th century and formerly used as hunting grounds.
From here, you'll be following a trail marked with green signs as you explore small caves with millennia-old Punic tombs. Eventually, you'll come across a massive cave by the name of Ghar Il-Kbir.
Further along the road, views open up across the Girgenti Valley. You'll be able to spot the Girgenti Palace here, now the official residence of the Prime Minister. From there, it's uphill until you can spot Verdala Palace.
The route then dips into the countryside, with fields, farmers, and their sheep as your new hiking scenery. The rest is straightforward and really allows you to soak up the slow pace of countryside life in Malta.
Length: 7.7 km
Duration: 1.5 hours
Difficulty: Easy
Trailhead: Buskett Gardens (35°51'21.7″N 14°23'48.4″E)
2. Marfa Watchtowers Route – Most Beautiful Hike in Malta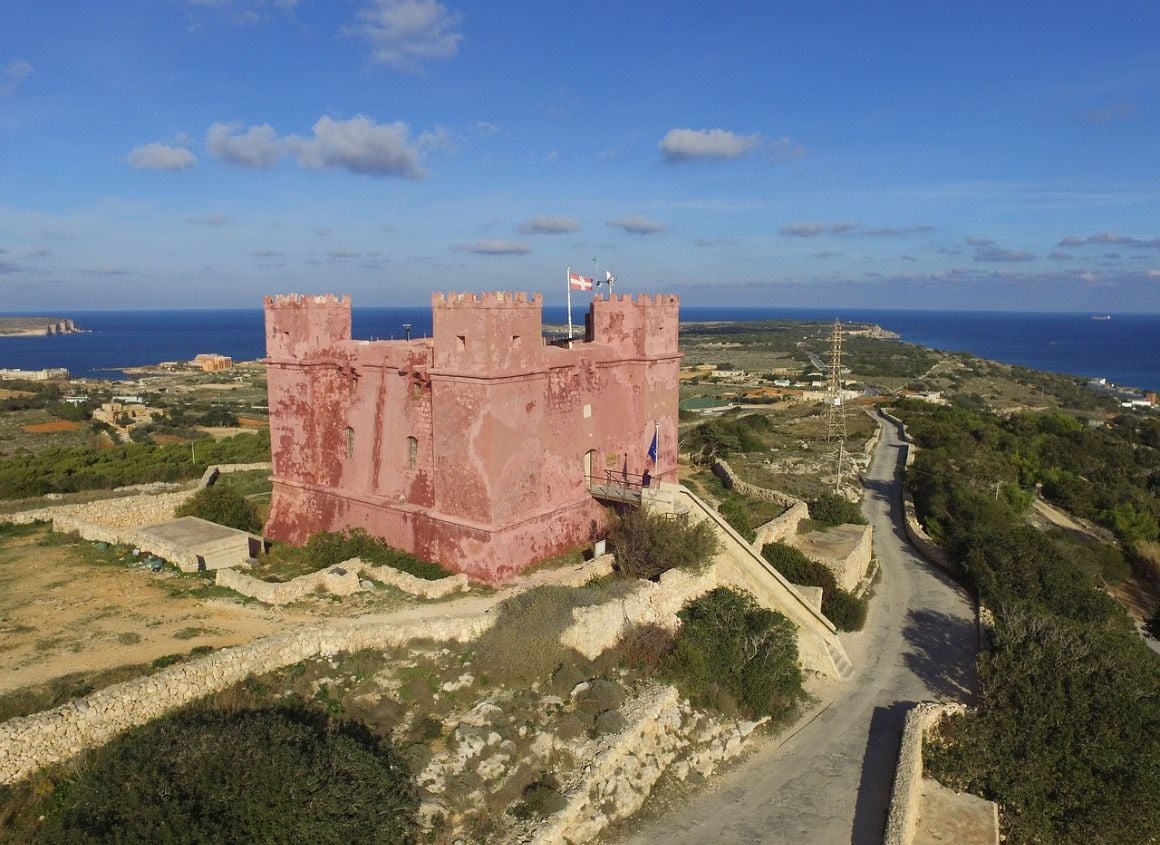 This one kicks off at Ghadira Beach, one of the most popular beaches in the country. It's a tranquil spot where white powdery sand meets the glimmering turquoise sea — not a bad place to start a hike!
The Marfa Watchtowers Route starts uphill from the beach and into the countryside. It'll have you winding through wooded glades — hunting ground to this day — as you walk along the scenic Marfa Ridge.
You'll be passing by olive groves, chapels, and religious statues, then down into a sandy bay, where you'll spot old defence towers dating back to the 1600s. The hike continues up until you reach the Red Palace.
There's a final uphill stretch, which is particularly nice for sunsets, where you'll also find a derelict NATO base. Then you'll finally spot the Red Tower, yet another staple of Malta's rich heritage.
Length: 14.45 km
Duration: 3.5 hours
Difficulty: Moderate
Trailhead: Ghadira Bay (35°58'18.3″N 14°20'58.9″E)
Small Pack Problems? 😉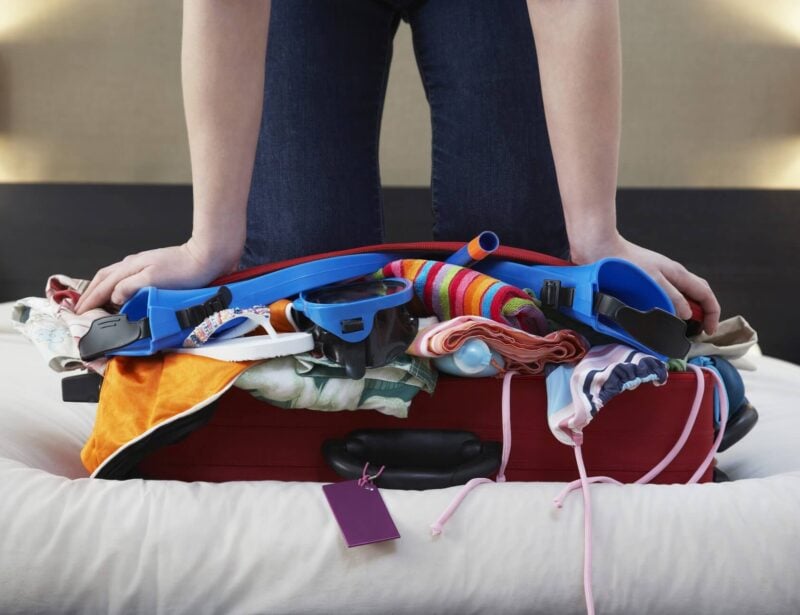 My missus travels with all her clothes in ziplock bags: don't be like my missus. UP YOUR PACKING GAME!
Packing cubes for the globetrotters and compression sacks for the real adventurers – these babies are a traveller's best kept secret. They organise yo' packing and minimise its volume too so you can pack MORE.
Or, y'know… you can stick to ziplock bags.
View Our Fave Cubes
Or Check Out the Sacks!
3. Malta Coastal Walk – The Best Multi-Day Hike in Malta
Malta is only a small island. It's not exactly known for its epic multi-day treks, but it's feasible to walk around its entire coast. If you were planning some crazy adventures for your trip, this might be the trail for you.
The main island spans 155 kilometers of coast, and it's possible to explore it all on foot. Dramatic cliff views, historical monuments, and countryside wanderings… I mean, you'll literally see it all.
You can even use public transport to link up sections of your route, so you don't have to camp overnight — if you're not a wild survivor, this might be the best option you have. Accommodation is easy to find and there are plenty of towns and villages on the way.
Technically, this isn't one long coastal trek; rather, it's a connection of various trails. 13 to be exact, each taking around five hours — you can make them shorter or longer because there's a lot to see on the way.
Old forts, chapels and churches, Neolithic temples, and picturesque beaches with stunning views, this is a complete hiking package!
Length: 155 km
Duration: 7-10 Days
Difficulty: Moderate
Trailhead: Boat Street, Valletta (35°54'07.8″N 14°30'59.7″E)
4. Mdina Trail – Must-Visit Hike in Malta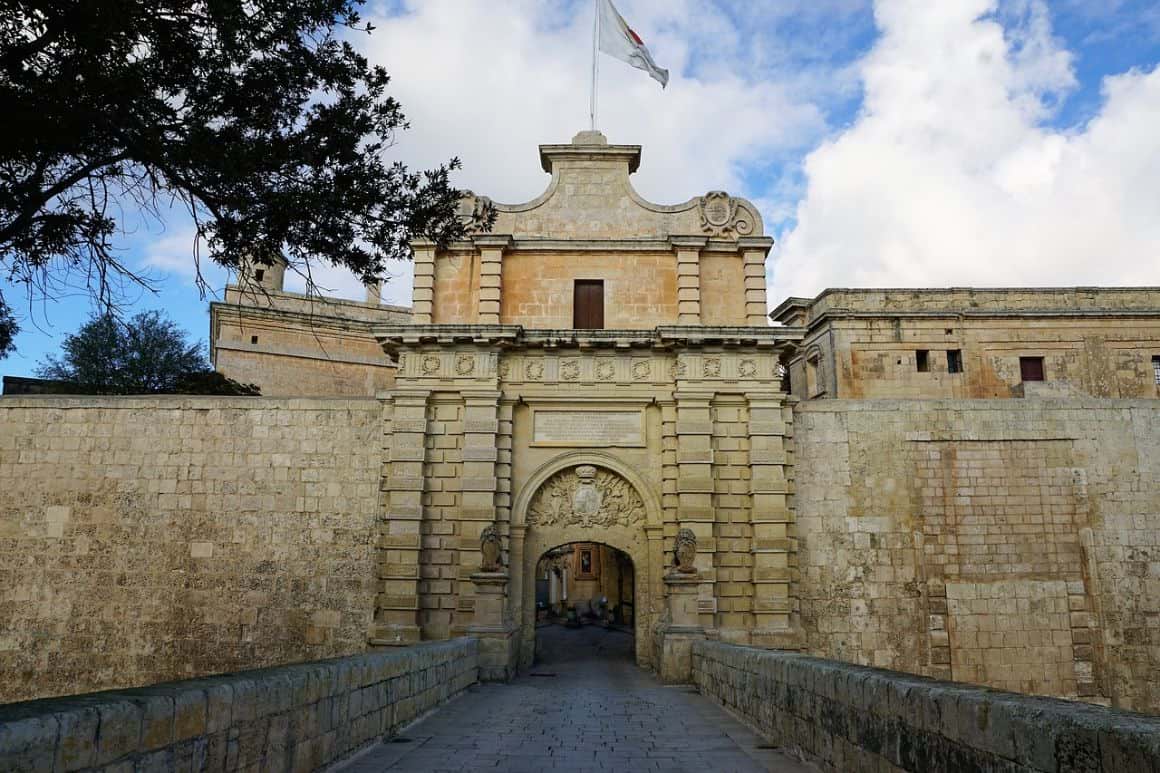 Located in the northern region of Malta, the fortified city of Mdina was once the island's capital. It's a walled city with many of its historic buildings still intact, and that's mainly what attracts visitors to this area.
The thing is: Mdina is surrounded by countryside, meaning it's the ideal spot to go for a hike! It's also close to Rabat, a town founded by the Romans that is still alive with interesting places to explore.
This particular trail weaves through the medieval center, out into the outskirts of Rabat, and finishes off at the coast. It's a great way to soak up some of the island's most well-preserved history.
Beginning at Domus Romana, you'll walk through narrow streets and past sights like the St Nicholas Church, built in 1434, and the medieval Bastion Square. You'll soon find yourself exiting the main gate of Mdina — just as people would've done hundreds of years ago.
Venturing into the open countryside, you'll head towards the village of Siggiewi. Then all you have to do is follow the orange markers uphill towards Rabat, where you'll get beautiful views of the valley.
Length: 9.6 km
Duration: 2 hours
Difficulty: Easy
Trailhead: Domus Romana (35°53'05.7″N 14°24'01.8″E)
5. Zurrieq Loop – A Fun, Easy Hike in Malta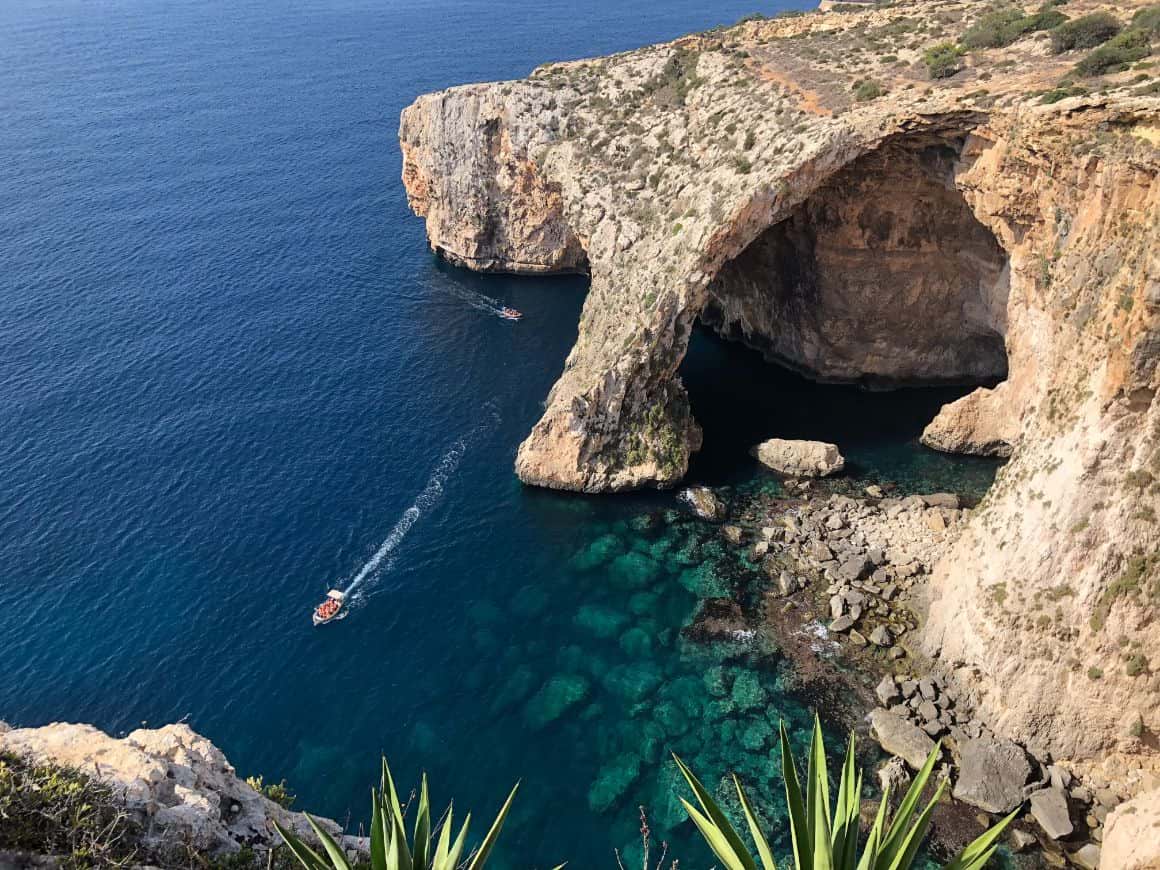 Zurrieq is one of the oldest towns in Malta, located in the southern region of the island. This hike will have you heading out of the town and into the surrounding countryside, through to the Punic-Roman village of Safi.
It's definitely one of the easiest hikes in Malta and it starts at the central bus stop in Zurrieq.
Walking along the town's charming and narrow streets, surrounded by historic buildings and a stunning old palace, the route gradually changes to a rural road.
This road will soon lead you to Triq Il-Mithna Mill Street. Windmills! There are four to see in total, with old grinding stones and other artifacts that really add to the idyllic scenery.
The winding countryside road then takes you through the small village of Anton — a super peaceful place — and onwards to the village of Safi. In Safi, the trail continues up to a Roman wall and loops back to Zurrieq.
On your way back, you'll pass by Xarolla Windmill, Malta's only fully-functional windmill. It's open to visitors during weekends, just in case you feel like stopping.
Length: 8.8 km
Duration: 1.5 – 2 Hours
Difficulty: Easy
Trailhead: Zurrieq Bus Stop (35°49'51.5″N 14°28'23.4″E)
Save $$$ • Save the Planet • Save Your Stomach!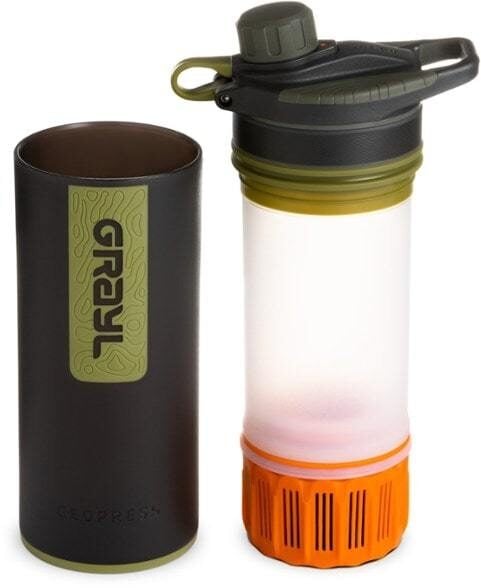 Drink water from ANYWHERE. The Grayl Geopress is the market's leading filtered water bottle protecting your tum from all the waterborne nasties. PLUS, you save money and the environment!
Single-use plastic bottles are a MASSIVE threat to marine life. Be a part of the solution and travel with a filter water bottle.
We've tested the Geopress rigorously from the icy heights of Pakistan to the tropical jungles of Cuba, and the results are in: it WORKS. Buy a Geopress: it's the last water bottle you'll ever buy.
Buy a Geopress!
Read the Review
6. Dingli Cliffs Walk – The Toughest Trek in Malta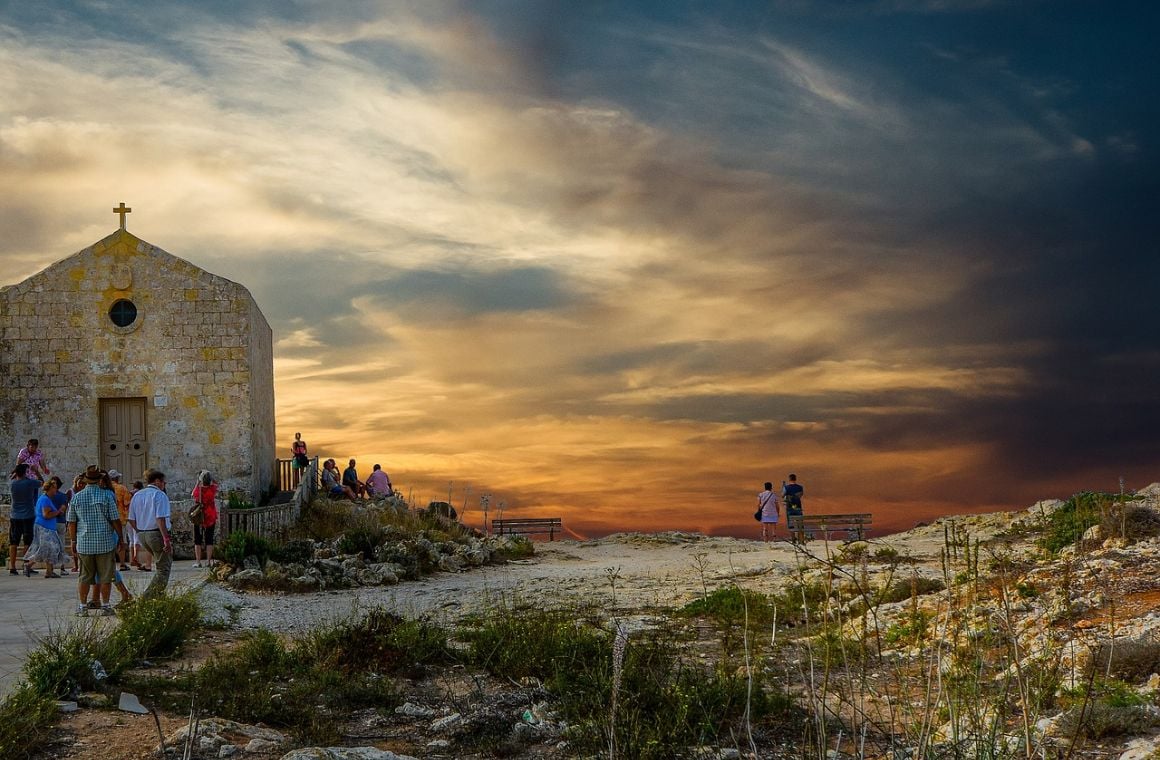 First and foremost, none of the hikes in Malta is particularly grueling. But given that the Dingli Cliffs are the highest point in the country, you'll surely work up a sweat getting to the top of them.
They reach a height of 250 meters above sea level and provide an amazing vantage point over Malta and the sea beyond.
While this isn't necessarily an extreme hike, it's definitely not a walk in the park. We'd say it's moderate, so you'd need at least some level of fitness (and some good shoes, too).
It starts off along the roadside. This is the least picturesque part, but don't worry: you'll be among the cliffs very soon. There's a bit of scrambling involved, and you'll be pretty close to the edge at some points — watch your step!
Eventually, the route flattens out and you'll arrive at the Hagar Qim temple. This UNESCO-recognised monument dates back to around 3600 BC and is thought to be the oldest intact religious structure in the world. Stop by and marvel at it for a minute.
The road then continues to the Blue Grotto. The scenic sea caverns here, with white rocks against an azure sea, are a fitting reward for your efforts.
Length: 13 km
Duration: 3 hours
Difficulty: Moderate
Trailhead: Dingli Cliffs (35°51'13.9″N 14°22'44.1″E)
7. Xlendi Tower to Ta' Cenc Cliffs Route – Best Hike for Views in Malta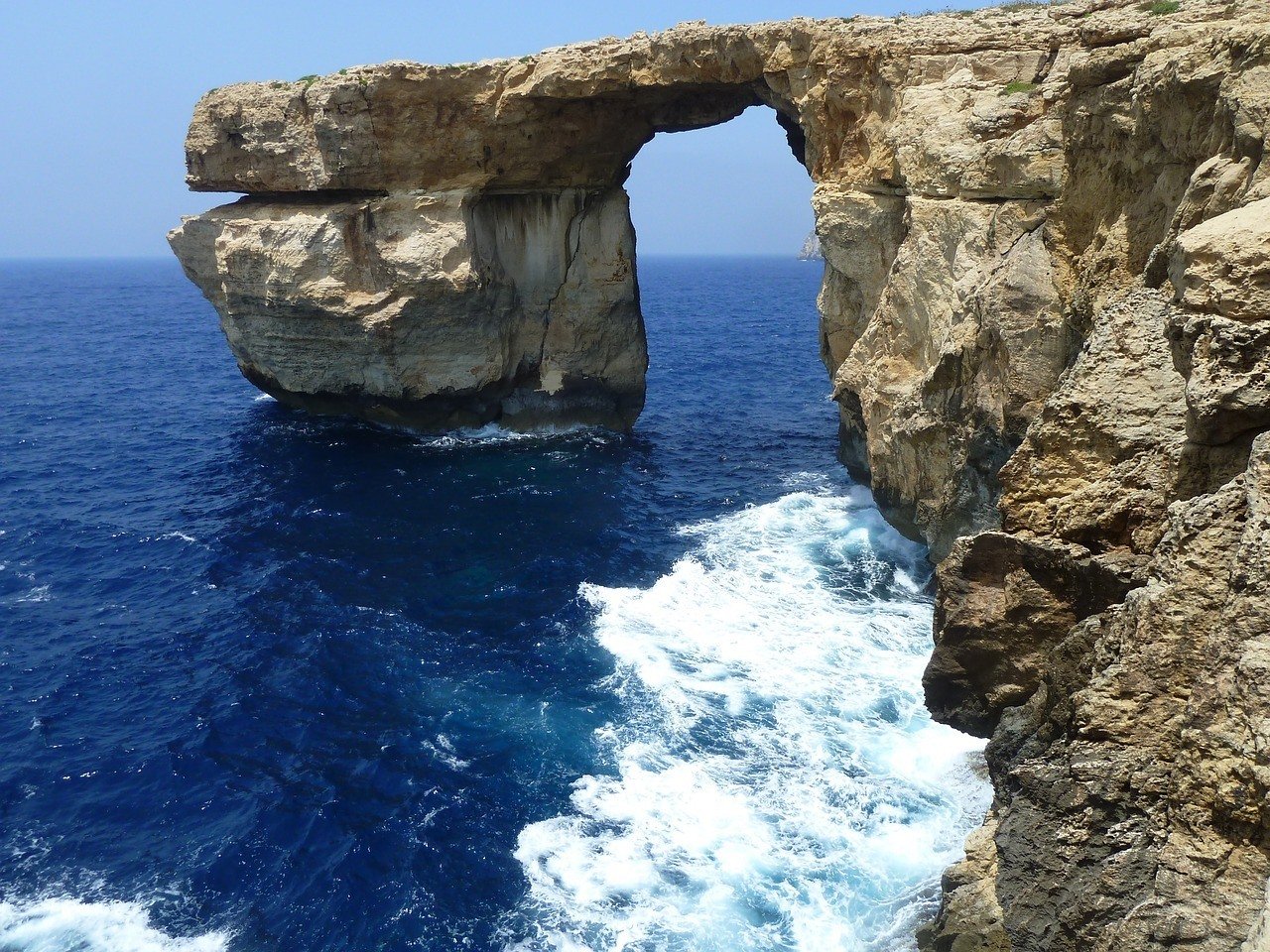 The island of Gozo is known for the cliffs of its southern coast, and that's where you'll be heading for possibly the most picturesque hike in Malta.
The starting point is pretty convenient: all it takes is a simple walk out of the main city of Victoria towards Xlendi.
After Xlendi — and its beachside restaurants (in case you're hungry) — cross over a stone bridge to reach the coastal watchtower. Xlendi Tower, built in 1650, is the oldest of the four watchtowers here and offers beautiful views of the surrounding landscapes.
Past this point, the trail makes its way southeast, skirting along the edge of the vast white cliffs. You'll wind further inland, along a narrow path on a grassy clifftop, then right to the edge of Sanap Cliffs.
From here, the trail climbs along the cliffs and will give you a breathtaking vista of this spectacular coastline pretty much the whole way. You'll pass by some farms before finally arriving at Ta' Cenc Cliffs: a suitable spot for marveling at all of this beauty.
To return, follow the country road back to Sannat — it's an easy walk back to Victoria from there.
Length: 11 km
Duration: 2 Hours
Difficulty: Easy
Trailhead: Victoria (36°02'24.4″N 14°14'21.5″E)
8. Comino Loop – Best Off the Beaten Path Trek in Malta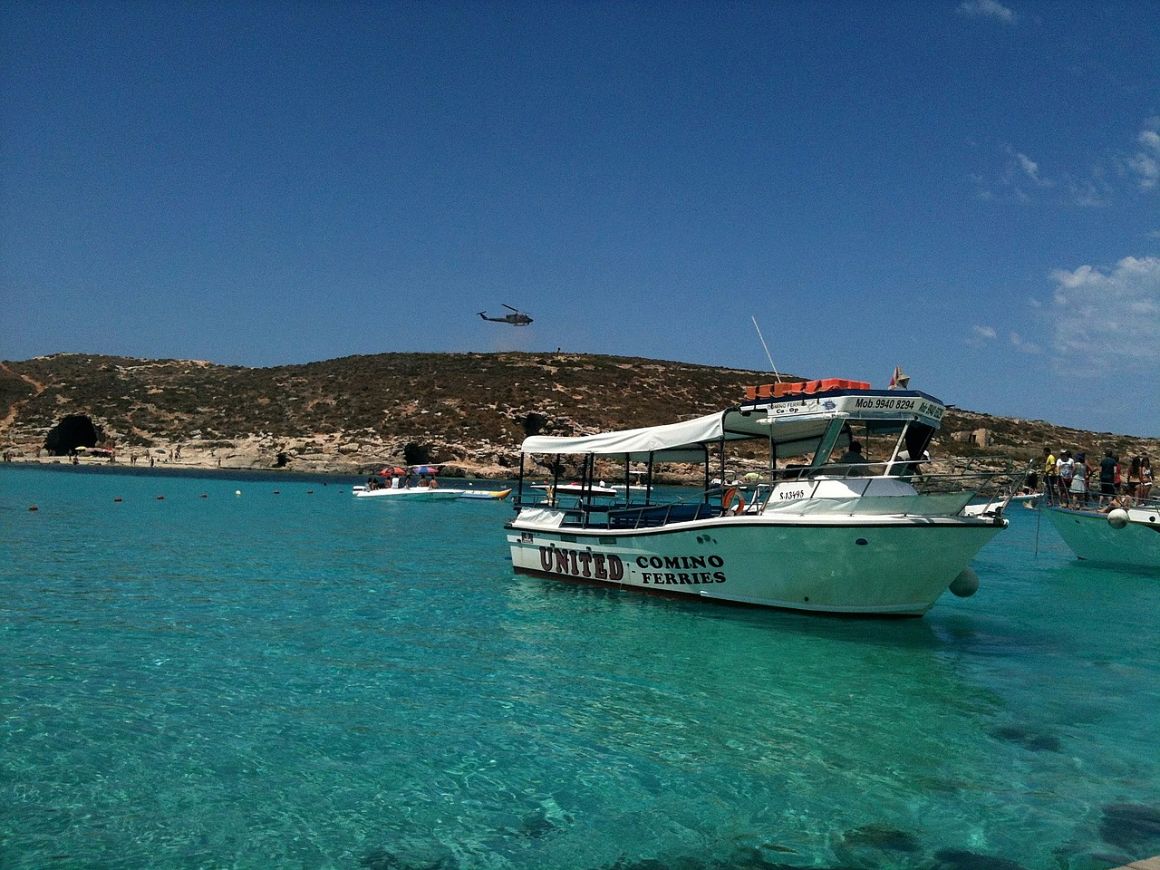 The small but beautiful island of Comino lies between the islands of Malta and Gozo. It's hardly inhabited at all, with no cars in sight and just one hotel. And that's why we're picking it as the best place for off the beaten track hiking in Malta.
The main attraction is the Blue Lagoon, a popular location for snorkellers and daytrippers. Your hike starts here and takes you around the entirety of this tiny island.
The Blue Lagoon will tempt you in from the moment you arrive, but you can save it for a treat at the end.
Once you get off the boat, turn right and walk along the edge of the Blue Lagoon. You'll pass by an abandoned hospital before you reach St Mary's Battery — one of three historic coastal defences remaining on Comino.
After this, the rocky path turns inland. You'll be cutting across the island, passing by old farms and scrubby landscape, before hitting the coast again at Santa Marie Bay. You'll find a sandy beach there — a perfect swimming spot away from the crowds at the Blue Lagoon.
Follow the path left, past the only hotel on the island, and the route will then connect you to the Blue Lagoon again. By now, you've worked hard enough to enjoy a refreshing dip in those crystalline turquoise waters!
Length: 6.5 km
Duration: 2 hours
Difficulty: Easy
Trailhead: Blue Lagoon, Comino (36°00'50.8″N 14°19'28.6″E)
DON'T DIE OUT THERE! …Please 🙂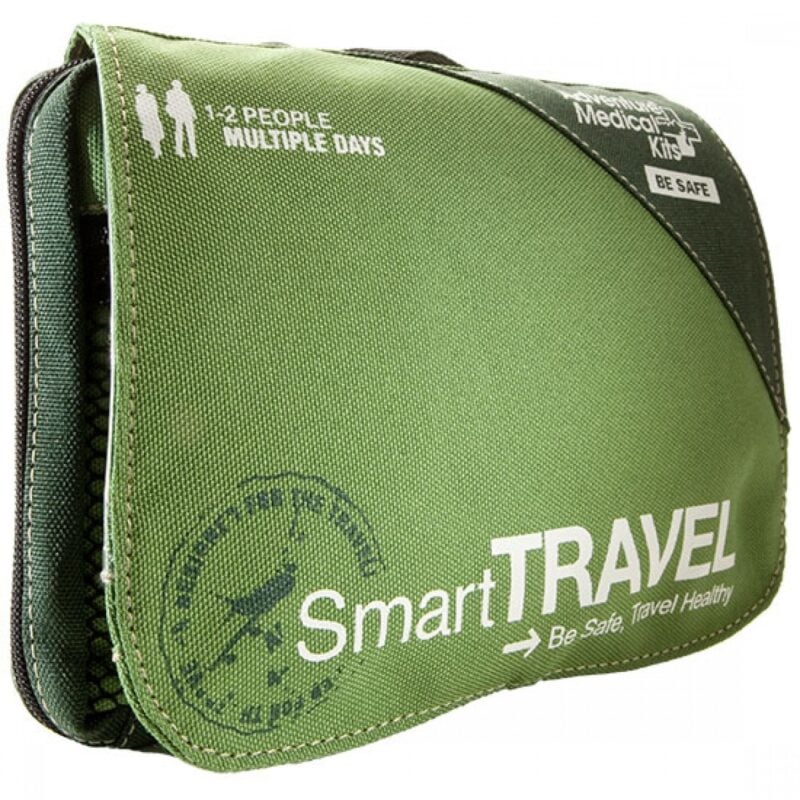 Things go wrong on the road ALL THE TIME. Be prepared for what life throws at you.
Buy an AMK Travel Medical Kit before you head out on your next adventure – don't be daft!
Buy on REI
Now that you're clued up on pretty much everything there is to know, there's one crucial element left: figuring out where to stay in Malta.
It's hard to go wrong here. Because of its compact size, most places won't be very far to reach from wherever you choose to stay, and there are plenty of towns you can use as a base. Note that this isn't so much about finding the absolute "best" place to stay, but rather finding a spot that's right for you.
On the main island, you have Valletta. This is Malta's capital city, situated on a craggy peninsula and offering plenty of places to stay, eat and drink, plus a whole lot of history to soak up. It's never a bad choice!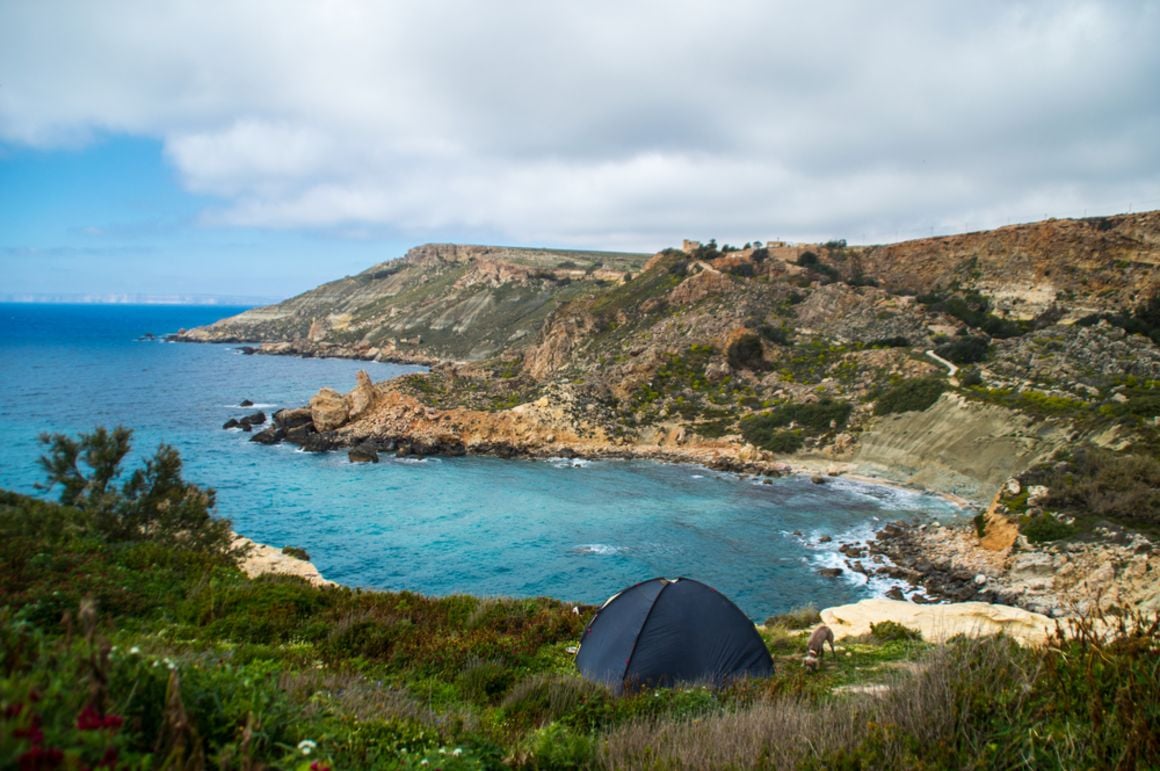 Further along the coast, you have St. Julian's. The town is famous for being home to Paceville, the party central district in Malta — if you're looking to balance your hiking adventures with some nighttime fun, this is where you should stay.
Over at Gozo, the smaller island, things are much quieter. Victoria is the main town here and is home to a few accommodation options, but you'll find them all across the island.
An easy option as well is to go for an Airbnb in Malta — this allows you the freedom of having a place to yourself, and not worrying about returning to a hotel lobby covered in the dirt from a hike.
Wild camping is not allowed in Malta. You can camp at one of the nation's designated campsites, but we don't recommend just rocking up anywhere you feel like. Be wise, fellas!
This gorgeous apartment overlooking the delights of Valletta is our pick for the best Airbnb in Malta! With your own private balcony, you can bask in the Mediterranean sunshine and enjoy a late-night cocktail from the comfort of your home.
This hostel is the best place to stay if you're traveling on a budget. It's located in Gozo, the smaller of Malta's two islands, and it's our recommendation for the best hostel in Malta!
This hotel is the perfect mix between traditional and modern. It's set on a magnificent ancient building and the amenities are fantastic. An outdoor pool, a fantastic restaurant, and car hire are all at your service!
Is This the Best Backpack EVER???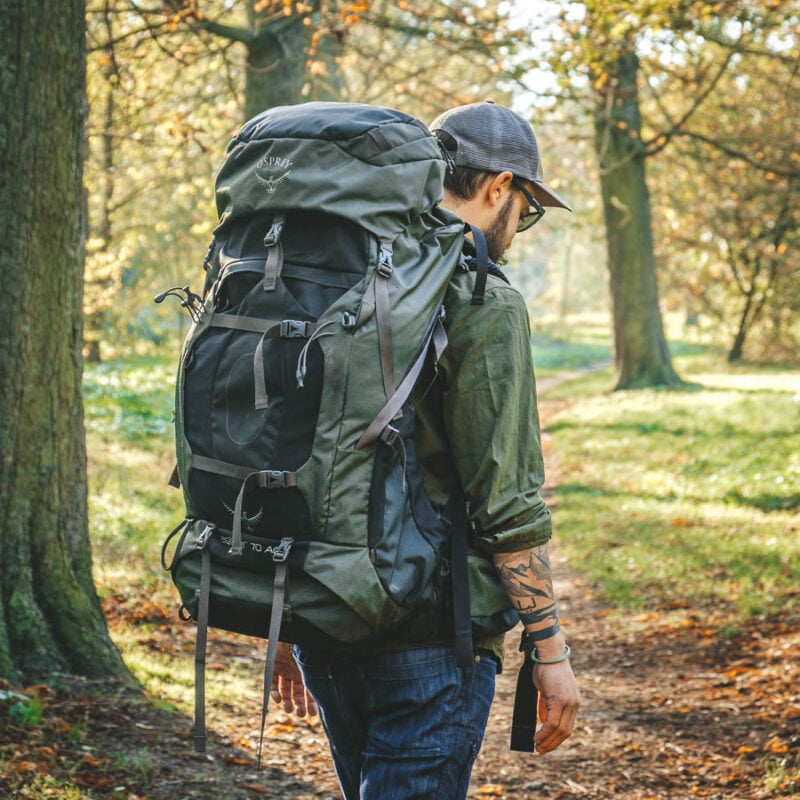 Malta is a dream destination. It has some of the highest average temperatures in Europe, which translates to sunny days at the beach, glorious hikes and magical evenings all year-round.
Now, before you get too excited… some packing needs to be done!
Knowing what to bring to go hiking in Malta isn't too hard. Depending on the time of year you're visiting, you just need to adapt a little bit.
In the summer, the heat asks for light clothing that protects you from the sun; wintertime demands layers that you can easily take off and shove down your daypack. A waterproof/windproof jacket is essential.
Pack a pair of flip-flops for the beach, but bring a sturdy pair of hiking trainers too. Invest in a filter water bottle to have unlimited access to clean drinking water and reduce unwanted plastic waste.
Last but not least, having a first aid kit in your daypack can be a lifesaver. You never know when things go wrong (and hopefully never too wrong).
Here's the breakdown so you don't miss a thing:
Trekking Poles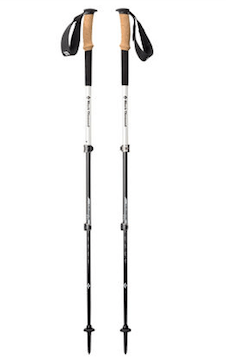 Trekking Poles
Black Diamond Alpine Carbon Cork
Price > $$$
Weight > 17 oz.
Grip > Cork
Headlamp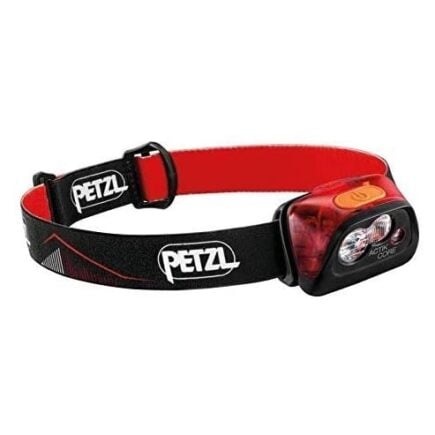 Headlamp
Petzl Actik Core Headlamp
Price > $$
Weight > 1.9 oz
Lumens > 160
Hiking Boots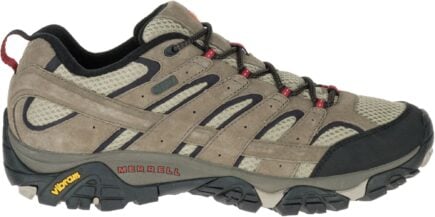 Hiking Boots
Merrell Moab 2 WP Low
Price > $$
Weight > 2 lbs 1 oz
Waterproof > Yes
Daypack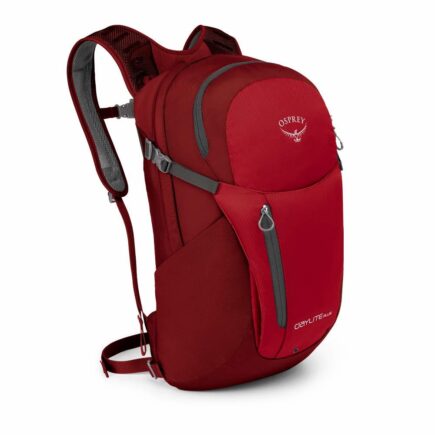 Daypack
Osprey Daylite Plus
Price > $$$
Weight > 20 oz
Capacity > 20L
Water bottle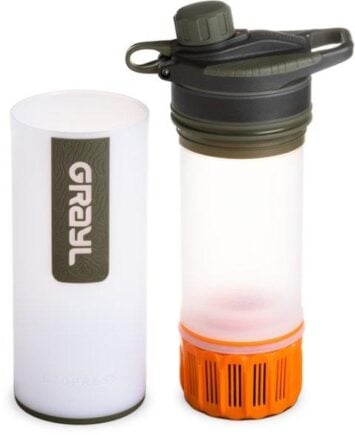 Water bottle
GRAYL Geopress
Price > $$$
Weight > 16 oz
Size > 24 oz
Backpack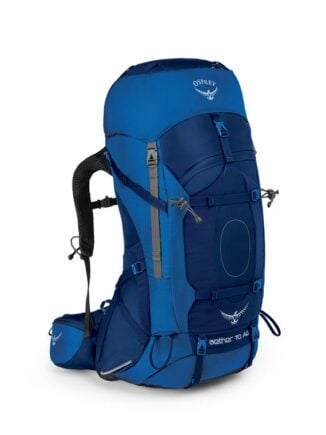 Backpack
Osprey Aether AG70
Price > $$$
Weight > 5 lbs 3 oz
Capacity > 70L
Backpacking Tent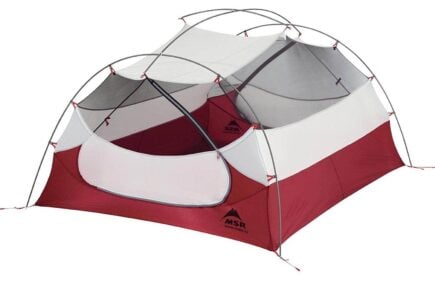 Backpacking Tent
MSR Hubba Hubba NX 2P
Price > $$$$
Weight > 3.7 lbs
Capacity > 2 person
GPS Device
GPS Device
Garmin GPSMAP 64sx Handheld GPS
Price > $$
Weight > 8.1 oz
Battery Life > 16 hours
Don't Forget Your Malta Travel Insurance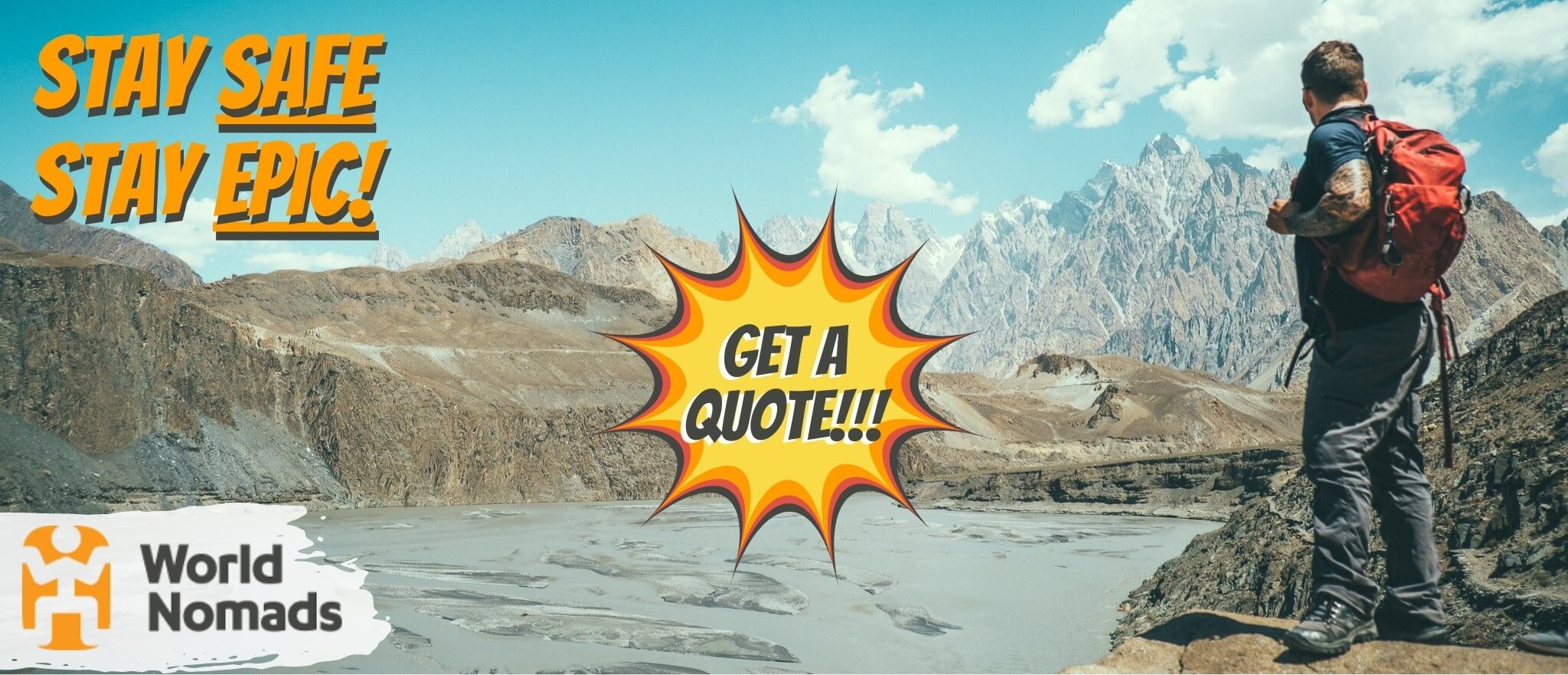 World Nomads' mission is to support and encourage travellers to explore their boundaries. They offer simple & flexible travel insurance, and safety advice to help you travel confidently.
They've been doing it since 2002 – protecting, connecting, and inspiring independent travellers just like you.
Get a quote below or read our in-depth review!
World Nomads provides travel insurance for travelers in over 100 countries. As an affiliate, we receive a fee when you get a quote from World Nomads using this link. We do not represent World Nomads. This is information only and not a recommendation to buy travel insurance.
---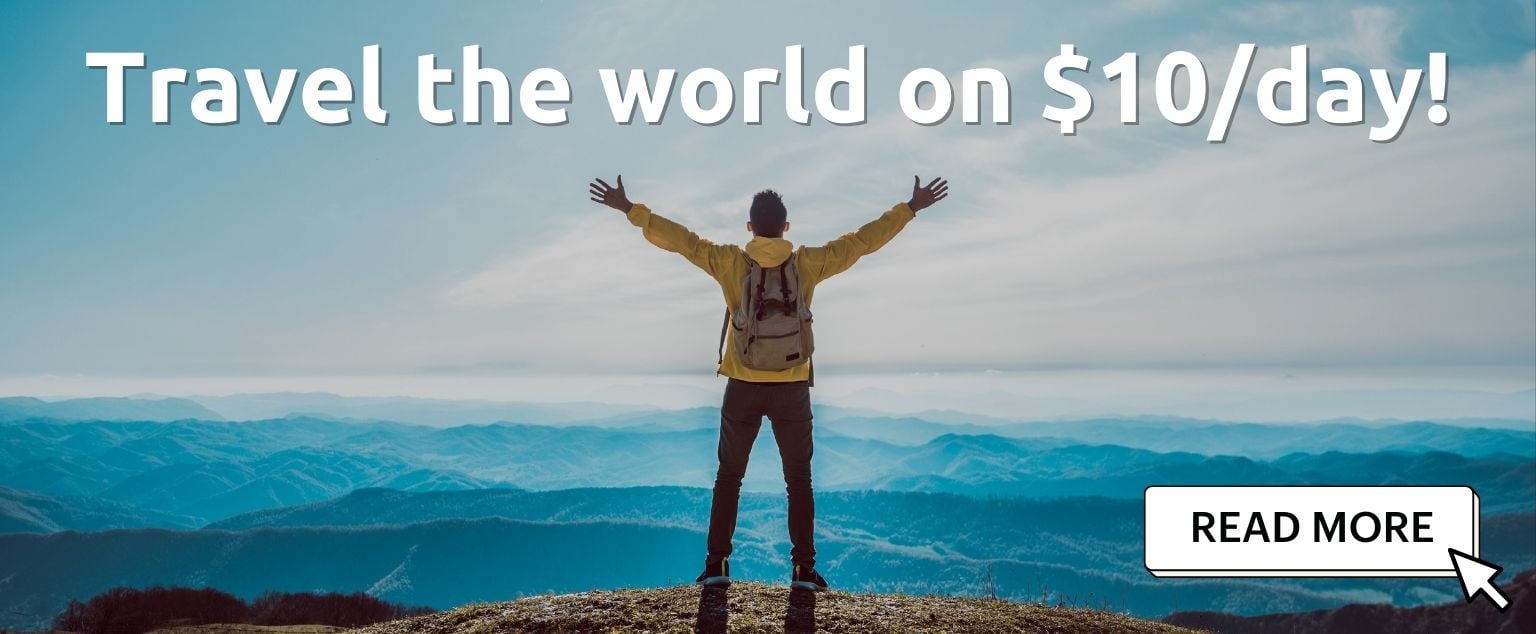 And for transparency's sake, please know that some of the links in our content are affiliate links. That means that if you book your accommodation, buy your gear, or sort your insurance through our link, we earn a small commission (at no extra cost to you). That said, we only link to the gear we trust and never recommend services we don't believe are up to scratch. Again, thank you!