Whenever the topic of "coolest cities in Europe" is brought up, backpacking Budapest is almost always mentioned. In addition to its beautiful and historic central area, the Hungarian capital is also home to countless thermal baths and ruin bars, two things that really help it stand out from its other Central European neighbors.
Once upon a time, Budapest was actually two different cities on either side of the Danube River: Buda and Pest. Although the two were combined way back in 1873, you'll still hear locals refer to the opposite sides as if they're still different cities. They really are quite different, giving Budapest somewhat of a split personality.
Buda refers to the area on the west side of the river. It's a quiet, hilly area that's home to the famous Buda Castle. On the other side of the river, Pest is the bustling city centre. Here you'll find the stunning Hungarian Parliament Building as well as the best nightlife hot spots in Budapest.
First-time visitors are often advised to "visit Buda and stay in Pest." There are lasting influences in Budapest from the Ottoman Empire that once conquered the city. You can thank the Turks for the abundance of thermal baths in Budapest, as well as the popularity of coffee and paprika.
At other points in history, Budapest was part of the Habsburg Empire from nearby Austria and was later under Soviet military control. The former ended with the end of World War I and the dissolution of the Austro-Hungarian Empire, while the latter didn't come to an end until 1991.
These days, Budapest is one of the most popular cities to visit in Europe. Thankfully, backpacking Budapest is still a great bargain, and the city is home to plenty of excellent hostels and an extensive public transportation system.
There are plenty of free (or cheap) activities to do in Budapest, and you can eat and drink quite well without breaking the bank.
Make the most of your trip to Budapest with this in-depth Budapest travel guide. We'll share travel tips and advice on everything from your typical daily budget to money-saving techniques, to an epic Budapest itinerary that will show you the best the city has to offer.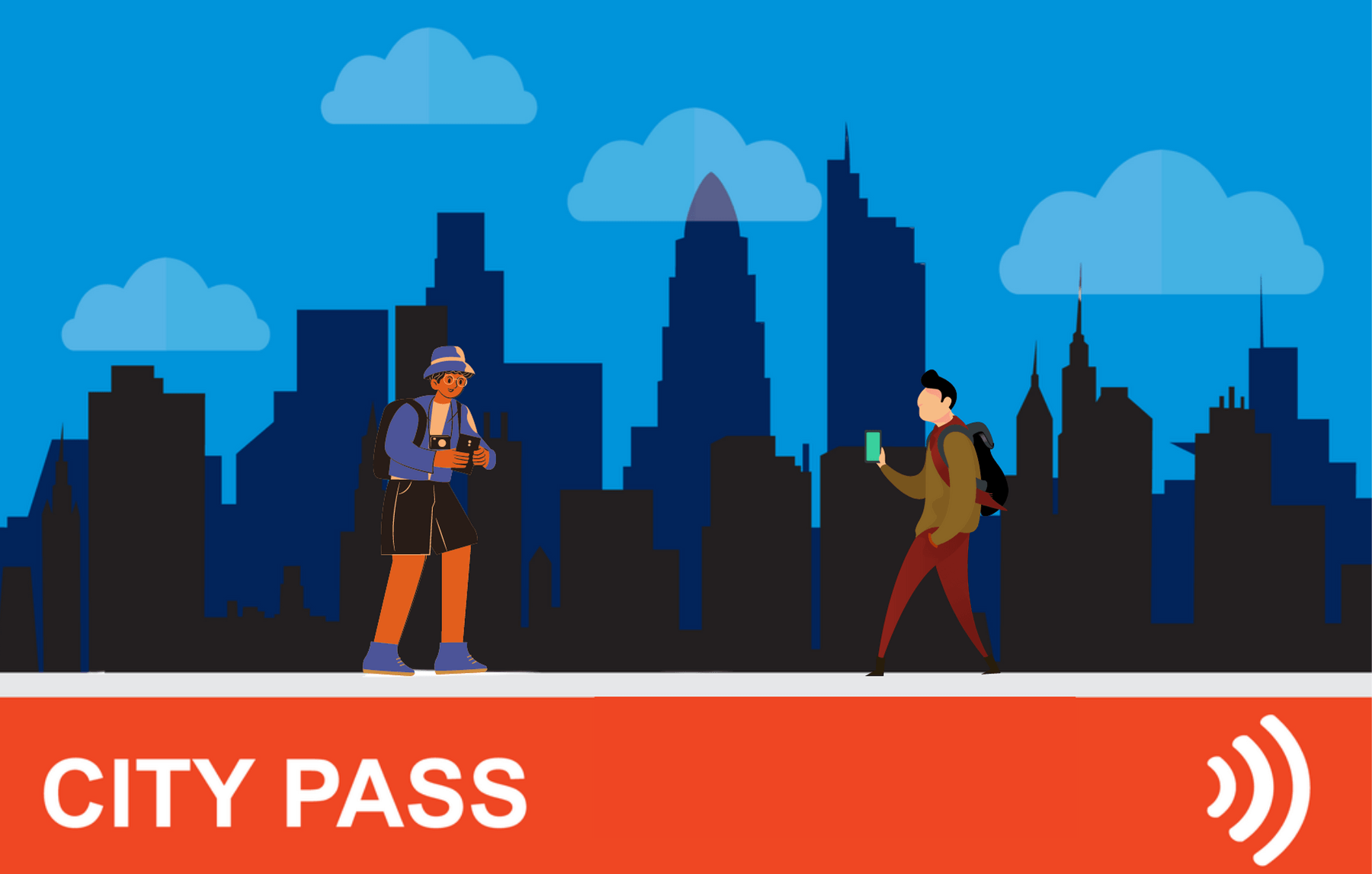 Travelling to Budapest? Then plan yo' trip the smart way!
With a Budapest City Pass, you can experience the best of Budapest at the CHEAPEST prices. Discounts, attractions, tickets, and even public transport are all standards in any good city pass – be sure invest now and save them $$$ when you arrive!
Buy Your Pass NOW!
For a capital city that's such a popular tourist destination, Budapest remains a very affordable place to visit in Europe. It's much cheaper than the big cities of Western Europe, especially when it comes to finding a place to stay and getting around.
If you're backpacking on a budget, you can easily get by on around $40-50 a day depending on where in Budapest you stay. This will get you a dorm in a centrally located hostel, a pass to use the city's great public transportation, local restaurants or street food, and a few drinks at one of the ruin bars.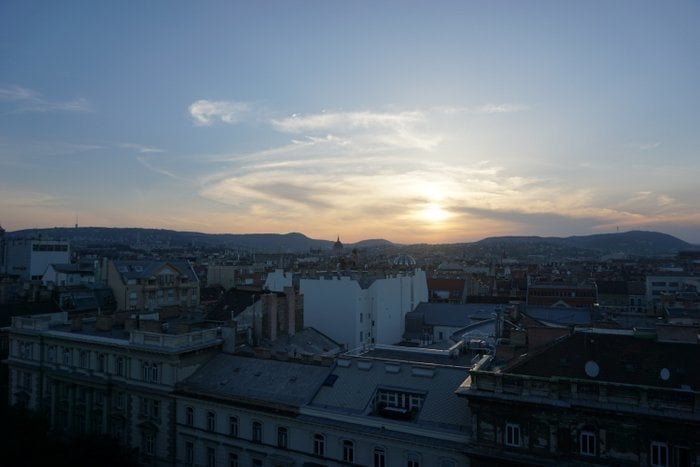 Those looking for a bit more comfort may need a budget of around $70-80 a day. This will get you a private room in a hostel or even your own Budapest Airbnb.
With a $70 daily budget, you'll be able to afford to go to a few of the main tourist attractions as well. Spending a little more means you can sit down at a slightly nicer restaurant and hit a few more bars in the evening.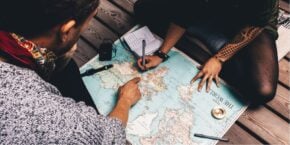 Heading Off-Grid? • Download This Guide as a PDF!
Sign up to The Broke Backpacker's EXCLUSIVE VIP AREA below and download our top backpacking guides as PDFs – go offline with peace of mind!
Average Costs of a Trip to Budapest
Here's a breakdown of a daily Budapest budget:
Dorm bed in a hostel: $12-18
Small basic room for two: $30-40
Airbnb in a shared apartment: $25-30
72-hour transport card: $15
Airport express bus: $3
Parliament Tour: $23
Street food snack: $2-3
Local restaurant for dinner: $10-15
Draft beer at a ruin bar: $2-3
Thermal bath entrance: $20
Budapest Budget Backpacking Tips
Even though Budapest is a very budget-friendly destination, you can still make your money go even further. Here are a few tips for backpacking Budapest on a budget:
Couchsurf: It's possible to find a dorm bed for pretty cheap in Budapest, but couch surfing is free! There are plenty of locals and expats on CS, so send out a few requests and see if someone has space for you.
Book a hostel with free breakfast and/or a kitchen: Cutting down on your food expenses is a great way to stretch your budget. There are plenty of hostels that have free breakfast or offer breakfast for very cheap. If there's a communal kitchen, you can buy groceries and cook a few meals for yourself.
Buy a transport ticket: Getting around Budapest is a breeze, as the city has a metro network, trams, and buses. If you're staying for a few nights, the 3-day card is just $15 and good for everything (but the airport bus).
Travel in late spring/early fall: As is the case all around Europe, Budapest is busiest during the summer months. Consider traveling in a month like May or October to ensure smaller crowds and lower prices.
Pack a travel water bottle and save money every day!
Why You Should Travel to Budapest with a Water Bottle
Plastic washes up on even the most pristine beaches… so do your part and keep the Big Blue beautiful
You aren't going to save the world overnight, but you might as well be part of the solution and not the problem. When you travel to some of the world's most remote places, you come to realise the full extent of the plastic problem. And I hope you become more inspired to continue being a responsible traveller.
Plus, now you won't be buying overpriced bottles of water from the supermarkets either! Travel with a filtered water bottle instead and never waste a cent nor a turtle's life again.
Save $$$ • Save the Planet • Save Your Stomach!
Drink water from ANYWHERE. The Grayl Geopress is the worlds leading filtered water bottle protecting you from all manner of waterborne nasties.
Single-use plastic bottles are a MASSIVE threat to marine life. Be a part of the solution and travel with a filter water bottle. Save money and the environment!
We've tested the Geopress rigorously from the icy heights of Pakistan to the tropical jungles of Bali, and can confirm: it's the best water bottle you'll ever buy!
View on REI
Read the Review
IN A RUSH? THIS IS OUR FAVORITE HOSTEL IN BUDAPEST!
As I mentioned earlier, the city is actually split up into two sides by the Danube River. If you're looking for peace and quiet, you can stay over on the Buda side among the rolling hills. Most people who are backpacking Budapest choose to stay on the more lively Pest side of the river, as it's home to more hostels and ruin bars.
Head over to our Budapest hostel guide to see 23 of the best hostels. I've highlighted the three best choices for hostels in Budapest below.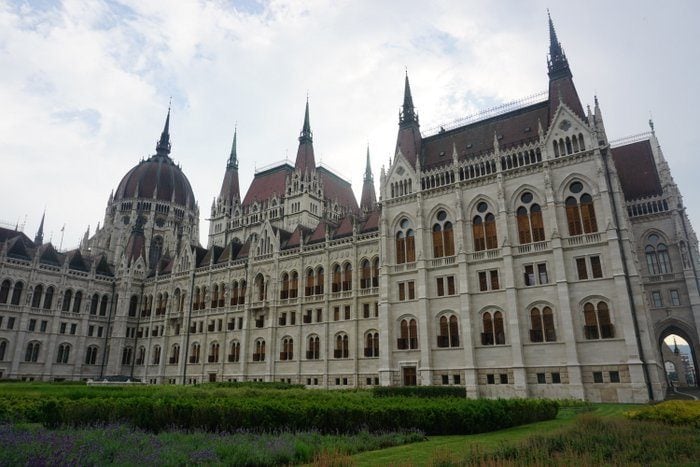 Overall Best Hostel in Budapest – Hostel One
Hostel One has a rating of 9.6 on Hostelworld after almost 2,000 reviews, so they're obviously favored among the backpacking crowd. It's a popular party hostel in Budapest that likes to have a good time. It starts out with a big communal dinner, moves on to drinking games in the bar, and then heads out into the Budapest night where the good times continue to roll.
Highlights include: Very social atmosphere, great hostel bar, and communal dinners.
This place has "party hostel" in their name, so you know they ain't messing around! As they say in their own description – "You can sleep when you're dead so don't expect to get any sleep here!"
They have different events every night of the week, from costume parties, to open mic nights, to their rowdy pub crawls. The place also looks super cool, as local artists have painted murals all over it.
Highlights include: Different parties every night, friendly staff, and awesome street art.
Best Hostel for Solo Travellers in Budapest – Budapest Bubble
This hostel has won several awards for its great vibe and excellent hospitality. It's in a very central location making it easy to get around and do your sightseeing during the day. You can hang out with fellow backpackers in their common area while you enjoy some free tea or coffee and a movie.
Highlights include: Common area with books and movies, a communal kitchen, and great central location.
Located just 100m from the UNESCO World Heritage Site, Andrassy Avenue and 30m away from the Budapest Terez Korut, this apartment is perfect anyone visiting Budapest for the first time. There is a variety of Hungarian, Indian, Thai, vegetarian restaurants within close reach and the famous Ruined Pubs of Budapest are within a walking distance, as well as the house of Opera, Parliament, and Danube. The apartment is also stocked with a fully equipped kitchen, wifi, and air conditioning.
There's enough to see and do to keep you busy in Budapest for weeks on end. Here are our top 10 things to do in Budapest to help you plan your trip:
1. Join a free walking tour
The best way to start your trip in Budapest is with a free walking tour. In just a few short hours, you'll learn a ton about the history of the city from a knowledgeable local guide. Tours run every day at 10:30 AM and 2:30 PM from Erzsebet ter Budapest Eye Ferris wheel area.
In addition to seeing many of the city's most famous sights, you'll get some great tips on the best places to visit in Budapest, what to eat, and more.
The guides work very hard to give you a good tour of their city, so please reciprocate and give them a decent tip. I can't tell you how many cheap asses I've seen on these tours give a tip of only $2.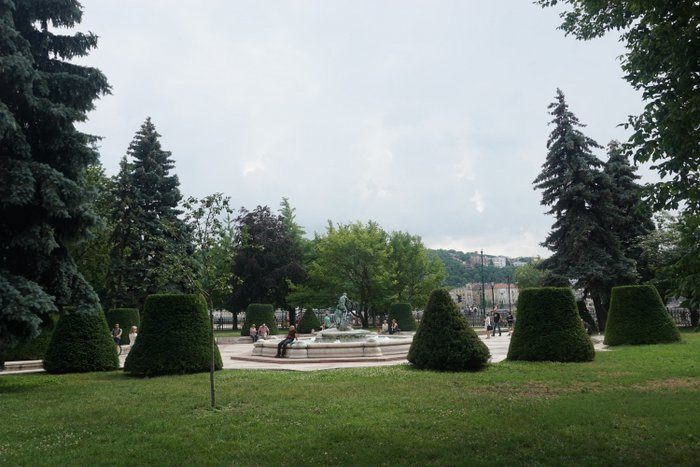 2. Visit the Buda Castle
One of the most famous sights in the city, the Buda Castle, was first built way back in 1265. It has seen its fair share of ups and downs throughout the centuries as it has been expanded, destroyed, and reconstructed, only to be destroyed again and have the cycle start over.
You won't find any royalty living here these days, but you will find the National Gallery and the Budapest History Museum. There are also several festivals held on the castle grounds throughout the year, including a beer festival, chocolate festival, and a palinka (local booze) festival.
3. Soak in the thermal baths
Thermal baths have been a big part of Budapest's culture since the city was a part of the Ottoman Empire. The minerals in the thermal water are said to have therapeutic benefits, so take care of yourself and jump right in!
You have several choices for soaking in the thermal baths in Budapest. The most popular thermal baths are Gellert or Széchenyi, both of which are huge complexes with several different baths, steam rooms, and more. Entrance is a bit pricey at around $20, but you can't come to Budapest and not enjoy an afternoon in the baths.
4. Walk up the Citadella
For some of the best views of the city, walk up the hill to this former fortress on the Buda side. It's conveniently located right next to the Gellert thermal bath, so you can easily do both in an afternoon. Consider going up there just before sunset so you can watch Budapest light up.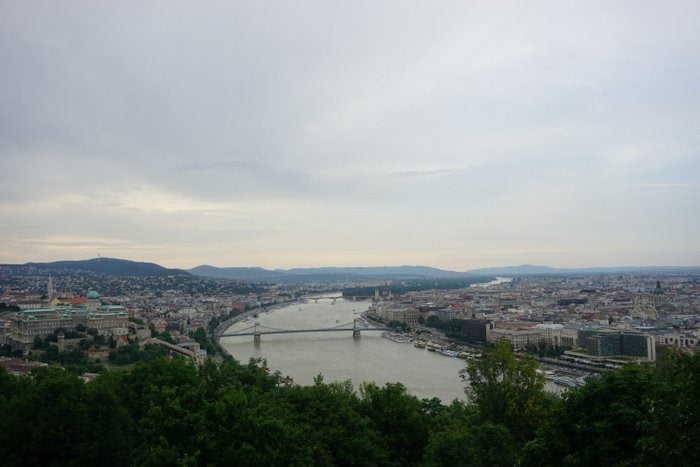 5. Go museum hopping
While backpacking Budapest, you have several choices when it comes to museums. Some of your best bets include the Hungarian National Museum, the National Gallery at the Buda Castle, and the open-air Memento Park.
The latter includes several statues from the city's Soviet days. It's a bit far out of the city centre, but it's worth a visit and makes for a nice tour of the area.
6. Tour the Parliament Building
Taking a tour of the Hungarian Parliament Building is one of the most popular things to do in Budapest. The impressive Gothic Revival building was inaugurated in 1896 on the 1,000th anniversary of the nation. Tours often sell out, so you'll want to book a tour a few days in advance.
One very interesting thing about the parliament building is that it's the same height as the nearby St. Stephen's Basilica. Both stand at 96 meters, making them the tallest buildings in the city. The reason for this is to show that the church and the state are equal in Hungary.
7. Matthias Church and Fishermen's Bastion
For more epic views of Budapest, you can head up to the lookout towers known as Fishermen's Bastion. Here's a little tip for you when visiting – it's not really worth it to pay to go in the upper towers. You'll get a perfectly fine view from the lower ones without paying anything.
While you're up here, you may as well stick around to admire the gorgeous Matthias Church. There's an entrance ticket required if you want to go inside for a closer look, though.
8. Go to the Island in the River
Right smack in the middle of the Danube is a 2.5 km-long island. Margaret Island is a big green space full of parks and recreational areas. There are swimming pools, tennis courts, and even a rubber-coated running track going all around the island.
You'll also find some small medieval ruins and a musical fountain here. This is where Sziget hosts one of the coolest music festivals in Europe.
9. Sample Hungarian Cuisine and Booze
While backpacking Budapest, you've got to dig into the local cuisine and throw back a few glasses of the local hooch. Must-try dishes include goulash, chicken paprikash, and langos – a deep-fried bread topped with cheese and sour cream that's jokingly referred to as "Communist pizza."
As far as booze goes, Hungarians love their pálinka. This traditional fruit brandy comes in many different flavors, which all taste like firewater. Try a little bit before or after a meal, or throw back shots if you want to get wild at one of the bars.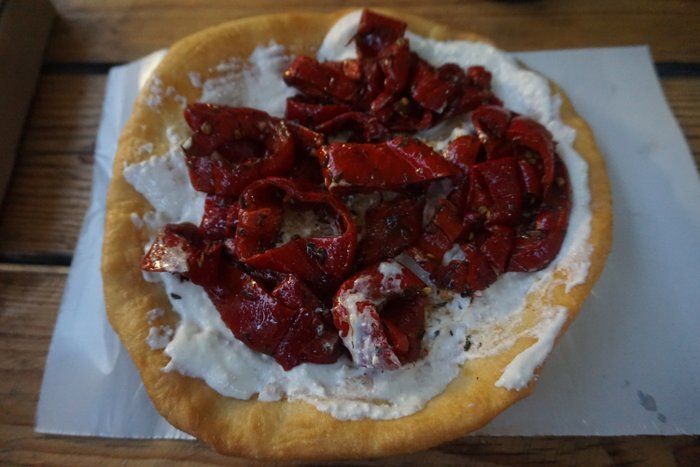 10. Hit the ruin bars
Mention Budapest to backpackers, and the first thing you'll hear about are the city's awesome ruin bars. These came about as an idea for how to use old buildings without spending a ton of money. Cue some second hand furniture, funky decorations, and some lights, and you've got yourself a ruin bar!
The original and most popular ruin bar is Szimpla Kert. It's a huge place with several different rooms that all have their own unique look. It's tons of fun and the party goes all night here, so be sure to pace yourself.
Is This the Best Daypack EVER???
Now that we've covered some of the basics, it's time to plan out an awesome itinerary for 3 days in Budapest:
Day One in Budapest: An intro to the city
A great way to start out your trip in Budapest is with a free walking tour. They run two tours every day at 10AM and again at 2:30PM, so take your pick. On this 3-hour tour, you'll learn a lot about the history, architecture, and culture of the city.
You get to see some of the city's most famous landmarks along the way, such as St. Stephen's Basilica, the Chain Bridge, and Fishermen's Bastion.
It's an excellent way to get to know the city with the help of a local guide, who will surely give you recommendations on where to eat and go out. Take your guide's advice and find a good restaurant to sit down for some Hungarian classics like chicken paprika or goulash.
After all of that walking and a big meal, you may need a little boost. Budapest has plenty of excellent cafes where you can grab a coffee and watch the city go by. You'll need to conserve your energy for a big night out anyway, so just sit back and relax for a bit.
In the evening, head to the Street Food Karavan for some grub. This food truck park has tons of great options, such as the local favorite lángos – fried bread covered in sour cream and cheese. They've also got burgers, sandwiches, burritos, and several other delicious choices.
With some food in your belly, you'll be ready to start the party nextdoor at Budapest's first ruin bar. Szimpla Kert is bumping every night of the week, and the party goes all night long until 4 or 5 AM depending on the night.
The line gets pretty long by 11, so it's worth it to get there a bit early to beat the crowd. There are so many different rooms throughout this massive bar that you could stay there all night and not get bored.
If you do want to check out a few other places, it's easy enough to create your own pub crawl to take in Budapest's epic nightlife. Those who are looking to make some new friends on the trip may want to join one of the many pub crawls that are on offer.
They're a good deal, you'll meet new people, and you don't have to worry about ending up at some shitty bar because they'll take you to good ones.
Day Two in Budapest: A good soak and a climb
Chances are you had a late night, so go ahead and sleep in a bit. Then find yourself a greasy breakfast to cure that hangover. Once you're feeling somewhat human again, it's time to do a bit more sightseeing.
If you're interested in touring the Hungarian Parliament Building, you'll want to make sure to sign up for a tour. If not, you can just enjoy the stunning building from the outside as you walk along the Danube.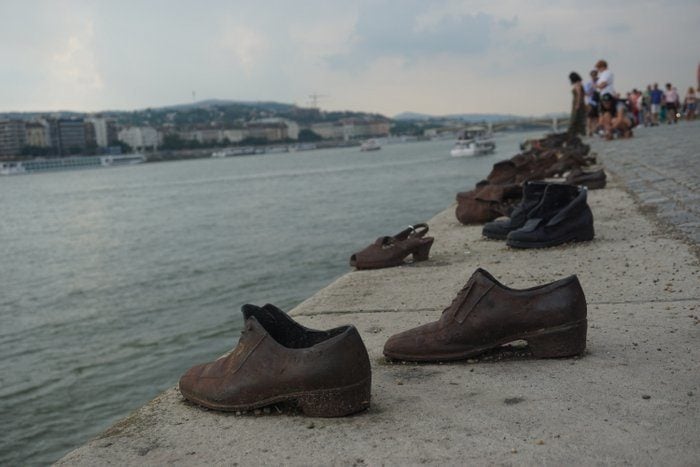 As you walk along the river, you'll notice the Shoes on the Danube Bank memorial. This was put there to honour the people in Budapest who were killed by Arrow Cross militiamen during WWII. They were forced to remove their shoes and were then shot so that their bodies fell into the river. It's a somber reminder of a very dark time in the city's history.
On the other side of the river, you can head to the Buda Castle to visit the Budapest History Museum or the National Gallery. Take your pick depending on if you prefer history or art, or go for both if you're feeling motivated.
Now that you've gotten your culture fix, it's finally time to hit Budapest's famous thermal baths. Since you're already over here, you might as well visit the Gellert baths.
Entrance is a little pricey at around $20, but that gets you access to a variety of thermal baths, steam rooms, saunas, and even an outdoor wave pool. An afternoon in the thermal baths is an essential thing to do when backpacking Budapest, so it's definitely worth it.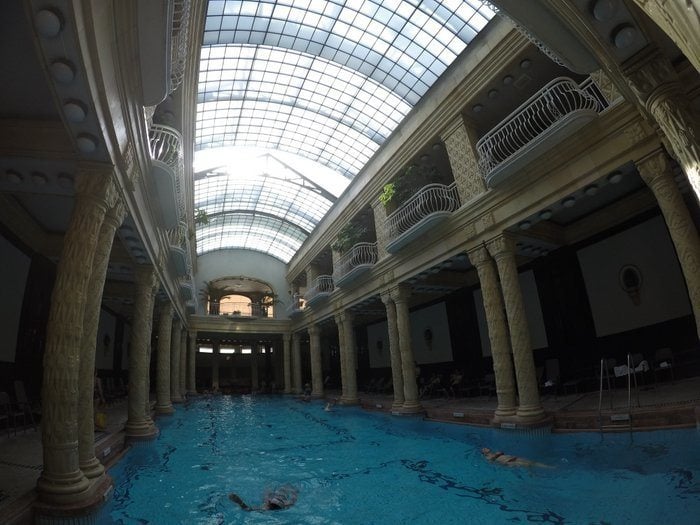 Once you've had your fill of the baths, you can climb up the hill to the Citadella. It's a pretty easy 15-20 minute walk that brings you to one of the best viewpoints in the entire city.
You're probably pretty hungry and thirsty by now, so head over to Éleszto. This funky ruin bar is a one-stop-shop that has a wine bar, cocktail bar, craft beer bar, tapas, and even a cosy little cafe.
It's a nice change of pace from the madness of Szimpla Kert from your first night in town. Of course, if you feel like throwing down and having another crazy night out then go for it! There are tons of bars and nightclubs that are waiting for you.
Day Three in Budapest: Exploring other corners of the city
Start off day three in Budapest with a trip to the Central Market Hall. It's a great place to sample more Hungarian food and do a bit of shopping if you want to buy some souvenirs for home.
Next up, head to the Jewish Quarter of Budapest. Here you can see the Dohány Street Synagogue, which is the largest in all of Europe. You can also visit the Jewish Museum and the cemetery if you want to learn more about the history of the Jewish community in Budapest.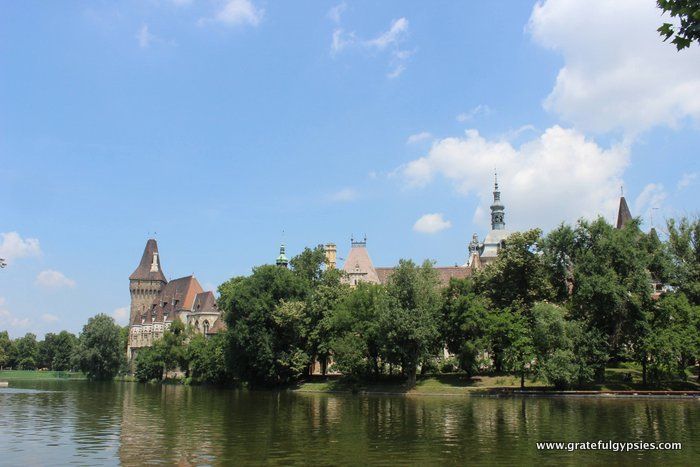 A great place to spend a relaxing final afternoon is City Park. In this large and scenic green space, you'll find the Vajdahunyad Castle, the Heroes' Square, botanical gardens, and the Széchenyi Thermal Bath if you're in need of another soak.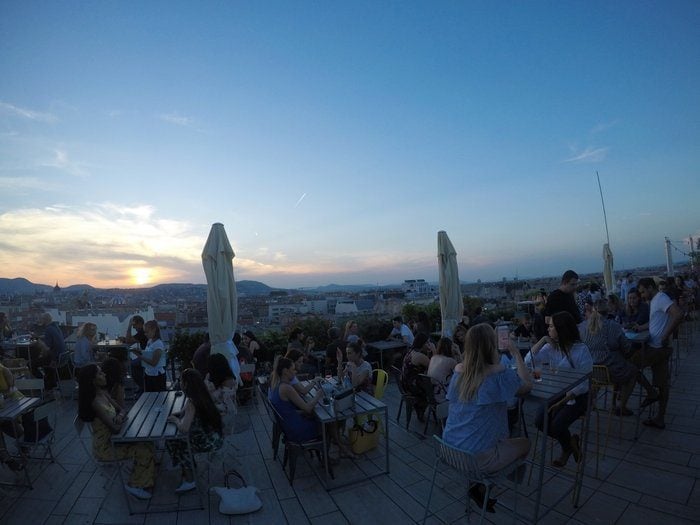 Start your last night in Budapest off with some sundowners at a rooftop bar. Head to the 360 Bar for drinks and some amazing views of the city. There are several great restaurants in this part of town as well, so take your pick and enjoy a nice meal.
If you're looking to hit one or two more ruin bars – and you might as well – I recommend checking out Kuplung and Anker't. Both are cool places to have a few drinks and experience the unique vibe that only Budapest ruin bars have.
If you happen to be in town on a Monday night, Kuplung has half off everything and it gets a little wild in there!
Budapest off the Beaten Track
Although Budapest is a very popular city, it's not that hard to get off the beaten track. Of course, you'll see lots of tourists at places like the Buda Castle or in the Gellert baths, but there are plenty of places you can go that are full of locals.
It's even pretty easy to find somewhere in this city with no one else around at all. Walk around in the hills on the Buda side during a weekday and you might not see another soul for hours!
If you want a more local experience, book a hostel or even an apartment that's not right in the heart of Pest. Especially if you're staying around the more popular ruin bars, you can expect to be around crowds of tourists day and night. Staying a little farther away from the action means you can enjoy a more local vibe (and you'll probably spend less).
Those looking to really get off the beaten track may want to consider renting a bike and exploring outside the city center. One place you can ride to that's worth visiting is the Memento Park. There are also bike tours with small groups if you don't feel like trying to navigate it on your own.
Best Walks in Budapest
Budapest is a great city to explore on two feet, especially the historic centre. Here are a few ideas for some of the best walks in the city:
Along the Danube: The best way to see Budapest is by walking up and down both sides of the Danube River. Stroll past the parliament building, see the Shoes on the Danube memorial, cross the Chain Bridge, and then explore the Buda Castle complex on the other side.
Up to the Citadella: Take a walk up Gellert Hill on the Buda side to reach the Citadella and enjoy some incredible panoramic views of the city.
The Jewish Quarter: A walk through the Jewish Quarter will take you to the largest synagogue in Europe, the Jewish Museum, the cemetery, and more.
Margaret Island: This island in the river is a great place for a casual stroll. You might even want to bring a picnic lunch and hang out for a while.
Best Time of Year to Visit Budapest
Generally speaking, the best times to visit Budapest are the shoulder seasons of March-May and September-November. During these months the weather is pretty nice and the crowds aren't too bad. If you visit in March or November, be prepared for the cold.
Even though the summer months are the hottest and wettest, they're still peak tourist season in Budapest. You'll definitely want to try and book your accommodation in advance if you are visiting the city in July or August.
Although winter can be quite cold and snowy in Budapest, you may want to consider braving the cold to experience the city's famous Christmas markets. At least the roasted chestnuts and mulled wine will help you stay warm.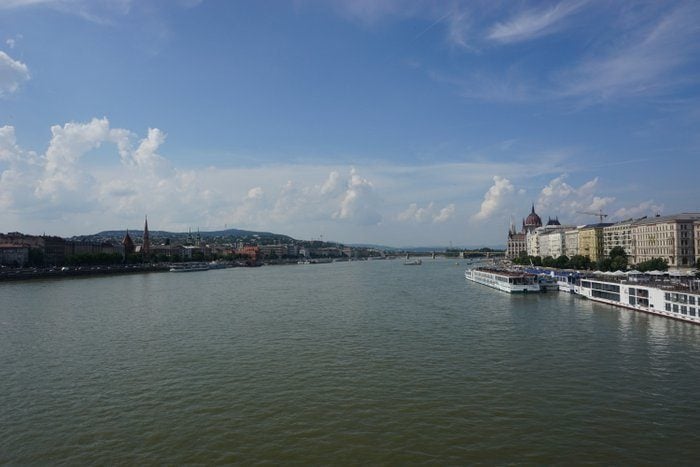 Getting in and out of Budapest
If you're travelling to Budapest by air, you'll arrive at the Budapest Ferenc Liszt International Airport. It's located about 16km southeast of the city centre. You can catch either the 200E or 100E bus from the airport to reach the city and connect to a metro or tram.
As a capital city in Europe, you can easily travel in or out of Budapest by train or bus as well. There are direct routes available to several other European cities, such as Vienna, Prague, Berlin, and Zagreb. You can find a bus to most of these destinations if you want to save some money on your ticket.
How to get around Budapest
Getting around Budapest is easy, thanks to the city's great public transportation system. You'll want to go ahead and buy a transit card and validate it before boarding any metro, city bus, or tram.
As with many other European cities, Budapest is on the honour system. If you're caught travelling without a valid ticket, you can be hit with a big fine.
There are vending machines at most stations that are quite easy to use. Most backpackers will want to just go ahead and grab a 72-hour card for about $15. This will allow you to use the metro, bus, and tram lines as much as you want for three days.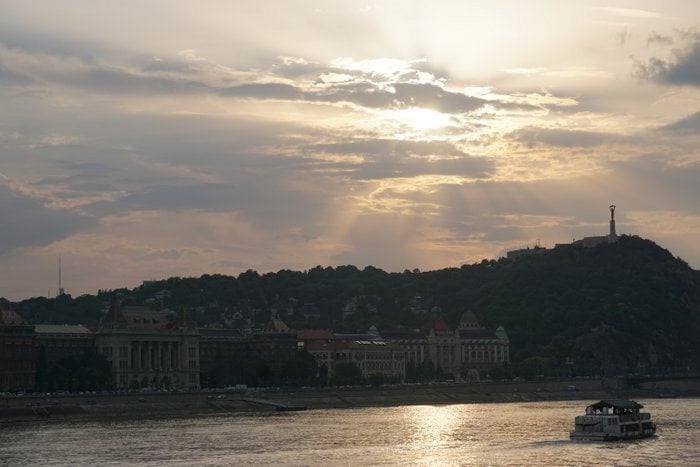 Budapest is also a pleasant city to walk around, especially along the Danube River. At some point in your trip, be sure to walk across the Chain Bridge that connects Buda and Pest. If you'd rather have some wheels, you can rent a bicycle or even a scooter.
Uber is not available in Budapest and taxis are known to overcharge tourists. The only time you might need one is late at night when you've been out partying. Just make sure to agree to a price or that the meter will be used, and even then be sure to keep an eye on it.
Long Distance Trains from Budapest
There are several options for long distance trains to or from Budapest. The city actually has three train stations – Keleti pályaudvar (Eastern Railway Station), Déli pályaudvar (Southern Railway Station) and Nyugati pályaudvar (Western Railway Station).
Most of the international trains operate out of Keleti, but check your ticket to be sure. For more information on European travel travel, check out our in-depth Europe Travel Guide.
Train tickets are cheaper if you book them online well in advance. For example, it's possible to get tickets to Prague for just €19 if you score one of the advance fare tickets. If you plan on visiting multiple cities/countries in Europe, it might be best to buy a Eurail pass, as explained in the guide above
Use Bookaway to find the best deals on transport – buses, planes, trains, and ferries. It'll save you a load of time when organising transport and you'll probably nab an EPIC DISCOUNT too!
Book your transport on Bookaway NOW. Get the best price for the best ride… then use those savings to buy the best feed in town!
Book Your Transport Here!
Safety in Budapest
Backpacking Budapest is very safe. Just take the same precautions you would in any big city and you'll be fine. Don't flash wads of cash and valuables, and be sure you keep things secure when using public transport or walking around crowded areas.
It's not recommended to hail a taxi off a street in Budapest. When possible, you should call a legit taxi company or find a nearby taxi stand. Even better, just stick to the public transportation as it's just fine and quite cheap.
Travel Insurance for Budapest
Traveling without insurance would be risky so do consider getting good backpacker insurance sorted before you head off on an adventure.
I have been using World Nomads for some time now and made a few claims over the years. They're easy to use, professional and relatively affordable. They may also let you buy or extend a policy once you've started your trip and are already abroad which is super handy.
If there's one insurance company I trust, it's World Nomads.
ALWAYS sort out your backpacker insurance before your trip. There's plenty to choose from in that department, but a good place to start is Safety Wing.
They offer month-to-month payments, no lock-in contracts, and require absolutely no itineraries: that's the exact kind of insurance long-term travellers and digital nomads need.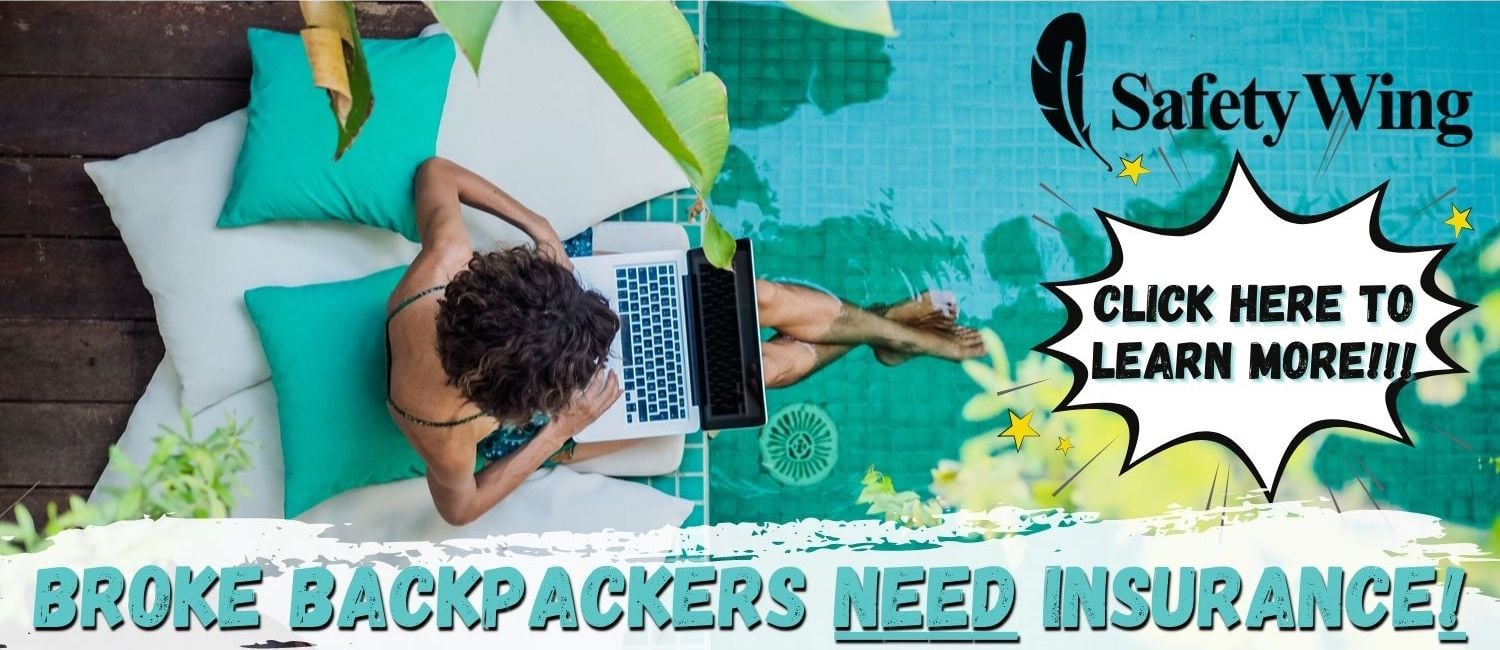 SafetyWing is cheap, easy, and admin-free: just sign up lickety-split so you can get back to it!
Click the button below to learn more about SafetyWing's setup or read our insider review for the full tasty scoop.
Budapest Accommodation Travel Hacks
Even right in the heart of the city, you can score a dorm bed for as little as $15 a night. Pull up the map view and look a few blocks away from the city centre and you'll be able to find a spot for $10 a night.
A great way to save money when you're backpacking Budapest is to find a hostel that has free breakfast and/or a communal kitchen. If you can fill up on a free breakfast and cook your own dinner, you'll spend way less on food.
If you're planning on spending a little more time in Budapest, it's worth it to contact a hostel directly and see if they offer weekly discounts. Most hosts on Airbnb do this, so you might even be able to find your own flat for the same price or even less than a dorm bed.
Eating and Drinking in Budapest
As my guide on our free walking tour of Budapest told me, "the two most important ingredients in Hungarian cuisine are paprika and sour cream." Indeed, you find both of these ingredients used very liberally when eating out in Budapest.
Traditional Hungarian dishes are based around meat and seasonal vegetables. The quintessential Hungarian dish is definitely goulash, which is a hearty soup of beef, potatoes, some other veggies, and plenty of paprika and spices.
Speaking of paprika, you should definitely try the chicken paprikash that's served with a homemade pasta.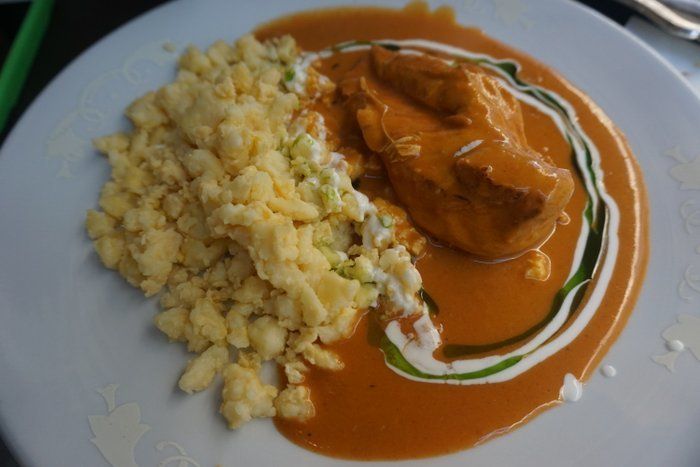 Hungarians also love eating bread, and it's typically served at all three meals. There are plenty of great bakeries in Budapest where you can pick up some quality bread or other baked goods.
The country is also huge on cheese and sausages. Our Airbnb host even left some of their delicious homemade sausage for us to try (and damn was it good)!
When it comes to drinking in Budapest, we have to mention the local firewater of palinka. This traditional fruit brandy comes in many different flavors and it packs quite the punch.
If you're not ready for the strong stuff, there are plenty of delicious Hungarian wines as well. The local beer is pretty good too, and craft micro brewery beer is becoming more and more popular here.
You may notice that Hungarian food is a bit heavy, what with all the cream, cheese, meat, and bread. If you want to feast on local cuisine, it's best to have a big meal for lunch so you can walk it off.
You don't want to be full and in a food coma when it's time to go out and party in Budapest! There's always the reliable cheap kebab and other yummy street food if you need a midnight snack.
Nightlife in Budapest
The nightlife in Budapest is the stuff of legends. Plenty of backpackers come here just to enjoy the nightlife as it's one of the best party cities in Europe. Of course, the star of Budapest's nightlife scene is the ruin bars.
Built by enterprising young locals looking for a cool place to hang out and have a drink, these pubs built within dilapidated buildings with random decorations and secondhand furniture are super fun to visit.
The undisputed king of the ruin bars is the original – Szimpla Kert, which I mentioned in my Budapest itinerary. While you should definitely check it out, be sure to hit a few other ruin bars as well during your stay in the city.
I really enjoyed partying in Kuplung, especially on Monday nights when everything on the menu is half off. Aker't is a fun place as well that's not too wild but good for having a few drinks and chatting with fellow travellers.
In addition to the ruin bars, Budapest has just about every type of nightlife venue you could imagine. There are rooftop bars with great cocktails, wine bars pouring local flavors, craft beer joints, and nightclubs that party all night long. If you're looking to stay out until sunrise, you've come to the right place. If you arrive during August, you can also seek out the legendary OZORA Festival which is the largest music festival in Hungary.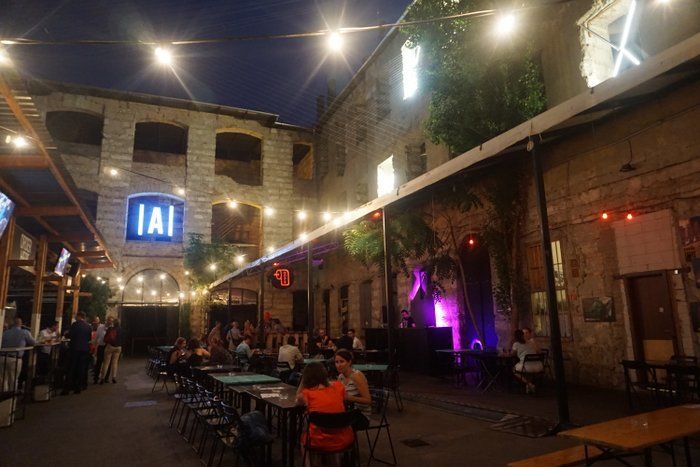 Books to Read on Budapest
Reading about a place you're planning to visit is always fun. It gets you more excited for your trip and you learn something in the process. Below are 5 books and guides to add to your Budapest reading list:
Lonely Planet Pocket Budapest Guide – Forget lugging a heavy guide book around with you all day long. This Lonely Planet guide to Budapest fits in your pocket and has everything you need to know about the city.
Rick Steves Budapest – Legendary travel writer and TV host Rick Steves has plenty of great ideas for your trip to Budapest.
Budapest: A History of Grandeur and Catastrophe – If you're looking to dive into the history of the city, this is the book to read.
Strangers in Budapest: A Novel – Jessica Keener's fascinating novel is set in Budapest and is the perfect book to read on your flight or train ride there.
Volunteering in Budapest
Long term travel is awesome. Giving back is awesome too. For backpackers looking to travel long-term on a budget in Budapest whilst making a real impact on local communities, look no further than World Packers. World Packers is an excellent platform connecting travelers with meaningful volunteer positions throughout the world.
In exchange for a few hours of work each day, your room and board are covered.
Backpackers can spend long periods of time volunteering in an awesome place without spending any money. Meaningful life and travel experiences are rooted in stepping out of your comfort zone and into the world of a purposeful project.
Worldpackers opens the doors for work opportunities in hostels, homestays, NGOs, and eco-projects around the world. We've tried and approved them ourselves – check out our Worldpackers in-depth review here.
If you're ready to create a life-changing travel experience and give back to the community, join the Worldpacker community now. As a Broke Backpacker reader, you'll get a special discount of $10. Just use the discount code BROKEBACKPACKER and your membership is discounted from $49 a year to only $39.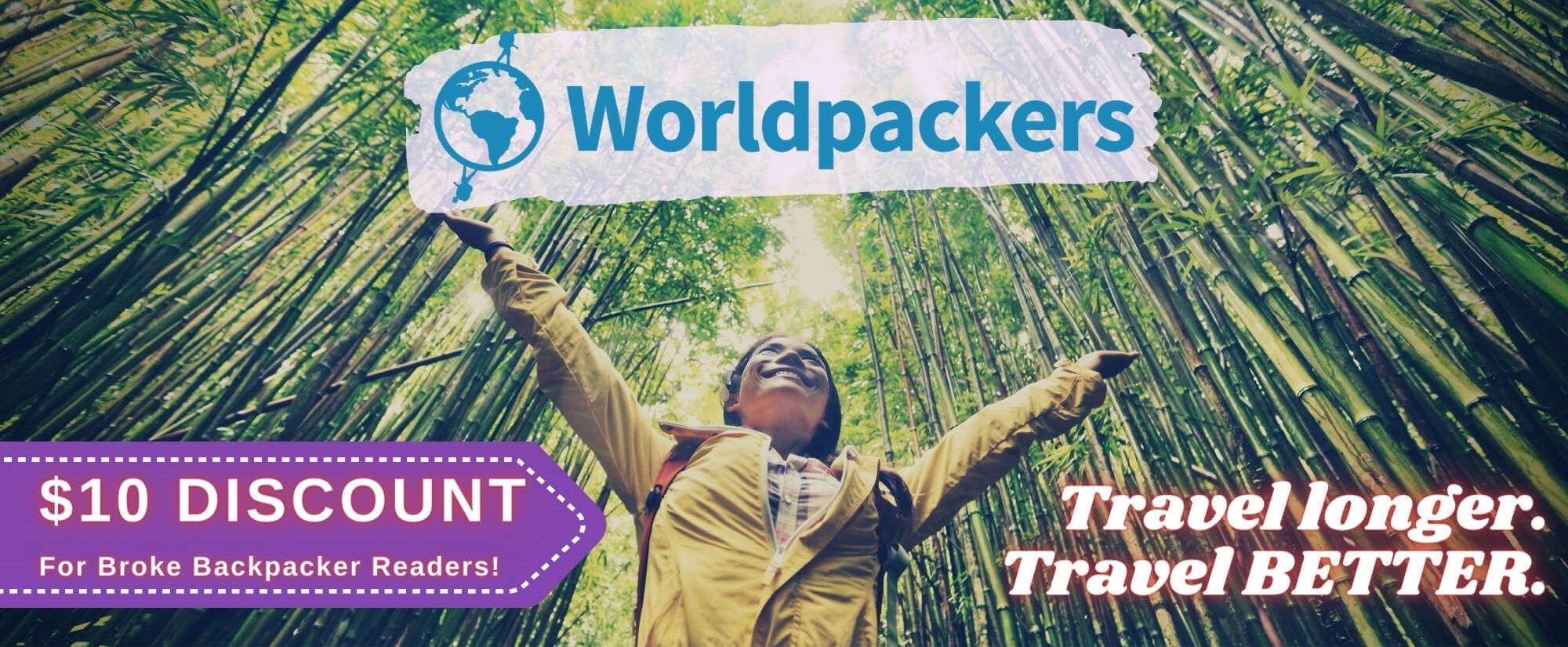 Worldpackers: connecting travellers with meaningful travel experiences.
Make Money Online Whilst Backpacking Budapest
Traveling in Budapest long-term? Keen to make some cash when you are not exploring the city?
Teaching English online is a great way to earn a consistent income—from anywhere in the world with a good internet connection. Depending on your qualifications (or your motivation to obtain qualifications like a TEFL certificate) you can teach English remotely from your laptop, save some cash for your next adventure, and make a positive impact on the world by improving another person's language skills! It's a win-win! Check out this detailed article for everything you need to know to start teaching English online.
In addition to giving you the qualifications to teach English online, TEFL courses open up a huge range of opportunities and you can find teaching work all over the world. To find out more about TEFL courses and how you can teach English around the world, read my in-depth report on teaching English abroad.
Broke Backpacker readers get a 35% discount on TEFL courses with MyTEFL (simply enter the code BACKPKR), to find out more, please read my in-depth report on teaching English abroad.
Whether you are keen to teach English online or looking to take your teaching game a step further by finding a job teaching English in a foreign country, getting your TEFL certificate is absolutely a step in the right direction.
Being a Responsible Backpacker in Budapest
Reduce your plastic footprint: Perhaps the best thing you can do for our planet is to make sure you do NOT add to the plastic problem all over the world. Don't buy one-use water bottles, the plastic ends up in landfill or in the ocean. Instead, pack a tough travel water bottle.
Go and watch A Plastic Ocean on Netflix – it'll change how you view the plastic problem in the world; you need to understand what we are up against. If you think it doesn't matter, get off my fucking site.
Don't pick up single use plastic bags, you're a backpacker – take your daypack if you need to go to the shop or run errands.
Bear in mind, that many animal products in countries you travel through will not be ethically farmed and won't be of the highest quality. I'm a carnivore but when I'm on the road, I only eat chicken. Mass-farming of cows etc leads to the rainforest being cut down – which is obviously a huge problem.
Need more guidance? – Check out our post on how to be a responsible backpacker.
Backpacking in Budapest will bring you ample opportunities to participate in debauchery, and it is very important to have fun, let loose, and get a bit wild at times—as the locals tend to do. Most backpacking trips I have been on across the world have included at least a few mornings where I wake up knowing I went too far.
There are some things that will put you in the category of a straight up jackass if you do them. Being super loud and obnoxious in a tiny hostel at 3 AM is a classic rookie backpacker mistake. Everyone in the hostel will hate you when you wake them up. Show your fellow travelers (and locals) respect whilst backpacking in Budapest and anywhere else for that matter!
Climbing on ancient church walls, monuments, or other historical artifacts should be avoided. Learn to appreciate the cultural treasures of Budapest and don't be that dickhead who adds to their demise.
---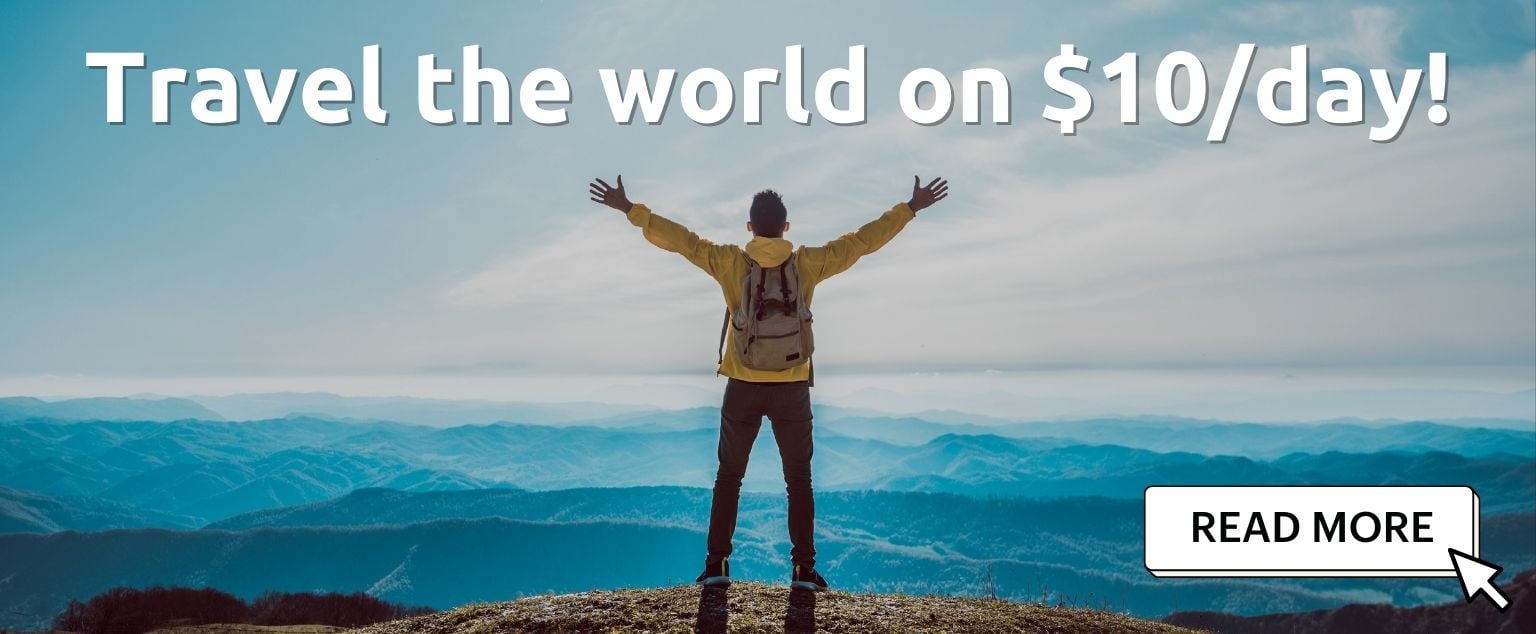 And for transparency's sake, please know that some of the links in our content are affiliate links. That means that if you book your accommodation, buy your gear, or sort your insurance through our link, we earn a small commission (at no extra cost to you). That said, we only link to the gear we trust and never recommend services we don't believe are up to scratch. Again, thank you!