The Hungarian capital is high on the bucket list of any traveller in Europe. After all, where else can you spend the night in a ruin bar before nursing your hangover over a game of chess in a thermal spa? And that's before we mention the sublime architecture that boasts everything from baroque to art nouveau.
Another bonus of travelling to Budapest is the cost of travel. It's much lower than capitals in Western Europe, meaning your money will go much further. So, instead of looking at hostels, why not consider vacation rentals in Budapest? Their mix of comfort and privacy is the ideal blend for your vacation.
With that in mind, we've put together this list of the best Airbnbs in Budapest. Not only that, but we've found five of the best Airbnb Experiences in the Hungarian capital, so you can plan what to do when you're there. Let's check it out!
Quick Answer: These are the Top 5 Airbnbs in Budapest
Overall Best Value Airbnb in Budapest
Overall Best Value Airbnb in Budapest
Friendly Home in the Heart of Budapest
> $
> 3 Guests
> Great location
> Fully equipped kitchen
Best Budget Airbnb in Budapest
Best Budget Airbnb in Budapest
Cherry Tree Studio
> $
> 2 Guests
> Private bathroom
> Coffee machine, fridge and microwave
Best Airbnb for Couples in Budapest
Best Airbnb for Couples in Budapest
Blue 72 Central Apartment
> $
> 2 Guests
> King bed
> Self-check-in
Best Airbnb for Families in Budapest
Best Airbnb for Families in Budapest
Apartment at Oktogon/Central
> $$
> 8 Guests
> Fully equipped kitchen
> Courtyard common space
Over-the-Top Luxury Airbnb in Budapest
Over-the-Top Luxury Airbnb in Budapest
Central Harmony Penthouse
> $$$$$$$$
> 10 Guests
> Rooftop hot tub
> Terraces in ALL bedrooms
What to Expect from Airbnbs in Budapest
The short answer? A lot. As one of the cheapest capital cities in Europe, you can get an entire studio flat for the price you'd pay for a dorm bed in a hostel in Paris or London… if you know where to look, that is. If you're backpacking Budapest on a budget, you'll feel like you're in paradise. With loads of flats, loft apartments, and penthouses in the historic centre, there's an embarrassment of riches.
Where you should stay in Budapest depends on what you want to do when you're there. The city is quite large! The castle is on the Buda side of the river; however, it might be more fun to stay in Pest, as there's lots of nightlife and restaurants. That's where the thermal spas are, too.
Many Budapest Airbnbs will see you dealing with a local host. However, in larger and pricier properties, you may go through a business instead.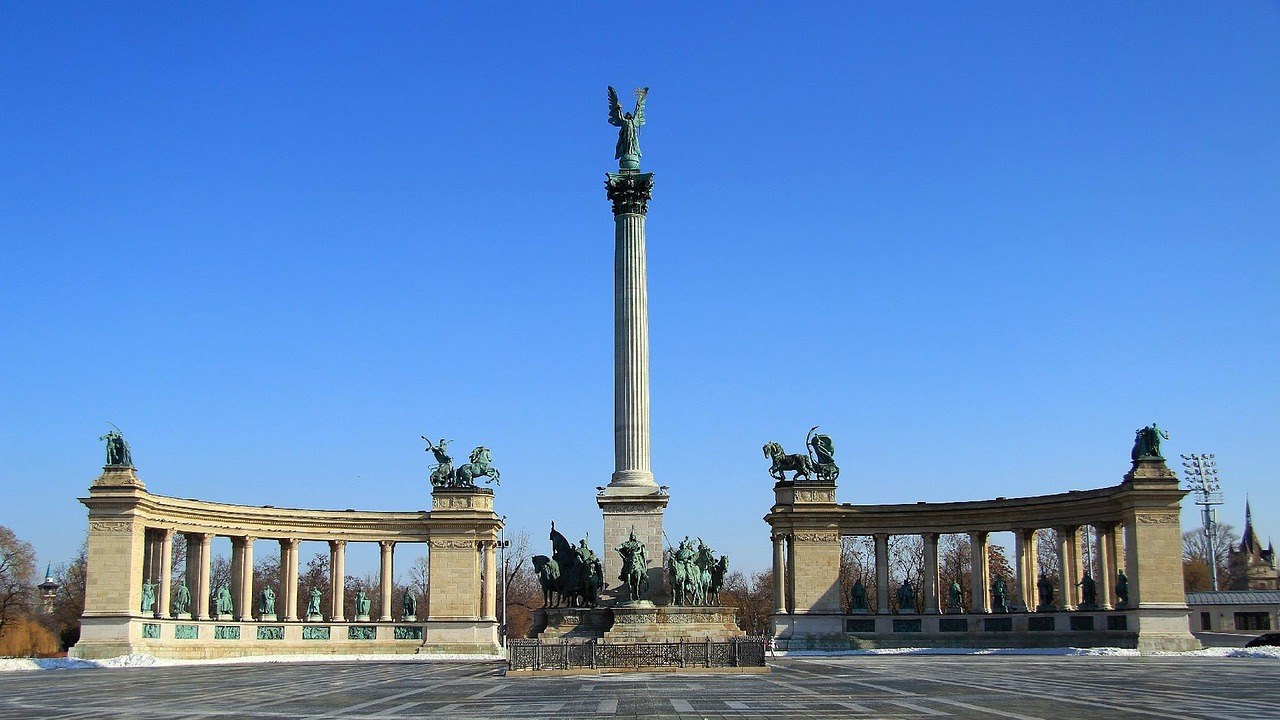 Loft
A little more exclusive than an entire flat, loft apartments are always found above the first floor of the building. However, more often than not, they'll be on the top floor.
Often studio-type flats, they're best for small getaways. Couples will love them, and small groups of friends and family will too. Though they use space cleverly, anything more than six or eight guests in a loft apartment might feel like a bit of a squeeze.
With their top floor position, loft apartments are usually well lit and offer facilities like living spaces and fully equipped kitchens. Some may even have roof terraces or balconies – worth paying the extra money for if you want views of the Danube, the castle, or the Parliament Building with your morning coffee.
Boutique Hotel
Yes, we get it. You turned to Airbnb because you wanted to get away from the drab and mundane charms (or lack of) of a hotel. However, boutique hotels have only their name in common with the uninspiring budget hotels you find in every city.
Often passion projects by local people, boutique hotels usually boast a handful of individually designed rooms where you'll feel right at home. A boutique hotel is the perfect option for someone who wants to have a place bursting with character and individuality but isn't quite ready to go for a fully self-contained apartment.
Though there are more than 60 boutique hotels listed in Budapest, do be aware that some may be in the same property.
Entire Flat
Our third top type of accommodation in Budapest is the entire flat. Though it's probably the most common type of listing on Airbnb in general, don't let that put you off. You can get some crazy places that you wouldn't even think up in your wildest dreams!
Normally, budget travellers would be best off in a private room, but in Budapest, you can easily get a studio flat for a small outlay – ideal for digital nomads to work without being disturbed, or couples to have privacy for that romantic break they've had planned all year.
With entire flats across the whole of Budapest, pick the area that best suits your travel plans. The Castle District is ideal for cultural tourists, while the elegant Downtown is good for first-time tourists. Want to embrace the city's nightlife? Head for Terézvaros and its ruin bars!
Why Stay in an Airbnb
Now you've seen what kind of Airbnbs you can expect, we're pretty sure your mind will be made up. But if it's not, here are five top reasons to stay in an Airbnb.
Local Experience: Rather than planning through TripAdvisor or your guidebook, get recommendations on things to see and do by your local and knowledgeable host!
Unique Properties: As you're about to see, it's not hard to find a unique and unusual property through Airbnb. Go on, treat yourself!
Affordability: As well as beating hotels and hostels on uniqueness, Airbnbs knock them out of the park when it comes to value for money.
Safety: If you're new to Airbnb, the concept may leave you with questions on safety. However, they can be answered from the ratings system, which protects both host and guest. And if you're worried about Budapest's safety – don't be – the city is pretty chill!
Airbnb Experiences: Airbnb offers more than just awesome places to stay. We'll go into more detail about its Experiences platform later. But first…
Travel with peace of mind. Travel WITH a security belt.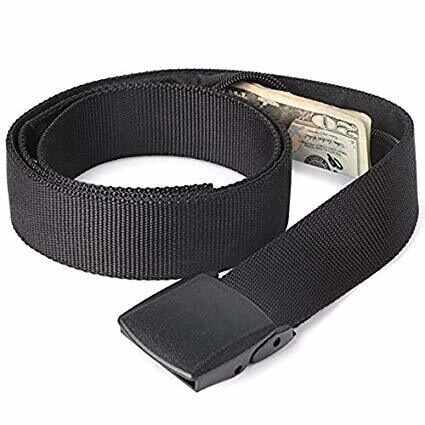 Custom-designed BY the Broke Backpacker FOR broke backpacking, the Active Roots Security Belt will keep your valuables safe no matter where you go.
It looks exactly like a normal belt except for a SECRET interior pocket perfectly designed to hide a wad of cash or a passport copy. Never get caught with your pants down again! (Unless you want to.)
Check on Amazon
The Top 15 Airbnbs in Budapest
Now, let's get to the part you've been waiting for. Here is our hand-picked selection of the 15 best Airbnbs in Budapest. All you need to do is pick the one that suits you best!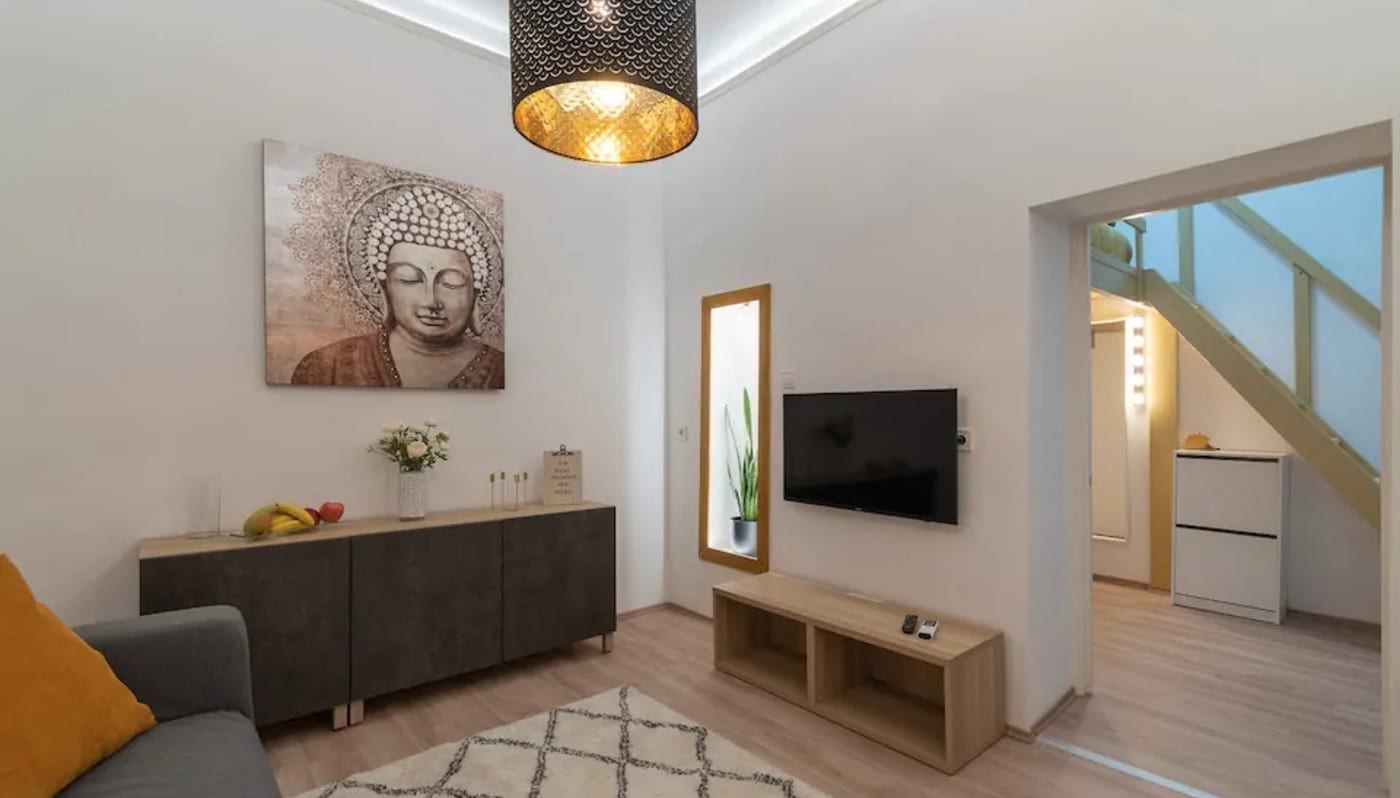 3 Guests
Fully equipped kitchen
The central location of this Budapest Airbnb is just the start of what makes it so great. With room for three guests, it could suit a couple on a budget or even a very small group of friends. Hey, it's so cheap that a solo backpacker could stretch to it. You've got a living room and a fully equipped kitchen, so if you fancy a night off from ruin bars, you're sure not to be disappointed.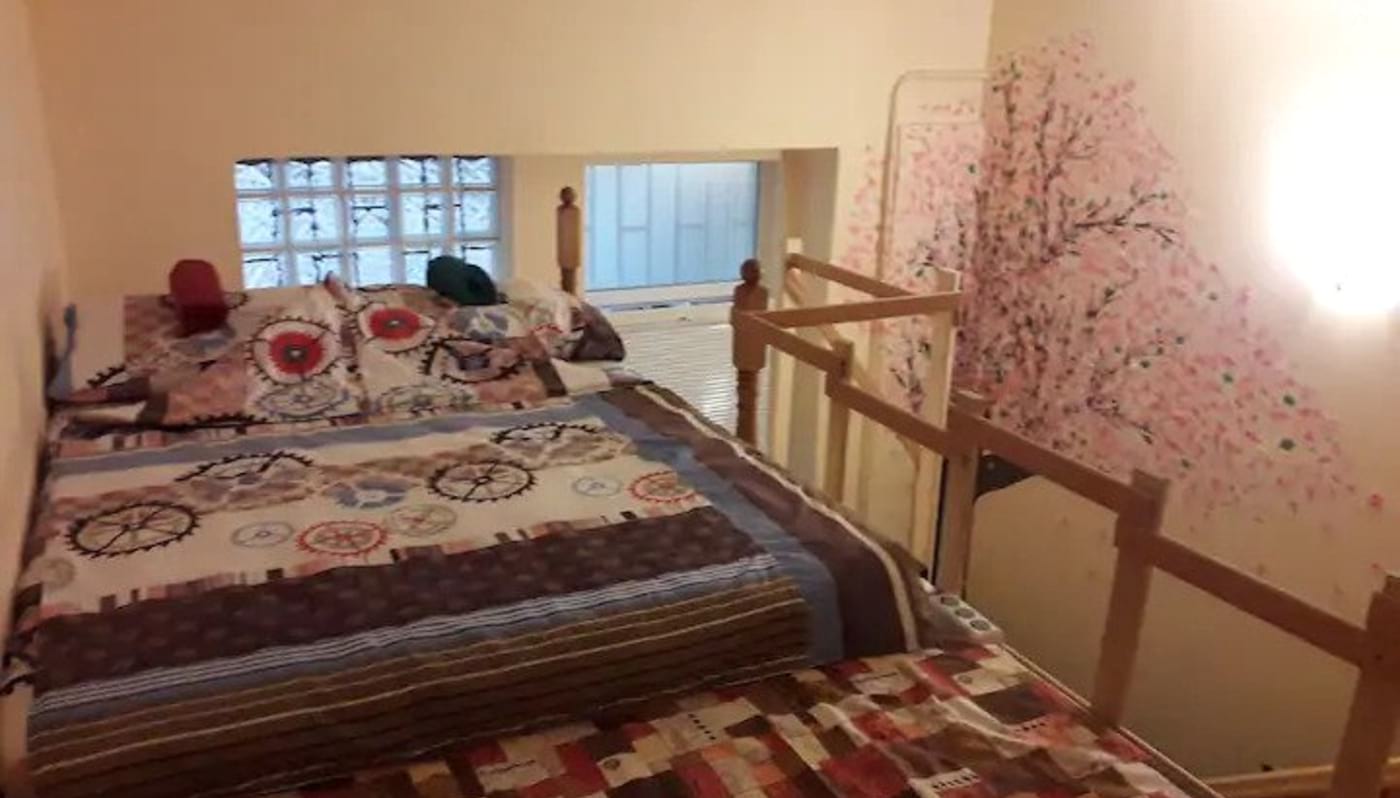 2 Guests
Coffee machine, fridge and microwave
If you're travelling on a budget, you're lucky to have your pick of places in Budapest. You won't find anywhere cheaper than the Cherry Tree Studio… at least, that you'd want to spend the night in! With room for two guests, it's ideal for a solo traveller looking for a local experience or a couple on a shoestring. In your room, you can prepare simple meals with the use of a microwave and coffee machine.
Perfect Airbnb for Solo Travellers | Room for Art
2 Guests
Access to kitchen
A homestay is a good option for a solo traveller – it offers the benefits of a cheap outlay, and you'll get the lowdown on what your hosts love about Budapest. Located in the heart of the Jewish District, the building where you'll find this private room has featured in many films. You're welcome to use the shared kitchen and/or chill out in the relaxing courtyard. Bliss!
Budapest is a very romantic city. Take your other half to the spas, go for a sunset walk along the Danube, or take a river cruise. For all these things, you'll need a comfy and convenient base. That's exactly what the Blue 72 Apartment is! Offering a king bed, it's the perfect place to come back to after a busy day and spend some alone time with your partner.
The BEST Travel Backpack?!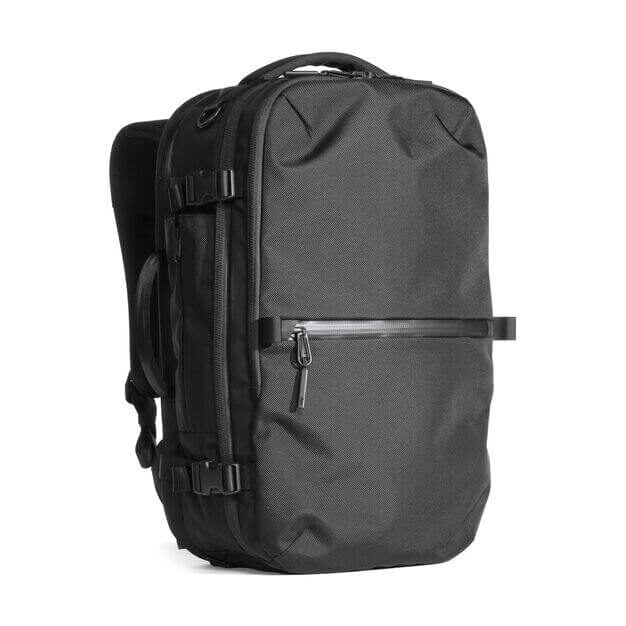 Pssssst! Not picked the perfect travel backpack yet? The Broke Backpacker team has tried out over thirty backpacks this year! Our favourite travel backpack is the Aer Travel Pack 2.
View on AER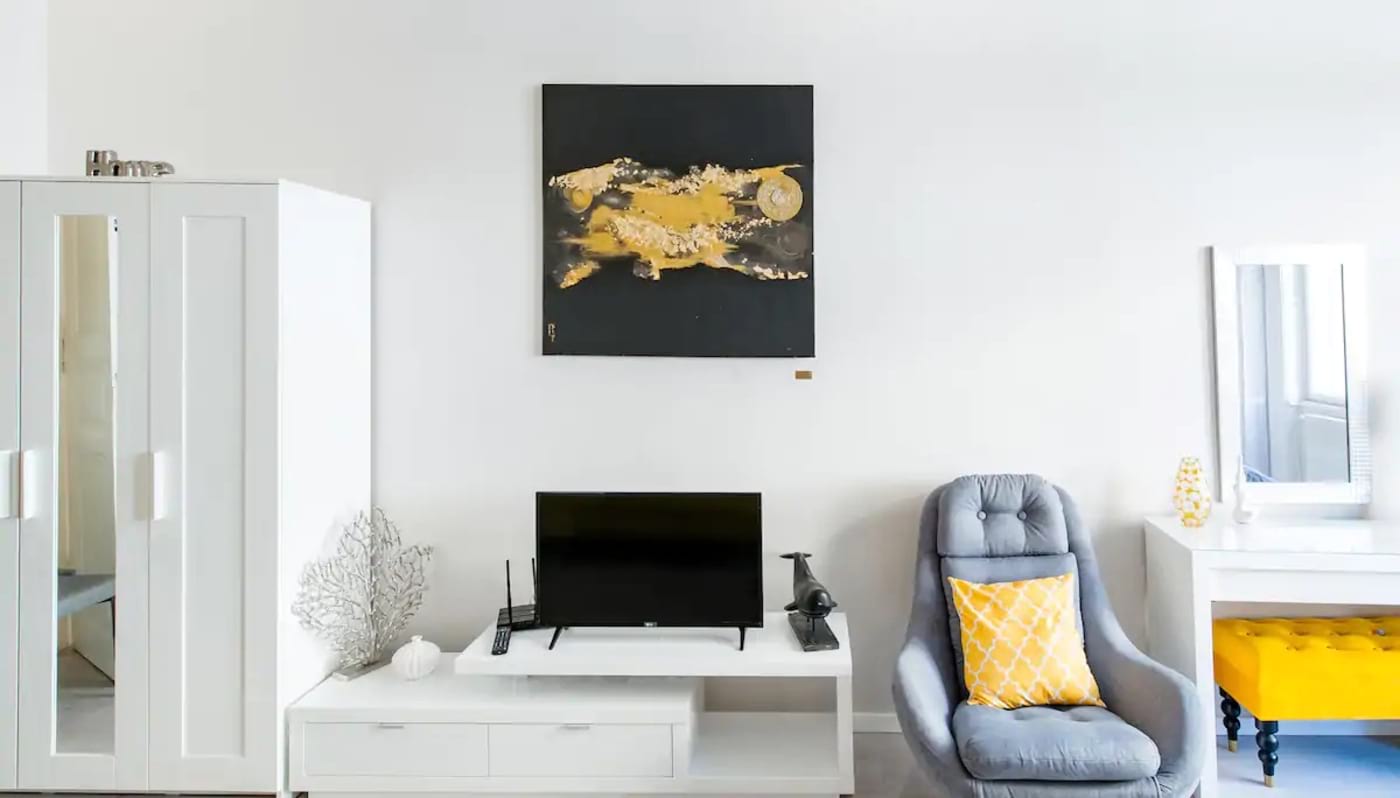 8 Guests
Courtyard common space
Travelling to Budapest with the family? You'll be pleased to know that it's not all about studio flats and private rooms; you can easily find larger apartments too – such as this central apartment with three bedrooms. It offers room for up to eight guests, making it perfect for a family vacation. And thanks to the three bathrooms, there'll never be a queue when you're getting ready to go out!
10 Guests
Terraces in ALL bedrooms
Budapest is lauded for being a cheap destination. But what happens when you have some money to throw around? Well, you get a rooftop jacuzzi, sauna, and terrace in a penthouse off Andrássy Street – often referred to as Budapest's Champs-Elysées! If you want some privacy, there are terraces in all bedrooms, too. This extravagant apartment is perfect for gatherings of family and friends.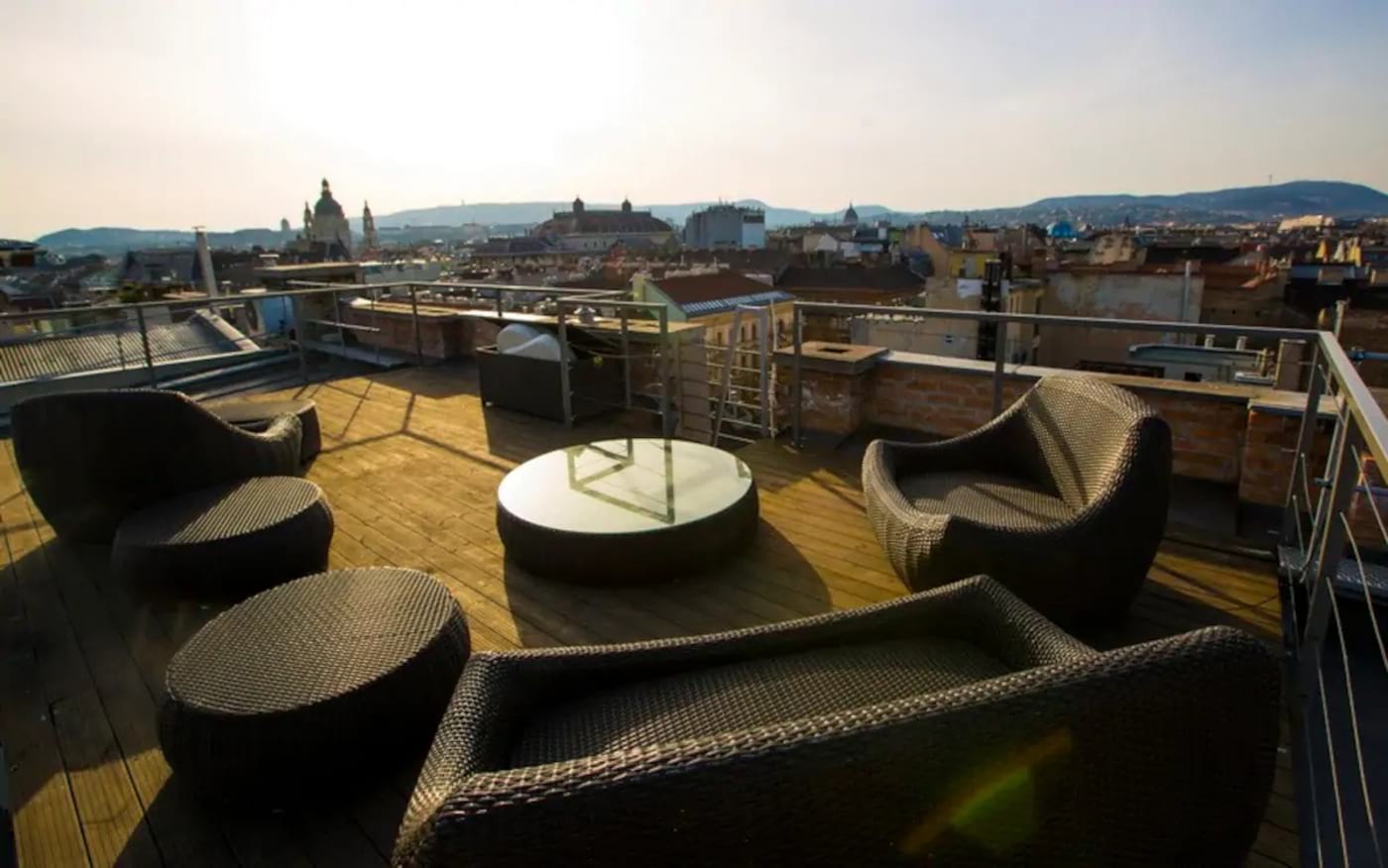 4 Guests
Located in a historic building
We like lofts in Budapest, but this one has to be our favourite. From all the mod cons on show in the photos, it's hard to believe this is located in a historic building. But this loft is full of surprises. It also boasts not one but two roof terraces, perfect for enjoying a morning coffee or something a little stronger as you watch the sunset. Just make sure you actually set some time aside to get out and make the most of the city!
$$$$$$
French breakfast included
2 Guests
Right by Budapest Castle
One of the most breathtaking Airbnbs in Budapest, this boutique hotel is worth every forint. The baroque roof means you've got beautiful beams adding character to the room, while the windows offer awesome views over the city's Castle District. You'll get a French breakfast each morning, perfect for fuelling up before a day of exploring.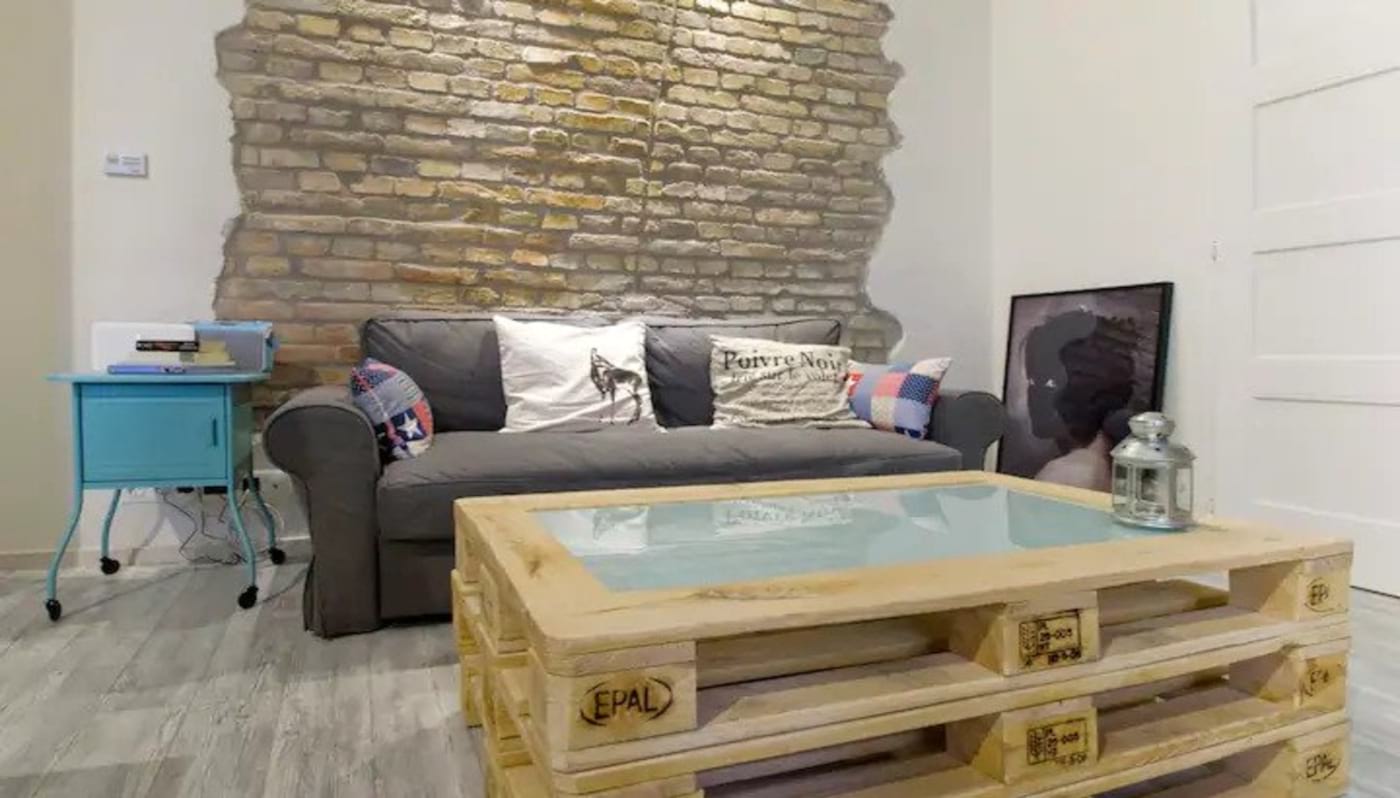 4 Guests
Flexible check-in
Looking to explore Budapest from your entire flat? Then look no further than this studio apartment. There's space for up to four guests, but since one of the beds is a sofa, it might be better for a couple. As well as flexible check-in, you've got a fully equipped kitchen and dining area if you don't want to spend money eating out for every meal. The exposed brickwork and low lighting are really atmospheric – great for pre-drinks before hitting the ruin bars!
Budapest is a great city for digital nomads. The work-life balance here is amazing – as is the low cost of living. Of course, to be a functioning (let alone successful) digital nomad, you'll need fast Wi-Fi and a dedicated workspace. You can check both off at this apartment – as well as your own living space, lots of house plants, and a premier city centre location!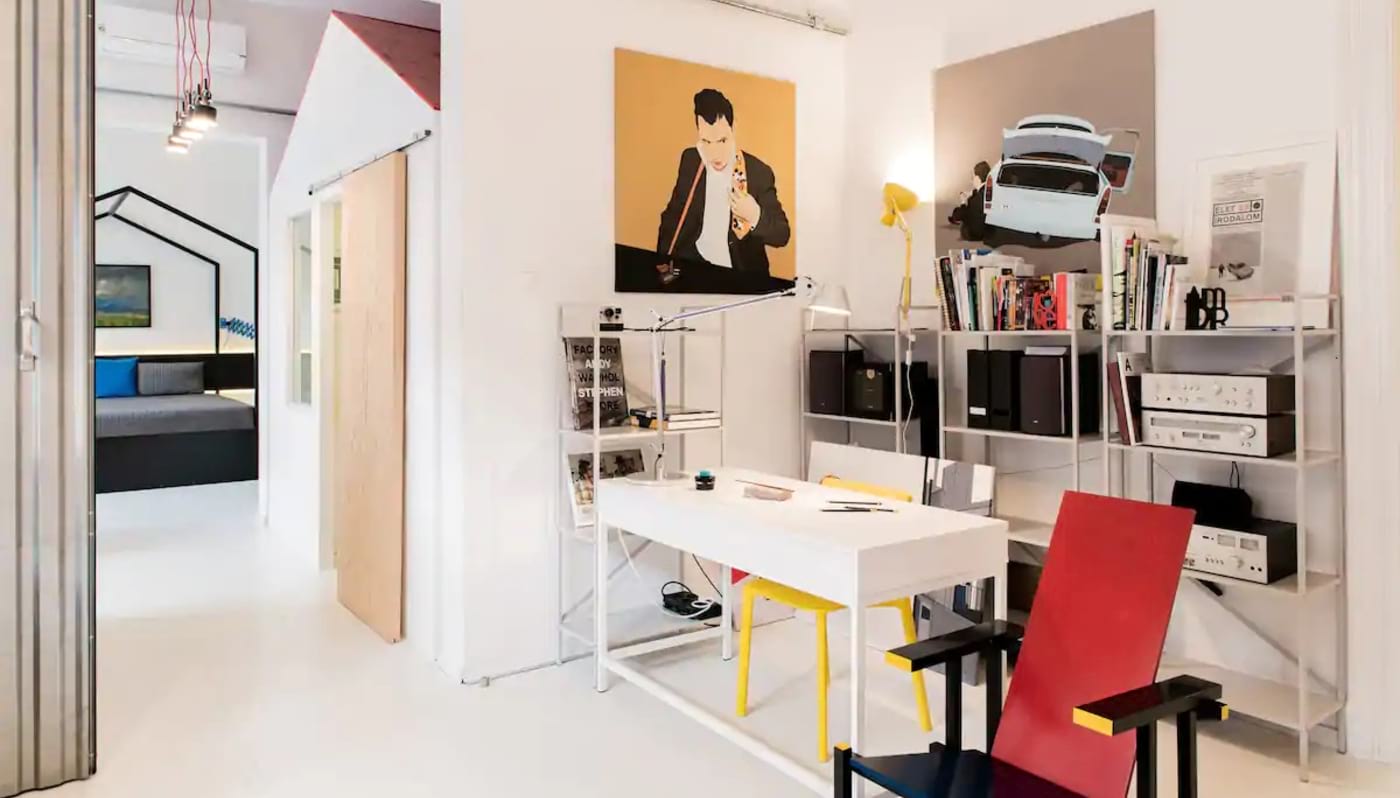 $$$$
Designed by an artist!
Airbnb Plus properties are hand-picked according to their high review scores, attentive hosts, and a personal visit from an Airbnb staff member. Designed by an artist, this quirky apartment is pricier than most Budapest flats, but you do get a pinball machine – and there's a trailer inside the house! Fun and entertaining, it's a one of a kind Budapest Airbnb!
5 Guests
Views of Parliament Building
When it comes to views in Budapest, there are plenty of places to stay. You might want to look at the castle, the chain bridge, or out over Heroes Square. However, if you want to wake up with a view of Budapest's most emblematic buildings, stay here. You're sure not to get bored of the red Gothic spires of Hungary's parliament building! As well as that view, you've got a hot tub and a fully-equipped apartment.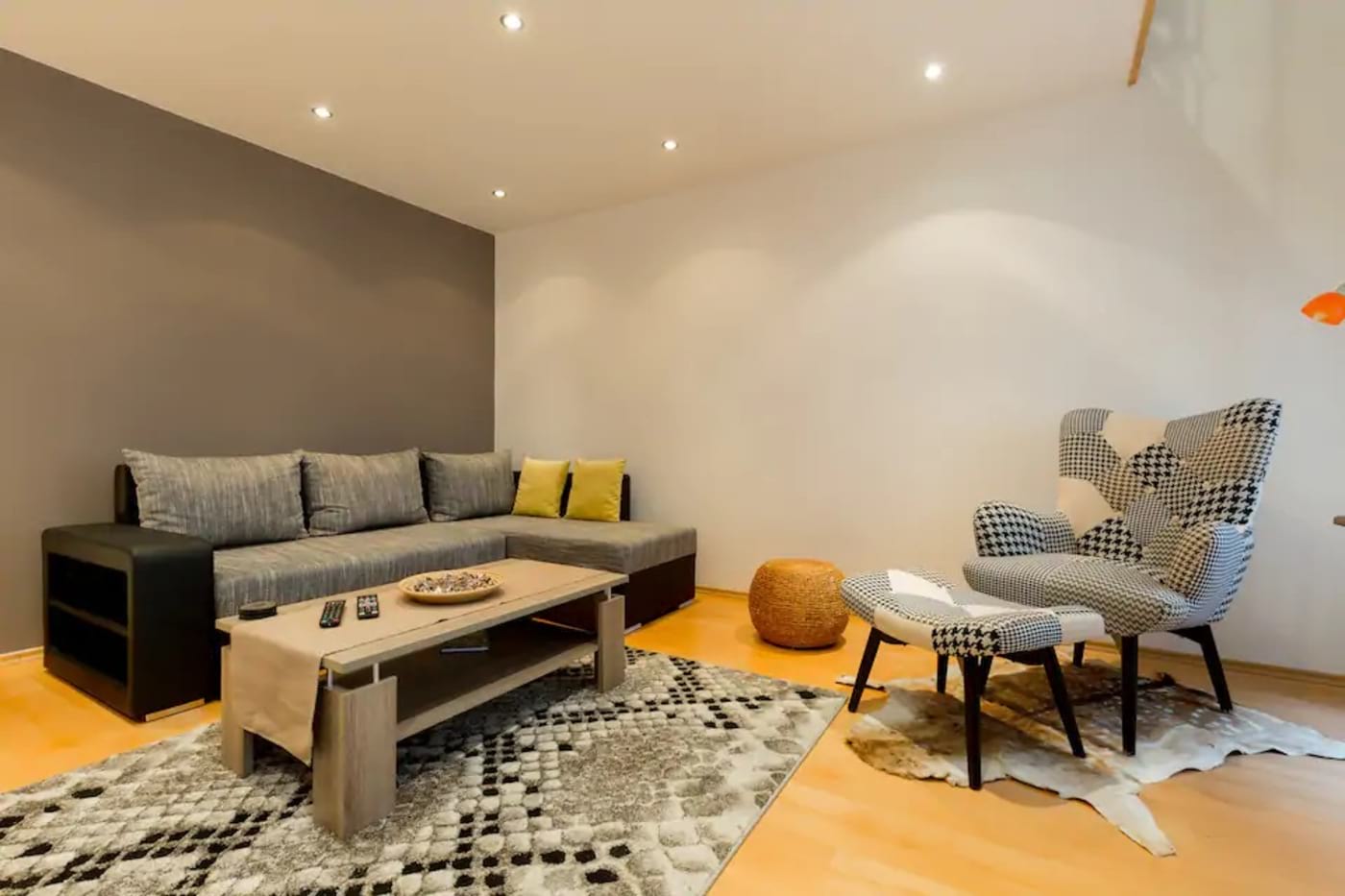 4 Guests
Fully equipped kitchen
When spending a weekend in Budapest, location is the most important thing. But rather than settling for any old place in the city centre, make sure it's comfortable and has a bit of character! Like this place. With room for up to four guests across two king beds, you have a cosy living space and fully equipped kitchen right in the heart of the historic centre.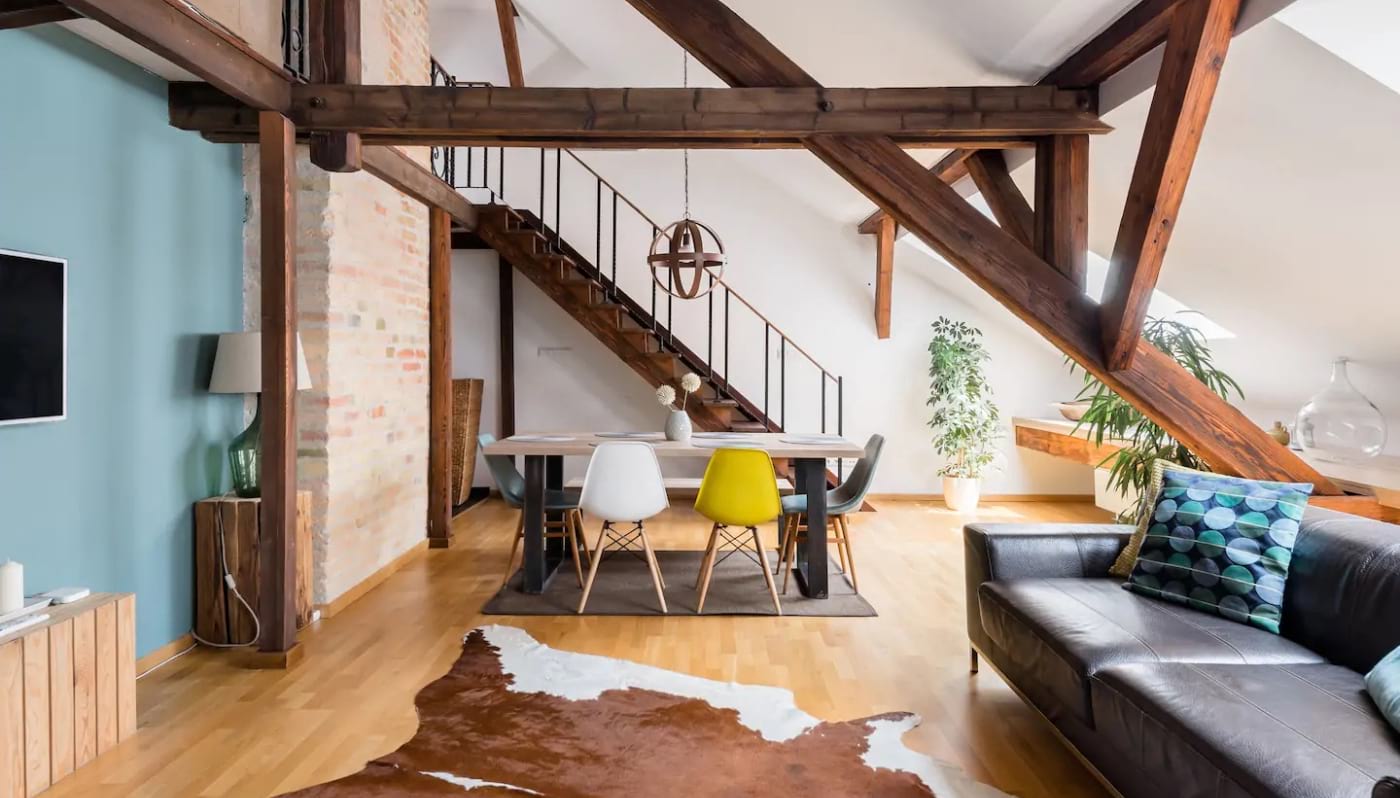 $$$$
Ultramodern appliances
6 Guests
Wooden beams and exposed brick
A tasteful combination of contemporary and classic, this Airbnb Plus loft apartment is sure to take your breath away. Sit back on the leather sofa and look up at the wooden beams as you breathe in the air made cleaner by the enormous house plants. There are lovely spots throughout the apartment for watching TV, reading, cooking, and eating. When you reluctantly leave, you can at least be consoled by the fact that there are loads of attractions right on your doorstep!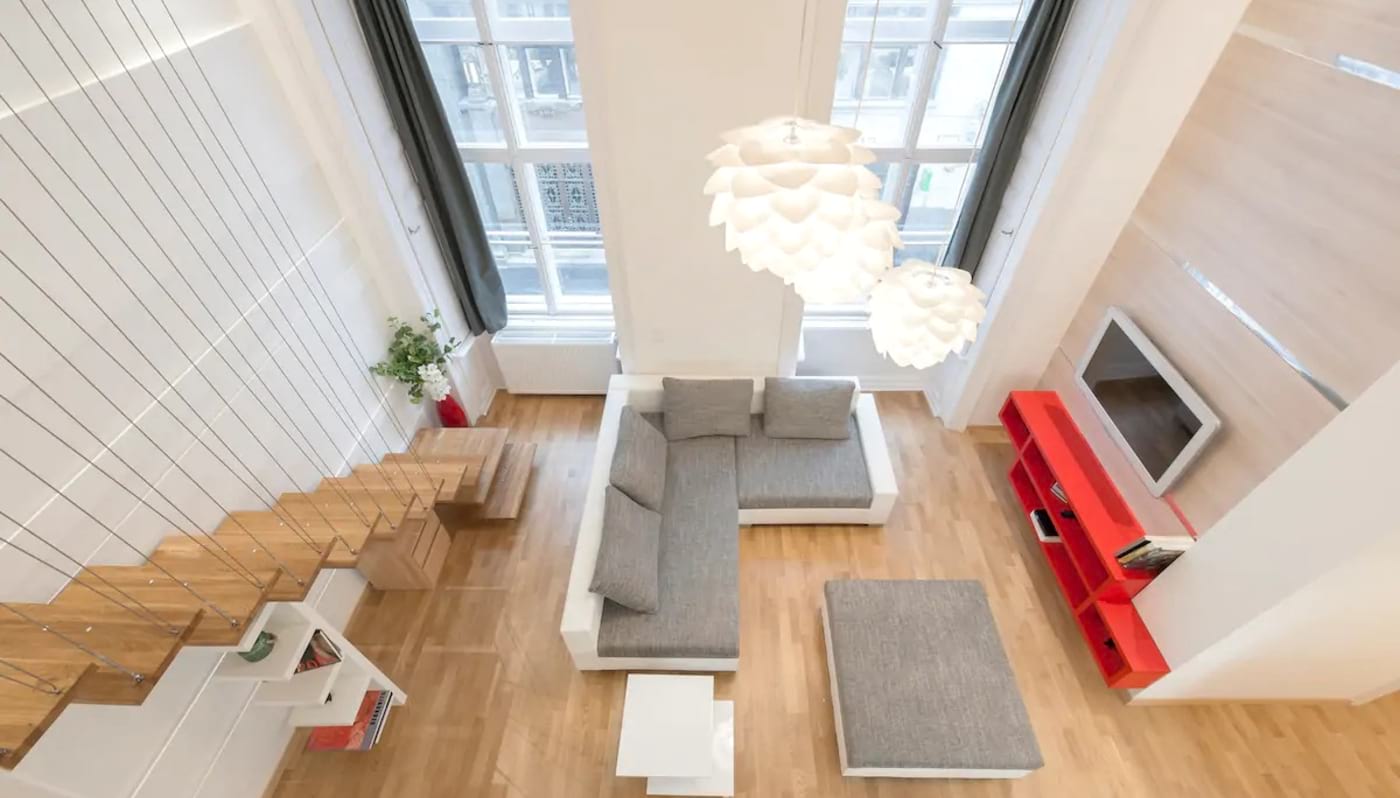 $$$
Fully equipped kitchen
6 Guests
Friendly neighbourhood
If you're travelling with friends, it's important to have a place where everyone can kick back and chill together. The large open plan living space here has an L-shaped sofa where you can chat or play games after a day of exploring the city. Eating out can be expensive, so make a group favourite in the fully equipped kitchen. No-one will end up on an air bed or a floor mattress either – only queen beds here!
Top 5 Airbnb Experiences in Budapest
We want you to have the best vacation in Budapest possible. So, we've not only found 15 epic Airbnbs, but we've also perused the best things to do in town through Airbnb Experiences.
If you're new to all this, Airbnb Experiences are curated by local hosts and guides. They can be anything from a day trip to a lake with stops for wine or a historical walking tour around the city to a traditional cooking class.
They're a great way to learn more about the history and culture of your destination through a local lens. So, check out these five Airbnb Experiences in Budapest that will take your trip to the next level!
€32/person
1 Hour
Up to 10 guests
One of the most popular activities in Budapest, a cruise along the Danube allows you to see the city from a different perspective. While there are night time party cruises, this one is a little more sedate. However, you'll still get a cocktail, champagne, or orange juice to enjoy while your local guide points out the city's highlights.
€173/person
9 Hours
Up to 8 guests
Many tourists who hit up Hungary never leave Budapest, and that's a shame because there is some spectacular scenery away from the capital. The country's largest lake, Baloton, is easily reachable in a day trip. It's also a wine region, so take a guided tour where you can sample some of the finest tipples the region has to offer!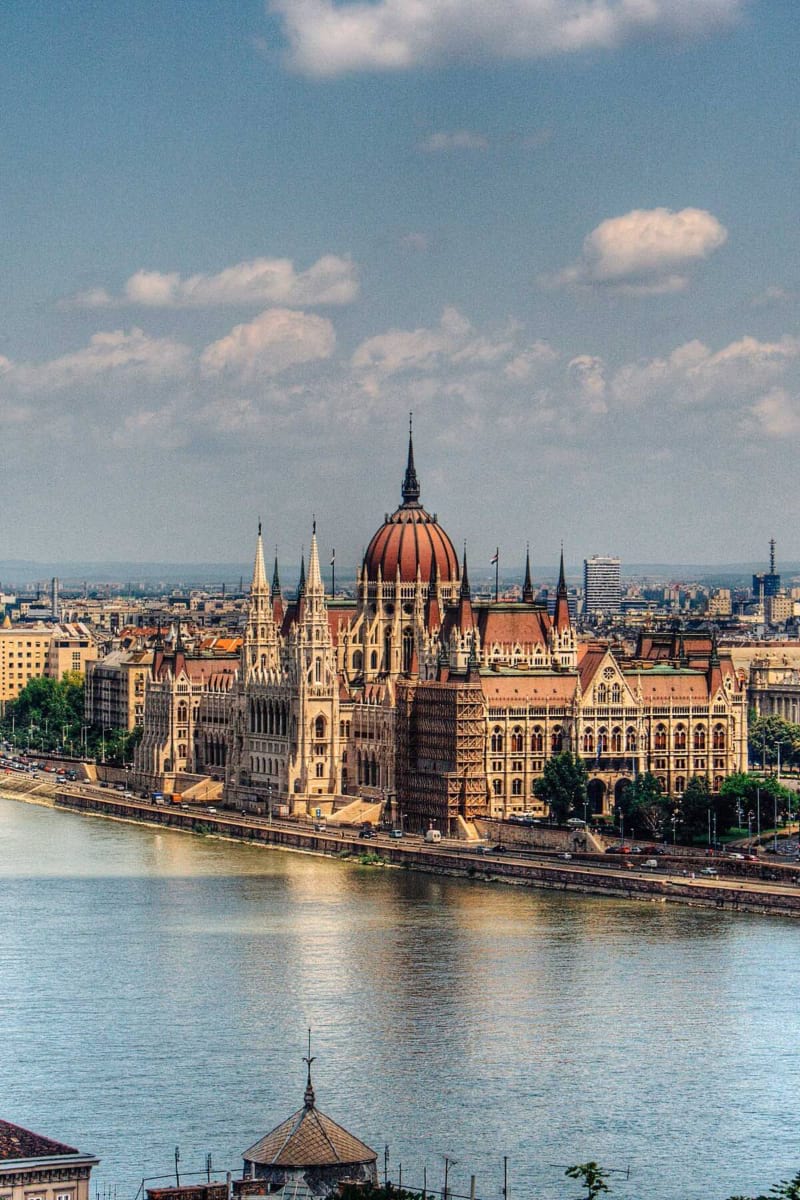 €54/person
4 Hours
Up to 10 guests
If you walk around Budapest on your own, you can be overwhelmed by the sheer amount of history. This four-hour walk will make sure you see all the important sites without being completely overloaded with information. If you're in a large group, you'll be pleased to know you could qualify for a discount!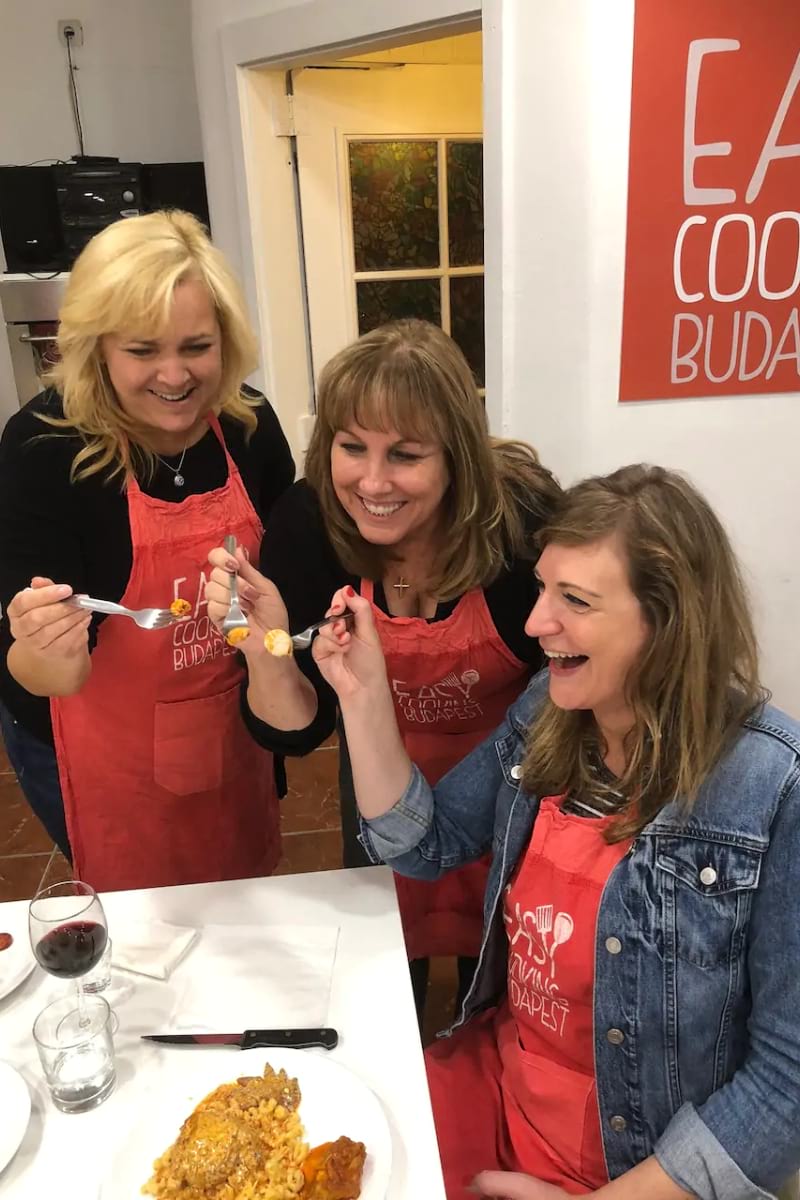 €72/person
4.5 Hours
Up to 10 guests
Hungary may not be known as a gastronomic destination, but you'll be pleasantly surprised when you get to Budapest. Hearty Goulash stew, Hungarian pizza, and fruity brandy are just some of the things that will tantalise your taste buds. Impress your friends back home with the skills you pick up at this Budapest cooking class.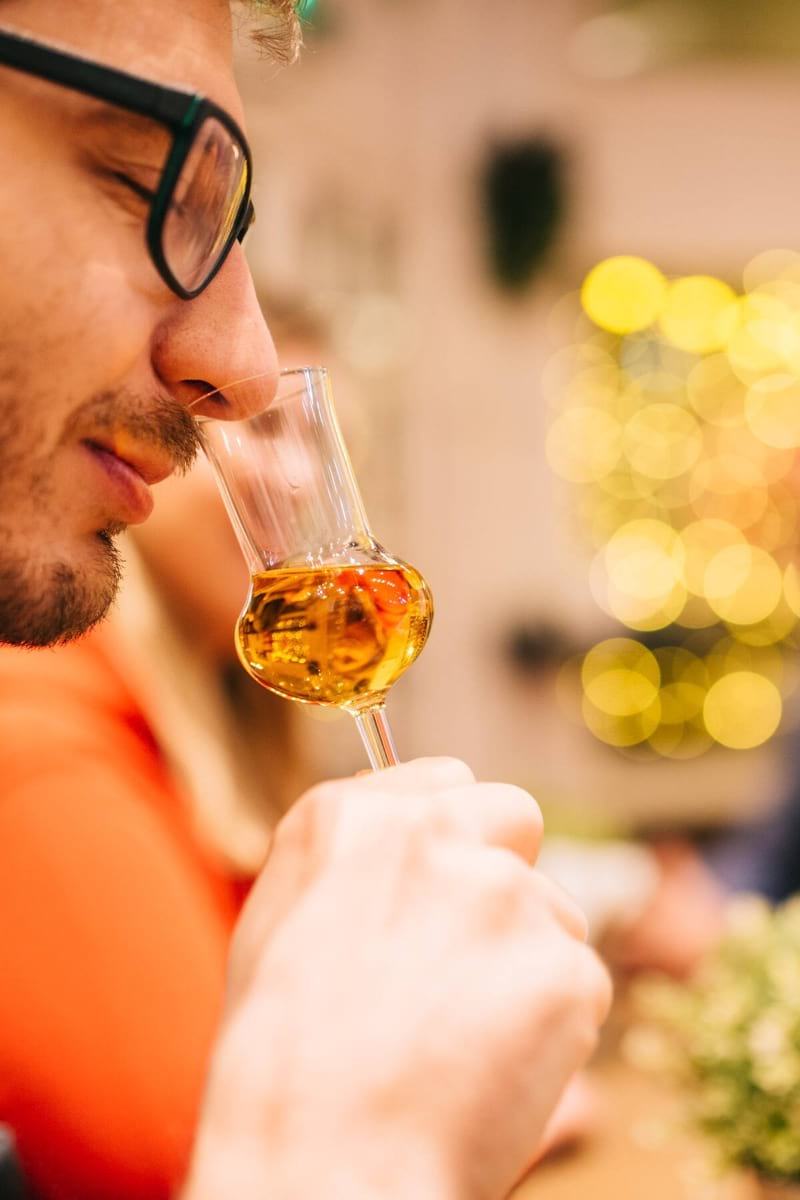 €52/person
3 Hours
Up to 10 guests
No trip to Budapest is complete without sampling the nightlife. But with so many bars and clubs, how do you decide where to go? Our answer – leave it to someone else. On this tour, you'll be taken to some of the most famous ruin bars and Budapest – and you'll sample some local wines, too. Perfect!
Final Thoughts on Budapest Airbnbs
Well, there you have it. You've now seen the 15 best Airbnbs in Budapest and five awesome experiences you can do during your visit. Whether you want to be in a penthouse overlooking the Danube, a cute boutique hotel, or a cheap and cheerful studio, you'll find your dream accommodation.
If you're still struggling to decide where to stay, just go for our overall best value Airbnb in Budapest. That's the Friendly Home in the Heart of the City. As well as a superb location, you get a lot of bang for your buck in a contemporary and relaxing space.
We hope that wherever you choose to stay, you have an incredible vacation in Hungary. And to make sure you're covered for any unprecedented events, don't forget to take out a travel insurance policy with World Nomads.
And don't forget to take out Travel Insurance for your trip! I have been using World Nomads for some time now and made a few claims over the years. They're easy to use, professional and relatively affordable. They may also let you buy or extend a policy once you've started your trip and are already abroad which is super handy.
If there's one insurance company I trust, it's World Nomads. To find out why I use World Nomads, check out my World Nomads Insurance review.
Getting an estimate from World Nomads is simple—just click the button or image below, fill out the necessary info, and you're on your way!

Yay for transparency! Some of the links in this post are affiliate links. This means that if you book your accommodation, buy a book or sort your insurance, I'll earn a small commission at no extra cost to you. I only link to stuff I've actually used and never endorse crap. Your support helps me keep the site going.