Christmas is a magical time of year. Cities and towns are awash with decorations and twinkling fairy lights that stretch as far as the eye can see. In houses, shop windows and town squares you'll see towering sparkling Christmas trees.
It's the time of year to be merry and spread joy. To indulge in decadent food and Christmas-themed drinks. Give and receive gifts, to spend time with the people you love, to visit Santa Claus and his naughty elves, to hang stockings by the fireplace and go on holiday. Yes, that's right, go on holiday!
Not everyone thrives from having the family visit for a grandiose meal, sometimes people want to relax and unwind. Escape the regular holiday grind for a Christmas getaway. Check out these epic destinations for a very merry Christmas!
There are many reasons why people may decide to travel at Christmas.

It takes away the responsibility of having to cook and clean the house – cooking can be a real chore for those with large families, and cleaning up is even worse!

Some families live in different cities, or countries, from one another. Instead of spending Christmas separately, they round up all their loved ones in a central location to enjoy the festivities together.

But you will find some people who are the exact opposite, and travel to get away from their families. Perhaps Grandma's roast turkey just isn't that great, or they can't find enough time in their schedule to buy all the gifts they need to buy, or maybe they just can't bear another year of festive family drama.

However, the main reason most people travel at Christmas is to find somewhere that is bursting at the seams with magic, charm and Christmas spirit. With so much on offer, choosing the perfect place can be a tough task. That is why we've made things easier for you by creating a list of the top 10 destinations for a merry Christmas.
It doesn't matter whether you're looking for a white Christmas, or to spend your Christmas in the sun, this list of the best Christmas destinations will provide you with everything you need to plan the perfect festive holiday! Whether that is the traditions of Christmas in Europe or a BBQ on the beach down under, there are many wonderful experiences for an exciting and unique yuletide trip!

1. Christmas in Australia
Australia is one of the best Christmas destinations in the sun. If you're trying to get away from the cold weather this December, Australia is the place for you. It doesn't matter whether you're travelling as a couple, a family or solo, there will be plenty for you to enjoy.

Far from a white Christmas, December is summer in Australia with scorching temperatures to accompany traditional Christmas festivities. One of the most popular events during advent is Carols by Candlelight. The community gathers together in the evening to light candles and sing carols.

Other Aussie Christmas traditions include drinking beer, surfing at the beach and cooking dinner on the "barbie". If beaches are your thing, visit the Gold Coast for impressive stretches of golden sand and crystal blue seas. However, if a BBQ isn't what you had in mind, venture to Blue Mountains where you'll be able to enjoy a traditional Christmas roast.
Where to Stay in Australia
This apartment in Sydney is close to most major attractions including Sydney Opera House and Sydney Harbour Bridge. It's also near theatres, restaurants and historic pubs. This place is perfect for families as it is suitable for up to six people and has a cute courtyard where you can work on your BBQing technique.
Melbourne River Views is a stunning apartment located in Melbourne with incredible river views. It is also extremely close to the Melbourne Convention and Exhibition Centre, the Eureka Tower and Etihad Stadium. Guests staying at this apartment will benefit from a bathroom with a shower, a fully-equipped kitchen and a relaxing garden.
2. Christmas in Germany
Germany is one of the best Christmas destinations for Christmas markets. The most famous Christmas market in Germany is in Nuremburg. It has over 180 decorated Christmas stalls selling traditional German delicacies, unique gifts and delicately painted decorations.

The festive season starts in November when town squares across the country are decorated with fairy lights ready that get switched on in early December. In every town there's also a large Christmas tree to marvel over.

There is so much on offer for children, as well as adults, making Germany one of the best places for families at Christmas. Enjoy ice skating, nativities and visiting Santa Claus (in some regions there's even a big horned monster character called "Krampus" who accompanies Santa to punish the naughty children).
Where to Stay in Germany
This accommodation is close to plenty of transport links. There is a city bus that stops directly outside the door. Most amenities are within walking distance as well as the nearby residential park. There is a living area to relax in, and towels and tea towels are provided. Dogs are welcome.
This cute and quirky hotel and hostel is located in Charlottenburg and is just five minutes walk from Berlin's famous Kurfürstendamm boulevard. It boasts fast transport connections to major landmarks and tourist attractions. The rooms are all non-smoking and the facilities are shared. Breakfast is available and there is a reception open 24/7.
3. Christmas in Spain
Christmas in Spain (or Navidad as the Spanish call it) is celebrated in December, although traditional sweets begin to appear in supermarkets throughout October.

In the south of Spain the weather is pleasant all year round, so if you're looking for a warm Christmas, staying in the Costa del Sol or the Canary Islands could be the perfect choice for you.

Carol singing is a big part of Christmas tradition in Spain and you'll find children out and about singing to their neighbours on the days leading up to Christmas. Midnight Mass is also important, and most people will attend on Christmas eve.

Other traditions include Epiphany Parades (some with real camels), buying a ticket for the multi-billion euro lottery, nativity scenes and lots of delicious traditional Spanish food.
Where to Stay in Spain
This room is perfect for couple's looking for an inexpensive getaway. The property is near popular tourist attractions such as Arc de Triomf, Plaza Catalunya and plenty of beaches. It is also well connected by transport links, such as the metro and train station.
This accommodation is in Madrid, and is the ideal getaway for couples or solo travellers. There is Wi-Fi, air conditioning, a fully-equipped kitchen and a coffee machine.
It is located near the Royal Palace of Madrid, Temple of Debod and Thyssen-Bornemisza Museum. The nearest airport is Adolfo Suarez Madrid-Barajas Airport.
4. Christmas in Mexico
The best Christmas destination in Mexico is Guadalupe. Christmas is a religious time and people from all over Mexico travel to a specific church in Guadalupe (Basilica of Guadalupe) to visit the Virgin Mary.

Celebrations usually begin on 12th of December and finish around the 6th of January. And although you will find traditions such as Santa Claus, Christmas trees and nativities, you'll also find other traditions that are rooted in Spanish culture, such as traditional food (buñuelos which you can buy from street vendors), candle-lit processions, dancing and Spanish Christmas carols.

Mexico is a beautiful place for couples and families to celebrate yuletide, as alongside the excitement of ice skating and fireworks, there's also plenty of parades and live performances to indulge in.

Where to Stay in Mexico
This beautiful mini flat is located on the ground floor of a modern building in a vibrant historic neighbourhood. It has its own bathroom, kitchenette, dining room and garden. It is close to all amenities and has decent transport links.
This idyllic hotel is in Cancún, not far from Cancun Bus Station. It has an outdoor swimming pool, a lounge and a bar for communal use. Each room includes air conditioning, a private bathroom and a flat screen TV. The front desk is open 24/7 and there is the option of a continental breakfast. The nearest airport is Cancún International Airport, 14 km from the hotel.
5. Christmas in the Philippines
Christmas in the Philippines is something special. For most people Christmas starts in December, but in the Philippines it starts in September – they have the longest Christmas season out of every other country in the world. If you're looking for an extended festive season, backpacking the Philippines may be for you.

One of the most popular traditions celebrated in the Philippines is 'Simbang Gabi' which means "night mass". It is usually attended every day for 9 days leading up to Christmas and people go very late at night or extremely early in the morning.

There is a gorgeous month-long Christmas display to feast your eyes upon at Misamis Occidental's Tangub City. The festival at Tangub City was given the title of the Christmas Symbol Capital of the Philippines from the Department of Tourism in 2007. Being set in an idyllic spot painted with sparkling fairy lights gives a feeling of romance in the air, making it the ideal place for couples to celebrate the festive period.
Where to Stay in the Philippines
This is a fully furnished studio apartment that offers a queen-sized bed, a private bathroom, air conditioning and a kitchenette. It overlooks Manila bay and is only seven km from Manila's Ninoy Aquino International Airport. The property is close to all amenities, including restaurants and supermarkets. It is also within walking distance of cultural attractions such as Manila Bay and Rizal Park.
Pareja Tourist Inn is situated on Malapascua Island. The complex has its own restaurants, bars, shops and a minimart on-site. All rooms have a rustic vibe and come with a desk, a seating area, free Wi-Fi and a private bathroom. There are many activities to get involved with on the complex such as cycling, diving, snorkelling, karaoke and massage.
6. Christmas in Canada
With its stunning snowy scenes, Christmas in Canada is a true winter wonderland.

There is tons to enjoy in Canada throughout the festive season with tons of Christmas markets. Toronto Christmas market is one of the most popular. It is inspired by the European markets and lasts for an entire month!

If you're a bit of a history buff you might fancy visiting Casa Loma. Throughout December, Casa Loma is decorated with beautiful lights to pay homage to Gothic castles of the past.
Speaking of lights, you could also visit the Cavalcade of lights! This is the celebration of turning on the Christmas tree lights in Nathan Phillips Square.

Travel to Niagara Falls and be wowed by the Winter Festival of lights – an eight km route through the Niagara parks. Or visit Skylon Tower to find delicious Christmas food and drinks set against the backdrop of the red glowing tower.
Where to Stay in Canada
This comfortable home is situated in Toronto's Fort York area between Liberty Village and the Entertainment District. It is close to Scotiabank Arena, Rogers Arena, the Marina, and plenty of bike routes. This rental offers free parking, a washer, a Smart TV, 24 hour concierge, a gym, a hot tub, a sauna and pool access. It is also available for long term rentals!
Les Lofts de La Cite is in Quebec City approximately 1.1 km from Morrin Centre. The accommodation offers a private bathroom, a flat-screen TV, a coffee machine, kettle, microwave and toaster. Some of the units also have air conditioning. The nearest airport is Québec City Jean Lesage International Airport which is around 13 km from the accommodation.
7. Christmas in Poland
Christmas in Poland is breath-taking. However, it is very cold so be sure to wrap up warm.

The first place that comes to mind when people think of visiting Poland at Christmas is the Capital city – Warsaw. It is a magical city and the best thing to do is wander around and get lost in the beautiful streets of Old Town. If you get lucky you might even bump into Santa Claus!

If Warsaw isn't the place for you, then perhaps the incredible architecture of Gdansk can tempt you. Marvel at the buildings, wander the Targ Weglowy Christmas market and go ice skating.

Krakow is another great option for the festive season. It is one of the most beautiful cities in Poland (if not in Europe). It hosts a Christmas market on Market Square which has an abundance of stalls offering up all kinds of treats including traditional Polish food, drinks, decorations, sweets and souvenirs.

Where to Stay in Poland
This stylish accommodation offers free Wi-Fi, fresh linen and towels, a fully-equipped kitchen and a balcony. There is a lift in the building, and security is on site 24/7. The accommodation is well connected just a five minute walk to the Old Town. To get to the main station is a 10 minute walk.
The Ibis Hotel in Warszawa Ostrobramska is located in the eastern part of Warsaw which is nine km from the city centre. It is a two-star accommodation, and offers a cheap and cheerful stay with air conditioned rooms, TVs, a work desk and an en-suite bathroom. The accommodation is only 650m from Promenada Shopping Mall, and the nearest tram stop is a 10 minute walk. It is 15 km away from Warsaw Chopin Airport.
8. Christmas in Iceland
Iceland is by far one of the best white Christmas destinations.

To experience a traditional Christmas when visiting Iceland, you should visit the town of Hafnarfjorour in Reykjavik. Due to its roots in folklore and tradition, the village resembles something from a festive fairytale at Christmas time.

Most restaurants serve Christmas buffets as they are so popular. Shops are open for until 10pm from the 15th of December until the 23rd of December giving you extra time to buy all your Christmas gifts. But the festive must-see in Poland is the Arbaejarsafn Open Air Museum that is host to a five meter tall statue of an Icelandic folklore character – the Yule cat.
Where to Stay in Iceland
This cute apartment offers its own private entrance. It has its own bathroom, kitchen, a living room (with a sofa bed that fits 2) and a bedroom (with two single beds). Everything you need is within walking distance including supermarkets, restaurants, bars, a bakery, churches and museums.
Einarshúsid Guesthouse is in Bolungarvík, a small fishing village near the mountains. When you stay at the guesthouse you will either have a view of the Isafjardardjup fjord or the mountains. There is an indoor swimming pool and a hot tub just two minutes walk from the guesthouse.
9. Christmas in Norway
Norway is a snow-covered winter wonderland, and one of the best Christmas destinations there is.

If you visit Oslo you're pretty much guaranteed a white Christmas. With the snow comes the Korketrekkeren toboggan run, which is only a 20 minute journey from the city centre. You'll also find a bustling Christmas market that will occupy you for hours!

Lillehammer guarantees a white Christmas, and is easily accessible from Oslo Airport by train. There is a Christmas market at the Maihaugen open-air museum that showcases how Christmas has been celebrated over the decades.
Where to Stay in Norway
This spacious apartment is part of an old post office. It is located in the city centre amongst many tourist attractions. It is close to transport links, shops, bars and cafes. The open-plan, bright space is ideal for a relaxing Christmas escape in the city.
Cochs Pensjonat is an old building from the 1900's and is situated in Oslo. It offers private bathrooms, kitchenettes and free Wi-Fi. It is close to all amenities with Karl Johans Gate shopping street only 10 minutes away by foot and the tram stops are only three minutes by foot. Guests are offered breakfast at a discounted rate.
10. Christmas in Finland
Christmas in Finland is one of the best Christmas vacations for families as you are pretty much guaranteed snow.

You can go arctic swimming, dog sledding and snowmobiling, even walk over frozen lakes. Finland is one of the prime spots for star gazing with a good chance of seeing the northern lights, or you can just stroll amongst the quaint village stalls for lots of festive treats.
If you want to explore Finland, there's no better time then Christmas.
Where to Stay in Finland
Stay in this bright one bedroom apartment near the river. Lainaanranta Apartment is in the city center and offers offers a bedroom, kitchen, bathroom, and balcony. It also has free Wi-Fi!
This bright room is beautifully decorated with modern furnishings. It is perfect for couple's or solo travellers. Located in Pori, it is 17km away from Yyteri and 42km away from Rauma. The accommodation offers fresh bed linen, clean towels, a shared bathroom and shared lounge. Private parking is available if needed.
Wherever you are, the festive period is all about being merry and indulging. Why not try something new this Christmas?

If you're from a hotter climate, see how it feels spending Christmas wrapped up by the fire drinking a hot chocolate or mulled wine. If you're used to a cold Christmas try a bit of sun, sea and surfing this Christmas.

As you can see, it doesn't matter whether you're travelling alone or as a family, whether you're looking for sunshine or snow, if you want a traditional roast or a Christmas BBQ, there's a Christmas getaway to suit everyone!
Don't forget to sort your travel insurance! We've put together a roundup of Travel Insurance for backpackers – check it out here, or if you're low on time, get a quote from World Nomads, our favorite travel insurance provider.
World Nomads' mission is to support and encourage travellers to explore their boundaries. They offer simple & flexible travel insurance, and safety advice to help you travel confidently.
They've been doing it since 2002 – protecting, connecting, and inspiring independent travellers just like you.
Get a quote below or read our in-depth review!
World Nomads provides travel insurance for travelers in over 100 countries. As an affiliate, we receive a fee when you get a quote from World Nomads using this link. We do not represent World Nomads. This is information only and not a recommendation to buy travel insurance.
---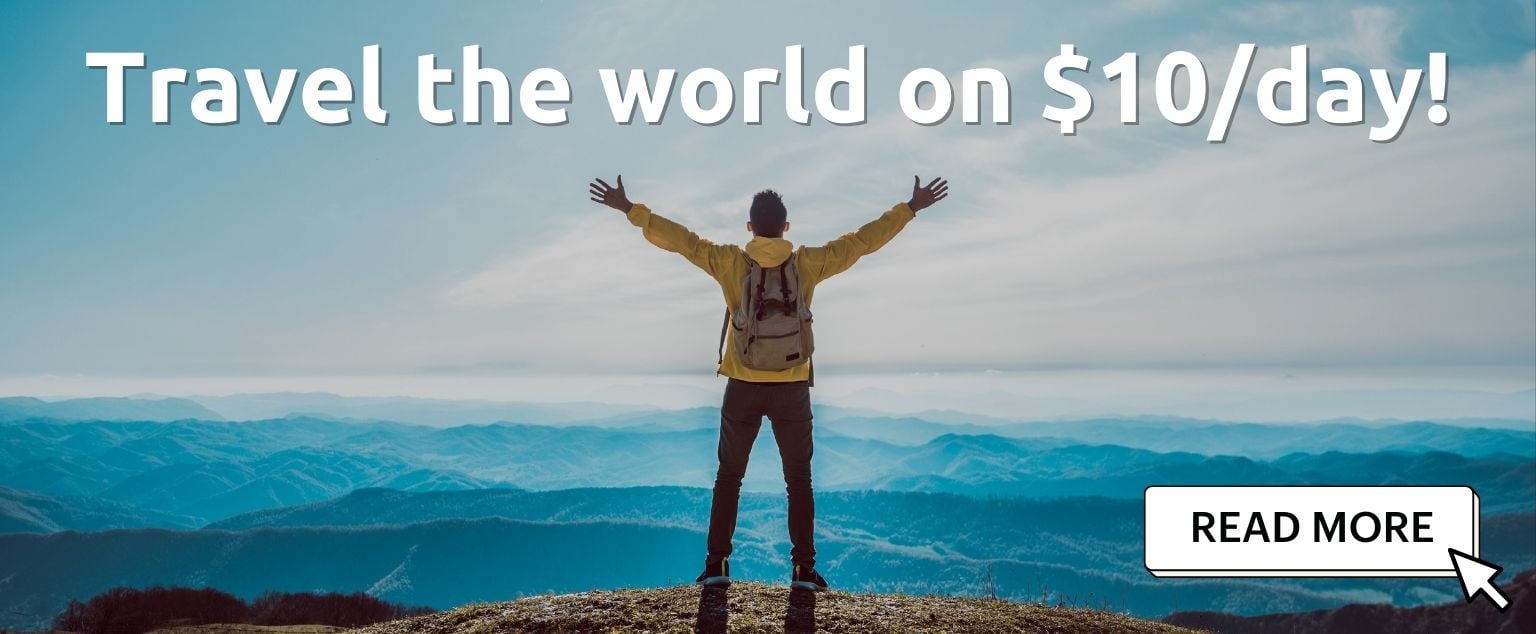 And for transparency's sake, please know that some of the links in our content are affiliate links. That means that if you book your accommodation, buy your gear, or sort your insurance through our link, we earn a small commission (at no extra cost to you). That said, we only link to the gear we trust and never recommend services we don't believe are up to scratch. Again, thank you!