If you've never been to Europe during the festive season, you don't know what you're missing.
Think infinite illuminations, Christmas trees aplenty and delicious foods from all corners of Europe. You'll find German Bratwurst, French Tartiflette and traditional Hungarian Goulash. Stumble upon locally brewed beers, zesty mulled wines and decadent hot chocolates. And, be met with toy stalls, sweet stalls, handmade gift stalls – you name it and there will be a stall dedicated to it.
Some Christmas markets in Europe are surrounded by enchanting cobbled streets lined with old historical buildings. Others have stunning backdrops of snow-capped cathedrals or illuminated town halls. Some even have their very own ice rinks! You'll be serenaded by musicians, entertained by harmonious choirs and delighted by Santa Claus and his many elves.
No two Christmas markets are the same, but each one promises to bring you their own gorgeously unique winter wonderland to get you in the festive spirit.
Must-see Christmas Markets in Europe
If you are planning an adventure to Europe during the Christmas season, visiting a Christmas market is a must!
Check out this list of the most renowned European Christmas markets that will add a sprinkle of festive cheer to any European December getaway.

Unlock Our GREATEST Travel Secrets!
Sign up for our newsletter and get the best travel tips delivered right to your inbox.
1. Vienna Christmas Market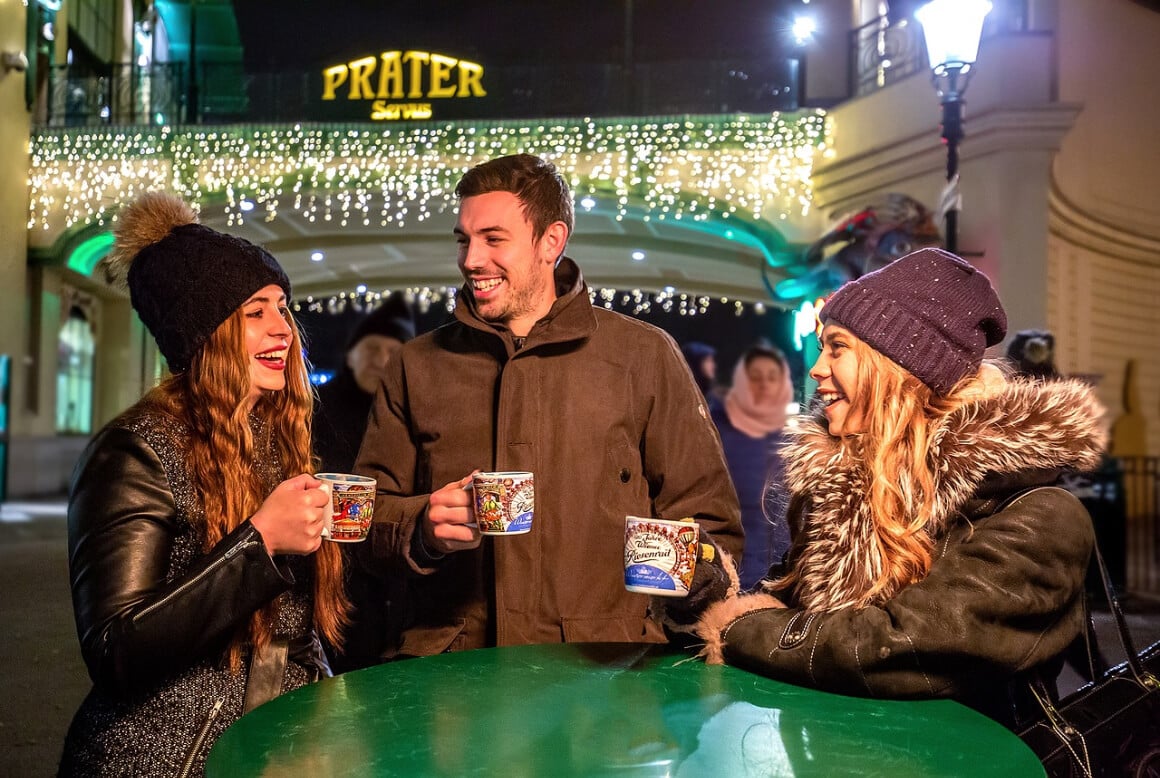 Vienna has more than one festive market to choose from. In fact, it has 6!

The Viennese Dream Christmas Market is the biggest and the best in Vienna. It is located in front of the city's gorgeously grand Neo-Gothic-style town hall and has all the trappings to share lots of holiday cheer.

There are 150 stalls selling all kinds of treats, such as cream-filled pastries, homemade punch, and handmade gifts. The Christmas tree dominating the market hosts a live brass band and choir to serenade passers-by. Traditionally the tree is gifted by a different Austrian province each year as a gesture of friendship.
A December trip to Vienna isn't complete without wandering the bustling rows of local stalls filled with wooden toys and Christmas gifts aplenty.
Where to Stay – For a luxury stay just 0.2 miles from the market try The Levante Parliament. It is a modern hotel and boasts a fully-equipped fitness area. As the closest hotel to the market, this place sells out fast. Book early to avoid disappointment!
2. Budapest Christmas Market
Budapest is home to some of the best Christmas markets in Europe.

The most authentic Hungarian experience can be found at Óbuda ('Old Buda') Christmas market. It is the most charming and quaint option, located in the Old Town, right outside the stunning town hall.

There are stalls full of locally made gifts and decorations, and an abundance of Hungarian delicacies. Get into the festive spirit with free concerts, and show off your moves on the large ice skating rink. This is the ideal market for a romantic escape with an idyllic carousel, breathtaking Christmas lights, and historic building surroundings.

Come prepared as temperatures can drop to -1°C! You'll feel like you've stopped by to visit Santa at the North Pole.
Where to Stay – Aquincum Hotel Budapest is a cheap and cheerful place to stay close to the market. The hotel has spa and wellness treatments to give you some much-needed relaxation after all the festive fun.
3. Basel Christmas Market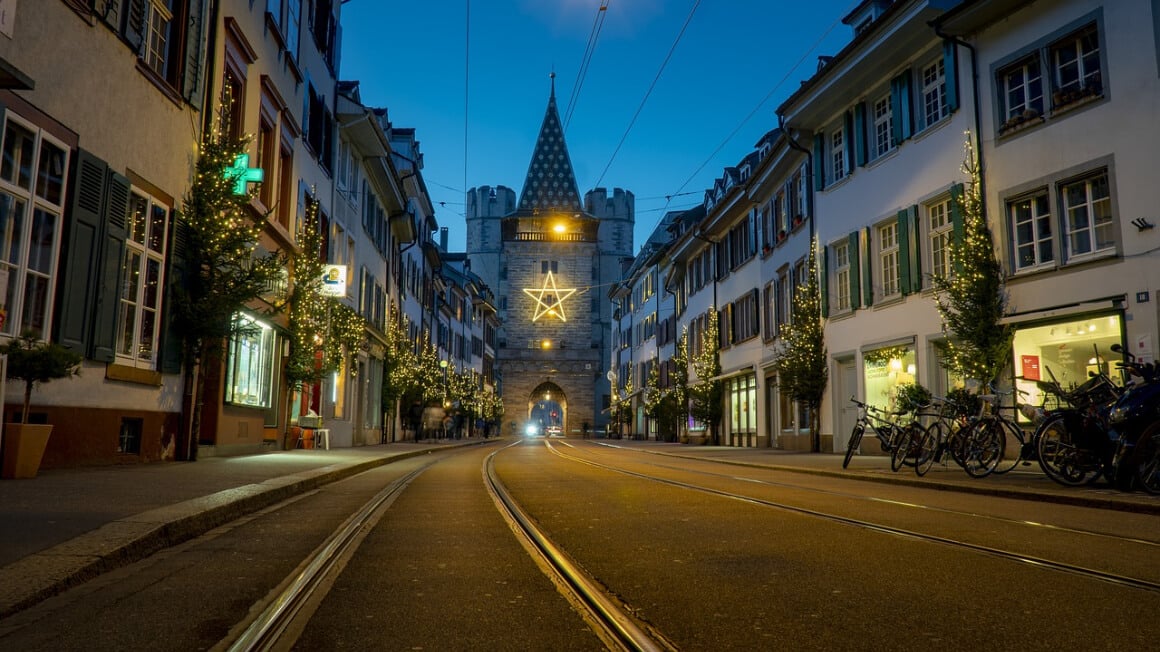 The Basel Christmas market is one of the largest Christmas markets in Switzerland, and one of the most magical Christmas markets, in my opinion.

Within the historic old town marketplace of Barfüsserplatz and Münsterplatz, you will find 180 festively decorated wooden huts selling every festive knick-knack you could think of.
It's a sumptuous treat for the senses with festive tunes, glittering lights, and culinary delights. Scoff down traditional Swiss waffles, Glühwein (hot mulled wine), genuine Basel Läckerli (gingerbread), raclette (Swiss cheese), and delicious grilled sausages. Remember, Christmas calories don't count, especially when it comes to food stalls!

As with most European Christmas markets, Basel has some of its own specific traditions. The most endearing tradition is the invitation for visitors to add their advent wishes to the famous Basel Wish Book. Let the Christmas elves do their magic.
Where to Stay – Hotel Euler is located in a great spot and isn't too expensive. It's highly focused on sustainability and ensuring travelers leave nothing but Christmas wishes behind.
4. Prague Christmas Market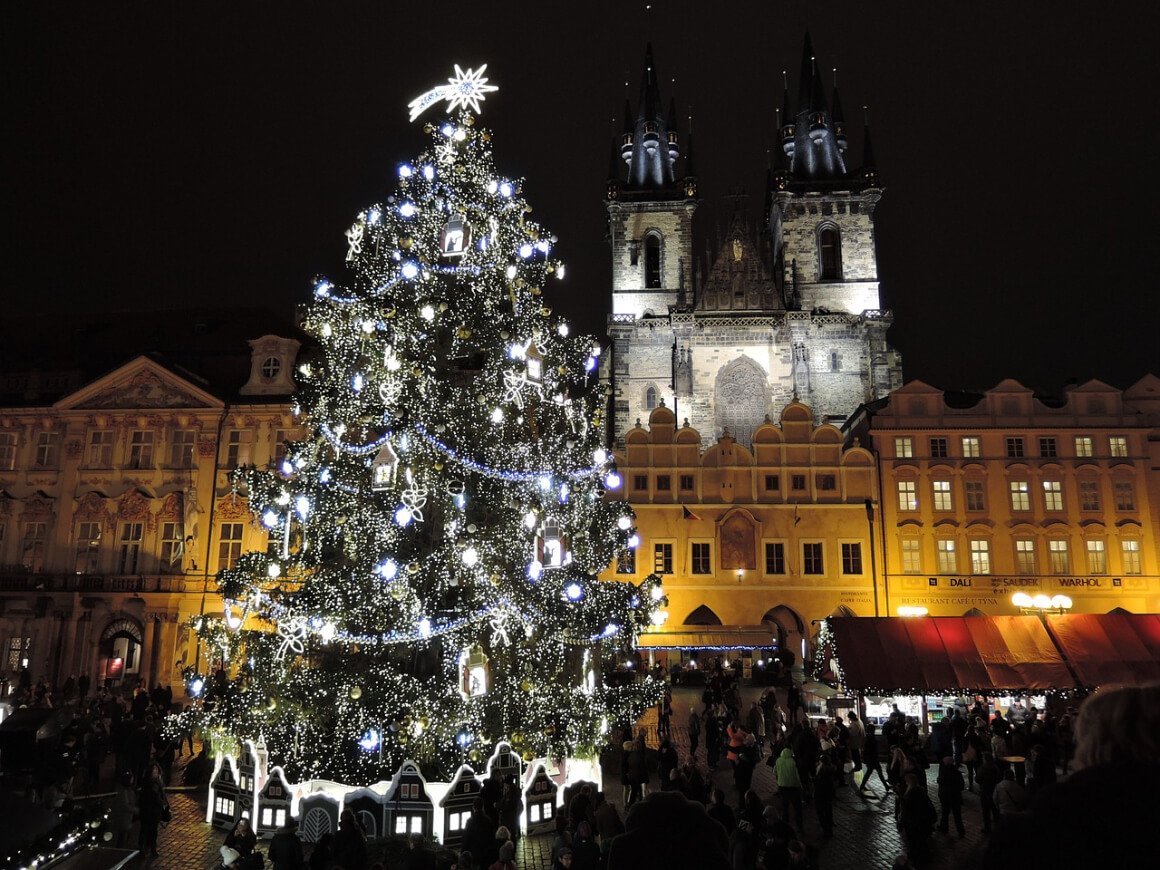 Czech locals take their Christmas markets pretty seriously. And why wouldn't they? They have some of the best in Europe!

The Prague Christmas market is the Czech Republic's pride and joy. It's the most famous and busiest market, attracting millions of visitors each year. Located right in the heart of the city, it is the perfect place to immerse in the Christmas spirit, and it is a great place to stay in Prague!

The purpose-built festive chalets are made from wood and decorated with fairy lights to give a cozy holiday ambiance. Filled with craft beers, delicious foods, and handcrafted gifts and decorations, you can pick up last-minute gifts, snacks, and sample local delicacies.
Live entertainment will keep you dancing around the stalls, keeping you warm. The main highlight of the market is the tree lighting ceremony which illuminates the sky with twinkling lights when the sun goes down every evening.
Where to Stay – The Road House is a great place to unwind and socialize with like-minded people. There's a shared lounge, terrace, and free Wi-Fi. It is just a 12-minute walk from Old Town Square.
5. Brussels Christmas Market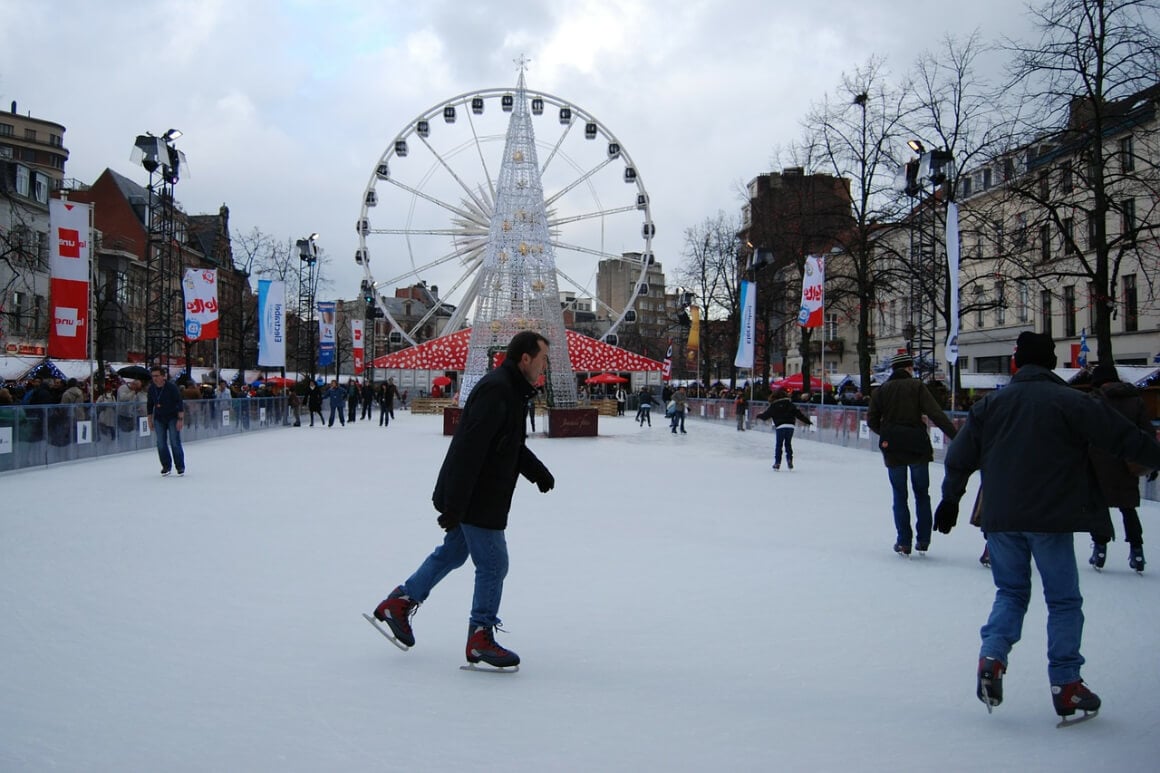 The Brussels Christmas Market and Winter Wonders Festival are quintessential Christmas. If you are going to visit just one market off this list, it's gotta be this one! Plus, staying in Brussels during the holiday season is a treat in and of itself!

Alongside 200 wooden chalets filled with traditional food, drinks, and gifts, the market has up a high-tech dome for 360° audio-visual performances, films, and concerts. The home of mouth-watering chocolates and waffles pulls out all the stops.

Leading you through the city, you get so much bang for your festive bucks here. I can already smell the nutmeg and cinnamon…
Where to Stay – Motel One, Brussels is the ideal place to stay when exploring Brussels as it's conveniently located within walking distance of all the local action, such as St. Michael's Cathedral, the town hall, the Grand Place, and of course – the Christmas market.
6. Trier Christmas Market
Christmas markets in Europe as we know them are all thanks to Germany. They showed Europe how to do it. The origin country is home to some of the best festive markets, which is why you will find multiple German spots in this list.
The Trier Christmas market is our first German mention. In an old medieval town, 95 wooden chalets are all adorned with an abundance of Christmas decorations and twinkling lights. These mini grottos all have something tasty or beautiful to sell, whether that be sweet treats, decorations, wooden toys, hot chestnuts, candles, hand-blown glass gifts, or ceramics.

Trier Christmas market is the best for families with lots of activities and an adorable puppet show in the Trier pavilion.
Where to Stay – The Nadabei Hotel in Trier is 1km from Trier city center. It offers free Wi-Fi, and each room includes a flat-screen TV and a private bathroom.
7. Nuremberg Christmas Market
Nuremberg Christmas market has been made famous for its outstanding gingerbread and delicious, traditional Nuremberg Bratwurst. As unique as they are tasty, the homemade Bratwurst are still prepared in the traditional way using an open beech wood fire.

The intriguing thing about these tiny little sausages is their origin. No one is sure where they came from. Some people believe they were made so small that innkeepers could sell them through the keyholes of their taverns after closing time. Whereas others believe they were made so small that they could fit through holes in the walls of the Nuremberg dungeons. Either way, they are tasty!

As well as legendary sausages you will find typical Christmas market delights such as fine hot mulled wine, gifts galore, and sterling entertainment. If you haven't yet found your Christmas spirit, you are sure to find it here.
Where to Stay – Hotel Victoria is just 9 minutes from the Nuremberg Christmas market, making it the ideal place to stay for a festive getaway this holiday season.
8. Dresden Christmas Market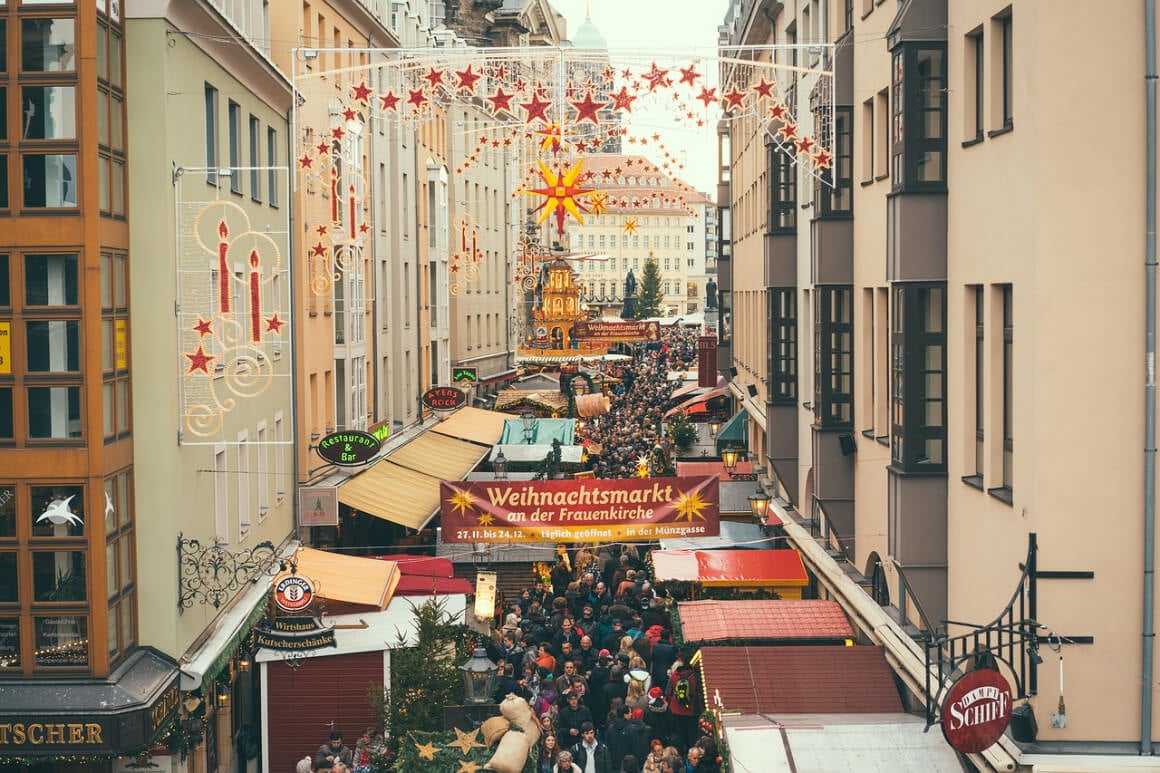 The Christmas market in Dresden is considered to be the OG Christmas market. It was the first one, ever! Thank you, Germany.

The market was established in 1434, and would only be open for one day. In 2019 it celebrated its 585th birthday with 3 million visitors from all over the globe – that's a lot of people sitting on Santa's lap!
Dresden Christmas market has 240 quaint wooden chalets filled with festive goods. It's the perfect place to kick off your Christmas celebrations, and possibly our favorite German Christmas market.
Don't miss out on the Stollen festival. Stollen is a traditional German bread dusted with powdered sugar, the perfect accompaniment to a hot mulled wine.
Where to Stay – Dresden Christmas market is very popular so make sure you book your accommodation early to avoid any disappointment. NH Dresden Neustadt is a great option close to the Dresden train station.
Small Pack Problems? 😉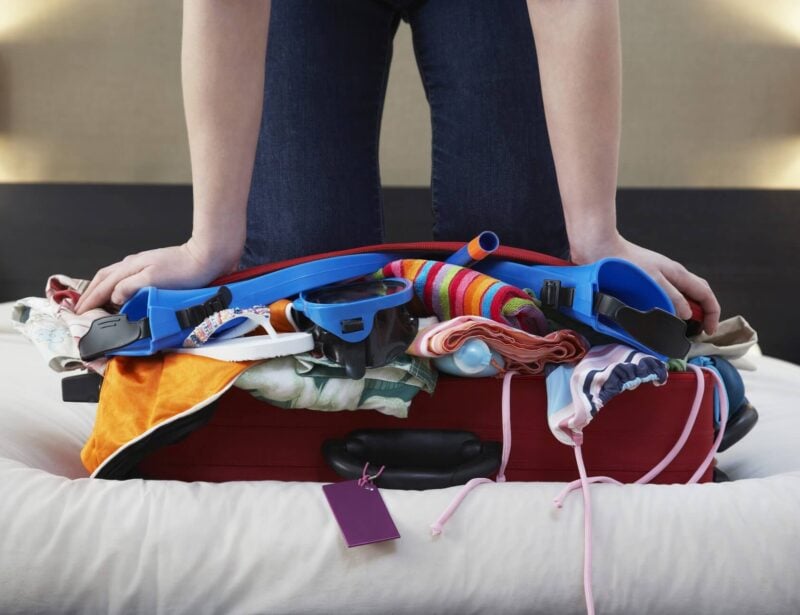 My missus travels with all her clothes in ziplock bags: don't be like my missus. UP YOUR PACKING GAME!
Packing cubes for the globetrotters and compression sacks for the real adventurers – these babies are a traveller's best kept secret. They organise yo' packing and minimise its volume too so you can pack MORE.
Or, y'know… you can stick to ziplock bags.
View Our Fave Cubes
Or Check Out the Sacks!
9. Strasbourg Christmas Market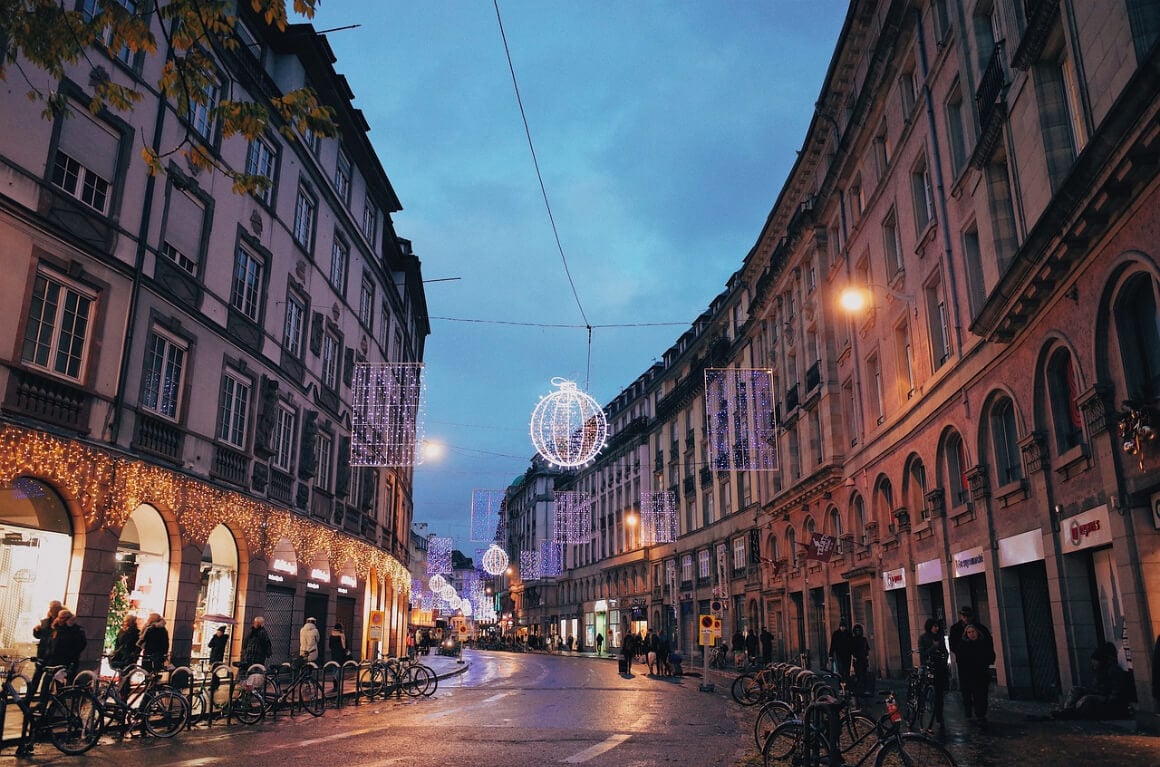 Held in front of the Strasbourg Cathedral, this market has been running since 1570 making it one of the oldest Christmas markets in Europe.

During the festive season, there aren't many places that provide the same captivating atmosphere that Strasbourg does. The French certainly know how to do a Christmas market. From the twinkling lights and decadent food, to the alluring music, your senses will be in for an absolute treat.

This market boasts 300 wooden huts filled will gorgeous gifts and culinary delights for 2 million visitors per year. The Christmas tree is something to marvel at with its great height and hundreds of lights.
Where to Stay – Hotels can be booked up a year in advance for the Strasbourg Christmas market, so make sure you get in fast. Hotel Des Arts are reasonably priced and not far from the market.
10. Madeira Christmas Market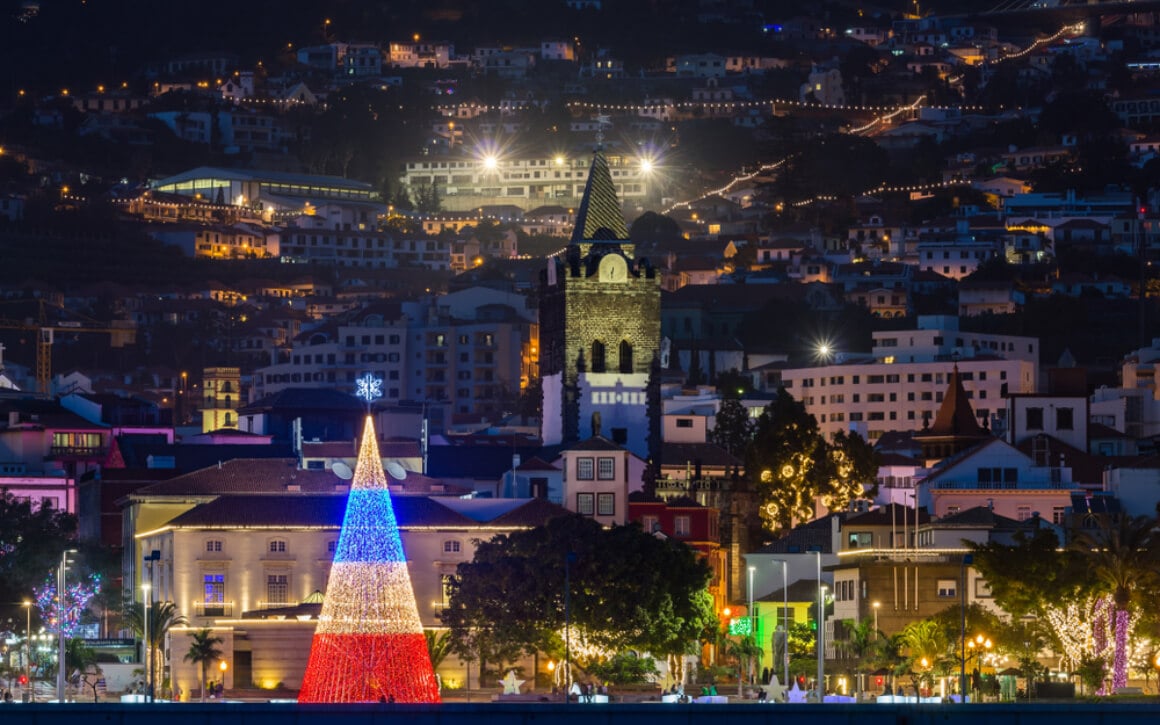 Madeira Christmas market is one of the best Christmas markets in Europe and takes place throughout the Avenida Arriaga central walkways in Funchal.

An exotic Portuguese island, Madeira celebrates Christmas in its own stunningly unique way. At the many market stalls, you will find exotic flowers, traditional Portuguese delicacies, and souvenirs while being surrounded by tons of entertainment such as live shows, Christmas carols, and folklore group performances.

The weather in Madeira in December is still relatively hot, coming in at an average of 18°C, so there is no need to pack those warm winter coats for this festive festival.
Where to Stay – Hotel Jardins D'Adjuda is 3km from the city center and near the sea. It also has its own car park and is close to all transport links.
11. Salzburg Christmas Market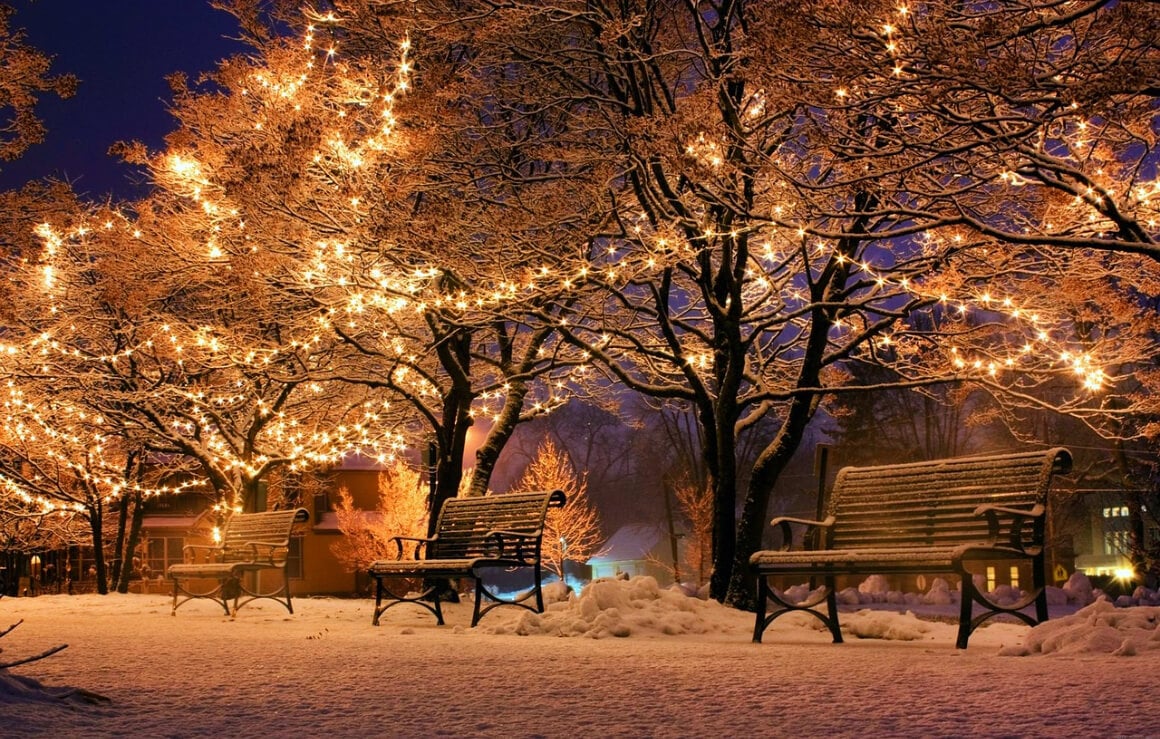 Salzburg Christmas market is hosted at the foot of the Hohensalzburg Fortress, in Residence Square and Cathedral Square, and is considered one of the most beautiful Christmas markets.

Indulge in old Austrian traditions by eating roasted almonds, gingerbread, and candied fruit, or treat yourself with some hot mulled wine and hot punch. At the market stalls, you'll find everything you need to be able to experience a traditional Austrian Christmas, including beautiful floral arrangements, handmade Christmas decorations, colorful wax candles, and plenty of sweets.

Salzburg can get cold in December, so pack your gloves and your scarf to keep warm! Of course, there are always hot chocolates and mulled wine to keep you toasty.
Where to Stay – Gästehaus im Priesterseminar Salzburg is an affordable hotel in the center of Salzburg. It is set in a Baroque building next to the historic Trinity Church.
12. Govone Christmas Market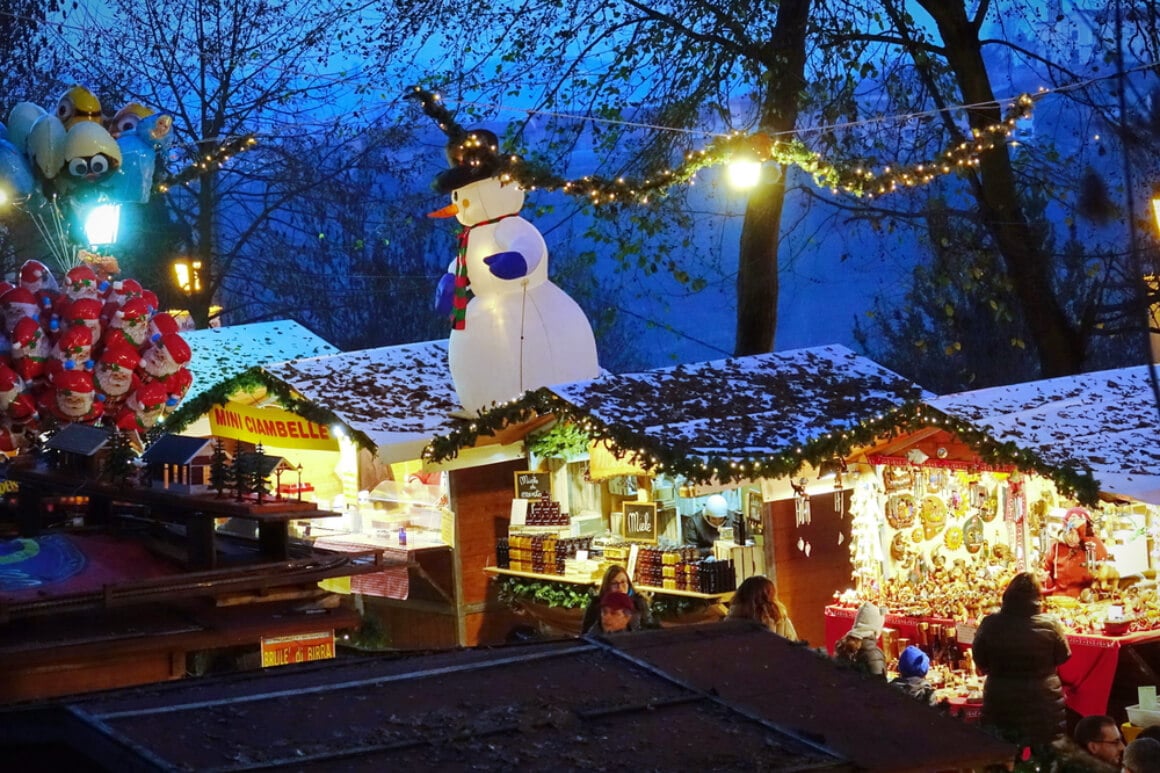 Govone Christmas market at Govone Castle is the third most visited Christmas market in Italy and should be on your list of Christmas destinations to visit this holiday season.

This picturesque festivity has hundreds of wooden chalets to wander filled with wonderful Italian delights. There are the Christmas classics such as hot mulled wine, handmade gifts, wooden toys, Christmas tree decorations, and hot chocolate. But, you will also find some traditional Italian festive treats such as Farinata (a traditional chickpea pancake), Piedmontese beef hamburgers, and of course, traditional Italian pizzas.

Bring a jumper as the Italian weather can dip as low as 2° C in December in this region.
Where to Stay – La Vite è Bella is located in Govone. In this cozy and quaint hotel, all rooms feature a flat-screen TV with satellite channels and a private bathroom.
13. Poznan Christmas Market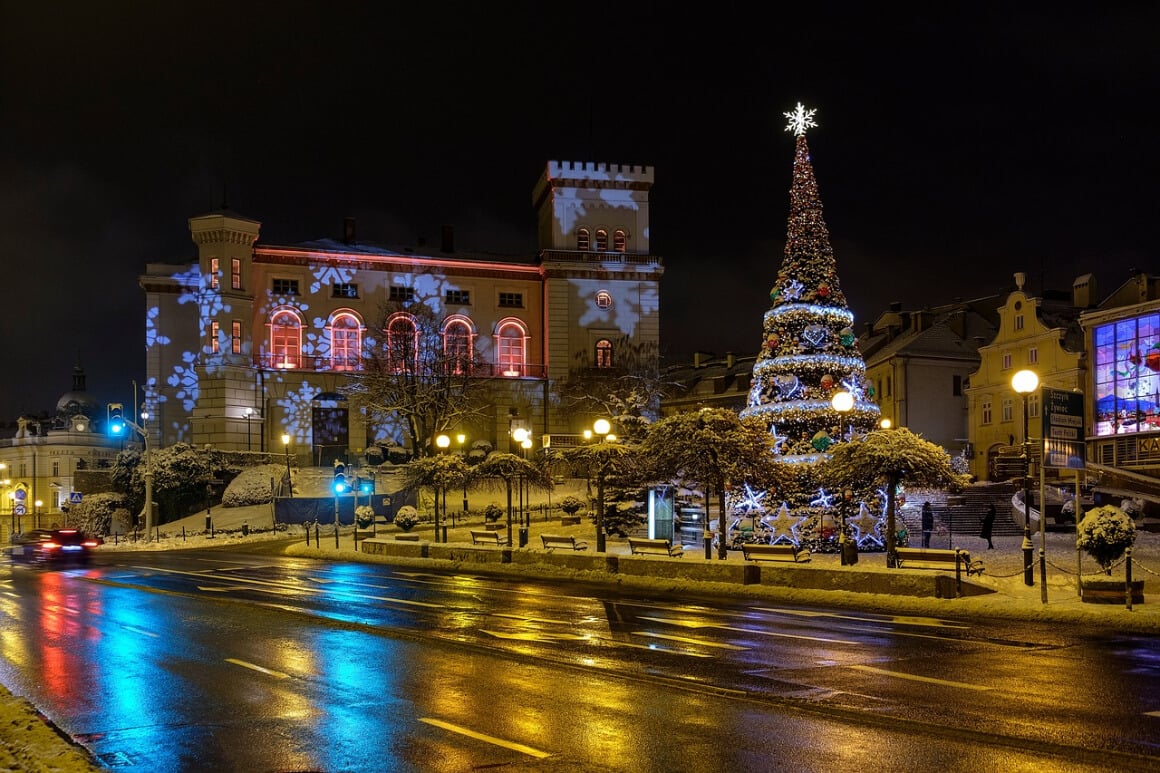 Now we have the Poznan Christmas market, which is one of the best Christmas markets in Poland.

A magical winter wonderland, you can wander the beautiful market stalls whilst indulging in views of the stunning historical town. Take a ride on the Ferris Wheel at Freedom Square, or take part in one of the many workshops. This festive treat will keep the whole family entertained during the Christmas season.

Don't forget to visit the International Ice Sculpture Festival at Old Market Square! The festival has been running for 11 years, with contestants from all over the world traveling to take part.

Alongside all of the activities, you will find stalls selling regional crafts, foods, and drinks, as well as international stalls selling delicacies from around Europe.

Where to Stay – Hotel Altus in Poznan's Old Town is cheap and cheerful. It is close to famous tourist attractions such as the Philharmonic, Royal Castle, and National Museum.
Is This the Best Travel Pack EVER???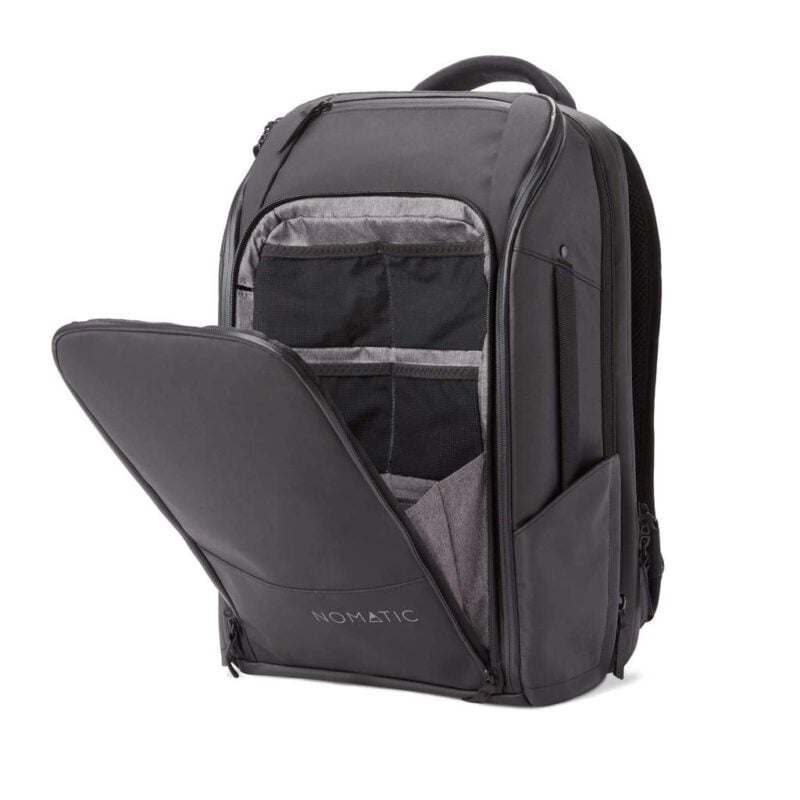 14. Bruges Christmas Market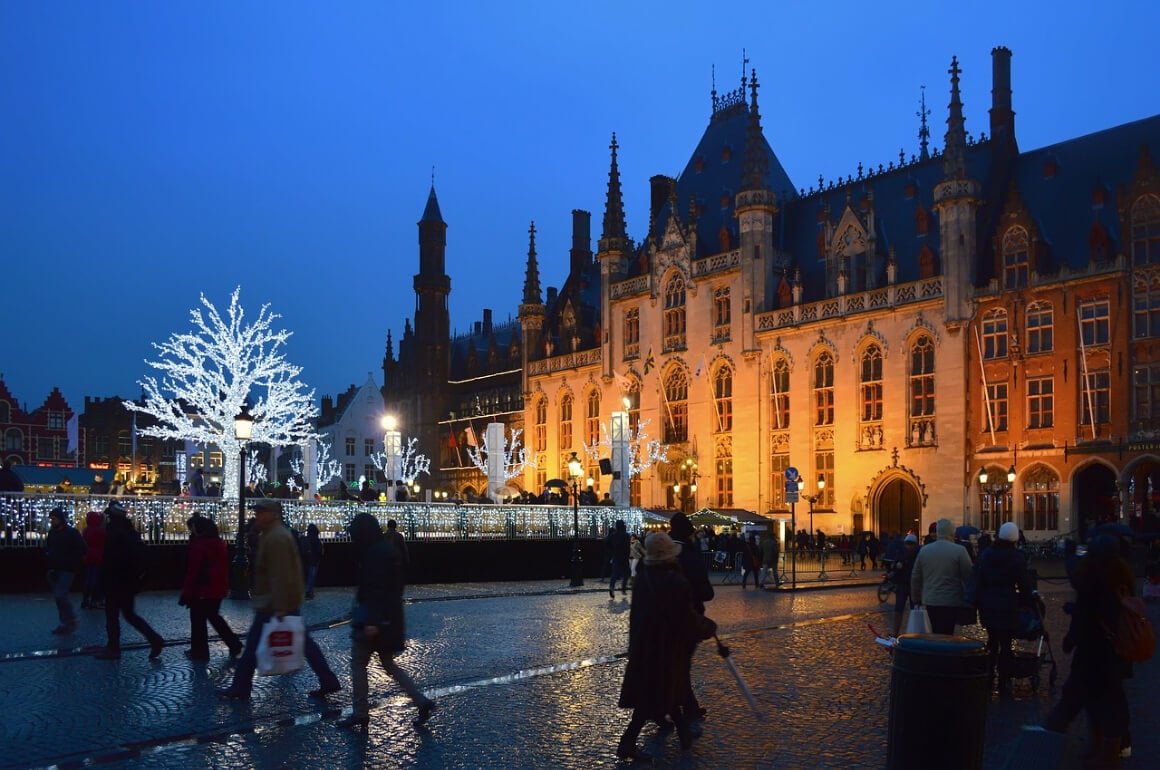 The Bruges Christmas market in Belgium is one of the most popular Christmas markets in Europe. Centrally located in the city center, there is a wide variety of market stalls selling a range of traditional gifts, food, and drinks.
Homemade hot chocolate, Belgian beers, hot mulled wine, and jenever (gin), as well as plenty of delicious foods to indulge in such as local waffles, cheeses, and meats. Make sure you loosen your belt for this market.

For any avid ice skaters out there, check out the floating ice-skating rink at Minnewater. There is a winter bar, too!
Where to Stay – Martin's Brugge Hotel is only 0.1 miles away from the Christmas market, and a great place to stay in Bruges. It is in the center of the city with easy access to all of the city's tourist attractions.
15. Berlin Christmas Market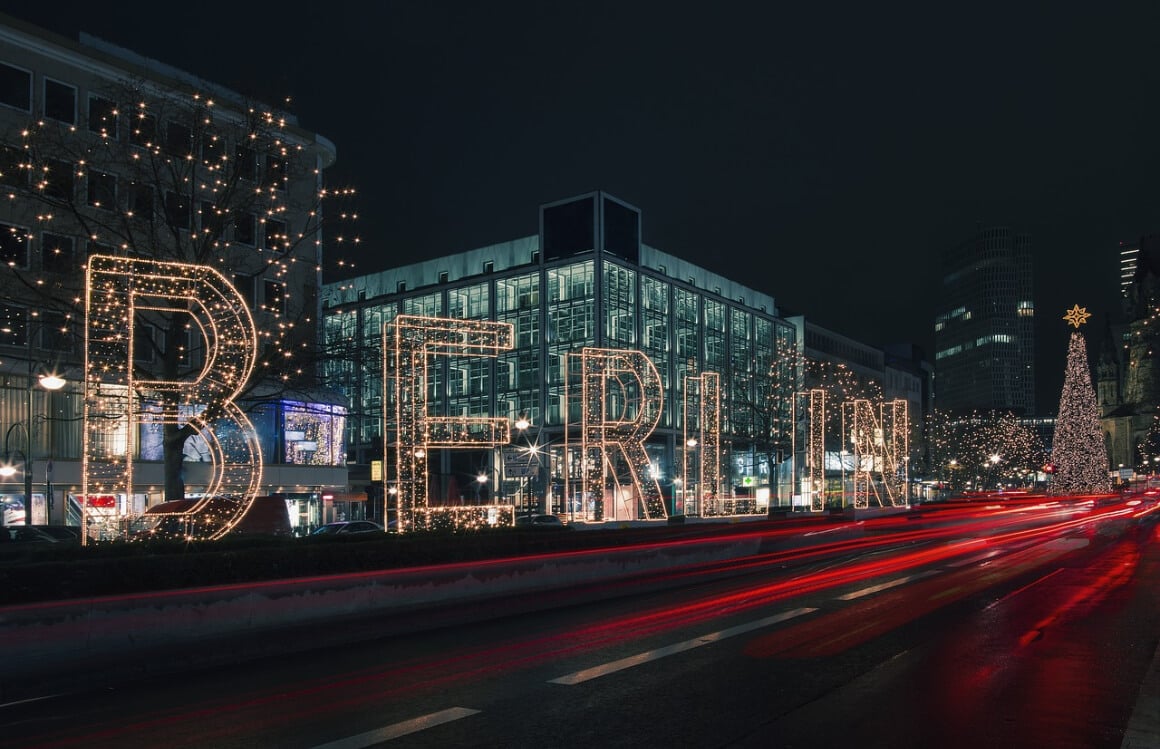 Spandau Christmas Market is by far one of the best Christmas markets in Germany and this time in the capital city! It is not in the center of Berlin but is easy to reach by public transport.
The festival runs throughout the week, getting busier on weekends when more stalls and activities are set up.

Spandau Christmas Market is Berlin's largest traditional Christmas market. Illuminated by thousands of twinkling fairy lights draped amongst the festive stalls, it is considered one of the most magical Christmas markets.

Make sure you don't miss the artisan market in the Gothic House in Markische! There are all types of arts and crafts available.
Where to Stay – The Ibis in Spandau is a cheap and cheerful hotel not far from the festival. It is basic but has everything you need for a pleasant and comfortable stay.
16. Edinburgh Christmas Market
Every year, Edinburgh holds its Christmas-themed market in East Princes Street Gardens. As one of the prettiest cities, it's not surprising that it has been voted the best Christmas market in the United Kingdom.

Aside from the usual shopping, eating and drinking, there are fair rides such as a Big Wheel, Helter Skelter, and Santa train. There's also a Tree Maze for families, and plenty of live entertainment shows to watch.

Edinburgh Christmas market is free of charge, ideal for those trying to make some Christmas memories and explore on a budget.
Where to Stay – Hotel Indigo is affordable and in a good location, situated right next to Edinburgh Waverley train station. It is within walking distance of the Christmas market and Edinburgh Castle.
17. Copenhagen Christmas Market
Copenhagen Christmas market is located in Tivoli Gardens and runs from mid-November until the beginning of January.

It is full of lots of fun rides and a bustling amusement park. The gardens are covered with festive decorations and fairy lights creating that winter wonderland vibe we are all seeking during the Christmas holidays.

Watch the Tivoli Youth Guards' illuminated parades, as well as live music in the music halls. And, make sure to visit Santa and get your photo taken in his grotto!
Where to Stay – Woodah Boutique Hostel is a great option for those on a budget. The place is a small, family-owned boutique hostel in the heart of Copenhagen next to all amenities.
18. Bath Christmas Market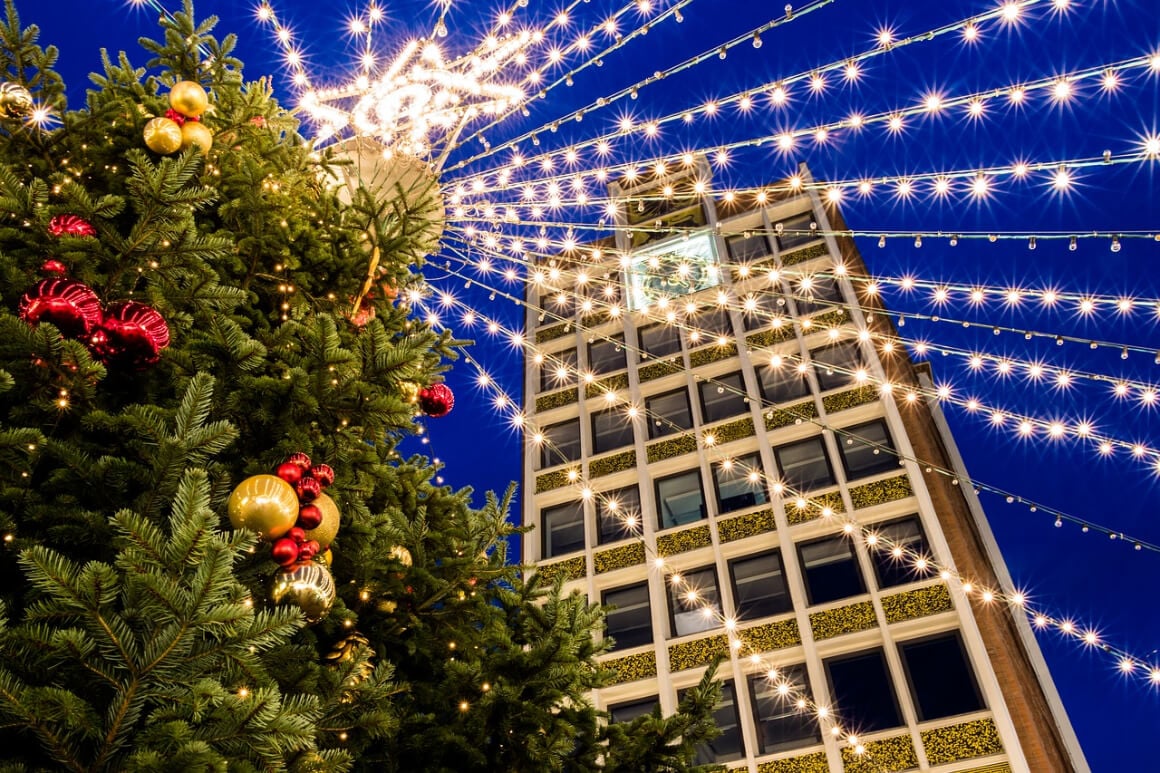 Bath Christmas market is one of the most stunning Christmas markets in Europe. With a backdrop of iconic architecture and endearing cobbled streets, combined with Christmas decorations, this market is the idyllic setting for a winter escape.

It has 150 wooden huts filled with local gems for you to taste and buy, and the streets are filled with songs from local carol singers and choirs.

Each year Bath Christmas Market strives to be more environmentally responsible. Don't forget to bring along your reusable cup to receive a discount on warming festive drinks from all the Market's caterers.
Where to Stay – Hotel Indigo is set in an 18th-century Georgian building in the heart of the historic Bath. It is just a 5-minute walk from the famous Bath Abbey.
19. Tallinn Christmas Market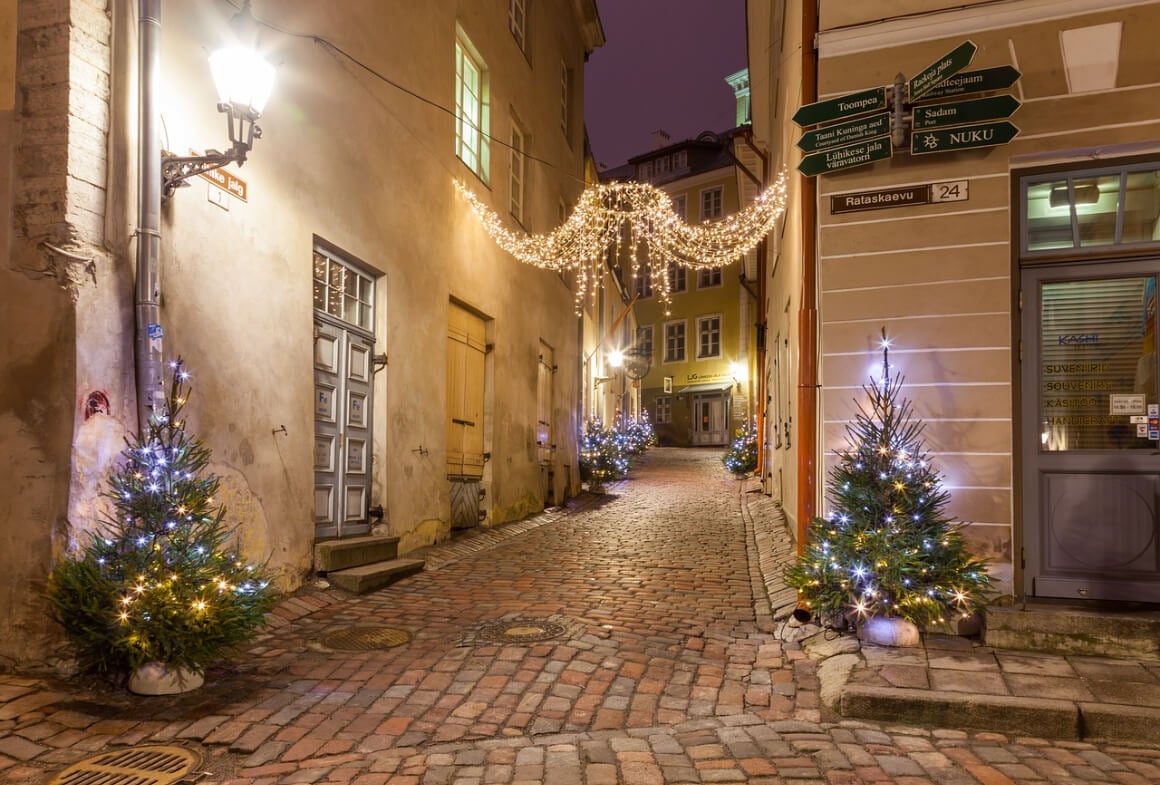 The Tallinn Christmas market is a quaint spot set in the Town Hall Square amongst buildings that are centuries old.

Every year there is a Christmas tree where the first ever Christmas tree was erected in 1441. The tree is decorated with heart-shaped decorations as a symbol of love, but also because Tallinn's old town is shaped like a heart from a birds-eye view.

The market hosts a cultural program that sees 3000 performers from Estonia and abroad performing on stage.
Where to Stay – Kuninga Apartments is 0.1 miles from the Christmas market, and a cozy spot to stay in Tallinn. The property boasts stunning garden views.
20. Manchester Christmas Market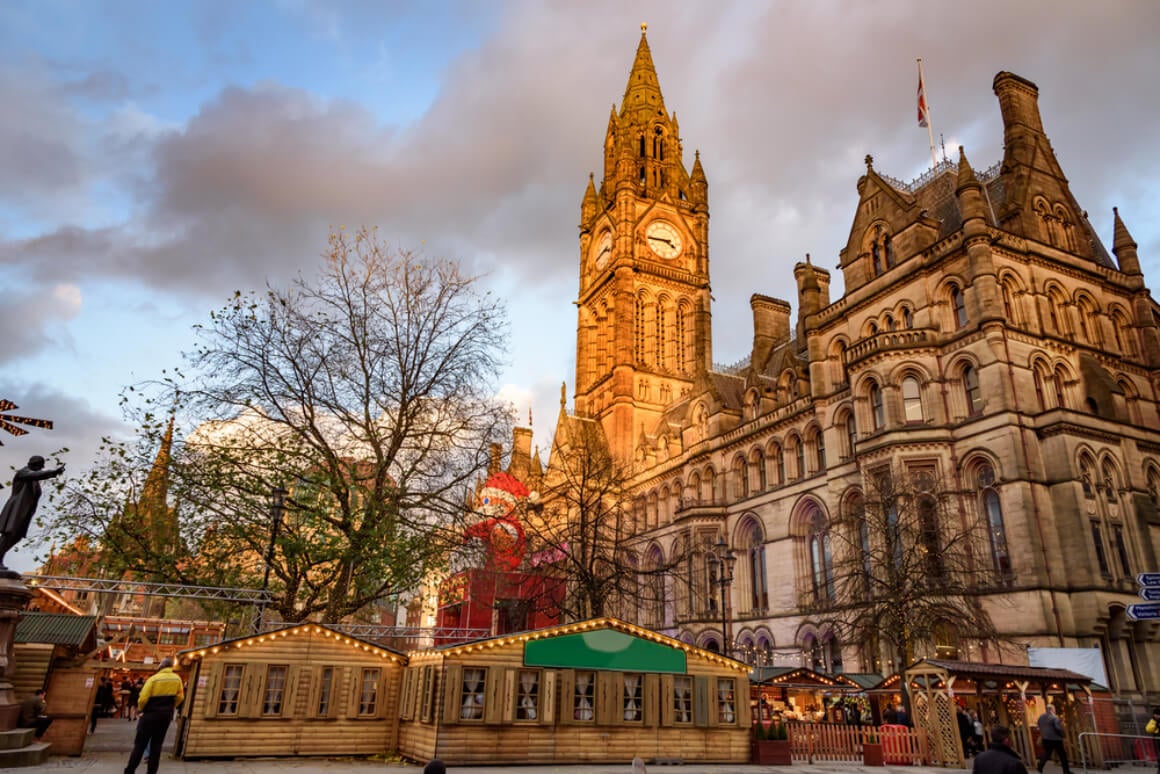 Manchester's Christmas market is one of the most famous European markets. Manchester hosted the first Christmas market in the UK way back in 1999. It has been attracting thousands of visitors, every year, ever since.
You'll find food from all over Europe such as traditional bratwurst, Hungarian goulash and Spanish Paella. Or, you could go local and indulge in a good old hog roast.

For the month of December, the city comes alive with Christmas cheer that'll make you forget about the freezing cold weather. From Christmas trees to Christmas carols, Manchester has it all.
Where to Stay – Located 0.5km from the market, Hotel Brooklyn is the perfect place to stay. It is also extremely close to Manchester's famous Canal Street.
FAQ
Final Thoughts
So, as you can see, choosing a Christmas market to visit in Europe is no easy feat. Especially since there are so many on offer. But this breakdown of the must-see markets will hopefully help you gauge which will suit you best.

Whichever one you decide to visit, you can guarantee it will be filled with good food, fine mulled wine, and plenty of gift stalls. But most importantly, each and every Christmas market on this list promises to gift you with Christmas magic and unlimited amounts of festive cheer.
Updated December 2022 by Megan Christopher
---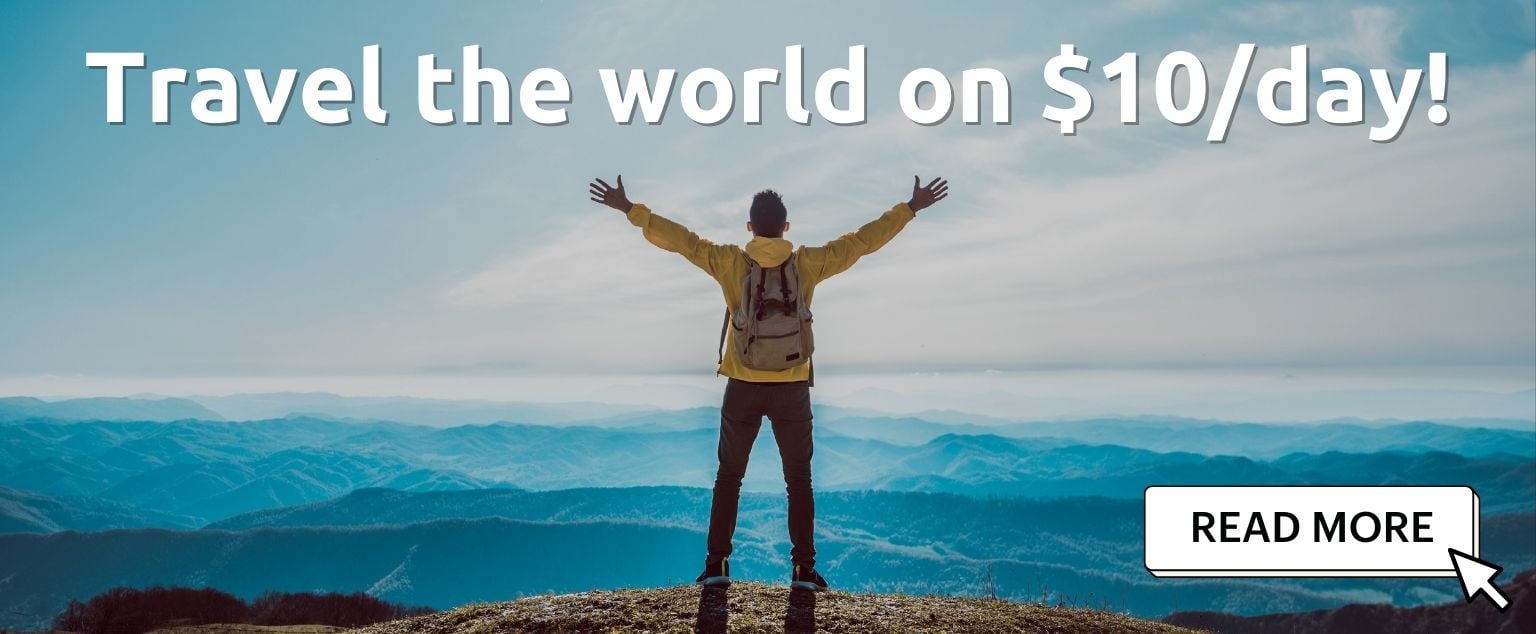 And for transparency's sake, please know that some of the links in our content are affiliate links. That means that if you book your accommodation, buy your gear, or sort your insurance through our link, we earn a small commission (at no extra cost to you). That said, we only link to the gear we trust and never recommend services we don't believe are up to scratch. Again, thank you!