Located on the USA's west coast in the state of Washington, Seattle is the biggest city in the Pacific Northwest. Containing various diverse neighbourhoods, the exciting city is famous for its large aerospace industry, coffee, and nearby natural attractions. Indeed, the lush landscapes and abundance of greenery have earned Seattle the nickname of the Emerald City. Home to a plethora of cool landmarks, museums, parks, shopping outlets, and sporting grounds, there's something to suit all in Seattle.
Seattle has something of a reputation for being a wet and rainy city. The thought of dull skies and drizzle can sometimes be off-putting to travellers.
While it is true that Seattle sees a fair amount of rain, there are plenty of sunny periods too when you can get out and about without getting wet. Plus, there are tons of great indoor attractions that are perfect for days when the weather just won't give you a break. Our dedicated team of travel writers has researched the best places to visit in Seattle, including both indoor and outdoor highlights. There's no need to worry about the weather when you're armed with our awesome ideas!
Make the most of your time with these best places to visit in Seattle, though be warned—some are sure to amaze you!
Need a place quick? Here's the best neighbourhood in Seattle:
BEST AREA IN SEATTLE
Pioneer Square
Pioneer Square is also an area bursting with fun and excitement. This small downtown district is flush with wild clubs, lively bars and bustling pubs and cafes.
Places to visit:
Enjoy a few moments of peace and tranquillity at Waterfall Garden Park.
See the four towering totem poles at Occidental Park.
Eat, drink and listen to DJs spin the latest tunes at Club Contour.
And now with recommendations of places to stay and safety tips covered, let's move onto the fun stuff: the best places to visit in Seattle!
These are the BEST Places to Visit in Seattle!

Unlock Our GREATEST Travel Secrets!
Sign up for our newsletter and get the best travel tips delivered right to your inbox.
#1 – Pike Place Market – A great place in Seattle if you love to shop!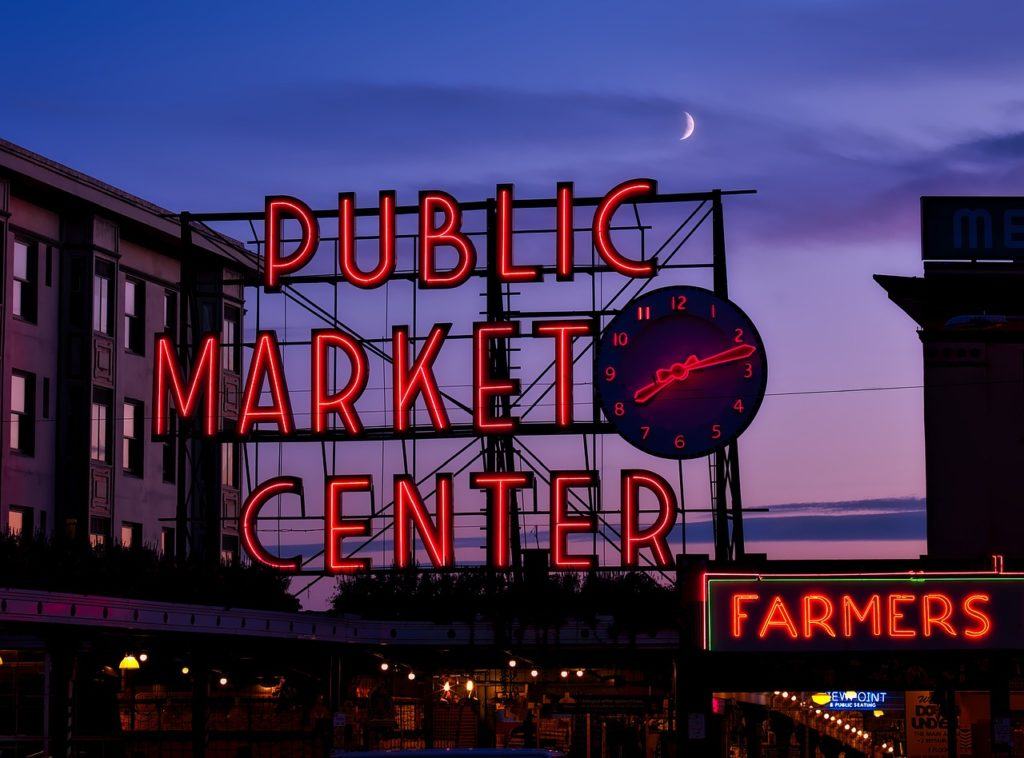 Plentiful food stalls and restaurants
Wide selection of goods
Long history
Popular with both locals and tourists
Why it's awesome: Among the most famous places in Seattle, Pike Place Market is one of the oldest still-running farmers' markets in the USA. More than 100 years old, it has been in operation since 1907 when it was founded by a handful of local farmers. It doesn't only sell fresh produce today though—there are shops and stalls selling a huge assortment of goodies. One of the best places in Seattle for shopping, it's also a top place for entertainment, thanks to the lively vibe, animated buskers, and people-watching opportunities. Photo opportunities abound and the wide selection of dining outlets also makes it one of the top places to eat in Seattle too.
What to do there: Plan to spend at least a couple of hours exploring the vibrant Pike Place Market. Make your way around the 500-plus shops, stalls, eateries, and bars and browse the huge assortment of goods. From boutique clothing, crafts, hand-made soaps, and gorgeous ceramics, to exquisite flower arrangements, vintage goods, curios, books, and souvenirs, there's plenty to tempt you to part with your dollars.
Explore the farmers' market and the fish market, watch street performers, listen to cool covers and originals from the energetic buskers, and snap a picture of the historic sign. Treat your taste buds in one of the restaurants or at one of the food stands and relax over a drink in one of the funky bars. Call into one of the oldest Starbucks' stores and see the original Mermaid logo of the immensely famous coffee chain. Don't miss posing for a picture with Rachel the Piggy Bank—you can also throw some change into the gigantic bronze money box to help support local initiatives.
If there are large crowds around Rachel, call by Billie the Pig too, located at the Market Front. Take a break in the tranquil Pike Place Urban Garden and admire the views; you'll find the charming garden hidden away on the roof of the LaSalle Building.
#2 – Space Needle – One of the most amazing places in Seattle!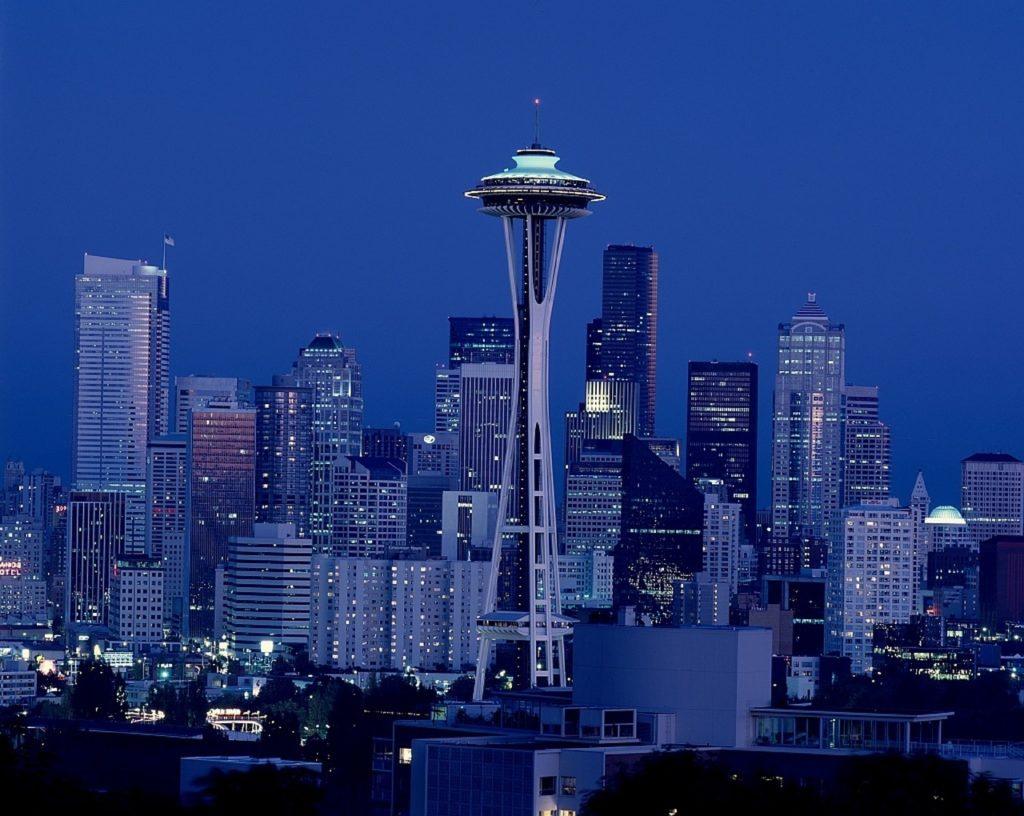 Major landmark on the Seattle skyline
Sweeping views
Fantastic photo opportunities
Exciting activities
Why it's awesome: The iconic Space Needle is one of the most famous landmarks in Seattle. It's part of the much larger Seattle Center (see below). Constructed in the early 1960s for the 1962 World's Fair, it has become a major sight on the Seattle skyline. The soaring tower stands at 184 metres (605 feet) tall, and the observation deck provides amazing panoramic views that stretch far into the distance. The wine bar is especially popular with couples looking for the perfect spot for a romantic drink. The striking building has featured in many movies and TV shows and is the focal point for the city's annual New Year firework displays.
What to do there: Feast your eyes on the soaring tower from afar, noting its UFO-like form. Travel to the top of the structure in the fast elevators—the trip takes just 41 seconds under normal conditions—and soak up the splendid vistas through the full-length glass walls on the upper level. Spot other points of interest in Seattle's downtown as well as places farther afield, like Mount Rainier, Elliot Bay, islands, and the Olympic and Cascade Mountains.
Brave the skyriser benches and be blown away as you marvel at the views through the transparent seating—it almost feels as though you're suspended high above the city. For more thrills, go down onto the lower level and stride out onto the rotating glass floor. Linger for longer over a drink in the café or bar.
#3 – Alki Beach – An awesome place to visit in Seattle for half a day!
Historical coastal spot
Sandy shores where you can relax
Varied activities
Lovely views
Why it's awesome: A fabulous place for a scenic stroll on any dry day and a terrific spot to relax and unwind in the sunshine, Alki Beach is a magnet for both locals and tourists alike. There are sandy shores and rocky stretches to enjoy, as well as creature-filled tide pools and, of course, the sea itself. Visitors will find a good selection of places to eat and drink close to the beach, and there are all the amenities and facilities you need for a fun day at the seaside.
Various attractions and activities appeal to people of different ages and it's among the best places to visit in Seattle for families with kids. Additionally, Alki Beach was where the first white settlers came ashore in Seattle, and a monument remembers this historically significant event. The Birthplace of Seattle marks the place where, in 1851, the Denny Party arrived in Seattle.
What to do there: Stroll along the paved beach trail and admire the views of the city and Puget Sound. Alternatively, if you're feeling active, the path is a top spot for roller skating and jogging too. Visit the still-working 193 Alki Point Lighthouse and see the mini replica of the Statue of Liberty at Alki Beach Park.
Spread out your towel and relax on the sands, build a sand castle, join in with a game of beach volleyball, see what you can find in the tide pools, go beachcombing, and enjoy a picnic. Take supplies and cook up an al fresco treat at one of the fire pits. Stay into the evening to watch the sun go down as you sit around your fire.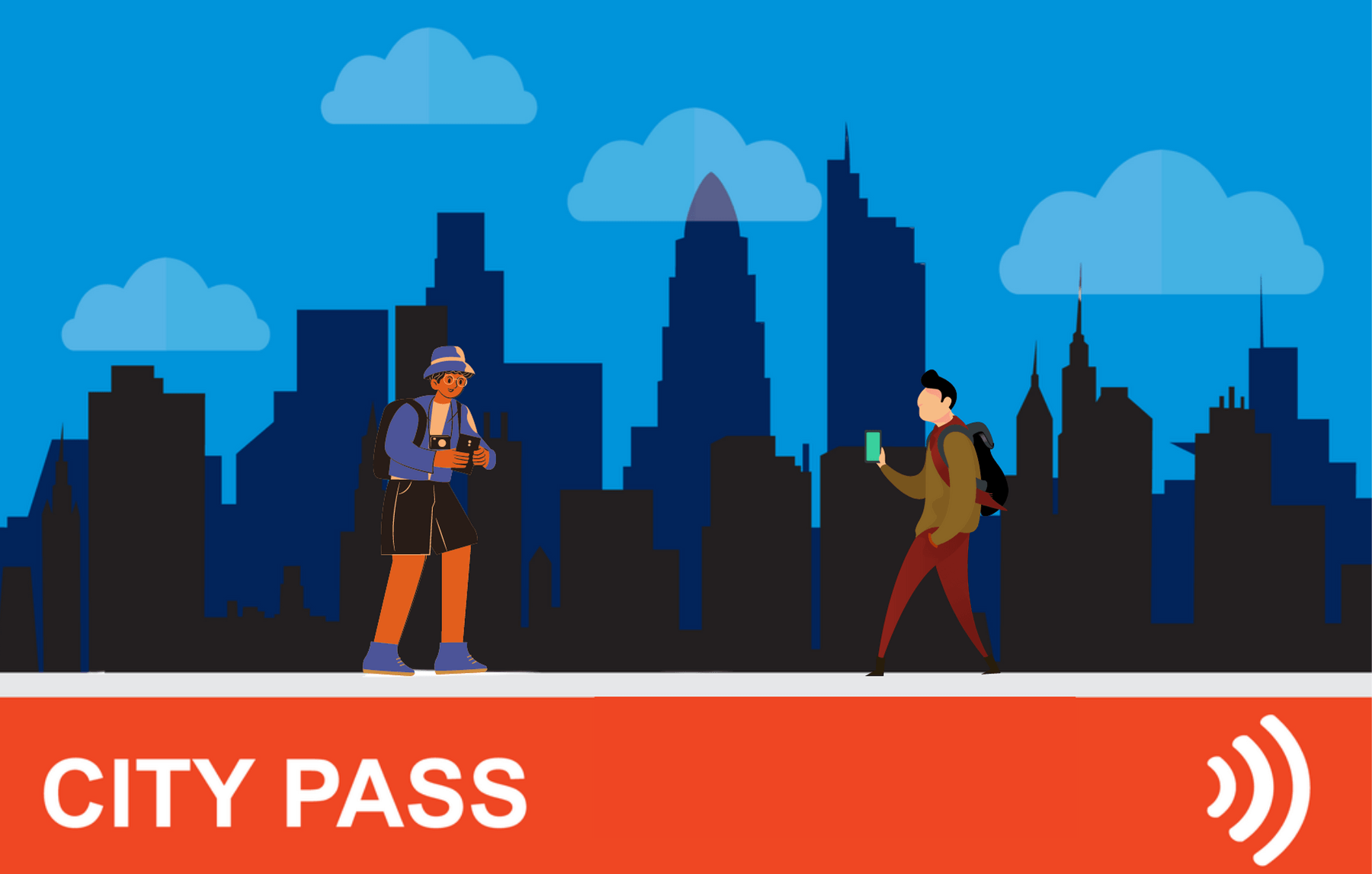 Travelling to Seattle? Then plan yo' trip the smart way!
With a Seattle City Pass, you can experience the best of Seattle at the CHEAPEST prices. Discounts, attractions, tickets, and even public transport are all standards in any good city pass – be sure invest now and save them $$$ when you arrive!
Buy Your Pass NOW!
#4 – Seattle Center – A fascinating educational place to visit in Seattle
Huge variety of things to do and see
Diverse museums
Lots of art
Numerous entertainment options
Why it's awesome: The large Seattle Center was built for the 1962 World's Fair and is a major destination when visiting Seattle. Home to the famous Space Needle, the complex contains many more attractions and activities—you could easily spend a full day here without getting bored. A Seattle must do, it's a top place for anyone interested in the arts, the performing arts, sports, education, culture, history, architecture, and entertainment. There are many cool statues, sculptures, and other features too, and there's no shortage of places to eat, drink, and shop. Various festivals are hosted at the centre, including the yearly PrideFest.
What to do there: Visit the diverse museums at the Seattle Center to learn more about various topics. Chihuly Garden and Glass is one of the treasured hotspots in Seattle, proudly showcasing the artistic works of Dale Chihuly. MoPOP has a rock 'n' roll background, having been inspired by the musical legend Jimi Hendrix, and it covers everything to do with modern popular culture.
Take kids to the Children's Museum where they can have fun with the interactive exhibits, and discover more about the world at the Bill & Melinda Gates Foundation Discovery Center and the Pacific Science Center. Let kids cut loose and unleash their inner creatives at the Artists at Play playground, see eye-catching installations in the Poetry Garden, take a stroll along the Sculpture Walk, visit art-filled galleries, snap a picture of the soaring John T. Williams Totem Pole and the Kobe Bell, and admire the large International Fountain, complete with music and choreographed displays.
For performing arts and other events, check out the Cornish Playhouse, KEXP, the Seattle Rep, the Seattle Opera, the Vera Project, Seattle Shakespeare, the Marion Oliver McCaw Hall, and the Pacific Northwest Ballet, and take younger members of the family to Seattle Children's Theatre. Sporting fans should head to the KeyArena and Memorial Stadium. Grab tasty treats at the Seattle Center Armory, where you can also see a piece of the Berlin Wall and watch various cultural events.
#5 – St. James Cathedral – One of the most religious places to see in Seattle
Active place of worship
Beautiful architecture
Spiritual vibe
Interesting religious art
Why it's awesome: Built in the early 1900s. the beautiful St. James Cathedral is one of the major religious attractions in Seattle. More than 5,000 people attended a ceremony for the laying of the cornerstone and it's still a popular active place of worship today. An impressive building from the outside, inside there's a large collection of artwork (including rare pieces) and religious items and the atmosphere is spiritual and serene.
What to do there: Admire the building's graceful façade, complete with two soaring dome-topped towers that flank the main church building, then step inside to absorb the peaceful air and see more beauty. See the stunning 1456 altarpiece; crafted by an Italian artist, it symbolises the Virgin Mary and Baby Jesus and is surrounded by several saints. The cathedral's works by German sculptor Ulrich Henn are just a few of those to be found across the USA. Don't miss seeing the collection of stained glass created by Charles Connick too.
#6 – Fremont – Easily one of the most fun places to check out in Seattle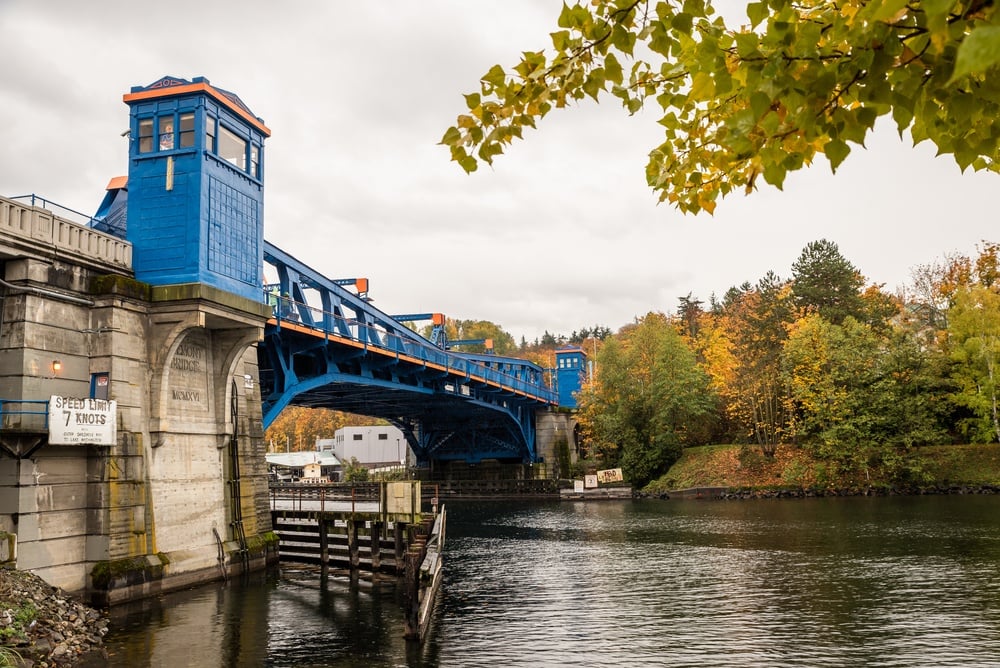 "Center of the Universe"
Lively night scene
Unusual sights
Foodie adventures
Why it's awesome: Boldly declaring itself to be the Center of the Universe, Fremont is one of the most interesting neighbourhoods in Seattle. A quirky part of the city that is known for its countercultures, it attracts tech-loving folk, creative souls, artists, foodies, shopaholics, and more. Relatively small and so easy to explore by foot, Fremont contains a little bit of everything. Public art fills the streets and there are diverse landmarks, attractions, unusual spots, eateries, bars, and shops. The atmosphere is laid back and the neighbourhood hosts several cool festivals throughout the year.
What to do there: Peeking under Aurora Bridge is one of the most unusual things to do in Seattle; you'll see a gigantic troll! Created in 1990, the concrete monstrosity sure grabs attention, standing at almost 5.5 metres (18 feet) tall. Climb to the top of the hill in the unusual Gas Works Park for terrific views of downtown and the waterfront and see the old structures left behind from the area's time as a gas works.
See Fremont's interesting street art, including the looming bronze Statue of Lenin, the Fremont Center of the Universe Sign, the Fremont Rocket, the Space Building, Dreamer of World Peace, and the cool Waiting for the Interurban installation. Call by the Northwest Tower to see the neon Rapunzel. Walk along the Burke Gilman Trail, take a boat ride on the canal, shop, dine on global fare, and call into one of the microbreweries and bars for a drink. If you visit on Sunday, stop by the bustling Fremont Sunday Market.
#7 – Dr. Jose Rizal Park – An unknown (but awesome!) place to see in Seattle!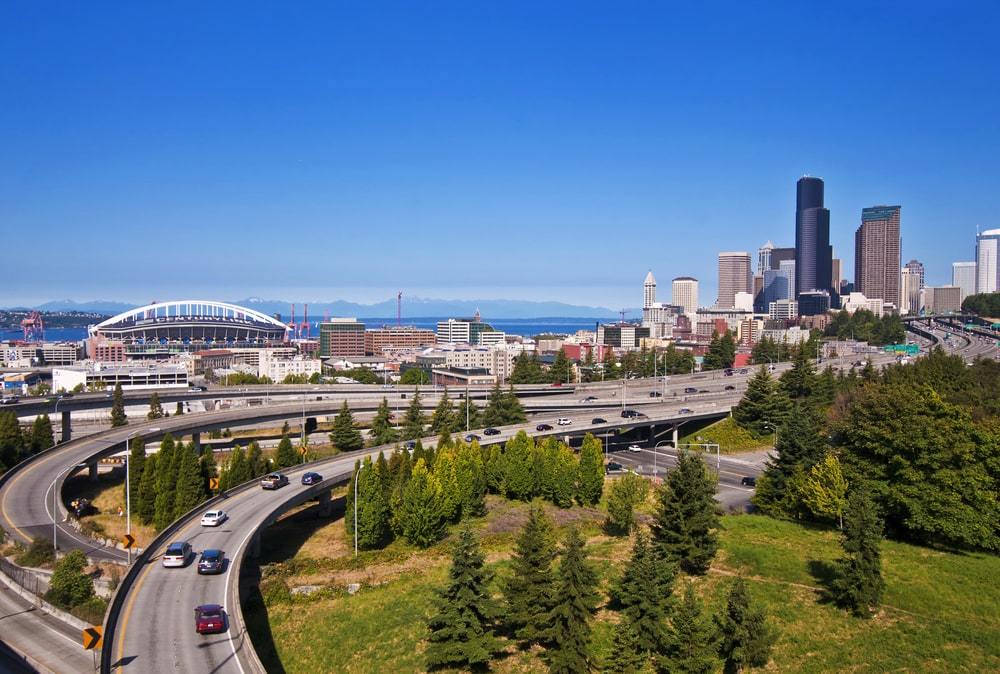 Terrific views
Peaceful ambience
Escape the crowds
Spot wildlife
Why it's awesome: Named after a Filipino national hero, Dr. Jose Rizal Park is one of Seattle's lesser-visited spots. Sitting on the slopes of Beacon Hill, the park covers some 9.6 acres (3.9 hectares). A top spot to escape the crowds and enjoy some peace and quiet outdoors, it's also a great place to soak up awesome views of the city. There's a dog-friendly area and lots of open space where kids can run and play.
What to do there: Take a walk through the wooded area and spot diverse flora and fauna, laze on the grass in the sunshine, perch on a bench and bury your nose in a good book, and let children play outside. Pack a picnic for a peaceful al fresco lunch. Don't worry if the weather suddenly changes—the park has shelters too.
#8 – Seattle Pinball Museum – Cool place to see in Seattle with friends!
Quirky attraction
Retro vibes
Large selection of gaming machines
Fun place to hangout
Why it's awesome: Up there on the list of unusual things to do in Seattle, a visit to the Seattle Pinball Museum is sure to appeal to retro gamers and anyone looking for something a bit different to the norm. Located in Chinatown, the quirky museum started as a couple's private collection of pinball machines. Of varying ages, some of the machines date back to the early 1960s. All are in working order and can be played—this is a museum where you can dive right in and play! While there is an admission fee to enter the museum, once inside visitors can play to their heart's content.
What to do there: Play pinball, of course! With more than 50 machines, you're sure to have heaps of fun. See the different retro gaming machines, pick your favourite(s), and perhaps challenge your friends to a playoff. May the strongest player win! The machines cover all range of themes and have been made by different manufacturers. Games include Captain Fantastic, Revenge from Mars, The Addams Family, Blackhole, Fun House, King Tut, Dr Who, Sea Wolf, The Lord of the Rings, Quick Draw, Wizard, and Terminator 2. Snacks and drinks are available to purchase if you get peckish or thirsty.
#9 – Woodland Park Zoo – Certainly one of the most exotic places to see in Seattle!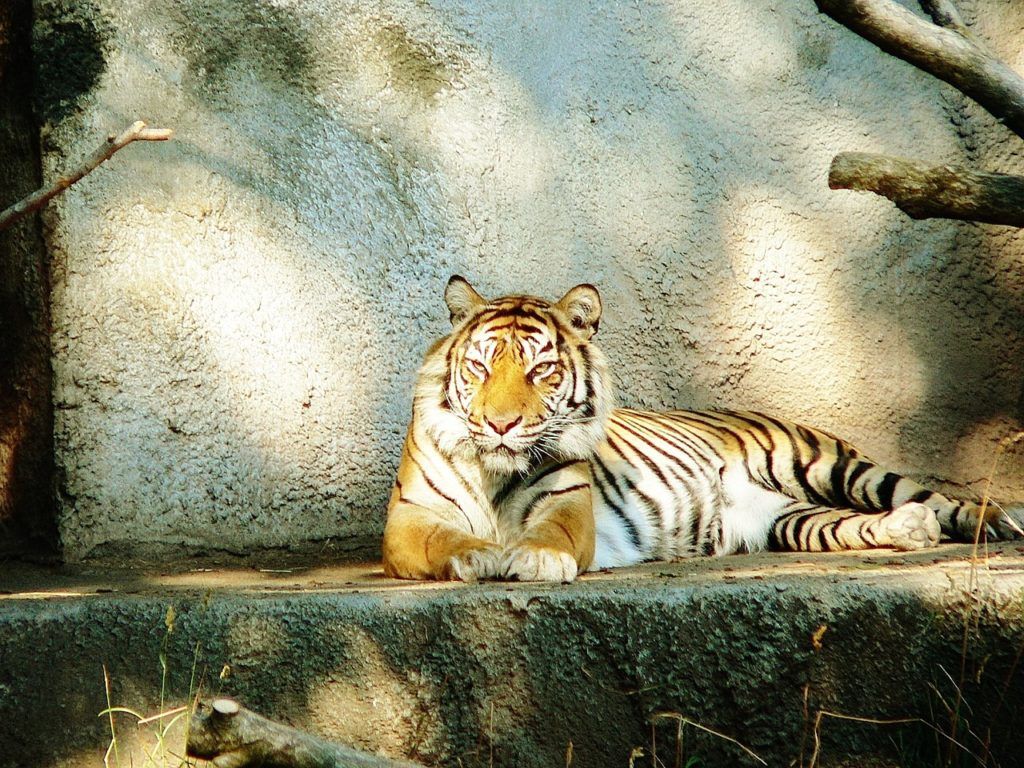 Home to animals from around the world
Large collection of plants
Long history
Family-friendly attraction
Why it's awesome: One of the best places to visit in Seattle for families, the award-winning Woodland Park Zoo also offers a great day out for groups of friends, couples, and solo travellers. Having started life in the late 1800s as a small private menagerie, the zoo has since moved, added to the collection, and now covers around 92 acres (37 hectares) of land. In addition to the 300-odd animal species from all four corners of the globe (some of which are rare or endangered), the zoo is also home to many different plants, trees, shrubs, and herbs.
What to do there: Explore the Tropical Asia zone and see creatures like rhinos, tigers, sloths, tortoises, pythons, langurs, orang-utans, and otters. Experience the jungles of South America and Africa in the Tropical Rainforest section, home to animals like gorillas, tamarins, jaguars, lemurs, snakes, and poison dart frogs.
Observe animals like wallabies, snow leopards, parrots, and emus in the Australasia zone, come face to face with elephants, lions, monkeys, birds, giraffes, zebras, and more at the African Savanna, observe penguins on land and in the water, and visit the Temperate Forest to observe species such as flamingos, red pandas, and various insects.
See bears, wolves, otters, and more at the Northern Trail, which was modelled on Alaska's Denali National Park, enjoy the colours in the butterfly garden, relax among botanical species in the sensory garden, be in awe of gigantic Komodo dragons, watch majestic birds of prey, and more. Take little ones to Zoomazium to let off steam; there's a cool solar-powered carousel as well as other play equipment.
Is This the Best Daypack EVER???
#10 – Pioneer Square – A great place to see in Seattle if you love architecture
Oldest area of the city
Historic buildings
Many art galleries
Lively nightlife
Why it's awesome: One of the most historic neighbourhoods in Seattle, Pioneer Square has a unique vibe and plenty to see and do. Once the centre of the city, it was the place where the founders of Seattle settled in the early 1850s after a previously short settlement at Alki Beach. The original buildings were made from wood, though most were destroyed during a large fire in 1889.
A modern monument, the Fallen Fire Fighter Memorial, remembers the brave firefighters who perished in attempts to save the city. Subsequent buildings were erected using stone and brick, most in a Richardsonian Romanesque style. The area has seen many changes and developments over the years and today is known for its buildings, cafes, art galleries, and nightlife.
What to do there: Take a walk around Pioneer Square and Pioneer Place Park. See landmarks like the Tlingit totem pole, Victorian-style wrought-iron pergola, the Fallen Fire Fighter Memorial, the looming Smith Tower, and the bust of Chief Seattle. Visit the Klondike Gold Rush National Historical Park.
Step into one of the area's art galleries to admire diverse works, learn about the area's past at the Last Resort Fire Department Museum (only open on Thursdays), relax in the urban Occidental Square Park, shop till you drop in the varied stores, and admire the views from the 35th-floor observation platform at the Smith Tower. Come evening time, have a tasty meal and get ready to paint the town red in one of the many bars and clubs.
#11 – Washington Park – Great place to visit in Seattle for couples!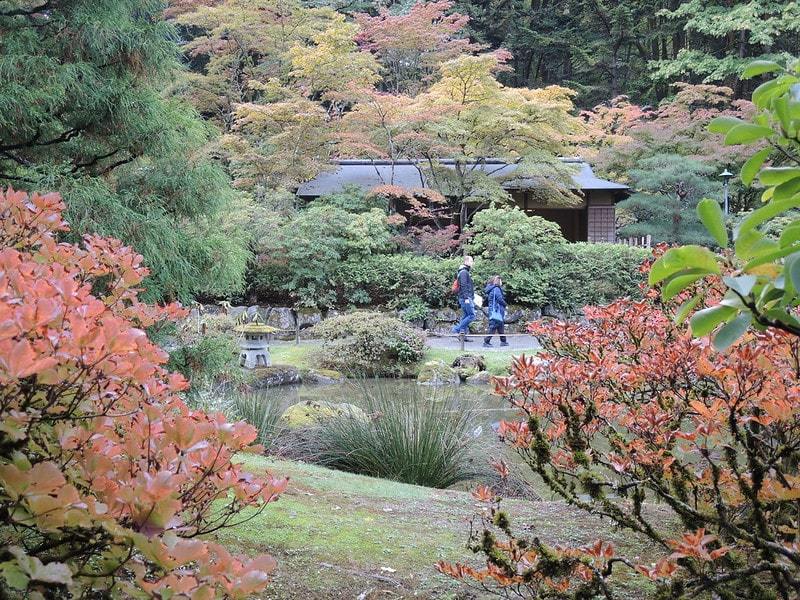 Beautiful landscapes
Low-cost attraction
Stunning Japanese Garden
Huge array of flora
Why it's awesome: One of the most scenic points of interest in Seattle, the pretty Washington Park came into existence in the year 1920. A major feature is the university-run Washington Park Arboretum, which has many flowers and plants, many within a wild and wooded setting. There's a visitor centre that provides information about the different species, wetlands that attract lots of wildlife, walking trails, and playing fields. There is no charge to enjoy the arboretum.
Towards one end, the charming Japanese Gardens are also a Seattle must-see for loved up couples. Said to be one of the most authentic such gardens in the USA, it is also among the oldest Japanese gardens in the country.
What to do there: Walk hand in hand with your love along the trails, passing through wetlands, gardens, woods, and other natural landscapes, admiring the rich array of flora and fauna. While there is plenty to admire all throughout the year, if you visit in spring you can stroll along the picturesque and colourful Azalea Way, a popular site for photographers, artists, and romantics.
Explore the Japanese Garden with that special someone as you follow the winding pathways, sit on a bench admiring the pond, and see lovely features like stone lanterns, waterfalls, hills, stone gardens, and more. You can also relax in the tea room and experience a traditional Japanese tea ceremony for the perfect end to your time at the park.
#12 – Lake View Cemetery – One of Seattle's coolest historical sites!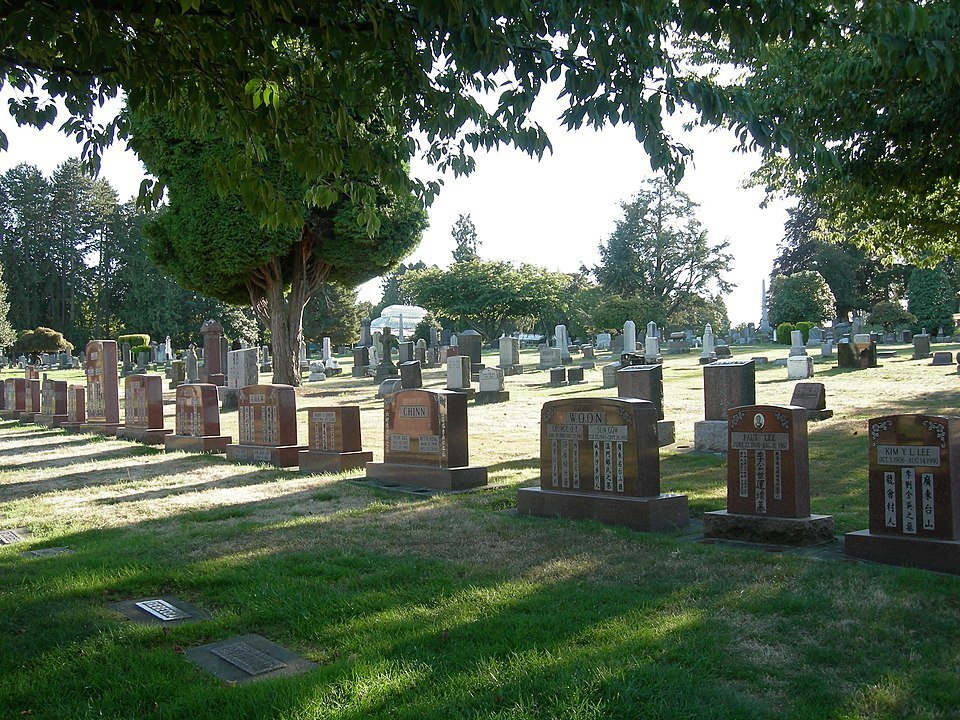 Final resting place of several famous people
Gorgeous vistas
Tranquil air
Sense of history
Why it's awesome: Seattle's Lake View Cemetery is located on the top of Capitol Hill. The cemetery was established in 1872, just a few years after the end of the Civil War, and it is a reminder of Seattle's early settlers and the lives they lead, complete with challenges, triumphs, and developments. It is a part of the nation's history. A number of prominent people have been buried here over the years, including Brandon Lee, his son Bruce Lee (both martial arts experts), Cordelia Wilson (an eminent artist), and Denise Levertov (a poet). The views are amazing and the atmosphere is serene.
What to do there: Soak up the sense of history as you think about people from the past as you walk around the peaceful cemetery. Soak up the gorgeous views, which include Lake Washington, Lake Union, and the undulating Olympic Mountains. See the various gravestones and memorials, some of which are quite ornate, and remember those who have passed away.
Small Pack Problems? 😉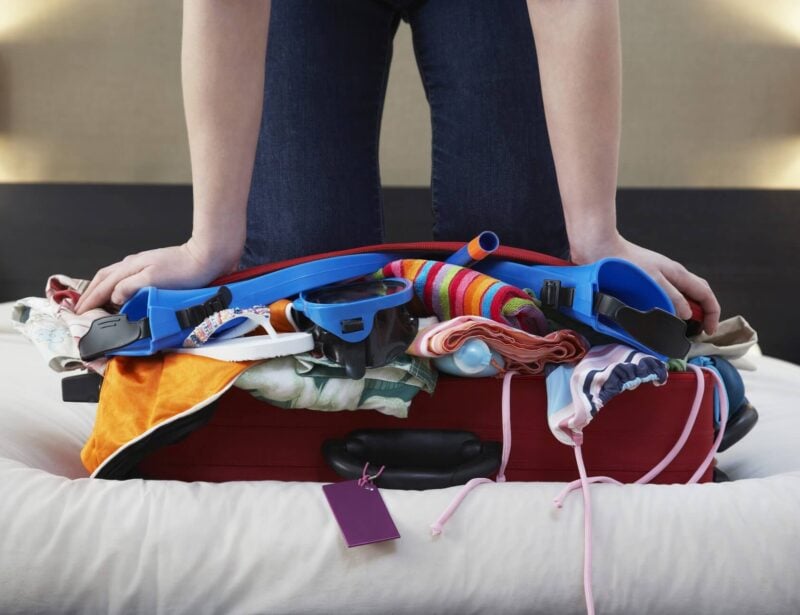 Wanna know how to pack like a pro? Well for a start you need the right gear….
These are packing cubes for the globetrotters and compression sacks for the real adventurers – these babies are a traveller's best kept secret. They organise yo' packing and minimise volume too so you can pack MORE.
Or, y'know… you can stick to just chucking it all in your backpack…
Get Yours Here
Read Our Review
#13 – Frye Art Museum – A perfect place to visit in Seattle if you are on a budget!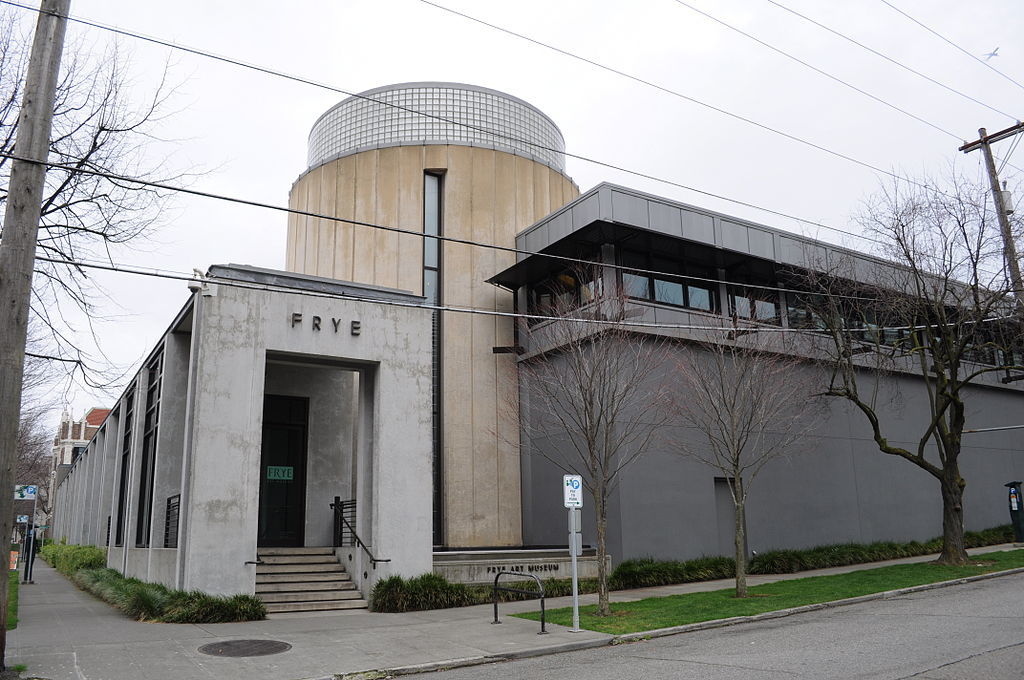 Free attraction
Spend time indoors
Interesting artworks
Many books
Why it's awesome: With free admission and free tours, Frye Art Museum is a terrific attraction for budget travellers to add to their Seattle itinerary. Open since 1952, it was the first free art museum in Seattle. It focuses on art from the nineteenth century up to the modern day and started life as a display of a private painting collection. (The museum takes its name from the original collector.)
Interestingly, the founder stipulated in his will that his collection should always be free for people to admire. Many pieces have darker elements and dramatic themes, and there's definitely plenty to catch your eye and make you think. Being an indoor attraction, it's also a great place if you're wondering what to do in Seattle in inclement weather.
What to do there: Step inside the art museum and spend time pondering the various works. Many pieces were created with a view to making people question, evaluate, and think. The museum houses painting, sculptures, sketches, prints, and other types of art. Works include those by Tim Lowly, Franz Stuck, Felix Ziem, and Hermann Corrodi. You can also peruse the large collection of books in the library. The library mainly focuses on German and American art from the 19th and 20th centuries.
#14 – Mount Rainier – A very cool place in Seattle to go for a day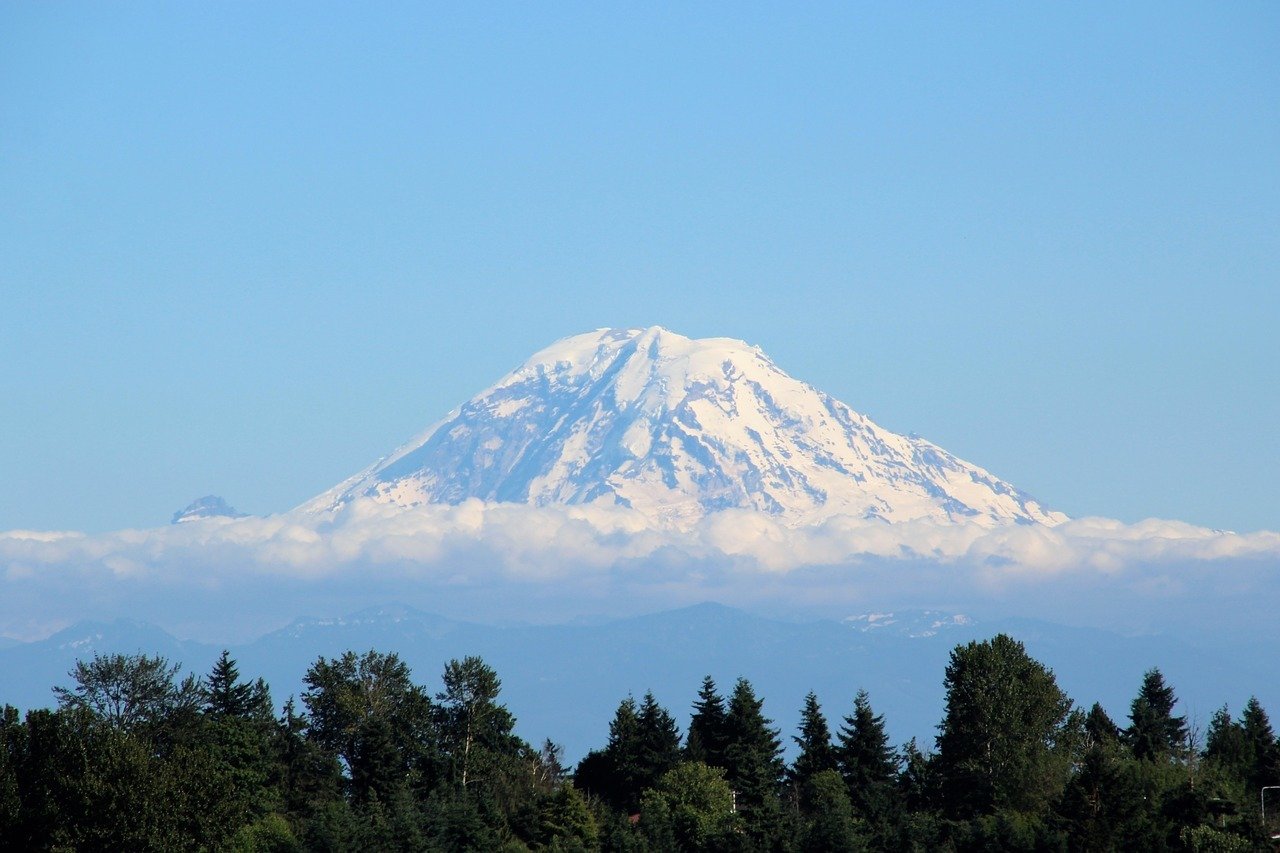 One of the world's most dangerous active volcanoes
Spectacular views
Diverse flora and fauna
Varied outdoor pursuits
I hope you don't feel mislead by this one. We promised you lots of Seattle but there are also a few spots nearby that are worth the day trip out of Seattle.
Why it's awesome: An active volcano within easy reach of Seattle, Mount Rainier towers over the landscapes at an impressive 4,392 metres (14,411 feet). It's the tallest mountain in Washington and is thought of as one of the world's most dangerous volcanoes. There's lots of wildlife in the surrounding parkland with plenty of chances to spot interesting creatures. It's one of the best natural attractions in Seattle's wider area, with lots of outdoor adventures to enjoy.
What to do there: Spend time in the great outdoors, inhale fresh air, and enjoy picture-perfect views with a day (or longer) at Mount Rainier. The wider park area is expansive, with many scenic roads to discover and lookout points. More active travellers can partake in hiking through the diverse terrains and for an even bigger thrill you can have a go at climbing.
There are also ranger-led programs, ideal for learning more about the landscapes, history, hazards, and local wildlife. You can spend nights under the stars at the camp areas, dip your toes in sparkling lakes, take spectacular photographs, and more. Do be sure to heed any safety notices and make sure that you are properly prepared before heading into the mountains.
If you're looking for an adventure, here are our top picks for the best treehouses in Washington, a few of which are close to Mount Rainier!
#15 – Waterfall Garden Park – A nice quiet place to see in Seattle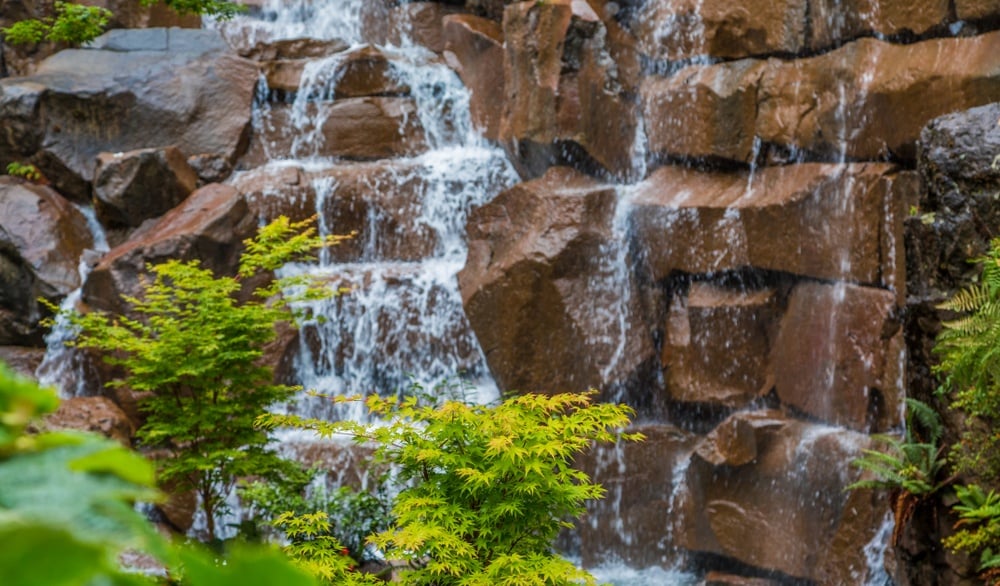 Quiet and hidden attraction
Pretty waterfall
Relaxing setting
Escape the crowds in the heart of the city
Why it's awesome: Hidden away from sight and unknown to many, the pretty Waterfall Garden Park is one of the top hotspots in Seattle for anyone looking to escape from the tourist crowds for a while and spend some time in a peaceful and scenic setting. You don't even need to venture too far from the hustle and bustle to find the tranquil spot either! The main highlight of the park, as the name suggests, is a 6.7-metre-tall (22-foot-tall) waterfall that tumbles over the grey rocks.
What to do there: Feel as though you have stumbled across a precious hidden gem and enjoy the peaceful ambience at the atmospheric Waterfall Garden Park. As well as being able to see the pretty cascade and the lush foliage that surrounds the water you'll also find benches and picnic tables.
Take a book and spend some quiet time in blissful solitude, visit with that special someone for a romantic interlude, sit for a while in quiet contemplation as you listen to the soothing sounds of tinkling water, snap some pictures, or enjoy lunch in a pretty outdoor place.
Get insured for your trip to Seattle!
ALWAYS sort out your backpacker insurance before your trip. There's plenty to choose from in that department, but a good place to start is Safety Wing.
They offer month-to-month payments, no lock-in contracts, and require absolutely no itineraries: that's the exact kind of insurance long-term travellers and digital nomads need.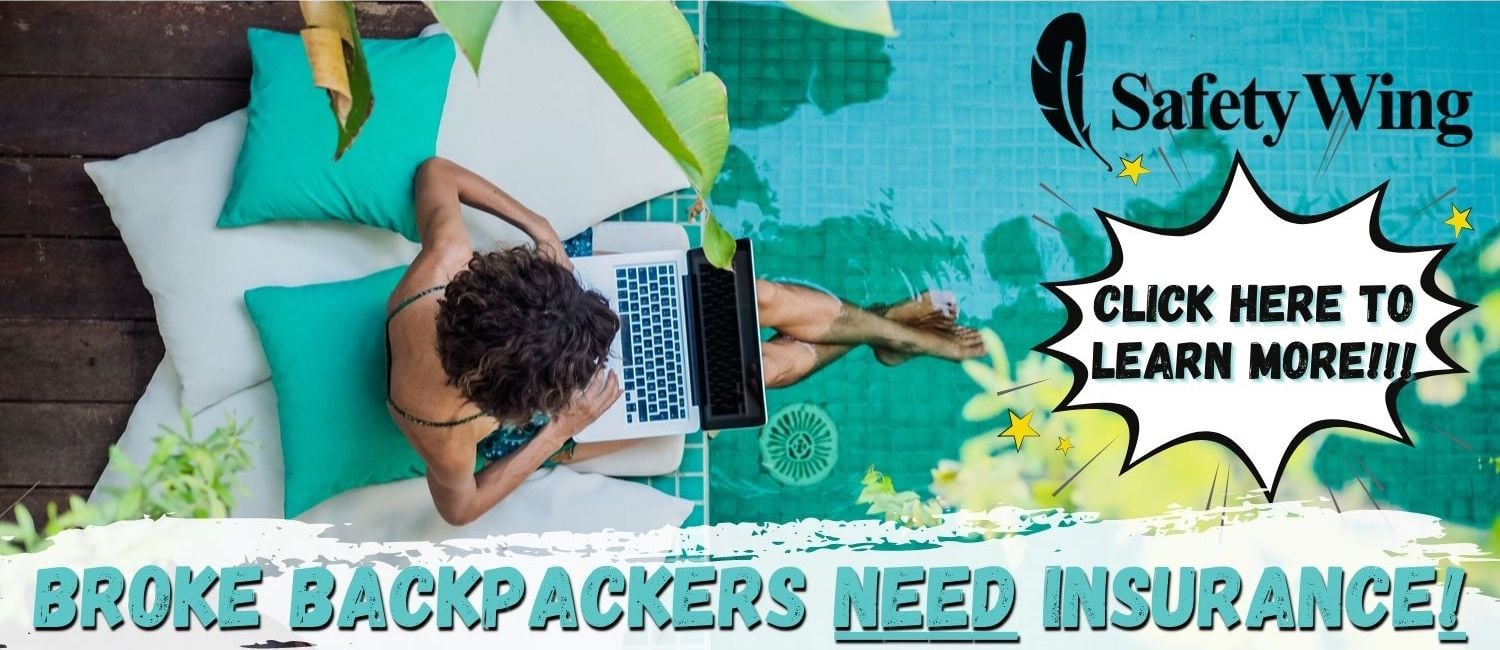 SafetyWing is cheap, easy, and admin-free: just sign up lickety-split so you can get back to it!
Click the button below to learn more about SafetyWing's setup or read our insider review for the full tasty scoop.
FAQ on the Best Places to Visit in Seattle
Find out what people want to know about the best places to visit in Seattle
There are tons of great places to visit in Seattle!
When it comes to unusual things to do in Seattle you won't be disappointed—explore Seattle Underground, visit the gross yet unusual Gum Wall, visit the novel Rubber Chicken Museum, see the morbid Wall of Death, discover the World Famous Giant Shoe Museum, and snap a selfie with the J.P. Patches statue.
When the sun is shining, hit up beaches like Cama Beach, Madison Park Beach, Jetty Island Park, Copalis Beach, Half Moon Bay, Rialto Beach, Golden Gardens, and Ruby Beach. The aptly named Secret Beach is a top place to escape the crowds and enjoy your own little relatively quiet slice of seaside paradise.
Explore Seattle's diverse neighbourhoods and find their many charms. Georgetown, Capitol Hill, Ballard, and Chinatown are especially recommended.
Tour Seattle's beautiful parks, including Discovery Park, Carkeek Park, Green Lake Park, Volunteer Park, Kerry Park, and Seward Park. Find your inner creative muse at the Seattle Art Museum and Olympic Sculpture Park, ride the Seattle Great Wheel, watch sports at T-Mobile Park, and take kids to Seattle Aquarium and the Pacific Science Center. Other Seattle vacation ideas include boat trips around Puget Sound, hopping between trendy coffee shops, boating and fishing on the lakes, and cultural experiences at Tillicum Village.
Still hungry for more? Awesome day-trip destinations from Seattle include Woodinville Wine Country, North Cascades National Park, Leavenworth, and islands like Bainbridge Island, the San Juan Islands, and Vashon Island.
Whether you're looking for cultural experiences, fun in the great outdoors, offbeat gems, quiet destinations, interesting museums, stunning parks, sandy beaches, or something else, a world of wonder awaits you in Seattle. Don't let the thought of rain pour on your travel plans! Pack an umbrella and set about discovering our recommendations for the best places to visit in Seattle. You're sure to have a ball!
---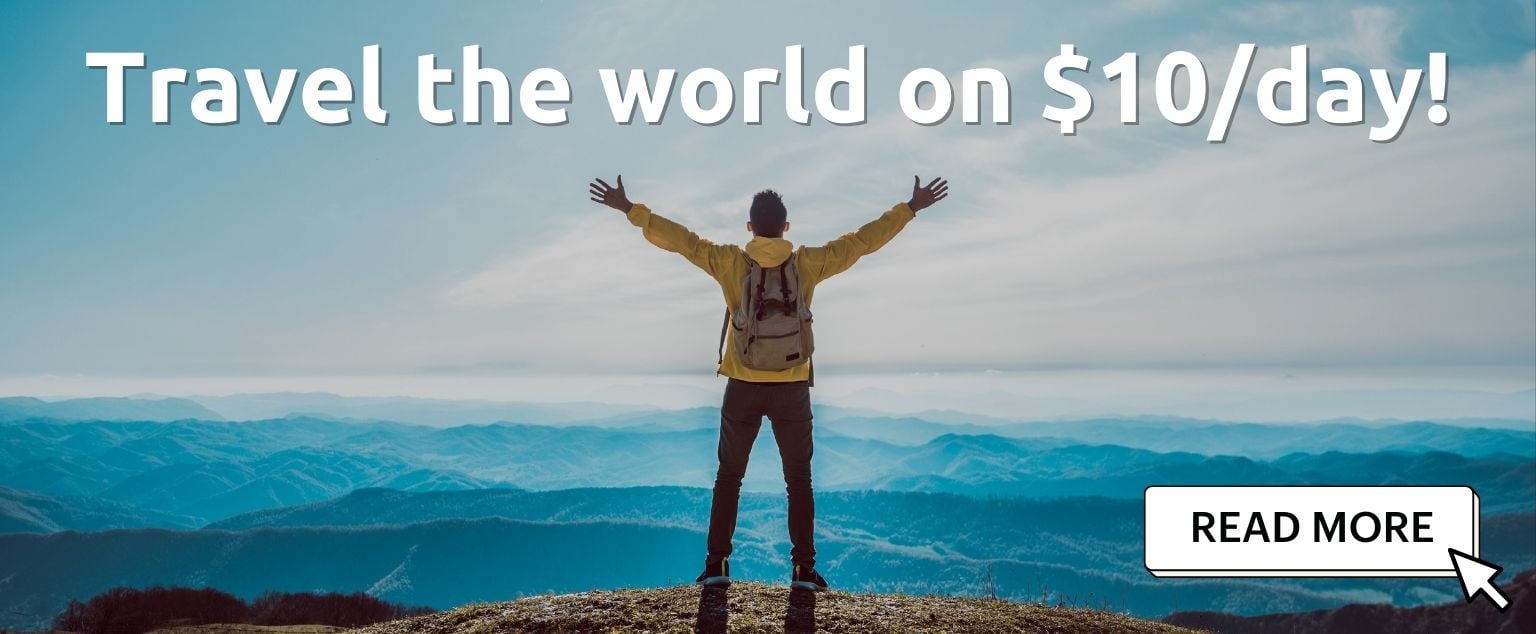 And for transparency's sake, please know that some of the links in our content are affiliate links. That means that if you book your accommodation, buy your gear, or sort your insurance through our link, we earn a small commission (at no extra cost to you). That said, we only link to the gear we trust and never recommend services we don't believe are up to scratch. Again, thank you!