Seattle may be one of the coolest cities in the US, but to get the most out of visiting Washington, you need to go a bit off the beaten track. After all, Washington state is packed with national and state parks, offering so much to outdoor enthusiasts.
There's the chilled out Puget Sound, the hiking hotspots of Mount Rainier National Park and Snoqualmie National Forest, as well as the jaw-dropping Olympic National Park. Washington is truly stunning year-round!
So, we've established that Washington is an awesome place to visit, but what about places to stay? Perhaps a hotel or hostel will suit you well if you're staying in Seattle, but when you venture out into nature you'll want something slightly more charming. Well, there's some awesome unique accommodation in Washington, such as treehouses and cabins! These accommodation types guarantee a memorable holiday while allowing you to get in touch with the nature around you.
With that in mind, we've decided to help you out. In this post, we're going to take a look at the very best cabins and treehouses in Washington. Not only have we taken into account your personality and travel style, but arguably the most important aspect too. That's your budget!
IN A HURRY? HERE'S WHERE TO STAY IN WASHINGTON FOR ONE NIGHT
Unique Accommodation in Washington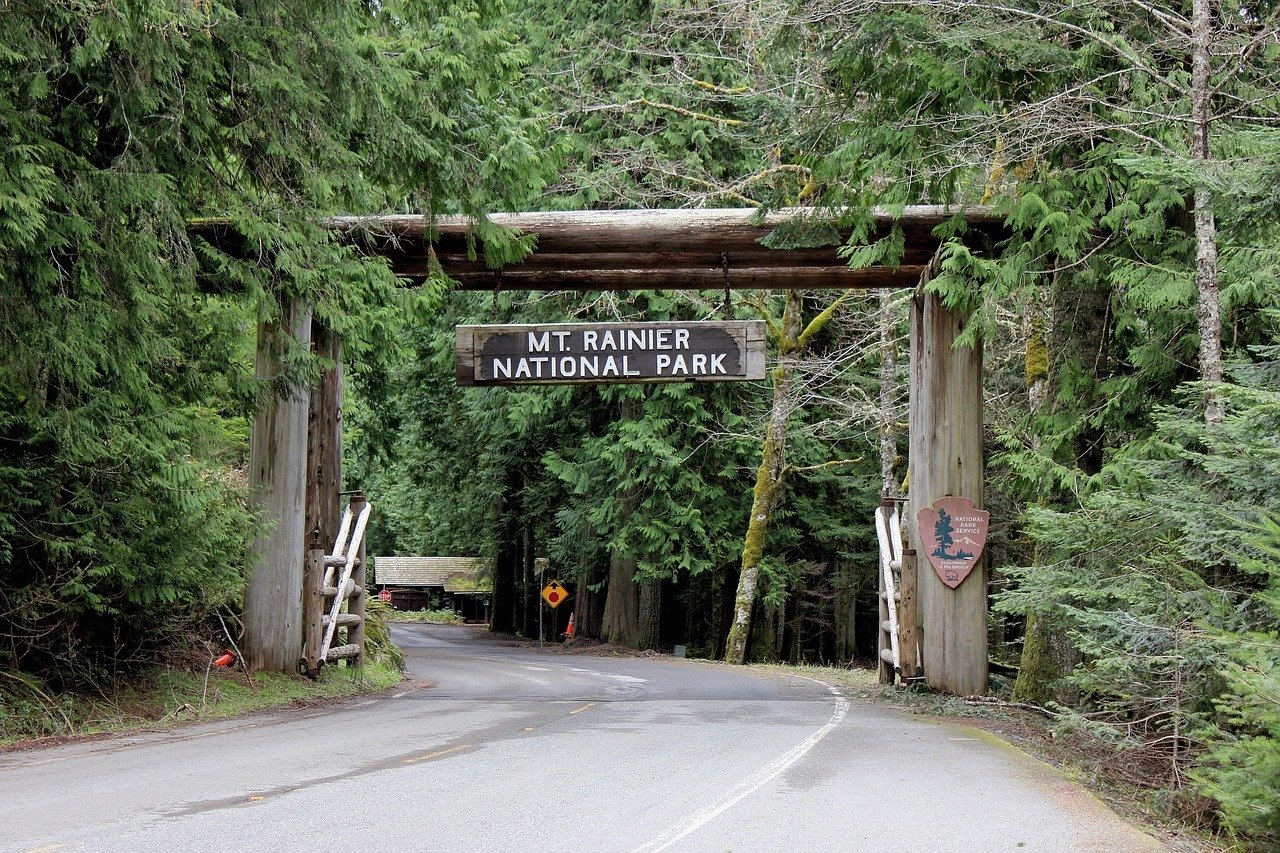 When it comes to staying in Washington, you may as well go out and make your vacation as memorable as possible. Do you think you're really going to get that in a run-of-the-mill hotel or noisy hostel? Probably not. You're certainly not going to get up close and personal with the great outdoors the same way you would in a treehouse or a cabin.
Our expert travel writers have cast their net far and wide across Washington state to bring you a convenient compendium of the best unique accommodations in the Evergreen State! Do you want to stay in a treehouse that's been featured on TV? No problem. Or perhaps you'd prefer a cabin with a hot tub and awesome views? That can be arranged too.
Treehouses and cabins are an awesome place to return to after a long day out hiking in a national park. And, if you're hoping to make your trip extra special, then surely you'd rather find somewhere memorable that's going to sweep your fellow travellers off their feet? That's what you'll get by choosing one of these unique styles of accommodation over a drab hotel in Washington.
Staying in a Treehouse in Washington
So, let's take a look at treehouses first. Treehouses make up the first 7 unique accommodation options on our list. These provide a once in a lifetime accommodation choice, so you can expect to spend a little more than you usually would for a spectacular one. However, they do also cater to a wide range of budgets.
Budget is the biggest factor that dictates what you can expect from your Washington treehouse. At the lower end of the scale, you won't be shelling out much money but you'll have to bring your own bedding, and sacrifice features such as Wi-Fi, electricity, or running water. That's great if you're used to camping and slumming it in the great outdoors, but less fantastic if you're on your honeymoon and looking for something a bit more luxurious.
As you go further up the budget ladder, things start to get more interesting and lavish! You might get the chance to use a hot tub or have a fully equipped kitchen and log fire. At the top end of the scale, you're likely to have some really awesome features that are guaranteed to take your breath away.
Think jaw-dropping views of your surroundings to begin with, and add bonuses such as crow's nests, movie projectors, and hot outdoor showers!
You'll be happy to know that there are treehouses in Washington to suit all budgets and travel styles.
Staying in a Cabin in Washington
If you'd like to find unique accommodation in Washington but you don't have a head for heights, then treehouses might not be the best thing for you. So, what are your options? Well, a cabin might be right up your alley! The second part of our list is made up of the best cabins in Washington, and boy, do we have some treats in store for you.
As with treehouses, your budget will determine what you're going to get. If you're travelling on a shoestring, the good news is that there are still cabins for you. You might end up sharing someone else's home, but that means you get to meet interesting people and you'll hopefully get lots of insider tips on where to go nearby. If you're really desperate for your own place, then a low budget can get you a small cabin. On the plus side, it will be super cosy.
Happy to splash out a little more? You can expect some pretty spectacular features, such as BBQs, outdoor terraces, hot tubs, and more! If you're travelling with a big group, cabins are more suitable than treehouses as they tend to have lots of space and can accommodate more people. There are many lush cabins in small forest towns like Friday Harbor that are worth checking out.
Cabins, on the whole, are cheaper than treehouses, so that's something to bear in mind when booking. However, whatever you pick, your personal preference will have the biggest influence. If we had the time and money, we'd stay in every cabin and treehouse in Washington on our list as they're all so awesome. So, let's take a closer look!
OVERALL BEST VALUE TREEHOUSE IN WASHINGTON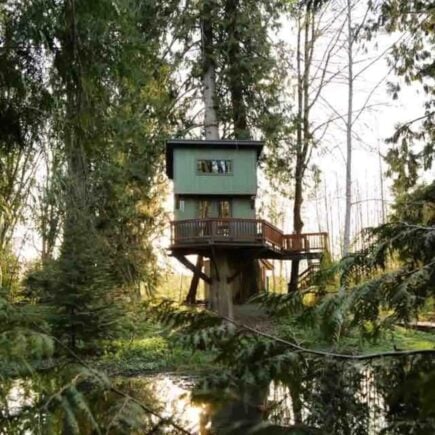 OVERALL BEST VALUE TREEHOUSE IN WASHINGTON
Treehouse with Panoramic Views
> $$
> 2 Guests
> Private fire pit
> Perfect for couples
BEST BUDGET TREEHOUSE IN WASHINGTON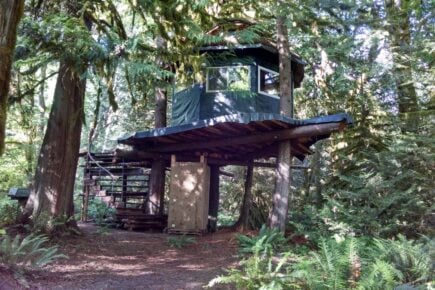 BEST BUDGET TREEHOUSE IN WASHINGTON
Eagle's Perch Treehouse Experience
> $
> 6 Guests
> Beautiful forest setting
> Bring your own bedding
BEST TREEHOUSE IN WASHINGTON FOR COUPLES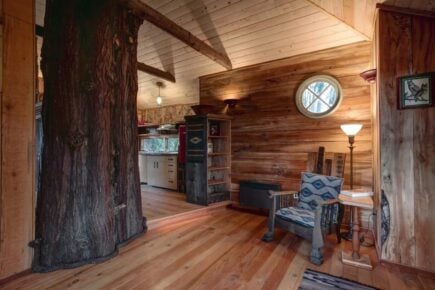 BEST TREEHOUSE IN WASHINGTON FOR COUPLES
Sir Cedric's Cedar Treehouse
> $$
> 2 Guests
> Fully equipped kitchen
> Breakfast included
BEST TREEHOUSE FOR A GROUP OF FRIENDS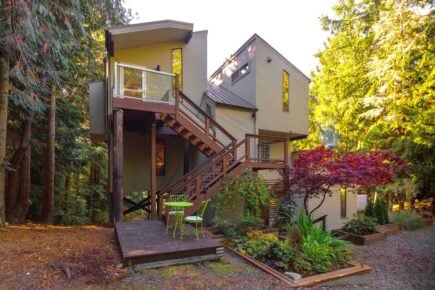 BEST TREEHOUSE FOR A GROUP OF FRIENDS
The Nest Port Townsend Treehouse
> $$$
> 6 Guests
> Hot tub
> Views of Discovery Bay
OVER-THE-TOP LUXURY TREEHOUSE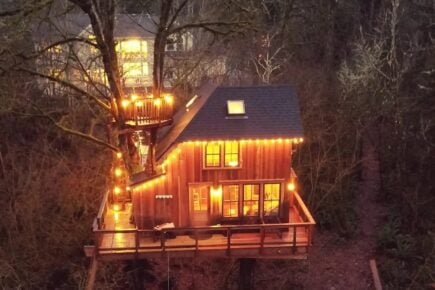 OVER-THE-TOP LUXURY TREEHOUSE
Original Treehouse features on THM
> $$$$
> 4 Guests
> Tastefully decorated
> As seen on TV
BEST TREEHOUSE FOR FAMILIES VISITING WASHINGTON
BEST TREEHOUSE FOR FAMILIES VISITING WASHINGTON
Treehouse Place at Deer Ridge
> $$$
> 4 Guests
> Soaking tub
> Light, sunny rooms
BEST TREEHOUSE FOR BACKPACKERS
BEST TREEHOUSE FOR BACKPACKERS
Treehouse & tub with creek view
> $$
> 4 Guests
> Fully equipped kitchen
> Breakfast included
The 15 Top Treehouses and Cabins in Washington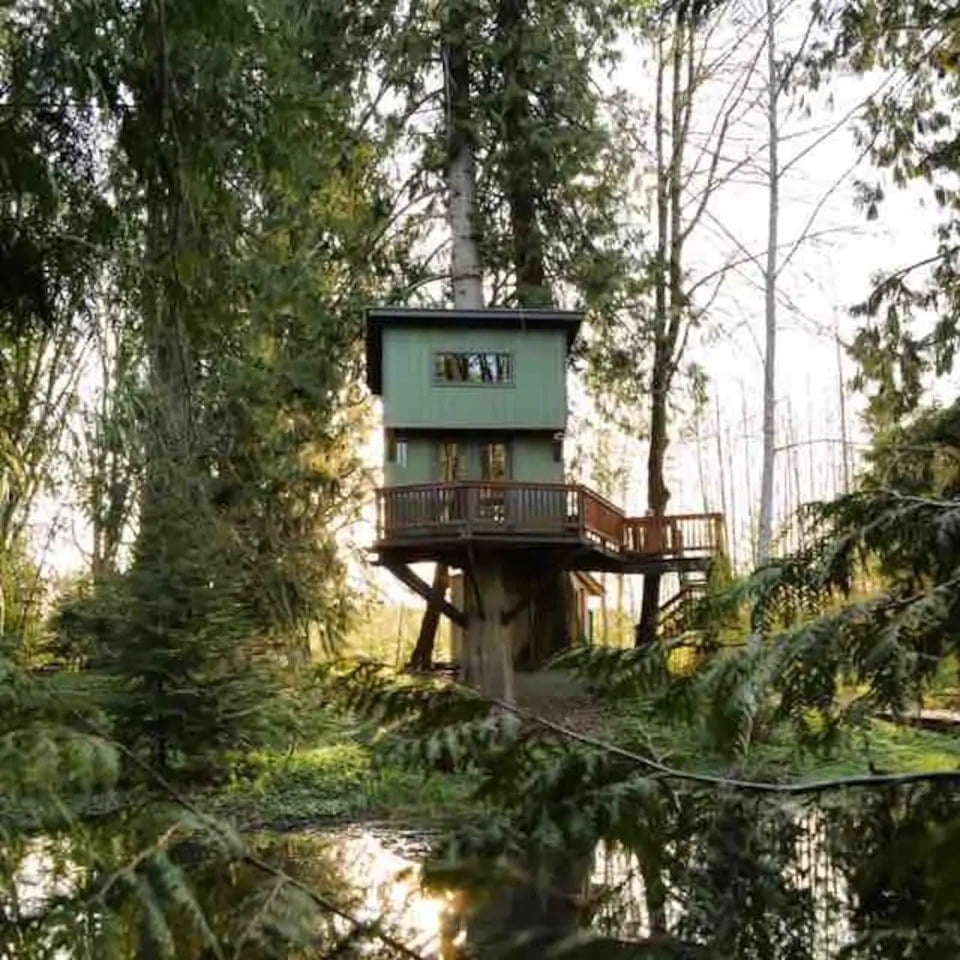 $$
2 Guests
Private fire pit
Perfect for couples
Let's begin our list with an awesome treehouse hidden away in Olympia. This location is between the Olympic Mountains and Mount Rainier, and it's the perfect getaway for couples or a solo traveller. Just outside the treehouse is a private fire pit where you can roast marshmallows and spend quality time with your partner.
This spot is the perfect place to spend the night after a long day of hiking. And to clean yourself off after an adventurous day, you have the choice between a half bath below the treehouse, or an outdoor hot shower. Oh, we almost forgot to mention that there are several restaurants just three miles away from this incredible unique accommodation in Washington!
$
6 Guests
Beautiful forest setting
Bring your own bedding
If you're looking for the best treehouse in Washington on a budget, look no further than the Eagle's Perch. It's by far the cheapest treehouse in the state, and that cost is even less so when you consider that you can share this with 5 of your best mates.
You will have to bring your own things though – including sleeping bags, blankets, and pillows. You won't get electricity and running water here, so it's best to prepare yourself in advance. But the incredible setting will make up for it.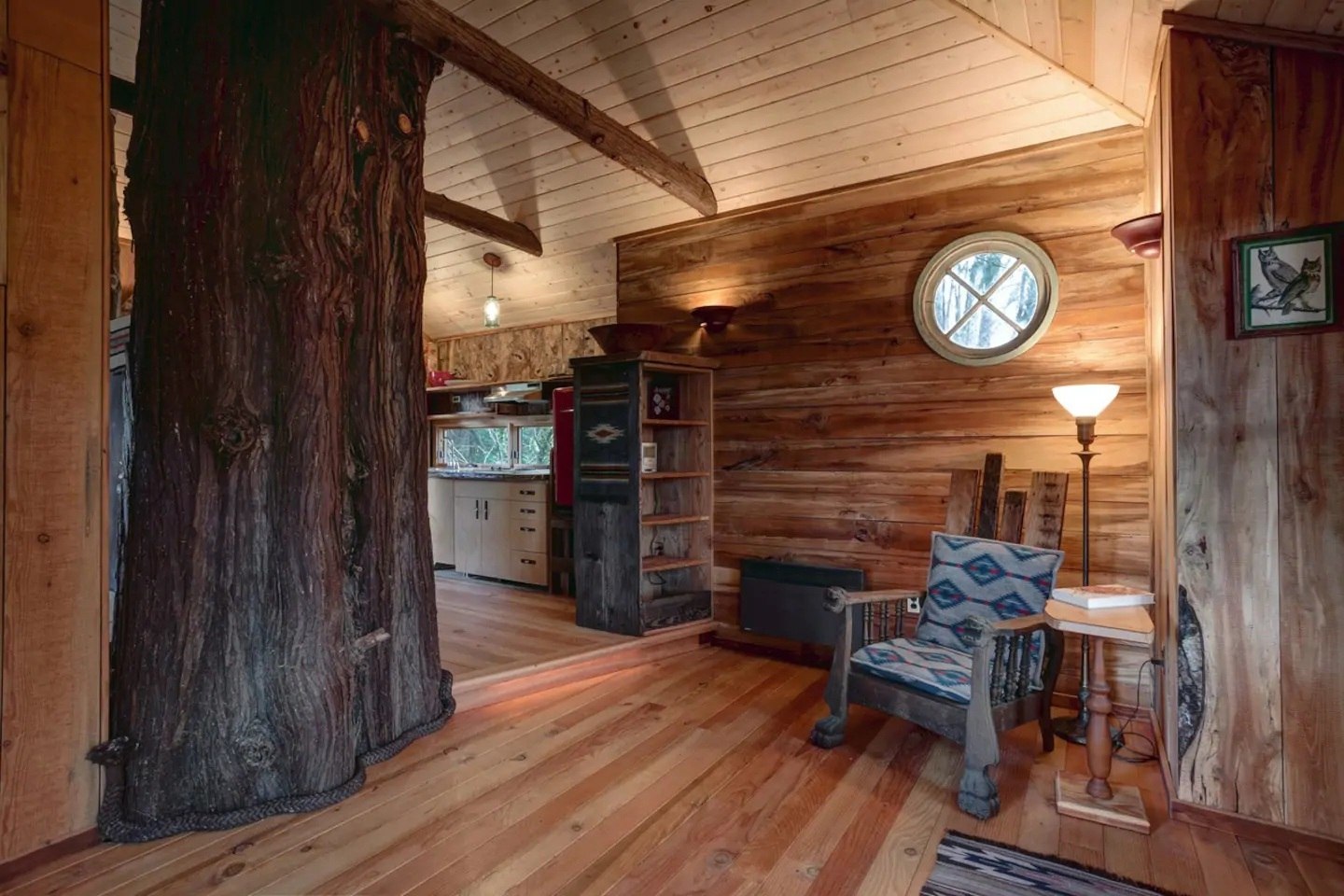 $$
2 Guests
Fully equipped kitchen
Breakfast included
If you're travelling with your other half, a treehouse is the perfect way to take your breath away. Start your day with breakfast, which is included in the price, and end it by preparing dinner in the fully equipped kitchen. A gorgeous Western Red Cedar grows through the treehouse, which is certainly an intriguing centrepiece, but we know you'll love everything about this place.
There's an open-air shower, so you can get steamy outside as well as in and the deck is a great spot to take in the magical surroundings! This romantic destination is one of many awesome treehouses for couples in Washington, but it stands out above the rest.
$$$
6 Guests
Fully stocked kitchen
Views of Discovery Bay
We've shown you some small treehouses, but let's increase the size to see one of the best unique accommodations in Washington. This place will comfortably fit a group of friends as there's room for 6 guests here. And all of you can fit into that awesome hot tub at once!
You can also enjoy an outdoor sauna after a long walk in the forest. Not only is this an epic treehouse for friends, but it's great for families too – as there are games for guests of all ages. There's a cosy seating area on the first floor, so if the weathers not playing its part, you still have a lovely relaxing area to spend time with your nearest and dearest.
An Eco-Friendly Traveller NEEDS an Eco-Friendly Backpack!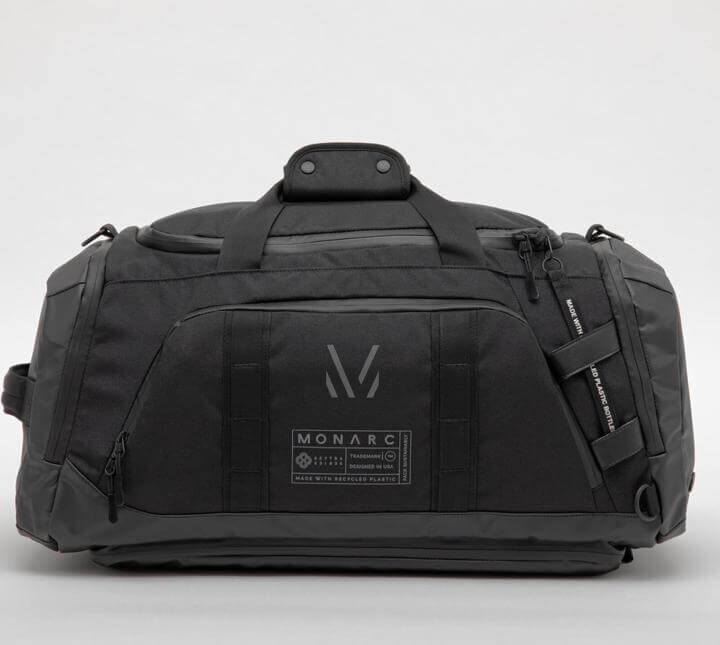 50 recycled plastic bottles – that's what goes into every Monarc Settra: the world's MOST SUSTAINABLE backpack.
Whether you're rocking duffel mode or backpack mode, if you're a traveller that gives a flying hoot about their environmental impact, then there's only one backpack you should consider – the plastic-negative Monarc Settra.
Learn More Now!
$$$$
4 Guests
Tastefully decorated
As seen on TV
Right, let's move on to one of our absolute favourites. Not only is this one of the coolest treehouses in Washington, but it tops our list of best treehouses in the whole of the USA! You might recognise this one as it was included in the Treehouse Masters and built by Pete Nelson. After a long day of hiking and sightseeing, how would you like to relax in the outdoor hot tub? Perhaps you'd prefer to watch a moview? Well, it's a good thing this place has a projector and a 100-inch screen.
There's also a crow's nest offering incredible views of the surrounding woodlands. It's 40 feet up so maybe not the best if you're afraid of heights. You also get breakfast but it's not on the property itself. You'll just have to take the 200-foot zipline to get it. What a way to arrive!
$$$
4 Guests
Soaking tub
Light, sunny rooms
Families will be delighted with this one as it's right up there with some of the best treehouses in the USA. Don't believe us? Well, you can take Apartment Therapy's word for it, who listed this place as one of the top 10 treehouses in the country! If you're travelling with your kids, there's a fun loft for them to stay in and it's also a great place for couples if you're looking for something with a bit more space.
From here, you'll be able to see a wide range of wildlife, including chipmunks, eagles, and deer. Keep your eyes peeled for owls at night! There are plenty of features to keep you entertained, including a large soaking tub and a huge HDTV. What more could you want?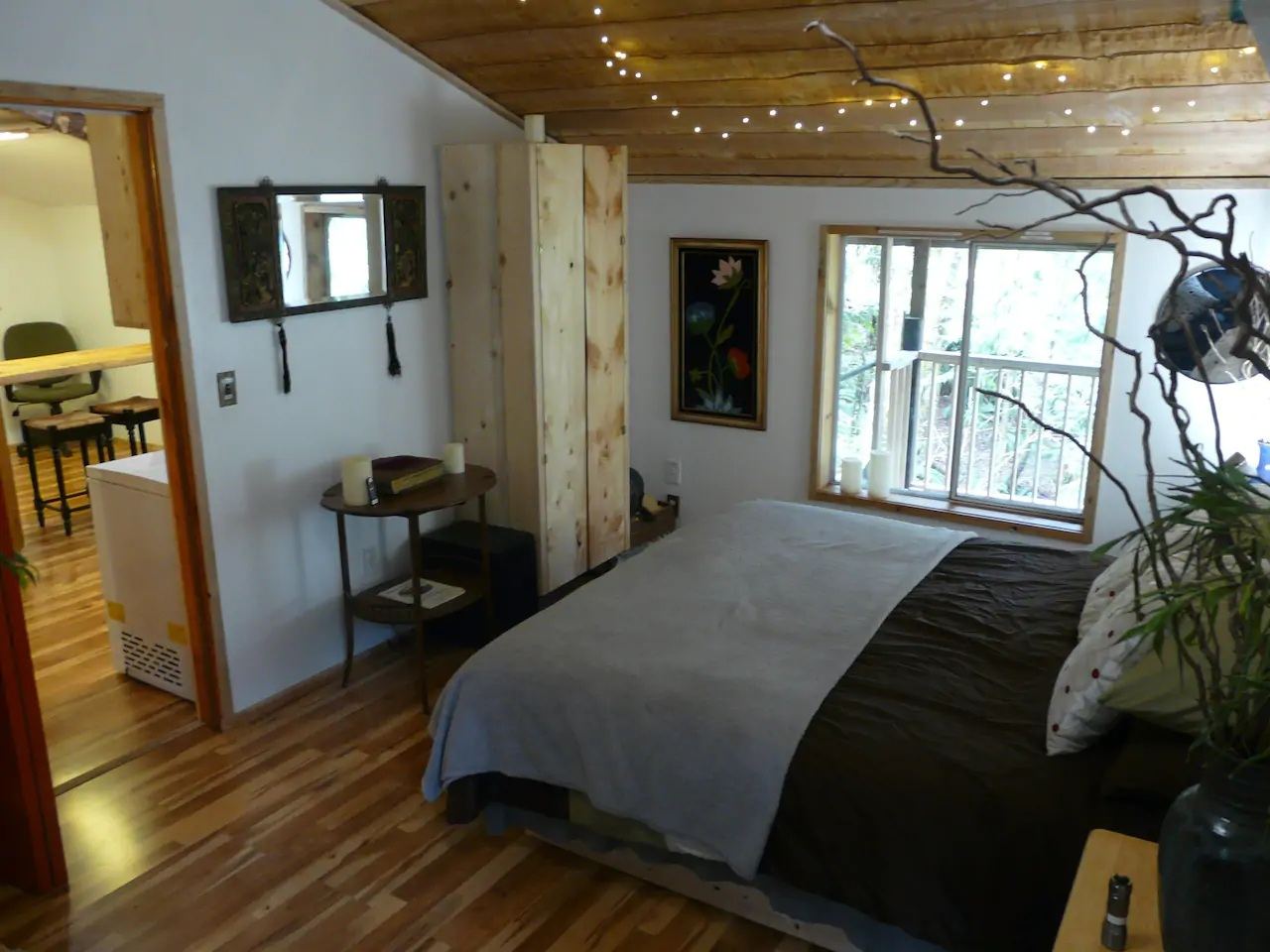 $$
4 Guests
Fully equipped kitchen
Breakfast included
When you're a backpacker and looking for a treehouse, your budget will rule out a lot of your options. But luckily, not all! So although it's at the lower end of the scale, you still get a lot of bang for your buck at this affordable treehouse in Washington.
Each morning, you'll be treated to a breakfast which will be left in your fully equipped kitchen. It includes coffee, tea, cereals, and snacks. Eat inside or sit out and enjoy the incredible views of the creek, as well as the forests and hillsides which surround the area. There's an indoor fireplace too, just don't leave your backpack too close as things could get messy.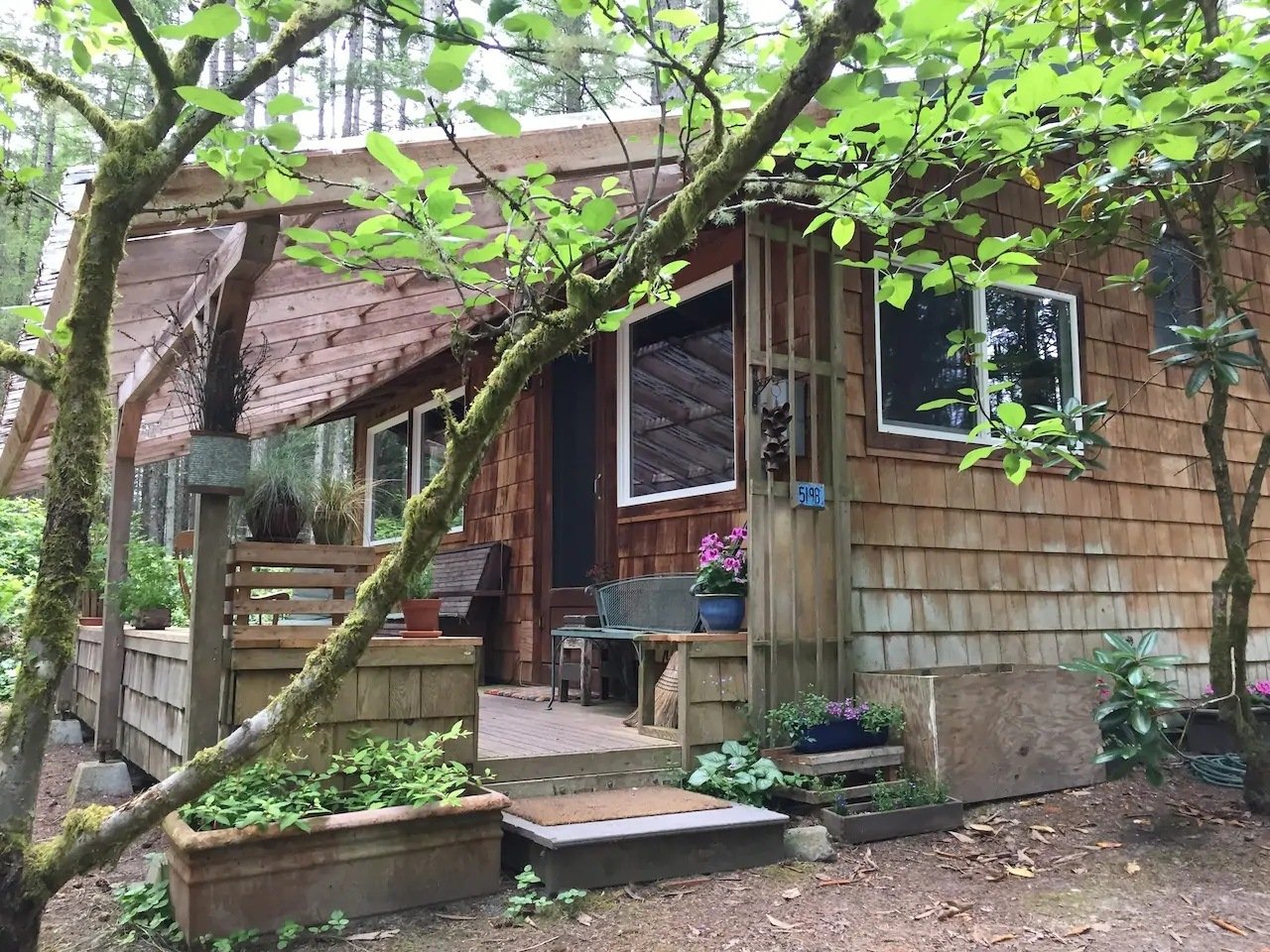 $$
4 Guests
Outdoor fire pit
Games and puzzles
Now, let's move on to cabins. And we'll begin with the best value cabin in Washington. Just a hop, skip, and a jump from Langley, you'll never be far from shops, restaurants, and bars. During your stay, you'll be able to make use of a fire pit with wood supplied, although this is not permitted in the summer months.
However, during those months, you can enjoy the outdoor dining area instead. There's also a well-stocked kitchen so you can cook up a storm. If you're travelling with friends or family, you'll love the games and puzzles that come with this awesome cabin.
$
4 Guests
Great location
Completely off the grid
Travelling on a shoestring and looking to get the best cabin on a budget in Washington? Well, it's time to head towards one of the most destructive volcanoes in history – Mount St. Helens. Thankfully, it's a bit more chill now in comparison to back then when the eruption scattered ash across a dozen states.
This cabin gives you access to awesome hiking trails around the mountain itself. As with our best budget treehouse on this list, it doesn't come with a lot of mod-cons, but that's part of the appeal. Go completely off the grid, disconnect from society, and fall in love with nature again.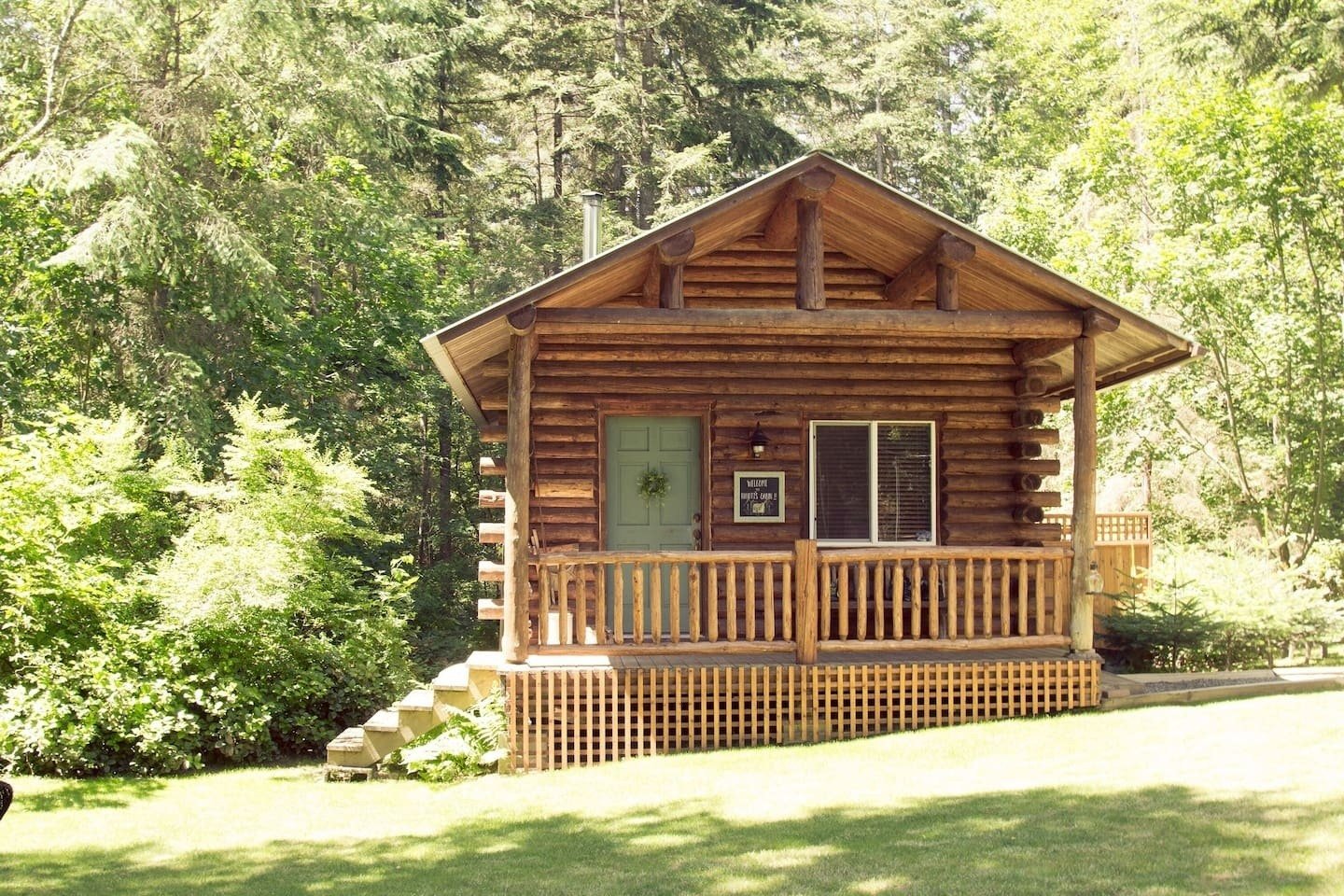 $$
2 Guests
Incredible location
Private porch
Travelling to Washington with your partner and want to show them how much you love them while keeping your costs down? Well, let us take care of that by showing you Elliott's Cabin! We don't know who Elliott is, but he sure knew how to design a cool cabin.
It's in a great location and there are hiking trails just off the back porch. If you'd rather not walk, you can sit there and take in the sounds and smells of the forests around you. One of the highlights of this place is that there's a canoe for you to use so you can take a paddle on Lake Alice.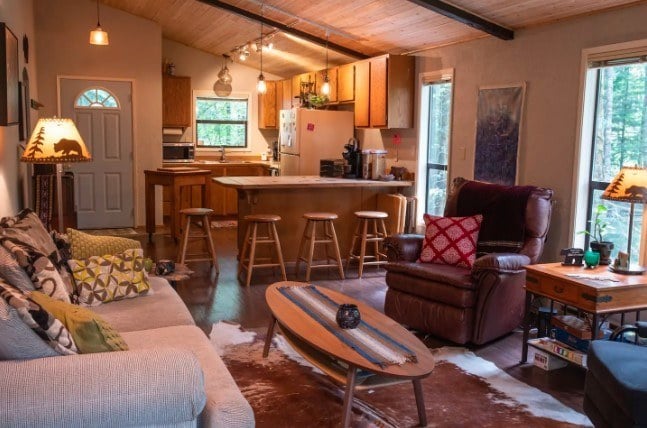 $$$$
7 Guests
Two fire pits
Hot tub and sauna
Now, let's get to a totally awesome cabin in Washington for a group of friends. It may appear better suited for those with a pocket full of money, but actually, you can split this cost with 6 people, so if you've got lots of pals or you're on a family vacation, it's not that expensive at all.
There are more than enough features here to ensure you have a memorable stay. Enjoy the hot tub, relax in the sauna, or gather around one of the TWO fire pits and enjoy some roasted marshmallows. Obviously, marshmallows aren't a big meal so prepare something on the BBQ first and eat it on the gorgeous picnic table between the trees.
$$$$
6 Guests
Cedar hot tub
Balcony, deck and firepit
And now, for the top luxury cabin in Washington. Again, it's affordable if you split it with 5 friends and you're guaranteed an amazing experience here! Just half an hour from Mount Rainier, which is one of the best national parks in the country, it's great for hiking in summer and skiing in winter as it's within half an hour of the White Pass Ski Area.
After a long day of either of those activities, return to the awesome cedar hot tub, which will soothe those aching muscles or chill out in front of the fireplace. We can guarantee that you won't want to leave this luxurious cabin.
$$$
8 Guests
Large deck with spectacular views
Fully equipped kitchen
With space to accommodate up to 8 guests, a reasonable price tag, and deer occasionally making their way through the garden, this is an awesome unique accommodation in Washington for a family!
The fully equipped kitchen means you can whip up something tasty and there are even basics in the pantry. It's the ideal base if you want to explore Puget Sound, whether that's on foot, by kayak, or paddleboard. Just make sure you're back at the cabin to enjoy the breath-taking sunsets!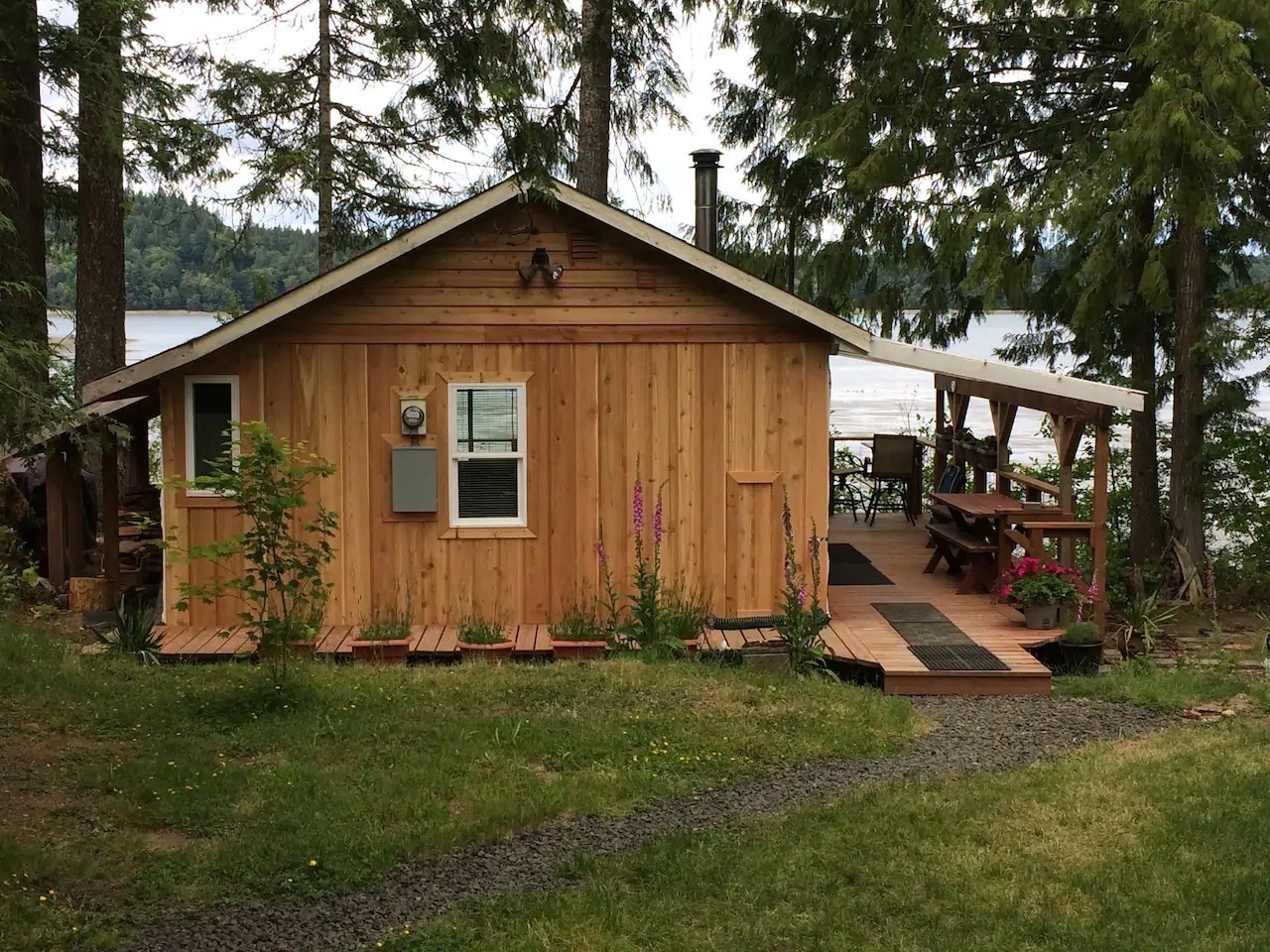 $
2 Guests
Fireplace
Incredible waterfront views
Staying close to Puget Sound, here's another of the best cabins in Washington on a budget. There's only space for two guests, but if you're backpacking solo or travelling with your other half, this cabin is perfect for you.
Digital nomads will be pleased to know that there's a laptop-friendly workspace in the cabin. After catching up on those e-mails, step outside to enjoy sublime views of the sound. The solitude can be blissful, but if it gets a bit much you have the bright lights of Olympia just 20-minutes away with an array of bars and restaurants.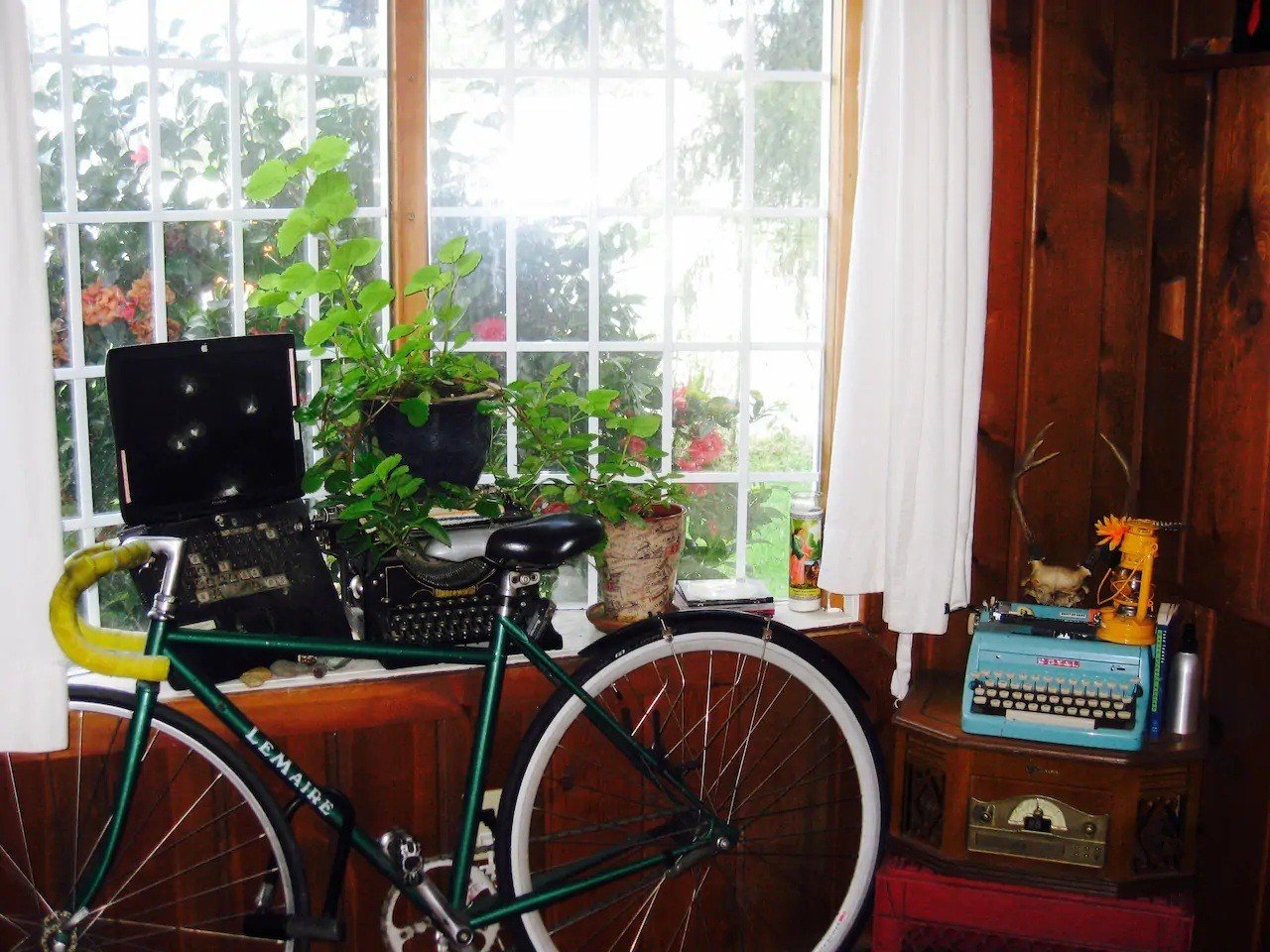 $
2 Guests
Laptop-friendly workspace
Dog and cat on site
Last but not least, here's the ultimate best cabin in Washington on a budget. It's so unbelievably cheap! But for this price, you won't have the cabin to yourself as you're actually renting a room. But this is a great way to explore while keeping your costs down.
Again, it's good for digital nomads as there's a laptop-friendly workspace, while those who are missing their pets will be able to make friends with the dog and cat which live here! The fact that you have a cabin-mate means they'll give insider tips and travel advice on the best places to go nearby.
FAQ about Treehouses and Cabins in Washington
Here's what people usually ask us when they look for vacation homes in Washington.
Don't Forget Your Washington Travel Insurance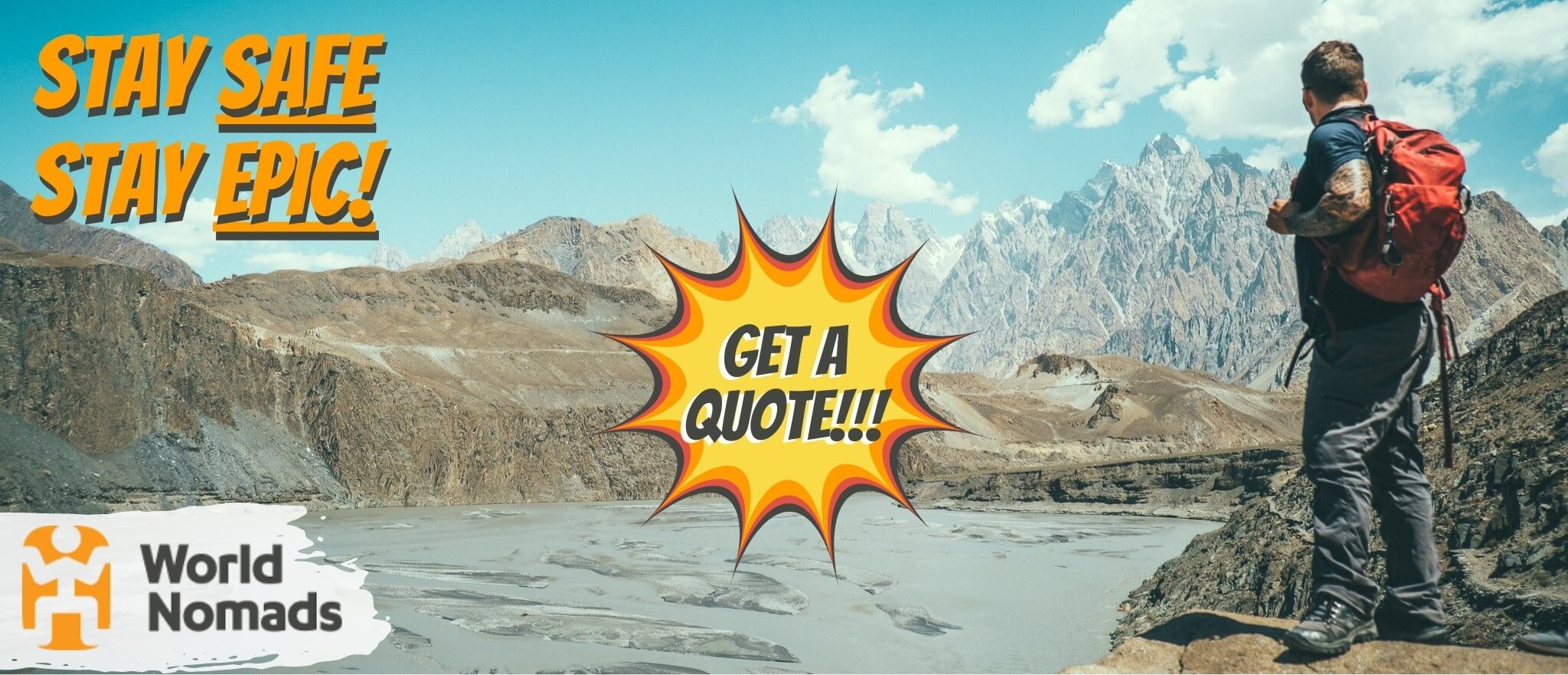 World Nomads' mission is to support and encourage travellers to explore their boundaries. They offer simple & flexible travel insurance, and safety advice to help you travel confidently.
They've been doing it since 2002 – protecting, connecting, and inspiring independent travellers just like you.
Get a quote below or read our in-depth review!
World Nomads provides travel insurance for travelers in over 100 countries. As an affiliate, we receive a fee when you get a quote from World Nomads using this link. We do not represent World Nomads. This is information only and not a recommendation to buy travel insurance.
Final Thoughts on Treehouses and Cabins in Washington
So, that concludes our list of the best unique accommodation in Washington. Whether you want to wake up in a treehouse high in the Mount Rainier National Forest, a cabin with a few of the Puget around, or you just want to experience either of these types of unique accommodation on a budget, there's a cabin or a treehouse in Washington for you.
We just hope you're not overwhelmed by all the choices we've given you, it's a possibility after all! If that's the case, just think about what kind of unique accommodation you like best. If it's a treehouse, go for our favourite treehouse in Washington: Treehouse with Panoramic Views. Perhaps you'd prefer to be a bit closer to the ground? Then our best value cabin in Washington: Sweet cabin in the woods near Langley.
Both of these awesome properties have been chosen by our expert travellers, who know how to sniff out good value and an awesome experience!
---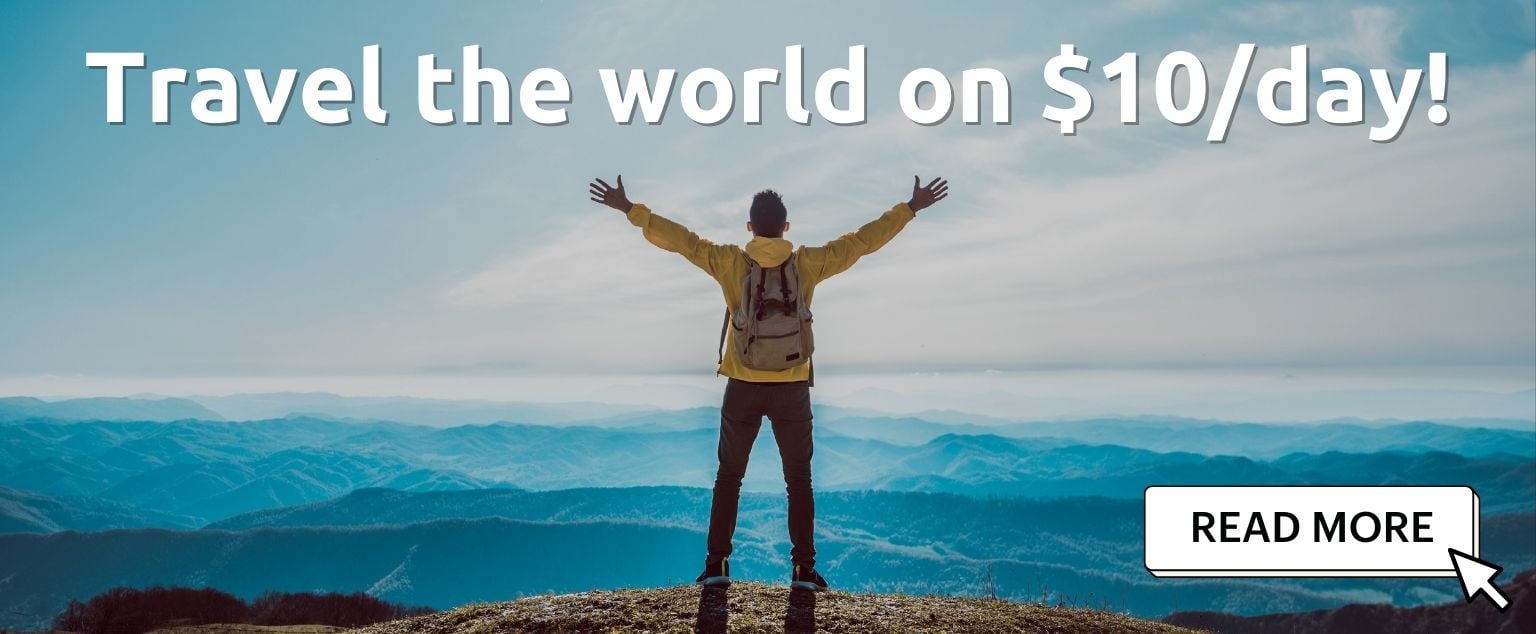 And for transparency's sake, please know that some of the links in our content are affiliate links. That means that if you book your accommodation, buy your gear, or sort your insurance through our link, we earn a small commission (at no extra cost to you). That said, we only link to the gear we trust and never recommend services we don't believe are up to scratch. Again, thank you!