The City by the Bay is the home of hippies, fashionistas and techies. It is also popular for its architecture, landmarks, beaches, fog, and rolling hills. San Fran is diverse, and this clearly shows in its many culinary offerings and the city's unique fashion, fitness, museum, food, and art.
Finding a great Airbnb in San Francisco has never been as easy as it is now. You need not worry about getting a secure and safe place where you can comfortably crash. Instead, you can focus on the things you want to do and enjoy during your vacation, such as surfing or sampling all the wonderful culinary delights the city's many chefs have to offer.
It doesn't matter if you are a traveler who prefers luxurious digs or a person who finds joy in private rooms and shared common spaces, there are always a rentals in San Francisco right for you.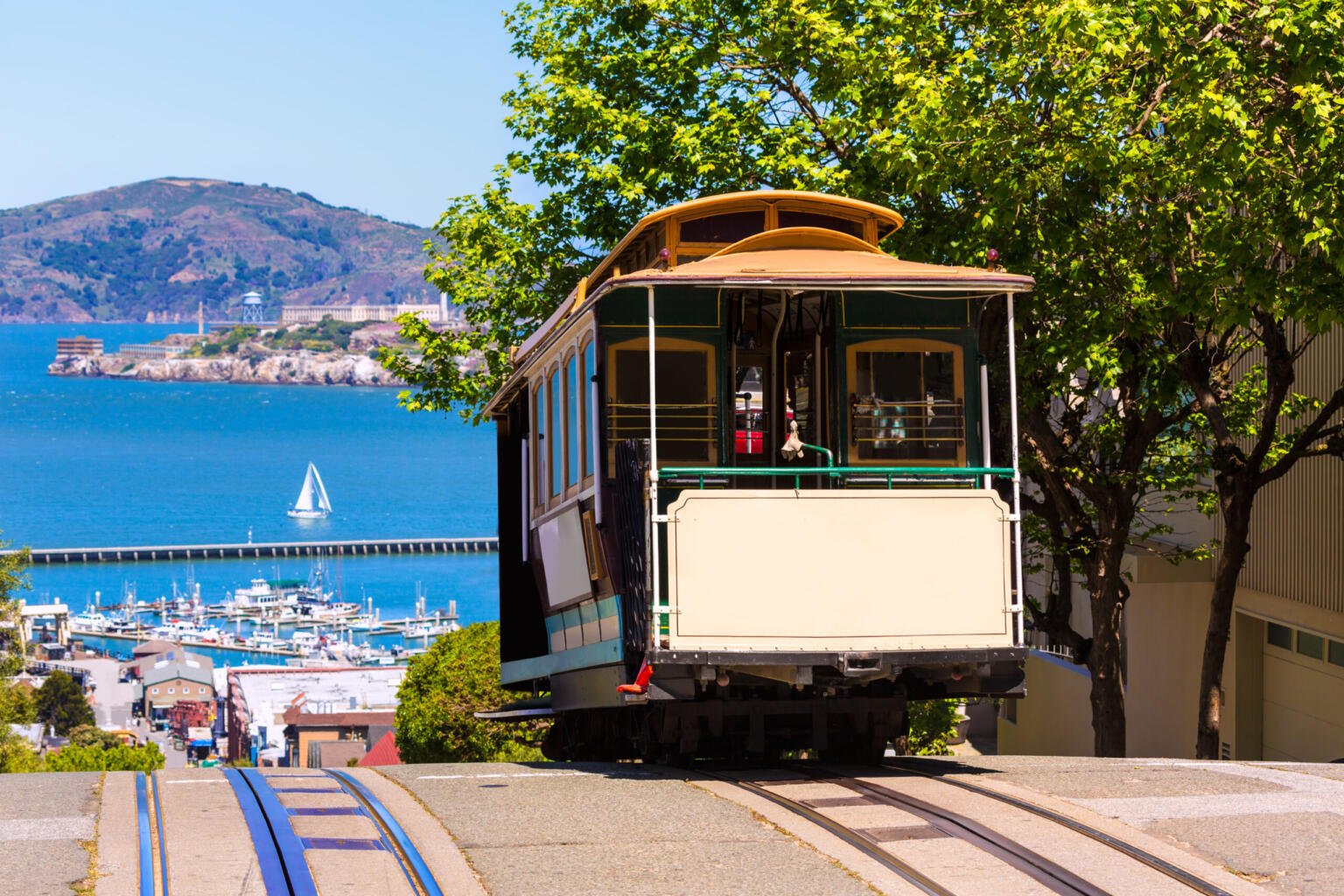 Quick Answer: These are the Top 5 Airbnbs in San Francisco
Overall Best Value Airbnb in San Francisco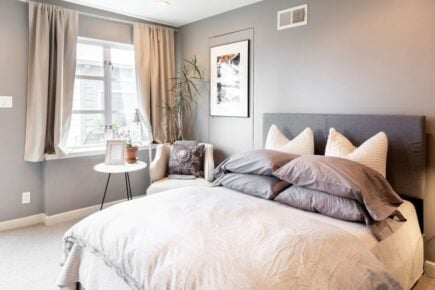 Overall Best Value Airbnb in San Francisco
Guest suite with panoramic views
> $$
> 2 Guests
> Deck and outdoor garden
> Contactless check-in
Best Budget Airbnb in San Francisco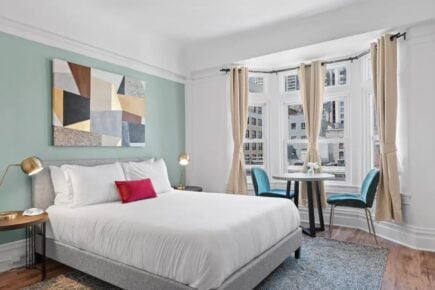 Best Budget Airbnb in San Francisco
Private Room in Proximity to Union Square
> $
> 2 Guests
> Located in a vintage building
> Shared amenities
Best Airbnb for Couples in San Francisco
Best Airbnb for Couples in San Francisco
Private Room in an Elegant Studio
> $$
> 2 Guests
> Lovely Victorian home
> Private room
Best Airbnb for Families in San Francisco
Best Airbnb for Families in San Francisco
Spacious Modern Home
> $$$
> 7 Guests
> Beachfront luxury property
> Self check-in
Over-the-Top Luxury Airbnb in San Francisco
Over-the-Top Luxury Airbnb in San Francisco
Opulent Home near Filmore Street
> $$$$
> 8 Guests
> Near Golden Gate Bridge
> 4 bedrooms

Unlock Our GREATEST Travel Secrets!
Sign up for our newsletter and get the best travel tips delivered right to your inbox.
What to Expect from Airbnbs in San Francisco
San Francisco is the thirteenth largest city in the United States and the cultural, financial, and commercial center of Northern California.
Although it is colossal in terms of amenities and attractions, it is geographically small and if you're pressed for time, it can be sufficiently explored in two days.
However, if you really want to get to know the city deeper, you need to allocate at least five days to explore. A trip to the United States is never complete without visiting San Fran.
Finding the right accommodation in San Francisco need not be a game of chance or luck. Although accommodations in the city are more expensive than average, you can still get your money's worth.
To ensure that you know exactly what you can expect from Airbnbs in San Francisco, I've come up with a list of myriad properties and what you can expect from them.
San Francisco Airbnbs run the gamut from a private cozy room in a modern apartment to entire rental homes that are mostly above the budget of normal travelers. If you can't go even a single dollar over your budget, it is best to stick to the cheaper areas of the city or private rooms.
Private rooms
Whether you want to be right smack in the middle of all the action or a little further away to the coast, private rooms are the cheapest way to go.
If you enjoy spending time with other travelers but also want to have your own time, these are perfect. A tip is to check the listing for private bathrooms as some private rooms may have shared bathrooms.
Staying in a private, cozy room on a property owned by locals gives you an advantage. You will have access to excellent insider tips and they can tell you their favorite local haunts for the best coffee, the best meals, the best places to shop for an epic San Francisco itinerary.
Residential Homes and Villas
Traveling with friends and family means needing a little space all to yourself, as well as all the amenities such as a game room, a pool, and perhaps a BBQ pit. This type of accommodation understandably costs more because of all the extra perks but you'll be guaranteed a comfortable and unforgettable stay.
When booking entire homes, make sure to check with your host if there are any additional fees if you want to use the added amenities, so you are not surprised with fees that you haven't figured into your budget. Self check-in options are also available.
Do make sure you're booking in a safe part of the city. San Francisco isn't the type of place where you'd want to stay in a run-down area just to save a few bucks.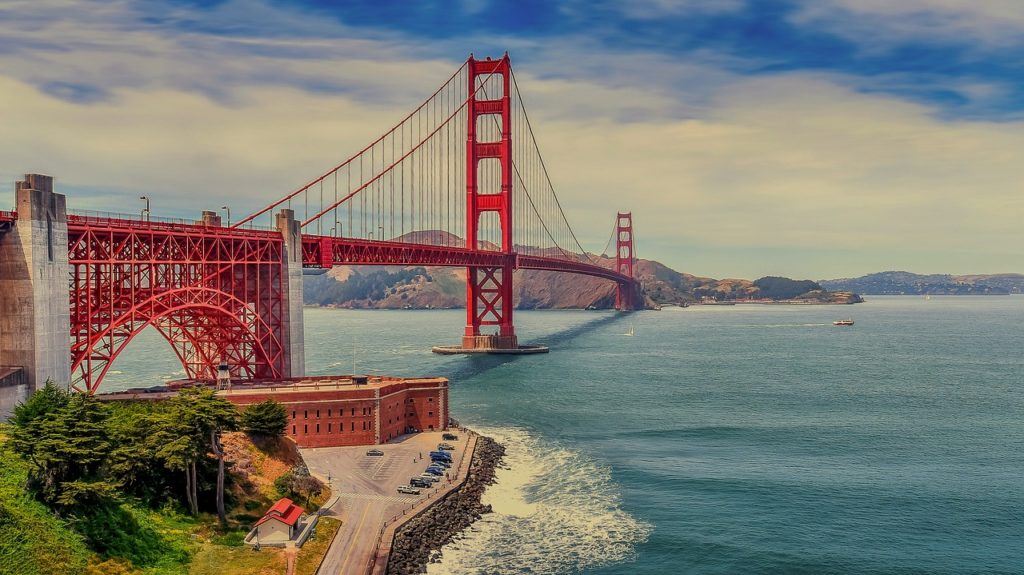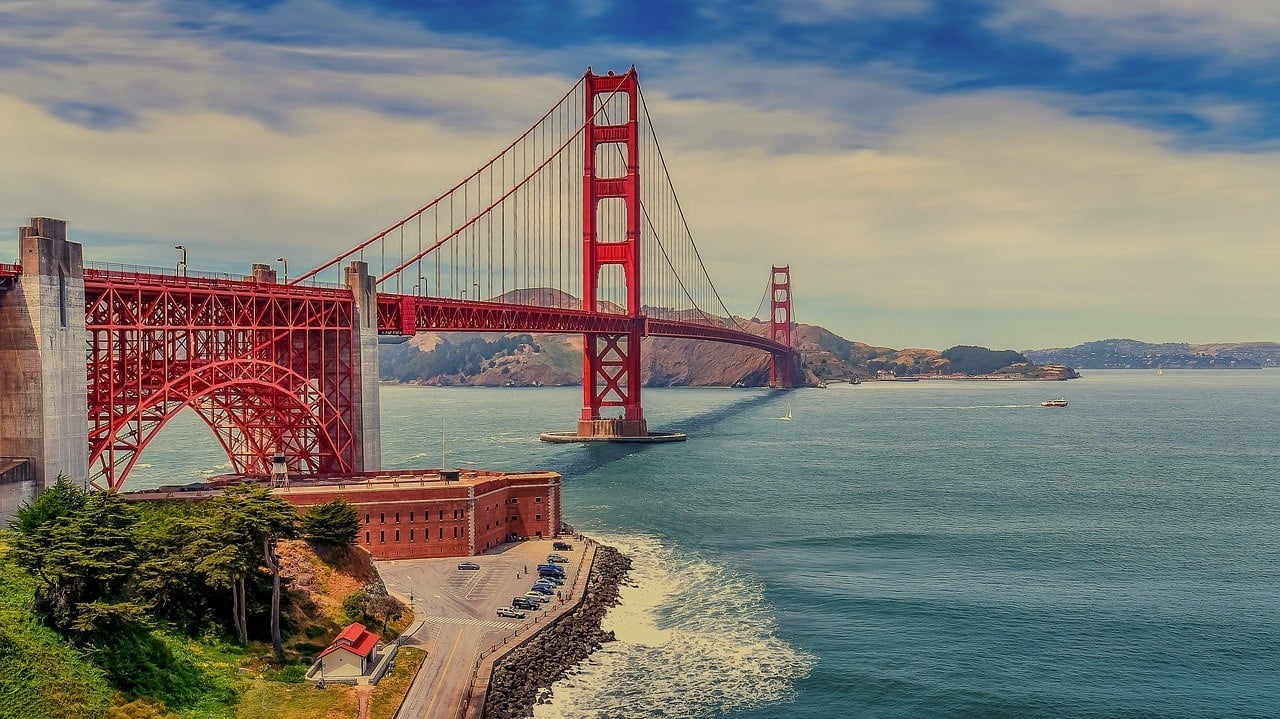 Condominiums
Modern, spacious and worth their price, condominiums are pretty much all over the city, especially in downtown San Francisco. They are perfect for all types of travelers – couples, single travelers who want a whole place to themselves, groups of friends, and even families.
You can select from simple condos to more exquisitely decorated units with expensive furnishings situated in prime locations. Most condos have shared amenities, such as gyms and pools, which guests can use at no additional cost, but do verify this first before booking. Again, you don't want your vacation ruined with unexpected charges.
Why Stay in an Airbnb?
Here are all the best reasons to choose vacation rentals in San Francisco for your next vacation.
Unique properties: San Francisco has a plethora of unique stays which will make your time in the city even more memorable. You will never be bored with the quirky, artsy, and distinct selections available.
Privacy: Most San Francisco Airbnbs have self-check-in so you can let yourself into the properties anytime. There are entire apartments, rooms, and residential homes which you can have all to yourself.
Last-Minute Booking: You need not fear if you arrive at your destination late because there are various properties available for a last-minute booking.
Affordability: Airbnbs in San Francisco are not only more stylish; they are also cheaper than most hotels. This is especially true of properties in local areas.
Airbnb Experiences: Not only will you get to enjoy unique stays, but there are also several experiences hosted by locals which will give you a vacation you will fondly look back on.
Staying Long-Term: Plenty of hosts are more than happy to provide people who stay longer with discounts.
The Top 15 Airbnbs in San Francisco
Time to explore the best Airbnbs in San Francisco. I've selected a wide selection of Airbnbs that run the gamut of cozy apartments to private rooms to expansive and opulent residential homes.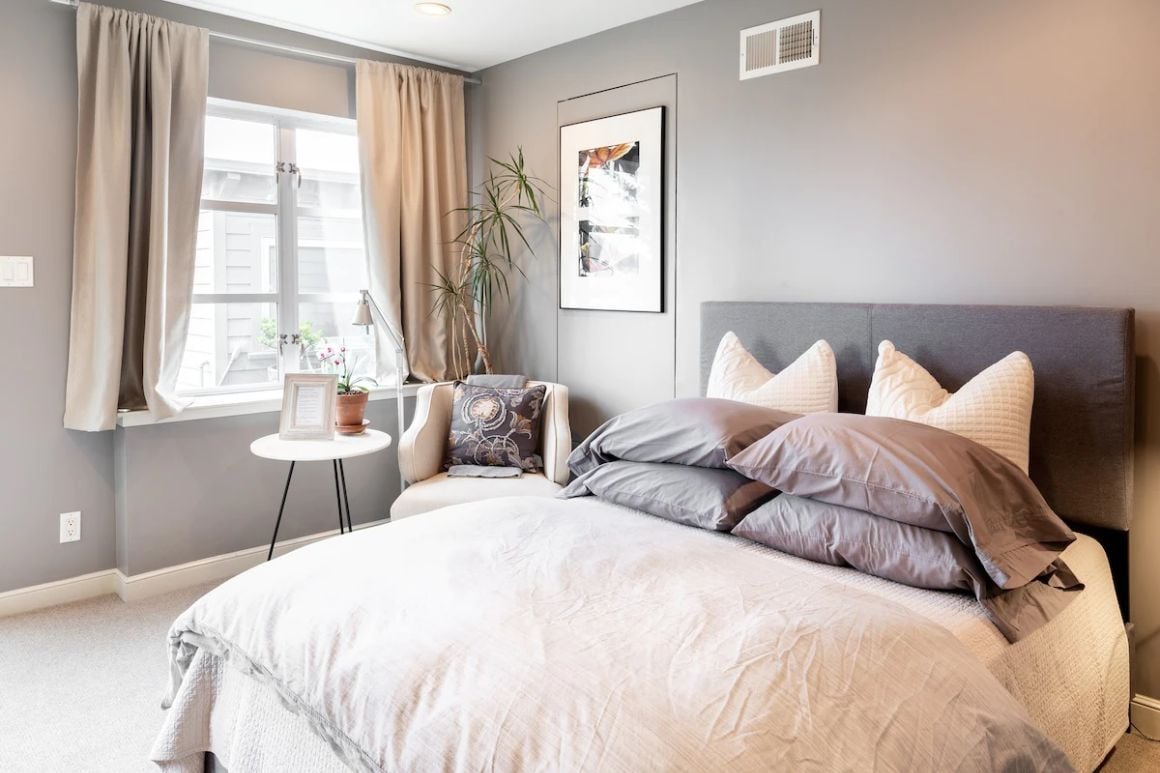 $$
Deck and outdoor garden
2 Guests
Contactless check-in
This hilltop property is private, modern, and tastefully designed. It is located in a beautiful neighborhood that features amazing panoramic views. Conveniently located in downtown San Francisco, it's close by to public transportation, restaurants, and major freeways.
The house can be easily accessed by a separate guest entrance and a contactless check-in. Parking is easy, and there is a garden and deck exclusively for guests where you can spend some time relaxing under the sun. The kitchen is also bright and well-equipped.
It's also located near many of the top attractions in San Fran, including Golden Gate Park, Presidio Park, the Science Museum, and the De Young Museum.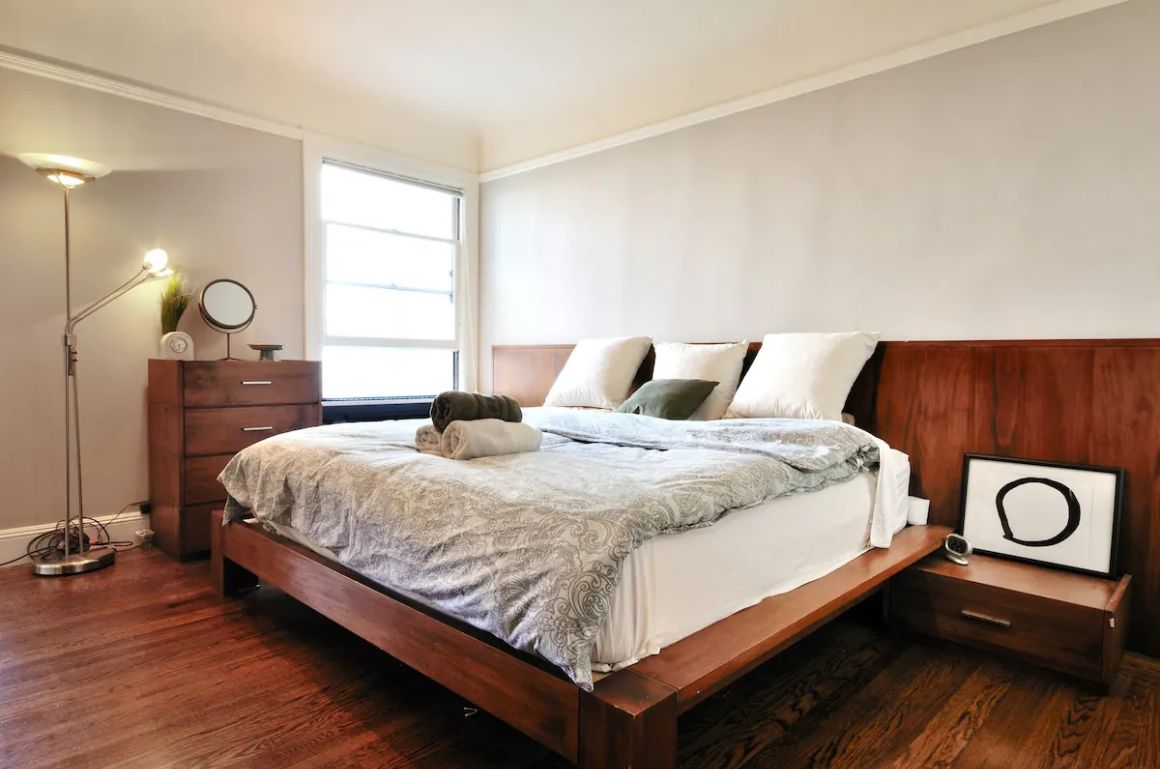 $$$
Within walking distance of the most happening places
Live just like a local in one of San Francisco's most desirable locations. This contemporary home has 3 bedrooms, 1.5 bathrooms, and a well-equipped kitchen. It's just a few steps away from local shops, nightlife, cafes, Michelin-starred restaurants that serve a variety of cuisines, and other local haunts.
You will also be within walking distance of amazing sights of the Golden Gate Park, De Young Museum, Alcatraz, and the beach. Parties are not permitted in the house but you can go out at night and come home to the privacy of your own space. There will be no one to judge you even when you're wasted.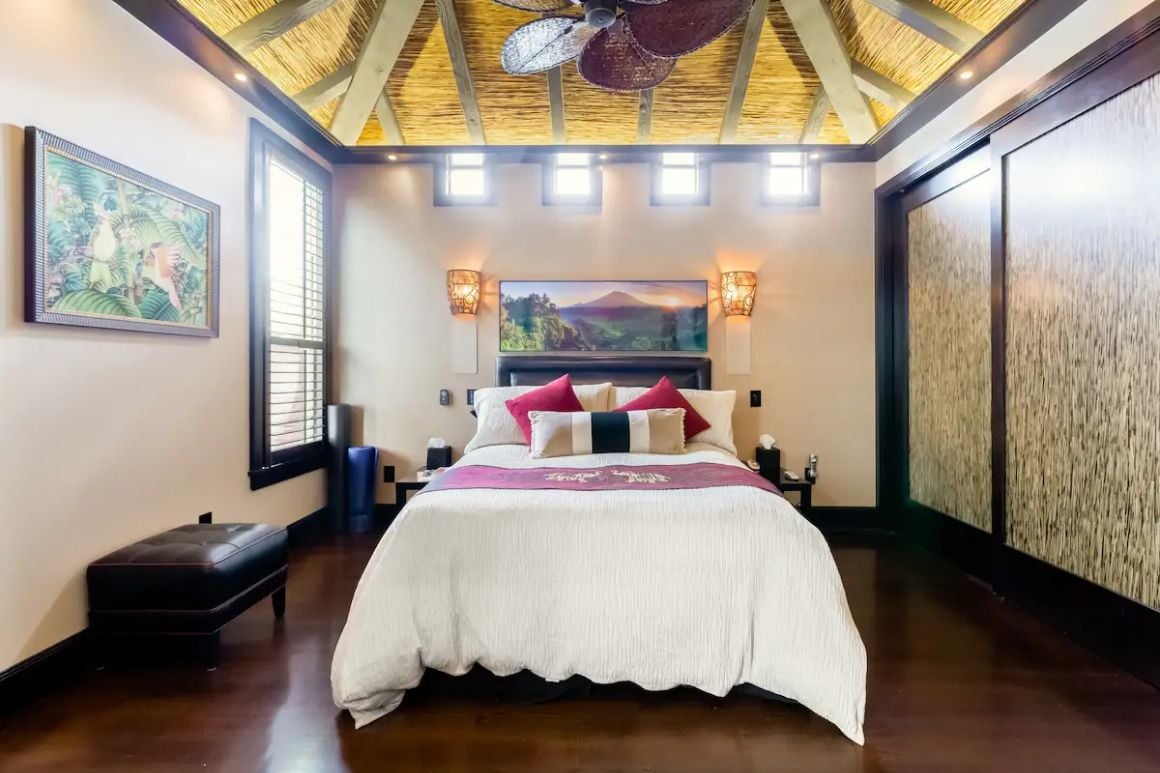 $$$
Stylish Asian Buddhist decor
This stylish Asian-designed property will make you feel as if you are honeymooning in Bali. It has modern luxury fittings and a Zen ambiance for that truly relaxing feel and boasts a fully-equipped kitchen, a bedroom with a queen bed, a backyard, and a patio.
Located in a quiet neighborhood for that perfect honeymoon vibe, you can just enjoy each other's company. Make sure to check out all the best places in San Francisco with your loved one.
Is This the Best Backpack EVER???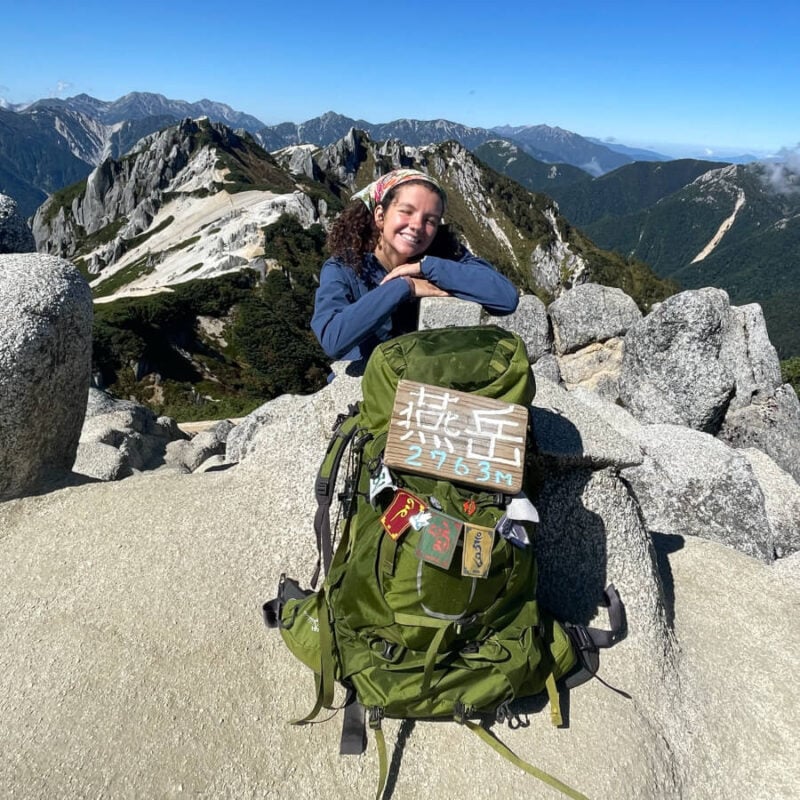 Most Beautiful Airbnb in San Francisco | Chilled Hideaway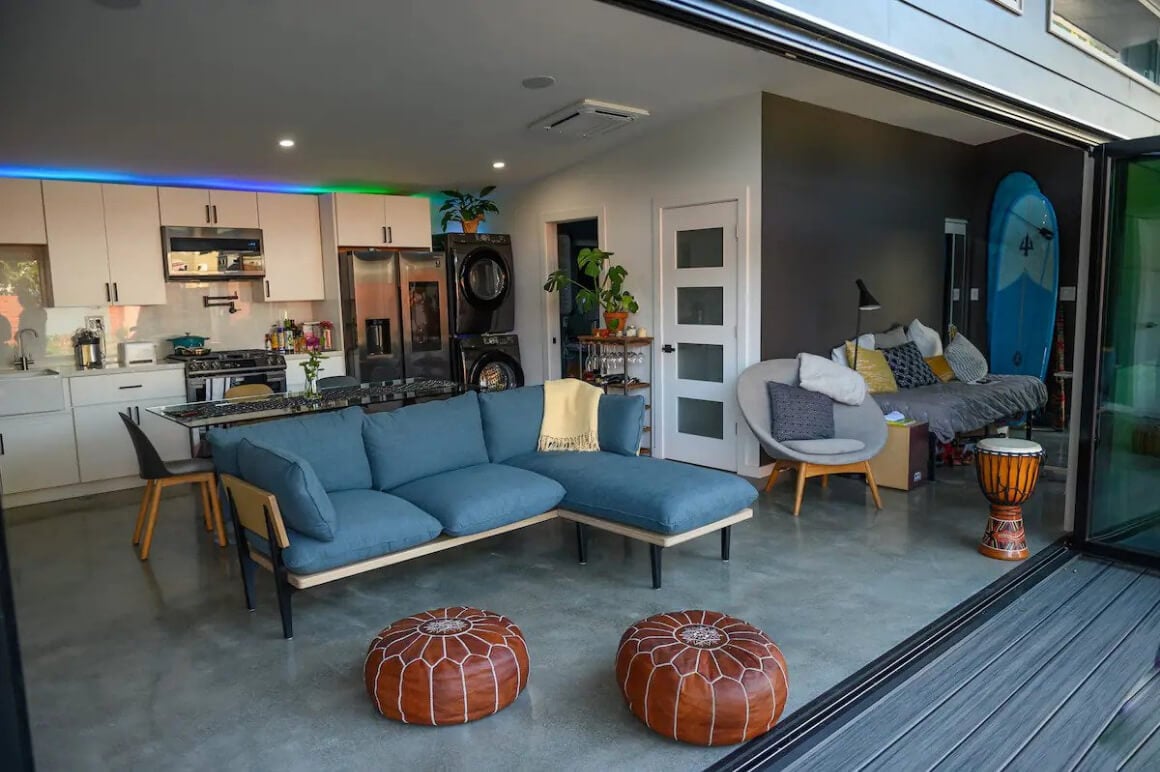 4 Guests
Peaceful, elegant home
This expansive and elegant property in Oakland has two bedrooms and two bathrooms that can easily accommodate four guests. The large and beautiful bay windows open up to bring the outside, inside, as well as letting in as much light as possible so you can soak up the sun.
The luxurious fully-equipped kitchen is also a great place to prepare sumptuous meals should you be up for it. The gorgeous backyard is the perfect place to relax where you can take a deep breath and meditate to the soothing sound of the birds. Or soak in the hot tub or steam in the sauna for a truly relaxing experience.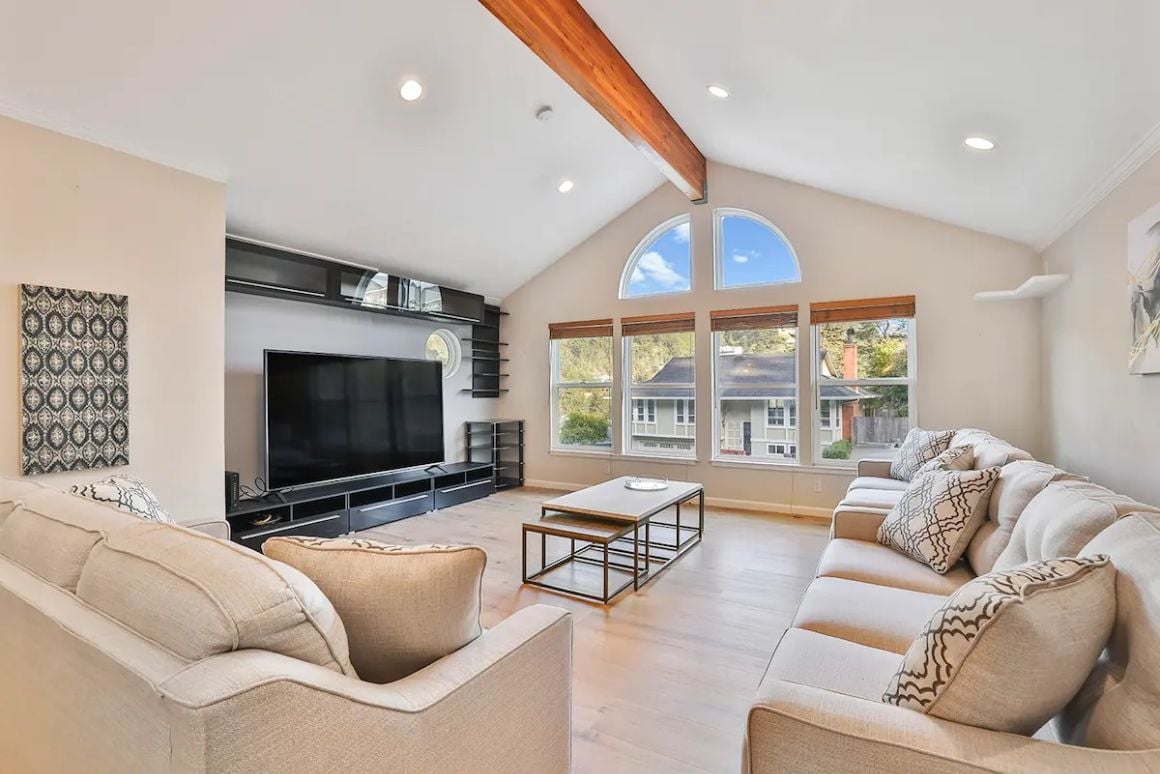 This is the best Airbnb in San Francisco for a group of friends with 4 bedrooms and 3 baths. It can easily accommodate up to 10 guests and also comes with added amenities such as a pool table, fire pit, and hot tub, all perfect for hanging out with friends.
The kitchen is fully-equipped so if you don't feel like having a barbecue night, you can easily prepare other dishes. This spacious residential home has two levels with modern glass railings, as well as newly installed hardwood floors.
Check out our favorite weekend itinerary for a getaway in San Francisco with friends.
6 Guests
Beautiful farm setting
If you've had enough of the city and want a truly unique accommodation, this farmhouse in Martinez is perfect. The property is new, beautiful and grand with 2 bedrooms, 4 baths, a well-equipped kitchen, an entertainment room, a dining room, a master deck with expansive infinity views, and a back deck with a BBQ.
If you want a little physical activity you can wander the ranch and admire the stunning views.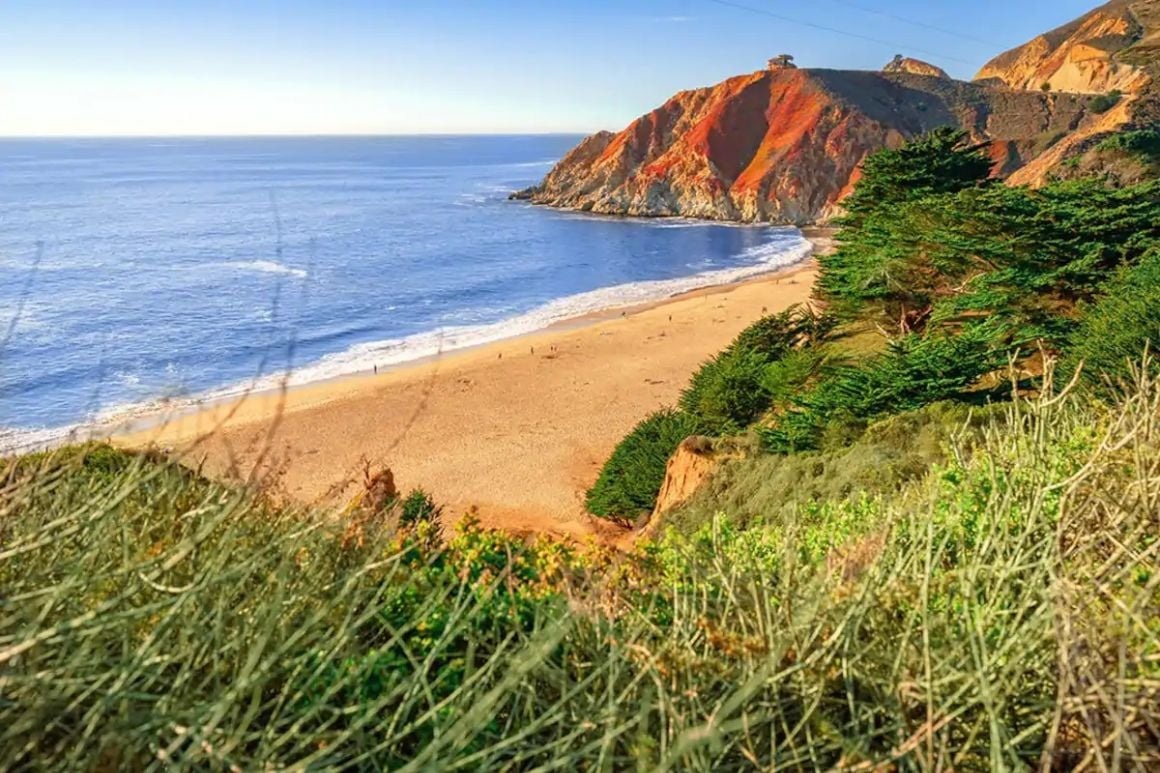 $$$
Short walk to open space parks
8 Guests
Walking distance of Half Moon Bay
This San Francisco Airbnb is located next to one of the most scenic stretches of the California Coast and is the best Airbnb in San Francisco with a view. It is the perfect getaway for family vacations and people who love the ocean and outdoors.
Situated in an oversized lot, it has easy access to miles of pristine golden beaches and trails traversing a variety of natural surroundings. You can wake up every day to the sight and sounds of the ocean.
The jawdropping views of the sun rising over the majestic mountains never get old. There's a gas BBQ available on the deck where you can prepare meals while taking in the stunning vistas.
$
Quiet retreat from the city
2 Guests
Close to Golden Gate Park
This beautiful, quiet vacation rental in San Francisco in the middle of the city has gorgeous French doors that open onto the patio where guests can linger over a sunny breakfast.
The private apartment has a queen-sized bed, a full bathroom, a kitchenette, a small dining area, and private access to your room. The space is located in a 1906 family home with tasteful artwork by a local artist.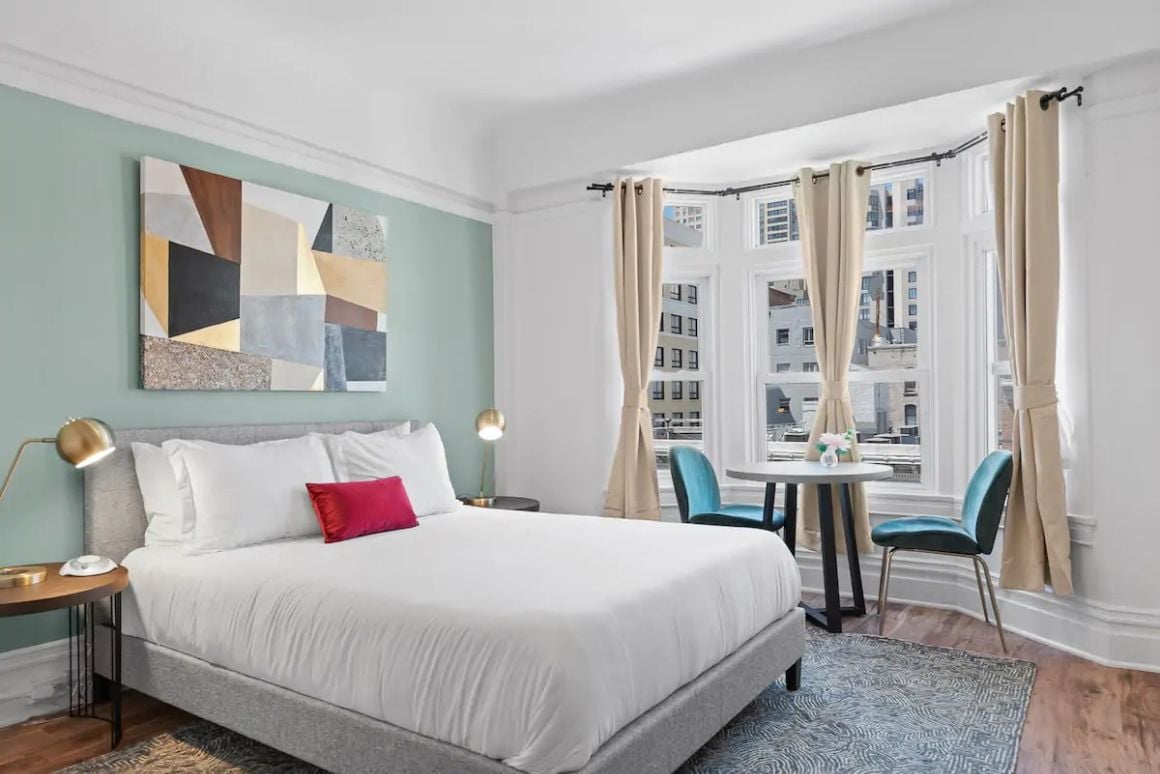 $
Located in a vintage building
This private room in a boutique hotel is just a short walk away from Union Square, when you feel like eating out and shopping, you can easily do so. Guests can enjoy their own private space and have access to high-end shared amenities such as a laundry room, kitchen, and TV lounge.
Housekeeping is free of charge and is available upon request. There is a gym located just 5 minutes away from the property if you want to keep up with your fitness regimen even when away on vacation and a public pool just 10 minutes away.
If this property is still above your budget, check out the best hostels in San Francisco.
$
Located in a quiet neighborhood
This beautiful property is located in Noe Valley and is the perfect place for solo travelers. Your cozy bedroom is in a shared apartment with the wonderful hosts, who will not only share their home with you but cook you pancakes in the morning.
You have a large, private bathroom equipped with a huge tub. The airy room is bathed in sunlight and comes with a comfy queen size bed.
Noe Hill Market is within walking distance and is the ideal spot to get fresh groceries if you feel like preparing and eating your meals in the shared kitchen and dining room. You can even use the host's garden for some al fresco dining.
If you need to work, there's also a private office space. There's also laundry facilities available on site.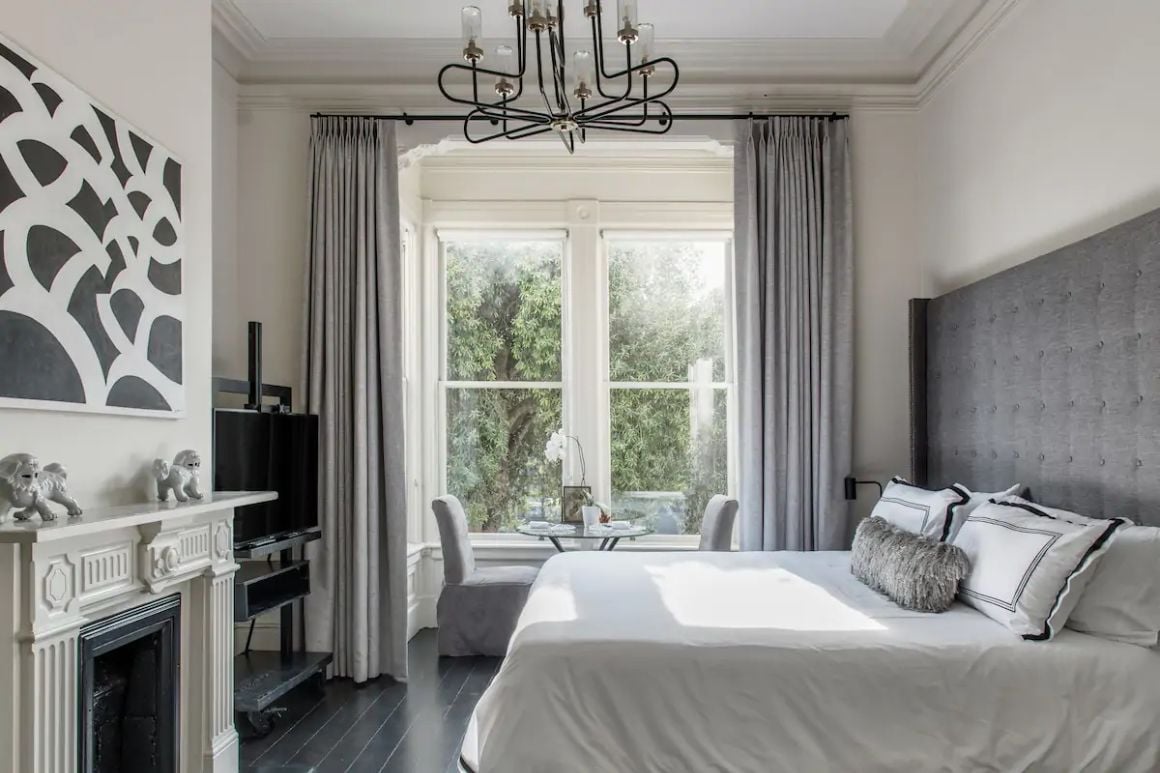 Located in the upscale Pacific Heights neighborhood, this self-contained master suite in a classic Victorian home comes with a private newly remodeled bathroom, 13-foot ceilings, a dressing room with a curved chair, and an elegant fireplace.
The only thing you will be sharing with other people is the door from the exterior and the hallway to get to your private space.
$$$$
Walking distance of Golden Gate Bridge
This eclectic yet opulent home in Daly City has a visually intriguing architecture with a variety of prints and textures. The home stands out for its sophisticated design with comfortable but sumptuous furnishing in a golden palette.
Just a block away from Filmore Street, you can easily spend the day shopping in boutique shops for luxury brands and take a break in the many restaurants that serve local yet savoury cuisines.
The property boasts an outdoor courtyard which has ample seating for anyone who wants to enjoy the sea breeze and morning sun. The home is just an 8-minute ride away is the Golden Gate Bridge, one of San Francisco's many landmarks.
Best Airbnb in San Francisco for Families | Spacious Modern Home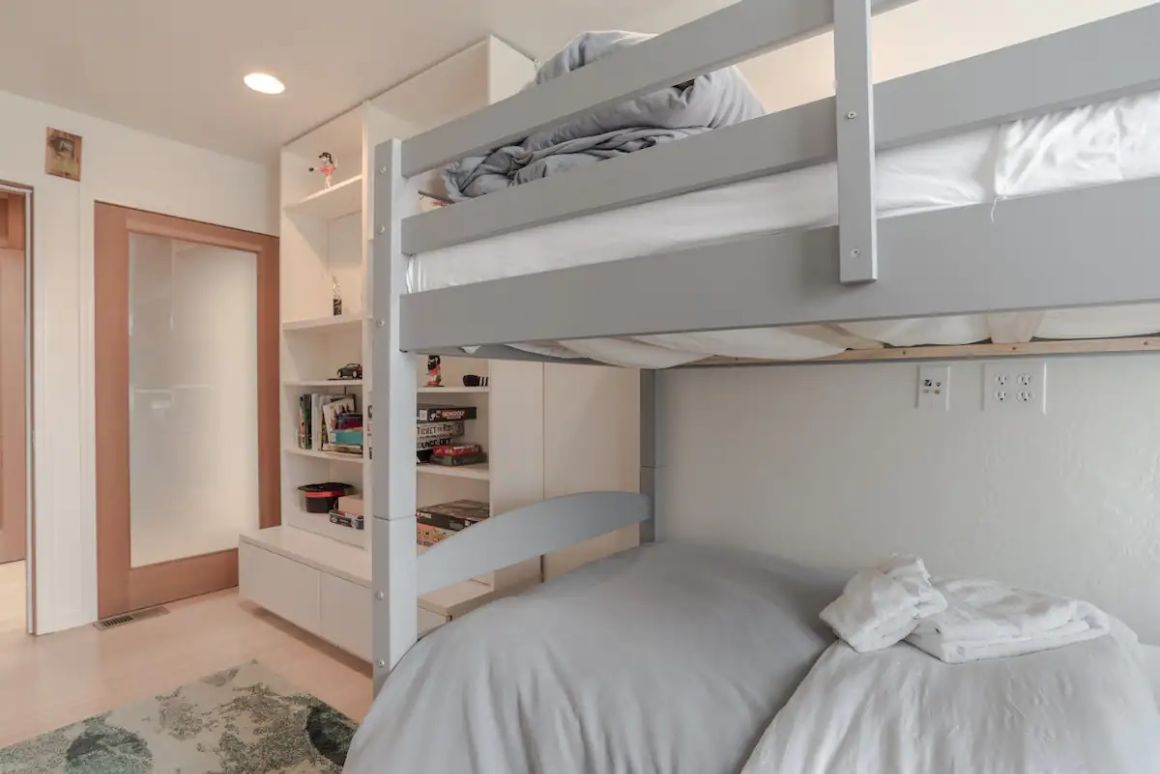 $$$
Beachfront luxury property
This spacious modern home is equipped with an elevator and has 5 bedrooms, 3 bathrooms, a formal and casual dining area, and a fully-equipped gourmet kitchen. There's a 400-square feet redwood deck which is best for ocean viewing and outdoor dining.
One of the bedrooms has bunk beds, and a variety of board games for children. Guests can easily check themselves in using an access code after 4 pm. If you are looking for the best Airbnb in San Francisco for families, this one will tick all the boxes.
Keep the kids busy with all the best things to do in San Fran.
6 Guests
Entire residential home
This San Francisco Airbnb is a quiet nook that has three bedrooms, 2 baths, a pool, a hot tub, alfresco eating with umbrellas, a fire pit, a patio, and a grill which you can easily fire up if you and your friends feel like having a barbecue.
You can take a nap in the hammock out front or doze off on the pool chair in the back. Take note though that the pool is not heated by default and pool heating will cost an extra $90 for the first day and $65 per subsequent day. This is the perfect place to relax and unwind.
This tastefully decorated private room in a residential home is located in the San Francisco Bay area and features a queen-sized bed. The dedicated workspace lets digital nomads do the work they need to do even if they are on vacation.
The property comes with a private kitchenette and private bathroom. If you like to mingle with other people on the property, you can always hang out in the shared comfortable outdoor space.
Top 5 Airbnb Experiences in San Francisco
If you've never tried Airbnb Experiences yet, now is the best time to start. Plenty of travelers don't know just how these fun, easy-to-book, and high-quality activities can enrich their vacations regardless of their destination. All you need to do is hop on to the Airbnb platform and book experiences at the same time they book their accommodations.
Most of the experiences available on Airbnb are managed by local individuals which means unique, authentic, and more intimate tours. You will get firsthand in-depth knowledge from the people who know the area best.
If you're ready to try something new today, check out the top 5 Airbnb experiences in San Francisco which I have rounded up especially for you.
This culinary tour is based around Mission District, one of San Francisco's hottest scenes for food and drinks. Tour participants can skip the line for some of the best eats in town and experience San Francisco in a whole new light, regardless if it's their first time in town or not.
This is also not your ordinary food tour because you will be sampling the best food and hearing the most entertaining and incredible stories at the same time. This adventure leads guests through a 4-course progressive meal and each course is served at a different restaurant.
It will start with appetizers, followed by an entrée, and conclude with a mouthwatering dessert near Dolores Park. There are also optional alcohol pairing upgrades available for purchase on the tour.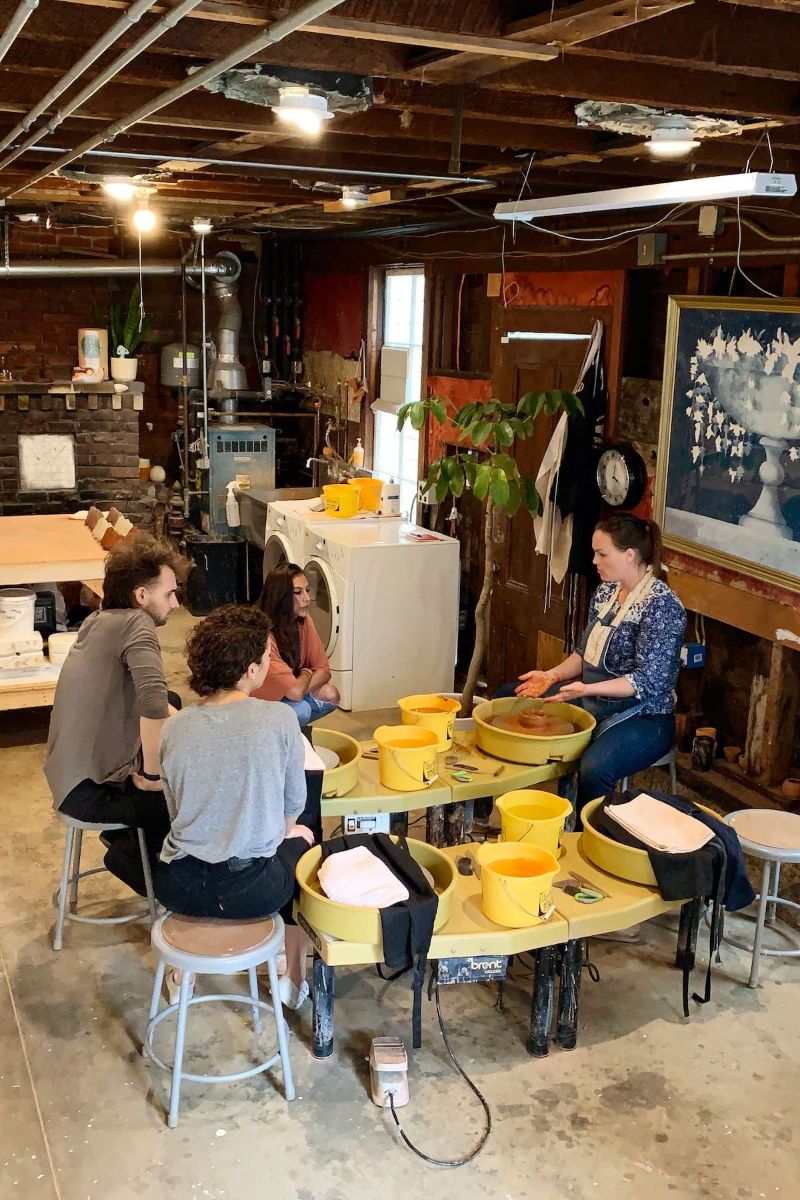 $125
Up to 6 people
2 hours
A long vacation is the perfect opportunity to learn a new skill and if you're interested in arts and crafts, pottery lessons might be a very good option.
The instructor will show you the entire process step by step, from setting up the clay in the center, form simple shapes such as a bowl or cup, and how to clean and remove the piece from the wheel. At the end of the session, you will have created at least 3 pieces.
Finished pieces will be professionally finished, fired, and glazed. After which, they can be picked up in the studio or shipped to your address. Shipping costs will be paid by the guest.
$48
Up to 10 people
3 hours
Golden Gate Bridge is one of the iconic landmarks of the City by the Bay. It has rolling hills and never-ending views of the water and the best way to enjoy it is by a beautiful bike ride.
Tours depart at 10 am at Fisherman's Wharf and to ensure a personalized experience for guests, tours are kept in small groups.
After departing from the starting point, guests will bike through the green hillside of Fort Mason, the Marina District, through Crissy Fields up to and across the Golden Gate Bridge then down the Marin Headlands into Sausalto.
Guests are advised to wear comfortable clothes and must be able to ride bicycles on their own.
$135
Up to 6 people
5.5 hours
This is unlike any other wine tasting tour as you'll be hopping on a vintage VW bus to explore the three best wineries in Sonoma Valley, namely, Chateau St Jean, Ram's Gate, and Winery Sixteen 600 but this depends on the availability and is subject to change without notice.
A picnic lunch will be available for guests at the second stop. Keep in mind that guests pay for wine tasting at each location and the fee is around $35 to $45.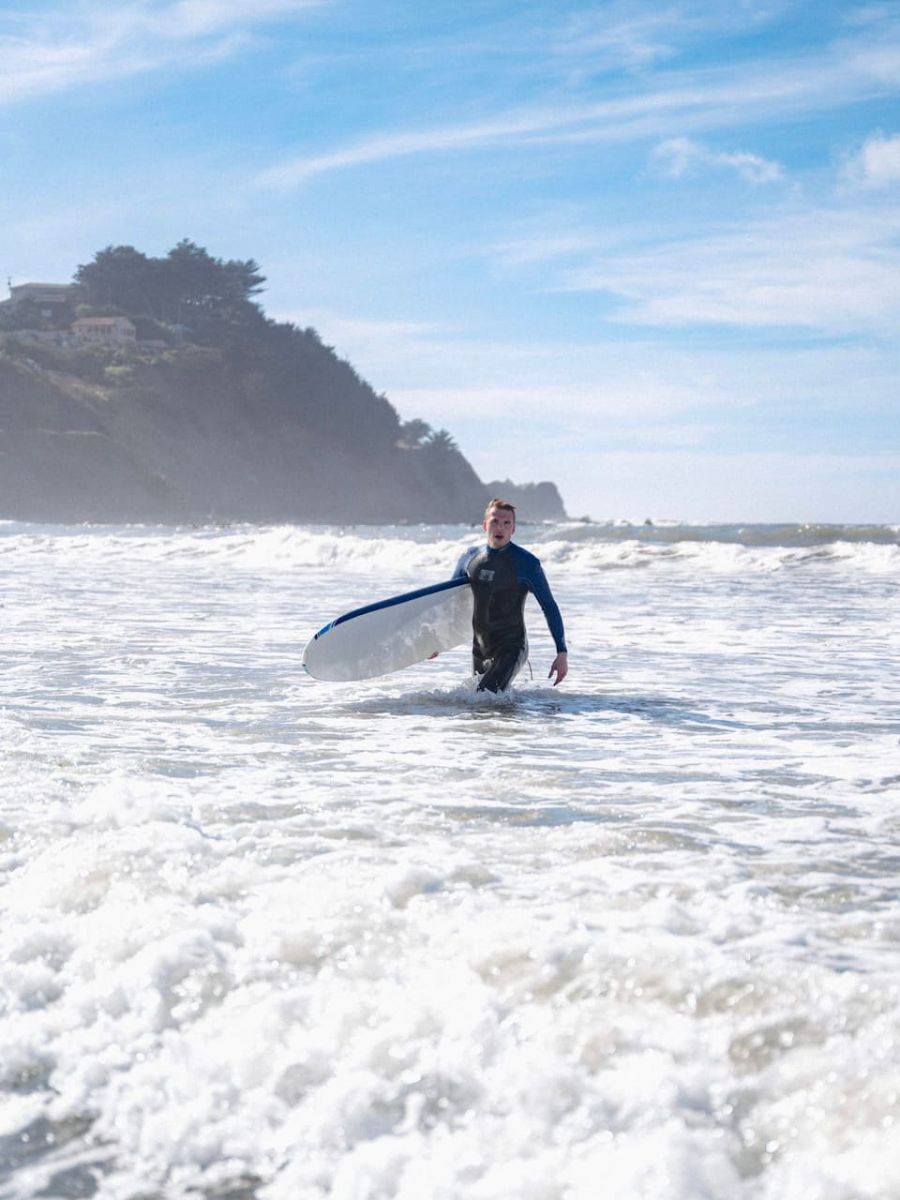 This surf trip is hosted in both English and French and includes food, drinks, transportation, and equipment. Guests will be picked up from their hotel and on the way to the Pacific Coast, you will pass by the famous Cliff House.
The trip will start with exercises on the beach where you will be guided by an instructor according to your level and experience. You will also get the opportunity to observe the marine life during the surf trip.
After the trip concludes, you will be dropped off at your hotel in San Francisco.
FAQs About San Francisco Airbnbs
Here's what people usually ask me about vacation rentals in San Francisco.
Don't Forget Your San Francisco Travel Insurance
ALWAYS sort out your backpacker insurance before your trip. There's plenty to choose from in that department, but a good place to start is Safety Wing.
They offer month-to-month payments, no lock-in contracts, and require absolutely no itineraries: that's the exact kind of insurance long-term travellers and digital nomads need.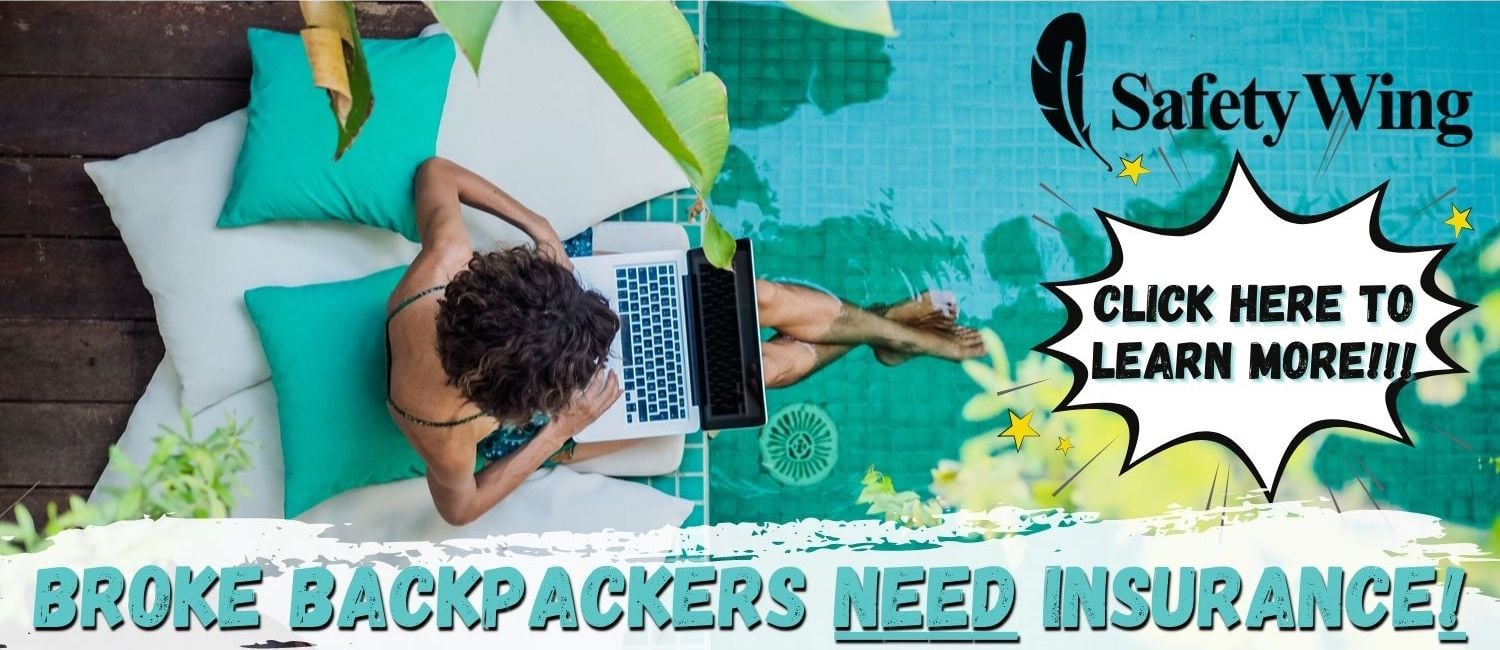 SafetyWing is cheap, easy, and admin-free: just sign up lickety-split so you can get back to it!
Click the button below to learn more about SafetyWing's setup or read our insider review for the full tasty scoop.
Final Thoughts on San Francisco Airbnb
San Francisco continues to be one of the most popular places on the West Coast. Although it has gained a reputation of late for expensive apartments and coffee shops that accept Bitcoin as payment, it has a lot of things to offer.
It has excellent wine country, renowned redwood forests, antique cable cars, diverse culture, amazing cuisine, and temperatures that stay comfortable the whole year.
Whether you are exploring the city on your own for a few days or are traveling with friends and family for an extended stay, you can never go wrong with the variety of Airbnbs in San Francisco that can cater to all your needs.
San Francisco is on everyone's bucket list but don't let the frisson of excitement make you forget the necessity of getting reliable Travel Insurance before you hop on the plane. Do check out the range of Travel Insurance available out there. Trust us, you will be able to have a more enjoyable time knowing that you have it.
---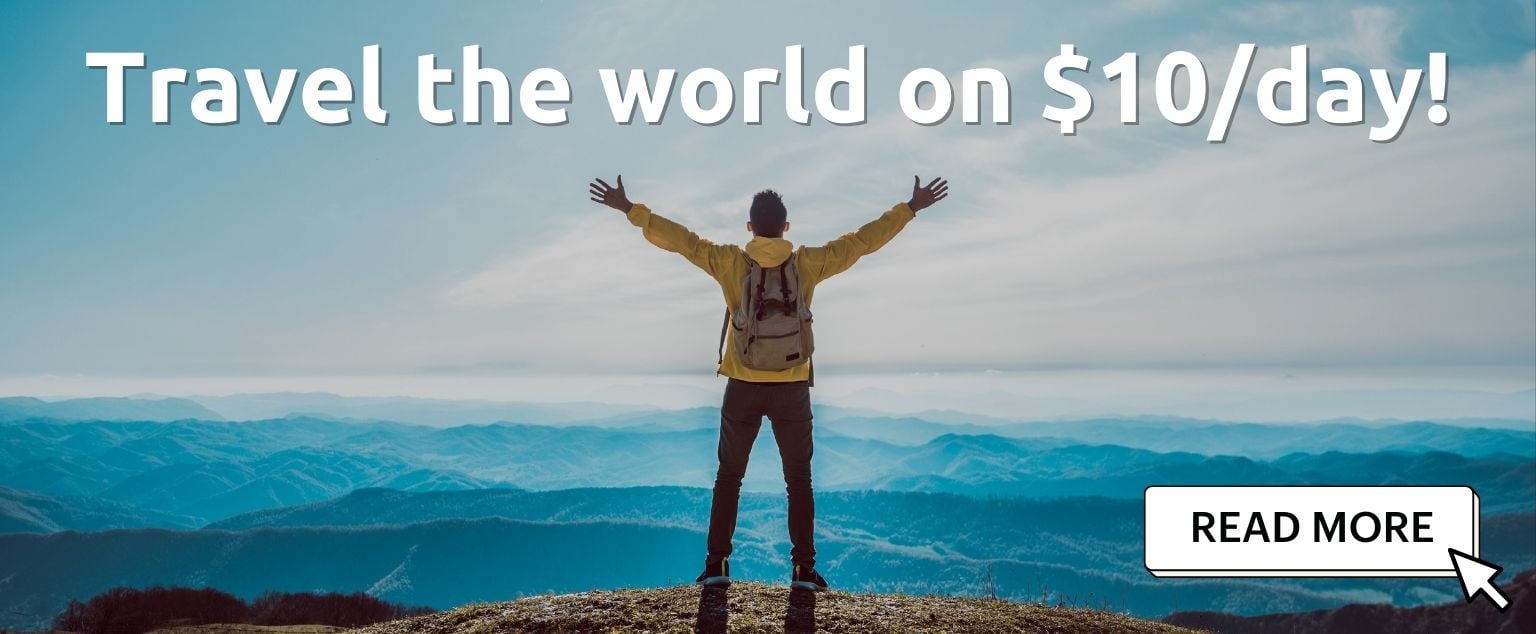 And for transparency's sake, please know that some of the links in our content are affiliate links. That means that if you book your accommodation, buy your gear, or sort your insurance through our link, we earn a small commission (at no extra cost to you). That said, we only link to the gear we trust and never recommend services we don't believe are up to scratch. Again, thank you!