Situated between the popular outdoor destinations of the Pacific Northwest and the massive national parks of Montana and Wyoming, Idaho is a nature lover's paradise. There's a burgeoning wildlife scene with stunning panoramas of expansive vistas. It is a potato – er, diamond – in the rough.
If you're keen to get out into the great outdoors, Idaho is the place to be. But if you still like a taste of city life, you'll be pleased to find many urbanized cities that offer modern conveniences and comforts such as Boise and Meridian, but are still within a stone's throw of nature spots.
The best way to see all of this nature is to stay right in the thick of it. And no longer do you need to pitch up a tent and roll out your sleeping bag, as cabins in Idaho are the way to go.
Staying in a cabin means luxury in the woods. Aside from getting the whole space to yourself and having all the features you get at home, cabins also make you feel like you're one with unspoiled and rugged landscapes.
If all of these things sound like music to your ears, then read on for the most awesome cabins in Idaho.
In a Hurry? Here's Where to Stay in Idaho for One Night
FIRST TIME IN IDAHO
Cozy Lake Retreat for Fishing
This cozy cabin is the perfect temporary home for the outdoorsman or woman who loves everything that has to go with nature. Fish for rainbow trout and make a good meal of it in the fully-equipped kitchen. After a good meal, you can watch your favorite show or have a bottle of beer on the little balcony.
NEARBY ATTRACTIONS:
Winchester Lake State Park
Museum of Winchester
Hells Gate State Park
Is this amazing Idaho Cabin booked for your dates? We've got your back with our other favorite properties below!

Unlock Our GREATEST Travel Secrets!
Sign up for our newsletter and get the best travel tips delivered right to your inbox.
Staying in a Cabin in Idaho
Idaho is known for luring travelers in the USA with the promise of exhilarating outdoor adventures and charming rural landscapes. Idaho boasts many secluded and romantic cabins that are within easy reach of the Tetons, Sawtooths and Snake Rivers, and Yellowstone. The best cabins are often close to rivers and hiking trails.
The great thing about Idaho cabins is you won't have to sacrifice your comfort for affordability. There is always a cabin for any and every budget. Cabins in Idaho run the gamut, from the rustic equipped with just the basics to the more ostentatious with jetted tubs.
Whether you are traveling to the Gem State to rejuvenate yourself, indulge in some outdoor pursuits, or reignite the fire between you and your significant other, you'll find that the cabins in Idaho don't disappoint.
What to Look for in Cabins in Idaho
When searching for Idaho cabins, you need to consider your reason for traveling. If you're traveling to get away from the cacophony of the city, you should select remote and secluded cabins. If you're going to Idaho for hiking, fishing, hunting, and other outdoor activities, you should consider cabins that are near the best places to visit for outdoor activities.
Once you have determined where to stay in Idaho, you can further narrow down your options by checking the amenities that are included. Wi-Fi is a modern convenience that most people can't live without and although most cabins offer it, the signal can be pretty weak or intermittent in extremely remote areas.
Don't forget to check the map before booking any cabin. You'll need to have a car for most cabins so parking would come in handy, especially if you're on a West Coast road trip. If you don't want to live like a hermit during your time in the state, you'll want to make sure that you can drive easily to local attractions and that you're not too far off from the closest town.
Cabins range from studio types to those that are essentially homes with living areas, bedrooms, fully-equipped kitchens, and full baths. If you are traveling with family or a group of friends, you're better off booking the latter.
Lastly, cabins are mostly in out-of-the-way areas and are best for those who would like to get away from the urban jungle and into one that comes with an assortment of wildlife and terrains. These will get you closer to the most beautiful places to visit in Idaho.
Overall Best Value Cabin in Idaho
Overall Best Value Cabin in Idaho
Cozy Lake Retreat for Fishing
> $
> 3 Guests
> Free parking
> Fully-equipped kitchen
Best Cabin for Views in Idaho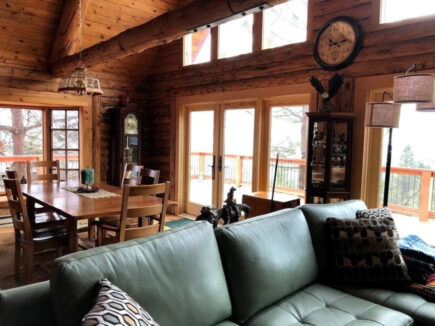 Best Cabin for Views in Idaho
Cliffside Log Cabin with Massive Deck
> $
> 7 Guests
> Spectacular wildlife
> Fireplace and heating
Cabin in Idaho W/ Fast WiFi
Cabin in Idaho W/ Fast WiFi
Cozy Retreat in Riggins
> $
> 4 Guests
> Dedicated workspace
> Private beach access
The Absolute Cheapest Cabin in Idaho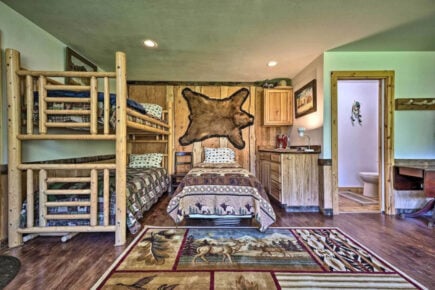 The Absolute Cheapest Cabin in Idaho
Quaint Cabin near Boise
> $
> 7 Guests
> Guided horseback rides
> Natural fresh mountain spring water
Best Cabin for Couples in Idaho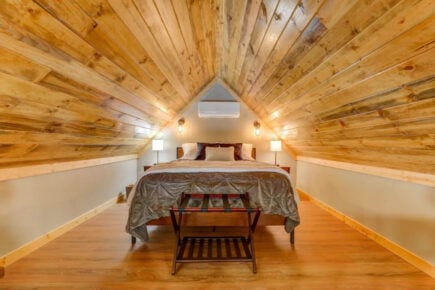 Best Cabin for Couples in Idaho
Cozy Retreat on Salmon River
> $
> 2 Guests
> Waterfront
> Beautiful views of the river
Best Cabin for Solo Travelers in Idaho
Best Cabin for Solo Travelers in Idaho
Private Room in Boutique Hotel
> $
> 2 Guests
> Private deck
> Indoor fireplace
Best Cabin in Idaho for a Group of Friends in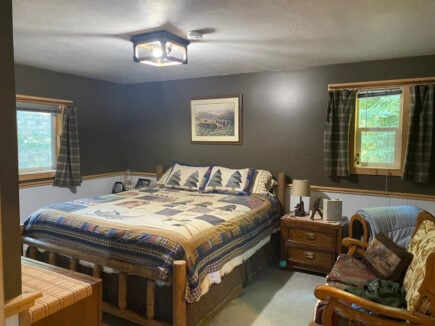 Best Cabin in Idaho for a Group of Friends in
Rustic Mountain Retreat
> $
> 8 Guests
> Mountain view
> Fire pit
The Top 15 Cabins in Idaho
You can never let the great outdoors wait too long for you, but don't worry because I have taken the time to check out the best cabins in Idaho for you. Go take a look!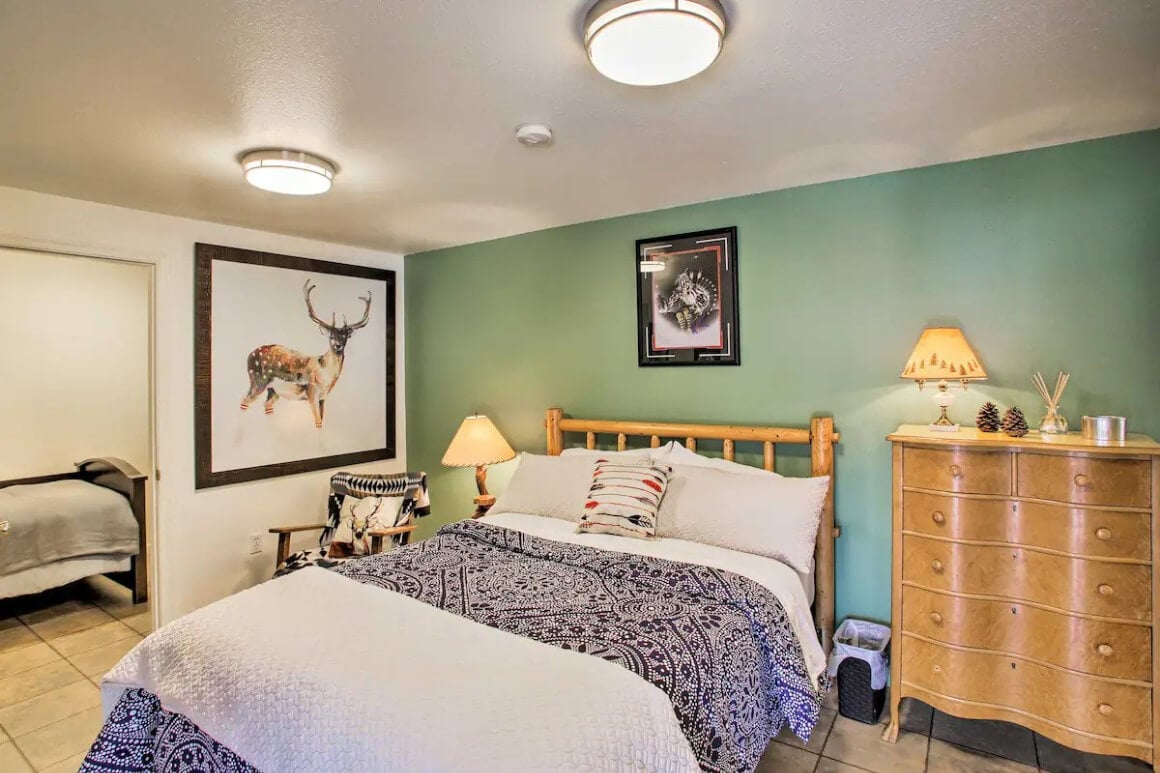 $
3 Guests
Free parking
Fully-equipped kitchen
This cozy cabin is the perfect temporary home for the outdoorsman or woman who loves everything that has to go with nature. Fish for rainbow trout and make a good meal of it in the fully-equipped kitchen. After a good meal, you can watch your favorite show or have a bottle of beer on the little balcony.
Within walking distance of Winchester Lake State Park, not only will you meet friendly people, you'll lose track of time enjoying ice fishing in winter or hiking, ATV road, and trail riding, as well as hunting in the summer.
There are plenty of adventures to embark on. Nighttime is never dull too as you're in proximity to a few local bars that offer excellent food and drinks.
$
7 Guests
Spectacular wildlife
Fireplace and heating
Constructed during the 1990s, this log home is situated on the edge of a cliff north of Boise. With a deck on three sides, you'll never run out of space where you can admire the picturesque views.
Not only will you see verdant greens, but wildlife such as fox, elk, and deer may show up unannounced too. The living room comes with a wood-burning fireplace, perfect for chilly nights when you just want to cuddle up, read a book, or watch your favorite show with a mug of hot chocolate.
If you're after relaxation and solitude, you can never go wrong with this secluded cabin with a rustic feel. Each day you can wake up, go through the French doors that open to the deck, and admire the amazing sunrise.
Nothing is quite like breathing in the fresh mountain air. After exploring the local area, you can come home and soak in the jetted tub to relax your sore muscles.
$
4 Guests
Dedicated workspace
Private beach access
With this cabin's fast Wi-Fi and dedicated workspace, you never have to let work get in the way of your commune with nature and adventures in Idaho.
Sit on the deck and listen to the peaceful sound of the river flowing or go on an outdoor adventure. Located in a community of cabins, you get the opportunity to socialize with like-minded people who are getting away from the demands of work and city life.
The kitchen is well-equipped so making meals is easy and quick. You can expect all the comforts of home in this well-appointed cabin so you're never left wanting. You'll need wheels to get to Riggins but there's free parking available and the town is only a quick drive from the property.
$
7 Guests
Guided horseback rides
Natural fresh mountain spring water
Get away from the urban jungle and be comfortable in the company of the wilderness while staying in this beautiful cabin located just outside of Boise.
You get peace and seclusion but still enjoy modern amenities such as Wi-Fi, air-conditioning, and comfortable beds. Because of its proximity to Lucky Peak State Park, you get to enjoy an endless list of outdoor things to do, but don't feel like you have to do absolutely everything.
Explore as much or as little as you like. Take a shot at the guided horseback rides offered on-site or just hang out in the spacious yard or the covered deck. If you have time and the talent, you can make good use of the gas grill for an exceptional barbecue.
$
2 Guests
Waterfront
Beautiful views of the river
This beautiful cabin located near Salmon River is perfect for couples looking to get away from it all and just spend time with one another. The well-equipped kitchen has everything you need to prepare meals without difficulties.
There's a fire pit at the back part of the cabin with Adirondack chairs and that lovely bench overlooking the river is waiting for you and your partner to share a sweet embrace on.
We know you're on your honeymoon but you don't have to stay in the cabin all the time as the surrounding area boasts a plethora of outdoor activities such as hiking, rafting, and fishing. Beautiful trails also abound in the location, just waiting for you to discover.
An Eco-Friendly Traveller NEEDS an Eco-Friendly Backpack!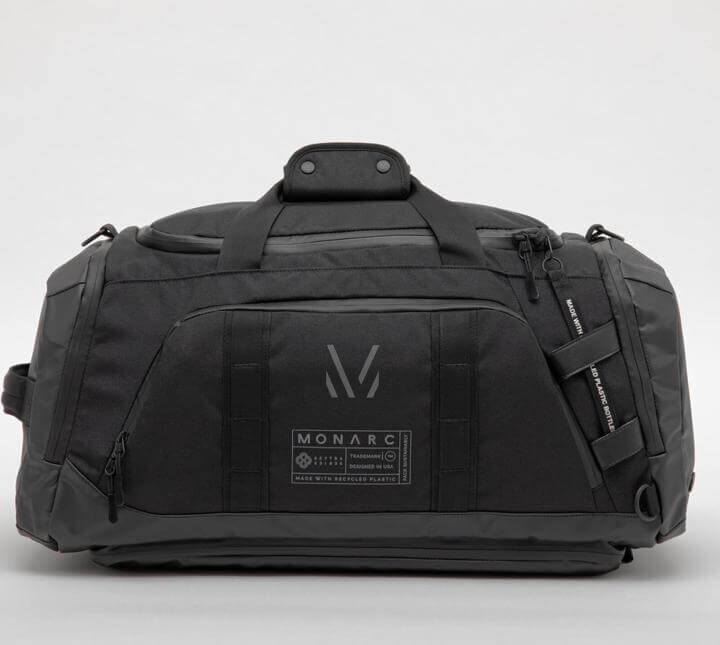 50 recycled plastic bottles – that's what goes into every Monarc Settra: the world's MOST SUSTAINABLE backpack.
Whether you're rocking duffel mode or backpack mode, if you're a traveller that gives a flying hoot about their environmental impact, then there's only one backpack you should consider – the plastic-negative Monarc Settra.
Learn More Now!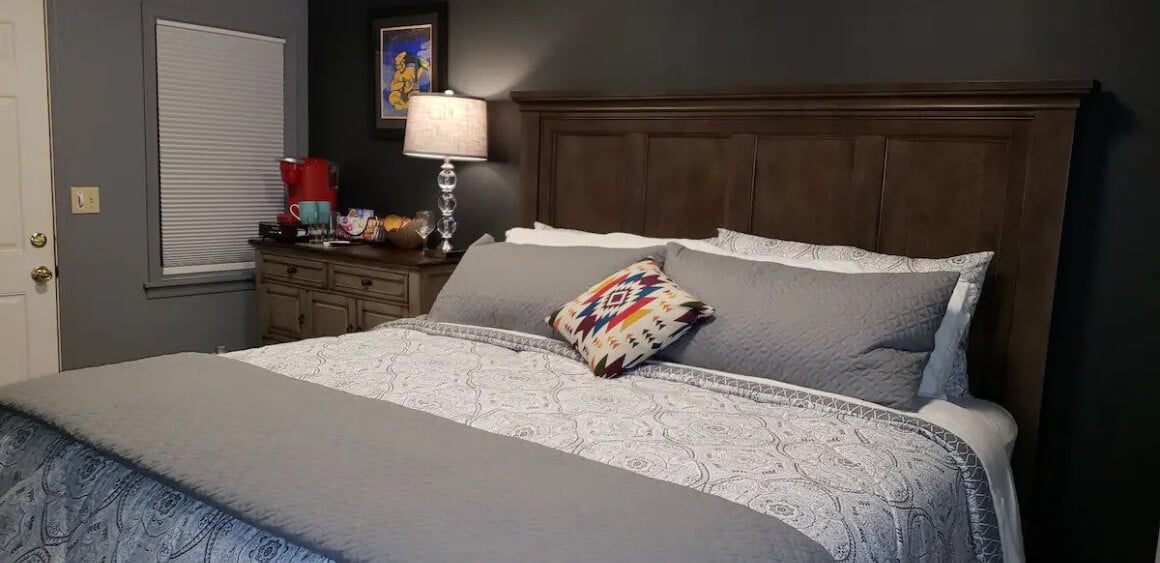 $
2 Guests
Private deck
Indoor fireplace
How would you like to come home to a cozy little space after a day of exploring the picturesque town of Winchester?
This delightful private room is what every solo traveler needs if they want to feel as if they never left home. It has a plush and comfortable bed, USB ports on each side of the bed to recharge your devices, and even a private deck that's perfect for relaxing and sipping a cup of coffee.
All modern conveniences are within reach, such as a café, convenience store, bar, restaurant, market, and grocery. The state park is within a strolling distance of the property and there is a plethora of walking trails and a variety of activities such as bird watching and fishing.
Best Cabin in Idaho for a Group of Friends in – Rustic Mountain Retreat
$
8 Guests
Mountain view
Fire pit
Feel yourself being recharged with the sound of the wild and the goodness of nature when traveling with friends in this rustic mountain cabin in the Clearwater Mountains.
The home has enough space and sleeping arrangements for eight people and even comes with a dedicated workspace and Wi-Fi in case one of you still needs to clock in a few hours of work.
A washer and dryer are available in the unit and the deck is an excellent spot for your morning cup of joe while admiring the spectacular mountain views. The fire pit is ready for some outdoor fun and bonding but the good things don't end there. There's a water feature on the patio, perfect for when you want to read or just want to relax.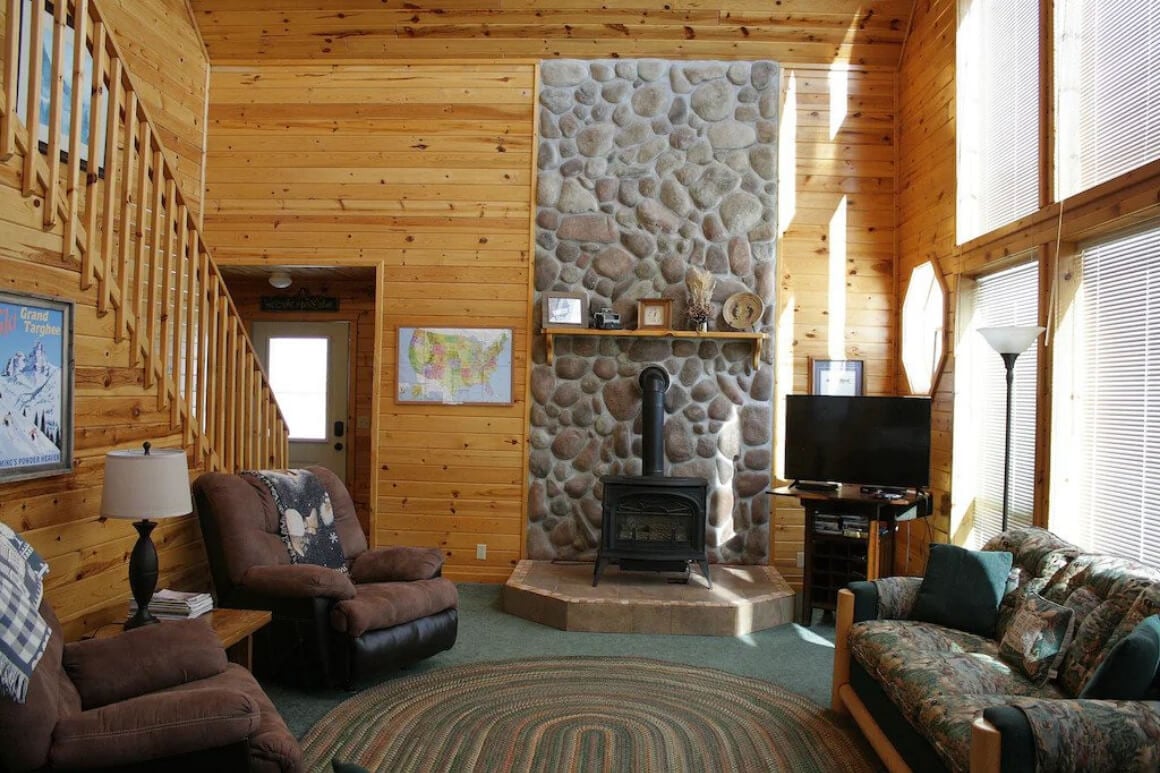 $$
8 Guests
Fireplace
Large pit
The family is going to have a grand time in this gorgeous cabin which boasts amazing views of the Grand Tetons. It can comfortably sleep eight people, has sufficient heating for cold winter nights, and comes with a well-equipped kitchen.
The large fire pit area is perfect for roasting marshmallows and hot dogs or just stargazing at night with the whole group. Don't worry about the little ones getting bored while indoors, the downstairs game room is equipped with a variety of entertainment such as air hockey, foosball, and a ping pong table.
Go outdoors and teach the kids the art of fly fishing or get the whole family to join you in kayaking the Teton River. If you'd rather be on land, you can opt for mountain biking or hiking in the Jedidiah Smith Wilderness.
A few other attractions are a short drive away from the cabin such as Island Park and Jackson Hole WY. Relax, distress, and create memories with the whole family in this beautiful property.
$
2 Guests
Walk to lake
Near restaurants and bars
This studio cabin is perfect for couples who want to spend their honeymoon enjoying each other's company in the serene outdoors of Idaho.
The size is cozy yet spacious enough and it comes with a kitchenette. But nobody wants to cook during their honeymoon, right? You don't even need to worry about your meals as numerous restaurants and bars are nearby.
Sip your morning coffee on the porch while watching the surroundings stir from a deep slumber, swing your worries away or use the swing as your reading nook.
The porch is ideal for relaxing in the evening after spending your day outdoors. Just walk across the street to go to Winchester Lake where you can go skating, ice fishing, or cross-country skiing during winter.
$
7 Guests
Near golf course
Neat hot spring pools
The beauty of this A-frame cabin deserves a spotlight on Instagram. It invites you to a rejuvenating experience above the trees, deep in mother nature's embrace.
Suitable for a large group, the cabin boasts a huge outdoor deck where you can hang out, read a book, grill meat and vegetables on the barbecue, or just enjoy each other's company.
You can easily stroll from the cabin to Terrace Lakes Resort and get a thrill out of the hot spring pools or head to the nearby golf course to dine and have drinks at the restaurant and bar.
There's never a dull moment here in the cabin and the surrounding areas as numerous activities are waiting to be experienced such as fly fishing, mountain biking, guided deer and elk hunts, white water rafting, and photography trips, as well as skiing and snowboarding during winter.
If you'd rather remain indoors, the library, video games, puzzles, arcade games, and board games are all waiting for you to peruse.
$
4 Guests
Access to the lake
Shared patio
Even if you're backpacking and pinching pennies, you can still enjoy the comforts of a soft bed and some privacy when you stay in this private room.
This studio room is big enough for four backpackers, as it has a queen bed and two bunk beds. It comes with a private bathroom and has a designated space where you can prepare and eat breakfast. What more could you ask for at such a price?
Within walking distance to the hotel are a café, restaurant, bar, convenience store, and grocery. Winchester State Park is a stone's throw away from the property if you feel like you're up to hiking or just want to relax in and around the lake.
Whip the binoculars out for bird watching or take your travel fishing rod with you and wait for the fish to bite as you unwind.
$
4 Guests
Free parking
Washer and dryer
If you'd like to spend a couple of weeks fishing, this is the best cabin for you! The home is situated close to the Clearwater River that's abundant with salmon and steelhead, so you can fish to your heart's content.
If you'd like to make a good meal of your catch, you can always use the kitchen. The studio apartment is in a quiet location with pleasant views of the river and because it faces west, you get loads of sunshine, even in winter.
After all that fishing, gather around the fire pit to warm yourselves while stargazing.
A wealth of other outdoor activities awaits to fill your days, aside from fishing. Expect a few guests such as pheasants, quail, turkeys, and deer; they all like to make unannounced appearances.
There are even coyotes, mountain lions, and elk at times, and though we don't advise you to go near them, you are always welcome to take their photos from a distance.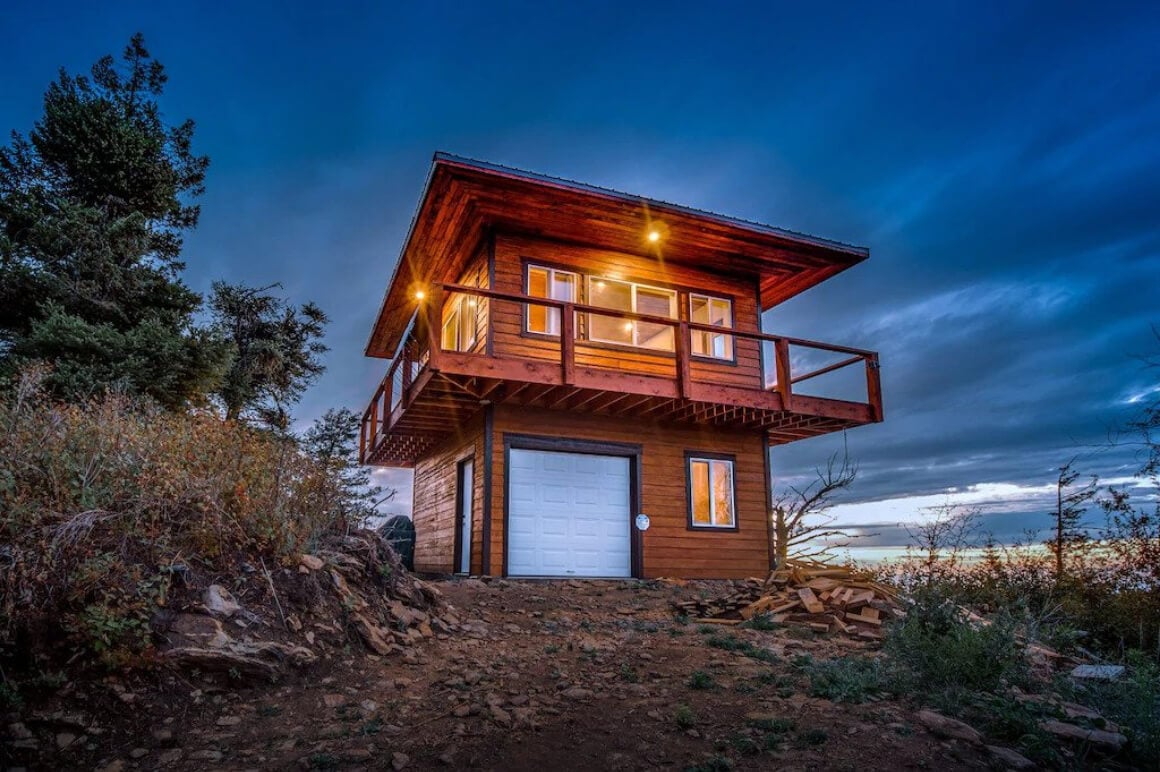 $
6 Guests
Solar-powered
Wood burning fireplace
Searching for something other than your usual cookie-cutter cabin? Look no further! This lookout tower-style cabin is located near Redemption Rock and boasts magnificent vistas of Coeur D'Alene and Liberty Lakes.
Located on acres upon acres of private property, it's somewhat of an adventurer's cabin where you have to hike in and out to get all the supplies you need.
You can barbecue meat and vegetables on the outdoor propane grill and sit on the deck with a glass of wine while looking out over the entire valley.
The experience and the vibe are unlike any other. Warm up in front of the indoor wood-burning fireplace or soak in the jetted bathtub to soothe your aching muscles after all the hiking and exploration.
$
8 Guests
Mountain views
Swimming pool
Bring the entire family to this fun, riverside cabin for a vacation and they will surely have the time of their lives. Spacious enough to accommodate 8 people, watch the kids as they scramble to claim their sleeping quarters in the upstairs second bedroom where you will see twin beds specially made for little ones.
Make s'mores and roast hotdogs on the fire pit at night or observe the local wildlife safely from a distance on the patio.
Located just a few minutes from the downtown districts of Crouch and Garden Valley, you are within arm's reach of the best bistros, restaurants, and bars; perfect for times when you would rather relax and not prepare meals in the cabin's fully-equipped kitchen.
Make the most of your tile outdoors by trying the countless activities in the area such as exploring a few state parks and forests and fishing, as well as sleigh rides during winter.
$
4 Guests
Gas grill
Private patio
This lakeside cabin is an excellent choice for those who want to get away from the city or work for a weekend or a few days. Peaceful and quiet, it overlooks the pristine waters of Hayden Lake.
Wake up and start the day with a cup of orange juice or coffee on the private patio then head down the staircase and spend some time in the water. Meal preparation is easy and quick in the well-equipped kitchen. Plus, you can also grill meat and vegetables on the gas grill.
Go kayaking or cast your fishing pole right on the dock but if you would like more action, there are trail rides and amazing views nearby where wildlife sightings abound.
Head to the Mad Bomber Brewing Company for a pint or to just see how the brewery works. If you have little ones, you can take them to the legendary Silverwood Theme Park which has more than 50 attractions!
Don't Forget Your Idaho Travel Insurance
ALWAYS sort out your backpacker insurance before your trip. There's plenty to choose from in that department, but a good place to start is Safety Wing.
They offer month-to-month payments, no lock-in contracts, and require absolutely no itineraries: that's the exact kind of insurance long-term travellers and digital nomads need.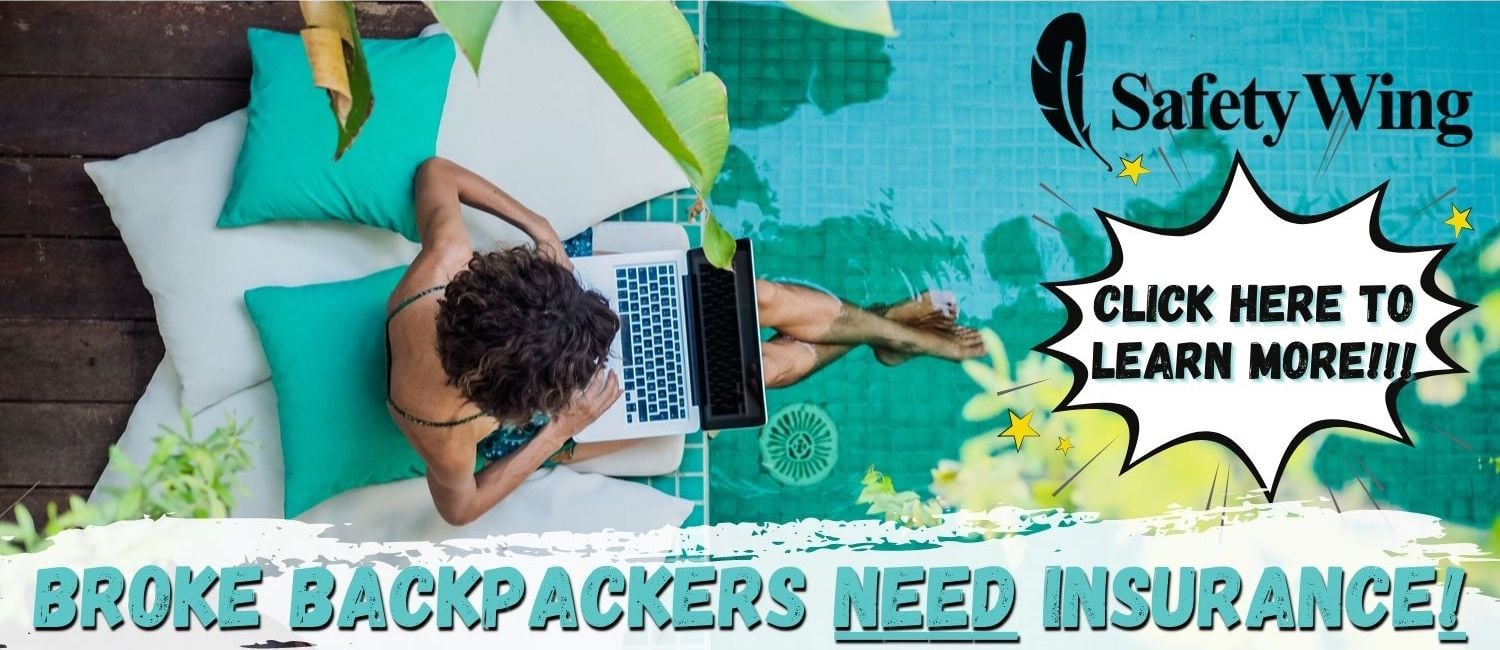 SafetyWing is cheap, easy, and admin-free: just sign up lickety-split so you can get back to it!
Click the button below to learn more about SafetyWing's setup or read our insider review for the full tasty scoop.
Final Thoughts on Cabins in Idaho
Take some time off from work, be at one with nature, and reconnect with the environment. Idaho is the perfect place to do those things and the state has plenty of accommodations for you to choose from.
Now that you have an idea of where to find the best cabins in Idaho, it's time to set off on a new adventure that you will remember for all the right reasons. Get ready to be wowed beyond your expectations by the beauty of Idaho.
Do consider taking out travel insurance before embarking on your journey. You can hope for the best when traveling but it's better to be prepared for whatever can happen. After all, you can't put any price on peace of mind.
---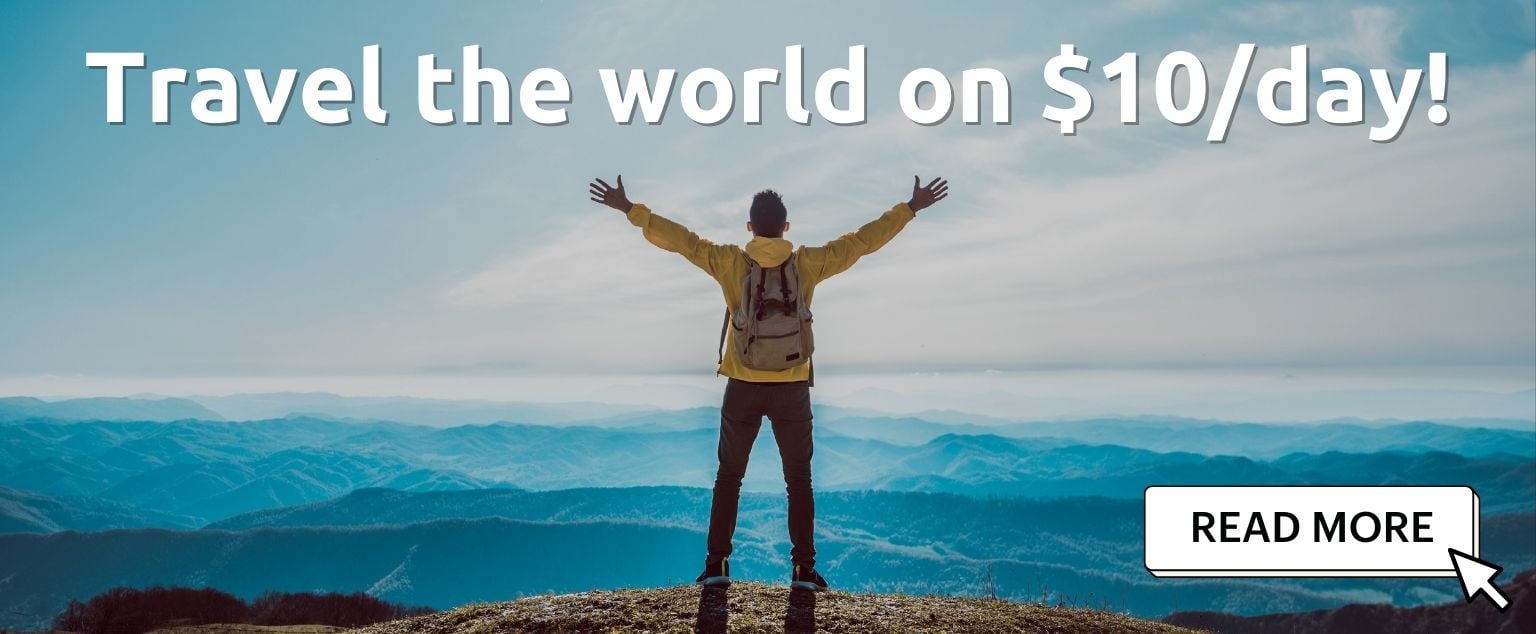 And for transparency's sake, please know that some of the links in our content are affiliate links. That means that if you book your accommodation, buy your gear, or sort your insurance through our link, we earn a small commission (at no extra cost to you). That said, we only link to the gear we trust and never recommend services we don't believe are up to scratch. Again, thank you!