San Francisco goes by many names: San Fran, Golden Gate City, City by the Bay, Frisco, Tiny Rita (I made the last one up) . Whatever you call it, this densely populated peninsula boasts a whole ton of diverse neighbourhoods, with big crowds and many popular tourist sights and attractions to match.
Originally established by Spanish colonists, San Francisco experienced massive growth during the Gold Rush in 1849. Today the city is a liberal, open-minded place, where history and the present day collide in an explosion of culture, flavours and, unfortunately, problems.
With the rise of Silicon Valley businesses setting up camp nearby, a sharp rise in the cost of living in the city has resulted in gentrification and added to the already sizeable homeless population of the city. Other issues, such as drugs and crime related to thefts, add to this.
However, that's not to say you can't go to San Francisco. However it is important to know how to have a trouble-free trip, so we have created this epic guide to staying safe in San Francisco, filled with all the tips and information you'll need to do just that.
COVID-19 UPDATE
Whilst COVD 19 has not gone away, the world is opening up again to travellers. However, at the time of writing, the USA continues to struggle with the pandemic and international travel to and from the States is severely restricted.
The advice of most world governments at this time is to avoid the USA.
For the most up-to-date safety information and what you should be doing to help, please consult the WHO and your local government.
14/07/2020
How Safe is San Francisco? (Our take)
San Francisco is great to visit. Its steep hills are iconic, there's the Golden Gate Bridge, Fisherman's Wharf, Alcatraz and its historic (and huge) Chinatown.
It is also the home of big banking and various tech start-ups turned tech giants. A favourite spot for travellers, San Francisco offers up a whole lot of things for people stopping by to do.
However, there are some places in the city that are best avoided, as well as some other things to be aware of – even though it is a relatively safe place.
In terms of violent crime, San Francisco does have lower rates than other popular cities in the USA. However, that does not mean there is no crime; thefts, such as pickpocketing and bag snatching do occur, with car break-ins being a particular issue.
There is also a much-publicised problem with homelessness that weighs heavy on the city's image worldwide.
Being aware of your surroundings is important in certain areas – especially at nighttime; this goes for places such as Upper Haight, the Mission, and Tenderloin.
On the whole, it is safe, but San Francisco is a city at the end of the day and street smarts do pay off; to assess just how safe it is statistically, however, let's now take a look at the facts.
Is San Francisco Safe to Visit? (The facts.)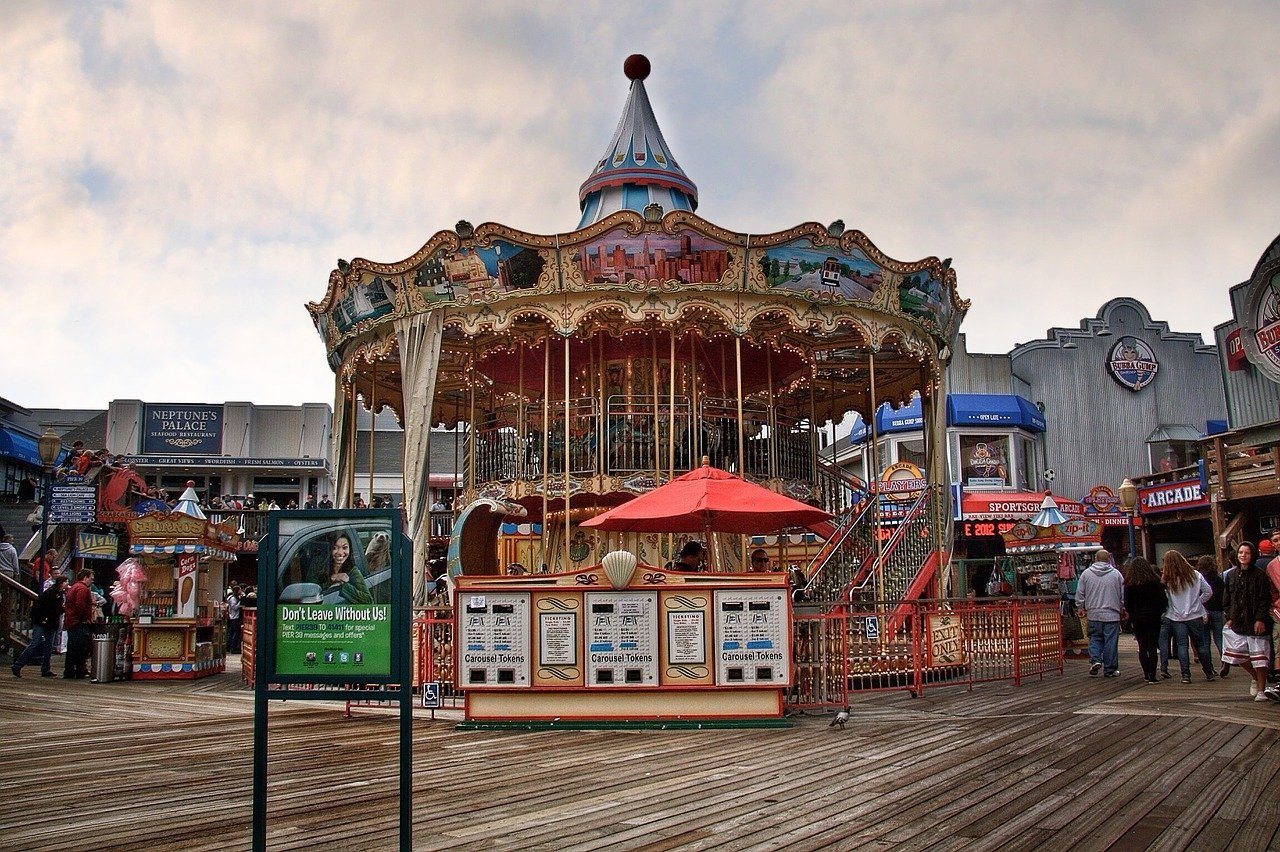 San Francisco is the 15th most populous in the USA, covering an area of around 46.9 square miles. It is also the 2nd most densely populated urban area in the whole country.
In order to understand San Francisco, it is important to know about the social issues that it faces, so you have a better insight as a traveller.
When you look at the numbers, San Francisco appears to be a very affluent city. In 2018, San Francisco boasted the 7th highest income of any county in the United States – the average income was $130,696. In 2019, San Francisco was the highest-rated American city in The Economist's world livability ratings.
However, this image of a rich, squeaky clean city belies a very different San Francisco.
For example, in 2017 the number of homeless people living on the street was counted at 7,500 (officially). In the same year, it was found that many had mental health complications or other illnesses such as HIV; two thirds of that number were women.
The problem isn't getting better. In 2019, there was a 14% rise in the homeless population to 8,011.
It is such a bad problem that a United Nations special envoy said she was "completely shocked" by the situation and the "deplorable conditions,", comparing it to the slums of Mumbai. Honestly, I had the exact same reaction myself when I visited in 2018.
Crime is an issue although violent crime appears to be dropping. Homicides fell by 11% from 2018 to 2019, with 41 homicides recorded – the lowest in almost 60 years. The decline in other serious crimes – such as rape, which fell by 15%, and sex trafficking, which decreased drastically by 57% – indicates better things for the future.
Other, smaller, crimes have not seen such a dramatic drop. Theft from vehicles and personal theft have fallen only by 2%.
The second biggest complaint from citizens in 2018 was, surprisingly, human faeces on the street, with around 65 calls a day complaining of such. The city has since set up a "poop patrol" to combat this potential health hazard. Yuk.
To add to these issues, the SFPD (San Francisco Police Department) claim they are understaffed.
All of the above, however, does not and should not put tourists off.
Tourism is the second-largest private sector industry in the city, responsible for over 1 in 7 jobs. So yeah, despite the troubled streets of San Francisco, tourist numbers are reaching record highs.
Rising 1.2% from the previous year, in 2018 the number of visitors to the city were 25.8 million (in 2017 that number was 25.5 million). In fact, each year for the past 9 years has seen record-breaking visitor numbers. They spend an average of $10 billion and contribute to a hotel occupancy rate of 82.2%.
Needless to say, San Francisco remains popular – and relatively safe – in spite of its issues.
Is it Safe to Visit San Francisco Right Now?
Yes. San Francisco is safe right now, but there are some things affecting the city currently that it is important to be aware of.
Notorious gangs operate in the city. While that may not be an issue for many visitors, it has been implicitly linked to gun violence, prostitution and drug-related crimes, too.
Some areas of the city (Tenderloin, Bayview-Hunters Point and Mission, for example) see high rates of gang violence, drug abuse and prostitution than other neighbourhoods. It's important to be vigilant if you are alone in these areas at night time. In terms of San Fran's top places to visit, most of these are safe.
Historically, homelessness has been an issue for San Francisco and continues to be a pressing problem to this day. Rising rates of homelessness mean that California, in general, has the highest rate of "unsheltered" individuals in the country; many people live in tents, in their cars, or just on the streets. Homelessness is particularly visible in the Bay Area.
As a tourist to San Francisco, this homelessness epidemic could be a shock – especially if you are not from a major city.
Being in over-touristed areas, it is important to be careful of pickpockets, ensuring to keep your belongings safe, close to you and out of sight.
Away from the human dangers of San Francisco, nature can be an issue, too.
The city is built on three seismic faults, and often experiences tremors. Reports seem to suggest that the a large, 7.0+ magnitude quake is likely to hit San Francisco in the next few decades, but the chances of this happening during your visit are very slim. Regardless, knowing what to do in the event of an emergency situation may come in handy.
Generally, however, there is nothing pressing that should stop you from visiting San Francisco right now.
Have you sorted your Travel Insurance? Even if you're going on a short trip, it is always a good idea to travel with insurance. Have fun while visiting San Francisco, but take it from someone who has racked up $1000's on insurance claims, it is a good idea to get it sorted before you leave home!
The unthinkable can and does happen: hence all the talk of insurance.
Your best options for San Francisco travel insurance are World Nomads and SafetyWing – World Nomads being a heavy-duty, all-encompassing option and SafetyWing being an affordable, customisable option
For either one, be sure to read the terms and conditions to make sure that the policy covers your needs.
Read our SafetyWing review or get a quote from them directly.
To find out why we recommend World Nomads, check out our World Nomads Insurance review.
If you want to shop around a little, then read up on competing companies and what they can offer. There are lots of insurance companies and policies out there, so don't feel limited.
Although there are a number of issues currently facing San Francisco, immediate danger to potential to tourists is not one of them. However, this being a city, it still pays to have street smarts, to use your common sense and to generally be on alert as you explore the Bay. To help you do this, we have prepared this handy list of our top safety tips for travelling to San Francisco.
Don't leave your belongings unattended – They will almost certainly go missing
Be aware of your surroundings and keep your belongings close to you on public transport – More on this later, but know that certain lines are more renowned for this than others
Don't walk around with flashy jewellery – Looking rich could easily make you a target for an opportunist thief
Try to blend in – Though a city of many tourists, it is best to try to blend in as much as possible to avoid pickpocketing and generally being a victim of crime
Don't walk around with your phone unnecessarily – Phone snatching does occur
Steer clear of biohazards – Such as human waste and needles; you may see them, but do not go near them
Don't carry around wads of cash with you – If you need to pay for something, and someone sees you have a wallet stuffed with bills, you may be targeted
Careful taking money out at ATMs – It's best done in daylight hours, and preferably indoors (in a bank, a mall, etc.)
Don't walk around deserted areas – Especially at night time and/or by yourself; chances of crime happening are low, but you should take care in areas you don't know after dark, or avoid them altogether
Take a cab after dark – Though not a must, it is more advisable to do this than walk (especially alone)
Don't put your bag on the back of a chair/under a table at a restaurant/cafe – It may disappear from under your nose
Know the local drug laws – Cannabis may be legal, but you can't smoke it in public or at public events. You also have to be over 21.
Keep away from illegal drugs – Anything that isn't cannabis is illegal and you risk arrest.
Don't leave anything unattended in your car – Leave nothing on display, as theft from vehicles is a problem; it's best to have nothing valuable in your car
Avoid parks after dark – Many of the city's parks are used for drug deals and prostitution at night, so they may be best avoided
Be aware of the homeless population – They are mostly harmless but he SFPD recommends that should "avoid all confrontations and maintain a safe distance"
Research where to stay in San Francisco – Neighbourhoods can be wildly different; research different areas and see which one is going to suit you and your travel needs
Know what to do in the event of an earthquake – Though unlikely to occur, it is still good to know what to do
Get a local sim card – If you're not from the US, getting a local sim will help you get around the city, and contact people in an emergency
San Francisco is, of course, a safe city. So many tourists would not be going there otherwise. However, it remains a city and it does have its issues, so it is important to know about the problems the city faces before you go. Our helpful tips for staying safe in San San Francisco aren't there to scare you, but they are there to help you navigate the city like a pro and have a totally trouble-free time.
Some General Safety Tips from the OG Broke Backpacker
Keeping your money safe in San Francisco
Money is crucial to any world travelling trip and vacation alike.
Getting from one destination to the other, using public transport, paying for dinner, leaving a tip, buying souvenirs – all of it requires money. Losing money, therefore, can really put a dampener on your trip.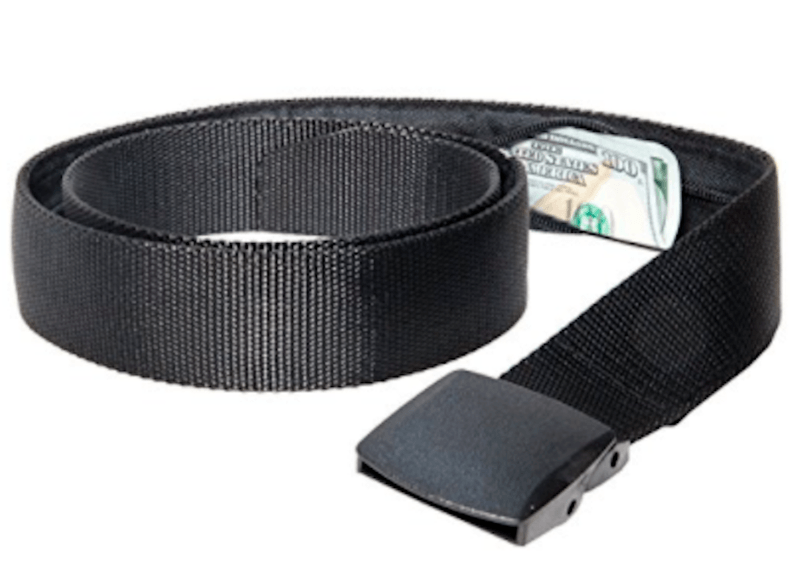 Keeping your money safe in San Francisco, as in any of the world's cities where many tourists – and many pickpockets – congregate, is key.
The best way to do this is with a money belt, and we would suggest the Active Roots Security Belt.
This is the simplest, smartest option out there. It is a regular belt, which acts like a belt, is sturdy, affordable, and simply has a hidden zipper pocket to stash your cash.
Other money belts can be overcomplicated, uncomfortable, and look overly obvious worn under clothing – but not the Active Roots Security Belt. You'll have peace of mind wandering the city with this money belt.
If a belt doesn't suit you, then you may want to consider another product from Active Roots; their infinity scarf, for example, comes complete with a secret pocket where you can keep your valuables.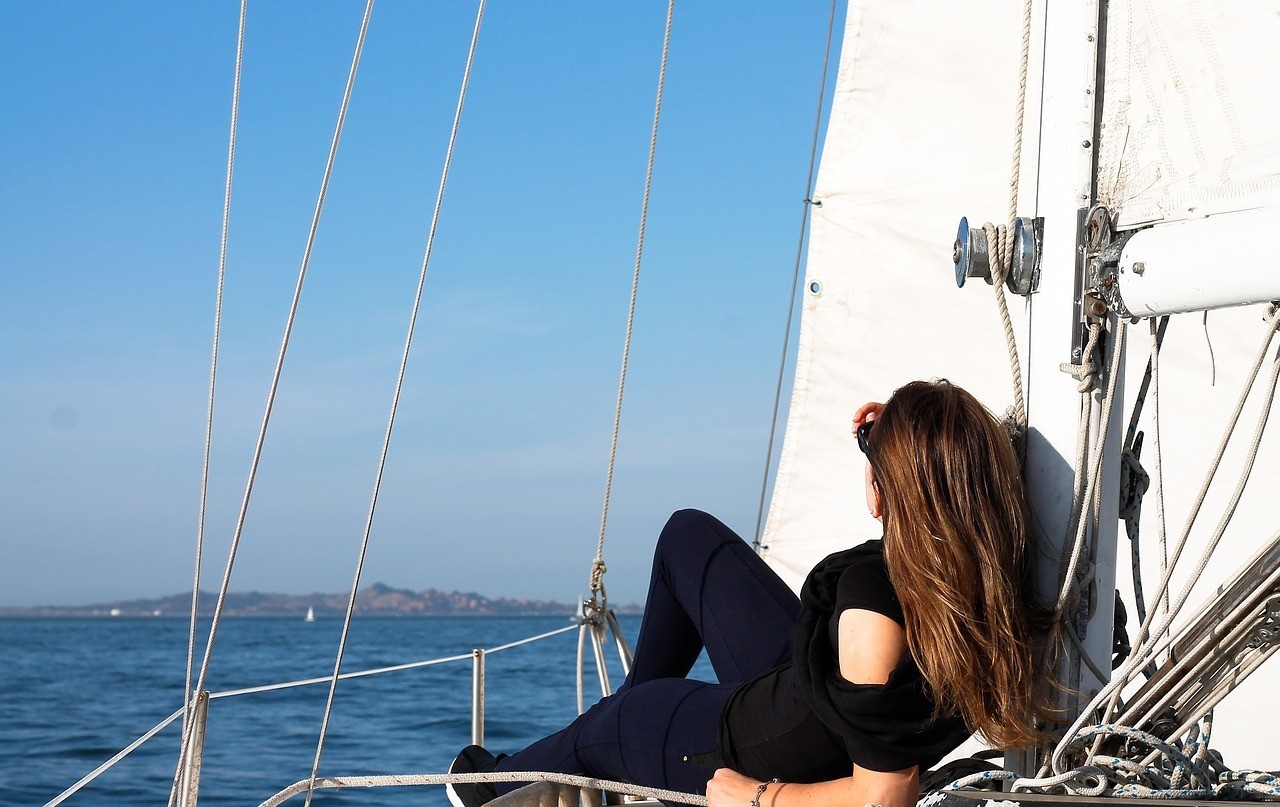 Travelling solo can be a rewarding experience. It can also be a bit intimidating; heading into a new city by yourself without anybody else there to help you with directions, or being there to watch your back, may be scary… But don't worry!
It is easy for a first time traveller to take on San Francisco. The public transport is easy to use, there's a great food scene to tuck into, cool neighbourhoods to explore, and loads of sights to keep you busy.
To help you make the most of your trip, here are some pointers for solo travellers in San Francisco…
Take a tour. San Francisco is a big city and it can be overwhelming. In order to get acquainted with the city and its neighbourhoods, something like a hop-on, hop-off bus tour or free walking tour of Chinatown, could be a great idea for your first couple of days in the city.
Head to the city's museums. There are plenty of them, such as the SFMoMA, which offer relaxing spaces without any worries about your safety and are totally fine to explore alone. Even better if you are an art fan!
Take care with looking at your phone in public, even if this is at a map to figure out where you are. It is best to go inside a shop and do so discreetly rather than always having your phone out. It is easy for someone to snatch your phone from your hands, and then be gone within seconds – and this does happen.
Don't be worried about going to eat out alone. This can seem a bit intimidating for some people, but many of San Francisco's restaurants have counter seats where you can dig into dinner at the bar.
Ask a local for their insider information. Whether that's someone you get chatting to when you're out and about, or the staff at your hostel, nobody knows their city like the people who live there – so ask them where they think is best to eat, best to explore, best to do in San Francisco.
Don't skimp too much on your accommodation. Those travelling alone should base themselves in safe, secure, convenient places. Make sure to read reviews and only stay at places that come highly recommended from other travellers, paying particular attention to reviews by other solo travellers if possible.
Be careful about drinking too much at night. Downtown San Francisco is a vibrant place to have fun after dark, but just go easy on the drink. Getting totally wasted is a good way to leave you with less awareness of your surroundings, no idea how to get home, and generally can more easily get you into bad situations.
Don't walk around by yourself at night time. It just is not a good idea to wander around by yourself, after dark, in a place – let alone a city – that you do not know at all. Unless with others from your hostel, always opt for a taxi or Uber to be on the safe side.
Try to be flexible and kind to yourself. Things change and don't always work out, but you should try to be open with how you deal with botched plans. At the same time, make time to have chill days for yourself; you don't have to do absolutely everything that your guidebook tells you to, or tick off everything on your list – you'll just get burned out from doing so.
Travel light. It is very annoying to travel with a lot of heavy luggage, especially in a city; you can get hot and sweaty, it's uncomfortable, and you could even be more of a target with lots of luggage. It's also just not a good look to travel to a city with a huge backpack, and an inconvenience to others on public transport if you happen to use it.
While it's true that somewhere like San Francisco, with its crowds and tourists, can feel overwhelming, it is also packed full of things to do enough to keep any solo traveller busy. You will never feel too lost or bored in this interesting, energetic city. Just remember to take your time, not to rush around the sights, enjoy the atmosphere – San Francisco offers a chance to kick-start your USA backpacking adventures.
Is San Francisco safe for solo female travellers?
San Francisco is absolutely safe for a solo female traveller. While you may think it's a destination for groups of friends or couples, this city is totally accessible for a solo female traveller – and enjoyable, as well.
A pinch of common sense, and an awareness of your surroundings, will go a long way; for women, San Fran is like any city in the world. To help you out on your trip, we have curated some specific tips for solo female travellers in San Francisco.
Make sure your accommodation is safe for solo female travellers. You'll need to research the neighbourhood, make sure the accommodation itself is secure, and read plenty of reviews from other women who have stayed there by themselves. It's better to go over budget in terms of accommodation than it is to pinch pennies.
Always be aware of your surroundings, especially when you are wandering around on the streets. There is no one else to watch your back, so know what is going on around you at all times; remember – this is San Francisco, not Disneyland.
Don't just blindly follow maps on your phone. Although it is an amazing way to navigate around a new place, Google Maps – for example – tends to take you on "short-cuts" that may lead you down shady side alleys or through a sketchy area, all for the sake of shaving a minute off your journey.
Know your emergency numbers; have them on speed-dial, or at least saved with a symbol or number in front of them so that they appear first in your contact list. You should also have them written on a piece of paper that is always on your person, just in case something happens to your phone.
Always make sure that somebody knows your whereabouts. It is much safer for you if somebody knows where you are, rather than nobody knowing where you are. Keep your friends and family back home updated with your itinerary in San Fran and let them know if plans change; consider sharing your plans via email or Google Docs, perhaps.
Be careful about going out to drink solo. Instead, consider signing up for a bar crawl, or brewery or wine tasting tour.
Watch your drink. Do not leave it unattended and do not accept drinks from random strangers. Drink spiking does happen, so avoid putting your drink down or taking your eyes off it, especially in a busy bar or club.
Remove yourself from uncomfortable situations and do not linger out of politeness. If someone is making you feel awkward for any reason, take yourself away – make excuses if you have to.
If getting public transport late at night, try to sit up front near the guard, and not in an empty, lonely carriage, which is not only riskier, but it'll make you feel more unsafe too.
Do not let random strangers know your personal details. Where you're staying, your marital status, your travel plans, where you're from – oversharing all of these things with people you don't know at all could put you at risk.
Take advice from other solo female travellers who have been to San Francisco before you. Check online and ask communities like Facebook group Girls Love Travel, where a question about safety for solo female travellers in San Francisco is bound to be met with dozens of suggestions.
Don't lose your money to a pickpocket! 
There are tons of ways to store valuables and goods while traveling but a travel scarf has to be the least obtrusive and the most classy.
The Active Roots Zipper Scarf is your run-of-the-mill infinity scarf but with a hidden pocket that's big and sturdy enough for a night's cash, your phone, a passport and (hell with it) some snacks too!
Generally speaking, San Francisco is safe for female travelers. Keep your wits about you, follow your gut instinct (if something looks dodgy, it probably is) and you should be fine. It's about being sensible as much as it is about keeping an open mind and having the best experience you possibly can.
If you are considering a trip to San Francisco, then you should definitely take it. You will get to make so many amazing memories on your solo trip to the City by the Bay, that you'll wonder what you were worried for in the first place. Nevertheless, San Francisco is a city and should be treated as such – don't do anything you wouldn't do at home, stay safe, use your street smarts, and you'll be fine.
Is San Francisco safe to travel for families?
San Francisco, like much of California, is a total blast for families — and has been for a long time.
There are a bunch of child- and family-friendly attractions, sights and activities to get stuck into here, and endless entertainment options to keep you all occupied during your trip.
However, compared to other places in the US, the city isn't as geared towards children and families as you'd expect. Perhaps because many of those who live in San Fran are big kids themselves — this city has the fewest children per capita out of any US city. In fact, more dogs live in San Francisco than children.
There is still a lot for families to do, however. This is the home of video game designers and animators, after all.
Nature lovers will enjoy running amok at the Golden Gate Park with its children's play area, a vintage carousel and play castles; or the Petting Zoo at the California Academy of Sciences; or searching for insects at the Conservatory of Flowers.
There are also museums, such as the Children's Creativity Museum, where your little ones can learn how to animate cartoons or design a video game all of their very own. Then there is the Walt Disney Family Museum, where your kids can get to grips with the origins of all the Disney characters.
In fact, children are welcome at many of San Francisco's attractions and art museums — there is free admission to children aged 12 and under to places such as the SFMoMA and the Asian Art Museum. They will like learning about the fascinating history of Alcatraz, going to the cable car museum, or seeing some vintage stagecoaches at the Wells Fargo History Museum.
When it comes to safety for families in San Francisco, for the most part, there is nothing to worry about. However, first and foremost you will want to consider the weather; there are four distinct seasons and the weather can be pretty changeable (so much so that locals say it is possible to experience them all in one day).
The best time to go to San Francisco with children is either in spring or autumn; it's mild and less foggy than other times of the year. Temperatures don't usually go above 70 degrees, in general, and it can even get cold in the summer. Pack enough clothes to prepare for all seasons, with waterproofs even for the summer months.
If you plan on doing any sort of walking in the city, a stroller is a good idea; the sidewalks are in good condition and there's a lot of walking to be done here.
It is important to think about bringing along a carrier, as those famous San Francisco hills can be very steep and hard to navigate with a stroller.
Another thing you may want to bring is your own car seat — they are required by law for young children travelling by car, so if you plan to use taxis or Ubers, or rent your own car, come prepared as they won't be supplied.
The transport system in San Francisco is excellent and is accessible even with strollers — and it's safe to ride with your kids. The cable cars are an even more fun option for families, and can also be a good chance to sightsee; however, these can get very crowded, so try to avoid busy times.
When it comes to accommodation, there is a huge choice for families, from the city centre to the outskirts of the nearby towns. If you want to be in the middle of the action, and don't want to be using public transport a lot of the time, then a good option is Union Square or Fisherman's Wharf; both of these have a lot of choice in terms of accommodation and are well connected.
Nob Hill, on the other hand, offers a slice of classic San Fran that is family-friendly.
For budget-minded travellers with their children in tow, good alternatives to the centre of the city are Berkley and Oakland — all in the Bay Area and still connected to the centre of the city by BART.
Changing facilities can be found in places like malls and shopping centres; they're clean and well looked after mostly, but this can vary.
Eating out with kids in San Francisco is a breeze; dietary restrictions are easily catered for and, while you may not get a children's menu, there will be enough on offer that even picky eaters will be sated.
All in all, San Francisco is safe to travel with children — just don't forget that sunscreen!
Is it safe to drive in San Francisco?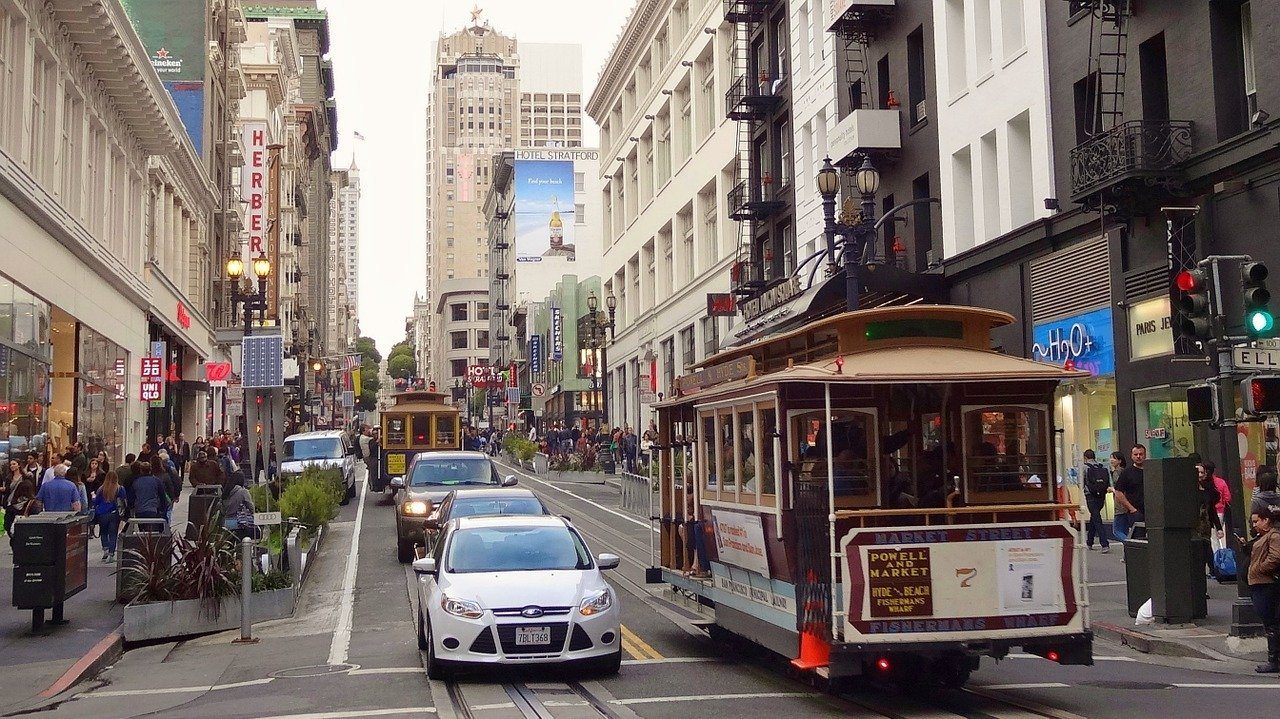 When you are travelling around San Francisco by car, as with any big city, you'll notice that it's busy, there's a lot of traffic and there's a whole lot of hazards to watch out for.
Driving in San Francisco is safe, but it really is not something we would recommend.
However, if you really do want to tackle the city on four wheels, then you should be prepared to watch out for cyclists, buses, trams, pedestrians and some very, very steep hills — and a lot of one way streets as well.
It is best to avoid peak times when driving in San Francisco; like so many cities around the world, rush hours really clog up the streets and make simple routes, like getting across the Golden Gate Bridge, take hours.
There are a lot of roads with very steep inclines. You will have to be confident with hill starts and parking on a hill, and generally how to drive up (and down) them. It can be honestly stressful if you are a novice driver or if you don't have much experience with steep hills.
San Franciscans like to get around by bicycle: bike messengers, Uber Eats delivery people, commuters — they're all across the city and they're fast. There are a lot of bike lines, but you as a driver still need to be very careful and aware of cyclists.
Always check your mirrors to see if there are cyclists around you; be careful when overtaking cyclists that you leave enough room for them; don't always assume that cyclists are going to follow the traffic rules.
There is also a lot of foot traffic in San Francisco and, unlike in many US cities, pedestrians by law have the right of way. Jaywalking, for instance, is normal. It can be tricky if you are trying to drive across an intersection and there is a stream of people crossing — in the Financial District, for example.
Buses can also cause issues: some have their own lanes, others move in and out of traffic like cars. Light rail trains do the same thing.
It can be pretty annoying to get stuck behind a bus, but you should be patient and pass only when it's safe to and when you've got enough room.
Do not drive in a bus lane — you almost certainly will get a ticket.
While San Francisco can be tempting to drive around, it can be tough to navigate by car (especially somewhere like Market Street). In peak hours, it's best go the long way around or take backroads, as once you're stuck in traffic you may it difficult to escape the gridlock.
Parking in San Francisco can be a big headache. There are parking restrictions all over the city. Usually, colour coded sidewalk curbs will indicate if you can park there or not; for example, blue means disabled parking only, while red means no parking or stopping at all.
It's a good idea if you drive into San Fran from elsewhere to ask your accommodation where you should park your car if you plan on leaving it for a long while; alternatively, you could opt to leave it in a parking garage.
If you violate a parking restriction — double parking, parking on sidewalks, etc. — then it is a possibility that your car will be towed; to get it back you will have to fork out hundreds of dollars.
In short, driving in San Francisco should be your last resort. It is the kind of city where public transport options are the best and, generally, where cycling and walking are quite safe.
If you are arriving by car (plenty of people do), expect traffic, watch out for pedestrians, cyclists and public transport, be careful where you park… And don't expect to get anywhere in a hurry!
Is Uber safe in San Francisco?
San Francisco is quite literally the home of Uber and, of course, it is available in the city. It's safe and convenient; it's a cashless system, you get to choose your driver, track your journey and share your trip details and ride status with friends and family (they'll get driver and route information in real-time).
What you should definitely do, however, is always make sure you get in the right car.
Check that the license plate and car make and model match up with what you've got in the app. Get the driver to say your name — or confirm their own name — first by asking "Who is this Uber for?" or "Are you an Uber driver? What is your name?" rather than asking them, "Is this for [your name]?"
Are taxis safe in San Francisco?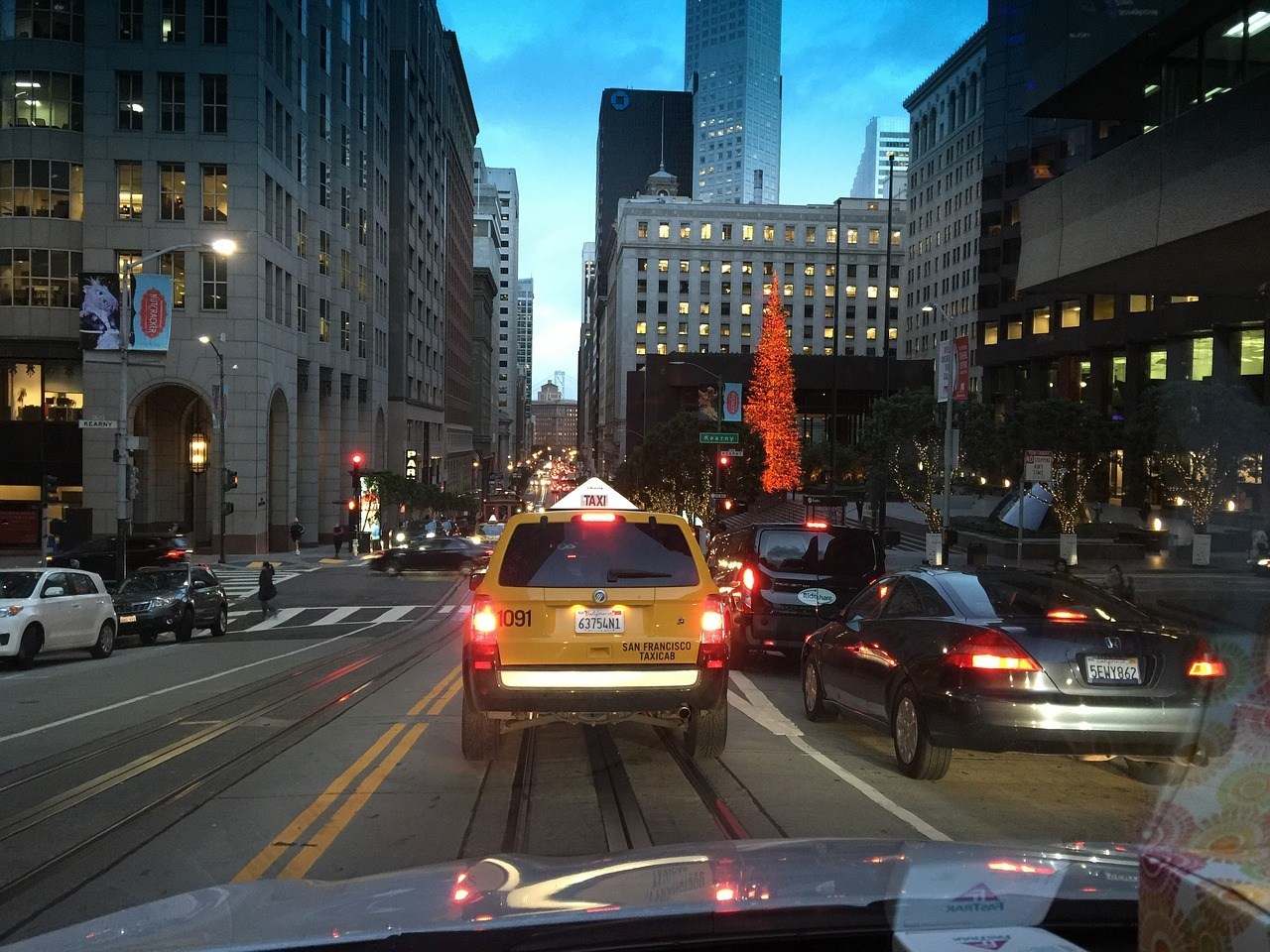 Taxis are an important part of San Francisco's transport network. The likelihood is that, at some point, you will end up wanting to get in one of the city's yellow cabs at some point.
However, you should be sure to know how to get a licensed city cab, how to get a legitimate one, and make sure you get charged the right fare, too.
San Francisco's Taxi Commission has been regulating the city's cabs since 1998. This is the body that is responsible for the fares, that ensure the cars and drivers are both working at a high standard, and overall making sure it is a safe service for all who use it.
Licensed taxis in San Francisco are safe. They have to meet rigorous safety restrictions, with regular meter and safety tests; they have security cameras in the cab; the drivers have extensive training, too, as well as extensive background checks.
Therefore, in theory, if you get in any licensed cab in the city, it should be a safe, professional experience.
In order to figure out if you are catching a licensed taxi, you should note the following:
A driver's ID card that is visible from the backseat of the taxi
A small metal license plate that is visible on the dashboard
And, the biggest giveaway, the sign on the front and rear of the cab that says "San Francisco Taxicab"
It is safe to hail a taxi on a street corner in San Francisco; see if it's vacant by checking if the sign on top is lit up or not (illuminated means available for new fares).
Sometimes it can be hard to get a cab, but the easiest place to hail a taxi in San Francisco is around top tourist sites – places like Fisherman's Wharf and Union Square, as well as around the Financial District and large hotels in the city (such as the Palace Hotel).
Usually, you can hail a cab just by waving your hand out and standing in an area where the driver will be able to stop easily.
If you happen to leave the general Downtown area, or if it is raining, getting a cab can actually be quite difficult. Having a couple of well-known taxi company numbers, then, is a good idea; ask at your hotel for some recommended companies.
Taxi fares in San Francisco start at $3.10; per fifth of a mile, it's $0.45. Note that there will be additional charges – things like bridge tolls, airport surcharges, and for wait time.
You can tip if you want, but it is not required.
Taxis can be better than Uber in San Francisco as they can use bus lanes, and don't have the surge pricing that the ride-hailing app can heap on you.
If you have a complaint or if something goes wrong during your journey, you can make a complaint to the Taxi Commission. You will to call 311 and then provide the details of the taxi ride and driver, including license plate, etc.
Taxis are safe in San Francisco. Just make sure you always get one that is registered and, just so you are never searching in desperation for a cab, ensure that you have the number of a reputable taxi company stored on your phone.
Is public transportation in San Francisco safe?
Public transport in San Francisco plays a huge part in the way people get around the city.
A lot of people opt to hit the streets on their bicycles, or just use the power of their own feet, but the public transport system covers all the bases.
Most comprehensive is BART or Bay Area Rapid Transportation. This electric train connects the San Francisco Bay Area; working like a subway system, it allows for travel not just within the city, but also to the airport and to neighbouring cities and suburbs of Oakland and Berkeley.
Consisting of 43 stations over 104 miles of track, the futuristic-looking BART is a great way to get around, not just for commuters, but also if you are a tourist. It is a fast, reliable service that runs 365 days a year from 4 a.m. till midnight (Monday – Friday), 6 a.m. till midnight (Saturday) and 8 a.m. till midnight (Sunday).
There are five different colour-coded lines and many of stops connect with bus lines, which makes for a pretty well-connected way of getting around.
The base BART fare is $1.25, but you can also pick up discount passes where you pay for a bunch of rides all at once, or get yourself a month pass.
Take care when riding the BART at rush hour; it can get very crowded, which can be overwhelming if you have not experienced rush hour in a city before. You should also take care against pickpockets, which can be active in those hours; however, there are security cameras and emergency alarms in the carriages.
After BART comes everything else; the rest of San Francisco's transportation network is called Muni – short for Municipal Railway.
This covers cablecars, trolleybuses, historic streetcars, regular buses and a light rail system.
The Muni network is what most tourists will find themselves on during a trip to San Francisco – especially if you want to do things like ride the cablecars.
There are three cablecar lines; a single ride is $7. Queues can get long as people, understandably, want to ride; in order to avoid these queues, try riding the cablecar early in the morning or late at night. It runs from 6 a.m. till just after midnight. It has National Historic Landmark status, so don't expect commuters on it so much.
Then there are the historic streetcars, some of which have been imported from various cities around the world and beautifully restored. Again, much like the cablecar, the famous F-Market line and Wharves line are more tourist attractions than functioning commuter transport. As such they are often crowded with tourists. A single ride is $2.25.
Then there are buses and trolleybuses; with 71 routes between them both, and varying schedules, these go everywhere the cablecars, streetcars and BART does not go.
Check out the numbered route on the front, sides and back of the bus, and make a note of the first and last stops, to gauge what route you're on and where you're heading. Be careful that some of the buses run on express routes at peak hours, and will miss out many stops; if you're unsure, simply ask the driver. A ticket on the bus or trolleybus costs $2.25.
Then there's the light rail or Muni Metro system, made up of seven train lines that weave above and below ground in the Bay Area. It's a good service to use as it has a number of stops between Downtown and the Southern/Western areas, and also features a number of handy transfers with BART.
Each fare on the Muni Metro costs $2.25; it is safe, but just keep your belongings close to you during busy hours.
To help keep costs down you should get a Muni Passport. These are worth it if you are in the city for a week or longer; a 7-day unlimited pass, for example, is $35.
Being set around a bay, you can't talk about the public transport in San Francisco without mentioning its ferries, some of which are pretty useful indeed.
Several of the ferry lines here work as practical lines to get into, around and out of San Francisco, while others are more tourist-oriented and lead to and from Alcatraz and Sausalito, among others.
The public ferries take Clipper Cards, which can be recharged at ticket machines; moreover, Clipper Cards can be used on the BART and many of the Muni systems, too.
For all public transport in San Francisco, but note that at night it can feel less safe. If you do feel unsafe, sit closer to the driver; don't sit in empty carriages; and be careful around getting off, or transferring, at some stations after dark.
Is the food in San Francisco safe?
Food in San Francisco is a delight. One of the best foodie cities you could find yourself in, whether you're looking for dim sum or the hippest new cafe, the City by the Bay certainly has it — and then some.
Being a world-class city in a modern, developed country, the food in San Francisco is not only safe, but amazing. The trouble is finding the best places to eat, so here are some pointers for eating your way around the city.
Keep away from those tourist traps. San Fran is a very popular tourist destination, and with that comes tourist traps — especially around the Fisherman's Wharf area. You'll know them from gaudy signs and high prices. These places completely rip you off, and really aren't the best. Instead, get stuck into some more local options.
Don't be afraid of street food. This may not always have the best reputation, anywhere in the world, but when it comes to food in San Francisco, street food and food trucks are the way to go. Hit up the SomaStrEat Food Park to get a taste of this; with its rotating roster of food trucks, you'll be bound to find something you like.
Go to places with queues. San Francisco has a thing for buzz eateries, cafes and restaurants where people queue for the newest thing in town.
If you can't get a table at the hottest place, don't worry. There is usually a table going spare at the place that was the flavour of the month last week, and which will still be just as good. Keep an eye on those Google Reviews on maps!
Definitely do go to local, family-owned joints — the kinds of places that have been running for decades. Your money will go far and you are guaranteed a tasty time. Note that you should do some research if you want to hit up these sorts of places, as they are not all as good as each other.
Visiting San Francisco on a budget means that you'll need to be more conscious of what you eat – you don't want to rely solely on cheap junk food. Places like Kasa sell healthy bites like stuffed roti for a reasonable price (good for vegetarians, too); alternatively, go for udon (thick Japanese wheat noodles) at Udon Time.
Don't try and eat everything! It's a big city with a lot of tasty stuff to try, but you should go easy on it. Going from your normal diet to suddenly eating everything that San Francisco has to offer may actually lead to an upset stomach, as a drastic change in diet can actually cause this.
Go with an open mind. There are so many different neighbourhoods and different cuisines going on in San Francisco that, although there's a lot of different foods on offer, sometimes what is in easy reach when you're hungry won't be what you're in the mood for. Expect options like miso caramel and ginger churros. There's some out there flavours — but we say go for it!
Ask a local. Someone you get chatting to, or maybe the staff at your hostel or hotel — they will have a favourite place or places to chow down in San Francisco. People are friendly, so ask for their tips!
Wash your hands. Exploring a city can lead to all sorts of germs, bacteria and even viruses on your hands; simply washing your hands can stop you from getting sick when you go to eat something (especially with your hands).
Those were our food tips for San Francisco. Most of the places you'll choose to eat are going to be totally safe, completely hygienic and almost certainly very tasty; it's not likely that you're going to come into contact with any sort of food poisoning.
Make sure you do some research on the sorts of things you want to try; Chinatown, for example, has a whole host of different eateries to eat at — some better than others. All you have to do is check online, ask locals and check your maps as you're exploring town.
Can you drink the water in San Francisco?
The water in San Francisco is very drinkable — so you should go ahead and drink it.
In fact, the tap water in San Francisco isn't just safe to drink… it's top quality. It comes straight from the Hetch Hetchy Reservoir, which is located in the High Sierra Mountains of the Yosemite National Park.
Make sure, then, to bring a refillable water bottle. It's not worth buying plastic bottled water at all.
Want to save the world?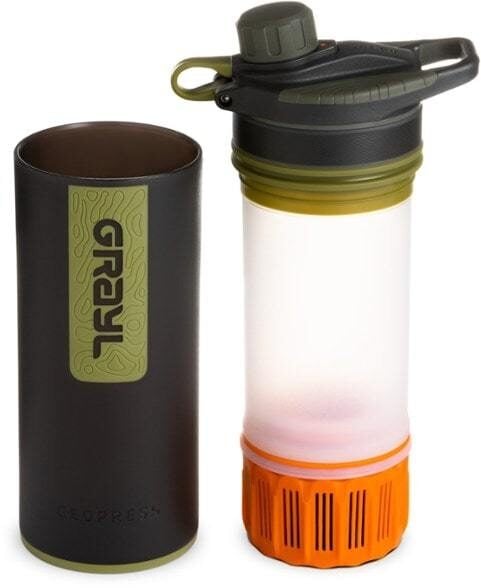 Single-use plastic bottles are a huge threat to Marine Life – Be a part of the solution and travel with a filter water bottle.
The GRAYL GEOPRESS water bottle is the ONLY all-in-one filter water bottle setup you'll need. Whether you need to purify the water from a hostel sink in Kathmandu or a stream trickle in the Andes, the Geopress has got you covered.
Read our full review of the GRAYL GEOPRESS!
Is San Francisco safe to live?
If you are thinking about making the move to San Francisco, we totally get it. There is definitely a romance to the city, it is very liveable, safer than others in the United States, as well as being liberal and fun to boot.
First things first, however: San Francisco is a super expensive city.
While that may not seem an "unsafe" thing on the surface, you may have to compromise on certain aspects of your security because of that; being priced out of a desirable neighbourhood, for example, may mean you end up settling for a neighbourhood that is a little less savoury and rough around the edges. While this may not immediately affect your safety, it may affect your peace of mind.
San Francisco also has a strange mix of being a relatively small city. Yet being larger than life in its personality and very densely packed full of people.
It is definitely a city of contradictions. Living here, you will have to get used to living with extremes. The housing crisis in the city is only worsening, and the amount of people being made homeless as a result is on the rise.
To illustrate this, it is not unusual to see multi-million dollar houses that are fringed by tents where people without a roof over the head have decided to live.
This sort of income inequality will definitely be one of the hardest things to tackle if you choose to live in San Fran. The personal income is some of the best in the country — what with nearby Silicon Valley industries and financial hubs — but the income gap between this, and the "regular" people of the city lies easily in the hundreds of thousands of dollars.
Teachers, fire services, doctors, police officers, and other civil service jobs, are basically being priced out of the city.
You will want a comfortable amount for your living expenses to ensure that you are secure and safe if you choose to live in San Francisco. The average rent, for example, is $3,438 per month; this continues to rise. Being able to cover this on a monthly basis could easily cripple you financially; even the average, "low income" family wage — relatively high by some standards — won't cover this (it's $117,400 / year).
In terms of crime, there are things like car thefts and petty street crime that do occur, but these happen mainly in certain neighbourhoods; bicycle thefts and property crime also occurs. However, this sort of thing happens in most and many people who live here feel totally safe.
All in all, while a secure place to live, it is only safe — we would say — if you can afford to live there. Satellite cities such as Berkeley may provide a slightly cheaper option to live, however, but then that wouldn't be living "in" San Francisco.
How is healthcare in San Francisco?
Healthcare in San Francisco is top-notch if you can afford it. This is a high-income city with high-income citizens, which means that medical services are equally leading.
However, you really should make sure that your medical travel insurance covers "travel to California" and that it also has "emergency medical services" covered as part of the policy.
As in the rest of the United States, emergency care if you are uninsured can be extortionately expensive; you will need proof of your insurance when you seek care.
If you have an urgent medical issue, you can go to the University of California San Francisco Medical Center. This is a leading university hospital with an Emergency Room (ER) attached, too. There's also San Francisco General Hospital, which boasts an ER renowned for dealing with trauma.
For non-emergency care, there are clinics dotted around town that you can easily find. A good idea would be to ask the staff at your accommodation for a reputable healthcare facility that you can use nearby.
There are also many pharmacies around the city. These provide a good way to get practical information and advice from the pharmacists themselves, who will also be able to point you in the right direction of a doctor or clinic who can help you further and/or prescribe you any medication you may need.
All in all, there's nothing to worry about when it comes to healthcare in San Francisco except the expense which may well kill you. So just make 100% sure that your insurance will cover you.
Final thoughts on the safety of San Francisco
San Francisco is extremely safe, but some parts can be unsafe. It is a very rich city that is also very poor with a huge homeless population. It is a liberal, local city with kooky entertainment and events, that also happens to be completely packed with conventional tourists seeking out historic buildings and modes of transport. It's a city of contrasts — and a city where you'll probably have a trouble-free time.
Again, however, definitely get some good travel insurance before you make your way to San Francisco!
Disclaimer: Safety conditions change all over the world on a daily basis. We do our best to advise but this info may already be out of date. Do your own research. Enjoy your travels! Some of the links in this post are affiliate links which means we earn a small commission if you purchase your insurance through this page. This costs you nothing extra and helps us keep the site going.