Yellowstone National Park is an extraordinary site of natural beauty that needs no introduction. Designated a UNESCO World Heritage Site, it is world-famous thanks to its geysers, geothermal wonders, and all-natural hot springs. With staycations being the best form of travel this year, why not take the time to visit one of the most spectacular national parks in the United States?
The park is huge, with accommodation dotted throughout the region. If you want to stay in a proper town, you'll have to head to the outskirts – but these towns have so much more to offer than just their proximity to Yellowstone. If you really want to get the most out of your experience, you have to do your research in advance.
Luckily, we've done some of that research for you! Whether you want awe-inspiring nature, adrenaline-pumping winter sports, or simply somewhere to kick back and relax, there's truly something for everyone at Yellowstone. We've combined our personal experience with up-to-date advice from locals and travel experts to bring you the five best places to stay in the region.
So let's get going!
Yellowstone National Park is huge, so we really recommend doing your research first – even if you're travelling by car. That being said, if you're in a hurry, these are our top three overall accommodation picks in and around the park.
Want a good deal? Be sure to pick up an 'America, The Beautiful Pass', it's $80 and gives you entrance to every National Park in the US for 12 months, plus a whole heap more!
Lavish Hideaway near Yellowstone – Alpenglow Villa
Ready to splash the cash? Airbnb Luxe is a premium range of vacation homes with a whole array of additional services on offer. This particular villa offers childcare, airport transfers, and spa services – among many other personalised offerings. Further to that, it also comes with stylish interiors and an unbeatable location. Sleeping up to 16 guests, this is one for the big group ski trips.
Stylish Loft in Yellowstone – Mountain Lux
Planning a winter getaway? This luxurious mountain resort gives you easy access to both Yellowstone National Park and the big ski resorts! The rustic architecture gives the property a really homey vibe, while the modern interiors ensure you'll have an incredibly comfortable stay. It also comes with a sauna and a massive hot tub. What's not to love?
This five-star lodge is the epitome of luxury near Yellowstone National Park! Nestled along the western boundary, it is within walking distance of some great hiking and cycling trails. Each guest has their own private cottage with a modern kitchen and spacious bedrooms. As part of Eagle Ridge Ranch, you can also book a variety of excursions with a special guests discount.
Don't know where to begin? No need to worry – we've picked out five fantastic locations so you're truly spoiled for choice. We've even included our favourite accommodation and activities in each to help you build an awesome itinerary.
#1 Cooke City – Overall Best Place to Stay in Yellowstone
Right on the northern edge of Yellowstone National Park, Cooke City is a major gateway to the region! The town manages to perfectly balance convenient location and stunning views with restricted tourist numbers – giving it a laid-back and charming atmosphere. For this reason, we recommend booking as far in advance as you can.
The northern end of Yellowstone National Park, where you'll find the most dramatic mountains and canyons, is a great destination for those visiting in winter. The snow-covered peaks create an ambient atmosphere, and some of the best ski resorts are only a short drive away. Cooke City is the perfect hub for fully exploring the region.
This charming little cabin in Montana is the perfect spot for a romantic getaway among the mountains. The large outdoor deck has stunning views towards the national park and is a great spot for watching the sunset in the evenings. There's a log fire in the living area to keep you cosy, with plenty of firewood for your stay.
Luxurious Loft in Cooke City: Mountain Lux
This charming mountain loft is the perfect choice for small families and couples! The Bannock Snowmobile Trail runs right by the house, making it a popular choice for winter sports enthusiasts. There are plenty of native wildlife hotspots nearby, so you might even get the chance to spot some eagles, buffalo or deer. Exhausted after a long day of snowsports? Unwind in the hot tub and sauna.
Spacious Holiday Home in Cooke City: Grey Wolf Cabin
Looking to save some cash? If you're travelling as a large group, this is a very cost-effective option! The self-contained cabin has a rustic charm thanks to the timber architecture and traditional furnishings. While it only has one bedroom, there is also a bed in the dining room and a sofa-bed in the lounge. The main bedroom has an en-suite, making this a top choice for families.
Things to See and Do in Cooke City:
The gorgeous Beartooth Mountains tower over the town – providing some of the best USA hikes in the summer and gorgeous photo spots throughout the year.
Fancy trying out some fishing? Buffalo Jump Fishing Access Site is a great starting point for beginners heading to the area.
Drive deep into the northern half of the national park to discover the Grand Yellowstone Canyon, an area of unspoiled natural beauty stretching for miles.
Need to fill up before heading out on a hike? Bearclaw Bakery have a great selection of hearty meals – plus some snacks you can take out on the trail with you.
Once you've returned from your adventures, head to Grizzly Bar and Grill for all-American barbecue and an extensive drinks menu.
#2 Yellowstone Lake – Best Place to Stay in Yellowstone for Families
Want to stay in the heart of the park? The area surrounding Yellowstone Lake is the place for you! This is a massive region, so you'll find the accommodation is quite spaced out. Thankfully, the road network is much more developed in the southern half, so you'll have quick access to all the best attractions and towns.
When you think of Yellowstone National Park, chances are it's the southern end that you imagine. This is home to Yellowstone's geothermal attractions. For this reason, Yellowstone Lake is a great spot for families that want to make an educational experience out of their trip – just make sure the younger ones stay well back from the barriers.
Traditional Ranch near Yellowstone Lake: The Bear's Den
If you want a bit of an upgrade, the Bear's Den is part of Rand Creek Ranch – giving you the privacy of your own cabin with the convenience of staying in a resort. There is a small pond on-site where you can cast a fishing line – or have a go on the kayaking equipment available to guests. There's also a hiking trail running right round the back of the ranch.
Cute Cabin near Yellowstone Lake: Gorgeous Views
A short drive east of Yellowstone Lake, this beautiful cabin is perfect for those wanting a secluded getaway. Sleeping up to 12 people, this massive property is a firm favourite with large families and groups heading to Yellowstone. There isn't a cooker inside, but you will find a barbecue outside, so prepare for a truly rustic experience.
Nestled between Yellowstone Lake and Grand Teton National Park, this is a fantastic choice if you're planning a longer trip that takes in both parks. Despite only being a three-star resort, it comes with unbeatable hospitality and great facilities. Guests can opt for a room in the lodge or a private cabin, and the on-site saloon has an Old West charm.
Things to See and Do in Yellowstone Lake:
No trip to Yellowstone National Park is complete without paying Old Faithful a visit – this reliably regular geyser is well known across the world.
There are plenty of fantastic hiking trails throughout the area that you should definitely try out.
Xanterra Parks & Resorts offer a number of activities, but perhaps their most famous is their guided horse riding experience through the park.
Yellowstone Lake is a great spot for fishing and there are a few great hire shops dotted along its banks. Get yourself a great travel fishing rod and take it with you as you explore!
Old Faithful Snow Lodge Geyser Grill offers great American cuisine throughout the day at highly favourable prices.
#3 West Yellowstone – Unique Destination near Yellowstone
Nestled in the western edge of the national park, West Yellowstone is another major gateway into the region. Its location halfway down the park means you have great access to both the mountainous north and the geothermal south. For longer trips to the area, West Yellowstone is a great way to experience it all.
West Yellowstone is popular with tourists, but that doesn't mean it has lost its unique character! Local culture is still visible throughout the area. Thanks to this, you won't just have an awe-inspiring experience in the national park, you'll also gain a unique insight into rural American life in Montana.
Visiting on a budget? This cute little apartment is perfect for solo travellers and couples keeping an eye on their wallets. The studio comes with a small kitchenette with enough equipment to see you through a short self-catering stay. There is also a keyless entry system, so you can check in with ease if you arrive quite late.
Contemporary Condo in West Yellowstone: Newly Built
Another great budget option, this three-bedroom condo is great for small to medium-sized families. There is a popular hiking trail running right past the end of the street, with a great bicycle hire shop only a few minutes away. The spacious kitchen is packed with luxury appliances, so you'll be fully set for your self-catering stay.
This wild west style lodge is our top pick for luxury accommodation in the Yellowstone National Park area! As part of a ranch, guests get to choose from fishing, horseback riding, snowmobiling, and a host of other fun activities. The private cottages have a rustic charm while still benefiting from modern furnishings and kitchen facilities. You'll also get to socialise with other guests.
Things to See and Do West Yellowstone:
Always wanted to try out fishing but not sure where to start? This trout fishing experience in nearby Elk Creek is perfect for beginners.
Head to the town centre where you can check out the local boutiques offering arts, crafts, and unique souvenirs to take home to your friends.
Yellowstone Museum is the premier destination for learning about the natural history of the region; there's also a great train ride right into the heart of the park.
There are a few hiking trails in the far east of the town – these tend to be flatter than those in the park, so great for those that can't manage anything too strenuous.
Want to taste the best breakfast in Yellowstone? Running Bear Pancake House are famous for their bottomless stacks – but their entire menu is worth sampling.
#4 Big Sky – Coolest Place to Stay near Yellowstone
Heading to Yellowstone for a winter getaway? Choose Big Sky as your base. A lot of the park is inaccessible during the colder months, but staying in Big Sky means you won't be short of things to do. This former ranch has since turned into a major ski resort town, with some of the most challenging slopes in the country – so bring your A-game!
Big Sky is about 40 minutes from the northern entrance of Yellowstone National Park. You'll need a car! That being said, we think it's totally worth it for adrenaline junkies and experienced snow sports enthusiasts. You can also book organised tours into the park if you really don't fancy driving yourself.
Easily the priciest offering in our guide, Alpenglow Villa is totally worth it for those that really want to splurge. Alongside the additional services you can expect from Airbnb Luxe, the carefully designed interiors give a modern and stylish atmosphere. The Lewis Clark Ski Lift is only a short walk away, so you'll also have quick access to the slopes.
For your own little cosy home away from home, this charming log house is unbeatable! On the more affordable range of family accommodation, it is a little bit more secluded than our other Big Sky picks, giving you some peace and quiet away from the main tourist areas. Two of the bedrooms come with their own en-suites, adding a little extra privacy for the grown-ups.
Budget Friendly Condo in Big Sky: Town Centre
This chic condo is offered at a very affordable rate, letting you enjoy a stylish environment without breaking the bank! It was recently remodelled, so all the furnishings and appliances are of high quality. As part of a local community, you'll also get the chance to mingle with locals and have a truly authentic Big Sky experience.
Things to See and Do in Big Sky:
Hit the slopes! Big Sky was purpose-built as a major skiing town, with a huge array of slopes – you can also book some lessons for the few easy pistes.
Ousel Falls is a must-visit for photographers – the entire waterfall freezes up during the winter, creating a crystalline wonderland that will give you some truly unique shots.
Just down the highway, you will find Big Sky Golf Course – it's on the small side, but definitely one of the most scenic courses in the country.
Lone Mountain Ranch is a dream for outdoor enthusiasts seeking the latest hiking, snow sports, and fishing gear.
There are a few great restaurants in the area, but we particularly love Cinnamon Lodge for their mind-blowingly good Mexican cuisine.
Gardiner is also a gateway into the national park, with the second northern entrance right on its doorstep. Unlike Cooke City, however, it doesn't see the same tourist numbers. Despite this, locals aim to capitalise on its proximity to the park by offering great prices on accommodation and dining options throughout the town. If you're backpacking the USA on a budget, this is the perfect base to explore Yellowstone National Park.
The great thing about Gardiner is that it offers pretty much the same stuff as Cooke City, so you don't have to compromise on a thing to save some cash! It's also only a short drive away from Big Sky, so offers the best of both worlds in the winter.
Tiny houses are a popular trend across the United States, and it's easy to see why! For couples and solo travellers on a tight budget, they offer all the home comforts of a cabin without the sky-high costs. This tiny house can only fit a bedroom, but guests have access to the kitchen and bathroom facilities in the main property.
More interested in modern style than rustic charm? We've got you! This super sleek property backs right onto the North Entrance of Yellowstone National Park. You will be able to enjoy stunning views of the mountains from the contemporary patio area, as well as access to a private section of river for swimming and fishing. We also love the modern fireplace for creating a cosy atmosphere.
Budget Friendly Hotel in Gardiner: The Roosevelt Hotel
Prefer the convenience of a hotel but don't want to pay through the nose? Look no further than the Roosevelt Hotel. Despite the low prices, rooms perfectly combine a rustic log cabin feel with modern design to create calming spaces. Guests have access to bicycle hire, and there are two hiking trails that run past the hotel. They even have free parking!
Things to See and Do in Gardiner:
Known as the Serengeti of the US, Gardiner is part of the Lamar Valley, where you will find a huge array of native wildlife from eagles to bears.
You can find some excellent deals on outdoor activities in Gardiner – Flying Pig Adventure Company have fantastic whitewater rafting and horse riding excursions.
Mammoth Hot Springs are only a short drive from Gardiner, offering some truly mesmerising geothermal scenery – just remember not to touch!
The Raven Grill is a popular eatery with locals and visitors alike – you'll have to queue, but it's worth the wait.
Here's what people usually ask us about the areas of Yellowstone and where to stay.
ALWAYS sort out your backpacker insurance before your trip. There's plenty to choose from in that department, but a good place to start is Safety Wing.
They offer month-to-month payments, no lock-in contracts, and require absolutely no itineraries: that's the exact kind of insurance long-term travellers and digital nomads need.
SafetyWing is cheap, easy, and admin-free: just sign up lickety-split so you can get back to it!
Click the button below to learn more about SafetyWing's setup or read our insider review for the full tasty scoop.
Yellowstone National Park is an epic reminder of all the outstanding places to visit in the United States! You've probably already heard about the geysers and hot springs – but we also love the quirky little villages, winter sports activities, and stunning mountains in the region. If you're desperate for a vacation this year, you don't have to let the fact you can't travel abroad stop you from having an incredible experience.
Choosing the best place to stay is pretty tricky, but if you want to be right in the heart of the action, then you have to stay in the region surrounding Yellowstone Lake! You will get up close and personal with the out-of-this-world geothermal attractions, and you're not too far from great ski destinations, either.
That being said, all the areas mentioned in this guide have their pros and cons – it really just depends on what you want to get out of your trip. If you don't mind travelling a bit further and want to save some money, you should also check out our guide to Grand Teton National Park.
We hope we've helped you come up with an unforgettable itinerary for your upcoming trip to this seismic wonderland.
Did we miss anything? Let us know in the comments!
Do you own an awesome hostel, hotel or apartment? Want to be featured in our list? Email [email protected] to find out how.
---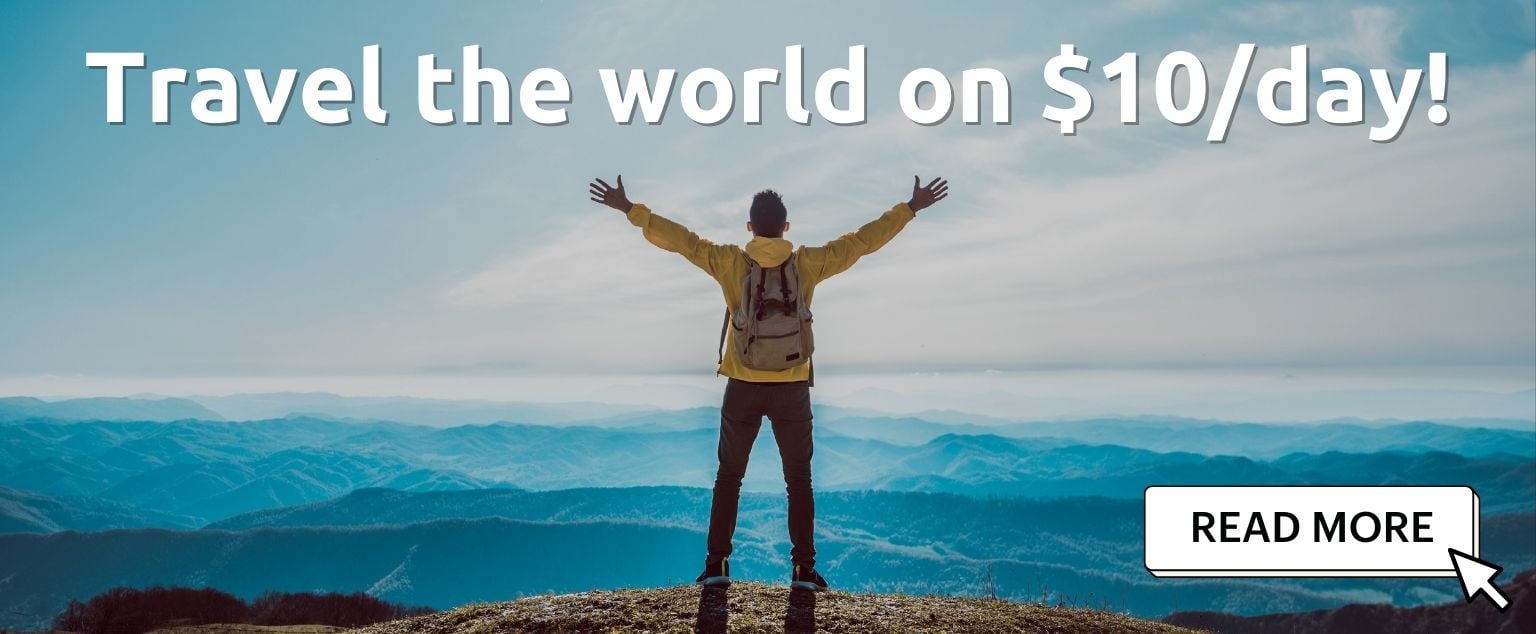 And for transparency's sake, please know that some of the links in our content are affiliate links. That means that if you book your accommodation, buy your gear, or sort your insurance through our link, we earn a small commission (at no extra cost to you). That said, we only link to the gear we trust and never recommend services we don't believe are up to scratch. Again, thank you!