Yellowstone National Park should be a world wonder, this place is absolutely insane! Inaugurated in 1872 as the first national park in the US, there are over 2,000,000 acres of pristine wilderness to discover here.
And they pack a bunch of hiking trails, too, which makes it possible to cover the greatest hits up close and personal: the iridescent Grand Prismatic Spring, the Old Faithful, and the jaw-dropping Grand Canyon of the Yellowstone.
Roads can only take you so far… And as challenging as it may get, there's nothing more rewarding than hiking your way up to a mind-blowing viewpoint.
The problem? Yellowstone is a massive place. It might be tough to know where to start.
Our guide to hiking in Yellowstone is bound to give you the tools you need to prepare for your trip. We'll talk safety, run you through the best hikes in Yellowstone, and give you some extra tips on what to expect.
You're gonna have a killer time!

Do You Want to Travel FOREVER??
Pop your email in below to get a FREE copy of 'How to Travel the World on $10 a Day!'.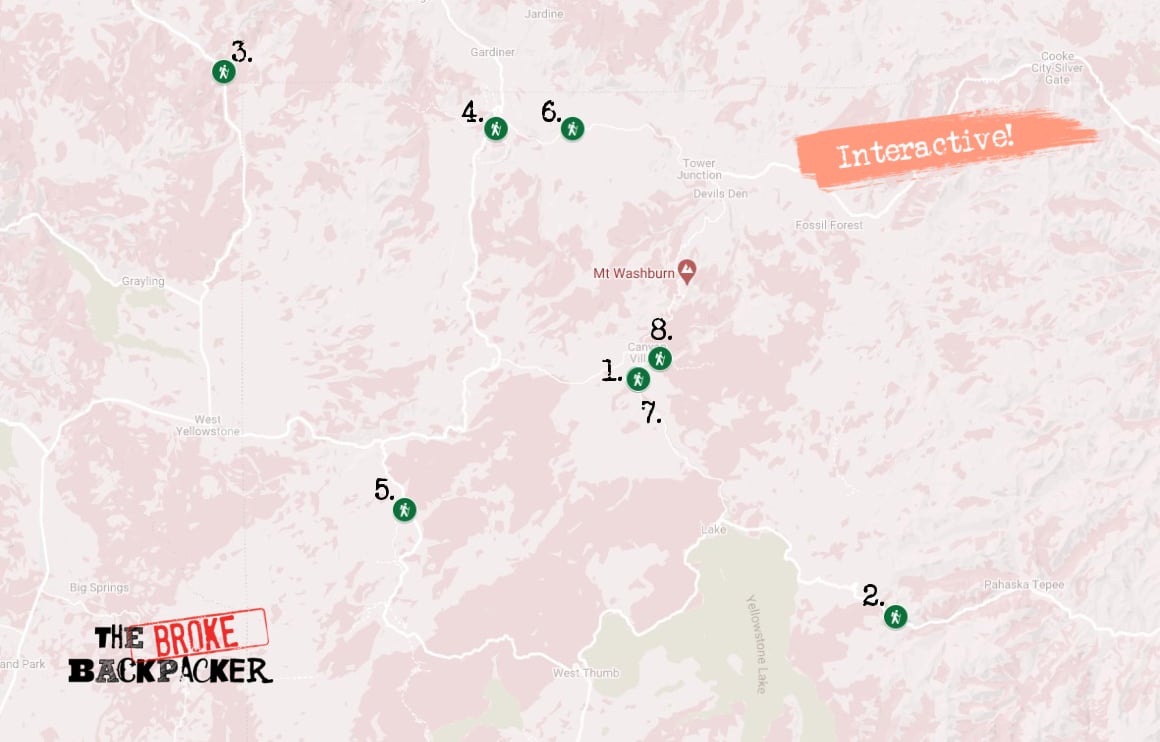 Yellowstone is the original (and some might say the best) national park in the United States. It's a wild and otherworldly place that you need to visit at least once in your life.
Its jaw-dropping canyons and Alpine forests are more than enough to impress, but it's Yellowstone's bubbling geysers that really steal the show.
Home to the world-famous Grand Prismatic Spring, alongside a chain of other glorious geothermal features and waterfalls, it's the kind of place that you need to see in order to believe. And the best way to take it in all of its magnificence is by getting out on the trail!
There's a selection of various hikes and trails that make the park fairly accessible. Easy and straightforward hikes, medium-level trails, and the crazy ones that will get you sweating your ass off for an epic view.
Being one of the best national parks in the USA, Yellowstone's more well-trodden routes can be busy in peak season. Don't let that put you off, though: there is always a way to avoid the crowds. Leaving early is one option, or you can take one of the off-the-beaten-track routes instead.
Most routes are well looked after and clearly signposted, and staying on them is crucial: the park's management is keen for hikers to understand the risks of being exposed to geysers, hot spray, and the park's wild bear population…
2000+ Sites, Unlimited Access, 1 Year of Use – All. Absolutely. FREE!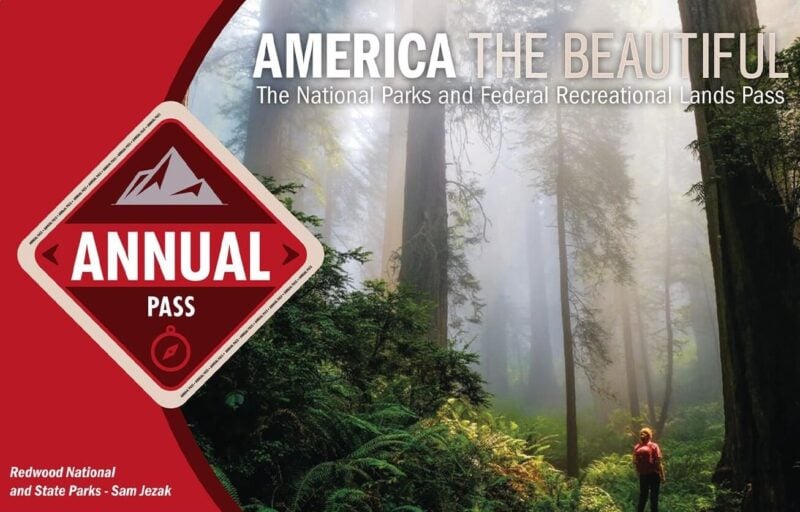 The USA is blisteringly beautiful. It's also blisteringly expensive! Visiting two national parks in day can run you $70+ in entry fees.
Orrrr… you kick those entry fees to the curb, buy an annual 'America the Beautiful Pass' for $79.99, and get unlimited access to ALL 2000+ federally managed sites in the States totally FREE!
You do the math. 😉
Buy the Pass!
Yellowstone Trail Safety
The volcanic landscape and bubbling geysers in Yellowstone are a magnet for hikers. Those who are looking for a challenge and want to immerse themselves in nature will have a ton to explore.
But, as enticing as the hikes in Yellowstone's might be, it's essential that you know how to protect yourself when in the park. Here's what you need to know to stay safe and well in Yellowstone National Park:
Don't go wandering – Yellowstone's trails and boardwalks are there for a reason. Leaving the path can not only endanger the delicate landscape, but also yourself.
Be prepared for the weather – Check the forecast before attempting any hike. During winter, temperatures can drop and cause icy pathways and snowstorms. Summer brings scorching hot sunshine, so you'll need to dress accordingly and bring plenty of water.
Be mindful on the road – Traffic accidents are one of the more common causes of injury in Yellowstone. When driving, do not get distracted by passing animals and keep to the speed limit of 45 mph. The roads can also be winding, with sheer drops and potholes.
Stay clear of the animals – There are a lot of wild animals in Yellowstone. If you come across them, keep away and do not approach. Stay at least 100 yards from bears and wolves and 25 yards from any others.
Prepare for a bear encounter – Hike in a group, stay alert, make noise. Do not run and always carry bear spray. Read the official recommendations here.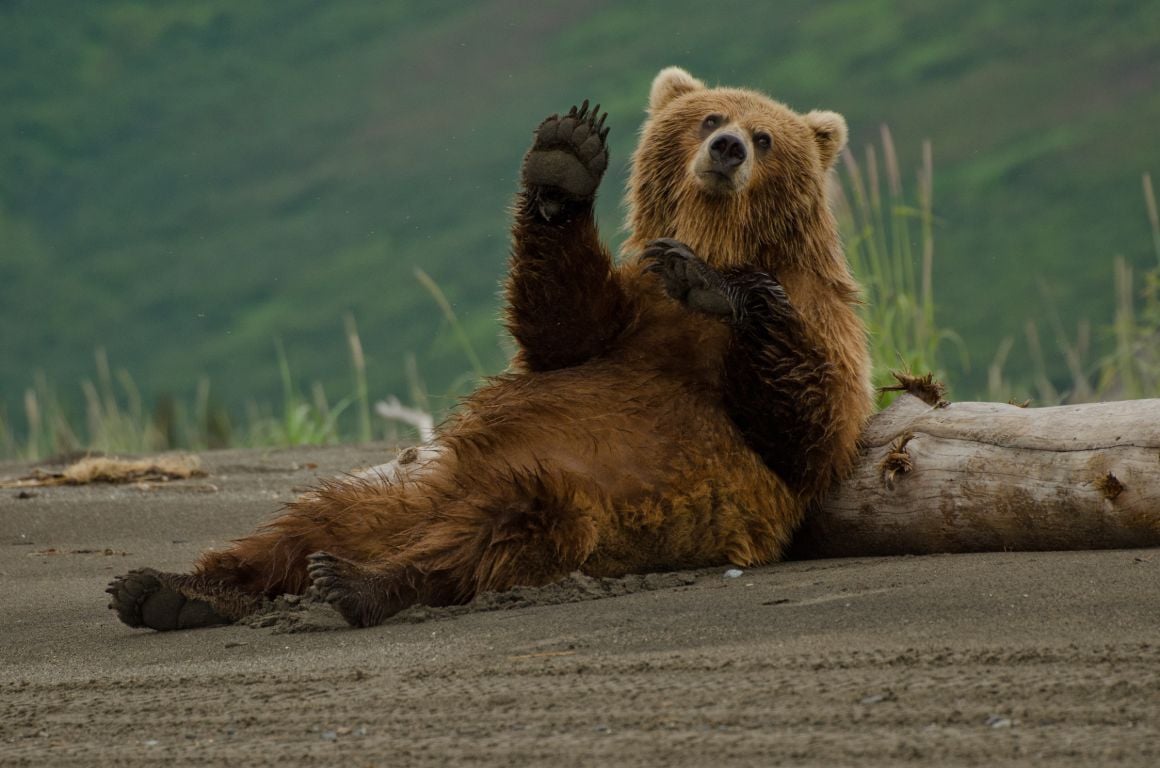 Go old-school – You might not get phone signal on more remote areas, so bringing a solid GPS device, or even a physical map, can come in very handy.
Don't push too hard – Yellowstone is perfect if you're looking for a challenging hike, but if you don't feel like it when you're out on the trail, please turn around. It's dangerous to put yourself in a compromising situation, especially when far away from any sort of help.
Hike with a buddy – It's much safer to hike with at least one other person. If you decide to go alone, always let somebody know where you're going.
Get insured – Make the most of your adventure and get good travel insurance that covers the activities you'll be doing — hiking! Waste no precious time worrying unnecessarily.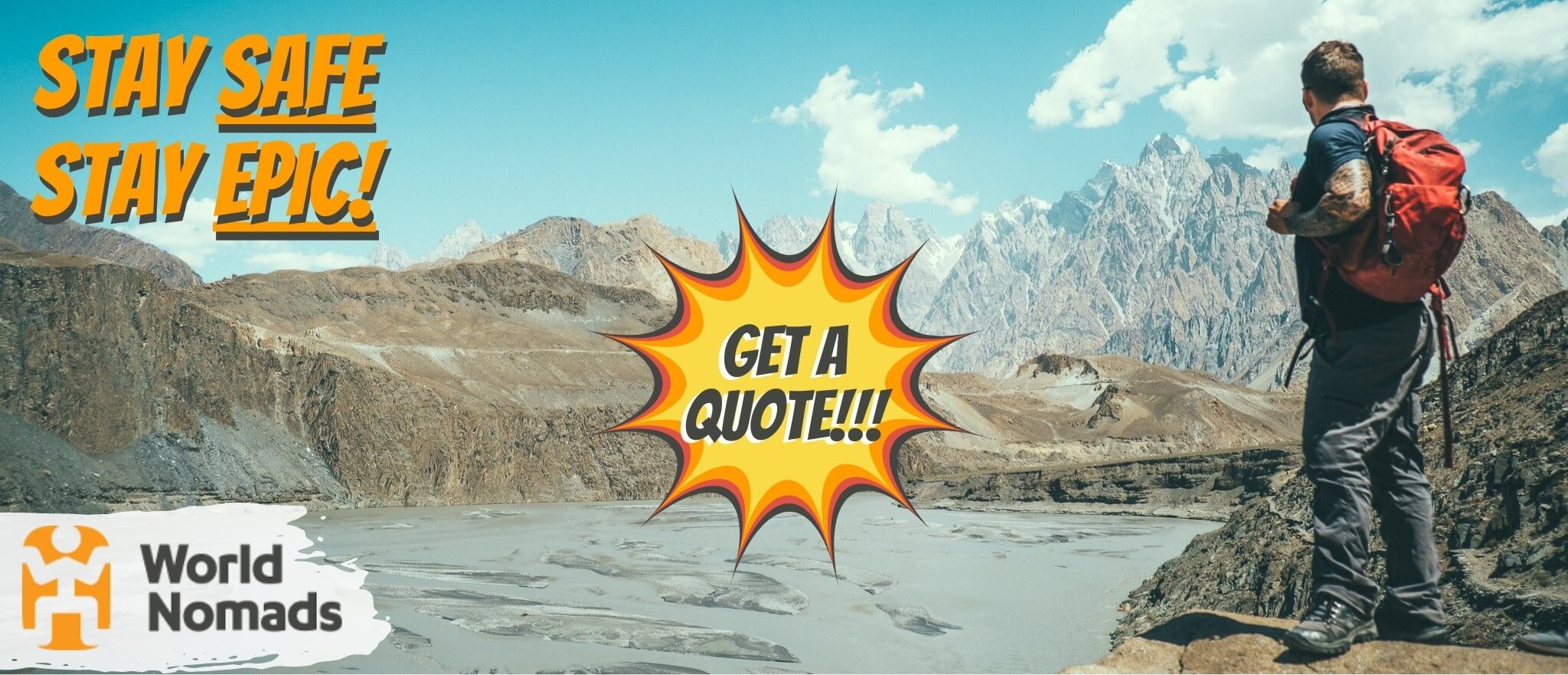 World Nomads' mission is to support and encourage travellers to explore their boundaries. They offer simple & flexible travel insurance, and safety advice to help you travel confidently.
They've been doing it since 2002 – protecting, connecting, and inspiring independent travellers just like you.
Get a quote below or read our in-depth review!
Want a good deal? Be sure to pick up an 'America, The Beautiful Pass', it's $80 and gives you entrance to every National Park in the US for 12 months, plus a whole heap more!
The Top 8 Hikes in Yellowstone
Now that we've covered safety and a few of the basics, it's time to move onto the best hikes in Yellowstone National Park.
We've split them into categories, to cater different goals and fitness levels, so have a look around and pick whichever sounds best to you!
1. Canyon Rim North Trail to Inspiration Point – The Best Day Hike in Yellowstone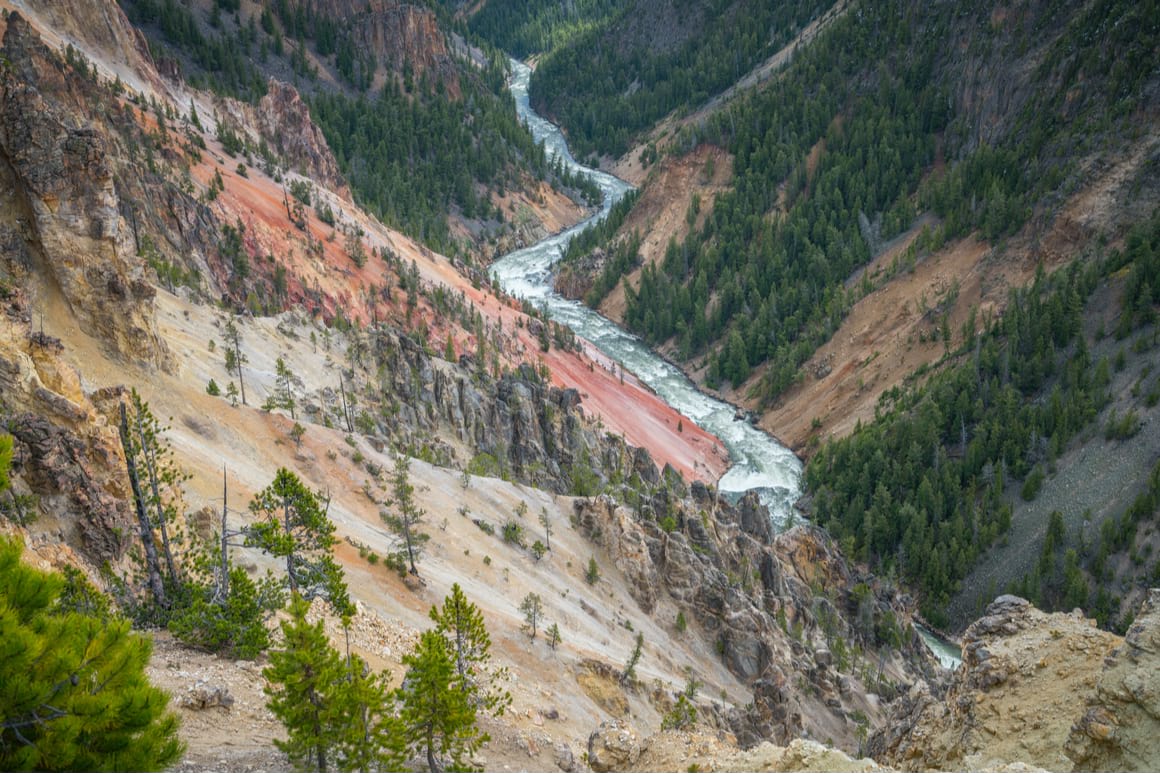 To kick things off, here's a nice all-rounder of a hike. It's a relatively easy one with a selection of great views!
You'll start on the Grand Loop Road, tracing the route of the Yellowstone River for the most part. Eventually you'll come across the Brink of the Lower Falls: a famed spot for photographing the falls themselves.
Continuing on the trail, you'll go through spots like the Grand View along the way. Inspiration Point isn't too far from here, too, and it's got three different levels for all your viewing needs!
This hike is relatively easy and is mostly paved with benches, rest-stops, and bathrooms dotted along its course. Come early morning to beat the crowds.
Length: 12.7km
Duration: 3 hours
Difficulty: Easy/Average
Trailhead: North Rim Trail Head (44°42'29.7″N 110°30'11.1″W)
2. Avalanche Peak Trail – Most Beautiful Hike in Yellowstone
Even though most hikes in Yellowstone are incredibly beautiful, this one might take the win for us. The rugged mountain scenery and stark volcanic landscape make it feel worlds away from your "usual" Yellowstone hiking experience.
You'll find the trailhead located close to Eleanor Lake, at the west end to be more precise. From here, the path from climbs straight uphill (2,000 feet up) for about 2 miles — brace yourself!
The trail starts through the forest. Then it meanders out into a lush meadow, where you'll catch sight of the aptly named Top Notch Peak.
Eventually, the trail brings you into a kind of natural amphitheater. It's at the top of this that you'll find Avalanche Peak (the climb up is fairly strenuous, but totally worth it).
We reckon this could easily become your favorite hike in Yellowstone. You're not likely to see many other people, and the hike itself is beautiful. The views of the high-altitude Yellowstone Lake backdropped by the mountaintops are simply incredible!
Length: 7.5 km
Duration: 3.5 hours
Difficulty: Hard
Trailhead: Eleanor Lake (44°28'14.7″N 110°08'32.5″W)
Small Pack Problems? 😉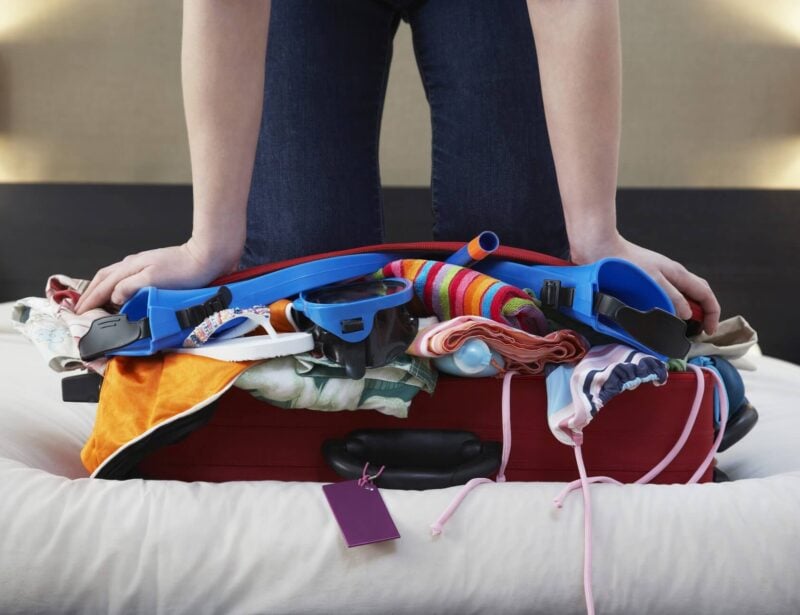 My missus travels with all her clothes in ziplock bags: don't be like my missus. UP YOUR PACKING GAME!
Packing cubes for the globetrotters and compression sacks for the real adventurers – these babies are a traveller's best kept secret. They organise yo' packing and minimise its volume too so you can pack MORE.
Or, y'know… you can stick to ziplock bags.
View Our Fave Cubes
Or Check Out the Sacks!
3. Sky Rim Trail – The Best Multi-Day Hike in Yellowstone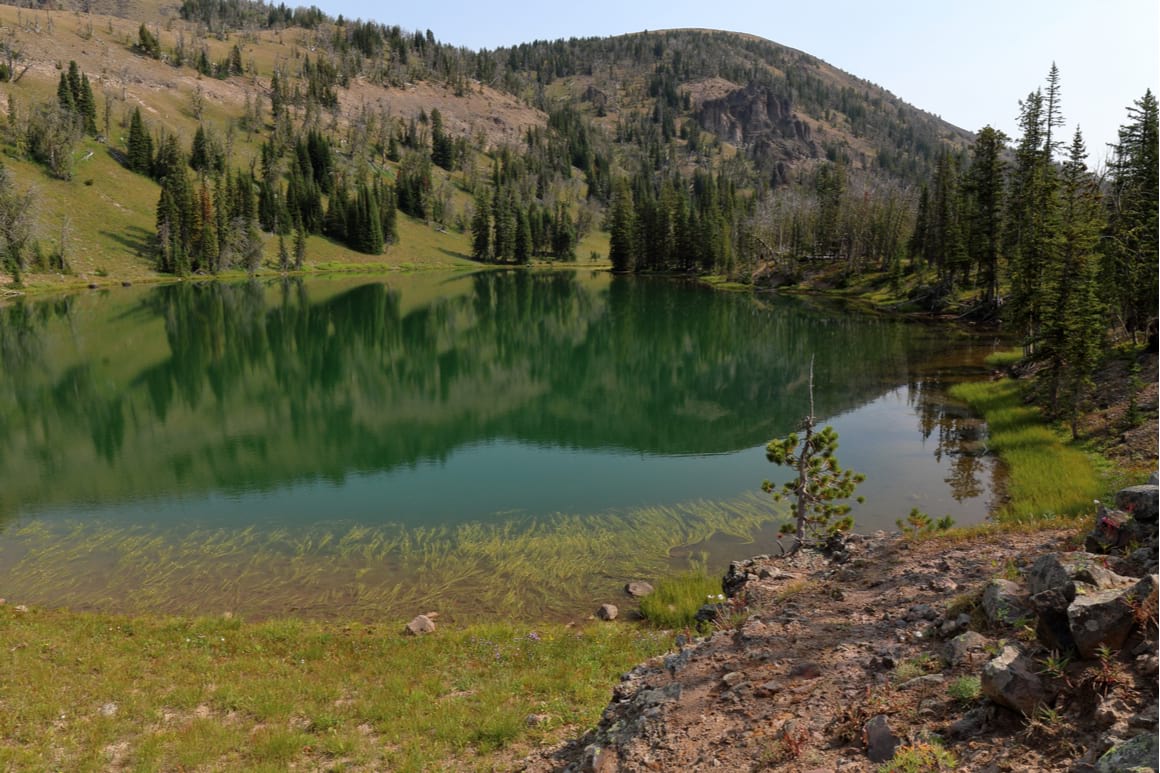 No, not that Skyrim. This Sky Rim is a trail with some pretty epic panoramic views of Yellowstone's landscapes. You'll be tracing the ridgeline of a mountain as you are immersed in the park's spectacular scenery.
This is a quieter part of the park, so it's a great hike for anybody looking to get off the beaten track — you'll find some real peace and tranquillity here.
Start things off at the Specimen Creek Trailhead. You'll find plenty of parking here for you and whoever else is in your convoy.
After following the trail around the creek itself, you'll be treated with views of Meldrum Mountain before the trail begins to climb to Shelf Lake. This climb is pretty unrelenting, and definitely takes some level of fitness to tackle. But take a break if you need to!
You can choose to camp on the bank of Shelf Lake, if you like. However, there are numerous backcountry campsites along the route if you feel like breaking up your journey.
After this, trek onwards along the border between Yellowstone and the Gallatin National Forest. Expect views of various peaks in all directions — and be careful of drop-offs (they can be pretty precarious)!
Length: 27 km
Duration: 2 Days
Difficulty: Difficult
Trailhead: Specimen Creek Trailhead (45°00'45.0″N 111°04'51.2″W)
4. Osprey Falls Trail – Must-Visit Hike in Yellowstone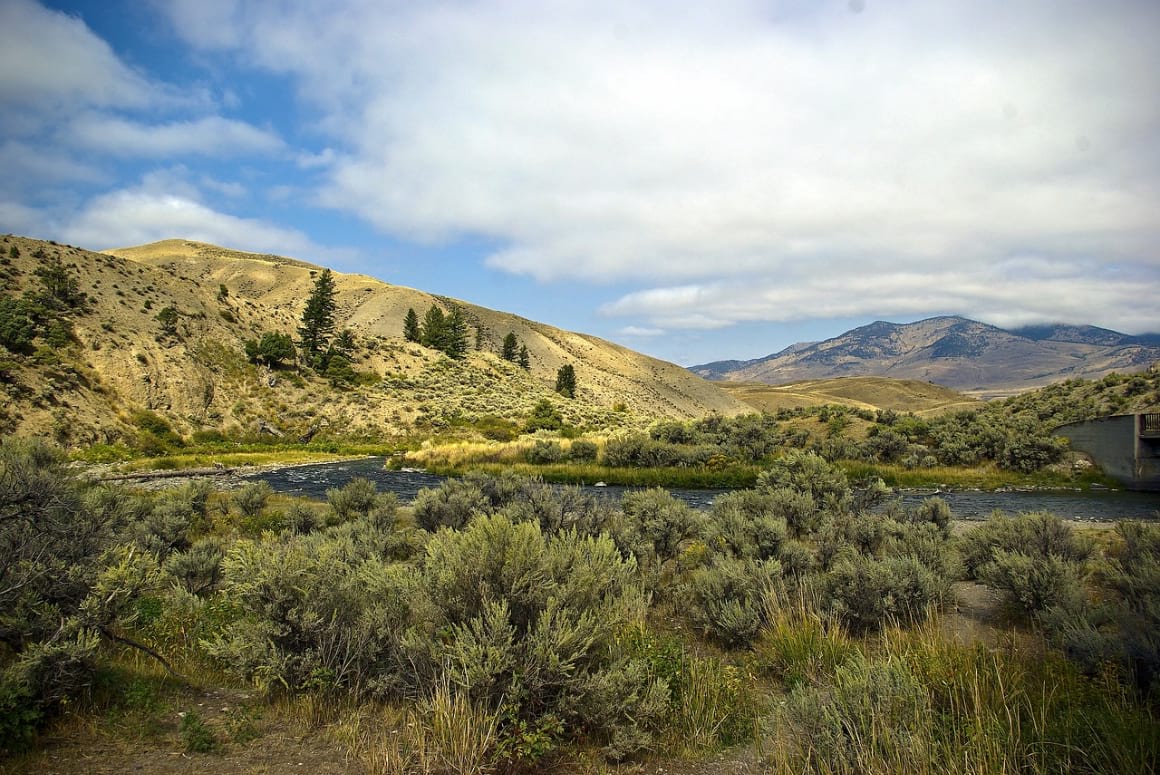 This one is a pretty popular hike in Yellowstone National Park, but that's usually a good sign: it means there is something good to be seen.
This time, you'll kick off at Yak Camp Road, where you'll start hiking along an old road. It's fairly flat to begin with, with wide expansive views. You'll get to see elk grazing in meadows, among other natural scenes.
Soon the trail starts to get steep and narrow, as you follow switch-backs into the canyon. The view as you descend is impressive — you may even spot mountain goats and deer on your way down!
The grand finale is the descent to Osprey Falls itself. It's a good place for a picnic, or just for a little refuel for the journey back up. Grizzlies have been reported in this area, so that's something to bear in mind. Eheh 😉
Length: 13.3 km
Duration: 6 hours
Difficulty: Average/Difficult
Trailhead: Yak Camp Road (44°57'22.7″N 110°42'05.7″W)
5. Grand Prismatic Hot Spring Loop – A Fun, Easy Hike in Yellowstone
The Grand Prismatic Spring is easily one of the main highlights in Yellowstone. It's the largest hot spring in the United States and the third-largest in the world.
This hike is an easy way to soak up the rainbow-colored spectacle — and the surrounding landscape, too. It consists of a short, winding trail along a gravelly, dusty path that'll take you up to a look-out over the springs.
With other smaller hot spring pools and geysers on the way (even a cheeky waterfall), you've got a whole spectrum of watery wonders expecting you!
Tip: depending on when you go, the Grand Prismatic Spring will look different. Its colors are muted when it's cooler, so going around noon will ensure prime spring action. It'll be fairly busy though.
Length: 2.5km
Duration: 1.6 hours
Difficulty: Easy
Trailhead: Fountain Flat Drive (44°34'40.3″N 110°49'45.0″W)
Save $$$ • Save the Planet • Save Your Stomach!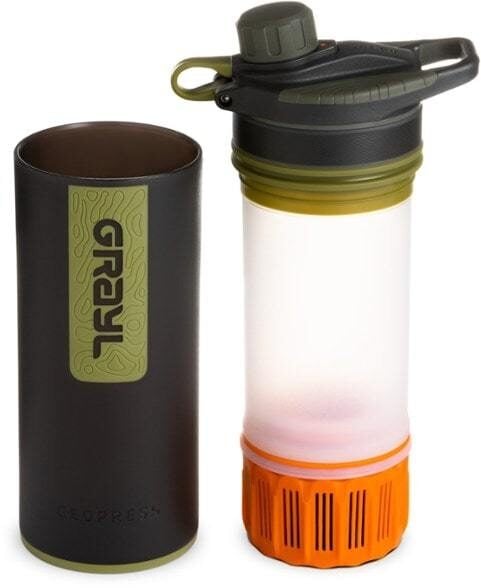 Drink water from ANYWHERE. The Grayl Geopress is the market's leading filtered water bottle protecting your tum from all the waterborne nasties. PLUS, you save money and the environment!
Single-use plastic bottles are a MASSIVE threat to marine life. Be a part of the solution and travel with a filter water bottle.
We've tested the Geopress rigorously from the icy heights of Pakistan to the tropical jungles of Cuba, and the results are in: it WORKS. Buy a Geopress: it's the last water bottle you'll ever buy.
Buy a Geopress!
Read the Review
6. The Black Canyon of the Yellowstone Trail – The Toughest Trek in Yellowstone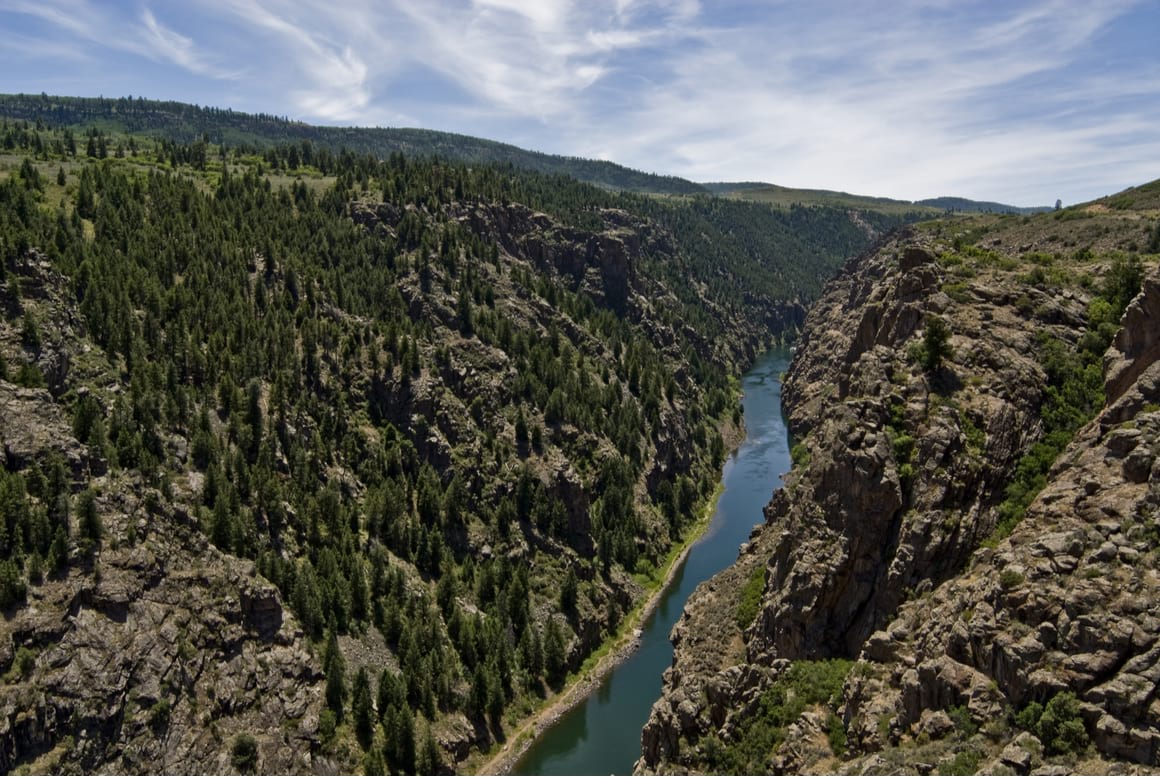 Get ready for the ultimate hike in Yellowstone National Park. It's a challenging route, but a very rewarding one! If you're looking for a real hiking challenge, then this is definitely the hike for you.
Hitting up the trail that winds its way around the Black Canyon of the Yellowstone, on the park's northern boundary, is best done earlier on in the hiking season.
Following along the Yellowstone River, the canyon can only be accessed on horseback or on foot, which makes it feel very remote. Starting at the trailhead, the path descends to the river and then over one of the only suspension bridges in the park, high above the roaring water.
After crossing the Yellowstone River, you'll be traversing the open sagebrush landscape, where you may catch sight of antelope and bison.
It's possible to camp in the backcountry at Yellowstone, and campsites here are usually located along the river — you can even book some of them.
Day two boasts carved-out gorges and canyon views. You'll trek all the way through this incredible landscape towards Hellroaring Trail, where you can take a shuttle back to where you started. You've got options to make this hike as long, or challenging, as you like!
Length: 22.5 km
Duration: 2-3 days
Difficulty: Difficult
Trailhead: Blacktail Creek Trailhead (44°57'20.3″N 110°35'37.9″W)
7. Artist Point Loop – Best Hike for Views in Yellowstone
Artist Point is our pick for the best hike in Yellowstone if you're looking for views. It is, after all, the park's most famous viewpoint — and for good reason, let us tell you.
The mountainous landscape is arranged just right, making the scenery something you could stare at for hours.
The trail starts off at the South Rim Trailhead. You'll be on the South Rim of the Grand Canyon of Yellowstone, with astounding views on both sides. Eventually, you'll pass by the Upper Falls, and after a mile or so you'll arrive at Artist Point itself.
Prepare yourself for breathtaking views. Savor the moment. You'll soon realize why they call it Artist Point: this thing is a frickin' piece of art!
Continuing onwards, and looping towards Lily Pond Lake, you'll spot geysers and hear the rumbling of unseen bison. The scene expands.
Even though the hike is only a couple of miles, it sure packs a punch when it comes to the scenery you get to see. Plus, you've got parking available at the trailhead. And bathrooms, too!
Length: 3.2 km
Duration: 1 hour
Difficulty: Easy/Moderate
Trailhead: South Rim Trail Head (44°42'29.2″N 110°30'07.2″W)
8. Seven Mile Hole Trail – Off the Beaten Path Trek in Yellowstone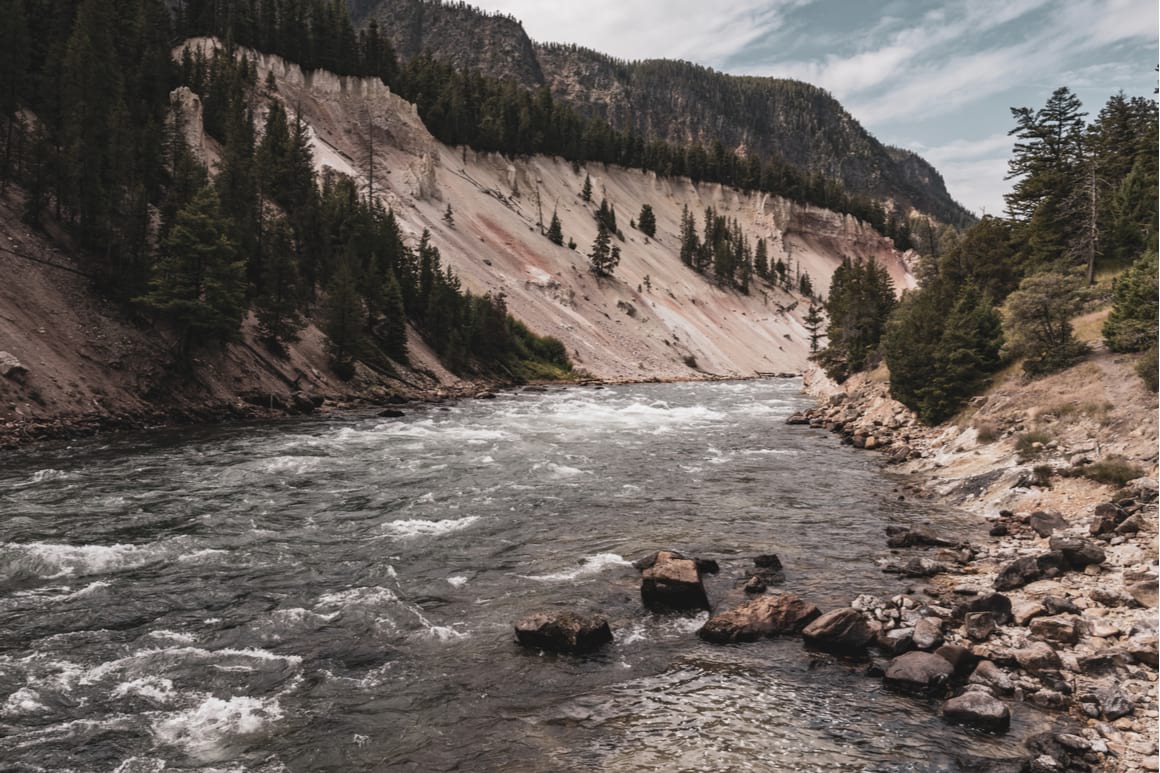 If you really want to get out into the backcountry and properly off Yellowstone's beaten track, this is the hike for you. It's well away from the more traversed routes and trails you'll find elsewhere, so chances are you'll count few (if any) other hikers along the way.
This right here, fellas, is some pretty damn good Yellowstone hiking. You'll get to soak up the majesty of the park's woodlands, challenge yourself, and see active vents and geothermal features along the way.
The journey starts alongside the Yellowstone River, joining the Washburn Spur Trail into the pine forests after a mile or so. Keep your eyes peeled for grizzlies on the slopes of Mount Washburn in the near-distance.
The path then drops into the canyon itself. There are a few sheer drops, so watch your step. And be careful of the dormant and active hot springs and vents, which can splutter at any time.
The billowing thermal area, the carpets of wildflowers, the lush meadows, and the mountain views… this hike is a real backcountry dream.
Length: 15.5km
Duration: 5 hours
Difficulty: Difficult
Trailhead: Inspiration Point (44°43'42.0″N 110°28'19.2″W)
DON'T DIE OUT THERE! …Please 🙂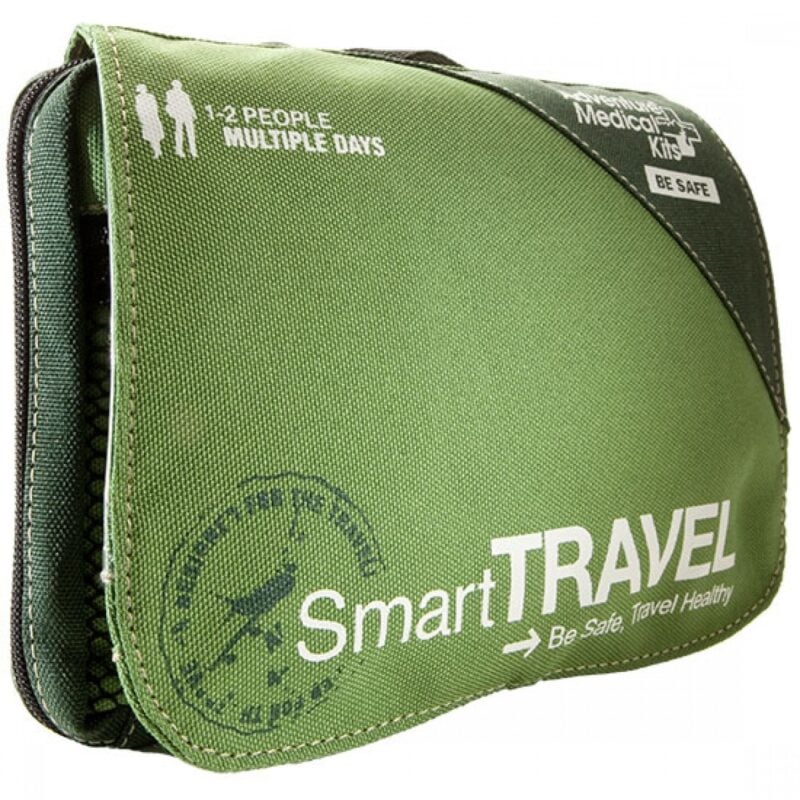 Things go wrong on the road ALL THE TIME. Be prepared for what life throws at you.
Buy an AMK Travel Medical Kit before you head out on your next adventure – don't be daft!
Buy on REI
Now that you're clued up on all the hikes and how to go about them, there's one crucial element left: figuring out where to stay in Yellowstone.
If you're really going to make a proper visit, we recommend staying at least a few nights in the area. Just the idea of staying this close to the most iconic park in the US is a no-brainer!
There are a few great spots to base yourself around here. And all sorts of accommodation types, too!
West Yellowstone, for example, is a solid option. With its own airport, you can get vintage inns, lodge-style hotels, RV parks, and some chain hotels for something a little fancier. There are also a whole bunch of places to eat (and drink), as well as museums and other cultural thingies.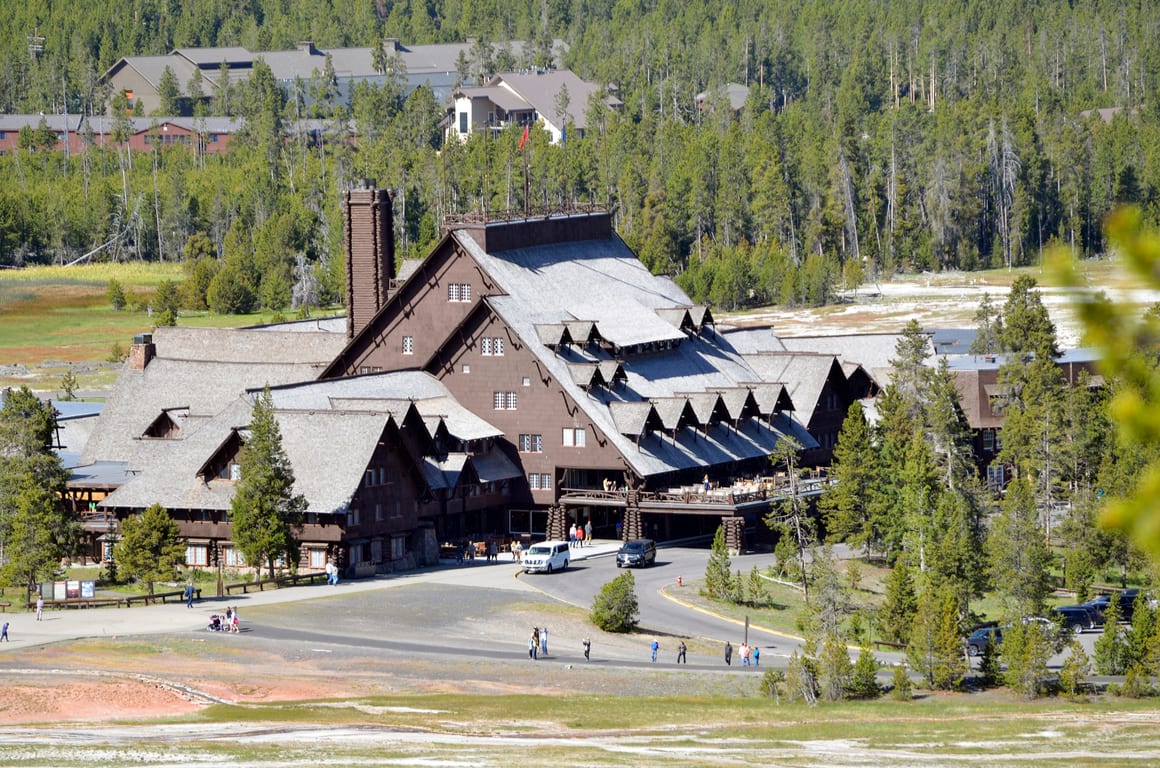 On Yellowstone's northern boundary there's Gardiner. It's similar to what you can find in West Yellowstone, just smaller. However, the scenery is more beautiful around town. And the Yellowstone River runs through here, too!
When it comes to staying within the park, there are tons of places to camp and otherwise stay the night. Mammoth Hot Springs, for example, just south of Gardiner, has a great campground. At Yellowstone Lake, there's a lodge and other camping opportunities.
Backcountry camping is arguably the best way to see it, though. There are 300 designated backcountry campsites, so you'll be spoilt for choice if you really want to get out into the wilderness. You'll need a permit, for which you can apply online.
Lavish Hideaway near Yellowstone – Alpenglow Villa
Ready to splash the cash? Airbnb Luxe is a premium range of vacation homes with a whole array of additional services on offer. This particular villa offers childcare, airport transfers, and spa services — among many other personalized offerings. It also comes with stylish interiors and an unbeatable location. Sleeping up to 16 guests, this is one for the big group ski trips!
Stylish Loft in Yellowstone – Mountain Lux
Planning a winter getaway? This luxurious mountain resort gives you easy access to both Yellowstone National Park and the big ski resorts! The rustic architecture gives the property a really homey vibe, while the modern interiors ensure you'll have an incredibly comfortable stay. It also comes with a sauna and a massive hot tub. What's not to love?
This five-star lodge is the epitome of luxury near Yellowstone National Park! Nestled along the western boundary, it is within walking distance of some great hiking and cycling trails. Each guest has their own private cottage with a modern kitchen and spacious bedrooms. As part of Eagle Ridge Ranch, you can also book a variety of excursions with a special guests discount.
Is This the Best Backpack EVER???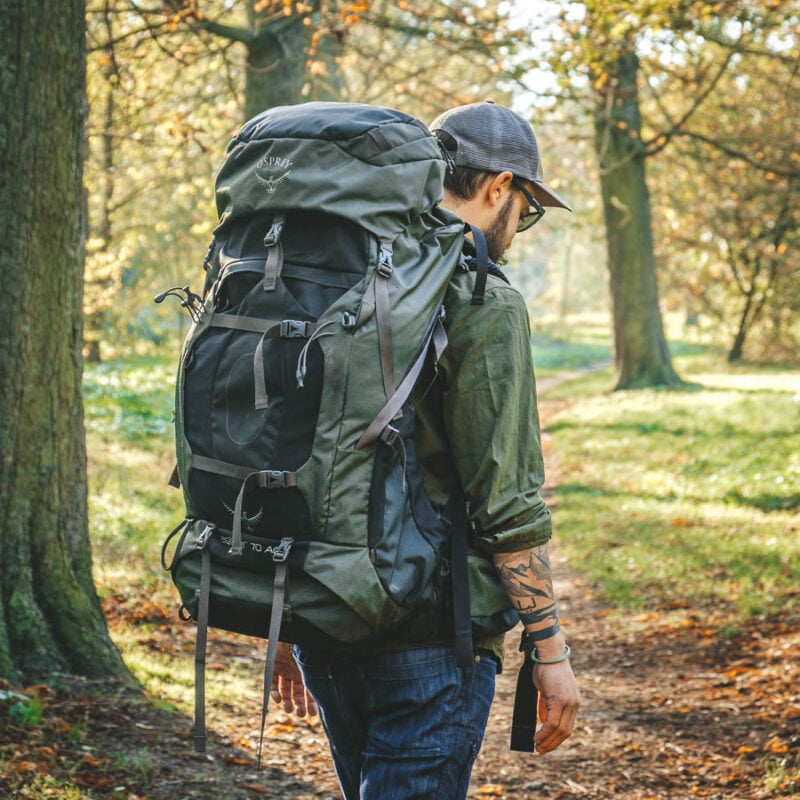 Hiking in Yellowstone is a right of passage of sorts for outdoor enthusiasts. It was the very first national park in the US, and trust us: it does not disappoint.
Before you go, though, it's a good idea to think about what you're gonna pack in that new sexy travel backpack of yours.
First, the shoes. This is number one thing you should worry about. Poorly fitting kicks can be dangerous, as the trails will require something more reliable. Consider investing in high-quality hiking boots if you can!
And don't forget a water bottle. A filter water bottle gives you access to clean drinking water wherever you may be. It's good for the environment too, so there's no reason not to try one out.
Lastly, the first aid kit. You might think it's over the top, but it's always a good idea to be prepared when out in nature. You never know when you're gonna need a plaster!
Throw a little jacket in your daypack, a few snacks, bear spray, and you're ready to go. Here's a list of the ultimate hiking essentials:
Trekking Poles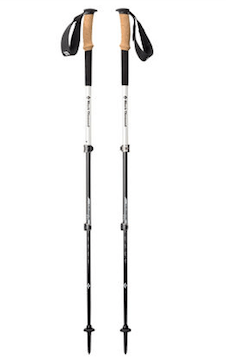 Trekking Poles
Black Diamond Alpine Carbon Cork
Price > $$$
Weight > 17 oz.
Grip > Cork
Headlamp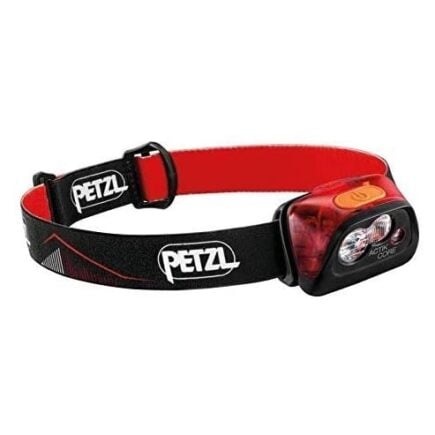 Headlamp
Petzl Actik Core Headlamp
Price > $$
Weight > 1.9 oz
Lumens > 160
Hiking Boots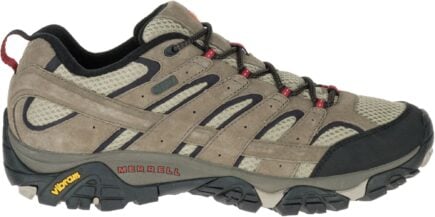 Hiking Boots
Merrell Moab 2 WP Low
Price > $$
Weight > 2 lbs 1 oz
Waterproof > Yes
Daypack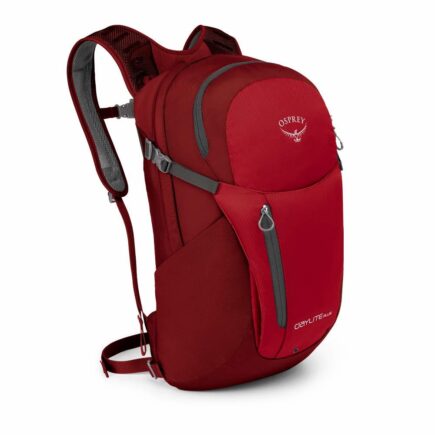 Daypack
Osprey Daylite Plus
Price > $$$
Weight > 20 oz
Capacity > 20L
Water bottle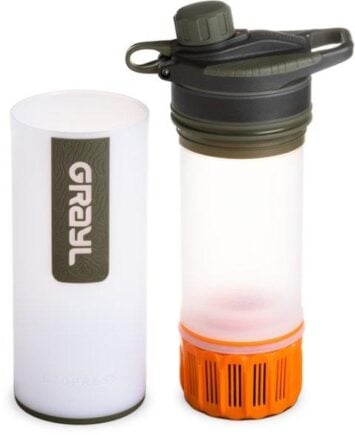 Water bottle
GRAYL Geopress
Price > $$$
Weight > 16 oz
Size > 24 oz
Backpack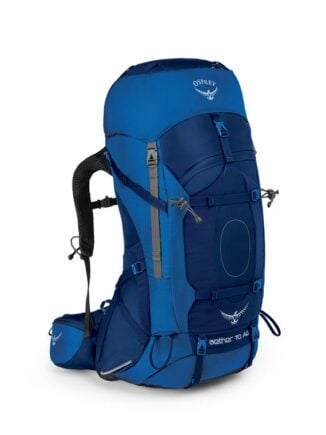 Backpack
Osprey Aether AG70
Price > $$$
Weight > 5 lbs 3 oz
Capacity > 70L
Backpacking Tent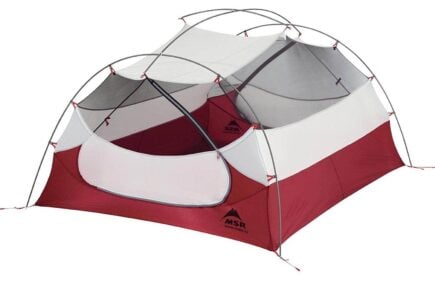 Backpacking Tent
MSR Hubba Hubba NX 2P
Price > $$$$
Weight > 3.7 lbs
Capacity > 2 person
GPS Device
GPS Device
Garmin GPSMAP 64sx Handheld GPS
Price > $$
Weight > 8.1 oz
Battery Life > 16 hours
Don't Forget Your Yellowstone National Park Travel Insurance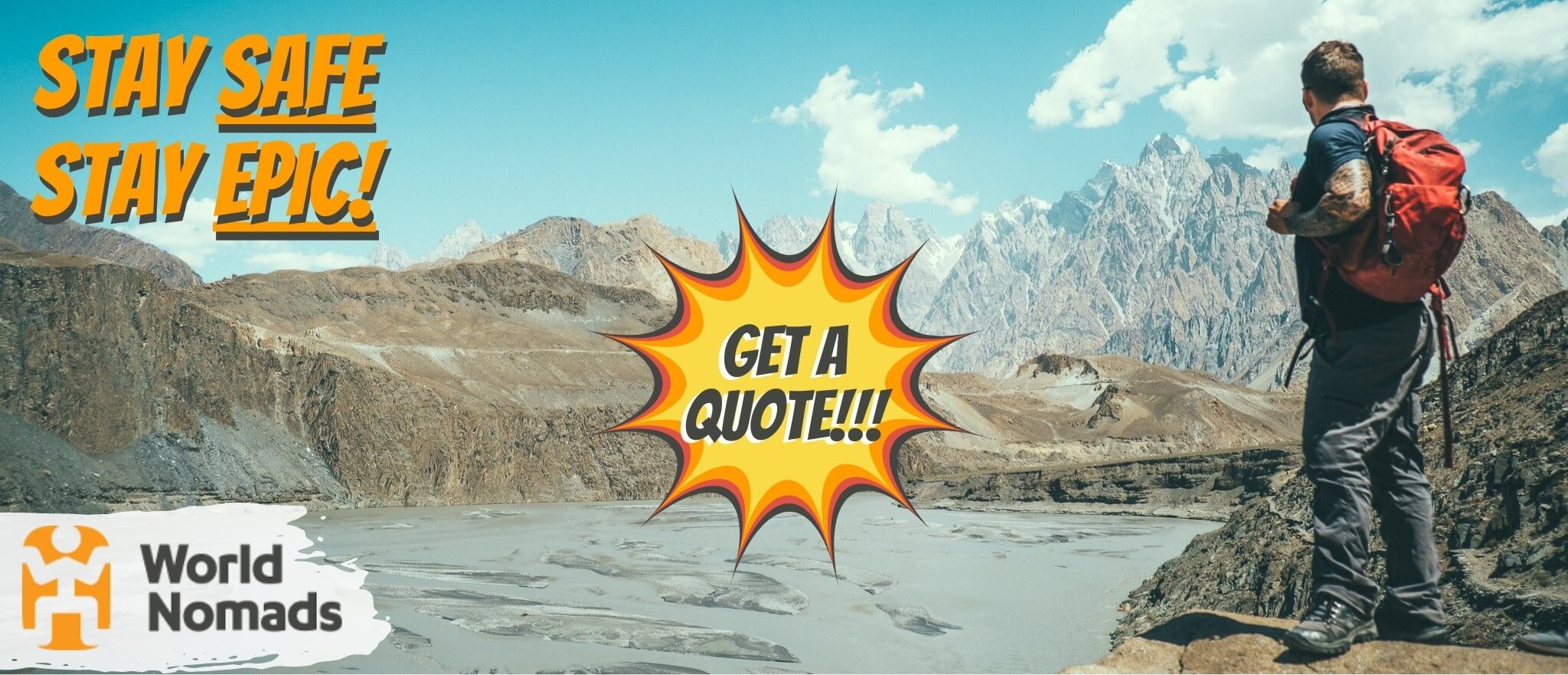 World Nomads' mission is to support and encourage travellers to explore their boundaries. They offer simple & flexible travel insurance, and safety advice to help you travel confidently.
They've been doing it since 2002 – protecting, connecting, and inspiring independent travellers just like you.
Get a quote below or read our in-depth review!
World Nomads provides travel insurance for travelers in over 100 countries. As an affiliate, we receive a fee when you get a quote from World Nomads using this link. We do not represent World Nomads. This is information only and not a recommendation to buy travel insurance.
---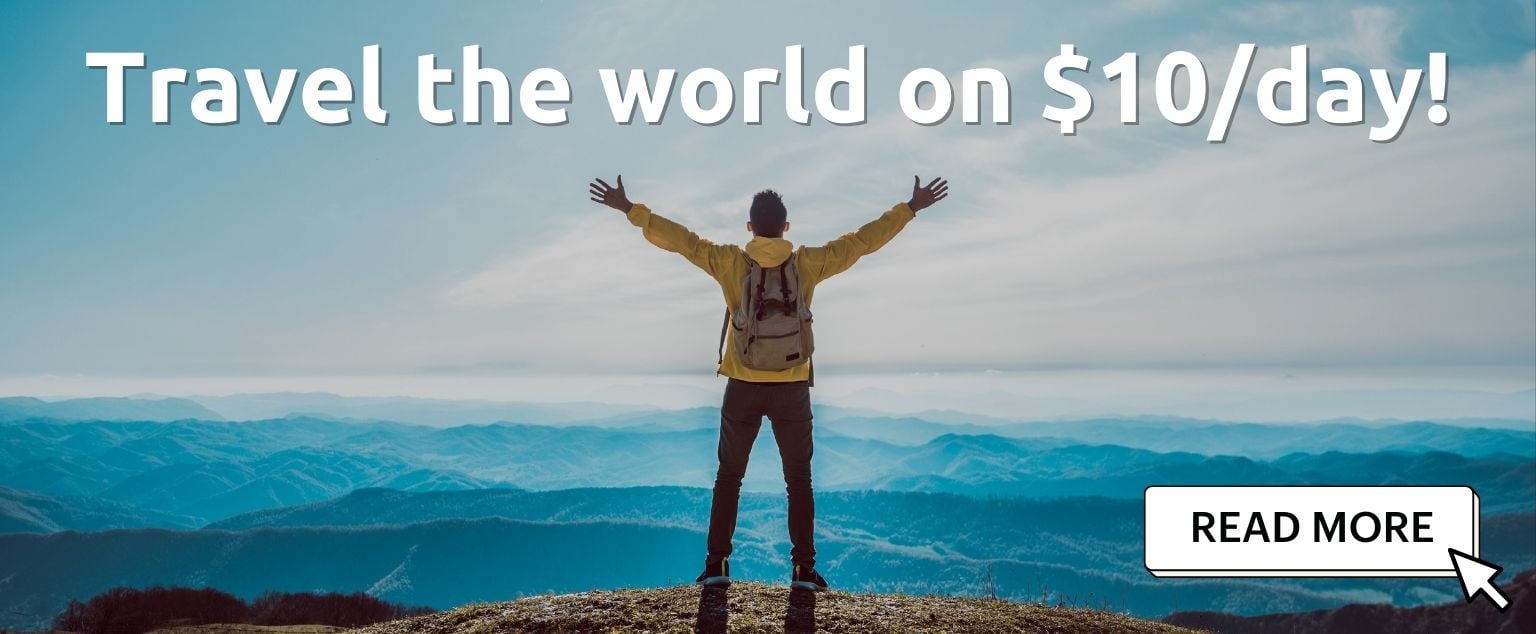 And for transparency's sake, please know that some of the links in our content are affiliate links. That means that if you book your accommodation, buy your gear, or sort your insurance through our link, we earn a small commission (at no extra cost to you). That said, we only link to the gear we trust and never recommend services we don't believe are up to scratch. Again, thank you!