Located in the eastern foothills of the Rocky Mountains, Colorado Springs is the ultimate destination for nature-lovers. It's a picturesque city with an idyllic landscape that offers visitors countless outdoor attractions and things to do.
If you're a traveler with an appetite for adventure, Colorado Springs is the perfect place to plan your next vacation. From scenic hiking trails with iconic views to ziplining and white water rafting, you won't be short on options. The city also boasts a world-class class beer scene, and a host of great museums.
With so much on offer, we've put together a helpful Colorado Springs guide that includes all the best activities. From popular sites to hidden gems, you'll discover everything the city has to offer!
Top Things to Do in Colorado Springs
We thought we'd start this guide with the city's most popular attractions. Here are the top six Colorado Springs things to do that should be on your travel bucket list.
Insider Tip: before you start booking your accommodations, make sure you know where to stay in Colorado Springs. You don't want to end up miles away from the hotspots you want to explore – so do your research!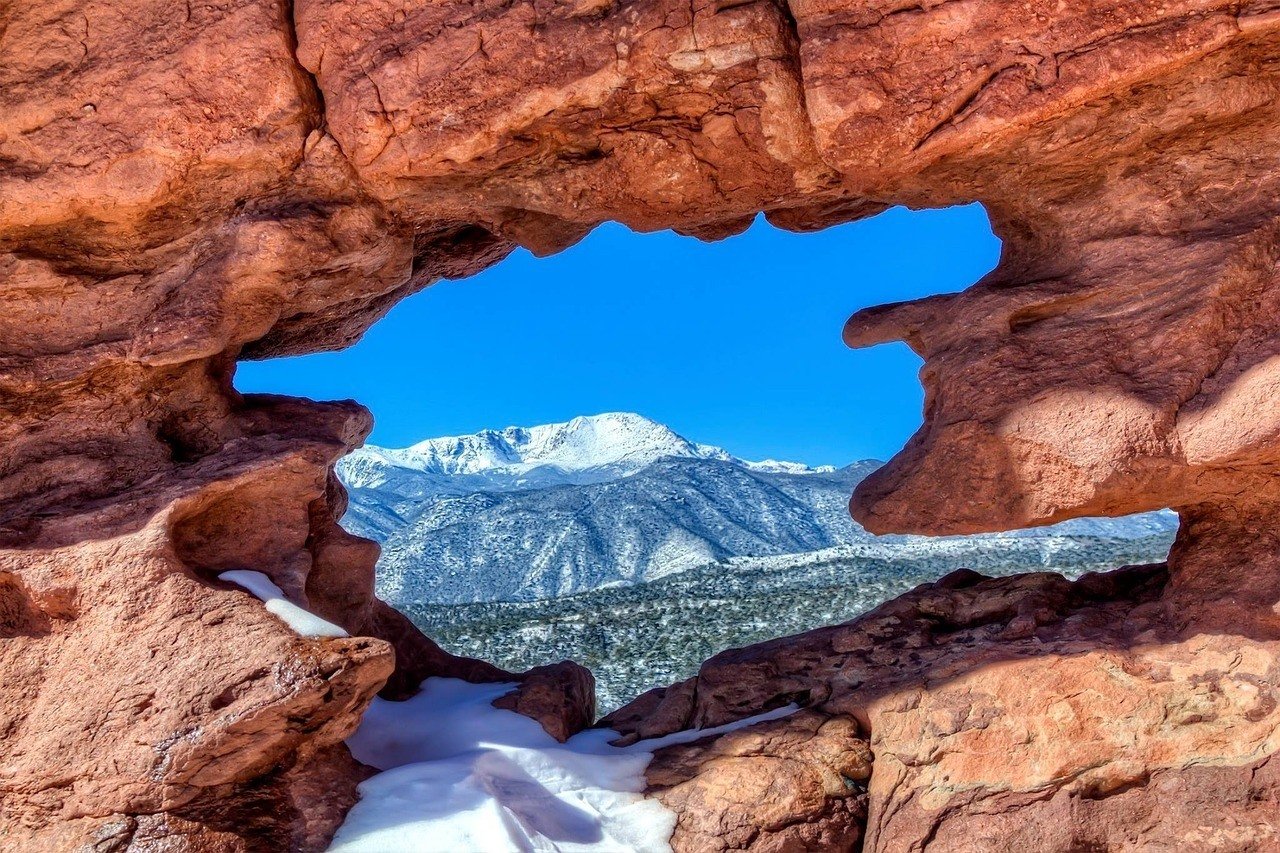 The Garden of the Gods offers 1,300 acres of sandstone formations. It's the perfect destination for outdoor enthusiasts and nature lovers. If you're looking for some of the best hikes in Colorado, you won't be short on options. There are paved walking trails at the main parking area and many hiking trails throughout the park.
Make sure you stop by the visitor center to pick up a map before heading into the park. Enjoy some of the most scenic drives in Colorado as you traverse the landscape around the park.
2. See the Majestic Broadmoor Seven Falls
The Broadmoor Seven Falls is a series of seven waterfalls in South Cheyenne Canon Park. The park is very well maintained and can be an easy-going affair with a few shops, restaurants and other places to relax and enjoy the scenery.
To reach the base of the falls you'll have to hike about .8 of a mile from the entrance to the park. For guests that are not physically able to hike, there is a tram that will take you to the base of the falls for USD $2.00. Bargain.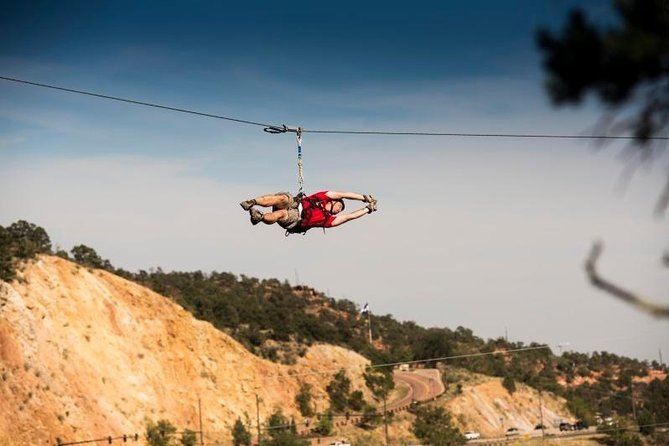 If you're looking for adventurous things to do, Colorado Springs offers some of the best ziplining in Colorado. The city's breathtaking landscape is perfectly suited for this scenic activity. You'll be surrounded by natural beauty and be able to take in the landscapes from a unique perspective.
Soaring past tall trees and over lush valleys isn't as hard as it sounds, and Ziplining is an activity almost anyone can enjoy. No experience is necessary and safety gear and professional instruction are always provided.
4. Visit the Neighboring Town of Manitou Springs
Manitou Springs is located about 6 miles west of Colorado Springs. As well as the many exciting and unique activities the township has to offer, visitors will be treated to incredible views and inimitable charm. There really is nowhere else quite like it
The Pikes Peak Cog Railway is the highest in North America and offers breathtaking scenic views. During the ride, the driver relays information about the scenery and points out different places you see along the route.
The Manitou Springs Incline, also simply referred to as the Incline, is a popular hiking trail in the area. The trail runs for nearly one mile over the remains of a funicular railway whose tracks washed away during a rock slide. If you're looking to do some hiking near colorado springs, the Manitou Incline is one of the most popular trails you can take.
The craft beer scene in Colorado is huge. There are countless bars around town that brew top-notch quality beers. These local joints offer a low-key vibe and a casual atmosphere. Even if beer isn't your usual drink of choice, you'll find a wide selection that caters to all pallets and preferences.
Swing by a brewery and enjoy a flight of locally produced beer right from the tap. Most establishments also offer pub grub to enjoy alongside your drinks. Experience Colorado's lively beer culture by adding this to your list of things to do in Colorado Springs!
The US Olympic training center is a large sports complex and training facility for Olympic and Paralympic athletes. Visit the complex and see the conditioning space, rehabilitation center, pool, basketball court, wrestling, and boxing rooms, and much more.
The walls of the facility radiate hope and inspiration. Be on the lookout for athletes from various sports that are Olympians and current world champions!
There are only two campuses created by the United States Olympic & Paralympic Committee as training facilities for its athletes; one in Colorado Springs and the other is in Lake Placid, New York.
The Best Travel Backpack?!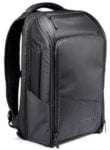 Pssssst! Not picked the perfect travel backpack yet? The Broke Backpacker team has tried out over thirty backpacks this year! Our favourite carry on backpack is the Nomatic Travel Backpack.
Check out our full review!
Unusual Things to Do in Colorado Springs
Are you looking to mix it up a bit and check out some unusual attractions on your vacation? Here are some things to do in Colorado Springs this weekend that will allow you to explore the city's unique side.
The Manitou Cliff Dwellings are a group of relocated Pueblo Indians' homes. The dwellings were built elsewhere and brought to their current site, piece by piece, in the early 1900s. It's amazing how beautiful and well-preserved the structures have been kept.
Take a self-guided tour through this historic site and imagine what it would have been like living in that time. There are signs explaining each room and its use which only add to the wonderment
Don't forget to stop by the museum and gift shop before you leave. Both of these areas are filled with lots of interesting items.
8. Visit the Glen Eyrie Castle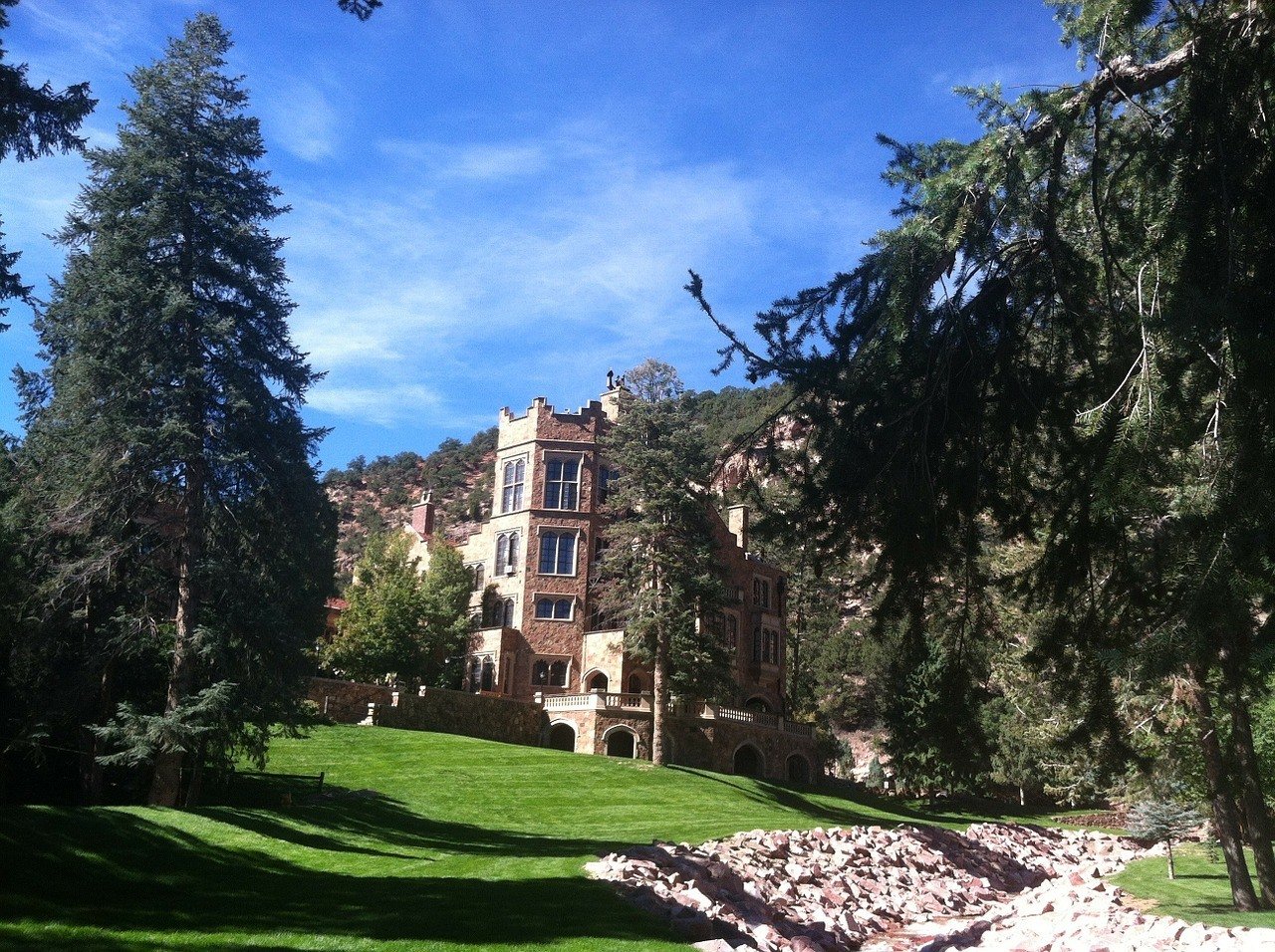 Glen Eyrie is an English Tudor-style castle built by the founder of Colorado Springs, General William Jackson Palmer. The castle was built in 1871 as a dream home for himself and his wife. Today, the castle is open to the public for tours and events.
Learn about the local history of Colorado Springs and about the family who lived here. The rooms are authentically decorated and will take you back in time. The castle grounds are also beautiful and well maintained.
The castle also has a cafe on-site that offers late-morning/afternoon tea! It's recommended to reserve a table in advance. The castle also runs as a hotel. Book a room for the night and spend the night in a castle in Colorado Springs!
9. Learn About the City's Gold Mining Days
Delve into Colorado's wild west heritage at the Wild West Ghost Museum. The museum paints a detailed picture of what life would have been like back in Colorado's gold mining day.
The museum is filled with authentic artifacts and an array of antiques from the old west. It even contains a model town of historic structures you can explore. Guests can turn their museum experience into a hands-on learning adventure as they pan for gold and enjoy other fun activities. The museum is geared towards all ages and is fun for the whole family.
Safety in Colorado Springs
Colorado Springs is a safe place to visit in terms of criminal activity. The city does have a homeless population, but these people are generally harmless. Rates of violent crime are low across the board.
The main safety concern to keep vigilant about comes from the landscape. Colorado Springs is a haven for nature lovers, but there are certain precautions you'll want to take when out exploring the land. Bring plenty of water, snacks, a map, and your cell phone. As an extra safety measure, it's also a great idea to keep your friends/family information on where you're going. Read our tips for traveling safely before you fly and always get travel insurance. Check out our roundup of the best travel insurance.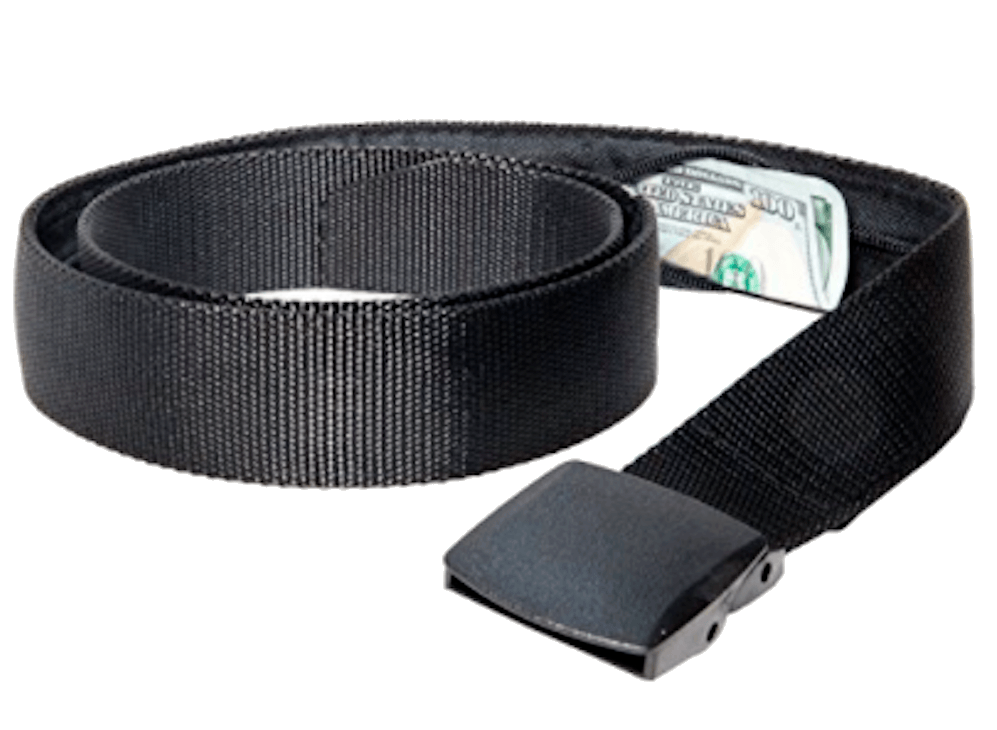 You should always have emergency cash hidden on you - pick up this awesome security belt with its hidden pocket before you travel, it's perfect for hiding money, a passport photocopy.
Things to Do in Colorado Springs at Night
Colorado Springs is by no means a party city. However, it does have a few great options on offer for night time entertainment.
10. Explore Old Colorado City
Old Colorado City is a historic neighborhood in Colorado Springs. There are over 100 shops, restaurants, and other attractions within just a few blocks radius. Shop the local boutiques, check out the art galleries and have a meal in a local restaurant.
For food, check out Thunder and Buttons II. This old school saloon serves classic American fare and hosts regular karaoke and bingo nights. If you're in the mood to see a show, head to Simpich Showcase. This local theater puts on one-man shows with marionette dolls. It's a unique experience and fun for all ages.
Immerse yourself in the rugged Colorado spirit and enjoy an entertaining session of ax throwing! Ax throwing is the latest craze sweeping urban cities. This growing sports fad has a tradition that goes back all the way to the frontiers. It's gaining popularity once again and has turned into a social activity perfect for groups of friends.
The goal is to throw your ax into the center of a target. Feel the satisfaction of hitting the bull's eye and revel in the excitement with your friends!
Bad Axe Throwing is located on North Academy Blvd, in Colorado Springs. This is a social activity and stays open late. Most ax-throwing venues require participants to be at least 18 years of age or older.
Where To Stay In Colorado Springs
In case you haven't yet decided where you're gonna stay when you visit the delightful Colorado Springs, we have a few little recommendations for you!
A great location, fantastic surroundings and a clean environment are just a few of the reasons this is our pick for where to stay in Colorado Springs. This hostel has dorm-style and private accommodations, self-catering facilities, and a comfortable common room. Enjoy free breakfast and hot showers.
View on HostelWorld
The Antlers A Wyndham Hotel is a fantastic four-star property conveniently located in Colorado Springs. It has around the clock room service, valet parking and express check out. Each room is elegantly decorated and has luxurious amenities and features. Enjoy a variety of restaurants and shops nearby.
View on Booking.com
The Saint Mary's Inn is our pick for where to stay in Colorado Springs. Comprised of seven bedrooms, this beautiful Victorian mansion has laundry facilities, a terrace and a barbecue area on site. Ideally located for sightseeing, this B&B is close to Colorado Springs' top tourist attractions.
View on Booking.com
Romantic Things to Do in Colorado Springs
If you're looking for romantic date ideas for your vacation, here are the best things to do in Colorado Springs for couples.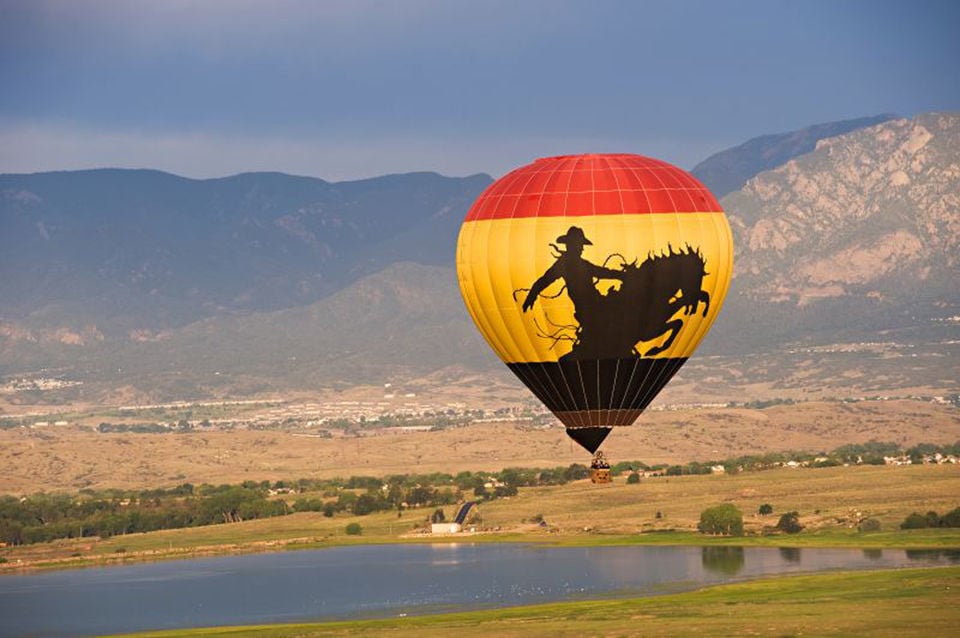 A hot air balloon ride is hands down one of the most romantic activities to enjoy with your significant other. There's no better place to experience the thrill and beauty of a hot air balloon ride than over Colorado's lush landscape.
Rise high above the rivers and plains of Colorado Springs. Take in the wonder of the city's phenomenal scenery with your partner by your side. See the snow-capped mountains and be on the lookout for wildlife. You'll enjoy spectacular views in all directions. We know that this activity is expensive, but it's a once in a lifetime experience that is guaranteed to be memorable!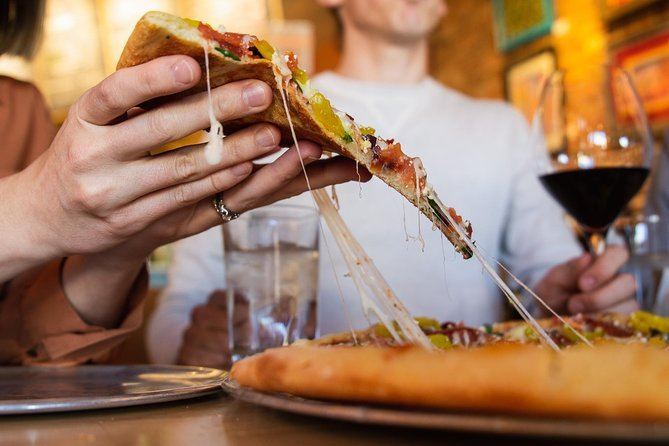 Colorado Springs has a thriving food and drink scene. The city offers an eclectic range of eateries that will take your date night to a whole new level! Visit local bars and restaurants and discover the city's creative culinary cuisine. As far as options go, you'll find the best selection in the downtown area.
From down-home American cooking to rustic Bavarian beer gardens, there's a lot to choose from. You'll find prices to suit all budgets, from casual to high-end dining.
Do You Need Travel Insurance
Don't forget to sort your travel insurance! We've put together a roundup of the best travel insurance for backpackers, or if you're low on time, get a quote from World Nomads now, our favorite travel insurance provider.
Getting an estimate from World Nomads is simple – just click the button or image below, fill out the necessary info, and you're on your way!

Best Free Things to Do in Colorado Springs
If you're traveling to Colorado Springs on a budget and looking for free things to do, here are some popular points of interest we recommend checking out.
14. Discover the City's Past
The Colorado Springs Pioneers Museum contains more than 60,000 cultural and historic objects that document the Pikes Peak region. See artifacts related to Native American tribes that lived in Colorado, like the Cheyenne, Ute, and Arapaho.
Learn about Colorado Springs' founding and mining industry. There is a children's gallery exhibit where visitors aged 2-10 can enjoy an interactive hands-on experience as they explore a trading fort from the 1800s. This museum caters to all interests and age groups, and it's free to visit!
15. Marvel at Downtown Colorado Springs' Creative Art Scene
Art on the Streets is a program that started in 1998. Its aim was to fill the downtown area with artwork, thus creating an inspiring and creative space. For the last 20 years is has been doing exactly that.
Initially, the Art on the Streets program accepted most of its entries from artists. Now, the process is slightly more selective. Stroll the downtown area and see the obscure and creative pieces of art, from sculptures to murals. Each year, new temporary additions are added and displayed for a certain amount of time. At least one piece is also added to the permanent collection each year.
Colorado Springs Packing List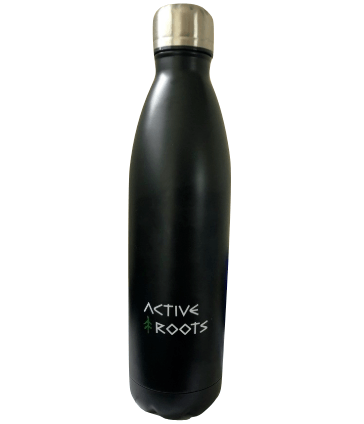 1. Travel Water Bottle: Always travel with a water bottle – it'll save you money and reduce your plastic footprint on our planet. AR bottle are tough, lightweight and maintain the temperature of your beverage – so you can enjoy a cold red bull, or a hot coffee, no matter where you are. For every AR bottle sold, we donate 10% to PlasticOceans.org – an initiative to reduce plastic in our oceans!
2. Microfibre Towel: It's always worth packing a proper towel. Hostel towels are scummy and take forever to dry. Microfibre towels dry quickly, are compact, lightweight and can be used as a blanket or yoga mat if need be.
3. Security Belt with Hidden Pocket: I never hit the road without my security belt. This is a regular looking belt with a concealed pocket on the inside – you can hide up to twenty notes inside and wear it through airport scanners without it setting them off. This is hands down the best way to hide your cash.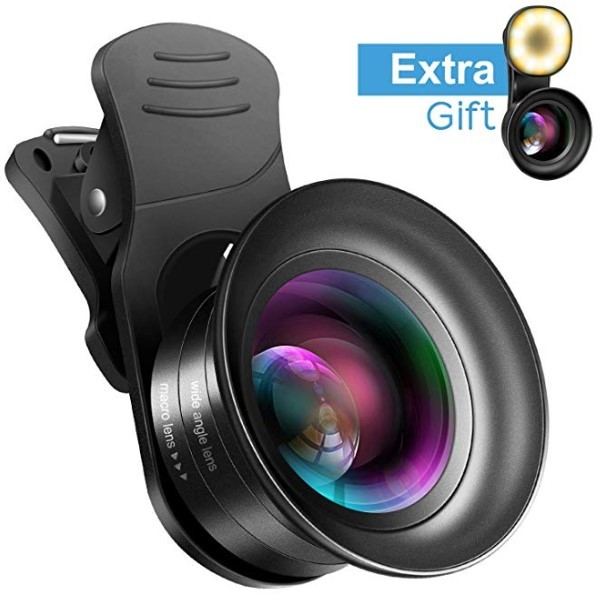 4. Camera or Cell Phone Camera Accessories: One thing's for sure – Colorado Springs is a picturesque destination! Get perfect shots from your phone using clip-on-lenses with wide-angle, close-up and optical zoom. With the ability to turn travel pictures from basic to professional, this universal lens sits neatly over any phone camera and comes with a durable, travel-friendly case!
5. International Adapter: Colorado Springs outlets accommodate typical US two-pronged plugs, but for electronics that have three prongs or if your plugs are of a different variety, you'll need an adapter. Save yourself the hassle of trying to track down an adapter at your destination and paying twice as much than planning ahead by buying one online.
Books to Read in Colorado Springs
The Backpacker Bible – Get it for free! Learn how to ditch your desk and travel the world on just $10 a day whilst building a life of long-term travel with an online income. To inspire and help the next generation of Broke Backpackers, you can now grab 'How to Travel the World on $10 a Day' for free! Get your copy here.
The Ringer– Two families from opposite sides of town and opposites sides of the end of the cultural spectrum come together as their sons play baseball together.
Centennial – A sweeping epic written in honor of Colorado's bicentennial. Follows several characters from all walks of life as they try to make something in the then New American West.
On the Road – A tour-de-force of the Beatnik movement and arguably one of the greatest travel novels ever. Follows the wanderings of the wild and dazed Dean Moriarty through the eyes of Sal Paradise. A large portion of this novel takes place in Colorado.
Things to Do with Kids in Colorado Springs
The state of Colorado is like a giant playground! It provides plenty of open space and room to roam around. If you're looking for fun things to do in Colorado Springs with kids, make sure to check out these attractions.
16. Take the Kids to a Giant Playground
If you're trying to decide what to do in Colorado Springs with kids, you can'
t go wrong with a visit to America the Beautiful Park Fantasy Playground. The play space is large and filled with plenty of fun and modern equipment. The interactive pieces of art around the park are also made for kids to climb around on. During the summer months, they can even splash around in the water fountain sculpture!
There is also plenty of green space to run around and burn off some energy. The picnic pavilions are a great area to relax as a family and enjoy a picnic! The park is open long hours every day and has bathroom facilities.
17. Enjoy the Spacious Surroundings at the Red Rock Canyon Open Space
The Red Rock Canyon Open Space is one of the top kid-friendly things to do in Colorado Springs. This expansive open space covers a total area of 1,474-acres. There are plenty of safe, well-marked walking and hiking trails.
This park is sure to provide plenty of family fun. Explore a new trail, admire the spectacular red-rock formations, or enjoy a picnic! There are picnic pavilions where you can relax and enjoy a meal and toilets at both of the main parking lots.
Day Trips From Colorado Springs
Day trips from Colorado Springs are a great way to explore even more of the state's iconic attractions. Here are the top two trips we recommend adding to your itinerary.
Royal Gorge is located about 60 miles southwest of Colorado Springs. This area is perfect for a day trip and offers many attractions that will keep you entertained all day. At the Royal Gorge Bridge and Park, you'll find America's highest suspension bridge. Walk across and enjoy unobscured 360-degree views in every direction! The park also offers other heart-pumping activities, including the royal rush sky coaster, aerial gondolas, and ziplining.
If Colorado Springs white water rafting is on your list of things to do, this is a great area to enjoy this activity. Brave the rapids and experience the rush of speeding down a guzzling river! If you're looking for things to do near Colorado Springs, make sure to add this day trip to your itinerary.
Explore the Famous Pikes Peak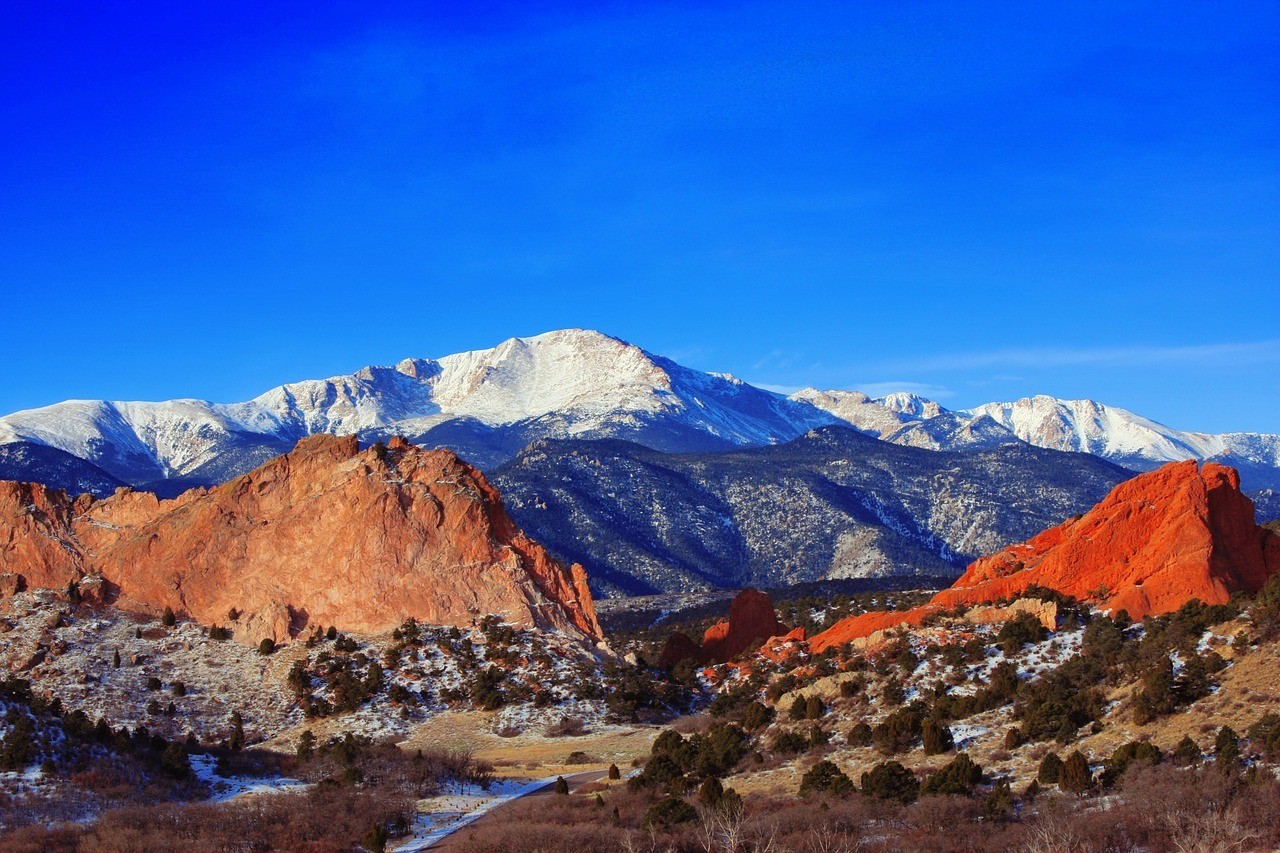 Pikes Peak is one of the top Colorado Springs attractions. It's located approximately 1 hour from the city (30 miles).
Enjoy a day of hiking! The Barr Trail is a 13-mile trek that starts in Manitou Springs and ends at the summit. This is the only trail that will take you to the top of the summit, but at 26 miles round trip, this hike isn't for everyone.
For a less challenging hike, try the 4-mile Crags Trail – rated easy to moderate. The Catamount Trail is another option. It's a 6-mile round trip hike and rated as moderate to difficult. Neither of these trails will bring you all the way up to the summit, but will nevertheless supply you with great views along the way.
However, If you'd rather drive, the Pikes Peak road up to the summit will supply you with plenty of picturesque views. There are several areas you'll be able to pull over and take epic #nofilter photographs.
3 Day Itinerary in Colorado Springs
Day 1 – Discover the City's Local History and Famous Landscape
Spend your first day in Colorado Springs learning the local history at the Pioneers Museum. The museum opens at 10:00 am and is a great way to introduce yourself to the city. Next, travel about half a mile to downtown Colorado Springs. You can easily walk there, or get there by car in just a few minutes. Spend some time walking around and admiring the local art. Grab lunch at a nearby restaurant and check out the local craft beer scene.
Afterward, head to the Garden of the Gods. By car, you'll get there in about 15 minutes. Spend the rest of your day exploring the rock formations and hiking trails. This attraction closes at dusk, so you'll be able to enjoy the remaining hours of daylight discovering the uniqueness and beauty of this popular attraction.
Day 2 – Explore a Neighboring City and Nearby Canyon
Start your day nice and early with a trip to Manitou Springs. This nearby town is just a 15 minutes (7 mile) drive from Colorado Springs. If you feel like hiking, head to the Manitou Incline. Climb approximately 2,744 steps made entirely of railroad ties! At the top, you'll be rewarded with sweeping views of the valley down below.
Next, head to the Manitou Cliff Dwellings and explore the relocated Pueblo Indians' homes. Plan to spend between one to two hours here. Afterward, wander around the Manitou Springs downtown area. Do a bit of shopping and grab a bite to eat at a local restaurant.
When you're done, drive for about 5 minutes (2 miles) to the Red Rock Canyon Open Space. Finish the day walking or hike one of the trails and admire the gorgeous red-rock formations.
Day 3 – Experience the Wild West and Waterfalls
Start your day visiting the Glen Eyrie Castle. Explore this English Tudor-style manor, built by the founder of Colorado Springs. Marvel at the detail of all the different rooms and learn about the founding of Colorado's Springs. Before you leave, enjoy a spot of tea from the castle cafe – make sure to reserve a table in advance.
Next, drive about 15 minutes (5 miles) south to the Wild West Ghost Museum. Step back in time to the 1800s and learn about an interesting chapter in Colorado's history. See old artifacts and pan for gold!
Next up is Broadmoor Seven Falls inside the South Cheyenne Canon Park. Travel about 15 minutes (5 miles) by car to the parking area. After you park, hop on the shuttle for about 10 minutes to reach the entrance of the park. From there, you'll have to walk about .8 of a mile to reach the base of the waterfall. Admire the mighty cascading waterfalls and explore the nearby area and hiking trails.
Make your way back to Old Colorado City and pop into a local restaurant for dinner and drinks!
More Great Resources
Conclusion
We hope you enjoyed our list of the top things to do in Colorado Springs. As you can tell, there are plenty of unique spots and attractions catering to every type of traveler.
If you're seeking outdoor adventure, you'll find plenty of things to do in Colorado Springs. It's surrounded by gorgeous mountain ranges highly appealing to the active traveler.
The city also offers a quiet reprieve for more leisurely vacationers, who will enjoy the city's local museums and beautiful vantage points. From the iconic red-sandstone formations to cascading waterfalls, every attraction is worthy of a picture!
Yay for transparency! Some of the links in this post are affiliate links. This means that if you book your accommodation, buy a book or sort your insurance, I'll earn a small commission at no extra cost to you. I only link to stuff I've actually used and never endorse crap. Your support helps me keep the site going.
---
Need More Inspiration?
Like this post? PIN ME!!!