If you're able to go on a Colorado road trip with your own car or campervan, you'll be able to travel through the state as you please, seeing and doing whatever you like within your own timeframe – sounds great, right?
Colorado has always been one of the most romanticized parts of the USA. Its towering mountains, frontier culture, colorful landscapes, and amazing beer are all very tempting, and you may or may not have been thinking about these things for a while now.
Rest easy, my fellow broke backpackers – we have the insider information you need to make your own EPIC, adventurous Colorado itinerary.
This Colorado Road Trip Travel Guide covers everything you need to know about visiting the state by car or campervan.
We'll show you exactly how to stick to a budget, tell you about the best places to visit in Colorado in winter and summer, and give you plenty of ideas and itineraries so you can easily organize your entire trip!
So get ready people! We're off to see the best of Colorado with our trusty steed!
Your travel costs when going on a USA road trip depend on which state you want to visit. Colorado is getting more and more expensive every day due to increasing urban development and an influx of new residents. Dining and lodging, in particular, will be the greatest expenses for anyone living in or visiting Colorado. However, some of the unique Colorado treehouses and cabins are worth digging a bit deeper into your pockets.
Thankfully, we're here to help you save and to share lots of budget road trip ideas for Colorado! At The Broke Backpacker, we're constantly looking for new ways to cut travel costs, and we have a whole repertoire of useful tips to give y'all.
Even if we are unable to travel for $10/day like in our favorite countries (let's be real here), we can at least help you minimize expenses to the utmost degree.
The average daily budget for a Colorado road trip is between $150-$200 – this includes gas, a rental car, lodging, food, drink, and entry fees.
Thankfully, Colorado has some of the cheapest gas in the USA, which will help you stretch your dollars. Even if it is cheap, gas will still be one of your greatest expenses because it can be difficult to properly gauge how much you will actually use.
Add in the fact that you'll be traveling long distances in Colorado and you'll be both thankful for the cheap gas and motivated to use as little as possible. Lots of the best places in Colorado are located far from each other, which is going to add to your gas expenses too, so plan ahead!
We mentioned earlier that dining and lodging will be two of your greatest expenses on a road trip in Colorado. Mountain hotels can be prohibitively expensive especially during the winter. Restaurants are often overpriced and sometimes serve uninspiring food.
To save on both, use campgrounds or hostels as much as possible and cook your own food.
Below is a breakdown of the average costs of a road trip in Colorado.
Average Costs of a Colorado Road Trip
Below is a list of sample Colorado itineraries. Varying from 2 to 14 days in length, they cover many of the top road trip destinations in the state. Each itinerary provides day-by-day highlights, which are meant to give you some good Colorado road trip ideas. If you don't want to scroll down, just skip the whole damn thing and jump straight to your preferred road trip with the list below:
How you're going to spend your time in each location is completely up to you. You can enjoy the beautiful nature, go on epic hikes and adventures, or simply have a drink at one of the great Colorado bars. We've created a list of hotspots to visit for each location, feel free to check them out!
For those who are primarily staying in Denver and are looking for a quick weekend trip, this is the easiest option. Fort Collins and Rocky Mountain National Park are both within 90 minute drive, which makes them relatively painless to visit for a few days.
There is plenty of to do and see on this Colorado road trip itinerary, probably too much if you only have a few days. Estes Park aka the Gateway to the Rocky Mountains is also worth visiting, if only for the Stanley Hotel and Tramway. If you'd like you can stop in Boulder as well to go hiking at the Flatirons or climbing in Boulder Canyon. There's some great hostels in Boulder too if you want to stop overnight here.
Highlights: Dream Lake, Estes Park, Boulder Canyon, Long's Peak, Fort Collins breweries, Sky Pond, Flatirons
Notable bars and restaurants: New Belgium Brewery, Odell Brewing, Waltzing Kangaroo, Big City Burrito, The Rainbow, Coopersmith's, Urban Egg, Beau Joes (all Fort Collins)
Where to Sleep:
There are plenty of activities you can do on this short road trip. Rock climbing in Boulder Canyon or summiting Long Peaks are some the top recommendations here. The Brew Walks in Fort Collins is worth a visit too. If you're looking for a place to stay, try camping at Bear Lake. For the ones that are not into hard and physical adventures, check out the Estes Park Aerial Tram.
There are a couple of scenic drives as well. Check out the I-34 (the Trail Ridge Road) if you're visiting in summer. Otherwise, Highway 72 is pretty epic too.
If you're visiting at the right time, there are really cool festivals and events in the area. Here are some of the best ones:
Colorado Brewers Festival (June),
Tour de Fat (Sept.) and Tour de Corgi (Sept.),
Boulder Arts Week (March/April),
Boulder Shakespeare Festival (July/August)
This Colorado itinerary is one for those who want to experience Colorado primarily from the seat of their car, this road trip is the best. Beginning along the stunning I-24 outside of Colorado Springs and ending at the terminus of I-34 near Rocky Mountain National Park, this route has it all.
A 1-week itinerary for Colorado will allow plenty of time. You'll be able to visit many of the state's top destinations, including Garden of the Gods, Buena Vista, A-Basin, and Estes Park. For those who still want to be active, there's plenty to do, like climbing the Collegiate Peaks and hiking near Breckenridge.
Due to seasonal conditions, this road trip is only possible from May-October. All other times of here will problematic or impossible due to snow.
Highlights: Garden of the Gods, Buena Vista, Pikes Peak, Vail, A-Basin, Trail Ridge Road
Notable bars and restaurants: Bon Ton's Cafe (Colorado Springs), The Lariat (Buena Vista), Arrowhead (Vail), Butterhorn Bakery (Breckenridge), The Canteen (Breckenridge), The Principle's Office (Ivywild),
Where to Sleep:
When it comes to activities on this road trip, you definitely won't get bored. If you want to stay in your car, driving up to Pikes Peak or road tripping the Trail Ridge Road is the best choice. For the more active backpackers, we'd recommend hiking in the Garden of Gods or climbing the Collegiate Peaks.
You'll realize pretty fast that you're surrounded by incredible views wherever you go. So if you're wondering which are the best scenic drives,: the whole damn thing!
The best events to attend are:
Breckenridge WAVE (May/June), Breckenridge Beer Festival (July), and Breckenridge Hogfest (August),
Pitmaster BBQ Vail (August),
Vail Holidays (December)
Over the course of this 10-day Colorado itinerary, you'll get to visit all of the state's national parks. The Rocky Mountain National Park should be immediately recognizable as well as the Great Sand Dunes. Mesa Verde National Park and the Black Canyon National Park are under-the-radar gems.
National parks aside, you'll have the chance to pass through some of the most wonderful mountain towns in Colorado, including Ouray, Crested Butte, and Glenwood Springs. These towns provide the backdrop for some of the best road trips in Colorado, especially in the autumn as the leaves begin to turn gold.
Highlights: Mesa Verde National Park, Rocky Mountain National Park, Great Sand Dunes National Park, Black Canyon of the Gunnison National Park, Crested Butte
Notable bars and restaurants: Pass Key Restaurant (Pueblo), Django's Restaurant (Crested Butte), Telluride Brewing, Bon Ton Restaurant (Ouray), Nepal Restaurant (Glenwood Springs)
Where to Sleep:
Ah yes, the Black Canyon. If you're into camping, this is the best spot to spend the night. You can climb the Great Sand Dunes or explore Mesa Verde during the day. If you've got the time, hike up the Rocky Mountain National Park. There are a couple of great trails for every fitness level!
If you're more of a sit-and-watch person, then you'll love the San Juan Skyway and the Kebler Pass scenic drives.
Some of the most popular events in the area are:
Telluride International Film Festival (August/Sept),
Telluride Bluegrass Festival (June),
Enduro World Series (July/August) and Crested Butte Bike Week (June),
It's the best of Colorado – the ultimate road trip! This Colorado road trip itinerary covers all of the state's most well-known attractions and then some.
You'll get to visit the famous Maroon-Bells Lake, the opulent Aspen, and even the desert reaches of Eastern Colorado. Many attractions that were listed in other Colorado itineraries will also be featured in this road trip, including, but not limited to, Telluride, A-Bason, Great Sand Dunes, Crested Butte, and Estes Park.
For those who want to see the most of Colorado in 2 weeks, this is the perfect trip.
Highlights:
Denver, 3-4 national parks, Eastern Colorado, Garden of the Gods, Crested Butte, San Juan Mountains, Aspen/Snowmass
Notable bars and restaurants:
Rib City (Grand Junction), Red Onion (Aspen), Django's Restaurant (Crested Butte), Telluride Brewing, Finn's Manor (Denver), Copeta (Denver), Butterhorn Bakery (Breckenridge)
Where to Sleep:
Since you've got so much time on your hands on this road trip, you'll get to experience Colorado to it's fullest. If you're a bike fan, go mountain biking on the Grand Mesa – but wear a helmet! If you prefer to stay on your own feet, we'd recommend hiking the San Juan Mountains. The Maroon-Bells Snowmass are a great spot for photo enthusiasts and if you're into partying, spend a night in Denver!
When it comes to scenic drives, you can pretty much just tick off the list from all the other road trips above.
The same goes for the best Events in Colorado, but just to help you out a bit, here are the best ones:
Red Rocks concerts (all year),
Denver Beer Week (Sept),
Telluride International Film Festival (August/Sept) and Telluride Bluegrass Festival (June),
Breckenridge Hogfest (August),
Crested Butte Bike Week (June)
Road Trip to Denver
Denver is the capital, cultural hub, and largest city in Colorado. For many travelers, it will be the first place to visit in Colorado. It is an awesome city and, as of recently, everyone seems to be catching on to this fact.
For a long time, there was not a lot going on in Denver. It was mostly inhabited by an abject population and industrial workers. The spirit of "The West" – one of freedom, of the cowboy, and of tenacity – was and still is a very important part of the city's identity.
Denver is now experiencing unprecedented urban growth. Neighborhoods are undergoing rapid transformation, for better and worse. While many of these neighborhoods are seeing increased economic prosperity, they are also suffering from cultural eradication aka gentrification.
Downtown Denver is where you'll find the greatest concentration of restaurants and bars. The streets are pretty busy with pedestrians here – 16th Street, in particular, is very popular. Downtown also hosts Coors Field and Union Station, the latter of which acts as both train station and ultra-classy cafeteria. Getting accommodation here will be a bit more expensive, but you'll find some of the finest Denver Airbnb's in this area.
Capitol Hill is home to the gorgeous State Capitol Building and City Council. Nearby is the ultra-modern Art Museum, which is one of the best places to take photos in Denver.
The satellite neighborhoods of Highlands and RiNo are two of the best examples of the previously mentioned urban renewal. Once deemed "undesirable," they are now two of the most popular areas in Denver. Both are well known for their food, bars, and street art. You'll find some of the most unique things to do in Denver in this area too.
Midtown/17th Street is another foodie destination albeit a little more upscale. At the eastern terminus of the street is City Park – an enormous green space that was inspired by NYC's Central Park. It hosts both the Denver Zoo and Museum of Nature and Science. City Park also has some views of the Denver skyline.
Road Trip to Boulder
When Denver was a predominantly conservative town (it's not so much anymore), Boulder was cultivating alternative living. It is primarily a college town – home to the University of Colorado at Boulder – but is, nowadays, much more. Boulder has a thriving tech scene now, several world-class outdoor companies, and a sizeable population of residents who crave health, nature, and liberalism above all else.
Boulder is located only an hour northwest of Denver. It is much closer to the mountains than Denver is and, arguably, a part of them. Famous natural landmarks like the Flatirons, Boulder Canyon, and Eldorado Canyon are located on the outskirts of town. For rock climbers, hikers, and outdoors people in general, the sheer proximity of these destinations makes Boulder a paradise.
The city of Boulder itself doesn't really have too many attractions, and residents tend to rely upon the outdoors destinations to keep themselves busy. There are lots of shopping centers and trinketry stores in the center of town and on Pearl Street.
Boulder also has several breweries that can be visited via the Boulder Ale Trail – a 15-mile walkway that takes you to 10 breweries.
Of course, there are plenty of opportunities to explore the greater Rocky Mountains near Boulder. Trailheads for wonderful mountain retreats like Lake Isabelle, Arapahoe Glacier, and Lost Lake are all within an hour's drive of Boulder. Nearby is also the magnificent Rocky Mountain National Park, which will be discussed in the next section.
If you really wanted to get off the beaten path, consider visiting the Indian Peaks Wilderness. This is one of the best places to visit in Colorado but requires both a permit and 12-mile hike to access.
Northern Rocky Mountain Road Trip
One of the best things about living along the Front Range is that the Rocky Mountains are so close! Within an hour or two drive from Denver, Boulder, and most of Colorado's other major urban centers are some of the best parks and peaks in the entire Rocky Mountains.
The eponymous Rocky Mountain National Park is one of the most visited sections of the range for several reasons: a) it's gorgeous b) it's very close to Denver and c) it has the appealing distinction of being a national park.
Rocky Mountain National Park has some of the most stunning scenery in entire range and hosts superlative locations like Dream Lake, Sky Pond, and Longs Peak.
Dream Lake and Sky Pond are both accessed via the Bear Lake Trailhead, which also acts as the primary campground for the area. There are several other backcountry campsites around these lakes but a permit – obtainable through NPS – is required to stay at these.
Long's Peak is the highest mountain in Northern Colorado and one of the most popular 14ers in the state. Most climb Longs Peak in a day, given they start very early in the morning. On the way to the summit, climbers will pass by Chasm Lake, which is one of the most beautiful places in Colorado. Note that bivvy sites are sparse and a permit is needed to spend the night around Longs Peak.
If you don't feel like sleeping in the woods and don't feel like staying in Boulder again, try a hostel in Fort Collins or maybe Estes Park for the night. Fort Collins is a very laid back place and much more authentic than Boulder.
It is most well-known for local its prolific breweries, which are among the best in Colorado. Estes Park is one of the most charming mountain towns in Colorado and is very close to Rocky Mountain National Park.
Road Trip to Southern Colorado
Southern Colorado is one of the most arid parts of the state and feels much more similar to Colorado's neighbors – New Mexico and Texas. The scenery, though more barren and desert-like at times, is still spectacular and definitely worth visiting on any Colorado road trip route.
"Southern Colorado" is a fairly broad category and actually encompasses a lot of the state. For this section, we're just going to talk about the areas around Colorado Springs and south towards the New Mexico border. Locations further west like Telluride will be discussed later.
Colorado Springs is the first city to visit when traveling south on a road trip from Denver. It is a very quiet place that is visited mostly by people who want to see the Garden of the Gods or Pikes Peak. There are quite a few accommodation options, but the top ones are Colorado Springs Airbnbs.
The Garden of the Gods is a park full of peculiar rock formations and tower, the appearance of which is reminiscent of Utah. It is very impressive but very small. There aren't as many things to do here as in other cities, but the few activities that you can find in Colorado Springs are definitely worth it!
Pikes Peak is the highest mountain in the Southern Front Range and is notable for the fact that you can drive your car to the very top of it! The Pikes Peak Highway is definitely one of the best road trips in Colorado – where else (besides Colorado) can you drive your car to the top of a 14,000 ft mountain? The summit of Pikes Peak can also be visited by cog train or hiking.
Further south, past Pueblo, is one of Colorado's best national parks, Great Sand Dunes. Surrounded by epic, craggy peaks and host to the highest dunes in the country, Great Sand Dunes is a must visit on any Colorado road trip itinerary.
Wilderness hikers can also explore the nearby Sangre de Cristo range, which is an extremely rugged and beautiful portion of the Rocky Mountains.
Road Trip to Breckenridge
Breckenridge and all of its surrounding neighbors – Silverthorne, Copper Mountain, and Vail – are among the most popular mountain towns in Colorado thanks to their picturesque settings and close proximities to Denver. Those looking to make a quick weekend road trip from Denver will find few places better than these locations.
Any of the above-mentioned towns make for good bases to explore the surrounding mountains but Breckenridge is the most appealing. It is one of the oldest ski resorts in Colorado, serving as a model for later resort developments; it's also one of the most convenient places to base yourself.
The city of Breckenridge itself is cozy and charming, if not a little tame compared to more opulent and energized resorts like Aspen or Vail. Those looking for parties may be better off in another town but those looking for serenity will enjoy Breckenridge greatly.
The skiing near Breckenridge is excellent. Once you've finished with those slopes there are plenty more located nearby. Ski areas like A-Basin, Loveland Pass, and Keystone are all a short drive away from Brecky though drive times may be longer due to increased winter traffic.
If you're looking for a more luxurious ski resort, consider Vail. Vail is one of the most expensive ski resorts in Colorado – second only to Aspen. The parties here are, predictably, extravagant if not a complete shitshow. However, if you got the money, staying in Vail can be a great experience if you're into nature, skiing and adventures.
Most people visit Breckenridge in the winter for the skiing; few realize that the area also hosts some of the best hikes in Colorado. Mohawk Lakes, McCullough Gulch, and Quandary Peak are a few notable hikes/climbs near Breckenridge. Willow Lakes and Missouri Lakes are farther away from Brecky and take more time to complete but are fantastic hikes.
Road Trip to Aspen
Aspen is probably the most famous ski resort in all of the USA. Thanks to loads of attention from celebrities, artists, musicians, and Hollywood, Aspen has become one of the most idolized mountain town in Colorado. It is opulent, exclusive, sometimes debaucherous, and really expensive.
Aspen is located in the middle of the Colorado Rockies along Highway 82. It only takes about 2-3 hours to reach Aspen on a weekend road trip from Denver, which is a reasonable amount of time. Its accessibility probably adds to its popularity.
Aspen was once a mining town and does have a fair amount of history. Several of the brick buildings in the town are remnants from this more rustic era and these do give the town a certain ambiance.
Increasingly, the more historical parts of the city are being replaced by new urban development and ultra-premium condos.
Many Rocky Mountain ski resorts have a reputation for hosting wild parties and Aspen may have the greatest of them. In the winter, Aspen is full of the rich and famous, regardless if they can actually ski or not, which makes the town feel like a Hollywood of sorts in the mountains. Alcohol and cocaine are consumed in excess. For those who like to party lavishly, Aspen may be the best place in Colorado for you.
Regardless of its hedonistic offerings, there are still plenty of outdoor opportunities in Aspen and the mountains here are justifiably amazing. The skiing is world class, of course, and there is plenty more hiking in the summer.
Nearby is the Maroon-Snowmass Wilderness, which has one of the most beautiful hikes in Colorado – the Four Pass Trail. It is also home to the most photographed place in the state, Maroon Lake.
Road Trip to Grand Junction and Fruita
Grand Junction is the largest city in Eastern Colorado and is visually very distinct from the rest of the state. Soaring mountains become replaced by grand mesas and the trees give way to endless fields of red rock. We are entering the desert now people.
Traveling east along Interstate 70, you'll first pass through impressive Glenwood Canyon and visit Glenwood Springs on the way to Grand Junction. If you are on a weekend road trip from Denver, Glenwood Springs is a great place to stay as a rest stop.
Glenwood Springs is famous for the eponymous hot springs as well as the very popular Hanging Lake.
Once you depart from Glenwood Springs, the landscape begins to change. As we travel further east, the Rocky Mountains begin to recede and the Colorado Plateau begins to rise ahead. For desert dwellers, this area is one of the best places in Colorado.
No landmark is a better representative of Colorado's desert beauty than the Colorado National Monument. With towering rock walls, elegant stone pillars, and that blazingly red rock that has become indicative to the American Southwest, the Colorado National Monument is a must see.
Nearby the Colorado National Monument are the towns of Grand Junction and Fruita. The towns themselves are somewhat less inspiring but do have their merits.
Both are famous for their art scenes (Fruita, in particular) and, interestingly enough, their wine. Grand Junction and Fruita are in the middle of Colorado's relatively humble wine country and both offer tours of local wineries.
Be sure to also explore the Grand Mesa outside of Grand Junction. The Grand Mesa is the largest flat-top mountain in the world and has lots of outdoor activities. There are a few scenic byways along the top of the mesa that provide excellent views as well as access to lots campgrounds and trails.
There are several long distance bike trails and river rafting routes that start in Grand Junction. You could bike all the way to Utah or even start a Colorado River rafting adventure from here.
Road Trip to Telluride
Telluride is one of the most legendary mountain towns in Colorado. Telluride also has some of the best skiing, greatest festivals, and best hiking in all of Colorado.
The drive to Telluride is absolutely stunning as you'll be passing through some of the best scenery in Colorado. Depending on which route you take, you'll have the chance to see Mesa Verde, the Black Canyon of the Gunnison, and the astounding San Juan Mountain Range.
The San Juan Mountains surround Telluride. They are among the most rugged and beautiful mountains in Colorado, especially in the autumn when the aspens begin to change colors.
When on a road trip to Telluride, the first part of the San Juans that you'll see will be the Sneffels Range. Driving along Highway 62 and over the Dallas Divide will grant you amazing views of the range though you may need 4-wheel drive for this one.
Hikers can also explore this part of the San Juans via several trails. Blue Lake, the Sneffels Highline, and Baldy Peak are among the best in the area.
Telluride is tucked away in a valley south of the Sneffels Range. It is an immensely beautiful town that acts a perfect base for skiers and hikers. It is also one of the best places to visit in Colorado in summer because of the frequent festivals it hosts, most well-known being the Telluride Film Festival.
While you're staying in Telluride, make sure to make a day trip to Ouray via the gorgeous San Juan Skyway. Ouray is very similar to Telluride but with hot springs.
Also, think about visiting Silverton, which located south of Ouray via Highway 550 aka the Million Dollar Highway. Be sure to visit Molas Lake for views of the Grenadier Range and consider hiking to the Highland Mary Lakes and/or Ice Lakes.
There is a very scenic train that connects Silverton with Durango as well and this is actually used as a means to access several trails in the area.
Off The Beaten Path Colorado Road Trip Destinations
Just when you thought you saw everything in Colorado, somewhere else pops onto your radar! Those who want to see some more unique places in Colorado, away from the tourist trail and untouched by mass development, ought to consider the following locations.
Weminuche Wilderness One of the greatest wilderness experiences in the USA, featuring some of the most rugged and beautiful mountains in Colorado. Located near Silverton/Durango and requires either a ride on the historic Narrow Gauge Railroad or a very long through hike. Chicago Basin is perhaps the best place to visit in the Weminuche as it has several lakes and three relatively simple 14ers. The 7-day Weminuche Loop is the best way to experience this area.
Dinosaur National Monument: Very important archeological site in the far northwestern part of Colorado. Features a significant amount of fossil remains as well as petroglyphs. There are several picturesque canyons and gorges around as well.
Canyons of the Ancients: Similar to Mesa Verde National Park i.e. set up to protect local Puebloan archeological sites. Larger, quieter, and more remote than Mesa Verde. Lower Pueblo and The Great Kiva are excellent places to visit in this area.
Colorado National Parks
From mountains to deserts to canyons to ancient cities, Colorado's national parks represent the very best of the USA.
Visiting any one of them is among the best things to do in Colorado – winter or summer. Refer below for a list of the state's national parks and decided which one you'd like to see.
Rocky Mountain: One of the most visited national parks in the entire USA. A relatively small section of the greater Rocky Mountain Range that offers quintessential alpine scenery. It hosts some of the best places in Northern Colorado including Dream Lake, Longs Peak, and Sky Pond.
Black Canyon of the Gunnison: Located in a remote section of the central-Colorado Rockies. The name "Black Canyon" refers to the fact that the canyon only receives a reported 30 minutes of sunlight per day. Not as large or as deep as some other canyons in the USA but certainly one of the most sheer and dramatic.
Great Sand Dunes: Home to the highest sand dunes in the USA. The Great Sand Dunes NP offers excellent camping, off-roading, and sand-boarding opportunities. The nearby Sagres de Cristo Range has lots of excellent hiking trails as well.
Mesa Verde: A relatively remote national park located in the far southwestern corner of the state. Setup to preserve some of the most significant native Puebloan archaeology in the country. Features relics, petroglyphs, and rock-cut homes. The Cliff Palace is believed to be the largest cliff dwelling in the USA.
Colorado Roadside Attractions
Americans have a weird affinity to the strange landmarks that are usually found out in the middle of nowhere. The roadside attractions in Colorado have become so admired that many people go on a trip just see them!
Below is a list of some of the most interesting roadside attractions in Colorado.
World's Largest Fork (Creede) – Pretty much as it sounds; a giant fork in the middle of nowhere. 40 feet long and made from 800 lbs of aluminum.
UFO Watchtower (Hooper) – A glorified viewing platform that takes advantage of the regions extremely dark skies. It and the Highway 17 aka the Cosmic Highway are sites for several reported UFO sightings. UFO parties are often held at the nearby campgrounds.
Tiny Town (Morrison) – Old, Western-style town built at 1/6th scale. Features tiny buildings and a tiny train that can be ridden.
Bishop Castle (Rye) – An intricate stone castle built by a local man. Said man started construction over 50 years ago and was originally trying to impress his wife. Has since turned into a grand residence complete with ballroom, bridges, and a fire-breathing dragon.
Gator Reptile Park (Mosco) – An out-of-place gator center where visitors can learn the art of gator wrestling. Visitations also include educational lessons about gator ecosystems.
Tank Center for Sonic Arts (Rangely) – A grain silo with incredible acoustics. Was scheduled to be demolished but a local group petitioned to have it preserved. Now a music center.
The Sasquatch Outpost (Bailey) – A center dedicated to all things Sasquatch. Includes memorabilia, souvenirs, educational courses, and supplies for huntin' Sasquatch.
Cano's Castle (Antonito) – Impressive structures built from beer cans and scrap metal. Features several towers and a royal residence. Built by a Vietnam War veteran who wanted to demonstrate is graciousness for surviving the conflict.
Colorado Scenic Drives
Colorado has some of the craziest and most beautiful roads that you can find when backpacking the USA! Below is a list of some of the best scenic drives in Colorado.
Note that this is only a small sample and that there are tons more forest roads and 4×4 tracks that can be enjoyed.
Consider renting an off-road-capable vehicle to fully enjoy these remote roads and to go on the ultimate Colorado road trip route!
San Juan Skyway: Arguably the most scenic drive in Colorado, and maybe even the entire USA for that matter. Wind your way through the stunning San Juan Mountains and visit old mining towns. Best in the autumn when the trees are changing colors. This, in addition to the Dallas Divide (4-wheel may be required), are highly recommended Colorado road trips.
Mount Evans Road: This is the highest paved road in the USA and goes even higher than the Pikes Peak Highway! Drive to the top of Mt Evan (14,271 ft) for stunning views of the Colorado Rockies. Definitely, the easiest way to conquer a 14er. Road is only open during the summer.
Trail Ridge Road: Road that traverses Rocky Mountain National Park. Affords amazing views of the surrounding mountains including Longs Peak, which dominates the horizon. Several important viewpoints and trailheads are found along the side of the road. Offers some of the best scenic views near Denver.
Top of the Rockies: Road that allows access to Leadville, the highest city in the USA. More importantly, this route crosses the Continental Divide three times in total and offers views of the highest mountains in Colorado: Mt. Elbert and Mt. Massive.
Kebler Pass: One of the best places in Colorado to see fall foliage and/or summer wildflowers. Connects Paonia State Park and Crested Butte, which is one of the cutest mountain towns in Colorado. If there are poor weather conditions, this Colorado road trip may require 4×4.
Best Time to Visit Colorado
Colorado supposedly has over 300 sunny days a year and is considered one of the sunniest places in the entire USA. If you can handle the (sometimes extreme) cold in the winter and the aridity, then you can visit Colorado any time of the year and love it no matter what.
Winters (December -April) in Colorado are legendary among winter athletes. The snow in the Rocky Mountains is some of the lightest and driest snow that you'll find anywhere in the country and makes for ideal skiing conditions. Longer winter seasons, which can start as early as November and run until May, mean that there are plenty of opportunities to hit the slopes.
Summer (July-September) is the time to go hiking, camping, and walk around the city. Colorado summers are arguably some of the finest you'll ever experience. Except for the occasional heatwave, temps hover between 80 and 90 Fahrenheit.
There are lots of festivals during this time and everyone seems to be full of energy. Thunderstorms are common during the summer, which, though awesome to witness, can be very dangerous if you're caught in one while hiking in the mountains.
Autumn in Colorado (October-November) is an extremely attractive season and a favorite for many residents. During this time, the skies are almost always clear, the mountains take on their winter coats, and, most stunningly, the trees begin to turn a bright gold.
Autumn road trips in Colorado are common as people travel to see the changing leaves. This is definitely one of the most beautiful times in Colorado.
Spring (May-June) in Colorado is very brief, sometimes even imperceptible. Spring is mostly defined by the blooming of trees and afternoon thunderstorms, which can be fierce. Rain falls in bucket fulls during this time but only for a few minutes.
Why Visit this Part of the World
Colorado is a paradise for people who crave the outdoors. This isn't just because of the Rocky Mountains though – people from Colorado are in love with nature and have developed a pretty amazing relationship with it.
Few things are as enjoyable as a hike, a beer, and beautiful scenery to a Coloradan, and we wouldn't have them any other way.
It goes without saying that the Rocky Mountains are one of the most beautiful and culturally significant places in the USA. Mighty, threatening, and, ultimately, sublime, the Rocky Mountains inhabit an important place in the minds and dreams of all Americans.
There is so much lore surrounding the Rocky Mountains. For the Native Americans, the Rockies were a place of bounty and majesty that providing them with food and shelter.
For the (New) Americans, the Rockies were a source of huge amounts of wealth – in the form of gold – and were one of the greatest breeders of the American frontier spirit.
Colorado hosts the greatest concentration of high peaks in the lower 48 and has the highest average elevation of all the states.
The Rockies encompass nearly half of Colorado and there is a seemingly endless amount of things to do in the mountains here. Adventurers should be chomping at the bit to visit.
One of the best parts about Colorado is its people though. There are very few cultures that thrive so well and enjoy the outdoors so much. They are eternally optimistic about all things and really just want to spend as much time as they can outside. For a Coloradan, nothing tops a good hike followed by a good beer.
So visit Colorado for the epic mountains and lovely residents. We think you'll find yourself becoming quite fond of them very quickly.
Top Tips for Broke Backpackers
Below is a list of Colorado road trip ideas for saving money. Try and practice these as much as possible.
Rent an economy car: Prices can be as low as $25/day depending on the time of year and how far in advance you reserve. Economy cars are also more fuel efficient so you'll save on fuel. Use apps like ViaMichelin to find cheap gas, which, seriously, always ends up being one of the most surprising and costly expenses on a road trip.
Use vehicle relocation services: These brilliant services offer huge discounts to people on the condition they get a vehicle to a certain place at a certain time. No joke, you can rent a car sometimes for as low as $1/day! Availability is very limited though, so keep a watchful eye on the sites.
Sleep overnight in an empty lot: Though not technically legal in Colorado, people sleep in parking lots all the time. Make sure the lot is safe by asking around. Walmarts are reportedly good places to park overnight as they allow overnight parking.
Camp: Unless you want to fork out big bucks for a lodge, you have to camp. Campgrounds are way less expensive and sometimes even free. Check out this post for a breakdown of the best tents to take backpacking. If you're feeling really adventurous and want to save some cash, consider picking up a backpacking hammock.
Cook your own food: Eating out can be very expensive in Colorado. Cook your own food as much as possible to save – I recommend bringing a portable backpacking stove. Otherwise, have a fancy night out at a food cart.
Do free shit: There are lots of free activities in Colorado! From hiking to laying on the beach to going to the local monuments; all of these things cost you nill. You can get started with this awesome guide to free things to do in Denver.
Buy an America the Beautiful Pass: Seriously, if you're visiting more than two national parks, you'd be a fool not to buy this.
Make Money Online Whilst Traveling in Colorado
Want to stay in the USA longer? Worried that you don't have enough cash for a longer Colorado road trip? One idea is to make money while traveling!
Teaching English online is a great way to earn a consistent income—from anywhere in the world with a good internet connection. Depending on your qualifications (or your motivation to obtain qualifications like a TEFL certificate) you can teach English remotely from your laptop, save some cash for your next adventure, and make a positive impact on the world by improving another person's language skills!
It's a win-win! Check out this detailed article for everything you need to know to start teaching English online.
In addition to giving you the qualifications to teach English online, TEFL courses open up a huge range of opportunities and you can find teaching work all over the world. To find out more about TEFL courses and how you can teach English around the world, read my in-depth report on teaching English abroad.
Broke Backpacker readers get a 35% discount on TEFL courses with MyTEFL (simply enter the code BACKPKR), to find out more, please read my in-depth report on teaching English abroad.
Whether you are keen to teach English online or looking to take your teaching game a step further by finding a job teaching English in a foreign country, getting your TEFL certificate is absolutely a step in the right direction.
Books to Read during your Colorado Road Trip
These are some of my favorite travel reads and books set in Colorado. Read one or two and you may have some great road trips ideas for Colorado…
Traveling without insurance would be risky so do consider getting good backpacker insurance sorted before you head off on an adventure.
ALWAYS sort out your backpacker insurance before your trip. There's plenty to choose from in that department, but a good place to start is Safety Wing.
They offer month-to-month payments, no lock-in contracts, and require absolutely no itineraries: that's the exact kind of insurance long-term travellers and digital nomads need.
SafetyWing is cheap, easy, and admin-free: just sign up lickety-split so you can get back to it!
Click the button below to learn more about SafetyWing's setup or read our insider review for the full tasty scoop.
Colorado definitely has its fair share of lodgings – from mountain cabins to condos to resorts – but, if you're concerned about prices, you will need to be very mindful of where you intend to stay. Depending on location, hotels can be ridiculously expensive in Colorado and can rival even the most lavish rooms in New York or California.
Hotels will be more expensive around Colorado's major ski resorts i.e. Telluride, Aspen, Vail. When staying in or near these locations, consider booking a budget motel or maybe staying in a neighboring town.
Colorado's AirBnBs are often better and cheaper than hotels – staying in one is a great road trip idea for Colorado. They are often homier, quainter, and much more interesting than a drab motel or budget hotel. I've seen luxury trailers, renovated barn houses, and even converted school buses on Colorado AirBnB.
If you want a homey and authentic place to stay, I highly recommend checking out a bed and breakfast in Colorado, which is usually more affordable than a hotel and has some of the best hospitality.
To save the most money on your road trip through Colorado, consider sticking to hostels and campgrounds. Hostels in Colorado are rustic and very social not to mention the most affordable form of accommodation usually.
If you're feeling lucky you could try your hand at couchsurfing! Lots of people use this though so competition is quite high in Colorado.
Best Places to Stay in Colorado on a Budget
Colorado is arguably the best place in the USA to go camping – the views are breathtaking, the camp beer is limitless, and there are no lack of campgrounds around the state.
Those on a road trip through Colorado should definitely consider spending the night outdoors because it can be an amazing experience and much cheaper than staying in a hotel. During the day, head to one of Colorado's best hikes!
There are all kinds of campgrounds in Colorado that offer a wide range of amenities and rates. Generally speaking, there are four types: private, public, dispersed, and backcountry. Below is a brief explanation of each.
Private – Larger campgrounds that offer the most amenities including communal kitchens, showers, and maybe onsite restaurants. Most appropriate for demanding campers. Most expensive as well. Payment is made through the office of the owners.
Public – More basic campgrounds that offer limited but crucial amenities. Running water, electricity, and bathrooms should be but are not always present. Good prices. Payment is made to a public organization either online or via a dropbox at the camp.
Dispersed – aka wild camping, primitive camping. Camping in an area that is not an official campground but is still legal. Little to no amenities. Almost always free.
Backcountry – Camps located in the wilderness areas. Almost always require a hike to reach. Often no facilities so campers must bring food, cooking gear, camp supplies, etc. Permits are usually required and can be arranged at a nearby ranger station.
A lot of campgrounds, especially those at the national parks, can fill up very quickly. Consider booking a campground ahead of time to ensure that you have a spot.
If there are no campgrounds left at a specific place, there may be walk-up sites available, which you'll need to arrive early to claim. If you strike-out on the walk-up sites as well, there may be overflow camping nearby.
Camping in Colorado – Gear Checklist
Camping is one of the best ways to experience the USA, and Colorado has some of the finest camping in the whole country. You could sleep in your car or an RV while road tripping in Colorado but sleeping outside under the stars is way more fun.
Having a good tent will keep you comfortable on those chilly nights and give you lots of flexibility when it comes to finding a place to sleep.
Check out our full road trip packing list for more inspiration on what to bring on your road trip!
Here are some other essentials that we recommend if you plan on camping out…
For plenty more inspiration on what to pack, check out my full backpacking packing list.
Don't forget the insect repellent either! Rocky Mountain Spotted Fever is a disease that is often transmitted by ticks. Though transmission is rare, it's not something that you want to mess with.
Free Camping in Colorado
Those on a road trip in Colorado should totally take advantage of the many free campgrounds spread throughout the state. Be aware that many free campgrounds in Colorado may require a 4×4 vehicle to reach.
Refer below for a list of some of our favorite free campgrounds in Colorado or this website for a complete archive of free grounds.
Renting a car is the most popular way of getting around Colorado. There are a myriad of car rental agencies here that offer varying deals and varying models.
To find the best rental car deal in the USA, use search engines that compare the prices from individual companies. We personally like using rentalcars.com as they've never failed to give us a great price.
You can also rent an RV or campervan, which means you don't have to worry about packing camping gear. You will have to empty and refill the various waste and water tanks though, which will require a visit to the proper facilities. RVs also cost more to rent, use more gas, and demand higher prices at campgrounds.
Make sure you also purchase a RentalCover.com policy to cover your vehicle against any common damages such as tires, windscreens, theft, and more at a fraction of the price you would pay at the rental desk.
We suggest booking a campervan with Outdoorsy as they usually have a good selection and good prices. Better yet, Broke Backpackers also get a $40 discount with Outdoorsy! Just use the coupon code "BACKPACKER" when checking out.
The roads are generally very good and a sedan or economy car should deliver you to most of Colorado's top destinations. Only in the most remote portions of the Rockies will you need to be concerned about having 4-wheel drive.
If you're on a Colorado road trip and conditions are bad during the winter or spring, you will definitely need all-wheel or 4-wheel drive.
Tips for Saving Money on Car Rentals in the US
We mentioned before that you can reach out to vehicle relocation services, like immova and Cruise America, as a way of saving heaps of cash on rentals. Pursue these as best you can as they can save you a lot of money. Don't get your hopes up too much though, as availability is always limited.
Car insurance isn't always mandatory in the USA but is highly encouraged. This being said, you don't necessarily have to buy car insurance from the company you're renting from. Purchase a RentalCover.com policy to cover your vehicle against any common damages such as tires, windscreens, theft, and more at a fraction of the price you would pay at the rental desk.
Many credit card companies offer free car insurance if you book the car with the proper card. Call your credit card company for more information regarding terms and conditions.
Food in Colorado
Colorado draws upon its rancher and Hispanic roots when it comes to its cuisine. Mexican food, steaks, hamburgers, and game meats are all consumed in copious amounts here and are among the finest in America.
Fortunately, those who abstain from meat will still find lots of culinary options as Colorado is becoming more vegetarian-friendly.
Colorado has some of the best cattle and livestock in the country. Lamb is very fresh in Colorado as the state is the 4th largest producer of the animal – most are raised free-range and have excellent diets. Bison is also very popular in Colorado and is often used as a healthier alternative to beef. Stay away from the Rocky Mountain Oysters though.
Hunting and fishing are two of the most popular activities in Colorado and so you'll see lots of local game in the butcher shops. Trout is ubiquitous and has a rich taste like salmon. Elk and venison are the most commonly seen game and are usually served as streaks or sausages.
Those not interested in eating meat will still have lots of options in Colorado. Denver and Boulder have an increasingly vegetarian population and more and more excellent vegetarian restaurants are opening up in the cities.
Keep an eye out for the local melons and legendary palisade peaches on your Colorado road trip – these are among the most loved seasonal items in the state.
Mexican food is king in Denver. Thanks to a large immigrant population, Mexican cuisine has thrived in the city and is among the best in the country.
Green chilis are used liberally in dishes and are often slathered on top of burritos in the form of a sauce. Also popular in the city is the torta, a sort of Mexican-style sandwich.
Get your Buzz On
Suds and bud – if there are two things that Colorado is most well-known for these days, it's the amazing beer and legalized marijuana. These two make for a winning combination while camping as there is nothing better than relaxing by the fire with a craft brew and some Colorado kush.
Colorado is considered one of the beer capitals of the USA. It is home to 3 of the top 50 ranked breweries and currently has the 3rd most breweries per capita in the USA. You'll be hard pressed to find a shitty craft beer while on a road trip in Colorado.
Breweries are among the best places to visit in Colorado in the summer. Giants like New Belgium, Odell, and Epic are certainly worth visiting as well as smaller producers like TRVE, OMF, Crooked Stave, and Avery.
The best parties in Colorado are found either in Denver or at the winter ski resorts. In particular, the ski resorts become places of excess as snow is usually followed by more "snow" but we already spoke about this earlier.
There are lots of parties in Denver. The best bar districts are RiNo, Highlands, Downtown, Broadway Street, and, to a lesser extent, Capitol Hill and Colfax Avenue.
If it's 2 am and you've been kicked out of the bars, there are several after-hours groups, like Nocturnal, that organize secret parties. It is also worth attending a show at the legendary Red Rocks Amphitheater.
Weed is legal in Colorado and very easy to find. All you need to do is visit a dispensary, have an ID card to prove you are over 21 years old, and have cash on you. You'll be escorted into a retail space full of marijuana products and will be advised by a professional staff. Too easy.
Being a Responsible Backpacker in Colorado
Remember to be a respectful and responsible backpacker while on your Colorado road trip. Depart from the grounds at a decent hour, follow leave no trace principles, and be very, very aware of fire bans. Forest fires are an enormous problem in Colorado and are often caused by reckless campers.
Coloradans are also very conscious of the environment and like to take care of it, as should you.
Reduce your plastic footprint: Perhaps the best thing you can do for our planet is to make sure you do NOT add to the plastic problem all over the world. Don't buy one-use water bottles, the plastic ends up in a landfill or in the ocean.
I know it can be hard, but do your best to use the least amount of plastic water bottles that you can. Refill the ones that you do buy! Use a Grayl Geopress. Refill at your hostel/guest house! There are plenty of ways to reduce plastic!!!
---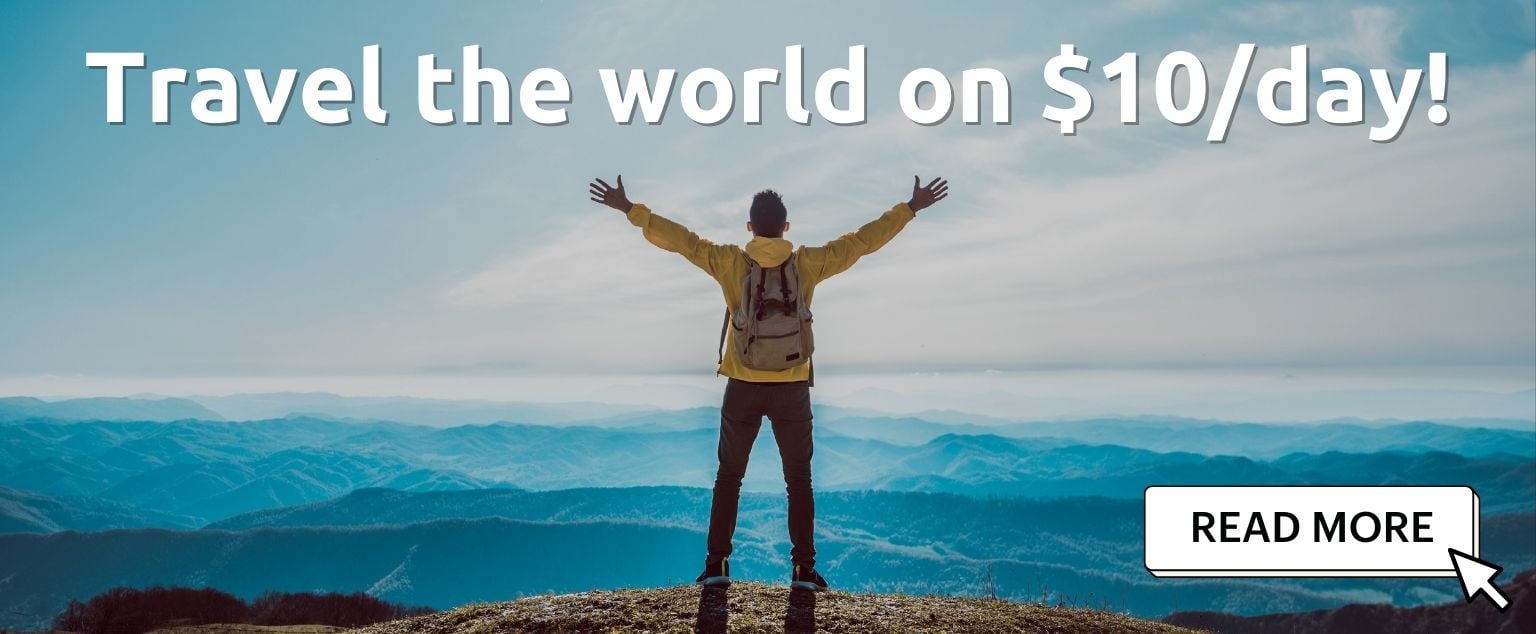 And for transparency's sake, please know that some of the links in our content are affiliate links. That means that if you book your accommodation, buy your gear, or sort your insurance through our link, we earn a small commission (at no extra cost to you). That said, we only link to the gear we trust and never recommend services we don't believe are up to scratch. Again, thank you!