Denver is the jumping-off point for visiting the Rocky Mountains and trying some cool outdoor activities. However, overlooking the city would be a shame as it's a cool and buzzing state capital! There's plenty to get excited about, including a mix of 19th century and ultramodern architecture, some great places to eat, and some really rewarding off the beaten track attractions. Denver dates back to the Old West era, and you can still see the saloon influence in several of the city's bars and microbreweries.
In this post, we'll take a closer look at the best places to visit in Denver. Some are historical, others are beautiful natural areas, and a couple are downright bizarre! So, let's get planning your Denver itinerary!
Need a place quick? Here's the best neighbourhood in Denver:
BEST AREA IN DENVER
Lower Downtown
LoDo is characterized by its historic architecture and its Victorian charm. Wander throughout the streets of this hip 'hood and enjoy some of the best sights, sounds and smells of Denver.
Places to visit:
Enjoy incredible sweeping vistas from The Viewhouse.
Wander through Larimer Square, the oldest and most historic block in the city.
Sample local craft beers at Sandlot Brewery.
These are the BEST Places to Visit in Denver!
The BEST places in Denver should be complemented with the BEST accommodation to give you the most memorable AND comfortable trip to Denver ever. Check out where to stay in Denver before taking the rest of the tour!

Unlock Our GREATEST Travel Secrets!
Sign up for our newsletter and get the best travel tips delivered right to your inbox.
#1 – Denver Botanic Gardens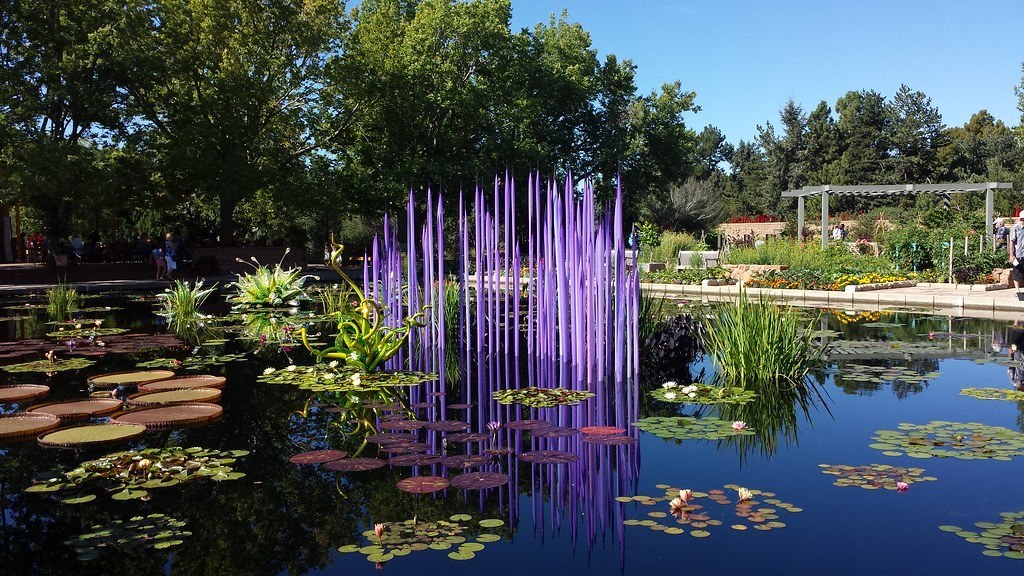 Admire a diverse range of plants from across the globe
Peaceful and relaxed garden in Denver
Enjoy a concert in the amphitheatre
Why it's awesome: So, let's kick off our list with one of the most famous places in Denver. The calm and relaxing Denver Botanic Gardens are home to themed gardens and a conservatory, all filled to the brim with native and exotic plants from the Colorado state, the wider USA, and around the world. It's more than just a garden though! There are events on here all the time, including educational workshops for any ages. There are also concerts on at the amphitheatre, so you can go wrong with a visit here!
What to do there: You can start working out what to do here way before you arrive. As exhibits change all the time at this cool Denver landmark, check out their website to see what's going to be on where you're there. Maybe you'll be lucky enough to see an exhibit by an artist you like or catch a gig from a band you really want to see! The garden itself is a lovely place to just relax, so find a bench and lose yourself in a book or just disconnect from reality for a while. That's what you go on holiday for after all, right?!
#2 – Red Rocks Amphitheatre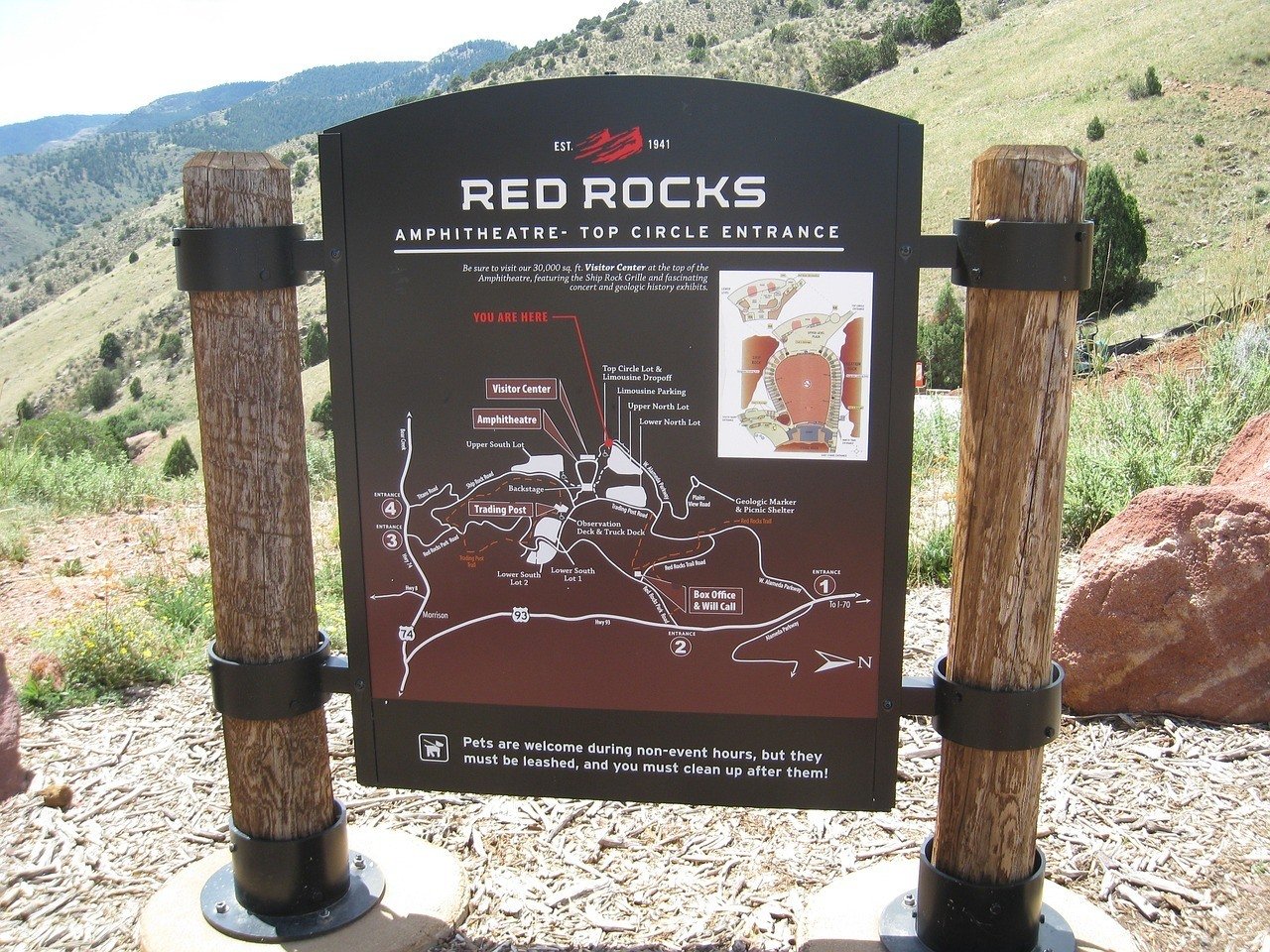 Cool open air amphitheatre out of town
Perfect acoustics in the world's only naturally occurring amphitheatre
See an unforgettable gig in a great location
Why it's awesome: Sitting at almost 2,000m above sea level, Red Rocks amphitheatre is where the Great Plains meet The Rocky Mountains. Not only can you see a gig here, but it's one of the best places in Denver to stargaze. Also, the surrounding vistas are home to dinosaur fossils, deer, and pine forests. Red Rocks is the only naturally occurring amphitheatre in the world, and the acoustics are perfect! Some of the world's most famous artists have played here, including The Beatles, U2, Sting, and countless opera stars!
What to do there: Step back into Colorado's prehistoric past with a trip out to Red Rocks. One of the most iconic attractions in Denver, it's just as special to head out to this rugged landscape during the day and admire the towering red sandstone monoliths as it is to watch a world-famous artist doing what they do best! Red Rocks also has the Grille restaurant, one of the coolest places to eat in Colorado if you want a great view. For an unforgettable souvenir of your trip here, pick something up in the gift shop!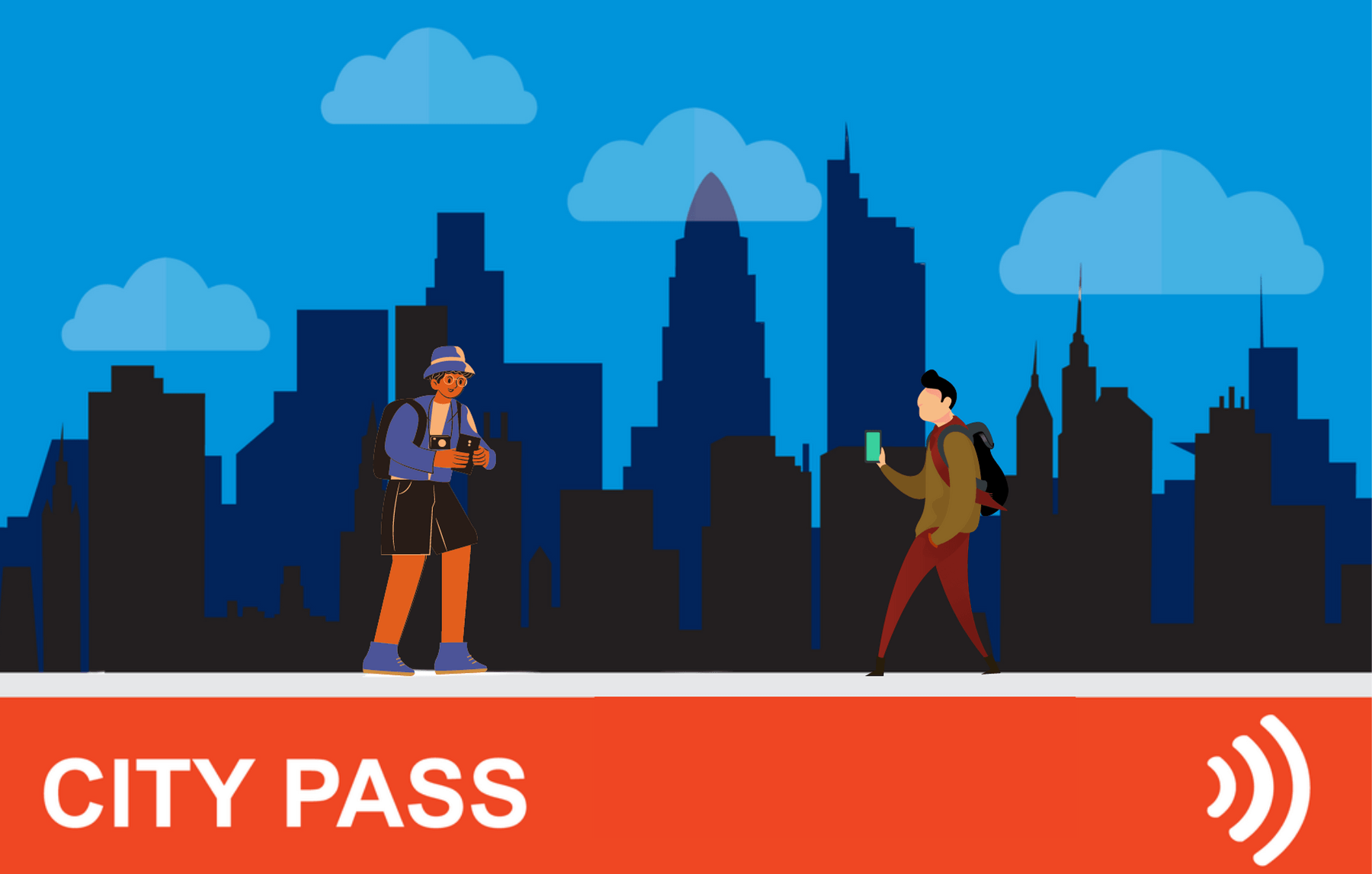 Travelling to Denver? Then plan yo' trip the smart way!
With a Denver City Pass, you can experience the best of Denver at the CHEAPEST prices. Discounts, attractions, tickets, and even public transport are all standards in any good city pass – be sure invest now and save them $$$ when you arrive!
Buy Your Pass NOW!
#3 – Larimer Square
Explore Denver's most historical block
The city's shopping and entertainment centre
Home to some of the best places to eat in Denver
Why it's awesome: This cool and happening area is the heart of everything that goes on in Denver, boasting great nightlife, restaurants, shopping and quality hostels to stay in dotted around the area. So, whatever time of the day you're here you won't be stuck for something to put on your Denver itinerary! The refurbished Victorian buildings are a charming backdrop to fairy lights crisscrossing the roads and the outdoor seating of restaurants and cafes (when it's warm enough that is)! The buzzing atmosphere here makes it one of the best places in Denver.
What to do there: You could easily spend the whole day in Denver's Larimer Square. Start off with breakfast (or brunch if you had a lie in) in one of the cool cafes. Then, spend the afternoon shopping til you drop in some of the city's best shopping spots. Spend your evening at one of the restaurants that line the square. Many are run by famous chefs and often make lists of the best places to eat in not just the city, but the state too!
#4 – Denver Museum of Science and Nature – Awesome place to visit in Denver with kids!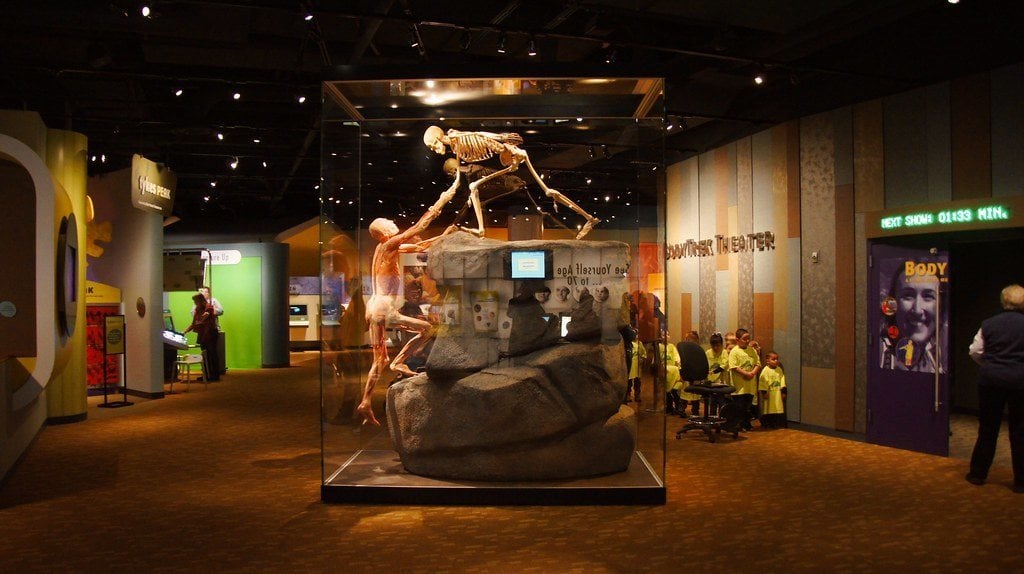 Watch IMAX movies on geography and geology
See if you can spot the secret museum elves!
Learn about space at the planetarium
Why it's awesome: Travelling with the family and looking for Denver vacation ideas? Look no further than the fantastic Museum of Science and Nature. It's a full-filled day for the whole family. The museum is right in the city park too. So, if you want to take a picnic with you that just makes things even better! Inside the museum, you'll find a range of permanent and temporary exhibits, as well as a planetarium and an IMAX theatre. Films regularly change, but they are always educational and entertaining!
What to do there: Explore Denver's premier museum to find dinosaur fossils, martian canyons, and crystallised gold! The IMAX theatre is obviously a great experience too, while the planetarium is relaxing and rewarding. A really fun thing for kids it's searching for the elves hidden throughout the museum! When artist Kent Pendleton painted the dioramas throughout the museum, he hid a bunch of secret elves in them. We don't know why, but it adds another layer of fun to this cool place!
#5 – Colorado State Capitol – One of Denver's coolest historical sites!
See the world's entire supply of Colorado rose onyx inside
Take a tour of the most important rooms in Colorado
Take a leisurely stroll in the grounds and Lincoln Park
Why it's awesome: Oddly reminiscent of the Washington DC Capitol Building, Colorado's namesake is the most iconic of landmarks in Denver. The building was constructed in the 1890s with the golden dome being added in 1908 to commemorate the Colorado gold rush. From that dome, you can head out to the observation deck to get sublime views of Denver and beyond into The Rocky Mountains. The building has many interesting aspects inside, including the entire known supply or Colorado rose onyx.
What to do there: Taking a guided tour to learn more about this fascinating building should be on all Denver itineraries. You can, of course, tour the building on your own, but a guide is definitely recommended! After your tire of marble stairways, presidential portraits, and grand entranceways, take yourself outside to the grounds and Lincoln Park. It's a lovely place to chill out amid the concrete jungle of Denver!
If you'd like to stay in this area longer, you might be able to find a stately old mansion or bohemian apartment turned Airbnb to stay in nearby.
#6 – Rocky Mountain Arsenal National Wildlife Refuge – A nice quiet place to see in Denver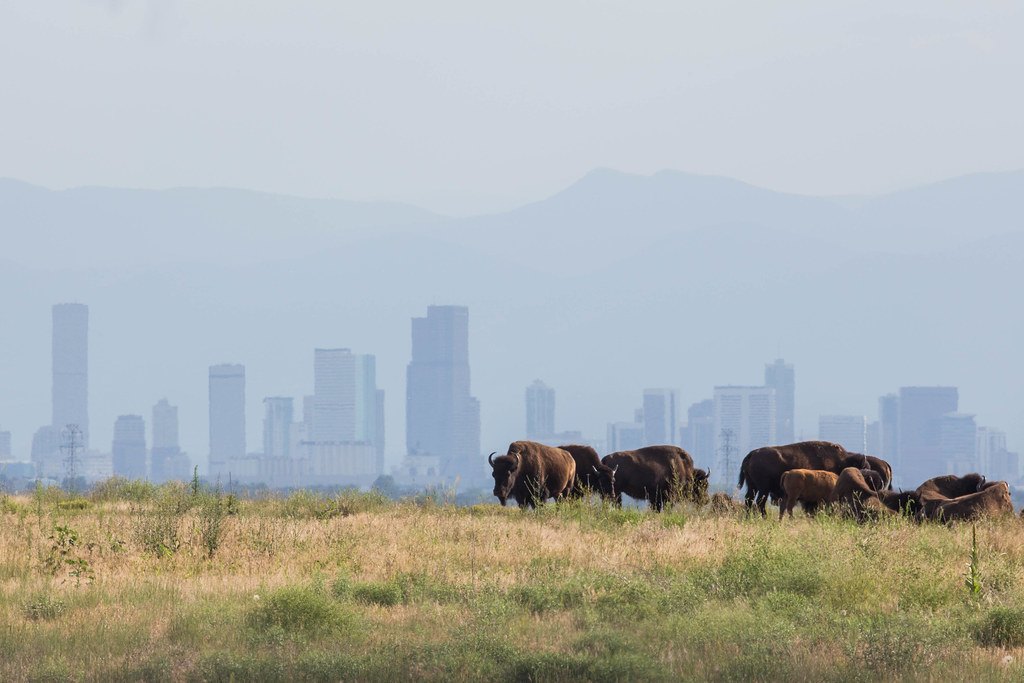 Travel to Denver's outskirts to see this wildlife refuge
See Native American wildlife like bald eagles and bison
Hike or snowshoe through the refuge
Why it's awesome: Set across more than 15,000 acres, this grass prairie is the best place to visit in Denver if you want to see animals in their natural habitat. There are over 330 species in this controlled and preserved zone. There are plenty of spots throughout the park for you to park up and observe the wildlife, or if you don't have your own transport, there are some great hiking trails too. If you do the wildlife drive, make sure to stay safe and sound INSIDE your vehicle whilst in the bison enclosure!
What to do there: Still wondering how to see Denver's wildlife? Well, the 10 miles of hiking trails through the park are probably the best way to do that. There are different options depending on the animals you want to see. Choose between the wetland, woodland, and grassland trail according to your favourite animals, and take some stunning pictures. It's advisable to come here and either sunrise or sunset, as that's when the animals are most active! This is one of the best attractions in Denver, period!
#7 – Cherry Creek State Park – A beautiful outdoor place to visit in Denver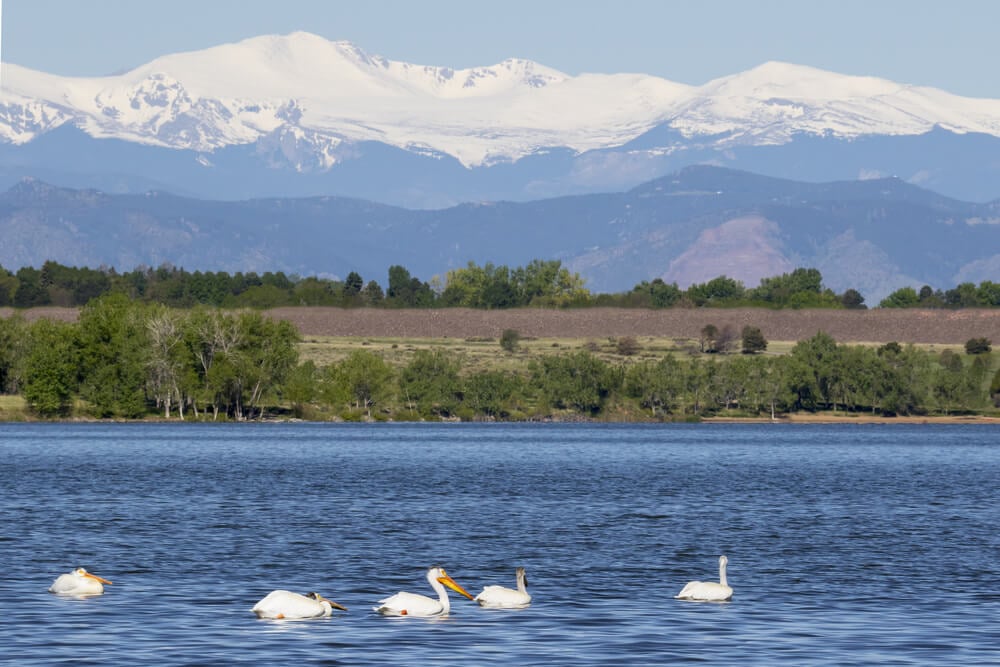 Watch wildlife to the backdrop of the Rocky Mountains
Escape from the hustle and bustle
One of the best places in Denver for outdoor activities
Why it's awesome: Easily one of the most beautiful locations in Denver, Cherry Creek State Park has something for everyone. The park is south-east of the city centre and consists of a large reservoir, walking trails, and picnic spots. If you camp in the park, you have a great chance of seeing some of the local wildlife. This includes prairie dogs, various deer, and coyote (though you probably wouldn't to meet one of them). It's also one of the top hotspots in Denver for birdwatching!
What to do there: Well, you've got plenty of choices. The park has over 35 miles of trails which you can use to run, cycle, or even horse ride. The reservoir is a hive of activity too, at various times of the year. In summer, rent a jet ski, a paddleboard or a kayak to have some real fun. Alternatively, there's a swimming spot at the lake too where you can take a refreshing dip. In the winter, this is a great place to get on plenty of layers and have a go at cross country skiing!
#8 – Molly Brown House Museum – Quite the quirky place in Denver!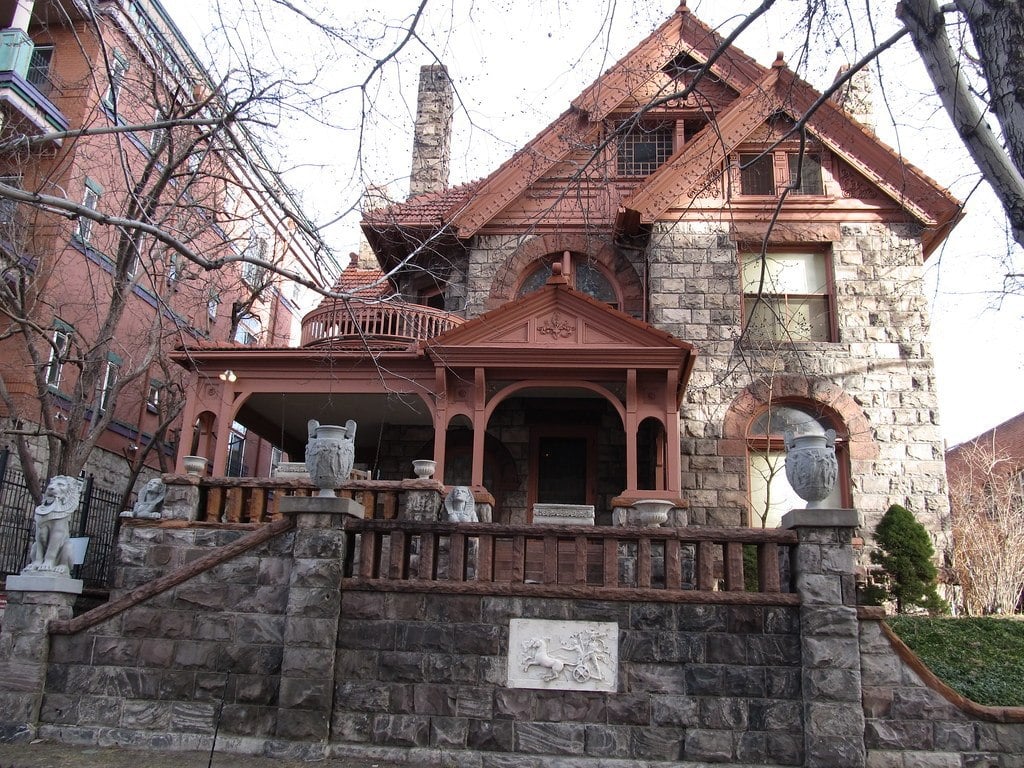 Visit the house of one of the Titanic's most famous survivors
Learn about the heroism of Margaret Brown
Don't miss the Victorian art and furnishings
Why it's awesome: It's not just the house that's awesome, it's Margaret Brown too! This lady was a philanthropist and socialite, and one of the best-known people in Denver in the 20th century. However, what really sets her apart is her heroism after the Titanic disaster in 1912. Even though she was travelling in 1st class, she helped the crew set up lifeboats and demanded the captain of her boat to go back and look for survivors. She earned the name "The Unsinkable Margaret Brown". This was later changed to Molly for a musical in 1960.
What to do there: A great place to go for a change of pace, the Molly Brown House Museum is now a museum and a community centre. Find out more about the life of this incredible woman through the exhibits and friendly staff. You can also admire paintings and furniture from the Victorian era. It's a good job that her house was saved from being demolished back in 1970. It's now one of the most popular landmarks in Denver City Centre!
#9 – Buckhorn Exchange – A must-see for foodies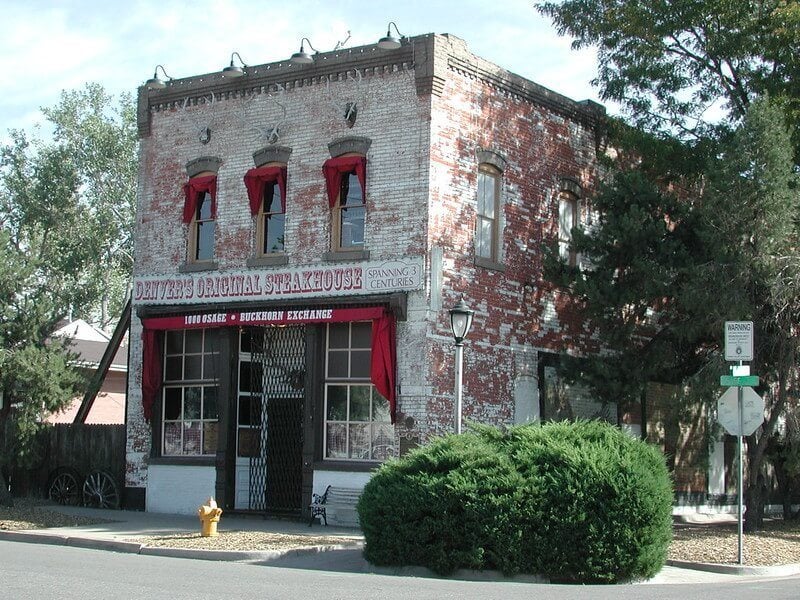 Claims to be the oldest restaurant in Denver
Sample a number of unusual and adventurous meats
Taste Rocky Mountain Oysters – if you're brave enough!
Why it's awesome: One of the most unusual places to eat in Denver is the oldest steakhouse in town, and it has the liquor license to prove it! The décor consists of antique weapons and taxidermy as far as the eye can see. And after seeing the menu, you'll be wondering if there are any animals on the walls that aren't on the menu too! If you want to visit Denver for unusual restaurants, you're spoiled for choice. You could also try the Linger Eatuary, a death-fixated restaurant which once housed the body of Buffalo Bill.
What to do there: You could just go for a regular steak. Although, if you're feeling up for it there are some other options that will really test your palette. The restaurant serves alligator tail, snake meat, and elk. The piece de resistance is the Rocky Mountain Oysters. That's until you find out they're bull testicles!  Needless to say, with all the exotic meat and taxidermy, perhaps veggies and vegans should leave this off their Denver itinerary.
Is This the Best Daypack EVER???
#10 – International Church of Cannabis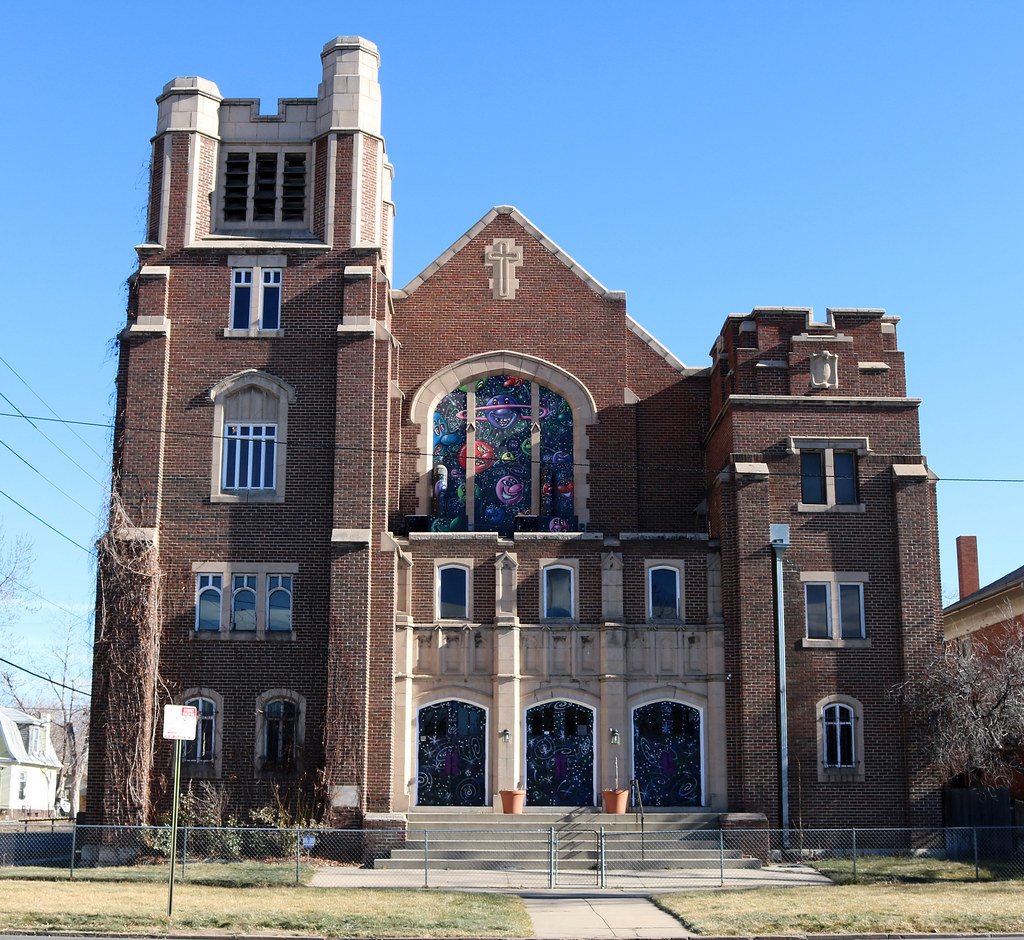 Learn about elevationism – a religion dedicated to the spiritual benefits of cannabis
Check out the cool and colourful ceiling
Why it's awesome: Religious sites are a common visit attraction in almost all global cities. If you visit them everywhere you go, you can easily get bored of them so it's always good to find one with a new perspective. That's exactly what you'll get here at one of the most unique attractions in Denver. The International Church of Cannabis celebrates the spirituality of cannabis and doesn't require you to convert or give up any other religion you may follow. Denver's nickname is the mile-high city, so here you will be high in more ways than one!
What to do there: We won't go for the obvious one right now… Be surprised by the contrast of the church's overgrown exterior and its vibrant interior! The crowning point is a rainbow mural on the ceiling by world-famous Spanish artist Okuda San Miguel. Although this church celebrates marijuana's spiritual benefits and, we recommend caution. Cannabis is decriminalised in Colorado, but Denver City law prevents smoking weed in a public place. If you want an immersive and meditative experience, sign up to the BEYOND experience which comes with a psychedelic light show and classic rock music!
#11 – Elitch Gardens – Easily one of the most fun places to check out in Denver!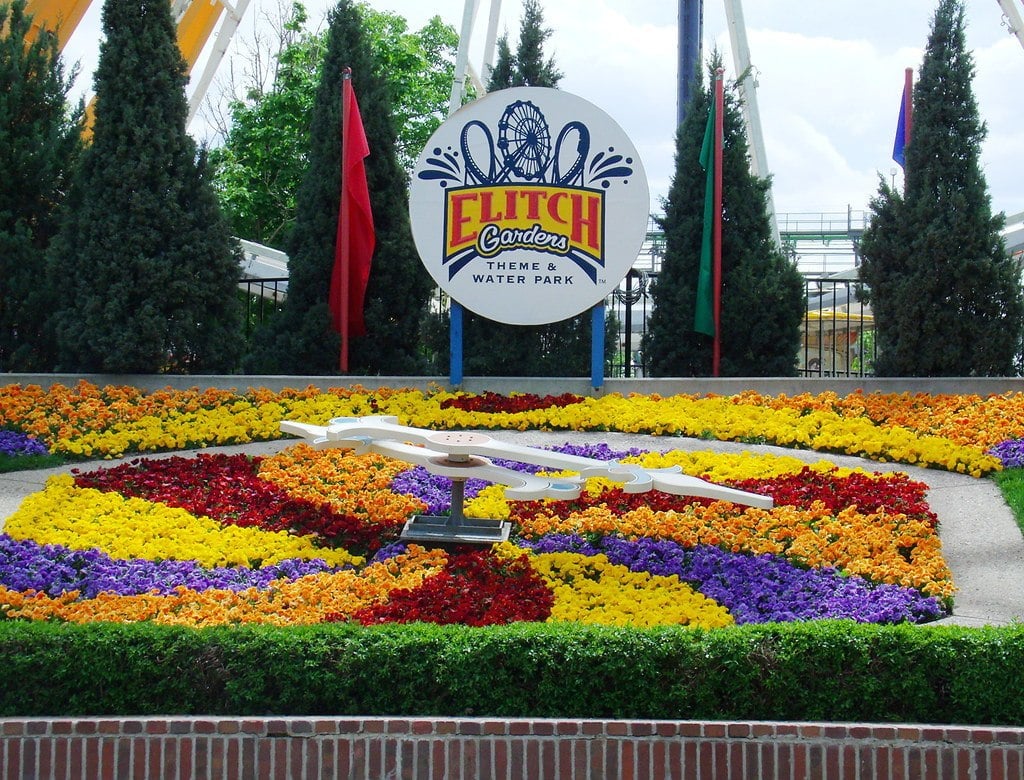 A cool theme park with plenty of history!
One of the best Denver vacation ideas if you're travelling with kids
Take the XLR8R for a real thrill!
Why it's awesome: This cool theme park offers something for the whole family, no matter what age or bravery level! Elitch Gardens was established in 1890, like the Capitol building, and it's had many guises before its current incarnation. This place was one of the first zoos west of Chicago, and a number of Denver firsts. These include zoo, botanical garden, children's museum, movie theatre, and the Trocadero Ballroom! Now, you can choose between the thrills of the theme park or the refreshing splash of the water park. Whichever you go for, you'll have a great time.
What to do there: Go to the water park and you have the choice between lazy rivers and a mega wedgie. We know what we'd choose! The theme park is where it's all that though. Young kids will love some of the new rides, including the Meow Wolf Kaleidoscope. There are the standard fairground classics like the carousel, spinning teacups, and Ferris wheel too. Teens and adrenaline junkies can go for rides like the XLR8R – a cross between skydiving and bungee jumping. Let us know if it's good when you've tried it…
Get insured for your trip to Denver!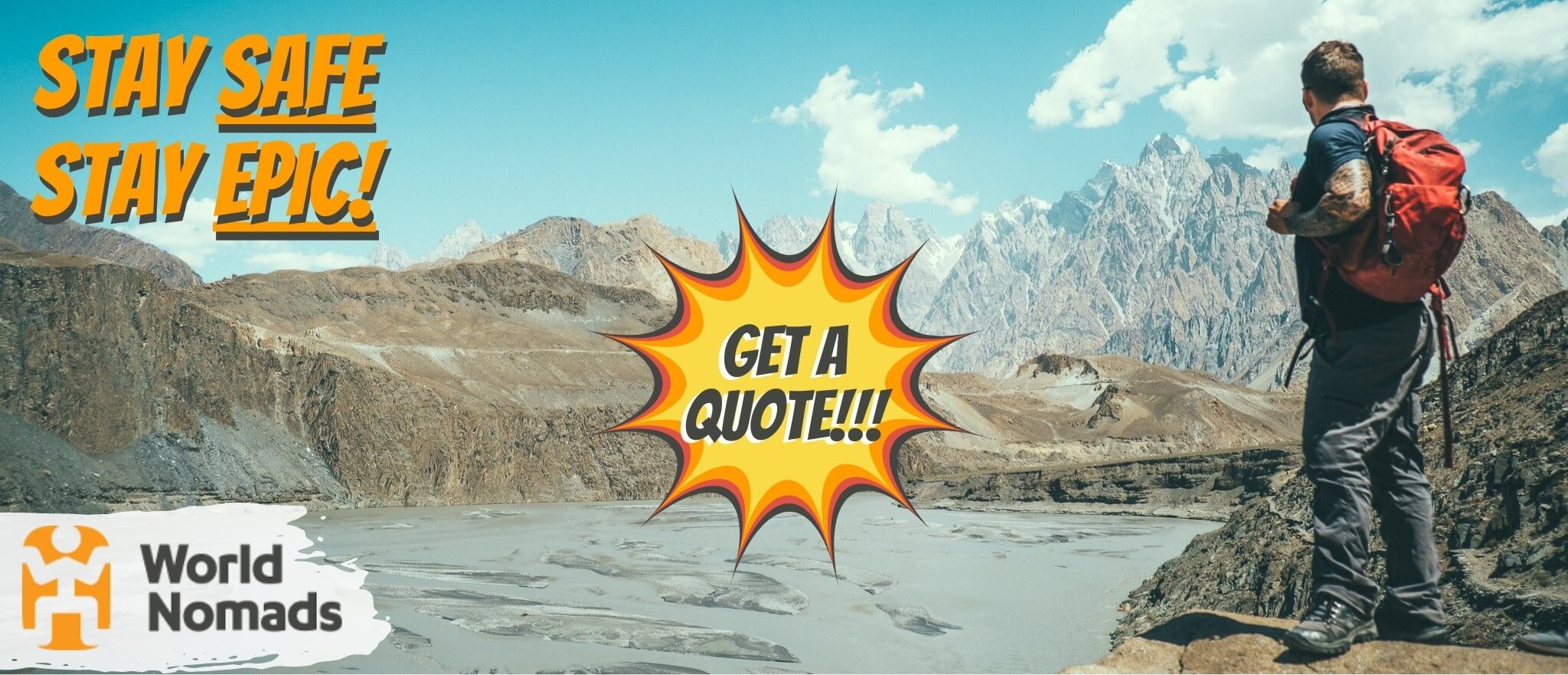 World Nomads' mission is to support and encourage travellers to explore their boundaries. They offer simple & flexible travel insurance, and safety advice to help you travel confidently.
They've been doing it since 2002 – protecting, connecting, and inspiring independent travellers just like you.
Get a quote below or read our in-depth review!
World Nomads provides travel insurance for travelers in over 100 countries. As an affiliate, we receive a fee when you get a quote from World Nomads using this link. We do not represent World Nomads. This is information only and not a recommendation to buy travel insurance.
FAQ on the Best Places to Visit in Denver
Find out what people want to know about the best places to visit in Denver
Final Thoughts
So, that concludes our list of the best things to do in Denver. We reckon our list has enough places to visit in Denver in 3 days without you getting bored or burned out! Hopefully, it's been a useful and helpful guide, showing you that along with the normal things you'd expect from a large city, there's a handful of quirky and unusual things too.
Whatever you want from a city break, you'll find it here. In fact, there's so much to do, we've had to miss out some great attractions in Denver off our list too, unfortunately!
Our list has been carefully curated so that you not only see the best landmarks in Denver but also you get to live like a local. All that's left for us is to wish you a fabulous holiday, however you choose to spend it!
---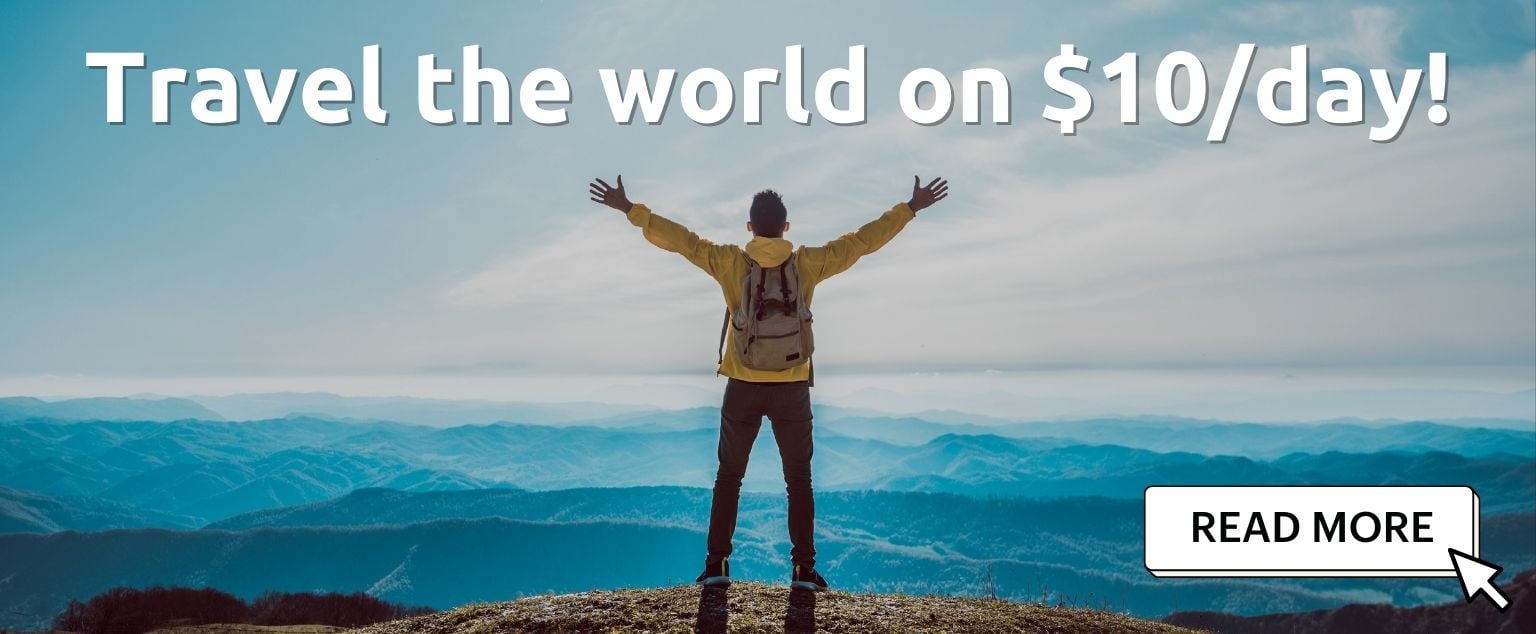 And for transparency's sake, please know that some of the links in our content are affiliate links. That means that if you book your accommodation, buy your gear, or sort your insurance through our link, we earn a small commission (at no extra cost to you). That said, we only link to the gear we trust and never recommend services we don't believe are up to scratch. Again, thank you!