Denver is Colorado's enthralling capital city. It's nicknamed the "Mile High City" due to its official elevation being exactly one mile above sea level. Denver is surrounded by vast mountain ranges, full of picturesque beauty and plenty of outdoor activities!
If you're seeking adventure, you'll find plenty of things to do in Denver! However, the city is also perfect for travelers after a quiet vacation. This American metropolis dates back to the Old West era and is full of museums, galleries, and cultural institutions! Let's not forget Denver's amazing craft beer culture and creative culinary scene!
From hiking and day trips to museums, galleries, shopping streets, and beer, we've got it all! We've also included plenty of free things to do in Denver!
Let's get into the best way to spend your time in the "Mile High City!"
Here is a quick look at the seasons so you can decide when to visit Denver!
In summer (June – August) Denver enjoys relatively low humidity, making for lovely sun-filled days and cool, pleasant evenings. This is considered the city's peak season. If you're planning a trip to Denver during summer, make sure to make your reservation well in advance!
Fall (September – November) is also a popular time to visit Denver. The weather is comfortable and many of Denver's annual culinary festivals take place in September and October.
The winter months (December – February) can get a bit chilly but are bearable. Snow doesn't typically stay on the ground for long, which means exploring the city in winter is still very pleasant!
Despite Denver's proximity to the Rocky Mountain ski areas, the city sees a drop in tourism during winter. This means you can score some great deals on hotels!
Spring (March-May) is another great time to visit Denver. The temperatures start to pick up, but the summer crowds will still be at bay.
So where should you stay in Denver? Denver is a fairly spread-out city, but the distances between attractions aren't too time-consuming. Choosing the right accommodation and area of the city to stay in will compliment your Denver itinerary and make your trip that much more exciting!
For first-time travelers or anyone spending 3 days in Denver or less, downtown is the best place to stay in the city. There are loads of hostels, hotels and some Denver Airbnbs in this locale.
This area is a great middle-ground between uptown and lower downtown (LoDo), the city's other popular districts. All three of these districts are great areas and contain most of Denver's top attractions.
If you're spending more than 3 days in Denver and looking for accommodation outside the busy city center, Littleton is a great option! This charming town is located just 12 miles southwest of central Denver. It's an independent city with a relaxing vibe.
For outdoor enthusiasts, Littleton contains more than 30 miles of trails and bikeways passing through the city and plenty of parks! What's more, it's directly connected to Denver by public transportation, so getting in and out of the city will be a breeze!
If you're looking for a budget backpacker for your trip to Denver, Ember Hostel is your answer! This hostel with a hot tub is centrally located and offers loads of perks. From complimentary coffee and tea to free jacuzzi use and free on-site parking, this is a great place to base your vacation!
For more cool hostel options, check out our Denver hostel guide.
Beautifully furnished basement apartment with exposed brick, newly renovated kitchen, walk-in closet and in-suite washer and dryer. The building also has complimentary street parking available out front.
This Denver hotel is great value! All rooms are modern and spacious and feature a flat-screen TV, coffee machine, and free Wi-Fi. There is also an outdoor swimming pool, free on-site parking, launderette services, and free breakfast available every day!
If you're planning a lavish vacation in Denver, this 5-star hotel is a great option! All rooms feature a coffee/cappuccino maker, flat-screen TV, iPod dock, and butler service. Guests will also enjoy the use of their extensive spa facilities, fitness center, lively on-site restaurant, cocktail bar, and much, much more!
Don't forget to check out VRBOs in Denver, too!
Whether you're spending 2 days in Denver or more, you're going to need to know how to get around the city.
Denver's Regional Transportation District, more popularly known as RTD, is composed of buses and trains. This is Denver's primary mode of public transportation. It's easy to use, affordable, and very reliant.
Renting a car in Denver is also very popular. Cars can be rented from the Denver Airport and select locations in the city. If you're planning to explore more of Colorado, renting a car is a great option. However, if you're only spending 3 days in Denver you can easily explore the city using public and foot transportation.
Denver is one of the country's fittest cities, and there are hundreds of miles of dedicated bike paths. Denver's bike-sharing program, Denver B-Cycle offers more than 800 red trek bicycles available for sharing at 88 stations around the "Mile High City." Purchase passes and pick up a bike with a credit card at any B-cycle station.
Lastly, Denver is a very walkable city! Many sites can be easily seen on foot and tourists are also encouraged to use the foot paths. Just remember to stay to the right of the path and listen for riders coming up behind you!
Denver Central Market | Civic Center Park | Denver Museum of Nature & Science | Denver Botanic Gardens | Daniels and Fisher Tower | Larimer Square
Spend the first day of your itinerary for Denver exploring the city's cultural and local highlights!
Day 1 / Stop 1 – The Denver Central Market
Why it's awesome: The Denver Central Market offers a variety of food choices, it's a great opportunity to immerse yourself in the local food culture!
Cost: Free.
>Food nearby: Vero Italian is a popular stand inside the market. Swing by for classic Italian pizzas and fresh-made pasta, they also sell their home-made sauces to go!
The Denver Central Market is the best place to sample the local flavors of Denver! It's a gourmet marketplace, food hall, and grocery with a large assortment of local products.
They house a variety of vendors, including a bakery, coffee shop, fish market, butcher, chocolate shop, ice-cream shop, and more! The market also offers fresh produce and a retail section selling dry goods; from fresh bread to olive oil and spices.
The market provides a relaxing, inviting, and casual atmosphere. There is plenty of seating available, however, the weekends can get a bit busy and you might have to be more patient when looking for a seat.
The building itself is beautiful, with exposed brick walls and large windows that flood the building with natural light. The vibe is very cool and eclectic, making it the perfect place to enjoy a meal.
Start your day sipping a cup of coffee while you rub shoulders with the locals and wander the stalls!
Day 1 / Stop 2 – Civic Center Park
Why it's awesome: Denver's scenic and expansive park in the middle of the busy city.
Cost: Free!
Food nearby: Cap City Tavern is a family-owned sports bar that has a large menu and a warm atmosphere.
Civic Center Park, also referred to as Capitol City Park is Denver's premier regional outdoor space. The park comprises 25,000 square feet and is a great place to go in Denver to spend some time outdoors!
You'll find a variety of outdoor activities, including horseshoes, baseball, football, and soccer fields! There are also two lakes and lots of picnic areas available. Historical monuments and statues dot the landscape and walkways snake through the scenic surroundings.
If you're trying to figure out what to do in Denver with children, there are playgrounds and lots of green space where kids can burn off some energy! The park also houses the Denver Zoo, perfect for some family fun and a great experience all ages will enjoy!
Even better, if you're a budget traveler, you can add this park to your list of free things to do in Denver, Colorado!
Day 1 / Stop 3 – Denver Museum of Nature & Science
Why it's awesome: A fun and engaging museum that explores everything related to nature and science.
Cost: Adult admission is USD $20.00, youth (3-18) admission is USD $15.00
Food nearby: The T-Rex Cafe is housed inside the museum and offers quick cafe fare.
The Denver Museum of Nature & Science is a community natural history and science museum for informal science education in the Rocky Mountain region. Through the museum's variety of exhibitions, programs, and activities, visitors can learn about the natural history of Colorado, Earth, and the universe!
Inside, you'll find more than one million objects, including natural history and anthropological materials, and archival and library resources.
The permanent exhibits include displays relating to the prehistoric evolution of the earth. With displays including skeletons of dinosaurs and a replica skull of an ancient fish!
The Egyptian Mummy display contains two mummies, along with several coffins and various antiquities relating to ancient Egypt.
Other exhibits relate to wildlife, space odyssey, gems and minerals, and Native American cultures! The museum also contains temporary exhibits, a planetarium, and an IMAX theater.
This is one of the best places to visit in Denver with kids. They'll love the hands-on exhibits that combine education with entertainment.
The museum is open every day from 9:00 am to 5:00 pm. You can buy your museum ticket at the door or online. Tickets purchased online are discounted USD $1.00!
Insider Tip: On the museum's website, there are four different downloadable scavenger hunts available. Guests are encouraged to print these out and search the museum for hidden secrets!
Day 1 / Stop 4 – Denver Botanic Gardens
Why it's awesome: The Denver Botanic Gardens is a beautifully curated and expansive park in the middle of the city.
Cost: USD $13.00
Food nearby: Offshoots at the Gardens Cafe is located inside the botanic gardens. This casual restaurant features basic cafe fare and is surrounded by the beautiful landscape of the gardens, outdoor seating is also available!
The Denver Botanic Gardens are comprised of 23-acres. The park contains a conservatory, themed gardens, and an amphitheater that hosts regular summer concerts.
Inside, you'll find an incredible variety of plants from different regions of the world, as well as plants native to Colorado and neighboring states.
It's a relaxing place to have a walk among the trees, flowers, and ponds; there's truly so much beauty to see! Take a break at one of the park's gazebos, benches, or pavilions and enjoy the splendor of nature.
If you're traveling with your significant other and looking for romantic things to do in Denver, a romantic stroll around the lush vegetation or a nice picnic under a tree is sure to set the mood!
The gardens host loads of events throughout the year, from food festivals to yoga classes. Make sure to check their online calendar before you visit to see what's on offer!
Insider Tip: Free days occur at the gardens throughout the year, check their calendar for the official dates and enjoy open admission for the day!
Day 1 / Stop 5 – The Daniels and Fisher Tower
Why it's awesome: This iconic tower is one of the most historic Denver landmarks and has a 20th-floor observation deck.
Cost: Free!
Food nearby: Sam's No. 3 is a Denver diner that has been open since 1927. They dish up big helpings of comfort food from early morning till late at night!
To experience a bit of historic Denver, visit the Daniels and Fisher Tower! This Denver landmark opened in 1911 and was one of the city's most successful department stores. At the time of its construction, it was the tallest building west of the Mississippi at 325 feet high!
Although it no longer houses a department store, it remains a beautiful tower and is a great quick stop on your Denver itinerary, plus it's open 24-hours a day!
This 20-floor clock tower has clock faces on all four sides. The exterior is beautiful and nicely restored. In the main floor lobby, there is an interesting and informative display providing the history of the tower, from the construction of the tower to the present day. At night, the tower is beautifully illuminated!
You'll get a truly unique perspective of the "Mile High City" in a historic and novel setting. You'll also receive phenomenal views of downtown Denver and the mountain range.
Tours of the tower are available and provide a more intimate look into the history of the tower and the city of Denver.
Insider Tip: In the basement of the tower you'll find The Clocktower Cabaret. This intimate nightclub offers live variety entertainment, sumptuous decor, and a tasty array of drinks and appetizers. For couples, it's one of the most romantic places in Denver!
Day 1 / Stop 6 – Larimer Square
Why it's awesome: Larimer Square is a historic district in Denver filled with plenty of shopping, entertainment, and nightlife options.
Cost: Free!
Food nearby: Head to Marco's Coal Fired Restaurant for authentic crispy crust Neapolitan pizzas, made using high-quality ingredients.
Larimer Square is Denver's most historic block and the place where Denver was founded. The area is filled with independent shops, bars, and restaurants.
With glittering lights strung over the entire block, it has a charming and elegant allure. From Victorian buildings and houses to specialty boutiques and unique eateries, this hip and artsy area of the city is a must-see on your Denver itinerary!
Shop at one-of-a-kind stores with exclusive offerings, scope out the special events and enjoy the vibrant nightlife scene! Many Denver walking tours also depart from Larimer Square.
The epicenter of the square is a straight one block street lined with restaurants, boutiques, cafes, and clubs. The restaurants have a distinctly Mediterranean atmosphere and serve everything from French and Italian, to Continental food!
For night time options, you'll find classy wine bars, party venues, and a stand-up comedy club. This is one of the city's best social spots and one of the most popular Denver points of interest!
The Retro Room Salon and Lounge really personifies the old-time Denver vibe. This venue mixes old-fashioned vibes with the modern Denver quirkiness. They also have a unique variety of house-infused vodkas. For something different, try a pickle-shot or a pepperoncini shot!
Spice up your Denver itinerary and end your night at this hot nightclub!
Downtown Denver | Molly Brown House Museum | Denver Art Museum | Confluence Park | Denver Pavilions
Spend the second day of your 2-day itinerary in Denver exploring the city's most popular attractions! Grab your walking shoes and get ready for an action-packed day of adventure!
Day 2 / Stop 1 – Downtown Denver
Why it's awesome: Downtown is the energetic epicenter of Denver!
Cost: Free!
Food nearby: Rock Bottom Restaurant & Brewery is a brewpub chain serving craft beer and upscale pub grub in a lively setting.
From historic buildings and nightclubs to museums and shopping malls, you'll find everything downtown!
16th Street Mall is arguably the most popular attraction downtown. At a mile and a quarter long, this pedestrianized only shopping complex is lined with more than 300 outlets!
If you're not into shopping, drop into one of the numerous cafes or bars and sip on a drink while people watching. You'll also see some amazing street performers doing their thing!> At night, the mall is illuminated by thousands of lights strung across the street.
The Money Museum is also located in downtown. Head in and check out the museum's interactive exhibits and learn about the history of American currency. You'll even leave with a free bag of money – shredded of course!
This is just a small sampling of what downtown has to offer. The area is filled with so many fun and unique Denver attractions that perfectly showcase the quirkiness and charm of the "Mile High City."
Day 2 / Stop 2 – Molly Brown House Museum
Why it's awesome: The Molly Brown House Museum is the former house of Molly Brown, a historic figure in the women's suffrage movement who also happened to survive the sinking of the Titanic.
Cost: USD $13.00
Food nearby: Stop by City O' City for quality meals catering to all dietary requirements. You'll find healthy options suitable for vegans, vegetarians, meat-eaters, and those who are gluten intolerant. This is City O' City's menu.
The Molly Brown House Museum was the home of American philanthropist, activist, and socialite, Margaret Brown, also known as "The Unsinkable Molly Brown," after she survived the sinking of the Titanic!
In 1970 the house was set for demolition, but a group of citizens raised the funds for the house to be restored to its former glory! In restoration, the group used architectural research and original photographs taken in 1910 to reconstruct it.
Her house was turned into a museum that presents exhibits representing her life and that of Victorian Denver. Tours are required to view the house. During peak travel months they tend to fill-up early, book early to guarantee you're not disappointed.
A limited number of presale tickets are available online. Most tickets are available on a first-come, first-served basis on the day of your visit, so make sure to get there early!
The house is steeped in history and highlights the life, strength, and character of Margaret Brown. You'll be able to see original artifacts and elements.
The guides are very knowledgeable about the history of the house and the area. They share the impact the Browns had in their community and the many contributions to women's rights that Mrs. Brown championed in her life.
The house is beautiful and the story behind it is even better! The museum is a historical treasure and a worthwhile stop on your Denver itinerary!
All tours last approximately 45 minutes and usually start every 30 minutes, beginning on the hour and every half hour. The museum is closed every Monday and public holidays.
Insider Tip: Looking for free tours in Denver? The Colorado State Capitol building is just a 5-minute walk from the Molly Brown House Museum and offers free public tours hourly from 10:00 am to 3:00 pm! For more budget tips, check out our budget backpacking Denver travel guide.
Day 2 / Stop 3 – Denver Art Museum
Why it's awesome: This large museum houses a comprehensive collection of global art spanning back centuries.
Cost: Adult admission is USD $13.00, children 18 years old and younger visit for free!
Food nearby: Swing by the Celeste and Dick Callahan Cafe located in the museum for cafe fare, including salads, sandwiches, baked goods, and coffee.
The Denver Art Museum (DAM) is a large museum located in Denver's Civic Center. The museum is known for its collection of Native American art, and its other collections of more than 70,000 diverse works from across the world, many going back centuries.
The museum has nine curatorial departments: architecture, design, and graphics, Asian art, modern and contemporary art, native arts, new world collection, painting and sculpture, photography, textile art, and western American art.
As you can tell from the long list, there's truly something everyone will appreciate at the museum and it's suitable for all interests! It combines many different types of arts, installations, time periods, and interactive experiences. The installations are ever-changing and there is always something new and exciting going on at the museum!
If you're visiting with kids, there is a painting studio where they can make their very own art to take home with them!
If you're spending a weekend in Denver make sure to check out the weekend artists' demonstrations where you can meet local creators and watch live demonstrations in the studio!
Make sure to check out the museum's store for art-inspired souvenirs including jewelry, home goods, books, art activity kits for kids, and more!
Insider Tip: Looking for more free stuff to do in Denver? General admission to the museum is free on the first Saturday of every month!
Day 2 / Stop 4 – Confluence Park
Why it's awesome: This park is an oasis in an urban setting! It's great for walking, running, cycling, or just relaxing!
Cost: Free!
Food nearby: Public School 303 is a modern pub serving craft beer and your typical American comfort food and bar fare.
Confluence Park is an urban park in Denver's lower downtown encompassing the junction of Cherry Creek and the South Platte River.
The park is filled with concrete pathways, perfect for walkers, runners, and bikers. There are also lush grassy areas, river overlooks, and plenty of park benches. You can even participate in a scavenger hunt!
Two large pedestrian bridges cross the South Platte River and Cherry Creek. At the eastern edge of the South Platte, you'll find a kayak run where you can watch kayakers brave the rapids!
During the warmer months, this is a popular area in the city to have a splash in the lake or layout and sunbathe on the sandy banks while enjoying picturesque views of downtown Denver.
If you're only planning a 2-day itinerary for Denver, this park's convenient location in the middle of the city makes it an ideal place to explore the city's outdoor areas.
Day 2 / Stop 5 – Denver Pavilions
Why it's awesome: This popular outdoor entertainment and shopping area is one of the top Denver attractions, it's perfect for all ages and interests!
Cost: Free.
Food nearby: Maggiano's Little Italy is located inside the Denver Pavilions. They specialize in freshly made Italian fare and premium wines!
Located in the heart of downtown Denver, the Denver Pavilions is a two-city-block, three-stories-high, open-air mall. It features 40 shops, a handful of restaurants, and other fun entertainment venues, including a bowling alley, an epic arcade, and movie theater!
You'll find a nice mix of common mall shops and unique gift shops. Many of the restaurants offer great happy hour specials and the restaurants on the top floor offer great views of the city! What's more, the pavilions contain a brand new 4DX movie theater!
If you're looking for great Denver couples activities, why not visit the pavilion for dinner and a show? Save your movie ticket stub and you'll receive special discounts at a selection of restaurants in the pavilions. Check their website for the list of participating restaurants.
Bonus: if you're coming to the Denver Pavilions to see a movie, you'll receive 4 hours of free parking in the underground parking garage with the purchase of a movie ticket.
You can easily access the Denver Pavilions via the free mall shuttle service operating on 16th Street. There are stops on Welton Street, Glenarm Place, and Tremont Street. This will conveniently place you directly in front of Denver Pavilions.
If you get tired of walking, hop aboard and it will take you back to the end of the street you started on.
This is a stop on your Denver itinerary that you could spend an hour enjoying, or all day! Make sure to plan your time accordingly and check their website for the full list of stores and restaurants so you can plan your visit!
Insider Tip: While you're in the area, make sure to check out the Big Blue Bear tourist attraction – the city's iconic 40-foot bear standing up to peer into the Denver Convention Center. It's only a 7-minute walk from the Denver Pavilion and is a great photo opportunity!
International Church of Cannabis | The Skyline Beer Garden | Great Divide Brewing Co | Red Rocks Park & Amphitheatre | Coors Field
If you're planning a 3-day itinerary in Denver, you're going to need a few more activities to fill your time. Here are 5 more fun attractions we recommend checking out!
International Church of Cannabis
The church was opened on April 20 (naturally) of 2017.
A welcoming church with a VERY chill environment.
Open from Monday – Thursday from 1:00 pm – 3:50 pm and Friday – Sunday from 12:00 pm – 5:50 pm.
The International Church of Cannabis is possibly one of the most unique attractions in Denver!
The interior of the church is dazzled in flamboyant colors and psychedelic art that will leave you feeling and thinking bigger and brighter! From its neon rainbow mural on the ceiling to its large "WEED" sign!
There is also a chill-out room, full of fun games, instruments, and art. In a city that is literally a mile high, this church in Denver is quite fitting!
Make sure to visit for their "Beyond" experience, a fully immersive, meditative activity complete with projection mapping, laser lights, and sound! Shows start promptly at 20 minutes past the hour, every hour and last for 33 minutes.
Make sure to add this to your Denver itinerary, we promise you won't regret it!
The Skyline Beer Garden
Open seasonally from early/mid-June to mid-October!
Open every day except Mondays from 11:00 am to 10:00 pm.
Lively atmosphere, cold drinks, and fun games!
The Skyline Beer Garden celebrates Colorado's dynamic craft beer culture! Nestled in the heart of downtown Denver, this iconic attraction features nearly 40,000 square feet of outdoor space and open-air tented seating. The venue offers a fun and social environment.
There is a family-friendly game area with ping pong, a miniature golf course, and cornhole. Every Friday and Saturday night during the summer you'll also find live music playing.
The Beer Garden features at least 12 different craft brews on tap. Swing by during happy hour and receive special discounted prices. For some of Denver's best food, the venue offers locally-made street tacos as well as other classic Mexican fare, made using all your favorite fixings!
This place is popular with both locals and tourists, for a fun social experience, add this stop to your Denver trip itinerary!
Great Divide Brewing Co
Open every day from 12:00 pm to 10:00 pm.
Daily free tours of the brewery are offered!
Discover what makes Denver stand out in beer culture.
Colorado is famous for its craft beer scene, and Denver is home to a multitude of amazing breweries. Among the most popular of the local Denver breweries is the Great Divide Brewing Co.
This lively joint offers beer tastings of their own brews, as well as growlers and free brewery tours! You'll find a wide selection of unique, quality brews, served to you from their friendly staff! The atmosphere is intimate, comfortable, and relaxing.
They also offer free tours of the brewery every day! All tours are first come first serve basis, no reservations are needed. Make sure to call ahead to see what times the tours are offered so you can arrive early and guarantee a spot.
Tours generally last for 20 minutes and give you a behind-the-scenes look at this iconic Denver brewery. You'll see the back-of-house operations, beer production, and bottling/canning.
The Great Divide Brewing Co has three locations in Denver. The Denver brewery and Tap Room, located in downtown Denver, is the original location.
For food options, they have food trucks every day that usually arrive between 3:00 pm – 4:00 pm. The trucks vary, but almost all of them offer vegetarian options.
Red Rocks Park & Amphitheatre
Located just 10 miles west of Denver.
The visitor center is open every day except Thanksgiving and Christmas.
The venue is surrounded by scenic hiking and biking trails!
Red Rocks Park & Amphitheatre is a naturally formed, world-famous outdoor venue that is the only naturally occurring, acoustically perfect amphitheater in the world. What makes it even more special is that it's surrounded by the wonders of nature!
This is a great place to see a concert when you travel to Denver. Red Rocks is renowned for its star-studded concert offerings. You'll find the world's most famous and talented acts performing here! Check their online calendar for a full list of performances.
If there's not a concert or soundcheck going on during the time of your visit, you can walk through the auditorium. The scenery is spectacular and you'll find some of the best views in Denver!
While you're here, make sure to visit the Red Rocks Park Visitors Center. It features interactive educational displays, a short film documentary describing the geologic and musical history, and the Performer's Hall of Fame.
Since the venue is outside and the weather can change without warning, make sure to come prepared! Don't forget to bring water, sunscreen, food, and other essentials, especially if you plan on hiking. You'l want a good travel jacket. Denver can be rainy and very cold depending on the time of year.
Coors Field
Beloved baseball park and the home field of the Colorado Rockies.
Located in Denver's lower downtown neighborhood.
Visit the rooftop bar for great views of the Denver skyline!
If you're touring Denver during baseball season (late March/early April to late October/early November) catch a home game and root on the Colorado Rockies! Kick back, relax, and experience the lively thrill of game day!
The Rockies are a great source of pride for the city, and game day is sure to bring lots of enthusiasm and excitement. You don't have to be a sports fan to enjoy the team comradery! Immerse yourself in the local sports culture and get into the friendly competitive spirit!
If you're planning a Denver itinerary with kids, there's an interactive area where kids can test their baseball skills. They can play tee-ball, see their throwing speed, and take the electronic home run challenge! There's also a playground located on the Main Concourse where kids can run around and burn off some energy.
The stadium is modern and has been well maintained and nicely updated over the years. You'll find plenty of food vendors and a great selection of Colorado craft beer. A trip to the ballpark is a fun activity all ages will enjoy!
Whether you're spending one day in Denver or more, safety is an important thing to keep in mind! Overall, Denver is considered a safe city for tourists to travel to. However, there are a few things you'll want to be vigilant of.
Most neighborhoods in Denver are safe, but some should be avoided. Stick to the more populated areas of downtown Denver. Keep to the main streets and sidewalks, especially at night.
Denver has a large homeless population. Most are harmless, however, some may pose a threat. To be safe, tourists are advised to stay clear of areas where homeless people may reside.
We don't recommend walking back to your accommodation late at night. This rule doesn't specifically apply to Denver, it applies to any large city you're unfamiliar with. Luckily, public transportation in Denver is affordable and easily accessible, and Uber is available all night too!
The Rocky Mountains are a short drive from Denver. If you plan to visit, use caution. Remember, wildlife is never far away. Always prepare before you go on a hike or take up an activity, no matter how short it is!
Bring the necessary supplies, water, and food. Nature is beautiful, but it's unapologetically brutal if you don't take it seriously!
Don't Forget Your Travel Insurance for Denver
World Nomads' mission is to support and encourage travellers to explore their boundaries. They offer simple & flexible travel insurance, and safety advice to help you travel confidently.
They've been doing it since 2002 – protecting, connecting, and inspiring independent travellers just like you.
Get a quote below or read our in-depth review!
World Nomads provides travel insurance for travelers in over 100 countries. As an affiliate, we receive a fee when you get a quote from World Nomads using this link. We do not represent World Nomads. This is information only and not a recommendation to buy travel insurance.
Day trips from Denver are a great way to explore other areas of Colorado. The state is full of wonder and scenic landscapes just waiting to be discovered! These trips are a great option if you're spending 3 days in Denver or more!
Rocky Mountain National Park Tour
Explore the Rocky Mountain National Park and experience the breathtaking landscape of one of America's most grand mountain ranges! Travel from Denver through Boulder and start your day at Estes Park, the charming town at the entrance of the Rocky Mountain National Park.
Marvel at Long's Peak, the park's highest mountain. Admire glacial-carved valleys, filled with aspen and pine trees. Visit the best spots for viewing wildlife, taking pictures, enjoying a short hike, or just relaxing.
During summer, you'll be able to go up trail ridge road, which leads 13,000 feet up. In winter the road is closed and more time will be spent exploring the valley and its alpine lakes.
Boulder Hike & Beer with Local Guide
Breathe in the fresh mountain air among stunning rock formations and discover the best hiking spots in Boulder! Take a moderate 3-mile hike and explore some of the favorite local trails, perfect for all fitness levels!
Admire the views of the iconic Flatirons, the stunning and slanted sandstone formations near Boulder. Finish your hike with a well deserved cold beer (1 beer is included in the price) or coffee, with some newly-made friends!
Boulder is famous for its craft beer and scenic beauty. If those two things interest you, don't miss the chance to add this to your 3-day itinerary in Denver!
Breckenridge Mountain Explorer
If you have a car and are up for a Colorado road trip, explore the natural beauty of the Colorado Rockies on a trip to Breckenridge! The drive from Denver to Breckenridge will amaze you! Sit back and relax while someone else navigates the mountain roads for you. Admire the views as you pass the most scenic views of nature.
Start your day with a visit to Red Rocks Amphitheater and enjoy a coffee break. Once you arrive in Breckenridge, you'll have three hours of free time to explore the city. Spend some time outdoors hiking, skiing, and enjoy a free gondola ride! Stroll the city's historic Main Street; enjoy a bit of shopping, try out a local restaurant, or visit a craft brewery!
Colorado Gold Rush Mountain and Mine Tour
Discover the exciting history of the 1859 Colorado Gold Rush! Visit the historic town of Central City and follow in the footsteps of gold miners. Learn about the mine's history compared to modern-day mining techniques.
Visit an authentic ghost town from the boom times and take a tour of a real gold mine! You'll even get a chance to strike it rich by panning for gold!
Visit Georgetown, where the Victorian architecture from the silver mining days still stands, and enjoy a bit of free time. Grab a drink from the local brewery, shop in one of the local stores, and admire the history of this quaint mountain town!
Small-Group Tour of Pikes Peak and the Garden of the Gods
Visit two of Colorado's most majestic parks, the Garden of the Gods and Pikes Peak. First, you'll visit the Garden of the Gods and enjoy the beauty of the park. Walk around the unique geological area with its colossal red rock formations.
Carry on to the historic town of Manitou Springs and enjoy a bit of free time and lunch. Next, take a drive up Pikes Peak, the place that inspired the song "America the Beautiful." You're going to want to have your camera ready for this stop, the scenery will blow you away!
If you're looking to explore Colorado's most scenic locations, add this day trip to your Denver itinerary!
Find out what people want to know when planning their Denver itinerary.
Conclusion
We hope you enjoyed our Denver itinerary, we made sure to include the best of the best! With that being said, this city has so much to offer that we couldn't possibly include it all. If you're spending 3 days in Denver, this guide will easily fill every single day of your exciting vacation!
Whether you're looking for an amazing immersion into nature, a day spent shopping, gallery gazing, or craft beer tasting, Denver has it all! Not to mention, it's perfect for budget travelers who will find plenty of things to do in Denver for free!
The city is totally unique and has a quirky vibe not found in many other US cities! You really can't go wrong with a trip to the "Mile High City!"
---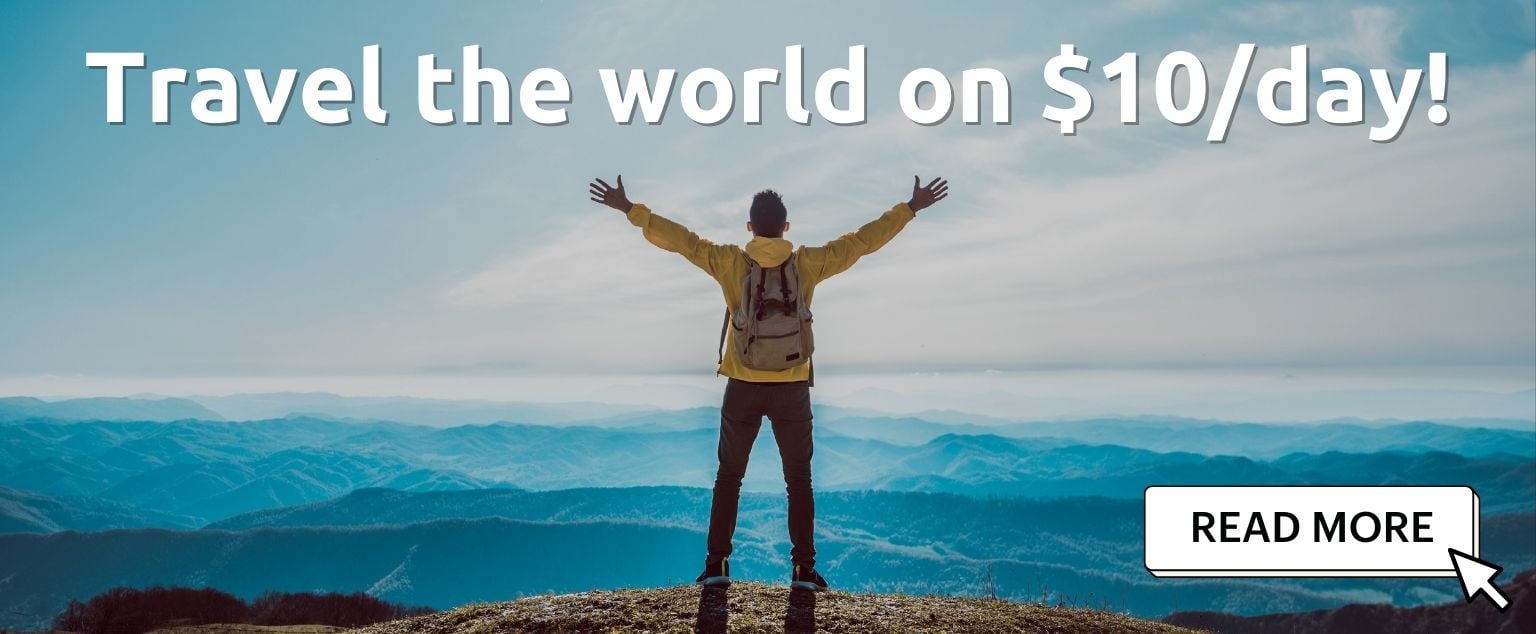 And for transparency's sake, please know that some of the links in our content are affiliate links. That means that if you book your accommodation, buy your gear, or sort your insurance through our link, we earn a small commission (at no extra cost to you). That said, we only link to the gear we trust and never recommend services we don't believe are up to scratch. Again, thank you!