Colorado is an adventure lover's dream. Best known as the Rocky Mountain State, it has the highest number of peaks rising over 14000 ft. in the USA. It has ski slopes, lush forests, wildflower-strewn meadows, and cross-country tracks. Perfect for nature lovers.
All of this means one thing – that there is plethora of recreation and outdoor adventures awaiting in Colorado.
With all this nature, staying in a boring old hotel room just doesn't cut the biscuit, even if you're looking for 5* luxury experience. If you want a high-end experience, the best way to experience all this nature and get that top-notch service is to stay in a luxury cabin in Colorado.
Contrary to popular belief, cabins are not dank, dark shacks with outdoor toilets and no plumbing. In fact, some luxury cabins have such high amenities, such as hot tubs, pools and saunas, that you'll find them even more homely than your actual home. How does that sound for your next vacation rental?
If this sounds excellent to you, then you're in luck, because in this guide I have found the best of the best luxury cabins in Colorado so you can focus on planning your adventures. Let's get started…
In a Hurry? Here's Where to Stay in Colorado for One Night
FIRST TIME IN COLORADO
Mountaintop Cabin Getaway
This luxury cabin is a mountaintop home that has all the amenities and the perfect location to make it worth your luxury budget. For the ultimate Colorado experience, make a trip to Golden and up a gravel road to this cabin, all the while soaking in some stunning views of the area. Housed with a fully equipped kitchenette, comfy bed, a full bathroom, indoor fireplace, and Wi-Fi, this cabin gives great value. So relax on the comfy bed inside, or soak in the hot tub outside, or just have a stroll in the neighborhood, rest assured you'll have an amazing holiday.
NEARBY ATTRACTIONS:
Echo Mountain
Loveland Ski Area
Coors Factory
Broncos Stadium
Is this amazing Colorado Luxury Cabin booked for your dates? We've got your back with our other favorite properties below! 

Unlock Our GREATEST Travel Secrets!
Sign up for our newsletter and get the best travel tips delivered right to your inbox.
Staying in a Luxury Cabin in Colorado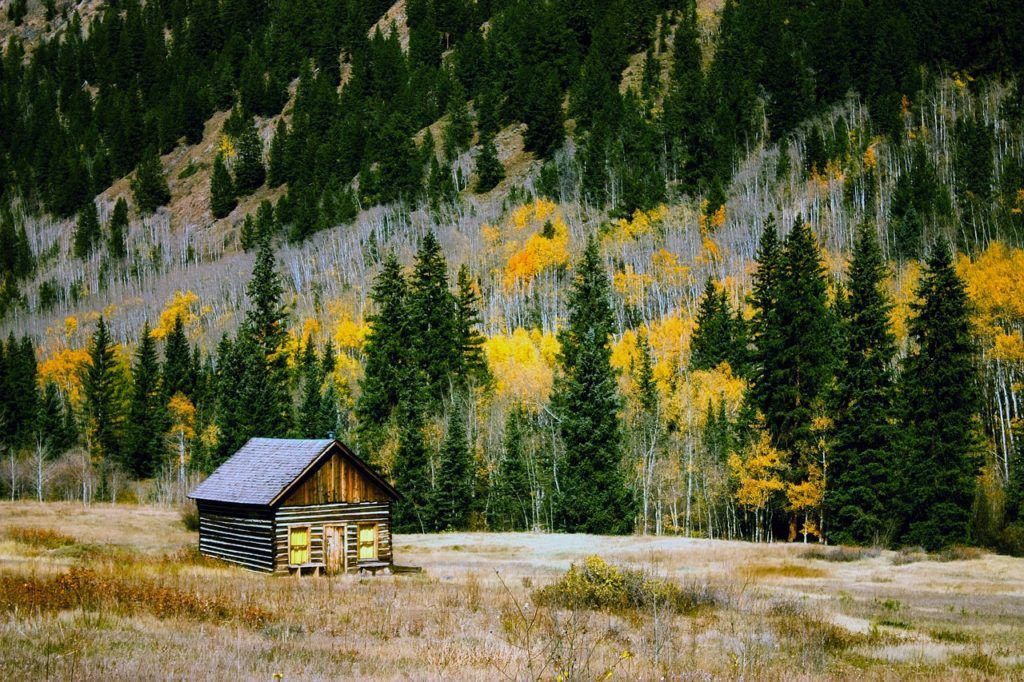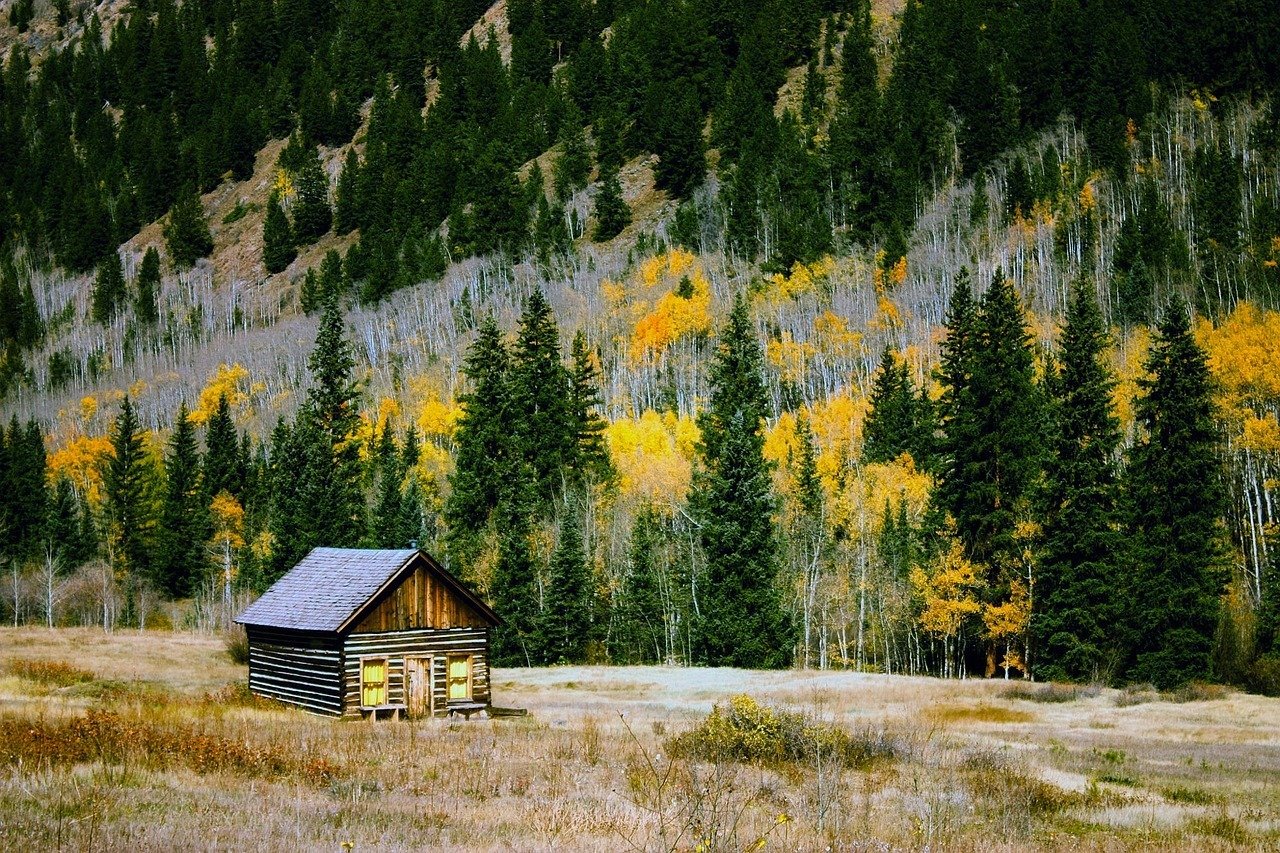 To experience some of the best outdoor adventures and to make a memorable holiday, Colorado is for you. From skiing down snow-capped peaks to rafting in the river to just relaxing on the porch outside your cabin home, there is no better way to enjoy it than from your own luxury cabin.
Whether you're on a cozy getaway with your partner or bringing your family or friends along for a great escape, luxury cabins step it up a notch. Not only do they offer luxury amenities with high-end furnishings and fittings, but they are ideally located within nature, so if you love the outdoors, you won't find any other accommodation closer to it.
What to look for in a Luxury Cabin in Colorado
Colorado's luxury cabins are second to none. The first thing you need to consider is location. Whether your preference is desert wilderness, forests with rivers, or valleys in snowy mountains, there is a luxury cabin for you. But make sure you choose where to stay in Colorado carefully, as cabins tend to be remote and so are far away from towns and cities. There are a lot of advantages to this, such as enjoying meaningful time together with your loved ones, but it also means that you need to stock up on supplies before you get there.
Since luxury cabins tend to be more remote, you need to make sure your cabin comes with parking, as they will usually only be accessible by car – perfect for those on a Colorado road trip. Likewise, you need to check if the road is easily accessed with a regular vehicle, or if you need a 4×4. If you're travelling in the winter, use snow chains. You should also check the reviews to see what the cell service is like.
Luxury cabins usually offer great amenities like a hot tub, fast Wi-Fi (yes, even remote ones), full kitchens, and spacious rooms with entertainment options. What you look for in a luxury cabin depends totally on your preferences and who you are going with. But I would recommend you check what entertainment options they have, or what is nearby. Usually, you can always find fun things to do in Colorado, even in the most remote locations.
So how do you look for a luxury cabin in Colorado? Easy. You search on sites like booking.com or airbnb.com with the right filters and choose one. But, this does require quite a bit of scrolling and separating the wheat from the chaff. If it sounds like too much work for you, don't worry, because I've listed the best of the best below.
Overall Best Value Luxury Cabin
Overall Best Value Luxury Cabin
Mountaintop Cabin Getaway
> $$$
> 4 guests
> Valley and City Skyline Views
> Private Hot tub
Best Luxury Cabin for Solo Traveller/ Backpacker
Best Luxury Cabin for Solo Traveller/ Backpacker
Cozy Room in a Lovely Cabin
> $$
> 2 guests
> Forest views
> Full Kitchen
Best Luxury Cabin for Couples
Best Luxury Cabin for Couples
A-frame Cabin with Panoramic Mountain Views
> $$$
> 2 guests
> Mountain View
> Private Hot tub
Best Luxury Cabin for a Family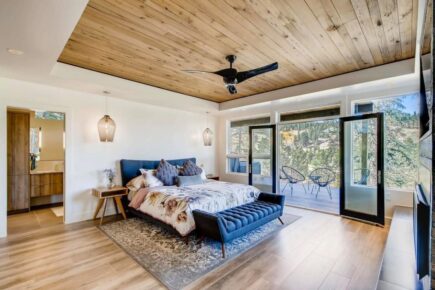 Best Luxury Cabin for a Family
Cabin on the River
> $$$
> 4 guests
> Jacuzzi bathtub
> Fast Wi-Fi
Best Luxury Cabin in an Epic Location
Best Luxury Cabin in an Epic Location
Canyon Cliff House
> $$$$
> 2 guests
> Desert View
> Wi-Fi
Best Luxury Cabin for a Group of Friends
Best Luxury Cabin for a Group of Friends
Secluded Mountain Getaway
> $$$$
> 16 guests
> Mountain View
> Full kitchen
Best Luxury Cabin for a Weekend Getaway
Best Luxury Cabin for a Weekend Getaway
Iconic A-Frame Cabin
> $$
> 4 guests
> Mountain and River Views
> Indoor fireplace
The Top 8 Luxury Cabins in Colorado
Now that you know what to expect from luxury cabins in Colorado, it's time to take a look at my top picks. So, without any further ado, here are the best luxury cabins in the state.
$$$
4 guests
Valley and City Skyline Views
Private Hot tub
First time in the state? Hop in your 4WD and make your way to this awesome mountaintop retreat in Golden, Colorado. This cozy mountain home is accessible through a gravel road set amidst some breathtaking views of Denver, Pikes Peak, and the surrounding mountains. There's plenty of outdoor recreation, dining, pubs, and breweries close by, should you want to venture out.
Coming to the cabin itself, it is the most ideal place you could pick for your quintessential Colorado escape. You'll have the studio whose spacious interiors house a fully stocked kitchenette and dining area.
Relax and stretch your legs on the comfy king-size bed and enjoy a continental breakfast. Have your morning coffee on the walk-out patio that overlooks some stunning views of the area and wildlife sightings. Or, you can just relax in the hot tub for some quiet time. So now you don't need to look for hotels with private hot tubs in Colorado!
$$
2 guests
Forest views
Full Kitchen
Lying on a hammock, swaying softly, with forest views to look at as you fall asleep? Yes, please! This sweet cabin lies on a vast land in the mountains in Nederland, surrounded by green trees, all quiet and peaceful. For those of you travelling solo, this cabin is an ideal getaway. There are a number of hiking trails nearby too.
The cabin is warm and cosy with a comfy bed in your room and a window with views of the forest outside. there is a full bathroom with a tub and toiletries.
The cabin is shared, but beautiful nonetheless, with an indoor fireplace, full kitchen, and dining area. A shared hot tub, fire pit, and hammock outside the cabin are nice touches for a wonderful experience.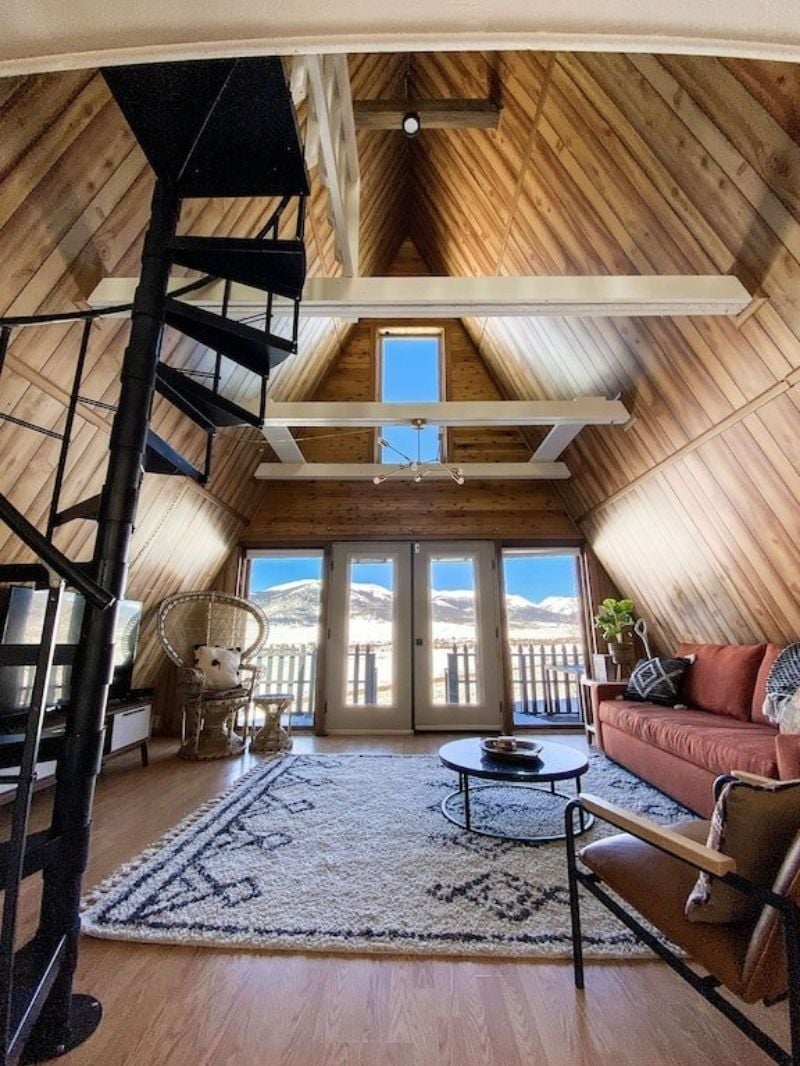 $$$
2 guests
Mountain View
Private Hot tub
Perfectly designed for romance and an authentic Colorado experience, the Triangle Cabin is a unique and cute A-frame luxury cabin in Colorado. It is located over 90 min of drive from Denver and just minutes from a mountain town and a ski resort, so you'll always be close to some of the top places to visit in Colorado.
The cabin itself sits in an idyllic setting along a river and is surrounded by forest, mountains, and wildlife. You can go skiing at the ski resort or check out some scenic hikes along the Colorado Trail, and come back home to unwind at this cabin.
The cabin has a spacious living area with a fireplace, a full kitchen, TV with major streaming services, and video games. Relax in the comfy loft queen bed or in your private hot tub outside. Take a nap in the hammock or just stretch on the patio as you gaze at the stars above.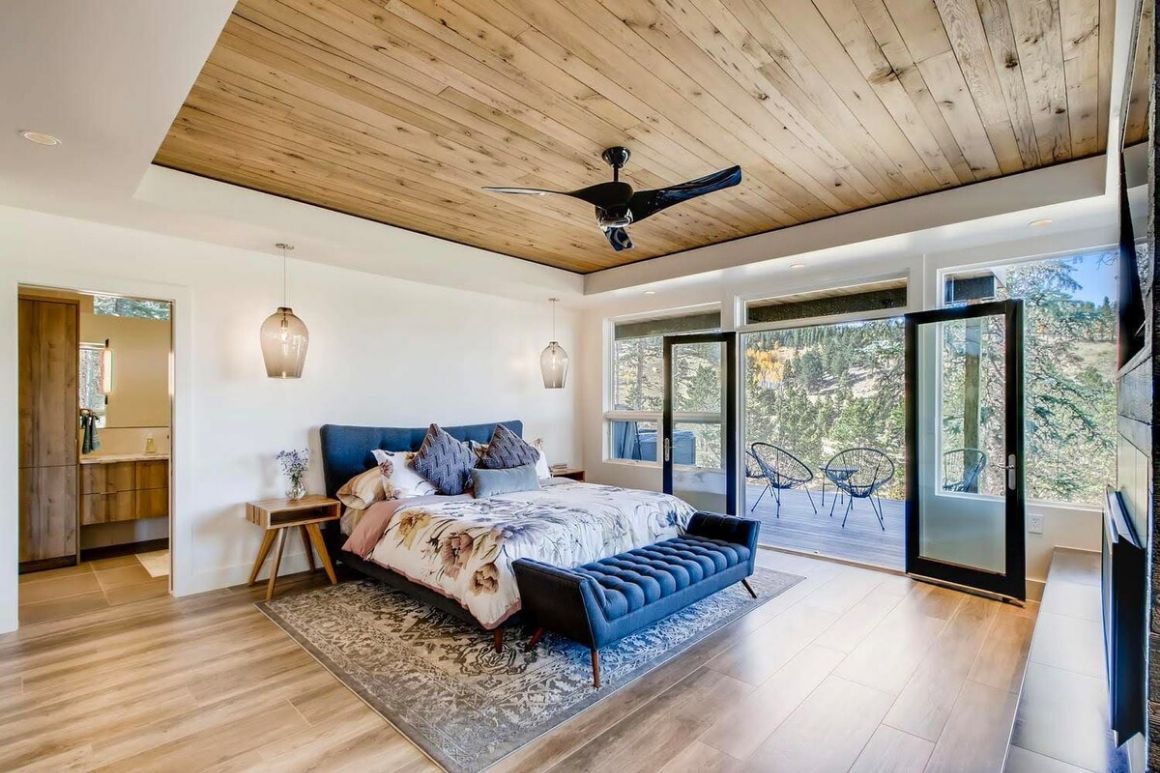 $$$
4 guests
Jacuzzi bathtub
Fast Wi-Fi
For a fun yet relaxing escape with your family, head on to Nederland and stay at this lovely luxury cabin by the river. Nestled in the mountains, with easy access to plenty of outdoor sports like skiing, hiking, biking, fishing, and climbing, this cabin is a gem. Stroll along the creek and around the reservoir nearby, or explore the downtown, the options are many!
Stylish and cozy, this cabin is perfect if you're traveling with family. It is child-friendly and has great amenities that include a crib, pack 'n play, toys, and books to keep children busy. The rooms have a queen and king-size bed each with an en-suite bathroom.
Soak in the Jacuzzi tub or relax with a steam shower. The cabin has in-floor heating and is the ideal "warm and cozy" with gas fireplaces. A well-equipped kitchen, a fire pit, and a grill are provided so you can make your own meals. In true glamping style, the cabin also has fast Wi-Fi, a TV with streaming, and games to keep you and your family entertained!
An Eco-Friendly Traveller NEEDS an Eco-Friendly Backpack!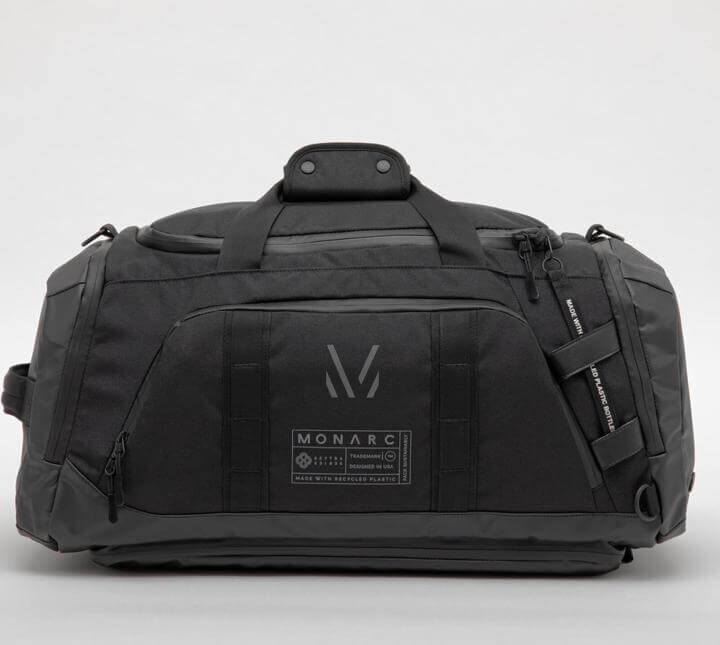 50 recycled plastic bottles – that's what goes into every Monarc Settra: the world's MOST SUSTAINABLE backpack.
Whether you're rocking duffel mode or backpack mode, if you're a traveller that gives a flying hoot about their environmental impact, then there's only one backpack you should consider – the plastic-negative Monarc Settra.
Learn More Now!
Best Luxury Cabin in an Epic Location – Canyon Cliff House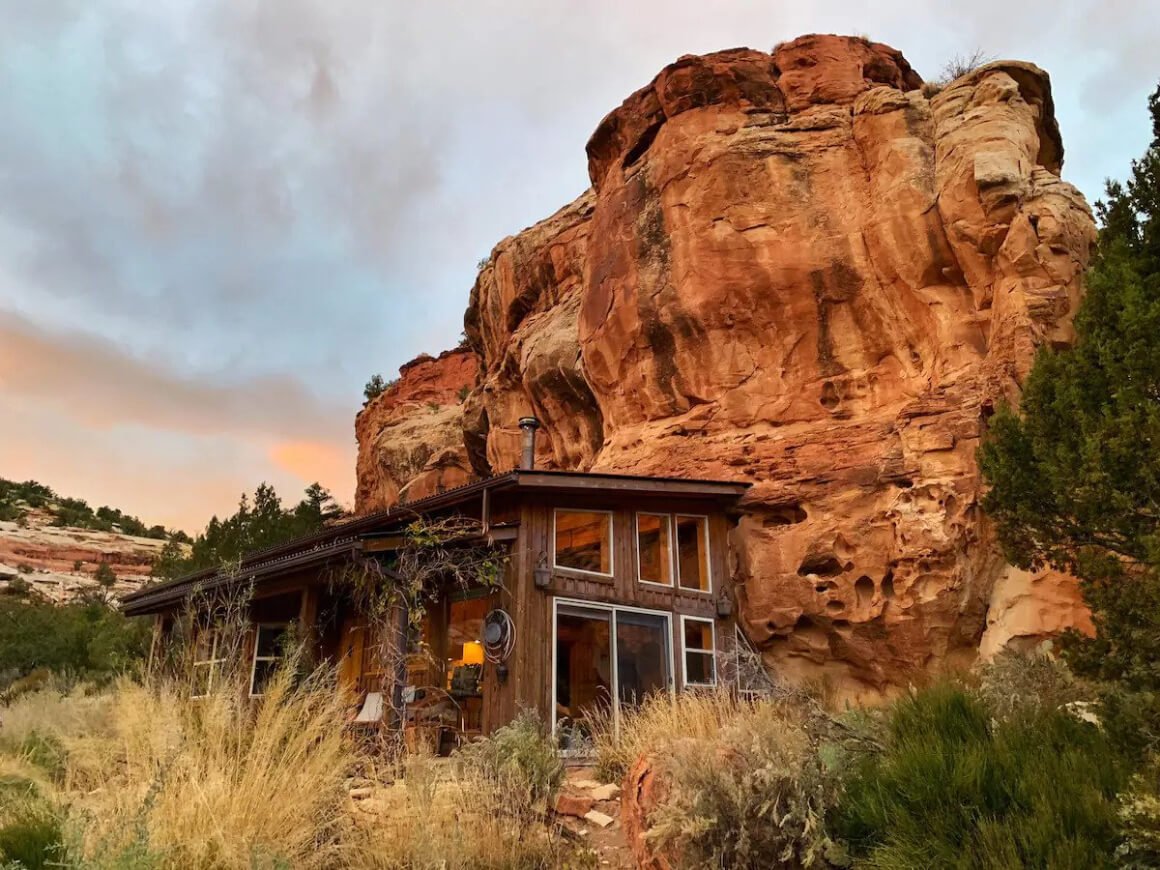 $$$$
2 guests
Desert View
Wi-Fi
With stunning panoramic views of Sleeping Ute Mountain and McElmo Canyon right from the front porch, this unique cabin has a cool and epic location.
Built into red sandstone rock, the Cliff House sits in an alcove with sweeping views down the canyon. It is the ideal base and respite for your next creative endeavor or an adventure in the wild.
Enjoy the views and occasional sightings of desert wildlife from the porch and the serene lawn filled with native summer flowers. A home away from home, this cabin offers all great amenities.
You will have a full bathroom with toiletries, a washer, dryer, heating, and air conditioning. Wi-Fi and a dedicated workspace are also given. You can make your meals in the fully equipped kitchen.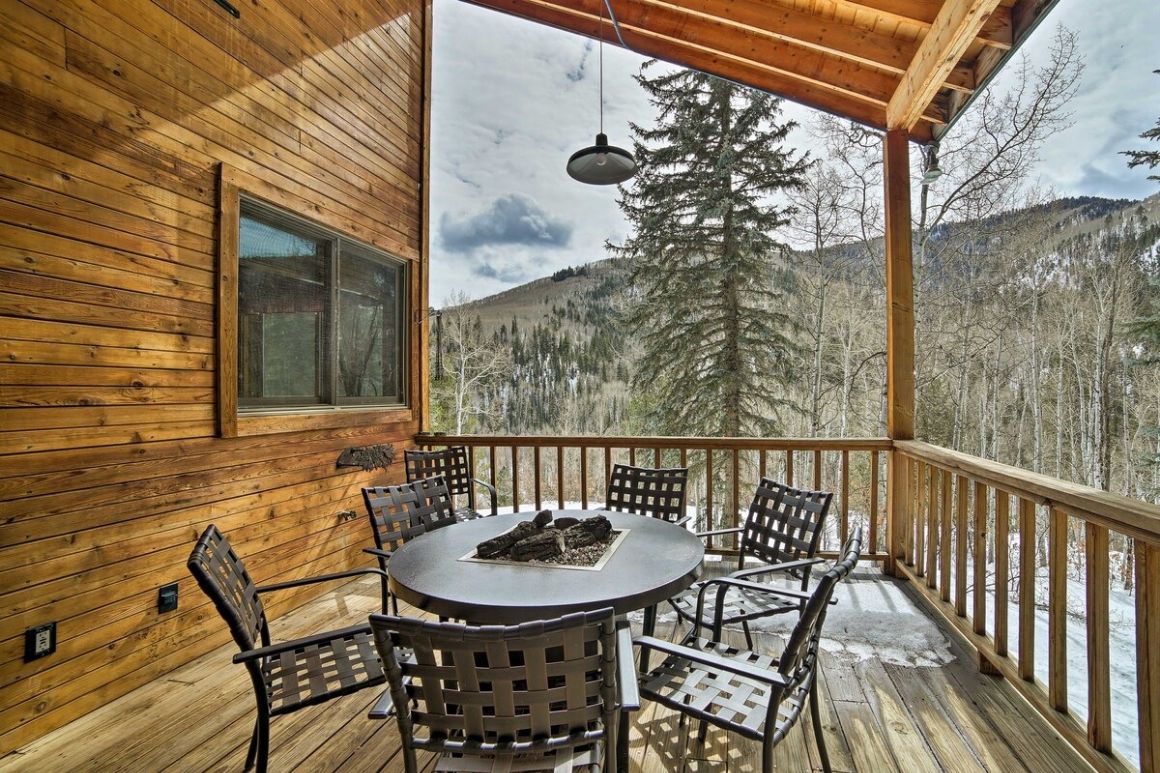 $$$$
16 guests
Mountain View
Full kitchen
Gather your friends for a fun vacation in Colorado at a secluded mountain getaway! You'll have easy access to plenty of outdoor sports such as skiing, mountain biking, top hiking, and even some world-class fishing at the beautiful Dolores River. With so much action and such stunning scenery, it's no wonder that this cabin and its nearby areas are truly an adventure lover's paradise!
This luxury cabin has enough rooms and comfy beds to have up to 16 guests. Airy and spacious with lush interiors and great window views, the cabin is a good home base for all your adventures.
After a day of hiking and exploring, spread out and relax in any of the two living areas, which have ample seating. There is a cozy indoor fireplace and a gas fireplace and a fire pit on the deck. The outdoor dining area makes it perfect to hold a BBQ cookout with friends!
Best Luxury Cabin for a Weekend Getaway – Iconic A-Frame Cabin
$$
4 guests
Mountain and River Views
Indoor fireplace
Haven't I said I love A-frames? Here's another one! Spend your next weekend at this authentic 1970s A-Frame cabin in Colorado. With its location surrounded by forested land and right next to a stream, this cabin is the perfect escape into nature.
There is plenty of outdoor recreation such as world-class skiing, hiking, fishing, off-roading, and mountain biking are within easy distance. Dip your feet in the stream, look out for wildlife, and relax below majestic mountains – your weekend getaway doesn't get better than this!

This cabin offers great amenities. It has a full kitchen, living room, and dining room. The master bedroom has a super comfy bed, but you can also relax on the queen bed in a cool lofted area. The bathroom is stocked with essentials and toiletries.
A gas fireplace keeps the cabin toasty warm in winters, so it's perfect to snuggle up with a book as it snows outside. The Wi-Fi is kind of wonky but then who wouldn't want to disconnect at such a beautiful Airbnb in Colorado.
Over-the-top Luxury Cabin in Colorado – Designer Ski Lodge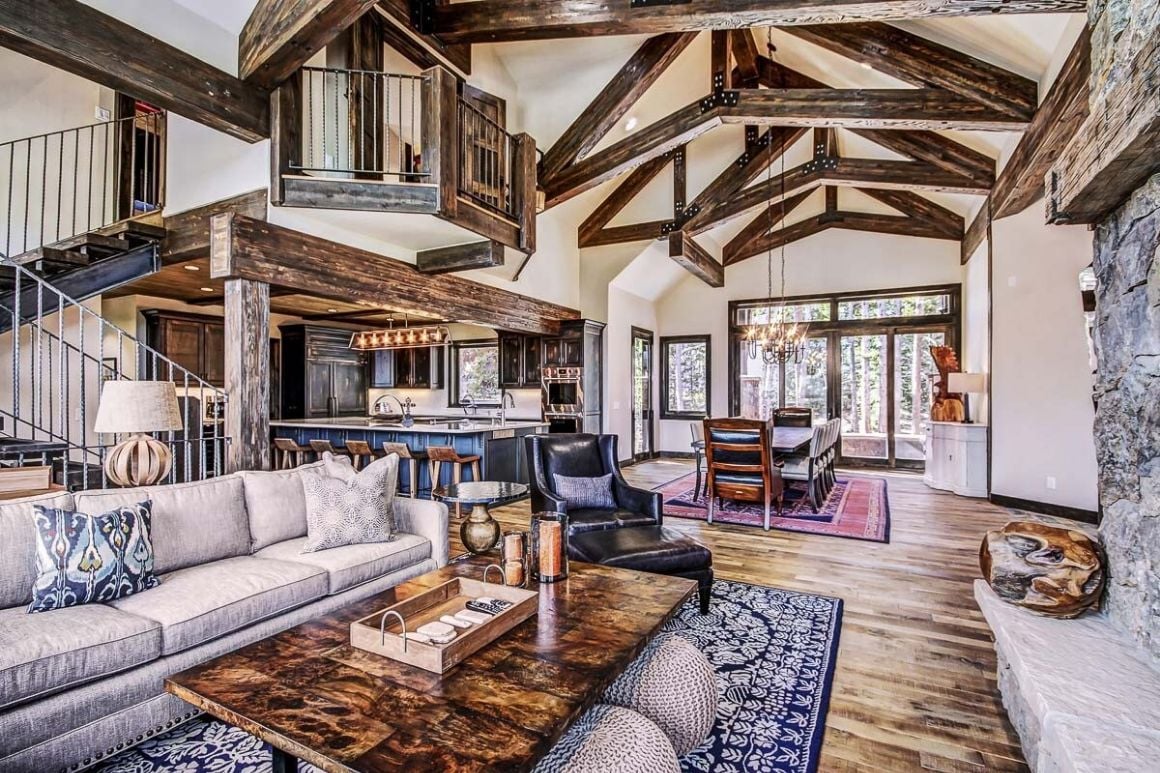 $$$$$
14 guests
Full kitchen
Terrace and private deck
A modern-styled luxury cabin in Colorado with timeless mountain scenery and a ridiculously expensive price tag – this one's our pick for the most over-the-top luxury cabin in Colorado. Thinking of splurging your savings, or just window shopping?  Whichever is the case, it is quite amusing to read about such luxury cabins.
This lavish cabin doesn't fall short of location, views, or amenities.  Not only does its location ensure incredible views of the peaks around Breckenridge, but it also gives you and your group easy and quick access to outdoor sports like skiing, sledding, and more.
The cabin has ample space for a large group and enough rooms with comfy beds. Have BBQ on the private deck in summers, or make use of the hot tub and fire pit in the cooler season. This vacation rental in Colorado has an open plan with a spacious living room, dining room, a full kitchen, and a stone fireplace.
Don't Forget Your Colorado Travel Insurance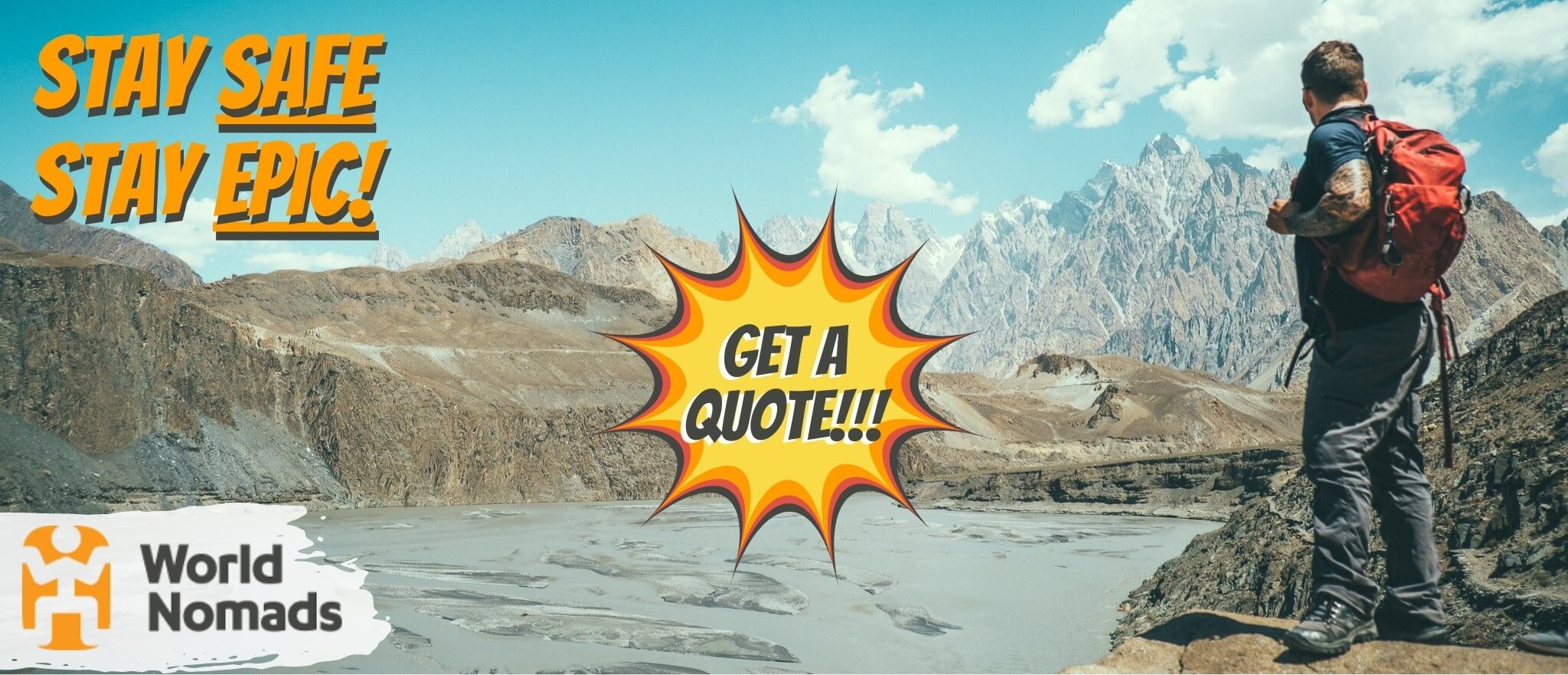 World Nomads' mission is to support and encourage travellers to explore their boundaries. They offer simple & flexible travel insurance, and safety advice to help you travel confidently.
They've been doing it since 2002 – protecting, connecting, and inspiring independent travellers just like you.
Get a quote below or read our in-depth review!
Final Thoughts on Luxury Cabins in Colorado
A Colorado vacation is one vacation you should be having any time of year. From snow-capped mountains to gorgeous valleys with babbling streams and from desert sand dunes to rock cliffs and canyons, Colorado has everything.
Truly an adventure lover's dream getaway destination, Colorado offers some of the best luxury cabins for a wonderful stay. I hope you have enough headway from this guide to start planning your Colorado adventure and the ideal place to stay.
Just remember to look for your preferred amenities and location of the luxury cabin that suits your type of outdoor fun.
Also, don't forget to consider having travel insurance on your travels. If you're traveling internationally, it is smart to opt for travel insurance that will act as a safety net for any unforeseen circumstances. Travel safe and travel smart, as we always say!
---
Bye for now, but not forever!
If you want MORE top-tier Broke Backpacker content like this, then sign up for our weekly newsletter below to get the latest and greatest!
And for transparency's sake, please know that some of the links in our content are affiliate links. That means that if you book your accommodation, buy your gear, or sort your insurance through our link, we earn a small commission (at no extra cost to you). That said, we only link to the gear we trust and never recommend services we don't believe are up to scratch. Again, thank you!