Mammoth is a magical mountain town tucked away in the Eastern Sierra Nevada mountain range. It has some of the most spectacular nature in California and boasts towering mountain peaks, crystal clear lakes, unique geological formations, and more!
It's perhaps most well known as a winter destination full of world-class ski lodges, but it's so much more than that. Yes, it's home to some of the most visited ski resorts in California, but once the snow melts Mammoth is arguably even more beautiful, and the never-ending list of must-do outdoor activities only grows.
The Ski resort on Mammoth Mountain is transformed into a thrilling downhill bike park, backpacking permits become available, and the glassy lakes warm up and are perfect for swimming and boating.
Not the adventurous type? Don't worry! The charming town of Mammoth is packed with delicious restaurants, relaxing spas, pristine golf courses, and aromatic cafes.
When deciding where to stay in Mammoth, it can be overwhelming and confusing at times.
But don't worry, that's why I'm here with this ultimate Mammoth area guide. To help you find the best place to stay in and around Mammoth no matter who you are and what type of accommodation you are looking for.
So, let's begin.
Looking for a place to stay in Mammoth but don't have much time? Here are my top overall recommendations of the coolest places!
This spacious three bedroom mountain condo is a rare find and my top overall recommendation for where to stay in Mammoth! It was constructed using a ton of wood and stone to provide the feel of a rustic mountain cabin, but with all the modern-day amenities you could wish for. There's a hot tub only steps away from the condo and there's a large selection of board games to play if you find yourself stuck inside on a rainy or snowy day.
This European-style hostel stands out from the other accommodation options in Mammoth due to the fact that it's the only proper hostel currently in operation! A bed in one of their dorm rooms is far and away from the cheapest sleeping option in town. The hostel itself is clean, new, and a great place to meet new people. If you are traveling alone, this is where to stay in Mammoth.
If you want to stay in a traditional mountain resort, this is the place for you! Only steps away from the ski lift and gondola, it's a terrific option both in winter and summer. All units either have a kitchenette or a fully equipped kitchen. There's a 24-hour concierge service that is there to assist you with your every need and can help with everything from booking ski lessons to arranging a free shuttle to the airport.
Before you book a trip to the land of the best National Parks in the USA, it would be a good idea to familiarise yourself with the neighborhoods in the Mammoth area, so you can be sure to stay near to all the attractions that you want to see.
Mammoth Lakes is the area most people think of when they talk about Mammoth. It's where most of the accommodation options are as well as the majority of bars and restaurants. It's super close to the mountains, but with all the city amenities you could want. If it's your first time, this is absolutely where to stay in Mammoth!
Bishop is a larger town a short drive away. It doesn't have the luxury of being in the middle of the mountains, but it's a phenomenal option if you are looking for cheaper prices. It's also a great place to stock up on food, gas, and other supplies because the prices are significantly lower here.
If you have a family, Old Mammoth is where to stay! Many of the houses here are supersized and you will be able to fit everyone no problem. There are lots of trails in this area and you can start some of the best hikes in Mammoth right from your front door.
June Lake is an off-the-beaten-path destination just outside of Mammoth. With lakes to keep you cool in summer, and a ski resort open in winter, this small lake town is one of the best-kept secrets in all of California! Even if you don't end up staying here, make sure you at least plan a day trip. Because it is quite far away from the hustle and bustle, this would ideally suit anyone on a California road trip.
Now that you have been introduced to the four main areas to choose from, let's look at each place in more detail. If you're looking for an apartment, condo, hostel, or hotel in Mammoth, these are the best ones!
Mammoth Lakes is considered the center of Mammoth and it's the heart and soul of the town! It's a super walkable area packed with restaurants, bars, coffee shops, and grocery stores. One of the most popular places in town, and a definite visit must on any trip to Mammoth, is the Mammoth Brewing Company.
They have a constantly rotating menu of local craft beers on tap and the food is to die for. Another local favorite is Mammoth Coffee Roasting. It's the ideal place to start your morning and get fueled up on caffeine before an adventure-filled day!
In the winter, there are two different ski lifts that take you up to Mammoth Mountain Ski Resort straight from the town. That's incredibly convenient and means less time searching for parking and more time shredding down fresh powder.
If you are up for getting a little down and dirty, there are multiple great multi-day backpacking trips around Mammoth, just make sure you research and plan ahead as most of them require backcountry permits that must be applied for in advance.
This is a one-bedroom, one-bathroom Airbnb in Mammoth Lakes is located smack dab in the center of town. It has a super friendly and inviting atmosphere. The interior design uses lots of wood and will make you feel like you're staying in a cabin in the woods. But no, you are in fact in the best part of town surrounded by bars, restaurants, supermarkets, and even a movie theater! Also, there is a pool and a hot tub on the property which are both open year-round.
Best Hostel in Mammoth Lakes: MODERNE HOSTEL
Moderne Hostel is the only one in Mammoth! They offer private rooms as well as four-bed male dorms, four-bed female dorms, and six-bed mixed dorms. On top of that, there is a communal fully equipped kitchen that all guests have access to and a lounge area for socializing. Furthermore, they provide a free shuttle service that takes you from the hostel to the ski resort.
The Village Lodge is located right at the base of Mammoth Mountain and has direct access to the gondola and ski lift. If you are planning a ski trip, this is unquestionably where to stay in Mammoth! All of the rooms are apartment-style suites, with the largest ones designed to sleep up to eight people. Other fantastic features of this hotel are the heated outdoor swimming pool, the five jacuzzis, the three gyms, and the three different in-house restaurants!
Things to See and Do in Mammoth Lakes:
Head to the slopes during the winter and get an adrenaline rush skiing or snowboarding
Relax and have a spa day at one of the many luxury spas.
Bring your tent and head into the backcountry for a multi-day backpacking adventure.
Soar like a California condor and paraglide in the Eastern Sierra.
Zip around the Mammoth Mountain bike park in the summer months.
Soak in one of the natural hot springs.
Get your blood pumping on a hike to the Inyo craters.
Take a walk around the town. Mammoth Brewing and Mammoth Coffee Roasting are two of our favorite spots to check out.
Bishop is about 45 minutes south of Mammoth and it's without a doubt where to stay if you are on a budget! It's close enough to still explore all the best sites, but the accommodation prices are way cheaper.
You can use all that extra money saved on room and board for more lift passes or eat out. One must visit the local eatery is Erick Schat's Bakery. It's an award-winning, European-style bakery that's been a bedrock in the community for years and bakes delicious pastries every day of the year.
Another benefit of staying here is the access to different landscapes. Unlike Mammoth, which is a mountain town, Bishop is situated at the base of the Sierra and has a desert landscape.
The mountains are just a short drive away, but if you like rock climbing or bouldering, there are more opportunities here. "Happy Boulders," "Sad Boulders," "The Buttermilk Boulders," and "Alabama Hills" are all terrific spots to try out.
The Hostel California is a cozy and stylish hostel in downtown Bishop. They have multiple room options including private rooms as well as dormitories. If you are a solo traveler, this is without a doubt where to stay in Bishop!
They have a large lounge area inside where you can make new friends and play ping pong, and outside they have a communal garden. Our favorite thing about this hostel is that they have bikes and skateboards guests can use free of charge to go around town!
The Creekside Inn is a stunning desert-style hotel on the outskirts of Bishop! It's been voted the number one lodging in Inyo county on multiple occasions and has some remarkable features. To start, they have both queen and king-sized rooms that can sleep up to four people.
All the rooms come with a private balcony or patio and have views of the mountain or the creek. Additionally, they have a swimming pool, a hot tub, a restaurant, and meeting rooms, which are wonderful for people traveling on business.
Best Apartment in Bishop: Private 1BR Split-level Cottage with Pergola
This lovely one-bedroom apartment is located in a peaceful neighborhood one mile outside of downtown Bishop. It's designed in a way where the living spaces are all downstairs and then there's a separate bedroom loft area upstairs.
Outside, there's a wonderful living space that includes a table and spectacular mountain views. It's an amazing place to enjoy breakfast or take in the sunset. The coolest thing about this apartment though is the fact that it has a creek running right through the front yard!
Things to See and Do in Bishop:
Rock climb or boulder in the Eastern Sierras. "Happy Boulders" is a super popular spot.
Spend a day at Lake Crowley. The Crowley Lake Columns are a cool geological feature to check out.
Take a day trip to Alabama Hills and the Whitney Portal.
Learn about the history of trains and railroads at the Law Railroads Museum.
Go thrift store shopping and search for good bargains.
Bike or hike in the Ancient Bristlecone Pine Forest.
Enjoy a fresh pastry at Erick Schat's European style bakery.
Explore the deserts on an ATV or in an off roading vehicle.
Old Mammoth is on the outskirts of town and it's where you'll find many of the larger family-sized homes. It's a quiet and peaceful area with a creek running through it and full of walking trails.
Throughout the summer months, the creek is an excellent place to fly fish and there are multiple local companies that give lessons for those who have little or no prior experience.
The Valentine Reserve Ecological Study Area is directly west of this area. It's a giant park where you can walk or bike away from the rush of cars. Additionally, the reserve is home to an abundant amount of wildlife, especially birds. For the best chance at spotting animals, you should head out at dusk or dawn.
Please remember to always respect the animals though and keep a safe distance away.
This three-bedroom, three-bathroom condo is where to stay in Mammoth if you are traveling with kids. There's a master bedroom with a king-sized bed, a guest bedroom with a queen-sized bed, and a loft bedroom with bunkbeds.
Both the master and guest bedrooms have TVs and attached bathrooms. Outside, there's a large private deck equipped with a barbecue. The deck has spectacular mountain views and is a fantastic place to grill some food on a sunny day.
If you are planning a family reunion or a vacation with a big group of friends, look no further than this huge four-bedroom, four-bathroom luxury townhome! It has a modern open floor plan and vaulted ceilings, which only add the elegant and spacious feel.
This two-storey home has decks at the back of both levels, as well as a balcony attached to the dining room. Just in case you needed any more convincing, there's also a private 12 person Jacuzzi!
Snowcreek Resort is a four-star hotel that offers one, two, and three-bedroom apartments. All of the units also come with sofa beds in the living room to accommodate extra guests. As a guest at the resort, you also gain free access to the Snowcreek Athletic Club.
The club has two swimming pools, a massive gym, a steam room, and a variety of different guided classes, such as yoga. If you like to play golf, the cherry on top is that you also receive complimentary greens fees at the Snowcreek Golf Course!
Things to See and Do in Old Mammoth:
Hop on some horses and enjoy a family horseback riding tour.
Visit the Mammoth Museum, then go bowling next door at Mammoth Rock 'n' Bowl.
Try something new and go trampolining at the Mammoth Alpine Trampoline Club.
Hike to Devil's Postpile and Rainbow Falls.
Throw on some snowshoes and go for a winter hike.
Take a scenic ride on the Mammoth Mountain Gondola.
Dust of your rusty irons and play a round of 18 at one of the pristine golf courses.
Drive the Mammoth Scenic loop.
June Lake is an often-overlooked paradise hidden away about 20 minutes north of Mammoth. The majority of people who stay in Mammoth never visit June Lake, but that's an enormous mistake.
There's so much to see and do in this area that it's not only worth a day trip but worth an entire stay of its own! It's a beautiful natural playground where you will find not one, but four lakes surrounded by majestic jagged peaks.
In the warmer months, the lakes are perfect places to relax and spend the day. You can explore them on your own boats, or there are shops that rent kayaks, canoes, paddleboards, and motorboats.
If you're a fan of fishing, the lake is packed with fully grown trout and one of the best ways to spend a sunny day is by trying to catch yourself some dinner. Also, the east entrance to Yosemite National Park is only 30 minutes away and a day trip into the park is extremely doable.
If you are venturing on a West Coast Road Trip, June Lake makes for a great pit stop to fuel up and be at one with nature for a little while.
Part of the highly-rated Heidelberg Bed and Breakfast, this apartment is in the middle of the tiny town of June Lake. It comes with two bedrooms and can sleep up to six courtesy of a sofa bed. In addition, there's a hot tub and a game room on the grounds of the property.
The game room is a really cool space that has ping pong, pool, books, and multiple classic arcade games. The best thing about this apartment is no doubt the location though, as it's walking distance to everything.
Double Eagle Resort and Spa is a gorgeous hotel located at the bottom of the June Lake loop, close to Silver Lake. It has a great selection of accommodation options, varying from cozy rooms for two all the way up to a twelve-person family cottage!
Additionally, there's a hot tub, an indoor swimming pool, a delicious restaurant, and a spa offering a range of services. Furthermore, the property is absolutely enchanting, and if you are looking for a special place to tie the knot with your loved one they offer fabulous wedding packages.
Best Luxury home in June Lake: Large, beautiful home in June Lake Village
This giant four-bedroom house is wonderfully located right between June Lake and Gull Lake. It's walking distance to both lakes and if you want to stay as close to the water as possible you will be hard-pressed to find a better spot!
It's a two-storey home, with one bedroom upstairs and three-bedroom downstairs. The living room has an exquisite electric fireplace and mouth-watering mountain views. This is where to stay in June Lake if you are traveling as a family or large group.
Things to See and Do in June Lake:
Go kayaking, paddle boarding, canoeing, or motor boating on the lake.
Try your luck at fishing and see if you can catch some dinner.
Go to a festival. The June Lake Beer Fest and Jam Fest are the two most popular.
Hop in the car and drive the June Lake Loop.
Swim in the lake or tan on the beach on a sunny day.
Explore the many hiking trails near the lakes.
Visit Bodie State Historic Park and walk around the ghost town.
Don't Forget Travel Insurance for Mammoth
World Nomads' mission is to support and encourage travellers to explore their boundaries. They offer simple & flexible travel insurance, and safety advice to help you travel confidently.
They've been doing it since 2002 – protecting, connecting, and inspiring independent travellers just like you.
Get a quote below or read our in-depth review!
World Nomads provides travel insurance for travelers in over 100 countries. As an affiliate, we receive a fee when you get a quote from World Nomads using this link. We do not represent World Nomads. This is information only and not a recommendation to buy travel insurance.
While most people think of beaches when they conjure up images of California, Mammoth proves California has some pretty darn impressive mountains too! Regardless of the time of year, Mammoth is an out-of-this-world destination worth visiting!
It's the kind of place that keeps calling you back over and over no matter how many times you've been.
As you have seen, Mammoth has accommodation options for everyone, no matter what you are interested in or what your budget may be.
I hope that this guide has helped you decide where to stay on your next trip to Mammoth. Did you find what you were looking for? Let me know in the comments!
---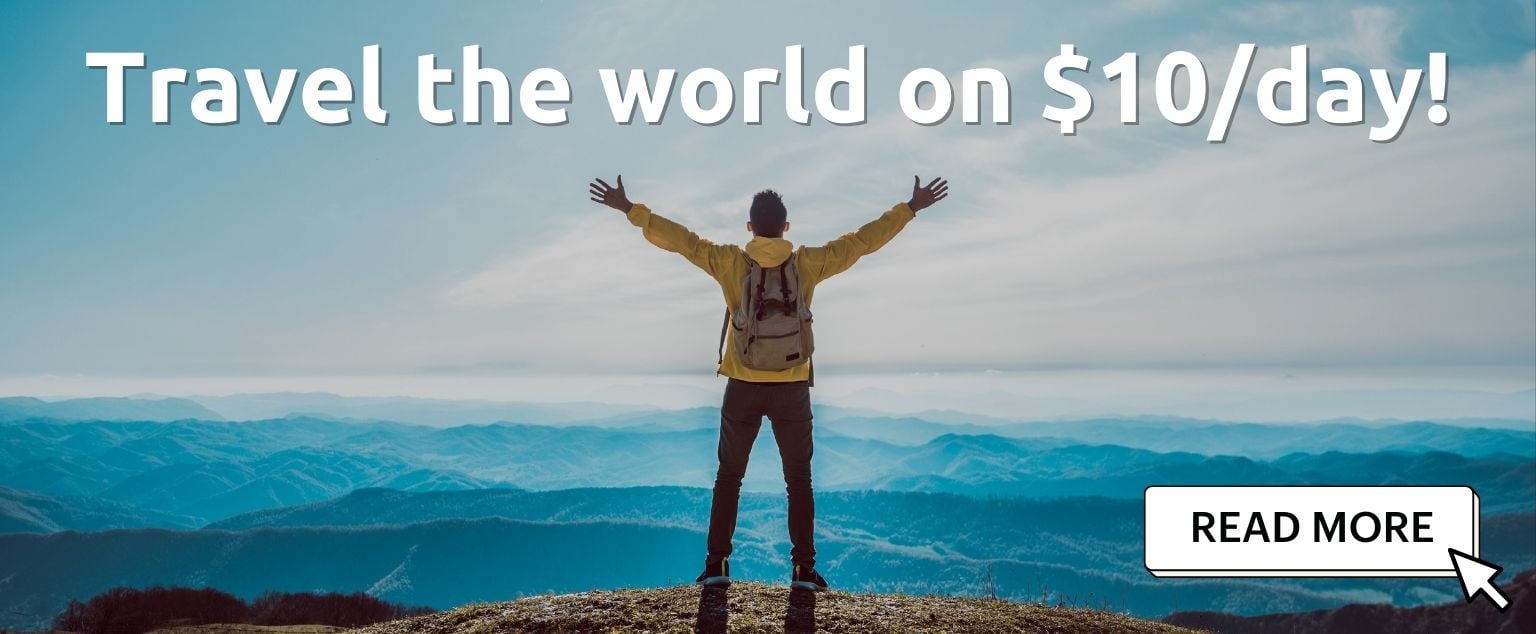 And for transparency's sake, please know that some of the links in our content are affiliate links. That means that if you book your accommodation, buy your gear, or sort your insurance through our link, we earn a small commission (at no extra cost to you). That said, we only link to the gear we trust and never recommend services we don't believe are up to scratch. Again, thank you!