Whether you need a break from a cold northern winter or a fun place for a summer family vacation, Florida is the place to go! With year-round warm weather, fantastic beaches as well as world-famous entertainment options, there are endless opportunities for any vacationer.
Of course, there are no shortage of hotels to choose from, but why not try something new by finding unique accommodation in Florida? It's a chance to make your vacation a little more special and experience a side to Florida that you would probably miss otherwise!
To give you some ideas about where to stay, we've put together this list of the best treehouses and cabins in Florida. Whether you're a budget backpacker or perhaps you're traveling with your family, we've included a variety of properties so everyone can find a place just right for them.
In a Hurry? Here's Where to Stay in Florida for One Night
FIRST TIME IN FLORIDA
Treehouse Canopy Room on Permaculture Farm
Enjoy a peaceful (and budget-friendly) treehouse conveniently located in Miami. You'll love the outdoor activities including biking or boating, or simply relax while watching the farm animals and listening to the birds.
Places to visit:
South Beach
Art District
Jungle Island
Is this amazing Florida treehouse booked for your dates? We've got your back with our other favorite properties below!

Unlock Our GREATEST Travel Secrets!
Sign up for our newsletter and get the best travel tips delivered right to your inbox.
Unique Accommodation in Florida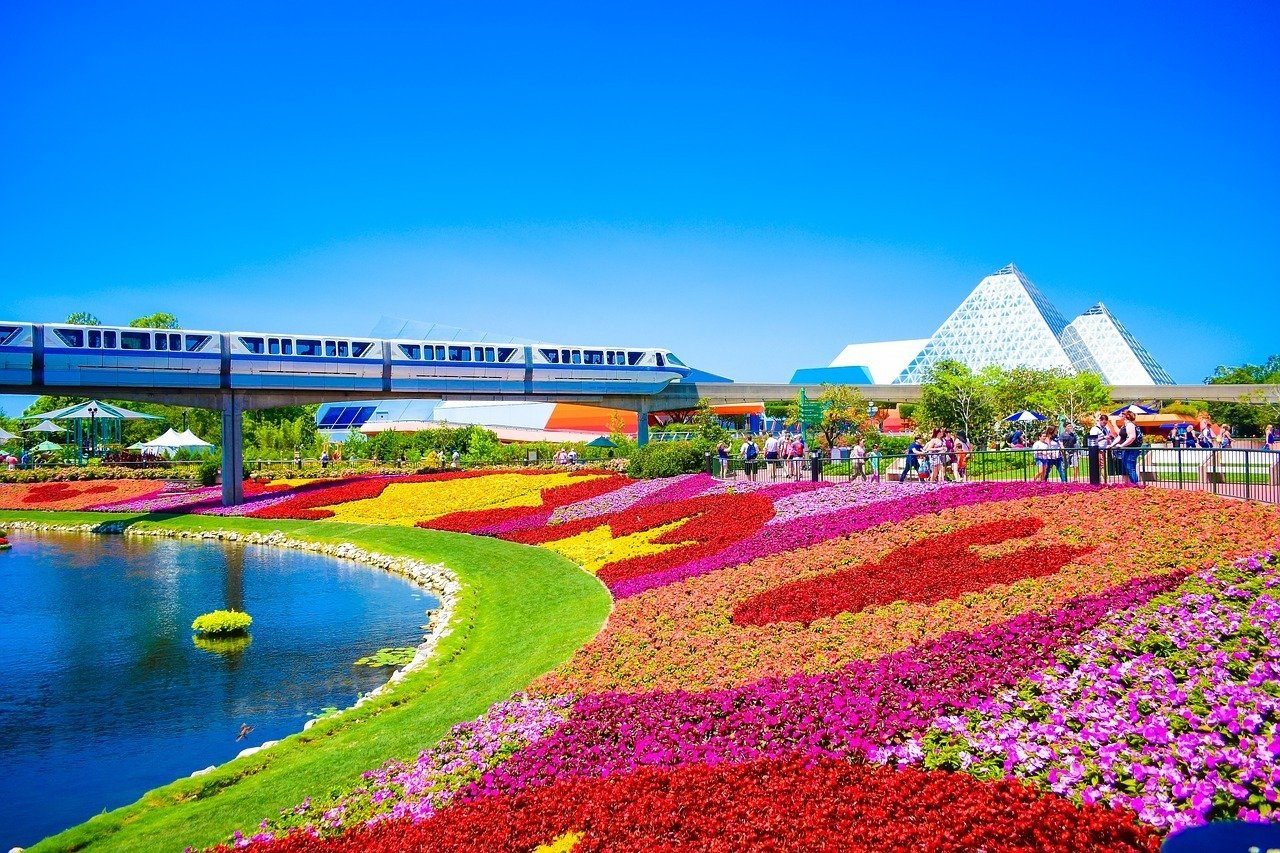 Florida may be famous for its Disney resorts and beach-side villas, but these options tend to rack up expenses quickly. Plus, they are always in crowded tourist areas, which can be packed and crazy busy during the summertime!
Staying at a cool treehouse or cabin in Florida is a way to appreciate the natural beauty of the state and discover some of the lesser-known sites. At most of these properties, you can enjoy a quieter setting, whilst still having easy access to city activities and attractions.
Most treehouses and cabins are geared toward people who enjoy camping and being in the outdoors, but many properties also have awesome modern amenities. The cheaper options tend to be a bit more rustic, but you can also find great budget places that still have hotel-style comforts.
Since Florida is known for its year-round hot, sunny weather, most cabins and treehouses are open the entire year, although summer tends to be the busiest season. It's a good idea to plan your vacation in advance and make a reservation since many of the best treehouses and cabins can fill up quickly!
Staying in a Treehouse in Florida
If you've ever had the childhood dream of sleeping in a treehouse, then your vacation to Florida might just be the perfect opportunity to make this dream a reality. There's a range of cool treehouses from basic camping experiences to high-end modern spots to add a unique twist to your trip.
Since treehouses require a lot of maintenance, the more modern the property is, the higher the price will be. Just because you're staying in a treehouse, it doesn't mean that you have to give up comforts like electricity, Wi-Fi, running water, or TV.
However, if you prefer a more rustic and close-to-nature experience, you can easily find a budget treehouse in Florida which will provide a "glamorous camping" experience. Instead of staying in a tent, you'll be up among the treetops with panoramic views and only a stone's throw away from some of the best parks and natural wonders of Florida.
While many treehouses in Florida have a more remote location, they are easily accessible by car. Plus, even though the treehouse may feel secluded, it's usually only a short drive to the nearest town or city for you to pick up supplies or find fun entertainment options.
Staying in a Cabin in Florida
Cabins are a great choice if you're looking for accommodation that combines hotel-quality comforts, privacy, and a more natural setting. You'll usually have the entire cabin to yourself, so you won't have to worry about bothersome neighbors or other guests!
Most cabins have a more remote setting but aren't very far from cities or town conveniences. Driving your own vehicle is the best form of transportation in Florida, but many cabins have good options for public transportation, or Lyft and Uber services.
Since cabins vary quite drastically in size, it's easy to find small studio-style properties better for just one or two people or big multi-story cabins for large groups, families, or retreats. Depending on the property, some cabins charge a flat rate while others charge per person, which could make a difference if you're looking for the best budget cabin in Florida.
Depending on just how "close to nature" you want to get, there are some really cool camping-style cabins if you particularly enjoy outdoor activities, hiking, and nature watching. However, most cabins come equipped with homey amenities like kitchens, Wi-Fi, TVs, and sometimes extra touches like swimming pools or hot tubs!
Whether you want a luxury trip or a quiet nature retreat, cabins are well-suited for a variety of travel styles. Plus, since most cabins are family-owned you can get local advice about what to see and do in the area instead of just following the travel brochures.
THE OVERALL BEST TREEHOUSE IN FLORIDA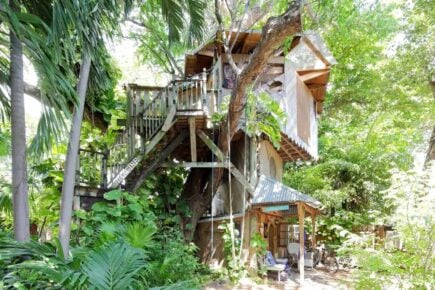 THE OVERALL BEST TREEHOUSE IN FLORIDA
Treehouse Canopy Room on Permaculture Farm
> $
> 2 Guests
> Kitchen
> Incredible setting
THE BEST BUDGET TREEHOUSE IN FLORIDA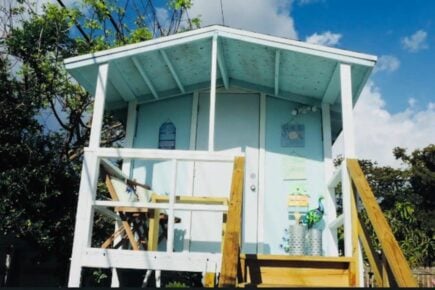 THE BEST BUDGET TREEHOUSE IN FLORIDA
Cutler Bay Treehouse
> $
> 2 Guests
> Firepit
> Hot tub
THE BEST BUDGET CABIN IN FLORIDA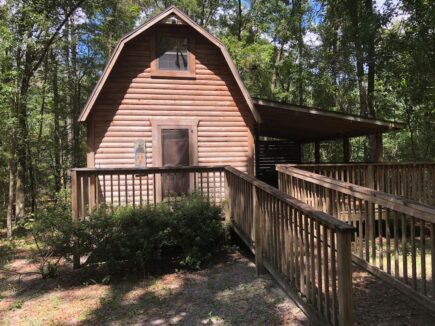 THE BEST BUDGET CABIN IN FLORIDA
Three Rivers Private Retreat
> $
> 4 Guests
> BBQ grill
> Close to a spring
THE BEST TREEHOUSE FOR COUPLES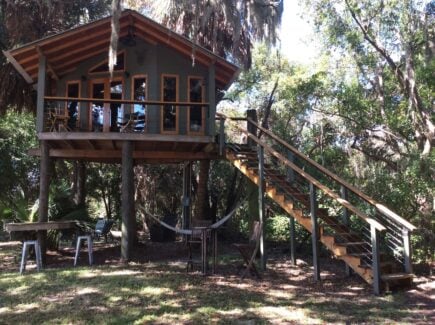 THE BEST TREEHOUSE FOR COUPLES
Paradise in the Woods
> $$
> 2 Guests
> AC and heating
> Fully equipped kitchen
THE BEST TREEHOUSE FOR A GROUP OF FRIENDS
THE BEST TREEHOUSE FOR A GROUP OF FRIENDS
The Treehouse Cabin Retreat
> $$
> 9 Guests
> Wi-fi
> Campfire pit
OVER-THE-TOP LUXURY CABIN
OVER-THE-TOP LUXURY CABIN
Florida Keys Cabin with Private Beach
> $$$$
> 8 Guests
> King and queen beds
> Private beach
THE BEST CABIN FOR FAMILIES VISITING FLORIDA
THE BEST CABIN FOR FAMILIES VISITING FLORIDA
Rainbow River Getaway
> $$
> 9 Guests
> Kitchen
> Golf cart
The Top 15 Treehouses and Cabins in Florida
Now that you have an idea about what to expect when you stay at one of the best treehouses and cabins in Florida, check out our top picks for unique accommodation! All these spots are perfect ways to turn a regular vacation into a special and unforgettable trip.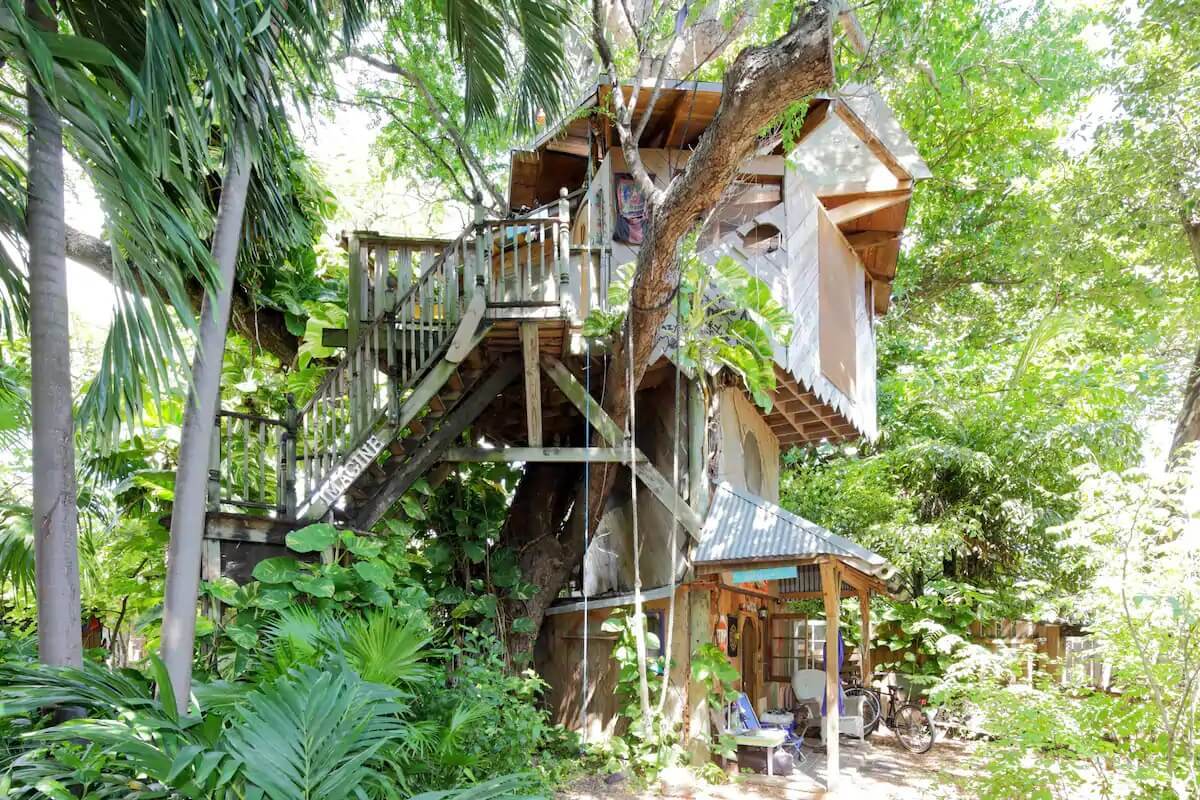 $
2 guests
Kitchen
Incredible setting
Located in a residential area of Miami, you'll be surprised to find this peaceful little oasis surrounded by nature yet close to downtown attractions. The cozy treehouse is equipped with a hot water shower, a shared kitchen, and even a laundry.
You can rent equipment like kayaks and bicycles for a small fee and also enjoy the farm animals and seasonal produce items available onsite! It's the perfect combination of natural beauty and easy access to all the top attractions in the Miami area.
Just 30 minutes from the Miami Airport, this cute little treehouse is a great home-base for exploring either top attractions of Miami or going on adventures in the Florida Keys. Plus, you'll have access to awesome shared amenities like a hot tub pool, fire pit and swimming pool!
It's easy to travel to the city, or you can just relax and read your favorite book in the hammock. Great restaurants are easy to find in the area, or you can have a cook-out in the grill area or prepare your own meal in the outdoor kitchen to save money.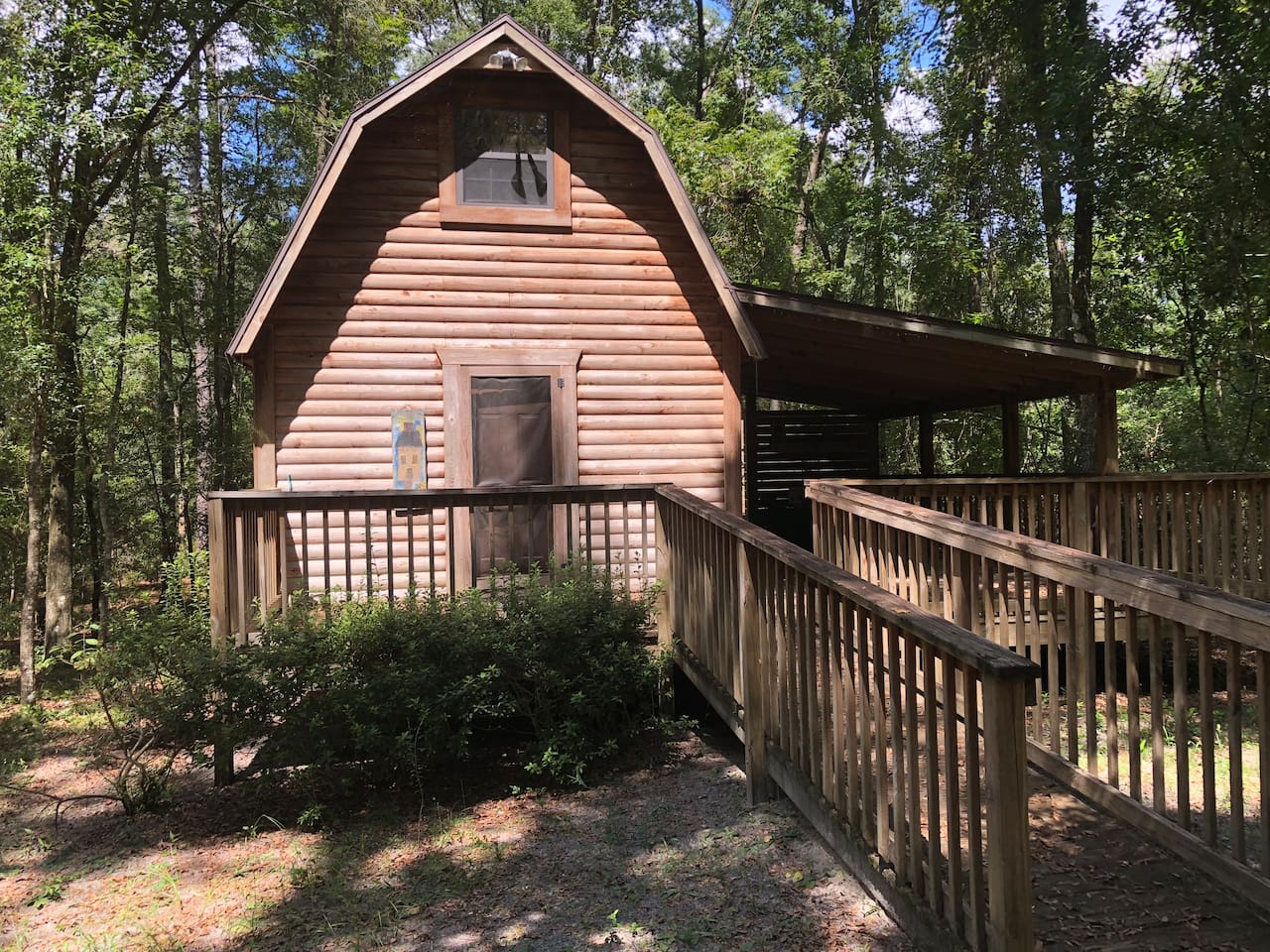 $
4 guests
BBQ grill
Close to a spring
A great balance of home luxury and natural beauty, this cozy riverside cabin is perfect for outdoor enthusiasts. Nearby are numerous parks and recreation areas such as the Blue and Poe Springs along with the Ichetucknee Spring Park which are both perfect for hiking, biking, and boating.
Although the cabin has a secluded feeling, it's not far from town conveniences and cool antique stores. For people interested in spotting some of the famous wildlife of Florida like deer, owls, and even manatees, then this is the place to be!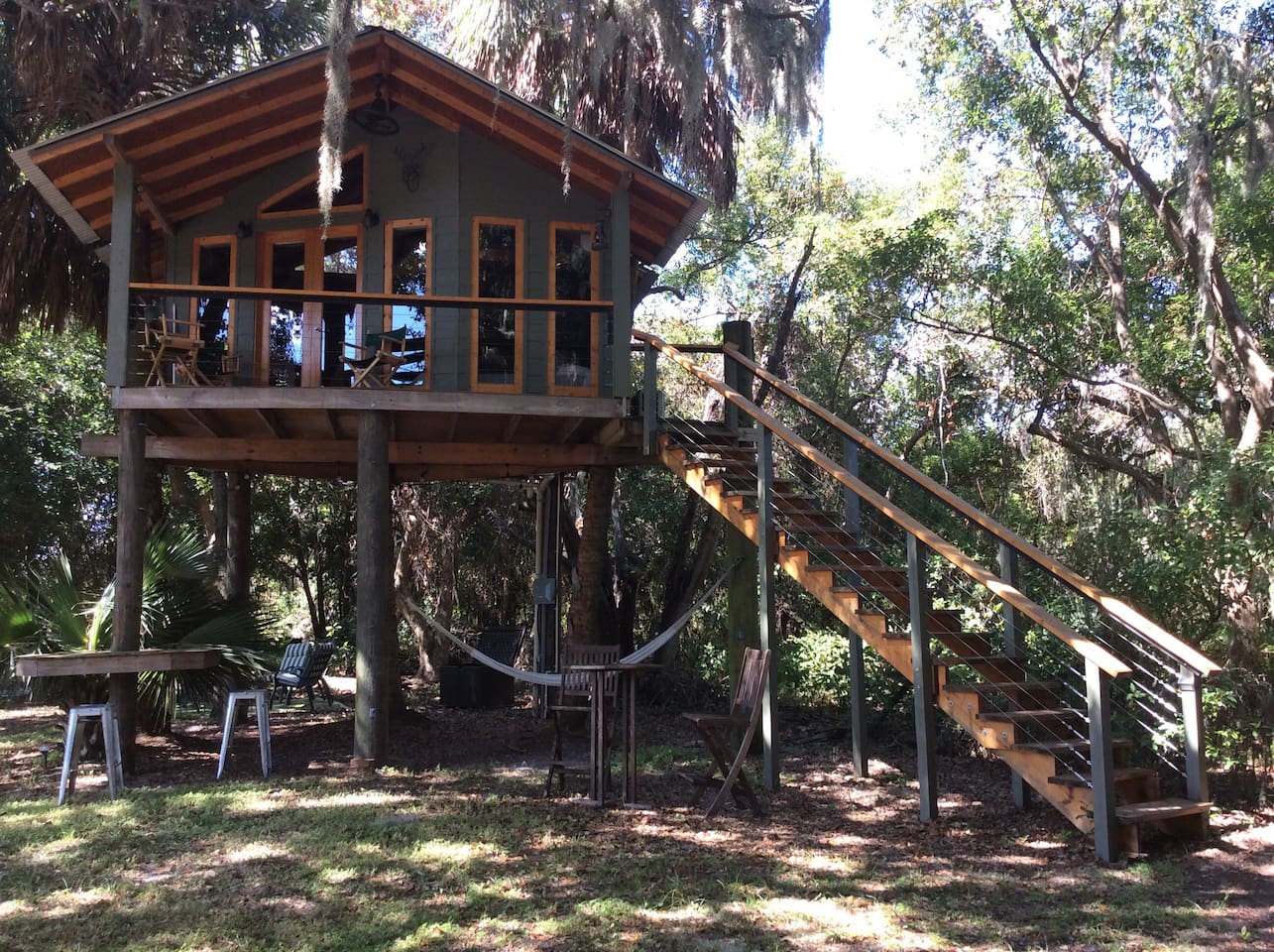 $$
2 guests
AC and heating
Fully equipped kitchen
At this charming treehouse, you can enjoy a peaceful and secluded woodland retreat while still being within easy driving distance from the best activities in Orlando including the famous theme parks of Florida. And even though you're surrounded by nature, the treehouse is equipped with modern, hotel-quality amenities.
There's free parking so you can easily drive half an hour to see the top attractions of Orlando or to the airport which is only about 15 minutes away. You'll feel worlds away from the city when you're at the treehouse though, thanks to the amazing natural beauty.
An Eco-Friendly Traveller NEEDS an Eco-Friendly Backpack!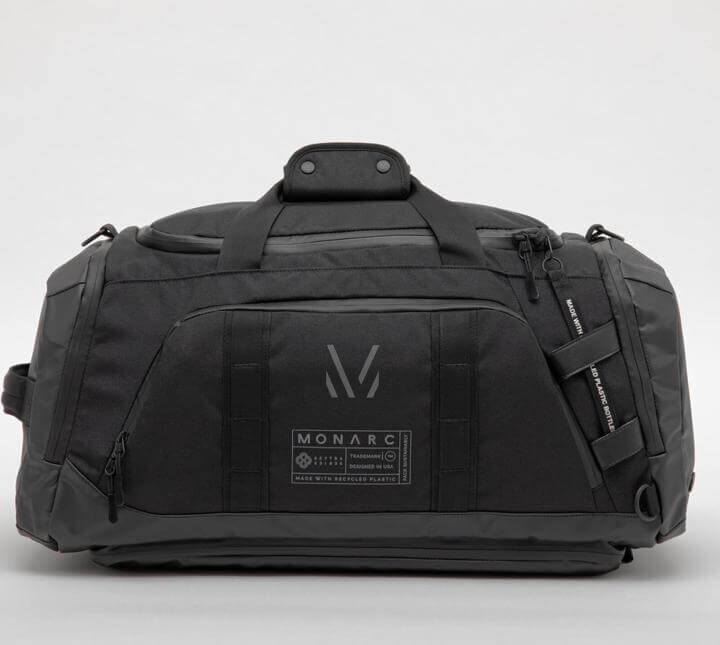 50 recycled plastic bottles – that's what goes into every Monarc Settra: the world's MOST SUSTAINABLE backpack.
Whether you're rocking duffel mode or backpack mode, if you're a traveller that gives a flying hoot about their environmental impact, then there's only one backpack you should consider – the plastic-negative Monarc Settra.
Learn More Now!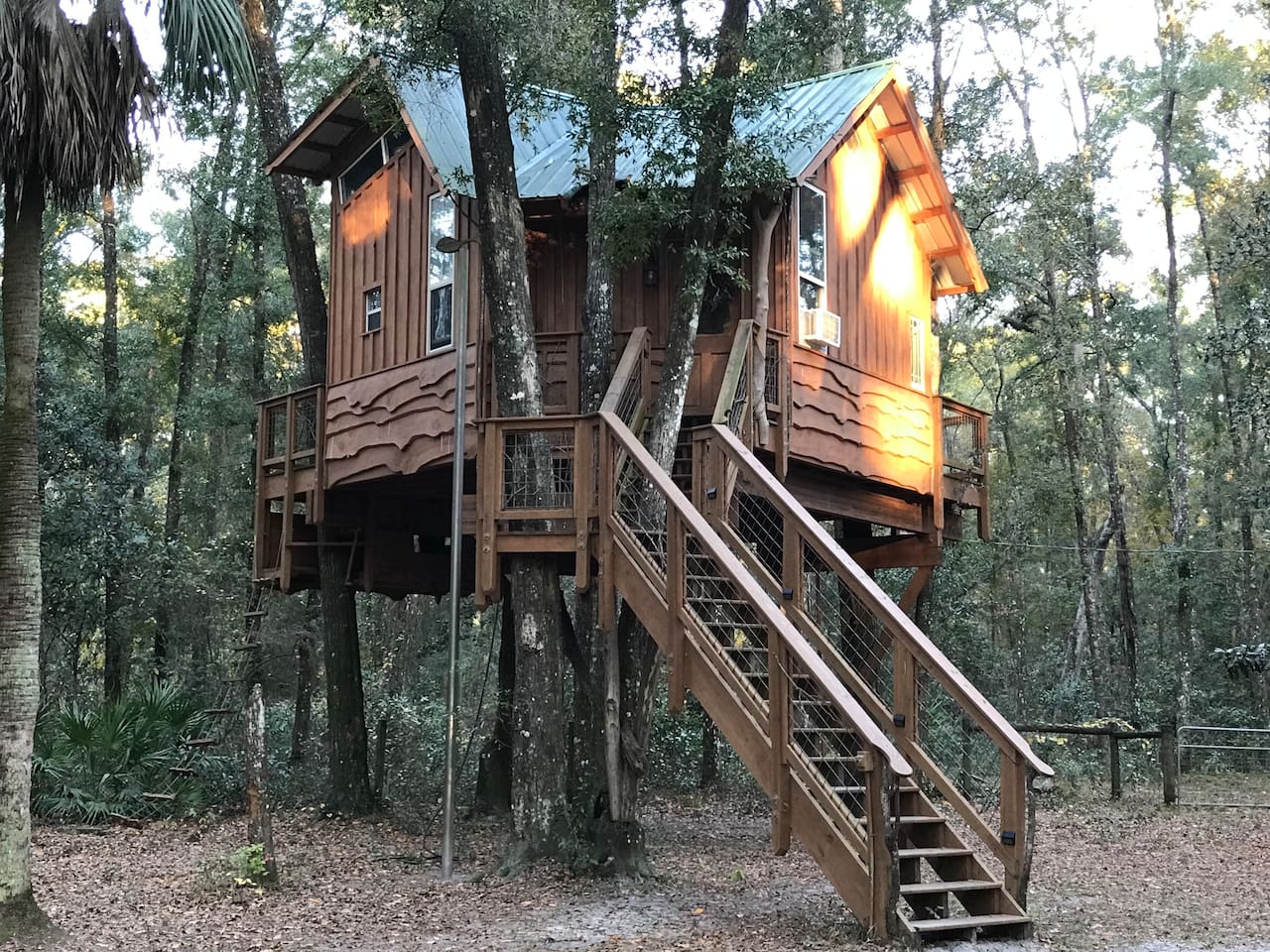 $$
9 guests
Wi-fi
Campfire pit
With three bedrooms, a kitchen space, Wi-Fi, and an outdoor campfire, this sweet treehouse in Florida is equipped for great adventures with your friends! Not only is the treehouse furnished with homey comforts, but it is also surrounded by nature, so you'll certainly spot some wildlife.
Nearby there are endless options for fun outdoor activities like boating, fishing, hiking, or even scuba diving! Several popular parks like the Manatee Springs State Park are within driving distance, as well as town conveniences and great restaurants like the Cottage Cafe.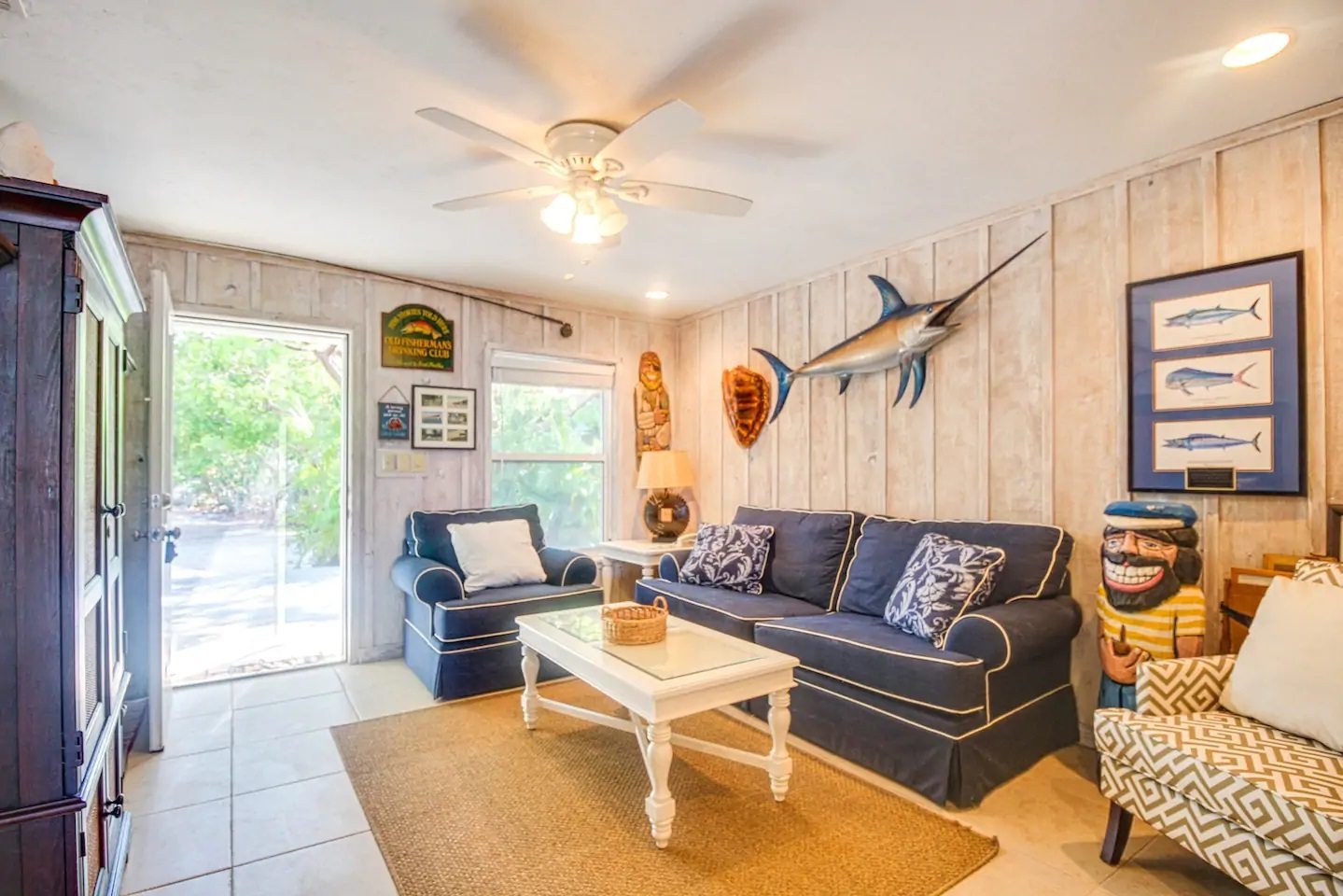 $$$$
8 guests
King and queen beds
Private beach
Enjoy your own private patch of paradise on the southern tip of Florida at this incredible beachfront accommodation in the Florida Keys. Cook up a storm in one of the two (yes, two!) kitchens, enjoy an al fresco dinner using the outdoor dining furniture, or just chill and watch your favorite shows.
Long Key State Park is right next door, or if you want more privacy, you can stay on your own little section of beach at the cabin. There are endless options for fun activities like scuba diving, kayaking, or just relaxing on the sand – anything under the bright Florida sun!
The Best Cabin for Families visiting Florida – Rainbow River Getaway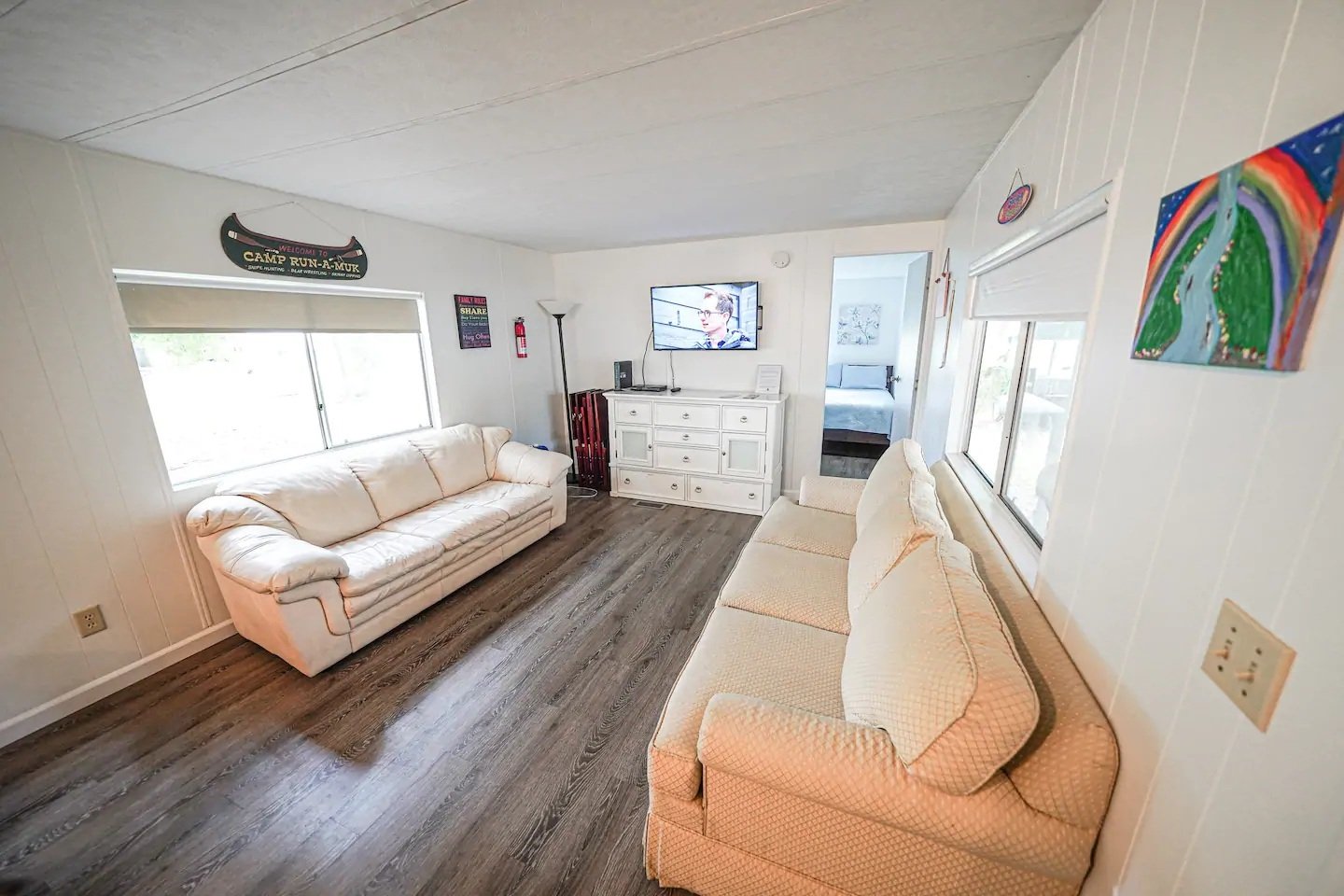 $$
9 guests
Kitchen
Golf cart
A place where family memories are bound to be made, this charming cabin is great for families of all sizes! Equipped with home-style comforts like a smart TV, kitchen, fire pit, hammock, and picnic area, there's everything you need to keep kids occupied and entertained.
You'll only be two blocks away from the river where you can rent canoes or inner tubes for days splashing in the sun, plus there's space available to keep your own boat if you decide to bring it along! At the end of the day, you can build a campfire, roast s'mores, or watch your favorite movies before going to bed.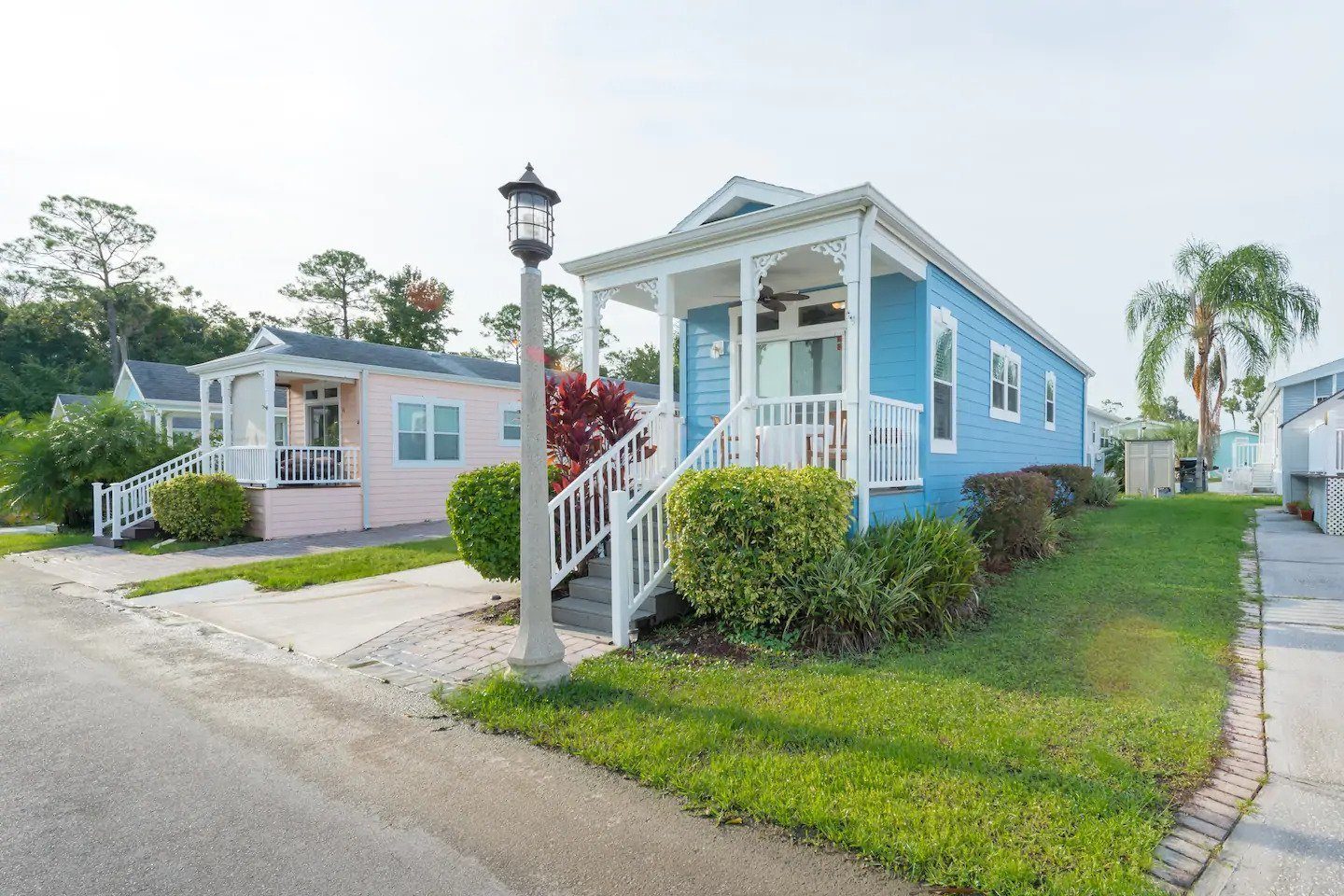 Close to the top tourist attractions of Florida including Disney and Universal Studios, this charming cabin is the perfect spot to base your backpacking trip! With two bedrooms, a kitchen, and a laundry area, it's no wonder why this is one of the best budget cabins in Florida.
It's located in a quiet neighborhood where you'll have a peaceful place to relax at the end of the day, but it's also close to great nightlife and music venues. Since the cabin is part of a larger resort property, you'll also have access to a pool, playground, artificial lake, and a picnic area.
$
3 guests
Spectacular setting
Outdoor seating area
For nature enthusiasts, this charming waterfront cabin will feel like a peaceful haven during your trip to Florida. You can expect to see lots of wildlife including birds, deer, and potentially even an alligator!
Even though the cabin is more remote, you can still enjoy homey comforts like Wi-Fi, laundry, and an equipped kitchen. There's also a lovely outdoor fire pit which is the perfect place to hang out in the evening after a day of exploring the numerous parks nearby.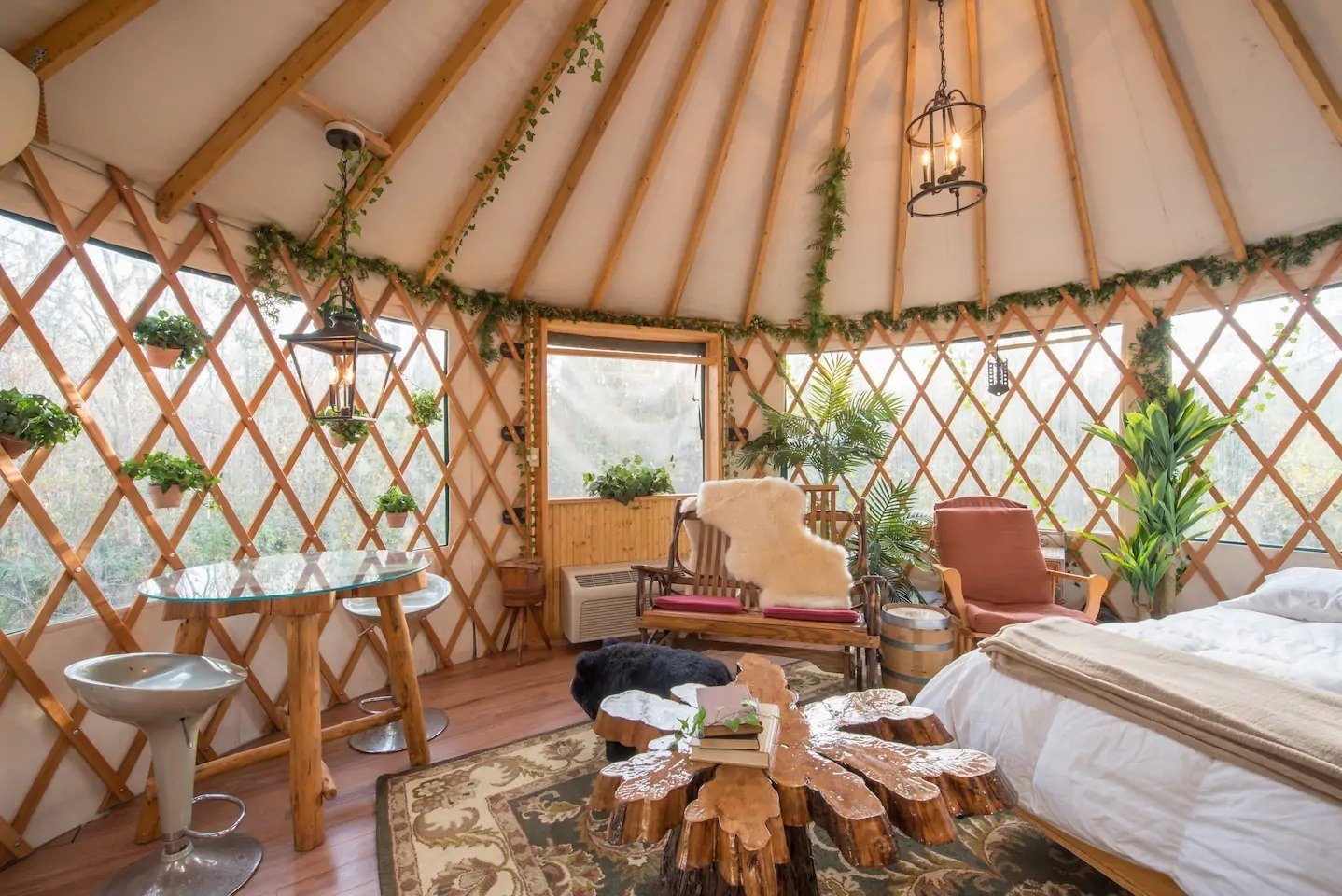 $$
2 guests
Hot tub
Outdoor porch swing
This colorful and luxurious treehouse in Florida puts you on the high ground for your vacation! You can relax in the hot tub, enjoy the views from the porch, or ride around in the golf cart which will be provided for use during your stay.
The treehouse is surrounded by old oak trees and has large windows for you to take in the view. There are plenty of restaurants and grocery stores nearby so you can choose to cook your own meals or have an evening cookout at the campfire pit.
$$
6 guests
Equipped kitchen
Riverside location
With huge floor to ceiling windows and surrounded by old oak trees and wildlife, the Nature Lodge is the place to be for beautiful views. The cabin is a bit more remote and only accessible by a gravel path, but town amenities aren't far away if you need groceries or supplies.
In the cabin, you'll have a fully equipped kitchen, fireplace, and tvs for entertainment. It's possible to launch kayaks and canoes right from the backyard so you can explore the waterways and awesome swimming spots in the area.
$$
2 guests
Hot Tub
Bikes for use
This unique treehouse was constructed around a tree, meaning that branches will be inside the bedroom! With a hot tub, large garden, and free bikes to use, there is plenty to see and do during your stay.
The treehouse is located on Kokomo Farms where you can meet the barnyard animals, feed the horses, or go for walks in large grassy areas. It's just a short drive to pick up supplies at the nearest town, or you might just want to relax in the hammocks to take in the view!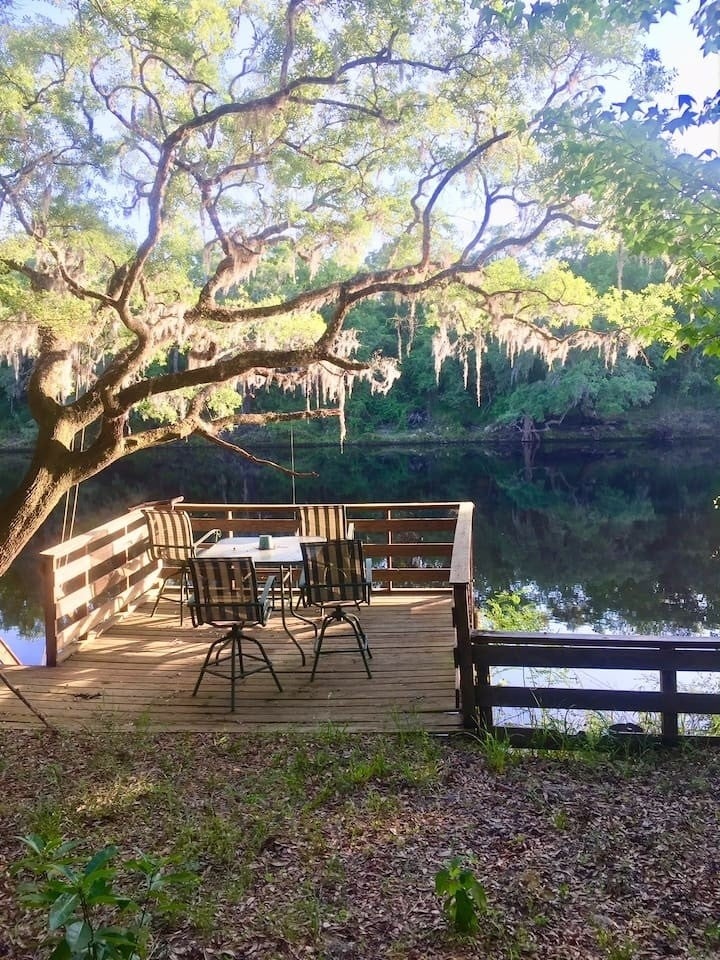 $
4 guests
Stunning deck
Kayaks
Located right next to the Suwannee River with kayaks included for you to explore the waterways, the beautiful setting of this cabin is practically unbeatable! Not only are you surrounded by nature, but you can also enjoy luxury comforts like air conditioning and a hot tub.
The cabin has a remote feel and wildlife visitors like deer, birds, and raccoons are common. If you need to pick up supplies or stock-up on ingredients for a BBQ dinner on the grill, the nearest town is just a mile down the road.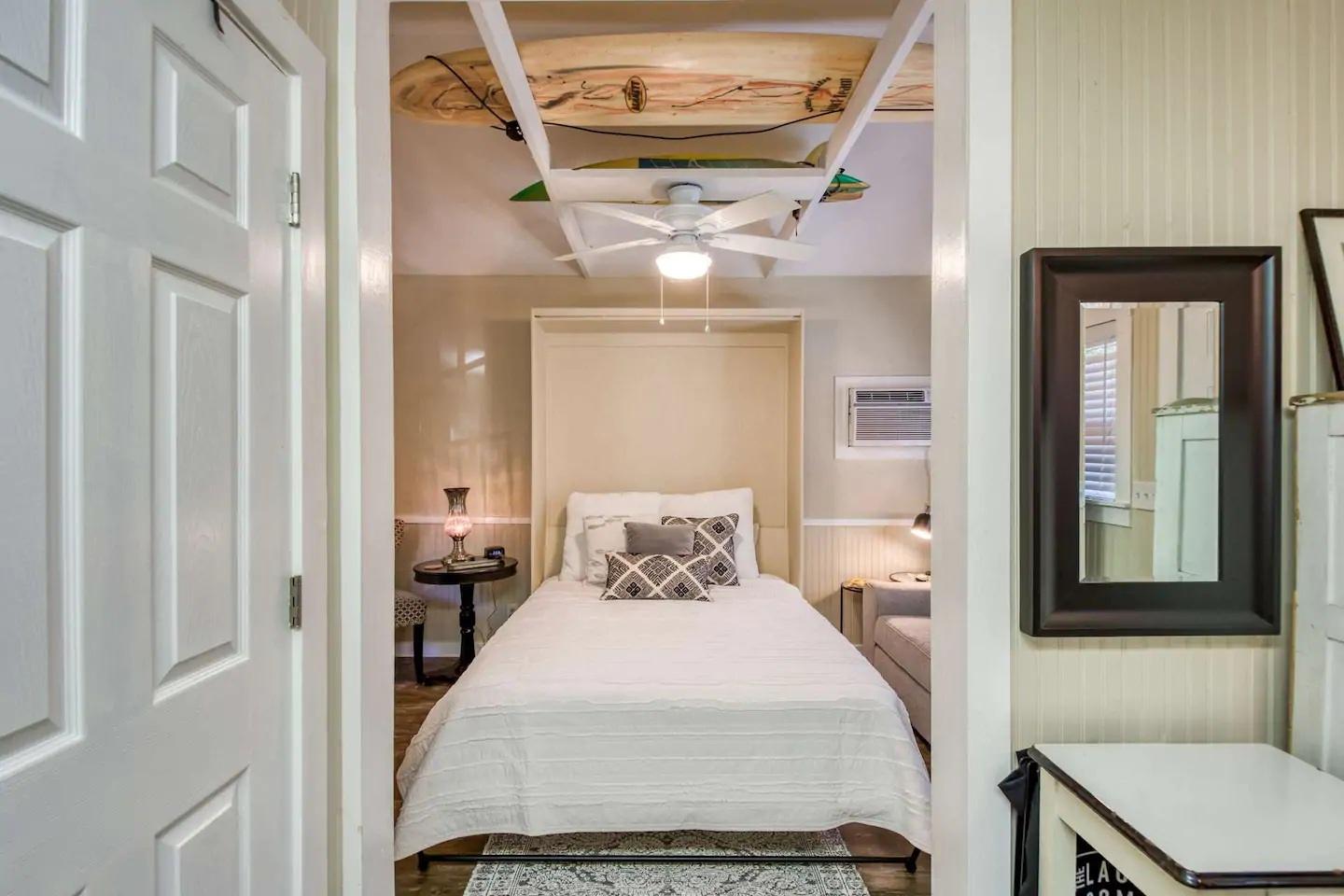 $$
2 guests
Air conditioning
Screened porch
A cozy and romantic cabin right on the Tolomato River, the Tin Shed Revival Cabin has a rustic vibe with great modern amenities. There's AC so you can cool off during hot Florida afternoons, fun antique decorations, and an equipped kitchen where you can prepare your meals.
From the property, it's only a 6-minute walk to Vilano Beach where you can relax and spend as much time as you'd like on the sand. At the end of the day, you can check out one of the great restaurants on the Vilano Beach Pier, or enjoy a BBQ dinner on the gas grill at the cabin.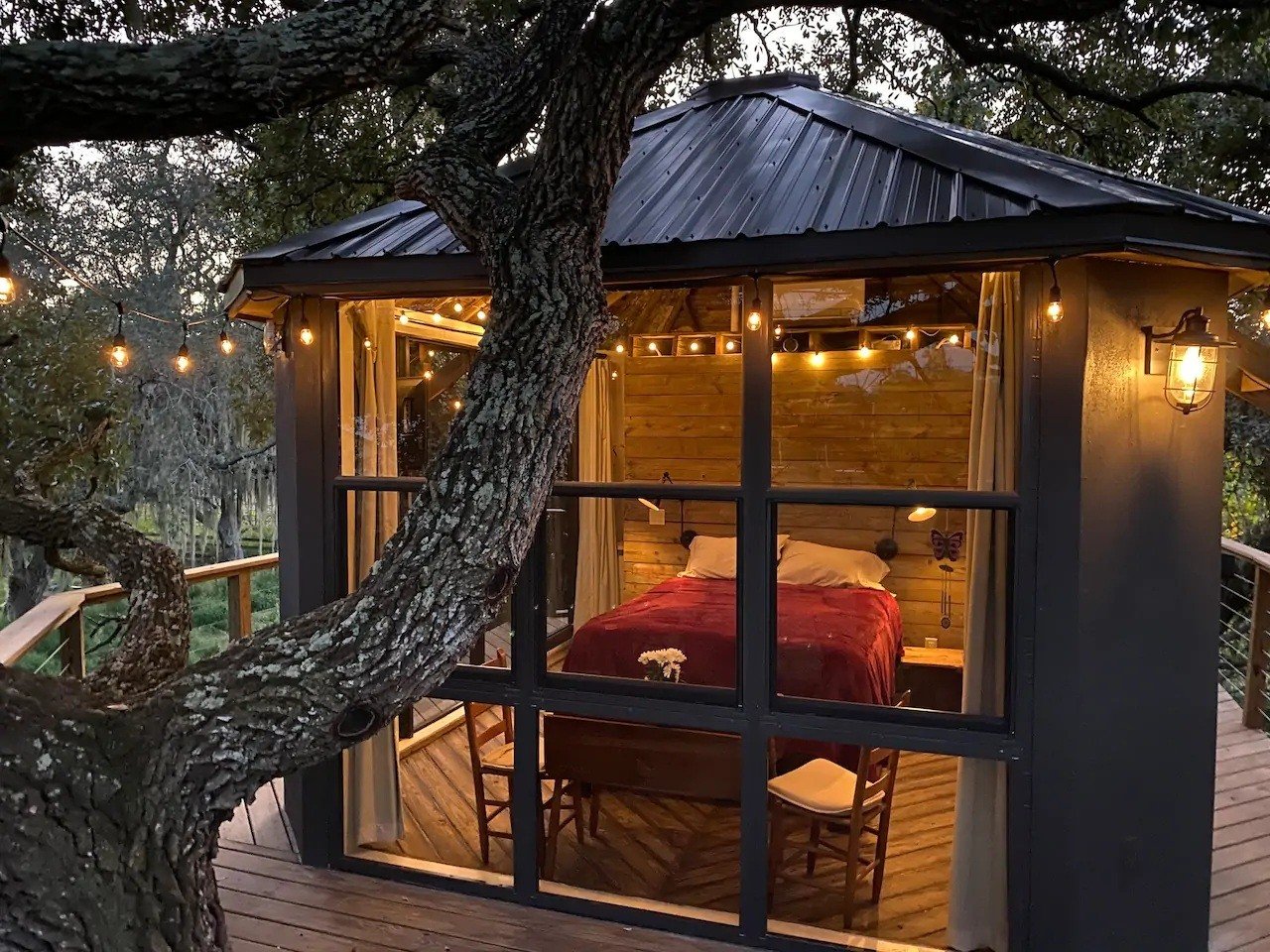 $$
2 guests
Wrap-around deck
Breakfast included
To enter this awesome treehouse in Florida, you can either climb up a staircase or a fixed ladder which leads to a gorgeous deck with spectacular views. In the common space, there is a fire pit where you can roast s'mores or simply relax at the end of a day exploring.
The treehouse is equipped with basic kitchen amenities, breakfast ingredients, and carrots so you can make friends with the horses that roam the area. You'll have a peaceful, countryside location, whilst still being within easy driving distance from town conveniences. It's also one of the best Airbnbs in Florida.
Check out these other great resources
We have loads more information to help you plan your trip.
FAQ about Treehouses and Cabins in Florida
Here's what people usually ask us when they look for vacation homes in Florida.
Don't Forget Your Florida Travel Insurance
ALWAYS sort out your backpacker insurance before your trip. There's plenty to choose from in that department, but a good place to start is Safety Wing.
They offer month-to-month payments, no lock-in contracts, and require absolutely no itineraries: that's the exact kind of insurance long-term travellers and digital nomads need.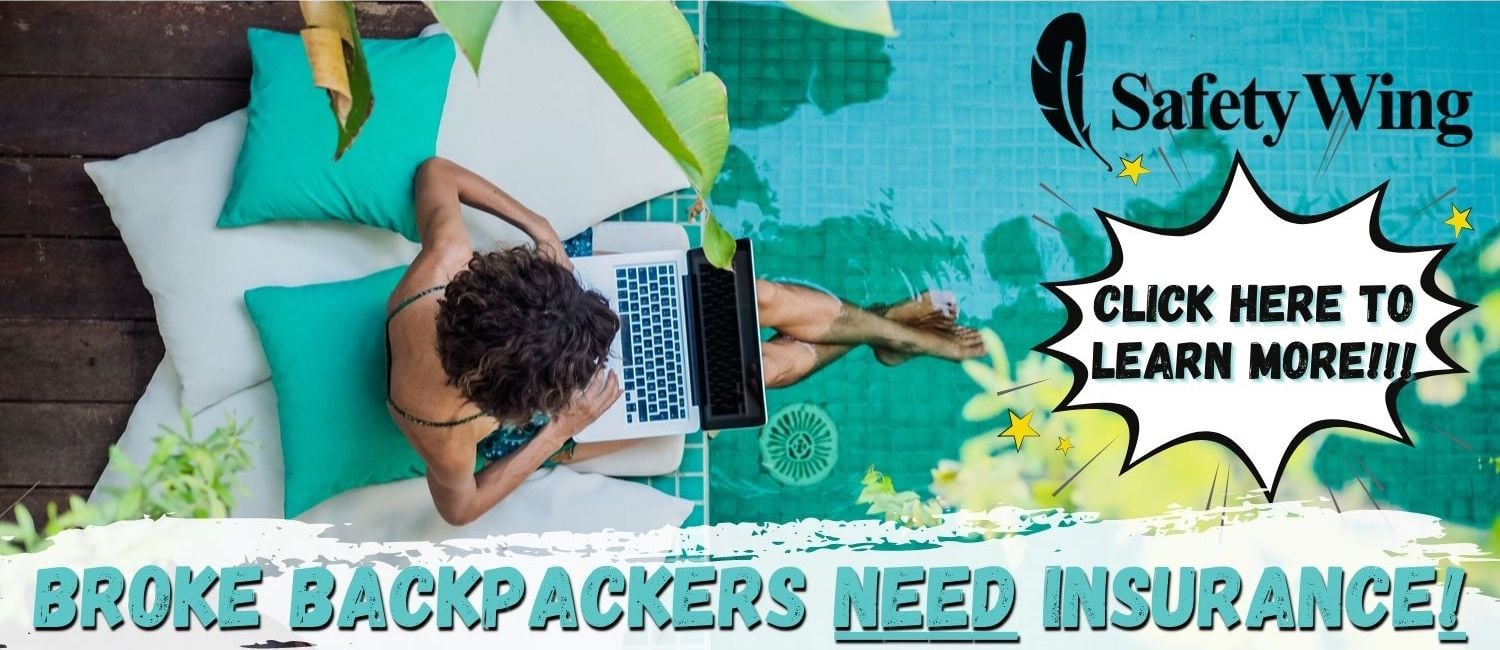 SafetyWing is cheap, easy, and admin-free: just sign up lickety-split so you can get back to it!
Click the button below to learn more about SafetyWing's setup or read our insider review for the full tasty scoop.
Final Thoughts on Treehouses and Cabins in Florida
Whether you're planning an extended retreat or just passing through for a short vacation, finding unique accommodation in Florida is a great way to add a special touch to your trip. Perched in a treehouse or relaxing in a cabin, you can enjoy the amazing natural vibes of the state.
Hopefully, after looking through our list of the best treehouses and cabins in Florida, you have plenty of ideas for where to stay during your vacation! From families to budget backpackers, there's a cool place for everyone who wants to experience a more local side of Florida.
---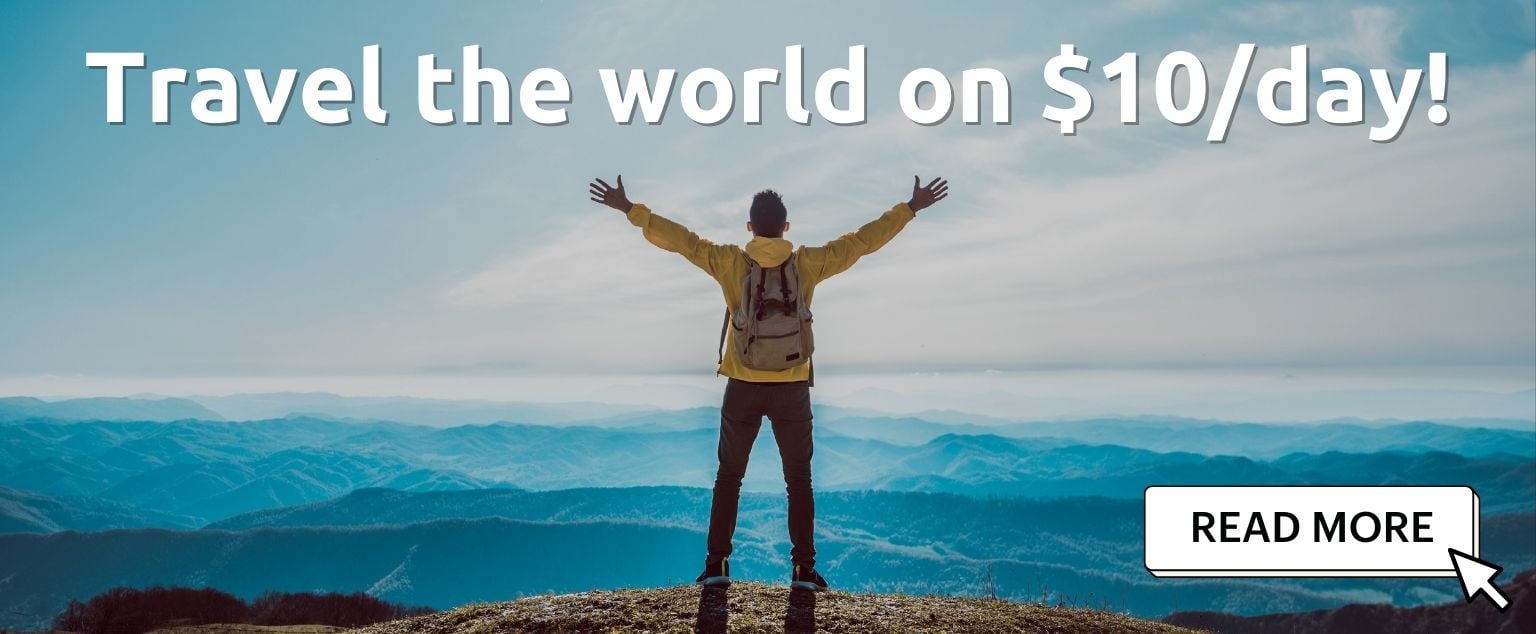 And for transparency's sake, please know that some of the links in our content are affiliate links. That means that if you book your accommodation, buy your gear, or sort your insurance through our link, we earn a small commission (at no extra cost to you). That said, we only link to the gear we trust and never recommend services we don't believe are up to scratch. Again, thank you!