Orlando in Florida is a world famous family holiday destination and each year, millions of visitors flock here from all over the world. The big draws are of course the mega theme parks like Disney World and Universal Studios which delight kids and big kids alike.
In addition to Mickey Mouse and Roller Coasters, there is of course the Kennedy Space Center and even Legoland are here too. So yes, there are loads of things to do in Orlando and the only challenge is having the time, energy and money to fit them all in.
But what else does Orlando offer? Well, if you're looking for some unusual things to do in Orlando, we're here to help. We've found the weird and wonderful, the hipster, the unique, and the plain cool stuff to do in this amusement park city. We've also scouted out some free things to do in Orlando in case you blow your budget at Universal Studios and have also listed some romantic things to do for couples who no longer wish to be surrounded by excited children.
Top Things to Do in Orlando
OK so we're gonna start with the giant pink elephant in the room and look at the obvious, popular, perpetually crowded but altogether awesome things to do in Orlando.
It wouldn't be a trip to Orlando without checking out one of its many amusement parks. Universal Studios is one of them and, for us at least, one of the better ones. Getting to go on adrenaline-rush rides themed on your favourite movies? Yes please.
You'll find a load of the best rides in the Islands of Adventure zone, get cool off in Volcano Bay – the water theme park, be literally in heaven in the Wizarding World of Harry Potter, visit the literal Simpsons Home, and see one of a plethora of amazing shows. It's a quintessential thing to do in Orlando. An actual must.
We strongly advise you to buy your tickets' in advance – as far as you can, especially of you are visiting in summer or when school is out.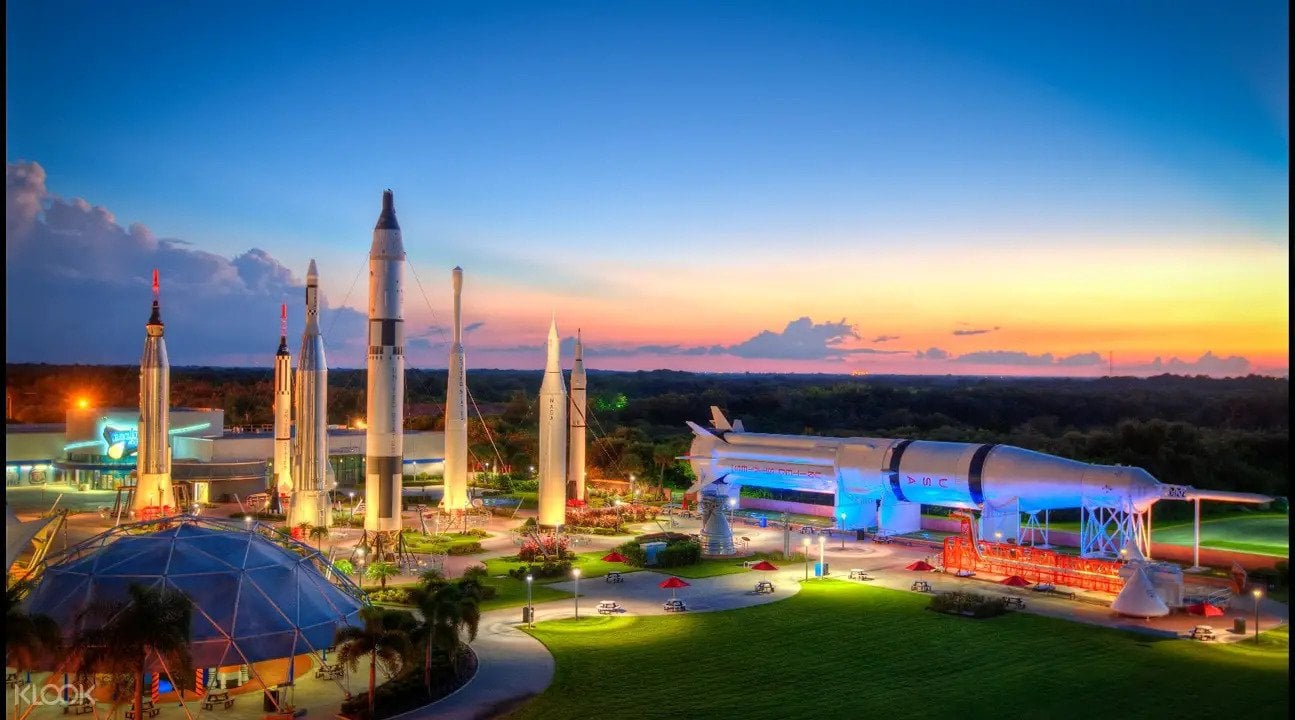 Kennedy Space Center is the place to go when you're staying in Orlando. Granted, it's 60 miles outside of the city itself, but trust us: it's worth making the trip to see the centre of American space exploration for yourself.
Here you'll get to look at their historic collection of rockets and shuttles, experience what it's like in a simulated shuttle launch, and even get to see the iconic launchpad itself. This globally famous location is one of the most popular things to do in Orlando, but if you're at all into the idea of space travel or seeing some awesome slices of history, we think you'll love it here.
If you're lucky you may even to watch a rocket blast-off. There are not many space launches these days but it's totally, utterly, truly still worth the visit.
FIRST TIME IN ORLANDO
Southwest Orlando
Southwest Orlando is one of the most popular tourist destinations in the city. It's where you'll find a handful of world-famous theme parks, including Universal Studios, Epcot and Walt Disney World, and many others.
Places to visit:
Learn all about bones at the SKELETONS: Museum Of Osteology
Satisfy your sweet tooth at Beaches & Cream Soda Shop
See wax statues of your favourite celebrities at Madame Tussauds Orlando
For more Places to Stay, check out our full Orlando Neighborhood Guide!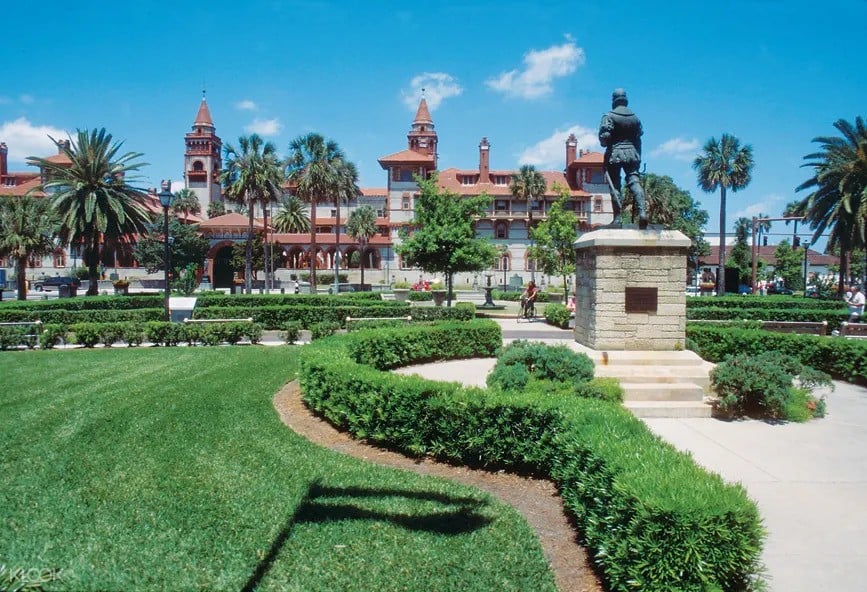 The popularly accepted historical narrative states that the first European colonisers of North America arrived from England to Plymouth, Massachusetts in 1620. However, the Spanish may disagree with that for apparently it was here, in St. Augustin, where Spanish explorer Ponce de Leon landed in 1513. Visiting where it all (supposedly) happened makes for a pretty interesting day trip from Orlando.
Founded in 1565 the city of St. Augustine is naturally filled with colonial Spanish architecture from back in the day, as well as a fortress; there's even a colonial quarter. There is also a fresh water spring said to be the one mentioned by Ponce de Leon in his writings. See the mission, see the churches, step through the city gates back in time.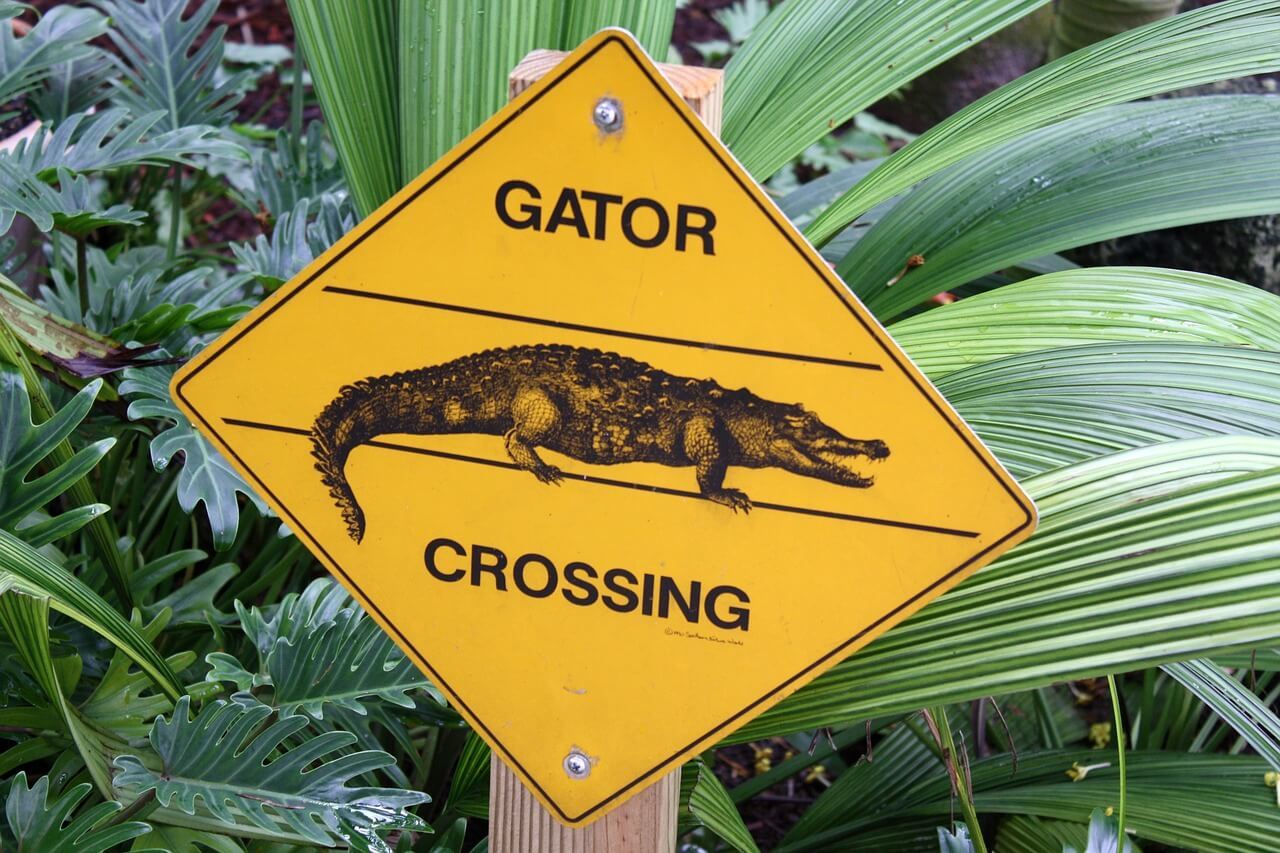 This is your chance to see 'gators in the wild, people. The Everglades is a massive swampland area that's famous throughout the world for its nature, its water and its, well, swampiness. For one of the best things to do in Orlando, make a beeline Shingle Creek – the northernmost part of the Everglades – and head out into all of the nature on an airboat safari.
There are a number of companies to choose from to do this with (make sure you choose a reputable one). You'll have opportunities to spot all sorts of wildlife in this iconic landscape, from bald eagles to those famous alligators.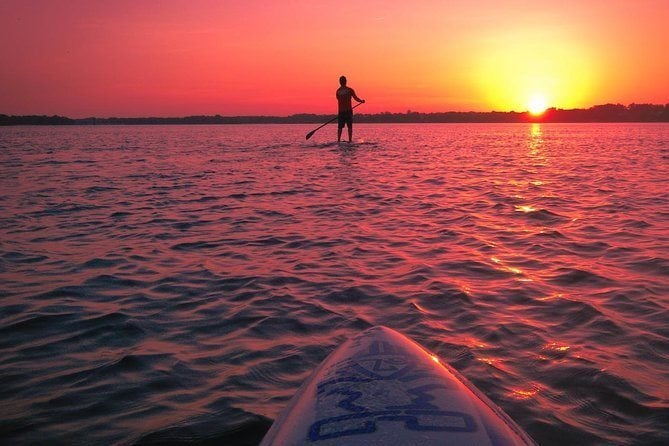 For those who want to and get up early and get outdoors, we're calling ya!
The sunrises in Florida are intense and beautiful and  great spot to catch one of these sun-uppers is at Lake Fairview, easily reachable from the city itself. Make a morning of it and – for one of the best outdoorsy things to do in Orlando – get yourself on a stand-up paddleboard for a serene, watery experience. See the clouds and sky change colour, reflected in the lake, as the sun comes up. Sounds pretty cool to us.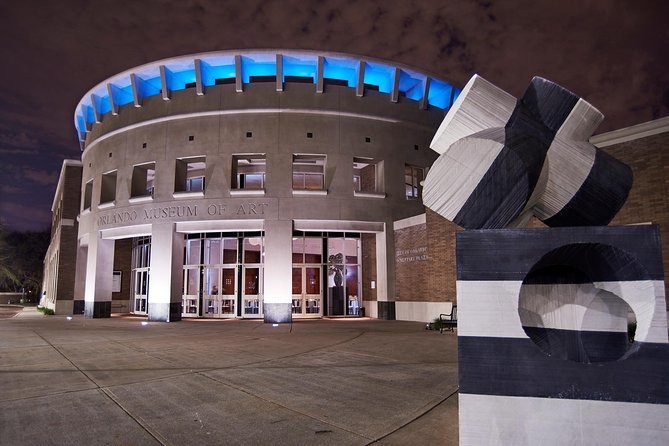 You may think of Orlando as simply a place where there's a lot of amusement parks and to be fair, there are a lot!! But remember that Orlando is an actual real life city and people live normal lives here that don't involve giant Mice and pretend castles. And where there are peopl there's culture, Culture! One of the best places to go to soak up a bit of this is the Orlando Museum of Art, of course.
Founded in 1924 it's got more than 2,400 pieces on display, from the ancient Americas all the way to African art. Anybody with a keen interest in history or art will like this place; there's also guided tours, workshops and film showings. Tip: since it's inside, it's a good idea to visit here if you're looking for something to do in Orlando when it rains (which does happen!).
Small Pack Problems? 😉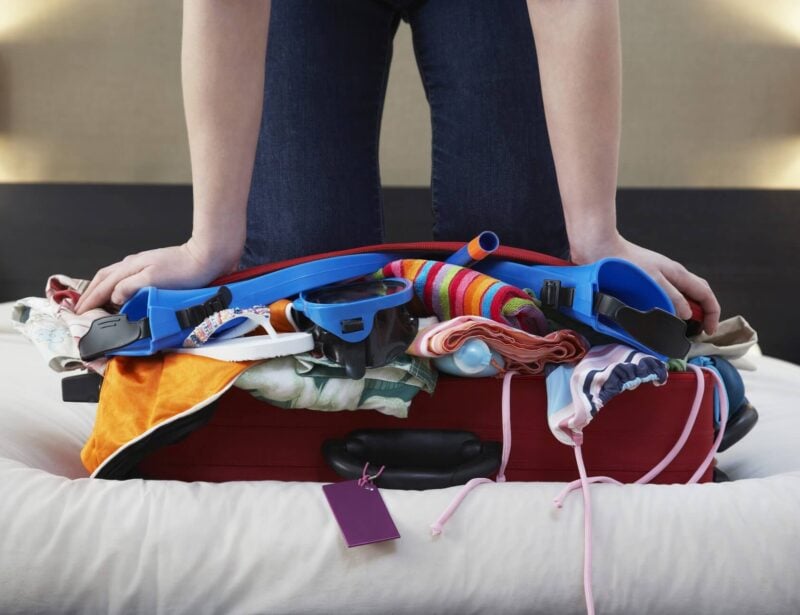 My missus travels with all her clothes in ziplock bags: don't be like my missus. UP YOUR PACKING GAME!
Packing cubes for the globetrotters and compression sacks for the real adventurers – these babies are a traveller's best kept secret. They organise yo' packing and minimise its volume too so you can pack MORE.
Or, y'know… you can stick to ziplock bags.
View Our Fave Cubes
Or Check Out the Sacks!
The Gulf of Florida is blessed with an abundance of marine life including dolphins – quite possibly the most intelligent lifeforms on earth. If you want to see them in the wild, and imprisoned at Sea Life, then you should not miss this chance.
There are regular boat trips from Orlando where an experienced skipper will take you out to sea to find the Dolphins. Watch them swim, jump and play – it's beautiful and very moving. An unmissable thing to do in Orlando if seeing dolphins is high on your list of priorities.
8. Browse your way around Ivanhoe Village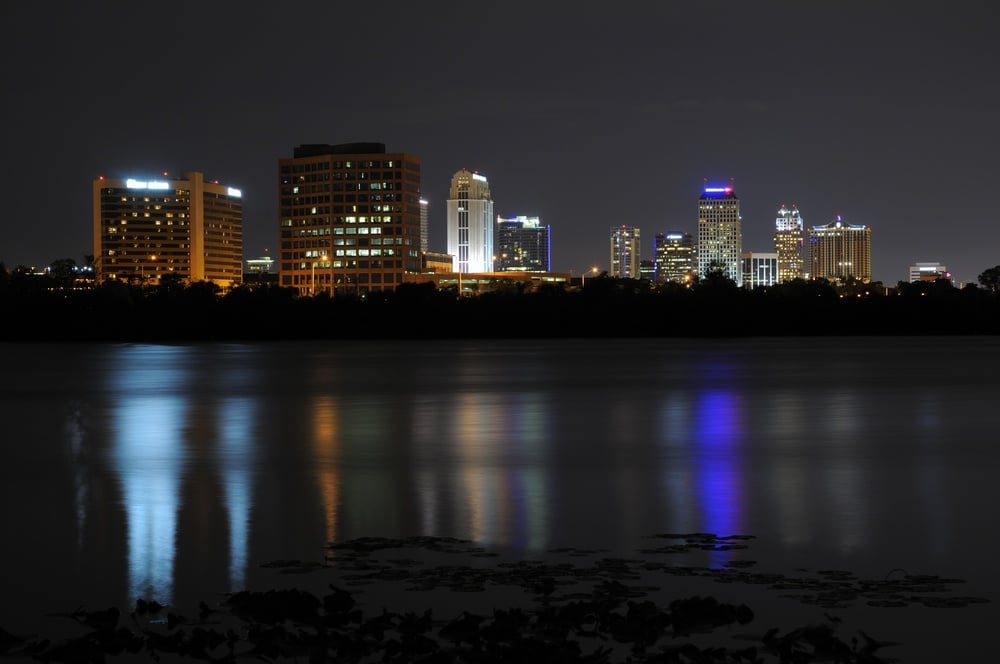 Every city has a hipster district these days, even cities built on Disney. Ivanhoe Village is Orlando's craft and avocado hub. There's an offbeat kind of atmosphere here, where you'll find kooky art galleries, retro retailers, vintage threads, record shops and a whole load of other stuff. A great antidote for the big attractions of the city, you'll find this neighbourhood alongside Lake Ivanhoe.
Easily one of the coolest (but hipster) things to do in Orlando, exploring Ivanhoe Village is a good way to go if you're looking for something different in this city. Shop for records at Rock & Roll Heaven or pick up some new, old clothes at Deja Vu Vintage. It's fun – trust us.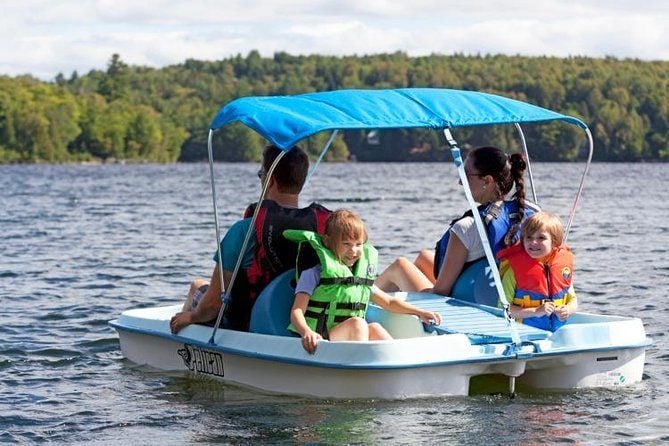 Nothing beats the chilled atmosphere of taking a paddle boat out for a half an hour or an hour, just pedalling around on the water soaking up the sights and enjoying the good weather. Nothing wrong with, is there? Not in our books.
And in this part of the world, where the weather's often good, it's a pretty fun thing to do in Orlando. You could take a regular ol' paddle boat out on Lake Fairview, for example, but given the number of lakes – and if you feel like something a bit wackier – you could check out the swan-shaped paddle boats at Lake Eola, too.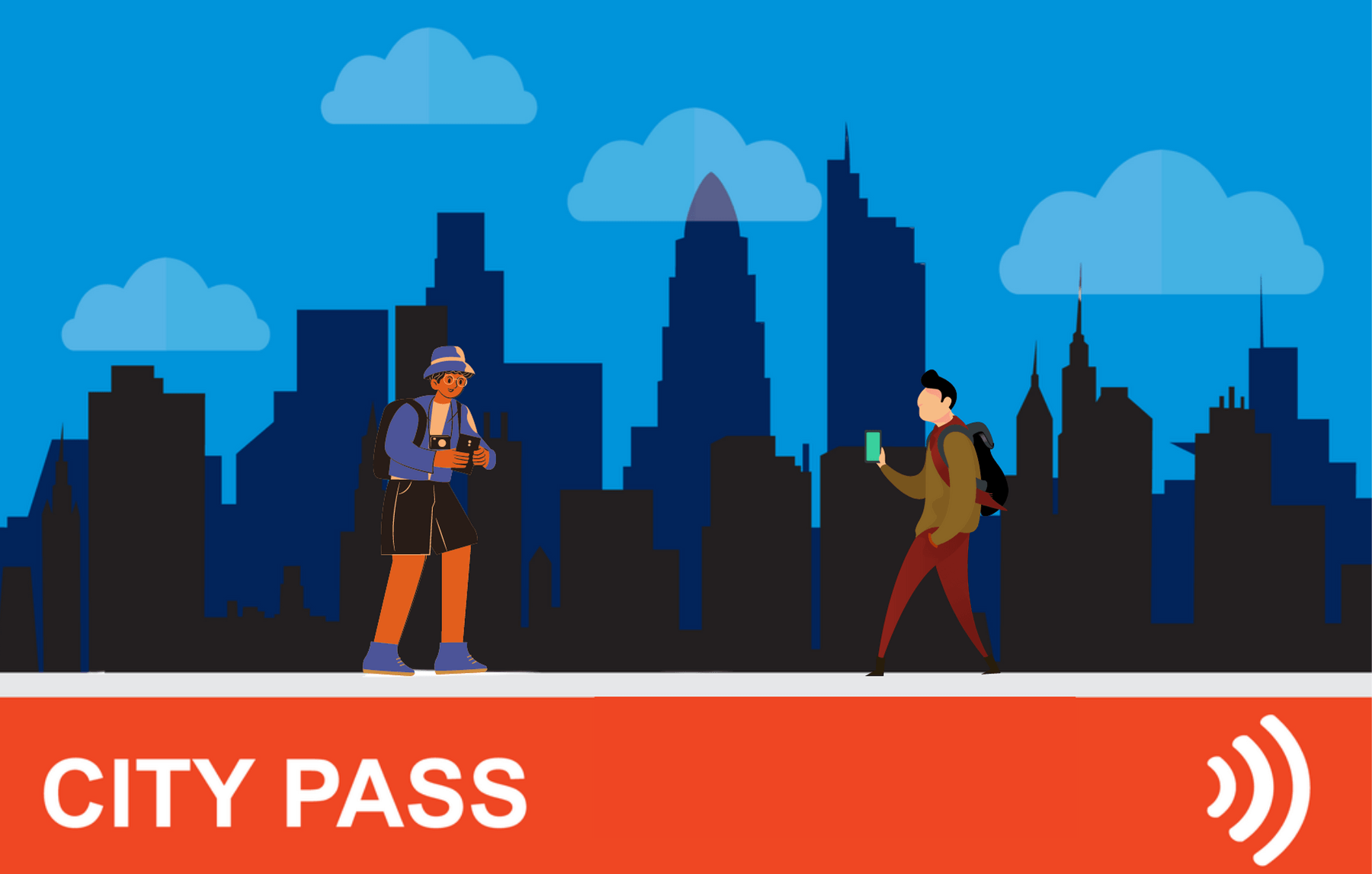 Travelling to Orlando? Then plan yo' trip the smart way!
With a Orlando City Pass, you can experience the best of Orlando at the CHEAPEST prices. Discounts, attractions, tickets, and even public transport are all standards in any good city pass – be sure invest now and save them $$$ when you arrive!
Buy Your Pass NOW!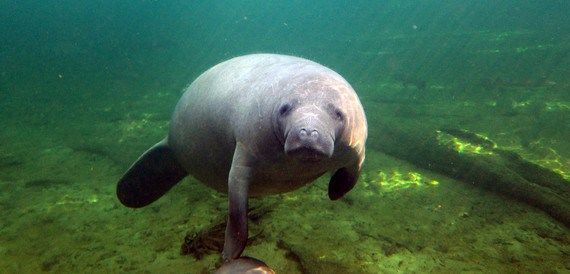 This is one of our favourite adventurous things to do in Orlando. Taking a trip to Blue Springs State Park is a great way to go if you really want to soak up some of the magical nature that's in easy reach of the city. Blue Springs State Park is where you can see hundreds of manatees frolicking around in the clear waters. Literally so beautiful.
It's easy to spot the manatees here, who flock here for the warm water; it's their winter home, in fact, and makes for the largest manatee population in Florida. The water is so clear that you can see them swimming around with their pups, no obstructions. The best way to see them is kayaking gently around. Bonus: you can also see cute otters, wading birds, alligators and osprey. Sometimes even wild hogs.
Unusual Things to Do in Orlando
Personally, I find hanging out in pretend castles with giant mice pretty unusual although Orlando, it's the reason people come here. So, in this context what wacky and zany things do constitute weird in Orlando? Read on and see!
There are three reasons this amusement park is unusual. The first is that it's not Disney-related. Most people probably wouldn't take the time to go here because of that reason, but it's well worth putting on your itinerary if you are a fan of amusement parks. What also makes it unusual is that it's a smaller, lesser-known theme park that is actually clean! It's cheaper than Disney theme parks, parking is absolutely free AND you can get in free on your birthday. If you don't fancy riding anything, you can also get in free and enjoy watching others scream on the only wooden roller-coaster in Orlando – another unusual feature. The park is great for families or groups of friends and is open until midnight. Give Fun Spot Orlando a chance!
12. Discover the mystery of Spook Hill
Despite its' name, Spook Hill is not actually haunted. In fact, it's not even really a hill but more of a mound. But what Spook Hill is, is a phenomenon or optical illusion known as a gravity or magnetic hill: a place where things that can roll, i.e. cars, appear to roll uphill.
As much as it looks like they're rolling uphill, they're not (apparently). It looks like it to us. But actually, they're rolling downhill. A combination of factors tricks your eyes into thinking that things roll uphill. That probably doesn't make much sense because Spook Hill kind of needs to be seen to be comprehended.
Still, it's a cool thing to do in Orlando to park your car and watch it roll away. Be careful though! Tip: there's a long history to this one, so read up before you go.
13. Take a trip to Jack Kerouac's house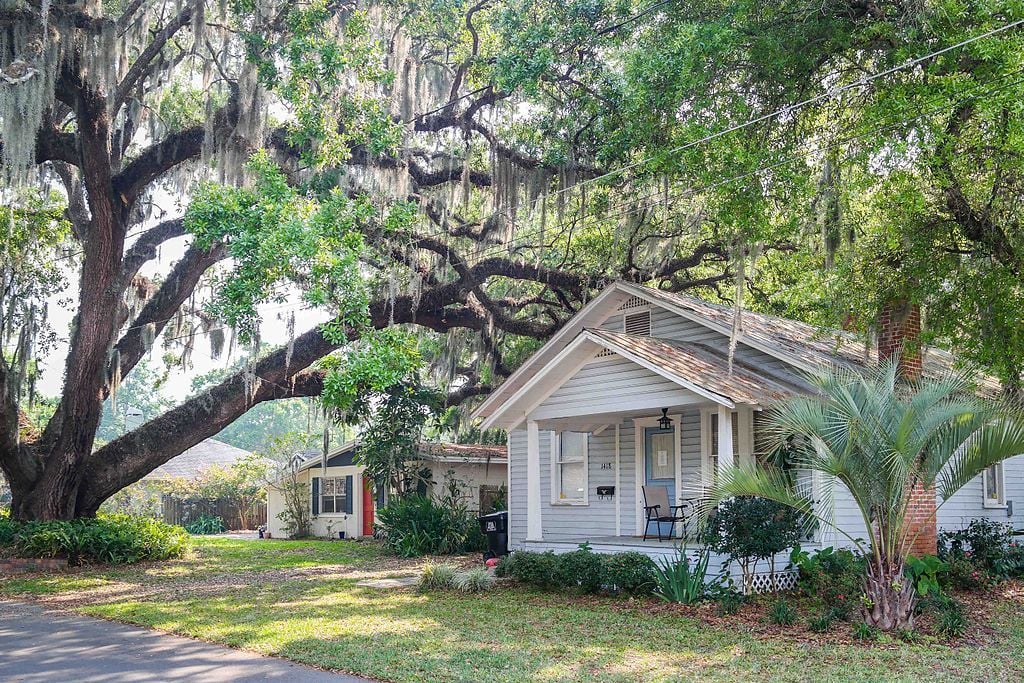 Located at 1418 Clouser Avenue, this humble home was one of the residences that famous author Jack Kerouac lived in. Any fan of Kerouac, or the Beat Generation writers, should definitely put this on the top of their list of off the beaten track things to do in Orlando.
Visit the Jack Kerouac House and you'll be able to see photos of the legendary writer, his pocket notebooks, as well as other interesting information and stories about him and his life. A quintessential American home, built in Frame Vernacular style, you wouldn't think it would be home to as big an icon as it is, but there you go. Tip: book ahead for a guided tour of the house.
Safety in Orlando
Set in a state that's the home of "Florida Man", you might be thinking that Orlando isn't as safe as you'd like it to be. But in fact, Orlando is actually pretty safe. This Orange Country city is famous for its theme parks and doesn't have many neighbourhoods you should avoid.
There are obviously things you should be aware of – like you should be in any city. Be on guard against pickpocketing and petty crime; this even happens inside the actual the theme resorts and amusement parks themselves. Break-ins to rental cars are not unknown – make sure to not leave any valuables on show and park in safe places.
Nature can be scary in Florida, too. Hurricane Season runs from June to November and, when they hit, they can be very dangerous, causing flooding, destroying homes and seriously affecting transport and your travel plans.
All this said, in general, if you're a tourist who sticks to the main attractions you should be fine. Common sense applies, as in any big city (like not wandering around poorly lit streets after dark). Overall this is a pretty safe place to visit.
If anything, we would suggest a money belt – just in case! Something like the very discreet Pacsafe Money Belt will work wonders.
Read our tips for traveling safely before you fly and always get travel insurance. Check out our roundup of the best travel insurance.
Travel with peace of mind. Travel WITH a security belt.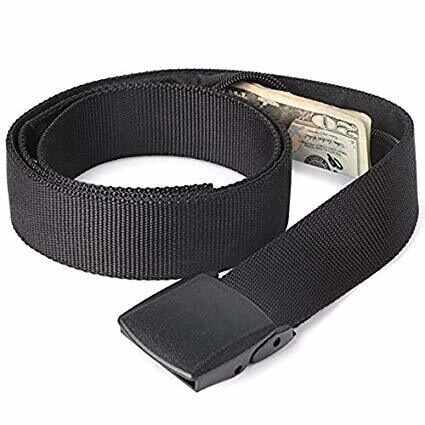 Get your cash stashed with this awesome Pacsafe money belt. It will keep your valuables safe no matter where you go.
It looks exactly like a normal belt except for a SECRET interior pocket perfectly designed to hide a wad of cash or a passport copy. Never get caught with your pants down again! (Unless you want to.)
Hide Yo' Money!
Things to Do in Orlando at Night
Once the sun goes down, there is another side to Orlando. From big dinners to bar hopping to live shows, there is enough nocturnal entertainment here to keep you busy until Disney opens its gates for the day again.
14. Make your way to the Milk District
As tasty as the Milk District sounds, this neighbourhood is more about drinking alcohol – not milk – and has a pretty vibrant live music scene going on. Naturally, it's one of the top things to do in Orlando at night; it's the sort of place where you can see gigs, have dinner and drink afterwards all in one area.
It got its name from being the former home of a dairy plant and the Milk District is where you'll find a very local scene indeed. Neighbourhood drinking holes, such as The Milk Bar and The Nook on Robinson, constitute some very hip things to do in Orlando. The kind of place you'll want to explore before it becomes fully gentrified. If you really do want some milk, then ask for a White Russian.
Is This the Best Daypack EVER???
If you're the kind of person who finds eating dinner a bit boring (all that chewing and tasting is a bit 'blah' right?) then look no further. Cafe Orlando is dinner with a difference offering food, drinks and live shows, all in a decidedly "exotic night club" setting.
There's Caribbean vibes here, salsa music playing, too, and plenty of dancing for what is by all accounts a fun-filled fiesta. Certainly one of the more unique things to do in Orlando at night, Cafe Orlando – set on International Drive –is your one-stop-shop for dinner, music and drinking. It's huge, in fact: up to 2,000 people can be comfortably seated within this crazy place.
16. Have a drink at the Howl at the Moon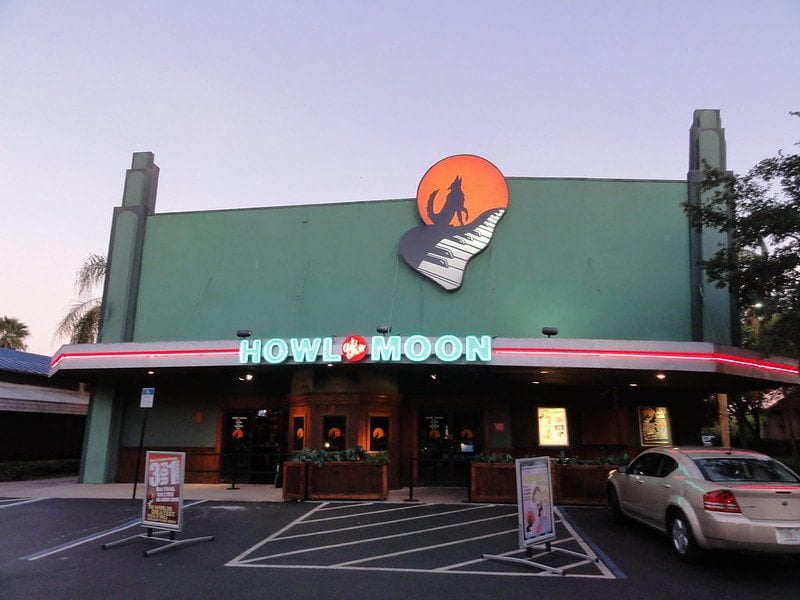 If you want to take it up a notch with your things to do in Orlando at night, then you should head to Howl at the Moon. Where Cafe Orlando has exotic themes and a bit of kitsch going on, Howl at the Moon – as its name suggests – is decidedly wilder. You can expect raucous nights here, lots of drinking, a few bar snacks, maybe, but mainly what you're here for is partying.
This is facilitated, in part, at least, by the presence of not one but two baby grand pianos. They duel; yes, two pianists play (to the death?) for a duelling piano extravaganza. With live music 7 nights a week, and open till 2am, this is the place to go if you're really looking to let loose and go a little bit wild.
Looking for a specific place to stay? There are many great places to stay in Orlando, as well as in surrounding areas like Kissimmee.
These are our highest recommendations for places to stay in Orlando.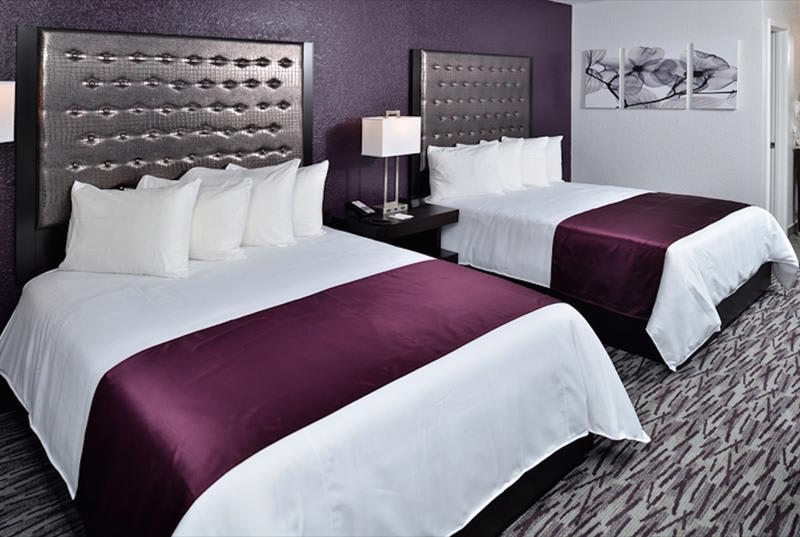 This property is one of the best budget options in central Orlando. Located near the Dr Phillips neighbourhood, it is close to Orlando's top attractions, including Universal Studios and Disney World. It has cosy and comfortable rooms, free wifi, a great variety of amenities. There's also a shuttle service to most theme parks!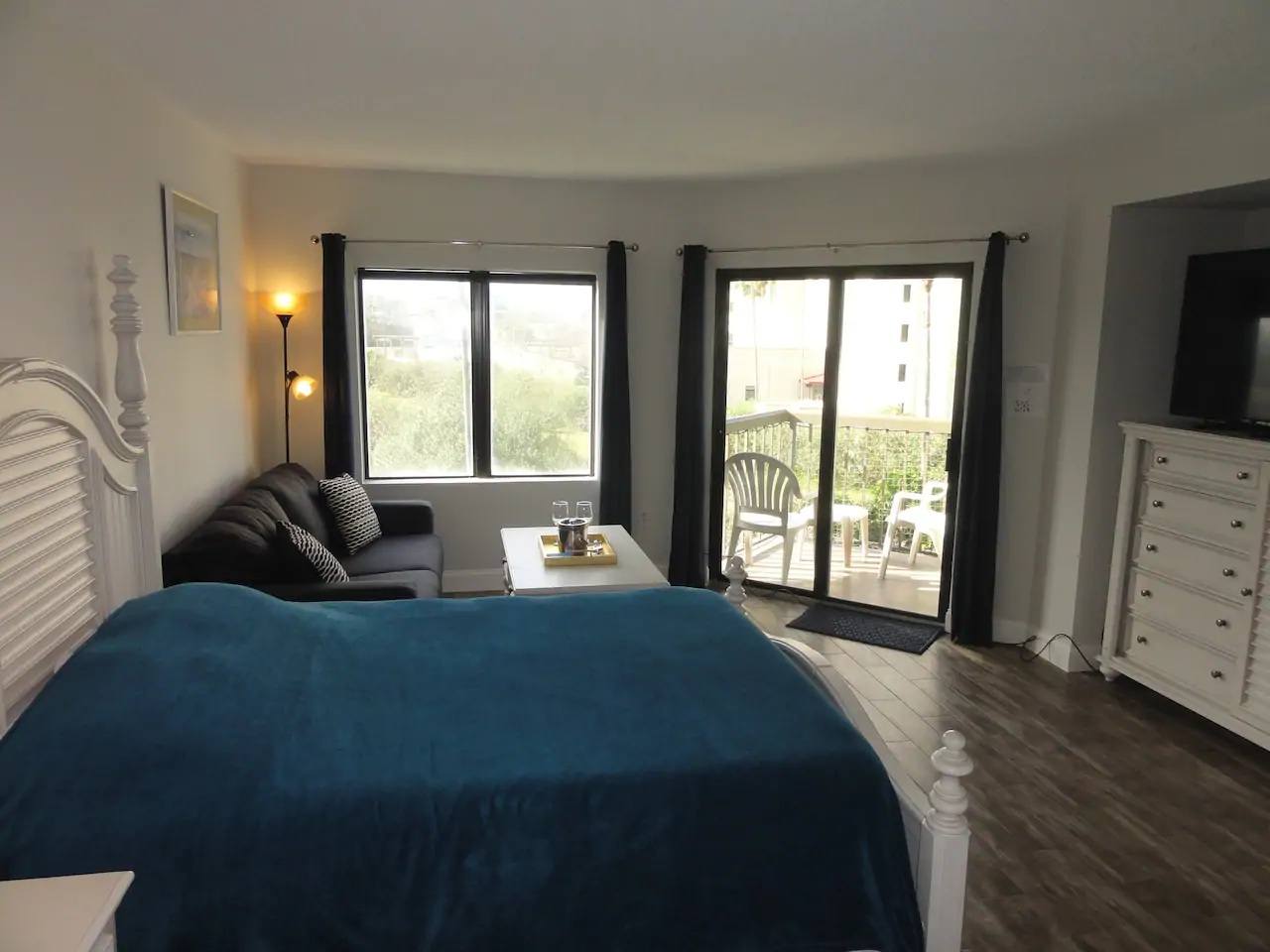 Your typical Florida apartment awaits you smack dab in the middle of where all the shopping goes down. –That's right. This home is right off of I-drive, where you can get the best deals in the country.
Besides that, this home is brand new and modernly furnished from the kitchen to the bedroom. And whats a Florida apartment without a balcony to catch the view of one the best theme parks around; Universal Studios. From what we know about Orlando, you don't come here unless you're ready to jump on some roller coasters, and the location of this living space is easily accessible to all of them.
Walking, bus, or car it's a short distance and with plenty of restaurants to pick and choose from at your fingertips. When you're ready to settle in for the night, grab the remote get comfy on the heavenly cloud-like bed and fall asleep to something on Netflix or Hulu.
With its convenient location, modern rooms, and a stunning outdoor pool, it's no wonder this is our choice for the best hotel in Orlando. Set in the Thornton Park neighbourhood, this hotel is close to restaurants, bars and Orlando's top attractions. There's also an in-house restaurant and a stylish lounge bar.
There are so many epic vacation rentals in Orlando to choose from. And you want to stay somewhere quieter and less crowded, but still be close to the theme parks, consider a vacation rental in Kissimmee, just South of Orlando.
Romantic Things to Do in Orlando
Space Rockets, hordes of over-excited children and giant Gators don't exactly typify romance do they? But if you are here with your significant other looking for a date, we have you covered and have listed a few romantic things to do in Orlando.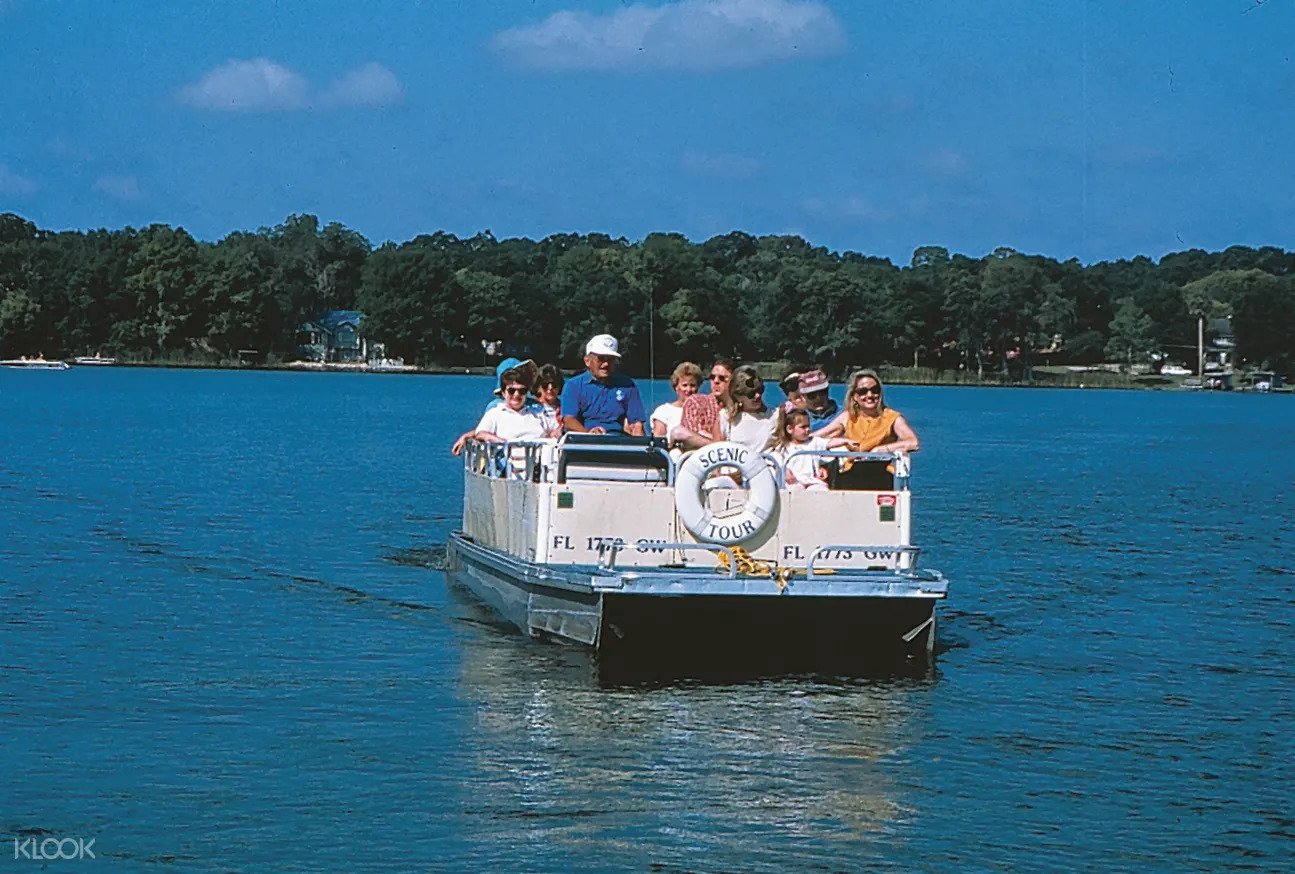 Winter Park may be a little strangely named because Orlando isn't famous for having any sort of winter at all, but apparently other parts of the country do feel the cold – and so they come here. Or at least, historically, they came here. Originally built in the late 1800s as a resort by an enterprising group of businessmen, it is a quaint, interesting place to visit on the outskirts of the city.
Definitely one of the romantic things to do in Orlando, it's a good idea for you and your partner to head here for a great day for couples. Walk the tree-lined street of Park Avenue, dotted with boutiques and restaurants, or otherwise check out one of the many leafy parks (more than 70) dotted around the area. Tip: check the schedule as there are seasonal festivals and events held throughout the year.
18. Pay visit to Bok Tower Gardens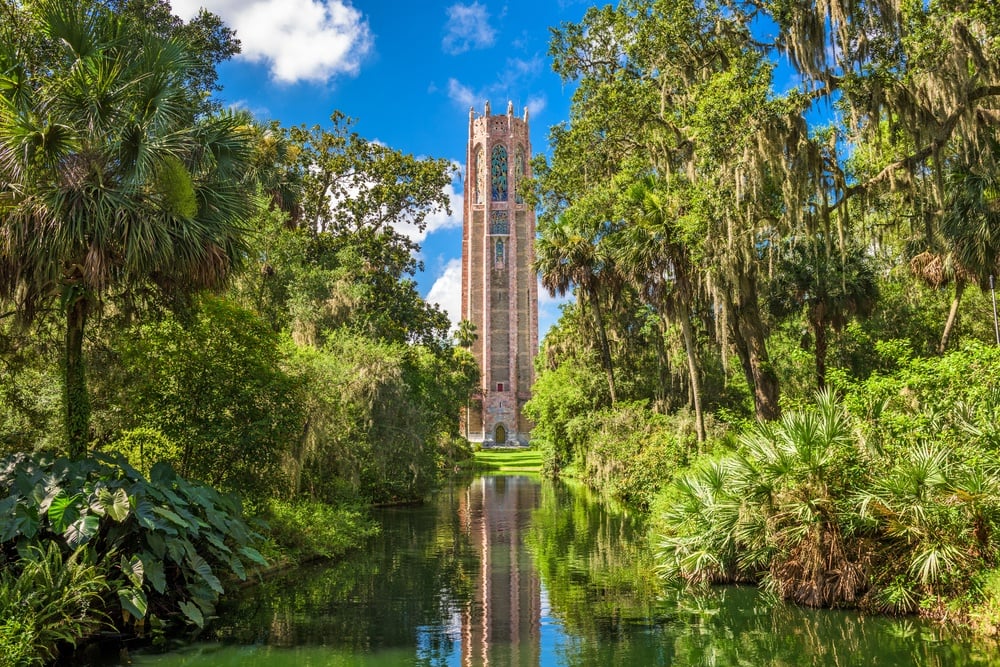 We're fairly sure that strolling around Bok Tower Gardens is one of the best things to do in Orlando for couples. This place, with its ornate sculpted gardens, koi pond, bird sanctuary, is really a lovely place to stroll around – and it's open every day. But the main attraction here is Bok Tower, or the "Singing Tower" which sits atop Iron Mountain, the highest point on the Florida peninsula.
Built in 1927, the 205 foot tall tower mixes Art Deco and Gothic Revival architectural styles for a unique landmark. Though going inside is off-limits to the general public, the tower is home to clarion bells (multiple bells set in a belfry and played singularly or in chords with a keyboard) – hence the "Singing" part. There's often events going on around here, orchestras playing, picnics being eaten. It's awesome.
Best Free Things to Do in Orlando
All those theme parks are fun, but man are they expensive! Once you've spent your budget + life savings at Disney and Universal Studios, come and check out the best free things to do in Orlando.
19. Stop off at Renninger's Twin Markets
It costs absolutely nothing to take a visit to Renninger's Twin Markets. Offering both Antique Center and Flea Market, this place is two separate shopping experiences set across 140 acres. Located near Mount Dora, if browsing trinkets and curios is your idea of fun, then this will be one of the best free things to do in Orlando for you.
The Antique Center has hundreds (literally) of shops that you can dip in and out of, a range of jewellery, books, paintings, collectables and furniture. The Flea Market side of things features over 700 vendors and takes place on Saturdays on Sundays: from tools and t-shirts to tasty food, you can find pretty much anything here.
Note that whilst browsing is free, if you want to buy anything the vendor will probably ask for money.
20. Spend some time Basilica of the National Shrine of Mary, Queen of the Universe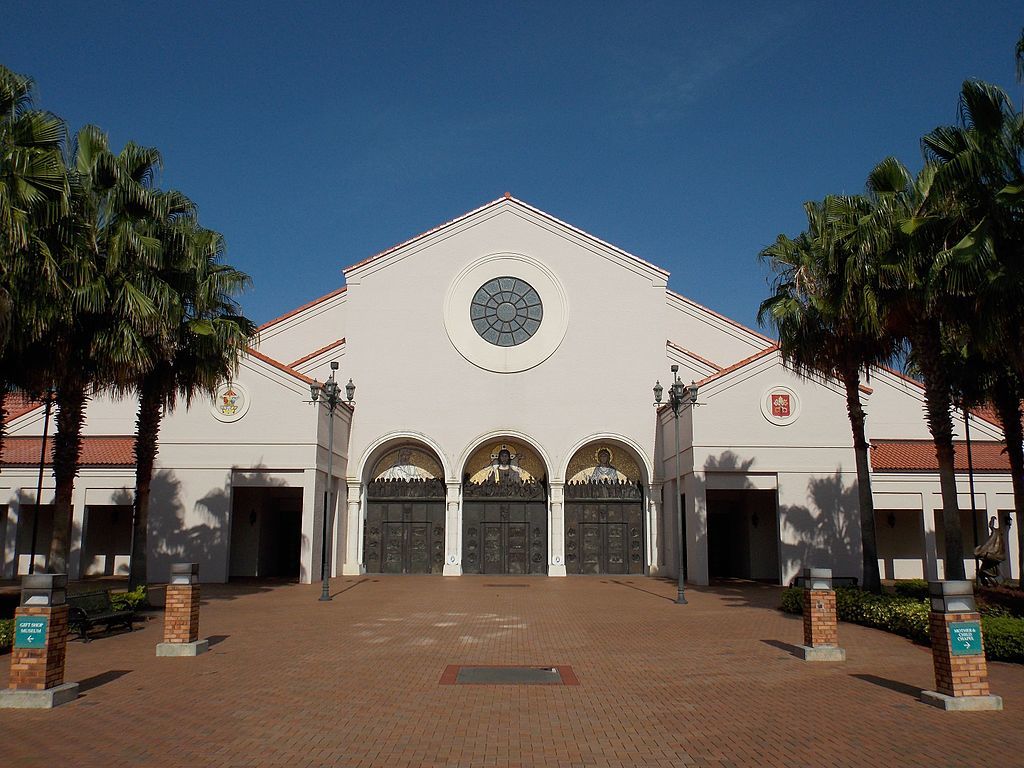 Queen of the Universe, huh? Well, ok. The Basilica of the National Shrine of Mary, Queen of the Universe (name aside) has an interesting backstory. This huge Catholic place of worship was built to service the huge number of tourists making their way to Orlando following the opening of Disney World.
And yes, it's huge: spread across 17 acres the basilica here is actually pretty insane and accounts for one of the most visited Catholic sites in the entire US. If you're looking for an off the beaten track to do in Orlando then visiting this spot is probably going to be pretty interesting for you.
A church made purely for tourists is kind of an interesting concept as there is no regular congregation and its a church that serves an uber transient community. It's nice to know that some people still take their religion on holiday with them!
21. Make the most of the weather in Moss Park
Orlando, like basically all of the state of Florida, is famed for its good weather. We're talking year-round sun and warmth. So with that in mind, you may as well make the most of it and not stick to air conditioned malls all day, but instead hit up some natural sights for some more outdoorsy things to do in Orlando.
One such of these outdoor spaces is Moss Park. Located on a peninsula between Lake Mary Jane and Lake Hart, there's a big wild deer population here, which is pretty cool to see, but also some classic wildlife like alligators and raccoons. You'll be able to get to grips with it all pretty easily thanks to the numerous trails here, which make exploring Moss Park simple.
Books to Read in Orlando
Sometimes a Great Notion – A tale of a hardheaded Oregonian logging family that goes on strike, leading the town to drama and tragedy. Written by PNW legend, Ken Kesey.
Walden – The transcendental masterpiece by Henry David Thoreau that helped modern Americans rediscover nature and her beauty.
To Have and To Have Not – A family man gets involved with the drug smuggling business in the Key West and ends up in a strange affair. Written by the great Ernest Hemingway.

Unlock the The Broke Backpacker's GREATEST Travel Secrets!
You pop your email here, and we promise to send you only travel content that's actually relevant — sounds like a pretty good deal to us!
Things to Do with Kids in Orlando
Looking for things to do in Orlando with kids? Hmm, this is a tough one. Have you tried, erm, absolutely anything?! Orlando is pretty much made for kids but nevertheless, we have picked the best of the best for you.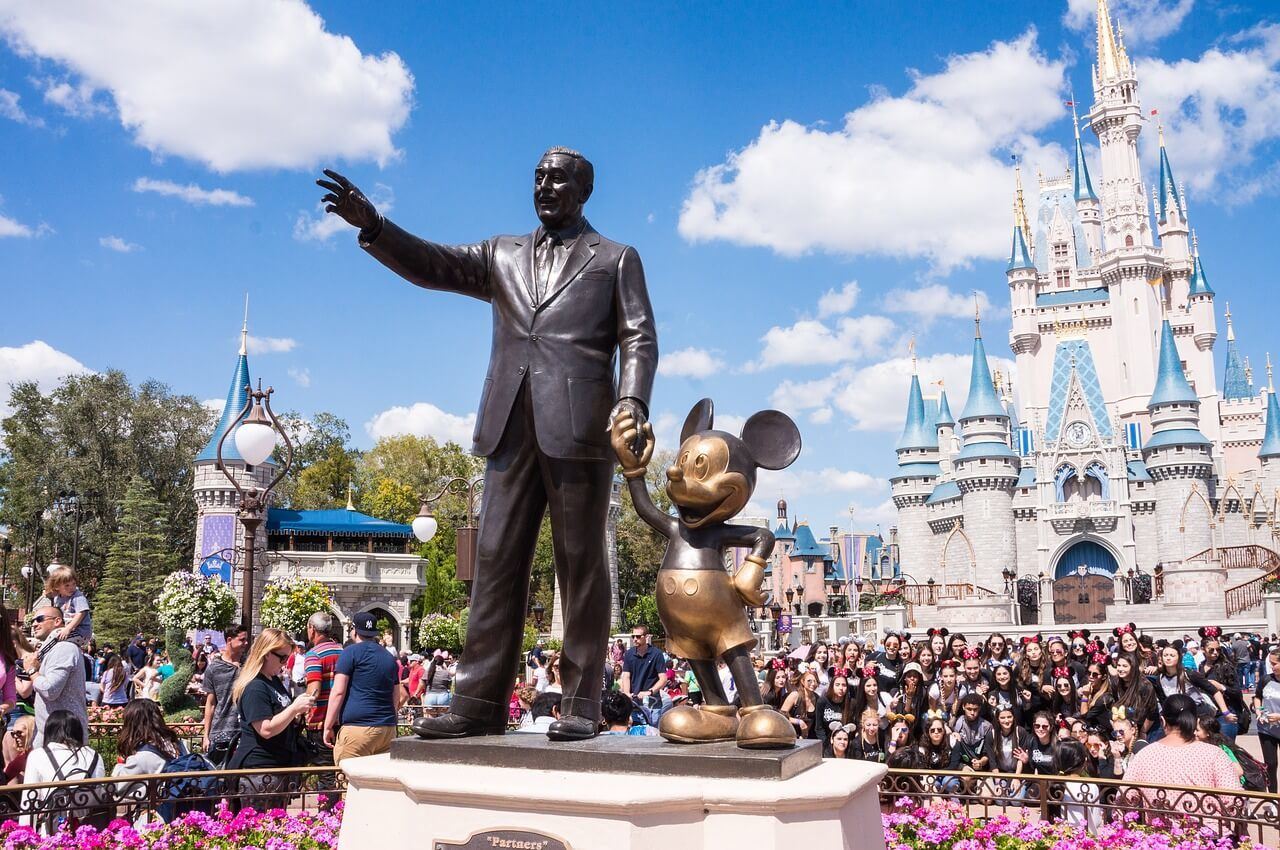 You're in Orlando and so you have to go to Disney World. It is just the most famous, popular and "Orlando" thing to do with kids in Orlando. And the place in this world of Disney magic that is most Disney of all, is the enchanting Disney Magic Kingdom. Your children will probably freak out at the prospect of going to Disney World, let alone at actually going there and seeing Cinderella's Castle for themselves.
There's all sorts of things going on here, magical rides, fairytale atmosphere, Space Mountain, parades, and all your favourite characters in the flesh (well, sort of). Stay to see fireworks and the castle lit up at night. How could this not be a totally magical and memorable experience? To avoid disappointment, we do suggest booking in advance.
23. Let off some steam at Legoland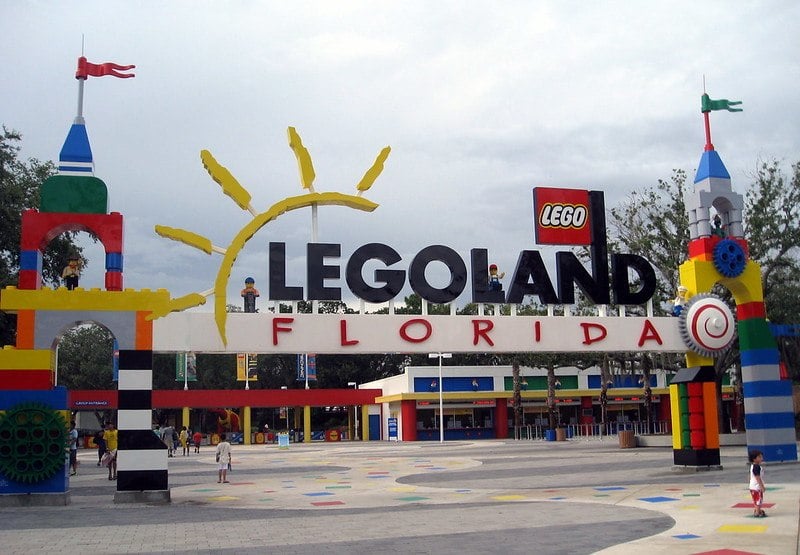 Orlando being Orlando, there are naturally a lot of things to do here that are geared towards children and, yes – a lot of them involve going to an amusement park. Perfect for children aged 2 to 12 years old, coming to this awesome place means you (and your children, of course) get to live out all of your Lego dreams.
With so many Lego rides and attractions throughout the park, you'll feel like a Lego character yourself as you explore the multiple lands here. And when the rides are too much, just spend some quiet time building some cool things out of Lego, or seeing models of Orlando made out of Lego. Without a doubt one of the best things to do in Orlando for families.
Other Things to Do in Orlando
In case you still have some money and energy left, there are still plenty of other things to do in Orlando. From Tupperware to the Titanic, there is still more Orlando for everybody!
24. Take some time at the Tupperware Confidence Center
Probably one of the more, um, unique things to do in Orlando, paying a visit to the amazingly named Tupperware Confidence Center should be high on your list of priorities. It's actually not the kitsch, homely sort of place you would imagine – this "confidence center" is actually a gleaming monument to this kitchen staple.
Learn all about the history of this amazing air-tight storage revolution, see vintage products, ogle the machinery that makes it all happen. You can even buy international Tupperware products in the gift shop – like chopsticks, and empanada-makers.
25. Walk around Harry P. Leu Gardens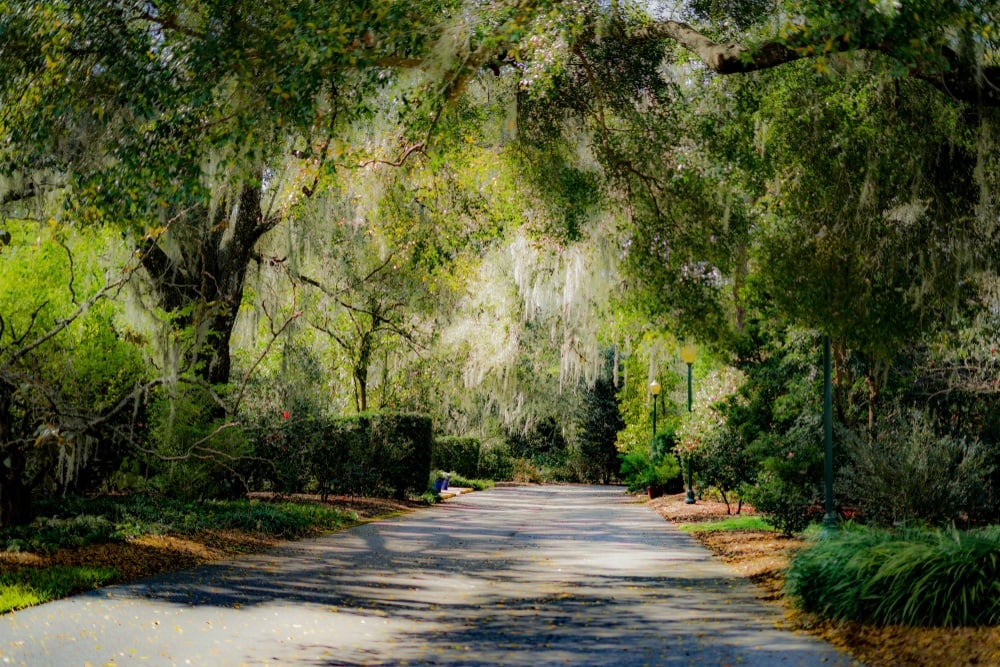 Harry P. Leu Gardens is a semitropical garden spread across 50 acres, close to Downtown Orlando. Attached the historical home of Harry P. Leu itself, here you'll find 40 different collections of plants and greenery from around the world. One of its claims to fame is that it has the largest rose garden in Florida.
Visiting here is one of the best, most chilled outdoorsy things to do in Florida. You'll get to amble along various paths and trails strewn with flowers, overhanging vines and trailing plants. It's even got a butterfly garden. A relaxing place to wander and lose yourself, we'd say visiting would make for one of the best things to do in Orlando for couples.
An unlikely site for a Titanic museum we admit. But it's pretty compelling as many of the artefacts that were uncovered and discovered from the wreck of the Titanic are now here! But it's not just a museum, people: it's much cooler than that and one of the more unusual things to do in Orlando.
With a piece of the ship's actual hull, and full-scale replicas of the Veranda Cafe, the Grand Staircase,  a typical First Class Cabin, as well as hundreds of artefacts, there are even actors dressed in period clothing here. You can meet, amongst others, Captain Smith and Molly Brown. Pretty odd, but pretty cool, actually. Especially if you're interested in history, Leonardo Di Caprio or gigantic failures.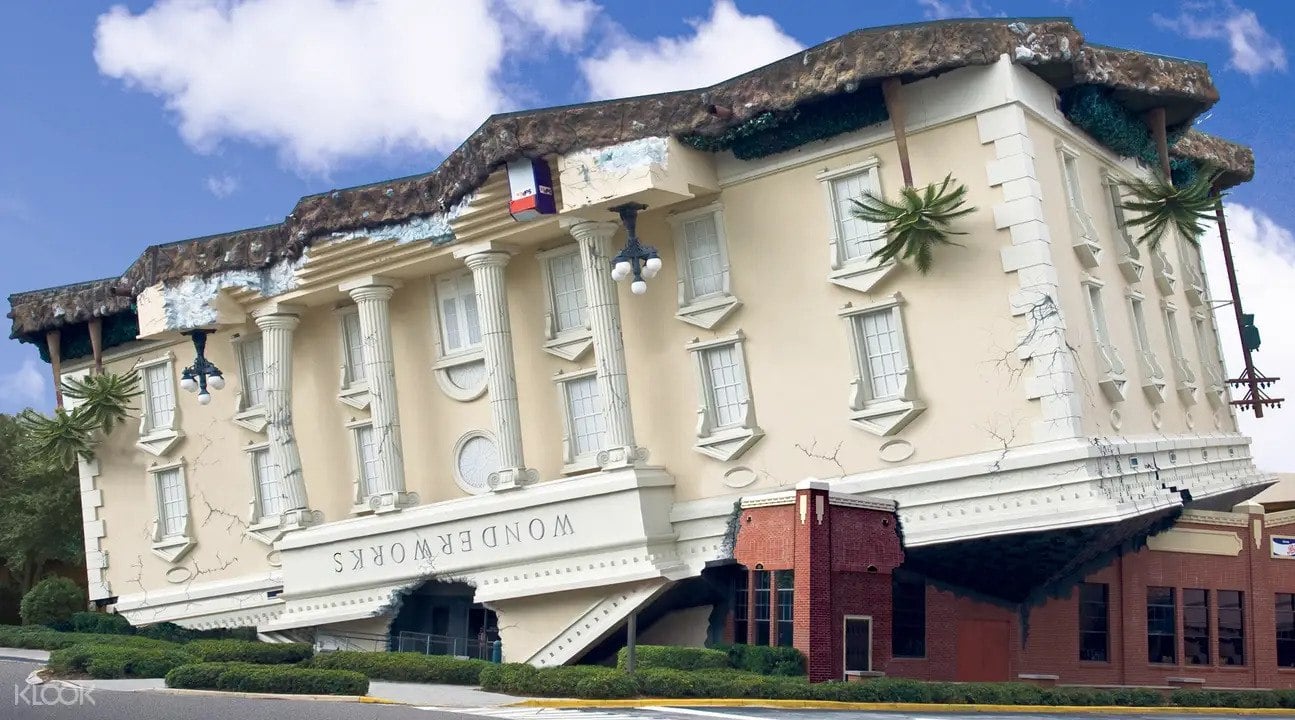 Great for pretty much all the family, taking a trip to WonderWorks is a good idea if you're in Orlando with children and you're banned from Disney for some reason. It's not Disney Land, it's not Universal Studios, it's not even Legoland, but WonderWorks is still a pretty cool place to go.
There are a ton of attractions within the confines of WonderWorks. All set inside a grand, upside building, you'll find a Bermuda Triangle, laser tag, air hockey, video arcades, science experiments, and a load of other things besides. Trust us: check it out and you will not get bored here, whether you're 2, 12, 20 or 200.
Day Trips from Orlando
There are actually a load of cool things to do in Orlando – even if you don't end up going to one of the many and very massive tourist draws that most people come here for. But if you plan to be in town for a little longer than a few days, you may get a little tired driving around the city the whole time. So to whet your appetite for exploring the surrounding area, here are a couple of day trips from Orlando.
Spend all day on Daytona Beach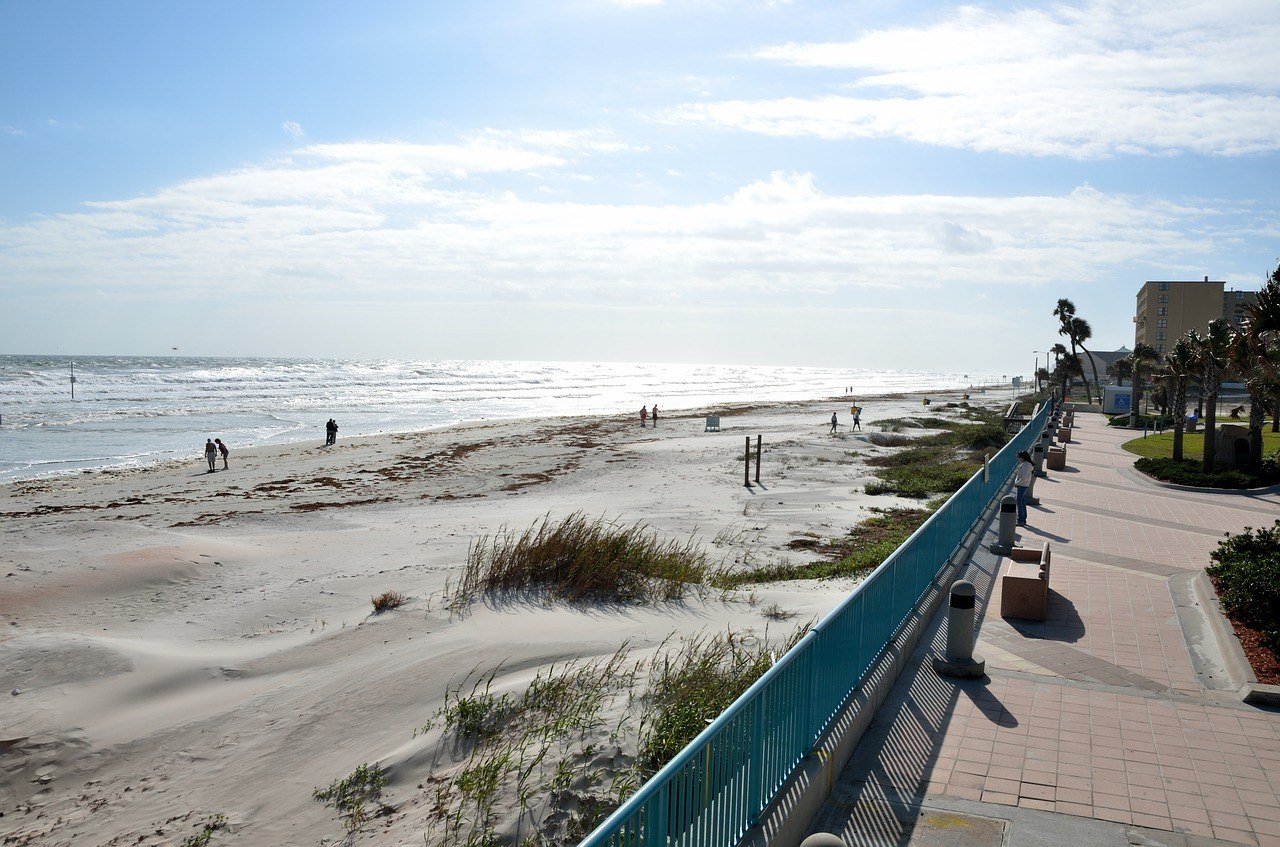 Daytona Beach is 50 miles from the city, about an hour's drive, and makes for a pretty good day trip from Orlando. One of the most famous beaches in the US, or perhaps more famous for its the Daytona 500 NASCAR race that takes place here, it's a cool place to visit. If you really like driving, for instance, you can even drive on some stretches of the beach. Otherwise, there's 23 miles of sand to find a spot.
There's more than just the sand though. You can head out to see on a stand up paddleboard. You can stroll along the Main Street Pier. Or you could try out the Daytona Beach International Speedway (where the NASCAR race happens); you can have a driving experience there if you've got the budget to do it. With an island-like atmosphere and sun-soaked days, you won't want to leave this place.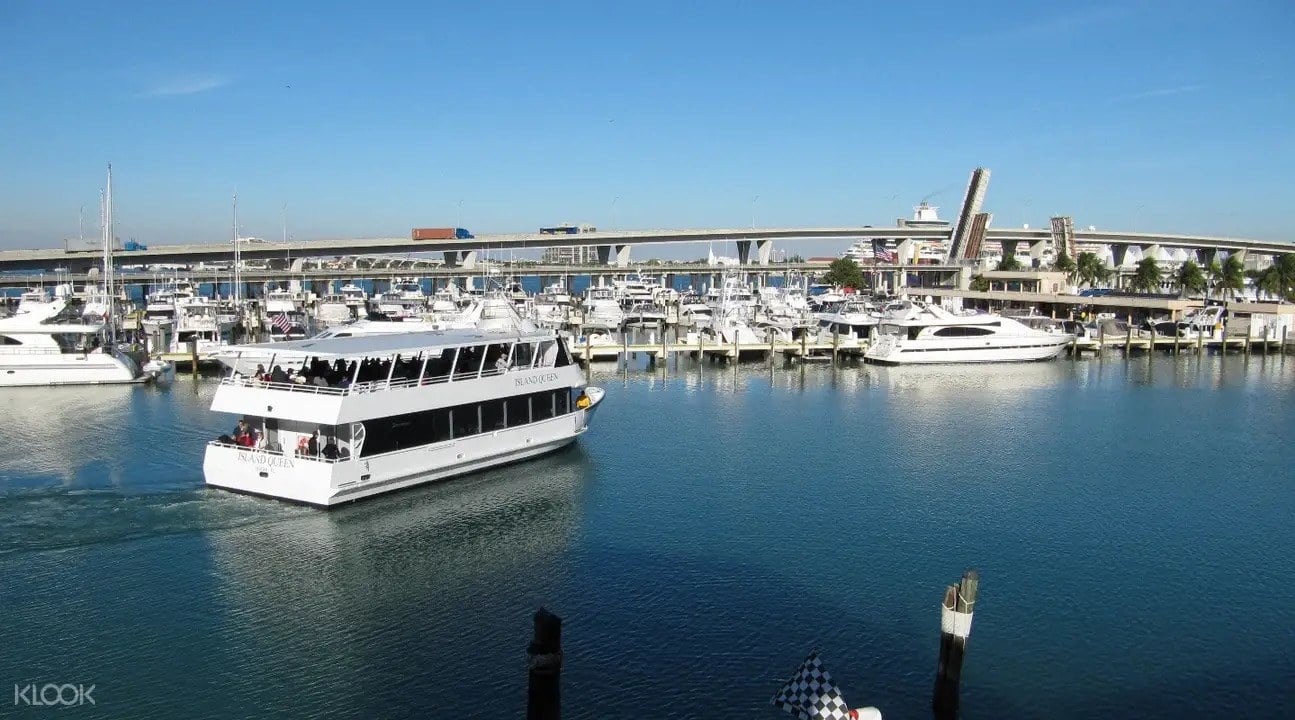 Much, much more famous than Daytona, and Orlando itself, is the iconic city of Miami. It's set in South Florida so it will take around 3 hours to drive there. However if you're willing to get up early in the morning to make the most of your time, then you should consider heading on this great day trip from Orlando. Especially if you're only here for Orlando; when else would you get the chance to see Miami?
And once you're there, what can't you do in Miami? Explore the neighbourhood Little Havana and indulge in some Cuban cuisine, hang out at south beach, visit the historic homes of Coral Gables and see the amazing Art Deco houses. But if you were feeling more like spending the day on the sand, head to Miami Beach.
Save $$$ • Save the Planet • Save Your Stomach!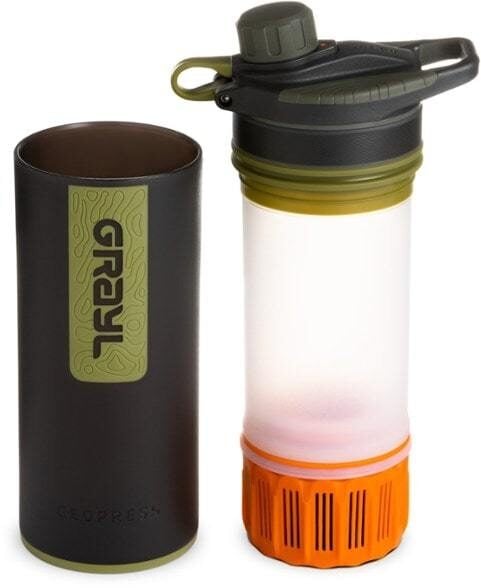 Drink water from ANYWHERE. The Grayl Geopress is the market's leading filtered water bottle protecting your tum from all the waterborne nasties. PLUS, you save money and the environment!
Single-use plastic bottles are a MASSIVE threat to marine life. Be a part of the solution and travel with a filter water bottle.
We've tested the Geopress rigorously from the icy heights of Pakistan to the tropical jungles of Cuba, and the results are in: it WORKS. Buy a Geopress: it's the last water bottle you'll ever buy.
Buy a Geopress!
Read the Review
3 Day Orlando Itinerary
So there you have it: a whole ton of cool things to do in Orlando. Even some day trips. The next part is the hard part, and that's putting them in some sort of logical order that makes sense for the amount of time you have to spare in the city. It can be tricky to organise all of it though, so we've decided to give you a bit of inspiration with our a 3 day Orlando itinerary – just to help your trip run smoothly, you know.
Day 1 – Outdoors Orlando
Start your time in Orlando the way nature intended and get up for a sunrise paddleboard experience at Lake Fairview. This is a beautiful way to start your day, but if you're a little tired afterwards you'll probably want some coffee – and let's face it, you'll be hungry too. Don't worry though: there's Grills Lakeside Seafood Deck & Tiki Bar. You pick up breakfast right at the water's edge.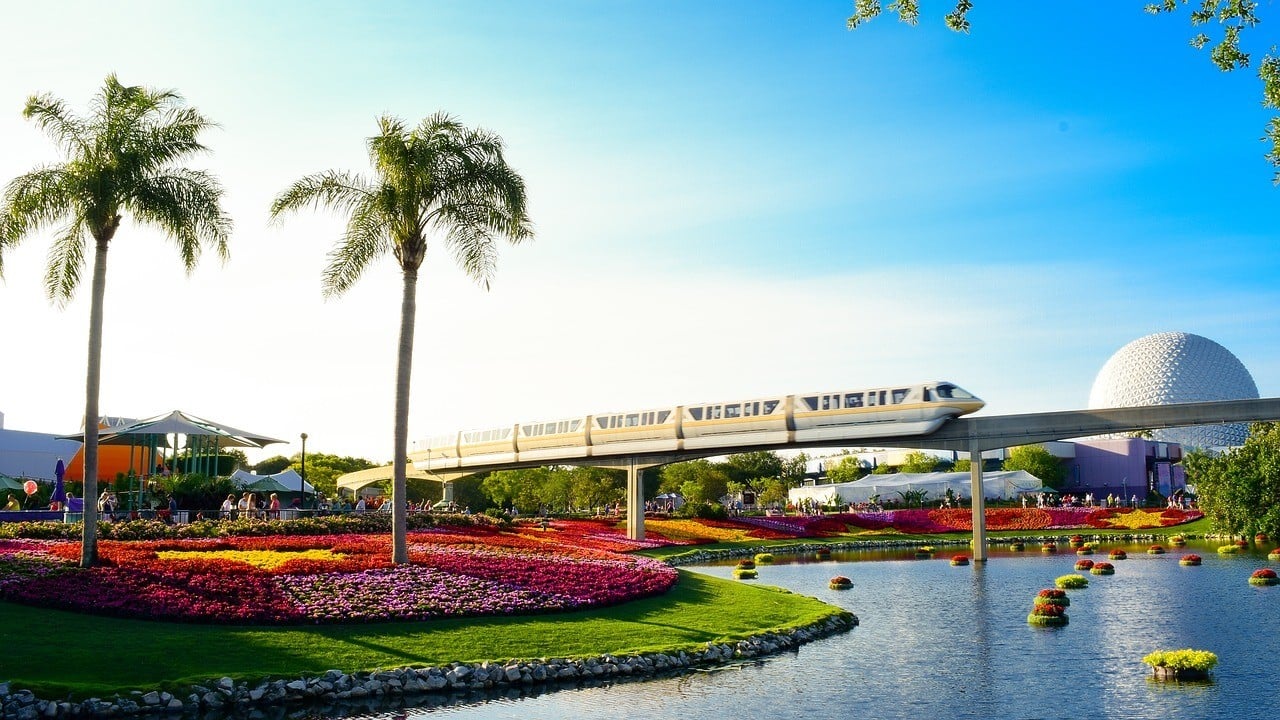 Then it's time to head further out of town to visit the ever-famous Everglades at Shingle Creek. Spend your time airboating around listening to a knowledgeable local guide, who'll tell you all about what you're seeing, then it's a matter of getting yourself over to Harry P. Leu Gardens. This is just a 35 minute drive back into the centre of Orlando.
With the Leu House Museum at the heat of the gardens themselves, spend time wandering the tropical plants of the gardens (maybe checking out the museum). After that, you'll probably be wanting something like dinner. Drive around 20 minutes for an easy slice of Italian fare at Mia's Italian Kitchen before embarking on a fun (and pretty raucous) night at nightlife staple, Howl at the Moon.
Day 2 – Old School Orlando
Morning time on your second day in Orlando, hitting up the city's most old-school sights means making a beeline for Orlando Museum of Art. Around this area you'll be wanting something to eat, we imagine, so make sure that you stop for breakfast at White Wolf Cafe – complete with antique interiors and classic American breakfast fare (and all just a 5 minute drive from the museum).
Hit up Ivanhoe Village for some authentic feels. Just another 5 or so minute drive from your breakfast spot and the area near the museum, you'll get to the centre of this area, where you wander around a lakeside spot filled with historic buildings. There are a whole load of things to see, do and eat in the area, so we would recommend simply ambling along and getting lost in the heritage streets here.
Then we would say it's time to spend the afternoon at Bok Tower Park, an hour's drive out of town. Catch a show (if you're lucky), then come back in time for dinner. Finish up your day of authenticity by having a pretty crazy time at Cafe Orlando. Soak up the exotic atmosphere, watch people dancing to salsa and Caribbean music, and enjoy some decidedly tropical-themed cocktails and drinks.
Day 3 – Obscure Orlando
Your third day in Orlando begins at Renninger's Twin Market. Spend your time here exploring the Antique Market and looking for bargain finds in the Flea Market; you'll also find year-round tasty things to eat here if you're hungry. Needless to say, this is always a fun place to go, whatever time it is. We'd recommend breakfast at one of many or grab some Mexican snacks at Tacos dos Potrillos.
From your morning at these kooky, mainstay markets, it's time to pay tribute to the Beat Generation writer himself at Jack Kerouac House. It's a 30 minute drive from the markets. Once you're here, learn all about the life of the writer, enjoy the ambience, and – if you're hungry – hit up Shakers American Cafe for an authentic bite to eat. From here it's a half an hour drive to your next destination.
That is, the Tupperware Confidence Center. This education monument to the world's most famous food preservation containers is as surprisingly interesting and cool as it is an offbeat, unusual thing to do in Orlando. Head back into town, specifically: the Milk District (half an hour from the tupperware venue). In particular, you'll want to hit up The Milk Bar for snacks, games, food and easygoing fun.
Don't forget your travel insurance for Orlando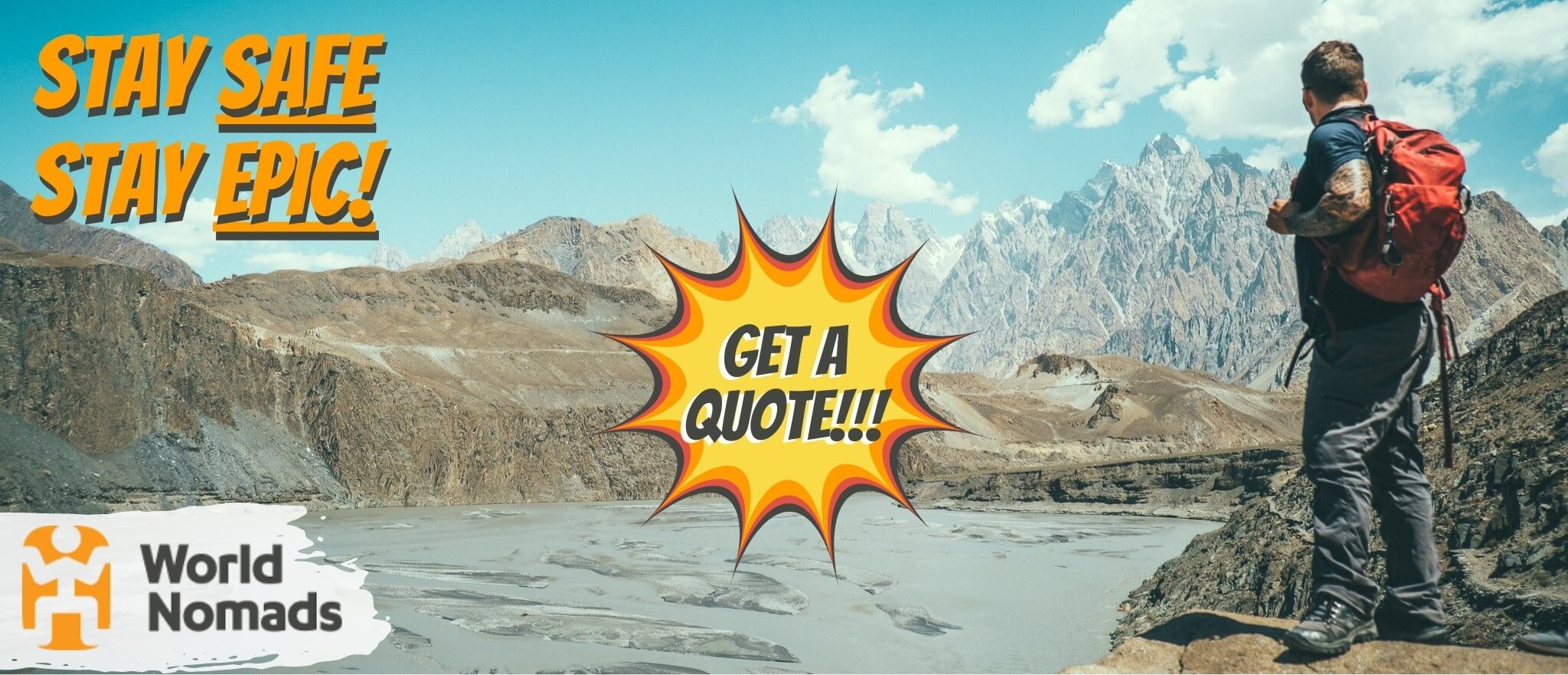 World Nomads' mission is to support and encourage travellers to explore their boundaries. They offer simple & flexible travel insurance, and safety advice to help you travel confidently.
They've been doing it since 2002 – protecting, connecting, and inspiring independent travellers just like you.
Get a quote below or read our in-depth review!
FAQ on Things to Do in Orlando
Here are some quick answers to common questions about what to do and see in Orlando.
Conclusion
Orlando is, of course, well and truly on the map. It isn't exactly in need of any visitors; all the top attractions and theme parks here see to it that visitors to the city arrive in their droves. However, finding some weirder stuff to do in Orlando, if you're here as an independent traveller or backpacker, or someone who doesn't see themselves as a "tourist", is surprisingly easier than you think.
There are a load of different things to busy yourself with in Orlando that means your trip is going to be much more interesting than you imagined. With offbeat attractions, historic sights, cool neighbourhoods, Orlando is more than just Mickey Mouse.
---
Bye for now, but not forever!
If you want MORE top-tier Broke Backpacker content like this, then sign up for our weekly newsletter below to get the latest and greatest!
And for transparency's sake, please know that some of the links in our content are affiliate links. That means that if you book your accommodation, buy your gear, or sort your insurance through our link, we earn a small commission (at no extra cost to you). That said, we only link to the gear we trust and never recommend services we don't believe are up to scratch. Again, thank you!