Orlando is synonymous with theme parks. The city has created a name for itself as one of the top vacation destinations in the world for its quirky parks and year-round good weather.
There is so much more to this Floridian city than Disney princesses and rollercoasters.
Orlando itself is a gem worth exploring, with a bustling downtown center, vibrant nightlife scene, and home stadiums for two major league professional sports teams.
Located right in the heart of Florida, there are loads of amazing places to visit within a couple of hours' drive of Orlando. From national parks home to manatees and alligators, to lively cities to relaxing beach towns, there is a day trip in Orlando with your name on it.

Unlock Our GREATEST Travel Secrets!
Sign up for our newsletter and get the best travel tips delivered right to your inbox.
Getting Around Orlando, and Beyond
The best way to get around Orlando is by car. Most main attractions, theme parks, and national parks are located just outside the city, in areas where public transport doesn't reach.
I recommend renting an electric car from Enterprise Rent-A-Car to offset your carbon footprint. There are plenty of charging stations in Orlando, and an electric vehicle can also access preferred parking spots.
Be sure to keep some cash on hand for toll gates, and invest in a good GPS, so you don't get lost. If you have one, bring along your SunPass, EZ-Pass, or I-Pass, as some toll gates are electronic only.
Much of the area consists of wide highways connecting the big cities. While road signage is clear, it can get confusing if it's your first time driving in the US. Google Maps is the most accurate representation of the streets.
Ride-share apps like Uber and Lyft are a convenient way to get from point A to B if you don't fancy driving yourself.
For inner city exploration, public transport is available. The I-Ride Trolley is an affordable (and fun) mode of transport that connects six theme parks, and hundreds of restaurants and shops within downtown Orlando.
Half-day Trips in Orlando
Orlando is surrounded by gorgeous everglades, beaches, and exciting cities. There is plenty around to explore in just an hour's drive from the center.
Without further ado, here are my top picks of half-day trips from Orlando:
Shingle Creek Regional Park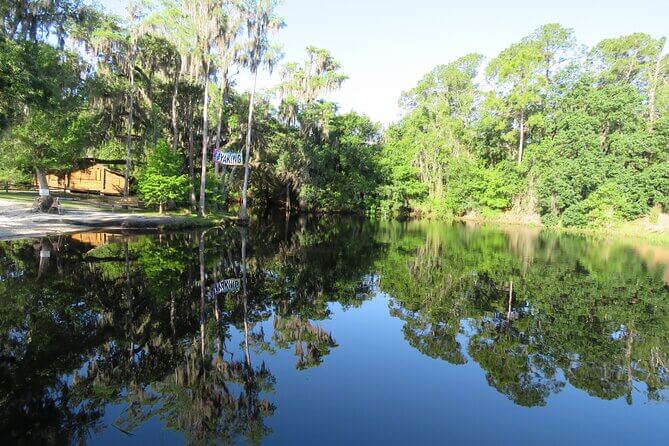 Shingle Creek is the northernmost waters of the Florida Everglades. As the Everglades National Park is too far south of Orlando for a one-day trip, a journey to Shingle Creek will give you a similar experience, just 20 minutes drive from Orlando.
The creek begins in Orlando and flows 23 miles before entering Lake Tohopekaliga. Like the Florida Everglades, you'll find all sorts of wildlife in these waters, from alligators to wading birds, wild turkeys, and deer along the shores.
Shingle Creek is like a quiet oasis just beyond the borders of a bustling city. It's an outdoor paradise for walkers, hikers, and cyclists, but is best explored by boat or kayak.
If you're a hiker (or are looking for a place to stroll through nature and catch a breath of fresh air), the Shingle Creek Regional Trail is the place to be. While parts of it are still under construction, the trail will eventually extend 32 miles from Kissimmee to Wekiva Springs State Park, through the heart of the city.
Suggested trips: 2-Hour Guided Cypress Forest Nature Kayak Tour
Rock Springs at Kelly Park
Rock Springs is one of the most beautiful clearwater springs located just forty minutes' drive from Orlando.
Even though it's just 30 miles away, this day trip from Orlando will make you feel like you've entered a different world.
Kelly Park is a huge space, scattered with ancient oak trees clad in tropical mossy plants. The springs are best known for tubing along the Rock Springs Run. This is a family-friendly activity you won't want to miss.
Don't expect high-speed tubing or adrenaline, though – this tube ride is more like drifting down a lazy river. With some of the most incredible views and natural beauty surrounding you, floating down this river feels like something out of a virtual reality game.
You can rent tubes outside Kelly Park, but I recommend bringing your own tubes, floaties, and noodles. Some Orlando rentals may even have some available for you to bring!
With crystal clear water, the springs are also a hot spot for snorkeling and swimming. There aren't too many deep sections of the river, so be careful if you're jumping in.
Suggested trips: 2-Hour Glass Bottom Kayak Eco Tour in Rock Springs
Cocoa Beach
An hour east of Orlando, Cocoa Beach is a city that lies on the Atlantic coastline. It is rated as one of the most gorgeous beaches in Florida.
It's located in an attractive city, which makes it easy to double your day trip with some culture, shopping and eating out. The beaches along this coastline are public, and have soft sand and clear blue water.
With many lifeguards keeping the water safe, this is one of Florida's most family-friendly beaches.
As Cocoa beach is on the Atlantic side of the state, it's known for having a few excellent beginner surf spots. If you're interested in learning how to surf, there are plenty of surf shops, rental stores, and surf schools along the beaches. There really is no better feeling than riding an ocean swell.
The beach here is rimmed by a gorgeous historic boardwalk and pier lined with restaurants, fun fairs, and shops to explore. If you want to extend your day trip and stay the night, this beach view condo in Cocoa Beach is ideally located for the job.
Is This the Best Daypack EVER???
Full-day Trips in Orlando
We all know about DisneyWorld and the other parks, but what else can you do on a day trip from Orlando?
Kennedy Space Center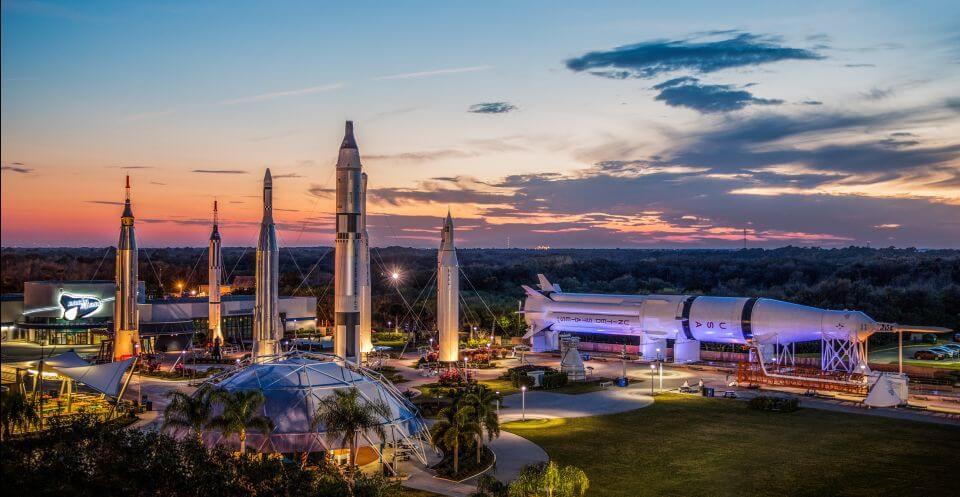 If you're even a little bit interested in space travel (who isn't?), you'll be very familiar with The Kennedy Space Center. The Space Center is one of America's ten field centers, and undoubtedly the most famous.
Opened in 1962, it is the site of some iconic space launches, including the Apollo missions and the more recent SpaceX launches. It is one of the most important places on earth for NASA, and our gateway into space! How could you not visit on an Orlando day trip?
While the center houses about 700 buildings focused on space exploration, the Kennedy Space Center Visitors Complex is where you will start your educational journey.
Here, you'll find exhibits, fun rides, and family-friendly activities all dedicated to space. The Shuttle Launch Experience simulates the sensations real astronauts feel as they get blasted off into space.
You might even time your visit with a real-life rocket launch. These events are very popular, so expect to stand in line for a view of the launch. 3-2-1 We have lift-off!
The best way to get there is by driving, but some tours include round-trip transport from Orlando.
Suggested trips: Kennedy Space Center with Airboat Safari Ride and Kennedy Space Center with Transport
St. Augustine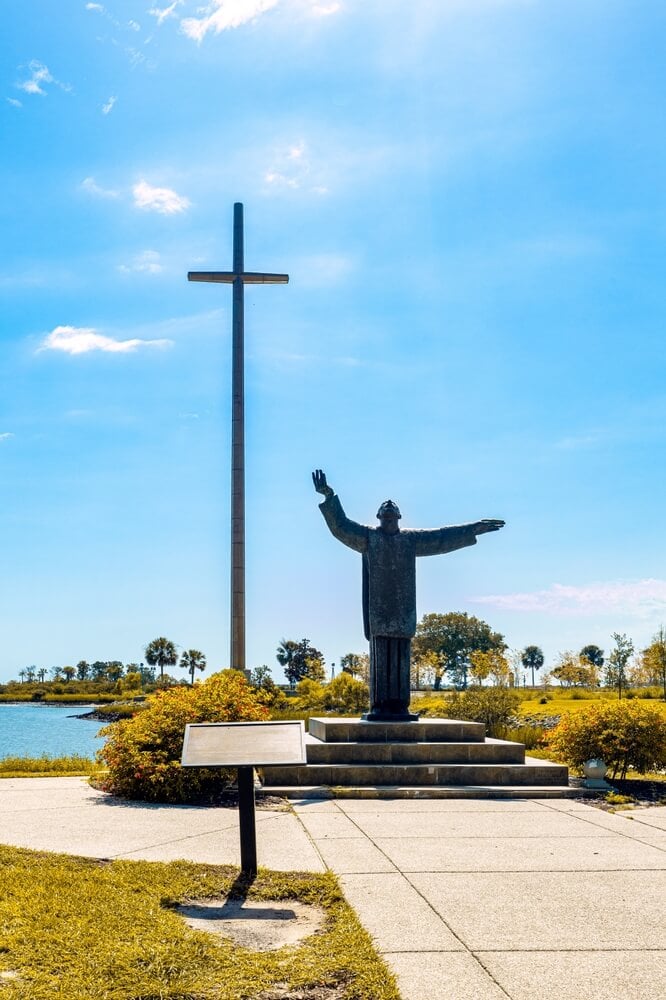 If history and culture excite you, you won't want to skip a visit to St Augustine. The city is the oldest in America, spanning five centuries of incredible history. Starting as a Spanish settlement in 1565, it maintains its original European charm and colonial character.
With just a short drive around the Castillo de San Marcos through the Spanish colonial streets, you'll be transported into not only another era, but another continent.
On top of its European atmosphere, cobblestone streets, and architecture, St Augustine is also well known for its Spanish cuisine. Pick a traditional restaurant along one of the city's cobblestone roads for a meal you won't forget.
Legend says that the town was home to the famed Fountain of Youth. Although no such fountain has ever been found, you can pay the Fountain of Youth Archaeological Park a visit.
St. Augustine is only an hour and forty-five minutes drive away, making it an excellent stop for a family-friendly, educational day trip from Orlando.
Suggested trips: From Orlando: St. Augustine Day Trip with Tour Options
Clearwater Beach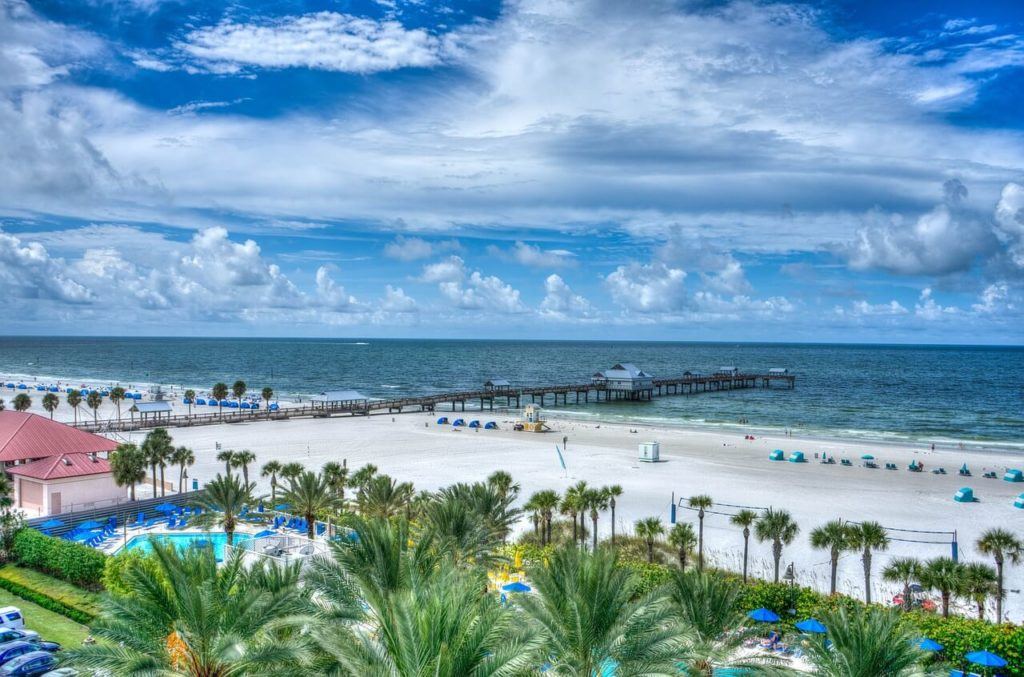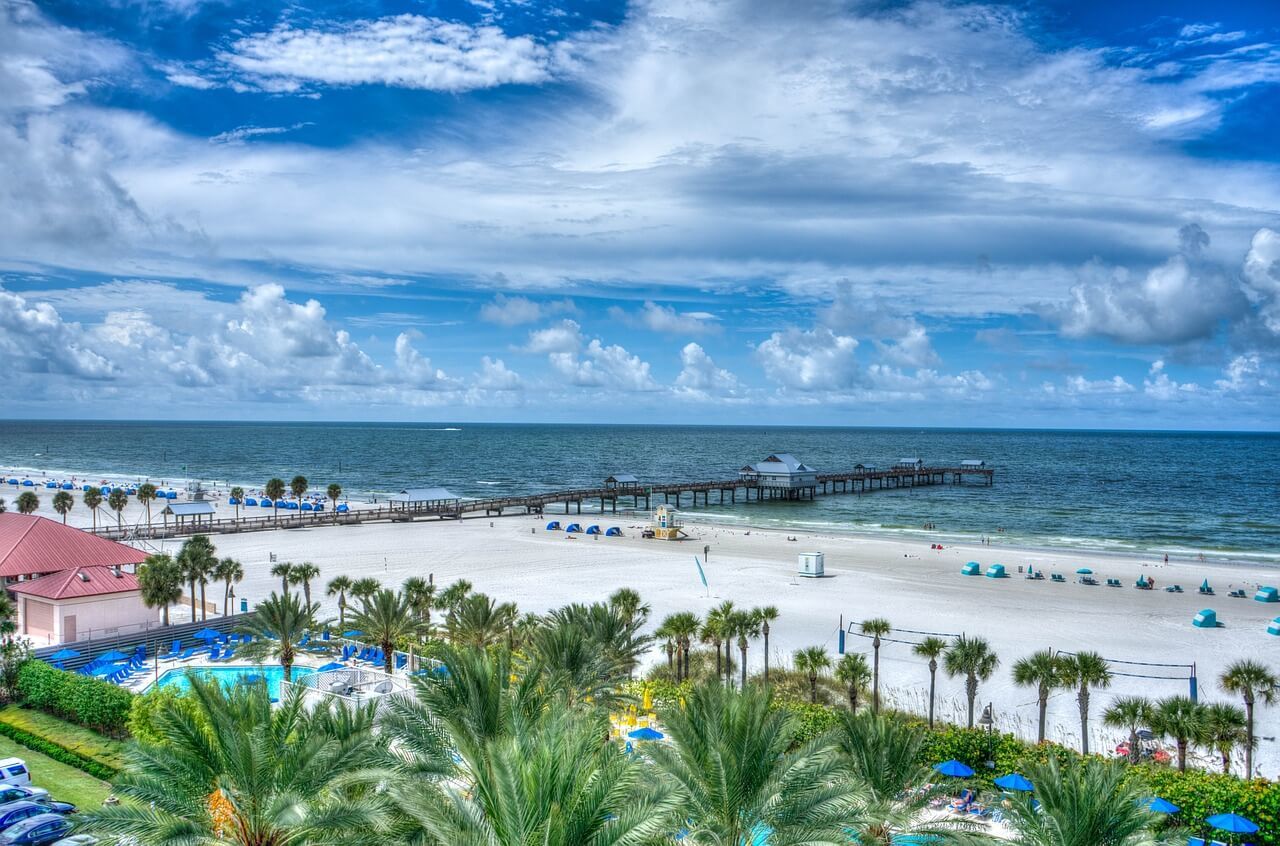 Year after year, Clearwater Beach is voted as one of America's best beaches.
Just 2 hours from central Orlando, along the beachfront, you can join in various water-based activities, from swimming to surfing, to kayaking.
Other than the white sand, and year-round warm water, the beach has a classic, coastal town vibe, where you can find boutique surf shops and plenty of fresh seafood restaurants.
Once you've had your fill of the beach and relaxation, head into the town to try a grouper sandwich, the favorite local cuisine.
The Clearwater Marine Aquarium is one of the town's major attractions, perfect for adults and children alike.
Suggested trips: From Orlando: Day Trip to Clearwater Beach and Clearwater Beach Day Trip with Dolphin Encounter
Crystal River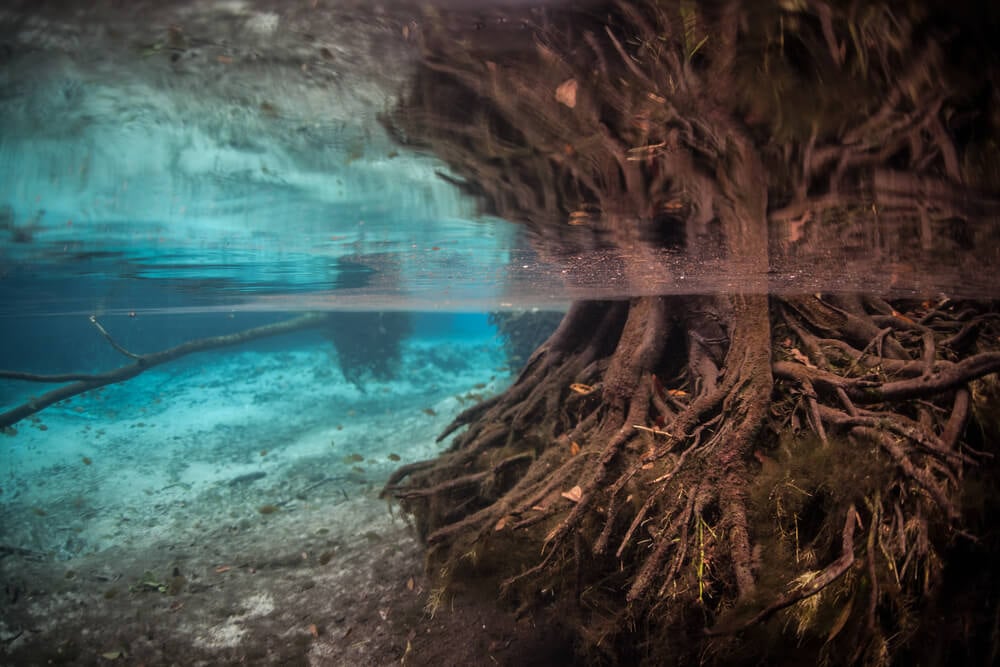 Located along the Gulf of Mexico, Crystal River is a coastal city in Citrus County. The region is best known for being the manatee capital of the world, home to the only National Wildlife Refuge in the states.
It is one of the best places in the world to dive in and swim alongside the gentle sea giants. In fact, it is one of the only places where you can swim with manatees in the wild, and it a once-in-a-lifetime day trip to take from Orlando.
The Three Sisters Springs is the hotspot for swimming in the area. The spring is fed by warm wate,r and flows through rivers and lakes. The entire area is a nature lovers' paradise, with lots of outdoor activities to keep you busy on your day trip.
As well as swimming with manatees, you can learn to dive, rent a boat, kayak or paddle board, do some water skiing and even enjoy hikes and walks through nature.
Suggested trips: Crystal River Tour with Manatee Swim and Everglades Airboat
Walt Disney World Resort
What's an Orlando post without a mention of Disney World?
A day trip to Disney may be all that you can handle, it's an all-round experience for the senses!
There are four Disney theme parks – Magic Kingdom, EPCOT, Animal Kingdom, and Hollywood Studios. I recommend picking one to hit before lunch and one after.
My favorite rides are the Rock'n'Roller Coaster at Hollywood Studios, Expedition Everest at Animal Kingdom, and the Test Track at Epcot.
A top tip: don't book a lunch or dinner reservation. Instead pick up snacks as you go. Waiting for food can take up a lot of your time, which you won't want to waste, considering you would have paid a steep price to enter the park.
Suggested trips: Walt Disney World Resort Admission Base Tickets
Sarasota
One of the biggest attractions in Florida are the Florida Keys.
Located further south than Orlando, near Miami, the Florida Keys are a bit of a trek to visit on a day trip from Orlando. But the Gulf Coast Keys are just 2-hours away!
Situated in Sarasota, the keys have azure blue water and sparkling white sand, making for a mesmerizing beach destination.
Naturally, it is a serious hotspot for beachgoers. Thought, it's also a top location for foodies and culture lovers.
You can visit the Mote Marine Laboratory and Aquarium to see some local marine life. With tons of interactive exhibits, this is a top stop for young kids, especially if the weather isn't great.
The city is dotted with galleries, museums, shops, and tons of restaurants and coffee shops worth checking out for a meal. Book a night at a townhome near downtown Sarasota to extend your stay.
Silver Springs State Park
A kayak tour is a great way to venture through some of central Florida's most picturesque waterways in Silver Springs. The freshwater spring is a hour and a half drive from Orlando, and is one of the most spectacular destinations in the state.
Silver Springs State Park is best known for its glass bottom boat tours, which offer unique sights under the water of the springs and rivers. Swimming and snorkeling aren't allowed, but you can still see the magnificent underwater nature from the glass bottom boat.
Visitors can kayak the five-mile-long Silver River, and explore the Silver River Museum and local Cracker Village. Cracker Village is a replica of a 19th-century pioneer settlement, where you can experience what life was like in a typical cabin homestead a hundred years ago.
Suggested trips: Clear Kayak Adventure through Silver Springs
LEGOLAND Florida
Just an hour and a half outside of Orlando, LEGOLAND Florida is an extensive resort with a hotel, several Lego-themed rides, and a waterpark. Youngsters will be in heaven at the Peppa Pig Theme Park, which is located right in LEGOLAND.
If Disney World prices are a little too much for you, LEGOLAND is the next best thing – and more affordable.
It's best to try and spend at least 2 days at the park. One day in the main park, the second day at the waterpark.
However, if you only have time for a 1-day trip from Orlando, you will have to pick and choose what rides to go on, and squish both parks into one day.
It is pretty massive, with over 55 rides suitable for the whole family! My best advice would be not to stress yourself out trying to do as much as possible in one day, and instead enjoy the rides you do have the time to go on.
Daytona Beach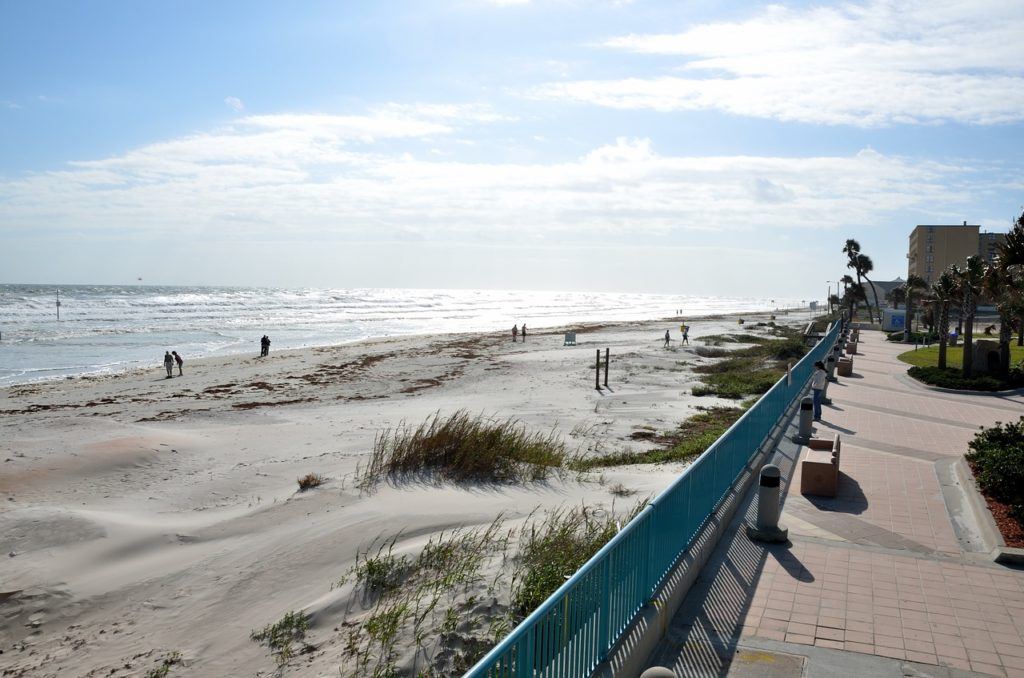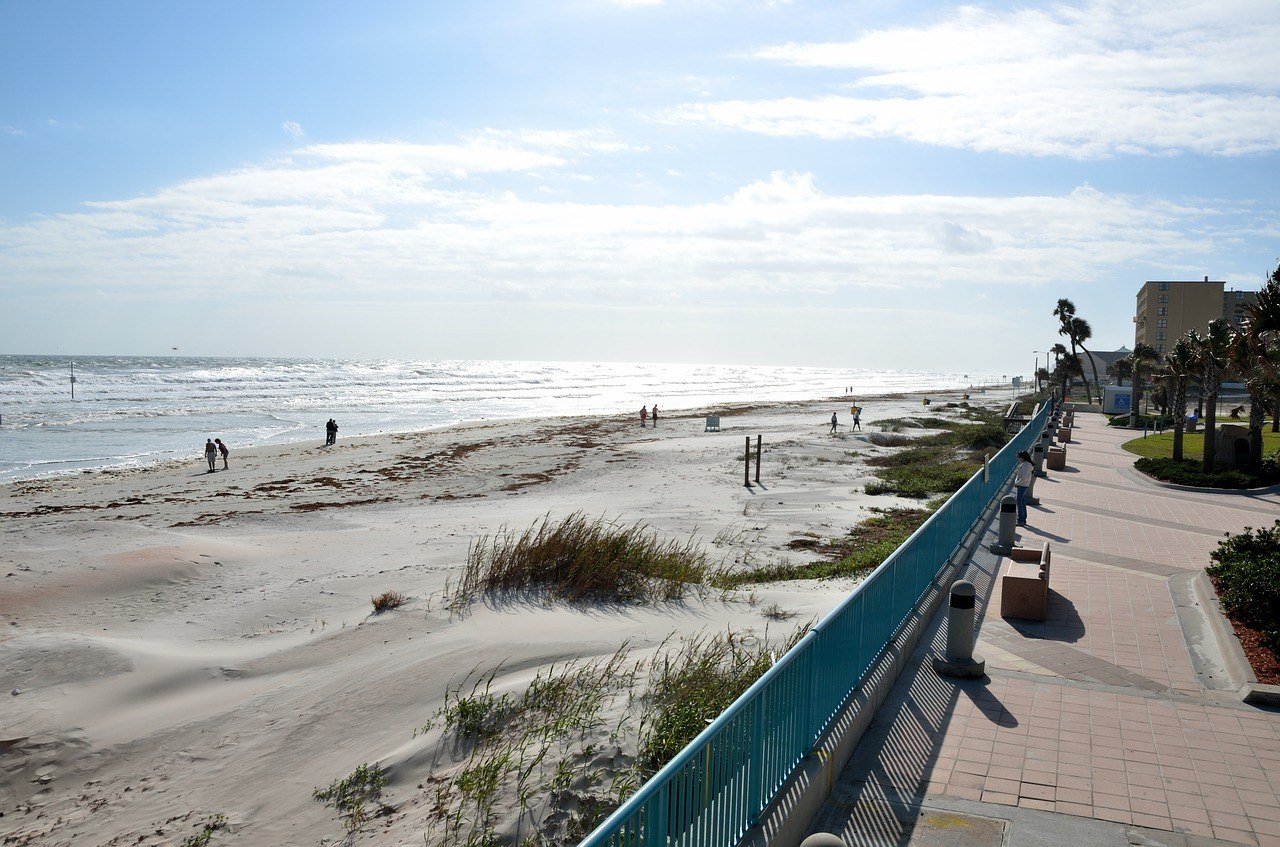 Daytona Beach = Spring Break!
While this coastal city is a hotspot for spring breakers in the holidays, it is also a great place to visit on a day trip.
As its name suggests, Daytona Beach is lined by some incredible beaches, as well as a famous boardwalk with restaurants, shops, and bars. There is always something unique to see and do along the shoreline.
Daytona Beach is also packed with nature trails and waterways just waiting to be explored. You can rent a paddleboard and paddle up one of the waterways, or venture into the hills for a nature-filled hike.
Less than an hour's drive from Orlando, you can choose to stay in Daytona Beach to get a bit of respite from the big city. An updated beachfront condo in Daytona Beach is a beautiful weekend base.
Homosassa Springs Wildlife State Park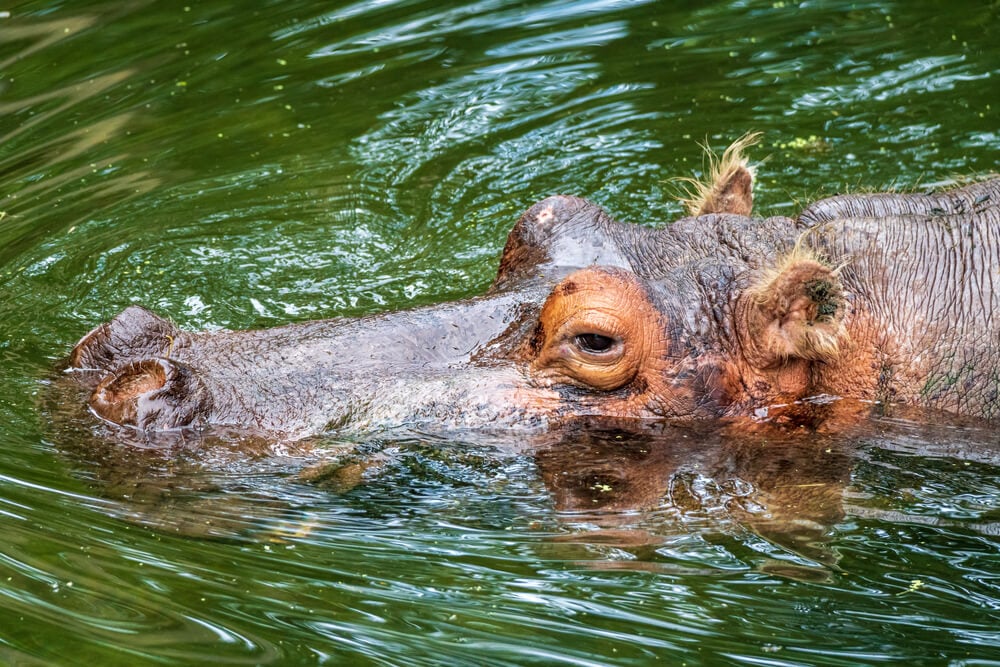 Homosassa Springs Wildlife Park has a resident hippopotamus!! That's right. Born in San Diego 60 years ago, Lu the Hippo was relocated to Homosassa Springs as an animal actor.
Along with its unlikely wildlife, Homosassa is home to some of the top springs and waterways in central Florida. Spend a day paddling along the rivers, and cool off in the refreshing clear water.
Some of the springs here sprout salt water (which is uncommon), making it area even more interesting when it comes to wildlife and plants. Don't be too surprised if you pass a shark and a manatee in the same river!
For those interested in land mammals, you can try to spot a Florida panther, black bear, bobcat, red wolf, or flamingoes in these parts too! It is hard to believe there is such diverse wildlife just an hour and a half drive from Orlando.
Suggested trips: Swim with Manatees and Hermosa State Park Visit
Tampa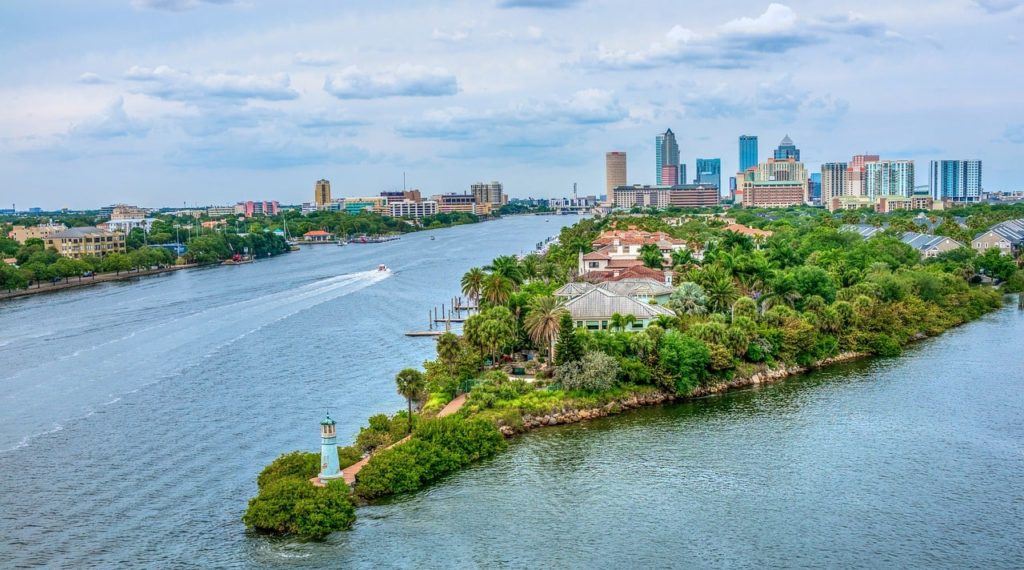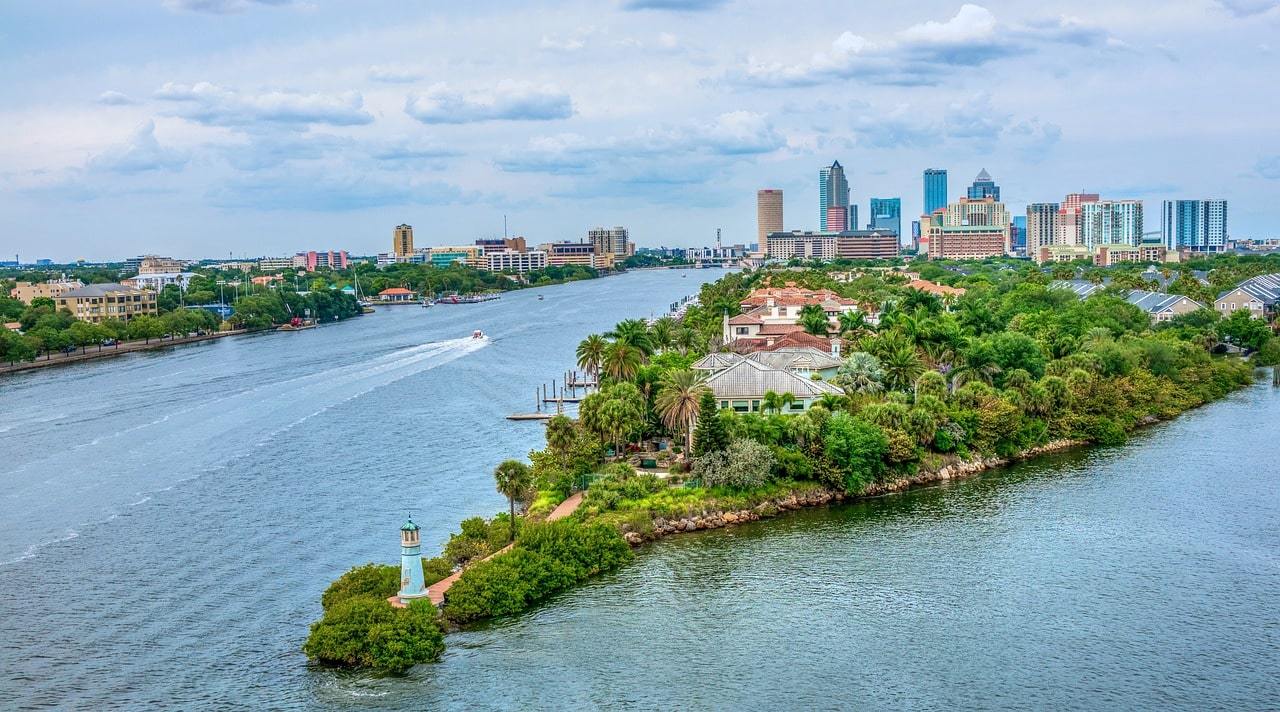 Finishing with a bang, Tampa is a significant city in central Florida. It will take you an hour and a half to drive between the two cities, or you could hop on a two-hour Greyhound bus.
Tampa is a vibrant hub on Florida's Gulf Coast. Like any large city, there are tons of cultural attractions and historical landmarks worth checking out.
Spend the morning browsing boutiques and international brands in the Hyde Park shopping district, before stopping for lunch at one of the city's top eateries.
I recommend spending your afternoon in the vibey Ybor City district, which is one of the best areas for nightlife in the city and a historic landmark known for its cigar heritage. Yup, Ybor City used to be known as the Cigar Capital of the World, and you can still smell the intense aromas and watch cigars being hand rolled in the neighborhood today.
If a day in Tampa isn't long enough, upgrade your day trip and spend a night in this luxury home with a pool.
Small Pack Problems? 😉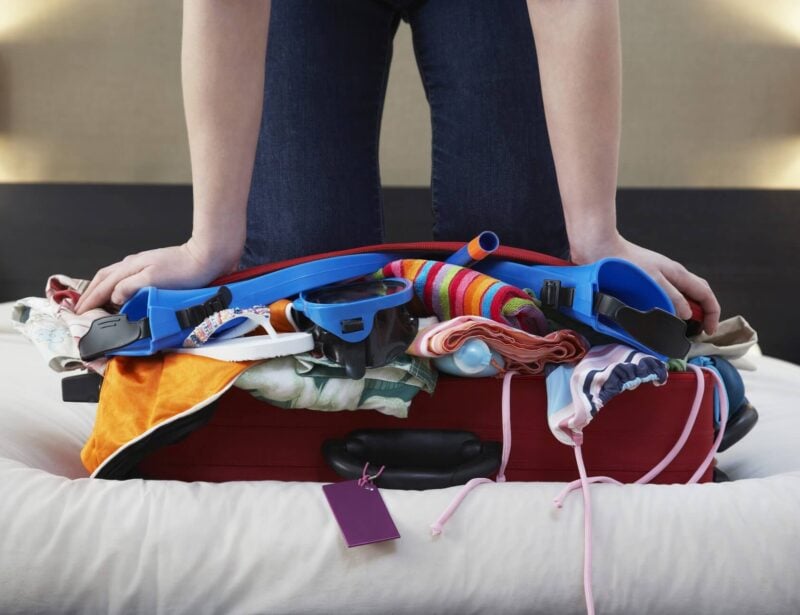 My missus travels with all her clothes in ziplock bags: don't be like my missus. UP YOUR PACKING GAME!
Packing cubes for the globetrotters and compression sacks for the real adventurers – these babies are a traveller's best kept secret. They organise yo' packing and minimise its volume too so you can pack MORE.
Or, y'know… you can stick to ziplock bags.
View Our Fave Cubes
Or Check Out the Sacks!
Don't Forget your Orlando Travel Insurance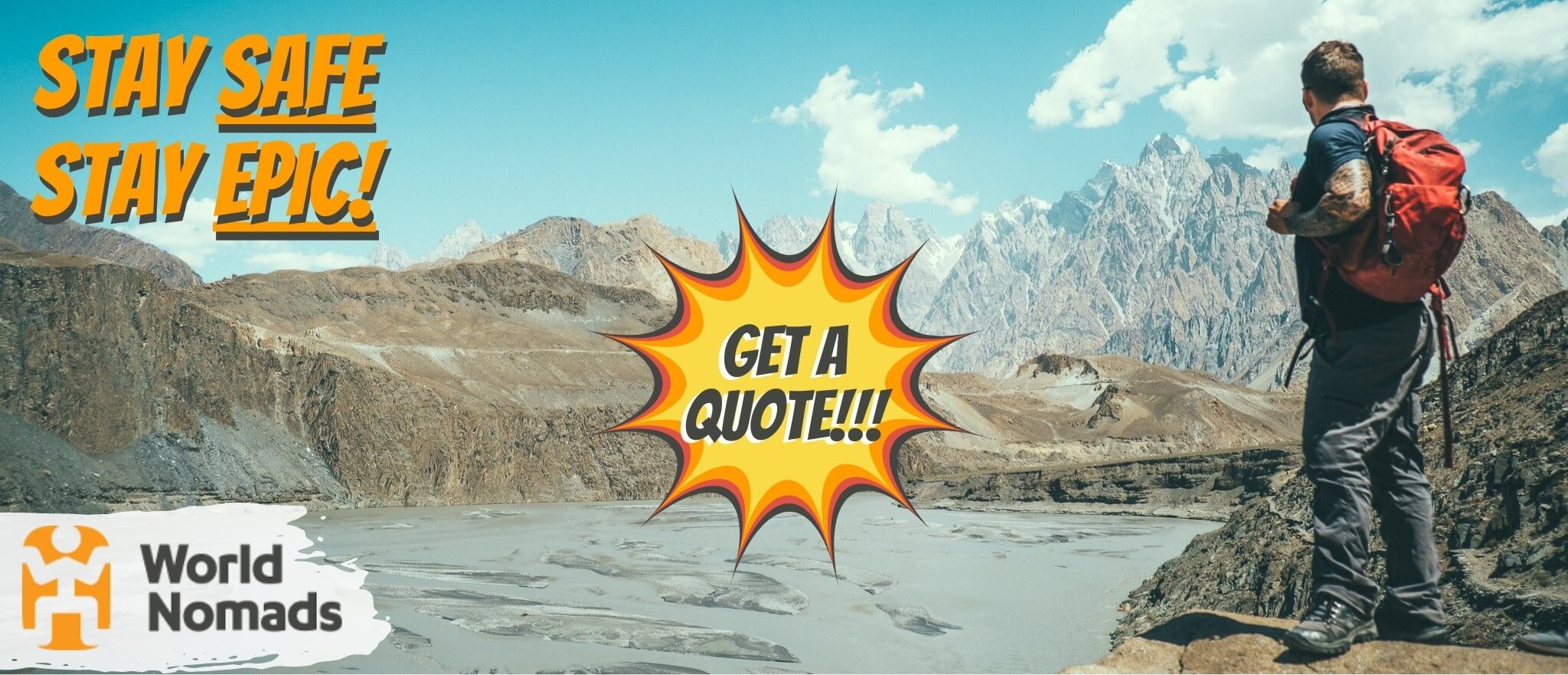 World Nomads' mission is to support and encourage travellers to explore their boundaries. They offer simple & flexible travel insurance, and safety advice to help you travel confidently.
They've been doing it since 2002 – protecting, connecting, and inspiring independent travellers just like you.
Get a quote below or read our in-depth review!
World Nomads provides travel insurance for travelers in over 100 countries. As an affiliate, we receive a fee when you get a quote from World Nomads using this link. We do not represent World Nomads. This is information only and not a recommendation to buy travel insurance.
Final Thoughts on Day Trips from Orlando
And that brings us to the end of our list of day trips you can take from Orlando. This central Floridian city is surrounded by state parks, tropical beaches, and exciting cities.
If I had to choose just one trip, I would visit the historic city of St. Augustine to get a feel for what America was like in the 1500s. If you have more time, don't miss out on one of the region's exquisite springs, where you can watch manatees cruise around their natural habitat.
After reading through this list, I hope you have a better idea of the best day trips in Orlando and have added a few to your personal travel list.
---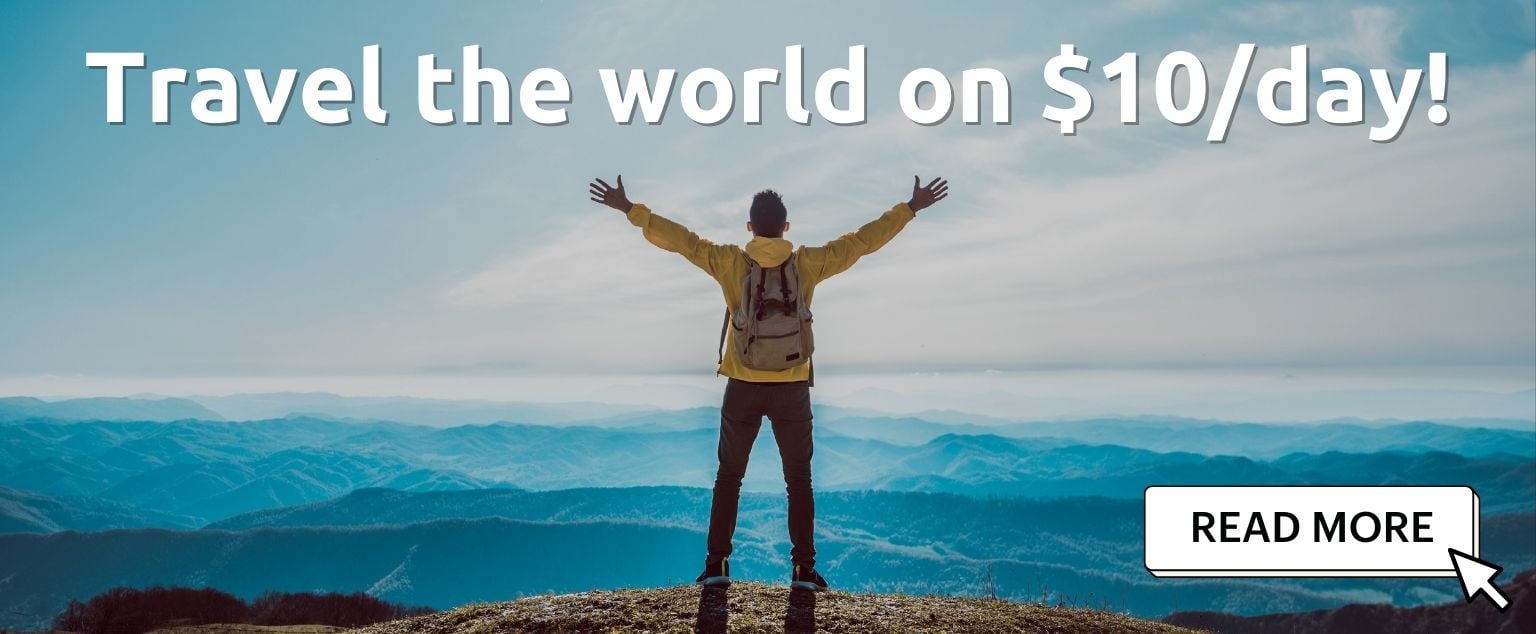 And for transparency's sake, please know that some of the links in our content are affiliate links. That means that if you book your accommodation, buy your gear, or sort your insurance through our link, we earn a small commission (at no extra cost to you). That said, we only link to the gear we trust and never recommend services we don't believe are up to scratch. Again, thank you!