The most southerly point of the United States, Florida Keys could be another country. One hundred islands made up of sandbars and mangroves welcome gently lapping turquoise waves onto their white sands. The flat, calm waters mean it's the perfect place to go stand up paddle boarding or kayaking for lazy days hopping between the islands!
After a day of paddling or swimming, you'll need somewhere to come back to. Why not take a look at vacation rentals in the Florida Keys? These can be anything from your own apartment in a condo to a yacht. They're the perfect way to get a local feel for this stunning part of the world.
With that in mind, we've put together this list of the best Airbnbs in Florida Keys, curated by travel style, budget, and location. There are also some awesome Airbnb Experiences, so you can have a blast when you're there. Let's check it out!
Quick Answer: These are the Top 5 Airbnbs in Florida Keys
Overall Best Value Airbnb in Florida Keys
Overall Best Value Airbnb in Florida Keys
Bella Vita Condo steps from Duval
> $$
> Two Guests
> Wrap-around porch with chairs
> Self-check-in
Best Budget Airbnb in Florida Keys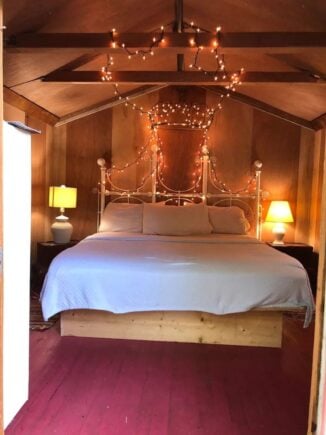 Best Budget Airbnb in Florida Keys
Unique Camping Shed near beach
> $
> Two Guests
> King bed
> Kayak campfire stargazing evenings
Best Airbnb for Couples in Florida Keys
Best Airbnb for Couples in Florida Keys
Romantic Retreat with private deck
> $$$$
> Two Guests
> King bed
> Swimming pool and spa
Best Airbnb for Families in Florida Keys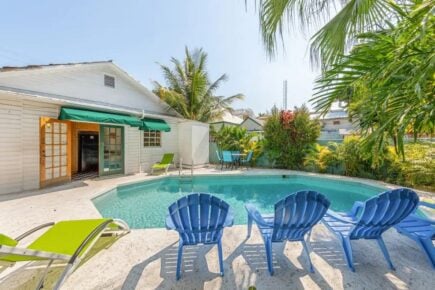 Best Airbnb for Families in Florida Keys
Tropical family-friendly home
> $$$$$$$$
> Eight Guests
> Private patio
> Heated pool
Over-the-Top Luxury Airbnb in Florida Keys
Over-the-Top Luxury Airbnb in Florida Keys
Multi-Million Beach Mansion with pool
> $$$$$$$$$$$$$
> Ten Guests
> Private beach
> Oceanfront heated pool

Unlock Our GREATEST Travel Secrets!
Sign up for our newsletter and get the best travel tips delivered right to your inbox.
What to Expect from Airbnbs in Florida Keys
From one of the best US National Parks, the Everglades to Key West, the most southwesterly point, it's more than two hours by car (about 100 miles). So, location is important here.
With your own transport (maybe even get an RV rental?), the Keys are pretty easy to navigate, so it's not the end of the world if you're a little journey from your desired destination.
The next thing to take into consideration is cost. Florida Keys isn't cheap; however, because Airbnbs offer great value for money, you can be assured that every dollar you spend goes towards a high-quality vacation rental, whether that's a classy condo, a quirky tiny house, or a luxury yacht.
Many vacation rentals in Florida Keys are professionally managed through companies. However, you will find a few properties where you'll be welcomed by a local host.
Boat
Florida Keys is a narrow strip of land surrounded by the sea. Since you're never more than a few minutes from the water, why not stay on a boat? A boat could be anything from a small vintage sailboat to an ultra-luxurious mega yacht.
As with any type of property, what you get from your boat will depend on your budget. Smaller budgets get smaller boats, but if you've got a lot to spend, the sky is the limit. There are more than 100 boats listed on Airbnb in Florida Keys!
Boats that don't have features like kitchens and dining areas will often be connected to a marina, where you can access hotel facilities such as restaurants, breakfasts, and gyms or swimming pools.
Villa
If you're planning a group celebration, a villa is a great option. These large properties often have multiple bedrooms and living spaces indoor and out, so they're ideal for families.
As well as a fully equipped kitchen, you can expect a swimming pool and a large garden – some may even have their own private beaches, though you will pay a premium for those. Many villas in Florida Keys are part of resorts, so you'll have access to amenities in those too.
Though they may seem expensive at first glance, because these are large properties, it's easy to split the cost between guests. A villa might actually be the most cost-effective way of travelling if your group is bigger than four. Imagine that!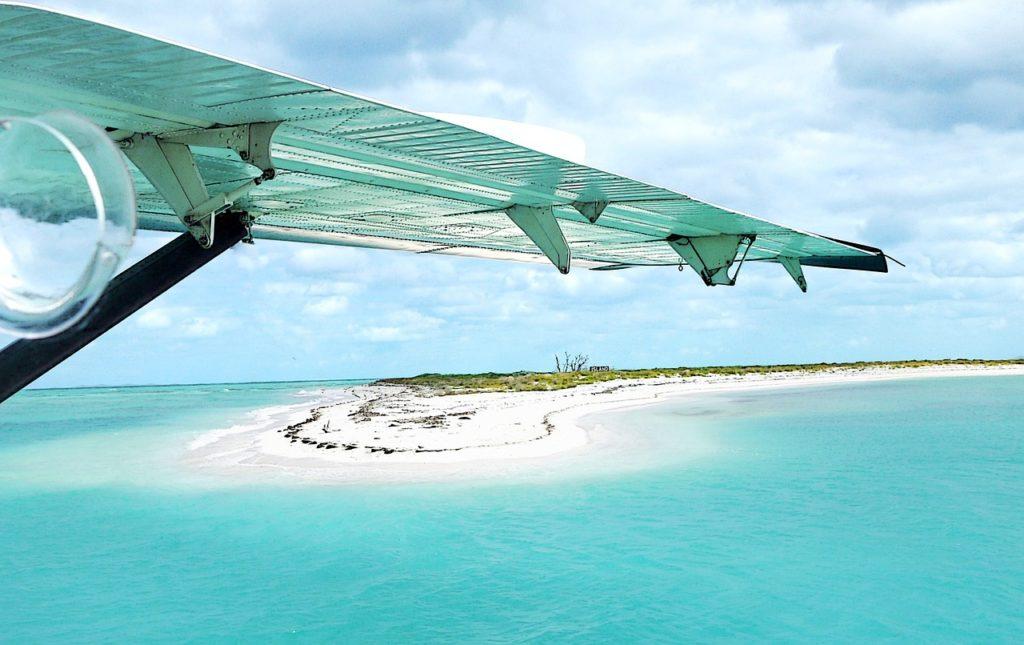 Condo
Condos (or condominiums) are like apartments, but a little different. If you're from the United States, they'll need no further explaining. You may even live in one! However, for travellers from the rest of the world, they're a large building where you own or rent the living area of your building but share common areas.
Condos are great for vacation rentals because common areas often include things like gyms, swimming pools, and roof terraces – perfect for soaking up the Floridian sun! Though you can get large condos, these are usually suited to smaller groups of less than four people. Couples will love them!
There's no search function specifically for condos on Airbnb. However, if you search entire flat or private room, the listing title often will include condo.
Why Stay in an Airbnb
If you're still not sure you should choose a vacation rental over a hotel, let us give you five of the top reasons to stay in an awesome Florida Airbnb.
Local Experience: With a local person or business acting as your host, you can get lots of recommendations on the best things to do that you won't find in the guidebook.
Privacy: Lots of Airbnbs have self-check-in. You can even filter for completely private accommodation if you want to!
Affordability: In a pricey area like Florida Keys, value for money is important. Luckily, Airbnbs usually offer more for your money than hotels of an equivalent price. That doesn't just go for the Florida Keys, but for all travel destinations in the USA.
Safety: Staying in someone else's home may seem like a risk, but that risk is heavily reduced with Airbnb's vetting system. Customer Support is on hand 24/7 too!
Airbnb Experiences: It's not just about places to stay; Airbnb Experiences helps you to get acquainted with your destination. More on that later!
The Top 15 Airbnbs in Florida Keys
Now you know what to expect and why you should choose vacation rentals, let's get to the part you've all been waiting for. Here are 15 of the coolest Airbnbs in Florida Keys. You're going to love them!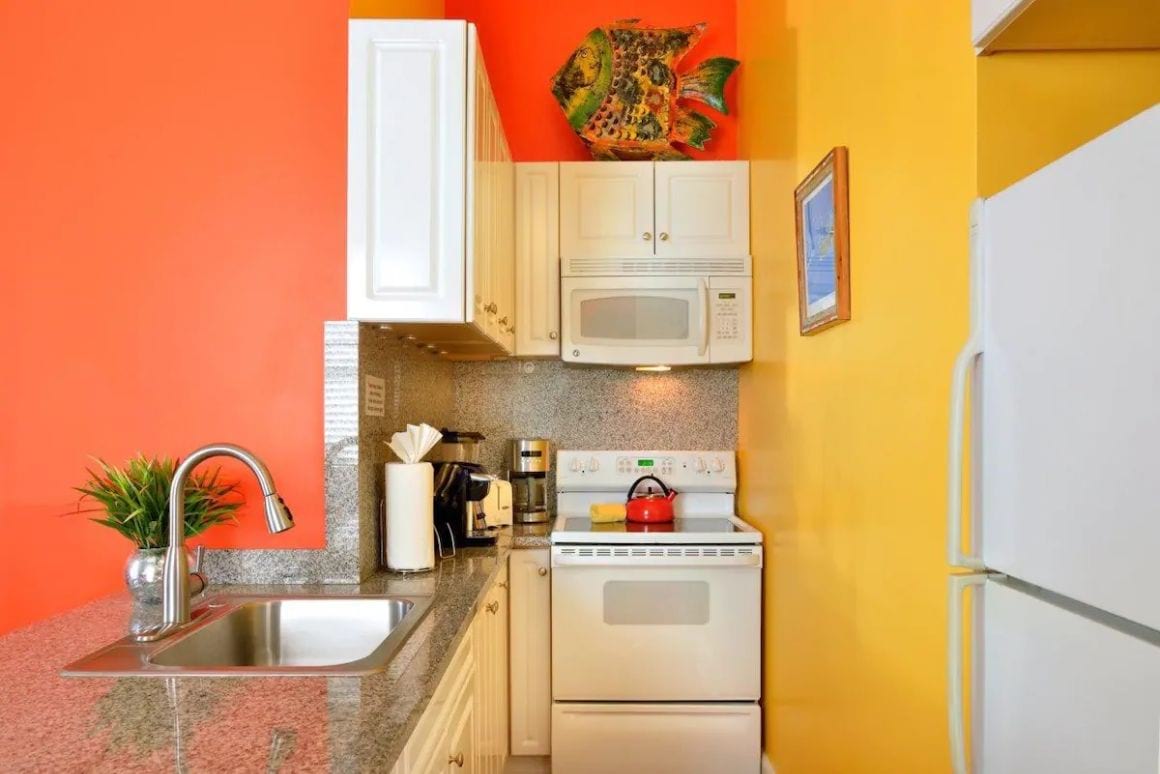 $$
Wrap-around porch with chairs
Ideal for couples, this colourful property is a great value Airbnb in Key West. It's less than half a block from Duval Street, and many other landmarks are within a stone's throw. Back in the flat, you'll be treated to bright decor, a king bed, flat-screen smart TVs, and a cosy living area. Enjoy your morning coffee on the porch and watch the world go by!
This spot has one of the best locations in Florida Keys – just half a block from Duval Street! The king bed makes it perfect for couples, who can spend the morning enjoying a coffee and people-watching from the porch.
Two Guests
Kayak campfire stargazing evenings
The Florida Keys are a lot of things, but cheap isn't one of them. However, with some research, you can find affordable properties, such as this tiny house in Key Largo. Offering a glamping experience, there's a king bed in the hut and a small outdoor space. Your host offers kayak campfire stargazing experiences too, so get in touch with them if you'd like to know more.
Perfect Airbnb for Solo Travellers | Key West Cozy Home
One Guest
Kayaks and paddle boards for rent
Home stays are a great option for solo travellers. They not only allow you to save some cash, but also to have a completely local experience during your stay. At this family home on Stock Island (near Key West), there are kayaks and paddleboards for rent, and you're welcome to use the communal areas of the house. Did we mention the home is right on the water?!
Is This the Best Backpack EVER???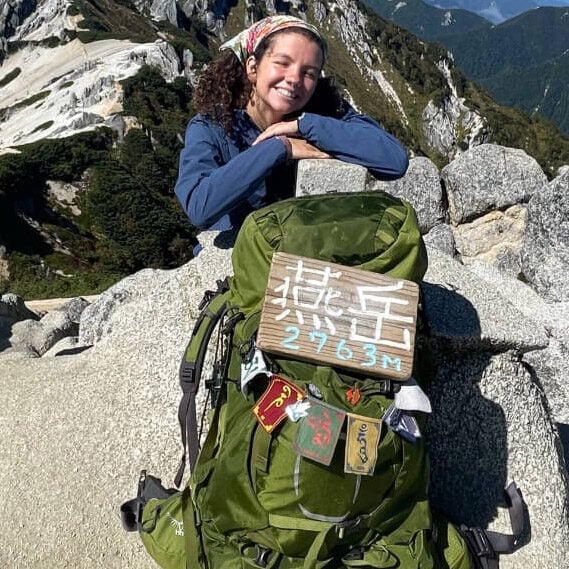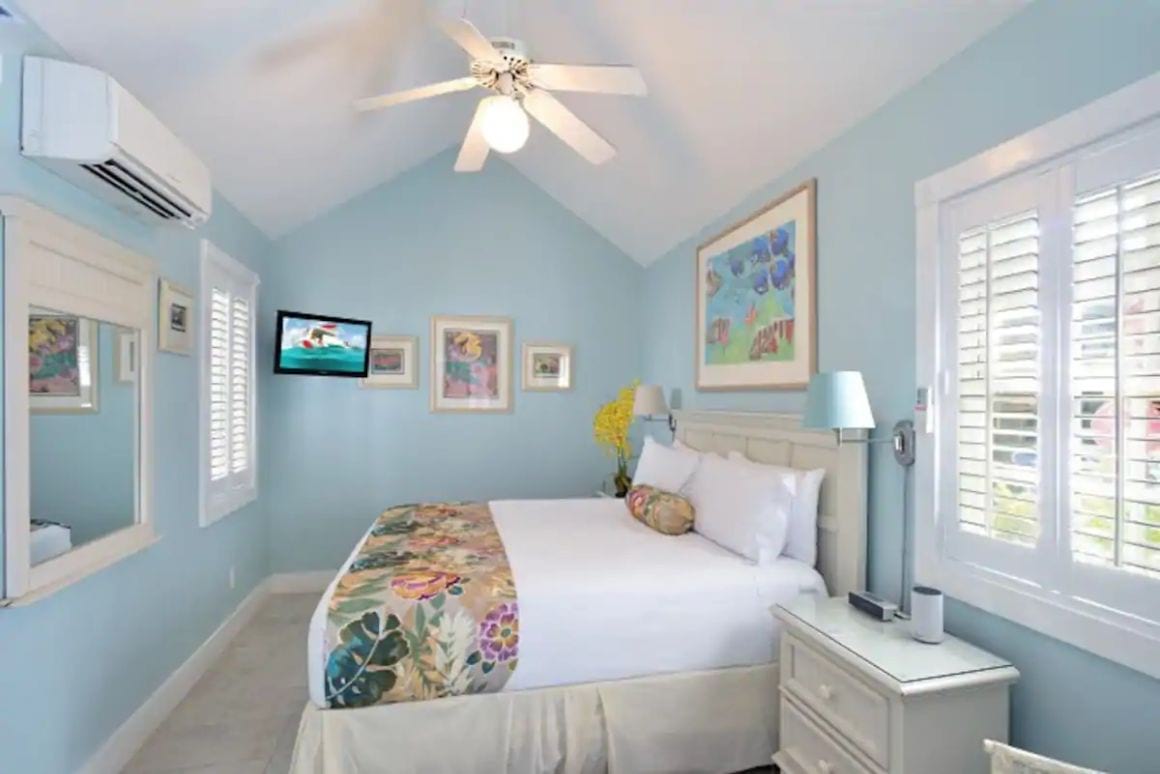 Two Guests
Swimming pool and spa
This cute, free-standing cottage dates back to the 1800s and is the perfect romantic Airbnb for a couple. Not only does it have a king bed inside, but there's a rocking love seat on the private deck as well as a table and chairs – and a private hot tub! There are also heated swimming pools on the property that you're welcome to use.
Another property close to Duval Street in Key West, this Airbnb is perfect for families. There's room for up to eight guests across three bedrooms, with singles and sofas in the smaller room perfect for children. With a fully equipped kitchen, you can save a few dollars over eating out, and there's free parking on the driveway, too. You can even bring your furry friend as pets are welcome!
$$$$$$$$$$$$$
Private beach
Ten Guests
Oceanfront heated pool
This place is just insane. You have your own private beach overlooking Summerland Key! Not only that, there's a heated pool right by the ocean, a pool table, and a hammock. This place is perfectly set up for you to chill out and escape the real world. There's space for up to ten guests, so it's good for families and friends. We're sure you'll spend all your time outside, but it's good to know there's a 56-inch curved TV waiting for you in the living room.
$$
Access to hotel facilities
This renovated 25-foot sailboat hails from 1978 and is packed with retro charm. It's docked in Stock Island marina, so as well as your cute boat, you've got access to the Perry Hotel. Here, there's a bar, gym, restaurants, pools, and even dog parks! The boat, named Poppy, is quite small. It's ideally suited to a solo traveller, or it could be a romantic retreat for a couple.
Duck Key is about halfway down Florida Keys, and there are some pretty awesome villas here – such as this one. Another property ideal for families, four bedrooms can sleep up to ten guests, there's a fully equipped kitchen and a swimming pool. As well as free parking, you can take advantage of a 35-foot dock to moor a boat.
$$$$$$
Olympic swimming pool
Six Guests
Covered picnic areas and grills
Back in Key West, you'll find this cool condo close to Smather's Beach. The large indoor space boasts a kitchen, sitting area, and three bedrooms, but it's the shared spaces that make this place special. You've got access to an Olympic sized swimming pool and hot tub right by the beach! Prefer to stay dry? Make use of the grilling area and covered picnic areas and enjoy some lunch. Go on, treat yourself!
Two Guests
Close to cafes and restaurants
Being a digital nomad is becoming more and more common. All you need is a laptop, somewhere to work, and fast Wi-Fi. If you supply the laptop, Mallory House will give you the other two ingredients. This boutique hotel is close to the cafes of Key West, so if you fancy a change of scenery for the day, it's easy to get one. When you're chilling at the guest house, be sure to take your hosts up on their offer of a complimentary coffee overlooking Duval Street.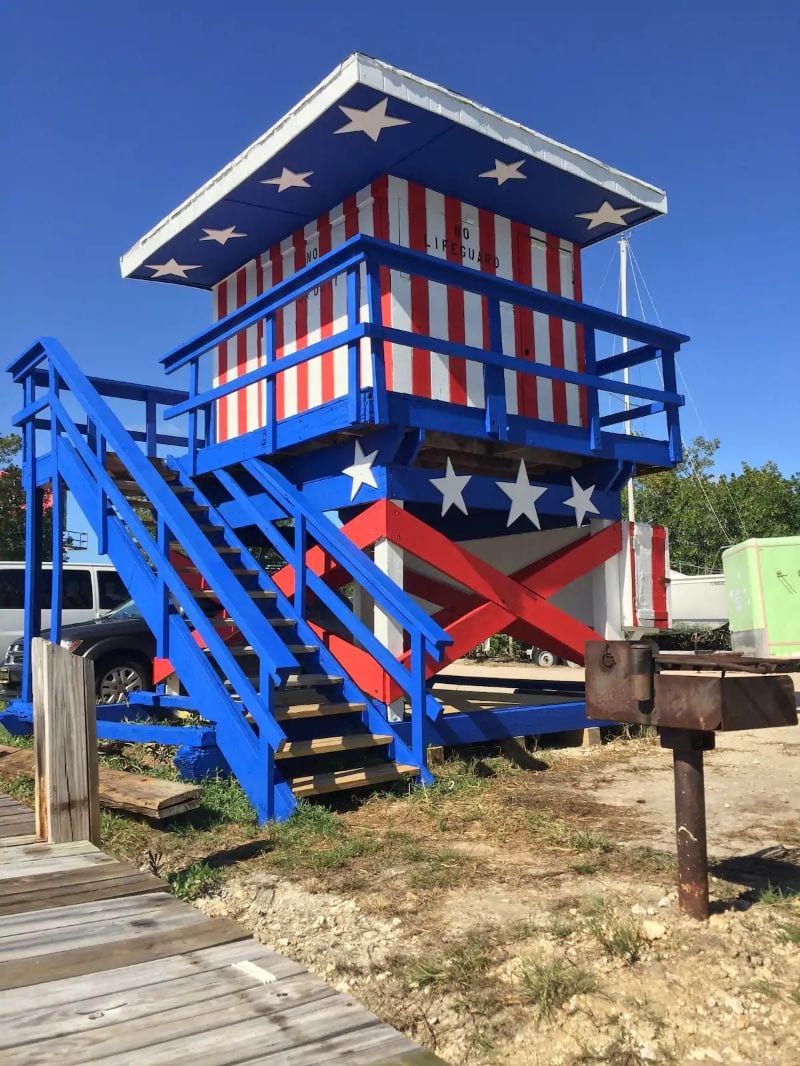 Two Guests
Breakfast included
Always dreamed of appearing in Baywatch? That may never happen, but you can pretend when you're staying in this lifeguard tower! Located at the very north of the Keys in Key Largo, it offers easy access to the Everglades too. Breakfast is included in this no-frills accommodation, and it's sure to make memories that last far beyond your flight (or drive) home.
Best Airbnb in Key West | Casa Loca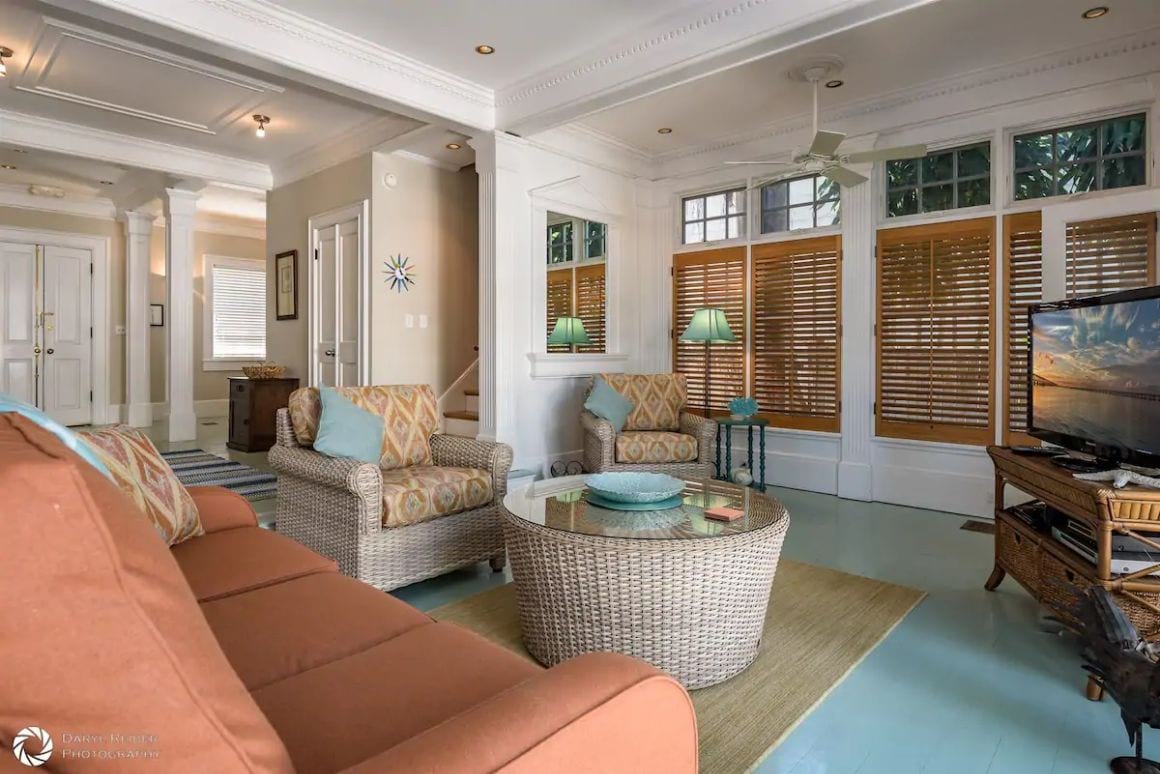 $$$$$$$$
Private heated pool
Eight Guests
Concierge service
A lot of the Airbnbs we've seen so far are in Key West, and that's no surprise; it's the most popular location in the Keys! It's probably got the biggest selection of accommodation, but here's one more we think you'll love. Boasting a private heated pool and concierge service, this luxurious retreat is ideal for a family or group of friends. It's usually booked, so move fast!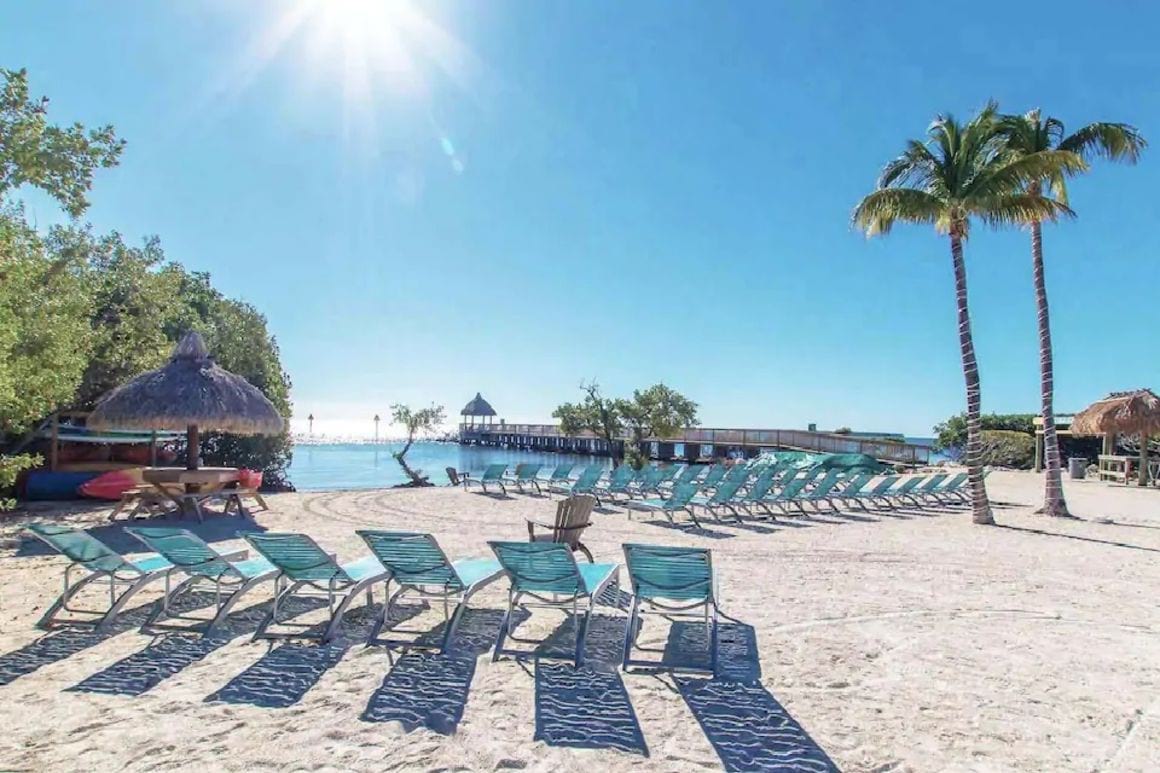 Islamorada and Tavernier are closer to the north end of the Keys, and they're much quieter than Key West. For some, that might be a big attraction. This condo has room for four guests across two rooms, so it could suit a small group or a couple. You have access to a cafe, a large heated pool, and spectacular ocean views from here.
Two Guests
Paddle boards and kayaks
Another Key Largo Airbnb, this cute cottage is right on the water and comes with kayaks and paddleboards. The tiny house cleverly uses space to make room for up to four guests in a studio style room in an RV park. The cottage has a fully equipped kitchen stocked with a coffee maker and other useful appliances.
Two Guests
Fully equipped kitchen
Last but not least is this small cottage by the ocean in Marathon. It's great for solo travellers or couples on a budget. The studio-style apartment comes with a fully equipped kitchen, queen bed, and an open plan living space. Outside, you can chill out at the picnic table and enjoy a meal under the stars in the evening!
Top 5 Airbnb Experiences in Florida Keys
Hopefully, you've found somewhere you want to stay. While you're mulling it over, let's take a look at Airbnb Experiences. These are tours and trips curated by native Floridians (mostly), and they're a cool way to travel like a local in your destination.
Airbnb Experiences in Florida Keys can be anything from snorkelling with dolphins or sailing on historic yachts to super fun booze cruises. It all depends on your tastes.
With more than 20 Airbnb Experiences in Florida Keys to choose from, you certainly won't be bored during your stay. Here are five of our favourites!
$117/person
4 hours
Up to 8 Guests
The Florida Keys are packed with wildlife, and this is the ideal opportunity to get up close and personal with it. You'll set sail on a catamaran to an area that is home to roughly 200 Bottlenose dolphins. You'll remain a safe distance away as you admire these beautiful creatures. Then, it's onto a snorkelling spot where you'll uncover sponges and tropical fish. Fresh fruit and drinks are provided as part of the trip.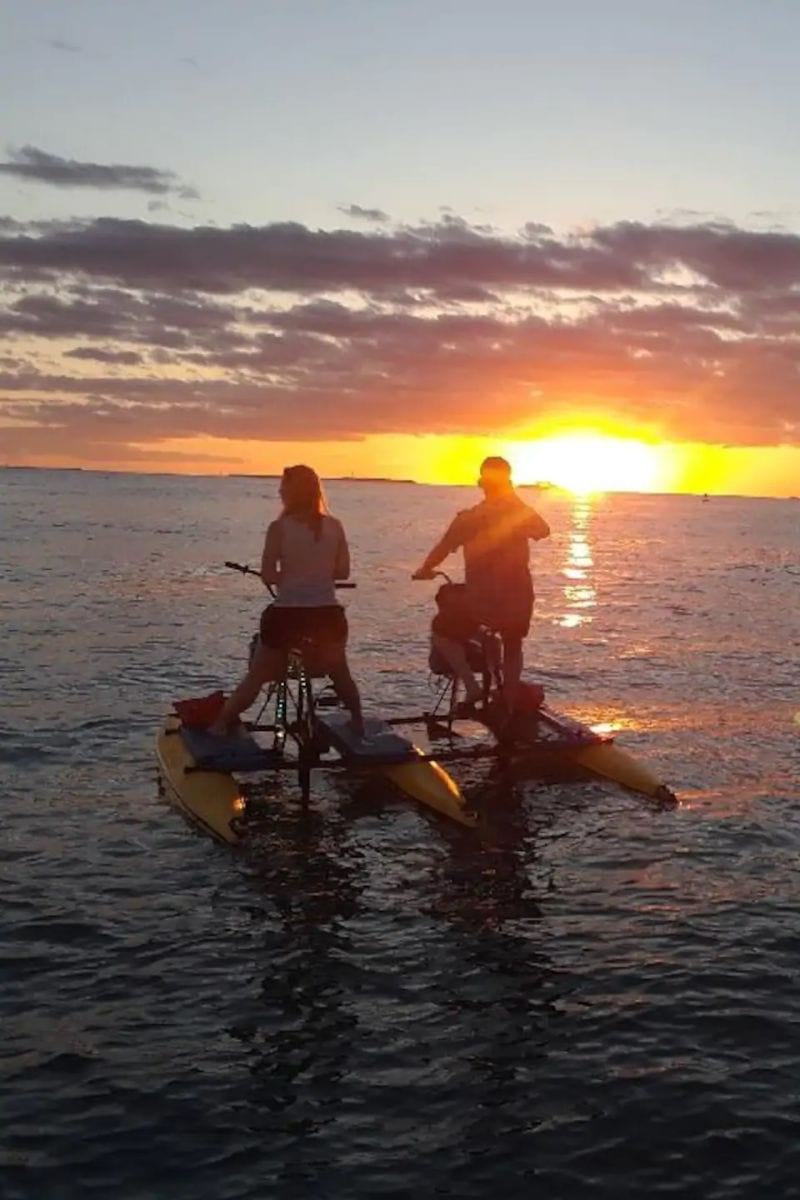 $26/person
1.5 hour
Up to 6 Guests
Here's one if you're staying in Key West. There are a whole host of watercraft that make exploring the waters of the Keys a treat – including stand up paddleboards and kayaks. However, on this Airbnb Experience, you'll be pedalling a water bike! It's a fun activity for all ages, and a sunset you'll remember for a lifetime. Once it gets dark, you can walk to performances in Mallory Square or listen to Sunset Pier's music from your 'bike.'
$89/person
2 hours
Up to 10 Guests
Want to explore the Keys and experience a slice of history? This classic schooner will provide that. You'll leave Key West's historic seaport for a two-hour sunset experience, and there's complimentary wine and beer on board. Sit back, relax, and enjoy the views as the Schooner navigates the calm waters. Once you're back on land, you'll feel like a new person!
$81/person
3 hours
Up to 10 Guests
In an area surrounded by so much water, that means one thing when it comes to the cuisine – seafood! On this tour, you'll be trying fresh fish tacos, lobster mac 'n' cheese and pink shrimp. And of course, a slice of world-famous Key Lime Pie, which was invented just up the road in Key Largo! This three-hour tour is a must for foodies in Key West.
$45/person
2 hours
Up to 10 Guests
Jump on your pedal-powered party boat and launch from Key West to enjoy the views and some drinks. It's BYOB, but your hosts have taken care of everything else – including music, party lights, ice, and coolers. We'd suggest doing this at sunset, when you'll enjoy 2.5 hours of the most stunning vistas with your drinks.
Don't Forget Your Florida Keys Travel Insurance
ALWAYS sort out your backpacker insurance before your trip. There's plenty to choose from in that department, but a good place to start is Safety Wing.
They offer month-to-month payments, no lock-in contracts, and require absolutely no itineraries: that's the exact kind of insurance long-term travellers and digital nomads need.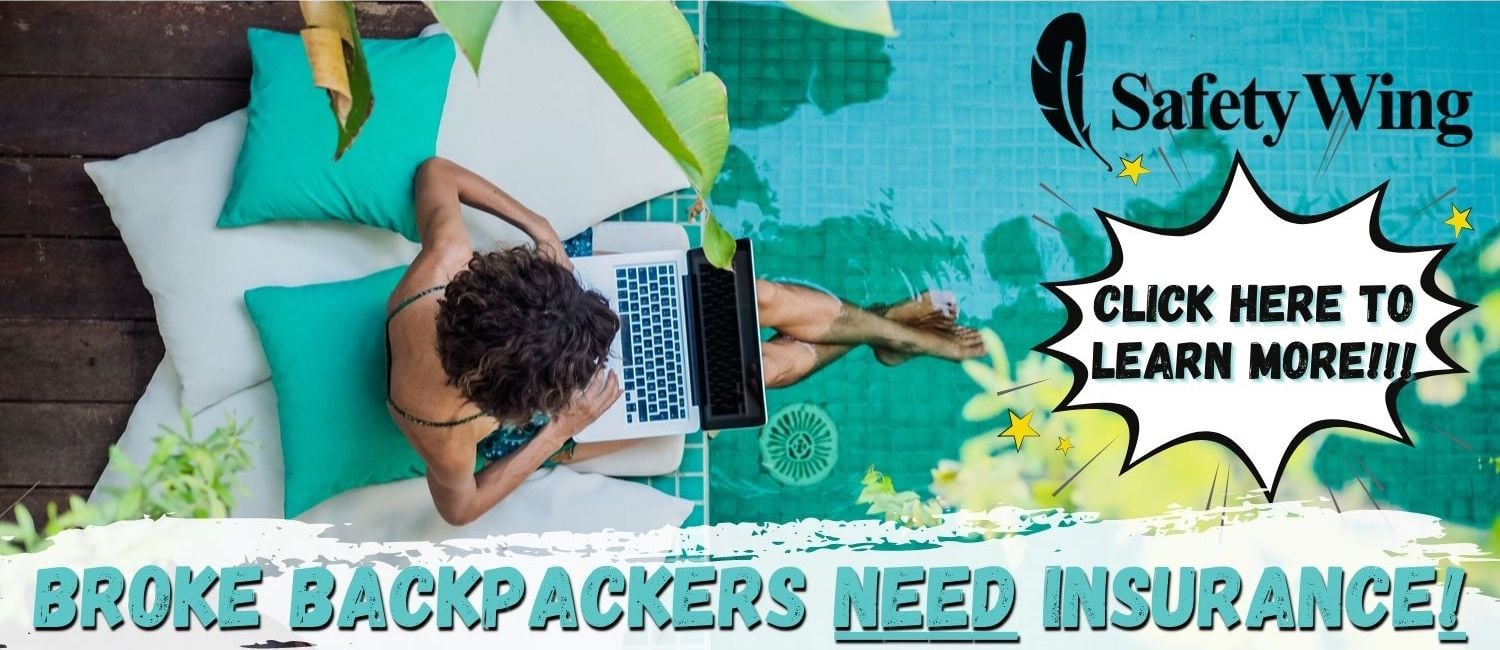 SafetyWing is cheap, easy, and admin-free: just sign up lickety-split so you can get back to it!
Click the button below to learn more about SafetyWing's setup or read our insider review for the full tasty scoop.
Final Thoughts on Florida Keys Airbnbs
So, there you have it. Those are the 15 best Airbnbs in Florida Keys, with some really cool Airbnb Experiences thrown in too. Whether you want to stay in a tropical villa with a pool, a cool condo, or even a tiny house lifeguard tower, there's an Airbnb in Florida Keys for you.
Still can't make your mind up? Well, let us round off with reminding you of our overall best value Airbnb in Florida Keys. That's the Bella Vita Condo steps from Duval. Located just steps from the Key West Historic District, it has awesome reviews, and you're sure to love it.
We hope that wherever you choose to stay in Florida Keys, you have a fantastic vacation. To keep yourself and your belongings safe, make sure you check out World Nomads for travel insurance!
---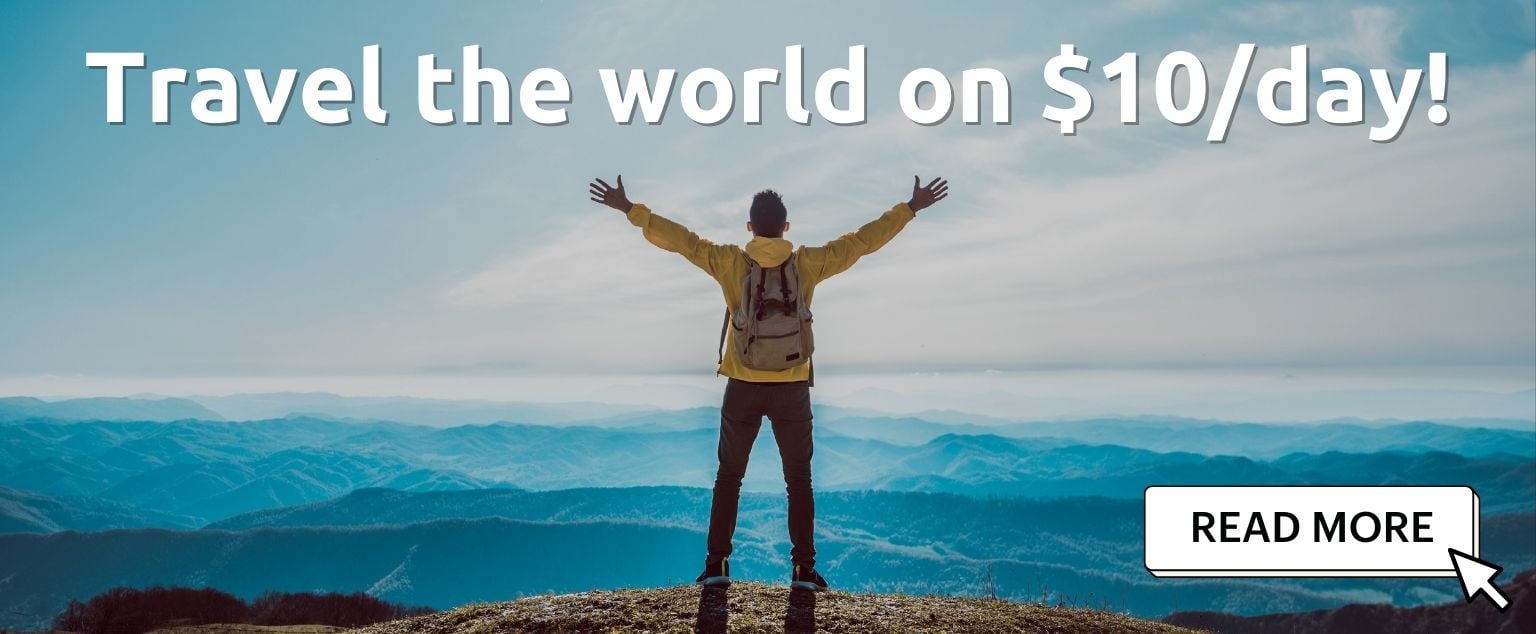 And for transparency's sake, please know that some of the links in our content are affiliate links. That means that if you book your accommodation, buy your gear, or sort your insurance through our link, we earn a small commission (at no extra cost to you). That said, we only link to the gear we trust and never recommend services we don't believe are up to scratch. Again, thank you!