Hold on to your sombreros, we're heading to New Mexico!
Winding alleys, windswept houses, and Pueblo architecture beckon at Santa Fe, one of New Mexico's oldest cities. Fringed by the spectacular Sangre de Cristo Mountains, Santa Fe offers plenty for every type of traveler.
In many ways, the city is like an absolute breath of fresh air in New Mexico's arid climate — and I mean that literally! Because of its mountainous landscape and elevation, Santa Fe's climate tends to be more temperate.
Best of all, the city offers easy access to plenty of incredible nature reserves and parks where you can hike, birdwatch, or try to spot some wildlife in their natural habitat. While there aren't a lot of designated national parks in Santa Fe, rest assured that you'll still find plenty of hiking trails, forest reserves, and sanctuaries where you can admire the local fauna and flora.
So, let's get started!
What are National Parks?
Perhaps you want to take a detour in your epic USA backpacking journey and head towards the great American national parks to breathe in some crisp oxygen.
Nature lovers will be glad to learn that in addition to having a national park, Santa Fe is an excellent jumping point for visiting other neighboring national parks as well as an array of conservation sites and hiking trails. Believe me when I say that a visit to the city's parks and reserves is absolutely worth it!
But first things first. Let us understand what exactly is a national park keeping in mind the great national parks of America.
Well, national parks basically refer to areas of water or land that are legally protected by the local government to preserve them in their local state. These parks are commonly set aside for wildlife conservation and public enjoyment — although, in some cases, they are also used for scientific research. National parks are usually characterized by their unique topography and unique landmark punctuated by local plants and wildlife.
There are heaps of parks to explore across the delightfully rugged New Mexico and Santa Fe terrain, so grab your best hiking boots and let's dive straight into it!
National Parks in Santa Fe
Whether you're looking for the best things to do in Santa Fe or simply want to immerse yourself in the great outdoors, don't worry, I've got your back!
Here are 7 Santa Fe parks that you may wish to add to your Santa Fe itinerary.
Pecos National Historical Park
Size: 27 km²
Location: Pecos, New Mexico
Cost of Entrance: Free
Here's a venue that totally takes the cake if you're looking for exciting things to do in Santa Fe national parks!
Now, the Pecos National Historical Park is admittedly small, but I promise it's totally worth a visit. In fact, this park houses three scenic hiking trails with incredible views of the juniper- and piñon-speckled landscape.
Families traveling with children or amateur hikers will be glad to learn that two of these trails are quite easy. For example, the 6.1-km South Pasture Loop requires just over an hour to complete and takes you across fairly flat terrain through the ranch's pastures. You'll also go past a little creek teeming with trout. Do remember to bring your sunscreen and a hat because this trail can get seriously hot in the summer. It's also important to know that the South Pasture Loop is only open on the weekends.
If you're in the mood for something a tad more challenging, you can always check out the dog-friendly Glorieta Pass Battlefield Trail. Spanning 4 km, this trail is best visited from May to October. Remember to grab a permit and gate code from the park's Visitor's Center before starting this hike.
In addition to the excellent hiking opportunities, the Pecos National Historic Park also houses relics dating all the way back to when the Pueblo people used to live there. To learn more about the local history, you can always sign up for a Battle of Glorieta Pass van tour that'll take you through several locations that played a pivotal part in the Glorieta battle.
Where to Stay Near Pecos National Historical Park:
Nestled in the Pecos wilderness, this lovely rustic river cabin offers ample space for up to 4 guests. True to its name, this cabin boasts over 300 feet of private river frontage — perfect for relaxing after an arduous day of hiking! There's even a modern, well-equipped kitchen that you can use to rustle up a quick meal.
Other Parks in Santa Fe
Santa Fe may only have one national part under its belt, but I hope you won't let that deter you! With a stay in this city, you'll enjoy easy access to a plethora of other nature reserves and conservation centers.
Santa Fe National Forest
Size: 6,307 km²
Location: Los Alamos
Cost of Entrance: $5
While this place isn't an official national park in Santa Fe, there's no denying that fans of the great outdoors should feel right at home in this forest!
Covering an expanse of over 1.6 million acres, the Santa Fe National Forest offers a delightful medley of valleys, mountains, and mesas that offer an elevation of 5,000 to 13,000 feet. But that's not all: visitors will also get the chance to mosey around both archeological and cultural sites that perfectly showcase the city's history.
Given its size, I'm sure you won't be surprised to hear that there's plenty to do over there! I would say that one day isn't quite enough to soak up all those gorgeous sights, so you can always check out the forest's many camping areas if you'd like to spend the night and prolong the fun. The forest also has several RV camping sites for those traveling by recreational vehicles.
Endless picturesque driving opportunities abound in the forest, and the various types of landscape mean that there's always something new to discover. In fact, the forest's size means that you can cross over from an alpine zone to a desert environment in just half a day! Visitors traveling by car may wish to check out the Jemez Mountain Trail and the Santa Fe National Forest scenic byways, both known for their incredible vistas.
If you'd rather cycle your way around (yay for eco-friendly transportation!), the forest does feature mountain-biking trails in South Jemez and the East Santa Fe foothills area. I wouldn't recommend that you venture from the designated cycling trails because mountain roads can be quite steep and narrow.
Be sure to check out the Santa Fe National Forest's dormant volcano whose crater extends into the neighboring Valles Caldera National Preserve.
Where to Stay Near Santa Fe National Forest:
A charming villa located near the Georgia O'Keeffe Museum, this property can comfortably sleep up to 4 guests. After a full day of sightseeing, retreat to air-conditioned comfort and whip up a meal in the well-equipped kitchen before relaxing in the cool waters of the pool.
ALWAYS sort out your backpacker insurance before your trip. There's plenty to choose from in that department, but a good place to start is Safety Wing.
They offer month-to-month payments, no lock-in contracts, and require absolutely no itineraries: that's the exact kind of insurance long-term travellers and digital nomads need.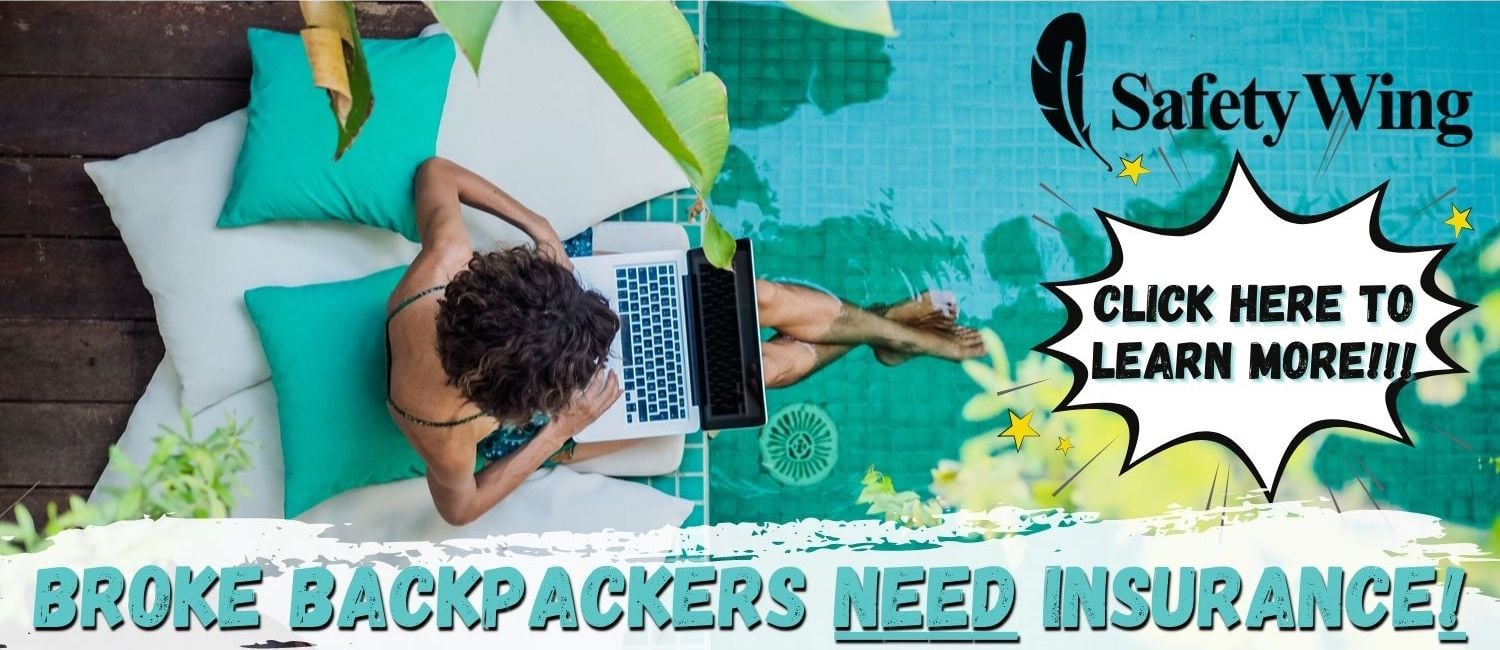 SafetyWing is cheap, easy, and admin-free: just sign up lickety-split so you can get back to it!
Click the button below to learn more about SafetyWing's setup or read our insider review for the full tasty scoop.
Hyde Memorial State Park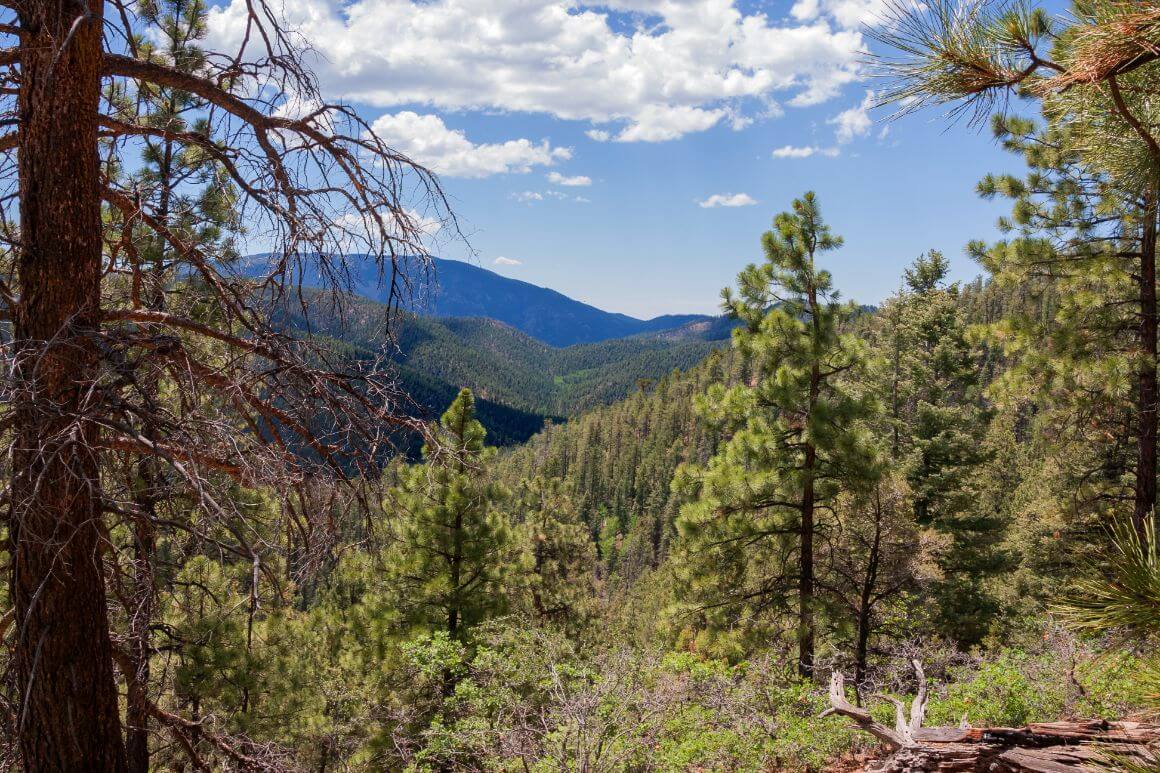 Size: 1.4 km²
Location: Sangre de Cristo Mountains
Cost of Entrance: $5
Okay, so I'm sure by now you've realized there are heaps of exciting things to do in Santa Fe National Parks — and Hyde Memorial State Park is no exception!
The very first State Park in New Mexico, Hyde Memorial lies just a short 15-minute drive from Santa Fe, making it an excellent destination for travelers looking for a fun day trip from the city. A year-round destination, Hyde Memorial is also known for its abundance of winter activities like cross-country skiing, sledding, and snowshoeing.
In addition to these great activities, the park also has 50 well-appointed campsites with vault-style restrooms. Some of these sites even feature electricity, so all you need is a great backpacking tent! If you don't want to rough it out, you can always set up camp in one of the park's yurts.
This place also offers plenty in terms of hiking, with four trails for moderate to experienced hikers. My favorite is the 4.3-km West Circle Trail Loop which requires nearly two hours to complete. This trail is quite popular among tourists and locals alike, so it's not uncommon to see people going for an early-morning jog. If you'd like to avoid the crowds, I recommend that you head there in the middle of the day.
Plenty of birdwatching opportunities are available, so don't forget those binoculars. You'll even be treated to gorgeous views of the Sangre de Cristo Mountains.
In addition, the park offers several family-friendly activities like volleyball and picnic areas — perfect for parents traveling with children!
Where to Stay Near Hyde Memorial State Park:
Located less than two hours from Hyde Memorial State Park, this gem of a place is a sustainably built modular structure designed for stargazing. Owing to its elevation, this house offers stunning views of the desert landscape. It also comes well-equipped with a full kitchen, laundry, and fiber-optic internet! When you feel like exploring, you can always check out nearby places like the Taos Ski Valley.
Randall Davey Audubon Center & Sanctuary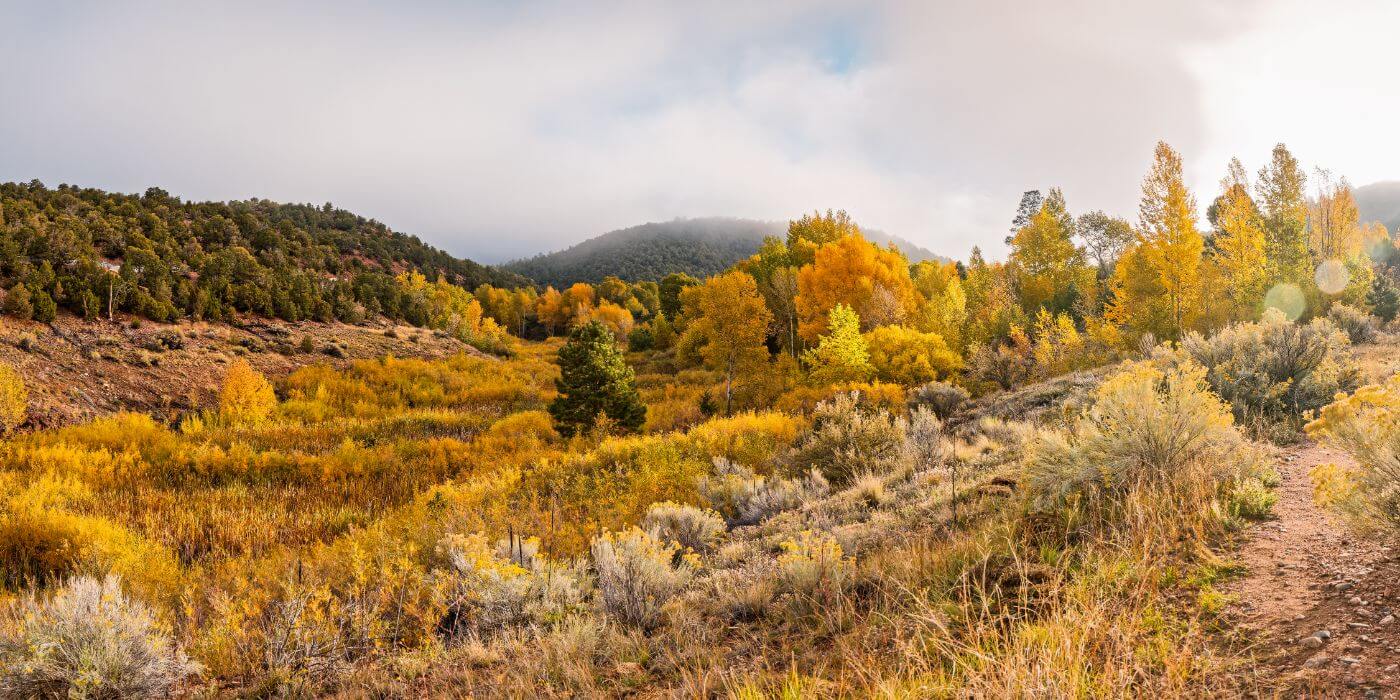 Size: 0.5 km²
Location: Upper Canyon Road
Cost of Entrance: $5
I'm sure you must be wondering when's the best time to visit national parks in Santa Fe. Well, considering that the Randall Davey Audubon Center & Sanctuary is one of Santa Fe's most popular spots, it does tend to get a bit crowded in the peak season (July and August). I would personally visit in September or October simply to avoid the crowds.
The sanctuary is admittedly on the small side, but it's definitely bursting with different types of activities! Found between the Santa Fe River Basic watershed land and the National Forest, this place was originally created to serve as a peaceful sanctuary for local wildlife and plants.
Birdwatchers have it made, with over 190 different bird species crossing through the sanctuary's ecosystem. If you're into birdwatching, you really don't want to miss their weekly free bird walks led by the sanctuary's experts! You'll also find several nature trails that'll take you through different plant zones and habitats — including meadows and even a ponderosa pine forest.
I also recommend the famous Haiku Trail, a verdant hike that features 24 poems etched on ceramics hanging from trees. The poems were deliberately arranged on the trees to draw your attention to the cholla cacti, hummingbirds, and other curious animals that may be flitting through the branches.
Where to Stay Near Randall Davey Audubon Center & Sanctuary:
Offering an excellent location just 10 minutes from the sanctuary, this lovely casita easily sleeps solo travelers or couples. Loads of outdoor pursuits lie nearby, including the Santa Fe Ski Basin. There's also a kitchen, but with downtown Santa Fe's best restaurants just a short drive away, why bother cooking, right?
Forget boring accommodation… book yourself an EPIC STAY!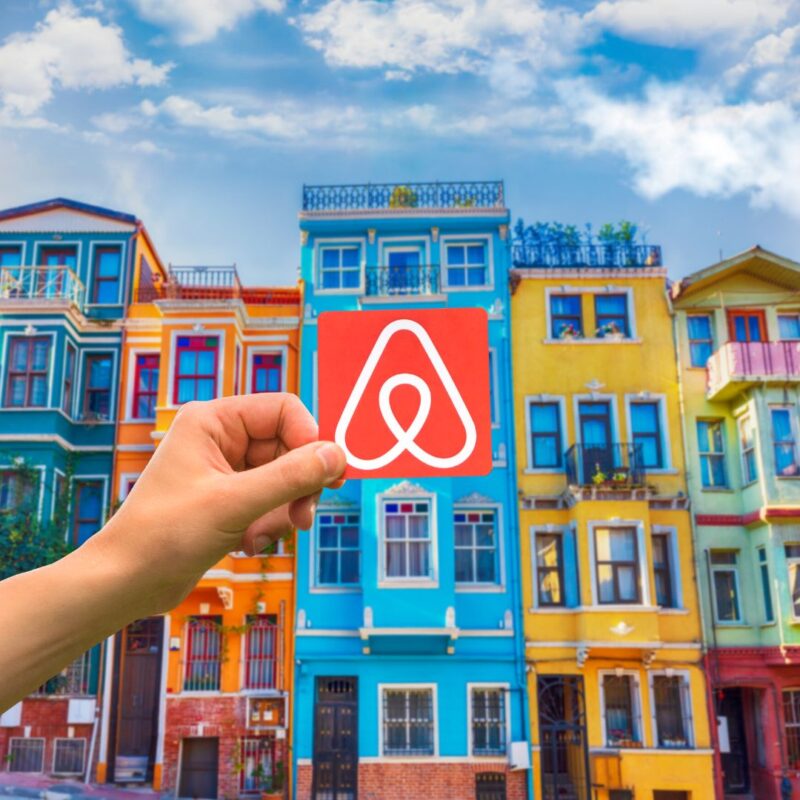 Why stay in a naff hotel when you can stay in a cosy, stylish local house instead? And for half the money too!
Stay somewhere EPIC and save your hard-earned dollars — from houses to barns to castles and caves, there is an Airbnb for every occasion!
Book an EPIC Stay
Santa Fe Canyon Preserve
Size: 278 km²
Location: Dale Ball Trails
Cost of Entrance: Free
A green oasis just a few miles from downtown Santa Fe, the Santa Fe Canyon Preserve encompasses parts of the Dale Ball Trails.
Like most national parks in Santa Fe, the Canyon Preserve offers endless hiking opportunities for just about every level. Just bear in mind that bicycles are not allowed on the trails. The main trail offers a 2-km loop through both the historic dam site and the riparian area. A network of smaller trailheads criss-crosses across the loop so you can basically kick off your hike from anywhere in the park.
Be sure to check out the old stone dam, originally constructed back in 1881. As you stroll around the dam, you can still see the remnants of the ancient metal staff gauge that was used to estimate the reservoir's water levels way back then.
Don't be surprised if you find rocks shaped like shells speckled across the northern area of the canyon. These are actually fossils formed from ocean deposits 200 million years ago!
As far as wildlife is concerned, the Santa Fe Canyon Preserve shelters a rich population of frogs and beavers. As you wander through the riparian vegetation, you might even find teeth imprints on cottonwoods — courtesy of the beavers! Keep your eyes peeled for the four-wing saltbushes whose seeds once served as a food source for Native Americans.
Where to Stay Near Santa Fe Canyon Preserve:
This cozy studio apartment is located just 11 minutes from the Santa Fe Canyon Preserve, so you can head to the park as often as you'd like! Ideal for couples, this space offers a private kitchen and a patio with barbecue facilities. In addition to the Canyon Preserve, you'll also enjoy proximity to attractions like the Georgia O'Keeffe Museum.
Valles Caldera National Preserve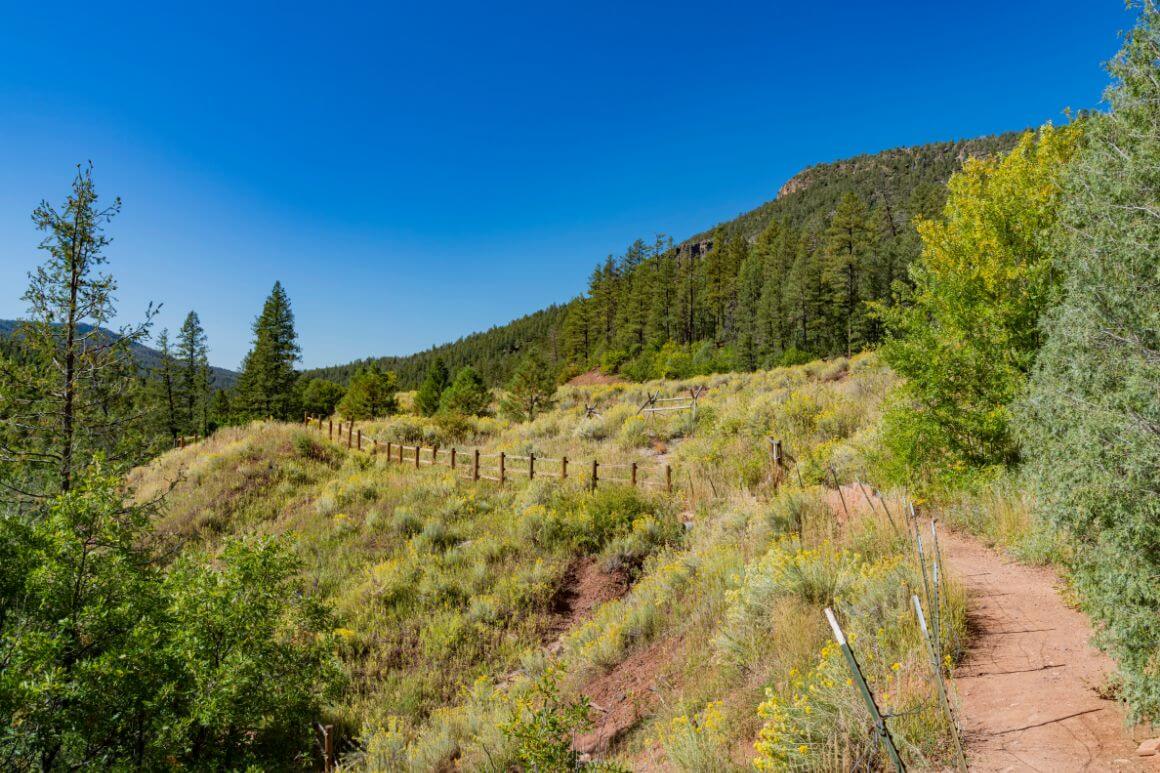 Size: 88,652 km²
Location: Jemez Mountains
Cost of Entrance: $25 per vehicle (valid for 7 days)
Are you looking for a place that's brimming with peace and serenity? Then head over to the Valles Caldera National Preserve, located less than 32 km from Santa Fe.
What makes this place special is that it houses one of the three supervolcanoes in the United States — but rest assured that it's dormant! Easily distinguishable by its large, 22.5-km caldera, this supervolcano's eruption occurred over a million years ago and the explosion was so immense that its ashes were blasted as far as Iowa.
The caldera floor is dotted with fumaroles, hot springs, volcanic domes, and streams, so there's plenty going on in there!
While we know that the best time to visit national parks in Santa Fe is in spring or summer, the Caldera National Preserve also has plenty on offer during the winter! You may be pleasantly surprised by the beautiful skiing and snowshoeing trails that cross through the Preserve, so don't be afraid to visit during the colder months!
Here are a few important things to know when visiting the caldera in the winter, though: the weather can be super unpredictable so be sure to check in with the park rangers before venturing deeper into the park. For safety reasons, you should also refrain from trampling the ski tracks. Instead, you can hike or ski parallel to existing tracks to form a new lane.
Where to Stay Near Valles Caldera National Preserve:
A 30-minute drive from the Reserve, this peaceful mountain retreat features one bedroom for 2 guests. Decked with handcrafted wood sculptures, this space boasts a well-appointed kitchen punctuated by gorgeous valley views. Guests will enjoy proximity to the Bandelier National Monument as well as the Los Alamos galleries.
Is This the Best Daypack EVER???
Galisteo Basin Preserve
Size: 1,902 km²
Location: Lamy
Cost of Entrance: $35 (adult), $15 (child)
Let's wrap this up with another great site that's found just over 16 km from south Santa Fe!
One of the largest reserves near Santa Fe, the Galisteo Basin Preserve encompasses expansive savannah grasslands and craggy sandstone structures. Despite its fairly flat terrain, this site provides incredible views of the surrounding areas — the southern part of the Galisteo Basin overlooks both the Sandia Mountains and the Ortiz Peak, while the northern portion of the parks features unblemished vistas of Sangre de Cristo's snowcapped peaks.
Cycling through the park is an absolute must-do, especially at sunrise so you can see the beautiful terrain all lit up by the soft yellow glow of the rising sun.
Depending on when you're visiting, you may even catch local events such as the "Share the Trails" ride for equestrians and mountain bikers.
Where to Stay Near Galisteo Basin Preserve:
Put your feet up and relax by the foothills of the Sangre de Cristo Mountain Range with a stay in this stunning adobe-style home! Suitable for 4 guests, this casita has 2 bedrooms and also features a kitchen — but then again, you'll be just 7 minutes from Harry's Roadhouse restaurant.
Final Thoughts
Well, there you have it: we've shown you the best Santa Fe national parks and the best natural sites that you may not be able to visit during your stay in the city! As you can probably tell by now, there are heaps of hiking opportunities in and around Santa Fe, so remember to bring plenty of sunscreen and a great water bottle.
Now if you're really short on time and need to narrow it down to only one national park in Santa Fe, the Santa Fe National Forest's got my vote! Not only does it offer some of the best trails in the city but you can also take advantage of its many camping sites to prolong your time in the pristine wilderness! Just remember to grab a sturdy sleeping bag and tent and you're good to go!
Happy communing in nature!
---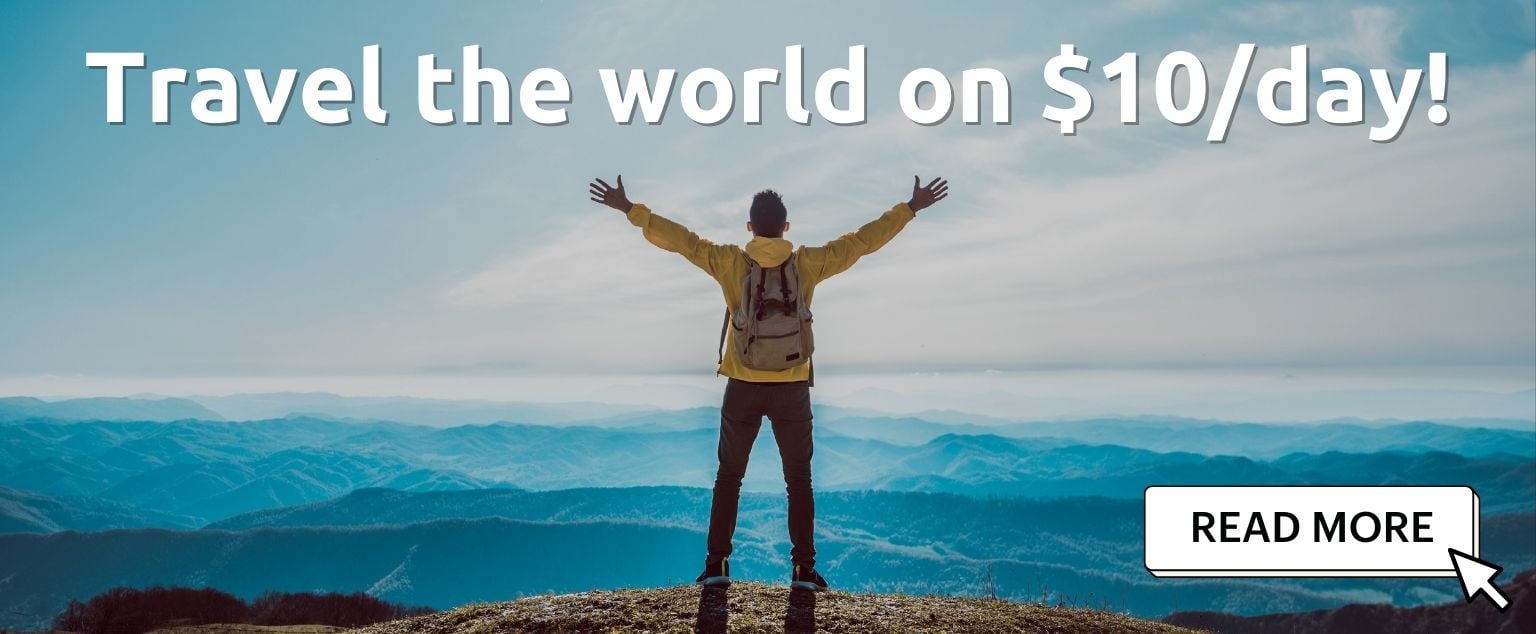 And for transparency's sake, please know that some of the links in our content are affiliate links. That means that if you book your accommodation, buy your gear, or sort your insurance through our link, we earn a small commission (at no extra cost to you). That said, we only link to the gear we trust and never recommend services we don't believe are up to scratch. Again, thank you!