Part of Greater Phoenix, Scottsdale is known as one of the most luxurious cities in the United States. Not only that, it's surrounded by mountains and Arizona's famed desert-scapes – with more than 300 miles of hiking trails for you to tackle. It's even been named as a top hiking destination by no less than National Geographic magazine!
Though you won't struggle to find hotels here, you might want to check vacation rentals in Scottsdale to save yourself some money – or to stay somewhere with a little more character. But where do you start?!
That's where we come in. In this post, we'll help out by showing you the 15 best Airbnbs in Scottsdale. As well as that, we're going to take a look at five of the best Airbnb Experiences – everything you need to plan an awesome vacation in Scottsdale. Let's jump right in!
Quick Answer: These are the Top 15 Airbnbs in Scottsdale
Overall Best Value Airbnb in Scottsdale
Overall Best Value Airbnb in Scottsdale
Luxurious Guesthouse by the pool
> $$
> 2 Guests
> Awesome location
> Swimming pool
Best Budget Airbnb in Scottsdale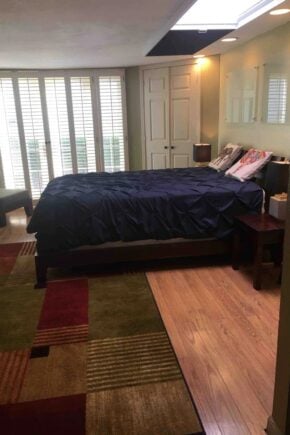 Best Budget Airbnb in Scottsdale
Private room in Casa de las Puertas
> $
> 2 Guests
> Swimming pool
> Air-conditioning
Best Airbnb for Couples in Scottsdale
Best Airbnb for Couples in Scottsdale
Home away from home in Scottsdale
> $$
> 2 Guests
> Queen bed
> 70-inch TV
Best Airbnb for Families in Scottsdale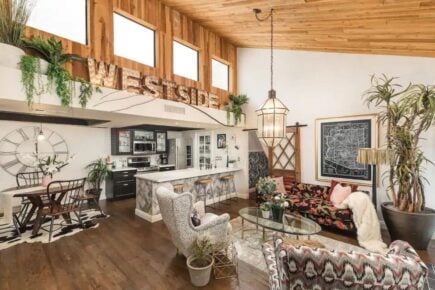 Best Airbnb for Families in Scottsdale
The Williams Townhouse
> $$$$
> 8 Guests
> Heated pool and hot tub
> Beautiful design
Over-the-Top Luxury Airbnb in Scottsdale
Over-the-Top Luxury Airbnb in Scottsdale
Desert Dream Home
> $$$$$$$$$$
> 22 Guests
> Pool with slide
> Pergola and fire pit

Unlock Our GREATEST Travel Secrets!
Sign up for our newsletter and get the best travel tips delivered right to your inbox.
What to Expect from Airbnbs in Scottsdale
As we've mentioned, Scottsdale is one of the most luxurious cities in America. With that, you can expect some pretty spectacular properties. No matter what kind of Airbnb you choose, you're most likely going to have spectacular desert views – even if it's a private room.
The downside is that Scottsdale can be frightfully expensive – especially when you're looking at an entire villa. If you're backpacking the USA on a budget, Scottsdale might not be at the top of your list, but we're here to help.
One thing to remember is that you can always get a private room or studio if you're on a budget – and if you're in a large group, that cost can be split multiple ways, making it much more manageable!
Throughout Scottsdale, you'll most likely be dealing with private hosts – but on the bigger properties, such as the most impressive villas, you'll probably rent through a company.
Entire House
One of the most common types of home in Scottsdale, you won't struggle to find an entire house. Some may be slightly outside of the defined area of Scottsdale, such as Paradise Valley Village or Camelback East Village (make sure you climb the mountain), but they're still within easy driving distance of Scottsdale's charming Old Town.
What you'll get from an entire house depends a lot on budget. At the lower end of the scale, you can expect a studio flat – great for a couple or a solo traveller looking for a break from hostels or sharing a room. However, splash out more money, and you could get a dream desert home with a pool!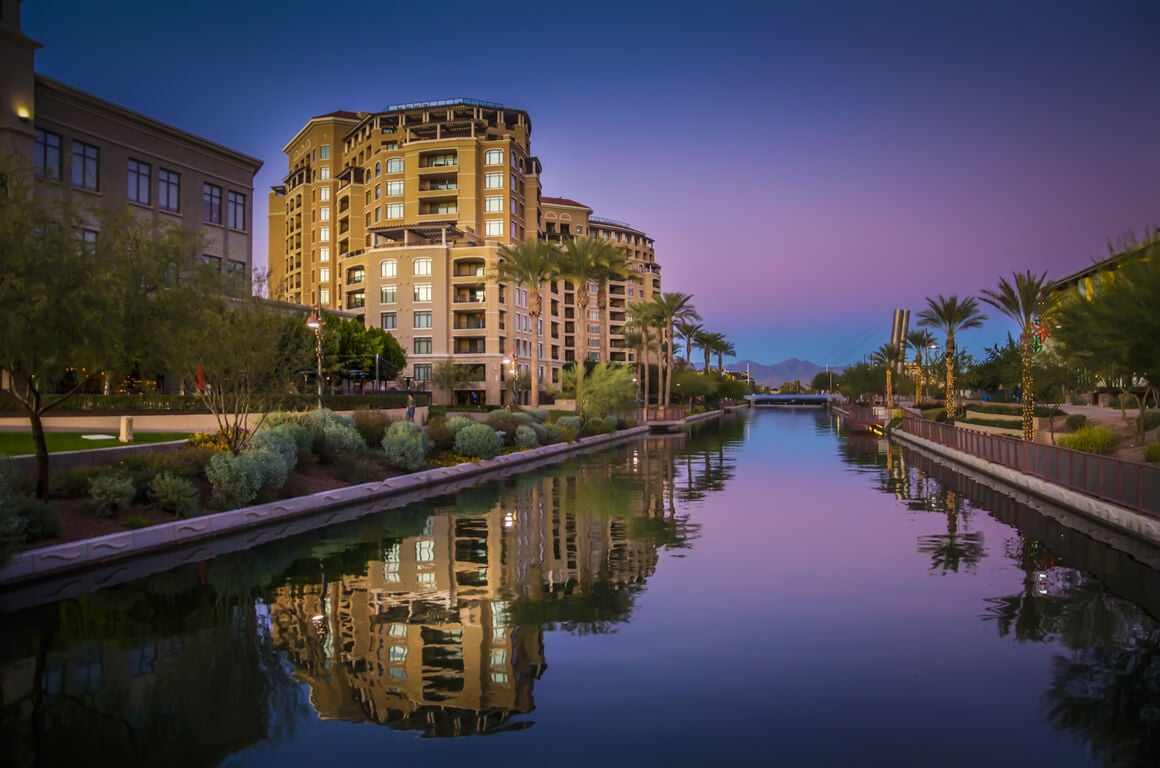 Private Room in a house
Another popular option in Scottsdale. Expect a warm welcome from friendly residents who have opened up a room in their home to inquisitive travellers. A homestay is a great way to get an authentic local experience of a new destination while saving money, so this will suit a solo traveller or perhaps a couple. They'll be on a tighter budget than most, but still eager to get a full Scottsdale experience!
As you would expect, with a private room you'll almost exclusively be dealing with people who live in Scottsdale. In the nicest properties, you'll not only have access to a bedroom, but common areas throughout the house – and maybe even a swimming pool.
Villa
There are a few reasons you might book a villa. One is that money is no object! However, the more likely option is that you're looking for somewhere to have a big celebration with a group or family of friends. Look no further than a luxurious vacation rental villa in Scottsdale.
There are more than 100 villas in and around Scottsdale, some of which offer total seclusion, with views of the cacti-spotted desert and epic stargazing opportunities. Others are part of bigger developments, and you'll have access to swimming pools and golf courses on-site.
Why Stay in an Airbnb in Scottsdale
Still not convinced you should stay in an Airbnb? Let us give you our top five reasons that it's a great idea.
Local Experience: Having a local as a host means you can find out all the best places to visit and things to do that are off the beaten tourist track. That doesn't just go for Scottsdale, but for all travel destinations in the United State.
Unique Properties: A vacation is a break from the norm, so why not stay in a property that reflects that? Airbnb is where to find the coolest and most unusual places to stay!
Privacy: Cabins, chalets, and treehouses mean you and your companion(s) can get the break you need without anyone else interfering.
Affordability: When it comes to value for money, Airbnbs offer so much more than hotels at the same price.
Airbnb Experiences: It's not all about where to stay; looking for things to do in Scottsdale? There's no better way to do that than with Airbnb Experiences. We'll show you some of our favourites.
The 15 Top Airbnbs in Scottsdale
By now, there's no way you'll be thinking of anything other than an Airbnb. However, which is the right one for you? You're about to find out. According to travel style and budget, here are the best Airbnbs in Scottsdale.
This casita means you get the privacy of an entire flat, while the price more accurately reflects a private room. On your host's property – but with no shared spaces in the property itself – you can make the most of your very own king-sized bed, well-stocked kitchen, TV, and Alexa speaker. You'll be sharing the pool with your hosts – and two patios!
A private casita with the benefits of a private room price but entire flat privacy. When you're not in the pool, enjoy watching TV or playing music on the Alexa. Alternatively, chill out on the patio!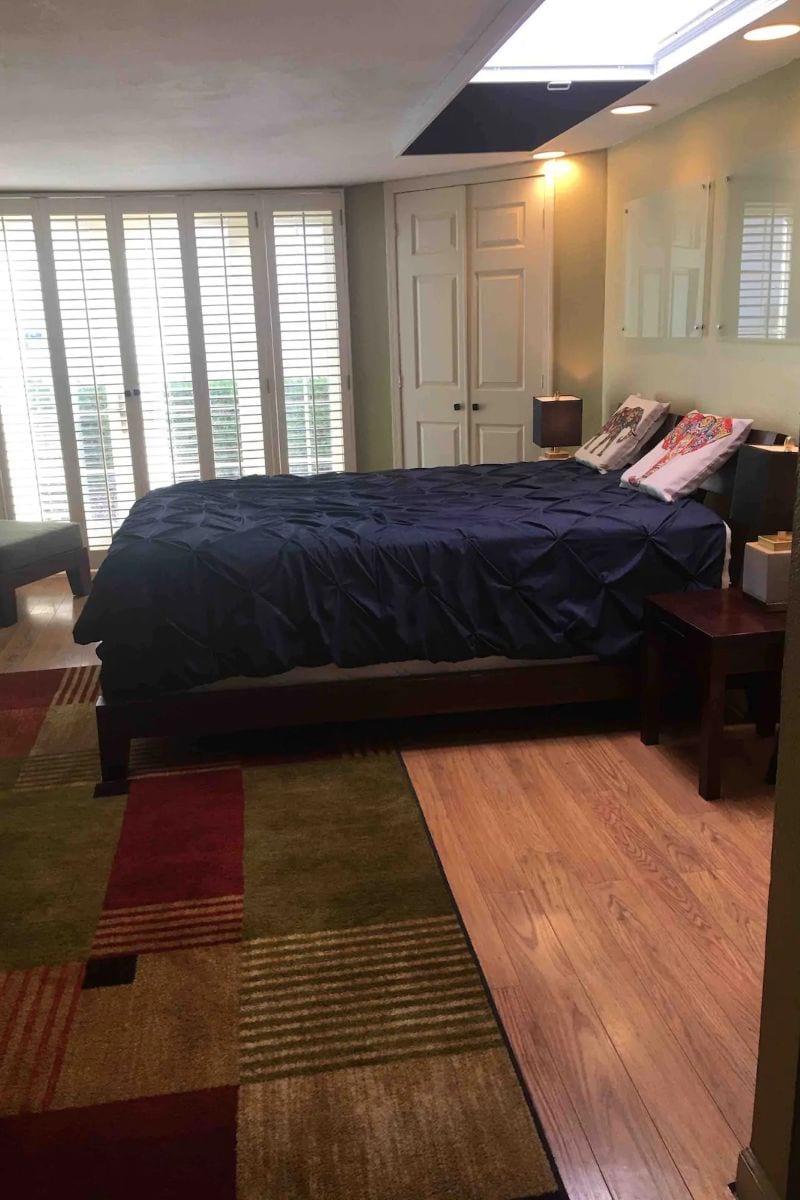 Scottsdale is known for its luxury. What it's not known for is budget properties. However, you can find them if you search hard enough! This private room in Casa de las Puertas is one of the best-priced beds you'll find in all of Scottsdale, but you don't have to compromise on features. You've got a queen bed, a desk, and a swimming pool to appreciate!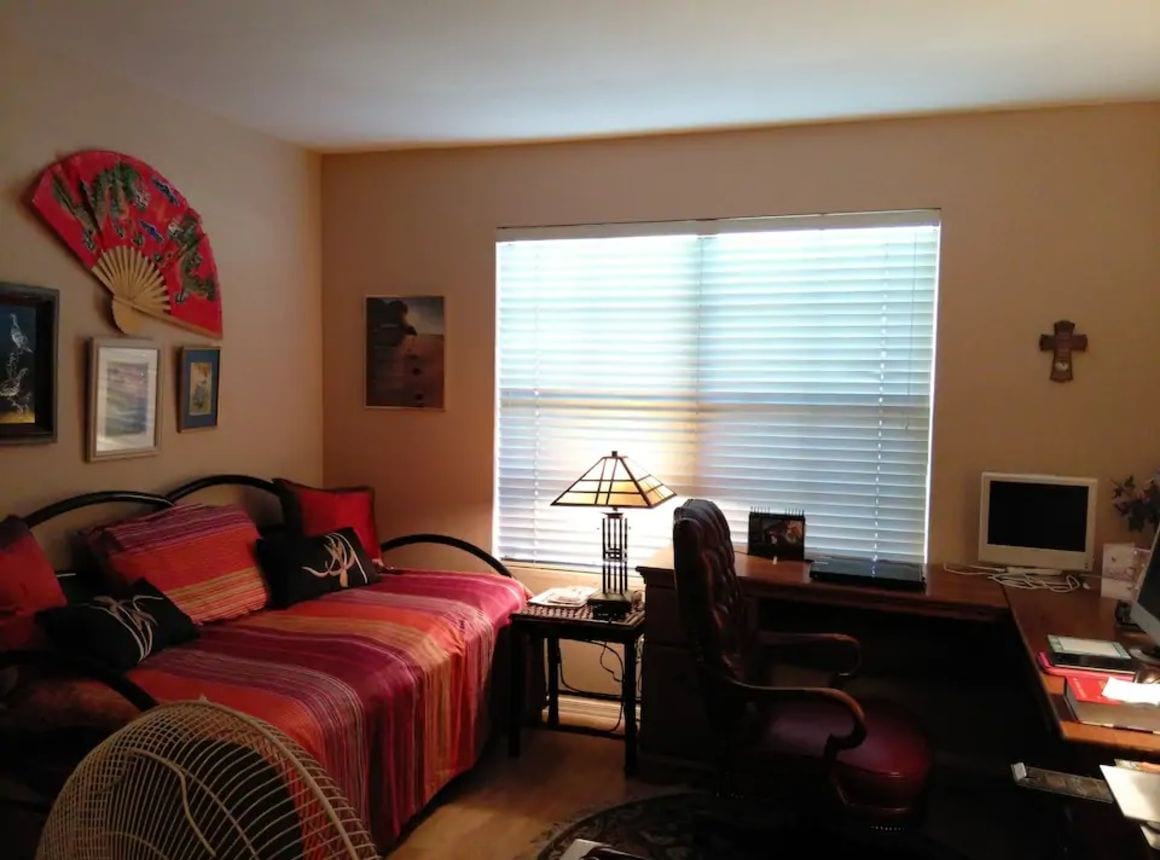 1 Guest
Jacuzzi and gym access
Should you be travelling solo, you don't need a queen or king bed (though that sometimes is nice). But if you're looking to keep costs low, just get a single. This comfy bed and bathroom in a Scottsdale condo offers use of a gym, clubhouse, pool, and jacuzzi. Added to that, you'll have a local host at hand who can recommend their favourite things to do. Perfect!
Is This the Best Travel Pack EVER???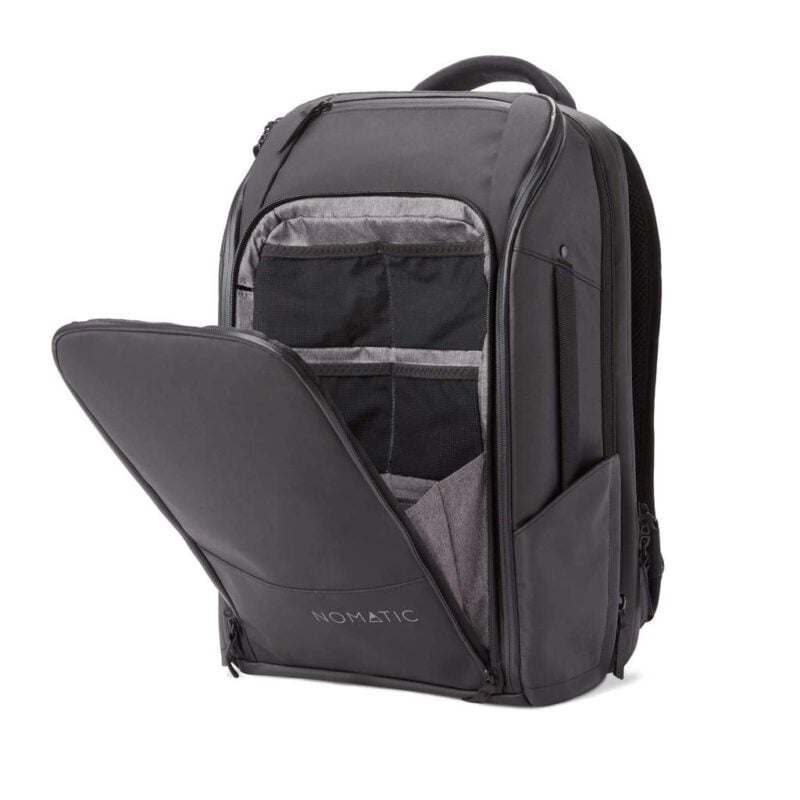 If you're travelling with your other half, you need to find a place that has the x-factor. How about this? This home away from home is the main part of your host's home; you'll have a queen bed and fully equipped kitchen – as well as a 70-inch TV. Just imagine watching a rom-com or horror together on that! You also have access to a gym, putting green, and swimming pool. Loads of fun to have together there!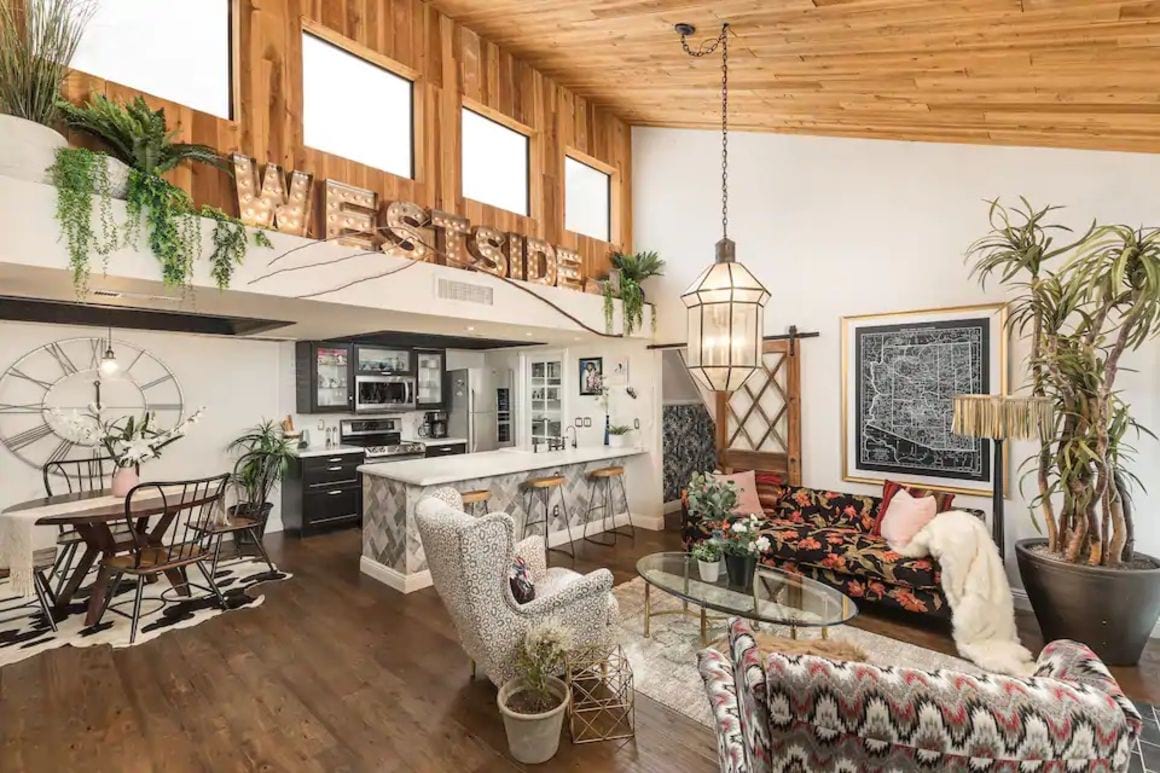 $$$$
Heated pool and hot tub
Travelling with your family? They'll be delighted that you've snagged this rare find. With two bedrooms boasting king beds and a comfy sofa bed in the living room, there's enough room for everybody. And this is more than just a place to sleep – this beautifully designed home has a heated pool and hot tub. If it gets too hot outside, just chill out in the gorgeous living room. It's no wonder this home has featured in Phoenix Home and Garden Magazine!
Over the top luxury Airbnb in Scottsdale | Desert Dream Home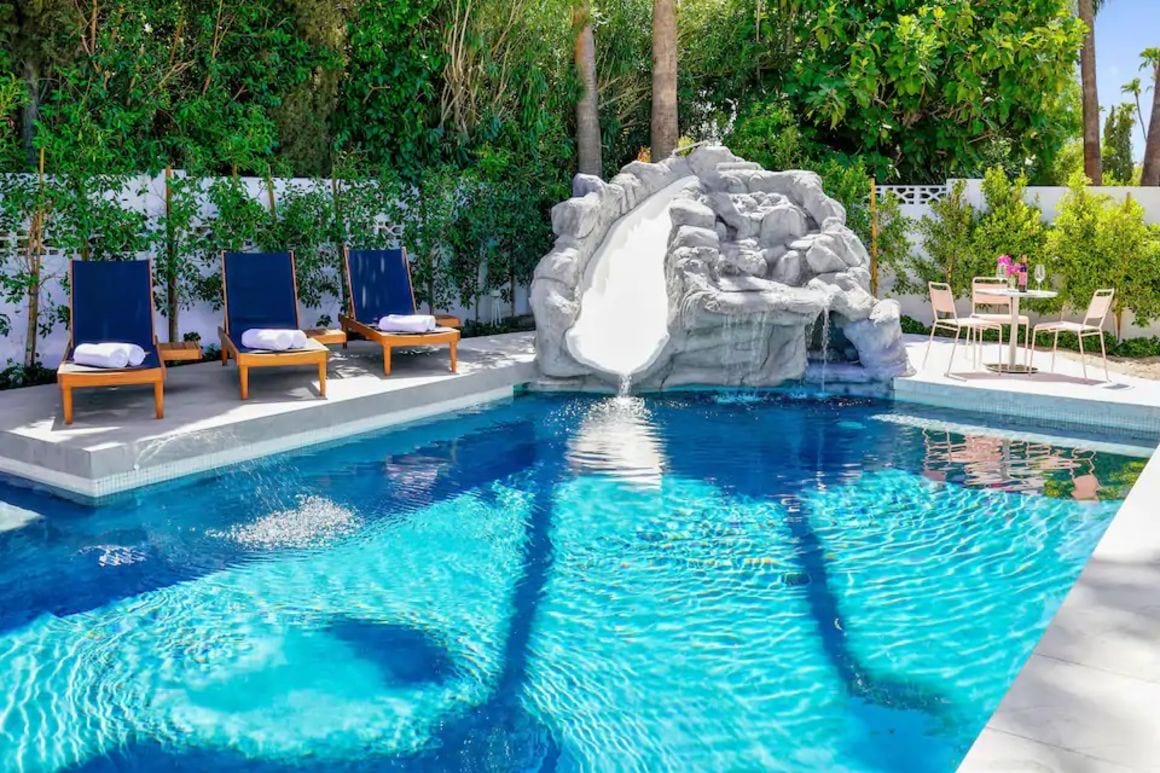 $$$$$$$$$$
Pool with slide
22 Guests
Pergola and fire pit
Do you want to stay in one of the most beautiful Airbnbs in Scottsdale? Of course you do. It's great for big groups – you'll have plenty of room to enjoy yourselves around the swimming pool, which comes with a slide and poolside bar. Rather not get wet? Chill out in the pergola and light up the fire pit – a perfect way to keep you warm in the hot desert nights. Though the listing is advertised for 16 guests, you can actually have up to 22!
There are lots of entire homes in Scottsdale, and many of them have pools. So how does one stand out above the rest? Well, this one has it's very own putting green – so golfers will be absolutely ecstatic. There's space for up to seven guests, so it can fit a medium-sized family or group of friends. If you're not out on the golf course, chill out in the pool, which comes with fun inflatables!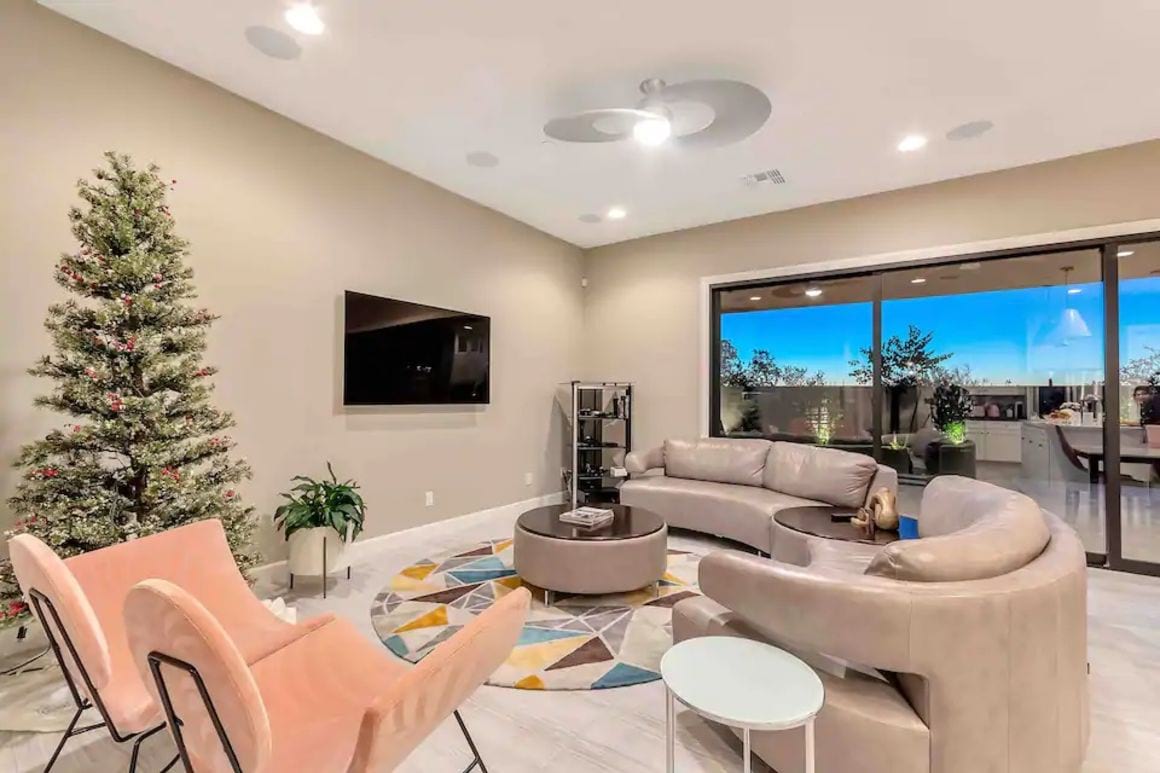 2 Guests
Light, bright living room
On the hunt for a dream Scottsdale homestay? We've found your place! With two bedrooms available, you can actually fit up to four guests in this cute home. Not only can you chill out in the living room (which lets in plenty of light) or the garden, but there's also a resort-style pool in the condo. Don't miss this if you want a luxury experience on a budget, with the added bonus of a local to give you tips on where to go.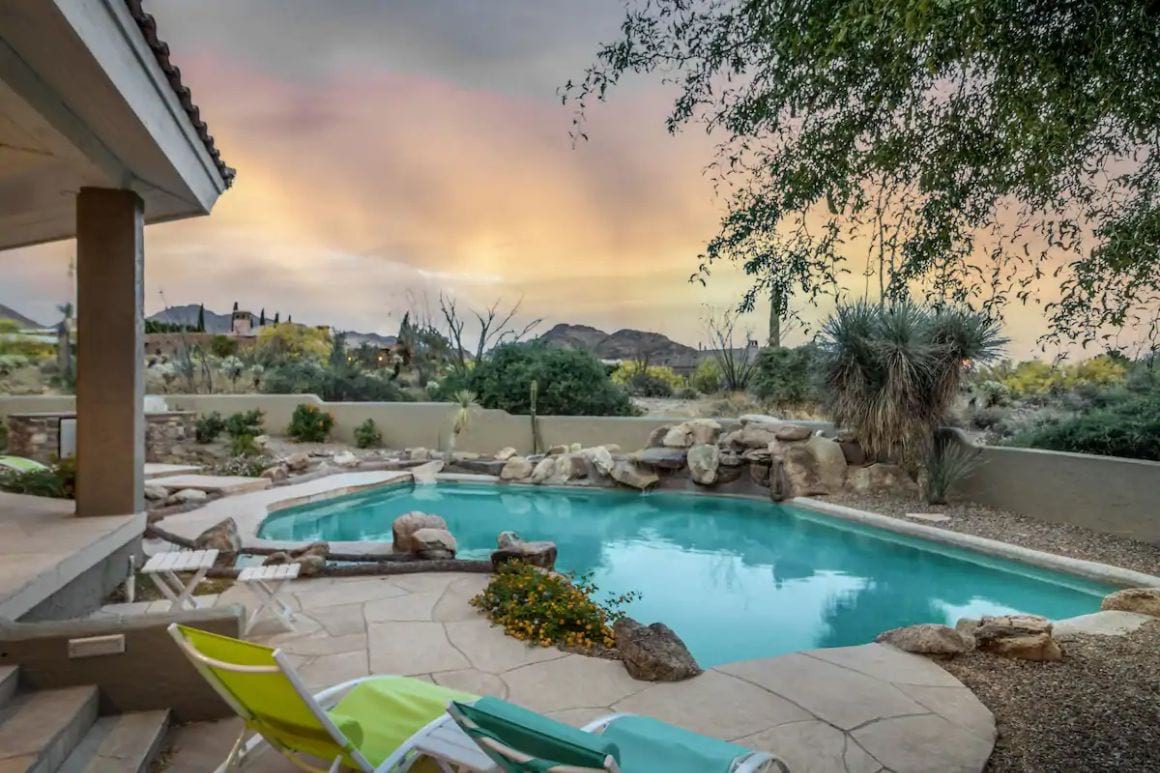 If you're looking for the most extraordinary homes in the world with epic service, you need to get yourself on Airbnb Luxe. Very few homes earn this badge, so you can be assured that the ones that do are absolutely spectacular. Take this villa at Pinnacle Peak. Swim in the pool against a background of red mountains and isolated cacti – it's the stuff of dreams!
$$
Laptop friendly workspace
2 Guests
Breakfast included
This place just shows you don't need to book an entire villa to have the villa experience. The private room is perfect for a digital nomad as it comes with a laptop-friendly workspace and rapid Wi-Fi. Don't worry about fuelling up in the morning as breakfast is included. After a busy day of catching up on emails and coding, lie back on a soft a comfy queen bed or take a dip in the pool.
Best Airbnb Plus Scottsdale | Casa Saguaro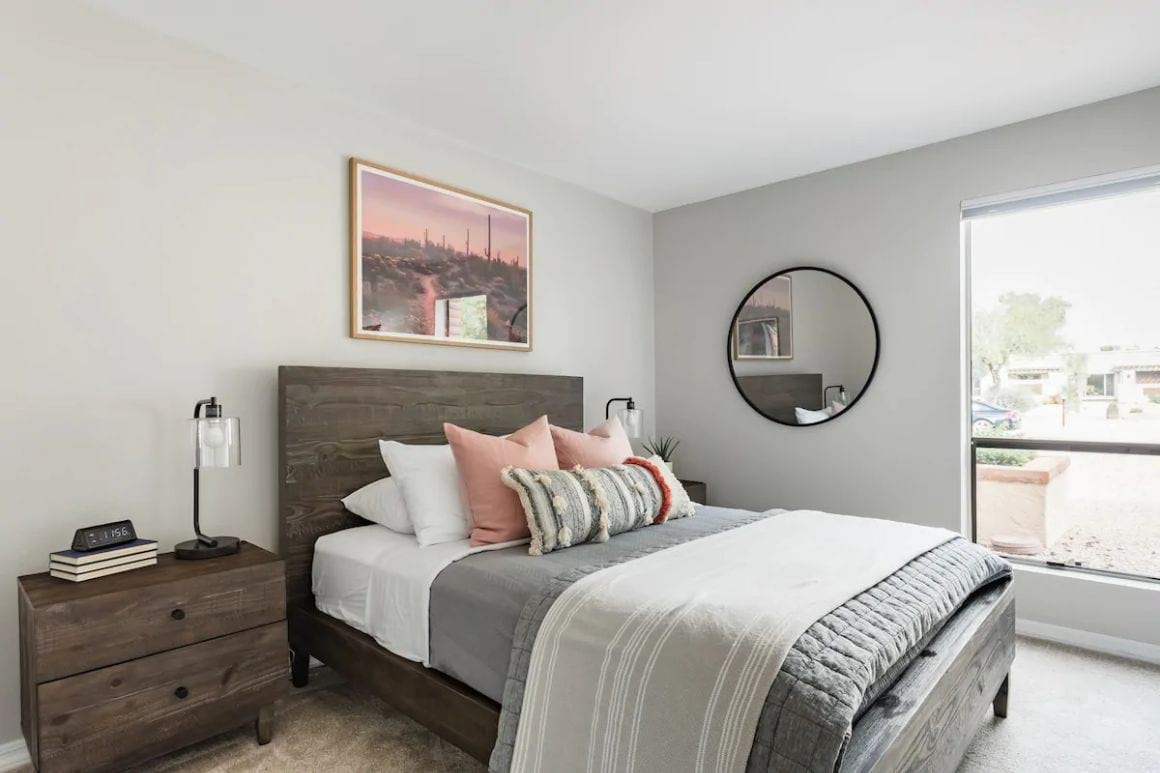 $$$$$$$
Six seater hot tub
6 Guests
Patio with BBQ Grill
It might not be Airbnb Luxe, but Airbnb Plus properties are still pretty special. They're verified in person, and the hosts are famed for their attention to detail and excellent reviews. This one just happens to have a six-person hot tub you can enjoy as one of your party grills food on the BBQ behind you. The more competitive among you should have a go on the pool table!
Most Beautiful Airbnb in Scottsdale | Cochise Villa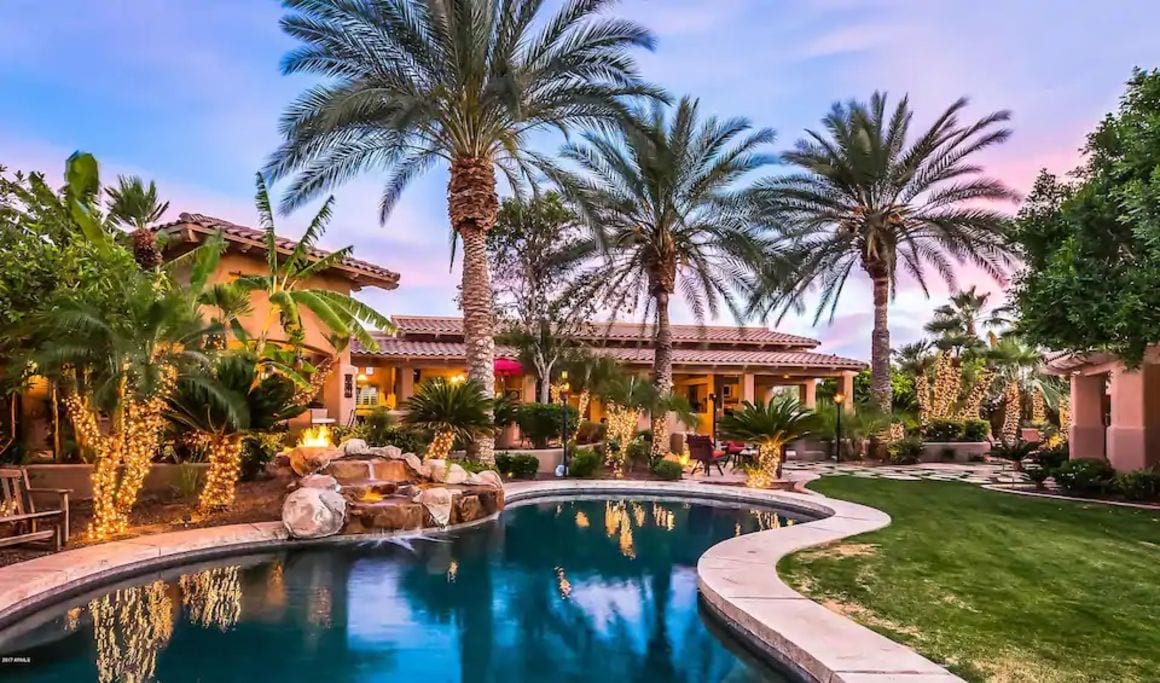 $$$$$$$$$$$$$
Alfresco living areas
14 Guests
Heat lamps for cool nights
Another Airbnb Luxe Property – this one will make your jaw hit the floor. Set around a warm saltwater pool, 14 guests can kick back in the many alfresco living areas, including a covered patio or outdoor dining space. Weather a bit cold? No problem – just use the heat lamps! If you manage to drag yourself away from this property, it's not far to the Phoenix Botanical Garden.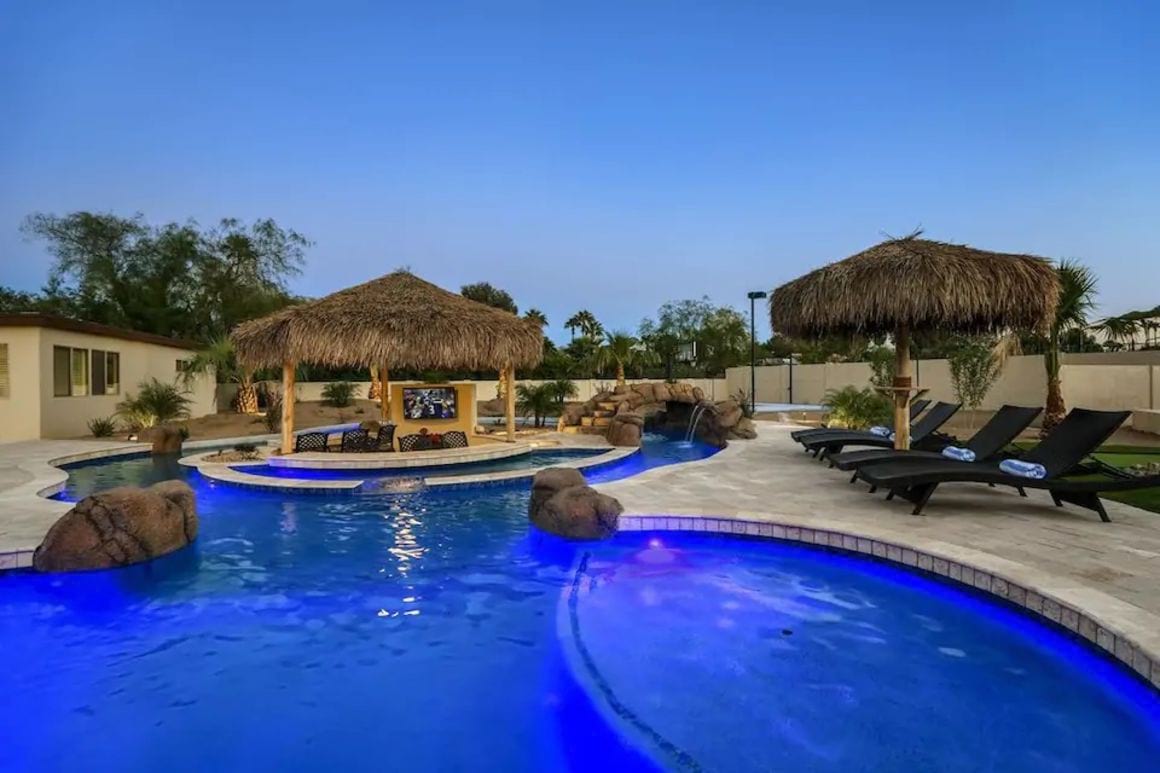 $$$$$$$$$$
Open concept layout
You might have already seen an Airbnb on this list for throwing a party. God knows there are a few. But some of the larger properties don't want you to do that. Nothing to worry about here, though – so grab a pool ring and float along the lazy river with a cocktail or beer in hand. Yes, really!
$$$$$
Outdoor kitchen with pizza oven
2 Guests
Hammocks on patio
Bursting with character, this detached casita with an outdoor ramada is the perfect place to stay for a pair of loved up newlyweds. Impress your other half by cooking a pizza in the outdoor oven – or if making the dough is beyond you, just fall back on a good old BBQ. Whether you decide to soak in the solar-heated pool or the hot tub depends on the weather, but either way, you can dry off under the sun on those Adirondack chairs. How romantic!
Best Airbnb in Scottsdale for a Group of Friends | Sweet Caroline!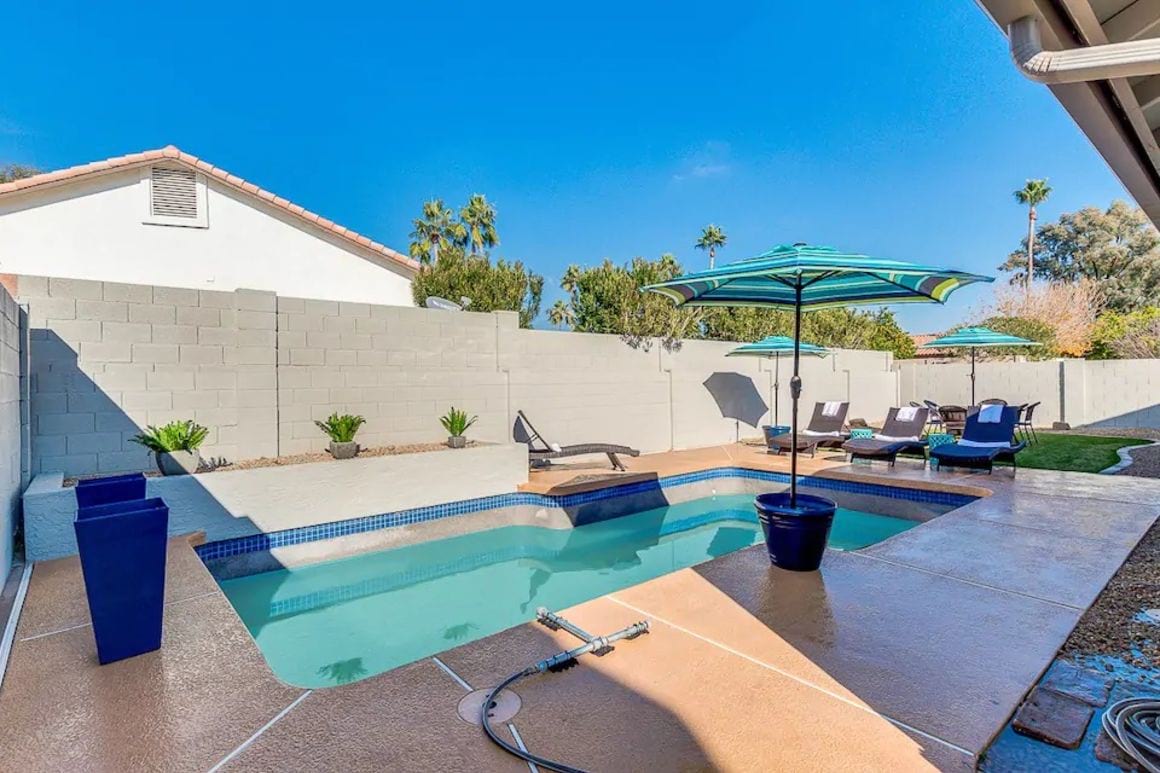 $$$$$$
Wood burning fireplace
Even if you can't bear the song, you're going to love the Airbnb that goes by the same name. Sweet Caroline is a home for up to eight guests with a wood-burning fireplace and a swimming pool. The kitchen is fully stocked, so no worries about having to head out and buy food when you arrive. If you don't want to go out into the cold desert night, curl up with a blanket in front of the 55 inch TV.
Top 5 Airbnb Experiences in Scottsdale
So, that's our list of the best places to stay. Now, let's help you find what you're going to do once you arrive – with the best Airbnb Experiences in Scottsdale.
Never been on an Airbnb Experience before? These are locally curated tours that can be anything from a day hike up a mountain to a cooking class. We'd definitely recommend a hike in Scottsdale so that you can take in the stunning cacti-studded landscape.
Here are five of the best Airbnb Experiences in Scottsdale – be sure to set aside some time to do at least one of them!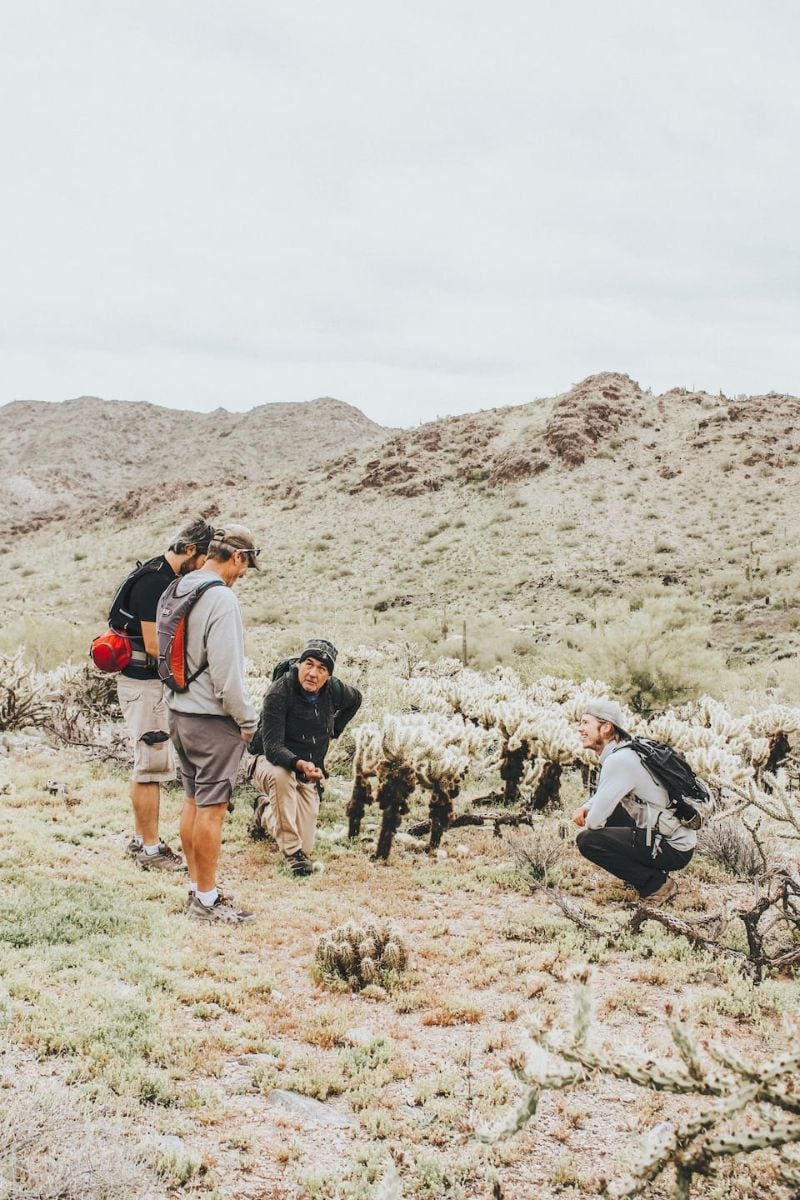 $27/person
2 hours
Up to 10 guests
One of the best ways to see the desert is on foot. If you're a beginner, a hike might sound intimidating, but go with a local guide, and they'll help you find a hike that's right for you. Get your boots on and choose between easy/moderate and difficult before heading out into the desert. You'll not only work up a sweat, but learn about the local history, flora, and fauna.
$30/person
2 hours
Up to 10 guests
This Scottsdale Airbnb Experience is a must for anyone who loves animals. Get up close and personal with stunning Arabian horses and learn about how they're trained for shows. As well as that, you'll brush them and feed them treats – a wonderful opportunity to make a connection with these magnificent creatures!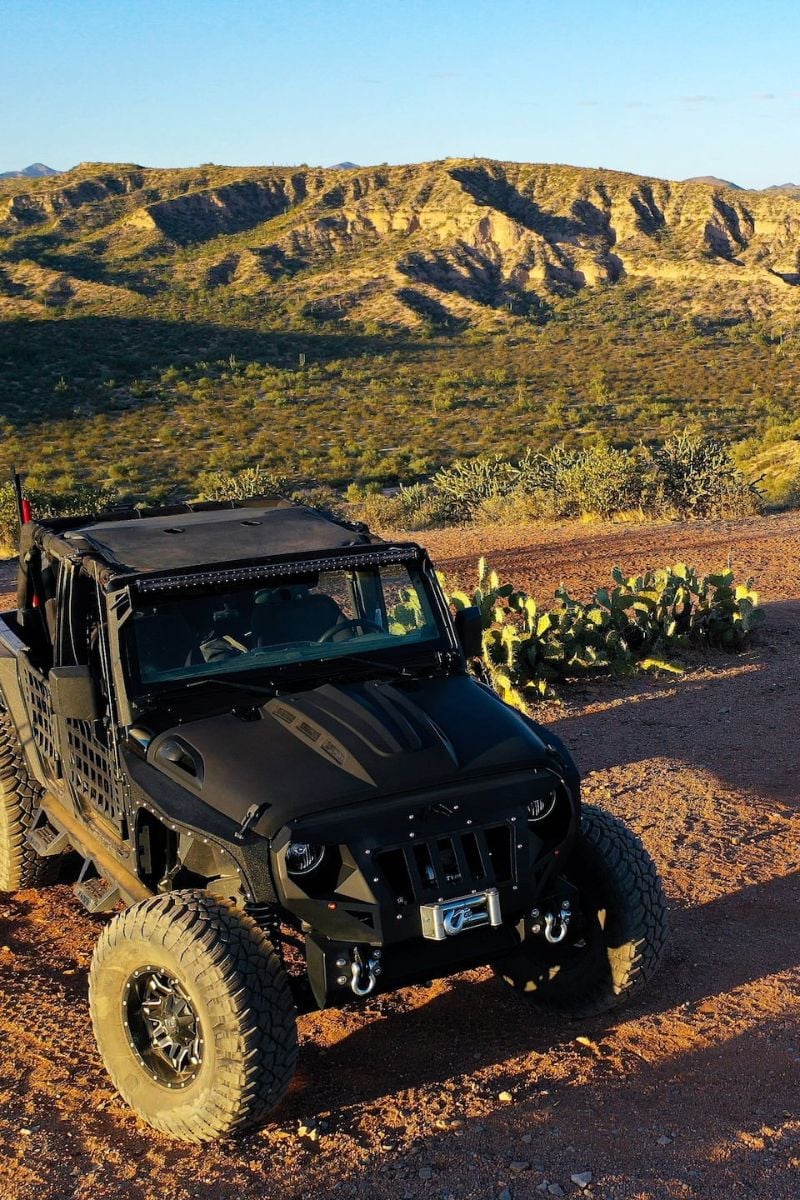 $79/person
2.5 hours
Up to 10 guests
Yes, hikes are a great way to see the desert. However, if you want to cover as much ground as possible, then a jeep is the best way to go. Head out into the Sonoran Desert on the Tonto National Forest trails at sunset for a totally unforgettable evening. Sunsets here are spectacular, but you'll leave a little beforehand to get to the most scenic spot on the trail. There, you'll enjoy a delicious craft beer if you're over 21! Be sure to keep your eyes peeled for wildlife on the way.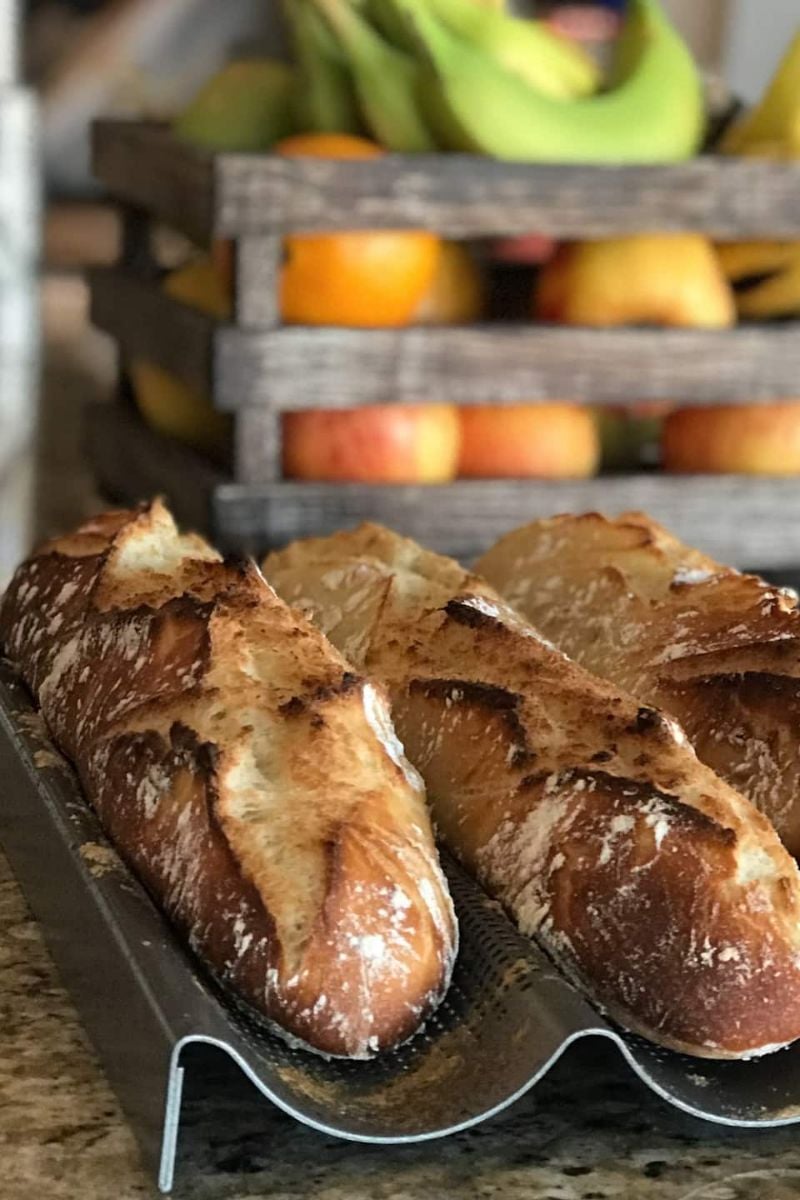 $75/person
3 hours
Up to 6 guests
Okay, you're not in Paris, but French cuisine is widely regarded as one of the best in the world – so are you really going to turn your nose up at it just because you're in Arizona?! Not when you see this tour. You'll go for a breakfast of coffee and French crêpes before starting your workshop, where you'll knead and shape dough for your baguettes. You'll also learn the art of opening a bottle of champagne with a sabre – a great party trick. All of that before devouring your creation with homemade butter.
$16/person
1.5 hours
Up to 10 guests
What better way to learn about the desert than hiking? Hiking at night! As well as watching the spectacular sunset, you'll see nocturnal critters waking from their sleep and going about their business. That is, of course, if your eyes aren't glued to the gorgeous moonrise. The trail itself is one of the best hikes in Arizona, and the fact that you're doing it in the dark makes this whole experience even better.
Don't Forget Your Scottsdale Travel Insurance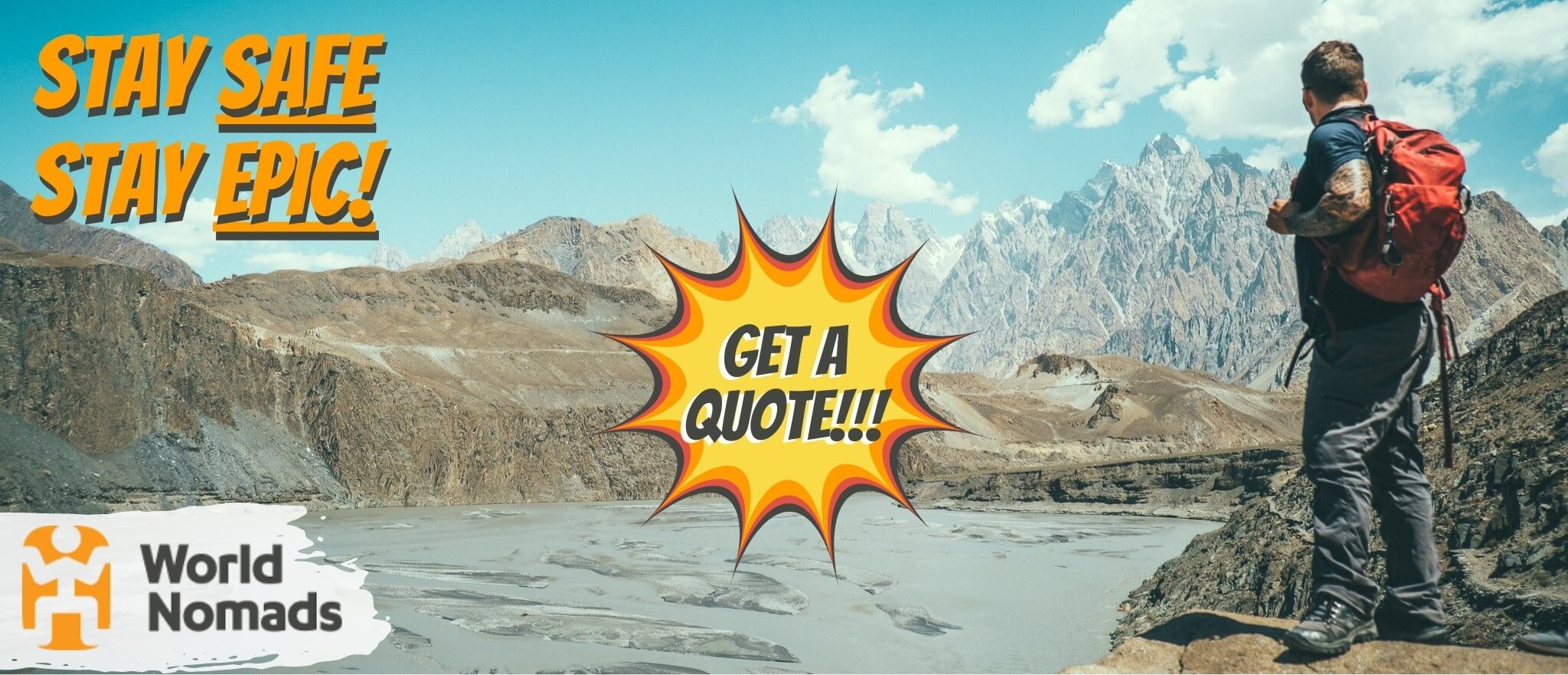 World Nomads' mission is to support and encourage travellers to explore their boundaries. They offer simple & flexible travel insurance, and safety advice to help you travel confidently.
They've been doing it since 2002 – protecting, connecting, and inspiring independent travellers just like you.
Get a quote below or read our in-depth review!
World Nomads provides travel insurance for travelers in over 100 countries. As an affiliate, we receive a fee when you get a quote from World Nomads using this link. We do not represent World Nomads. This is information only and not a recommendation to buy travel insurance.
Final Thoughts on Scottsdale Airbnbs
Well, there you have it. Not only have you seen the best Airbnbs in Scottsdale, but you know exactly what to do when you arrive. Now, it's over to you to decide whether you want to stay in a villa, rent an entire house, or save your pennies and enjoy the city from your own private room.
If you still can't make your mind up, let us give you one last piece of advice: book the overall best value Airbnb in Scottsdale – Luxurious Guesthouse by the Pool. It's an amazing combination of value for money and a wonderful location.
---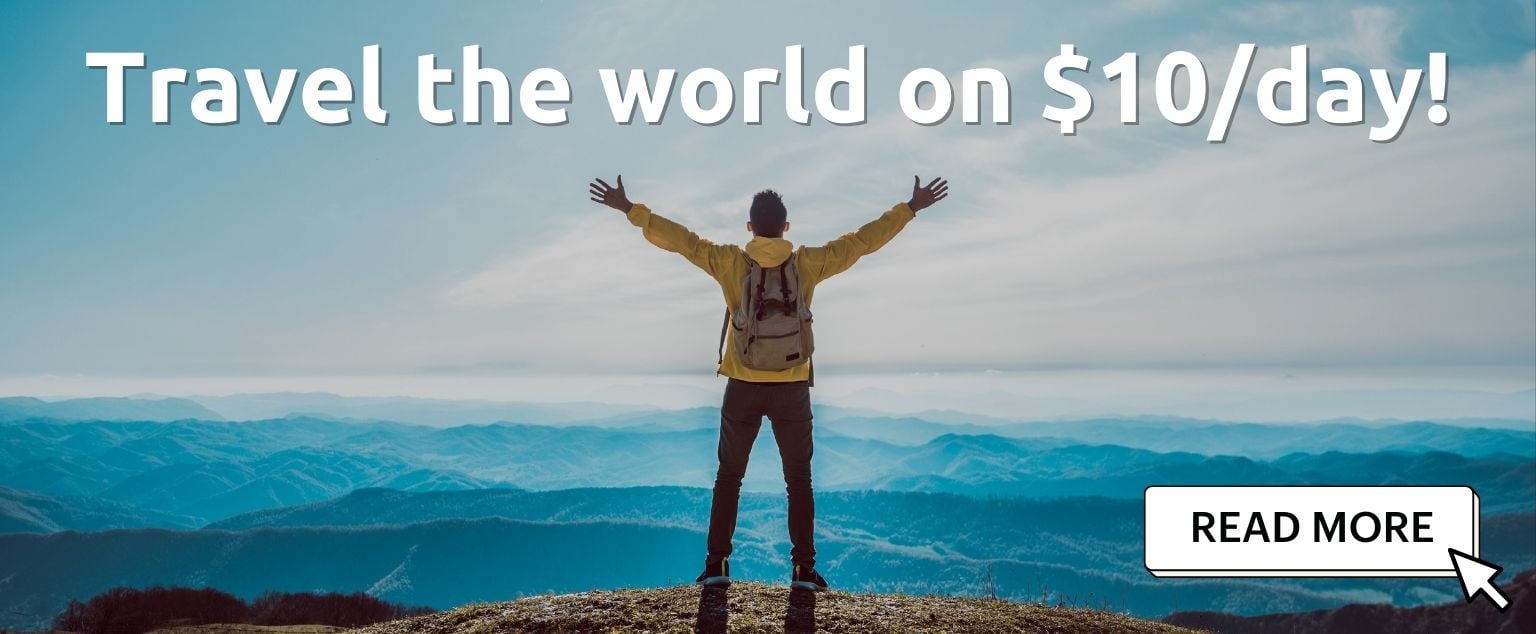 And for transparency's sake, please know that some of the links in our content are affiliate links. That means that if you book your accommodation, buy your gear, or sort your insurance through our link, we earn a small commission (at no extra cost to you). That said, we only link to the gear we trust and never recommend services we don't believe are up to scratch. Again, thank you!