Laced up your hiking shoes and checked into a flight to El Paso yet? Because if you're still wondering whether the Sun City is right for you, I can assure you it will not disappoint.
Located across the border from Chihuahua, Mexico, this vibrant city is mainly known for its delicious tex-Mex cuisine and year-round sunshine. Delve deeper, however, and you'll be greeted by an exciting array of attractions, including museums, galleries, and hiking trails!
Outdoor enthusiasts have it made, with an abundance of recreational hotspots where they can hike, bike, climb, or even set up camp for the night!
Because El Paso doesn't get the attention that other cities in Texas do, knowing what to see and do there can be hard, especially if you're a first-time visitor. The good news is that you might be pleasantly surprised by the sheer number of things to do in El Paso, with activities to suit just about every budget.
To help you out, I've put together this list of all the best El Paso attractions, so let's get started!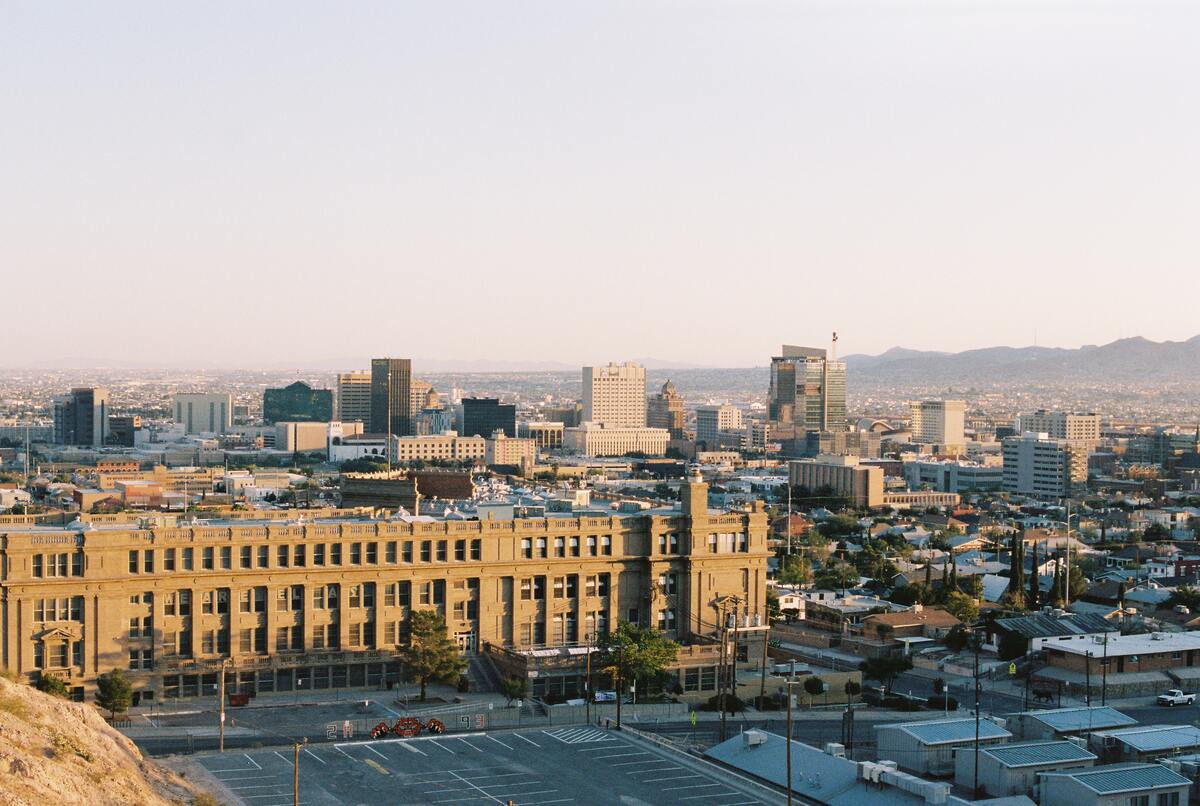 Unlock Our GREATEST Travel Secrets!
Sign up for our newsletter and get the best travel tips delivered right to your inbox.
The Top Things to Do in El Paso
Wondering what are the best El Paso attractions to add to your USA itinerary? Then take a look at the top five activities that you can't afford to miss during your time in the city!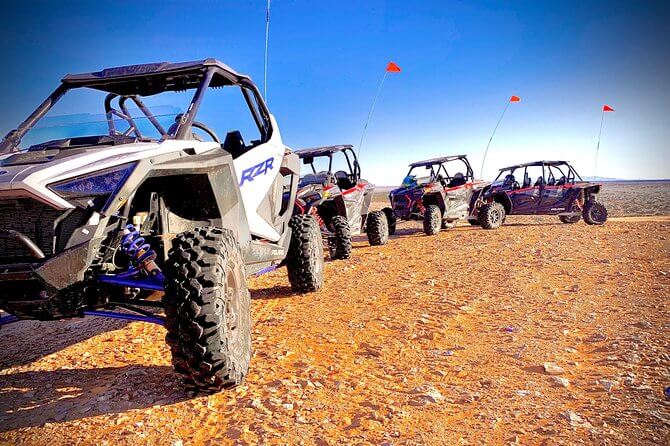 Are you looking for adventurous things to do in El Paso? Well, how about a thrilling off-road adventure in the Red Sands desert area?
Tucked away near Hueco Tanks State Park, this hidden gem is made up of both public and private lands that used to lie under the sea millions of years ago!
One of the best ways to explore the area is on a UTV so you can properly (and safely!) enjoy the excitement of zipping across sand dunes. Because the roads over there aren't regulated like traditional off-highway parks, it's always a good idea to be accompanied by a professional guide.
Remember to keep your eyes peeled for the American Indian artifacts and fossils that are scattered throughout Red Sands.
Entrance fee: $369 per group of 4
Hours: Dependent on tour
Address: 15698 Montana Ave, El Paso, TX 79938, USA
Not only does this gorgeous historic home place you smack dab in the heart of historic Manhattan Heights, but you'll also be within walking distance to buzzing bars and restaurants!
With two bedrooms that comfortably sleep four, this space also provides a sofa bed in the living room if you've got an extra guest over.
Now, this house does come with a modern, well-equipped kitchen, but with some of downtown El Paso's best eateries just a quick drive away, why muck about with cooking, right? There's also a grill and a backyard patio where you can take in beautiful mountain views.
This home places you close to popular attractions like Memorial Park, San Jacinto Plaza, and the El Paso Museum of History. And if you're on a Texas road trip, you'll be pleased to know this place has free parking.
Entrance fee: $70/night
Hours: Check-in after 3 p.m., Checkout at 11 a.m.
Address: Manhattan Heights, El Paso, Texas, USA
3. Head for the Franklin Mountains State Park
Exploring the Franklin Mountains State Park's nooks and crannies are often said to be one of the best things to do in El Paso – and for good reason!
The spectacular mountains largely dominate the city's skyline and in summer, it's not uncommon to see tourists and locals alike flocking to this picturesque recreational outlet.
Now, the park does boast plenty of rock climbing, hiking, and mountain biking opportunities, but you'll also find more laid-back activities like picnics or sunset strolls. If you'd like to cover a lot of ground in little time, the park also offers different types of scenic drives.
Other fun things to do at the Franklin Mountains include lantern-lit mine tours, geocaching, and even camping.
Entrance fee: $5 for adults (free for children 12 years and younger)
Hours: 8 a.m. to 5 p.m.
Address: Tom Mays Park Access Rd, El Paso, TX 79930, USA
4. Explore the El Paso Museum of Art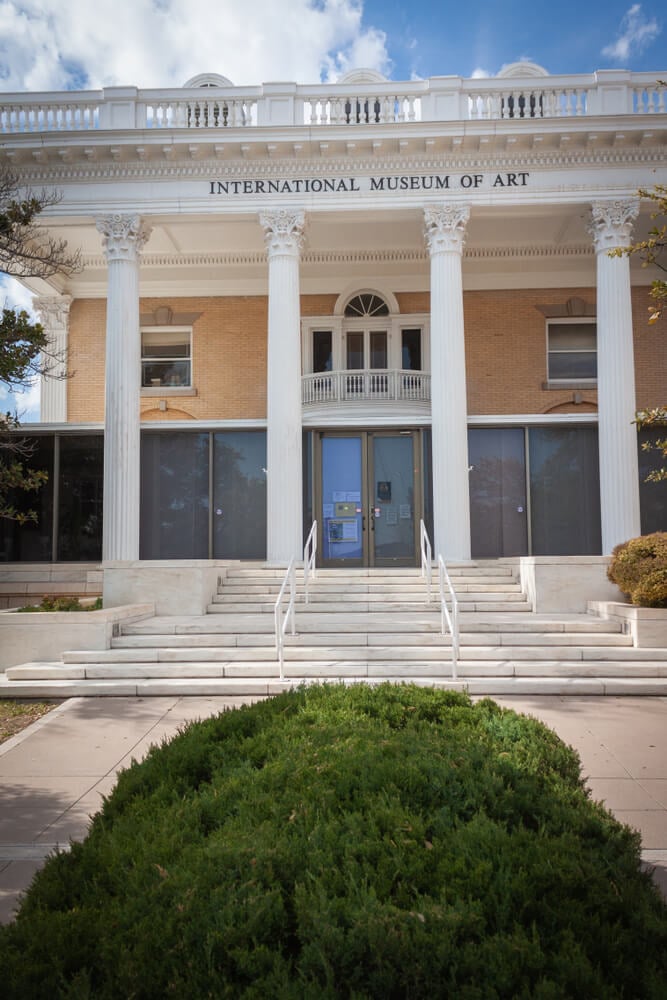 Whether you're into art or not, this is one place that you really don't want to skip!
The El Paso Museum of Art isn't just one of the most popular landmarks in El Paso, but it's also ingrained in the local history. Oh, and did I mention that it's entirely free to visit?
The museum features rotating exhibits by notable artists so there's always something new to see there. Families traveling with kids will no doubt find their joy in children-friendly activities such as kite-building workshops.
After touring the museum, you can also explore the Arts District, known for its colorful murals depicting El Paso's delightful blend of cultures.
Entrance fee: Free (donations appreciated)
Hours: 10 a.m. to 6 p.m. (Wednesday to Saturday)
Address: 1 Arts Festival Plaza, El Paso, TX 79901, USA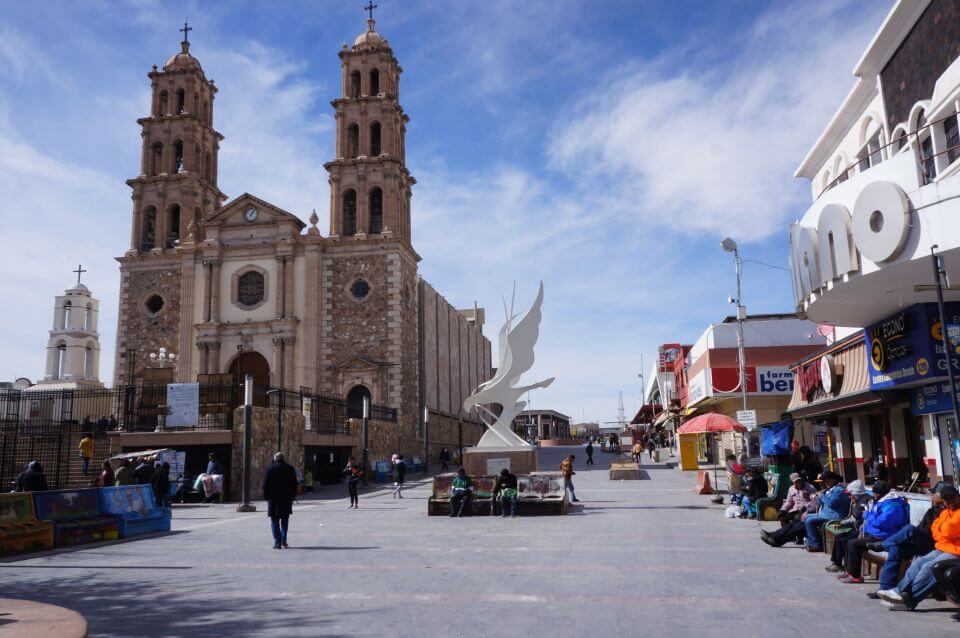 If you've been looking for the best things to do near El Paso, this one's for you!
El Paso isn't just loaded with a wide range of attractions, but it's also a great jumping point for exploring Juarez, one of the most exciting cities in Mexico.
With this guided activity, you'll get to take in Mexico's vibrant culture, music, and food in just 5 hours. Explore and pose for pics with popular landmarks such as the Old Mayor's Office, the Benito Juarez Monument, and the Cathedral, then grab a bite at one of the city's cantinas (a Latin American winery).
And if you'd like to indulge in some retail therapy, be sure to check out the quaint markets dotted throughout the downtown area.
Entrance fee: $120/person (minimum of 2 participants required)
Hours: 10 a.m. to 3 p.m.
Address: 10 Henry Trost Ct, El Paso, TX 79901, USA
6. Wander the El Paso Municipal Rose Garden
El Paso's Municipal Rose Garden is often called 'the most beautiful place in America' and it won't take you long to understand why!
With hidden waterfalls, a pond, and a plaza area, this oasis features over 400 types of roses. And if you visit at the right time (April-May), you might just be lucky enough to see them in full bloom. Talk about the perfect backdrop for those IG pics!
More flowers are added each year, so the garden's layout is always changing. Each February, the garden hosts public demonstrations for those who are interested in botany. Plenty of other seasonal events are available, including the Kids and Kows program that teaches kids all about plants and agriculture.
Entrance fee: Free
Hours: 8 a.m. to 6 p.m.
Address: 3418 Aurora Ave, El Paso, TX 79930, USA
Small Pack Problems? 😉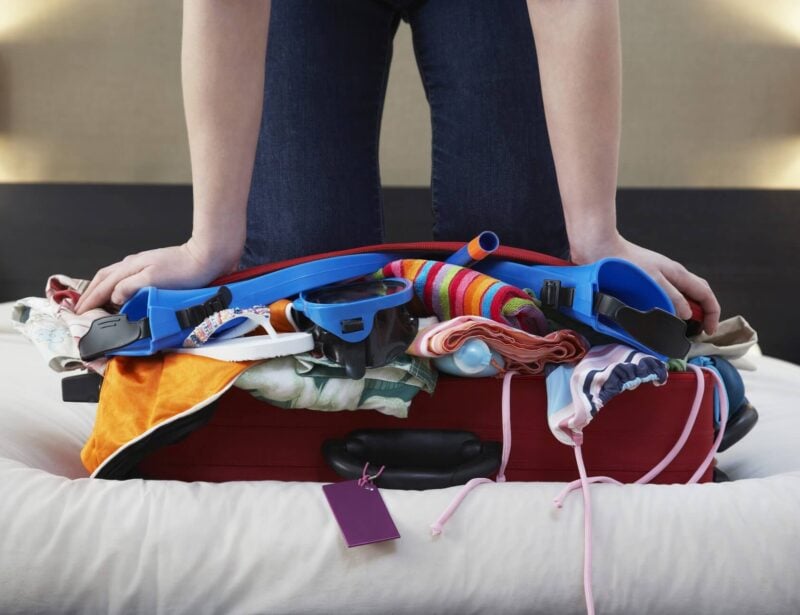 Wanna know how to pack like a pro? Well for a start you need the right gear….
These are packing cubes for the globetrotters and compression sacks for the real adventurers – these babies are a traveller's best kept secret. They organise yo' packing and minimise volume too so you can pack MORE.
Or, y'know… you can stick to just chucking it all in your backpack…
Get Yours Here
Read Our Review
7. Attend Viva! El Paso
Visiting El Paso in summer? Then, trust me when I say you don't want to miss Viva! El Paso, the city's annual musical extravaganza!
Celebrating El Paso's rich cultural history through a lively medley of songs, this musical usually takes place from July through August. Because this is one of the most popular activities in El Paso, tickets are often sold out so be sure to book your seats early.
For 2 hours, you'll enjoy a jaw-dropping dance performance depicting the city's history, punctuated by acrobatics and cannon fire. Be sure to allocate yourself enough time to enjoy the customary Parade of the Six Flags event which takes place after each show.
Entrance fee: Dependent on the ticket
Hours: 10 a.m. to 3 p.m.
Address: 1500 McKelligon Canyon Dr, El Paso, TX, USA
8. Discover the Mission Trail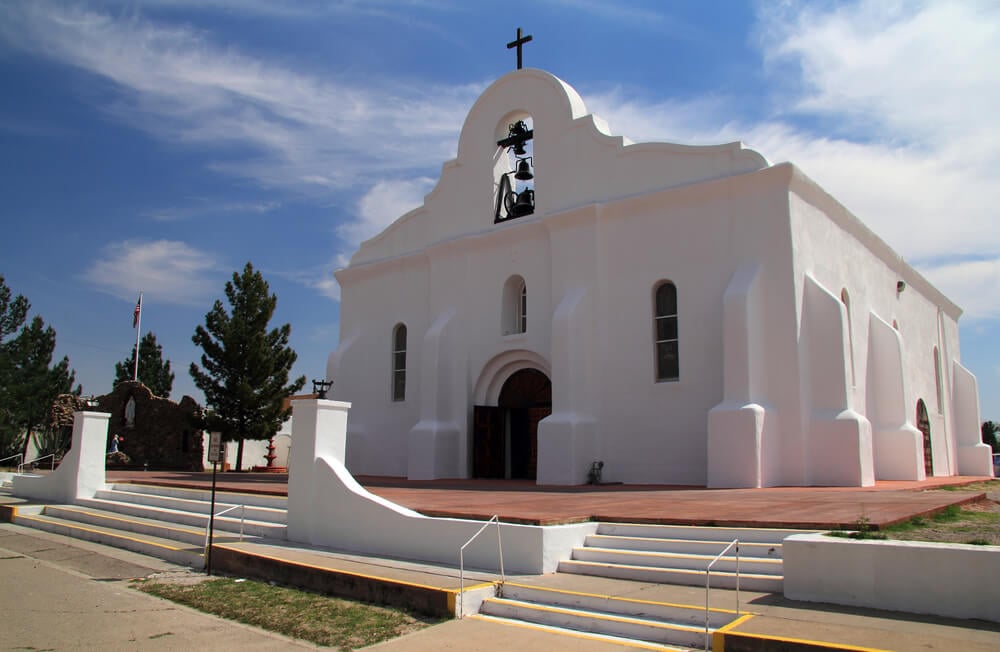 Steeped in the local culture, El Paso's missions are known for being the oldest in Texas.
If you don't have enough time to cover the entire 9-mile trail, be sure to check out the Ysleta Mission: not only does this landmark represent centuries of Texan history, but it was originally built by the Tiguar Indians themselves!
Stunning desert sceneries await on the Mission Trail, so you'll find many cool photo opportunities along the way.
Because the trail features several picnic areas, you may wish to pack a meal to enjoy Al-Fresco style under that glorious El Paso sun. Alternatively, you can always stop for a quick bite at popular Mission Trail Cantinas like El Bandido Restaurant.
Entrance fee: Free
Hours: 9 a.m. to 2 p.m. (Tuesday to Friday)
Address: El Paso Mission Trail Association, 9065 Alameda Ave, El Paso, TX 79907, USA
Okay, we've already established that Juarez is one of the best day trips from El Paso. But if you're not pressed for time, you can also check out Las Cruces, located 50 minutes away.
As New Mexico's second-largest city, Las Cruces has an abundance of activities to keep you entertained for the day!
If outdoor adventures are your thing, you can always consider a leisurely half-day bike tour from Las Cruces to Panajachel: cycle through the awe-inspiring Guatemalan Highlands, visit ancient Mayan villages and take selfies with majestic volcanoes. Sight-seeing bonanza indeed!
The tour only lasts around 3 hours, leaving you with ample time to check out other Las Cruces attractions like the Railroad Museum and the Branigan Cultural Center.
Entrance fee: $70
Hours: 10 a.m. to 1 p.m. OR 2 p.m. to 5 p.m.
Address: Las Cruces, Mexico
10. Hike through Hueco Tanks State Park & Historic Site
Here's another recreational hotspot that beautifully caters to campers, rock climbers, and hikers. I told you El Paso is full of those!
This place is also known as the 'Sacred Desert Sanctuary' because for several millennia, locals used to trek through the hills to collect rainwater accumulated in the area's Hueco Tanks (hollow rock basins). Keep your eyes peeled for evidence of human presence through the many pictographs found on the walls.
To protect the park's resources, there is a cap on the number of visitors allowed in per day so it's always a good idea to call ahead to secure your reservations. There's an Interpretive Center onsite where you can set up self-guided tours or book an overnight stay.
Entrance fee: $7/day, free for children 12 years and younger
Hours: 8 a.m. to 6 p.m. (Monday to Thursday), 7 a.m. to 7 p.m. (Friday to Sunday)
Address: 6900 Hueco Tanks Road No. 1, El Paso, TX 79938
Is This the Best Daypack EVER???
11. Browse Through the Downtown Art and Farmers Market
From fresh produce to souvenirs, regional agricultural products, and even unusual handmade artifacts, El Paso's Farmer's Market is positively bursting with just about everything you may need!
If you're wondering what to do in El Paso on a Saturday morning, I can totally suggest a visit to this exceptionally lively venue.
It's pet-friendly so you can even bring your pooch along. Local street fare is served, giving visitors the chance to sample a wide array of scrumptious delicacies.
The only bummer is that it's only open for half a day on Saturdays, so it can get a bit packed. Consider getting there early morning so you can leisurely browse through the stalls without having to navigate the crowds.
Entrance fee: Free
Hours: 9 a.m. to 1 p.m. (Saturday only)
Address: 117 Anthony St, El Paso, TX 79901, USA
12. Marvel at the Magoffin Home State Historic Site
Live out your palatial fantasies with a trip to this splendid, 19-room abode, complete with Mid-Victorian decors and fine paintings!
With a Territorial-style architecture, this homestead once belonged to an influential multicultural family who played a primordial role in the city's settlement and expansion. Tour the elegant hallways, marvel at the artwork and textiles on the wall, and admire the original furniture- a trip through time beckons at the Magoffin Home!
It's also possible to arrange for a guided tour through the Visitors Center, located adjacent to the homestead. Since this is one of the most famous attractions in El Paso, it's recommended to schedule your spring or summer tours in advance.
Entrance fee: $7 for adults, $4 for children (aged 6-18), free for children aged 5 and under
Hours: 9 a.m. to 4 p.m., weekdays only
Address: 1120 Magoffin Ave, El Paso, TX 79901
13. Learn About the Local Culture at the Chamizal National Memorial
Just a quick heads-up before I dive into that one: most tourists tend to confuse the Chamizal National Memorial with the Memorial Statue in the downtown area. However, the actual Chamizal National Memorial refers to an urban park located along Paisano Drive.
One of the best free things to do in El Paso, this cultural hotspot is excellent for families since there's plenty of space for the little ones to run around.
The Memorial celebrates El Paso through an assortment of exhibits displayed in the on-site museum. You'll also find hiking trails fringed by native flora and the Franklin Mountains views.
Depending on when you're visiting, you may be greeted by cultural performances, including outdoor concerts by local performers.
Entrance fee: Free
Hours: Park open from 7 a.m. to 10 p.m. daily, Museum open from 10 a.m. to 5 p.m. daily
Address: 800 S San Marcial St, El Paso, TX 79905, USA
14. Mosey Around the University of Texas at El Paso
Are you wondering why a university (of all things!) made this list? Well, that's because the University of Texas at El Paso houses some of the city's most popular attractions, including the Centennial Museum and Chihuahuan Desert Gardens.
One of the university's very first structures, the Centennial Museum features permanent and temporary exhibits centered around various sciences, arts, archeology, geology, and more. Depending on when you're visiting, you may even get to attend a free lecture.
Also part of the facility, the Chihuahuan Desert Gardens is brimming with a vast array of plants and themed gardens.
A visit to the Centennial Museum also includes the Lhakhang Cultural Exhibit, a hand-painted and hand-crafted Bhutanese temple gifted by the king of Bhutan.
Entrance fee: Free
Hours: 10 a.m. to 4 p.m., Monday through Saturday (Centennial Museum and Chihuahuan Desert Gardens), 11 a.m. to 1:00 p.m. every Wednesday (The Lhakhang)
Address: 500 W University Ave, El Paso, TX 79968
Travel with peace of mind. Travel WITH a security belt.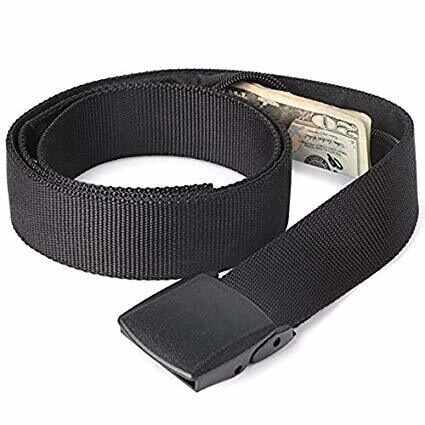 Stash your cash safely with this money belt. It will keep your valuables safely concealed, no matter where you go.
It looks exactly like a normal belt except for a SECRET interior pocket perfectly designed to hide a wad of cash, a passport photocopy or anything else you may wish to hide. Never get caught with your pants down again! (Unless you want to…)
Hide Yo' Money!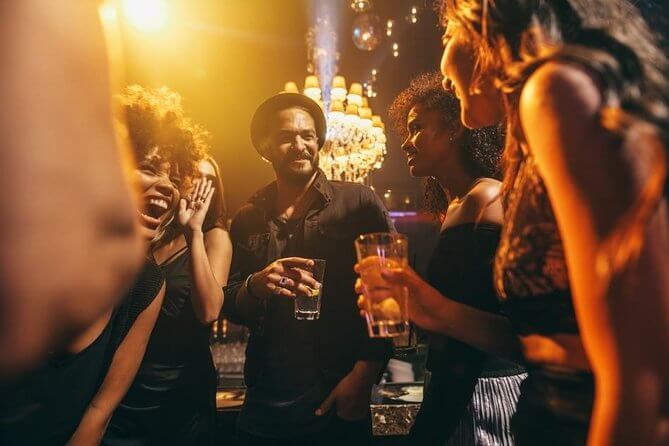 Here's an exciting way of uncovering the city's hidden gems while sipping on the best local brews!
It's no secret that El Paso has amazing nightlife, with karaoke, clubs, and live music on just about every corner. Locals do know how to party, and you can expect most soirees to be fueled by free-flowing booze – most of which is brewed right here in Texas!
Instead of going on any ol' regular pub crawl, why not book a fun scavenger hunt that'll take you across the hottest nightspots in town while popular and lesser-known landmarks alike?
Punctuated by exciting video and photo challenges, this self-guided activity includes transportation to/from attractions, so you won't need to worry about drinking and driving.
Entrance fee: $12.31
Hours: Dependent on tour
Address: 109 N Coldwell St, El Paso, TX 79901
16. Chomp down on Tex-Mex fare at L & J Cafe
It didn't take me long to understand that L & J Cafe is an absolute landmark in El Paso!
Touted as one of the best eateries in the city, this unpretentious establishment dates all the way back to the 1900s and is especially known for its homestyle meals.
The dive bar vibe that permeates the place only adds to the cafe's charm. It's usually teeming with locals – always a sign that the restaurant's serving up authentic Tex-Mex fare!
Prices are quite affordable for such a popular eatery. I can absolutely recommend their Flautas, Loaded Grill Cheese, Picadillo Burrito, and the Tres Leches cake – all washed down with a couple of their wine-infused Margaritas of course!
Entrance fee: Free
Hours: 11 a.m. to 7 p.m. (Tuesday to Friday), 9 a.m. to 7 p.m. (Saturday), 9 a.m. to 5 p.m. (Sunday)
Address: 3622 E Missouri Ave, El Paso, TX 79903
17. Take the Kids to Western Playland Amusement Park
Perfect for travelers looking for things to do in El Paso with kids, the Western Playland Amusement Park is packed with thrilling rides and adventures for the whole family!
Kids and adults will no doubt relish in the El Bandido, the park's most iconic roller coaster that soars to chill-inducing heights. There's plenty of other fun stuff to do, including Flying Scooter, Bumper Cars, and Tsunami which sends massive waves your way as you plunge back down – the perfect way to cool off on a hot Texan day, don't you think?
No trip to the amusement park would be complete without calorie-laden nibbles. Western Playland certainly rises to the occasion, with plenty of hot dogs, hamburgers, and churros stalls scattered throughout.
Entrance fee: $5 for admission, $3 per ride
Hours: 5.30 p.m. to 10.30 p.m. (Wednesday to Saturday), 3 p.m. to 8 p.m. (Sunday)
Address: 1249 Futurity Dr, Sunland Park, NM 88063
Where to Stay in El Paso
Is there anything better than retreating to glorious, air-conditioned room after a full day of exploring El Paso under the hot Texan sun? I think not!
Well, here's the great news: the city offers plenty (and I do mean plenty!) of accommodation options to suit various budgets. Here are a few of my personal favorites:
Boasting daily free breakfast, this allergy-free property offers reasonably priced rooms that sleep 2 to 4 guests. All units feature private kitchenettes, perfect for when you don't feel like eating out!
Rest assured that there's plenty to explore in the vicinity: catch a college football game at the Sun Bowl Stadium, located just a 15 minutes drive away, or spend an afternoon moseying around the El Paso Museum of Art and Chamizal Park.
And since it's a motel, it has ample parking, perfect for those on a Southwest road trip.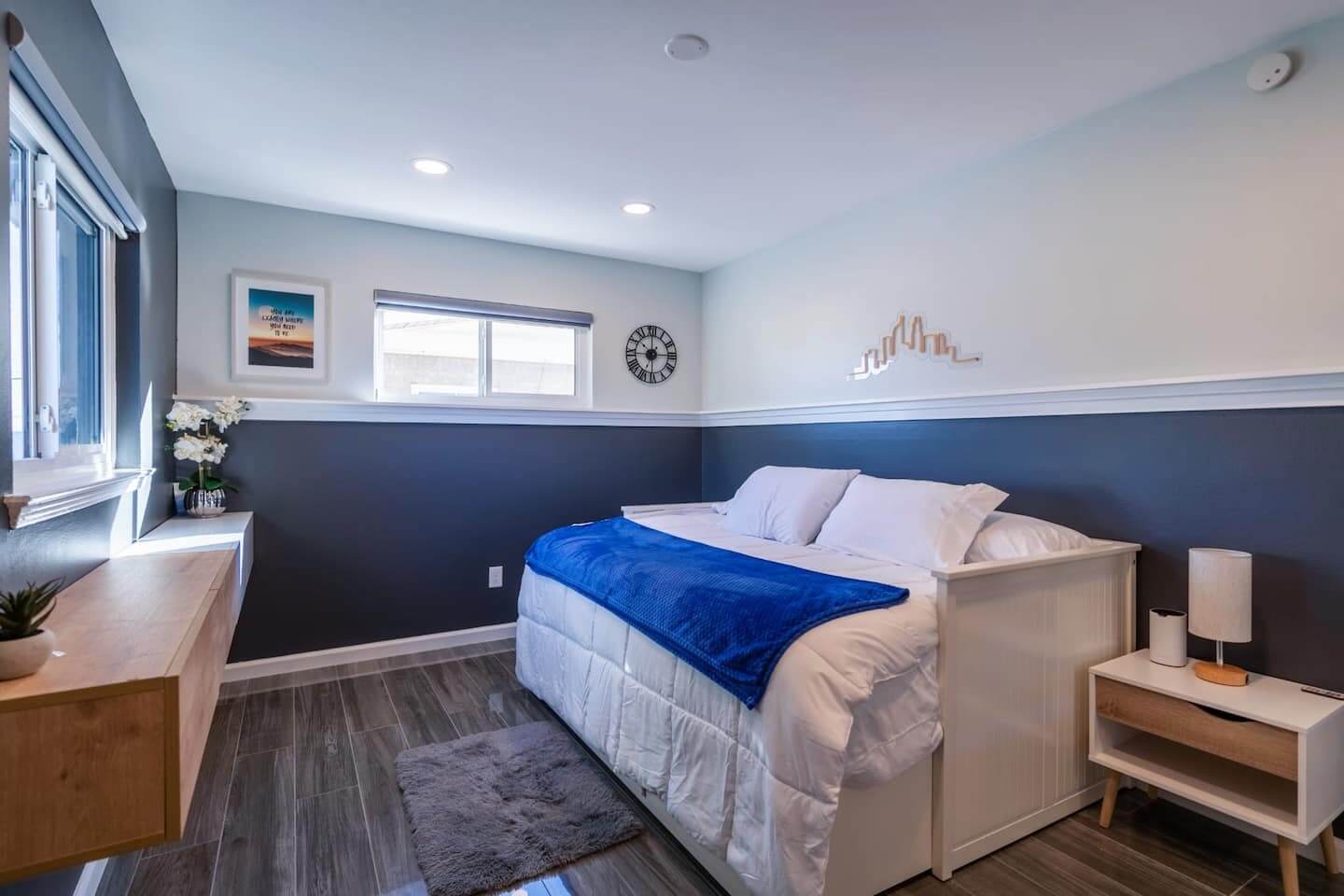 Hands-down, this is my absolute favorite place to stay in the city! Not only is this stunning Airbnb super Instagrammable, but you'll also be close to some of the best attractions in El Paso.
With just a quick drive, you'll be able to tour various points of interest such as the Franklin Mountains State Park, Hueco Tanks State Park, and San Jacinto Plaza.
After exploring the area, return to the Airbnb where you can wind down in the hot tub before rustling a quick meal in the well-outfitted kitchen. With 3 bedrooms for up to 7 guests, this space also features fire pits, neon lights, and bright murals – everything that you need for those IG pictures!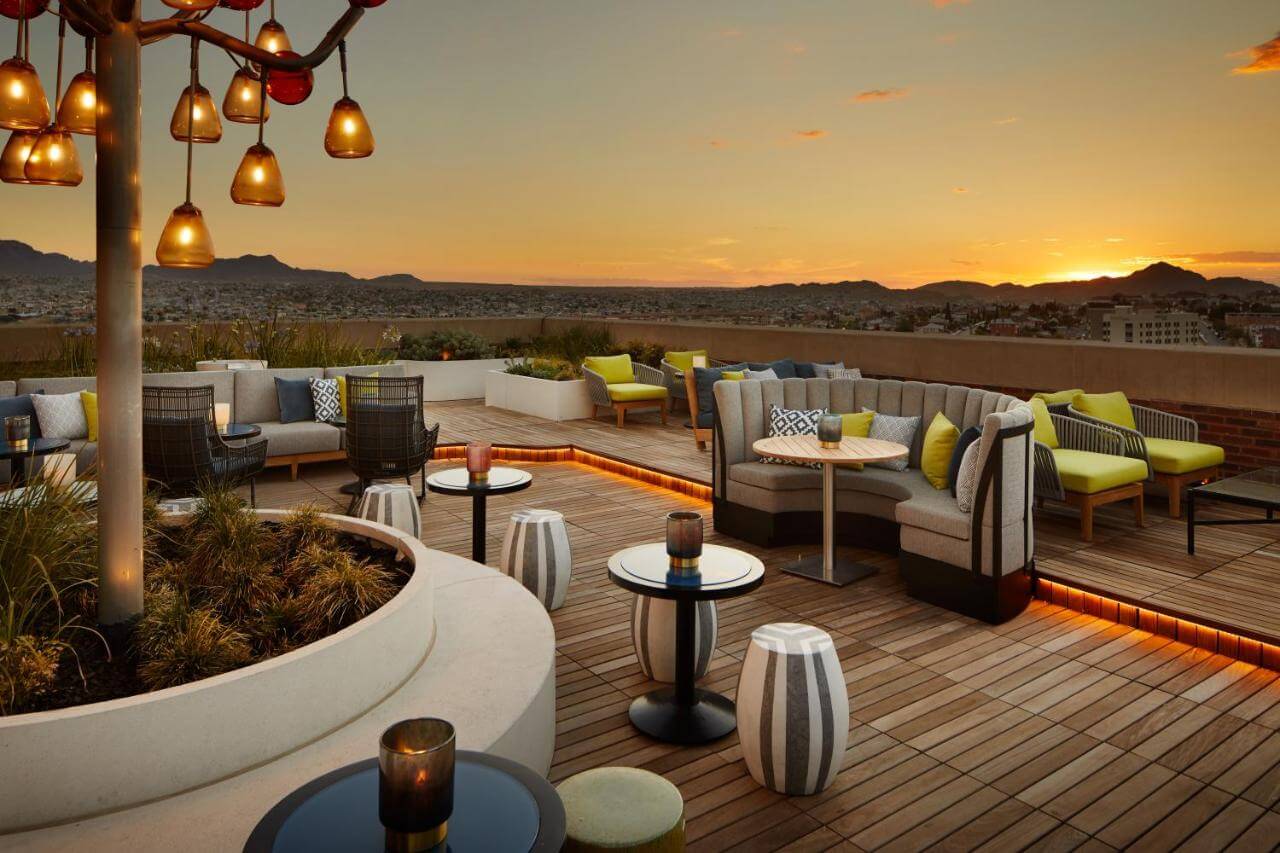 Now, if you can afford to loosen those purse strings a little, this is one hotel that ticks all the boxes!
The Art-Deco property provides generously-sized rooms that sleep two. Deluxe rooms add two large double beds for four. All rooms boast landmark, city, or garden views as well as coffee machines so you can wake up to a fresh brew every day.
San Jacinto Plaza lies across the street while the El Paso Museum of Art is found just a quick stroll away. After sightseeing, kick back with a drink in the hotel's rooftop bar while watching the sunset over the lush surroundings.
Some Additional Tips for Visiting El Paso
Before you hop on a plane and start exploring, here are some of my top tips for visiting El Paso…
Invest in travel insurance! You never know what may happen on the road.
Hop Across the Border. Come on, you can't be that close to the border and not take advantage of the city's alluring proximity to Mexico, right?
Go Off Road. I'm sure by now you've realized that El Paso is full of hidden gems – most of which can be found in the great outdoors so book yourself a UTV adventure to experience the very best of the city's outskirts!
Catch a Festival. If you're looking for fun things to do in El Paso, you'll be glad to learn that there are lots of events all year long. From outdoor concerts to wine tasting to feature festivals like Beyond Van Gogh The Immersive Experience and the Magic of Christmas Ballet.
Don't Forget Your Sunblock. Texas is hawt, y'all! For the most part, El Paso is blessed with a sunny disposition except for short cold spells in the winter.
Bring a good water bottle with you and avoid buying single-use plastic ones!
Download Andale Ride. While Uber and Lyft are both available in El Paso, you can also check out Andale Ride, offering affordable local taxis that specialize in cross-border trips.
Don't forget your travel insurance for El Paso
ALWAYS sort out your backpacker insurance before your trip. There's plenty to choose from in that department, but a good place to start is Safety Wing.
They offer month-to-month payments, no lock-in contracts, and require absolutely no itineraries: that's the exact kind of insurance long-term travellers and digital nomads need.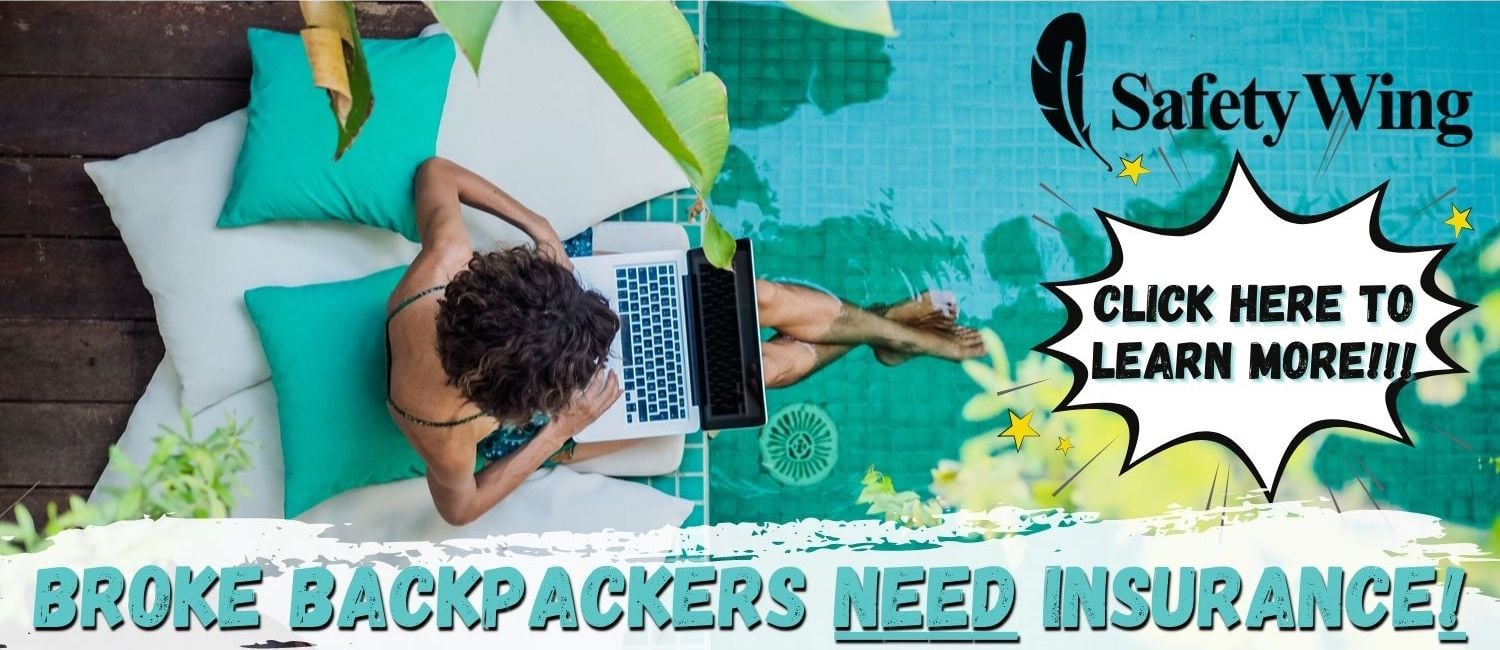 SafetyWing is cheap, easy, and admin-free: just sign up lickety-split so you can get back to it!
Click the button below to learn more about SafetyWing's setup or read our insider review for the full tasty scoop.
Final Thoughts on Things to do in El Paso
Anchored by green spaces, museums, and parks galore, El Paso is loaded with fun attractions for everyone. So, if there's one thing that you can be sure of, it's that you'll never get bored over there!
From sampling the scrumptious Tex-Mex cuisine to strolling through the Arts District or even taking a cross-border trip to Juarez, there are always plenty of great things to do in El Paso.
If you're still on the fence about deciding how to kickstart your trip, simply spend a day exploring the city at your own pace until you get your bearings: El Paso is an incredible place, and every neighborhood offers a unique experience.
Whether you're coming for the culture, the historical sites, or the outdoorsy adventures, believe me when I say this is one city that'll keep drawing you back!
---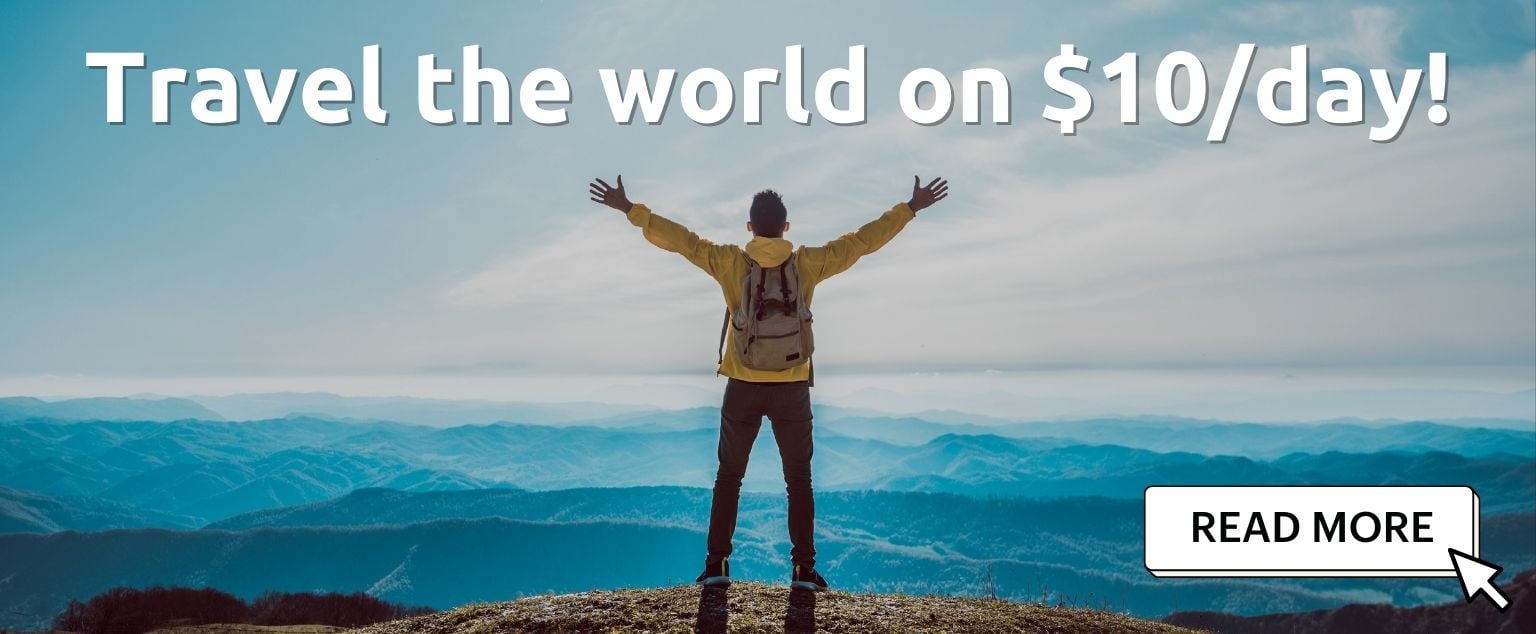 And for transparency's sake, please know that some of the links in our content are affiliate links. That means that if you book your accommodation, buy your gear, or sort your insurance through our link, we earn a small commission (at no extra cost to you). That said, we only link to the gear we trust and never recommend services we don't believe are up to scratch. Again, thank you!