Choosing the right tent for your next backpacking or camping trip is not easy. There are a lot of different tents out there all of which offer different features, varying benefits and their own drawbacks.
In today's post we're going to help you decide whether the Marmot Limelight tent is the right one for you. We'll look at its key specs such as weight and weather proof, we'll give our tuppence on how reliable it is and whether we think it worth your hard earned nickels and dimes.
Marmot makes the Limelight tent in both 2 person and 3 person options. Whilst we only road (or trail) tested the 2p, most of the info still holds true for the 3 except of course for the size and weight.
To help you along we will provide specs, details and prices for both versions.
Marmot Limelight Key Specs:
2 -3 person capacity
3 season use
$270 – $321
2p Version
Packed Weight – 5 lbs 10 oz
Fly/footprint Weight – 3lbs 5oz
Floor Dimensions – 33 sq ft, 3.1 sq m
Floor area – 42 sq ft
Peak Height – 43in.
Packed Size – 20.5 x 7.5 in | 51 x 17.8 cm.
3p Version
Packed Weight – 6 lbs 11 oz
Fly/footprint Weight – 4 lbs 2 oz
Floor Dimensions –  46 x 66 x 93 in (117 x 168 x 236 cm)
Floor area – 42.5 sq ft
Peak Height – 43in.
Packed Size -22 x 8 in | 55.88 x 20.32 cm.
Ladies & Gents, It's Time to Step Your GEAR Game Up. 😉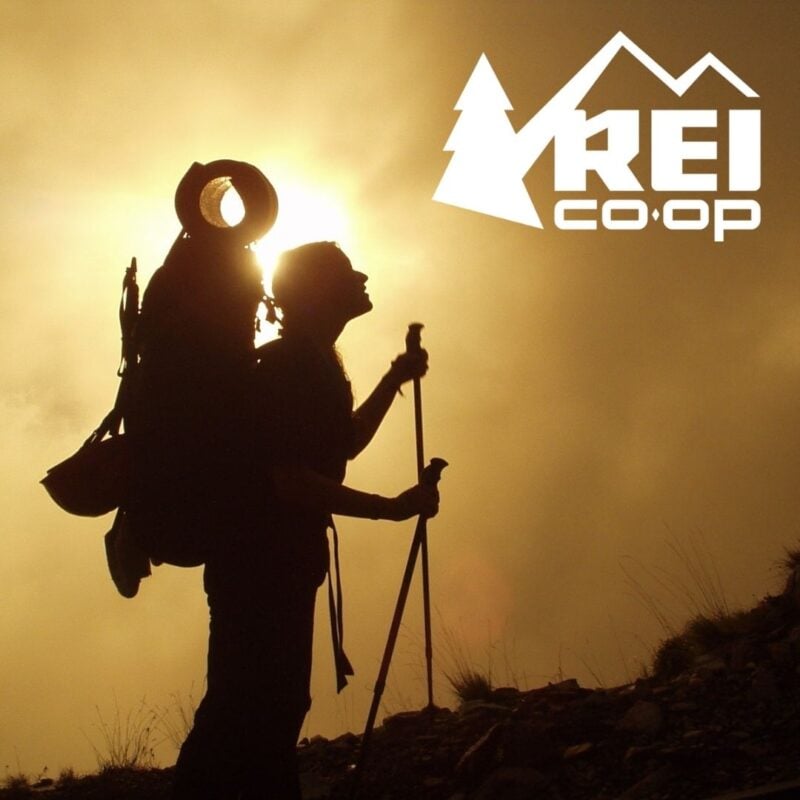 REI is one of America's biggest and most-loved outdoor gear retailers.
Now, for just $30, get a lifetime membership that entitles you to 10% OFF on most items, access to their trade-in scheme and discount rentals.
Join REI Today!
How Many People Can Fit in The Marmot Limelight Tent?
The Limelight is available in both 2 person and 3 person options. Now, some people find 3 people in a 3 person tent to be just a bit too snug if you bring all your gear inside. Ultimately this is subjective and also depends on how large you are, how much gear you have and how much personal space you need!
What Weather Conditions is the Marmot Limelight Designed For?
The Marmot Limelight is a 3 season tent. This means it can be used in summer, spring and autumn settings. It offers a good degree of water-proofing, wind resilience and warmth retention.
However, it is not designed to handle extreme weather in any form. There are dedicated winter tents out there for this.
How Much Does the Marmot Limelight weigh?
The 3 person version weighs 7ibs (3.17kg). This is not an ultralight tent but is light enough for one person to carry when out hiking.
Does The Marmot Limelight come with a footprint?
Yes it does. This is NOT the case with most tents so is a big bonus!
Review: Key Features and Performance Breakdown
There is a lot to consider when choosing a tent. In this section we will address all of the tents key features and see how it performs.
Livability and Interior Specs
Ok so on paper, the living area and space is pretty much identical to other tents in this space (that goes for both the 2 and 3 versions). However, the peak does protrude very nicely meaning the tent feels a bit higher than a lot of others we have tried. The "higher ceiling" certainly makes the tent feel more spacious than it really is and we were both able to sit upright comfortably.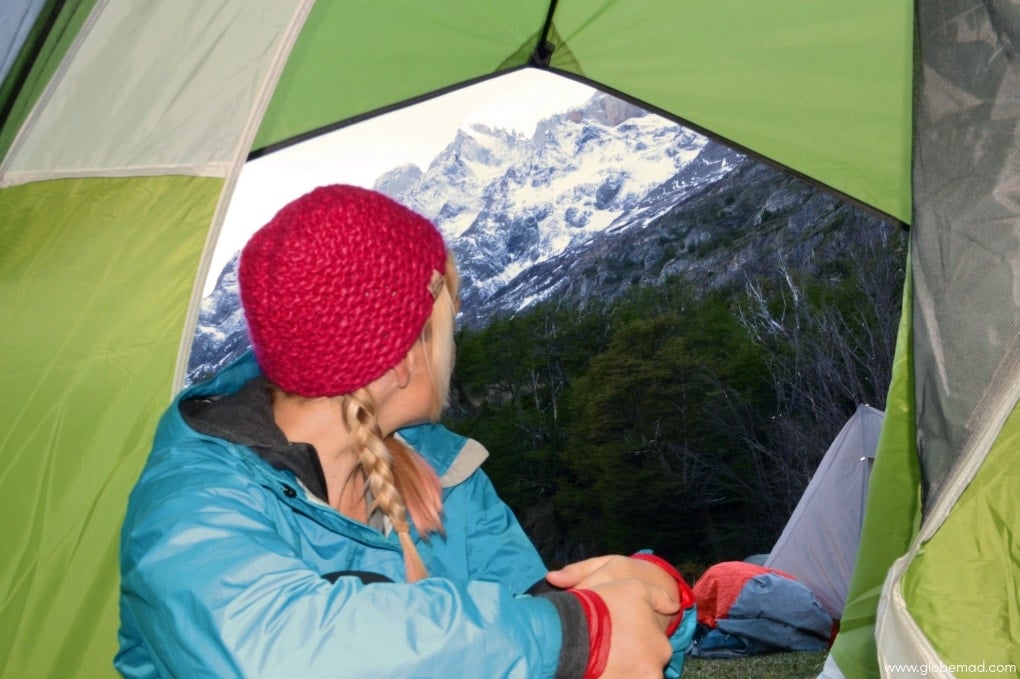 I can't comment on whether 3 people would be able to sit up in the 3p version as we never tried it. As I said earlier, some people find 3 people to a 3 person tent to be a struggle although I am of average size and slim build so never really have this problem. If you will be staying in the tent for 1 or 2 nights at a time, I don't think too many of you will object too strongly.
The tent also has 2 big side doors which are almost the full size of the entire wall. When opened they make the tent feel even more roomy and of course, having multiple access doors always makes tents more liveable.
If you are after a tent that is more akin to a country manor, then check out an 8 person tent…
Weather Resistance
We tested this out during a summer heatwave so can't really comment on how it may perform in a hurricane. However from what we can see and what we know, the weather resistance of the Limelight is good.
We poured water down it to simulate rain and it kept it out very well.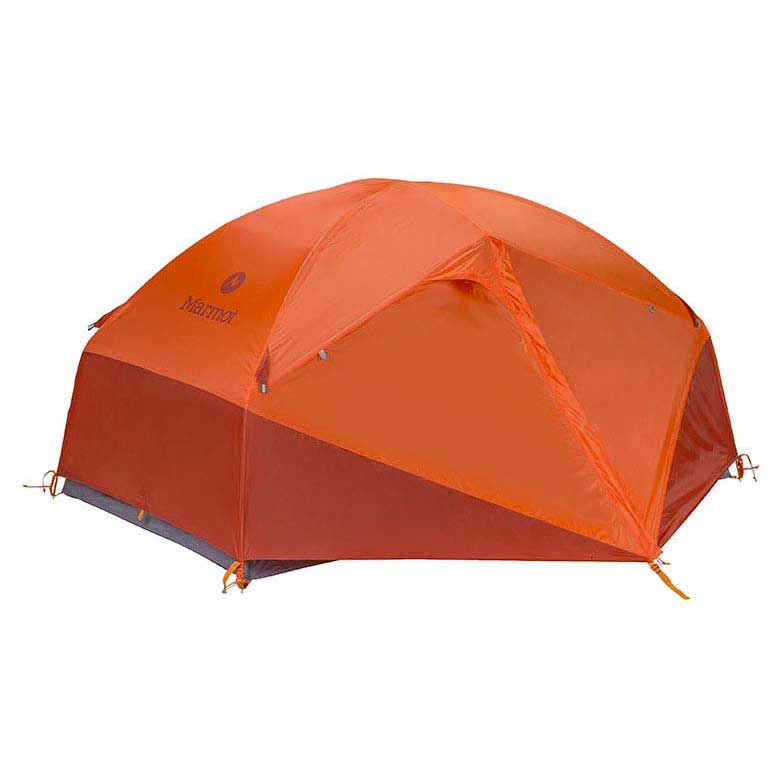 The Limelight does come with a footprint which also adds protection against ground moisture and cold earth.
As for wind, there is a single stake at each side which does hold the tent down but there is a bit of flapping if the breeze gets up. Just remember this is not a winter tent so is not designed to survive gale force winds.
The walls are made from a pretty sturdy material which will help you stay warm during cold autumn nights but there is downside to this in that, with the fly closed up, the ventilation is not great.
Breathability and Ventilation
This is a 3 person tent meaning it is built to handle some cold nights. As such it does a pretty good job of retaining body warmth. The flip side of this however is that the tent can get a bit hot during high summer.
There is a mesh ventilation pocket at the apex of the tent which allows some circulation but it's not perfect. Basically, on summer nights you will need to zip down the flys to stay cool and can expect to wake up to some condensation running down the sides.
Pitch & Packability
The glad tidings are that the Marmot Limelight is pretty easy to erect. It has two long poles that cross at a central hub, as well as a separate cross-pole that expands the headroom. The poles are "pre-bent" which can make them tricky to handle and they seem to have a will of their own but you can get used to them after a few goes.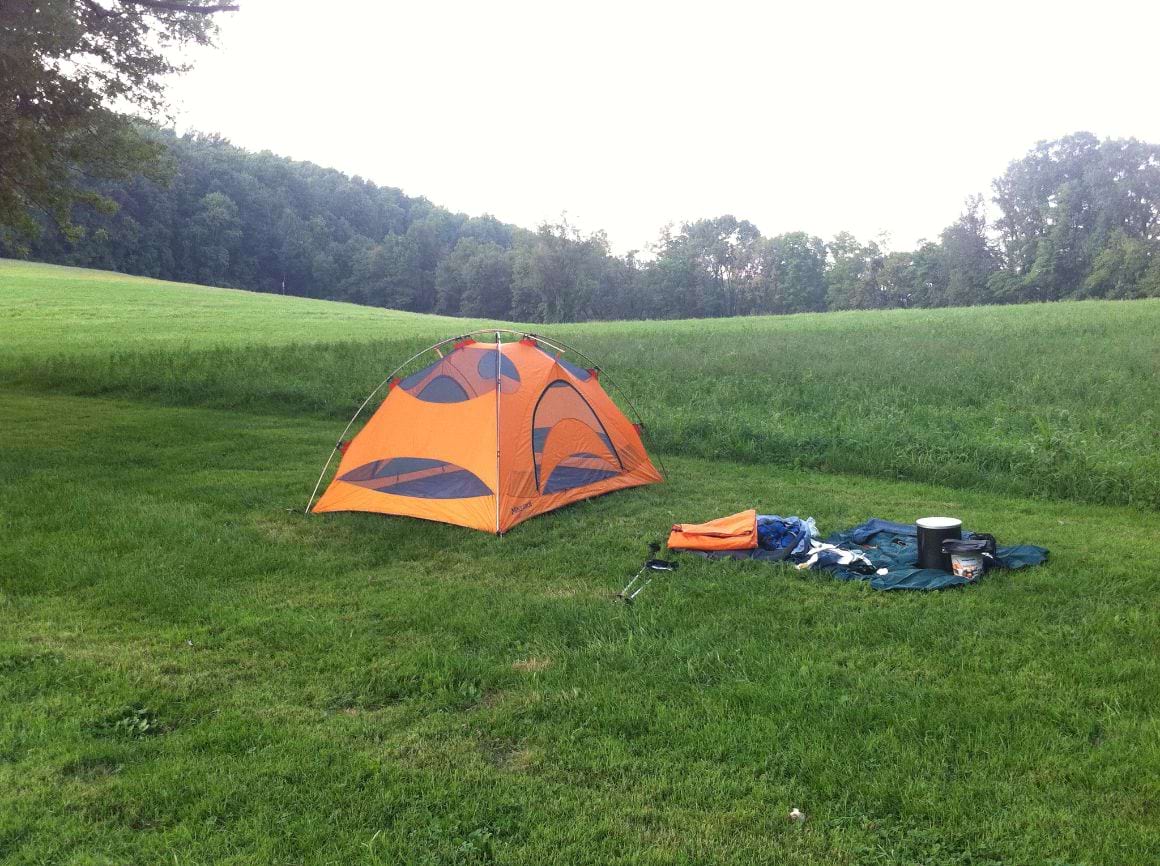 In terms of packing away, it was pretty standard and we had it back in its bag and ready inside of 15 minutes.
Durability
The Limelight is made from 68 Denier poly taffeta. It feels kind of pretty sturdy and has been designed to withstand a bit of strain and is puncture resistant. The footprint also really helps in this regard as a lot of damage to tents tends to come from the bottom anyway.
As long as you respect the tent's limitations (3 seasons) and take some care of it, it should last you a good few years. It's not a cheap tent and it has been designed for long term years.
Size and Weight
This is not an ultralight tent. In fact it's hardly a light tent at all.
The sturdiness and spaciousness does come at a cost and this is it. The 2 person version we tried weighs 5lbs, 10 oz and it also packs down big. Unless you are carrying a big hiking pack then the tent will eat up a fair chunk of your space and will definitely add some weight.
Therefore in terms of best use, I would be reluctant to take this out on a technical or strenuous hike.
Price
2p = $270
3p = $321
Coming in at over $250 this is most definitely not a cheap tent. However, good tents are never cheap and when choosing one you need to remember that the old adage "buy cheap buy twice" has never been more figging pertinent. Seriously, I have seen cheap Walmart tents tear and snap on their very first outing.
For a spacious, 3 season, sturdy tent this is a very fair price. The only consideration I would have is whether you should maybe spend a bit more cash and look for a lighter alternative. I mean, if you're willing to commit in excess of $250, why not see what another $50 can get you right?
We'll look at some lighter alternatives right now.
The best present of all… is CONVENIENCE!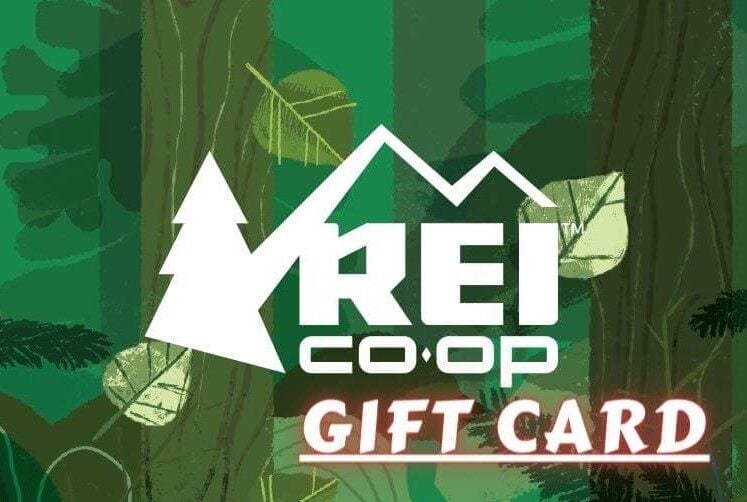 Now, you could spend a fat chunk of $$$ on the WRONG present for someone. Wrong size hiking boots, wrong fit backpack, wrong shape sleeping bag… As any adventurer will tell you, gear is a personal choice.
So give the adventurer in your life the gift of convenience: buy them an REI Co-op gift card! REI is The Broke Backpacker's retailer of choice for ALL things outdoors, and an REI gift card is the perfect present you can buy from them. And then you won't have to keep the receipt. 😉
Buy on REI!
Marmot Limelight vs the World: Competitor Comparison
All of the deets and specs about the Marmot Limelight mean relatively little in isolation, the big question is how it performs against other tents in its class.
Perhaps the best 2 person 3 season tent I ever tried was the MSR Hubba Hubba. It's quite similar to the Marmot Limelight in many ways except that it weighs just 3ibs 8 oz making it a fraction of what the Limestone. However, at around $400 it does come with a heavier price tag to match. The 3 person version (the Mutha Hubba) is closer to $500.
In terms of budgets, the MMountainsmith Morrison EVO 2 Tent with Footprint is a bit heavier but also slightly cheaper. Personally I would not add any more weight to save $50.
Sticking with Marmot, they do offer the Tungsten UL 2p which weighs a 4ibs 13oz and comes in at $400. However it isn't anywhere near as spacious as the Limestone and not as resilient either.
So, on balance, the Marmot Limestone is very competitive. There isn't another tent quite like it at the price point making it a decent option for the money.

Our GREATEST Travel Secrets…
Pop your email here & get the original Broke Backpacker Bible for FREE.
Marmot Limelight Review – Final Thoughts
I think we covered all of the salient points in our Marmot Limelight review and do hope you found it helpful. It is a good quality tent that offers good value for money. Whilst not the lightest tent in the world, it's still perfectly manageable if you don't mind carrying a bit of weight.
Do you think we missed anything? Have any experiences with the Marmot Limelight to share? Or do you maybe have any top tent recommendations for us? As ever, we love to hear your comments.
---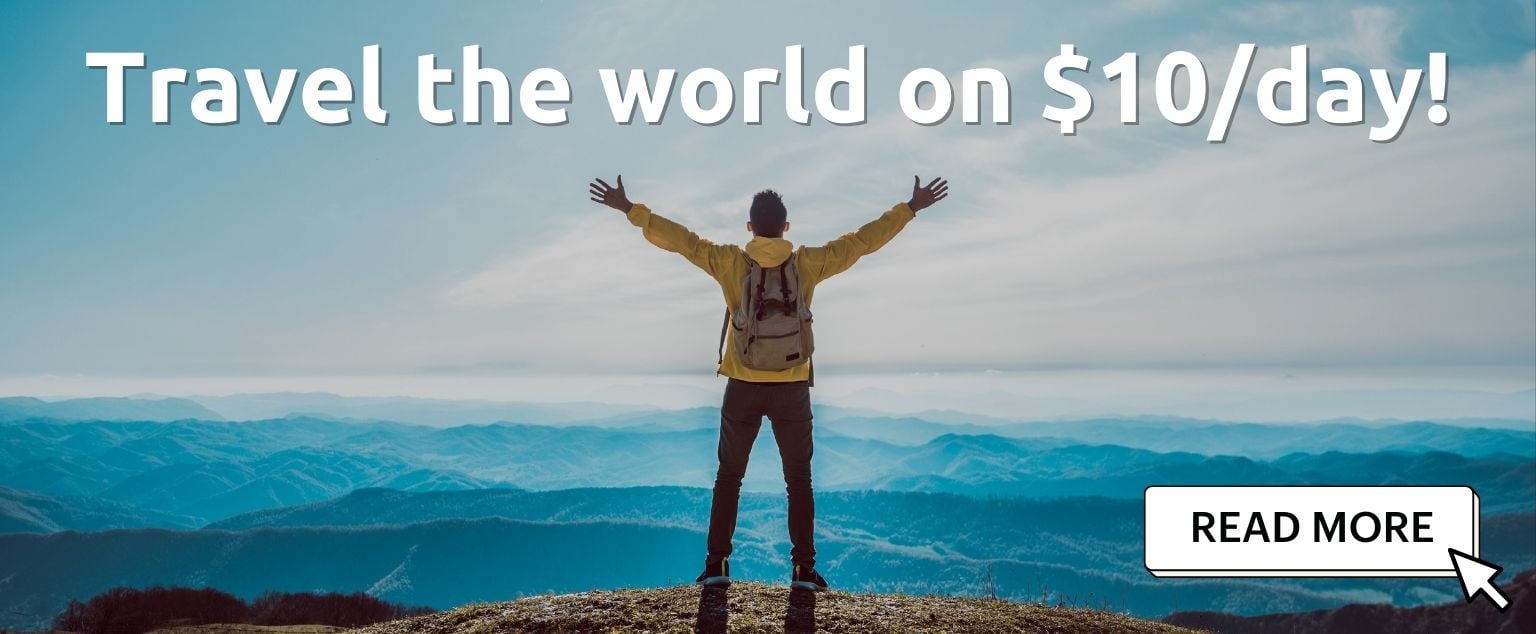 And for transparency's sake, please know that some of the links in our content are affiliate links. That means that if you book your accommodation, buy your gear, or sort your insurance through our link, we earn a small commission (at no extra cost to you). That said, we only link to the gear we trust and never recommend services we don't believe are up to scratch. Again, thank you!