Before you dust off your hiking boots and display the contents of your pack nicely for the final photo, your adventure really begins when you find the right tent. The best ultralight tents will weigh less than a bible while offering real salvation on rainy nights (even 40 of them).
If you're ready to take the leap and start some long-distance expeditions, have we got a gear list for you. These lightweight tents have performed no matter the conditions, proven easy enough to set up before the storm rolls in, and saved a few trips to the chiropractor.
Shedding off precious weight from your kit will take you deeper into the truth of the woods, but how do you know who to trust to take you there?
Well, you read about it. We'll cover ultralight tents, bivies, freestanding lean-tos, shelters, and chalets to show you what the best tents in the game are capable of. Our buying guide will highlight where these budget backpacking tents excel and shine a light on any potential flaws.
Nobodies perfect, not even your tent. Any weight reduction has to come from somewhere, and even the ultralight backpacking tents on the market made compromises to stay light as a feather. Decide which factors are most important for you, and scroll down to find your perfect match to complete your backpacking gear setup.
Right then, are you ready to find out what the best ultralight backpacking tents are? Let's go then!
Quick Answers: These are the 10 Best Ultralight Tents
Choosing an Ultralight Tent
So, how to choose which tent to buy? Go in with the mentality that the lighter they are to carry the weaker your potential tent will score in terms of durability or warmth. Some producers try to offer the full package using expensive magic materials, but there is always a trade-off when it comes to a lightweight tent, especially if you're looking at budget ultralight tents!!
Sometimes a light (but not ultralight) option may do the trick. Very few hikers will walk enough to notice the difference between those last few kgs. There are plenty of fantastic lightweight options that provide a splash of comfort in an ultralight shell, and won't cost next month's rent. It's within this niche that the most popular backpacking tents lie.
The bottom line is: The upper echelon of ultralight tents do not come cheap. But if you know anything about good quality outdoor gear, you already knew that!
At the highest level, you've got no choice. The best ultralight tents demand top dollar to shed off those last valuable few kilos. There is no tent on the market that can properly copy the performance of a true ultralight tent for less than $200. Be wary of low-cost options that promise unbelievably low weight. If it sounds too good to be true, it probably is.
Once you've committed to an ultralight backpacking tent, the best option will be the tent most catered towards your style. This is going to be your second home! Don't rely on Ikea.
Basically, when choosing an ultralight tent, decide where you lay within the Venn diagram of price, weight, and space. Every tent on our list excels in at least two of these categories, but you won't find one tent that scores first in all three.
Ask Any Trekker who has made it out far enough, and they'll swear by every saved stone. If you're planning a longer journey, it will only take struggling through a few hot days lugging your world on your shoulders to justify investing in shedding weight and going for the ultralight backpacking tent.
Other hikers will guarantee you won't notice the weight difference but will thoroughly enjoy a few extra square feet of interior space and gear storage. The good news is, they're both right! It all depends on which factor you value more for your personal needs.
The best one-person ultralight tents will set you back less than one kilo, and shoppers looking for adventure-ready two-person tents can have it all for less than 1.5.
Be prepared to learn how to work with your hands. Anything less than 1 kilo will require special attention and maintenance. The extreme technologies and materials used in the tent fabric will likely be the most fragile part of your backpacking kit.
If you love tinkering with your existing toolset, the repairs of a good quality ultralight tent won't be anything you can't handle; just don't forget to pack the patch kit. The rest of us should consider finding a crossroads between weight and durability.
Although these best backpacking tents make their names as flyweights, you'll want something more than just skin and bones. In addition to maintenance variables, you've got yourself to worry about.
You need to seriously consider your comfort when pushing to drop the ounces. Don't just plan on bad weather. If you're out in the woods long enough you'll have to spend a few afternoons inside your tent, riding out a storm. Any of these two-person tents will fit two, snugly.
Luckily, Modern hikers won't have to take such a spartan approach just to find relief. There are tons of tents out there that won't tip the scales. A tent with your preferred blend of affordability, ultralight features, and room to protect your gear is out there.
What About Footprints?
Oh, how we all wish to run off on our adventure without worrying about packing an extra set of nylon. We'd love to say forget about them, but it's only a matter of time before you'll be glad you packed reinforced flooring.
To save weight, ultralight tents don't often come with footprints. It looks great on a spec sheet but will also make them more prone to tear and weathering. Should you buy one? Unfortunately, yes.
There's no way to argue that your tent flooring will not be more protected with a footprint underneath. However, this will undoubtedly add on a kilo, and those quickly add up. Lightweight comes first, but longevity is a close second.
Footprints will also pump invaluable insulation on colder nights and be the only thing laying between you and a pair of soaked boots. If you're looking at breaking speed or weight records, footprints might be best left at home. More casual campers may boost the lifespan of their ultralight tents by a decade with this one simple trick.
Best Ultralight Tents
Let's get down to business. We selected these tents due to their eye-popping features, steady performance, and niche fit. They all bring something different to the table, and all would prove capable on your next big trip.
Well, we could have gone with the 5 best ultralight tents for backpacking, but we like to go the extra mile here so we've only gone and found 10 for you! Let's have a look then!
Ladies & Gents, It's Time to Step Your GEAR Game Up. 😉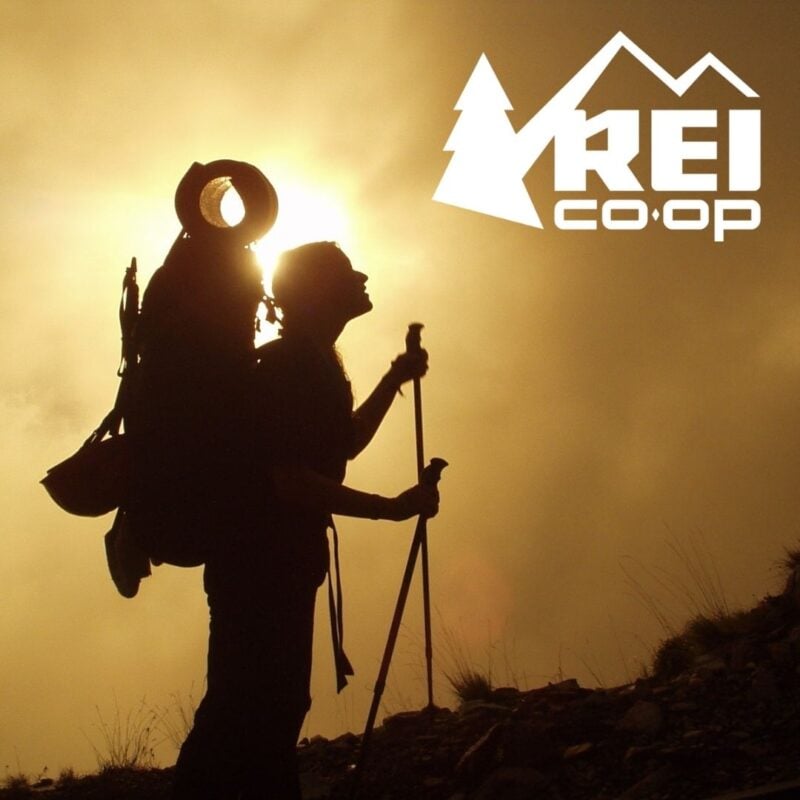 REI is one of America's biggest and most-loved outdoor gear retailers.
Now, for just $30, get a lifetime membership that entitles you to 10% OFF on most items, access to their trade-in scheme and discount rentals.
Join REI Today!
Specs
Weight (kg): .65
Packed dims (cm): 47 x 13
Price: $849
Whether it's Colorado mountain snowstorms or starry, silent nights, you can go further with the Big Agnes FlyCreek tucked away in your backpack. This beauty weighs less than 2 pounds and will provide a haven atop the country's most scenic vistas with the proper care.
This fly creek tent is not for a casual camper. Ultralight stakes, tent poles, and flies ain't cheap, and they certainly are not carefree. Big Agnes wants you to take special care during the set-up and packing of some of the most technically advanced materials out there.
If you treat it right, this double-wall tent has proven itself capable of withstanding conditions far beyond the abilities of an average shelter.
If you don't believe us, then read about the time The Broke Backpacker writer Chris got caught in extreme weather, and the Big Agnes Fly Creek saved his balls if not his life.
"This tent literally kept me out of hypothermic conditions a few times. It's not difficult to keep the interior of this tent dry during setup even if you're being pummeled by the elements… I've never been more pleased with a tent's performance."
Now that's a stunning endorsement from a field review. On paper and out in the elements, the Fly Creek UL1 has set a high bar for ultralight tents and provided thousands of adventurers a good night's rest.
The team were super impressed by just how freaking light this thing was, like, it was unbelievable really that a tent could actually be this light! They just love how well-engineered it felt, weight had been saved in every possible without compromising structural integrity. They also loved just how tiny this tent packed down too which made it perfect for backpacking.
Read our full review of the Big Agnes Fly Creek UL1 if you need more info on our pick for the best lightweight freestanding tent.
+Pros
Weighs less than your favorite novel
Freestanding tent
Guy lines open up interior space
-Cons
Incredibly delicate tent body materials
Only one front door
Specs
Weight (kg): 1.13
Packed Dims (cm): 46 x 14
Price: $399
Coming from the same great tent brand as the best ultralight tent on our list but at half the price, the Tiger Wall is a great affordable choice. You'll be saving money by adding an extra .5 KG into your backpack. That may be heavy for a Big Agnes tent, but it still ranks as one of the lightest tents on the market. In fact, it might just be the best ultralight freestanding tent right now.
Thru-hikers or those seeking to push the limits of ultralight hiking may scoff at 500 grams, but most of us will still be blown away by this ultra-light tent. Even semi-serious walkers and long-term trekkers planning on avoiding winter can save money and still rely upon this durable silicone-treated shelter.
The one pole system makes set-up easy but does make the tent a bit more subject to blowing over in harsh winds. On better nights, the fly opens to reveal a mesh rooftop perfect for stargazing.
While not up to the standard of the most expensive tents in its class, it saves you a few bucks and boasts some high-end features. In our eyes, this is about as great value as you'll be able to find in a high-performance tent and blow the other tents at this price point out of the water.
Our team rated this at the top when it came to the lightest freestanding tent, they felt that for the extra few lbs, it offered a touch more structure and durability. They loved how easy it was to set up and the way in which it could be easily adapted to warm or wet weather with the additional footprint for further protection or by simply using the outer shell in the summer.
+Pros
Single pole system
Trusted brand
Enough headroom for two people to sit up at the same time
-Cons
Some weather resistance flaws
Tent body prone to condensation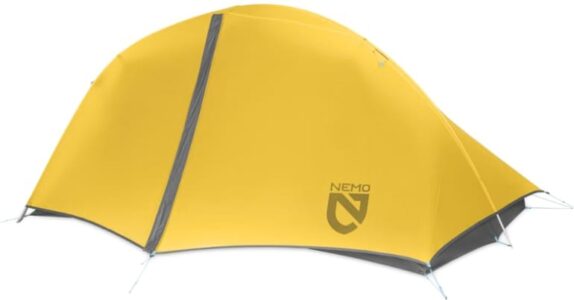 Specs
Weight (kg): .94
Packed Dims (cm): 48 x 11
Price: $499
The hornet elite takes Nemo's signature tent and cuts the weight in half, striving to provide the same livability and weather resistance at a size so light you won't even notice it in your pack. Hiking duos can easily split the stuff sack in half to cut down the weight even further.
Nemo threw everything they could to make this space technically advanced, with guy-outs that stretch your sidewall and pole clips that open up valuable inches of headspace.
And still, This extreme ultralight design does have to sacrifice some interior space, but who doesn't love inching closer to their partner on cold, ridgetop nights? If you don't, look for another tent.
Most tents this lightweight are expected to be a bit cramped, but Nemo makes up for it by adding two doors and plenty of pocket space that allows easy access to an overhead lamp. The practically invisible mesh gives you panoramic sky views on clear nights when it's time for lights out.
When shopping for the best ultralight tents, it's worth committing to investing good money in the right materials. This tent makes things a bit easier by providing a durable, lightweight camping option at a relatively affordable price.
Our team felt this was a solid choice that offered a more spacious and private tent without adding much extra weight compared to the Fly Creek. They also loved the materials of this tent and thought it felt a bit more hard-wearing and durable than some of the super lightweight tents on the market. The addition of the dual vestibules was also welcome for those travelling as a pair.
+Pros
Comes with two doors including a side door
Fly rolls down to the floor
Nemo offers a lifetime warranty
-Cons
Tight squeeze for two people and two packs
Relys on extra guy lines not included
Specs
Weight (kg): 1.75
Packed Dims (cm): 46 x 15
Price: $449
We think this beauty is one of the best tents out there, no matter the category. A true do-er, whether you're looking for an ultralight hiking tent or long-term travelling, you'd be crazy not to have a tent like this one in your backpack.
It deftly balances comfort and lightweight qualities. While upwards of 1 kilo heavier than the lightest packs on our list, there is considerably more interior space in the Hubba Hubba. Loads of 2-person tents may really mean one person and a dog, but this MSR option has enough room for two people and their gear to fit easily enough.
The Hubba Hubba rainfly goes all the way down to the Xtreme shield flooring, which is more than just a marketing ploy. While Xtreme shield is a corny name, the protection offered goes well beyond face value, offering increased water resistance against flooding through your tent floor.
With good weather protection and two separate vent flaps to alleviate hot summer nights, this tent provides a bit of everything at an affordable price.
It's not a night at the Hilton, but it's a cosy enough hiking tent to provide a great end to any day in the woods.
The Hubba Hubba NX 2 has been a firm favourite for our team members for years and they feel the compromise made in the extra weight is well worth the added levels of protection and durability. Whereas other lightweight tents tend to wither away after a season or two, the Hubba Hubba NX 2 will take years of abuse.
+Pros
Xtreme shield flooring
Enough headroom for a rainy day
Good scores across the board
-Cons
Does a bunch of things well but doesn't excel anywhere
Expensive for an almost 2 kg tent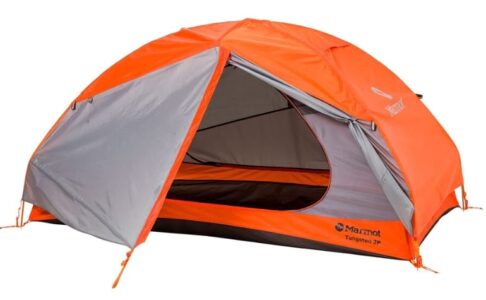 Specs
Weight (kg): 2.38
Packed Dims (cm): 53 x 18
Price: $214
The everyman's tent! If you're not planning on logging thousands of kilometres over the next few years, dip your toes into lightweight tent and backpacking technology with this affordable tent that saves a few bucks but still packs in plenty of quality.
As you can see, the dimensions and weight of this tent are the heaviest on our list, but that price speaks for itself. Savvy campers stay realistic when deciding what gear they need. If you don't often trek 15 miles to get to the campsite, you may not notice an extra pound or two.
Maybe you're a few trips deep and want to start committing to an outdoor lifestyle. Before you splurge on an intense ultralight tent, learn to get more comfortable outside with this Marmot Tungsten
You can split up the packaged weight between two packs to cut down on your load, and once you get to the campsite, you'll find this classic three-pole tent easy to set up. The cocoon rain fly drapes all the way to the ground and feels comfy through windy, drizzly nights.
This tent isn't promising to save the world. While some other options on our list are reinventing what ultralight can do, Marmot has provided something that will get you out on weekend adventures whenever the weather permits it.
The team loved how spacious and roomy this tent felt due to its unique shape. They felt the slight increase in weight was well justified, especially if travelling as a pair where they could easily split the load. They also found set up and pitching was super easy too due to the well-thought-out colour coding system and "easy pitch poles".
+Pros
Most affordable option on our list
Oodles of headspace
Comes with a Footprint
-Cons
Heaviest tent on our list
Doesn't pack in many ultralight features

Do You Want to Travel FOREVER??
Pop your email in below to get a FREE copy of 'How to Travel the World on $10 a Day!'.
Specs
Weight (kg): 1.30
Packed Dims (cm): 51 x 18
Price: $349
REI's house line of gear has bucked trends by being one of the only big box stores to take their own products seriously. The store sells the best tent brands in the world, but their own designs are no joke.
An ultralight tent made for everyone, The Quarter Dome is full of overhead and side pockets, and its interior is roomier than most elite ultralight tents. Still, unfortunately, two people won't entirely be able to sit up comfortably.
The user-friendly features go from the inside out. Colour-coded tent poles make it easier to get the rhythm of this tent construction down fast, and two doors create over 20 square feet of vestibule space. You can leave the tent body in the car on warmer hikes, shedding off half a kilo in weight by using the poles, rainfly, and footprint (not included) for a quick and easy breezy structure.
This Quarter Dome SL provides a thru-hiking and more extended adventure-ready tent at the price of a car camping option.
The team did feel this tent was a bit of a squeeze for a couple but were super impressed by the level of quality offered for such a light tent. The Quarter Dome is in fact one of the lighter models and offers a thicker and more reassuring fly cover than others of this weight class. They also remarked on how easy the tent was to both set up and take down, partly due to the use of hubbed poles.
+Pros
Two vestibules
Durable materials great for less attentive campers
Year-long no questions asked return policy
-Cons
Have to be careful when staking this tent
Only one roof vent, but its larger size keeps the air flowing
Specs
Weight (kg): 1.11
Packed Dims (cm): 45 x 11
Price: $399
Taking comfort ultralight, the Sea to Summit's unique shape allows greater interior vertical space than any other tent on our list. The teepee-style triangular design may not be the best defence against foul weather, but fair weather expeditions will relish the extra space.
The height comes from Sea to Summit's Tension Ridge pole system, two centre ridge poles that slope upwards instead of downwards. This creates valuable headspace and sends everything vertically to improve airflow, making the tent fare well against humidity.
The ridge is a work in progress, and we have noticed water tends to pool up in the curved end section of the poles, potentially leaking through your vents. This, plus the extra height, makes us cautious about taking the Alto out into severe storms. As we said earlier if you expect severe weather then consider a specialised waterproof tent rather than an ultralight one.
Although you can't fit three people in the tent, the stuff sacks break down into three different parts to make it easy to share the load, and each bag clips in to serve as pockets once you've set up camp.
All in all, we'd call this tent more sea than summit, but it packs loads of comfort and versatility into an ultralight tent.
The team loved the unique design of this tent which resembled a teepee more than a traditional backpacking tent. They loved the liveability of the high walls which made the inside of the tent feel super spacious and less claustrophobic than many ultra lightweight tents. They did remark however that in blustery conditions the design did catch the wind more. Another plus point for the design of this tent is that it does seem to help when it comes to reducing condensation and increasing airflow.
+Pros
Great interior space
Stuff sack splits into three, works as pockets once you hit the campsite
Tension Ridge Poles create great airflow
-Cons
Tension Ridge poles collect water
Poles sketchy against high winds
Specs
Weight (kg): .75
Packed Dims (cm): 30 x 13
Price: $264
Black Diamond dreamed big to create this unique ultralight shelter option. This tent works with most trekking poles to save backpack space and weight by not including any tent poles. A single-wall tent made from 30D polyester nylon construction, it's super tough and helps the tent keep its shape with two trekking poles.
A truly revolutionary concept, but in practice, there is some real work to be done.
This tent will work great as a simple structure for a few nights but simply doesn't have the comfort or weather resistance of most ultralight tents on the market. It's a tight squeeze for two, and some would say it's flat-out not doable for more than one person.
The tent holds up well in the wind, a bit surprising considering it solely relies on your trekking poles and a few stakes to hold up. On warmer nights, there is no mesh underbelly to expose, and you'll wake up soaked in condensation, a real downside to single wall tents.
Trekkers who already wander with poles and don't demand much out of their tents won't find a more lightweight option anywhere near this price range, but make sure you understand the limitations of this tent before taking your decision.
The team were pretty intrigued by this funky little number and wondered how well the unique trekking pole functionality would work in practice. Thankfully they found that set-up was super easy, especially if using Black Diamond poles. They felt the weight saved by this cunning trick was a stroke of genius! They did however feel it was a bit small for 2 people and condensation could be an issue depending on the dew point.
+Pros
Lightweight and affordable
Stays warm in cold weather
Works great when you're in a hurry
-Cons
Really tight for two
Low ventilation on warm nights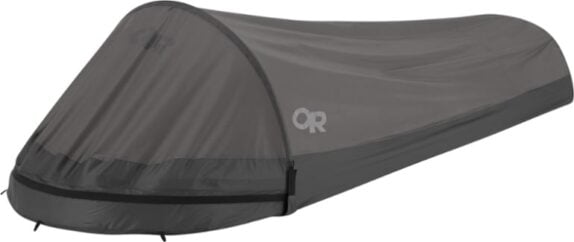 Specs
Weight (kg): .48
Packed Dims (cm): 31 x 9
Price: $179
A bivy sack is as minimalist as it gets. These lightweight shelters are an extra cocoon for you and your sleeping bag, and Outdoor researches Helium Bivy showcases the best the style has to offer.
Whether you prefer to bivouac or wild camp in nature, most of us won't want a bivy as our full-time tent. That being said, the handy structure will pack down smaller than your sleeping bag, making it easy to throw in your gear bag just in case you get caught out after dark. After a few practice runs, you'll be able to set up camp blindfolded, as there is only one integrated pole that pops up to give you some headspace.
Anyone from climbers to fastpackers and thru-hikers has relished the increased bivy technology on full display in this pack, which has advanced far enough for less picky hikers to use for longer trips. They're even not a bad substitute for a festival tent if all you want is a place to crash.
Realistically, it's not a whole lot more than a bit of extra weather protection for a sleeping bag, but extreme ultralight advocates and climbers will love tossing in this lightweight shelter.
Bivvies aren't for everyone, that's a fact! Many of our team just really didn't like the idea of such a minimal and claustrophobic tent. On the other hand, those who were just looking to keep things as light as possible loved that this was an option. They felt the smaller profile of the bivvy allowed the materials to be much stronger and more durable than a traditional tent for the weight. They also felt the poles around the head offered a decent amount of room and they didn't feel too hemmed in as a result.
+Pros
Can be unpacked in seconds
Weighs less than any other option
Makes you feel closer to nature
-Cons
Can't even sit up inside
Think of it as a raincoat for your sleeping bag
Specs
Weight (kg): 1.7
Packed Dims (cm): 46 x 13
Price: $369
Looking for an ultralight tent truly built for two? There are loads of 2P tent options that will technically fit two human bodies inside, but unless you're planning on walking months with your house on your back, The Peregrine stays light while providing space to stretch out.
Team up with the included footprint to have the vestibule space to relinquish dirty boots and dry your gear. We've heard good reports from couples outlasting foul weather, and the Featherlite poles promise to hold strong through harsh winds.
The only reason this tent isn't a serious contender on our list is that it's difficult to find. If Peregrine can get their act together, this tent will be churning out the hits and should win a place on anyone's list of essential backpacking gear.
This tent is a bit untested and often comes without any money-back guarantees if you can get your hands on one.
Once inside, you'll be glad you went for more space. The roomy interior adds on an extra 10 inches of width compared to a high-quality two-person ultralight tent while staying extraordinarily lightweight.
Campers looking to take a flyer on extra space, serviceable weather resistance, and ultralight weight tents should inquire further.
The team felt this was an awesome option for those wanting extra without compromising much on weight. The massive interior felt spacious and roomy with 2 people and gear and the vestibule helped keep dirty boots out of the tent. They also felt that the tent felt much more durable and able to deal with strong winds and storms than some of the lighter and more flimsy feeling tents.
+Pros
Only tent on our list built for 3
Includes footprint
Tested in a Windtunnel
-Cons
Only comes in highlighter yellow
Unproven company
The best present of all… is CONVENIENCE!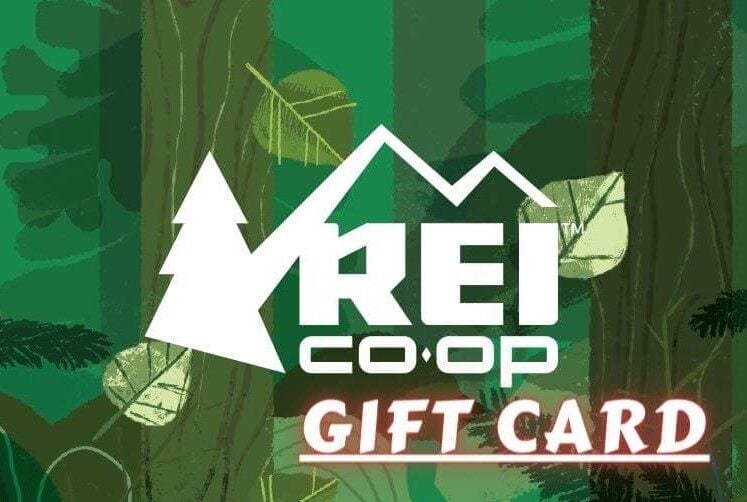 Now, you could spend a fat chunk of $$$ on the WRONG present for someone. Wrong size hiking boots, wrong fit backpack, wrong shape sleeping bag… As any adventurer will tell you, gear is a personal choice.
So give the adventurer in your life the gift of convenience: buy them an REI Co-op gift card! REI is The Broke Backpacker's retailer of choice for ALL things outdoors, and an REI gift card is the perfect present you can buy from them. And then you won't have to keep the receipt. 😉
Buy on REI!
Best Ultralight Tents

| Name | Capacity (person) | Floor Space (inches) | Weight (lbs) | Price (USD) |
| --- | --- | --- | --- | --- |
| Big Agnes FlyCreek HV UL1 and UL2 | 2 | 4032 | 1 lb 7 oz | 849 |
| Big Agnes Tiger Wall UL1 and UL2 | 2 | 4032 | 2 lbs 8 oz | 449.95 |
| Nemo Hornet Elite | 2 | 3931.2 | 2 lbs 1 oz | 499 |
| MSR Hubba Hubba NX 1 & 2 | 2 | 4176 | 3 lbs 14 oz | 449 |
| Marmot Tungsten 1P & 2P UL | 2 | 4334.4 | 5 lbs 14.2 oz | 249 |
| REI Co-Op Quarter Dome SL 1 & 2 | 2 | 4132.8 | 2 lbs 14 oz | 264.93 |
| Sea to Summit Alto TR1 and TR2 | 2 | 2808 | 2 lbs 7.2 oz | 449 |
| Black Diamond Distance Tent with Adapter | 2 | 3744 | 1.65 | 264 |
| Outdoor Research Helium Bivy | 1 | – | 1.06 | 179 |
| Peregrine Kestrel UL 3P Tent with Footprint | 3 | 5346.72 | 3 lbs 12 oz | 369 |

Our GREATEST Travel Secrets…
Pop your email here & get the original Broke Backpacker Bible for FREE.
How and Where We Tested To Find The Best Ultralight Tents
When it came to picking out the best ultralight backpacking tent, there's really only one way to properly get to know each one … to get out camping for a few nights! So, this is exactly what our team did and they did it in a variety of different locations and climates around the world.
In order to fairly and consistently compare and assess each tent, we looked at the following factors:
Packed Weight
Obviously, when it comes to selecting the best ultra-light backpacking tent, weight is of primary concern! Rather than just simply looking on the manufacturer's website, we were sure to actually hike with each tent to get a real feel for its weight and importantly, how each tent distributes said weight.
Packability (Packing and Unpacking!)
So, it's all well and good being the best ultralight tent, but often these compact tents are a nightmare to pack and unpack! So we were sure to actually test out just how easy each one was to get out of its teeny tiny bag and then most importantly, whether the damn thing went back in again!
Not only that, but we also tested out how easy each tent was to pitch. Some are made to pretty much put themselves up, others need a PhD in engineering! Thankfully, most are somewhere in the middle! We really put our testers through their paces here with a variety of different pitching mechanisms! Those that were simple, easy and quick earned max points!
Warmth, Waterproof and Ventilation
You don't really know a tent properly until you've spent a night underneath its frozen tarp! It's all well and good the manufacturer telling us a tent is "comfortable" at a certain temperature or that it allows sufficient ventilation on a summer's eve. But feeling it is another thing!
So our testers accessed their comfort and dryness levels in a whole heap of different climates and weather conditions … just for you! Of course, they took into account the sleeping bags they used inside the tent too to keep things fair.
In terms of testing out the waterproofing, the team tested these tents out in a variety of different weather conditions. Those fortunate enough to have a dry night then basically chucked a bucket of water over their tents to test out its waterproofing capabilities, those less fortunate live in the Northwest of England!
Spaciousness and Comfort
Tents aren't exactly spacious and when it comes to the best ultralight tents for backpacking, they can be even pokier! So our testers were keen to really see what sort of size they could get for the money/ weight of each tent. Ideally, at a minimum, a tent (not including bivvies) should have enough room to at least sit up inside.
Again, this is something you only really get a feel for after spending a night inside each tent, so we did just that!
Build Quality and Durability
One of the issues with ultralight tents does tent to be durability. Many have traded thicker and harder-wearing materials for lighter-weight and thinner fabrics in order to keep the weight down.
So with this in mind we tried to keep things fair given we were testing out ultralight tents, however, we still offered up more points to those companies that managed to retain the most durability.
We were sure to give each tent a good bit of roughing up as well as inspecting things like the zips, fly sheets, seam sewing and general build quality too.
Final Thoughts on The Best Ultralight Tents
That wraps up our introduction to the best ultralight tents for any budget. It may look like an expensive list coming from a Broke Backpacker, but there are a few areas where it is essential to invest in the right tools, and your shelter is one of those categories. That's why we compiled this list of ultralight backpacking tents!
You won't have to turn around because of a hole in your pants, but a hole in your tent can cancel trips, so choose wisely.
Hopefully, your tent will take you to peaks you've never climbed before. Make sure your tent will fit your needs in five years as well as your needs today.
It's easy to say you'll never go camping in the rain, but some of the most beautiful places on earth pack the most hectic weather. Don't underestimate the power of a good vestibule design and rainfly.
What we're saying is, that high-quality tents like Big Agnes FlyCreek HV UL2 will pay for themselves the first time you win the race to camp between you and inclement weather.
Go further, do more, and tell us about your adventures with these ultralight tents in the comments below. Did your favourite tent make our list of the best ultralight tents for 2022 and beyond?
Looking for something more specific? Have a look at this rundown of the best bikepacking tents if that's more your style.
---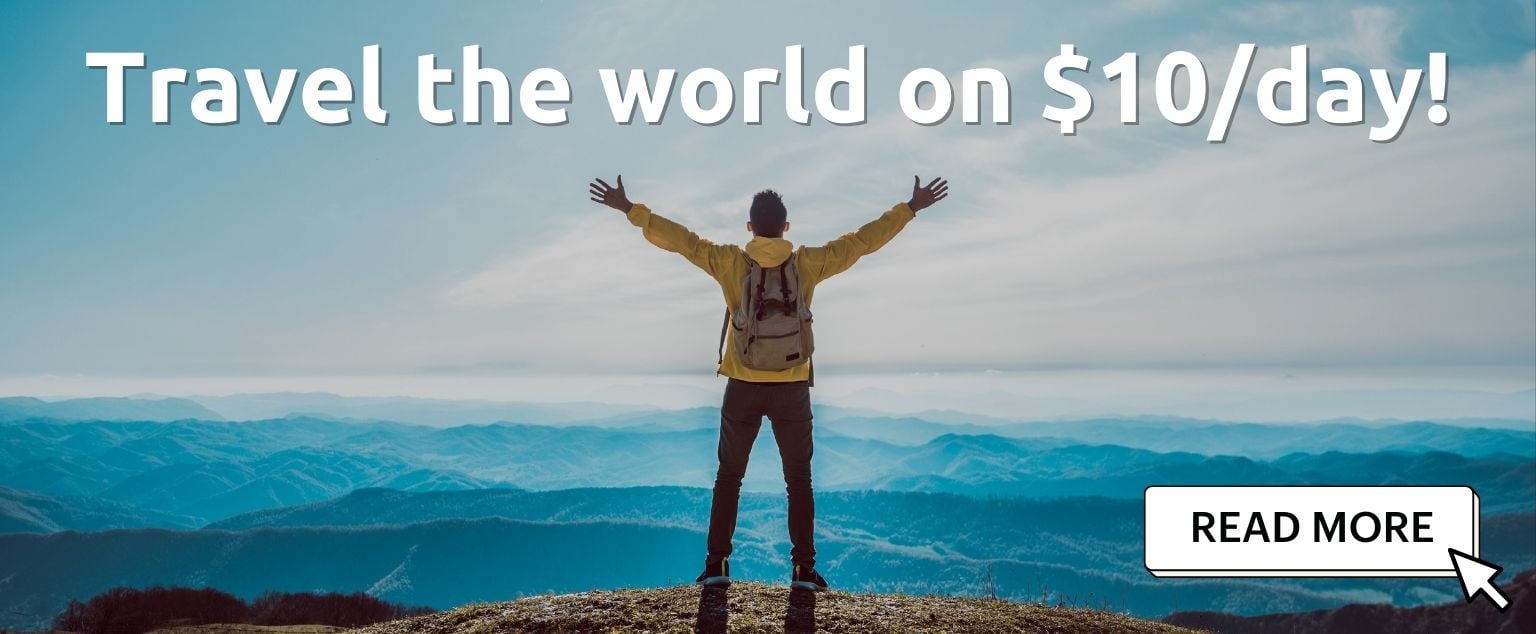 And for transparency's sake, please know that some of the links in our content are affiliate links. That means that if you book your accommodation, buy your gear, or sort your insurance through our link, we earn a small commission (at no extra cost to you). That said, we only link to the gear we trust and never recommend services we don't believe are up to scratch. Again, thank you!