Gone are the days when camping only equated to uncomfortable nights on the hard ground. For car campers, families, or people looking for a bit more (or a lot more) luxury and convenience in their camping experience, a roof top tent is an excellent investment.
I know what you are thinking: "But this is the Broke Backpacker dude – these tents are insanely expensive!".
Indeed, top quality roof top tents are pricey – like really pricey – but if you are setting off on an epic summer road trip, planning an overland mission across the world, or are just wanting to take #tentlife to the next level (memory foam – cough, cough) – roof top tents are the way to go if you can afford to splurge.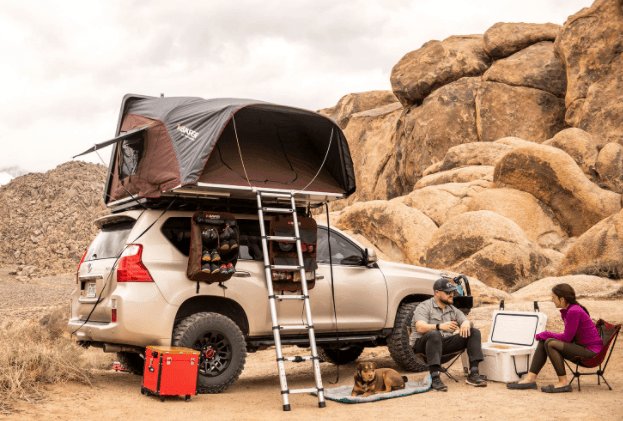 With more and more products to select from, we wanted to take the time to give our overview of the best hard shell roof top tent money can by right now. We'll compare two excellent models in our IKamper review: the IKamper Skycamp 2 and the IKamper Skycamp Mini to help you determine which roof top tent is the best for your needs lifestyle, and over all adventure mission.  
Summer is just around the corner and we just had the opportunity to get these beauties out for a test run. If the inner child in you does not love the idea of sleeping in a tent mounted on the roof of your adventure vehicle looking out across some beautiful landscape yet – that inner child soon will.
With a hard shell roof top tent on top of your car, your travel boundaries, comfort, and photos are about to reach a whole new level. Get ready for some awesome road trips and nights under the stars!
Let's dive right in…
What Makes the IKamper Skycamp Hard Shell Roof Top Tents Special?
Before we get into the nitty-gritty details of the IKamper roof tent models, here's a bit of an overview. 
First, let it be noted that the IKamper is distinguished by the fact that once pitched, it's actually not totally a hard shell per se (it packs into a hard shell container for transport). However, far from being a drawback, this is what makes both the IKamper Skycamp 2 and the IKamper Skycamp Mini a contender for the title of best hard shell roof top tent in 2023. 
The roof mount where you pack the IKamper Skycamp models is the hard shell, which gives extra protection and lends itself to being more aerodynamic for trips on the road. However, the drawback to most hardshell tent/camer hybrid varieties is that once unpacked, the hard shell becomes heavy and cumbersome – and if you can imagine it – they are even more expensive if you want a good one.
For me, this was the big draw of the IKamper Skycamp models! You can count on strength and durability without having to worry about the difficulty of getting a hard shell tent/camper pop-top set up and in place.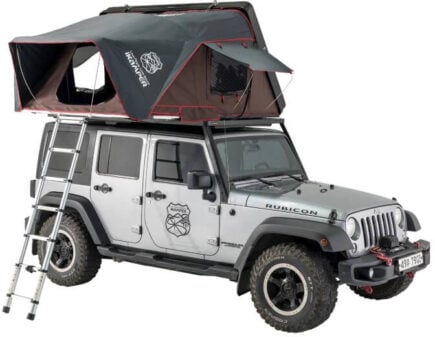 IKamper Skycamp 2
> $$$$
> Thicker memory foam mattress
> Stainless steel locks for the hard shell cover
IKamper Skycamp Mini
> $$$
> Provide roomy space for a solo traveler
> Memory foam mattress and excellent windows
The Best Hard Shell Roof Top Tents by Ikamper Review
Whether you're camping for a weekend, for weeks at a time, or on a long road trip with your family, you can't go wrong with the IKamper Skycamp hardshell roof top tents! Here are all the details you need to know about the Skycamp 2 and Skycampe Mini models to pick the best one for your own lifestyle…
Ladies & Gents, It's Time to Step Your GEAR Game Up. 😉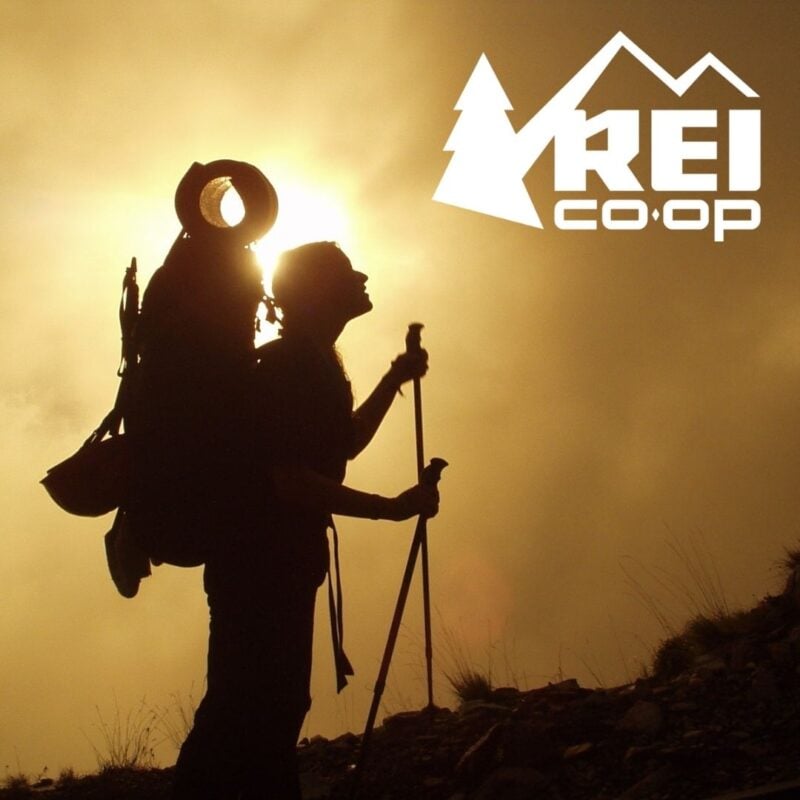 REI is one of America's biggest and most-loved outdoor gear retailers.
Now, for just $30, get a lifetime membership that entitles you to 10% OFF on most items, access to their trade-in scheme and discount rentals.
Join REI Today!
Specs
Price-$3,899
Capacity-4 people
Floor-Insulated honeycomb aluminum panels
Rainfly-waterproof polyester 150D (PU 3000mm)
Shell-Double layered FRP with 1-inch air insulation
IKamper took their already excellent Skycamp hard shell roof top tent model and made it even better! With comfort upgrades like a thicker memory foam mattress and safety features like stainless steel locks for the hard shell cover, this tent is designed to go places.
The 4 person capacity also makes it a good option for families or friends who are traveling together. It also has a super easy setup, so there's no messing with pesky tent poles or a twisted rainfly to set up camp.

Do You Want to Travel FOREVER??
Pop your email in below to get a FREE copy of 'How to Travel the World on $10 a Day!'.
Specs
Price-$3,499
Capacity-2 people
Floor-Insulated honeycomb aluminum panels
Rainfly-polyurethane coated 150 denier polyester
Shell-Double layered FRP with 1-inch air insulation
All the great features of the Skycamp model have been brought down a size to better accommodate solo travelers, couples, or people with small vehicles. It can fit two people comfortably or provide roomy space for a solo traveler.
Just like the other Skycamp models, the Mini is quick and easy to set up; in about a minute, you'll have your camp ready to go. And even though it's smaller, the Mini doesn't sacrifice any of the comforts the larger models have, like a memory foam mattress and excellent windows.
The best present of all… is CONVENIENCE!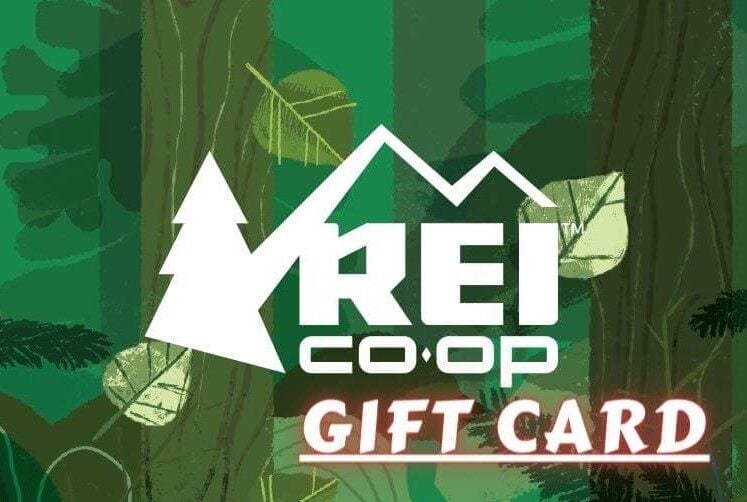 Now, you could spend a fat chunk of $$$ on the WRONG present for someone. Wrong size hiking boots, wrong fit backpack, wrong shape sleeping bag… As any adventurer will tell you, gear is a personal choice.
So give the adventurer in your life the gift of convenience: buy them an REI Co-op gift card! REI is The Broke Backpacker's retailer of choice for ALL things outdoors, and an REI gift card is the perfect present you can buy from them. And then you won't have to keep the receipt. 😉
Buy on REI!
Material and Design to the Best Hard Shell Roof Top Tents
There are two significant benefits to hard shell roof top tents vs. soft shell roof top tents. The first is durability, and the second is aerodynamic design.
The Skycamp 2 and Mini models both have fiber-reinforced shell casings to protect the tent while you're on the road. This greatly reduces the risk of having your roof top tent damaged by hail, rock debris, tree branches, or other elements while driving.
You can pick from a matte black finish or a Rocky Black, which has an extra layer of scratch-resistant material if you want a bit of extra security. There's also a white model. This will show scratches easier but is still made out of the same highly durable material.
Like we mentioned above, once popped open, both the Skycamp 2 and Mini are no longer "hard shell." However, thanks to the aluminum floor and waterproof rainfly material, you won't have to worry about any water or condensation getting in the tent while camping.
Another bonus is that both Skycamp models come with a UV protective cover. This further extends the life of your hard shell roof top tent and protects it from harsh sun rays while driving or sitting parked.
It's worth mentioning that neither model is meant for winter camping; if you're planning on heading out in cold, snowy conditions, you're better off looking for a different roof top tent model.
Not only does the hard shell of the Skycamp model give your tent more protection, but it also keeps your vehicle more streamlined. Especially in windy conditions, having a hard shell roof top tent instead of a soft shell variety can make your drive easier and quieter.
Setting up the Skycamp Hard Shell IKamperRoof Top Tents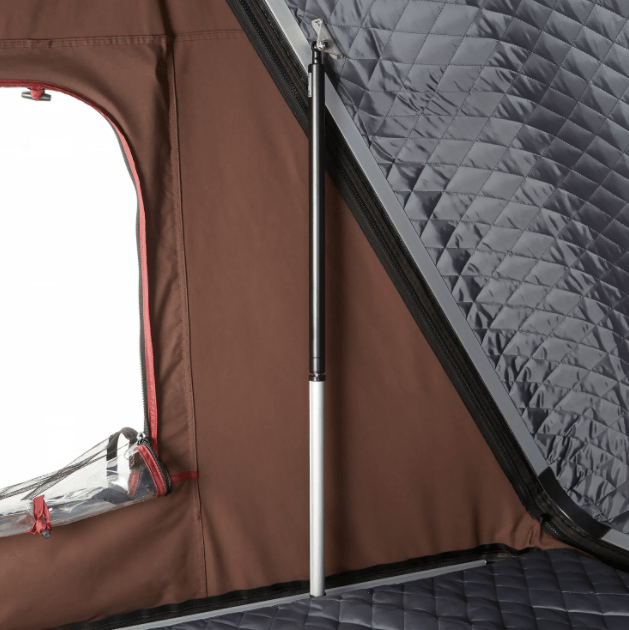 Both the Skycamp 2 and the Skycamp Mini use mounting brackets 2.0, an improved version of the original Skycamp hard shell tent. These brackets are simple to tighten and provide more security for the tent. The brackets are compatible with a maximum crossbar height of 1.2 inches and width of 3.5 inches.
If necessary, you can exchange these for mounting brackets 1.0, which are better for higher crossbars.
In general, the Skycamp 2 and Mini will fit on most vehicles with roof racks. To be on the safe side, you can check the Dynamic Weight Capacity, which is the maximum weight the rack can support while in motion.
IKamper tents advertises a 1-minute set up for the Skycamp 2 and Skycamp Mini models, which actually isn't an exaggeration. Sure, it might take you a bit more time the first go around, but after that, you'll have your tent up in record time. 
Simply pop the hard shell open, and the tent will open up. Hook the ladder in place, then there are two poles that need to be secured for the outside structure and another for the roof, and that's it! Your campsite is ready to go.
The Ladder Access
The ladders for the Skycamp 2 and Mini are made from lightweight but sturdy aluminum. While being stored, the ladder can be collapsed to pack in the hard shell carrier. Once extended, the ladders are designed to hold up to 330 pounds and can reach up to 90.5 inches, which makes it suitable even for large and tall vehicles.
To make it easier to climb up into the tent, the ladder also has angled steps. This makes it safer to get into your tent during the night or when it's raining, and the ladder rungs might be a little slippery from water or dew.
Not only is it super fast to set up your Skycamp roof top tent, but it also eliminates the time hassle of packing and unpacking a regular ground tent.
Packing and Transportation
The upside to having a roof top tent is the extra space you'll have in your car for other gear and legroom. The downside, of course, is that you'll always need to travel with your vehicle.
So, if you want something for international travel or backpacking, obviously roof top tents are not the way to go. If you love car trips and going on weekend camping expeditions, then a hard shell roof top tent is the perfect option.
The biggest concern for getting a roof top tent is to make sure it will fit on your roof rack carrier. Thankfully, the Skycamp 2 and Skycamp Mini are both compatible with almost all vehicles, but it's always a good idea to check measurements before making a final purchase.
Both models also come with improved mounting brackets, which are quicker and easier to tighten, allowing for a faster set up for getting on the road. However, if you have high crossbars (over 1.2 inches), the former 1.0 brackets will be needed for your vehicle. It's an easy swap to make and helps make the Skycamp models compatible with more vehicles.
Another thing you'll need to consider when getting a roof top tent, particularly with heavier hard shell roof top tents like the Skycamp, is actually getting it up on top of your car. Unlike the easy pop-up tent set up, hefting the tent from the ground to the top of your car can be a challenge.
The Skycamp Mini is 125 pounds when packed, and the Skycamp 2 is just a bit heavier than that. Unless you're a serious weight lifter, it's definitely a good idea to have at least two people to help with the job.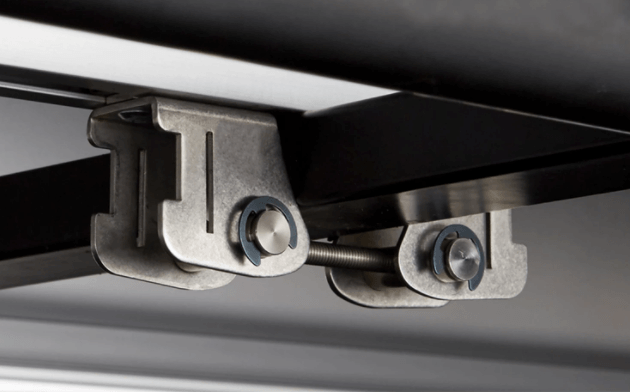 The good news is, once it's up on top of your car, you're set for any length of adventure that you want. Pop it up to sleep for the night then easily stow it back in the hard shell case to drive on to your next destination.
Another great feature of the Skycamp 2 and Skycamp Mini is that both have stainless steel locks on the hard shell case. This means you can leave your vehicle unattended without worrying about someone taking or damaging your tent.
Each tent comes with two keys, so you can have a spare key or one for your travel partner. Since the locks are stainless steel, they won't rust or get damaged by weather conditions like some locks will.
Keep in mind that once you have your roof-top tent pitched, you won't be able to drive anywhere. Some long-term travelers will remedy this issue by traveling with a bike – or just make sure you've made all your necessary stops before setting up camp.
Thankfully, since the Skycamp 2 and Mini are both very quick to take down, it's still fairly easy to drive somewhere on short notice.
Comfort and Liveability
Hard shell roof top tents are the best friends of many long term campers. With such a convenient and comfortable home perched on top of your car, you can always find a place to camp, wherever the road may take you.
The Skycamp 2 and Mini are both made with high-quality waterproof tent material. Being on top of your car, you won't have to worry about water pooling underneath the tent, as you do with typical ground tents.
In terms of waterproof-ability, the Skycamp models go the extra mile with waterproof zippers on the tent door. Even though it's unlikely for any rain to enter through the zipper thanks to the awning, it's still an awesome feature to have, particularly during windy conditions.
During hotter, dry weather, you can roll up the rainfly for better ventilation inside the tent. Both models also have two side windows that can be opened or closed. Each window has an inner see-through vinyl layer and a mesh outer panel, depending on how much protection and ventilation you want.
Once open, you'll also have the option to turn the side panel windows into canopies for a bit more space and comfort.
In addition to the side windows, the Skycamp 2 and Mini also have a sky view window. This gives you more natural light in the day and a perfect chance to stargaze without worrying about pesky mosquitoes at night.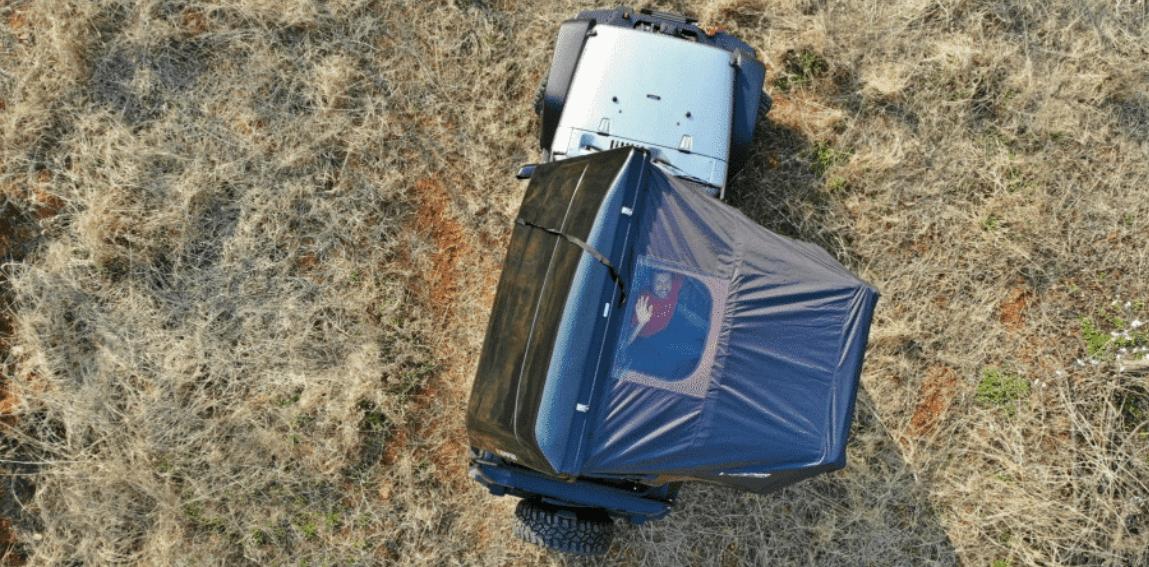 You can also say goodbye to roll-up camping pads thanks to the super comfy memory foam mattress both the Skycamp 2 and Mini come equipped with. The mattresses are 1.8 inches thick, so it's not going to be hotel quality, but way more comfortable than a typical camping pad on the ground. Pro-tip: Throw a 1-2in. mattress topper on this bad boy and you'll really be sleeping like a king/queen on your next adventure.
To help keep the tent insulated, each tent comes with a quilted insulation panel that features a cool world map design. Not only does the insulation help keep the tent warm on cold nights, but it also prevents the build-up of condensation.
The tent is further insulated by the honeycomb aluminum panels, which provide 1 inch of air insulation. Even while you're driving, or during wet and rainy weather, this feature also helps with minimizing condensation.
On the inside of the tent, there are two storage pockets to keep your gear organized. Plus, since you can store wet things in your car, it's much easier to keep your tent dry even during poor weather conditions.
Accessories for your Hard Shell Roof Top Tent
Both the Skycamp 2 and Mini have some really cool accessories you can purchase separately to further upgrade your camping experience. If you already love your roof top tent but want a bit more convenience, or are planning long-term camping trips, here are some ideas for what you can add on.
Annex Room – This add-on is only available for the Skycamp 2, but maybe IKamper will come out with a smaller model for the Mini as well.
An annex room attaches to the door side of the tent and covers part of your vehicle. There's enough room for another cot or two close camping pads, so even more people can enjoy the wonders of the outdoors.
Although it adds to the setup time, having an annex is a real benefit, particularly if you'll be staying in one place for a long time. The annex can act as a vestibule and space to store wet boots or coats before getting in the tent. It also provides you more privacy to get things from inside your car without really needing to venture "outside."
Awning – Both the Skycamp 2 and Mini have awnings available for purchase. The awning attaches on the door side of the tent over the ladder to give you more protection from the rain or weather when entering or leaving.
Awnings also make great spots to pitch a few camping chairs to sit and enjoy the outdoors while you're traveling. This is a more budget-friendly add-on than the annex room, but of course, it doesn't give quite as much protection or privacy.
Even More Accessories
Bracket Locks for 2.0 Model – Since hard shell roof top tents are so heavy, they aren't easy to simply pick up and walk away with. However, the stainless steel locks which come with the Skycamp 2 and Mini are only useful to keep the roof top tent closed.
If you know you'll need to leave your vehicle unattended for a period of time with the tent mounted on top, it's definitely worth considering getting mounting bracket locks. These simple locks have one for each crossbar to add another level of security and peace of mind during your travels.
Outer Storage Shelf – If you're the type of person who likes to keep everything neat and organized, then the outer storage shelf is the perfect addition to your roof top tent.
The storage unit has four large pockets and can be rolled up or folded when empty, so it's super easy to pack and move from one place to another.
It's the perfect spot to put toiletries, cooking utensils, flashlights, or other gear you might want to have on hand. The storage shelf hangs from the extension floor close to the ladder, so the only downside is that you'll have to exit your tent to get anything you have stashed inside.
Inner Insulation Tent – This one is just for the Skycamp Mini and is perfect for campers who enjoy going out in colder weather conditions.
Once you have the Skycamp Mini set up, you can then set up the inner insulation tent to provide an extra layer of warmth to keep out cold wind or wintery weather. The insulation layer is a double-layered quilted poly-cotton blend, and there are spots to roll up for access to the windows and door.
Who Should Buy a Hard Shell Roof Top Tent?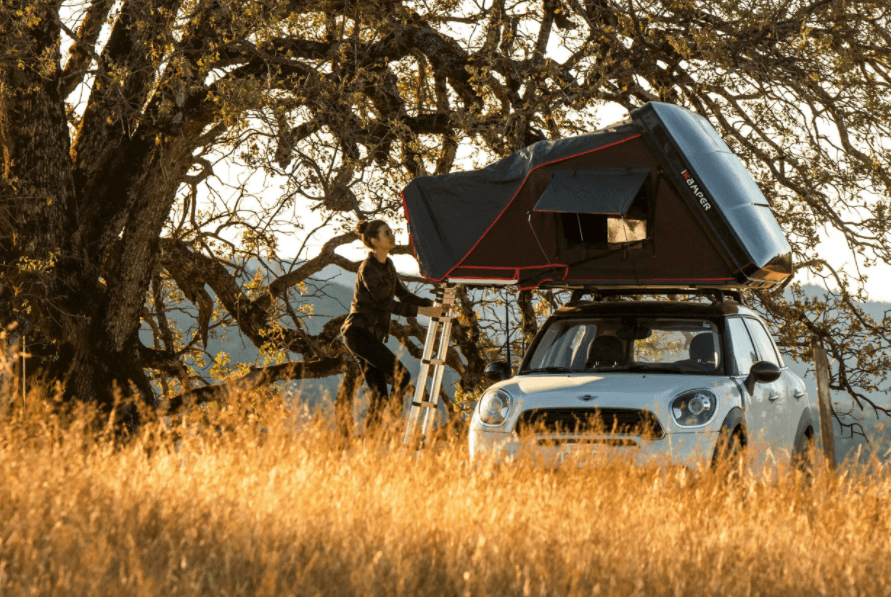 Quick answer: anyone who enjoys car camping! If you like the freedom of roaming around in your vehicle but want a bit more comfort and luxury, then getting a roof top tent is probably a good investment.
The Skycamp 2 hard shell roof top tent is better for families or groups of friends thanks to the size. Four people can comfortably sleep in the Skycamp 2, or it could function as a luxury space for couples.
With a roof top tent, you'll have additional secure storage space in your vehicle to keep bags, food, and other gear.
If you have a smaller car, you can still enjoy all the benefits of having a hard shell roof top tent with the Skycamp Mini. Two people can comfortably sleep in the tent, or solo travelers can enjoy a comfy space while on the road.
In general, roof top tents are a great middle-ground between an RV and a standard ground tent. Even though roof top tents are more expensive than backpacking tents or large ground tents, they are also much cheaper than an RV vehicle. You still get a lot of the benefits and freedom you would with an RV, but not the huge investment.
Hard shell roof top tents also tend to be among the more expensive roof top tent varieties, but they also offer more protection, just like an RV vehicle. However, fully hardshell roof top tents can be difficult to set up and often don't provide very good ventilation.
A hard shell roof top tent like the Skycamp 2 or Mini will provide the protection of other hard shell varieties, but the ventilation and easy set up of a standard soft shell roof top tent once it's popped open.
Drawbacks to Hard Shell Roof Top Tents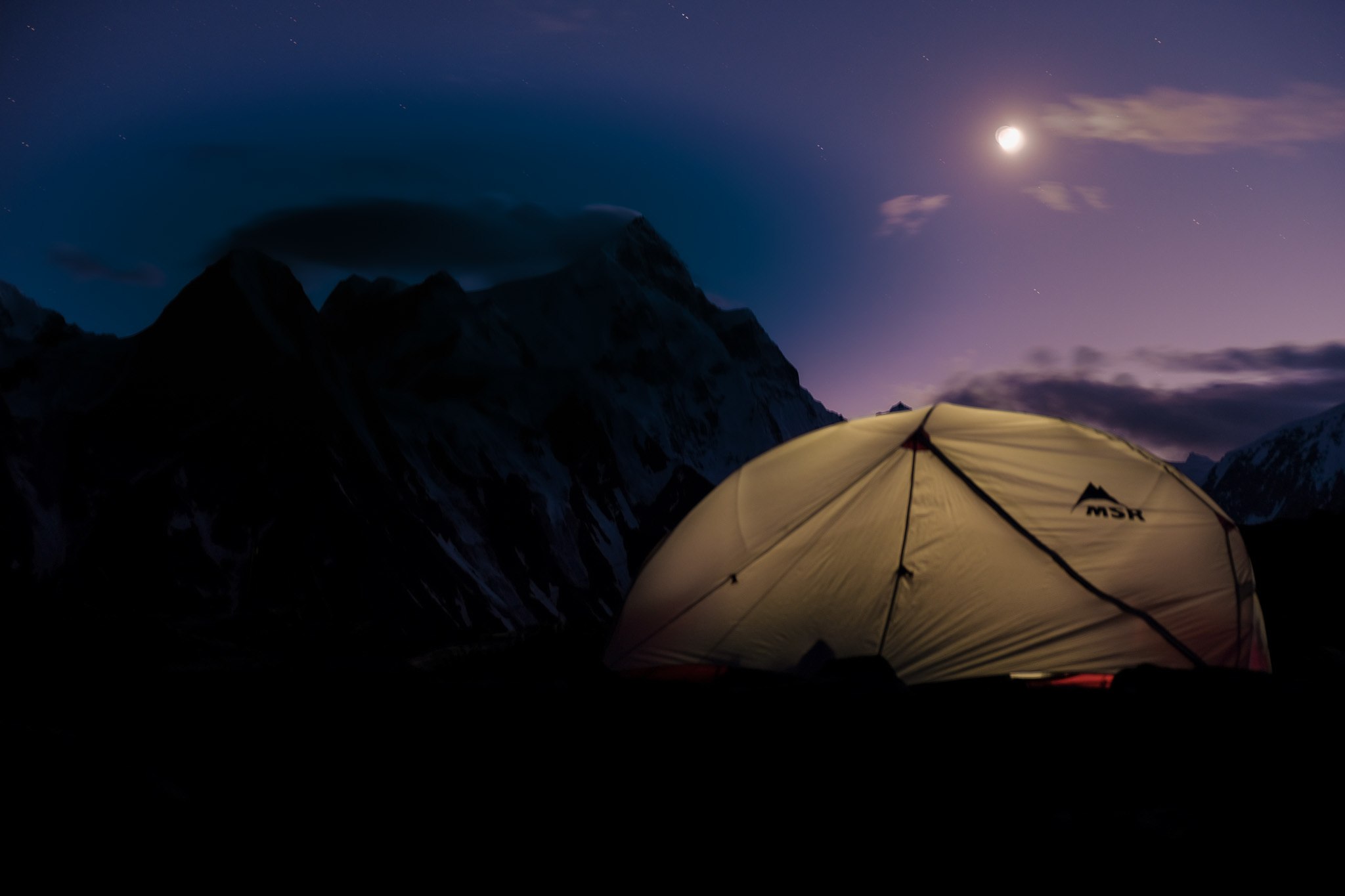 We've gone through the numerous benefits of having a hard shell roof top tent, but what about the drawbacks? To help you make an informed decision, there are a few cons that are bound to come up.
The biggest and most obvious downside is the price punch of a hard shell roof top tent. Even an expensive backpacking tent can look cheap next to a high-quality roof top tent like the Skycamp 2 and Mini.
You'll need to decide for yourself if the use and convenience of having a roof top tent make the price worth it. Since it is a more expensive investment, it's probably not the way to go if you're just wanting to give camping a try but not really certain if you'll be using a tent more than a few times. Buying a roof top tent is for people who want to commit ot he lifestyle!
Draw Back #2
The second major drawback is that once your tent is up, you won't be able to drive your car anywhere. If you're traveling as friends, you might have two vehicles, or possibly bring a bike along just in case you need to get somewhere and don't want to take everything down.
In comparison to soft shell tents, hard shell tents are usually a bit heavier, which makes getting them up on the car more of a challenge. Especially if you're planning on traveling solo, weight is definitely something you'll want to keep in mind.
You might want to practice getting the tent mounted and taking it down again by yourself if you anticipate needing to do so on your own. If it's too heavy to do by yourself, you can enlist friends or even someone at a camping outlet store to help you out.
Physical mobility is another possible issue since you will need to climb a ladder in order to get to the tent. Thankfully, it's a very short distance, and thanks to the angled rungs on the Skycamp 2 and Mini ladders, it's easy to keep your balance.
However, if you don't feel comfortable climbing ladders, a roof top tent might not be the option for you. If you want to test out whether or not the ladder will work for your situation, you can ask at a camping outlet store if they have a model you can try out just to get a feel for what it would be like.

Our GREATEST Travel Secrets…
Pop your email here & get the original Broke Backpacker Bible for FREE.
How and Where We Tested To Find The Best Hard Shell Roof Top Tents By IKampe
The only way to really test a tent out, is to take it out camping for a few nights and so that is exactly what we did. Our team members threw this onto their car-turned-adventure mobiles and ventured out into nature to see how these rooftop tents held up.
In order to fairly and consistently assess and compare them to another, our testers applied the following metrics;
Ease of Setup (Packing and Unpacking!)
Depending on the height of your car, as well as many other factors, setting up rooftop tents can have varying levels of difficulty. When setting up and breaking down this tent, we took into account how easy it was to set on by ourselves and with a buddy, as well as how much time we burned.
Rooftop tents will generally be a bit quicker to set up than a standard backpacking tent, so we took this into account as well when determining it's ease and functionality.
Warmth, Waterproof and Ventilation
When you spend a night sleeping in a tent, you really get to know it. If it doesn't hold enough warmth you spend the frigid night shivering and alternately, it does not allow sufficient ventilation you pass a sweaty night stinking.
Obviously, when assessing the warmth and ventilation capabilities of a tent our testers took into account the weather and the sleeping bag they were using.
When on top of your car, you do feel a bit more exposed to elements such as wind and rain, so we made sure the rooftop tents were up to the challenge and handled whatever mother nature threw at it!
Spaciousness and Comfort
Tents are not exactly designed for throwing parties (ok, some are) but still, ideally you want a tent to have enough space to sit up right?
Rooftop tents often offer enough headspace for you to sit up and fit a few people comfortably, so we took into account how the size of these tents corresponded with our comfort levels.
Build Quality and Durability
Rooftop tents are more times than not far more expensive than even the nicest backpacking tent, so we made sure this bigger price tag meant a more durable product.
We made sure these tents not only held up to the elements while parked and camping, but could handle the rough everyday conditions of highway and off-road exploring.
Best Hard Shell Roof Top Tents By IKamper – Final Thoughts 
Well, there you have it! All the cool factors for what makes the Skycamp 2 and IKamper Mini such awesome selections for a hard shell roof top tent.
You can enjoy the protection, comfort, and sturdiness of a traditional hard shell roof top tent, while still taking advantage of the easy pop-up set up and breathability of soft shell fabric once it's fully set up.
If you're ready for some awesome road trips and camping adventures, do yourself a favor and upgrade your level of comfort for camping with a new hard shell roof top tent. Once you do – it is hard to go back!
---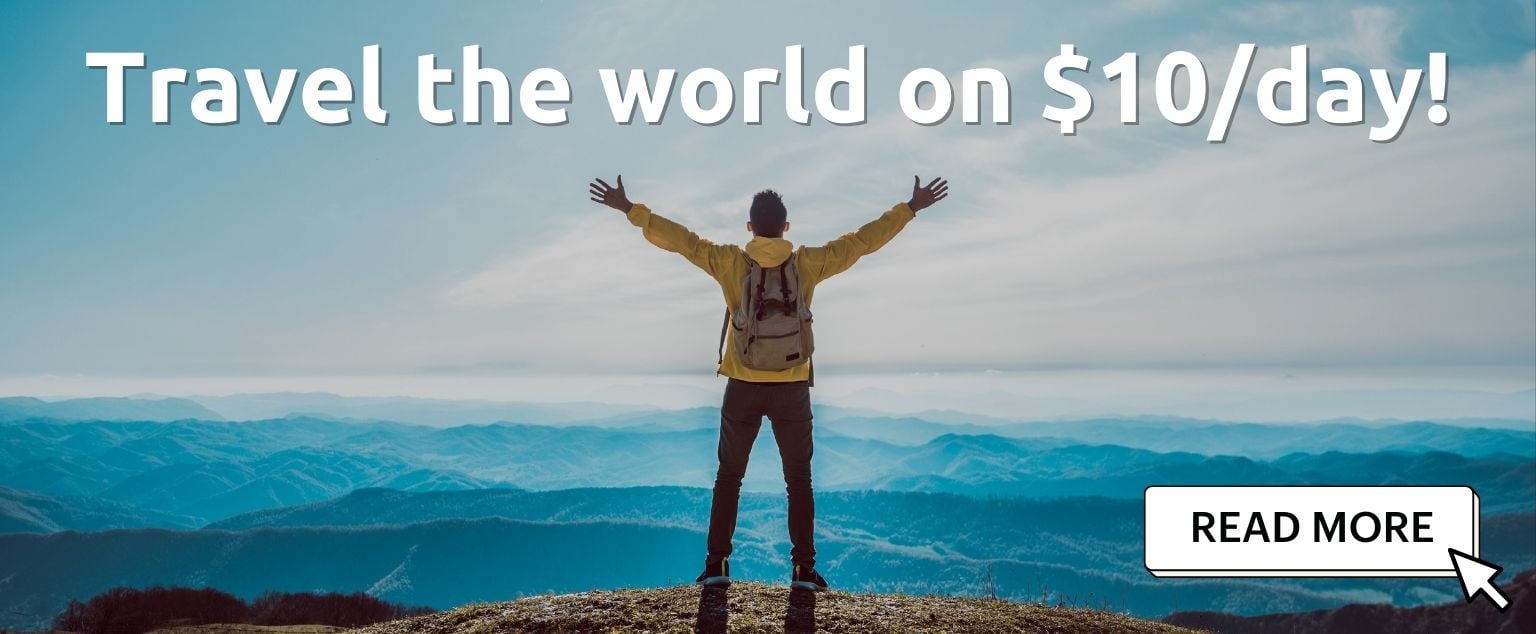 And for transparency's sake, please know that some of the links in our content are affiliate links. That means that if you book your accommodation, buy your gear, or sort your insurance through our link, we earn a small commission (at no extra cost to you). That said, we only link to the gear we trust and never recommend services we don't believe are up to scratch. Again, thank you!