Tents have a tough job to do: they allow you to enjoy the mountains and other wild spaces, yet keep you safe, and protected from the often extreme elements found there.
The North Face has been leading the outdoor industry for decades with gear built and designed for harsh environments. Recently, we got our hands on one of their most popular budget backpacking tents to see what all the fuss is about.
This North Face Storm Break 2 review offers a COMPLETE performance breakdown, including what we liked and what we didn't.
The North Face Storm Break 2 is a great entry-level budget backpacking tent option for most people looking to get outdoors, read on to find out why…
Ok, forget the other The North Face Stormbreak 2 reviews because we're gonna rock your world with this one!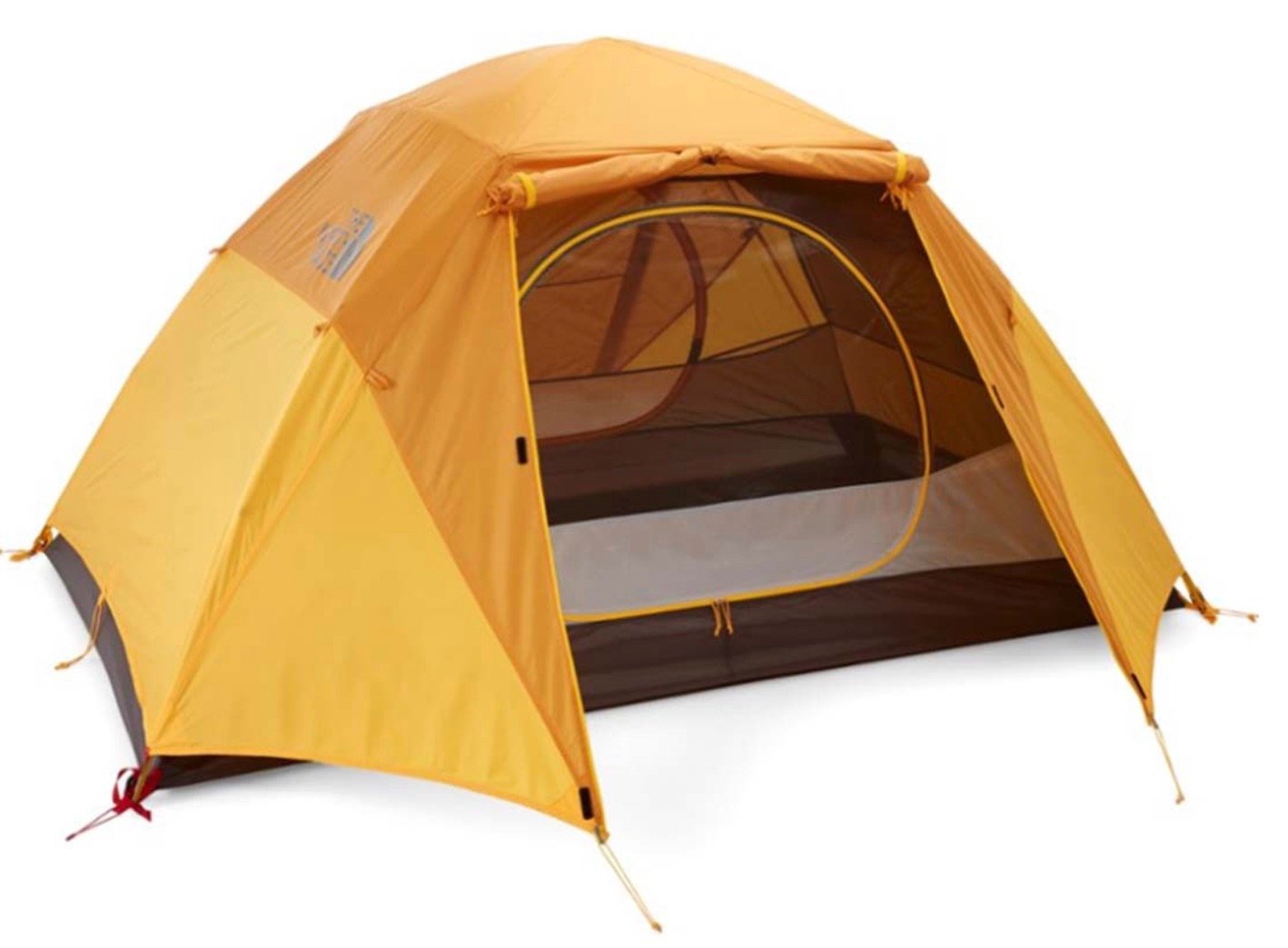 North Face Storm Break 2 Livability and Interior Specs
When it comes to tents, one of the major selling points for me is space, and I'm talking more than just wiggle room. The North Face Storm Break 2 is compact, sure, but the space is used well here. The headroom you get (43 inches peak height) means it won't feel like you're squeezing into something that's not suitable for one person, let alone two.
So yes: it's spacious enough, covering an area of 30.56 square feet. Because it's quite peaky, with almost vertical sidewalls, and because of the abundant headroom, you won't have your head sandwiched between the ground and a narrow corner of the tent. That's a big plus for me – and probably you, too.
The North Face Storm Break 2 comfortably sleeps two people. You won't feel like you're sleeping in some kind of space-age coffin – no one wants that. The livability levels are high with this piece of kit: there are vestibules between the outer sheet and the inner tent itself – great for stashing all your gear, so you won't be sharing the space with your backpack.
And let's not forget the two (pretty large) doors on either side of the tent. That means you and your partner won't have to scramble over each other every time you enter or exit the tent. This feature of this two-person tent allows for ease of manoeuvering.
It's simple to keep your shiz organized, it's not a hassle getting in and out of the tent, and ultimately feels roomy – more room-like than tent-like. And if you want to just use it for one person, great! You get even more room.
Ladies & Gents, It's Time to Step Your GEAR Game Up. 😉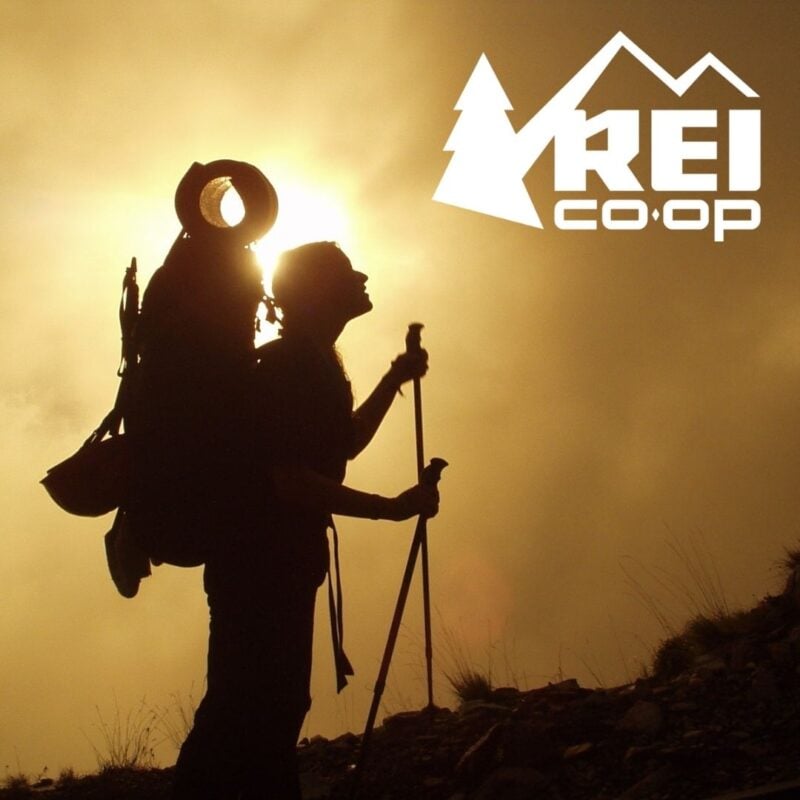 REI is one of America's biggest and most-loved outdoor gear retailers.
Now, for just $30, get a lifetime membership that entitles you to 10% OFF on most items, access to their trade-in scheme and discount rentals.
Join REI Today!
North Face Stormbreak 2 review: The Interior Nitty Gritty
Entering through one of the large doors of the North Face Storm Break 2, I'm greeted with a decent amount of storage space.
I'm a big fan of pockets (who isn't?), and there are four oversized pockets going on here. These are perfect for stashing things you just can't do without in the middle of the night – or anytime, really – a book, a torch, your phone, keys, wallet, any layers you may want to throw on.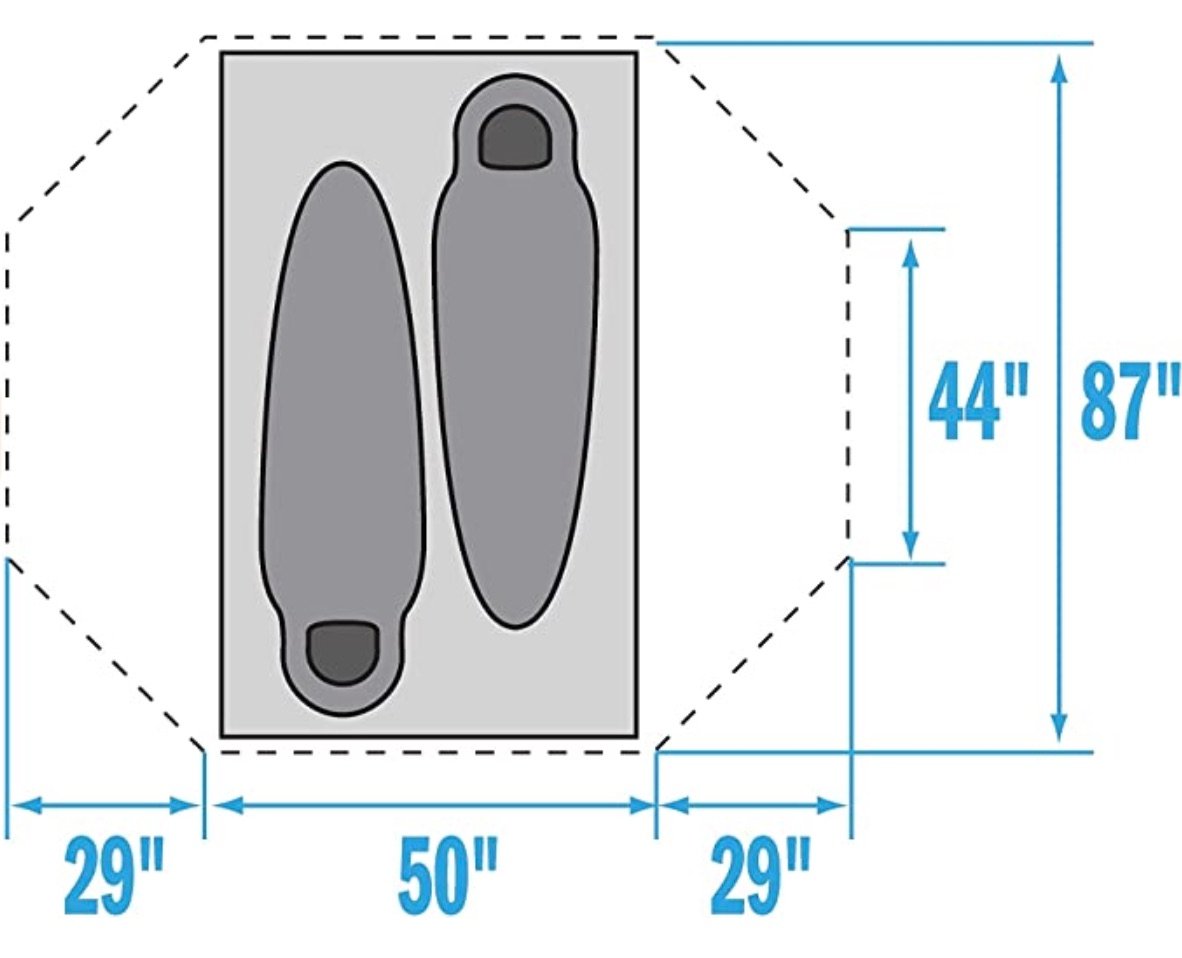 Other storage options include the mesh pockets adjacent to the doors. While you can use these for your things, they're handy while the tent is open; you can stuff the doors into the mesh pockets instead of having to roll them up. Keeps them out of the way.
Last but not least on the pocket front, there's a compartment at the peak of the tent for lighting (or other bits). Stuff something glowy in here, and you'll feel right at home.
The vestibule area itself covers a reasonable 9.78 square feet. It's not exactly a porch, but there's still more than enough room for a backpack and your other outdoor essentials.
Tent Ventilation: Breathability and Airflow
Something you may not think about at first is how well a tent breathes. If your tent has no decent airflow going on, expect condensation and – as a result – annoyingly drippy mornings. And then there's waking up in the sunshine somewhere hot: tents can get super stuffy. Trust me; I know this first-hand. Waking up being cooked alive is not fun.
Thankfully, North Face knows the score and have optimized their Storm Break 2 for ventilation purposes (it is the sequel to Storm Break, after all). That said, some users have reported overnight condensation build up inside the tent. The tent breathes best obviously went it is possible to have some vents open or to have the rain fly door cracked slightly.
Specifically, this tent has integrated high-low ventilation. You'll often see ventilation up high in tents, but with this North Face offering, there's "low" ventilation as well, and air can circulate more freely.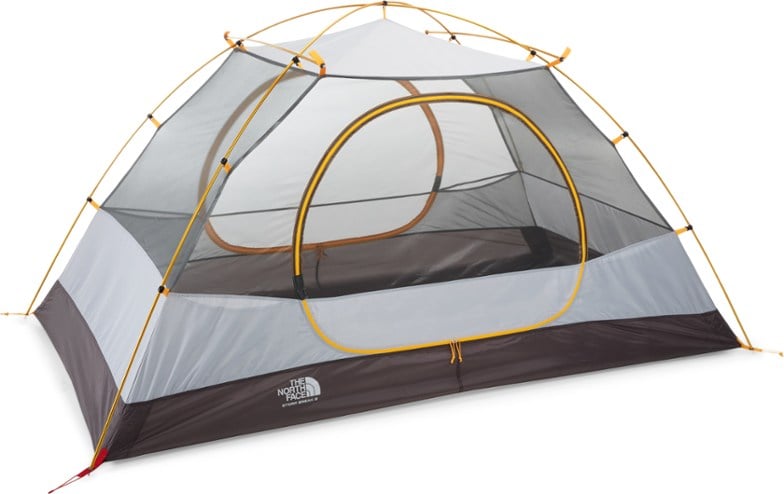 Never heard of it? Let me explain about high-low ventilation. It brings in cool air from the lower vents, while warmer, more moist air can escape through the vents higher up. It's an old-school technique, but I'd say it creates the right balance.
When the rain fly is on, you've just got the high-low ventilation, which will keep you pretty comfy, whatever the weather. This won't be the best way to keep the air flowing through your tent, however, so I'd recommend getting the rain fly off when possible or when temps permit.
Using the North Face Storm Break 2 without the rain fly, you can dramatically increase the airflow. Unzip one or both of those doors, which come with 40-denier polyester mesh panels, and let that breeze in. On clear days, you may even get some epic star views from here.
Price
Cost: $159.00
Maybe you thought that the North Face Storm Break 2 might be totally out of your price bracket, because you know, North Face is not exactly a bottom shelf brand.
Well, that's where you'd be wrong. This awesome piece of camping kit is actually pretty dang budget-friendly.
In fact, the North Face Storm Break 2 is probably one of the best budget tents you could purchase right now. There are a ton of tents out there that aren't budget-friendly at all, but North Face have offered up this backpacking tent as something that makes sense even to entry-level backpackers. The Storm Break is, in essence, the flagship starter tent manufactured by The North Face.
The North Face Storm Break 2 is basically about getting a quality tent for an affordable price. For the pros and cons of going with a budget tent, read on to the next section.
Weight
The biggest weakness of the Storm Break 2 is its weight. It's that simple. For what you get in terms of low price point and livability, you take losses in the weight category.
At 5lbs 14.2 oz, the Storm Break 2 is not the lightest backpacking tent out there. If I were solo backpacking, I almost certainly would not take a tent this heavy. It's not the best North Face tent if you're looking to keep things ultralight.
If you are hiking with a partner, the 5lbs 14 oz becomes more manageable as you two can share the load.
As a car camping tent, the Storm Break 2 is a great option. For weight-conscious hikers or travelers, I'd say go with something more like the Big Agnes Copper Spur UL2.
The question you will have to ask yourself is this: is it more important to save money or save weight?
The North Face Stormbreak 2 vs the Weather
The Storm Break 2 is genrally as good as many other 2-person tents in its class when it comes to keeping out the weather. It is not built for serious storms or many days of heavy rain, but it should keep you dry in most 3-season conditions. If you need a heavy rain tent, look elsewhere.
A fully seam-taped canopy and floor aid in the long-term durability and waterproofing. After a year or so of use, I recommend using a 3rd party seam sealer to re-seal the seams to get the best performance out of this tent.
For added protection, the North Face Storm Break 2 footprint (aka groundsheet) provides an additonal barrier to the elements.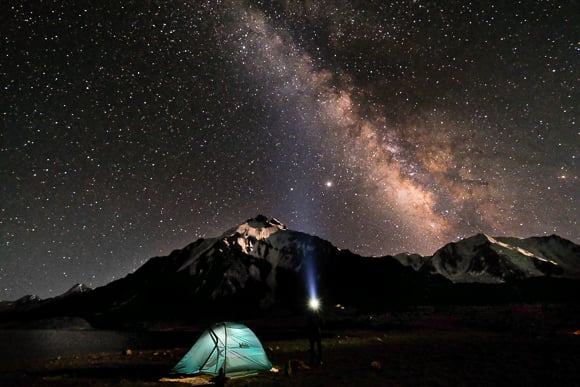 Unfortunately, this has to be brought separately. It's more expensive, yes – and perhaps is something North Face should include with the tent – but having this could be the difference between waking up wet or dry. With a tent this cheap (price, not quality) though, it's pretty reasonable to expect the footprint not to be included.
Tip: To help prolong the longevity of the seams of the North Face Stormbreak 2 tent, take care when packing your tent away for storage. Never pack a tent wet for long term storage or keep in direct sunlight more than is necessary.
Tent Durability
Just how durable a tent is over time is an important factor to consider when figuring out if you want to invest in a new model. There's nothing worse than forking out your moolah on a gleaming new tent, only to have something like a zip break or a pole snap your third time out with the tent.
But the North Face Storm Break 2 is a generally durable tent. We all know that North Face makes reliable products that last, and this tent is no different. Made out of durable materials, this is the kind of tent that you can keep going back to season after season (within reason).
One of the toughest elements of the Storm Break 2 is the bottom of the tent. Made from durable 68-denier polyester and coated with a heavy 3,000mm polyurethane coating, which makes it difficult for ground moisture to penetrate.
The rain fly is also made out of highly durable polyester, meaning it doesn't get wet quite as quickly as nylon; it also increases the UV protection and is designed to repel moisture, so there's no sagging. One of the downsides is the fact that the rain fly itself can catch in the zippers a lot, which we all know is a problem with a lot of tents. A little care and attention when opening, and this shouldn't cause any damage.
The Storm Break 2 is designed for three-season usage, so it should stand up to any purpose the tent was designed for. You won't have any problems with it during more adverse weather (as the name suggests!) – even in strong winds, it feels sturdy.
The poles have a part to play in how well the tent performs in unseasonal weather conditions. Made from aluminum, they're not only lightweight but also long-lasting. Using aluminum for the poles rather than fiberglass means the poles hold up better against regular usage.
Set Up and Breakdown
Having a roomy tent that's weatherproof, with good airflow, and that doesn't cost your entire budget… that's all well and good. None of that particularly matters if it ends up being the worst ever thing to try to set up.
If like me, you've cursed under your breath while asking yourself why the tent-makers could not have made things easier, then you'll love the North Face Storm Break 2.
After the first time setting up and tearing it down, it'll take you less than 10 minutes. And that's just with one person doing all the work. Add a buddy or partner into the mix, and you'll easily cut that time in half.
The tent poles themselves are aluminum, so they're sturdy and lightweight. Fiberglass tent poles are less durable, especially over time, and can result in some annoying splinters. So often, you have to slide tent poles through fabric loops, which is a fiddly enterprise. But with the North Face Storm Break 2, the poles clip to the tent instead. Simple (and sturdy).
North Face Storm Break 2 vs. the Competition
It's not always easy to work out exactly what tent is right for you, especially when there are so many options out there on the market.
Hopefully, by now, you've got a better idea about what the North Face Storm Break 2 is all about. Let's now look at how the Storm Break 2 stacks up against the competition.
The first thing you need to do when looking to buy a tent is to really narrow down just what you're looking for. It's easy to feel overwhelmed by specs, makes, technical jargon, add-ons, and even the tent aesthetics.
As mentioned, if you're looking for something ultra-lightweight so you can take it out on an epic trek that pushes you to your limits across an epic landscape, then the Storm Break 2 is not the tent for you. This is not a tent for a serious backpacking expedition, but you should already know that.
Instead, this tent is ideal for people who enjoy spending time out in nature but want a little more space and comfort. It might not be ultralight by any stretch, but it's light enough to carry for a short backpacking trip (especially split between two people) and will give you the luxury of having space.
The Storm Break 2 is pretty much the perfect combo of space, durability, and a nice bit of added comfort. When it comes to looking at other tents out there that are similar, the MSR Zoic 2 is a good option if you want something for 2-people that's a little more lightweight at 4 lbs. 13 oz. The only thing with the Zoic is that it doesn't offer the same three-season weather protection of the Storm Break 2.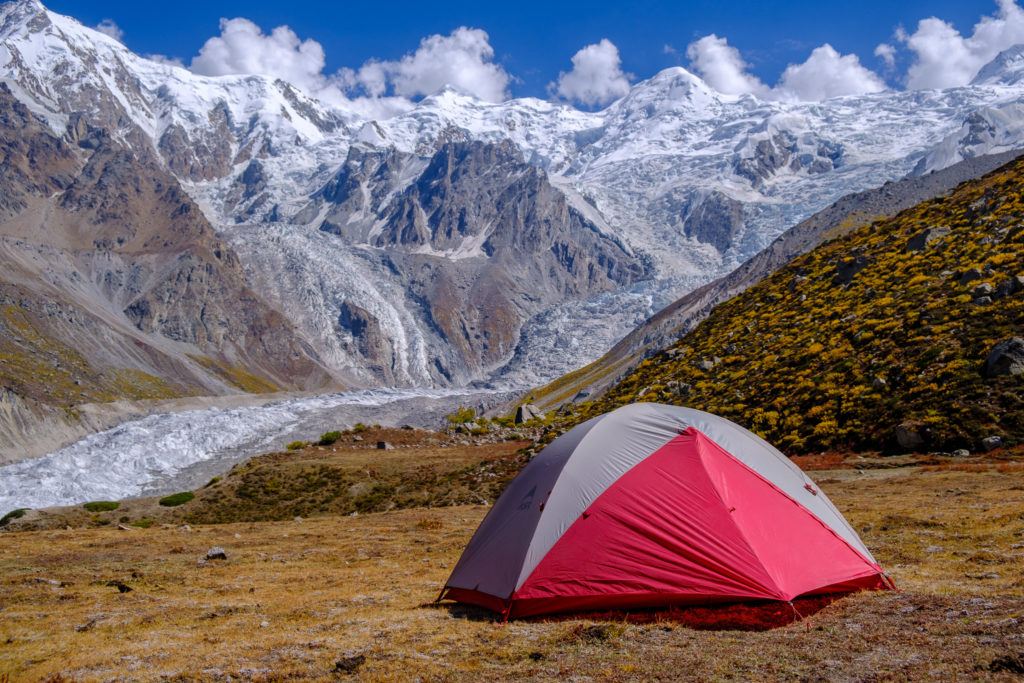 It also costs $345.95, which is a whole lot more when compared to the Northface Stormbreak's very reasonable $159.00 price tag.
Price is a factor that will probably affect what tent you end up buying. If a tent can deliver all the things you're looking for (e.g., space and durability) and still come in at the right price for you, then you have the choices in front of you.
For more tent options for backpacking and traveling in general, check out our review of the best backpacking tents.
Tent Comparison Chart
The North Face
The North Face
North Face Storm Break 2
Price > $159.00
Packaged Weight > 5 lbs. 14.2 oz.
Square Feet > 30.56
Number of Doors > 2
Floor Material > 75D
MSR
MSR
MSR Elixir 2
Price > $319.95
Packaged Weight > 6 lbs
Square Feet > 29
Number of Doors > 2
Floor Material > 7000-series aluminum
MSR
MSR
MSR Hubba Hubba 2
Price > $549.95
Packaged Weight > 3 lbs. 4 oz.
Square Feet > 29
Number of Doors > 2
Floor Material > 20D
MSR
MSR
MSR Elixir 2
Price > $319.95
Packaged Weight > 6 lbs.
Square Feet > 29
Number of Doors > 2
Floor Material > 70D
REI Co-op
REI Co-op
REI Half Dome 2 Plus
Price > $329
Packaged Weight > 4 lbs. 11.5 oz.
Square Feet > 33.75
Number of Doors > 2
Floor Material > 40D
North Face Storm Break 2 Review: Pros and Cons
Now you've had a pretty good insight into just what makes this tent tick and how it stands up against the competition, it's time to get down to brass tacks. You're never going to find one perfect tent (read: nothing is perfect), so here are the specifics of what I like and don't like so much about the Storm Break 2. I mean, it wouldn't be a proper Stormbreak 2 review without a good old Pros and Cons section!
Pros:
Spacious and comfortable to sleep two easily without having to squeeze in like sardines.
High-peaked roof means you can actually sit up and move around with ease.
Two-door access points provide not only good airflow but also make the tent much more livable for two people.
Very durable tent materials mean it should stand up to regular use.
Excellent value for money. The Storm Break 2 is much cheaper than other similar models on the market, so you get a lot for what you spend.
Double vestibules mean you can stash your gear outside of your sleeping compartment and still keep your muddy boots safe from the elements.
Ventilation means you should keep cool during hot nights and reduces the amount of condensation that builds up.
Interior pockets provide organization, so you don't end up misplacing important items like your phone or wallet.
Cons:
Sadly, the stakes used are not the best; they seem to be pretty cheap, which means they could break easily. I recommend swapping them out with some of your own.
The tent footprint is sold separately, which means you have to spend a little bit more money on top of the price of the tent. Definitely annoying, but it's worth the purchase.
The slightly heavier weight could mean the tent could be too heavy for some – especially if it's going to be carried over a long distance by just one person.
If you're a tall person, you might find the doorways a little tight to get in and out of. But this is just part of the fun of camping, so it may not bother you all that much

Our GREATEST Travel Secrets…
Pop your email here & get the original Broke Backpacker Bible for FREE.
Final Thoughts on this North Face Storm Break 2 Review
There you have it, people; that's the end of this North Face Storm Break 2 review. You're now virtually clued up on just about everything you need to know about this pretty awesome tent. For backpackers on a budget, even for casual car campers, this offering from North Face is a very solid option indeed. While price-wise, it feels entry-level, this is one piece of kit you won't want to upgrade in a hurry.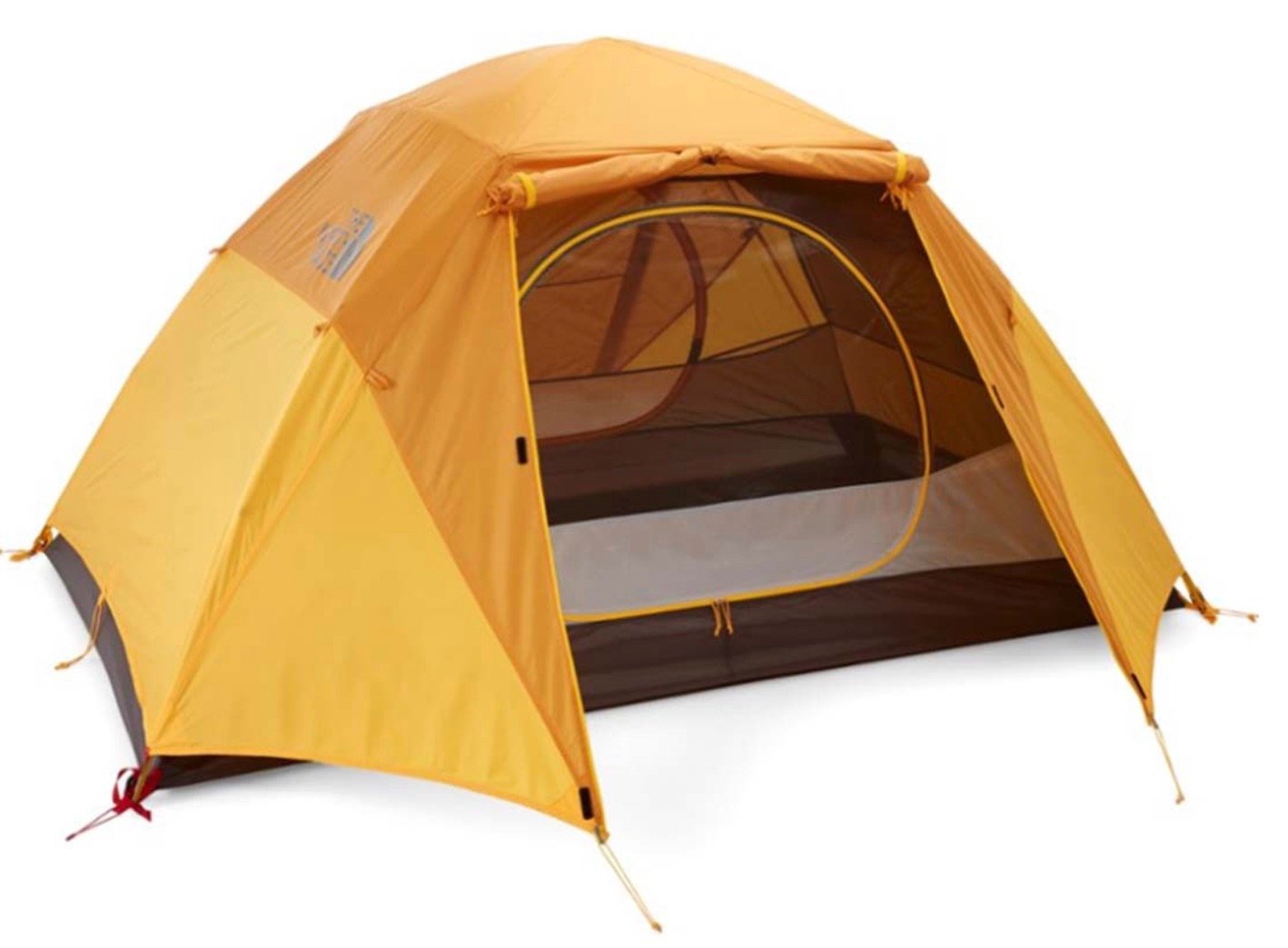 North Face being North Face, this is a super quality tent with cool design features that comes with the bonus of not being overly expensive. They're a go-to purveyor of all things outdoors for a reason: they know what they're doing. And fittingly, the North Face Storm Break 2 covers all the bases. If you are ok with the weight specs, the Storm Break 2 is an excellent value buy.
If you're wondering whether to part with your hard-earned cash and purchase the Storm Break, my advice would be to go for it. Cheaper tents exist, obviously, but it's worth it to spend a little more and have this North Face gem in your camping repertoire.
What is our final score for the North Face Storm Break 2? We give it a rating of 4.4 out 5 stars!

What do you reckon? Did this review of the North Face Storm Break 2 answer all your questions and then some? If not, let me know in the comments below – cheers!
Is the Storm Break not for you? Then check out our epic Marmot Limelight review or maybe the MSR Hubba Hubba NX is for you.
Need something smaller? Check out our rundown of the best one-man tents instead where we've included not just some more North Face tent reviews, but other brands too.
---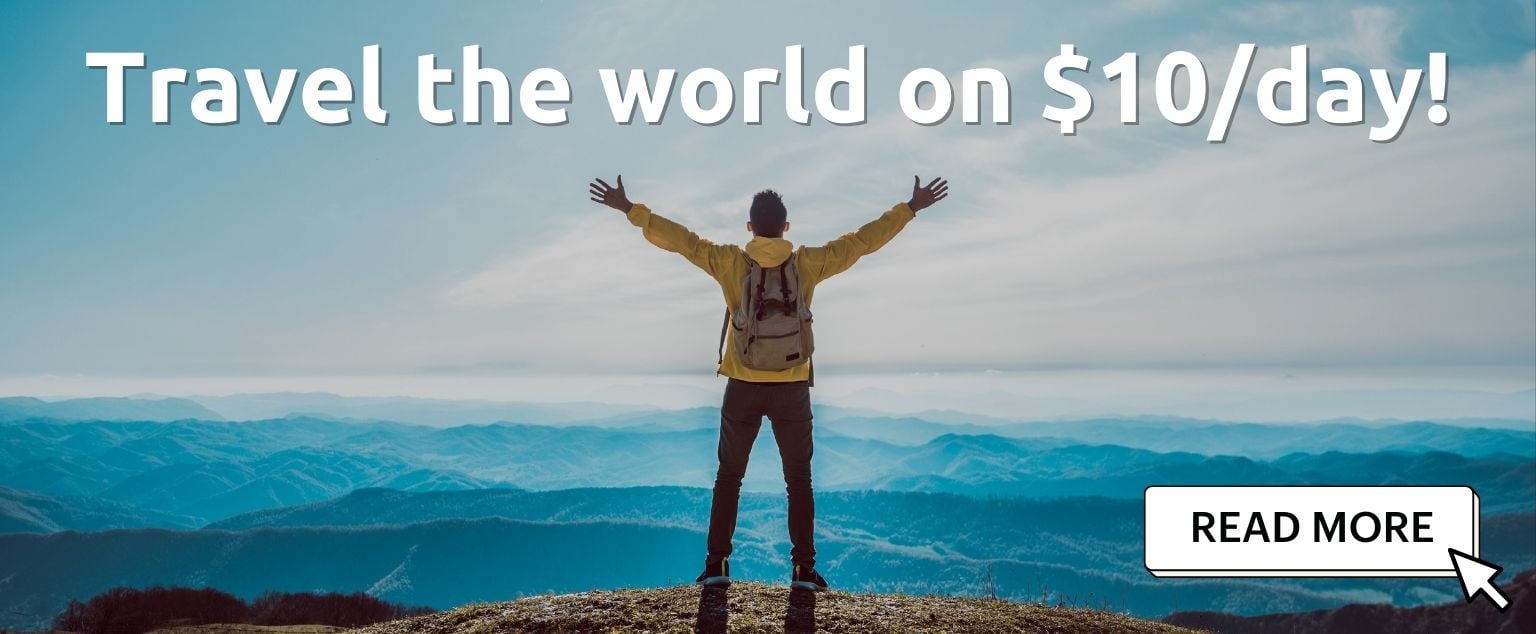 And for transparency's sake, please know that some of the links in our content are affiliate links. That means that if you book your accommodation, buy your gear, or sort your insurance through our link, we earn a small commission (at no extra cost to you). That said, we only link to the gear we trust and never recommend services we don't believe are up to scratch. Again, thank you!