It's hard to describe a landscape as diverse as Pakistans, blessed with towering mountains, wind-swept plains, hidden villages, and intricately detailed Mosques. It may not be advertised as much as other South Asian countries, but with all of this and more, you can find some of the world's most beautiful places in Pakistan.
This large country spans vast valleys, tall mountains, arid deserts, and bustling cities. It's home to the remnants of some of the world's most powerful ancient civilizations and boasts some impressive modern accomplishments and monuments, too.
With countless attractions, a friendly local population, and diverse cultures, Pakistan is a country of unspoiled beauty. Join us as we take a look at some of the most exquisite places to visit in this country!
1. Naltar Valley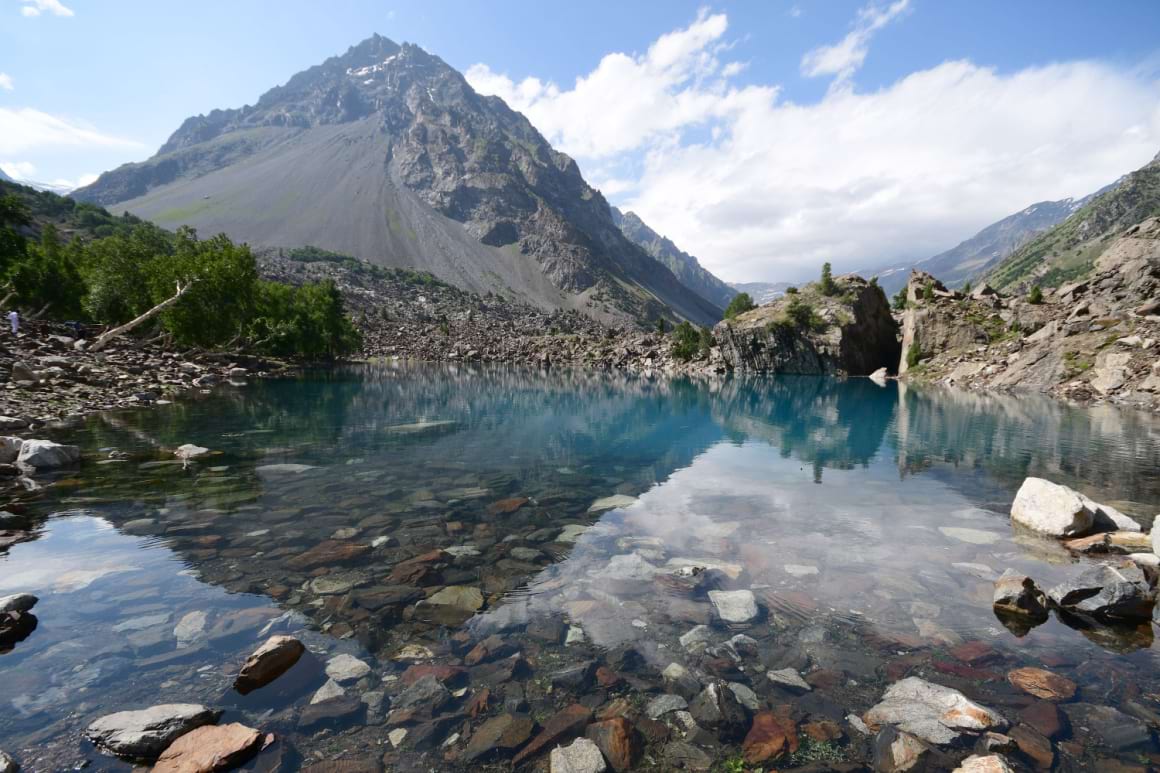 Number one on my list is a must-visit for anyone travelling to Pakistan. Just a short hour's drive from Gilgit City, Naltar Valley seems worlds away from civilization. With its dense forests and crystal lakes in the summer and snow-capped mountains in the winter, the valley attracts local and foreign tourists year-round.
The valley really comes alive when temperatures warm up. During summer, the lakes unfreeze, and the valley is covered with a carpet of brightly coloured wildflowers. Summer is also the best time to explore the mystical forests, with winding routes suitable for hikers and mountain bikers.
Although not far from the city, Naltar Valley is not connected by any public transport, so private transport is needed to get here. Or if you're truly up for an adventure, you can give motorbiking a try, though do be warned this is one of the wildest roads in the country. Once you arrive, there are plenty of hotel rooms to book.
The forested region has been a protected wildlife sanctuary since 1975, home to a range of mammals, including snow leopards, brown bears, grey wolves, red foxes, and a thriving bird population.
2. Badshahi Masjid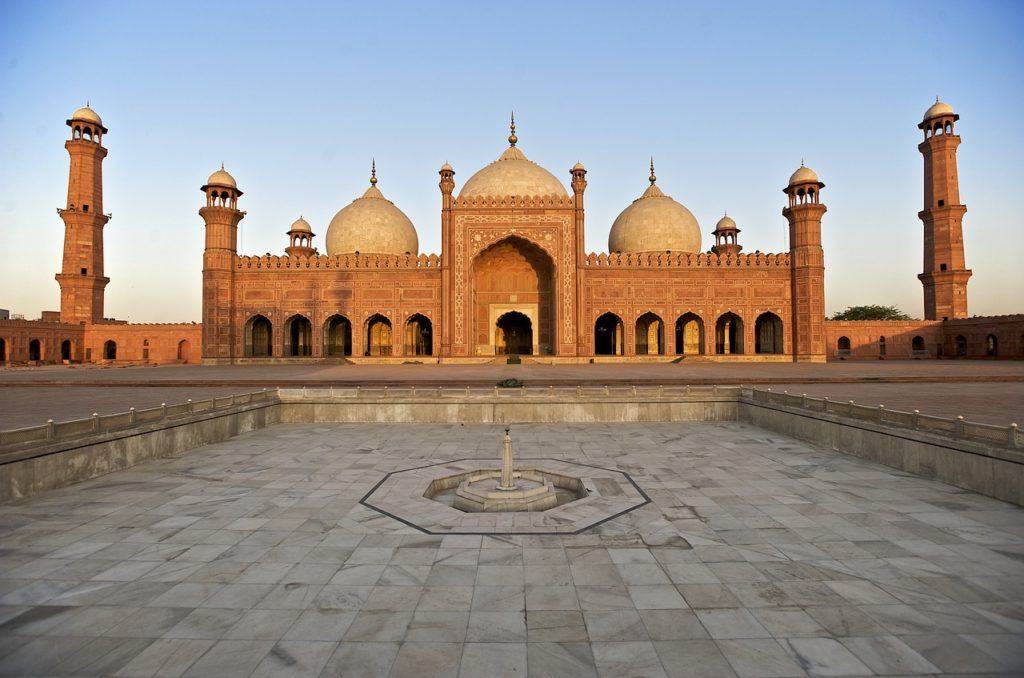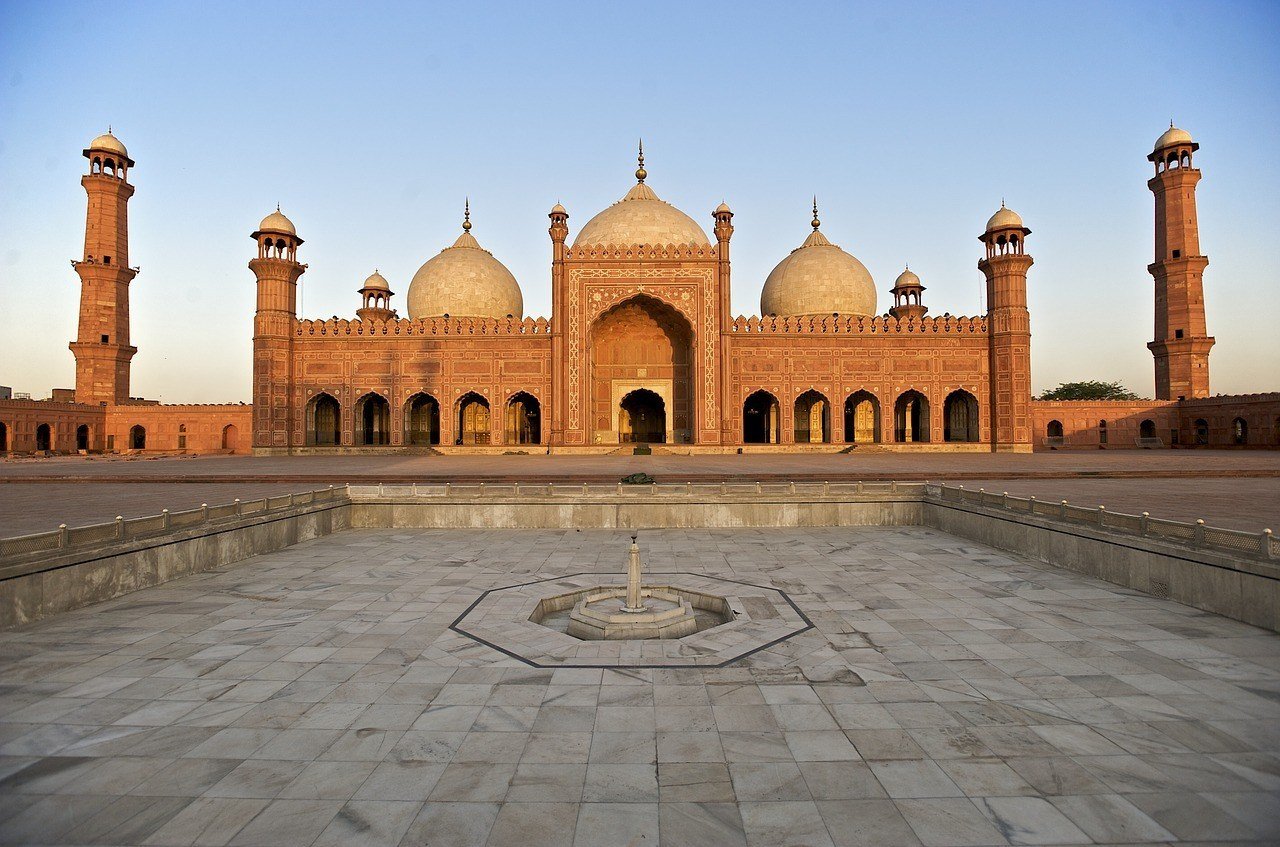 Located in the historic city of Lahore, Badshahi Masjid is arguably the city's most famous monument. A relic of the great Mughal dynasty, this stunning place of prayer is one of the most well-preserved artefacts from over 300 years ago.
Built from red sandstone and marble, the mosque is massive, with a capacity to host over 100,000 worshippers at one time. It was built by the emperor Aurangzeb between 1672 and 1674. An exquisite representation of Mughal architecture, with four minarets and three bulging domes.
The exterior and interior are decorated with intricate and elaborate floral designs, motifs, and fine calligraphy. Gazing up at exquisite hand-carved motifs on the ceiling of the prayer halls will make you feel small compared with the sheer magnitude of the building.
With its incredible history and well-kept structure, it's no surprise this 17th-century place of worship is protected as a UNESCO World Heritage Site. It really is one of the most beautiful manmade structures in the country.
Make sure to dress appropriately and remain respectful of the local culture and religion when entering this active place of prayer.

Unlock Our GREATEST Travel Secrets!
Sign up for our newsletter and get the best travel tips delivered right to your inbox.
3. Chapursan Valley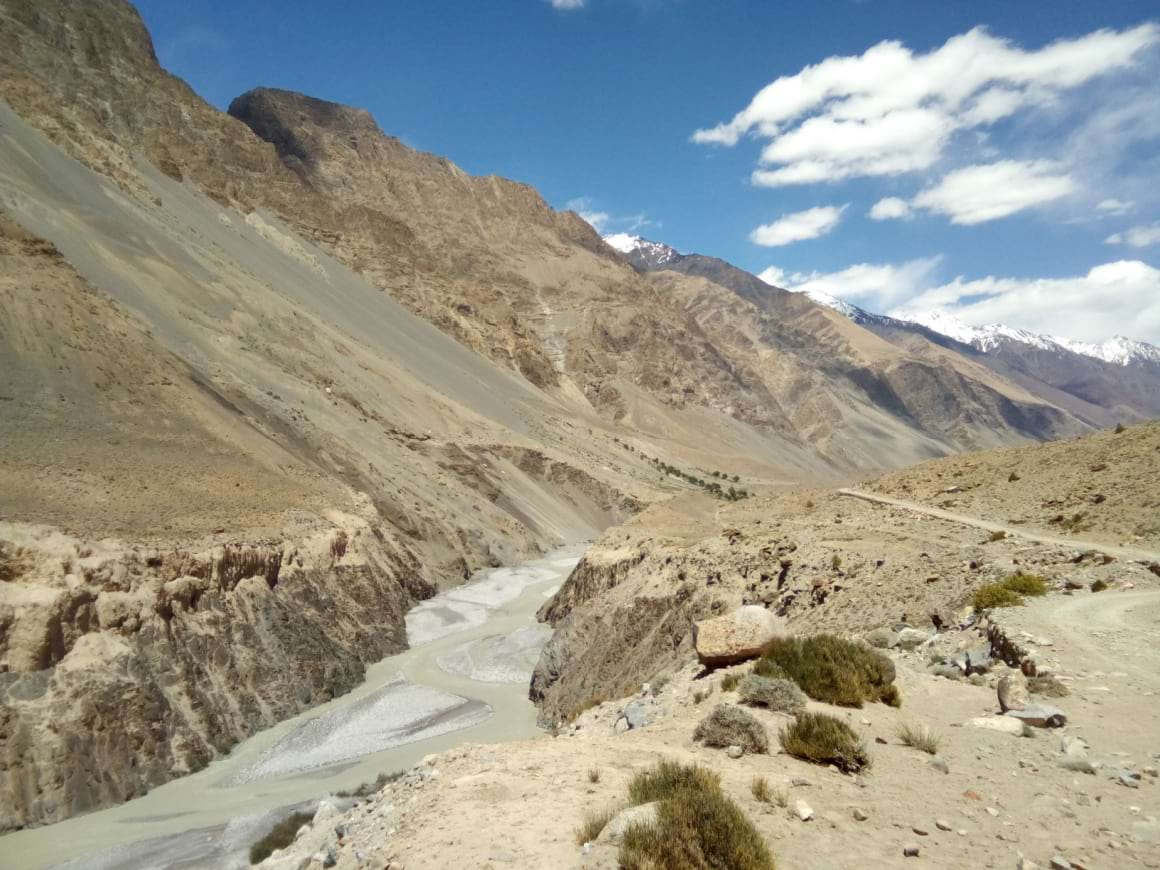 Graced with beautiful lakes and towering mountains, Chapursan sits in the majestic Hunza Valley. It offers a spectacular show of colours no matter what time of year you visit. It's one of the main reasons many people decide to travel to Pakistan.
The valley is a part of the majestic Karakoram Mountain range; bordering Afghanistan's Wakhan Corridor as well as China's Xinjiang Region.
The Chapursan Valley is one of the most remote parts of the Hunza, offering unspoiled vistas of the exquisite surroundings. Home to a local ethnic group called the Wakhi people, this region is unlike almost any other.
With lush poplars and fruit trees that change colour with the seasons, exquisite mountains towering overhead, and turquoise rivers winding through the valleys, this natural haven is easily one of the most beautiful places in Pakistan.
Not yet overrun with tourists, Chapursan is an exceptional example of old-world Pakistan. While you're in the valley, take the time to visit the Baba Ghundi Shrine. This majestic Sufi shrine is dedicated to a supposedly magical saint with ties to the area.
4. Lahore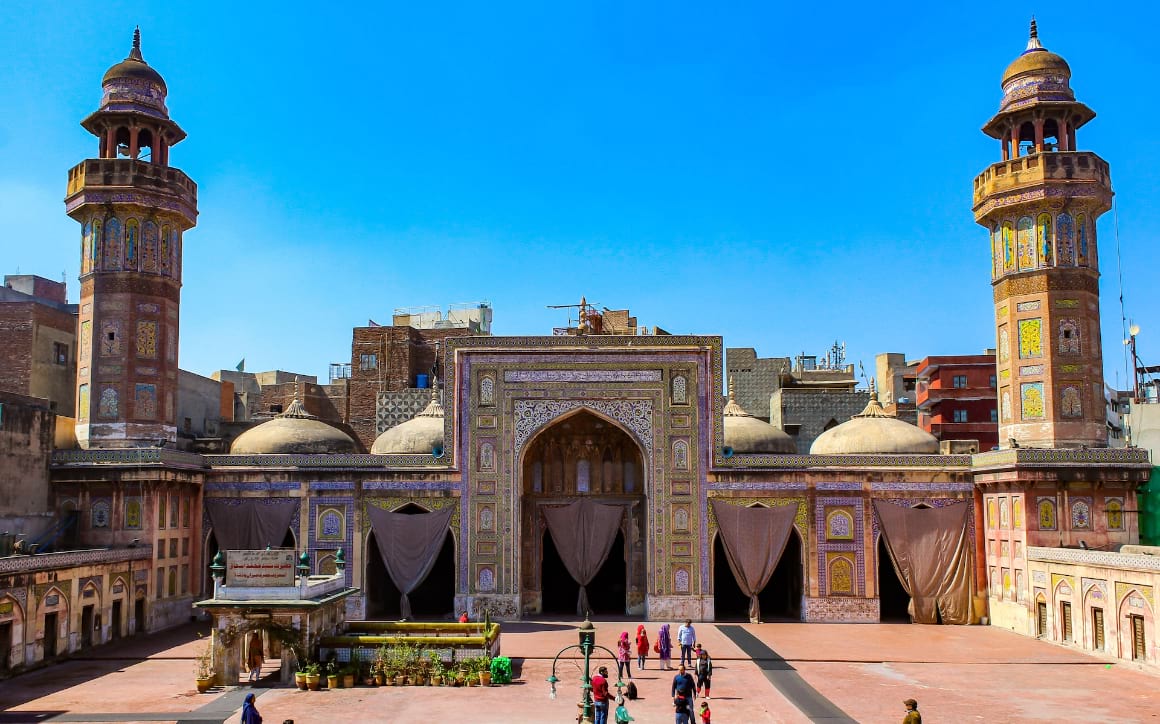 Lahore has a reputation for being one of the most beautiful cities in Pakistan. What was once the city of the Mughals, this metropolitan centre bursts with historical attractions and hidden treasures.
The city's origins trace back to between the 1st and 7th centuries when the city was known as the City of Gardens. Lahore has always been a place of education and knowledge.
There are loads of exciting places to visit in this gorgeous city, but some of the most famous (and beautiful) include the Badshahi Mosque mentioned above, the Wazir Khan Mosque, and, of course, the iconic Lahore Fort. On top of that, there are many well-preserved historic tombs, shrines, and havelis.
With all of these incredible historic sites and buildings and the title of the oldest city in the country, it is no wonder Lahore is the Cultural Capital of Pakistan. A great way to see the city is to take a full-day tour of Lahore, this way you can truly experience the wonders of the city.
Located along the Pakistan-Indian border, one of the best things to see in Lahore is the changing of the guards at the Indian border.
5. Fairy Meadows
Fairy Meadows is one of the most popular and beautiful places in Pakistan, making it one of the more busy and expensive. Price and crowds aside, the valley is an extraordinary place worth visiting, offering views of the world's ninth-highest mountain peak, known as Nanga Parbat.
The Fairy Meadows is the base campsite for this mountain range, located in the Diamer district of Gilgit Baltistan. The scenery is so picturesque it looks as if it belongs on a screensaver.
Towering snowy peaks drop down into reflective lakes, which are nestled between lush green trees. Wild horses roam the meadows, and the star-gazing from this remote region is unmatched.
The meadows aren't easy to get to. You'll need to drive a 4X4 on a steep road and end your journey with a three-mile trek. Hiking to the Fairy Meadows from here can take three hours on foot.
Once you arrive at the heavenly location, you can rent space in a campsite or a room in a log cabin and enjoy a couple of nights admiring the incredible views, lush meadows, and bright green lakes.
6. Shah Jahan Mosque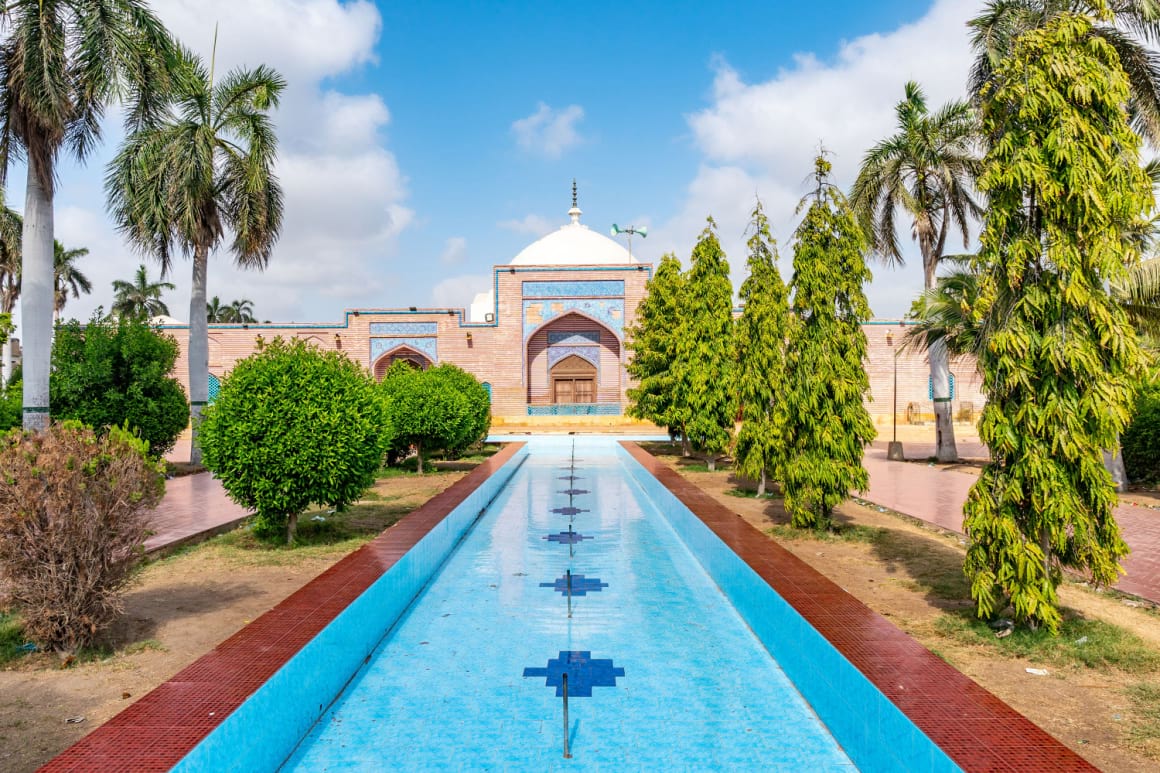 Looking up at the decorative ceiling of the Shah Jahan Mosque is like staring into a kaleidoscope of perfectly organized shapes and colours. Located in a town called Thatta in the Sindh province, this mosque is also known as the Jamia Masjid. It's undoubtedly one of the top ten places to visit in Pakistan.
The mosque is most well known for its delicate interior featuring the most beautiful display of tilework and mosaics in the South Asian region. Combining colours like yellow sandstone with blues and turquoise tones creates a mesmerizing optical illusion carefully designed to represent the starry night sky.
The mosque is influenced by Turkic and Persian styles, built using bricks and blue tiles, both of which drew influence from Central Asian styles.
Back in 1647, the mosque was commissioned by Moghul emperor Shah Jahan when he found refuge in Thatta. He then gifted the mosque to the people of Thatta as a symbol of his gratitude for the hospitality of the Sindhi people.
Today, almost four hundred years later, the mosque sits in near-perfect condition, attracting tourists from across the globe to admire its beauty.
7. Kalash Valleys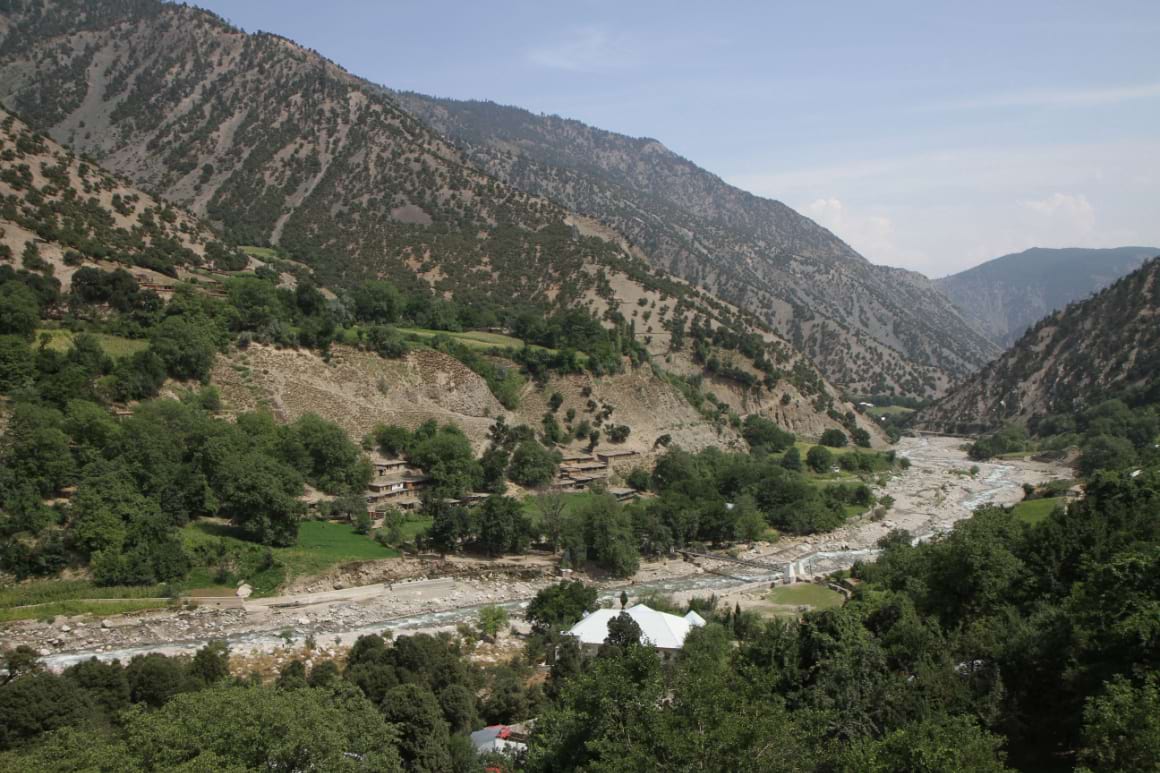 Three valleys under one name, the Kalash Valleys, include the Bumboret, Rumbur, and Birir valleys. Home to a Pakistani ethnic minority, the Kalash people have their own religious beliefs, language, and cultural norms unique from the traditional Islamic traditions common in the rest of the country.
Of the three, the Rumbur Valley is undeniably the most beautiful. With a totally remote feel, miles worth of dirt roads follow through a winding mountain range along the rushing Kalash River,
These valleys are just a few hours' drive from Chitral City and are not too difficult to access. However, I highly advise spending a full day visiting this beautiful place in Pakistan, taking a day trek into the valley, and visiting the last remaining settlement of Rumbur called Sheikhandeh.
In the heart of the mountains, the Kalash people still live in modest wooden buildings that hug the walls of the mountains. Only around five thousand Kalash people remain today, and they live the same simple life they did hundreds of years ago.
Kalash women are known for their brightly coloured and embroidered dresses and headdresses that are not like any other traditional clothing in Pakistan.
Forget boring accommodation… book yourself an EPIC STAY!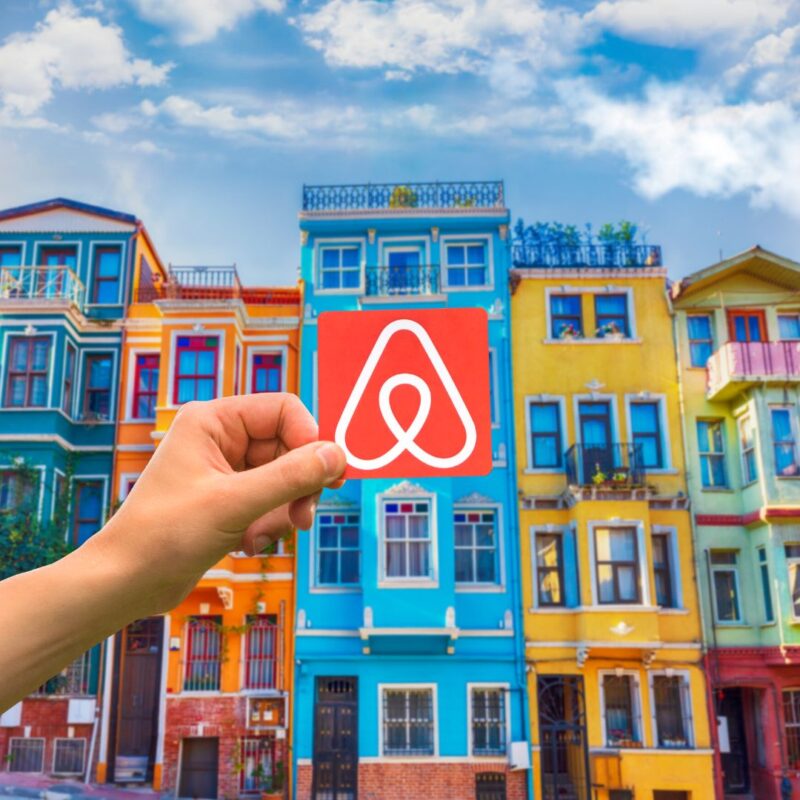 Why stay in a naff hotel when you can stay in a cosy, stylish local house instead? And for half the money too!
Stay somewhere EPIC and save your hard-earned dollars — from houses to barns to castles and caves, there is an Airbnb for every occasion!
Book an EPIC Stay
8. Passu Cathedral Peaks
The Passu Cathedral peaks, also known as the Passu Cones, are some of the most recognizable places in the country. While not a cathedral in the traditional sense, this phenomenon is a natural work of art not to be missed when visiting Pakistan.
The Passu Cones are a series of pointed peaks in the Karakoram Mountain Range located in the Passu and Hussaini Villages. These abstract peaks merge to create a single iconic motif visible from miles away.
These mountain peaks reach over 20 thousand feet above sea level and are the most photographed natural scenery in the region.
The best view of the Cathedral is from the Karakoram Highway. It also happens to be one of the most beautiful stretches of road in the world. As you drive along this empty road, you'll be blessed with uninterrupted views of the peaks surrounding you on both sides.
Like many other remote regions in Pakistan, getting here can be tricky. The best way to reach the cones is to drive and stay in the Naran or Kaghan Valley for a night before continuing the journey along the Karakoram Highway the following day.
9. Rakaposhi Base Camp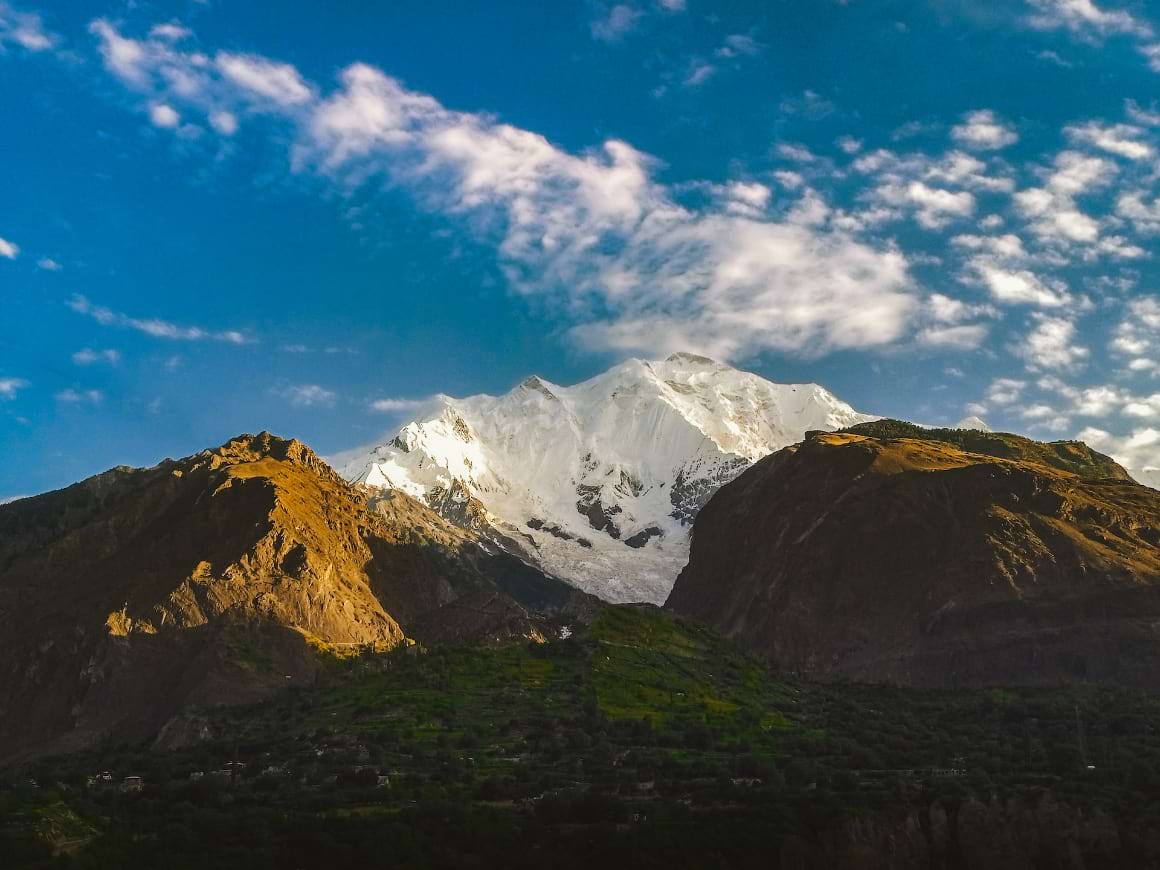 Rakaposhi is the world's only mountain with a peak that drops suddenly and uninterrupted for around six thousand meters from the summit to the base. One of the most unique places to visit in Pakistan, the mountain peaks are a harsh climbing environment only summited by a select few.
Part of the Karakoram Mountain Range, the mountain is the 27th tallest in the world. With relatively easy access from the iconic Karakorum Highway, the Rakaposhi Base Camp rises over the Nagar Valley in Minapin Village.
Only a few professional mountaineers have managed to summit the mountain successfully. However, climbing the entirety of the mountain is not common, and visitors are instead encouraged to trek to the base camp.
Unlike the rest of the mountain, getting to the base camp is an easy to moderate hike that can be accessed even by beginners. Doable in one day, the base camp offers exceptional views of the mountains that rise 7800 meters into the sky above. The hike begins in the village of Minapin and takes between four and six hours in total, depending on your fitness level.
10. Deosai Plains National Park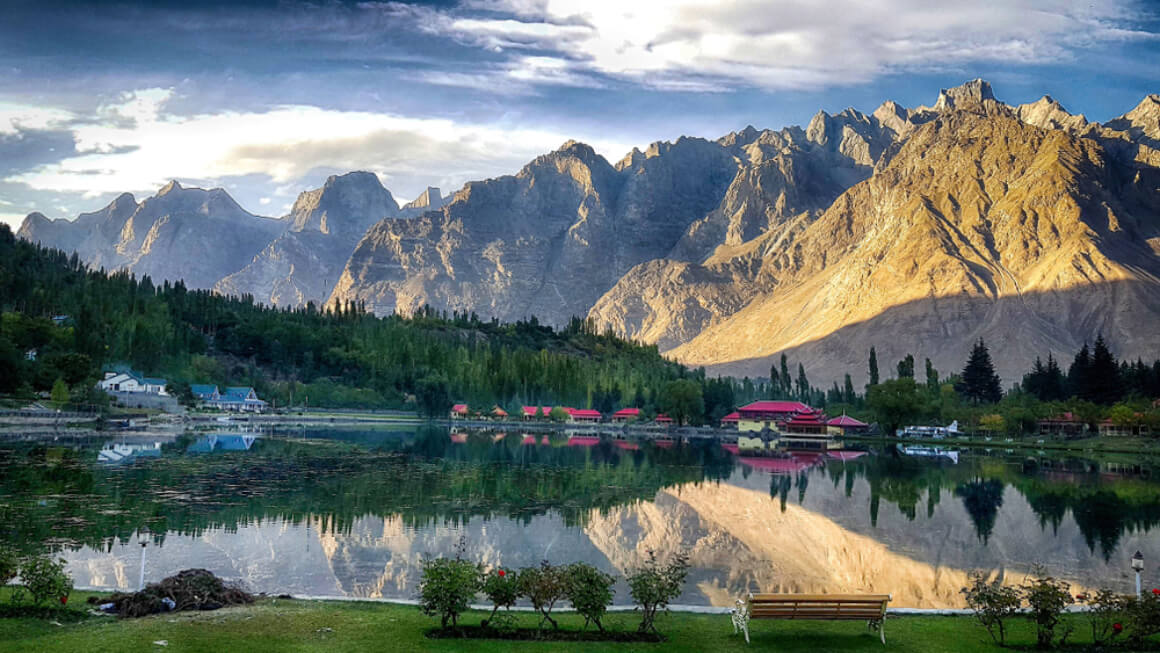 With scenes resembling Jurassic Park, Deosai Plains National Park is known as the 'roof of the world.' Why, you ask? Well, this lush park sits 13497 feet above sea level and is the second-highest plateau in the world.
It's so high that it is only accessible in the summer months. Locals also call the park the Land of the Giants, thanks to its expansive size.
The park is surrounded by the western Himalayan Mountains and the Karakorum Mountain Range. During the warm summer season, the plateau is covered with a carpet of multicoloured wildflowers, attracting tons of birds, bees, and bugs to the area.
If you have the stamina to explore this beautiful place in Pakistan, you'll be rewarded with views of expansive emerald-coloured meadows, snowy mountain peaks, and shimmering alpine lakes.
Plenty of large mammals and other wildlife call this park home, including the confident Himalayan Brown Bear, golden marmots, and the elusive snow leopard. One of the best things to do in this park is to spend a night immersed in its natural and remote beauty. While camping, keep an eye out for bears, who are often on the lookout for tasty human food.
11. Shimshal Valley
A beautiful valley with a history dating back nearly 600 years, Shimsal Valley is made up of pastoral lands and a small village set over three thousand meters above sea level. It's one of the highest settlements in the country and is known as the Valley of Mountaineers for its incredible hiking opportunities.
12. Attabad Lake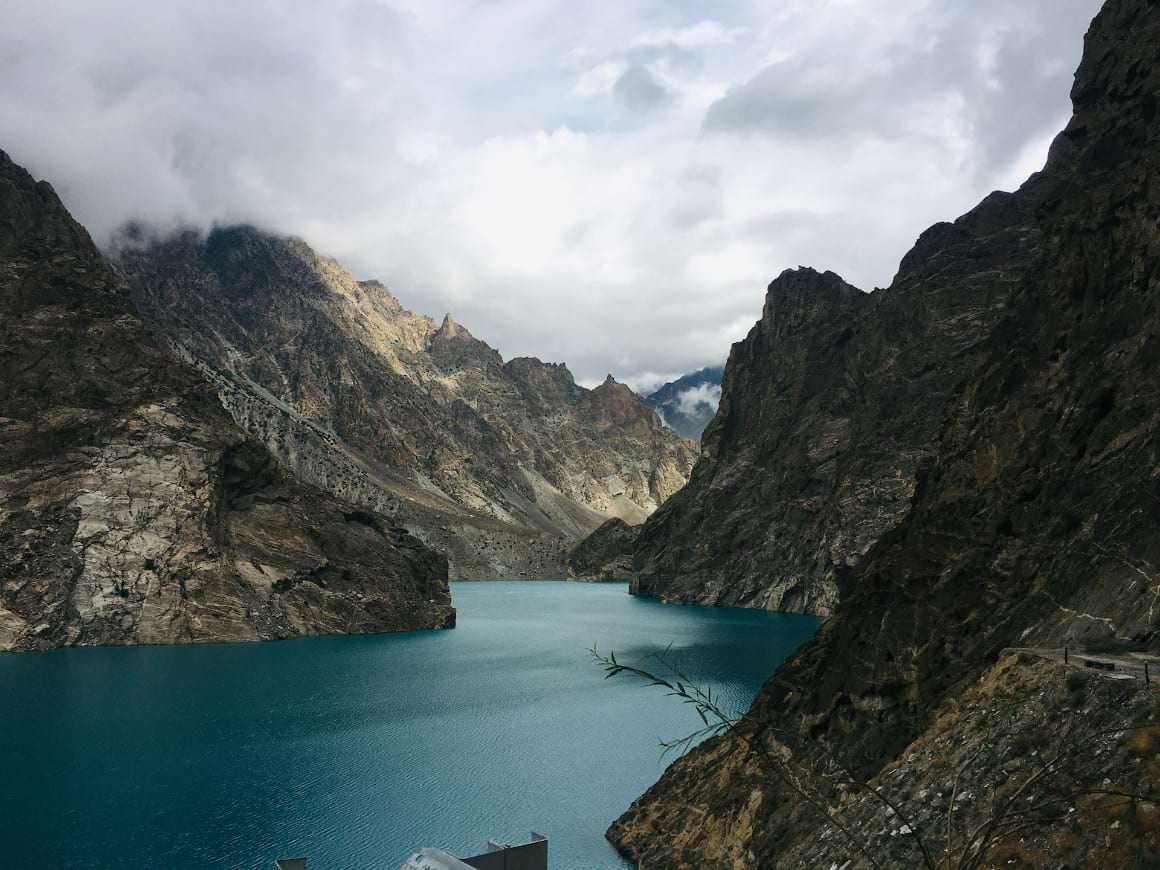 Formed when Attabad Village experienced a catastrophic landslide in 2010, a section of water from the Hunza River was blocked off and created one of Pakistan's most beautiful lakes. Turquoise blue water surrounded by stark contrasting brown mountains makes this lake a photographer's dream.
13. Rohtas Fort
Built in the 16th century at a strategic location, Rohtas Fort is a beautiful example of early Muslim military architecture. The fortified structure survived countless attacks and is made up of massive walls that extend for two miles. With its unique historical value, it's no surprise this fort is a UNESCO World Heritage Site.
Is This the Best Travel Pack EVER???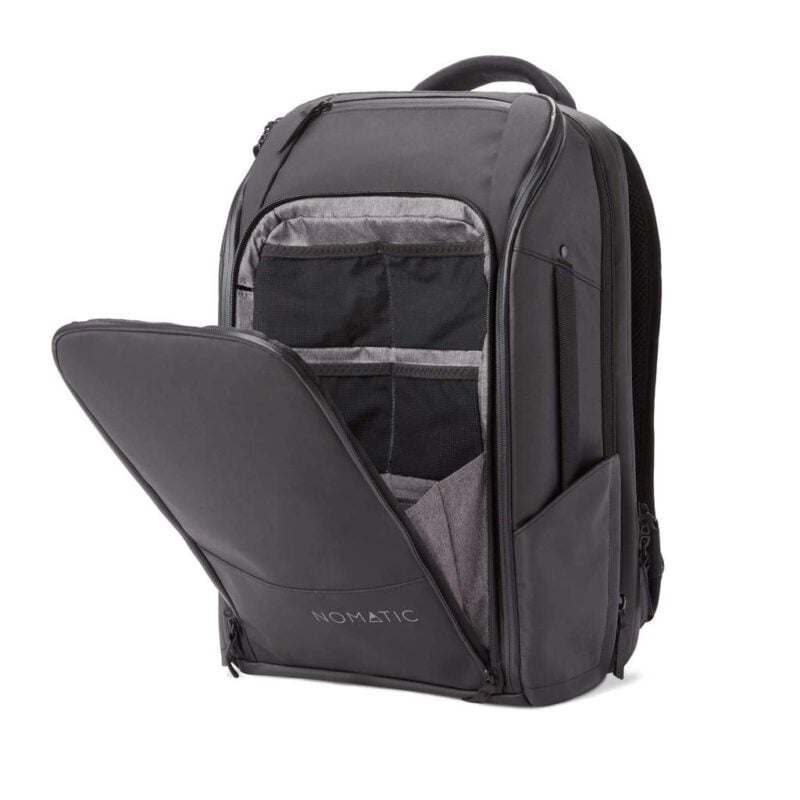 14. Neelum Valley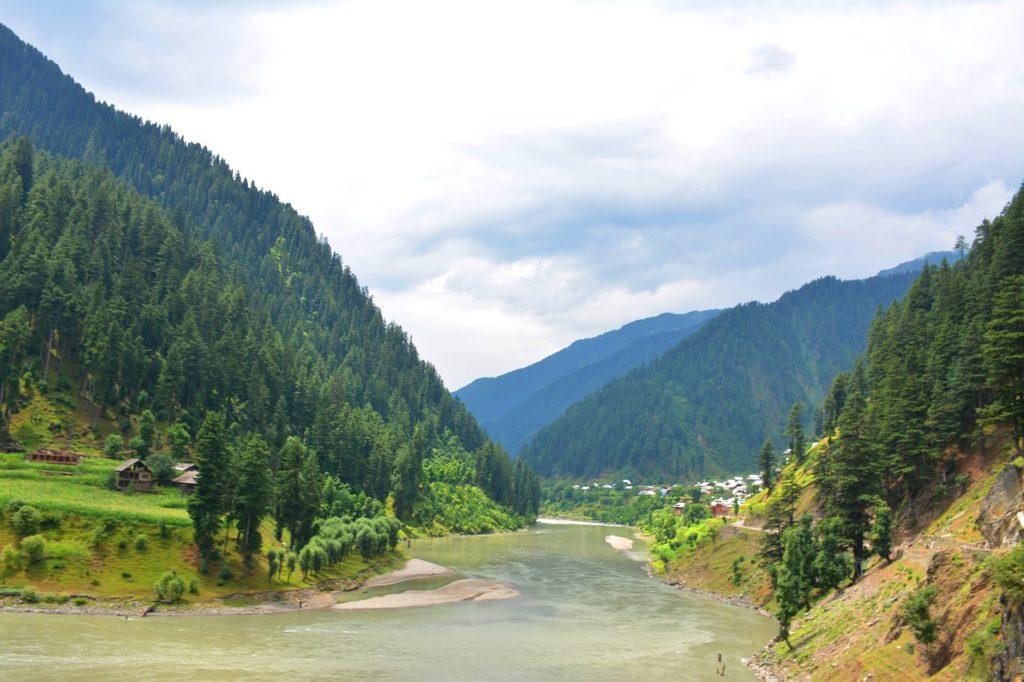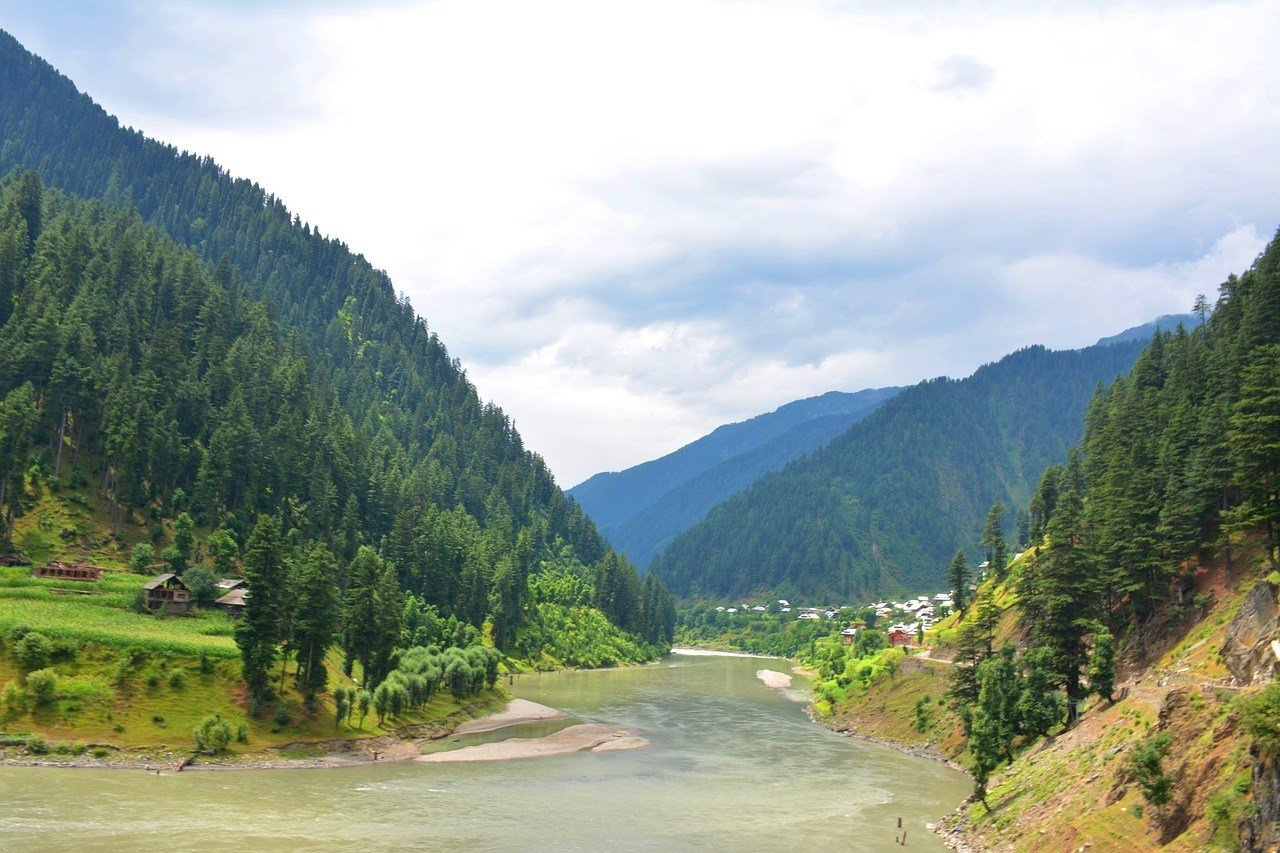 The Neelum District extends for 125 miles through lush meadows, emerald-green forests, and snow-capped mountains. Its exquisite panoramic views, rushing streams, and clear-water lakes make it one of the most beautiful places in Pakistan, with natural landscapes ideal for hikers.
15. Khaplu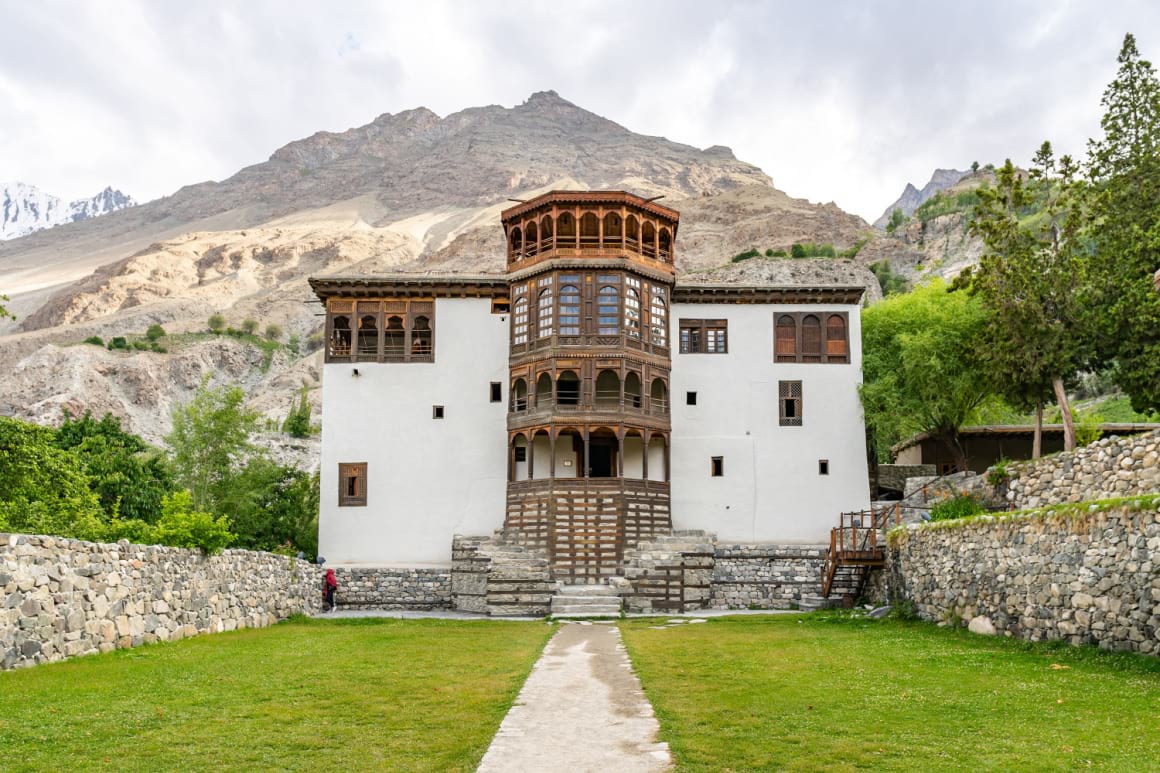 A town famous for its combined natural beauty and cultural heritage, Khaplu is an exciting Pakistani location well worth a visit. Until 783 AH, the town was home to a Buddhist population. Today, it houses the beautiful Khaplu Palace, which was built to replace a historic fort.
16. Mazar-e-Quaid
Also known as the Jinnah Mausoleum, Mazar-e-Quaid houses the tomb of the late Muhammad Ali Jinnah. It was built in 1971 and is a beautiful example of modernist Islamic architecture. The structure blends traditional archways and local materials with modern aspects, resulting in an impressive mausoleum in the heart of Karachi.
17. Hingol National Park
Established as a natural sanctuary, Hingol National Park is home to around 250 plants and 290 animal species and is one of the top ten places to visit in Pakistan. The park encompasses caves, beaches, and a beautiful coastline but is most famous for its mud volcanoes, which bubble with methane and mud.
How to See Beautiful Places in Pakistan
Many people doubt if Pakistan is a safe location. While it is essential to research the current political situation before visiting, Pakistan strives to keep the country safe for tourists.
That said, caution is advised when finding the most beautiful places in Pakistan. Trains operate between the major cities and are affordable and relatively safe. A train from Karachi to Lahore costs $10 for economy class or $26 for business class.
Busses are even more affordable and are an excellent way to move between cities and within cities. Auto-rickshaws are also common means of transport within major cities.
However, renting a car is the most convenient and safe way to get around. Renting a small car costs around $35 to $80 per day.
Don't Forget Travel Insurance!
Travelling to Pakistan without travel insurance is NOT a good idea. For peace of mind, make sure you're covered.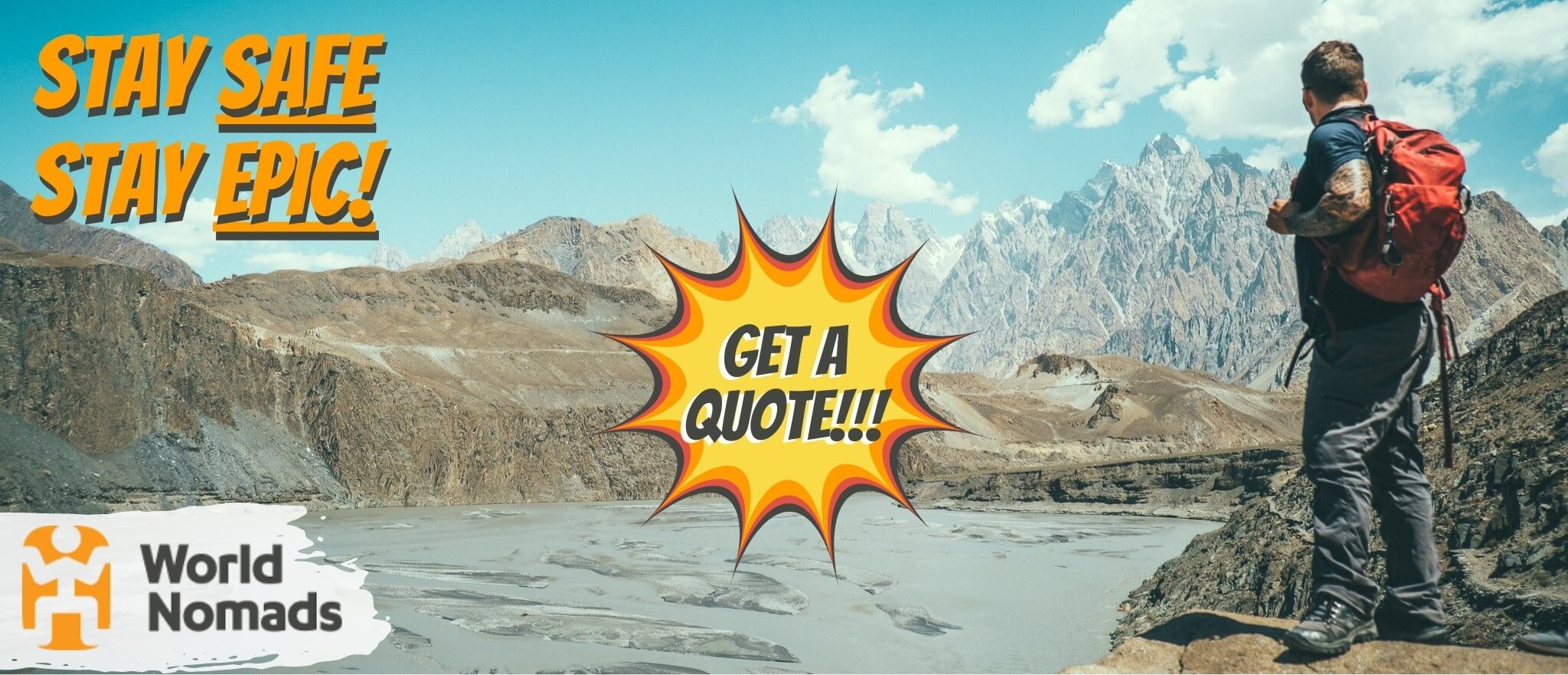 World Nomads' mission is to support and encourage travellers to explore their boundaries. They offer simple & flexible travel insurance, and safety advice to help you travel confidently.
They've been doing it since 2002 – protecting, connecting, and inspiring independent travellers just like you.
Get a quote below or read our in-depth review!
World Nomads provides travel insurance for travelers in over 100 countries. As an affiliate, we receive a fee when you get a quote from World Nomads using this link. We do not represent World Nomads. This is information only and not a recommendation to buy travel insurance.
FAQs About Beautiful Places in Pakistan
Here are some of the most frequently asked questions about beautiful places in Pakistan.
Final Thoughts on Beautiful Places in Pakistan
Pakistan is known for its cricket stars, flavorful cuisine, and fascinating history spanning thousands of years. It's also famous for its towering mountains and deep valleys, including the iconic K2 mountain, the second-highest peak on the planet.
With the Shimshal Valley, Chapursan Valley, and Attabad Lake within its borders, Pakistan's Hunza Valley is easily one of the most exquisite places in the country. The mountainous region is a masterpiece of nature, with incredible scenery and an exciting history to be explored.
Across the country, snowcapped Himalayan peaks, high-altitude lakes, fertile valleys, and otherworldly rock formations make up the incredible natural landscape and beautiful places in Pakistan.
With some of the most exciting and remote landscapes not yet overpopulated with tourists, the country is home to beautiful nature, diverse cultures, and exquisite religious sites.
---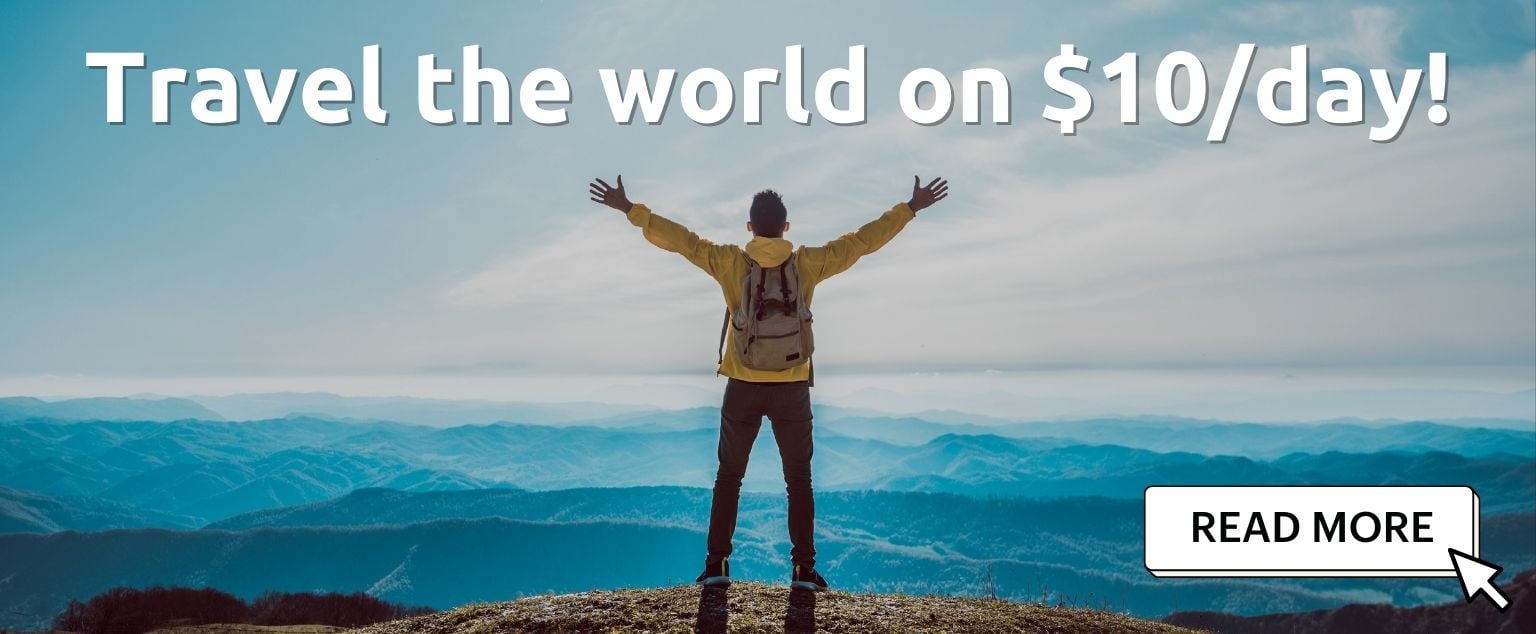 And for transparency's sake, please know that some of the links in our content are affiliate links. That means that if you book your accommodation, buy your gear, or sort your insurance through our link, we earn a small commission (at no extra cost to you). That said, we only link to the gear we trust and never recommend services we don't believe are up to scratch. Again, thank you!