If you really want to immerse yourself in life in Pakistan, one of the best ways to do so is to attend a local festival. There are tons of cultural, religious, and musical festivals held over the year, some following the Gregorian calendar and others following the Islamic calendar.
With over 90% of the country following Islam, it is no surprise that most of the festivals in the country revolve around the religion and cultures that have been created around it. From solemn religious processions to feel-good celebrations, Pakistan has it all.
Compared with other countries, Pakistan has an emerging music scene. However, with its vibrant culture, historic religious following, and geographically beautiful landscape, the country is certainly coming out of its musical shell to join the international music scene.
I've put together a chronological list of some of the best festivals in Pakistan, many of which show that South East Asia knows how to put on a show.
Festivals in Pakistan
Here is a list of eleven of Pakistan's top religious, cultural, and musical festivals. Whatever time of year you visit Pakistan, your trip is bound to line up with some of the country's unique festivals.
Sibi Mela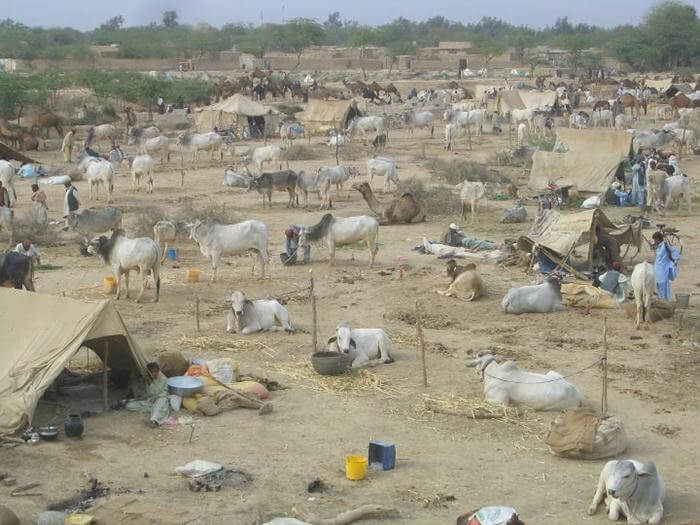 When: February
Where: Sibi, Balochistan Province
Sibi Mela is a cultural festival that has been happening in the Balochistan Province since 1885. The annual festival is likened to a 'cultural showcase' featuring animal markets, folk dances, camel racing, tent pegging, and exhibitions of traditional handicrafts and outfits.
The first event took place before India and Pakistan were split into two nations. At this stage, the festival was a simple horse show where the British Raj would show off his prized stallions. Once the countries were divided, the festival became embedded in the Balochistan Province's history and now highlights the different features of the Balochistan culture.
The event takes place at the end of February when temperatures are stable (and manageable) in this sweltering region. Sibi Mela runs over five days and is one of the best ways to experience Balochistan's rich culture.
That being said, attending this Pakistani festival can be challenging (yet not impossible) as a foreigner, as most of the Balochistan province is restricted to foreign access. Located about a three-hour drive away from the Sindhi City of Sukkue and the Balochi capital of Quetta, the event invites all Pakistanis to attend the festivities.
Where to Stay:
Prepare for Sibi Mela well in advance and book a room at the luxurious Gwadar Business Center in the Balochistan Province. The classic hotel-style rooms feature a kitchenette and private bathroom and are fitted with modern amenities. Best of all, guests can enjoy a complimentary buffet breakfast each day.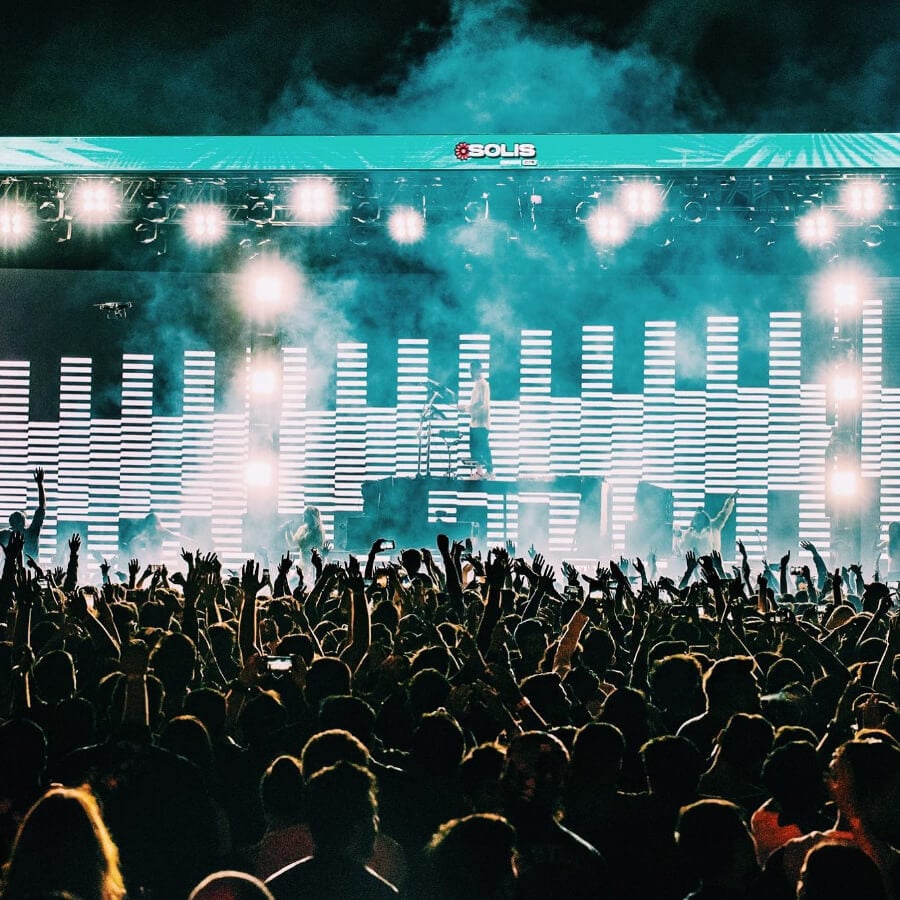 When: February
Where: Islamabad
Powered by big-name brands like Mountain Dew and Chocolicious, Solis Music and Art Festival is a relatively new event that has been running since 2019. Drawing inspiration from global electronic festivals in other parts of the world, Solis presents a lineup of local and international talent for one of the biggest events on Pakistan's musical calendar.
Among other incredible artists, Clean Bandit, Kill the Buzz, and FDVM have graced the stages at the event series, which hosts three separate festivals across Pakistan's biggest cities. If you miss the Islamabad event, this Pakistani festival is also held in November in Karachi, the city of lights.
With music at the heart of this festival in Pakistan, Solis's biggest goal is to impact the country's art and music industry, bringing global attention to the incredible country.
The event features one main stage and attracts thousands of festival goers to each event. The event organizers pull out all the stops when it comes to production quality, and you can expect some incredible sound systems, lighting, and smoke shows with each new performer.
Where to Stay:
When you aren't soaking up culture at the festival, spend your downtime in this beautifully designed condo with a private entrance and parking spot. It's ideally located just a short walk from the commercial hub of Islamabad.

Do You Want to Travel FOREVER??
Pop your email in below to get a FREE copy of 'How to Travel the World on $10 a Day!'.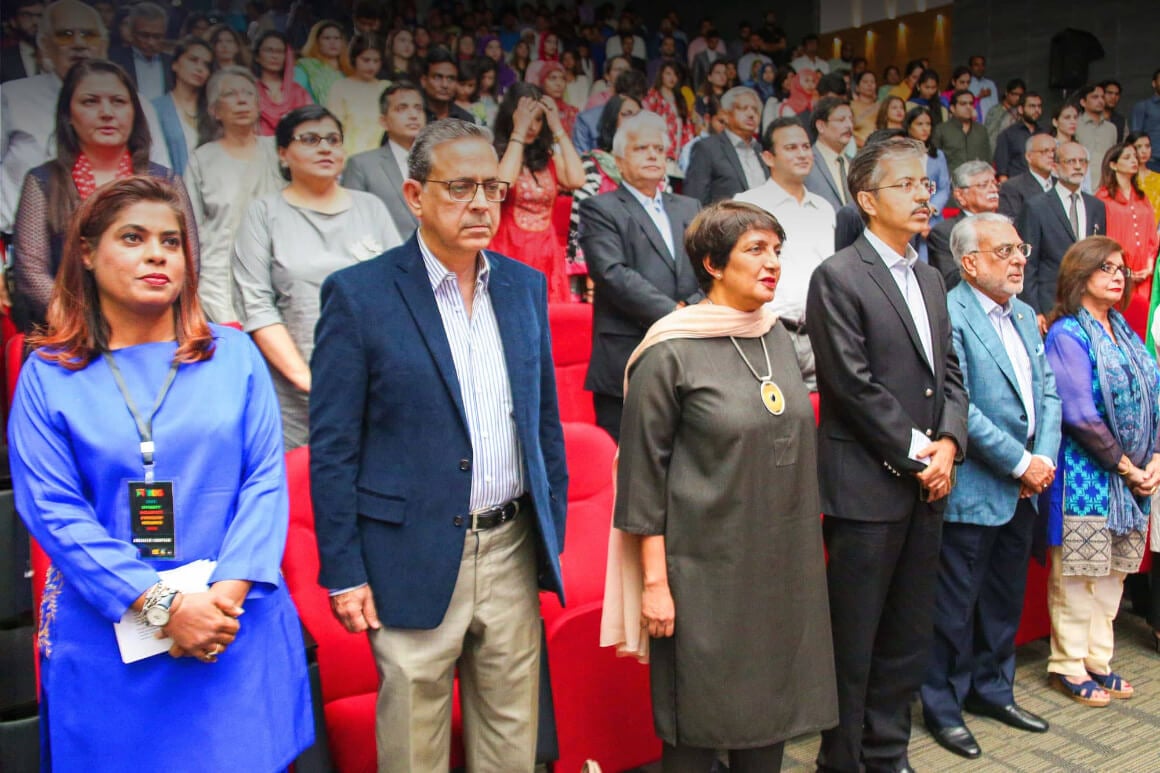 When: February
Where: Karachi
New to Pakistan's music festival scene, I Am Karachi is organized by the same people who put on the International Public Art Festival.
After increasing violence and instability in the city, the event organizers realized how much the local cultural climate was suffering, noting the need for a cultural and musical event to lift local spirits.
With a goal to bring Karachi back to life and build it up as the haven of culture and art that it once was, the movement aims to revive public spaces, bring people together in celebration and increase public awareness of its cause.
The event showcases two acts in a Battle of the Band-inspired match-up, offering attendees a chance to come together to share food, drinks, and dance the night away.
Besides general tomfoolery, this festival in Pakistan offers up-and-coming local musicians the opportunity to take the stage at an international event, potentially propelling them into a booming industry.
Where to Stay:
To match the unique ambiance of the festival, book a night in the Ambiance Boutique Art Hotel. Just a few miles from Seaview Beach, this gorgeous hotel features a restaurant, parking space, and a shared lounge and garden.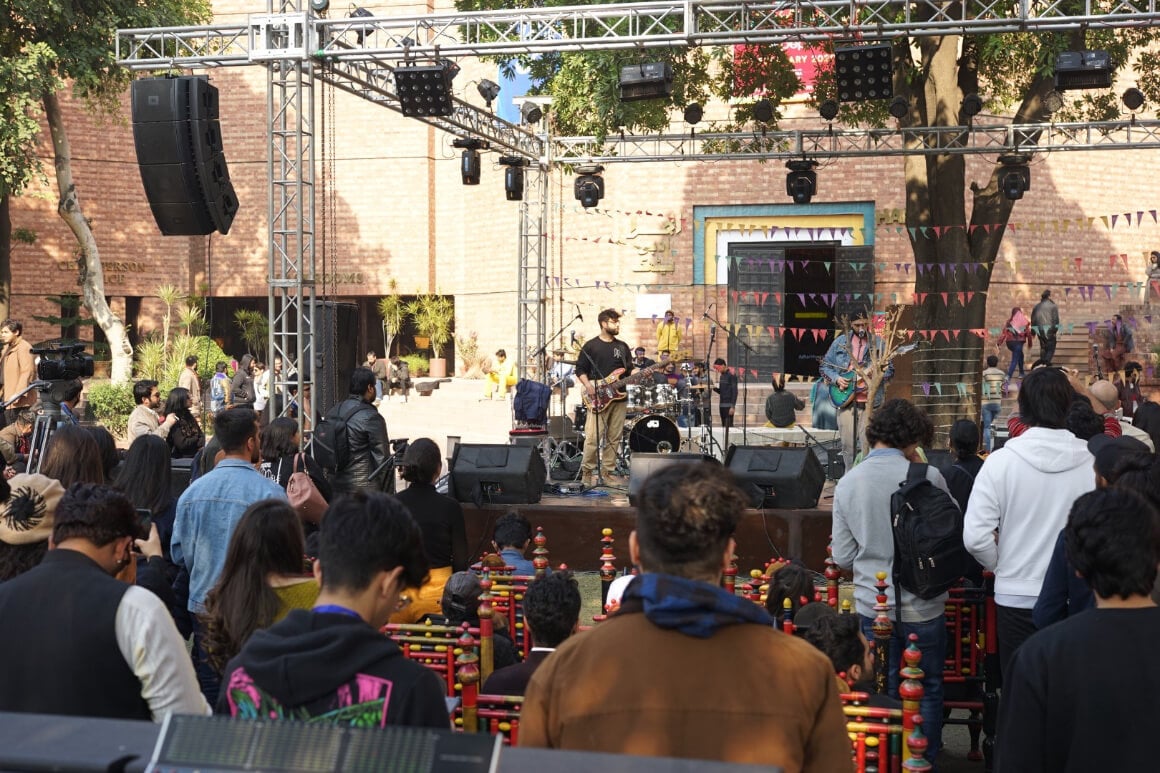 When: February
Where: Lahore
Held over two days in collaboration with the Alhamra Arts Council in Lahore, the Lahore Music Meet is dedicated to celebrating and critiquing the Pakistani music scene. The event aims to bring together artists, fans, patrons, and industry representatives to spark conversation and dialogue about the developments (and shortcomings) of music in the country.
Established in 2015, this festival turned 'meet-up' takes place in one of Pakistan's most beautiful places, the city of Lahore. It's dedicated to traditional Pakistani music. The festival gives way to Pakistani musicians and artists, from up-and-coming newcomers to the music scene to the country's most established artists.
Over the course of the two-day event, guests can attend panel discussions, storytelling sessions with favorite local artists, a Music Mela to showcase the finest artists and instruments in Pakistan, musical workshops, and, of course, performances from a wide variety of artists and genres.
Hosted in collaboration with Pepsi, Lays, and other international brands, the well-organized Pakistani festival hosts different events and initiatives across three different venue halls from 1 pm until 10 pm.
Where to Stay:
This spacious three-bedroom house is the perfect place for you and a group of friends or family to rent out during the Lahore Music Meet. It is the upper section of a private home and has a spacious living area with all the comforts of home.
Shab-e-Barat
When: March
Where: Karachi and Countrywide
Celebrated every year on the 15th night of the Islamic month of Shabaan (around March), Shab-e-Barat is known as the night of fate and fortune. On this evening, followers of Islam believe that each person's fate and fortune is decided, as Allah forgives those who have sinned.
This religious evening begins at sunset on the 14th of Shabaan and ends at dawn on the 15th of Shabaan. Each country has a different way of celebrating this momentous occasion, many of which think of the festival as more of a ceremony than a celebration.
On this night, to repent and ask for forgiveness, Islam followers enjoy a traditional sweet South Asian treat called 'halwa,' which locals gift to their families, friends, and neighbors as well as donate to the needy.
This festival in Pakistan is considered an 'optional' public holiday, where locals can take a day off work if they would like to. While Shab-e-Barat rituals differ from region to region, it is pretty standard practice to commemorate one's past ancestors and collective worship and ask for forgiveness for one's wrongdoings.
Where to Stay:
For a taste of home in Pakistan, the Star Guest House in Karachi offers cozy homestay-like accommodation with a luxurious twist. Close to the airport and major attractions in the city, it's the perfect place to call home during Shab-e-Barat.
Have you sorted your accommodation yet?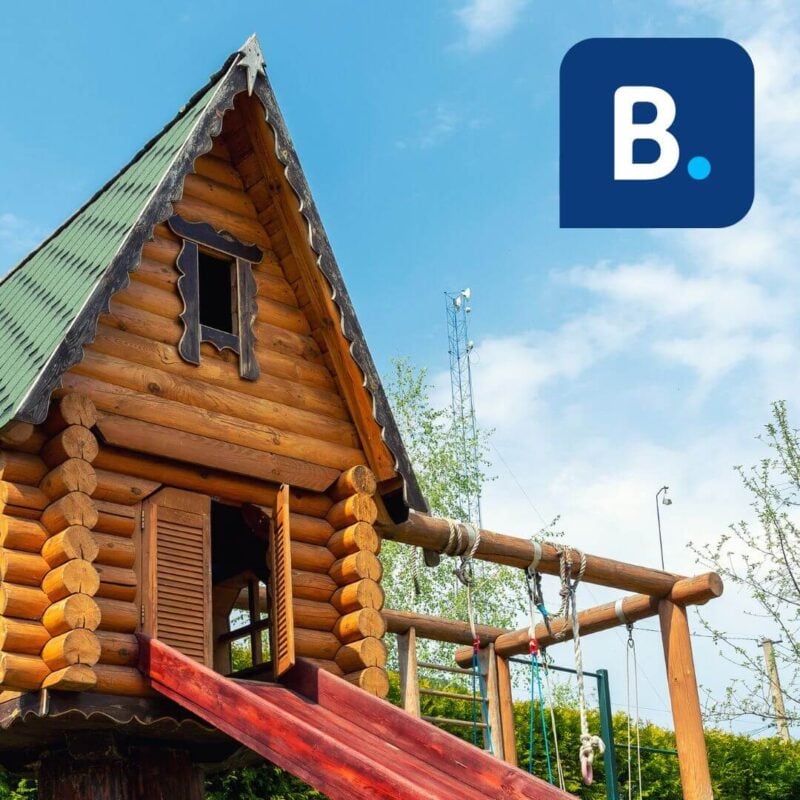 Get 15% OFF when you book through our link — and support the site you love so dearly 😉
Booking.com is quickly becoming our go-to for accommodation. From cheap hostels to stylish homestays and nice hotels, they've got it all!
View on Booking.com
Mela Chiraghan (Festival of Lights)
Mela Chiraghan (translated to the Festival of Lights in English) might just be one of the most incredible festivals to experience when visiting Pakistan. It happens once a year countrywide in March but is most spectacular in the Baghbanpura area in the city of Lahore.
Celebrated over three days, Mela Chiraghan is a time dedicated to the commemoration of the death anniversary of Sha Hussain, the famous Sufi saint, and poet who lived in the city of Lahore in the 16th century.
Most of the festivities take place around the shrine of Madho Lal Hussain, which pays respect to the devoted poet. The three days are filled with dance, music, incense, and oil lamps. One of the most fascinating parts of the festival is the traditional Sufi meditative dance (known as dhamal) paired with live music.
This vibrant and colorful street festival in Pakistan is free to attend and is one of the oldest running celebrations in the subcontinent. The poetry, dancing, and lit-up shrines are an enchanting sight to behold, making this a must-attend event if you're in the country during March.
Where to Stay:
After an exciting night at the Festival of Lights, retreat to this comfortable, modern two-bedroom apartment in the heart of Lahore. The condo has a dedicated bar and is within walking distance of some of the area's top restaurants.
When: April
Where: Islamabad
Founded in 2014, FACE MusicMela was the first music festival ever to be held in Islamabad. Live musical performances with headlining and up-and-coming acts in traditional folk music and classical fusion take to the stage during the event.
However, like most of the music festivals in the country, FACE MusicMela doesn't only revolve around music. In fact, this one includes master workshops hosted by music teachers and leading performers, lectures and Q&A sessions with successful players in the music industry and panel discussions with leading experts from Pakistan.
With an educational focus, the goal of this festival is to empower new artists through workshops and dialogue, offering musicians a space to learn, network, and collaborate.
Attendance of the event grows each year, with the most recent event introducing Pakistan's first-ever international jazz stage, bringing artists from across the globe to the country! The festival runs over two days and is organized by the Pakistan National Council of Arts.
Tickets must be purchased for this Pakistani festival in advance and cost about $5 for one-day access to the main stage only and just under $20 for two-day access to both the main and jazz stage.
Where to Stay:
This ultra-modern penthouse in Islamabad has three bedrooms, a spacious living area, and a massive balcony with river views. It is fitted with everything you could need for a long or short visit, including bicycles, towels, and, most importantly, air conditioning.
Eid-ul-Fitr (Breaking of the Fast)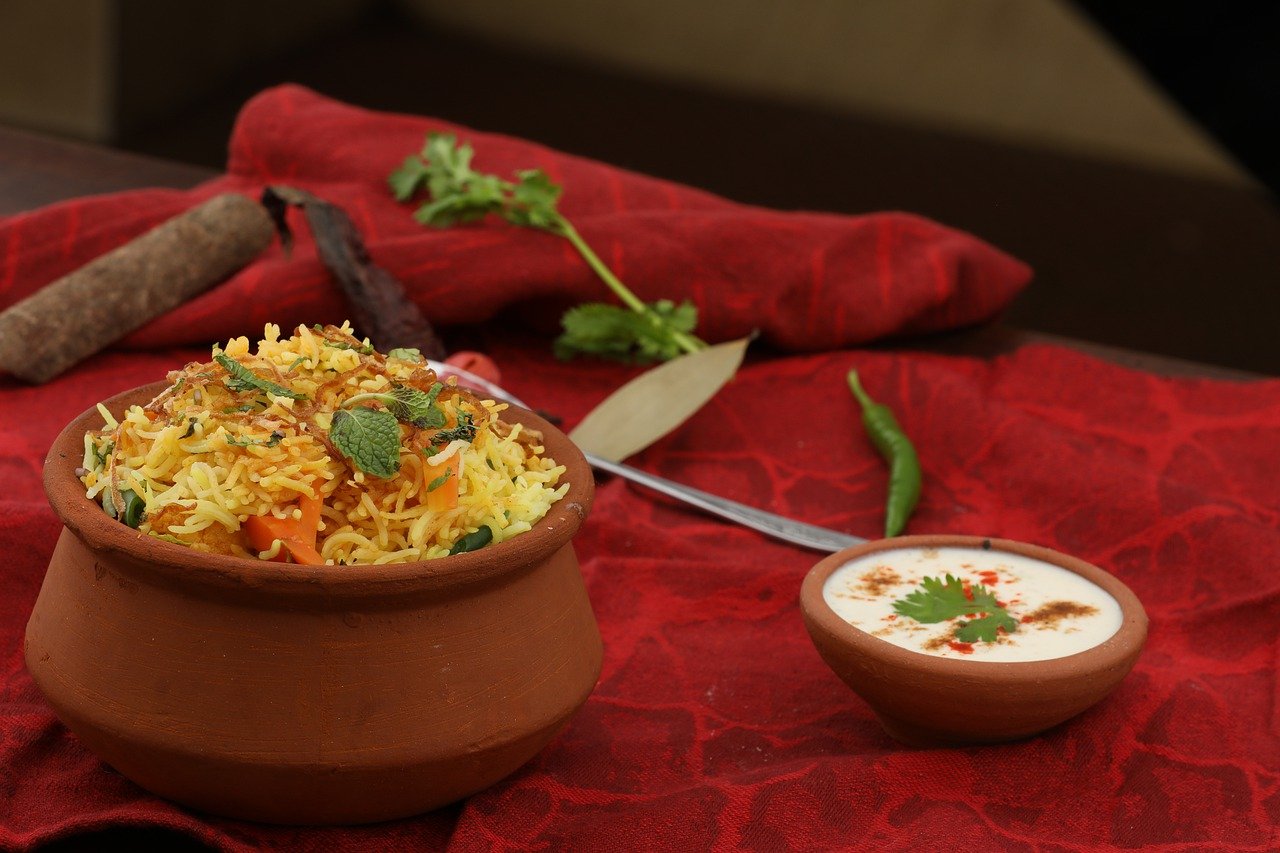 When: May
Where: Islamabad and Countrywide
If there's one celebration you should be familiar with in Pakistan, it's Eid. Celebrated by Muslim communities worldwide, Eid-ul-Fitr is the annual breaking of the fast observed after Ramadan at the beginning of the month of Shawwal.
The entire country (and region, for that matter) breaks into festivities during this time, but Islamabad is undoubtedly the best place to celebrate in Pakistan. The event starts at sunset on the night of the first sighting of the new crescent moon and lasts for three days.
Families say the Eid prayer before celebrating with communal meals overloaded with sweet treats. One of my favorite things about this festival is the obligatory charitable donations (known as Zakat) that all who celebrate have to offer to those in need. This is a great opportunity to try some Pakistani foods that you just won't be able to live without.
Where to Stay:
If you feel like being looked after, spend some time in the Islamabad Regalia Hotel in the heart of the city. The hotel provides 24-hour reception, an on-site restaurant, and spacious accommodations with all the amenities of a luxury hotel.
Is This the Best Daypack EVER???
Shandur Polo Festival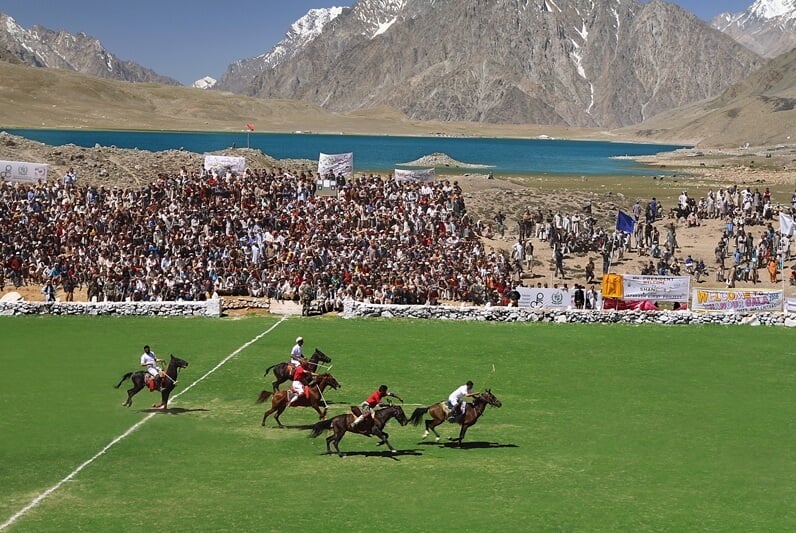 When: August
Where: Shandur Pass
Celebrated at the highest polo grounds in the world, the Shandur Polo Festival in Pakistan takes place in the lush green Shandur Pass in the Hindukush mountains during the month of August. At 3700 meters above sea level, this is the highest-altitude game of polo in the world.
Conveniently, this gorgeous spot attracts many tourists and locals each summer who visit to camp in the beautiful landscape.
During the event, thousands of Pakistanis and foreigners visit the area to enjoy festivities and spectate as the polo teams compete with each other. Not only is this an incredible sporting event to watch, but it's also traditionally celebrated by the Gilgit and Chitral tribes, which makes it just as much a cultural experience as it is a sporting one.
The festival has been held annually since 1936 and offers spectators a chance to watch as players from Gilgit and Chitral battle it out in a festive atmosphere. Other than polo, attendees can enjoy live folk music, dancing, and camping during the three-day event in the mountains.
Where to Stay:
There aren't too many hotels or bed and breakfasts along this pass, so I recommend spending a night in the nearby village of Kalam. This private room in the Stone House Kalam is cozy, comfortable, and spacious and just a short drive to the Main Kalam Bazar.
Pakistan Independence Day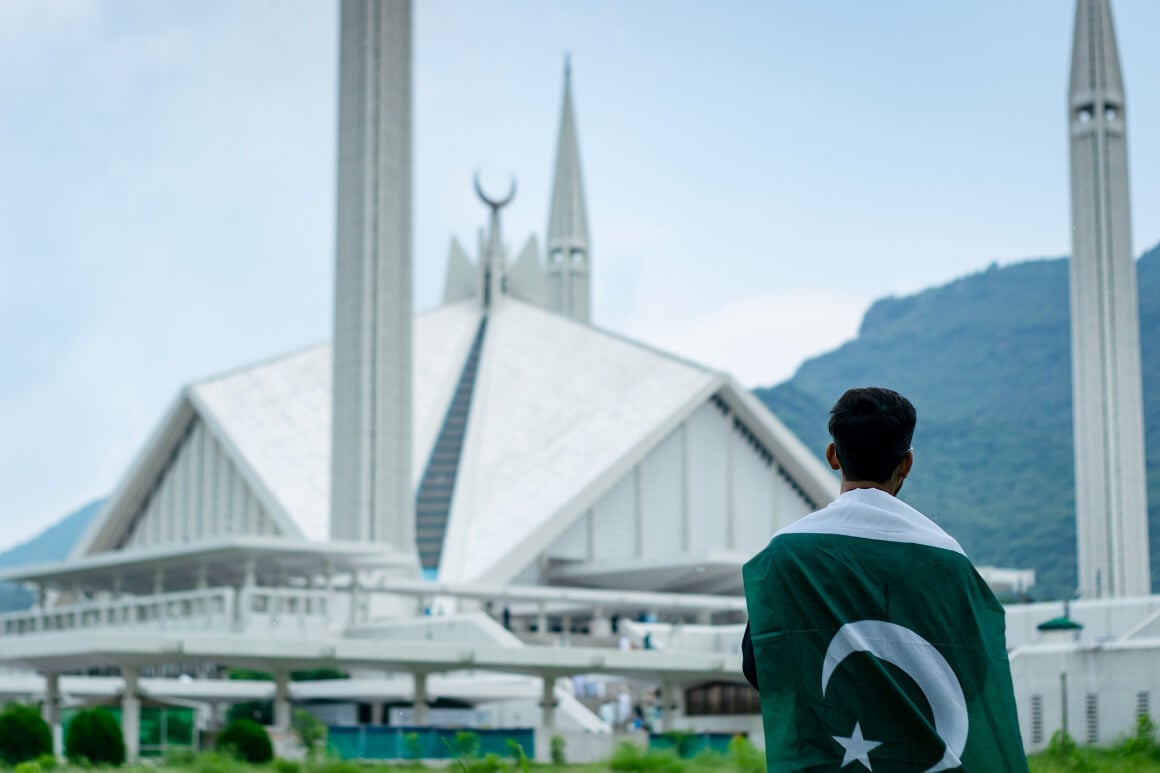 When: August
Where: Lahore
Pakistani people are outright passionate about their gorgeous country, and for good reason. Pakistan's Independence Day (not to be confused with Pakistan Day, commemorating the first constitution) celebrates the nation's independence and patriarchy.
Celebrated on the 14th of August, the entire country turns into a wild street party, which is most exceptional in the big cities. During this Pakistan festival, Lahore's main streets are lined with green lights and flags hanging from just about every building.
Everyone wears the national color of green to celebrate at home and in the streets. If you want to fit in, you'll be able to find all sorts of green and white paraphernalia to wear in the weeks leading up to the event.
Pakistan Independence Day is celebrated with dazzling lights, fireworks, and flags. Lahore is one of the most unique places to experience the festivities, where thousands of motorbikes ride through the main Mall Road, blaring plastic whistles and beeping their motorbike horns.
Where to Stay:
For a super affordable yet perfectly comfortable stay, Jack and Jill Residences provide modern accommodation with a homey touch. Enjoy complimentary snacks and drinks in the heart of one of Lahore's upmarket neighborhoods.
Eid Milad-un-Nabi
When: October
Where: Lahore
Eid Milad-un-Nabi might just be the most decorative of all the festivals on this list. It is celebrated annually to commemorate the birthday of the Prophet Muhammad, the most iconic figure in the Islam religion.
To celebrate this figurehead, Pakistani cities turn into an ocean of light and color, flooded with millions of lights, lanterns, and fireworks displays. Colorful strings of flowers, decorative floral installations, and paper garnishes flow throughout the streets, brightening up just about every building for the entire week leading up to the festival in Pakistan.
Like most Muslim festivals, sweet treats and cakes are baked to celebrate the birthday, along with massive parades and firework displays.
If you're in Pakistan during this festival, this is one of the most spectacular cultural and religious events to attend. Although celebrated countrywide, Lahore's Walled City is the best place to experience the incredible lighting and decorations.
Where to Stay:
Set in the heart of Gulberg (the main commercial area of Lahore), this gorgeous contemporary condo features spacious accommodations with air conditioning and moody lighting and even has a generator-powered elevator.
Final Thoughts
With its music scene on the rise, Pakistan is one of those incredible places where you can enjoy super local music festivals that haven't yet been influenced by the west. I find this one of the most enjoyable things about these events, which can take you deep into the local cultural scene.
Of course, the predominantly Islam country hosts tons of religious and cultural events, from dynamic street celebrations to more serious events marking important dates on the religious calendar. Attending one of these events is one of the best ways to experience and learn about the colorful local cultures of Pakistan.
If I could only attend one festival in Pakistan, I would jump at the opportunity to experience Mela Chiraghan again. There is nothing quite like an incredible light show illuminating a city you aren't yet familiar with.
ALWAYS sort out your backpacker insurance before your trip. There's plenty to choose from in that department, but a good place to start is Safety Wing.
They offer month-to-month payments, no lock-in contracts, and require absolutely no itineraries: that's the exact kind of insurance long-term travellers and digital nomads need.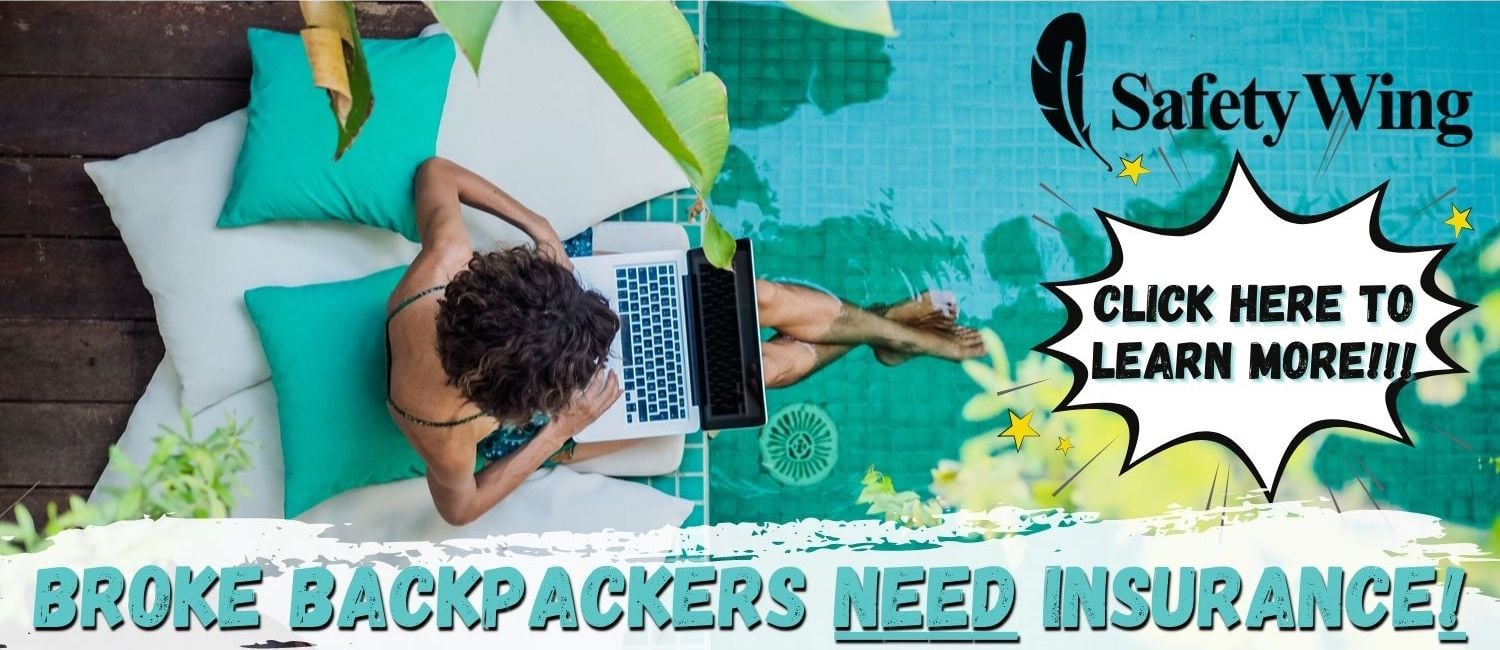 SafetyWing is cheap, easy, and admin-free: just sign up lickety-split so you can get back to it!
Click the button below to learn more about SafetyWing's setup or read our insider review for the full tasty scoop.
---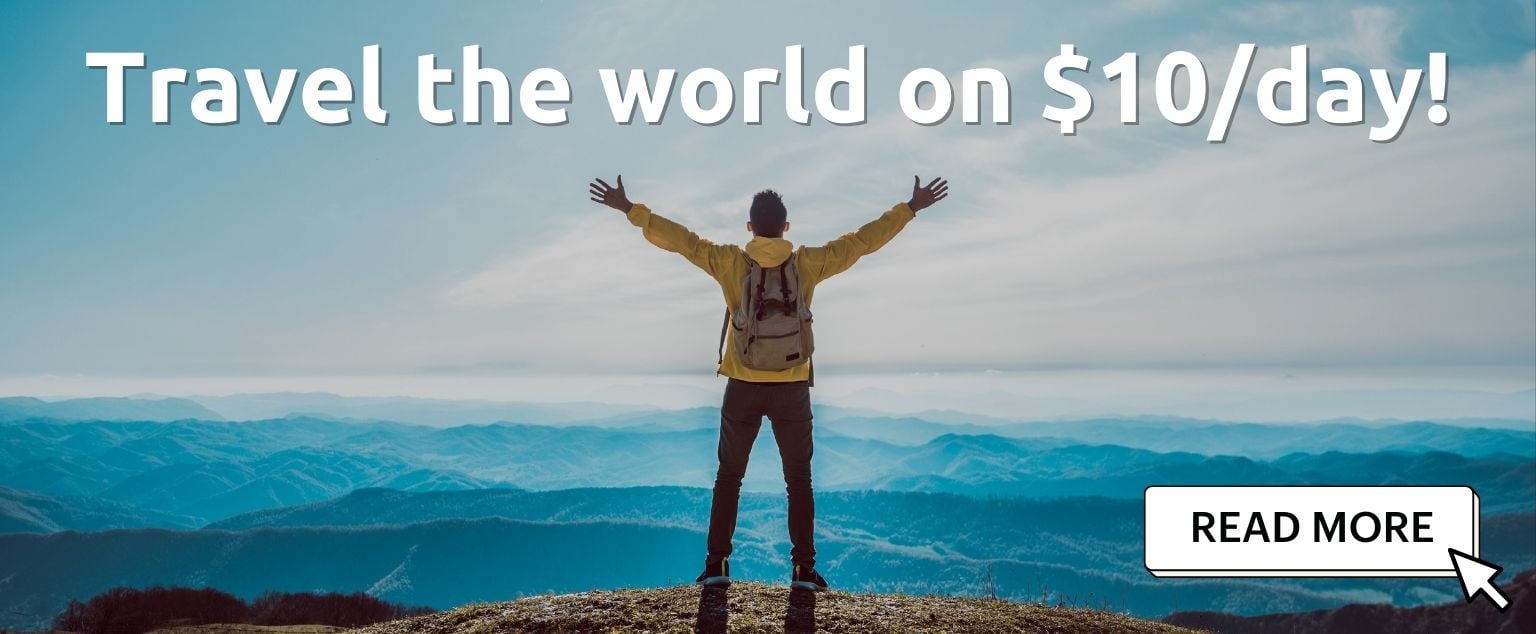 And for transparency's sake, please know that some of the links in our content are affiliate links. That means that if you book your accommodation, buy your gear, or sort your insurance through our link, we earn a small commission (at no extra cost to you). That said, we only link to the gear we trust and never recommend services we don't believe are up to scratch. Again, thank you!