One of the greenest and most compact capitals in Europe, Oslo is a great destination for those who want to enjoy citylife and nature side by side.
As well as several green spaces within the city limits, you have huge forests and fjords on the doorstep. Oslo also has world-class culinary and nightlife scenes. What more could you want?
There's just one downside to Oslo: it's really expensive! Instead of splashing out hundreds of krone on a fancy hotel, look at vacation rentals in Oslo. These are a great way to get good value for money, without sacrificing comfort or location.
In this post, we'll take a look at the best Airbnbs in Oslo. Not only that, but we'll show you some of the stuff you can do while you're in the Norwegian capital with Airbnb Experiences. Ready? Let's check it out!
Quick Answer: These are the Top 15 Airbnbs in Oslo
Overall Best Value Airbnb in Oslo
Overall Best Value Airbnb in Oslo
Central Modern and Cosy Studio
> $
> Two Guests
> Great location
> Fully equipped kitchen
Best Budget Airbnb in Oslo
Best Budget Airbnb in Oslo
Cosy Riverside Apartment
> $
> Two Guests
> Free parking
> Private living room
Best Airbnb for Couples in Oslo
Best Airbnb for Couples in Oslo
Cozy Apartment in Frogner
> $
> Two Guests
> Queen bed
> Shared rooftop terrace
Best Airbnb for Families in Oslo
Best Airbnb for Families in Oslo
Modern Seaside Apartment
> $$$$
> Seven Guests
> Fully equipped kitchen
> Bunk beds
Over-the-Top Luxury Airbnb in Oslo
Over-the-Top Luxury Airbnb in Oslo
City Centre Penthouse with Jacuzzi
> $$$$$$$$
> Six Guests
> Rooftop Oasis Dome
> 360-degree views of the city

Unlock Our GREATEST Travel Secrets!
Sign up for our newsletter and get the best travel tips delivered right to your inbox.
What to Expect from Airbnbs in Oslo
What to expect from an Oslo Airbnb really does depend on your budget. At the lower end of the scale, you'll be looking at private rooms in local's homes or small studio apartments, but if you're willing to be flexible with your budget, the sky really is the limit. Even if you're backpacking Norway on a very low budget, you'll still find a charming place to rest your head!
You could be getting a penthouse with a roof terrace and epic views or even a yacht! No matter what your budget is, you can be assured of cutting edge Scandinavian design in your Airbnb – a minimalist approach making the most of space and light.
The more expensive Airbnbs in Oslo are more likely to be managed by a company than a local host. Don't worry, though; they'll still be able to give you the best advice on what to do and see in Oslo!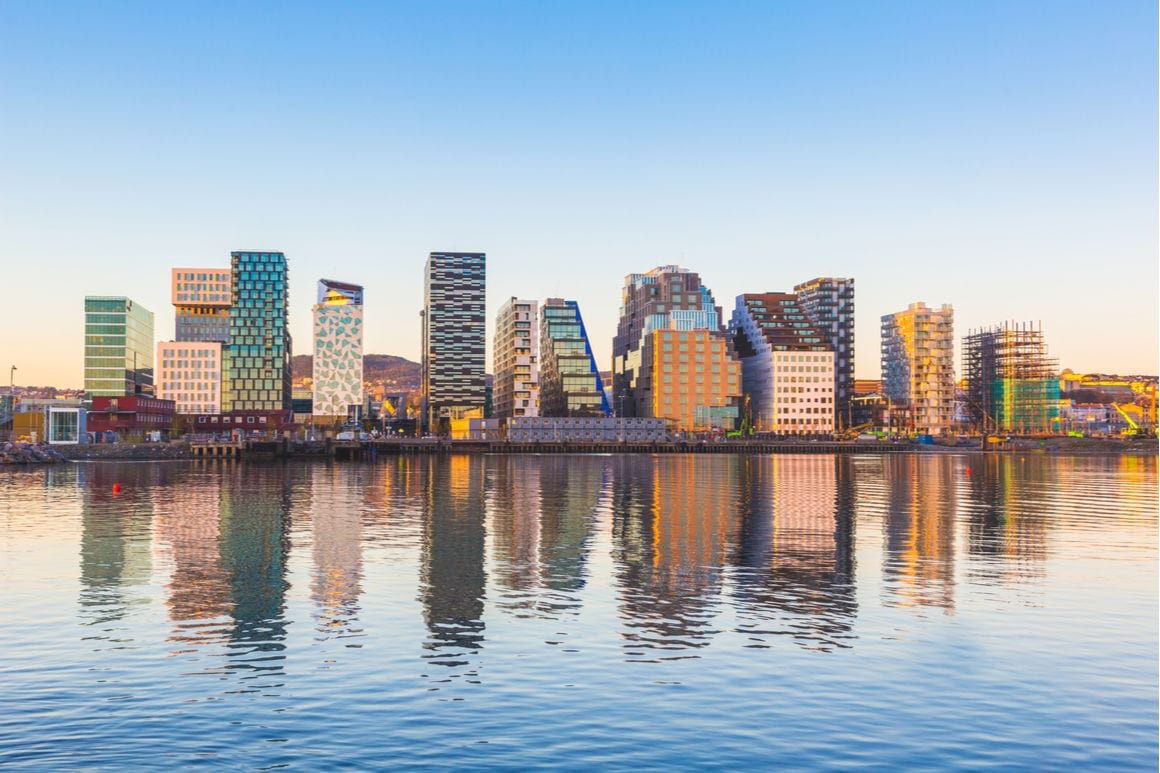 Loft
More exclusive and often pricier than an entire flat, loft apartments are always found above the first floor of an apartment block. More often than not, they'll be on the top floor of a building. That high position can often lead to a cool roof terrace, or at least a balcony where you can make the most of city views.
Loft apartments usually have essential amenities like fully equipped kitchens and comfortable living spaces. Often, but not always, they're studio apartments. They're suitable for smaller parties such as couples and small groups of friends and family. However, there are a few larger loft apartments if you're travelling in a big group!
The majority of Oslo's lofts are found in the city centre, in districts such as Sentrum, Grünerløkka, and Sofienberg.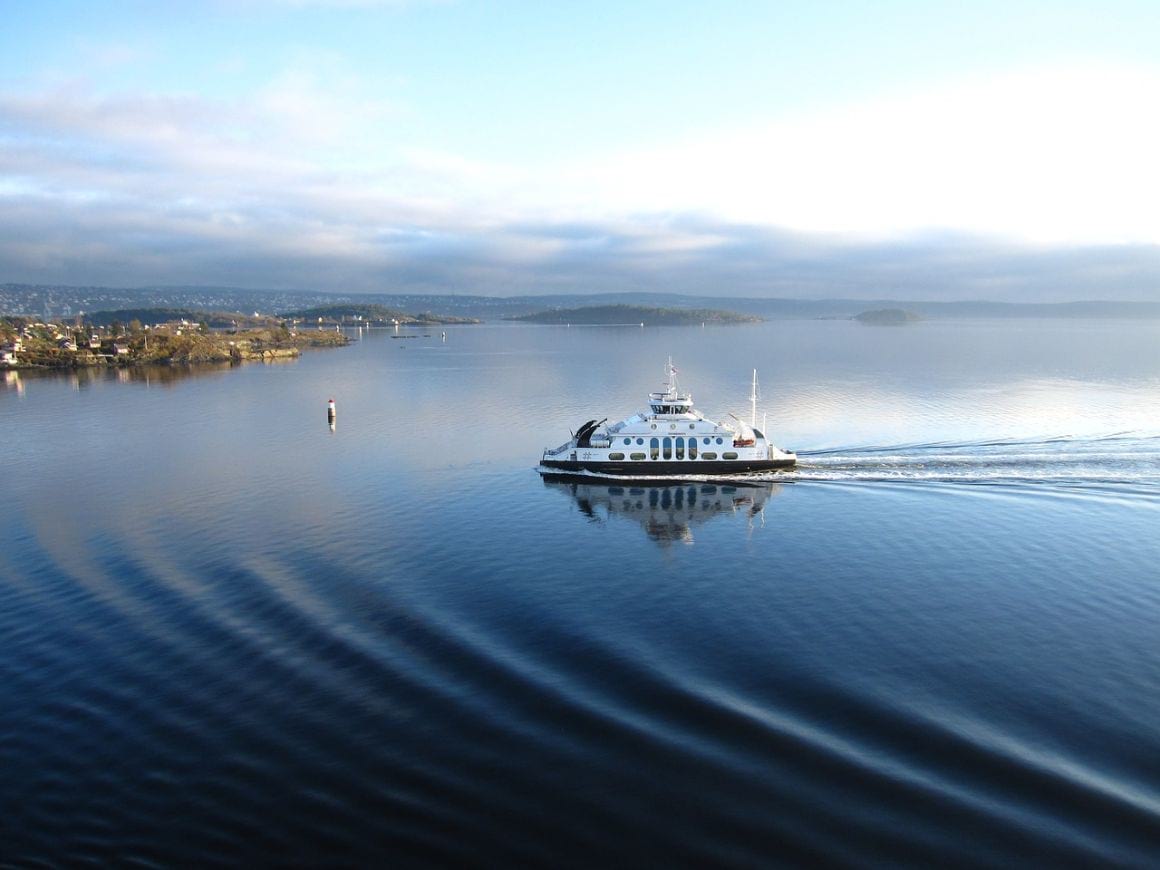 Townhouse
If you're travelling in a larger group, a townhouse might be the best option for you. Often set over multiple stories, they offer a real home away from home. And you can expect all the mod cons of your own house, such as a fully equipped kitchen, living area, and multiple bedrooms. In some areas, you'll even get a garden!
An especially good option for families, townhouses are often situated in residential areas, though you will be able to find a handful in the centre, too. If you're a solo traveller or couple on a budget, there's no need to rule out a townhouse. If you can't justify the space or price of an entire home, many offer a private room so you can experience Oslo's suburban scene.
Boat
Oslo is right on the edge of the Oslofjord, and yes, it is possible to experience the city from the water! If you're looking for a memorable and unique trip to the Norwegian capital, staying on a boat is in order.
There's a small selection of boats where you can stay in Oslo Marina, covering a huge range of budgets. If you're happy to book a private or shared room on a boat, you'll be looking at not much more than a budget hotel or hostel price.
However, if you want to treat yourself to a luxury experience aboard a yacht, you're looking at thousands of euros a night (even more in krone)! But if you've got it, why not?!
Why Stay in an Airbnb
Still not convinced a vacation rental is the best option for you? Here are five of the top reasons to use Airbnb – that should help you make your mind up!
Local Experience: With the guidance of a local host, you can forget about TripAdvisor and guide books. They can tell you all the best places to go in town.
Unique Properties: As you're about to see, you'll find some truly unique properties on Airbnb. From yachts to penthouses, you won't believe your eyes!
Affordability: Put an Airbnb next to an equally priced hotel room, and there's only one winner when it comes to value for money. And no, it's not the hotel.
Safety: With a rating system that vets both guest and host, both can sleep easy at night knowing they're safe. Airbnb Customer Support is on hand 24/7 too, though it's unlikely you'll need to call.
Airbnb Experiences: Airbnb offers more than just great places to stay. Its experiences platform is the perfect way to see your destination with a local host.
The 15 Top Airbnbs in Oslo
Now that we've told you all about what you can get and why you should stay in an Airbnb, let's get to the exciting part. Here are the 15 best Airbnbs in Indianapolis. Which one is your favourite?! 
Two Guests
Fully equipped kitchen
Ideally suited to a couple or solo traveller, this cheap and cheerful apartment has an awesome location in the city centre. Because it can be expensive to eat out in Oslo, it's good to know there's a fully equipped kitchen where you can make your favourite meals after a trip to the nearby supermarket. There's also a flat-screen TV and Wi-Fi, perfect for a lazy night in after a busy day exploring the capital.
This studio apartment is ideal for a solo traveller or couple visiting Oslo. Its location in Sentrum means it's perfectly positioned to access all the city's attractions. Its fully equipped kitchen means you can save money on eating out, too.
Two Guests
Private living room
Oslo is a lot of things, but cheap isn't one of them. That's why it's so important to keep your eyes peeled for awesome places like this. As well as your own private bedroom, you'll have a living room to yourself! Located in Grünerløkka, it's an ideal base for exploring the sights of the city. If you're on a road trip through Norway and stopping over in Oslo you'll be happy to hear that there's room for your car at no extra cost.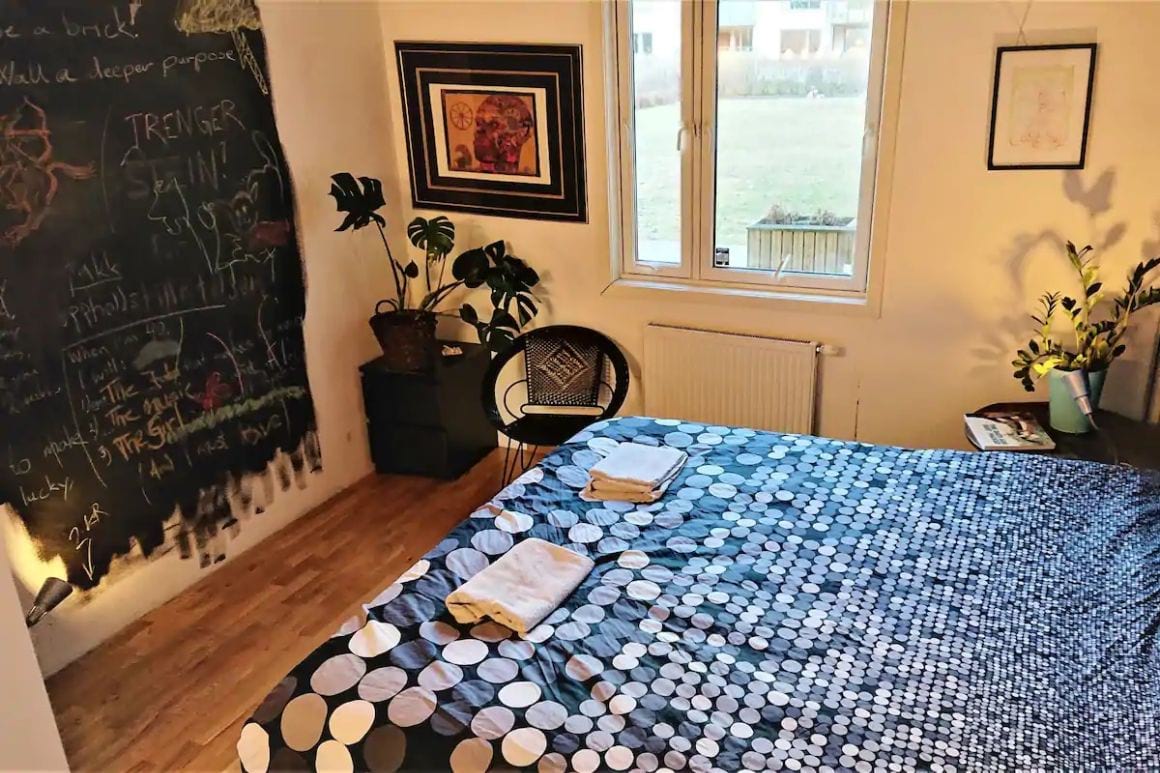 $
Backyard with hammock and BBQ
Solo traveller heading for Oslo? A homestay is a great option as it gives you the chance to manage your budget while meeting local people. Not only will you get recommendations on what to see and do, but at this cool apartment, there's a sunny and sociable courtyard where you can meet other Oslovians. Prefer some time alone? Chill on the backyard hammock.
Is This the Best Travel Pack EVER???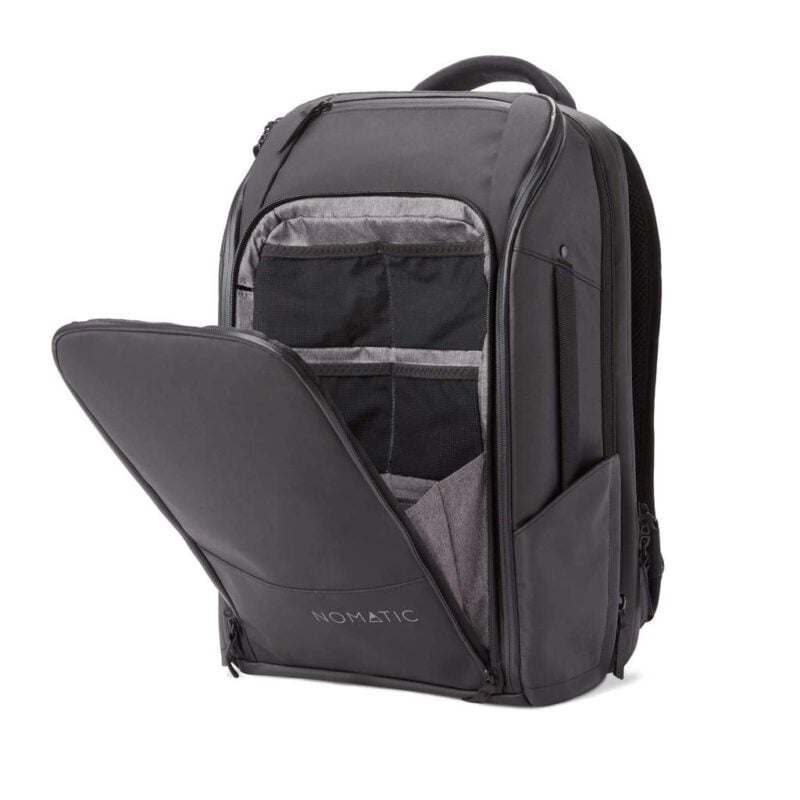 Two Guests
Shared rooftop terrace
Boasting a queen bed, this is the ideal love nest for a couple travelling to Oslo. And it won't break the bank! The studio apartment is in Frogner, just minutes away from the National Theatre and train station. You'll get a flatscreen TV, workspace, and fully equipped kitchen. The shared rooftop terrace is perfect for a romantic evening watching the sunset with your other half.
$$$$
Fully equipped kitchen
This cool and charming apartment is perfect for families visiting Oslo, no matter their age. There's space for up to seven guests across three bedrooms. There are even bunks, which younger kids are sure to love! Since eating out is so pricey, prepare a family favourite in the fully equipped kitchen and enjoy it at the dining table or out on the balcony if the weather's good. There's a huge sofa that can fit everyone should you fancy a movie night, too!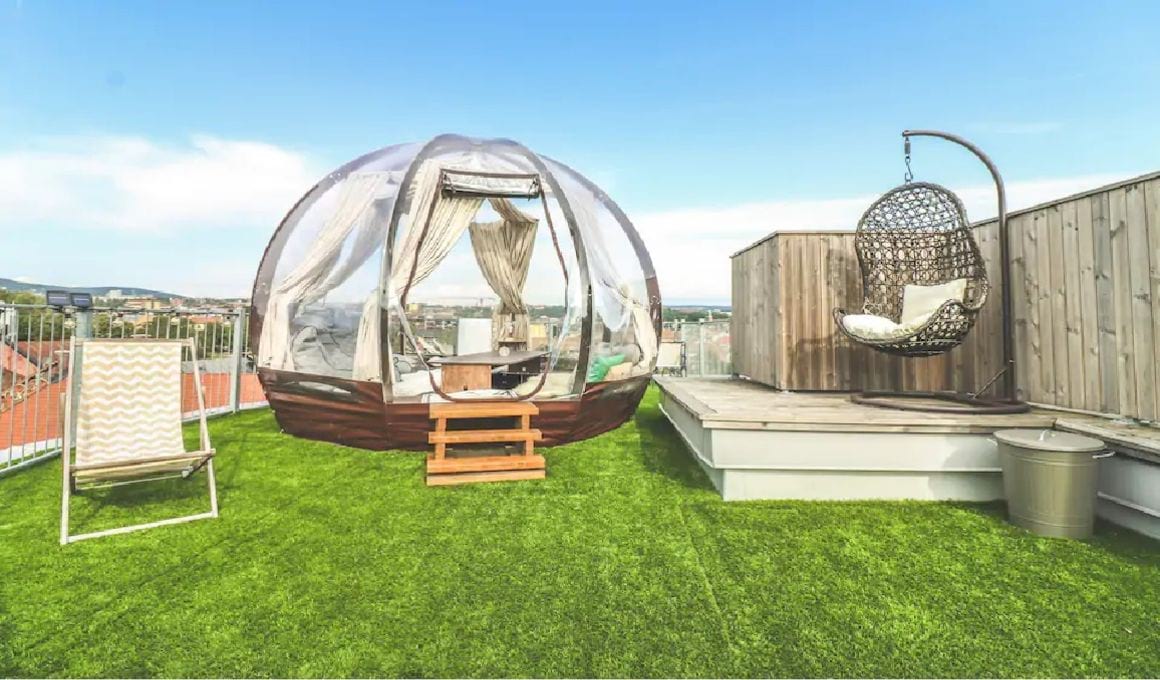 $$$$$$$$
Rooftop Oasis Dome
Six Guests
360-degree views of the city
If money's no object and you want an absolute showstopper of an Oslo Airbnb, you just found it. While you could sleep in the penthouse, we imagine you'd prefer to cosy up in that rooftop dome house under the stars. There's a hot tub too, which will keep you warm even on the coolest nights. The biggest danger in staying here is you'll spend so much time up on the roof, you'll forget to go out into Oslo itself!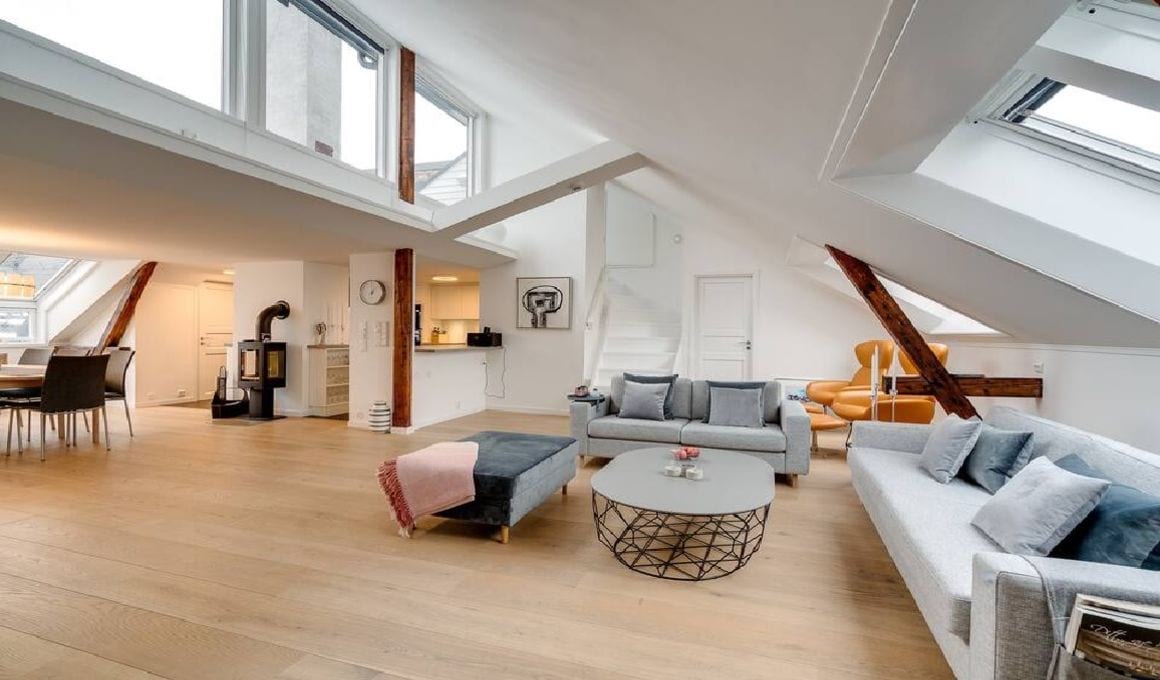 Seven Guests
Lots of light
This Oslo loft just screams Scandi-style. Everything is in its right place, there's loads of space, and even more light. But it's not all about aesthetics. This loft has a truckload of amenities that will make your stay sublime. King and queen beds throughout, a beautiful roof terrace, and a fully equipped kitchen all complement the awesome location in Aker Brygge. Though it's pricey, it's worth every krone!
Five Guests
Kids' bedrooms
Want a warm and welcoming townhouse as your home away from home in Oslo? If you're a family of up to five, look no further. There are dedicated kids' bedrooms here, as well as a lovely living area and a fully equipped kitchen. If the weather permits, enjoy dinner around the table in the garden – and parents can enjoy the hot tub once the kids are safely tucked up in bed!
$$$$$$$$$$
Exclusive fjord cruise included
Eight Guests
Central location
One of the most extravagant Airbnbs in Oslo, this luxury yacht is by far the most expensive property on the list. For a four-figure sum (and we're not talking in krone), you'll get a yacht in the harbour with four bathrooms and bedrooms. You'll get a two-hour cruise in Oslofjord included in your stay, so don't miss this if you want a guided tour of Oslo's most magnificent natural wonder!
Two Guests
Maps and guide books
This quirky home bay not be everyone's cup of tea, but it'd perfectly suit a digital nomad looking for a dedicated workspace and fast Wi-Fi. You'll be sharing with a local host, and you may use their kitchen, living room, and backyard with BBQ should you choose to. When you've finished your work for the day, all the city's top attractions are on your doorstep as you're in the Majorstuen neighbourhood.
$$$$$$
Rooftop swimming pool
Want to cool off from Oslo's summer sunshine? A pool is just what you need. Even better if it's on a rooftop like this one! In the heart of Aker Brygge, there a whole host of restaurants and museums a stone's throw away. The beautifully furnished apartment comes with a tastefully decorated living space, dining area, and fully equipped kitchen. Free parking is available for drivers!
Best Airbnb for a Weekend in Oslo | BARCODE OSLO
Four Guests
5th floor balcony
If you're staying for a weekend in Oslo, the most important thing is location, as you probably won't be spending a whole lot of time in the apartment! A short walk from the Akershus Fortress and Opera House, this is also good if you're planning day trips: the train station is on your doorstep. No matter what time you return, you'll be welcomed by a comfy apartment with a 5th-floor balcony and a pull-down movie screen.
Best Airbnb in Oslo for a Group of Friends | Urban Two Story Loft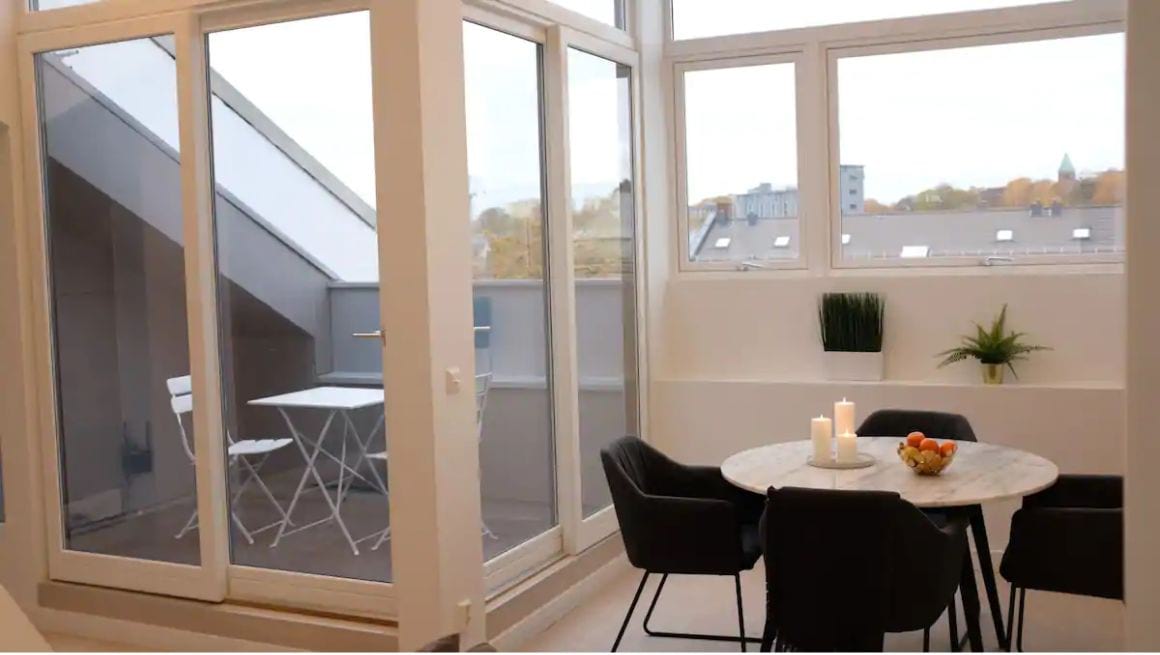 Five Guests
Great location
With both indoor and outdoor spaces where you can spend quality time with your friends, this two-storey loft in Grünerløkka is ideal. There are four beds too, so no uncomfortable topping and tailing. If you're the first one up, prepare a morning coffee in the fully equipped kitchen and head out to the balcony to soak up the city atmosphere. We love it!
Four Guests
Indoor fireplace
Airbnb Plus properties have been hand-picked thanks to their attentive hosts, super-high review scores, and even an inspection by Airbnb itself. This one passed with flying colours and is perfect for up to four guests. The spacious balcony is a great spot for breakfast and people-watching over the street below. If the weather's too cold for that, light up the fire and get cosy in the living room.
Lots of Oslo Airbnbs have terraces, but other buildings often obstruct the views. Not the case here: you'll be able to see right out into the stunning Oslofjord. Whether you do that from your comfortable private balcony or the communal terrace packed with greenery, is up to you. There's free coffee and tea in the apartment, so enjoy that with the view.
Top 5 Experiences in Oslo
Now that you have an idea of where to stay in Oslo, let's look at what to do when you're there. Yes, you could just follow the best things to do according to your guidebook, but where's the fun in that?
Airbnb Experiences offer a new and fun way to see your destination. Curated by locals, they could be anything from a cooking class or a history tour to a hike out in nature. And trust us, you'll want to get out into the forests and fjords that surround the Norwegian capital!
Here are five of the best Airbnb Experiences in Oslo. It's over to you to decide which one you're going to do first!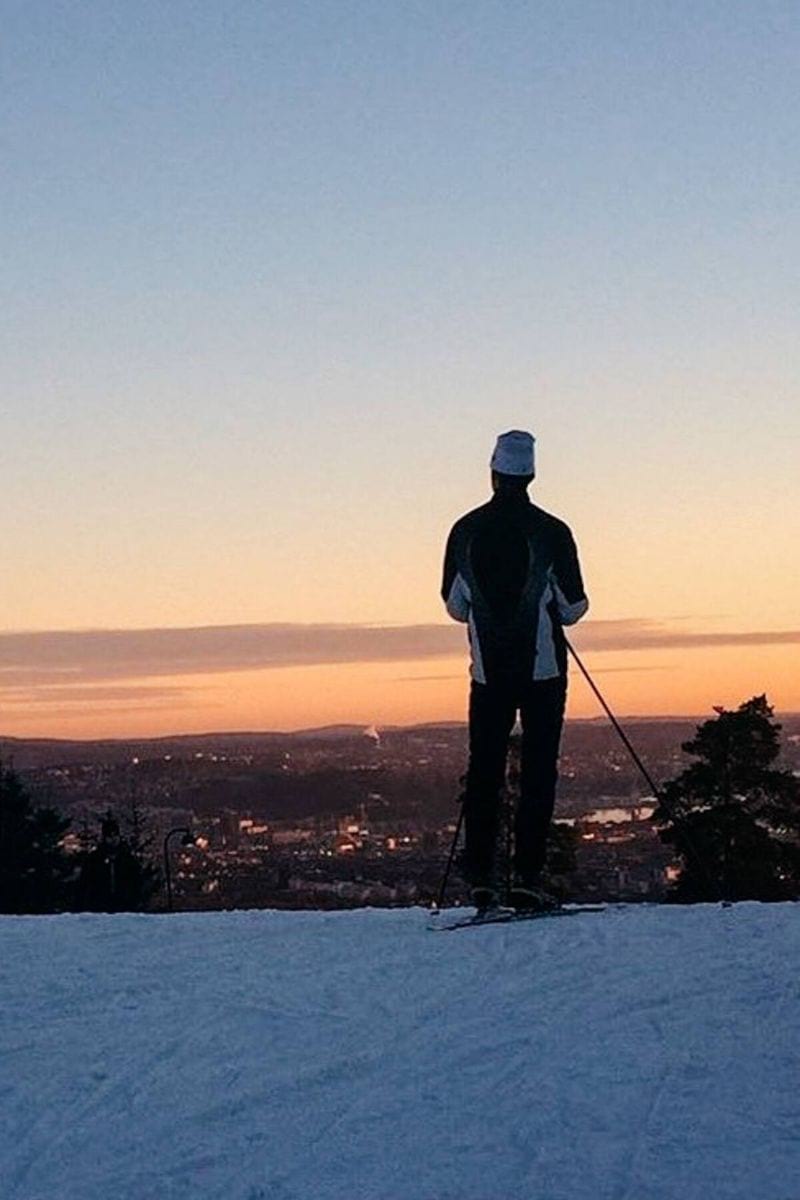 €78/person
3.5 hours
Up to 7 Guests
During winter, you won't find many Norwegians who don't indulge in some cross country skiing. This is your chance to see what it's all about. A three-hour night-time session will give you a new perspective on the city and a respect for Norwegian nature. Be aware that you need to have a moderate level of fitness to take part in this. Don't worry if you're new to skiing; your host can adjust the route to match your experience.
€134/person
6.5 hour
Up to 10 Guests
Nordmarka is the closest forest to Oslo, and it's ideal if you fancy an escape from the hustle and bustle of the capital one day. As part of a small group, you'll hike through the forest in the hope of seeing wildlife like fox, moose, deer, and eagles. There's also a lunch stop, but bring snacks and water to keep your energy levels up.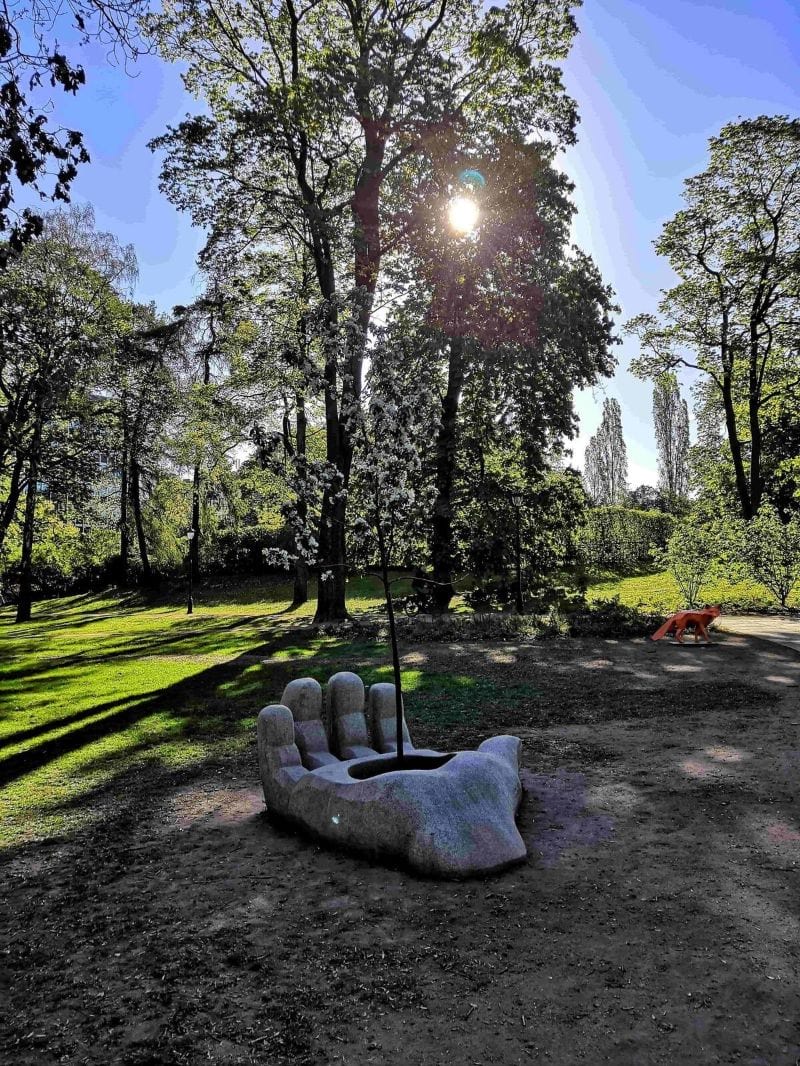 €62/person
3.5 hours
Up to 10 Guests
Want to know more about how Oslo became one of the world's most sustainable and environmentally friendly capitals? This is the tour for you. Suitable for children, families, and those using wheelchairs, you'll see the city's coolest attractions, including the Opera House, ruins of Old Oslo, and the Akerselva River.
€102/person
3.5 hours
Up to 8 Guests
It's fair to say Norwegian cuisine isn't hugely popular outside of Scandinavia, but after this tour, you'll be wondering why. Stopping off at legendary restaurants and a vintage food hall, you'll try delicacies such as brown cheese (trust us, it's amazing), exotic meats, and the Viking shot of Aquavit.
€90/person
3 hours
Up to 10 Guests
Oslo boasts several microbreweries, and this Airbnb Experience is an opportunity to learn more about them. You'll taste local and seasonal Norwegian beers with some snacks on the side. Don't expect to get hammered on this tour; it's much more of a chance to tickle your taste buds and learn more about the brewing process.
Don't Forget Your Oslo Travel Insurance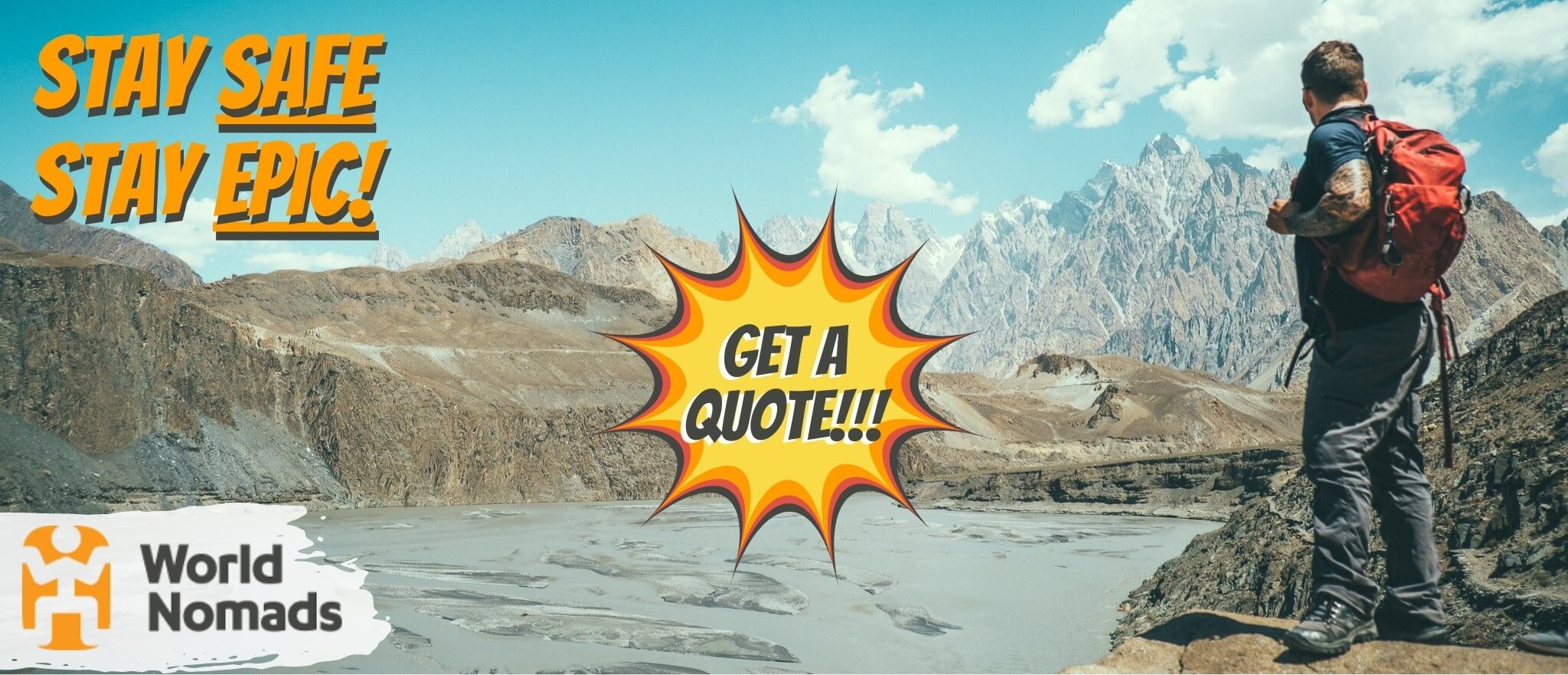 World Nomads' mission is to support and encourage travellers to explore their boundaries. They offer simple & flexible travel insurance, and safety advice to help you travel confidently.
They've been doing it since 2002 – protecting, connecting, and inspiring independent travellers just like you.
Get a quote below or read our in-depth review!
Final Thoughts on Oslo Airbnbs
Well, there you have it. Not only have you seen the 15 best Airbnbs in Oslo, but five awesome Airbnb Experiences.
Whether you want to stay in a penthouse with a jacuzzi, a cool flat overlooking the city's opera house and harbour, or simply want a way to make your krone go further, there's an Airbnb in Oslo for you!
If you're still struggling to decide which is the best Airbnb in Oslo for you, just go for our overall favourite. That's the Central Modern and Cosy Studio. It's in a great location and it's got that irresistible Nordic interior design!
We hope that wherever you choose to stay, you have a fantastic vacation. To make sure it's also safe, be sure to take out a travel insurance policy with World Nomads!
---
Bye for now, but not forever!
If you want MORE top-tier Broke Backpacker content like this, then sign up for our weekly newsletter below to get the latest and greatest!
And for transparency's sake, please know that some of the links in our content are affiliate links. That means that if you book your accommodation, buy your gear, or sort your insurance through our link, we earn a small commission (at no extra cost to you). That said, we only link to the gear we trust and never recommend services we don't believe are up to scratch. Again, thank you!