The world of action cameras used to just be dominated by the GoPro. It was for some time all about the GoPro. Notice "was". There are some killer action cameras coming up – and at a fraction of the price of the expensive GoPro, they're making waves.
Case in point: the Akaso V50 Pro. This action camera from Akaso offers up good quality and won't break the bank.
Whether or not it's worth it, though, is another issue. In our epic Akaso V50 Pro review, we're going to be looking at just about everything, the details, the features, the good and the bad, and asking the question: is this the best action camera for travelling?
Should you take the plunge and see if buying the Akaso V50 Pro is worth it whether you're always travelling or just big on cycling? Read on and see what we've got to say about this neat bit of kit.
So, let's crack on with this Akaso v50 review!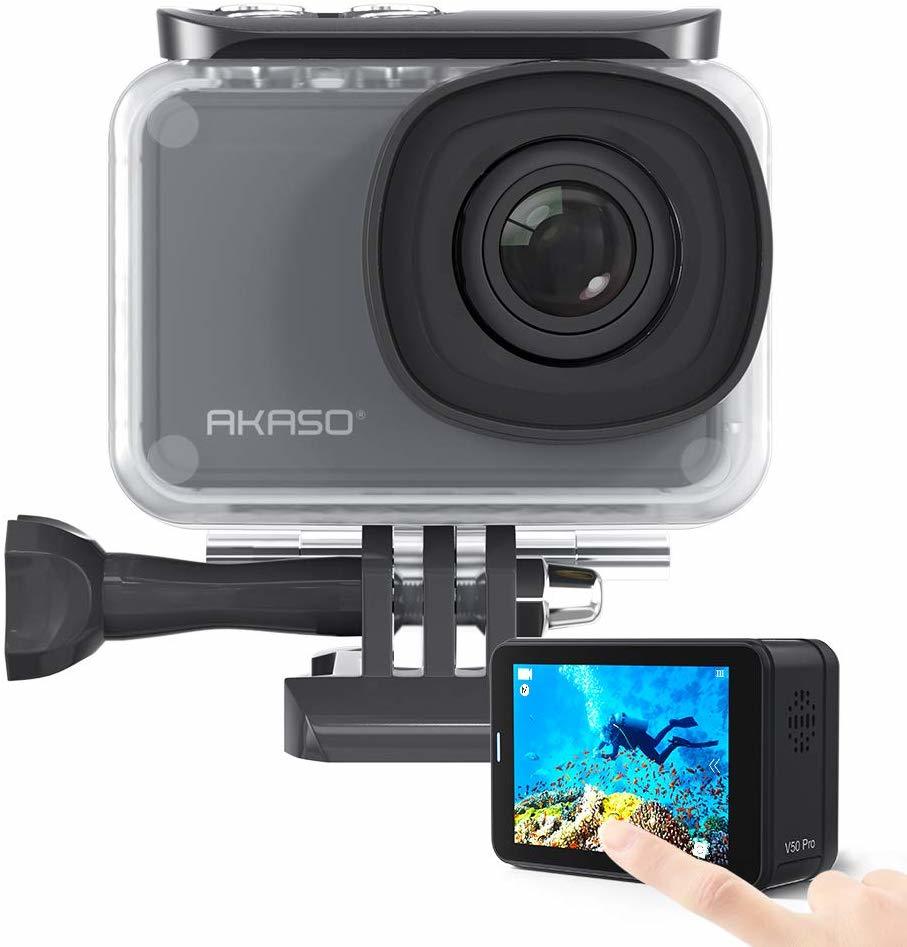 Akaso v50 Pro review: Key Specs of the Akaso v50 Pro
Size: 2.4 x 0.9 x 1.6"
Weight: 2.88oz
Working Temperature: 23°F / -5°C to 113°F / 45°C
Video: 4k video recording
Photo: 20MP
Screen: Adjustable 2 inch touch screen
Waterproof: Of course!
Electronic Image Stabilization: Yes!
Wi-Fi & HDMI Output: Also yes!
Winter is coming… WARM UP!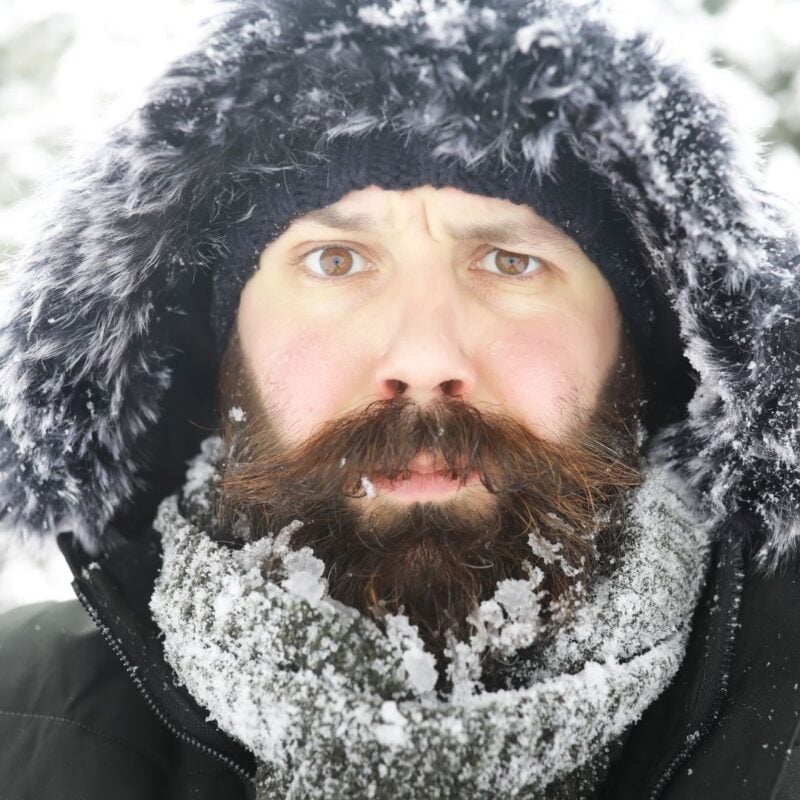 Get up to 50% OFF when shopping gear for the winter on REI.
Warm up for the holidays and SAVE on outdoor gifts all the way through Dec 18!
View on REI
Akaso v50 Pro vs GoPro: Can't Beat The Real Thing?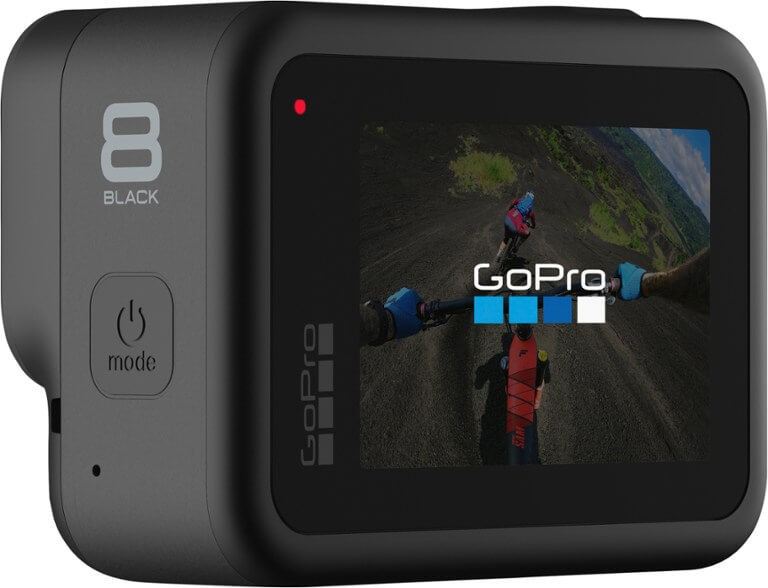 Of course, you can't do an action cam review without asking the golden question really. So, let's look at the Akaso v50 elite vs GoPro.
Let's be honest here, this GoPro alternative is a GREAT products. BUT you really cannot beat the real thing. Just like with Coca Cola, the original GoPro is still the best and if you can stretch to it and find the extra bucks, may be a sound investment. A proper GoPro will serve you good for miles and miles and years and years of adventuring. But, the v50 Pro has its place. So let's take a closer look.
The best present of all… is CONVENIENCE!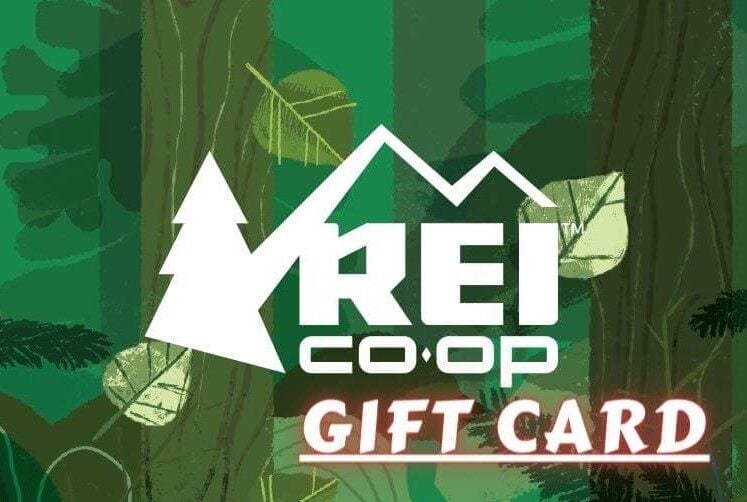 Now, you could spend a fat chunk of $$$ on the WRONG present for someone. Wrong size hiking boots, wrong fit backpack, wrong shape sleeping bag… As any adventurer will tell you, gear is a personal choice.
So give the adventurer in your life the gift of convenience: buy them an REI Co-op gift card! REI is The Broke Backpacker's retailer of choice for ALL things outdoors, and an REI gift card is the perfect present you can buy from them. And then you won't have to keep the receipt. 😉
Buy on REI!
Video Quality
The Akaso V50 Pro is all about action. No matter where you want to use it (even underwater, guys), you'll be able to capture that key element of travel: movement. And the results are pretty stunning. The clear and crisp 30 frames-per-second capture means you'll get smoothness to the footage you shoot. Decent quality.
To add to the 4K quality of the videos, there's also built-in image stabilisation. There is a teeny, tiny bit of warping at the edges of whatever you shoot, but the end result is worth it. But if you want to drop it all down to 120fps slow motion, you can totally do that; there's less detail, but the actual quality of the motion is awesome on the Akaso v50.
Dropping it to 1080p (instead of the illustrious 4K), you do lose a lot more quality than we'd expect. The whole depth of the images sort of crumbles. So unless you're really strapped for space for whatever reason, keeping it at 4K, unless you're capturing slow-mo, is the way to go.
Basically, since it's an action camera, photos are secondary to the video credentials of the Akaso V50 Pro. And for what is basically a little box, it does damn well.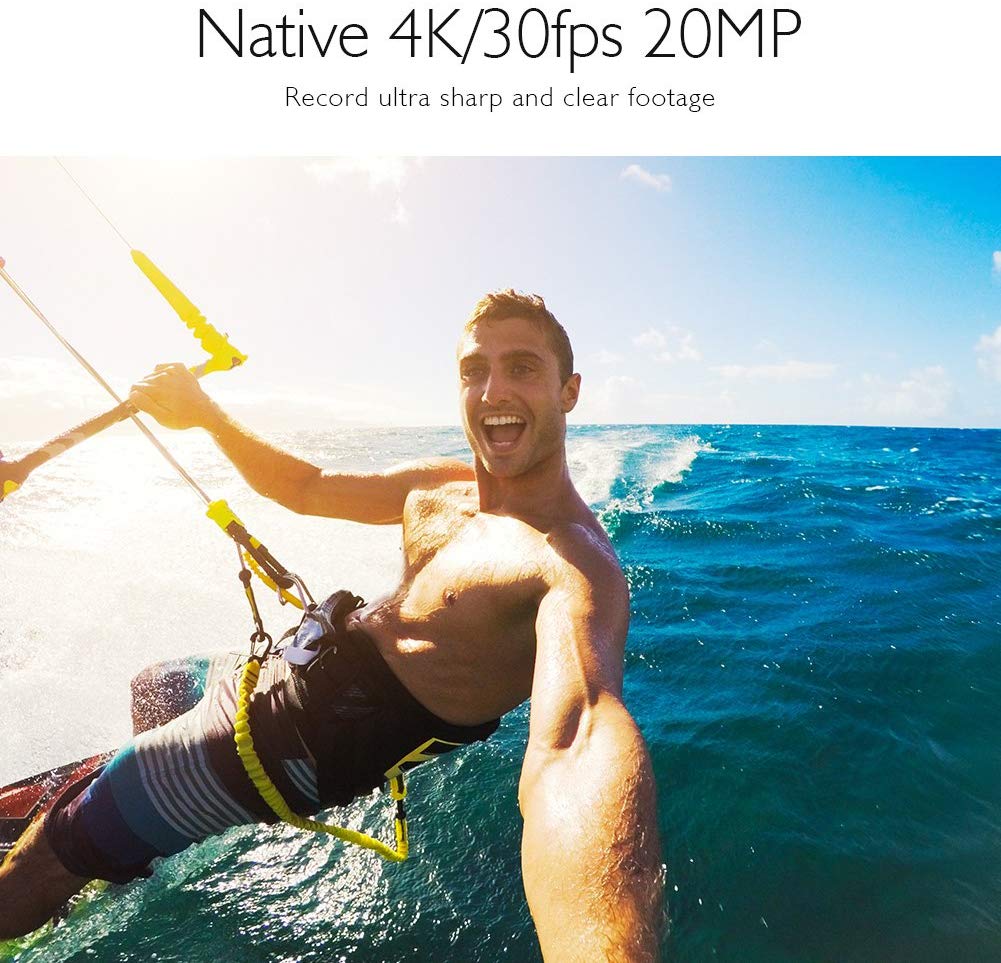 Features and Capabilities
If you're an action camera these days, and you don't offer a touch screen, what are you doing? This is crucial nowadays, and the touchscreen on this baby is LCD IPS – meaning you get to see pretty much exactly what the camera sees. The resolution is 320 x 240px, which isn't unreal, but definitely does the job.
The high-response touch screen side of things means it's not a great leap from using your phone to using Akaso's V50 Pro (pinch to zoom out, etc.). It's simple; the interface that pops up is straightforward and means you can easily take control of what's going on in front of you.
If you're using it underwater, and it's in a waterproof case, the touchscreen becomes useless. Buttons on top become the way to use this thing, so if you'll be submerging yourself on the regular bear that in mind.
As we mentioned at the start of this Akaso V50 Pro review: yes, you can take this thing underwater and shoot submarine worlds to your heart's content. No, you won't be able to use the touchscreen, but it does come with a specialised underwater housing. It works well, getting it in and out isn't a hassle, there are no leaks, but there's a spare back door just in case anything goes wrong.
It's good for depths of up to 30 metres and with that video quality, it's pretty much perfect for filming underwater life. One of the best things about using the V50 Pro underwater is the Red Filter Setting. No more cold, primarily blue underwater films: now you get to see all the colours beneath the waves in all their glory.
Still, underwater photos are great too. A neat feature is also being able to hear the "beep" at the start of recording; nothing worse than thinking you've been recording some amazing footage at some once-in-a-lifetime dive spot only to be back on dry land and see that you accidentally missed every single thing.
We like to film things like road trips through moon-like landscapes, or rattling train rides through mountains and jungle. A lot of the time, these aren't smooth rides at all. They're the opposite: they're bumpy, they can be uncomfortable, but the scenery makes it all worth it. Thing is though, a lot of so-called "action" cameras completely crumble in these situations.
And we're talking especially in this price range. What you think you are capturing ends up being a mess of jogging images and vibrations that make it look like you're having the worst time ever. The image stabilisation on the Akaso V50 Pro is arguably one of the best features. Simply switch it on from the touch screen and be amazed by smooth, non-horrific footage.
Think that will compromise on the quality of the picture itself? Not at all. You can stabilise those images all you like, on all film qualities available (that's up to 4K), and with that 40fps going on for smooth, smooth videos. A lot of bang for your buck with this feature alone.
Sound Quality
The sound quality is passable. Thanks to the amount of Akaso V50 Pro accessories on offer, there's also an optional external mic that you can purchase. The downside is that the Akaso external mic is the only external microphone that is compatible with the camera, a bit of exclusivity that we're not really down with.
The external mic will only record in mono, too (not amazing). And the internal mic (stereo, by the way) does a decent job at recording, well, sounds, but you'll get nowhere near the depth and range that you might want. If the camera's in its casing, the sound goes down exponentially.
It's definitely not the best part of this Akaso Action camera – but if you put music over your videos anyway, you won't much care.
Function Modes
What can the Akaso V50 Pro do exactly? Well, there are four basic function modes: Video, Photo, Playback and Setting.
In video mode, you'll be able to shoot films. It's the default function mode for the camera and it's what will be ready and waiting for you when you first power it up. You'll have the ability to capture in slow motion, fast motion, time-lapse and regular old video. You can change the quality (up to 4K) as well as the image stabilisation for ultra-smooth videos when you're on the move.
Photos come in all shapes and sizes with the Akaso V50 Pro. You can take time-lapse and long exposure photos, bursts, and regular 20MP snaps that capture lots of detail, and all with the added bonus of a selection of in-built filters. You can also adjust the angle of the camera according to what you want – wide, super wide, narrow, medium – depending on what want out of your shots.
The touch screen on the camera makes Playback mode pretty intuitive. It's super responsive, so you can watch your videos back without having to figure out the magic combination of one or two buttons to work out how to delete stuff. Simple, really. The same goes for the Setting, where you can switch between photo, video, effects and the general settings pretty easily.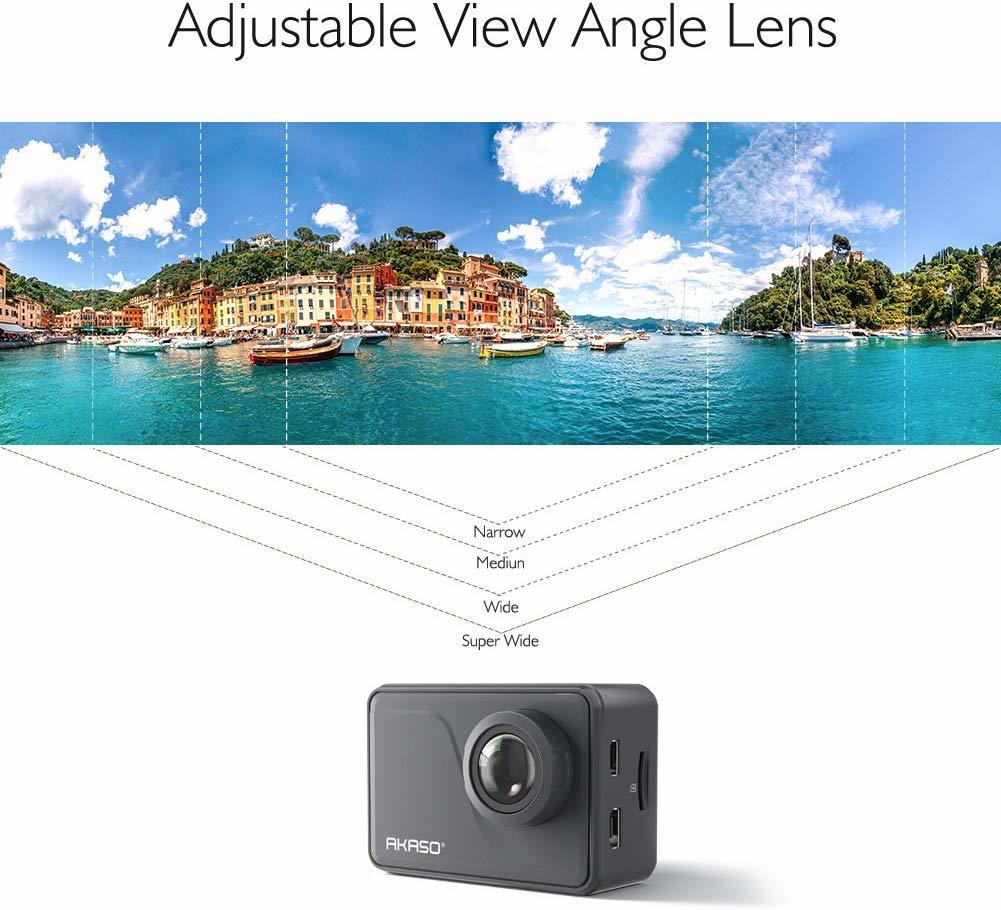 Software Compatibility
Ok, so the elephant in the room is the rumoured Akaso v50 Pro wifi problems. So let's investigate a bit more.
The Akaso V50 Pro app is a nice way to use this action camera. It involves downloading the iSmart Pro+ app onto your phone either from the Apple Store or via Google Play, then you'll need to turn the wi-fi on the camera. Once that's done you'll have to find the wi-fi called "AKASO_V50Pro_XXXXX" (that'll be a bunch of numbers); connect with the password 1234567890 and away you go.
You'll be able to share stuff to social media and control the camera via your phone, making the Akaso V50 Pro app pretty cool. However you can't live-stream, so if that's your thing, prepare for disappointment. You can, however, use it as a webcam, which you can then live-stream, which is a neat little hack.
That wi-fi connection isn't the best though. It can be unstable at times; this sort of thing could be a dealbreaker, depending on how much a shoddy connection frustrates you. Leave the connection hassle behind and go for HDMI or USB; or simply get your pictures and movies directly from the SD card. There's a lot of ways to connect.
That HDMI output also means you can link the Akaso v50 Pro up to your TV. Be warned, however, that you won't be able to fast-forward or rewind; it's simply just playback. Good for previewing on a big screen before you download it, though.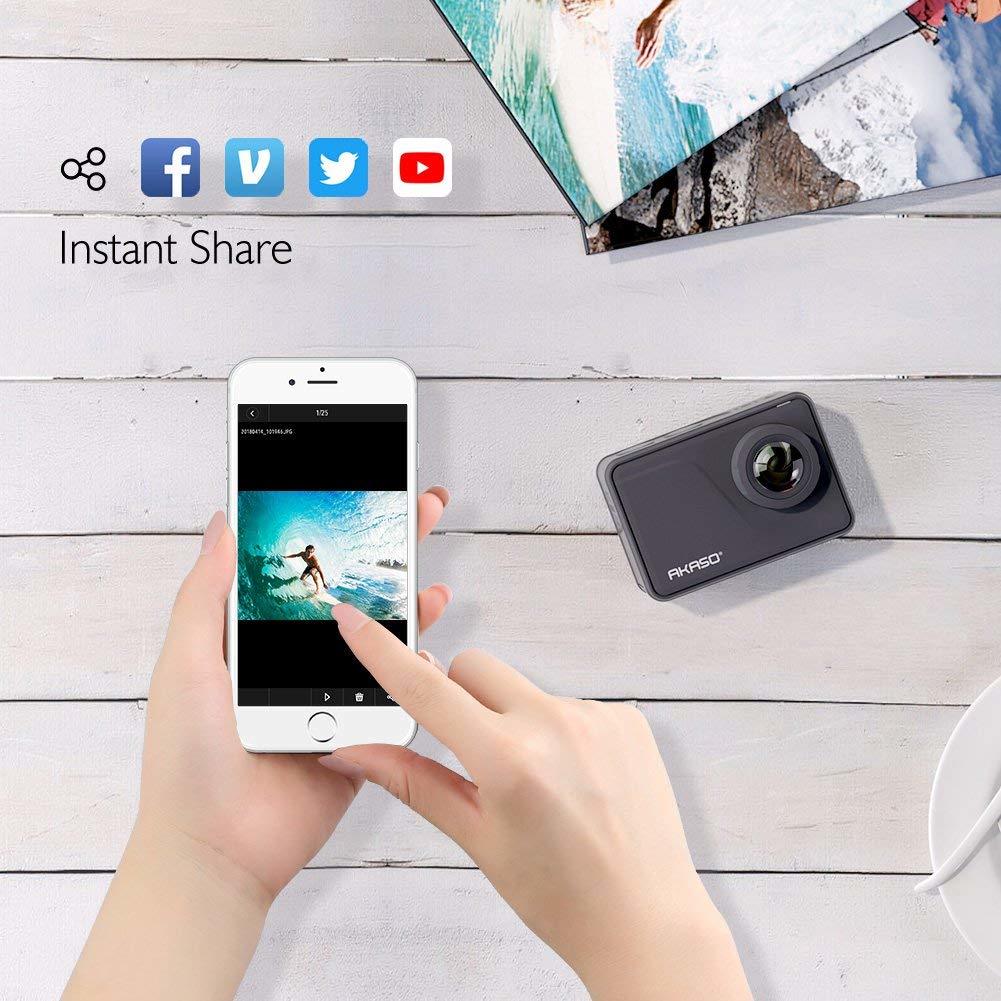 The price, let's be honest, is one of the biggest selling points of the Akaso V50 Pro. It definitely packs a punch with the price bracket, weighing in at $120. This is one of the many reasons that people opt for this thing as an alternative to a GoPro: it's just much more affordable.
For the price, the performance of the Akaso V50 Pro is well worth the money. There's no doubt you'll be satisfied, especially if you're only just getting into action cameras and feel like starting off with something budget-friendly. With the image stabilisation, the 4K video, how durable it is, the mounts included, we can't stress enough the value for money credentials going on here.
It's definitely the best sub-$150 action camera out there. Though not included in this price, the add-ons are affordable too – we'll go through those later on in our Akaso V50 Pro review.
Battery Life
Battery life is definitely important when it comes to any kind of camera. The Akaso V50 Pro comes with two batteries, which is a nice touch. To be specific, that's 2 x 1100mAh lithium polymer batteries. With two batteries in play, you should be alright for a while; of course, however, it depends what you're doing. Filming exclusively in 4K, for example, may yield 90 minutes of shooting life. Which ain't bad!
But it comes with two batteries, let's not forget that. The battery can be recharged via a USB cable plugged into an adaptor (or PC) or by using the custom battery charger dock bundled in with the V50 Pro itself. At the end of the day, the battery life of the Akaso V50 Pro isn't amazing, but it's also not terrible. We'll go with "average".
Weight & Size
Being the action camera that it is, the Akaso V50 Pro is pretty mini. It's 2.4 inches by 0.9 inches, and 1.6 inches deep – small enough to fit into the palm of your hand. It's not the exact same size as a GoPro (more on that later), but it's sleek and compact without too much fuss. We like how it looks. (The lens size, in case you were wondering, is 22.55mm.)
Weight-wise, it's just under 3 ounces – 2.88 to be exact – so it's not exactly the kind of thing that's going to be weighing you down. It's the sort of thing you can put in a day pack as much as a big old suitcase. It could even go in your pocket if you're not too precious about stuff. Obviously, the waterproof housing adds some bulk and a little weight, but it's still something that's nicely transportable.
Accessories
No Akaso V50 Pro review would be complete with reeling off the handy accessories you get with your purchase. So what's in the box? Let's have a look (spoiler alert: there's a lot)…
Battery Charger & 2 x 1100mAh Batteries
As previously mentioned, you get about an hour and a half shooting time with each one – and, yes, that's on the maximum 4K quality. So they're not bad. The fact that you get two and don't have to shell out for the second one is a major plus for us.
Waterproof Case
Yes, for all your underwater needs, the all-important Akaso v50 Pro waterproof case won't be leaking on you. Even if you're not planning diving beneath the waves, it still means your camera stays dry in downpours. It even means added durability; dropping this housing won't cause damage to the camera itself, for example. Probably the most crucial of all the Akaso V50 Pro accessories.
Remote Control
A big plus point, having the remote control means you can set the camera up somewhere and be controlling it from some distance. Good if it's on your dashboard, or on your bike handles, or if you're set on posing for a selfie of epic proportions. The only downside is that the remote itself is not waterproof.
Bicycle Stand
If you're big into cycling and like taking POVs of your routes, the bicycle stand will be a welcome addition to the kit you get with the Akaso V50 Pro. It's a great idea to include something like this all bundled in and definitely beats having to pay extra for it. Simply attach to your bike's handlebars and away you go.
Various Mounts
When we say various, we mean 10. Yes, ten! These are all for different things, and mean you can attach the V50 Pro to a selfie stick, put it on a tripod, even mount it on your helmet. For basically any outdoors-y activity, having this selection of mounts is very much appreciated. We love how generous Akaso are with their accessories!
Bandages and 5 x Tethers
Whilst mounts are all well and good, having velcro bandages and a bunch of tethers gives an extra dimension to the freedom you have with the Akaso V50 Pro. You won't have to come up with some DIY way to tie this action cam to the place you want it; use the custom-made bandages and tethers and you'll get a pro-set-up instead. Good for everything from Carpool Karaoke-style shots to treetop vistas.
Spare Protective Back Door
The waterproof case has its own protective back door. However, the inclusion of a spare is pretty cool. Since it's a moving part, there are more likely to be some sort of issues (if any) with this. It's also easy to replace.
USB Cable
Who doesn't need more USB cables? Having one bundled in the V50 Pro's box means being able to hook it up to your PC or laptop, transfer photos and movies, all whilst topping up the battery with charge. Note that there is only the 1 USB slot though.
Lens Cloth
Great idea. It's all well and good shooting amazing places on your adventures, but if you've got a blurry lens it's just going to look like you're in a cloud. A lens cloth – more than a t-shirt, say – is a basic but essential thing you should have with any camera. Nice of Akaso to include it, then.
Pros
Affordable
Easy to use
Lots of add-ons included (extra battery!)
4K capable
Good photo quality
Image stabilisation
Touchscreen
App control
Wi-fi capable
Cons
The microphone isn't great
Shoots only 30ps in 4K
Can't use the touchscreen with the case attached
Can't live stream
Wi-fi connection is spotty

Our GREATEST Travel Secrets…
Pop your email here & get the original Broke Backpacker Bible for FREE.
If you didn't already realise, we're pretty into the Akaso V50 Pro. You don't get much better for this price range. Shooting in 4K – something that's not actually available in GoPro's cheapest available option – is something that's a huge, huge plus. Considering it can handle both photos and videos, you do get a lot for your money.
Little touches like the image stabilisation and red filter make this truly an action camera. Having just these two things alone means smooth, sharp, colourful images that'll look pretty awesome. For anyone active, diver, cyclist or otherwise, this one's a no-brainer. The Akaso v50 Pro setup is also pretty easy too.
It may not have the "GoPro" name, and it may be a little lacking in some things – the sound quality, for example, really could be better – but, all that said, if you're on a budget and you want to shoot some awesome movies on your travels (for your blog, for work, whatever), you can't do much better than the Akaso V50 Pro. A perfect camera for the price.
What is our final score for the Akaso V50 Pro? We give it a rating of 4.1 out 5 stars!

Competitor Comparison
As you know, there are more action cameras out there. You may even know them as "GoPros" anyway – these guys are a household name. GoPro is up there with the best camera brands for travel, but can Akaso give them a run for their money?
But what else is out there in the world of action cameras, and how do they stack up next to the Akaso V50 Pro? Let's get into the details.
Akaso V50 Pro vs Akaso V50 Pro Elite
| | | |
| --- | --- | --- |
| | Akaso V50 Pro | Akaso V50 Elite |
| Price | $120 | $140 |
| Size | 2.4 x 0.9 x 1.6" | 2.4 x 1.6 x 1.2″ |
| Weight | 2.88oz | 2.6oz |
| Water depth | 30 metres | 40 metres |
| Video | 4K / 30fps | 4K / 60fps |
| Photo | 20MP | 20MP |
| Voice activation | No | Yes |
| Touchscreen | Yes | Yes |
| GPS | No | No |
| Livestreaming | No | No |
Akaso V50 Pro vs GoPro Hero 7 Black
| | | |
| --- | --- | --- |
| | Akaso V50 Pro | GoPro Hero 7 Black |
| Price | $120 | $399 |
| Size | 2.4 x 0.9 x 1.6" | 2.4 x 1.8 x 1.3″ |
| Weight | 2.88oz | 4.2oz |
| Water depth | 30 metres | 10 metres (without housing) |
| Video | 4K / 30fps | 4K / 60fps |
| Photo | 20MP | 12MP |
| Voice activation | No | Yes |
| Touchscreen | Yes | Yes |
| GPS | No | Yes |
| Livestreaming | No | Yes |
In case you need more ideas and inspiration, then check out these top GoPro alternatives.
BEST OVERALL GOPRO ALTERNATIVE
BEST OVERALL GOPRO ALTERNATIVE
Garmin VIRB Ultra 30
Price > $$$
Weight > 3.2 ounces
Size > 2.4 x 1.2 x 1.6 inches
BEST BUDGET GOPRO ALTERNATIVE
BEST BUDGET GOPRO ALTERNATIVE
OCLU Action Camera
Price > $$
Weight > 101g (with battery & metal door)
Size > 6.15 mm / 2.4 inches
BEST ULTRA BUDGET GOPRO ALTERNATIVE
BEST ULTRA BUDGET GOPRO ALTERNATIVE
Akaso Brave 7 LE
Price > $
Weight > 2.9 ounces
Size > 2.4 x 1.6 x 1.4 inches
BEST HIGH QUALITY GOPRO ALTERNATIVE
BEST HIGH QUALITY GOPRO ALTERNATIVE
Sony RX0
Price > $$$$
Weight > 110 g
Size > 2.38 x 1.63 x 1.19 inches
Pros & Cons of the Akaso V50 Pro
---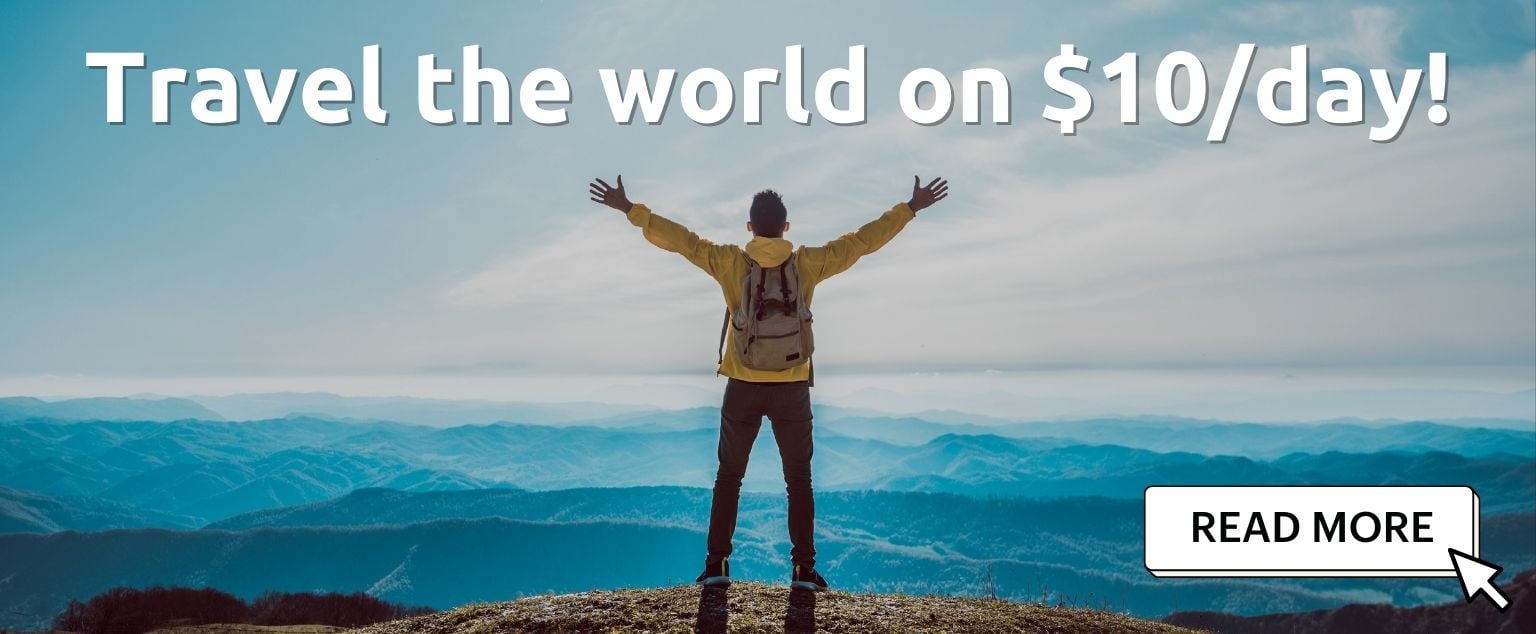 And for transparency's sake, please know that some of the links in our content are affiliate links. That means that if you book your accommodation, buy your gear, or sort your insurance through our link, we earn a small commission (at no extra cost to you). That said, we only link to the gear we trust and never recommend services we don't believe are up to scratch. Again, thank you!