Planning a trip to Frankfurt, Germany? Nice one!
Like most major cities in Germany, Frankfurt saw its fair share of fighting during WW2. Much of the city was destroyed and later rebuilt.
Modern-day Frankfurt is the story of that recovery. The city is a European economic powerhouse, home to the World Bank, a world-famous Christmas market, a restored old town, beautiful parks, and an impressive cathedral.
As Frankfurt is a major city in Europe, a visit here is not without its costs. That said, traveling here need not be crazy expensive.
That is exactly why I wrote this guide to the best hostels in Frankfurt for 2021.
This hostel guide offers up practical information on the city's best and cheapest backpacker accommodation. Choosing the right place to stay in Frankfurt is about as easy as enjoying a cold German beer.
Whether you are looking for the best hostel for solo travelers, the best hostel with a private room, or just the cheapest damn bed in town, this hostel guide will get you sorted.
Let's get right to it…
Quick Answer: The Best Hostels in Frankfurt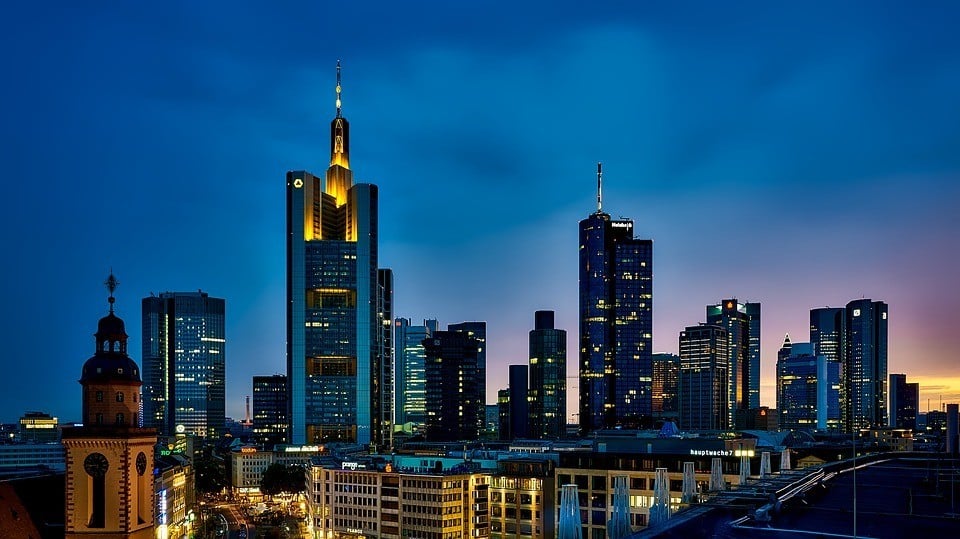 The 10 Best Hostels in Frankfurt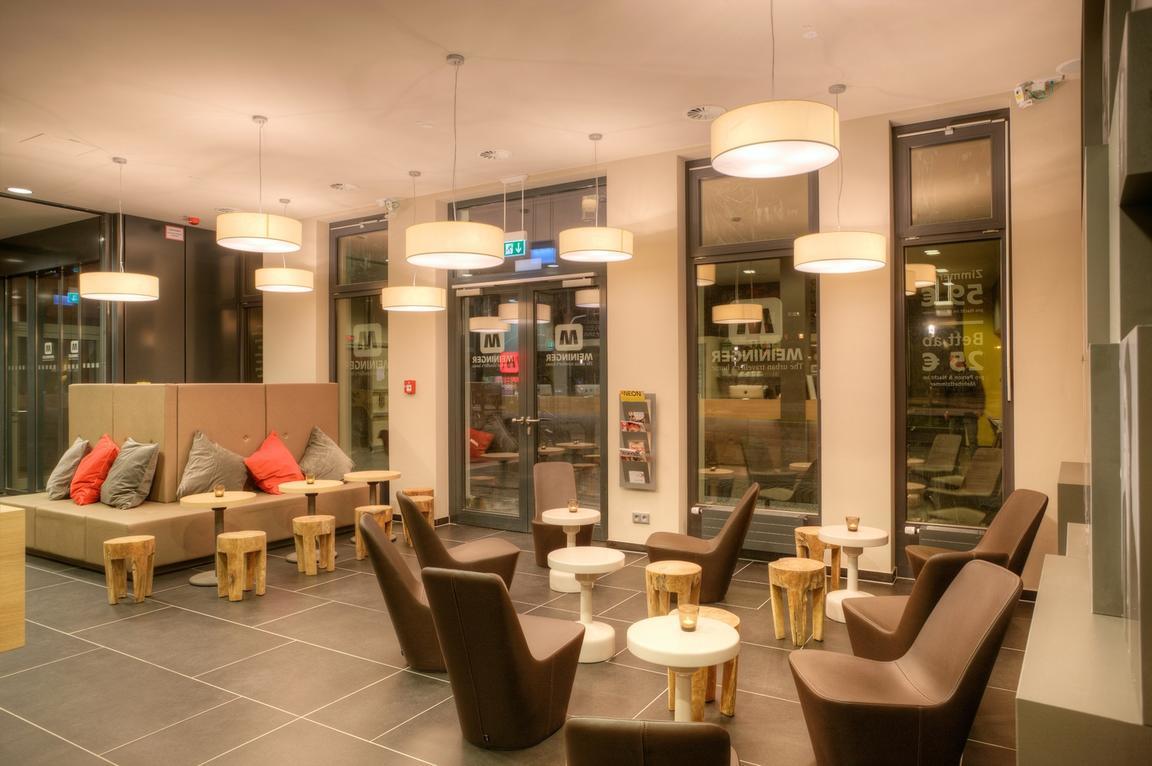 $$$
Self Catering Facilities
24-Hour Reception
Bar
Though it feels more like a hotel than a hostel, that's possibly the reason that MEININGER Frankfurt/Main Messe is the overall best hostel in Frankfurt. It's somewhat lacking in atmosphere (you know, cause it's a bit hotel-y), but on the plus side it's super clean, modern, nicely decorated, stylish. The best hostel in Frankfurt 2021 SHOULD be all that. The location is a little bit outta town but we can deal with that, right? It's a short walk to the centre along the river which is actually really nice if you like walking. Alternatively, the nearest S-Bahn station is about a 10 min stroll away. Decent bar!
Best Hostel for Solo Travellers in Frankfurt – Five Elements Hostel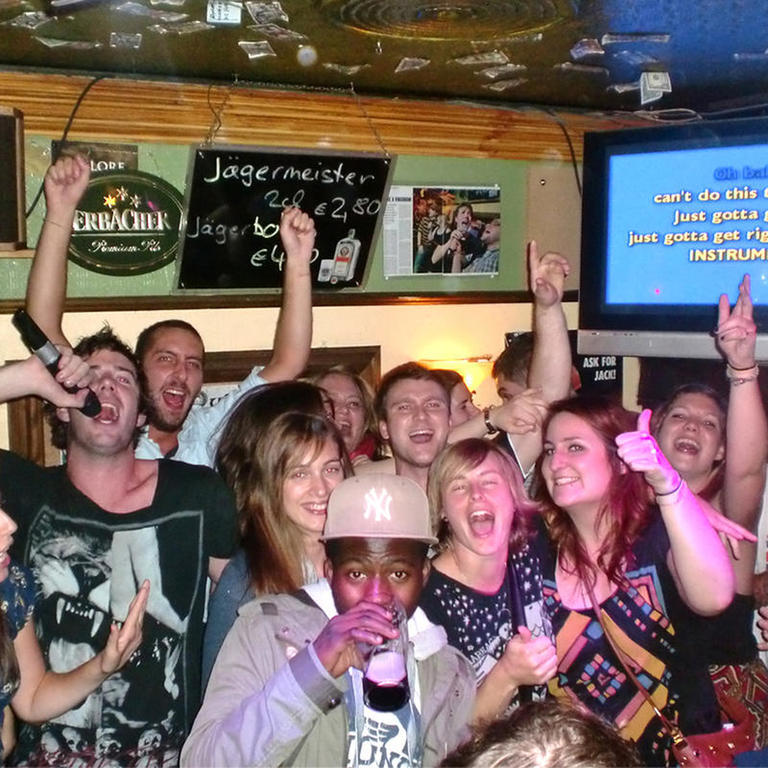 $$
Bar
Lots Of Free Stuff
Nightly Activities/Events
Five Elements is a PRIME place for socialising, meeting people, having fun, drinking, all those classic hostel shenanigans that lead to new friends, so we've earmarked it as the best hostel for solo travellers in Frankfurt. The vibe is just awesome, to put it bluntly, and the staff are super helpful and friendly – always a mega plus at a hostel. We're literally astonished at the amount of free stuff going on here: dinners, tea and coffee, crepes for breakfast, towels, lockers, evening activities (beer-tasting, movie nights, etc.)… And the bar is open 24/7. P.S. The happy hour is immense.
Best Cheap Hostel in Frankfurt – Frankfurt Hostel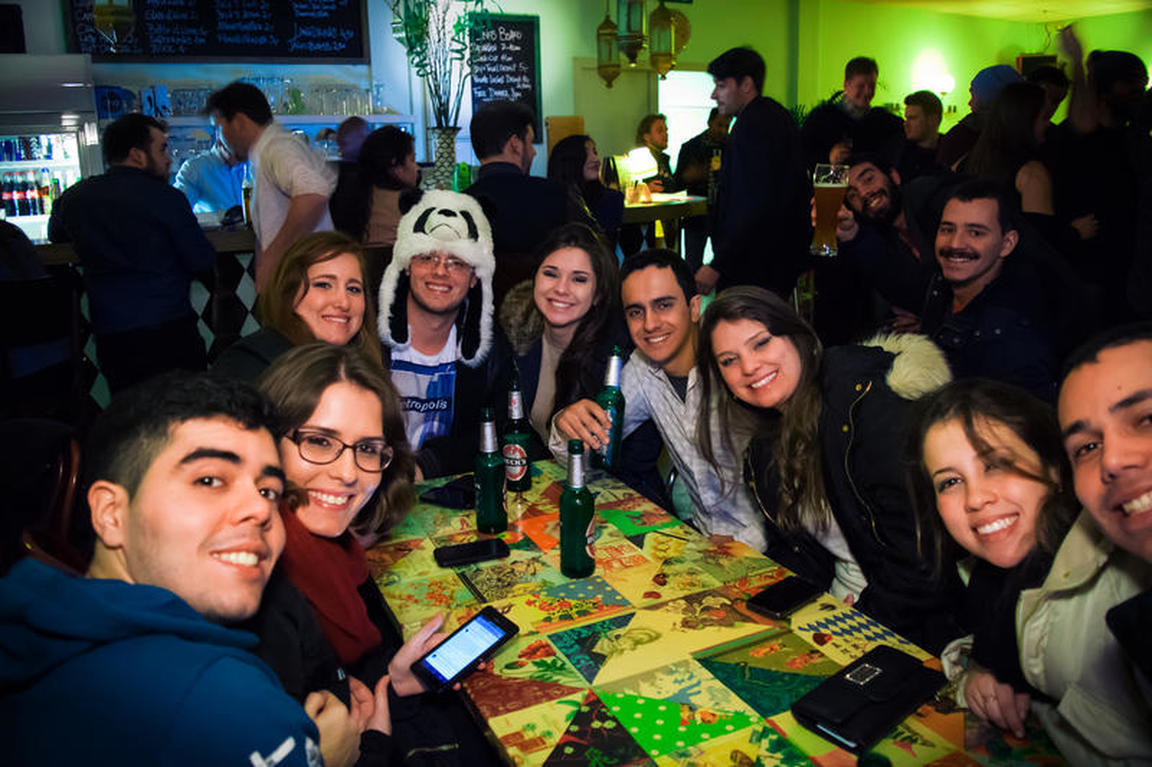 $
Free Breakfast
Free Walking Tour
Free Nightly Dinner Party
You wanna talk cheap? Then allow us to introduce Frankfurt Hostel: a hostel that's not as simple as its name suggests AND is the best cheap hostel in Frankfurt. It's not simple in that it's actually pretty cool-looking. For one there's a bar downstairs and it's pretty fancy, has that old world ambience about it, y'know? The dorms actually ARE a bit simple and basic, but for a proper, proper bargain of a budget hostel in Frankfurt we reckon you'll be able to forgive that. The vibe here is also pretty poppin', so expect a few late nights. Best of all though? The free all-you-can-eat breakfasts and the FREE dinners every night!
$$$
Bar & Cafe
Self Catering Facilities
Air Conditioning
Another MEININGER hostel and another uninspiring name. But with a tried-and-tested hotel-hostel crossover type thing going on, this is easily the best hostel with a private room in Frankfurt. I mean, the private rooms are just spotless and stylish – not exactly the coolest hostel in Frankfurt, but it's definitely a welcome break from sub-par private rooms. Also as the name suggests you'll be P close to the airport staying here, so that's nice and convenient – it's actually so close that you could walk it if you wanted to. (But the hostel also runs its own shuttle service).
Things DO go missing sometimes…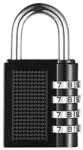 Psst! Heading to a hostel? Don't forget to pack a padlock! It's well worth having one so you can secure your locker and protect your stuff!
More Best Hostels in Frankfurt
Hold up – but what if you actually don't wanna stay in a hostel in Frankfurt? Well, we got you covered, since we've also been checkin' through the best hotels in Frankfurt too. Feast your eyes on our top picks…
Are you looking to stay in specific neighborhood? Check out our guide to Frankfurt's best areas to stay.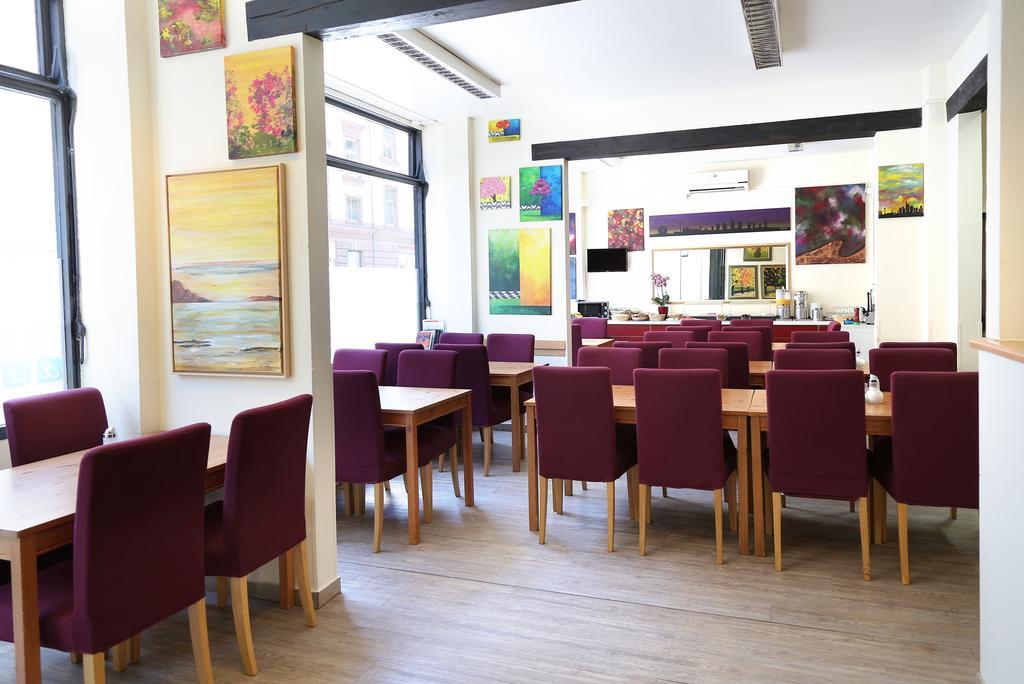 $
TV in Room
24-Hour Reception
Private Bathrooms
For a simple hotel with cosy rooms and very very decent location, you can't really get much better than Pension Alpha Frankfurt City. It's just a simple pick for a place to stay, a few mins walk from the old town, not far from the main train station; it's clean, modern, but pretty simple. It's our choice for the best budget hotel in Frankfurt. It's got a friendly and helpful team working here, who'll do stuff like check you in early – it's the little things, right? Makes all the difference. It IS however quite basic. But what do you expect for a super budget hotel in Frankfurt?
Best Mid-Range Hotel in Frankfurt – Star Apart Hotel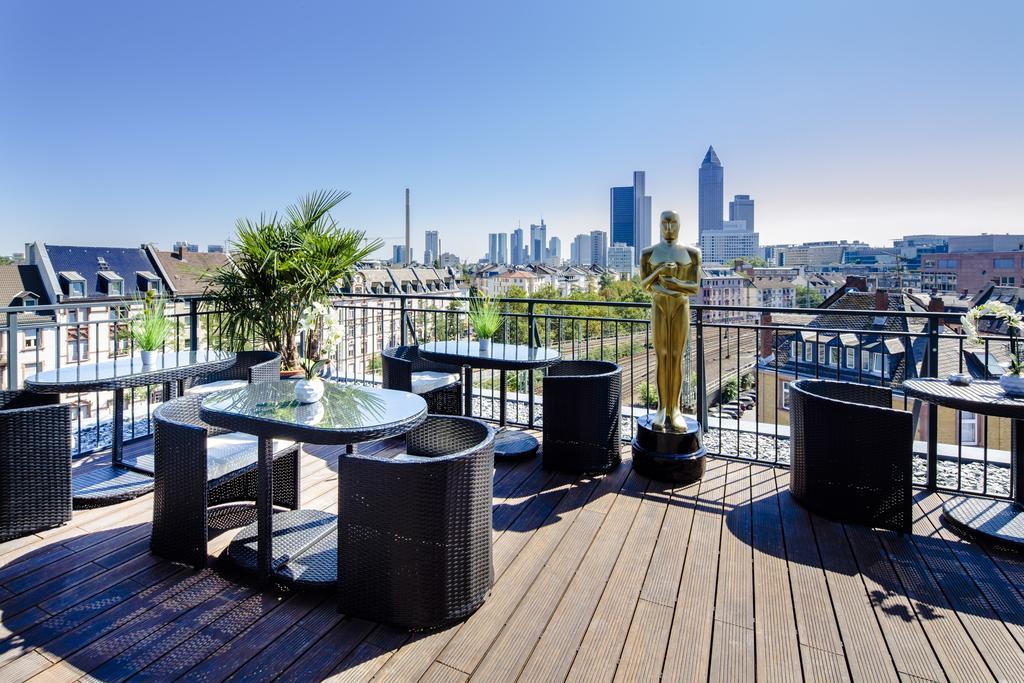 $$
Free Breakfast
FREE SNACKS
Outdoor Terrace
This top hotel in Frankfurt got the star bit right: it's a sick place to stay for the money you pay. The rooms are comfy, spacious and decorated in an inexplicable Hollywood theme – which is bit bizarre – and some of the have city skyline views. Dreamy stuff. Elsewhere and equally dreamy there's a very good continental breakfast included in the room price – and a bunch of other free snacks besides. Location-wise? It's close to buses, trams and trains, and is basically a top pick for getting around the city. Our best mid-range hotel in Frankfurt also features a chill outdoor terrace for post-city-exploration hanging-out.
$$$
Literally So Cool
Netflix
Bar
The coolest hotel in Frankfurt, Libertine Lindenberg features ultra-chic design, modern furnishings, apartment-esque rooms that feel like home (only cooler – and with Netflix) and generally just drips with Instagram-worthiness at every step. I mean, for starters, there's a huge beetle collection (really) in the lobby that feels so out of place that it MUST be cool, right? Right…? AND there's a vegetarian buffet breakfast waiting for you in the morning… if you pay extra, that is (boo). But yeah, for the boutique style by itself – let alone the killer location – this is easily the best splurge hotel in Frankfurt. Those beetles tho.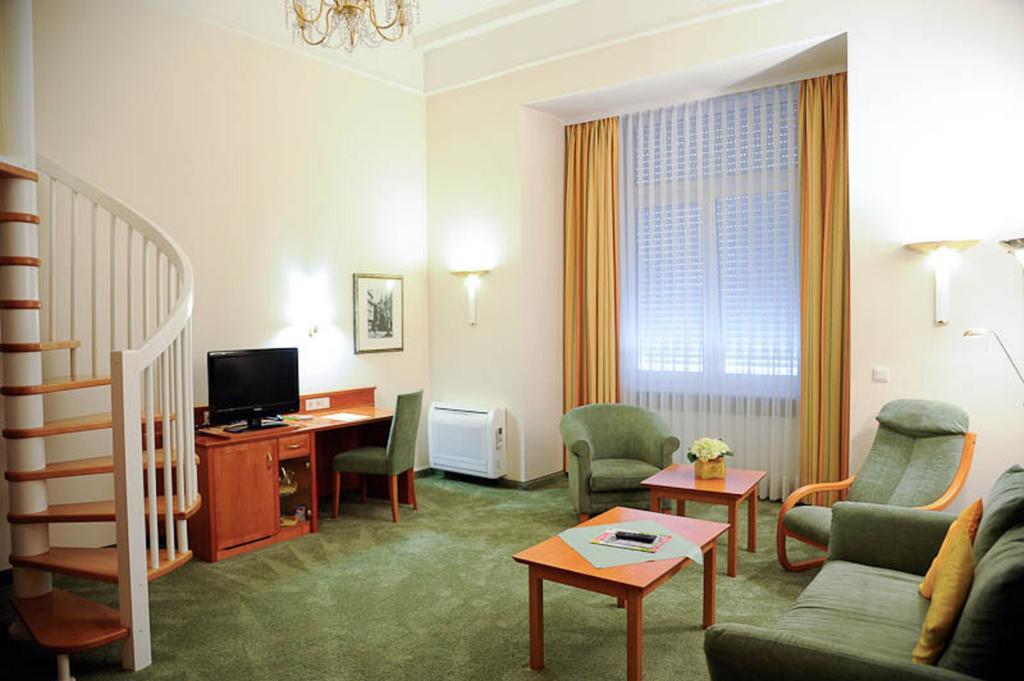 $$$
Free Breakfast
Free Parking
Air Conditioning
Set in a beautiful old building, this top hotel in Frankfurt is charming from the outside, but not very cool on the inside. It's ok-looking. But though it feels a bit old-school, this 4-star offering is still a decent slice of luxury – staff are service-minded and very friendly, the rooms are pretty decent and some suites have balconies; there's a tasty free breakfast on offer here, too. The location is pretty sick as well: it's a short walk to some top Frankurter attractions and generally set in a decent area itself. We're not quite sure what the Beethoven connection is but maybe it just makes it sound nice.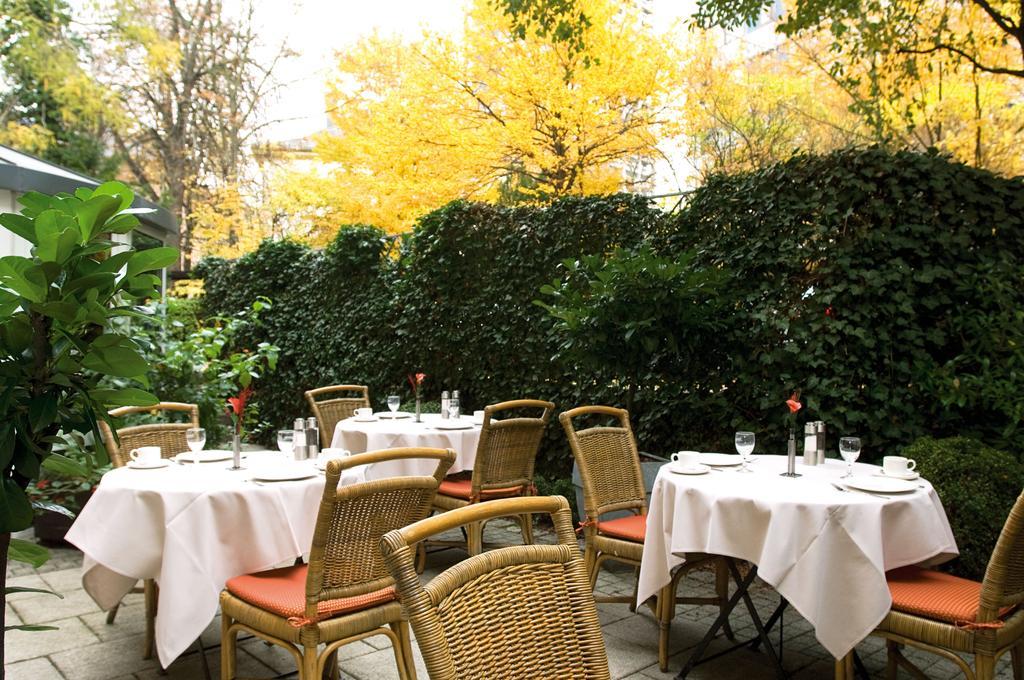 $$
Room Service
Air Conditioning
Spacious Rooms
Wow, the rooms at NH Frankfurt Villa are really spacious and really chic. We like that. Room to run around in a hotel room is proper luxury cause you don't need it! It's totally unnecessary. But brilliant. Anyway. The onsite restaurant does some decent food, which you can either eat in a luxe-looking dining room, or outside in a charming terrace area. Like, actually charming. It's really cute. And onto another plus of this recommended hotel in Frankfurt: all (or most) of the city's main attractions are but a few mins away by tram. And if you don't have trams in your country this is a fun novelty.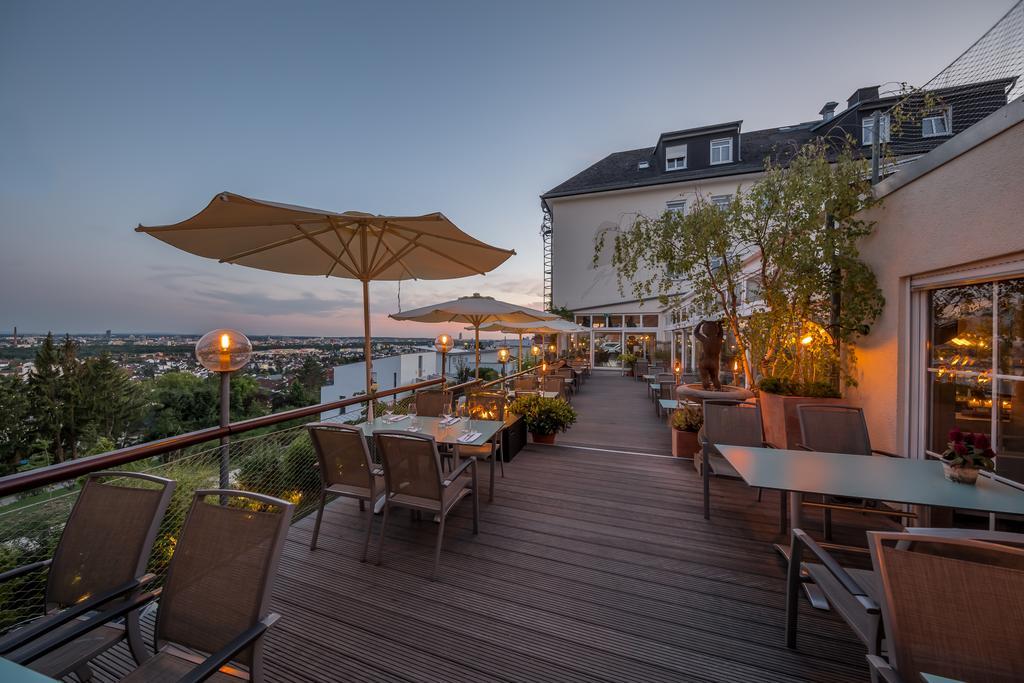 $$
The View
Room Service
Restaurant & Bar
Cool, cool, cool, cool, cool. It's very cool here. The bar is like something from a design magazine. The little touches of furniture and general vibe of minimalism is something that we can really get on board with. This (relatively) budget hotel in Frankfurt also features a REAL nice rooftop terrace with its own Schöne Aussicht – or 'beautiful view' in the English tongue – of Frankfurt and the Main Valley. So that's why this hotel is named that. Umm, but yeah! The staff are really friendly, the place LOOKS the part (it is honestly very cool), and it's in a chill/quiet location not too far from Frankfurt's centre and all of the best bars and restaurants.
The BEST Travel Backpack?!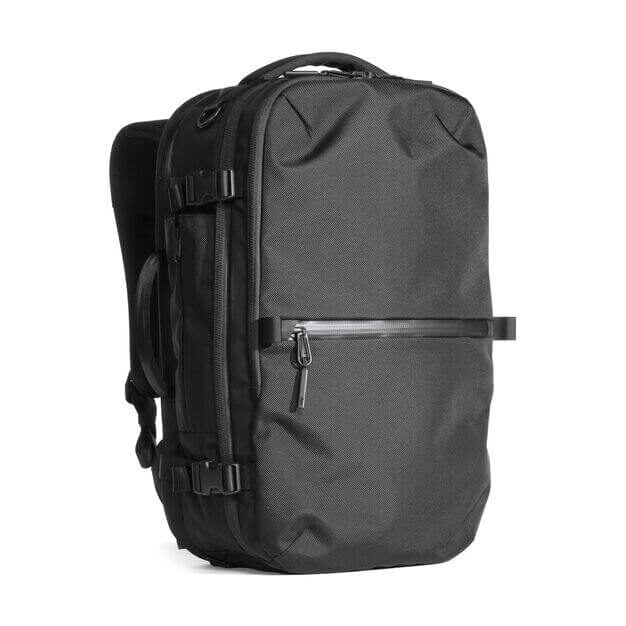 Pssssst! Not picked the perfect travel backpack yet? The Broke Backpacker team has tried out over thirty backpacks this year! Our favourite travel backpack is the Aer Travel Pack 2.
View on AER
What to Pack for your Frankfurt Hostel
Pants, socks, underwear… Here are some other items you might not have thought to pack.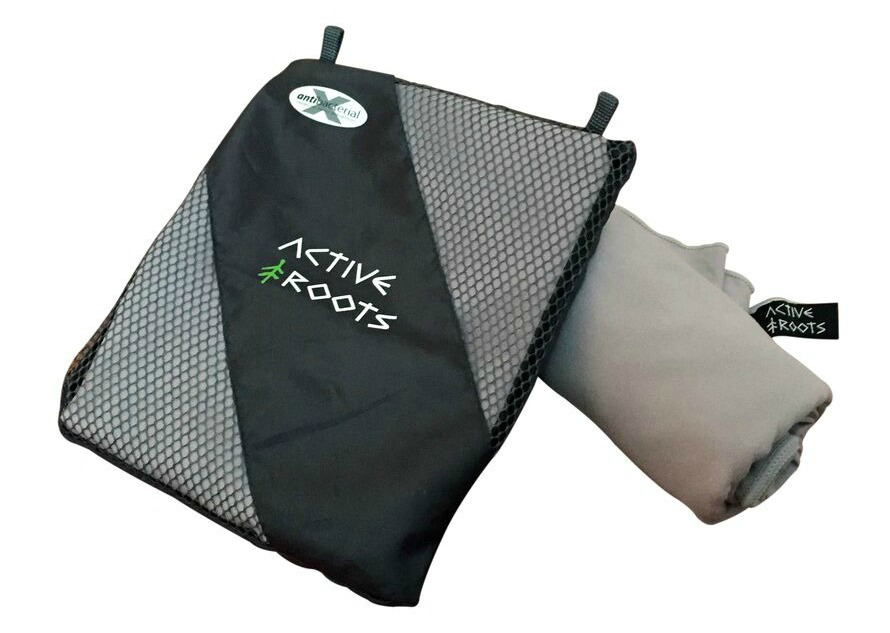 1. Active Roots Microfiber Towel: Having your own towel is a must when traveling since most hostels don't provide them. Plus as a backpacker, use of a towel will extend further than just showers, it's a minimalist yoga towel and a great beach blanket/towel combo! The Active Roots Microfiber Towel is really the best solution for backpacking.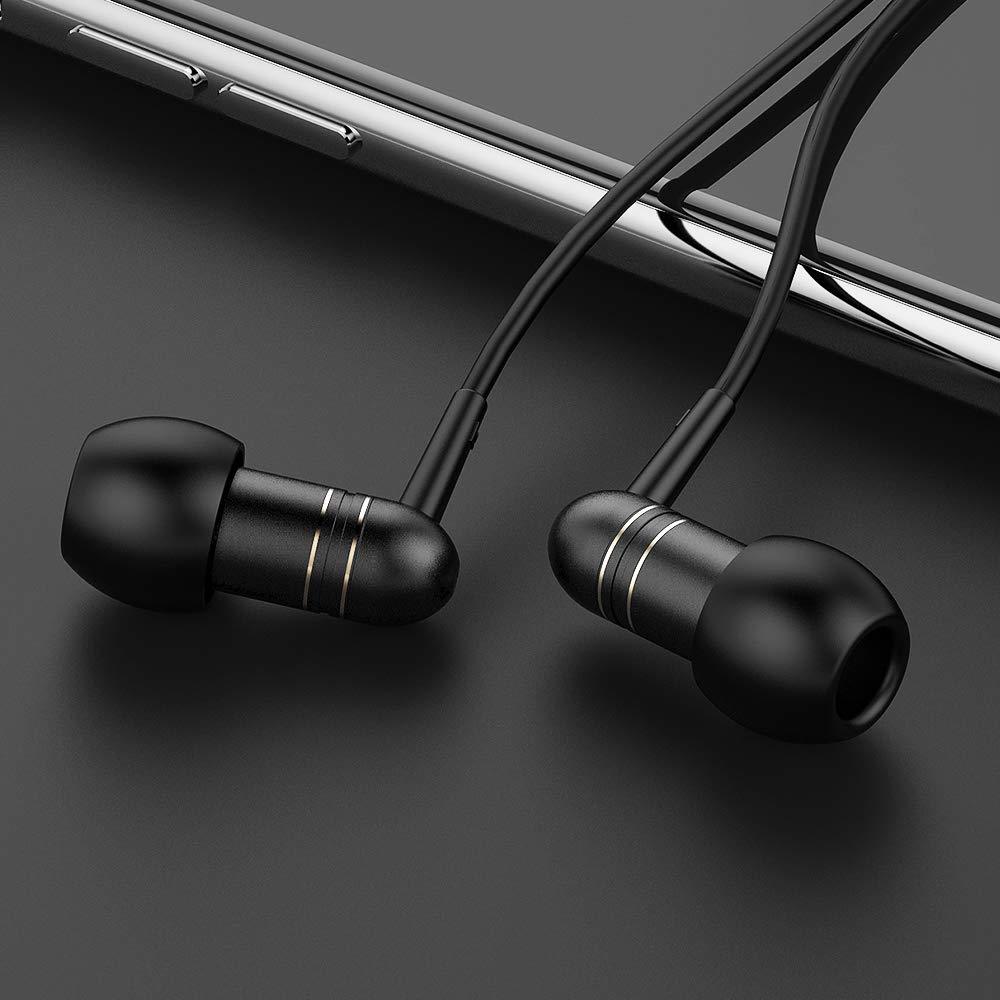 2. Noise-Cancelling Earbuds: You'll have some pretty sorry roommates – it happens from time to time. These noise-canceling earbuds help mitigate the damage. The comfortable and ergonomic design won't hurt your ears while sleeping no matter how long you keep them in. Increase the quality of your sleep by listening to some relaxing music at night or just enjoy the silence.
3. Power Bank: Everyone knows the mini heart attack when your phone is about to run out of power. Surviving long bus rides without charging stations can be agonizing, which is why every backpacker should have this Anker Power Bank. You can charge your phone up to 5 times, or plug in two devices simultaneously. With high-speed charging and enough power to keep you going for days, you can conquer even the biggest adventures without a problem.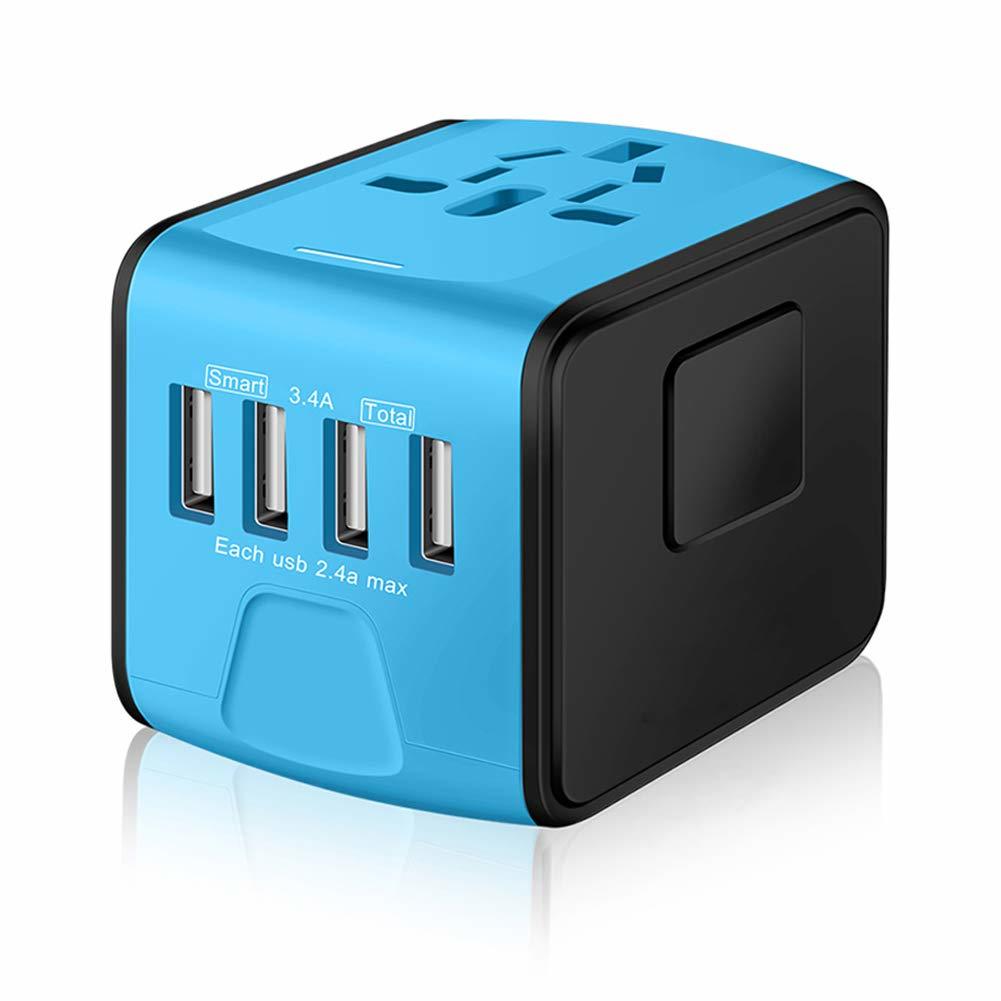 4. Universal Travel Adapter: Not every country has the same electrical plug style, so carry along a universal travel adapter. You'll want one that covers varying voltage levels, has protection from power surges, a fried laptop is not fun, and enough ports so you don't have to spend all day individually charging your devices.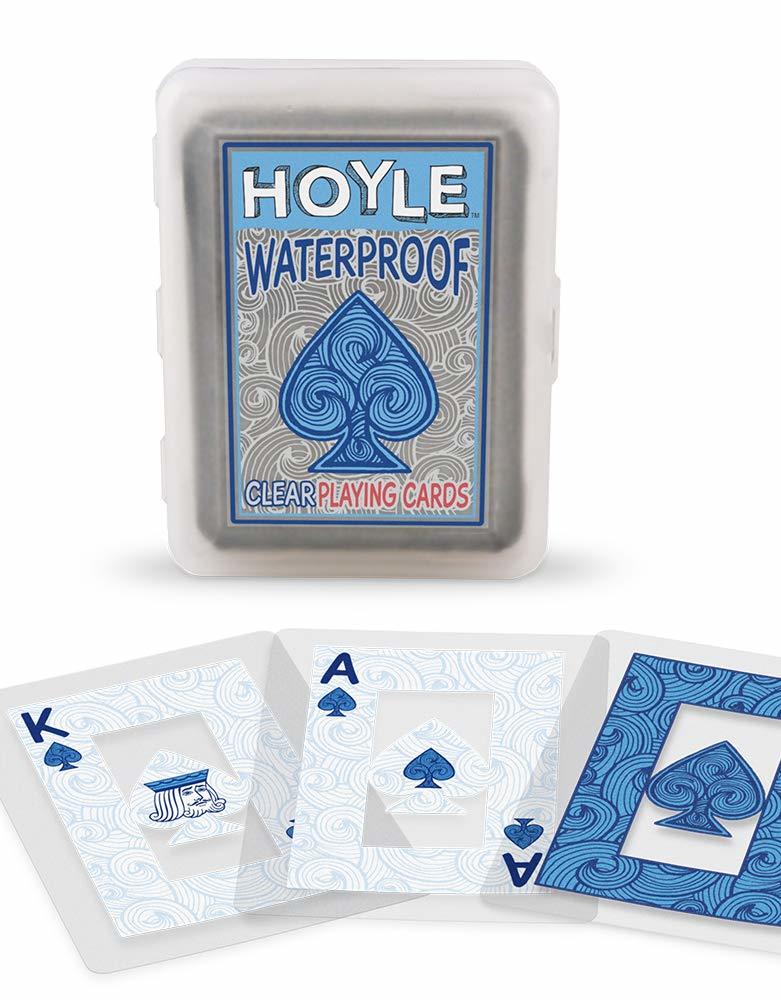 5. Playing Cards: These waterproof cards are essential kit for every backpacker. Play by the pool, beach or at your hostel after a long day with travel buds, without your cards breaking or getting soaked. And once you pull out those cards, the chance that you'll be the hero of the night is pretty high (no promises though).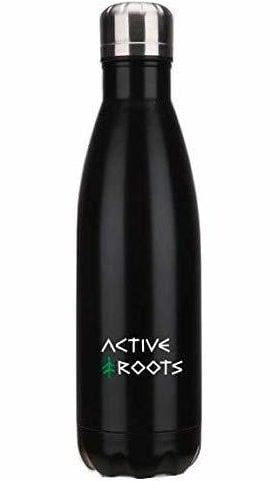 6. Active Roots Water Bottle: Sturdy and durable, the Active Roots water bottle survives the roughest adventures while keeping your drink cold or hot for at least 24 hours. Vacuum-sealed and made from stainless steel, the bottle can fit 25oz, which is plenty to keep you hydrated. Super cool bonus: the bottle isn't just super useful, it helps to reduce the single-use plastic waste – save the planet by filling up your bottle.
Why you should travel to Frankfurt
The time has come for me to leave you: we have come to the end of my best hostels in Frankfurt 2021 list…
Certainly you know by now that backpacking in Frankfurt can be a but pricey. After reading my hostel guide, you are now prepared to take the city by storm without your wallet feeling totally sacked as well.
I have covered all of the best hostels in Frankfurt and then some, so all of the top budget options are on the table.
With a little planning, you can experience the best of what Frankfurt has to offer without spending a fortune on accommodation.
Once you set your sites on a hostel from my list, I highly recommend that you book your spot in advance as Frankfurt does not have the same volume of hostels as other German cities, and the hostels do book out fast. Don't wait until the last minute!
All of the best hostels in Frankfurt are now in your hands. The choice of where to book is now up to you!
Still undecided? Feeling conflicted about where to stay in Frankfurt?
If that is true, I advise you to just go with my top overall pick for best hostel in Frankfurt: MEININGER Frankfurt/Main Messe. Happy travels.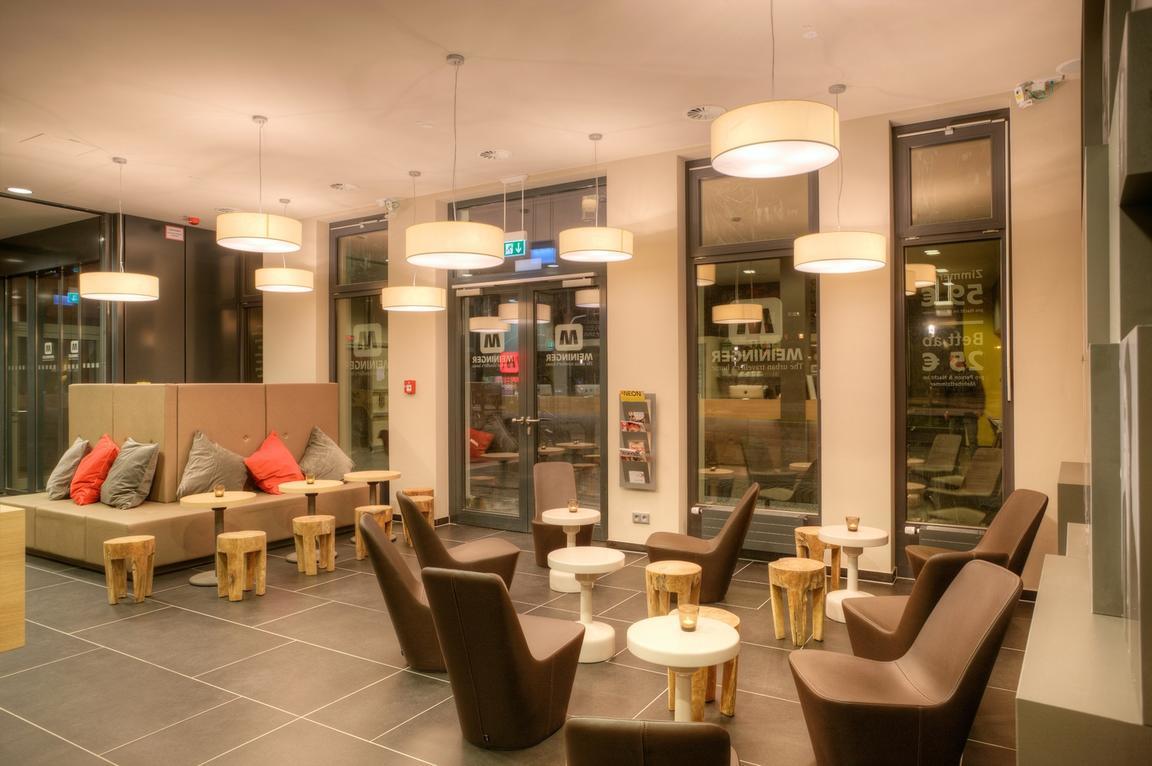 Travel Safety Tips for Frankfurt
And don't forget Travel Insurance! We've put together a roundup of Travel Insurance for backpackers – check it out here, or if you're low on time, get a quote from World Nomads, our favorite travel insurance provider.
Getting an estimate from World Nomads is simple – just click the button or image below, fill out the necessary info, and you're on your way!

More Epic Hostels in Germany and Europe
Hopefully by now you've found the perfect hostel for your upcoming trip to Cologne.
Planning an epic trip all across Germany or even Europe itself?
Don't worry – we've got you covered!
For more cool hostel guides around Europe, check out:
Over to you
By now I hope our epic guide to the best hostels in Frankfurt has helped you choose the perfect hostel for your adventure!
If you think we've missed anything or have any further thoughts, hit us up in the comments!
"Find out how YOU can support the site. We work hard to put out the best backpacker resources on the web, for free! It's all about helping out our tribe of awesome backpacker readers [that's you!]. Please visit the link to find out how you can help keep the site going 🙂
For the sake of transparency, some of the links in our content are affiliate links. This means that if you book your accommodation, buy a book or sort your insurance, we earn a small commission at no extra cost to you. I only link to stuff I've actually used and never endorse products or services that are not up to scratch. Thanks for your support.