Frankfurt am Main (Frankfurt on the Main River) is filled with glassy skyscrapers and glittering lights, and as soon as you catch your first glimpse of that skyline, you'll understand why the locals call it Manhattan!
That's not the only great thing about German's banking and economical capital though. The stunning Old Town transports you right into the past with the 15th century buildings of Römerberg. If you're lucky enough to travel here at Christmas, you'll be able to experience one of Germany's most magical Christmas markets.
Frankfurt is a truly international city, and the population of 5.5 million give Frankfurt a vibe and atmosphere unlike nowhere else in Germany. There's plenty to do here both day and night, and with our list, you can feel like a local during your visit to Frankfurt.
With our carefully researched list of places to visit in Frankfurt, you can explore everything that this happening city has to offer. Wander through the historic Old Town, learn something new in a museum, or rub shoulders with high flying executives and CEOs in one of the city's top restaurants. No matter what you're in Frankfurt for, you'll have a fantastic time!
Need a place quick? Here's the best neighbourhood in Frankfurt:
BEST AREA IN FRANKFURT
Zentrum-Altstadt
If you're visiting Frankfurt for the first time, there's no better place to stay than Zentrum-Altstadt. Set at the centre of the city, this neighbourhood is where you'll find many of Frankfurt's (rebuilt) medieval buildings, its historic landmarks and its main town square.
Places to visit:
Admire the architecture of St Paul's Church.
Marvel at The Kaiserdom, a red sandstone cathedral with a 95-meter tall Gothic tower.
Visit the Old Nicholas Church.
These are the BEST Places to Visit in Frankfurt!
Before scrolling down any further, make sure you know where you want to stay in Frankfurt. The bustling city is full of neighbourhoods that all offer a different vibe and a tiny pocket of culture within the larger matrix. Plus, you'll need a base to kick off your adventures from!

Unlock Our GREATEST Travel Secrets!
Sign up for our newsletter and get the best travel tips delivered right to your inbox.
#1 – Römerberg – A great place to see in Frankfurt if you love architecture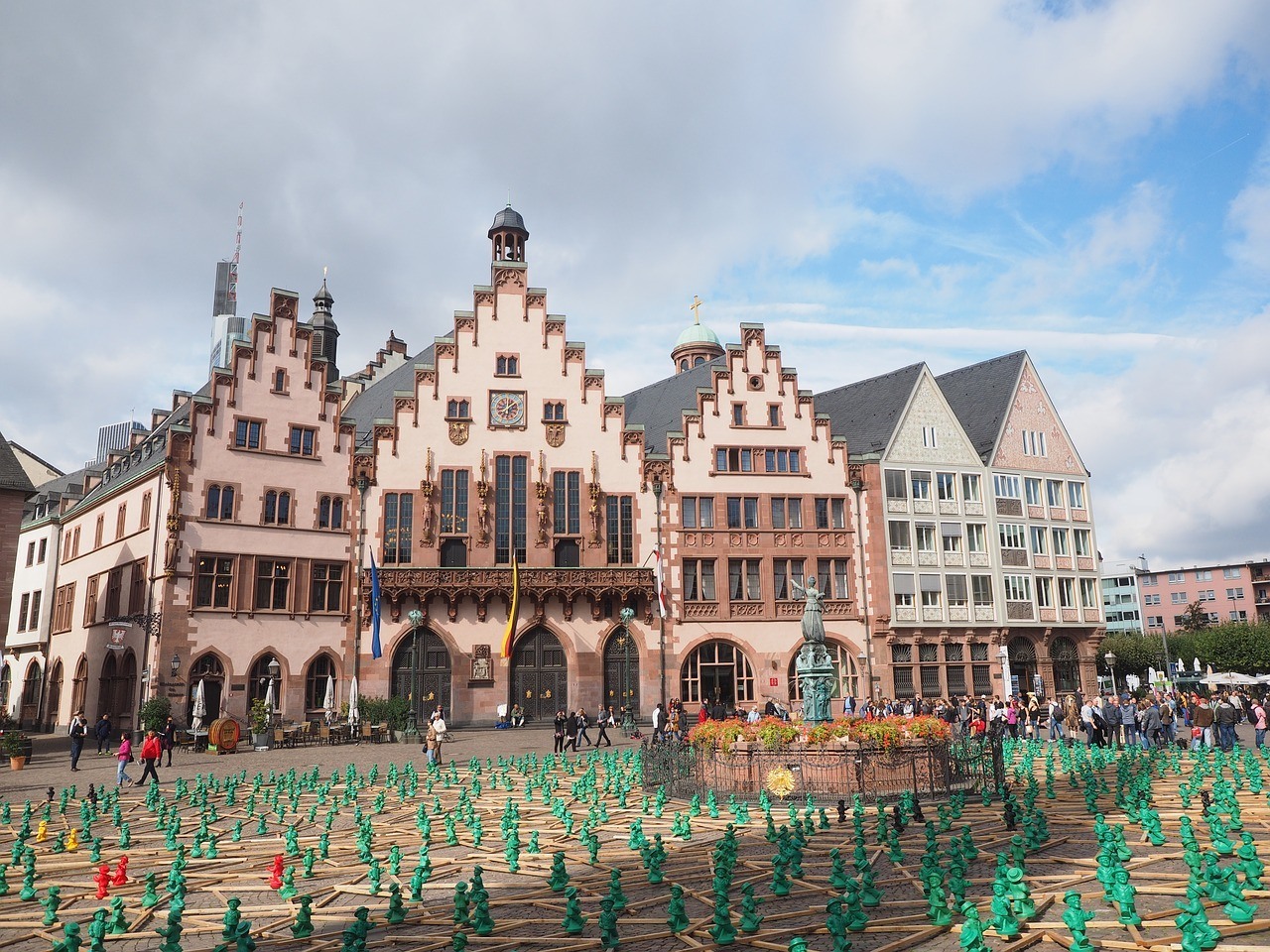 Central square of Frankfurt's Old Town
Ornate timber buildings re-constructed after WWII
Especially wonderful during the winter months
Check out the Christmas markets – they're great!
Why it's awesome: Römerberg is a great place to kick off your trip to Frankfurt. As the centre of the Old Town, it's the perfect spot to get an idea of how Frankfurt looked before all the skyscrapers started shooting up. The reconstructed timber buildings on the edges of the square will take you back to medieval times! The beautiful Fountain of Justice sits in the centre of the square, and there are often markets around it. One of the biggest and best Christmas markets in Germany takes place here during the winter months!
What to do there: If you're visiting for one of the largest Christmas markets in Germany, you can't miss trying hot apple wine and marzipan cookies. However, throughout the year Römerberg is the perfect place to sit and sample some tasty traditional food! Check out the Römer buildings, the equivalent of the city hall since the 15th century. On the other side of the square, you'll find the Ostzeile buildings too. Römerberg is a great place to spend some time relaxing or just soaking up the atmosphere of Frankfurt's Altstadt!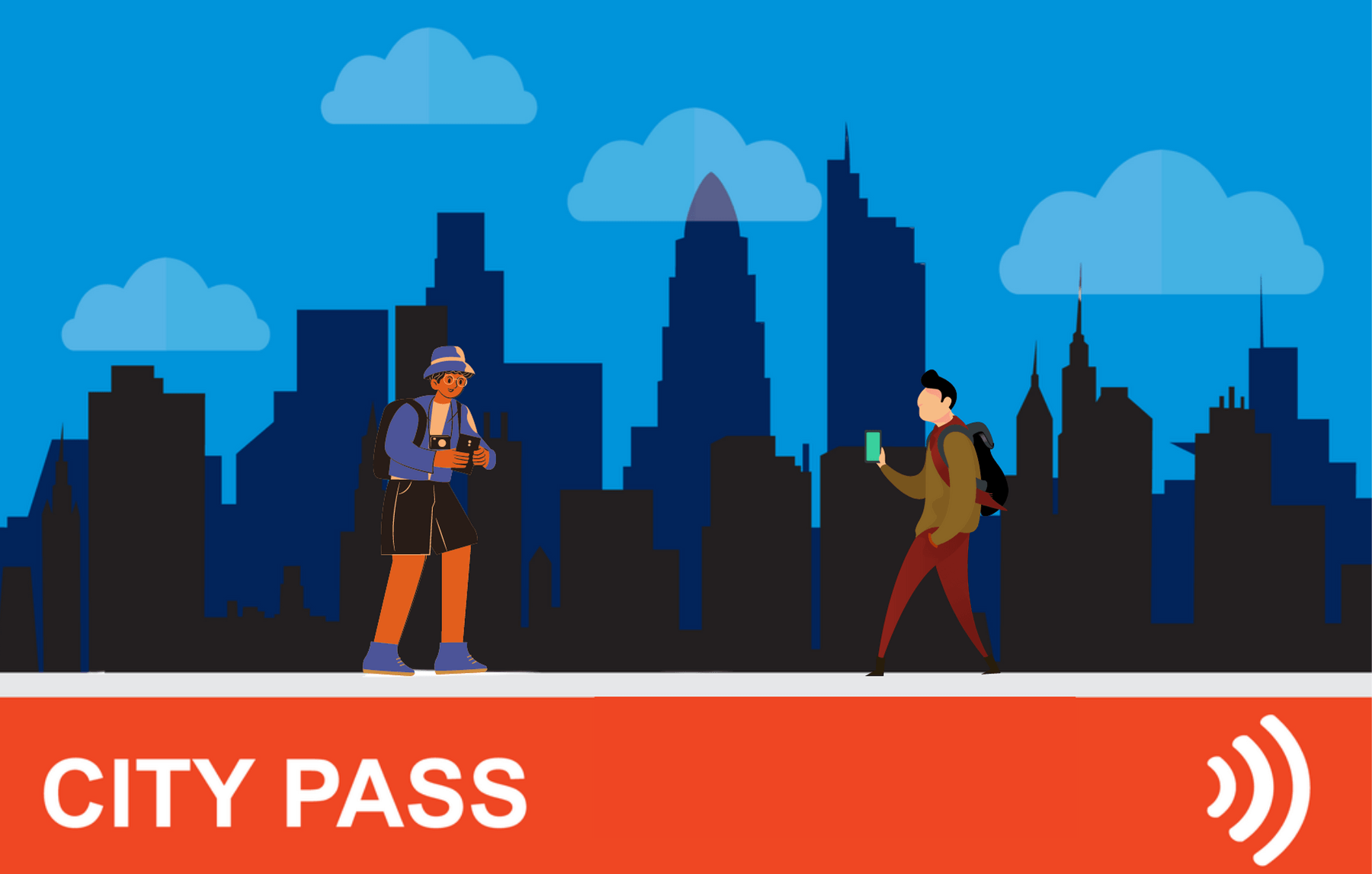 Travelling to Frankfurt? Then plan yo' trip the smart way!
With a Frankfurt City Pass, you can experience the best of Frankfurt at the CHEAPEST prices. Discounts, attractions, tickets, and even public transport are all standards in any good city pass – be sure invest now and save them $$$ when you arrive!
Buy Your Pass NOW!
#2 – Museumsufer – One of the most incredible places to go in Frankfurt for free!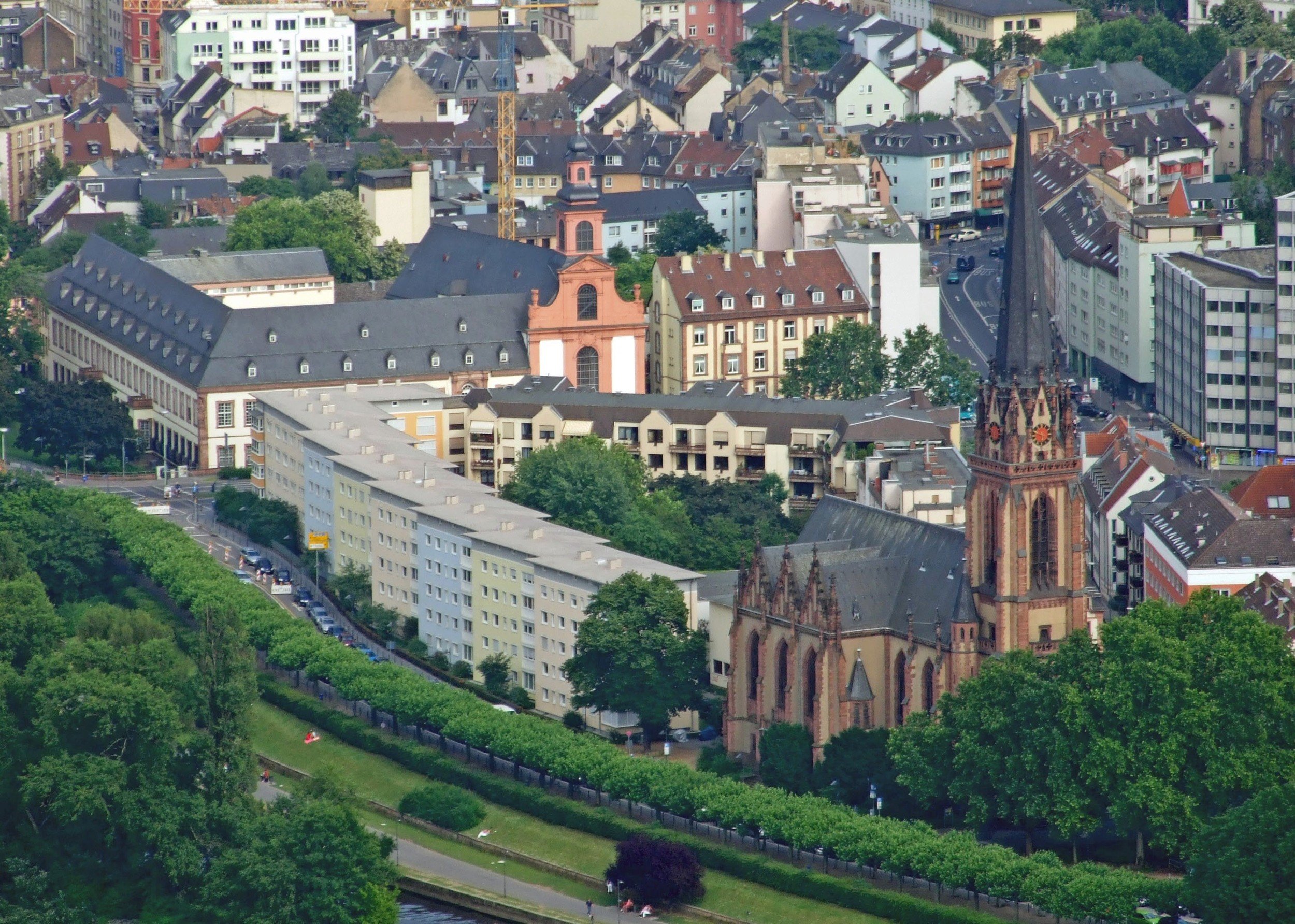 Unique boulevard home to some of Frankfurt's most fascinating museums
On both sides of the Main River
Learn about Germany's rich cultural heritage
Check out the Städel Museum – it's incredible
Why it's awesome: Along both sides of the River Main, you'll find this assortment of fantastic museums, centred around the Städel Museum. Frankfurt's museum embankment is not only one of the most important groups of museums in Germany, but the whole of Europe! You can enter for free too so it's a great place to check out if you're travelling on a budget. Museumsufer consists of architecture, film, and Jewish history museums to name just a few, and many of the buildings were designed by renowned architects. So, they look impressive both inside and out!
What to do there: The first item on many people's itineraries when visiting Museumsufer is the Städel Museum which houses over 700 years of European art in Germany's oldest art foundation. There are works from the likes of Picasso, Monet, and Rembrandt here. The museum has expanded into the digital realm after it's 200th anniversary and has some cool interactive exhibits too. Other cool museums include the Museum of Communication and the Jewish Museum of Frankfurt. After seeing everything, check out the Nizza Garden for a slice of the Côte d'Azur. Museumsufer is the perfect spot for culture vultures!
#3 – Palmengarten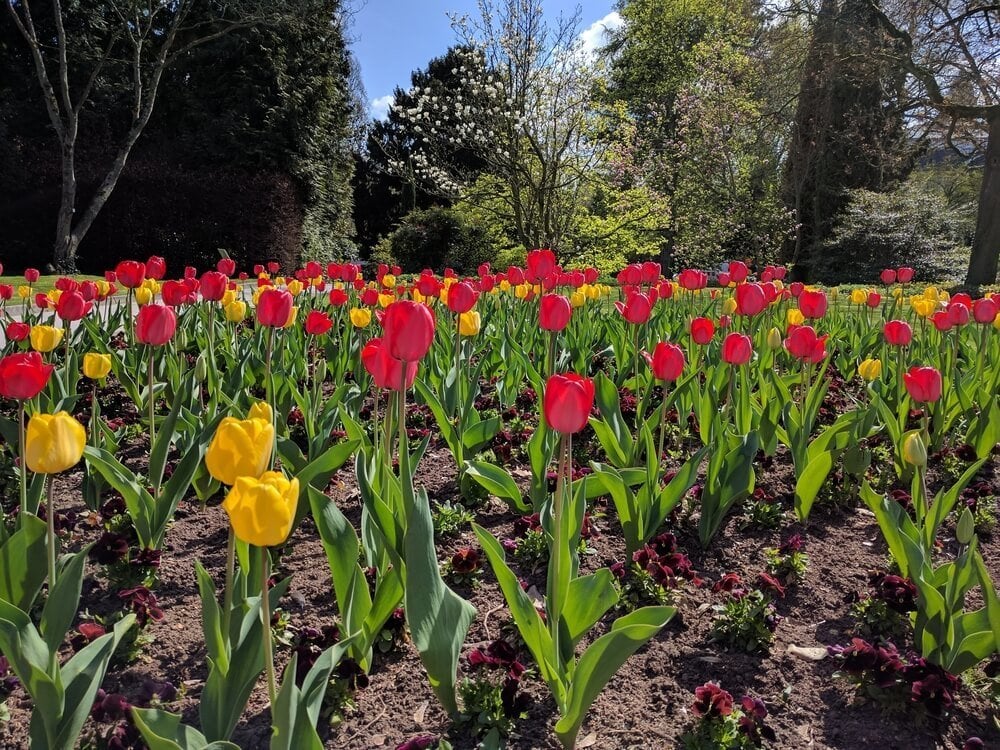 Largest botanical garden in Frankfurt
See a range of flowers and plants from around the world
Escape from the hustle and bustle
Extensive events calendar with lots happening throughout the year
Why it's awesome: Being in a big city like Frankfurt is great, but after a couple of days you might start to get cabin fever and feel the need for some nature and fresh air. Well, Palmengarten gives you that without having to even leave the city limits! The 22 hectare botanical garden is the biggest of three in Frankfurt (the others are Botanischer Garten and Tropicarium) and it's the best place to see trees, plants, and flowers from a variety of climate zones. Even if you're not that into horticulture, it's the perfect place to chill for a couple of hours.
What to do there: Wander through the greenhouses and experience tropical climates right in the middle of Frankfurt! Do check out the garden's events calendar too – as there is stuff going on all throughout the year. That will give you the chance to get involved in something really fun and memorable during your break in Frankfurt. Palmengarten is a great day out for tourists of all ages and will provide you from the escape from the hustle and bustle that you're looking for.
#4 – Main Tower
Frankfurt's 3rd tallest skyscraper
Enjoy the views from the observation deck
Go before midday to avoid the crowds!
Why it's awesome: The Main (pronounced mine) Tower is Frankfurt's 3rd tallest skyscraper and offers fantastic views of the city and its skyline. You can ascend the 200m 56 storey tower in just a few seconds before enjoying a walk around the top. If you want to get some great pictures without having to fight through a crowd, visit between 10am and 12pm when the tower is at its quietest. Obviously, visiting at sunset will provide you with some gorgeous views and even better pictures. However, you won't be the only one in town with that idea!
What to do there: See if you can spot the hostel you are staying in from the top! Other than enjoying the views of Frankfurt from this skyscraper, there are a couple of other things you can try out here to beef up your itinerary. There's a restaurant and a lounge where you can enjoy food and drink along with the spectacular view. Fitness fanatics are in luck too as the Main Tower is home to Europe's highest fitness club! Although we thoroughly recommend the Main Tower, it might not be the best idea to come to this symbol of the city if you're scared of heights!
#5 – Frankfurt Cathedral – One of the most important religious places to see in Frankfurt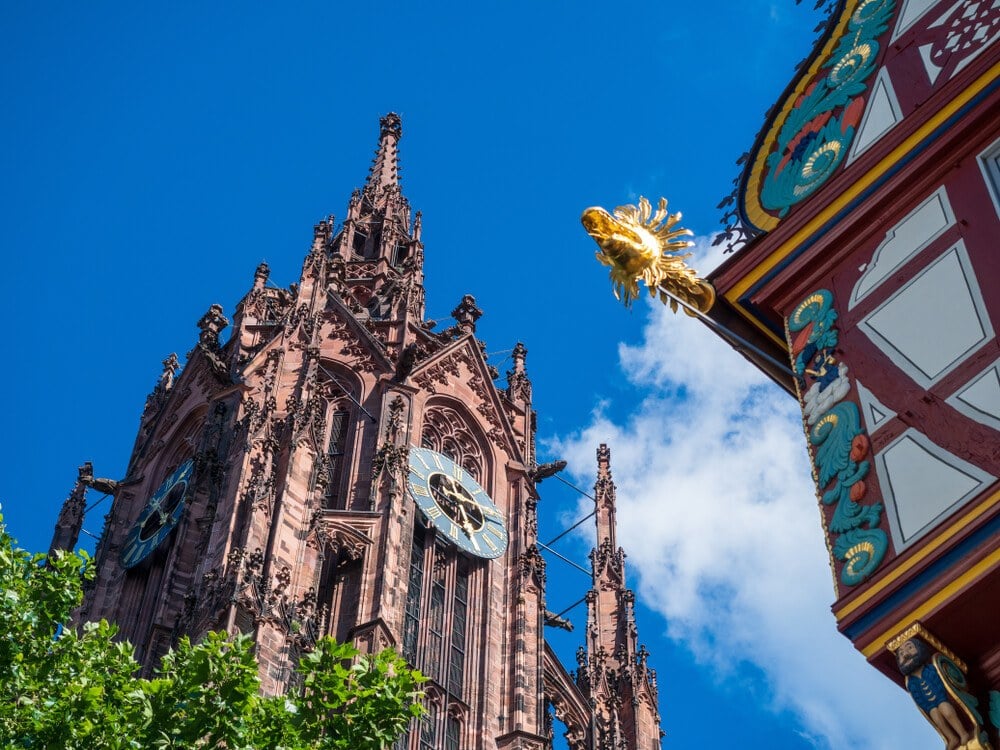 Explore the largest religious building in the city
Admire the stunning renaissance frescoes
Enjoy the views from the top of the tower
Check out the gorgeous Gothic architecture!
Why it's awesome: The Gothic Frankfurt Cathedral is one of the most beautiful buildings in the city and it's certainly worth setting aside a little time to visit. It's also known as the Kaiserdom and was the tallest building in the city until the 1950s, when the skyscrapers from like the Main Tower and Commerzbank Tower (the 7th tallest building in Europe) overtook it. This Roman Catholic church is dedicated to St. Bartholomew and it was one of the most important buildings to the Holy Roman Empire, as it was dedicated to the empire's elections and coronations.
What to do there: Learn about the building's past as a sign of 19th century national unity. As the former tallest building in Frankfurt, climbing to the top of the tower is a great way to get views of Frankfurt's evocative skyline. If heights aren't your thing and you'd rather keep your vow to stay safe while travelling with your feet firmly on the ground, there's plenty to keep you occupied in the cathedral itself. Take a guided tour to learn about why the building was so important to the Holy Roman Empire and see the reconstructed interior after it was damaged by fire in 1867 and bombings in World War II.
#6 – Eiserner Steg – One of the most romantic places to visit in Frankfurt!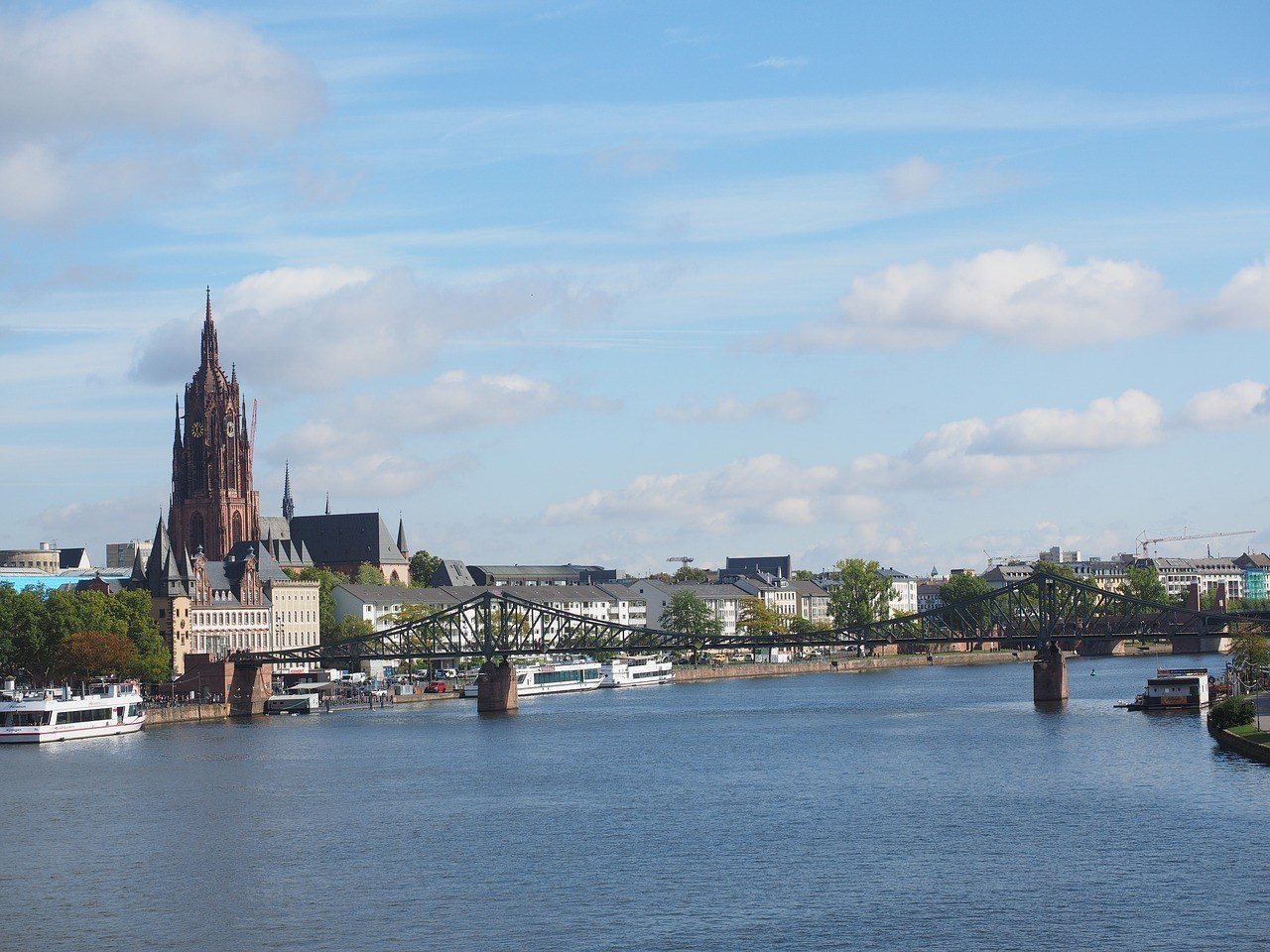 The most famous bridge over the Main River
Enjoy the views of Museumsufer and the Frankfurt skyline
Check out the lovers' locks – they're beautiful!
Why it's awesome: This historic iron bridge connects Frankfurt City Centre with the neighbourhood of Sachsenhausen. It has been a Frankfurt must-see since 1868 when it was constructed. Even though there are a number of bridges over the Main River, this is the only one that's dedicated solely for pedestrains. The fact that thousands of lovers' locks have been attached to the bridge only makes it a quirkier and more romantic setting. Because Frankfurt is such an easy city to walk around, you'll find tourists and locals in equal measure crossing Eiserner Steg!
What to do there: Well, if you're there with a loved one, wouldn't it be lovely to add to the lovers' locks that are already there with your own? It will create a special memory during your trip! It's not just a great spot for couples though. Take a walk over the bridge and relax as the Main River flows below you, taking in the beautiful views of the city and the museums. It makes sense to combine a visit to Eiserner Steg with a visit to Museumsufer. If you do that, you can take in two famous places in Frankfurt in one day!
#7 – Alte Oper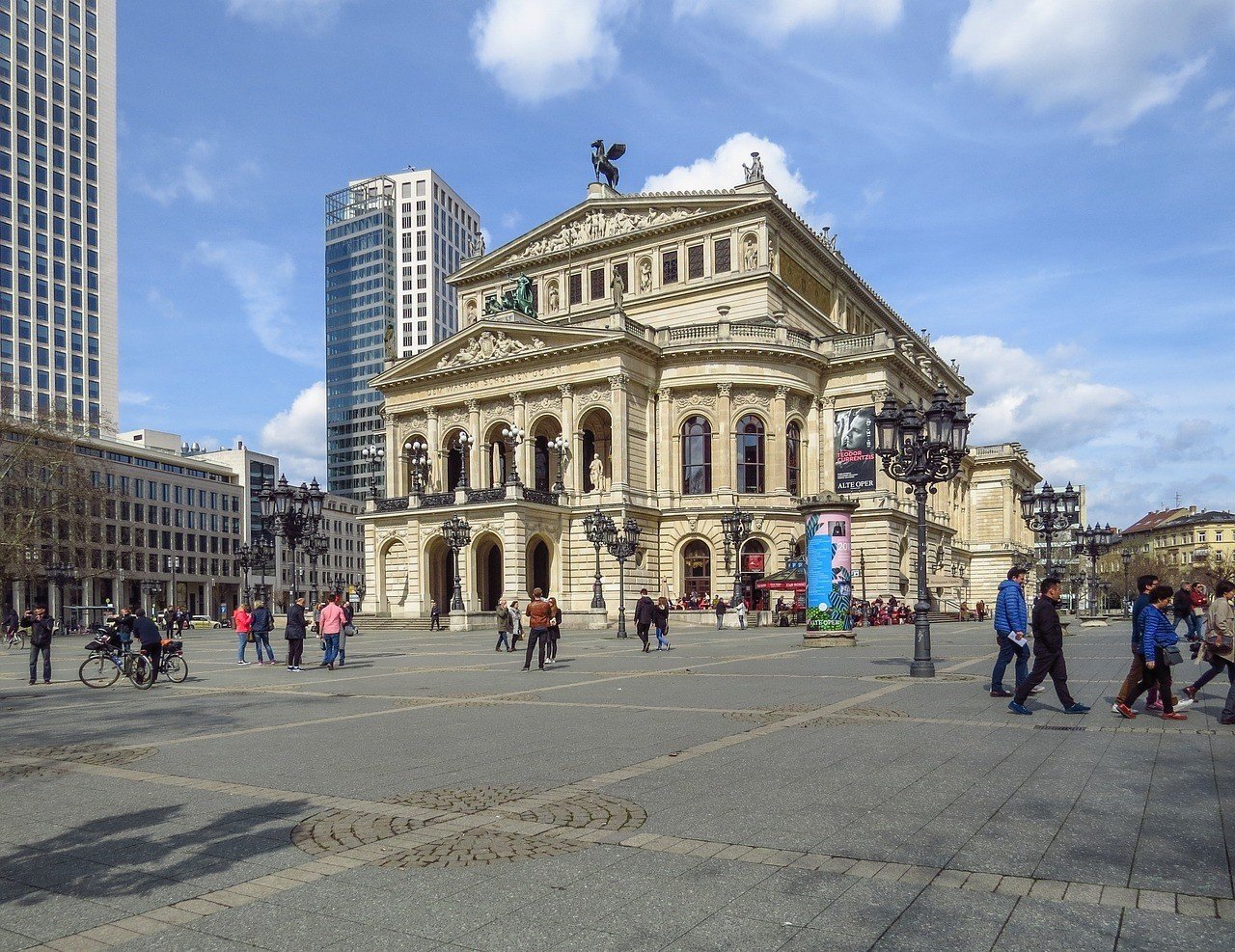 Over 450 music and entertainment events every year
One of Europe's most prestigious opera houses
Programmes for children, families, and young people
Enjoy a cultural night at the opera
Why it's awesome: No music lover can come to Frankfurt and leave out a visit to the incredible Alte Oper, one of the most prestigious music halls not only in Germany but the whole of Europe. The concert hall dates back to 1880, but like much of Frankfurt, it was destroyed by bombings in the Second World War. It was rebuilt in the 1970s before being reopening once again in 1981. Now, it hosts multiple events every year from jazz to opera to glamorous balls and international conferences.
What to do there: If you have the budget and the time, we definitely recommend seeing a concert during your trip to Frankfurt. It may be a bit on the pricey side, but wouldn't it be something to say that you've enjoyed world-famous jazz or opera at one of the finest concert halls in the world?! If you just want to see the opulent interiors where the events take place, then you can take a guided tour of Alte Oper. This tour will also show you places that are usually closed off to concert goers!
#8 – Goethe House – Possibly one of the most important places to visit in Frankfurt!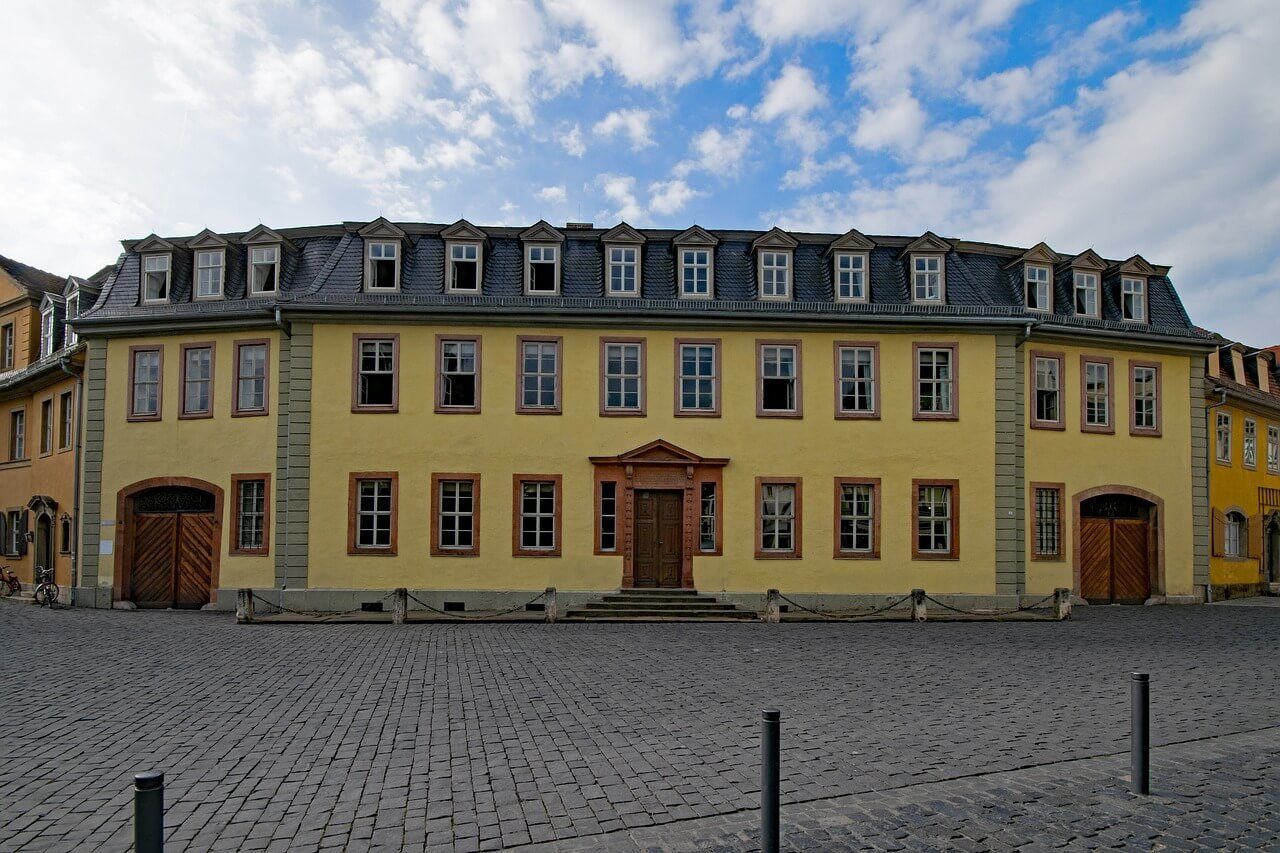 Explore the house of the writer of Goethe
Enjoy the 18th century paintings and furniture in the house
Learn about Germany's most famous author and poet
One of the most important landmarks in Frankfurt
Why it's awesome: Johann Wolfgang von Goethe is probably the most famous German writer of all time. He was also a politician and wrote essays on horticulture and anatomy, so he was a pretty busy guy! See the house where he grew up with his sister Cornelia, which has been lovingly preserved with period furniture and artwork from the Goethe area, exploring Goethe's relationship with art of the time. On the third floor, you can visit an exhibition dedicated not only to the house's most famous resident, but all those who have lived there since.
What to do there: A guided tour is probably the best way to see Goethe's 18th century bourgeois style house, as you can learn about all of the artwork and furniture that you'll see in there – not to mention finding out more about this iconic writer's life. It's in the Innerstadt district, so it's within easy walking distance of other parts of the city centre – including Römerberg and Museumsufer. Goethe's house is the ideal day out for anyone who has an interest in German literature, or politics!
#9 – Kleinmarkthalle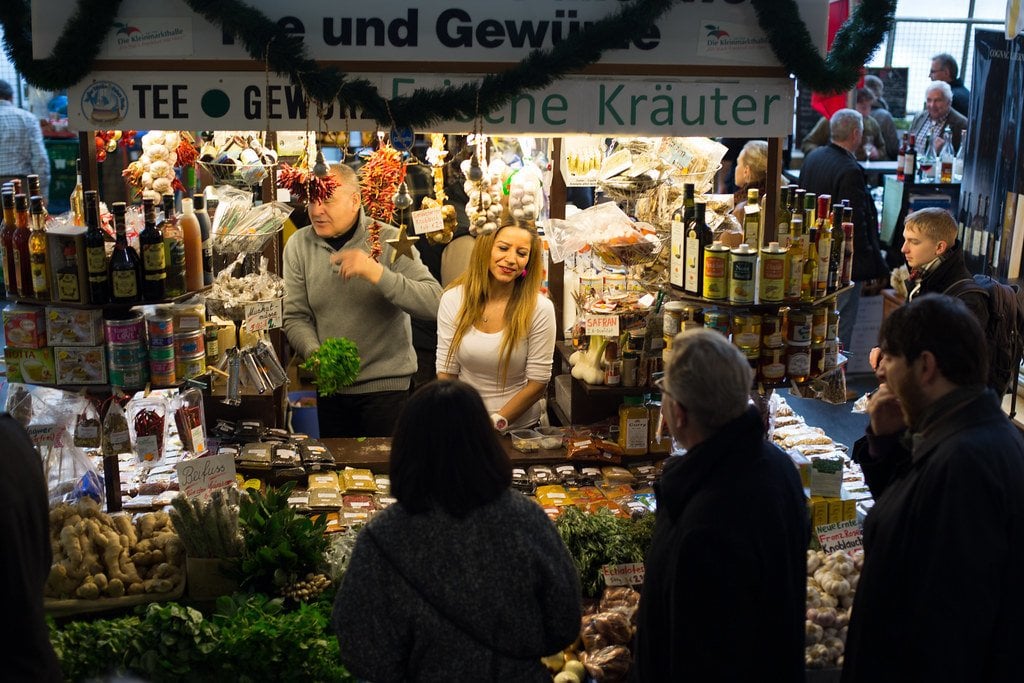 Try fresh food from over 150+ stalls
Sample some delicious German delicacies and specialities
Taste the delicious local 'green sauce'
Find Frankfurt's foodie heaven!
Why it's awesome: What's not to like about a market with over 150 stalls, each selling something as delicious or even more so than the last? Kleinmarkthalle is loved in Frankfurt by locals and tourists alike, and it's safe to say you'll end up trying more than just frankfurters here. Not only is it a great place to stop for lunch or dinner, but it's an ideal opportunity to pick up some tasty souvenirs for loved ones back home, and also to save money over a meal at an expensive and fancy restaurant!
What to do there: A market is the best place to get acquainted with local dishes, so we'd definitely recommend enjoying the famous sausage that bears the city's name – the humble frankfurter. Local green sauce also has to be right at the top of your menu! You can find delicacies from all over the world too, so if you've been curious about food from a far-flung corner of Africa, Asia, or Latin America, maybe this is your best chance to sample it. Foodies definitely shouldn't miss out on Kleinmarkthalle – it's easy to lose track of time and spend the whole day here.
Is This the Best Daypack EVER???
#10 – Zeil – A great place in Frankfurt if you love to shop!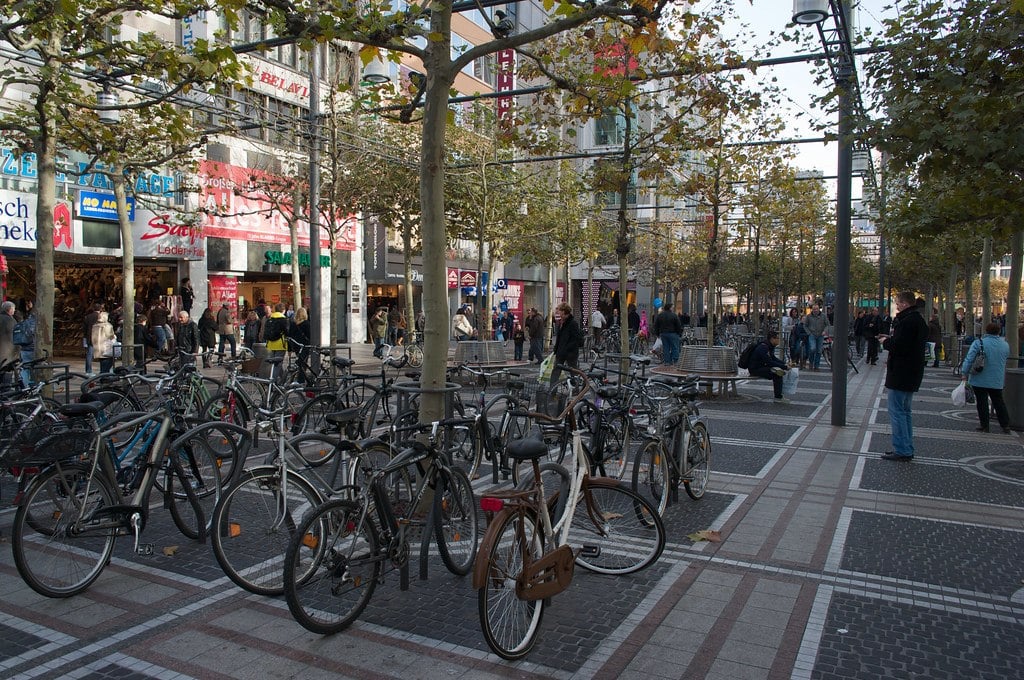 Window shop for designer goods
Enjoy retail therapy at one of the largest shopping and leisure complexes in Germany
Ride Europe's longest unsupported indoor escalator
Enjoy the light and airy interior of MyZeil
Why it's awesome: The name Zeil originally referred to a row of houses and dates back to 14th century Frankfurt, not that you'd realise now! Some of Frankfurt's most impressive architecture can be found in this area, completing MyZeil. It's one of the largest shopping and leisure complexes in the entire country and one of the hotspots in Frankfurt . You'll find a number of designer shops, as well as several more affordable options like H and M and Primark. Especially useful if you've forgotten anything for your holiday wardrobe!
What to do there: Of course, you can go shopping at Zeil. However, that's not all there is to do here. Zeil is home to some of the best places to eat in Frankfurt, with global cuisines ranging from sushi to tapas! Before filling your stomach, head to the workout studio so you can keep up to speed with your fitness routine. MyZeil also hosts a branch of the luxury Emirati hotel chain Jumeirah, so if you stay there you can spend your whole holiday under one roof!
Get insured for your trip to Frankfurt!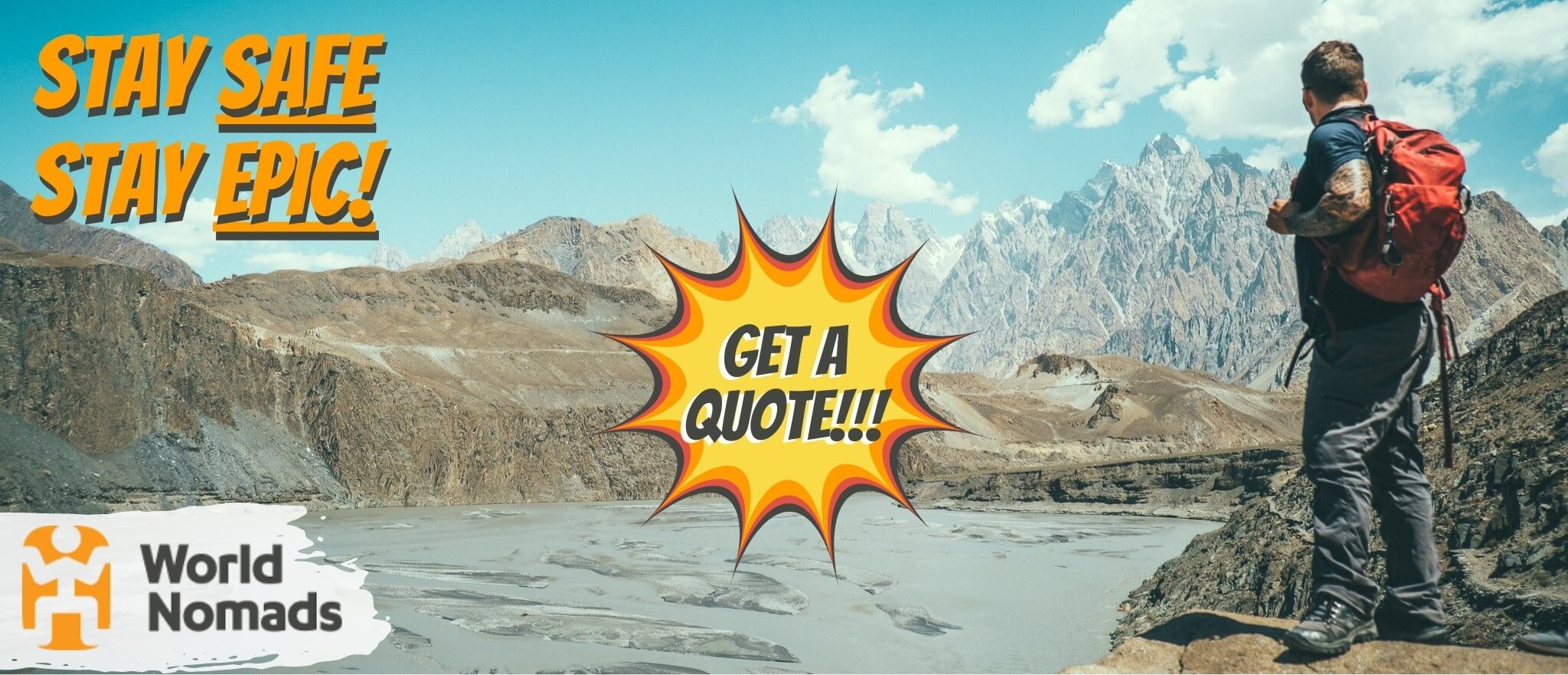 World Nomads' mission is to support and encourage travellers to explore their boundaries. They offer simple & flexible travel insurance, and safety advice to help you travel confidently.
They've been doing it since 2002 – protecting, connecting, and inspiring independent travellers just like you.
Get a quote below or read our in-depth review!
World Nomads provides travel insurance for travelers in over 100 countries. As an affiliate, we receive a fee when you get a quote from World Nomads using this link. We do not represent World Nomads. This is information only and not a recommendation to buy travel insurance.
FAQ on the Best Places to Visit in Frankfurt
Find out what people want to know about the best places to visit in Frankfurt
Final Thoughts
So, that completes our list of the best things to do in Frankfurt. We hope this has been a useful and helpful overview of some of the top things that you can fill your time with while visiting Germany's banking and finance capital – and also that you can clearly see there's more to the city than just that!
If you're interested in art, history, and architecture there's plenty for you to explore, notably the city's skyscrapers and stunning museum quarter. Even a shopping centre has won architecture awards here! A walk along the Main River or a visit to the botanical gardens should keep nature lovers happy too!
Most importantly, we hope you have the opportunity to immerse yourself into the local culture of Frankfurt. If you're passionate about travel, eager to learn about the city's history and culture, and brave enough to try the unusual delicacies at Kleinmarkthalle, there's no reason you shouldn't have an incredible break in Frankfurt!
---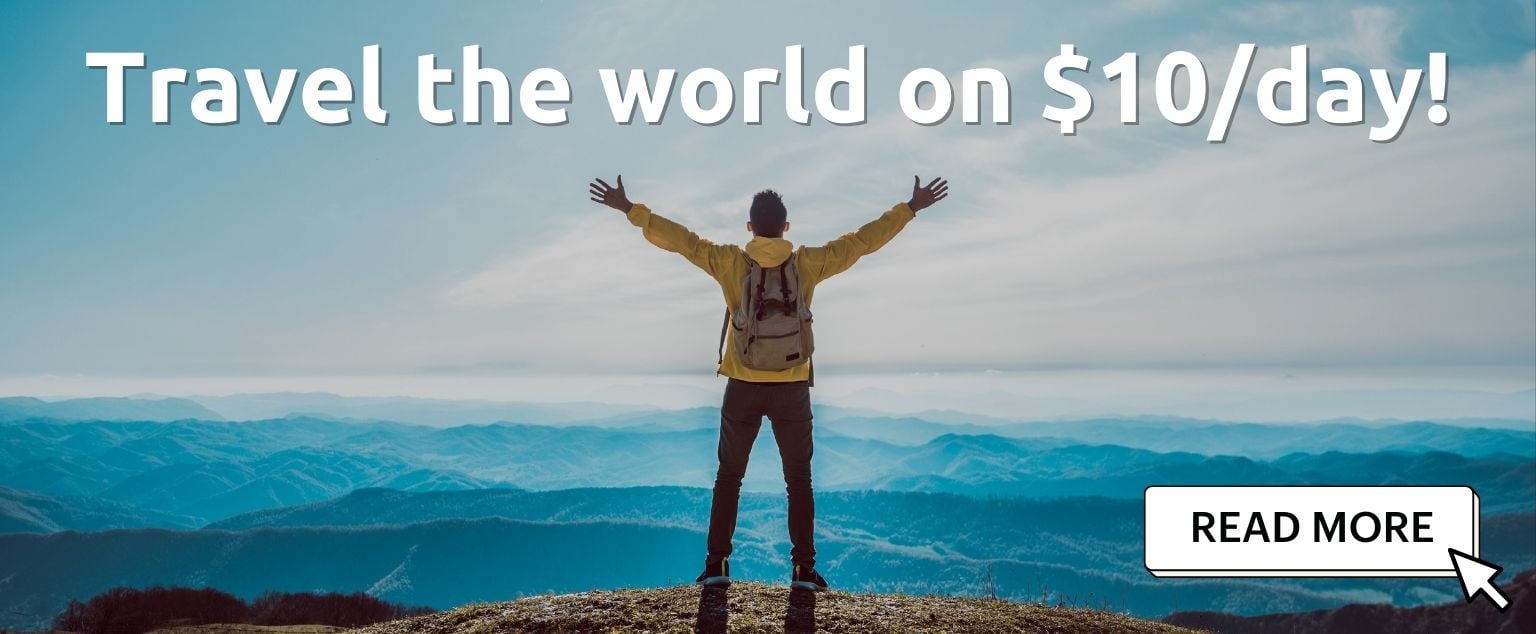 And for transparency's sake, please know that some of the links in our content are affiliate links. That means that if you book your accommodation, buy your gear, or sort your insurance through our link, we earn a small commission (at no extra cost to you). That said, we only link to the gear we trust and never recommend services we don't believe are up to scratch. Again, thank you!