It's only a matter of time until a good pocket knife comes in handy. Whether you're setting up camp or tearing it down, pocket knives will be right by your side every step of the process. Before you know it, your knife will be an everyday carry, and you'll lose track of the benefits.
A pocket knife opens your campsite for renovations, whittles the branches for marshmallows, and preps the charcuterie board. Just don't forget to clean your blade before the meal; rubbing it on my dirty shirt cleans it enough, right?
On some camping trips, my pocket knife helps me enjoy dinner on the beach, and on other trips, it does nothing more than open up a few beers. Whether you think you need it or not, adventurers would argue that heading into the woods without a quality pocket knife is asking for trouble.
It may be tempting to do without. I'm always looking for places to shed weight and deciding which one of my toys I'll have to leave at home, but pocket knives accompany every trip. They weigh less than most single-use quick oats packets, so there is no reason to leave one off your packing list.
Unfortunately, It's not easy to create a knife versatile enough for the trail that is also small enough to bring to the mountain top. Many lesser knife options have fit the bill only to snap under pressure.
Don't trust dinner on shoddy craftsmanship. To make sure your knife is ready when it counts, you need to invest in the best. In this post, we'll weed out the phonies and take a closer look at top pocket knives and other pocket tools that travellers will love.
Quick Answers
Best Overall Pocket Knife
Best Overall Pocket Knife
Benchmade Bugout
> $$
> Fits into even the most lightweight situations
> Comes with easy waist attachment
Best Ultralight Pocket Knife
Best Ultralight Pocket Knife
Benchmade 533
> $$
> Smallest knife out there that can still get the job done
> Stainless steel blade
Best Bargain Pocket Knife
Best Bargain Pocket Knife
Opinel Number 8
> $
> Hand Carved and affordable
> Simple and effective locking mechanism
Best Small Knife
Best Small Knife
Gerber Outrigger
> $
> Fastest draw in the west
> Quality safety lock
Best Multi-Blade Knife
Best Multi-Blade Knife
Leatherman Free T4 Knife
> $
> 12 tools can all be accessed with one hand
> Stainless steel used throughout
Best Knife With Scissors
Best Knife With Scissors
Leatherman Serrated Knife
> $
> Packs 8 tools into a classic knife handle
> Quality blade and quality multitools
Best Cheap Pocket Knife
Best Cheap Pocket Knife
Petzl Spatha
> $
> Easily hooks onto a carabiner
> Same steel used in ice skate blades
About Knives and Other Tools
Most pocket knives and multi-tools are considered weapons and are heavily regulated. Don't try to take them as a carry-on. Any knife will cause questions at most police interactions and all border crossings, so make sure you understand the local national or even state knife laws before you head to the airport with a knife in your pocket.
A good knife should be more than suitable for everyday carry, but that doesn't mean you have to bring it everywhere. Any stadium or venue with a metal detector may not allow you to bring your knife inside. You could either miss the show or lose your tool.
Most knife laws prevent concealed carry, and if you catch a cop on a bad day, that could mean your pocket. Most of the knives on our list won't get you into too much trouble. Just use common sense, and don't try to hide your knife if questioned.
How To Find a Good Pocket Knife
A knife fits perfectly into every palm in America, but it won't be the same knife in most hands. Knives and multi-tools are just that – multifunctional. There are loads of different values in a good knife, but there is not much space to play with if you want it to fit in your pocket. You'll find many good pocket knives for accomplishing many different tasks, but you won't find one knife that can do it all. A knife that makes great camping gear, may not be suitable for carrying in the streets of London for various reasons of legality!
Designers have given shoppers a world of options, all with the classic quality and stainless steel that makes up a good blade. You can find knives with all sorts of handles, blade shapes, extra features, and construction quirks that make them stand out.
Here are a few factors that go into a good pocket knife. Decide where you fit into these categories to find the knife that best fits your hand.
Price
When it comes to knives and tools, cheap usually means crap. Budget products from the legendary Swiss Army and Opinel are the closest things to exceptions to this rule (both of these make great gifts for backpackers). These options provide tremendous value for their price and are the real deal, but neither one can cut through thick objects.
Crap is OK, if you don't need a knife to do more than cut some cheese, but crap can get costly when you don't have all day to saw through a coiled rope. Expect to pay anywhere from 20-140 dollars for your pocket knife and get what you pay for.
Size
Every knife on our list can be comfortably carried in your pocket. Some of these knives are so small you might forget they're in there until you hear them bouncing through the washing machine, and others might feel bulky in tight jeans.
Be wary of incredibly small multi-tools. There is such a thing as too much of a good time when it comes to pocket knives. Fitting 30+ separate tools into your pocket is impressive until it's time to actually use them, and all the tools are too small to function.
That goes double for the blade. Trying to cut and cook dinner with a Swiss Army knife alone can be mildly infuriating, at the least. We all want to keep things as small as possible for a better fit, but don't fall for knives that take it too far.
Opening Style
Is it a flick? A fold? What you need it for will largely influence what style you need.
Folding knives bring with them a carefully crafted locking mechanism that holds the blade in place and must be manually unfastened. Flick knives rely on gravity to open up with one hand once a safety switch is off. This style will deploy faster but can buckle under high pressure, as the blade has no backbone.
If you expect to push your knife to its strength limits, folding knives that use a pin or other lock to hold the blade will be stronger. Flick knives are best for those who want a more convenient opening and closing style.
How It Feels
Your opening style and your blade's weight will have a significant impact on how each blade feels in the palms of your hand. Check to make sure the contours of the handle fit with your hand to provide optimal grip. Remember, these are pocket knives, designed to be miniature. Small knives won't feel the same as a kitchen cleaver.
Don't expect your knife to cut through fruits and vegetables the same as your tools at home, but don't lower your expectations too low. You don't want your knife to feel like it's going to break if you meet a hard force.
If it's too small for you to hold correctly, you may struggle to cut through tough meats or rough edges. Any knife good enough for everyday carry will have to tackle rope, wood, cords, boxes, and foods. If your blade fits into the most petite pocket but struggles to get through a tomato, it's worthless.
The most dangerous knife is a dull one. Putting heaps of pressure on a lousy blade to get through tough objects is how accidents happen, so find a knife that feels effortless when cutting.
Versatility
Are you after a knife or a multi-tool?
If versatility is your primary consideration, multi-tool is the only natural choice, but it's not an easy decision. There is no multi-tool with a blade as good as a knife.
A good rule of thumb is that the more a multi-tool can do, the less effective the knife blade is. Multi-tools are trying to do a lot more with the same space as a pocket knife. To fit everything in there, the edges are usually weaker, shorter, and blunter than the blade of a single knife.
Don't expect your multi-tool's blade to be as good as a folding knife, which means there is no point buying a multi-tool just for the sake of it. I have a Swiss Army knife and only ever use the blade and bottle opener! A good pocket knife can be much more versatile than you think.
What Are The Best Pocket Knives and Travel Tools?
The best pocket knives and tools come in all shapes and sizes, from classic designs that haven't changed in centuries, to the latest multi-tool technology. We've got great blades on display that each perform a different task better than the competition. The only thing these knives all have in common is their effectiveness.
Any good pocket knife will last for decades, so choose wisely. Check out the best-in-class across several categories to find your perfect partner.
Ladies & Gents, It's Time to Step Your GEAR Game Up. 😉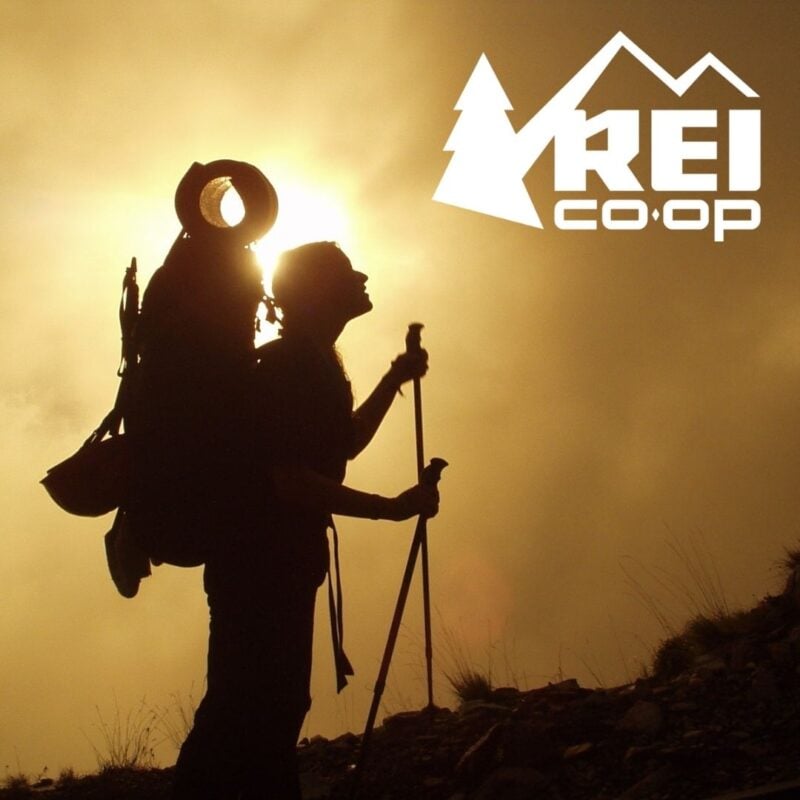 REI is one of America's biggest and most-loved outdoor gear retailers.
Now, for just $30, get a lifetime membership that entitles you to 10% OFF on most items, access to their trade-in scheme and discount rentals.
Join REI Today!
#1 – Best Overall Pocket Knife – Benchmade Bugout
Our top pick for best overall pocket knife is Benchmade Bugout
Specs
Price: 150
Material: Polymer + Steel
Folded Size (In): 4.2
Weight: 1.85 oz
Slip this sleek, fine-edge knife into your pocket alongside your phone, wallet, and keys, and then forget about it until it comes in handy. Our favourite overall pocket knife doesn't waste an ounce, providing a powerful and versatile single blade while weighing less than a pack of gum.
The knife is manually activated in seconds and is large enough to chow down on a block of cheese, small enough to finely skin veggies, and durable enough to get you through a few years on the road.
This lightweight performance combines with a powerfully rigid blade that can handle most jobs with ease. Its all-around performance has earned the Bugout notoriety among the most passionate collectors and makes the blade frequently recommended for first-time pocket knife owners.
Equipped with an Axis lock, you won't waste time fidgeting with this blade to get it deployed and start slicing.
+Pros
Fits into even the most lightweight situations
Comes with easy waist attachment
Lifetime warranty
-Cons
No focus on looks, only practicality
The blade is slightly smaller than average
#2 – Best Ultralight Pocket Knife – Benchmade 533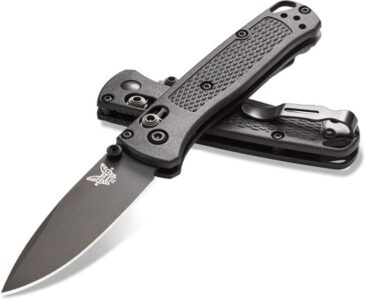 Benchmade 533 is our top pick for best ultralight pocket knife
Specs
Price: 150
Material: CF-Elite and Steel
Folded Size (In): 4
Weight: 1.5
Benchmade has set a high benchmark for travel tools. The company has offered up not one but two strong contenders for the best pocket knives of all kinds. If you felt like the Bugout was slightly too much knife for you, this miniature model is as lightweight as it gets. The pocketknife shaves off .3 ounces from the larger Bugout while condensing the blade down by an inch.
It may seem like a slight difference, but ultralight hikers know every single decimal point counts when keeping track of weight over long treks. This ultralight option keeps weight down without sacrificing value, and that's the tricky part!
There are plenty of mini blades out there that feel useless beyond spreading butter. The Bugout was already a small knife, so it's easy to worry about the shortcomings of an even smaller shell.
You can put those fears to rest with this little folding knife. Deploy your blade with the flick of a thumb and cut through twigs, sausages, or whatever else you feel like fiddling with at the campsite.
+Pros
Smallest knife out there that can still get the job done
Stainless steel blade
Lifetime warranty
-Cons
There are not many situations where you need a knife this small
Blade can struggle through thicker root vegetables
For best multi-tool, checkout Leatherman Free P4
Specs
Price: 139
Material: Stainless Steel
Folded Size (In): 4.25
Weight: 8.6
Advertising yourself as the most advanced multi-purpose tool ever made is an incredibly bold statement, but in this case, it just might be true. A multi tool is great for long term backpacking and also makes for essential roadtrip gear in our view.
I immediately noticed that every one of the tools included in this tiny multi-tool can be activated with one hand, from the bottle opener to the wire cutter. Keeping openings organized and easy is the most challenging part of making a good multi-tool. The P4 got creative to get it done.
Free P4 got a few upgrades from earlier models to establish itself as the best knife of the multiverse by adding a saw and another serrated knife. The new blade didn't get rid of anything that made the line an industry leader either. These multi-tools are handmade and designed in the United States and are fully protected for 25 years.
It's as close as you can get to having a toolbox with you at all times. Two types of pliers, two knives, four screwdrivers, and all the usual suspects add up to 21 tools. The set makes a great gift, and you can personalize your multi-tool with design engravings or custom lettering.
+Pros
21 toolset
Design and made in the USA
Totally customizable
-Cons
Expensive for a multitool
Several tools have sacrificed performance to stay so lightweight
#4 – Best Bargain Pocket Knife – Opinel Number 8
Opinel Number 8 is one of the best bargain pocket knife
Specs
Price: 18
Material: Wood + Carbone
Folded Size (In): 4 3/8
Weight: 1.6 oz
No one's going to believe your knife cost you less than 20 bucks if you show up on a camping trip with the Opinel Number 8 in your pocket. The tool is incredibly cheap, and I can't find any corners Opinel cut in production to offer such an affordable price.
Each blade handle is handmade from sturdy French Beechwood. The hardy wood is featured on the grips of all sorts of French culinary tools, but none is more iconic than the beechwood grip of the Opinel. The blade has been slicing through Brie cheeses since 1890, and what you see today is the exact same design as the original.
The blade's beauty is its simplicity. No. 8 is one of the largest options in the series but still, only 5 components complete the ensemble; hand-carved grip, X90 Steel, a pin, a collar, and a locking ring.
You won't find a more classic all-rounder, albeit with one glaring flaw. The knife's lack of stainless steel means the blade isn't up to the most demanding tasks, but most adventurers will find plenty of use at an incredibly low price.
+Pros
Hand Carved and affordable
Big blade has loads of versatility
Simple and effective locking mechanism
-Cons
Takes two hands to open
Not stainless steel
Meet the best multi-purpose knife: Swiss Army Camper Knife
Specs
Price: 27
Material: Stainless steel
Folded Size (In): 3.5
Weight: 3.2 oz
In case you forgot about one of the most famous knife makers on the planet, let me remind you: Swiss Army knives have been synonymous with boy scouts and camping trips since the days when there was no such thing as an un-broke backpacker.
Why mess around with something as practical as a multi-tool? For a reasonable price, you can go with the most universally used knife on the planet. Their Camper Knife is the brand's bread and butter. Beneath the classic Red Swiss exterior holds essential camping tools that can do everything from whittling down a walking stick to opening up a bottle of wine.
An easy keychain attachment lets you clip on this lightweight attachment directly to your keys, so your pocket toolkit will never be too far away. Between the multiple knives and the sawblade and tweezers, you'll quickly become basecamps designated problem solvers.
+Pros
This multitool has proven itself to last for decades
12 piece kit
The original camping tool
-Cons
No scissors
Difficult to clean

Do You Want to Travel FOREVER??
Pop your email in below to get a FREE copy of 'How to Travel the World on $10 a Day!'.
Gerber Outrigger is our top pick for best small knife
Specs
Price: 30
Material: Stainless steel
Folded Size (In): 3.75
Weight: .8
Once the Gerber babies grow up, this company still has their back with a tactically assisted opening knife. This legendary knife manufacturer has been churning out useful miniature knives since before World War Two. This modern-day iteration has kept Gerber in the game for almost 100 years.
The Outrigger is a folding knife with a spring-loaded activation button that opens up boxes in a hurry. It may come from an older company, but this ain't your grandpa's mini knife. Gerber field-tested the brand new opening system in their quest to create the best mechanism for rapid knife deployment, and it's hard to argue with the end results.
Without a complete knife, that fast opening would be nothing more than a gimmick, but the Outrigger delivers in every category. Your stainless steel blade will be out in a hurry, and the plastic coating grip feels good in your hands.
+Pros
One of the smallest folding knives on the market
Fastest draw in the west
Quality safety lock
-Cons
Very small blade
Two-handed opening
Our top pick for best multi-blade knife is Leatherman Free T4 Knife
Specs
Price: 60
Material: Stainless Steel
Folded Size (In): 3.6
Weight: 4 oz
For adventurers who want the iconic Leatherman craftsmanship without the 21 toolsets of the P4, the company's lighter T4 multi-tool still brings plenty of value, especially considering it's almost one hundred dollars cheaper than its high-class brother.
This knife is slightly more white-collar, providing only 12 tools in one. The spring-loaded tools are opened with the help of magnets to give you a one-hand operation no matter which piece you're whipping out. Most trips shouldn't require more than 12 tools anyways, and there is plenty to love about what the T4 has under its stainless steel.
All of this is encased in packaging similar in size to a swiss army knife, with arguably more value, thanks to the additional scissors. Innovators and early adopters will be swearing by this blade's fancy release system, which one day will look like a no-brainer.
+Pros
12 tools can all be accessed with one hand
Stainless steel used throughout
You can flick the knives in and out
-Cons
The quick-release system can't get dirty
One-hand operation takes some getting used to
For best knife with scissors, checkout Leatherman Serrated Knife
Specs
Price: 90
Material: Stainless steel
Folded Size (In): 4.5
Weight: 5.5 oz
Out of a multi-tool, I really only use my scissors, knife, and bottle opener. This single blade knife checks off all three boxes while ensuring the blade stays big enough to be useful in many different situations.
Leatherman took its magnetic release system that made their multi-tools famous and figured out how to make it work on a serrated knife, crafting a great alternative to a traditional boxy multi-tool. You'll find 10 different hidden tools and one serrated blade that stretches out over 3 inches. Its the closest thing in the knife industry to the best of both worlds.
All the separate tools included in this knife deploy on one side of the handle, so the other stays firm for better grip. There are loads of multi-tools much larger than this one that still don't come with scissors or spring-loaded activation. If you are looking for one knife to solve all your problems, this baby is like counselling.
+Pros
Packs 8 tools into a classic knife handle
The included Stainless steel is tough and can be sharpened
Quality blade and quality multitools
-Cons
Magnet opening system can get jammed
Heavy for a typical blade
#9 – Best Cheap Pocket Knife – Petzl Spatha
Petzl Spatha is one of the best cheap pocket knife
Specs
Price: 29
Material: 12C27 Steel
Folded Size (In): 4.5
Weight: 1.5 oz
Knives don't have to come with bells and whistles. You won't find an included toothpick or a sprawling collection of knickknacks inside this knife, just one blade and a plastic handle perfect for ropes and riggings. Petzl builds its products for climbers, but this particular item works across the spectrum of outdoor activities.
Petzl had to pay attention to every ounce to make a knife for climbers – a blade that wouldn't let down anyone hanging on the edge of a cliff. That shows itself in the spec sheet, as the entire knife weighs less than 2 ounces but packs a blade that extends up to almost 3 inches.
That combination of lightweight and efficiency are all some knife-owners need. If you don't want a blade to do anything more than cut, you won't find a lighter knife with this kind of performance. A nice sized hole at the front will allow you to easily fit the Spatha into a carabiner and keep it close until it's time to cut rope, webbing, fishing line, or sailing equipment.
+Pros
Built for use in high-stakes situations
Easily hooks onto a carabiner
Same steel used in ice skate blades
-Cons
Least versatile knife on our list
Difficult to open with one hand
The best present of all… is CONVENIENCE!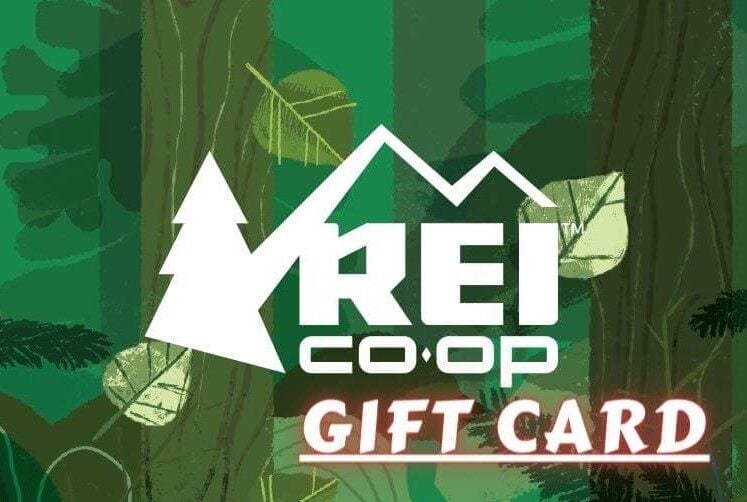 Now, you could spend a fat chunk of $$$ on the WRONG present for someone. Wrong size hiking boots, wrong fit backpack, wrong shape sleeping bag… As any adventurer will tell you, gear is a personal choice.
So give the adventurer in your life the gift of convenience: buy them an REI Co-op gift card! REI is The Broke Backpacker's retailer of choice for ALL things outdoors, and an REI gift card is the perfect present you can buy from them. And then you won't have to keep the receipt. 😉
Buy on REI!
Best Pocket Knives

| Name | Material | Folded Size (inch) | Weight (oz) | Price (USD) |
| --- | --- | --- | --- | --- |
| Benchmade Bugout | Polymer + Steel | 4.2 | 1.85 | 171 |
| Benchmade 533 | CF-Elite and Steel | 4 | 1.5 | 162 |
| Leatherman Free P4 | Stainless Steel | 4.25 | 8.6 | 149.95 |
| Opinel Number 8 | Wood + Carbone | 4.375 | 1.5 | 18 |
| Swiss Army Camper Knife | Stainless Steel | 3.5 | 3.2 | 36 |
| Gerber Outrigger | Stainless Steel | 3.75 | .8 | 30 |
| Leatherman Free T4 Knife | Stainless Steel | 3.6 | 4 | 60 |
| Leatherman Serrated Knife | Stainless Steel | 4.5 | 5.5 | 90 |
| Petzl Spatha | 12C27 Steel | 4.5 | 1.5 | 29.95 |

Our GREATEST Travel Secrets…
Pop your email here & get the original Broke Backpacker Bible for FREE.
Final Thoughts on The Best Pocket Knives
These street legal pocket knives all pull well above their incredibly light weight. There is no adventure a pocket knife can't help out with, so use this guide to find the blade of your dreams and start your budding woodworking career.
A good pocket knife is a survival tool to toss in your survival bag, and the best pocket knives will help you survive and thrive in life outside. Modern technology has sharpened the stakes and allowed pocket knives to do more with less than ever before. With all the different blade shapes and steel types out there, it can be hard to narrow down the field but stick to the basics and trust in the knives on this list to get the job done.
Fit one of these knives in your pocket, and start exploring. Let us know about a time your knife saved the day in the comments below.
Other useful camping items? Check out our rundown of the best campfire starters to go alongside your knife.
---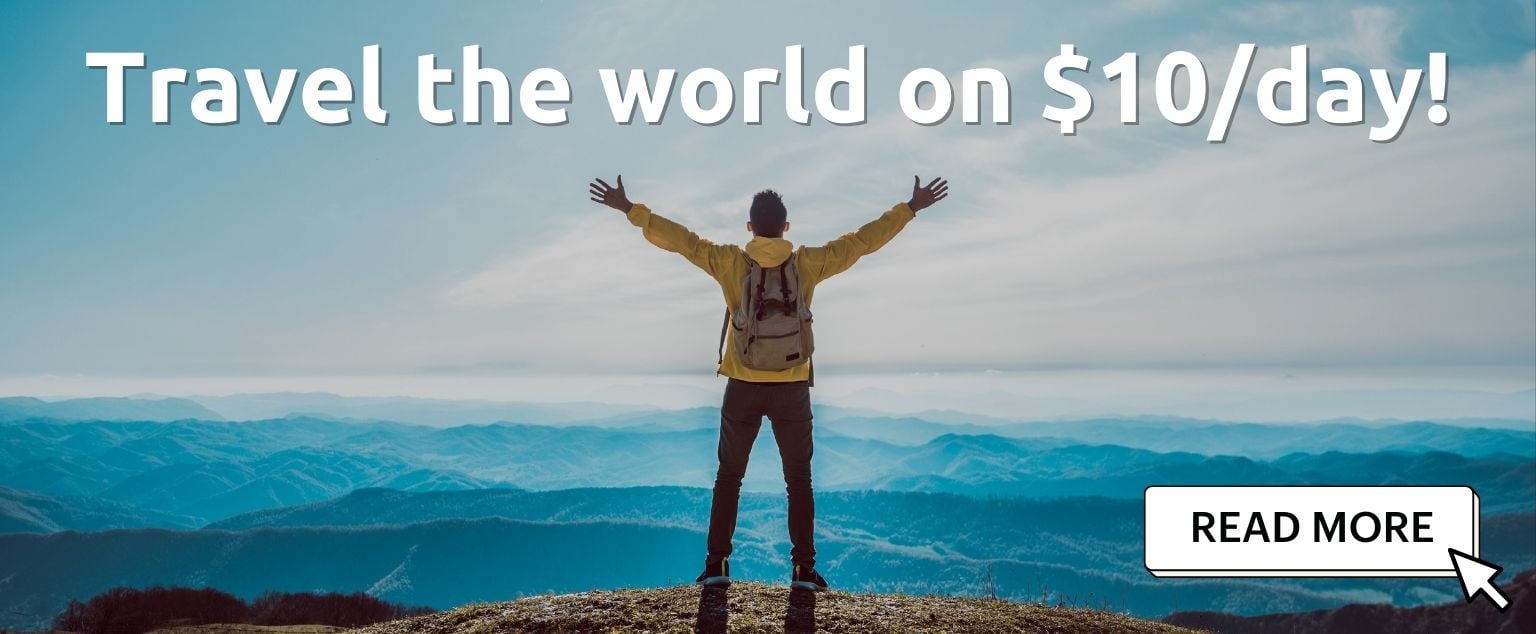 And for transparency's sake, please know that some of the links in our content are affiliate links. That means that if you book your accommodation, buy your gear, or sort your insurance through our link, we earn a small commission (at no extra cost to you). That said, we only link to the gear we trust and never recommend services we don't believe are up to scratch. Again, thank you!