As LIT as camping is, it requires a lot of planning and preparation. First things first, you're going to need a bunch of practical equipment to make your adventure enjoyable (and possible). Without a doubt, one of the most essential items you'll need to pack with you is a campfire starter. Whether you choose camping lighters, matches, or starters, this is the one piece of equipment that can either light up your adventure or quickly extinguish the fun.
What's a camping trip without a roaring campfire to sit around? Holy smoke! Campfires are usually the center of a picture-perfect campsite. They bring everyone on a camping trip together to enjoy the warm heat, cook tasty food and tell stories.
The best campfire starter should generate a flame fast, safely, and be reliable in varying weather conditions. They also need to be practical for transporting, meaning they should be lightweight, durable, and compact.
So, it's essential you purchase a good quality campfire starter before setting off into the wilderness. With that being said, not all campfire starters are created equal.
Depending on where you're going camping and the weather conditions you expect to face, there are many fire starters for different occasions. A warm summer camping trip might warrant a simple Zippo lighter, but if you expect bad weather, you'll need to have a weatherproof fire starter on hand. This way, you can literally 'set fire to the rain.'
To make your life a bit easier, we've put together a list of the top seven campfire starters on the market in 2022, from matches to weather-friendly lighters, to help you find the perfect match!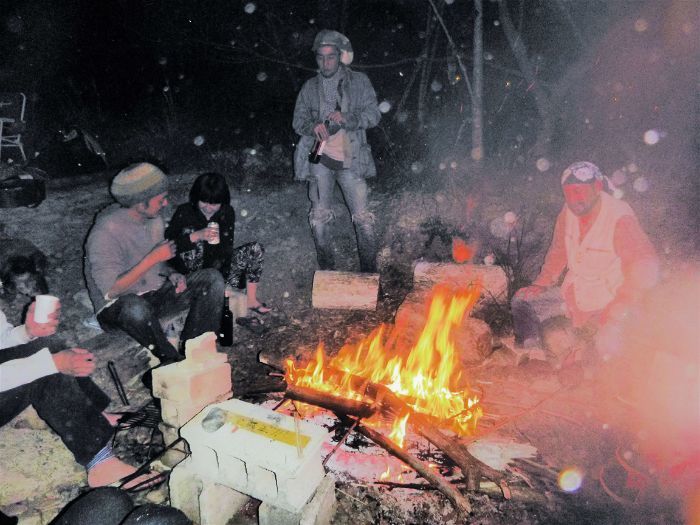 Quick Answers – These Are The Best Camp Fire Starters
In a hurry? Check the top eight campfire starters available today:
What Is The Best Way To Start A Campfire
There's something special about gathering around a camp fire with your mates, enjoying some drinks, and chatting about the adventurous day you've just had. But camp fires aren't only good fun, they're necessary if you want to keep warm during cold nights, and essential for cooking food and boiling water.
The joys and benefits of an open fire are clear, but getting a fire going can be a torturous affair to endure. Luckily for us, some of the best campfire starter kit and firelighting accessories are available to help make starting a fire a little bit easier.
Without a fire starter, you'll find yourself scratching twigs together like Bear Grylls, except you'll likely end up with a sore wrist and some unwanted splinters instead of a roaring fire. They're an important part of any camping checklist.
Over the years we've tried starting fires in all manner of conditions and using all manner of different methods. One time at Big Sur me and my buddy (who I met the day before) had our asses saved from freezing and our stomachs saved from starving after we successful got a blaze going using nothing other than two stones and a bottle of paraffin we very fortunately found.
PS – if you maybe need something a little more heavy-duty for cooking then maybe skip this post and try looking at these camping stoves instead.
Best Overall Campfire Starter
Best Budget Fire Starter
Best Budget Fire Starter
UCO Sweetfire Tinder
> $
> Made from a by-product of sugarcane called bagasse
> Environmentally friendly
Best Bad Weather Campfire Starter
Best Bad Weather Campfire Starter
Titan Stormproof Match Kit
> $
> Includes 12 matches and three replaceable strikers
> Stored in a waterproof case with a practical lanyard
Best Natural Campfire Starter
Best Fire Starter Knife
Best Fire Starter Knife
Morakniv Companion
> $
> Thin blade made from carbon steel
> Comes with a practical cover
Best Campfire Starter Lighter
The Best Camp Fire Starters On The Market
Now that you know a bit about campfire starters and how best to start a campfire, let's fire away at the best ways to light your campfire in 2023:
Ladies & Gents, It's Time to Step Your GEAR Game Up. 😉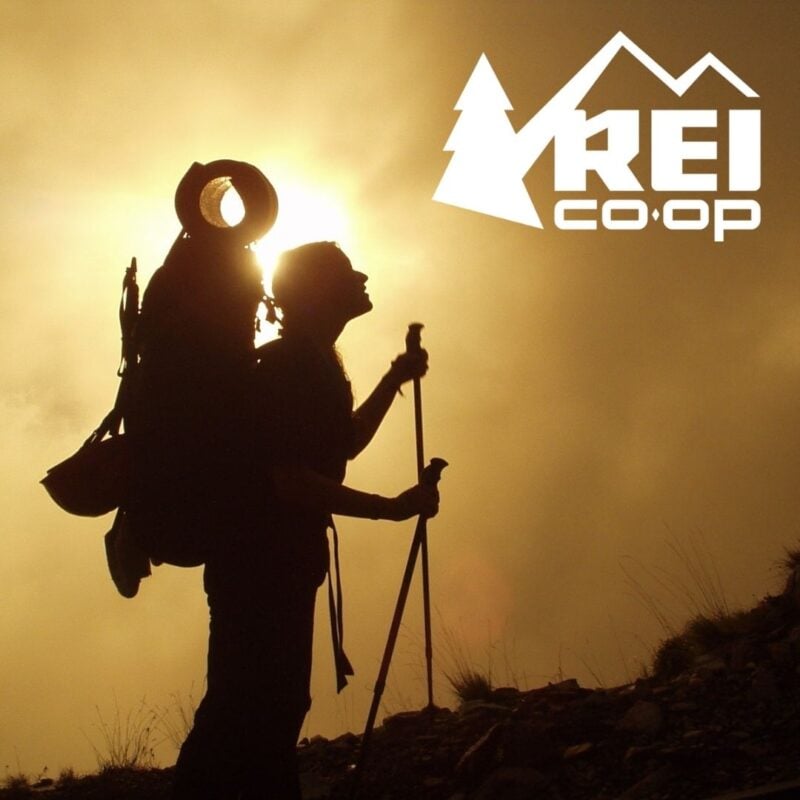 REI is one of America's biggest and most-loved outdoor gear retailers.
Now, for just $30, get a lifetime membership that entitles you to 10% OFF on most items, access to their trade-in scheme and discount rentals.
Join REI Today!
UST Strike Force Starting Tool is our top pick for the best overall campfire starter
Specs
Item – UST Strike Force Fire Starter with Tinder
Price (USD) – $24.99
The UST Strike Force Starting Tool is a great all-rounder suitable for both experienced and fair-weather campers. It is constructed with durable materials and has a practical lanyard to attach to easily your bag or clothing – basically its always to hand when you need it which is a feature we absolutely love about this cracking piece of fire starter kit.
It also feels super compact and lightweight, making it a great accessory to keep on hand as an emergency outdoor survival instrument, even when you aren't planning to start any fires. It's ideal for those campers like us who are wanting to pack light. The flint is protected from the elements with a cap, so you won't have to worry about lighting any trees on fire as you brush past them.
UST has put durability at the top of their priorities, and the flint-based bar can last for up to 4000 strikes and light a wide range of timber. Apparently it also works quite well in the rain by generating three times the heat of an average match although it was not raining when we used it.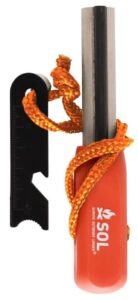 Our pick for second best fire starter is SOL Mag Striker With Tinder Cord
Specs
Item – SOL Mag Striker with Tinder Cord
Price (USD) – $15.95
This brand is quite literally called, Survive Outdoors Longer (SOL), and for a good reason. They've created a fire starter product with a built-in steel striker, flint rod, magnesium, and tinder.
A durable and robust handle means the piece feels solid to the grip while you're striking the starter. What we loved about the Mag Striker is that it was designed with an ergonomic curve, making it the best campfire starter to easily strike even when your hands are cold and tired.
Not only does this striker allow you to light a fire in no time, but it also includes a nifty bottle opener, which we used used to crack open a few bottles of Sierra Nevada once we got your fire started.
Need more light? Check out the best camping flashlights/ torches for something more powerful!
For best budget fire starter, checkout UCO Sweetfire Tinder
Specs
Item – Sweetfire Strikable Fire Starter
Price (USD) – $8.49
If you're on a budget, UCO's Sweetfire Tinder will ensure you're the first to light the campfire without breaking the bank (or a sweat!). In your pack, you'll get 20 individual 'points' of bagasse that you can break apart from one another. These points are infused with vegetable wax, which can burn for seven minutes, giving you more than enough time to get a fire started. This fire starter does feel very much like using matches although they burn a lot longer and with more intensity.
Not only is it super practical and affordable, but it's also made from a by-product of sugarcane called bagasse and is environmentally friendly! You can leave your matchbox at home because Sweetfire Tinder comes with its own strikable box.
Need more power during your trip? Check out these camping solar chargers for your adventure.
Titan Stormproof Match Kit is one of the best bad weather campfire starter
Specs
Item – Titan Stormproof Match Kit
Price (USD) – $11.99
The UCO Titan Stormproof Match Kit is the best campfire starter kit for those who enjoy the traditional feeling of striking a match. They're designed for bad weather conditions and are the perfect addition to a camping trip that turns windy or rainy. In fact, these matches are so hardy; you can even relight them when they're fully wet and we even managed to get some wet wood to burn within a few minutes.
The kit includes 12 matches and three replaceable strikers. Each match is over four inches long and can burn for up to 25 seconds, giving you plenty of time to work with when lighting a fire in tricky conditions.
The matches are safely stored in a waterproof case with a practical lanyard, so you won't have to worry about losing them along your way. They make the perfect camping gift for the adventurer in your life!

Do You Want to Travel FOREVER??
Pop your email in below to get a FREE copy of 'How to Travel the World on $10 a Day!'.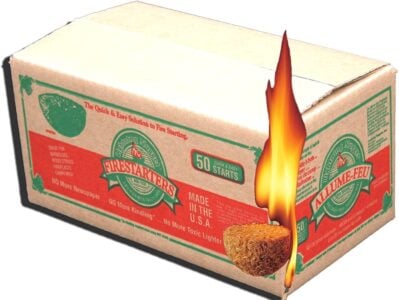 Meet the best natural campfire starter: Lightning Nuggets Firestarters
Specs
Item – Lightning Nuggets Firestarter
Price (USD) – $25.43
If you're an eco-warrior after a natural solution, Lightning Nuggets' natural fire starters are the best campfire starters for the job. Each box comes with 50 flammable nuggets, which can be used to start any type of indoor or outdoor fire from a BBQ, pizza oven, beach fire, fireplaces, and of course, campfires.
As a natural alternative to other starters, these nuggets are non-toxic, environmentally safe, and boast an unlimited shelf life. They're made from pitch wood sawdust and food-grade paraffin wax, which has a pine-scented smell and doesn't leave any residue behind after your fire has burned out.
In terms of downside, we didn't find these the most efficient to strike up and they took a little longer to get the fires-a-burning but that is the flip side of using a natural fire starter.
Our top pick for the best fire starter knife is Morakniv Companion
Specs
Item – Morakniv Companion Knife
Price (USD) – About $10.50
Did you know that you can start a fire with a sharp blade and a rock? If you're big into camping, this is a survival tip like no other; and if you find yourself needing to start a fire without firelighters, the Morakniv Companion knife will serve you well.
This affordable knife is one of Morakniv's most popular products. It's super reliable and durable with a thin blade made from carbon steel. This also makes it easy to sharpen, especially after using it to start a fire.
Weighing only 110g, it's lightweight and compact to carry with you. It comes with a practical cover for safety reasons, so you won't have to worry about accidentally cutting yourself while digging in your bag.
The blade also feautres a high-frictioned rubber grip that feels great in your hand and makes the knife easier to wield.
Looking for a camp knife? Check out the best multitool and knives for your trip.
For best campfire starter lighter, checkout Zippo Windproof Lighter
Specs
Item – Zippo Windproof Lighter
Price (USD) – $22.95
Zippo is world known for its trendy, sleek, and practical lighters. Made from sturdy steel material, the windproof lighter weighs only 1.9 ounces and is small enough to fit in your pocket. As the best campfire starter lighter in the biz, it produces a well-rounded and stable flame, which flickers even throughout harsh wind conditions.
Like most lighters, it's reusable, meaning you can refill it when the lighter fluid runs out. Zippo also sells replacement parts for the wick and flint, which means this lighter could last you a lifetime. This super-compact lighter will easily fit inside your camping backpack too.
All in, this was amongst my personal favourites of all the fire-starters on this list for its classic look, ease of using and its feather-light weight when placed in my pocket.
Camp Fire Starter

| Fire Starter | Price | Material | Lifespan | Weight |
| --- | --- | --- | --- | --- |
| UST Strike Force | $24.99 | Flint bar, plastic casing | 4,000 strikes | 3.07 ounces |
| SLG Mag Striker | $15.95 | A steel striker, flint rod, and magnesium | Refillable | 70g |
| UCO Sweetfire Tinder | $8.49 | Infused with vegetable wax, | 20 matches | 4.09 ounces |
| Titan Stormproof Match Kit | $11.99 | Plastic/Wood | 12 matches + 3 refillable starters | 2.9 ounces |
| Zippo Windproof Lighter | $22.95 | Plastic/Steel | Refillable | 1.9 ounces |
The best present of all… is CONVENIENCE!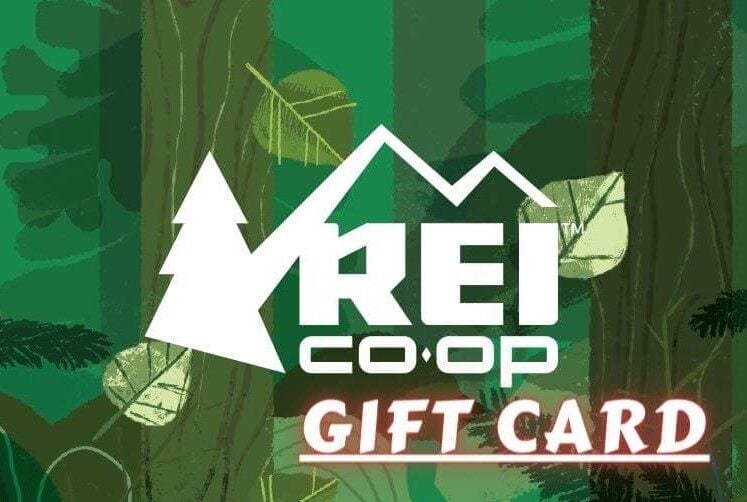 Now, you could spend a fat chunk of $$$ on the WRONG present for someone. Wrong size hiking boots, wrong fit backpack, wrong shape sleeping bag… As any adventurer will tell you, gear is a personal choice.
So give the adventurer in your life the gift of convenience: buy them an REI Co-op gift card! REI is The Broke Backpacker's retailer of choice for ALL things outdoors, and an REI gift card is the perfect present you can buy from them. And then you won't have to keep the receipt. 😉
Buy on REI!
How To Safely Light A Campfire – Burns Are Not Fun
Learning how to light a campfire correctly is a sure way to keep it burning for hours:
STEP 1: The first thing to do when you light a campfire is to make absolutely sure that you're allowed to light a fire in the area. Some national parks and reserves do not allow fire because of the risk of it spreading. Others have dedicate outdoor fire pits. You'll want to have this information on hand before setting out on your camping trip, and local guides and rangers will be happy to clarify this for you.
STEP 2: Once you're all cleared to light a fire, look for a clear piece of land where there's no risk of your fire spreading. Check-in with the weather conditions, making sure there's no strong wind that could spark a wildfire in the area. This part requires a little bit of general knowledge and an ability to keep an eye on your surroundings.
You'll also want to clear away any dried leaves or sticks so that your fire pit is surrounded by sand. Make sure you always have a tub of water or sand next to your fire in case things get out of control.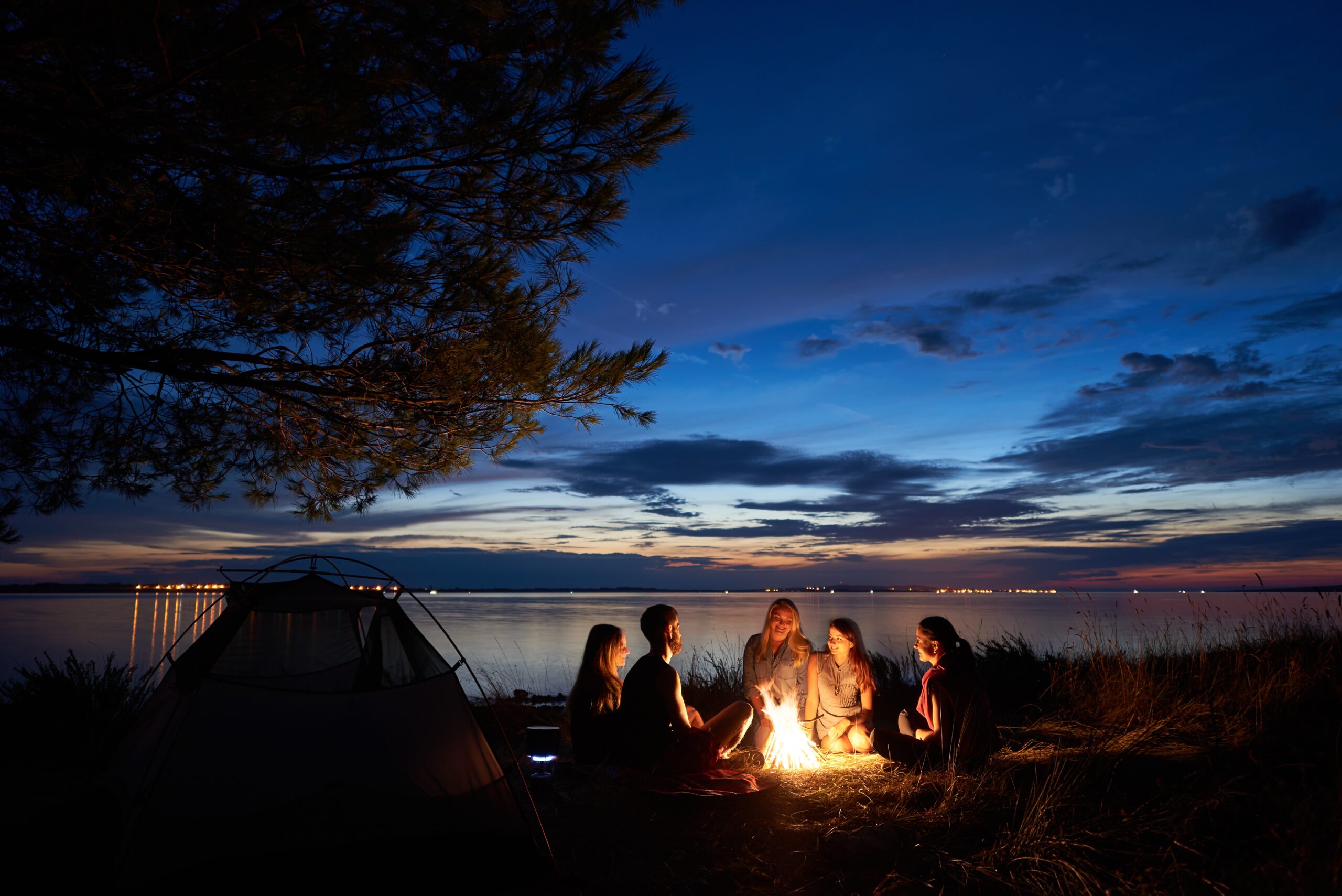 STEP 3: Layout small pieces of wood (called kindling) in a grid formation at the base of your fire pit. You can then layer some larger wood on top of the kindling, balanced like Tetris blocks. Note that wet wood will take a lot longer to get burning so do try to use only dry pieces.
STEP 4: Now it's time to light your fire! Take out your best campfire starter, ignite it, and hold the flame by the kindling wood until it catches alight – again, damp wood will take a while to get going.
The kindling should go up in flames pretty fast, and slowly but surely, the larger pieces of wood will help the fire grow big and strong. You'll need to have a constant supply of logs to add to the fire to keep it burning.
STEP 5: Putting out your fire is just as important (probably more) as lighting it. When you've cooked your meal and are ready to zip up your tent, it's crucial you put the fire out completely before leaving it unattended. Even tiny embers can cause a raging wildfire in the right conditions, so you must make sure there is no fire left to burn when you go to bed. The best way to put out a fire is by adding sand or water to the embers.
How We Tested This Gear
There is no perfect or exact science when it comes to testing out any travel and outdoor gear . Nevertheless, the team here at The Broke Backpacker has a LOT of experience with starting campfires, as well as struggling to start them.
Whenever we test a piece of gear, one of our team takes it out for a spin and puts it through its paces. In all cases, we pay close attention to how well made a piece of gear is, how heavy or light it is, how packable it is, and in this case, how quickly it can get us warmed up by the fire.
Lastly, we take into account the price of an item – for example when it comes to starting a fire, more expensive gear that performs averagely will lose points, whereas budget gear may be given more leeway and minor flawes treated more sympathetically.

Our GREATEST Travel Secrets…
Pop your email here & get the original Broke Backpacker Bible for FREE.
Final Thoughts On Choosing The Best Campfire Starter
One of the best parts of a camping trip is gathering around a campfire. However, lighting a fire can be more complex than it seems, and requires some general knowledge of weather and wind conditions.
A campfire starter is one of the most useful accessories you can take on your camping trip, and it will help you get a fire going in no time. That being said, you'll still need to understand how to keep a fire going, how to put it out, and the safety hazards to look out for when you're controlling a fire.
I hope this list of the seven best campfire starters has helped you decide which starter you'd like to use for your next camping trip. And if not, at least we've brought your attention to some safety hazards that you'll need to be aware of when you want to light a campfire!
---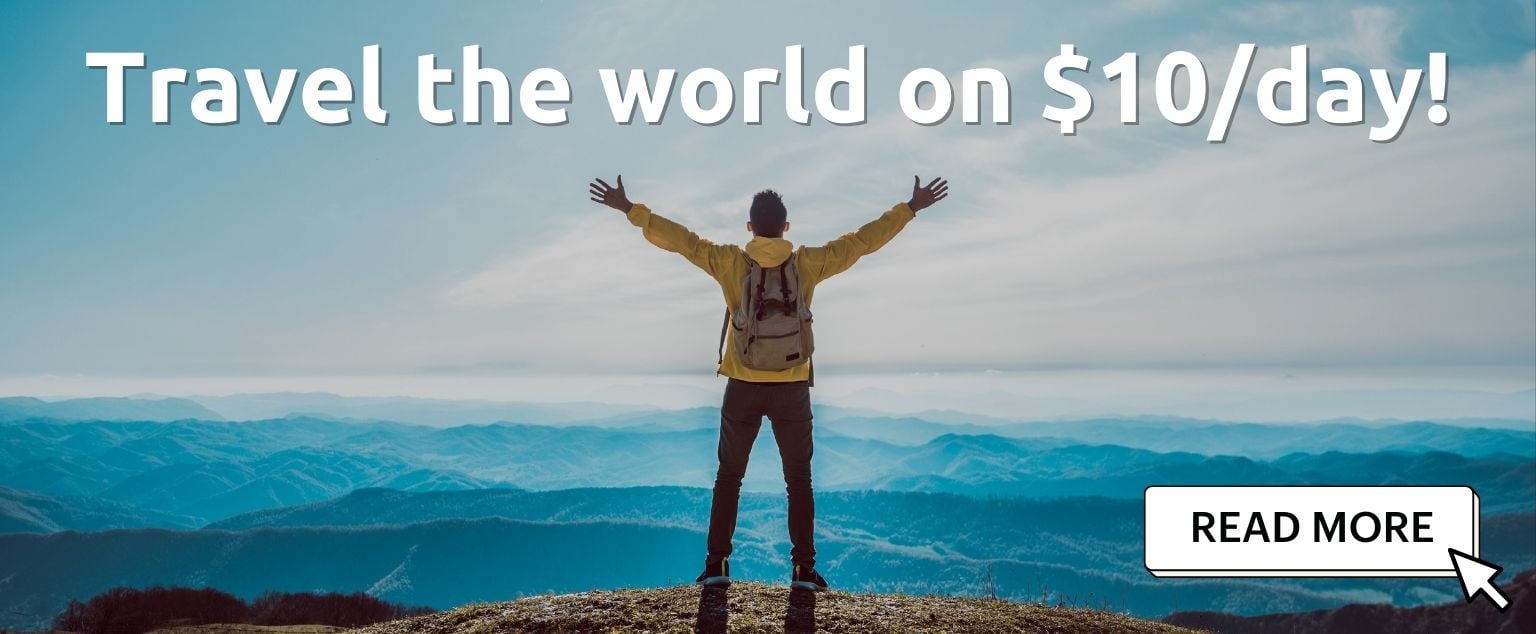 And for transparency's sake, please know that some of the links in our content are affiliate links. That means that if you book your accommodation, buy your gear, or sort your insurance through our link, we earn a small commission (at no extra cost to you). That said, we only link to the gear we trust and never recommend services we don't believe are up to scratch. Again, thank you!