If you're a true outdoorsy person, you'll know there's nothing better than disconnecting from technology and reconnecting to nature on a camping trip. Camping is one of the best types of trips for families, couples, and groups of friends, and it can be as sociable as it is relaxing. Especially when domestic and international travel has become tricky and limited, spending some quality time camping with your loved ones is an excellent bet for a vacation.
However, although it's considered a leisure activity, camping is no pack lock-up-and-go trip. It can require a great deal of preparation and planning before you even set off on your adventure. Wherever you choose to go, things can quickly turn bad if you aren't prepared with the right equipment and tools for survival. From unexpected weather, accidental injuries, and uninvited wild animals, there is always something to look out for on a camping trip! This is why it's necessary to trust the best camping brands to provide you with essential equipment for your trip.
Like many things, not all camping gear is created equal, and there are naturally preferred brands that sell more reputable and high-quality products than others. To make your life a bit easier, we've put together a list of the top nine camping brands on the market, followed by our pick of their most practical piece of equipment.
While this is by no means an exhaustive list, we're sure you'll come out of this article with a better idea of the quality you should look for in camping brands and the amount of money you should expect to spend on your next camping trip.
Quick Answers – These Are the Best Camping Brands
#1 Best Overall Camping Brand – Sea To Summit
#2 Best Tents For Camping – MSR
#3 Best Sleeping Bags For Camping – Big Agnes
#4 Best Budget Camping Brand – REI
#5 Best Backpacks For Camping – Osprey
#6 Best Jackets For Camping – Patagonia
#7 Best Tools For Camping – Leatherman
#8 Best Camping Water Bottles – Grayl
#9 Another Great Camping Brand – Marmot
About the Best Camping Brands
Each brand we've chosen has its own unique strengths and excels in different areas. While not extensive, this list provides an overview of the best camping brands in 2022, from brands specialising in outerwear and clothing to knife brands and tent brands.
Contrary to popular belief, camping doesn't have to mean sleeping on an uncomfortable mattress and hauling bags of equipment around with you. With the right brands and products, you could find yourself camping in almost as much comfort as your cosy bed at home – except you'll be surrounded by nature, sleeping under a Milky Way of stars.
Whether you're looking for the bare essentials, like a tent and a sleeping bag, or high-end camping equipment, like coffee machines and portable coolers, I can almost guarantee there's a brand that prides itself on producing quality products for whatever you're looking for.
While we don't condone blindly trusting a product because of its brand name, it's important to have some sort of guidance to know where to start when you're looking for reliable, top-quality gear.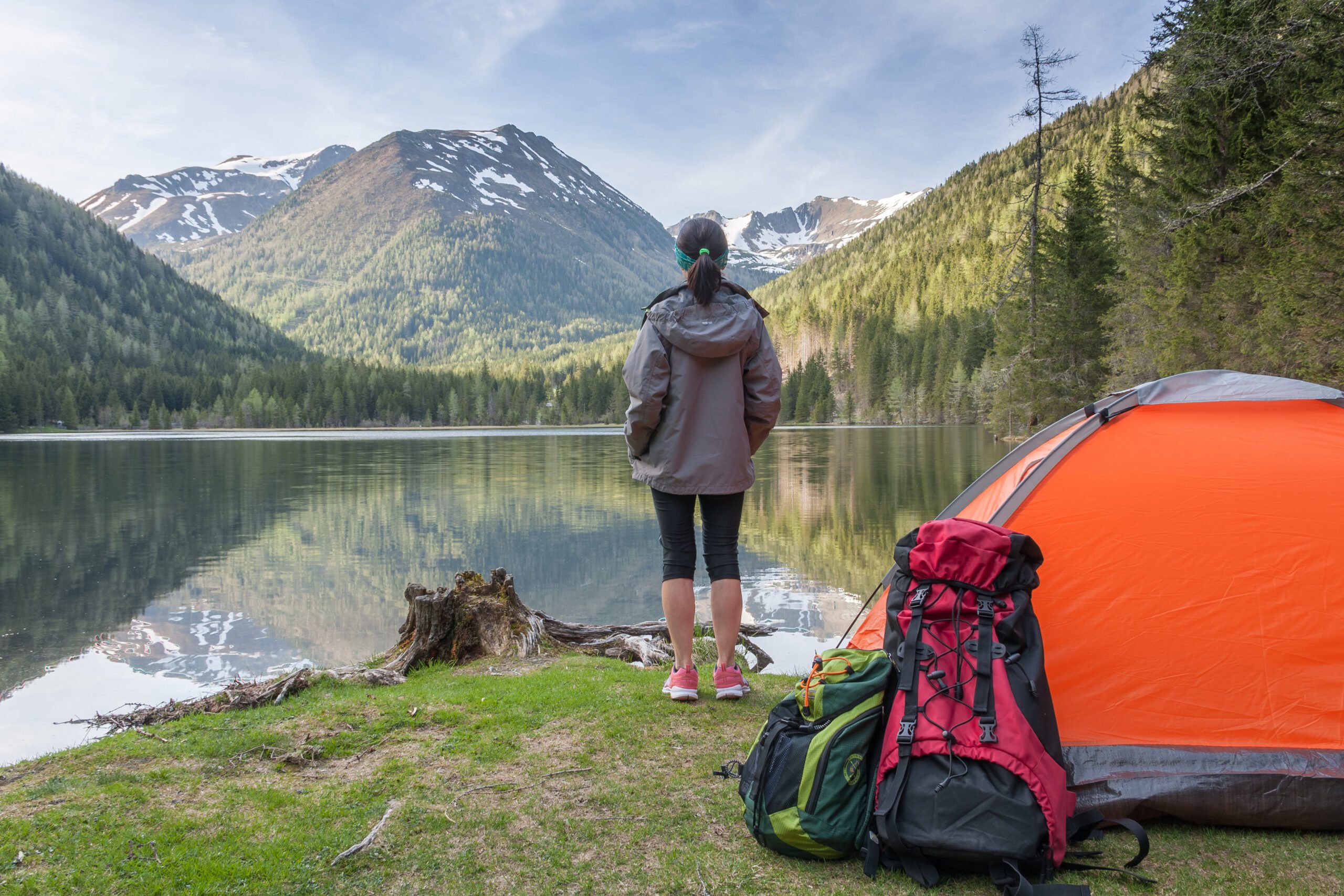 What Makes a Good Camping Brand?
If you're battling to pick between two similar products from two different brands, the best place to start is by looking at the company's reputation. Online stores will almost always have space for product reviews, and these are a great place to gauge whether a product is worth its cost.
You should also consider the background of the company and its ethos. Some outdoor equipment companies have been around for decades and have a product line that shows their commitment to the great outdoors. However, just because a company has a long and trusted history does not mean that the newer brands aren't just as competitive.
Another thing to look into is the overall quality of the products, and the supply chain followed to bring you a finished product. Some of the older, more established companies pride themselves on a transparent supply chain model where you can easily see where your products are being made.
This also includes the quality of the materials and the sustainability rating of these materials and the products. Naturally, outdoor brands are meant to care for and protect the environment, right? While this is often the case with the best camping brands, it's not a given, so it's crucial you do some background research before investing a pretty penny into your equipment.
Looking for more adventure type products? Check out our guide to the best outdoor brands.
Need some more info on camping? Then hop on over and have a look at our camping checklist.
Best Overall Camping Brand – Sea To Summit
Best Overall Camping Brand – Sea To Summit
Soto Muka Stove
> $
> Super easy to take care of and maintain
> Works on either unleaded or white gasoline
Best Tents For Camping – MSR
Best Tents For Camping – MSR
Hubba Hubba Tent
> $$
> Lightweight and compact tent
> Includes adjustable stake-out loops
Best Sleeping Bags For Camping – Big Agnes
Best Sleeping Bags For Camping – Big Agnes
Torchlight 20
> $$
> Two expandable panels
> Suitable for super cold conditions
Best Budget Camping Brand – REI
Best Budget Camping Brand – REI
Trailbreak Sleeping Pad
> $
> Compact, lightweight, and easy to transport
> Inflates and deflates on its own
Best Backpacks For Camping – Osprey
Best Backpacks For Camping – Osprey
Aether Plus 60
> $$
> Durable backpack
> Removable top lid
Best Jackets For Camping – Patagonia
Best Jackets For Camping – Patagonia
Nano Puff Hoody
> $
> Water-resistant, windproof, and highly insulated
> Variety of muted basic colors
Best Tools For Camping – Leatherman
Best Tools For Camping – Leatherman
Wave +
> $
> Eighteen essential tools
> Comes in a protective leather pouch
Best Camping Water Bottles – Grayl
Best Camping Water Bottles – Grayl
Grayl GeoPress
> $
> Uses unique activated carbon technology
> Comes with ergonomic handgrips
Another Great Camping Brand – Marmot
Another Great Camping Brand – Marmot
Tungsten Tent
> $$
> Two doors and two vestibules
> Practical lampshade pocket
Run Down of the Best Camping Brands For All Occasions
Ladies & Gents, It's Time to Step Your GEAR Game Up. 😉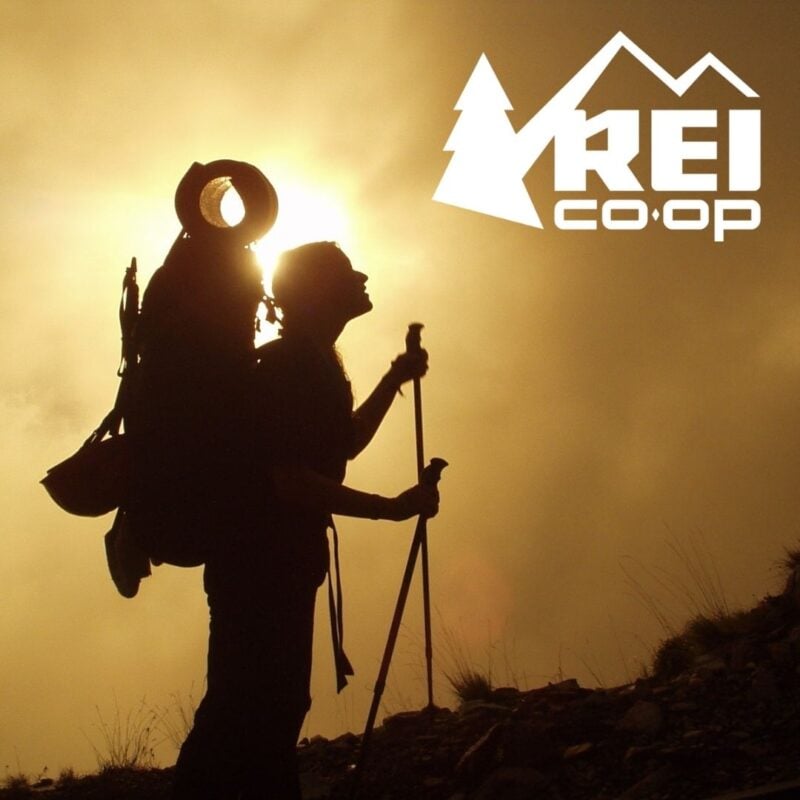 REI is one of America's biggest and most-loved outdoor gear retailers.
Now, for just $30, get a lifetime membership that entitles you to 10% OFF on most items, access to their trade-in scheme and discount rentals.
Join REI Today!
#1 Best Overall Camping Brand – Sea To Summit
Sea to Summit is an Australian brand founded over 30 years ago that now sells products across 35 countries worldwide. The brand produces everything from tents to cooking equipment but has established itself as an industry leader in manufacturing ultralight dry sacks, camping cookware, and travel gear.
Sea to Summit looks to nature for inspiration when designing new products, with an overall goal to create lightweight equipment that can easily adapt to the environment. As the name suggests, Sea to Summit produces equipment for various activities, including hiking, backpacking, camping, watersports, fishing, mountain sports, and even moto touring and everyday accessories.
Not only will you find super high-quality products for sale on their online store, but you'll also be able to access camping recipes, tips for your adventures, and guidance on proper care for your products.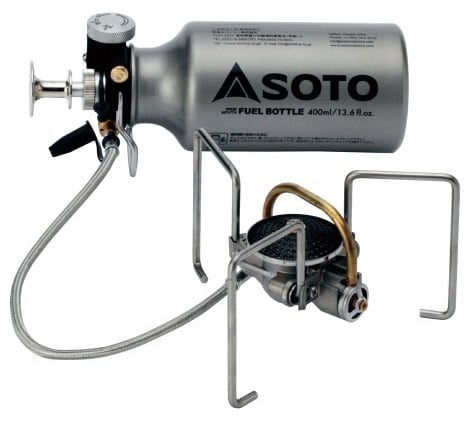 Sea to Summit's Soto Muka Stove is a revolutionary product that limits maintenance and preheating time. This gas stove uses a reliable gas output and is super easy to take care of and maintain.
The Soto Muka Stove has a 4650w output and works on either unleaded or white gasoline. Perfect for cooking a campsite meal, the stove will work for just under one hour at maximum capacity and even longer if you have it burning at a low temperature.
When you purchase this stove, you'll get a hose, pump, maintenance tool, and carry case, weighing a low 11.7 oz. However, you'll have to buy the fuel bottle separately.
Want some more choice? Check out our guide to the best backpacking stoves, or, have a look at the Biolite camping stove or the MSR Pocket Rocket.
#2 Best Tents For Camping – MSR
MSR (Mountain Safety Research) was founded in 1969 in Washington by avid mountaineer Larry Penberthy and is still one of the best camping brands around today. Larry launched the company along with a goal to help develop safe climbing equipment. He believed that safer equipment was vital to opening the door to more adventures. In 1981, the company was bought by REI and then later merged with a specialist tent manufacturing company called Edgeworks.
A good quality tent is arguably the most important piece of equipment you'll need on any camping trip. MSR manufactures and sells a range of equipment from water filters to snowshoes but is most well-known for engineering the best quality tents on the market.
MSR tents are made using high-quality materials that are durable and lightweight, ranging in size from two-sleepers to four-sleepers. The close-knit team consists of engineers and passionate outdoor adventurers who design the most reliable high-performance gear on the market using their personal experience.
Featured Product: Hubba Hubba Tent ($39.95 to $479.95)
The Hubba Hubba NX Two-Person Backpacking Tent is perfectly designed using highly durable nylon fabrics for backpackers who need a lightweight and compact tent. Not only is it easy to carry around when you're hiking or travelling, but it includes adjustable stake-out loops that make it very quick to set up.
The tent is designed using symmetrical geometry and a non-tapered floor to maximize space inside the tent. The entire tent weighs 3 lbs 7 oz, and MSR even has a 'Fast and Light' option that weighs an even lighter 2 lbs 2 oz. When you're inside the tent, you'll be able to sit upright without hitting your head or elbows on the walls and ceiling. There are also two large pockets where you can store your gear.
The tent has two large doors with built-in rain gutters, a ventilation sheet, and a rainfly, making it an excellent option for summer stargazing.
Want more details? Have a look at our review of the MSR Hubba Hubba tent, you can also check out our guide to picking out a camping tent for more information.
#3 Best Sleeping Bags For Camping – Big Agnes
Big Agnes is a small company that keeps the mountains and backcountry at the core of its work. What started as a pipe dream twenty years ago has quickly become one of the better sleeping bag manufacturers in the States. They believe that a good night's sleep is essential on a camping trip, and comfort shouldn't be sacrificed for any reason.
The company is based out of a ski town in Colorado and is relatively small-scale compared with some of the other best camping brands on our list. That being said, they don't skimp on quality, and you can rest assured the products you purchase will survive (and help you survive) the harshest winter conditions.
Big Agnes also has a significant commitment to the environment and society. When it comes to social responsibility, they are top supporters of a range of conservation, sustainability, and social equality organizations.
Featured Product: Torchlight 20 ($319.95)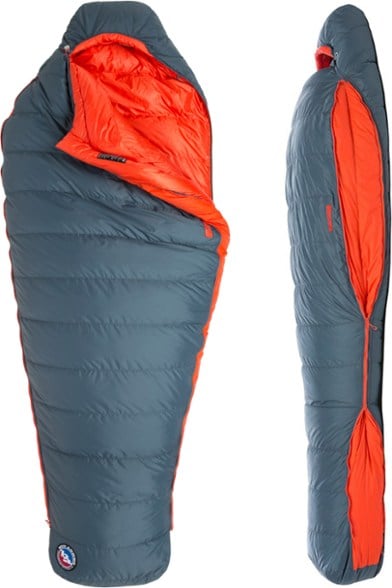 Big Agnes is known for its high-tech sleeping bags designed to provide ultimate warmth and comfort while being super compact and lightweight. The Torchlight 20 features two expandable panels from your shoulders to your feet, designed to increase the sleeping space by 10 inches. So, depending on your body shape, body temperature, and how you prefer to sleep, you can adjust the sleeping bag to stay snug or let it out for a little more space.
The Torchlight tent is insulated using DownTek water repellent down, which provides ultimate warmth without the weight. Designed in two sizes for backpackers looking for the lightest equipment, the regular-sized bag weighs only 2 lbs 11 oz while the long bag weighs 3 lbs.
This sleeping bag is suitable for super cold conditions. It will provide you with adequate warmth at 15 degrees Fahrenheit (-9.4c) and even keep you kicking at -19 degrees Fahrenheit/ -28c (although this is not recommended).
Want to know more? Have a look at our dedicated Big Agnes Torchlight 20 review and have a look at our guide to the best backpacking sleeping bags whilst you're at it too!
#4 Best Budget Camping Brand – REI
REI stands for Recreational Equipment Incorporated and is a proudly American outdoor recreation company that produces and sells camping equipment and sporting gear. Not only do they provide you with all the goods you could wish for almost any type of outdoor adventure, but they also plan and offer services such as courses and vacations.
The company was founded in Washington State in 1938 and has hundreds of outlet stores across the nation. Today, REI sells a wide range of other brands in their stores. However, they also have an in-house brand that they call REI Co-op, which is one of the best camping brands for affordable gear.
REI does its part for the environment too. In fact, they have invested in enough renewable energy to offset over 20% of their total power consumption. They have also pledged to become climate neutral and 'zero waste to landfill' by focusing their attention on green buildings, product stewardship, recycling, and energy efficiency.
Grab yourself an REI membership so you can take advantage of the great offers on their website.
Even with the most high-tech tent and insulated sleeping bag, you won't be comfortable without a cushioned sleeping pad or portable mattress. REI Co-op has designed the perfect self-inflating sleeping pad, which is compact, lightweight, and easy to transport.
You heard right; this mattress inflates and deflates on its own, meaning you won't have to sit around huffing and puffing every time you want to blow it up.
The sleeping pad comes in two sizes, regular (2 lbs 5 oz) and long (2 lbs 8 oz), and is designed for a women's body shape. It's fully insulated, meaning you won't feel the cold from the ground at any point. There are different insulation rating options depending on where you plan to use your sleeping pad. The top surface is slip-resistant, while the bottom has a polyester base designed to withstand potential punctures. When you're done using it, the pad slides into a sack with compression straps making it easy to carry around and store at home.
Want more? Have a look at our best backpacking sleeping pads.
#5 Best Backpacks For Camping – Osprey
Osprey is an outdoor adventure brand that was founded in 1974 by Mike Pfotenhauer at the young age of sixteen. The company specializes in all sorts of bags, from camping backpacks to suitcases and everything in between.
Since he founded one of the best camping brands to date, every product released into the Osprey line has passed through his hands, ensuring they are of the best possible quality and function correctly.
One of the coolest things about Osprey is their almighty guarantee promise. Whether you purchased a product 30 years ago or two days ago, the company will repair any damages for any reason – free of charge. This keeps their products out of landfills and gives customers even more out of their investments.
Today, all their poly bags are made using 100% recycled material and packaged in recyclable paper packaging. The company is a partner of Bluesign, which means they have made a big commitment towards sustainable textiles and materials in their supply chain.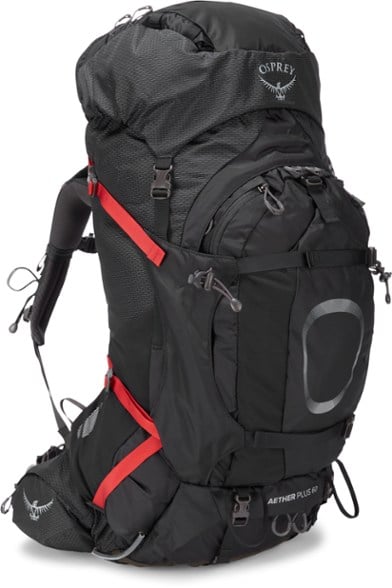 Any true backpacker knows the value of good quality, practical and durable backpack. The Aether Plus 20 is designed as your home-away-from-home wherever you go. The bag is ergonomically designed to fit snug against your body with a custom hip belt and shoulder straps, making it easy to transport heavy loads without straining your back (even when hiking over technical terrains).
Of course, this high-end backpack is manufactured using tenacious nylon fabrics, which combine durability with lightweight perfectly.
The backpack has a few other super technical features worth mentioning; it has a removable top lid that converts into a smaller daypack. When the weather gets wet, the rain cover will make sure everything stays dry. There are tops of zippered pockets designed for easy access storage of all your goodies, and the bag even has a zippered sleeping bag compartment.
Want some more ideas? Have a look at the best camping backpacks on the market.

Do You Want to Travel FOREVER??
Pop your email in below to get a FREE copy of 'How to Travel the World on $10 a Day!'.
#6 Best Jackets For Camping – Patagonia
If you're looking for the best camping apparel in the business, Patagonia is the way to go. The company produces everything from base layers to swimwear, bags, books and workwear, and is particularly well-known for its super-insulating and lightweight jackets.
Driven by fresh mountain air and salty sunshine, Patagonia was founded by a band of climbers and surfers with a dream to create good quality products with a minimalist style. As one of the best camping brands out there, the company is founded on the idea that they would build the best possible product for functionality, durability, and repairability while causing no unnecessary harm to the environment.
In fact, if there's ever a company to support for the greater good, Patagonia does more than most when it comes to social and environmental causes. With a fully transparent value chain that positively impacts everyone involved, you can track exactly where and how your clothing came to be. They're one of the best jacket brands for travel and camping.
They also use only sustainable fabrics and materials, all while pledging a percentage of each sale to environmental protection. Unlike many large brands, they even have a trade-in system where you can get credit for your old worn clothes and reduce your impact on landfills.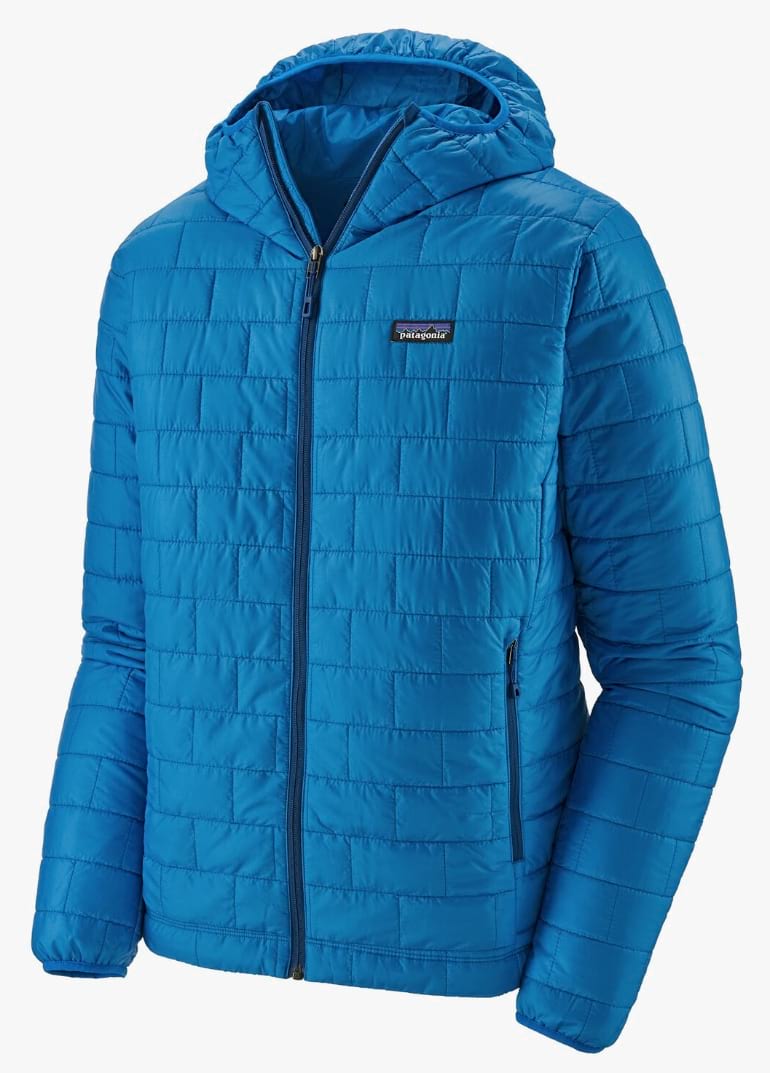 Patagonia's Nano Puff Hoody is the all-rounder jacket you need for your next camping trip. This super warm hoody (which is more like a puffer jacket) is water-resistant, windproof, and highly insulated, making it one of the most perfect lightweight and compressible jackets on the market.
Like many of Patagonia's best products, the hoody uses Gold Insulation recycled polyester and 60-g PrimaLoft materials and is fair trade certified sewn. The lightweight jacket has a durable outer shell with a hood that doesn't rip, as well as a water-repellent finish.
It's also super trendy, with a minimalistic brick quilted pattern, and is sold in a variety of muted basic colours.
Not the right one for you? Have a look at the best Patagonia jackets for some more options.
#7 Best Tools For Camping – Leatherman
Leatherman was founded by Tim Leatherman over 37 years ago and is now a household name known across the world. Tim's product came from a need to fix faulty plumbing and car parts when he realized there could be a market for a pliers-based multipurpose tool.
What started as a single prototype has now grown into a multi-faceted business with a core goal – to provide everyone from at-home workers to outdoor mountaineers with a multi-purpose tool that can quite literally 'save the day – any day.
Their tools range from having six to twenty-one tools, usually connected onto one central pair of compact and lightweight pliers. As one of the best camping brands for practical tools, Leatherman even has customizable tools, where you can pick and choose your tools according to your personal needs.
These tools are designed for versatility and include small knives, rulers, screwdrivers, saws, wire cutters, bottle and can openers, electrical crimpers, and scissors.
Whether you need a bit of plumbing help or are stuck on top of an ice-capped mountain, these tools can help you remove splinters, measure things, open cans of food, do repairs on your car, scrape ice off your car windshield, put up a tent and cut some rope. They're one of the most useful things to keep on hand throughout your everyday life and are almost essential when adventuring and camping outdoors.
Featured Product: Wave + ($109.95)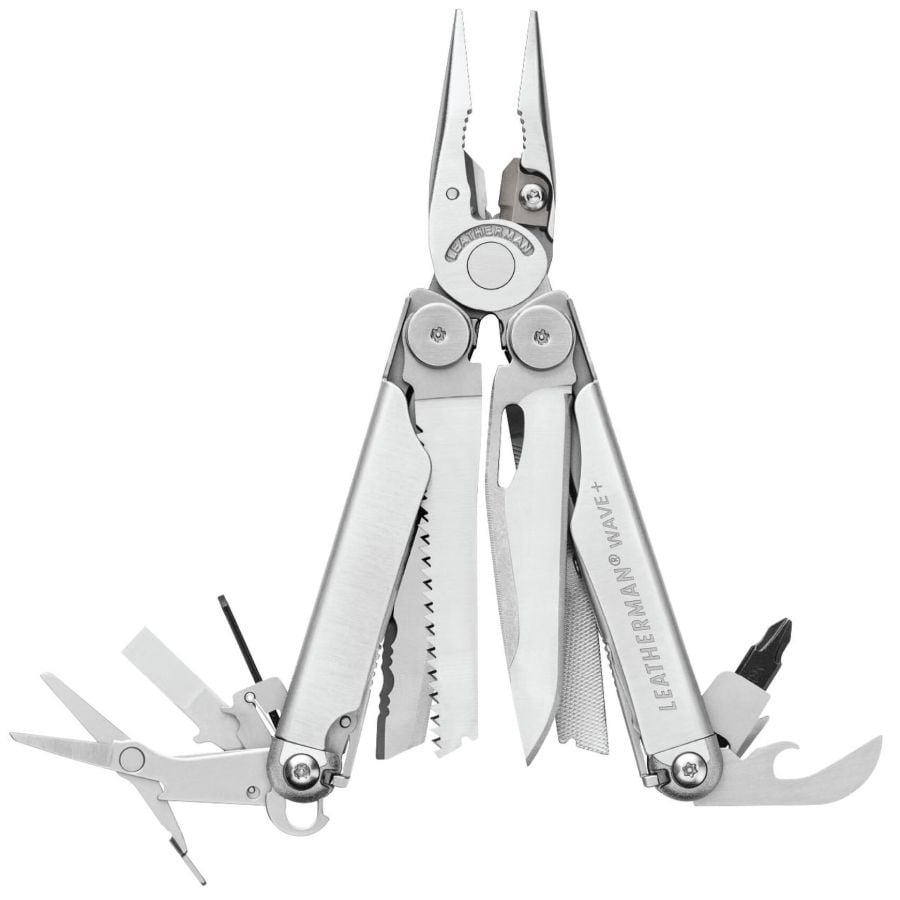 Leatherman's Wave + is the company's best-selling multipurpose tool. Made using premium materials, this tool has all the eighteen essential tools, including replaceable and durable wire-cutters making it one of the most convenient multi-tools to keep on you for any task.
The tool comes in a protective leather pouch and includes a knife, pliers, wire cutter and stripper, ruler, saw, different knife blades, diamond-coated files, bit drivers, a flat screwdriver, and spring-action scissors.
Leatherman's tools come with a 25-year warranty, so you can leave the store confident that you've invested in a high-quality product.
Looking for something same same but different? Have a look at the best knives and multitools on the market.
#8 Best Camping Water Bottles – Grayl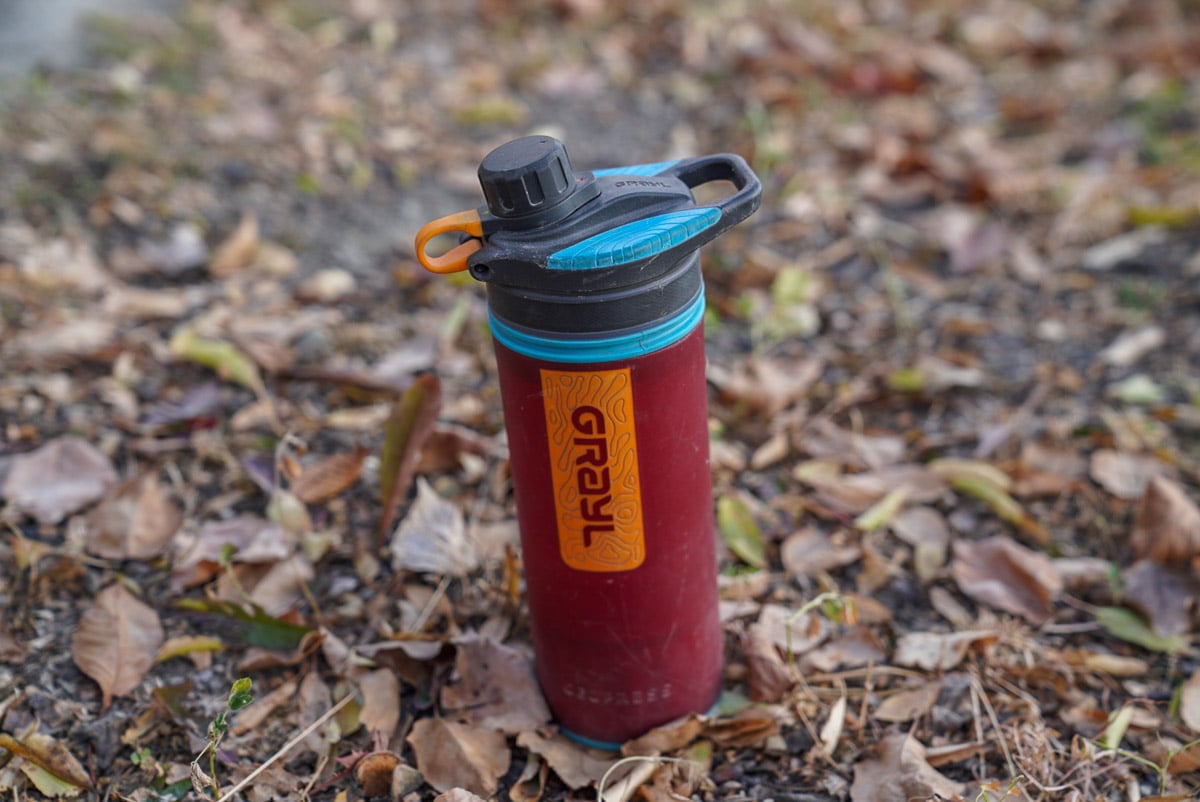 Grayl was founded on the premise that clean drinking water is a basic necessity and a fundamental part of life. Of course, it's also key to any outdoor adventure. The company strives to empower its customers to be self-sufficient wherever they are, whether it be on top of the tallest mountain or in the depths of a developing city.
Grayl is one of the best camping brands for water bottles and has revolutionized portable water purification through its versatile and easy-to-use water purifier bottles. Their products make it easy for anyone to turn dodgy motel water or murky river water into drinkable, sanitary water.
Like many other brands, Grayl puts a lot of effort into looking after the planet by donating a minimum percentage of their sales to environmental NGOs and charities. They also work on a zero-waste system that allows customers to drop off used cartridges for recycling, making sure none of their products end up in landfills or the ocean. Not to mention, each Grayl product comes with a ten-year guarantee.
Once upon a time I lost my original Grayl… and soon after contracted a parasite from some questionable water. Since replacing it with the Geopress, I've been able to stay parasite-free at multiple high-altitude campsites and other escapades. It's revolutionized my travels, and by buying one, you'll also be helping out the planet by not adding to the plastic problem.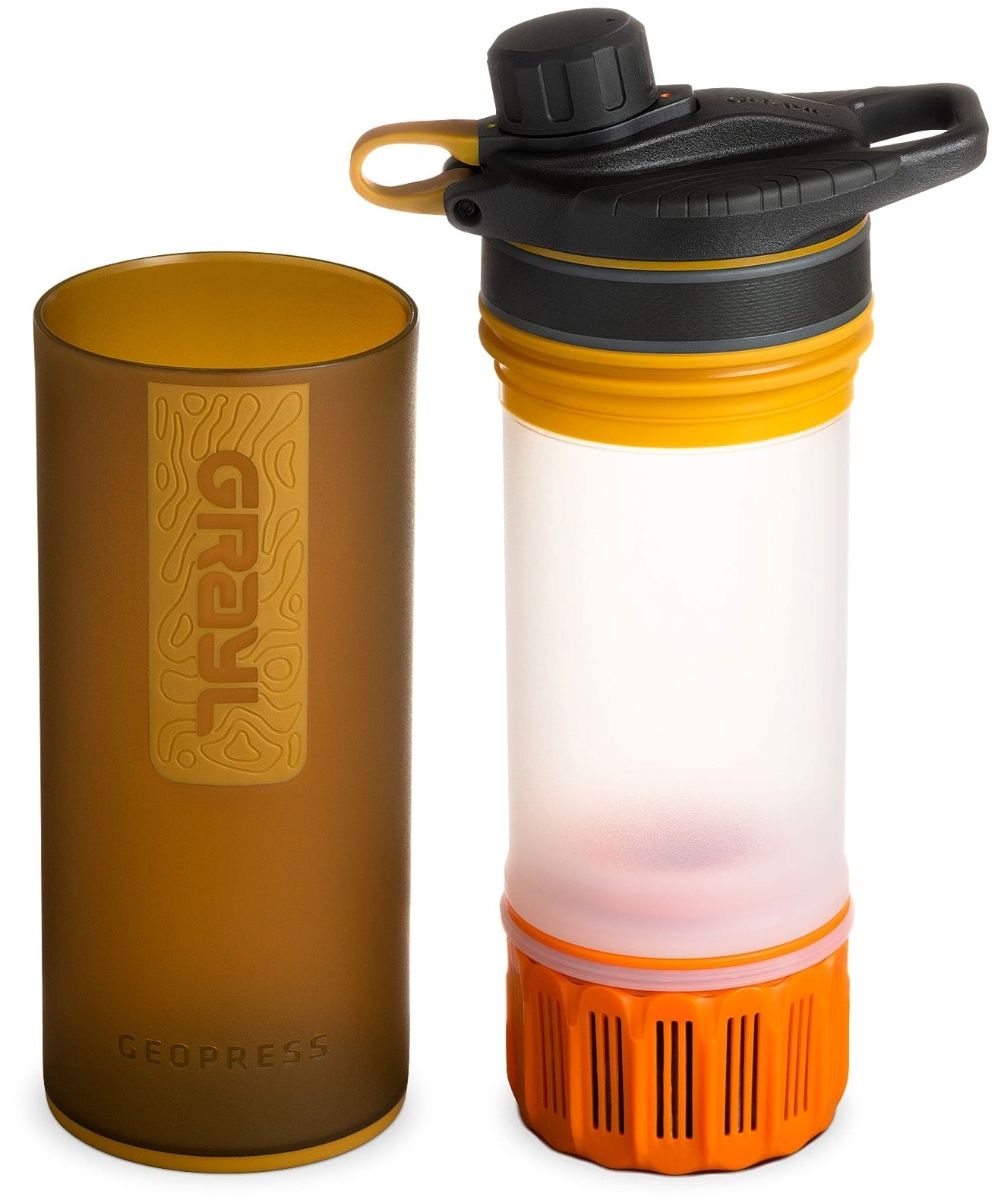 The Grayl GeoPress is one of the companies most sold products. The water bottle can be used worldwide to purify dicey water, saving you money and reducing single-use plastic along the way. The press uses unique activated carbon technology to remove viruses, bacteria, chemicals, heavy metals, and odours from any freshwater source.
As if purifying your water wasn't enough, the bottle comes with ergonomic handgrips making it a pleasure to hold and press on. With this nifty piece of equipment, you can filter 24 fl. oz of water in under eight seconds!
Want more info? Have a look at our more detailed review of the Grayl GeoPress, or check out our guide to the best travel water bottles for more ideas.
The best present of all… is CONVENIENCE!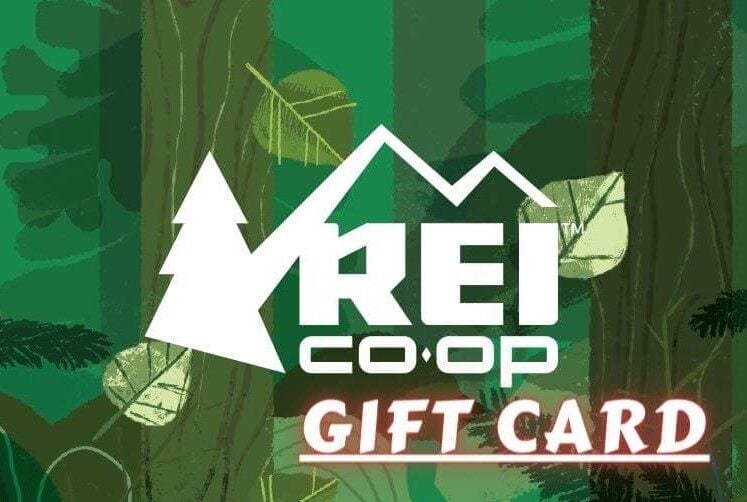 Now, you could spend a fat chunk of $$$ on the WRONG present for someone. Wrong size hiking boots, wrong fit backpack, wrong shape sleeping bag… As any adventurer will tell you, gear is a personal choice.
So give the adventurer in your life the gift of convenience: buy them an REI Co-op gift card! REI is The Broke Backpacker's retailer of choice for ALL things outdoors, and an REI gift card is the perfect present you can buy from them. And then you won't have to keep the receipt. 😉
Buy on REI!
#9 Another Great Camping Brand – Marmot
Everyone has heard the brand name Marmot. Marmot is arguably one of the biggest and best camping brands on the market, manufacturing everything from outerwear to camping equipment to backpacks and luggage.
The brand was founded by Eric Reynolds and Dave Huntley in Santa Cruz, California when they wanted to create an inclusive mountain climbing social club. The two started sewing their own backpacks and sleeping bags before the company was born, and once they got Clint Eastwood to wear one of their jackets in a film, the rest was history.
Marmot aims to produce high-quality equipment using the latest technologies in fabric and designs. Their products use cutting-edge technology for an ultimate performance featuring Gore-Tex and WarmCube materials, RECCO avalanche alert systems, PrimaLoft and Featherless synthetic insulation, and EVODry waterproofing in a range of conditions. Some of their high-end products even use SolarShielf to protect you from harmful UV rays and Thermal R technology for breathability and moisture-wicking.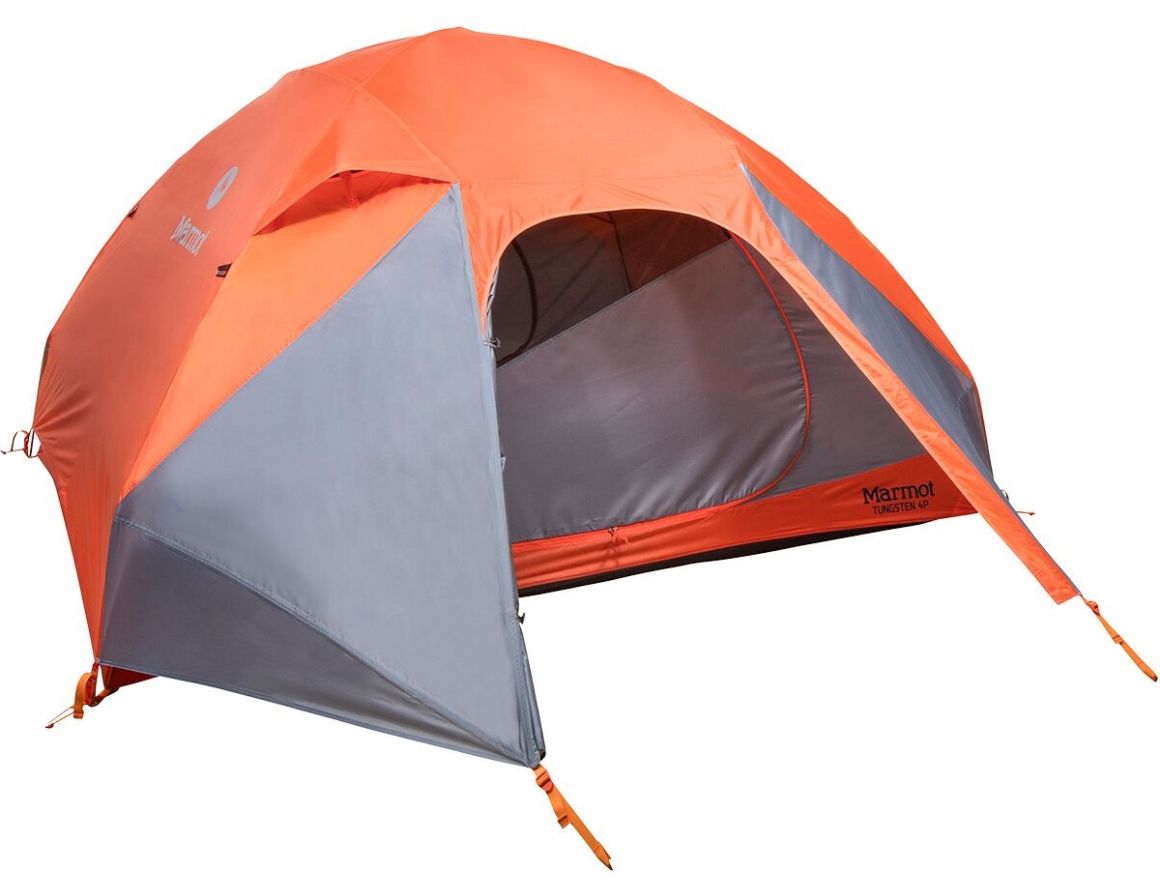 Marmot's Tungsten Tent sleeps four people comfortably across a spacious sleeping area with extra headroom. The tent is designed with two doors and two vestibules to store your gear. Perfect for spring, summer, and autumn conditions, it has a tapered seam fly to keep the rain out while allowing air to ventilate into the tent through vents.
Other features include a practical lampshade pocket to use your headtorch to light up the inside of the tent. If you're not a seasoned camper, the colour-coded clips and poles make pitching this tent a breeze! The tent is also super lightweight for a four sleeper with 53 square feet of space, weighing only 8 lbs. 11 oz.
Want something similar? Have a look at the Marmot Limelight instead.

Our GREATEST Travel Secrets…
Pop your email here & get the original Broke Backpacker Bible for FREE.
Final Thoughts on The Best Camping Brands
A successful camping trip begins with packing the right gear and equipment. Depending on if you're looking to indulge in an extensive camping trip with all the bells and whistles or prefer hiking with just the basics, if you aren't equipped with (at least) the bare necessities and safety equipment, you'll be in for a very uncomfortable trip. Whether you're on a campsite or out in nature wild camping, you'll need the right gear!
There are many camping brands on the market these days, and it can be tricky to know which of the best camping brands offers the top-rated products for specific purposes, especially if you're new to the camping scene. For example, one brand might have a high rating for their tents, but not for their camping chairs and vice versa. There are also many factors to consider when investing in camping equipment, including quality, company reputation, reviews, and a company's sustainable impact.
We hope this list of camping brands has made your search for the perfect equipment a little bit easier, and that you'll be in the wilderness in no time!
---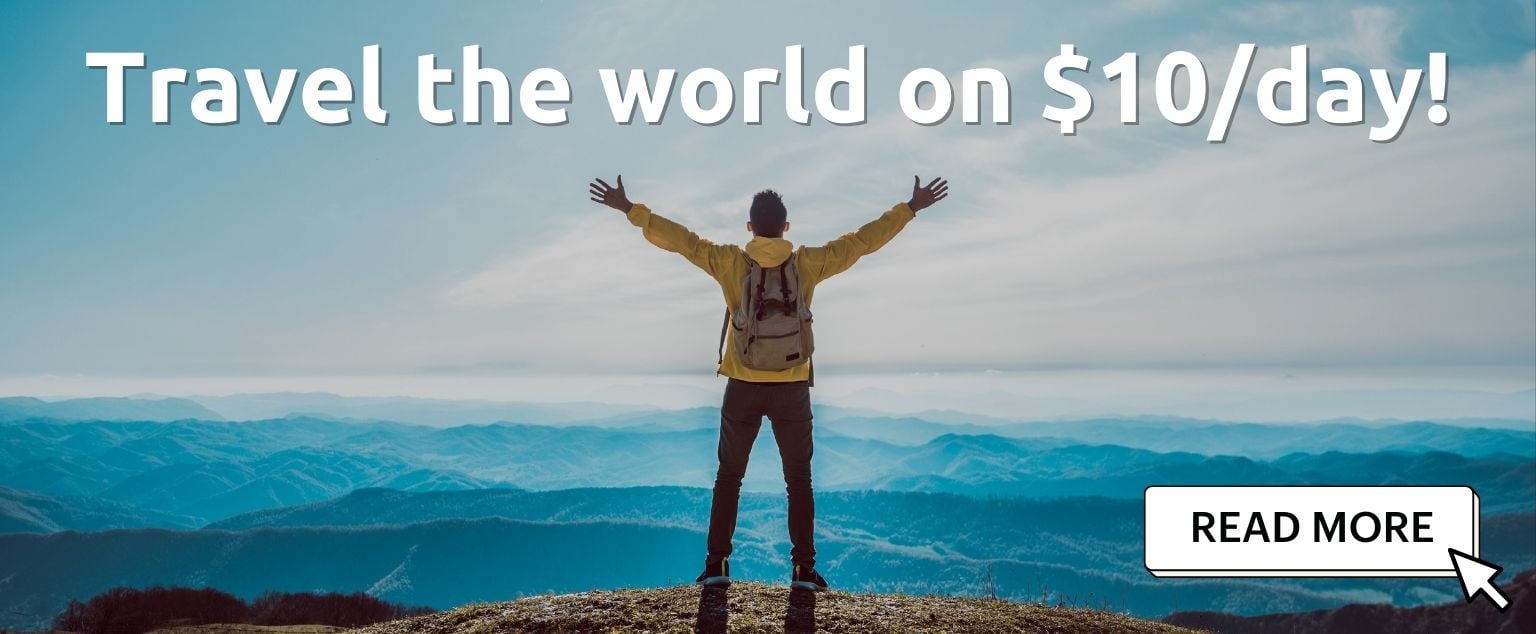 And for transparency's sake, please know that some of the links in our content are affiliate links. That means that if you book your accommodation, buy your gear, or sort your insurance through our link, we earn a small commission (at no extra cost to you). That said, we only link to the gear we trust and never recommend services we don't believe are up to scratch. Again, thank you!