Welcome to my MSR MUTHA HUBBA NX REVIEW fellow outdoor junkies!
For just about every adventure I have been on for the last several years, one piece of gear has remained a reliable force within my constantly evolving backpacking setup: an MSR tent.
MSR tents are legendary in the backpacking world for their outstanding quality and performance in the field. 2020 has brought us COVID, yes, but it has also brought some exciting changes to the already award-winning Hubba Series. We are finding any and all bright spots in these trying times.
Recently, I got my hands on the brand new MSR Mutha Hubba NX 3-person tent and took it out in the backcountry for a test run. Below, I examine the MSR Mutha Hubba tent from top to bottom, leaving no stoned unturned.
For this epic Mutha Hubba review, I cover its key features, weight, waterproof performance, livability and storage options, packability, best uses, tent care tips, recent tent upgrades, and a ton of other important info regarding the "mutha of all tents".
By the end of this review, you too will know everything there is to know about the MSR Mutha Hubba NX tent.
Let's dive right in…
What goes into Making the MSR Mutha Hubba an Excellent Tent?
Here are some of the questions this MSR Mutha Hubba review will answer:
What is new and improved with the 2020 Mutha Hubba model?
What can I expect from the tent's interior?
How much does the MSR Mutha Hubba cost?
How many people can the Mutha Hubba comfortably sleep?
Is the Mutha Hubba really waterproof?
How easy is the MSR Mutha Hubba to set up?
How does the Mutha Hubba pack down?
What comes with the tent?
Ladies & Gents, It's Time to Step Your GEAR Game Up. 😉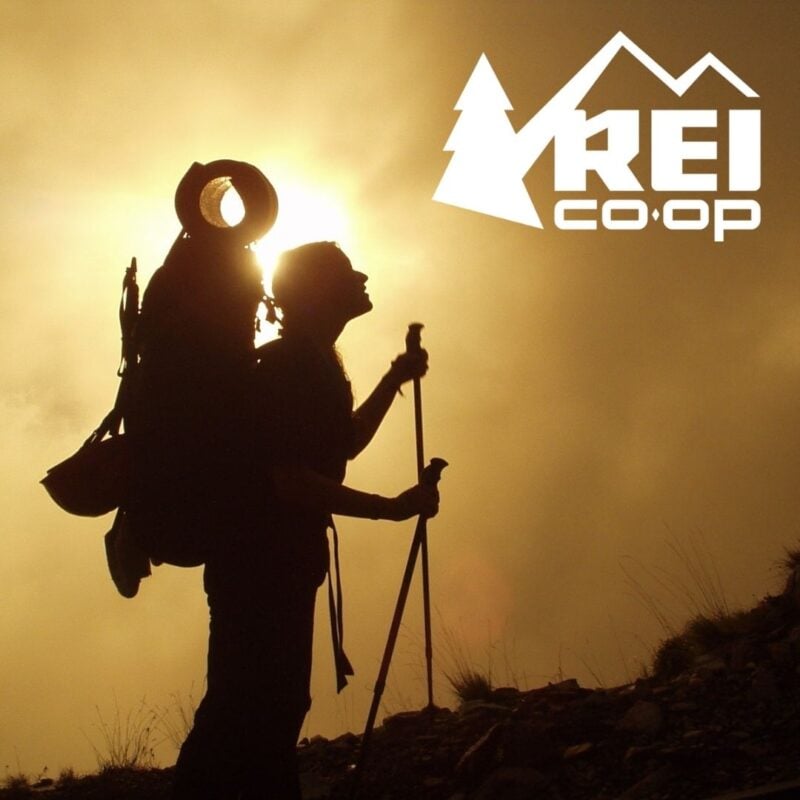 REI is one of America's biggest and most-loved outdoor gear retailers.
Now, for just $30, get a lifetime membership that entitles you to 10% OFF on most items, access to their trade-in scheme and discount rentals.
Join REI Today!
The Mutha Hubba tent has plenty to offer keen backpackers and travelers. If you're looking for a roomy, thoughtfully-designed, versatile, and high-performing 3-season tent that will serve as your home base for all of your outdoor adventures, then you need to get to know the Mutha Hubba.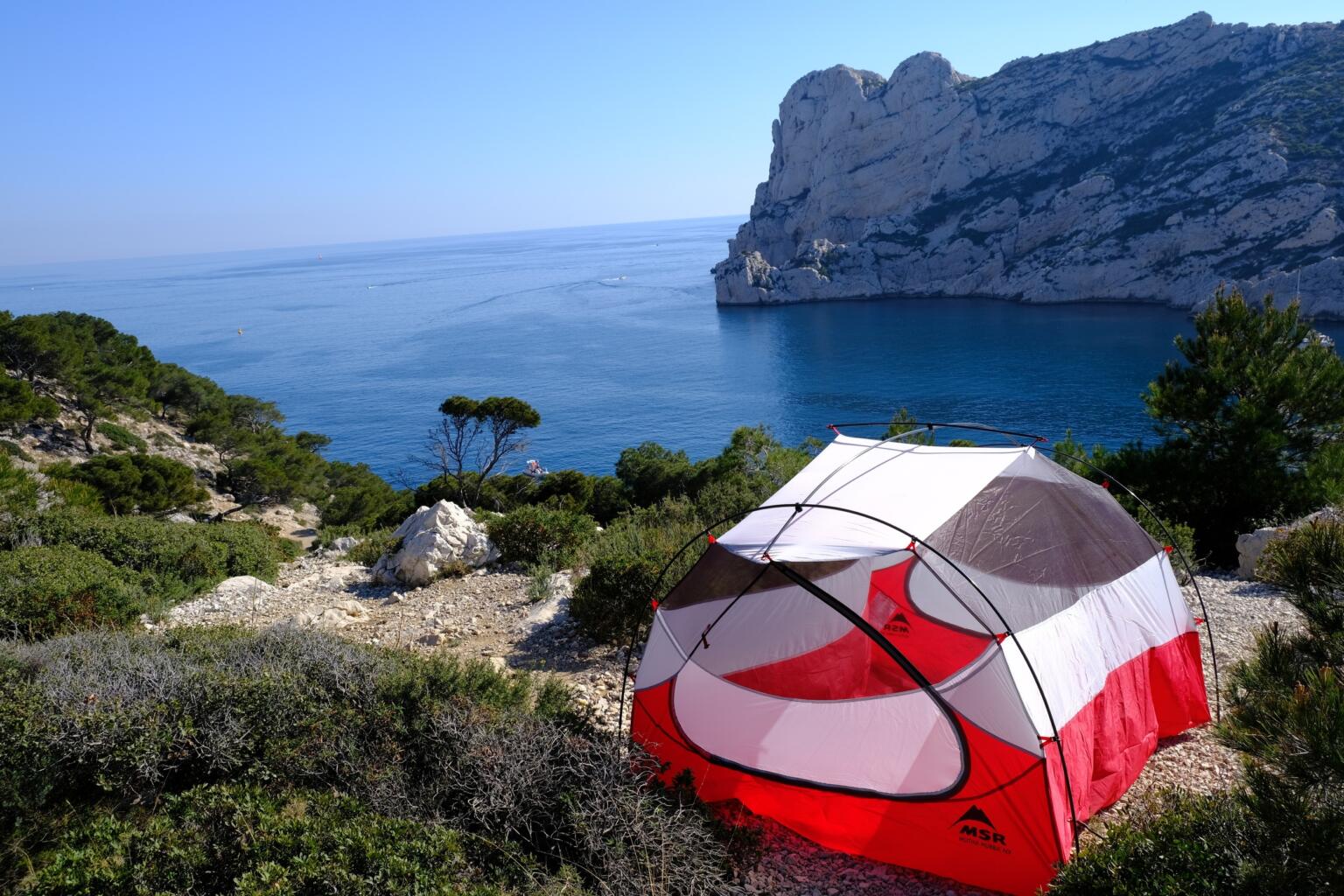 MSR Mutha Hubba Livability and Interior Specs
Part of MSR's recent overhaul of the Mutha Hubba included adding more interior floor space. Now featuring 39 square feet of prime floor real estate, the Mutha Hubba offers legitimate room for three sleepers.
The well-positioned doors at the foot and head of the tent ensures that a person can enter/exit the tent from any sleeping position. This successfully eliminates the need for you to crawl over your tent mates in the middle of the night.
Likewise, if you are a hiking team of just two, I would not entirely write the Mutha Hubba off as being too big. If you are spending days out in the backcountry, the standard two-person tent size may start to feel a little claustrophobic after a while.
For extended nights in the tent, the Mutha Hubba provides what will feel like a penthouse experience for two people. For the casual backpacking couple, the Mutha Hubba is probably overkill in terms of space. That said, for two large dudes looking for a little elbow room, the Mutha Hubba provides the perfect shelter solution.
I found the overhead space to be more than enough for changing clothes inside the tent, organizing my backpack, and sitting up at a 90-degree angle. Obviously, unless you are a three-year-old child, you will not be able to stand up inside the Mutha Hubba.
The peak interior height of the tent is 44 inches/3.6 feet (111.76 centimeters).
For overall livability, the Mutha Hubba provides around the same average floor space when compared to other 3-person tents on the market. From a comfort perspective, the Mutha Hubba is queen.
Keeping things Organized in the Mutha Hubba
There are a few different ways to approach organizing your stuff in the tent. In each of the tents 4 corners, you have deep mesh pockets sewn directly into the tent wall.
These are handy for storing all of your personal bits like your phone, wallet, knife, toothbrush, headlight, etc. With three people, I guess you can each stake claim to a pocket and leave the last one open for communal use..? The choice is yours.
If you are a party of three, you will find that the inside of the tent does not offer enough space for your sleeping pads, bodies, and backpacks. For storing things like muddy shoes and socks and your groups' backpacks, there are two spacious vestibules to serve that purpose.
The roomy vestibules really take your dry storage to another level in terms of what you can comfortably keep within an arm's length. Each vestibule offers 7 square feet of storage space, easily accessed through the doors.
I would have liked to have seen MSR integrate a ceiling pocket or a hook for a headlight/mini-lantern. Maybe next year!
One cool feature of the Mutha Hubba is that in times of fine weather you can roll up the rainfly around the doors, inviting a tasty breeze to waft inside. That said, even when the weather turns bad outside, the two large StayDry doors have built-in "rain gutters" to keep the elements out. This means that cross-ventilation airflow is possible in any weather.
How Easy is the Mutha Hubba to Setup?
The short answer: simple as hell. My partner and I needed all of two minutes from when the tent was in the bag until the tent was fully set up (minus the rainfly). The rainfly takes another minute and boom: you're sorted.
The tent pole design is something of a genius. Using a single, multi-pronged pole, one only needs to snap each pole into the locked position before fitting them gently into the grommets found on each corner of the tent, including two located in the middle part of the roof.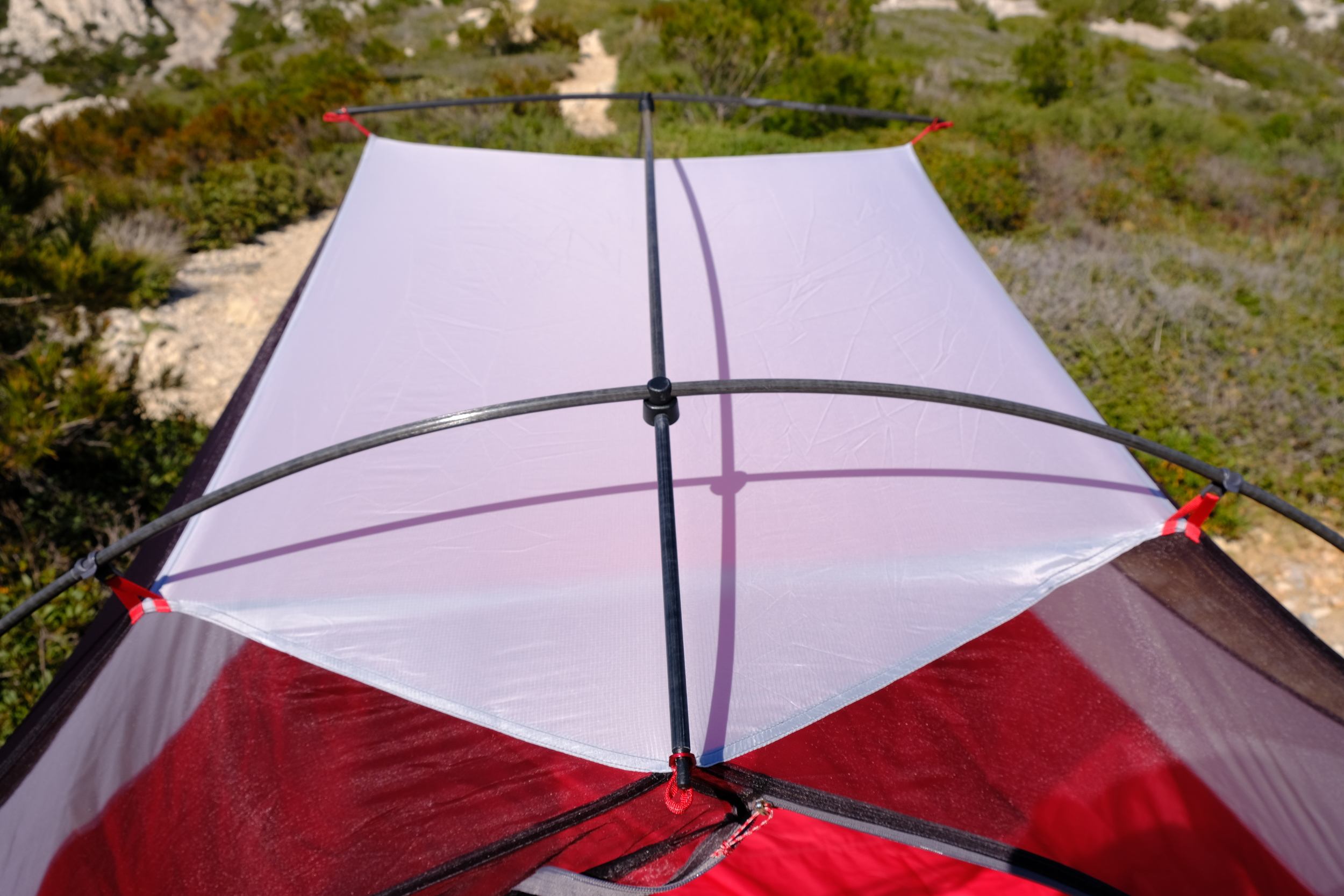 Upon getting all of the poles secured into their respective grommets, the last step is to use the clips attached to the tent body to fasten the clips to the tent poles and voila: done.
Putting on the rainfly repeats much of the same process. Given that you line up the rainfly doors with the tent body doors, you simply need to fix the rainfly grommets into the tip of the tent pole and tension as needed. Staking the tent out will pull everything taught into the perfect shape.
MSR was not messing around when they designed these new tent poles. Easton Syclone Poles offer cutting-edge aerospace composite materials which make the poles virtually indestructible in challenging and windy conditions.
To further fortify the tent and increase its overall weather-proofness and stability you can employ the guylines. The guylines are found on every side of the rainfly and should be used to anchor the tent when poor weather is expected.
You don't always need the guylines. When the wind comes though, don't be lazy about setting up the guylines. They really are a game changer for keeping the tent stable when the wind howls.
Durability and Toughness: How Tough is the Mutha Hubba?
With a name like the "Mutha Hubba", my first impression of the tent does not conjure up images of tough, ready-to-do-battle knight's armor. Ah, silly first impressions.
The truth is that the Mutha Hubba is—if I may—one bad mutha. The tent fabric materials are constructed from durable high-tenacity nylon fabrics that can survive brushes against sharp rocks, tree limbs, and thorny bushes.
Keep in mind that your tent is NOT bulletproof. I would not carelessly snag the tent over a patch of merciless blackberries or jagged boulders. The tent will certainly lose that fight.
The tent fabric does inherently have some play built into it. This subtle stretchiness allows you to achieve taughtness without tearing the fabric like a piece of paper. You want your tent to be tight when you are done setting it up. You don't want to use all of your force to achieve that end either.
If you properly tension the tent as it was intended to be pitched and take a little care around sharp objects, there is no reason why your tent can't live a long a hole-free life.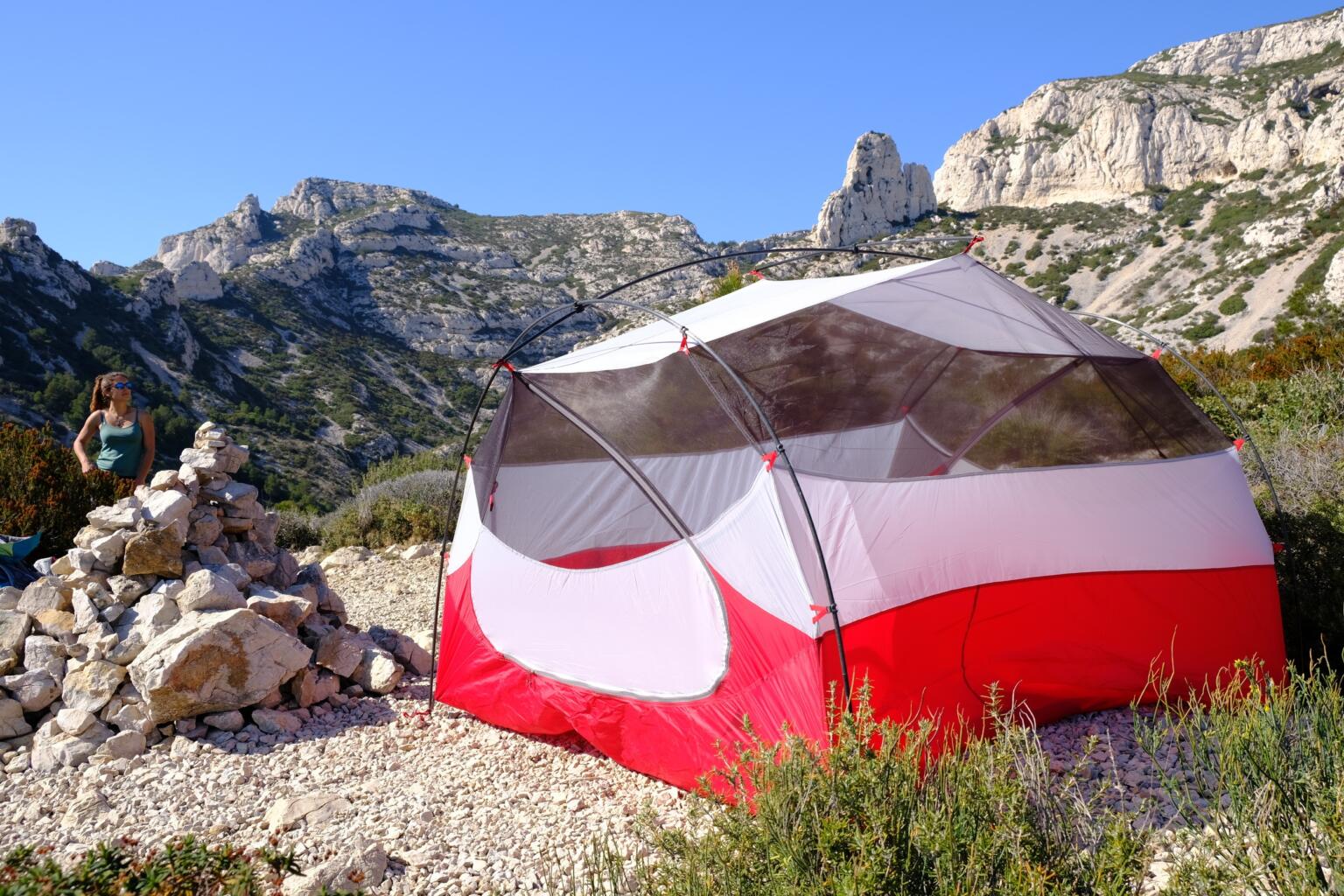 Is the Mutha Hubba really Waterproof?
Some tents claim to be waterproof. The companies that produce these leaky, damp pouches of nylon spend untold fortunes on advertising campaigns directly focused on selling you on a waterproof product. The truth is, some tents are about as waterproof as a burlap potato sack. Ok, whilst they might not be that bad, in the long term many tents simply degrade to a point where they cease to keep water out.
Another crucial part of the MSR Mutha Hubba's makeover is the improvement to the rainfly fabric. The Mutha Hubba is now equipped with MSR's durable Xtreme Shield waterproof coating. So what does that mean for the tent in terms of shedding water?
Basically, it means that the Mutha Hubba is now more than capable of being a 100% waterproof shelter for long term use. Most waterproof coatings on tents wear out over time as the polyurethane breaks down. The idea behind the Xtreme Shield waterproof coating is that is no longer a problem.
When you drop a considerable amount of money on a tent, you want the thing to last…for years. Point being, the new ultra-durable coating is designed to resist fabric stickiness (hydrolysis), which in turn results in the fabric lasting up to 3 times longer than standard waterproof coatings.
Also, the Mutha Hubba features precision-stitched seams to ensure that not a drop of rain will penetrate your sacred dwelling.
I'll be honest with you though. I have not spent a night in my Mutha Hubba under a torrential downpour. That said, I have spent a desperately rainy night in my two-person MSR Hubba Hubba tent. The tent (which has the same coating on the rainfly) kept me 100% dry. My experience from that night has now forever cemented my confidence in the new MSR rainfly material.
If you set the tent up properly, you will not get wet unless the tent winds up in a river, in which case you would have more troubling things to worry about than keeping your sleeping space dry.
For more information about the Xtreme Shield waterproof coating, check out this video:
MSR Mutha Hubba Packability and Weight
Quick Answer: Weight – 4 lbs 13 oz / 1.95 kg – minimum trail weight: 3 lbs 10 oz / 1.64 kg
The Mutha Hubba is a lightweight three-person backpacking tent by design. It is neither ultralight nor ultra bulky. Weighing in at 4 lbs. 13 oz, the weight is not insignificant.
Keeping that in mind, when you start getting into the three-person tent category and beyond, you can start seeing weights well over 5-6 pounds.
The tent is indeed marketed as an ultralight tent. For me personally, anything weighing over 4 pounds can't be ultralight (like the Big Agnes Tiger Wall Platinum 3), but that is just one man's opinion.
One of the best parts about traveling as a group (never mind the camaraderie and companionship) is having the ability to divide the gear up within the group; one person takes the tent body, one person takes the tent poles and stakes, while the final individual packs the rainfly. Sharing is caring after all.
When the gear is divided up in such a way, the extra weight is far less than if every group member has their own tent.
In its stuff sack, the Mutha Hubba compresses down surprisingly small. Thanks to the adjustable compression straps, if you pack the tent with some intelligence, you can achieve a non-bulky red-missile shape that fits nicely into a large backpack.
Likewise, if you needed to strap the tent to the outside of your pack, the shape is not overly cumbersome or awkward. If you backpack has compression straps outside of the sleeping bag compartment, that is the perfect spot to attach the tent.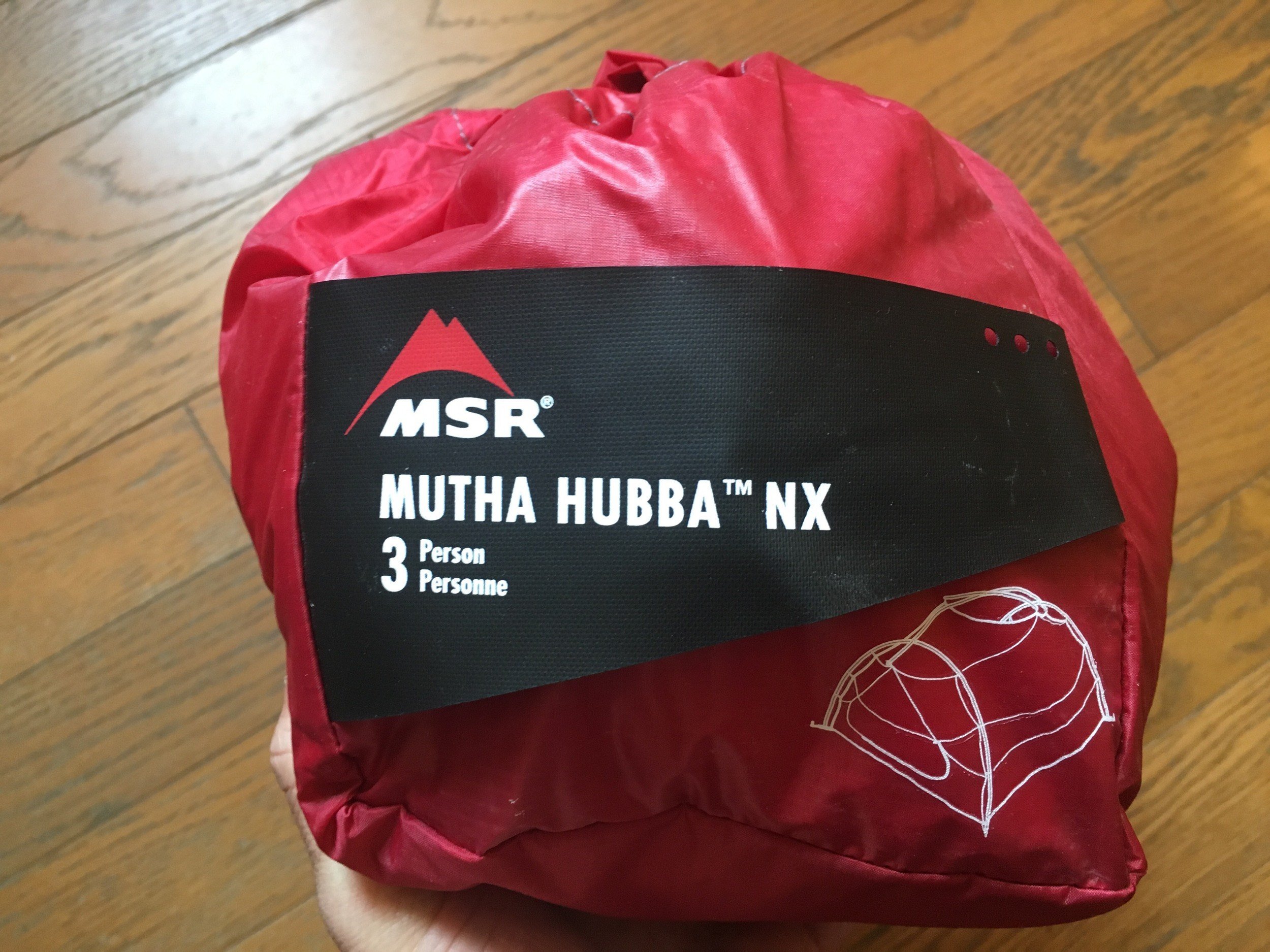 What is Included when you Buy a Mutha Hubba Tent?
When you purchase the Mutha Hubba, it comes with everything you need to hit the trail (or festival ground). We get a lot of questions regarding what actually comes with a tent when you buy it, so I will set the record straight once in for all:
This tent comes with the following items:
Tent body
Rain fly
Tent stakes, guy-out cords and compression stuff sack with carry handle.
Tent poles with stuff sack
The tent does NOT come with the following:
Footprint
Extra stakes
A tent repair kit
A bottle of Champagne (just making sure you are paying attention)
If you plan on traveling to an especially sodden/rainy region, it may be worthwhile for you to invest in an MSR or other tent Footprint. A Footprint is basically a ground tarp that provides an extra barrier of protection between the tent floor and the soaked/jagged earth beneath you.
The tent floor is already waterproof but in periods of extended rainfall, you will be happy to have a Footprint as it is possible for the tent to "sweat" a bit from underneath if the tent is sitting in a few inches of standing water. Remember, the tent is not a boat.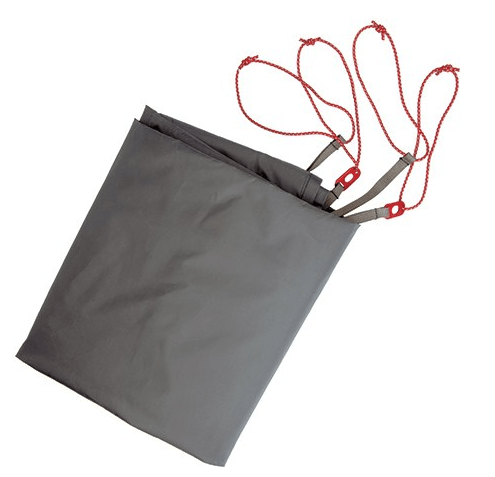 MSR Mutha Hubba Price: How much does it cost?
Short answer: a pretty penny.
Investing in an MSR tent is never going to be cheap. Quality comes at a price, as is true with any large item in the outdoor gear world. With MSR gear, you always get what you pay for as the old adage goes.
Typically the MSR Mutha Hubba sells for between $412.95 – $549.95 depending on where you look (and what year model of the tent you are looking at). Also, MSR tents frequently go on sale, so keep your eyes peeled and try to score a good deal for yourself.
If you do have to pay full price, buy the tent from a retailer like REI so that you can get some money back on the purchase when REI pays out the dividends (if you are a member of REI).
For many backpackers, spending $500 bucks on a tent is a crazy and unsettling thought. I know that in the old days of being a dirtbag hiker on the Appalachian Trail, my total gear kit was worth less than that amount…and all of those precious items took me years to accumulate.
Whilst a purchase of the Mutha Hubba is not something to be taken lightly, at least you know that you are getting the best 3-season tent money can buy at the moment. If you take care of the tent (as it takes care of you) you will likely be enjoying the fruits of your purchase for many years down the line.
MSR tents truly are next level, so when you are ready (and able) to join the Mutha Hubba party, I am certain there will be no going back from the quality of this caliber.
Pro Tip: If you are wanting to score an MSR Mutha Hubba tent for the cheapest possible price, the best way to achieve that goal to to buy an older model. The 2023 Mutha Hubba tent is a few hundred bucks more than the older version. The new version is markedly better, but also costs way more. You can make the call based on your budget and needs.
Read more here about how to protect your tent.
Competitor Comparison
MSR Mutha Hubba NX 3
Price > $$$$
Packaged Weight > 4 lbs. 13 oz.
Square Feet > 39
Number of Doors > 2
Big Agnes Copper Spur HV UL 3
Price > $$$$
Packaged Weight > 3 lbs. 14 oz.
Square Feet > 41
Number of Doors > 2
There are no shortage of worthy competitors for the Mutha Hubba – in fact, even the MSR brand itself has some worthy competitors.
A serious competitor of the Mutha Hubba is the Big Agnes Copper Spur HV UL 3. The Copper Spur is even lighter than the Mutha Hubba, weighing in at just 3 lbs. 14 oz. (with a minimum trail weight of 3 lbs. 7 oz).
The Copper Spur HV UL 3 is a true ultralight tent, which makes it attractive as hell for long-distance hikers. In terms of interior space, the Copper Spur is ever so slightly roomier than the Mutha Hubba, but it is close with an interior floorplan of 41 square feet.
It seems Big Agnes opted for larger vestibules and internal floor space, and some how managed to keep things ultralight as well.
I also have questions about the long-term reliability of the Copper Spur's rainfly. Some users have reported weaknesses and leaks, even when the Copper Spur tent in question was new. Furthermore, the Copper Spur costs about the same as the Mutha Hubba (it goes for $500).
If saving weight is your primary goal, the Copper Spur is probably the tent for you. If livability, long-term durability, and weather protection rank high on your list of wants, its the Mutha Hubba all the way.
Cons of the MSR Mutha Hubba
All and all, I am quite pleased with the Mutha Hubba and the redesign job done by MSR. I can always find something to complain about though as humans tend to do. Below, I cover a few bits and pieces that I do NOT like about the Mutha Hubba.
Flaw #1 – The Old Inner-Outer Tent Touching Issue
If you read other reviews online, it doesn't take long to find multiple reviews tearing apart the Mutha Hubba for this design flaw. Apparently, the old design of the Mutha Hubba was faulty, causing the inner and outer tent portions to touch, which resulted in dripping condensation issues.
Let me be clear: I have not personally experienced this issue otherwise I would have also torn MSR apart in the waterproof section above. It seems to me that when the Mutha Hubba got its facelift, the designers were able to resolve this issue by reworking the "lay" of the two tent layers.
I have not spent enough nights yet in my Mutha Hubba to say with 100% certainty that the issue is no longer a problem. Based on my experience with the tent, I would not shun the Mutha Hubba based on what people said of the old design as now, we are simply not talking about the same tent or design.
Flaw #2 – No Ceiling Pockets or Light Hook
As I said before, I am a little bummed that MSR left out the ceiling pockets. The MSR Hubba Hubba 2p has them and I assumed that the Mutha Hubba would too. Having a hook to hang a light would be very handy. Being able to illuminate the tent from above vastly increases the tents livability points in my book.
This is not a big deal for me as I tend to use headlamps anyway. But for the future, I am hoping these small details will make an appearance. Again, not a game changer, but I hope someone is listening… hint hint MSR…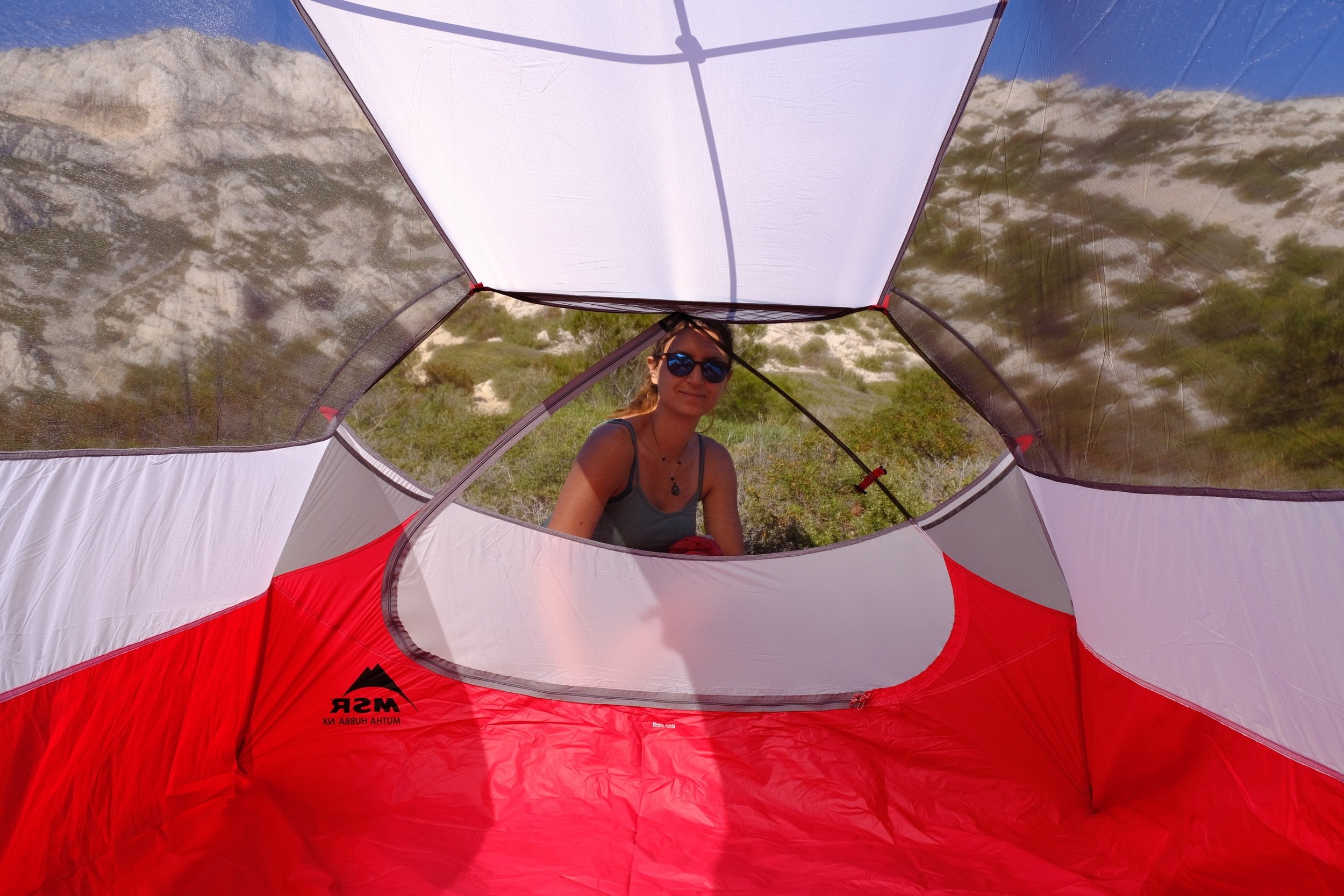 Our GREATEST Travel Secrets…
Pop your email here & get the original Broke Backpacker Bible for FREE.
Final Thoughts: MSR Mutha Hubba Review
By now, you know everything there is to know about my favorite three person tent. Every adventure requires the right tool for the job, and the MSR Mutha Hubba is certainly an excellent tool to have in your kit.
When it comes to backcountry comfort, nobody nails it like MSR. The new and improved Mutha Hubba is one of the best tents I have ever tested. It is the first piece of gear I am putting into my backpack before I depart for several months to the Karakoram range in Pakistan this spring. Many blissful backcountry nights await…
Take my word for it: if you are wanting a top quality tent to become your new outdoor home, the Mutha Hubba will not disappoint you.
Having a good tent expands possibilities, saves you money long-term, and keeps you safe as you ramble through the intense natural environments of this earth.
The Mutha Hubba will open doors to a whole other theater of backpacking venues, experiences, and of course, cozy nights of sleep. Basically, the Mutha Hubba is the ultimate M.O.A.T. (mother of all tents–and I am trademarking that).
If you want the latest and greatest version of the MSR Mutha Hubba 3p, be sure to check out the 2020 Mutha Hubba series!
The world of adventure awaits: be sure to pick up an MSR Mutha Hubba and start getting the most out of your gear and your adventures…
What is our final score for the MSR Mutha Hubba? We give it a rating of 4.5 out 5 stars!

What are your thoughts? Did this deep dive review of the MSR Mutha Hubba 3-person tent help you? Anything I didn't answer? Let me know in the comments below – thanks guys!
---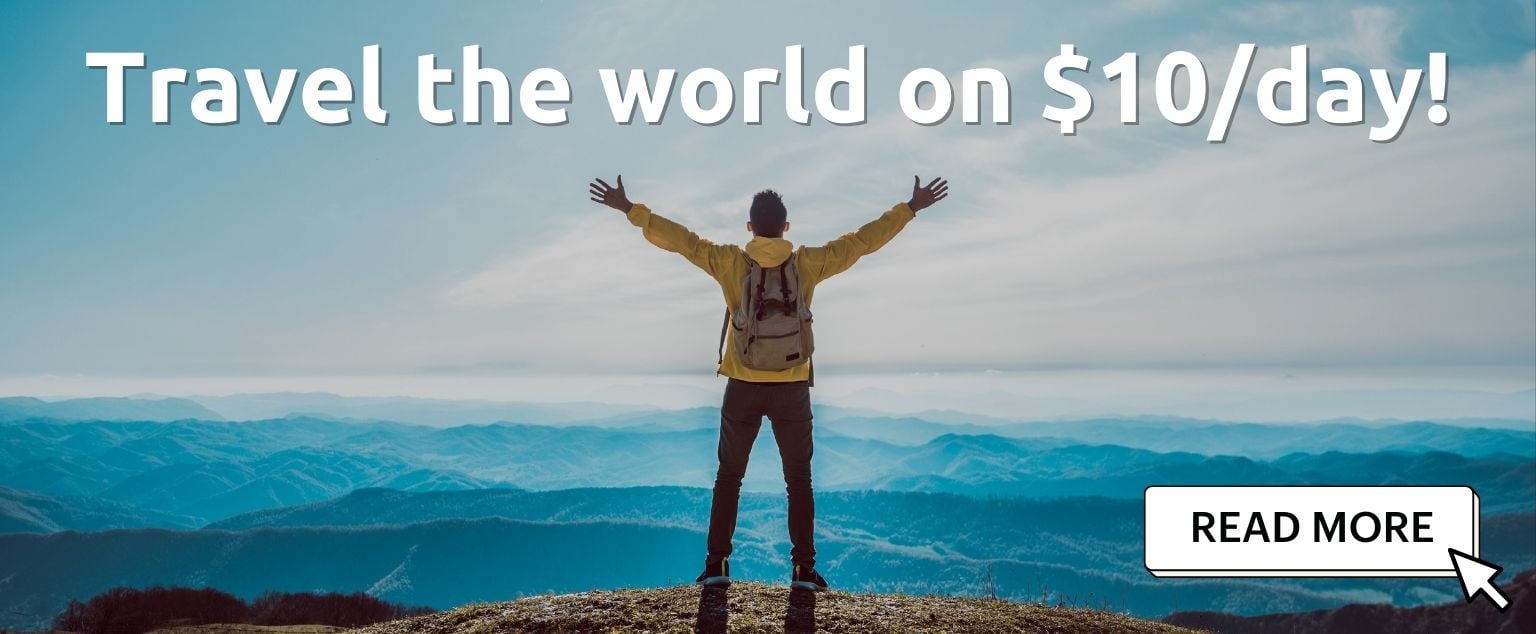 And for transparency's sake, please know that some of the links in our content are affiliate links. That means that if you book your accommodation, buy your gear, or sort your insurance through our link, we earn a small commission (at no extra cost to you). That said, we only link to the gear we trust and never recommend services we don't believe are up to scratch. Again, thank you!