If you're on the hunt for a 3 person ultralight backpacking tent, one of the first tents you should consider is the Big Agnes Tiger Wall Platinum 2. It happens to be a personal favourite of mine that has accompanied me on many adventures from backcountry camping to bikepacking across Europe.
The Tiger Wall Platinum 3 has perfectly hit the trifecta of being ultralight, 3 person and super durable. Don't ask me how they pulled off this feat of tarpaulin magic, but they did! It's for this reason I have trusted this bad boy for years of extensive travel in some challenging environments.
Whilst the Tiger Wall Platinum 3 certainly isn't perfect, this tent definitely ranks highly on the list of the best 3 person backpacking tents on the market at the moment. It's ability to combine a spacious interior with a shoulder friendly packed weight and incredible robustness isn't something that happens very often, trust me!
In this detailed review of the Tiger Wall Platinum 3, I'll go over all the crucial information and specs of the tent so you can decide whether it's the right addition to your backpacking gear. What's more, you can be sure to get to know my personal experiences with the tent too.
Update From April 2021
Thinking about buying the Big Agnes Tiger Wall 3? Well I have some bad news for ya's, the Tiger Wall 3 has been discontinued an is no longer available.
But worry not, we have sampled and reviewed plenty of other tents and have some choice recommendations for you all.
If you are after an awesome 3 person tent, then check out the NEMO Dagger 3.
Or, if you really want something from the Big Agnes range, then they still have awesome 2 person tents to choose from.
Happy Camping!
Whether you'll be on the road for two days or two months, your tent will be your home for the duration of your travels. In terms of livability, the Tiger Wall Platinum 3 stacks up pretty well, although there are a few drawbacks to take into consideration.
Overall, I have relied on this tent to keep me dry and warm across several different countries and climates for several years … and I'm not looking for a replacement any time soon!
So the real question: is this the best Big Agnes Tiger Wall platinum 3 person tent? Let's find out…
Winter is coming… WARM UP!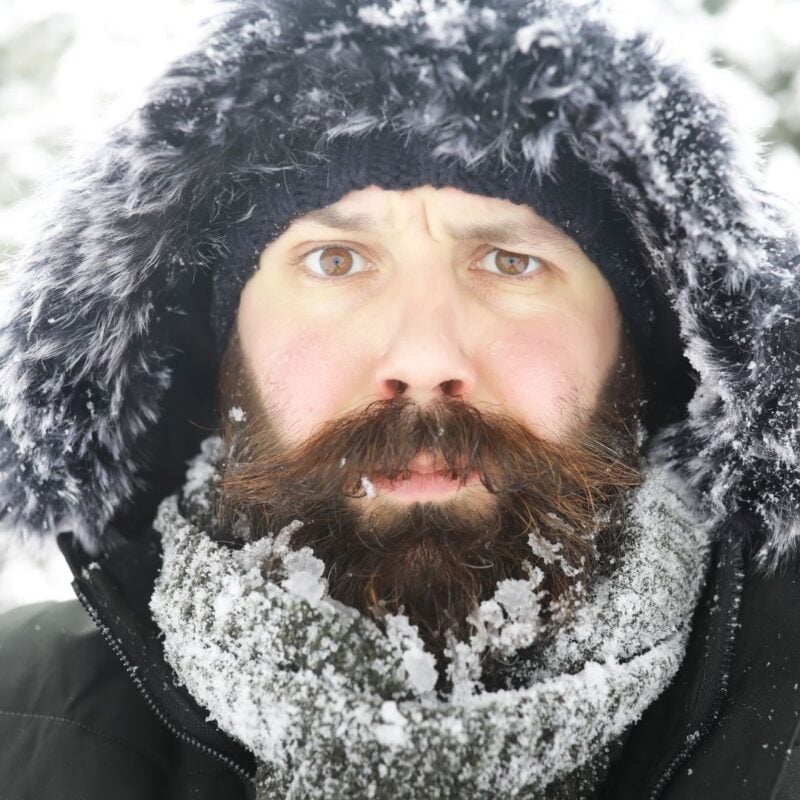 Get up to 50% OFF when shopping gear for the winter on REI.
Warm up for the holidays and SAVE on outdoor gifts all the way through Dec 18!
View on REI
Tiger Wall Platinum 3 Interior Space and Comfort
Here's the bad news first: the Big Agnes Tiger Wall is on the small end for a 3 person tent, with less room than could be desired inside. The floor dimensions of the Tiger Wall Platinum 3 are 88 x 66 x 60, meaning that the tent tapers 6 inches from head to foot. This offers a total of 38 square feet of space inside.
Now for the good news: besides being a bit small, the Big Agnes Tiger Wall 3 Platinum has a lot to be desired in terms of livability. The peak height is 42 inches (a little shorter than some 3 person tents, but still very comfortable), and it has two vestibules that add an additional 8 square feet of space on each side, and two doors for easy entry and exit.
Personally, I don't use this tent for 3 people, I use it either solo or with my partner and in both of those scenarios, it provides ample space.
Inside the tent, we're happy to see a large overhead gear compartment, something that was lacking in other Big Agnes tent models like the Tiger Wall UL2.
There are also media pockets on the head-end of the tent, and the vestibule zippers have storm flaps for added protection.
To provide a bit more room around your feet, the foot-end of the tent has structured corners, which is a nice additional touch and makes storing gear more convenient.
Is it the Best Big Agnes 3-Person Tent?
As we mentioned, the Tiger Wall Platinum 3 is small for a 3-person tent. Remember, "3 person" usually refers to the fact that three sleeping bags will fit inside the tent, but doesn't take into account how big each person is or how much gear they have with them. If you're a travelling couple though you can easily fit in a double sleeping bag like the REI Siesta 20.
From a weight perspective though, the Big Agnes Tiger Wall Platinum 3 is hard to beat. More on that in a minute.
When comparing the Platinum 3 to other tents, you'll notice that the REI Half Dome 2 Plus has 35.8 square feet and is only a two-person tent. Other ultralight 3-person tents like the Marmot Tungsten UL 3P have 41.3 square feet.
Since the Platinum 3 is a dome tent, the walls are slanted, which also encroaches on interior space. However, dome tents are also arguably the most efficient in terms of stability and packed space and that has been our experience with this tent.
The long and short of it is that the biggest compromise of the Big Agnes Tiger Wall Platinum 3 tent is space. 3 people could fit inside, but it's going to be tight, and there won't be much space for your gear. Couples, on the other hand, could enjoy the Tiger Wall Platinum 3 since it's still bigger than most 2 person tents and just as light.
For trios traveling together who are going for a super lightweight 3 person tent and are planning on spending most of their time out exploring anyway, the Platinum 3 could be a good fit. If all three of you have big backpacks or enjoy games of cards inside the tent, you might want to look at other options. But as I said before, for my personal use as a single or 2 person tent, it's actually super roomy.
Ventilation of the Tiger Wall Platinum 3
Proper ventilation of a tent is crucial for its comfort and longevity. Getting water and condensation inside not only is incredibly frustrating for you, but it also causes the tent material to wear down quicker.
The Tiger Wall 3 platinum does a decent job of providing ventilation. One key feature you should be aware of is the low vent on both vestibule doors; this allows some air circulation in the tent without losing all your coverage from the vestibule if you want some privacy.
I've found that even with 3 people squeezed in here the ventilation does its job well, drop the number of people and it becomes even more comfortable and effective.
The vestibule doors have double siders on the zippers, so you can vent the tent from the bottom or top; it also makes it easier to get in and out of the Tiger Wall Platinum. The doors feature a "quick stash" door securing flap, perfect for when the weather is nice enough that you want to leave the door open without having it get in the way.
Just like any tent, it's helpful to air out the inside as much as possible during the day. If you're able, leaving the vestibule doors open or even taking the rainfly off will help keep the entire tent dry and in better overall condition.
Weight and Packability of the Tiger Wall Platinum 3
This is where the Platinum 3 really shines in terms of appeal for backpackers. At only 2 pounds 11 ounces, this ultralight 3 person tent is lighter than many 2 person tents on the market! No joke. The weight or lack thereof here might just make the TW Platinum 3 the best Big Agnes 3 person tent for ultralight backpacking.
The entire tent packs down to a mere 19 x 5.5 inches, making it easy to stow in a backpack or strap on the outside of a pack without it getting in the way.
With the fabric being this light, it's easy to understand why the Platinum 3 is not meant for a rough and rugged adventure. Unfortunately, the Platinum 3 doesn't come with a footprint, but this is really a crucial investment to make, or at least getting a decent tarp to protect the underside of the tent.
If you're planning on bringing a furry canine friend along on your camping adventures, you might also want to consider getting a smaller tarp for inside the tent. Although some travelers have encountered no problems while camping with their dogs, it's worth hedging on the side of caution.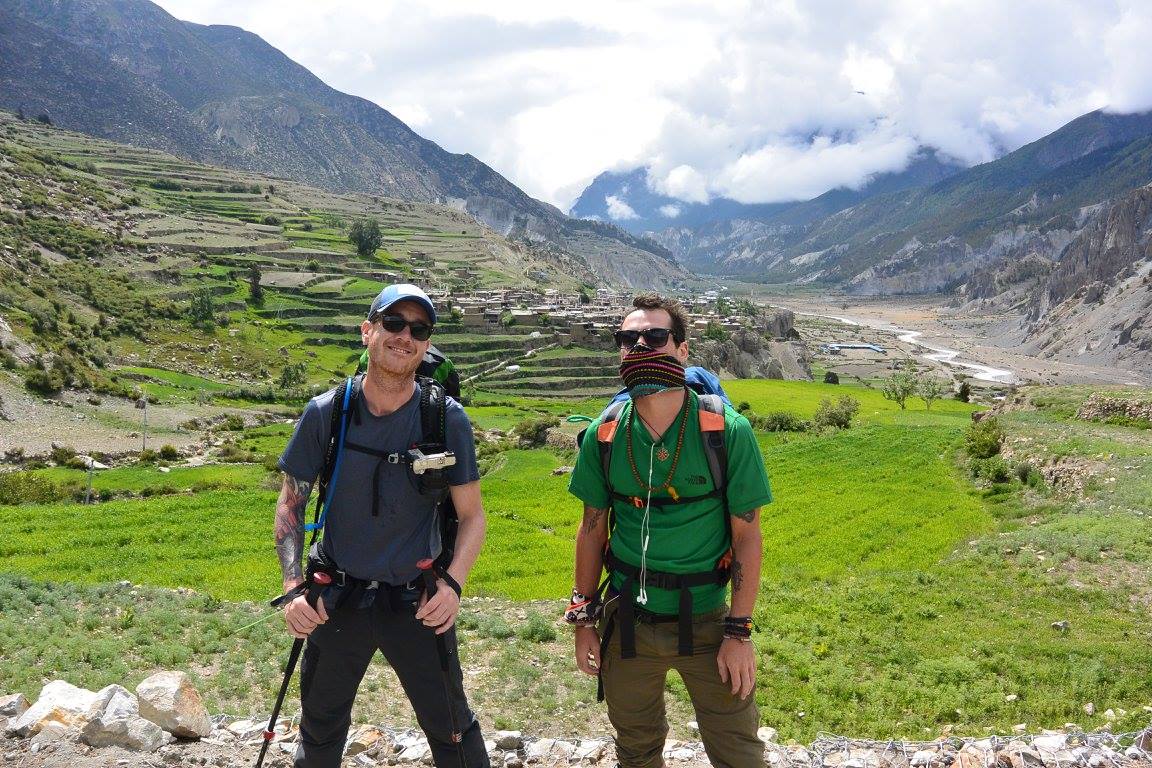 How Durable is the Tiger Wall Platinum 3?
Besides the smaller size, durability is the other big concern of the Tiger Wall Platinum 3, but this is to be expected considering how lightweight the tent is.
The single pole of the Platinum 3 is made from DAC Featherlite NFL, which is a decent material but not meant to stand up to being battered around much. The floor and rainfly are both made of ripstop nylon treated with silicone; this certainly helps the longevity of the tent but is still quite delicate compared to other tents.
The body of the tent is even more fragile, made out of breathable nylon and polyester mesh. There's no question that the Platinum 3 is only meant to be a 3 season tent, and it probably wouldn't fare well even with a light dusting of snow.
With a semi freestanding design, the tent does require the use of guylines to secure it in place. This isn't much of an issue, although totally freestanding tents are considered to be a bit more stable in the tent world.
It's important to note that while there are concerns with the durability of the Platinum 3, these are all totally expected in terms of ultralight tents. In comparison to other ultralight models, the Platinum 3 is usually on par or even better in terms of structural stability and overall toughness.
Is the Tiger Wall Platinum 3 Weather Resistant?
It's always nice when the weather cooperates with your travel plans, but chances are, at some point, you'll be caught in a rainstorm with the Platinum 3. So, what are the chances you'll wake up with water seeping into the tent? That depends on a few factors – but overall, you're likely to remain dry inside the Big Agnes Tiger Wall 3!
As already discussed in the durability section, there is some concern with how tough the Platinum 3 is. This means that super heavy rain or powerful winds will not go over well; depending on how rough the weather is, not only will you be wet, but you also might be looking at tent damage.
However, as long as you're not in a monsoon deluge, the Platinum 3 holds up well to rain and wet weather. It's when rain is accompanied by harsh winds that you're more likely to have issues. Having said that, I've been caught out a fair few times in some pretty harsh weather and I've never had an issue with either durability or leakage.
Both the rainfly and floor are treated with 1200mm waterproof polyurethane coating. This is a lower number than you'll see on other tents, but this doesn't impact the waterproof-ability of the Big Agnes Platinum so much as the strength of the fabric. Thicker coatings mean more rigid (and heavier) material, which is not desirable in a lightweight tent.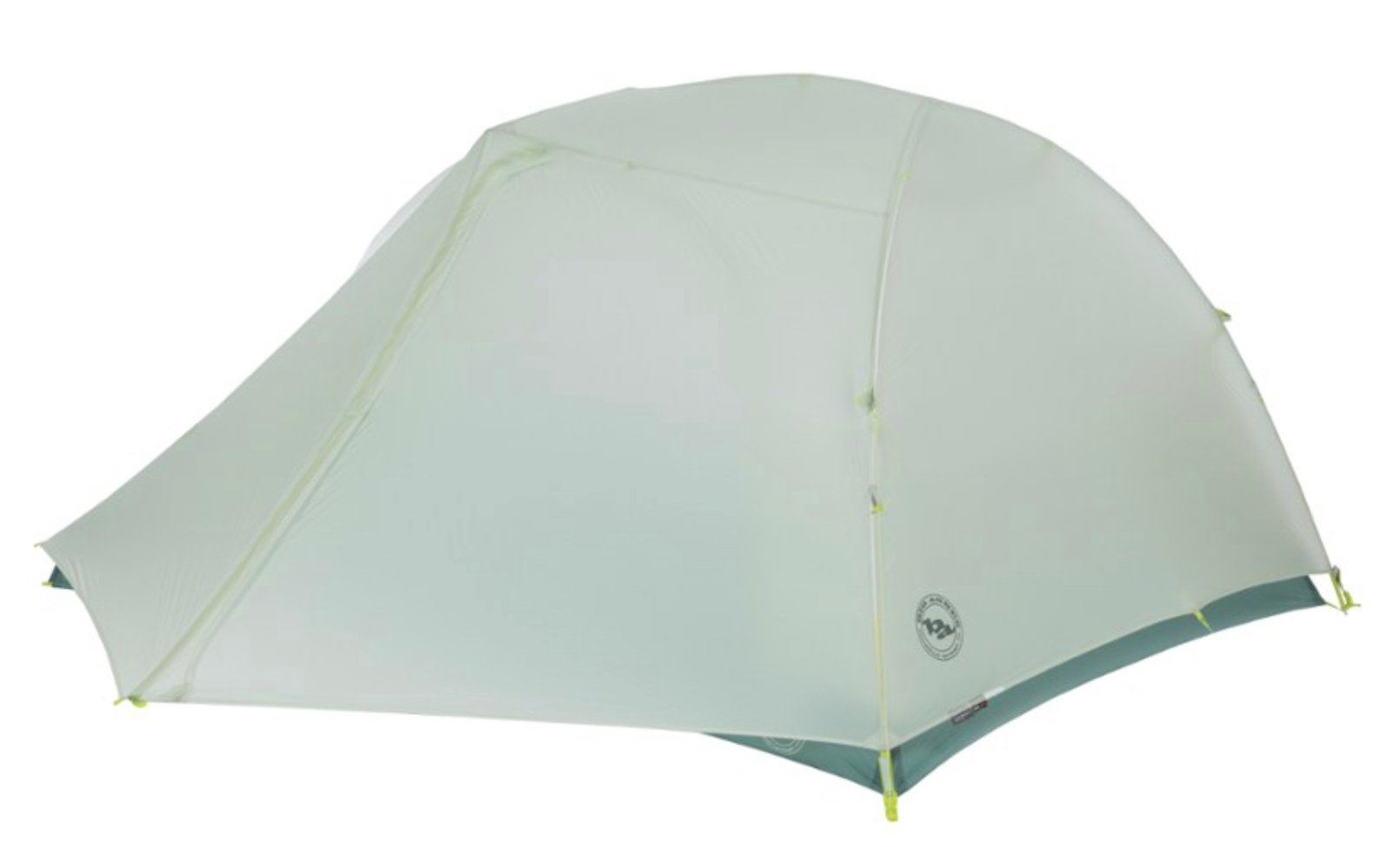 All the seams of the Platinum 3 have a layer of polyurethane tape as well, which is fairly standard among high-quality backpacking tents.
The rainfly provides excellent coverage, and there isn't much issue of having water splash up underneath the fly, as some people reported for the Big Agnes Tiger Wall UL2. Be mindful that since the tent is ultralight, this means the fly is made of much thinner material than other tents, making it easier to snag and completely unsuitable for snow or hail.
How Much Does the Tiger Wall Platinum 3 Cost?
Ultralight tents are often among the most expensive on the market, and the Platinum 3 is no exception. Unless you can catch a sale, you're probably going to be looking at around $600 dollars for this prize piece of camping gear.
So, why spend so much on the Platinum 3 when there are cheaper options around? The short answer is the high quality compared to weight ratio. It would be a challenge to find a tent that could match the Platinum 3 in terms of weight and performance.
Cheaper ultralight tents may be comparable in terms of weight, but they'll be much less durable than the Platinum 3, or you can find more durable tents that are much heavier.
For example, you could save $150 on the price tag of the Platinum 3 and go with the Marmot Tungsten UL 3P, but this tent is comparable to the Platinum 3 in terms of durability and weighs in at 4 pounds.
Other ultralight 3-person tents like the My Trail UL3 are closer to $400, but are much less durable and only have one door and one vestibule against the preferable two side doors of the Platinum 3.
Tiger Wall Platinum 3 Setup and Breakdown
You'll be happy to know that pitching and taking down the Platinum 3 is a super simple job. Of course, it's almost always easier to set up a tent with two people, but solo travelers wouldn't have an issue setting up the Platinum 3 alone.
The single pole design makes setting up the Tiger Wall 3 quick, and the webbing and buckles on the outside of the tent are all color-coded, so it's easy to match everything to the right spot.
Since the tent is semi freestanding, you will need to use guy lines and tensioners to set it up properly, but these aren't much of a hassle, as long as you're not dealing with strong winds (which makes setting up any tent difficult!).
It's important to mention that airing out the Platinum 3 and allowing it to dry fully before putting it back in the stuff sack is crucial. This is an important step for any tent, but because the Platinum 3 is made from a much more lightweight material, it is more susceptible to damage from being packed in a damp state.
Of course, sometimes packing a tent while it's still wet is unavoidable when you're on the trail, but as soon as possible, make sure you're able to properly air out the tent to maximize its longevity!
The best present of all… is CONVENIENCE!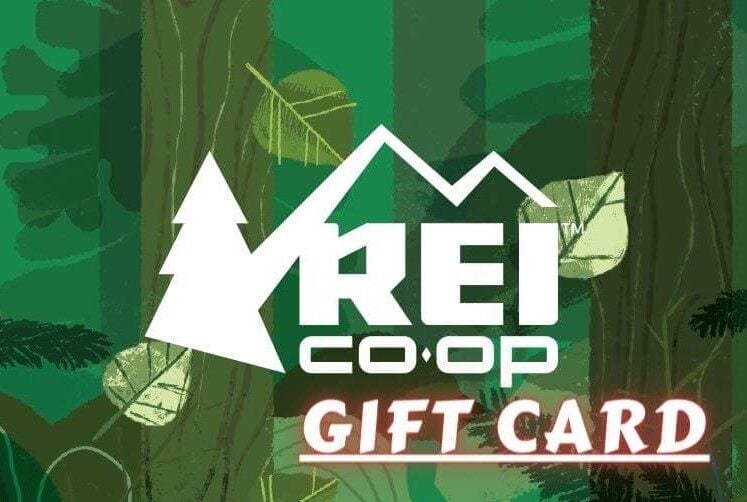 Now, you could spend a fat chunk of $$$ on the WRONG present for someone. Wrong size hiking boots, wrong fit backpack, wrong shape sleeping bag… As any adventurer will tell you, gear is a personal choice.
So give the adventurer in your life the gift of convenience: buy them an REI Co-op gift card! REI is The Broke Backpacker's retailer of choice for ALL things outdoors, and an REI gift card is the perfect present you can buy from them. And then you won't have to keep the receipt. 😉
Buy on REI!
Tiger Wall Platinum 3 vs the Competition
Depending on your specific camping and backpacking style, there are some other ultralight 2 or 3 person tents on the market you might want to consider besides the Platinum 3.
If you're counting every last ounce that goes into your backpack, it's difficult to surpass the specs of the Platinum 3 in terms of ultralight 3 person tents. However, if you're planning a month-long trek through Patagonia, you're definitely going to want something a bit more durable.
Both the Marmot Limelight 3P and the MSR Mutha Hubba NX 3 are good 3 person tent options. They're both considerably heavier than the Platinum 3 (6lbs 11 oz and 5lbs respectively), but they're also freestanding, a bit sturdier, and have more room.
If you're a fan of Big Agnes tents, you might also want to check out the Big Agnes Copper Spur UL series. It's very similar to the Platinum 3, only slightly bigger, with 43 square feet of interior space, and weighs a bit heavier at 4lbs 5oz.
MSR
MSR
MSR Hubba Hubba 2
Price > $549.95
Packaged Weight > 3 lbs. 4 oz.
Square Feet > 29
Number of Doors > 2
Floor Material > 20D
MSR
MSR
MSR Elixir 2P
Price > $249.95
Packaged Weight > 6 lbs.
Square Feet > 29
Number of Doors > 2
Floor Material > 70D
REI Co-op
REI Co-op
REI Half Dome SL 2 Plus
Price > $329
Packaged Weight > 4 lbs. 11.5 oz
Square Feet > 33.75
Number of Doors > 2
Floor Material > 40D
MSR
MSR
MSR Elixir 2
Price > $319.95
Packaged Weight > 6 lbs.
Square Feet > 29
Number of Doors > 2
Floor Material > 70D
Marmot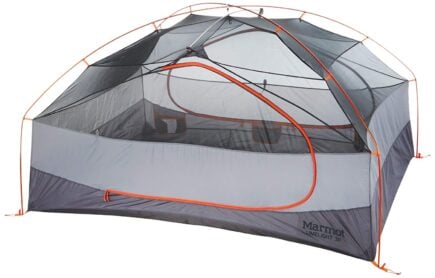 Marmot
Marmot Limelight 3p
Price > $322
Packaged Weight > 6 Ibs 11 oz.
Square Feet > 42.5
Number of Doors > 2
Pros and Cons of the Tiger Wall Platinum 3
Although there's no way to ever achieve perfection on all fronts in the camping world, it's still possible to come close!
Here's a round-up of where the Platinum 3 really shines, as well as the areas that could be improved after several years of use on the road.
Pros
Super ultralight for a 3 person tent-only 2 pounds, 6 ounces!
Small packed size of 19 x 5.5 inches
Two doors and two vestibules give you more room for wet gear and allow for easy entry and exit
Lots of good organization pockets inside
Well weatherproofed, especially for an ultralight tent
Cons
On the smaller end for 3 person tents with 38 square feet of space
Not designed to withstand harsh weather conditions (but no ultralight tent really is anyway)
Footprint isn't included and is necessary to properly protect the tent
Packs a hefty price punch at about $600 for most retailers

Our GREATEST Travel Secrets…
Pop your email here & get the original Broke Backpacker Bible for FREE.
Final Thoughts on the Big Agnes Tiger Wall Platinum 3 Tent
There you have it; all the highs, lows, and everything in between for what sets the Tiger Wall Platinum 3 apart from other ultralight 3 person tents. You now know why we consider this unit to be a candidate for the best Big Agnes 3 person tent out there.
For traveling trios who don't mind getting cozy or couples who want a little extra room, the Platinum 3 is one of the best tents on the market when taking comfort and weight into consideration.
Just like any piece of camping equipment, there are always quirks and small annoyances you'll have to deal with. However, thanks to the overall excellent design and functionality of the Platinum 3, you'll be able to spend most of your energy enjoying your backpacking trip and not worrying about your camping gear.
Although it's more expensive, with proper care, the Platinum 3 has the potential to serve as your ultralight 3 person tent for years of adventures.
---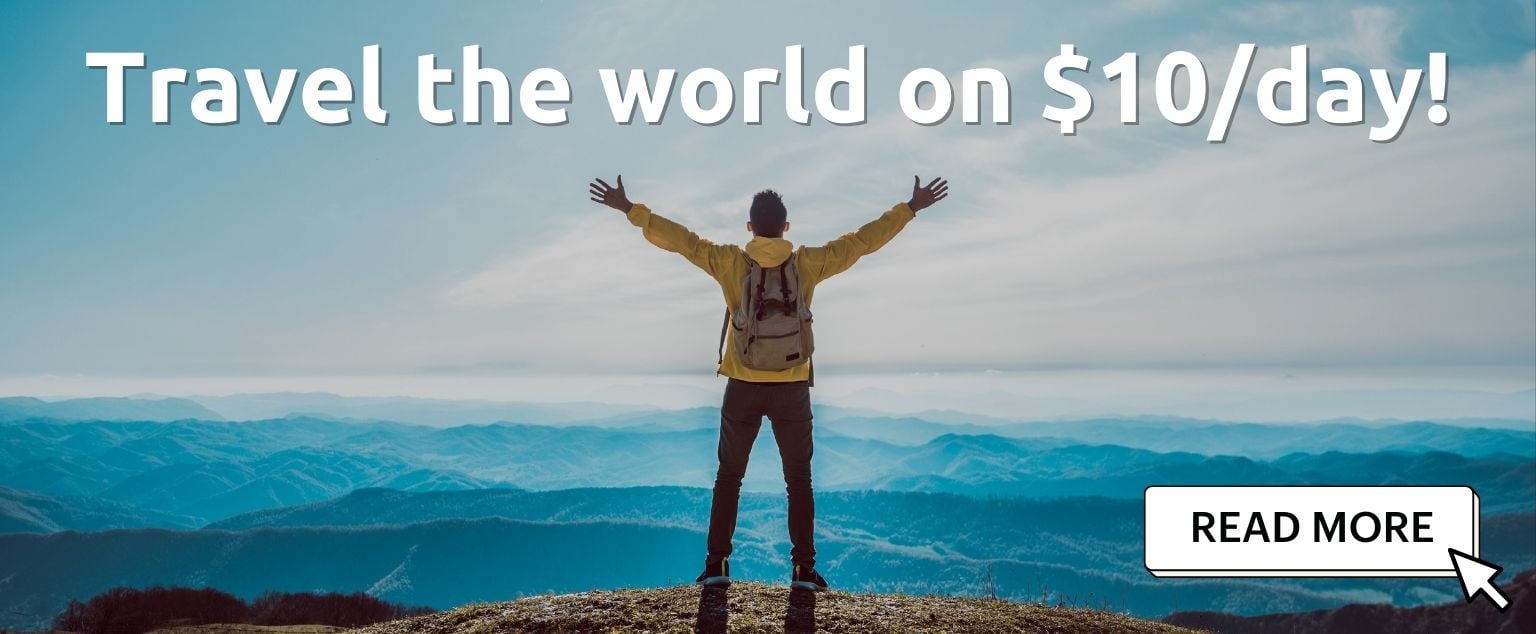 And for transparency's sake, please know that some of the links in our content are affiliate links. That means that if you book your accommodation, buy your gear, or sort your insurance through our link, we earn a small commission (at no extra cost to you). That said, we only link to the gear we trust and never recommend services we don't believe are up to scratch. Again, thank you!